We're right in the middle of the Christmas holiday and I bet if you haven't already, you're gonna be seeing friends, family, and neighbors at your home pretty soon. I also bet that while most of your gatherings are probably planned in advance, that it isn't unlikely that you may have some last minute guests at least one night over the next couple of weeks. So, what do you do when something springs up? Honestly, my natural inclination is to decline — not because I don't want to but because the thought of not having time to prepare stresses me out. Well, I'm on a quest to become more of a "yes" person when it comes to delighting in all things Christmas. Maybe a last minute game night with neighbors with hot chocolate and Christmas pajamas is just what you need to get into the spirit! (Even if it isn't planned in advance). Instead of saying "no" and missing out, I'm challenging myself to be more spontaneous during this season… so, how do we do that without inviting people into a mid-week messy home when they send you a text 45 minutes beforehand? It's so easy and the priority tasks take way less time than you may realize.  The best part — the quick clean should take less than 30 minutes from start to finish. Some things will be clean, others tidied, and some just disguised, but your guests will have no idea. And, while these are perfect for the holiday season, we can apply them any time of the year!
*While this post is sponsored in partnership with eBay, all opinions, concept, and content are my own. Posts on KelleyNan.com may contain affiliate links. Click HERE for full disclosure.*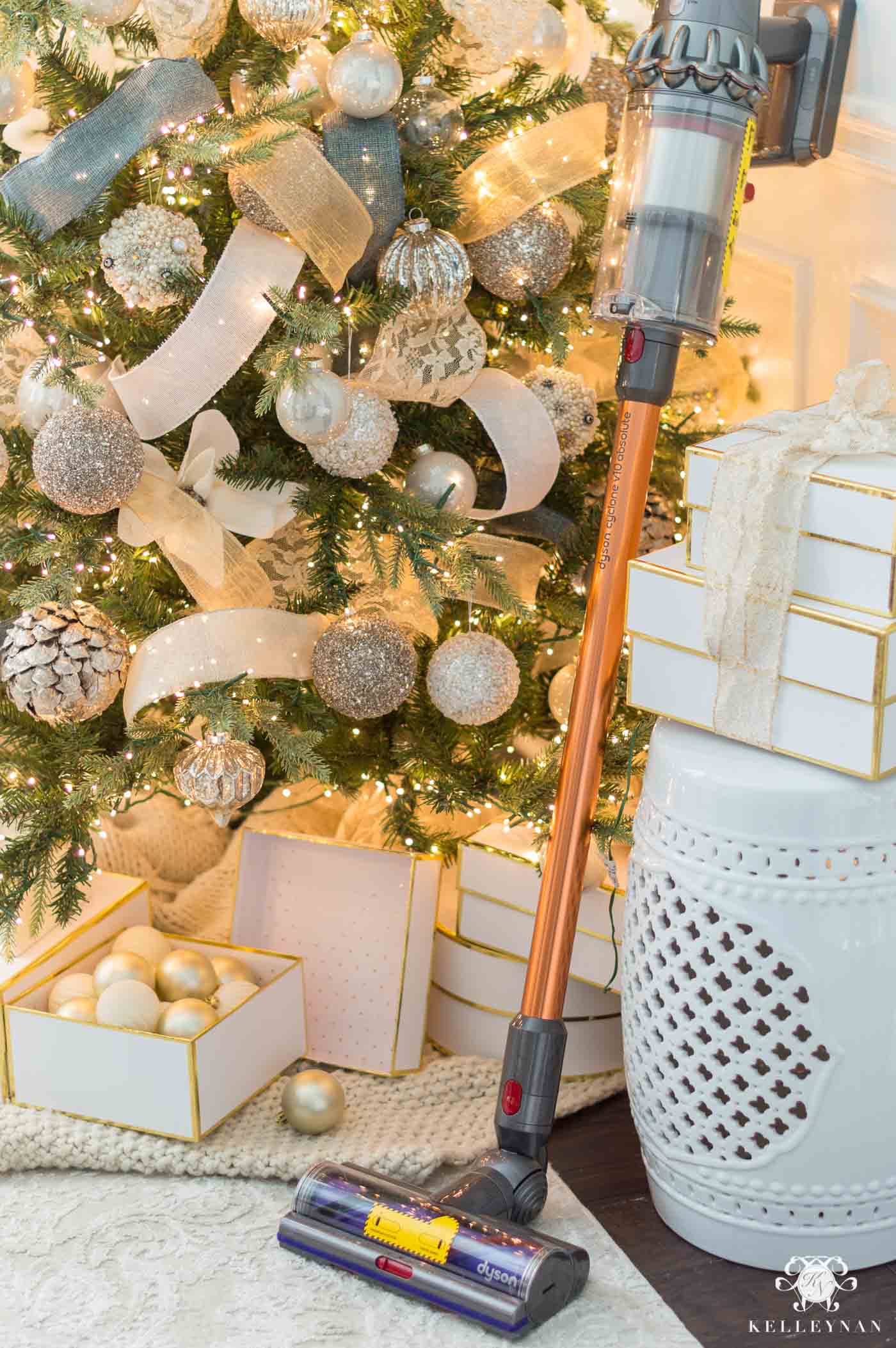 10 Steps to Quick Clean for Last Minute Holiday Guests
1. SET ALARM(S)

Less than 1 minute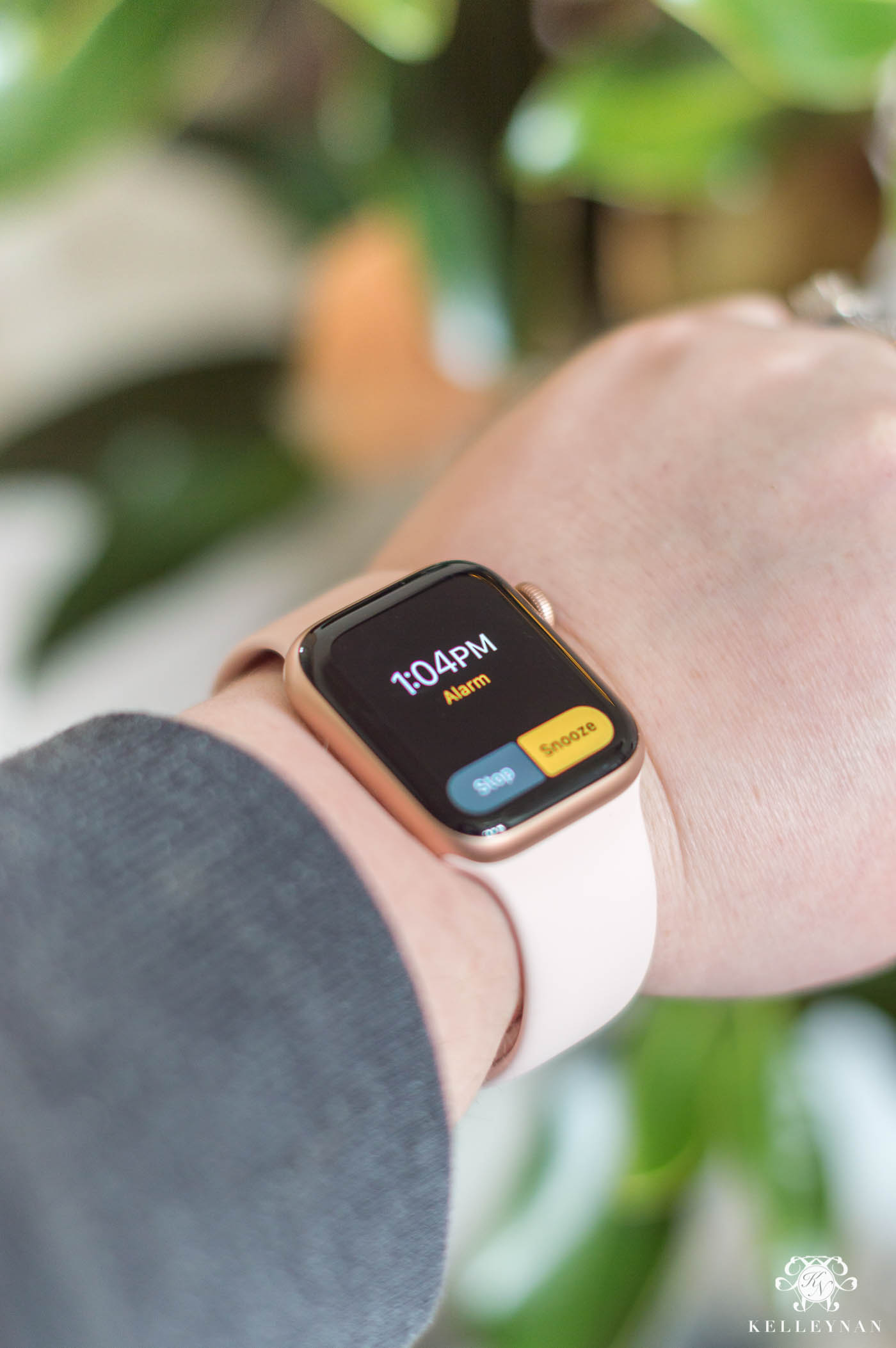 I thrive under pressure. But, I also need a constant reminder of "where I'm at" throughout my hustle. If I'm getting ready or doing something task-oriented, I live by setting timers in increments for myself. In my head, I can quickly establish if I need to speed up/nix any part of my process/what I'm doing. I can ask my Echo to set a timer but that assumes I'm staying in the same room and involves stopping to go and make requests. Setting quick timers on my Apple Watch is one of my favorite features because I can run all over the house without a phone/Echo/etc. I also don't have to stop what I'm doing to go through the process. Here's what not to do, though. Say your guests are set to arrive in 40 minutes. Don't set one single alarm with a five-minute warning. The point isn't to let you know when your guests will be there, but rather to help pace yourself and adjust priorities throughout the 40 minutes. Set one for every ten minutes and set mini task goals in your head of what needs to be accomplished at each 10-minute alarm. That way, you can pivot without being surprised at the 35-minute mark with over half your tasks still remaining.
2. LIGHT A CANDLE(S)
Less than 1 minute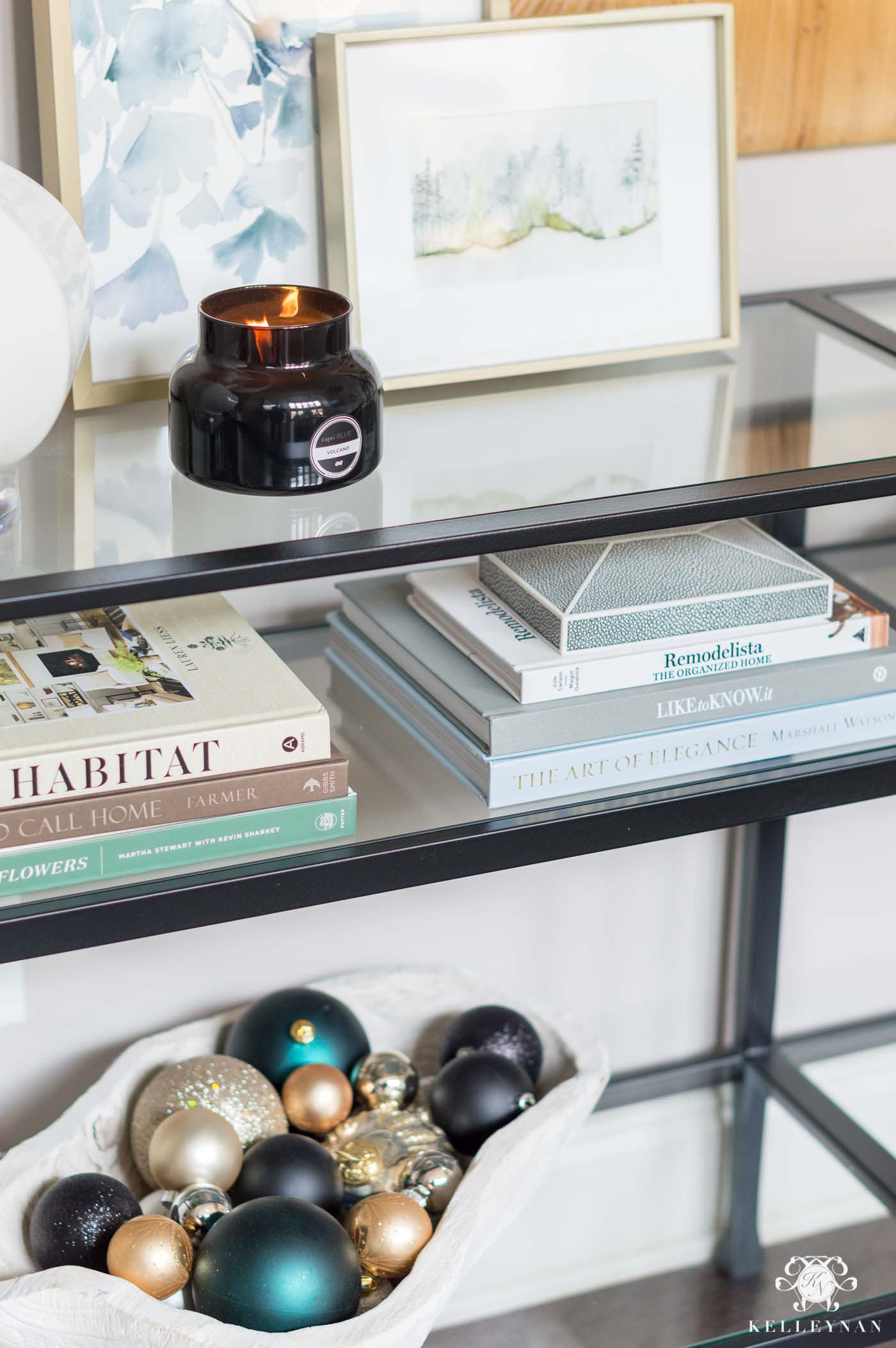 This is at the beginning of the list for a reason. If you wait to light a candle as a "final touch", there won't be enough time to let the fragrance fill the room/house. Get that thing burning while you clean and by the time your guests arrive, it should be well "seasoned" 😉 THIS is my go-to forever scent — it's delicious, really pungent, and works quickly.
3. SHUT THE DOORS
1 minute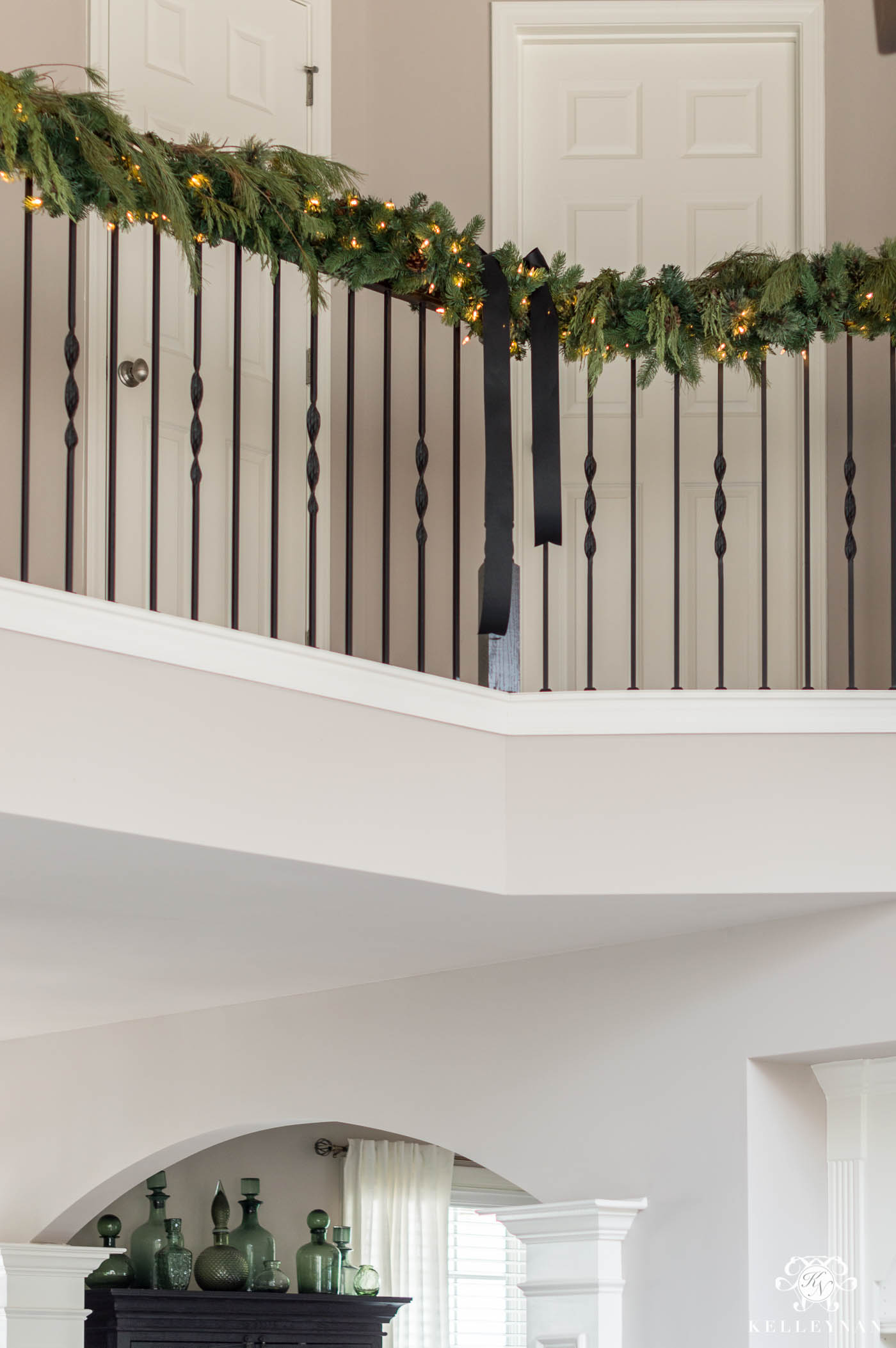 You're sticking to the main areas during this quick-clean — not preparing for a home tour. Close the doors and consider those rooms "done"! Again, if you close the doors at the start of your routine, 1. you'll see less that needs to be done, and 2. the candle(s) will have less work to do.
4. LOAD UP A BASKET
3 minutes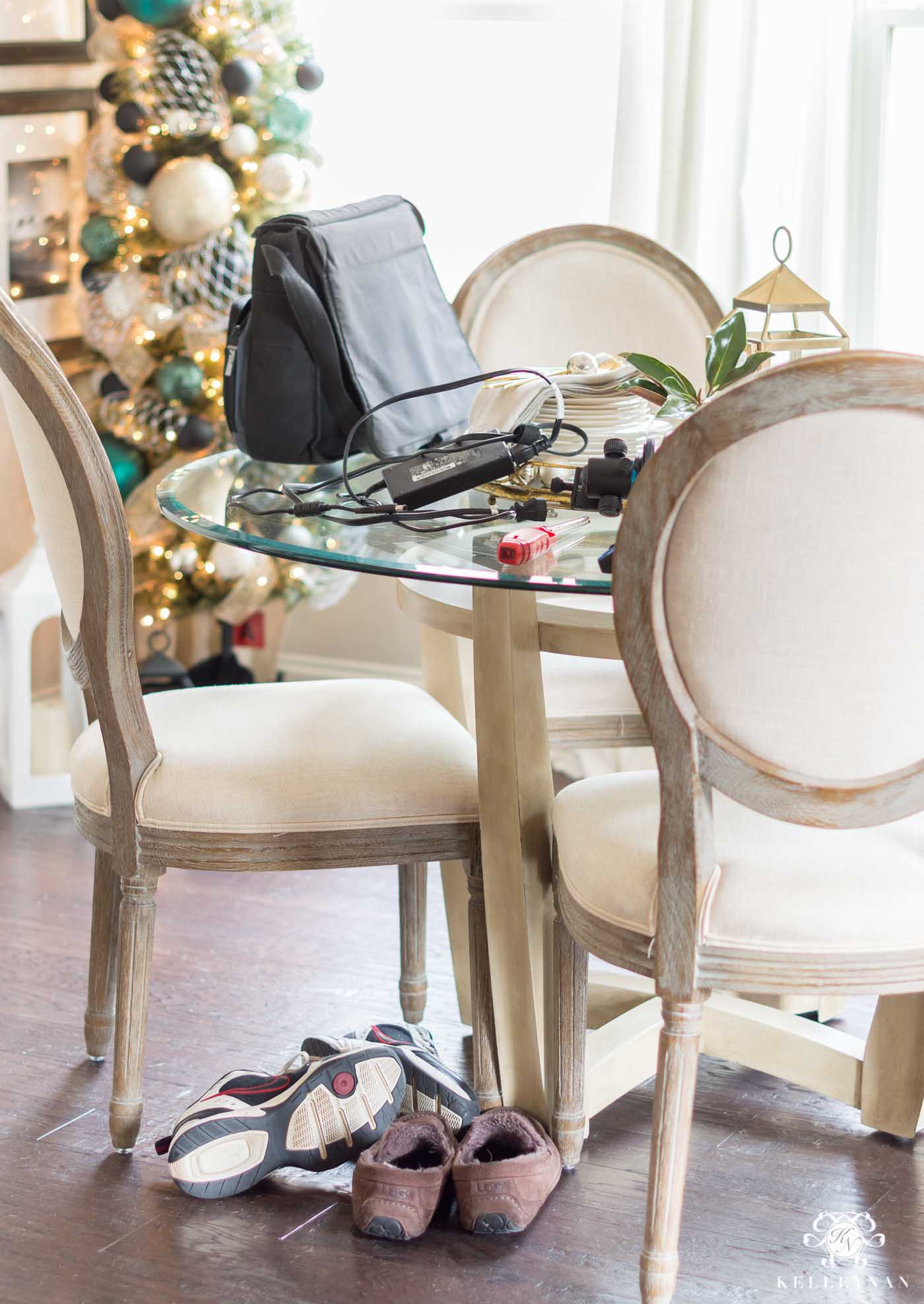 Speed walk around the area in your home that isn't closed off by a door and start collecting anything that shouldn't be out/on display. Don't worry about putting items in their proper homes; you're gonna hate doing it later but you got yourself into this mess haha. Realistically, it actually won't take much time at all to go around the house, dispersing your basket the next day as you have time. But, now is not that time. Grab stray shoes on the floor, items on tables, snacks that haven't been put away, etc. and toss them in. Put the basket in your bedroom/another room that has been closed off. Something collapsible like what I have stores really easily; you can even stash it in a closet for just this purpose.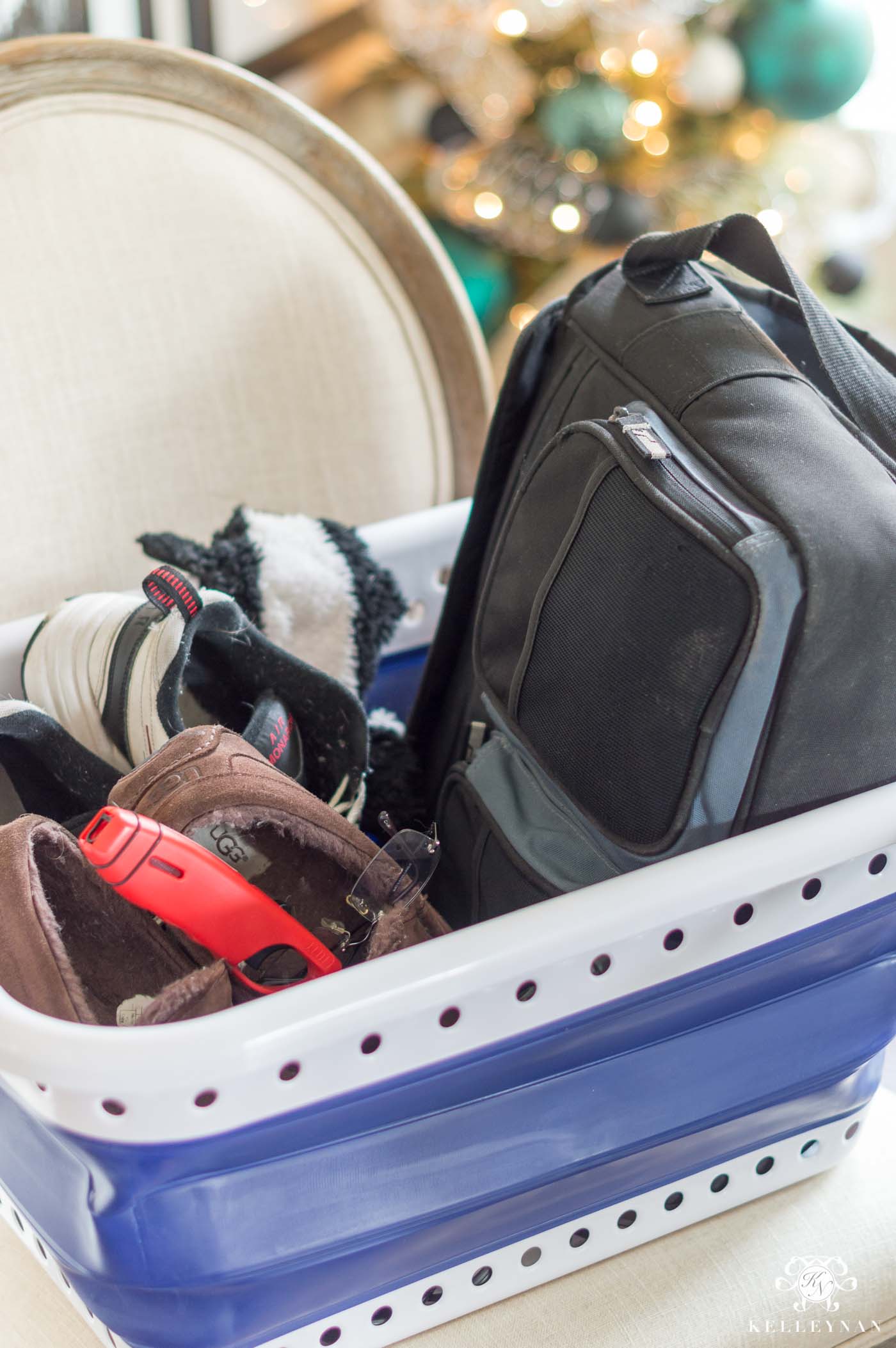 ---
Scroll & Tap to Shop the Baskets

---
5. FLUFF THE PILLOWS
4 minutes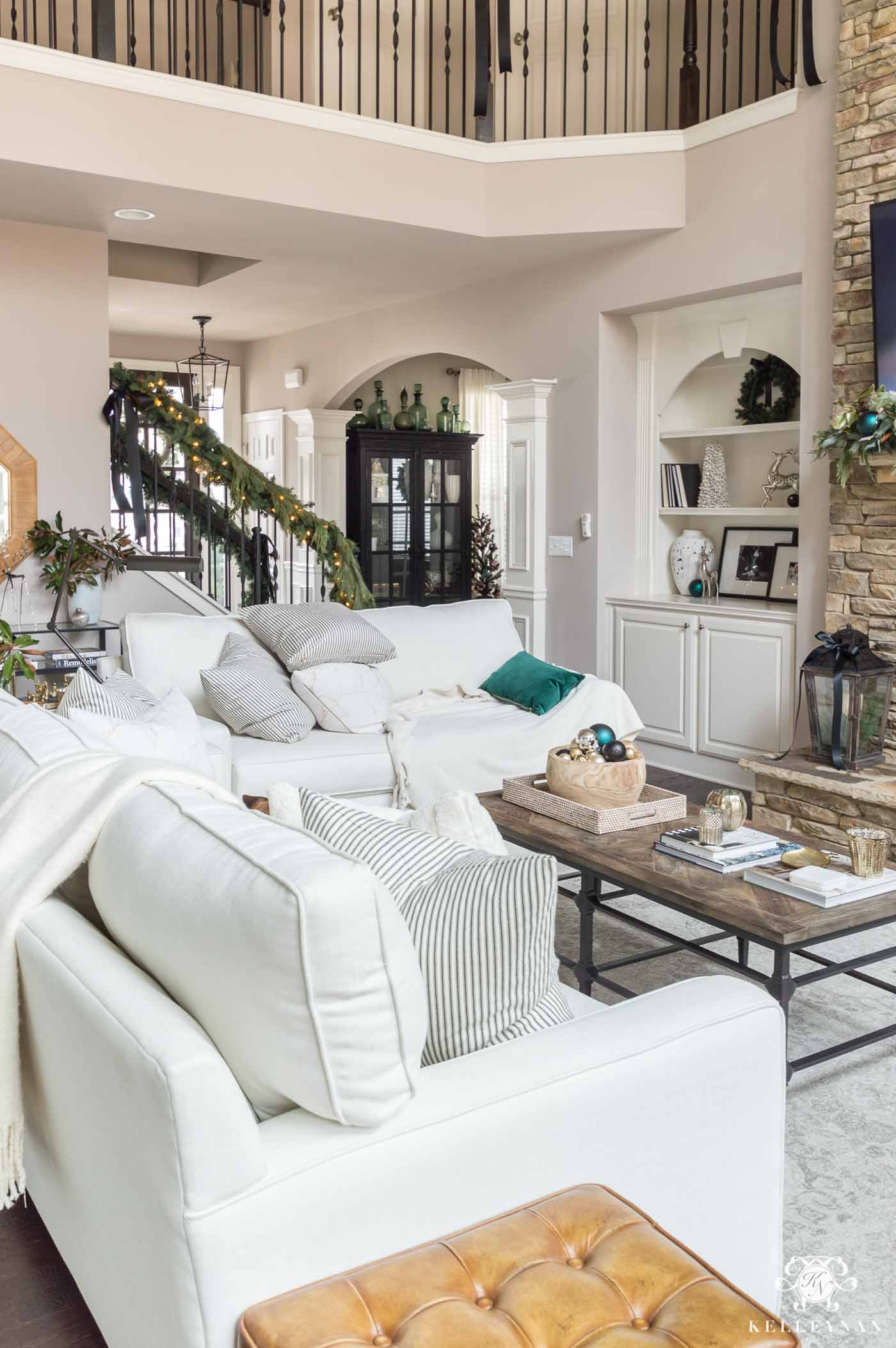 I swear – this can make or break the entire look of your living room. Even if your home is spotless, if you have pillows tossed haphazardly, your space will look messy. Grab any throw blankets and toss them in a basket or drape them on the sofa. Lucky for you, both of these cozy, lived-in looks are totally "in" ;). Then, grab each pillow, shake them quickly to disperse the insert filling, and arrange on the sofa. Chopping is totally optional but y'all know- I'm a total chopper!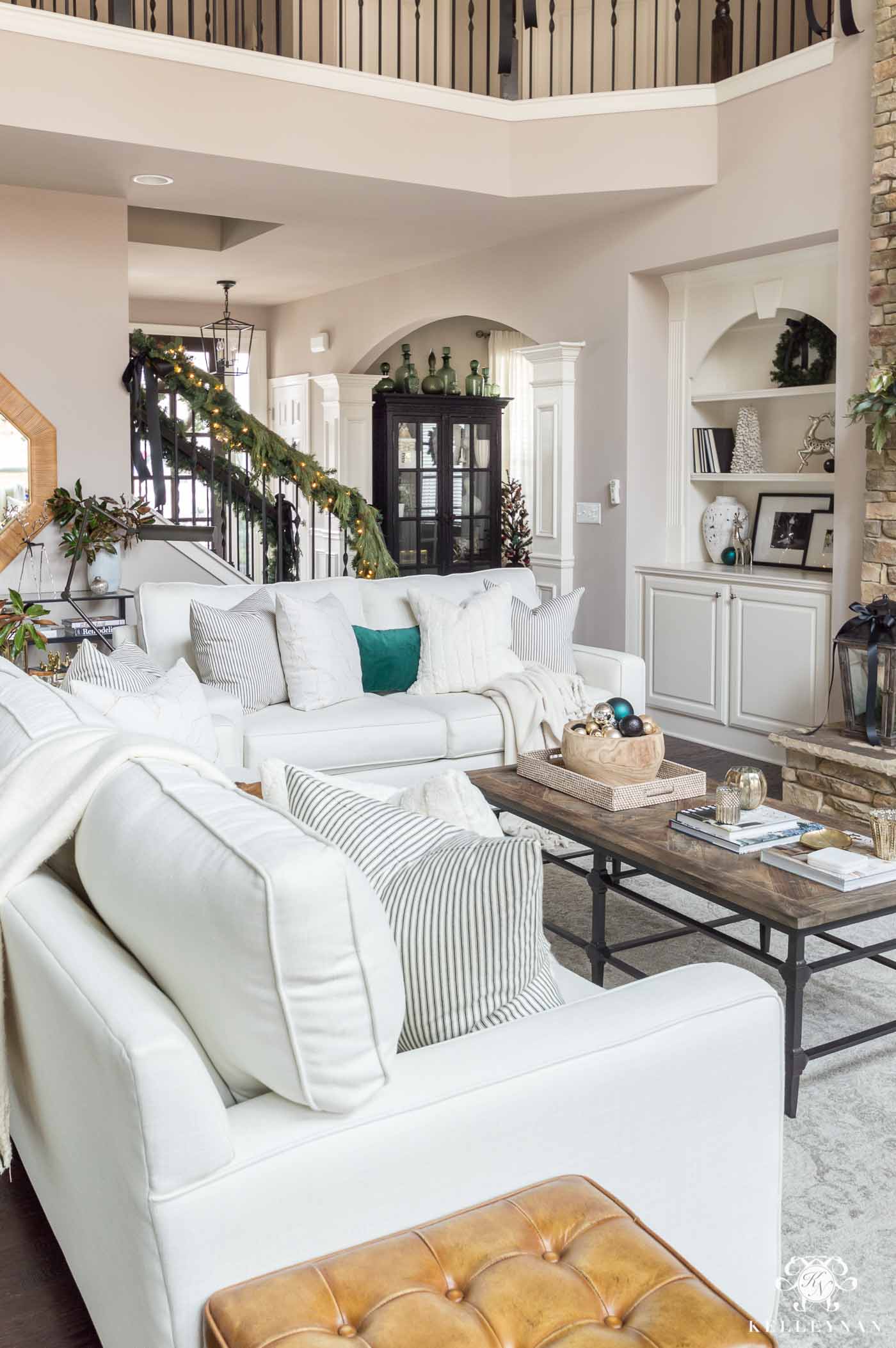 6. EMPTY THE SINK
6 minutes
My fingers are crossed that you have been practicing some good habits and are keeping a clear sink. But, if you aren't, this is kind of like the pillows. Clutter around the sink can make your entire kitchen look dirty. We do a decent job of loading the dishwasher continuously so for the most part, the dishes in our sink will be pots/pans/anything that isn't supposed to go in the dishwasher. If you have space, go ahead and put them in the dishwasher and plan to remove them later. If there isn't space, at the very least, fill as much as you can and stack the rest in the sink. Make a mental note to re-visit if time allows before your company arrives.
7. WIPE THE COUNTERTOPS
4 minutes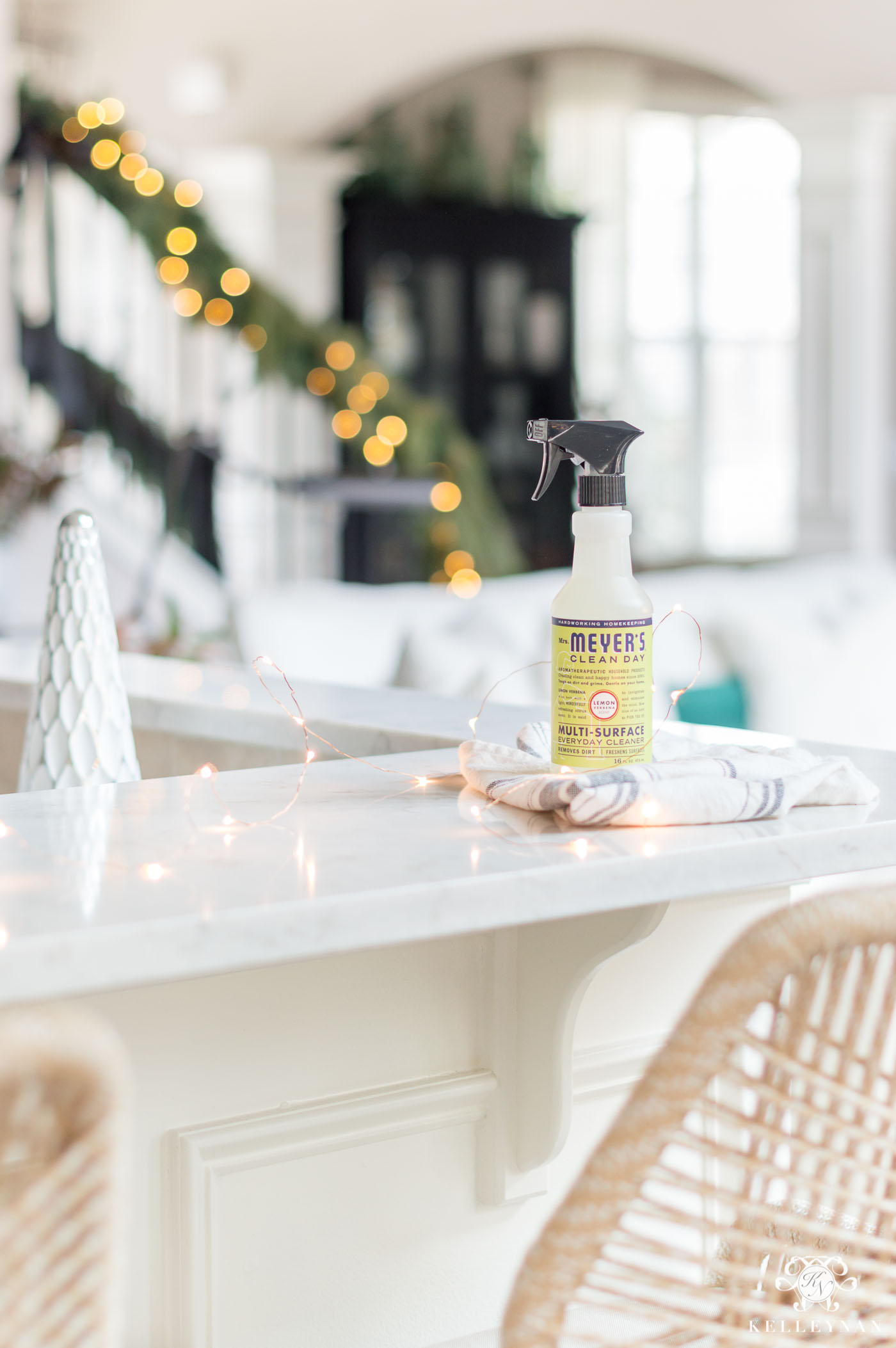 Grab some countertop spray and spritz everything. This countertop spray will leave your entire kitchen smelling fresh, too – one of those tricks that will make your guests think your house wasn't just quick-cleaned.
8. SET THE MOOD & AMBIANCE
1 minute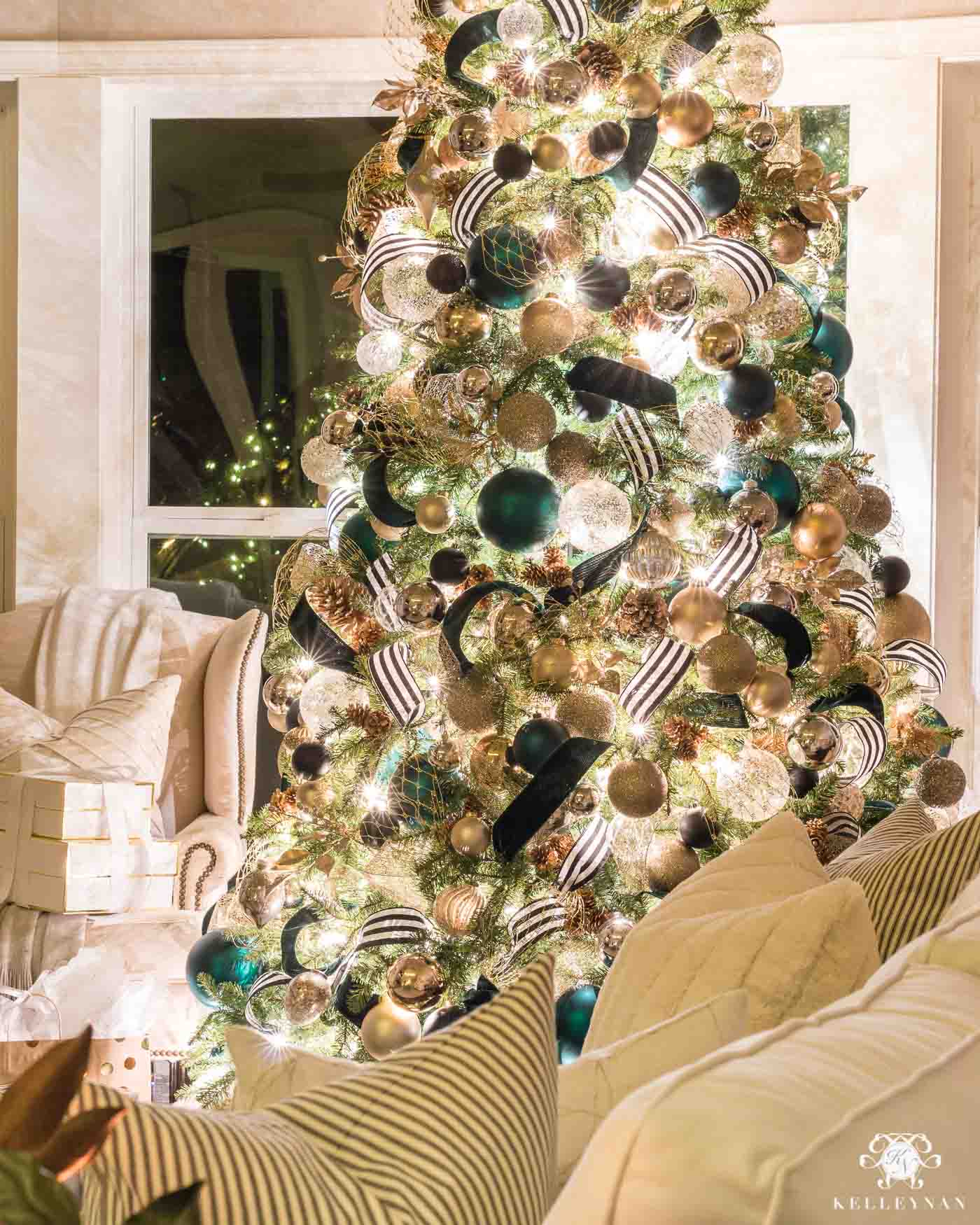 Turn on some classic holiday music and Christmas lights, and cut the harsh overhead lighting. Setting a warm, festive ambiance isn't just welcoming – it makes your guests feel like you've been enjoying your own time at home. You can totally get away with making your home a little dimmer during the holidays because people attribute it to wanting to see everything in the glow of Christmas lights. Plus, along with upping the ambiance, keeping those overheads off (you can turn on lamps) will help disguise imperfections you may have skipped over/missed.
If you're like our family, we have twinkle lights plugged into a ton of outlets — many are hard to access and are positioned behind gifts, benches, chairs, etc. This year, we got some of these Wemo smart plugs that not only make it easier and saves valuable minutes when we're trying to prepare for guests, but saves us so much effort nightly in turning lights on and off. We have them synced to both mine and Dave's phones and we can literally tap to turn each area off and on. Along with the T3 Cura Hair Dryer I always talk about, this was one of my favorite new 2018 discoveries. Speaking of T3s, I can't believe how much lower the price of my hairdryer is now through most retailers on eBay- you can find listings around $100 HERE. ALSO on the topic of hair dryers, there are some pretty fantastic deals on the elusive Dyson hair dryer right now. You can snatch up a refurb for under $240 HERE and brand new for under $300 HERE. (The eBay Dyson outlet guarantees that their refurbished items are in like new condition and are thoroughly tested so it's the route I've taken on several items this year — like my KitchenAid mixer with a similar guarantee 😉 ). None of these require bidding like the old eBay either and all come with "Buy Now" options.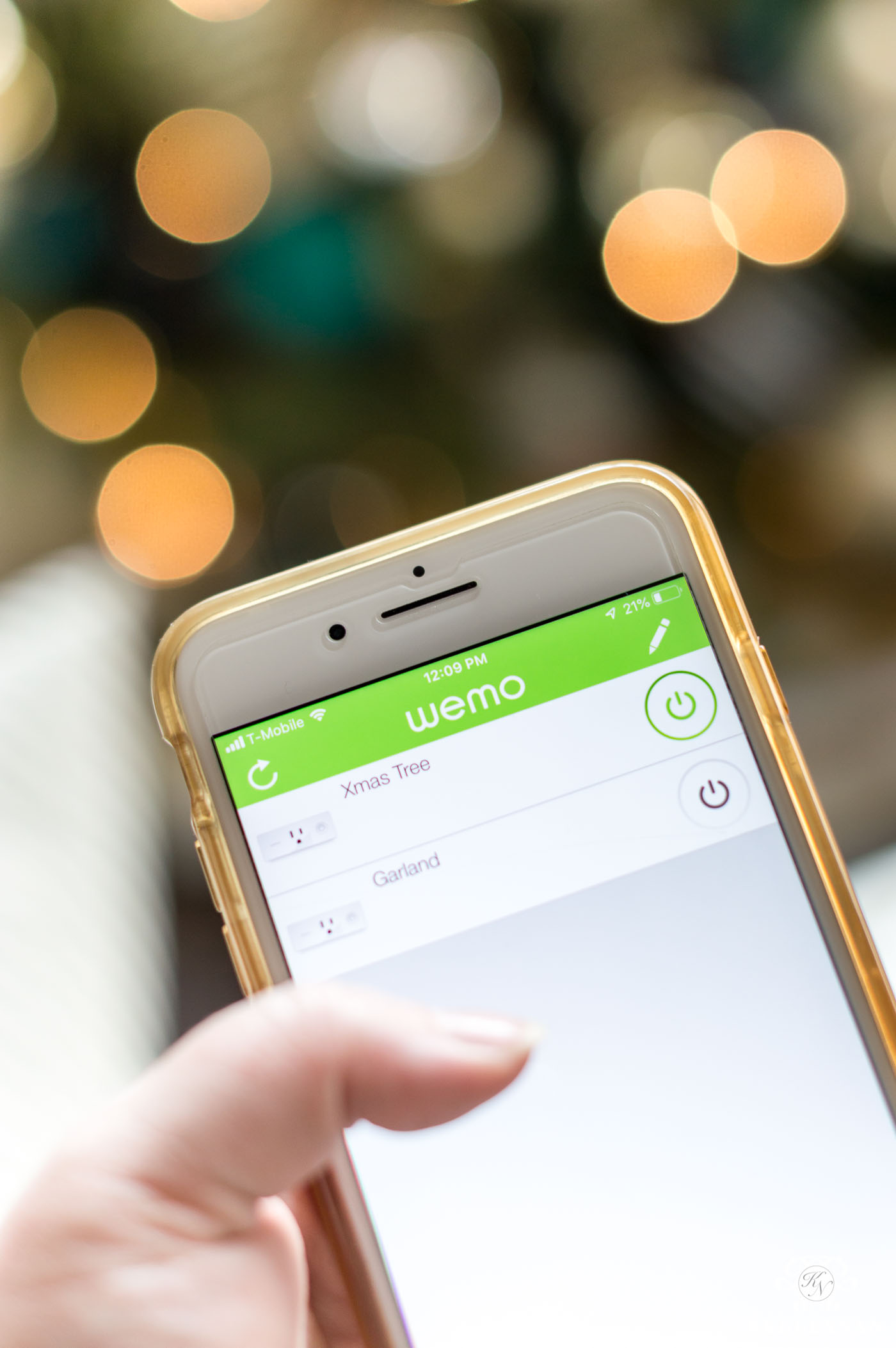 9. BREAK OUT THE STICK VACUUM
5-8 minutes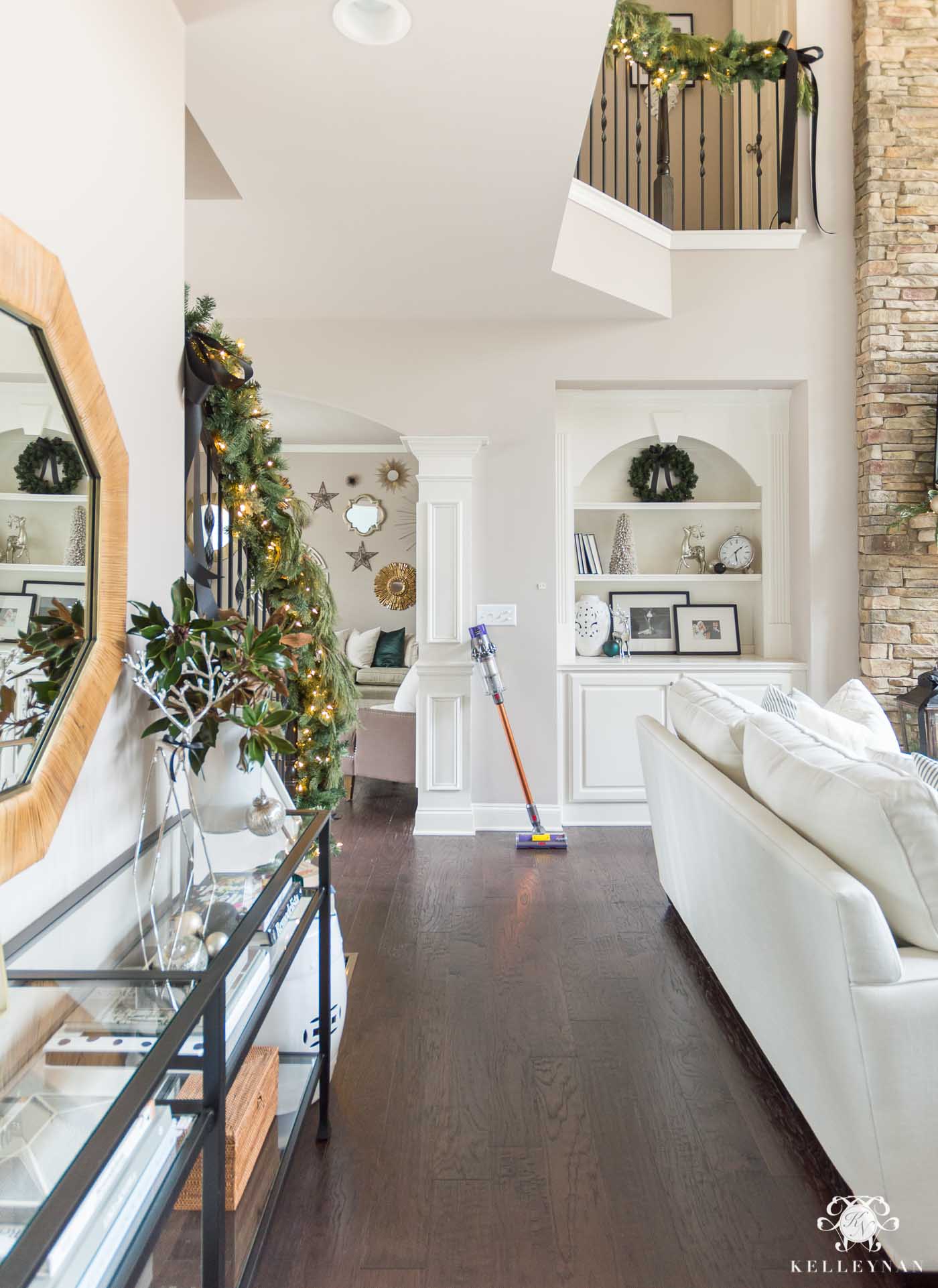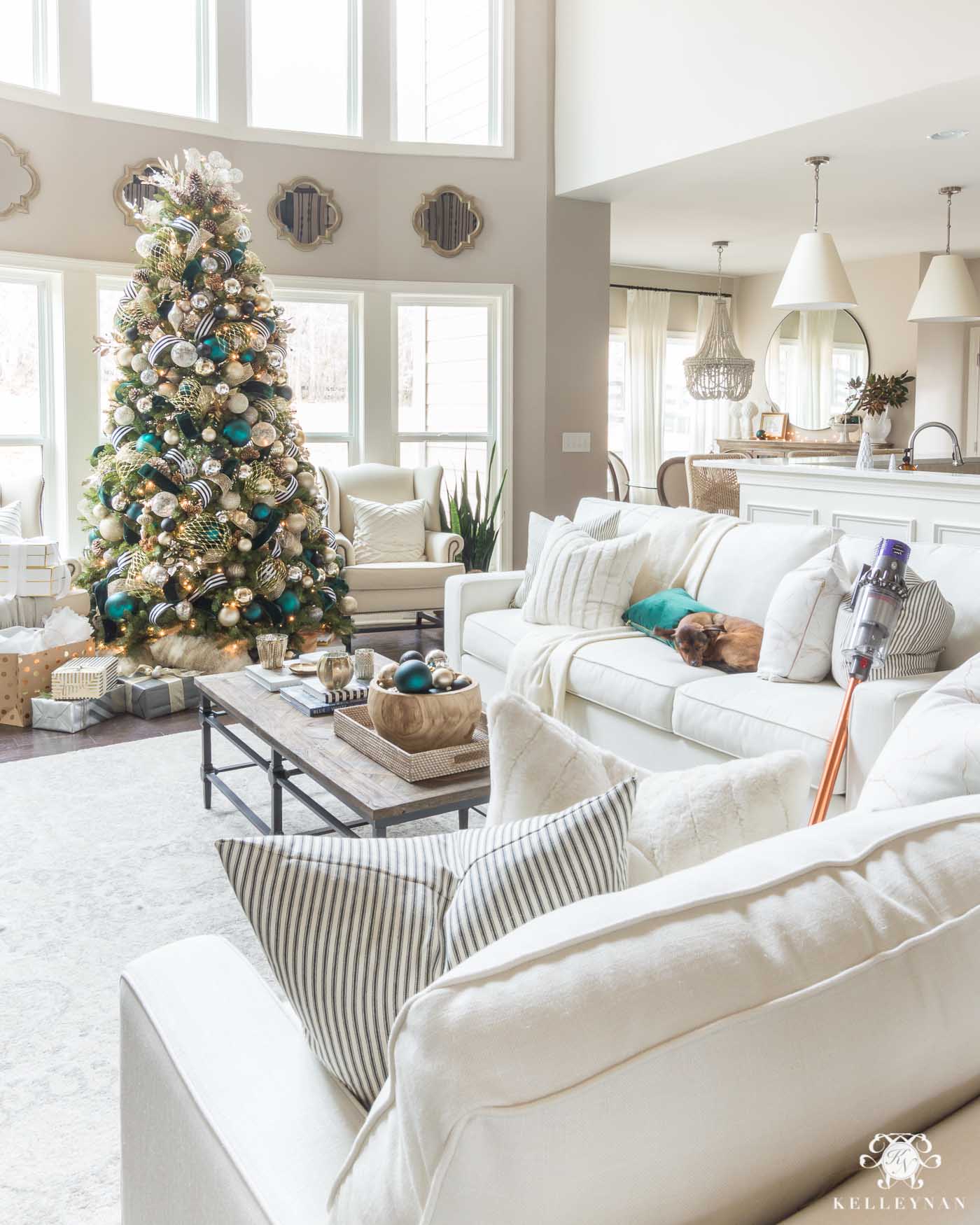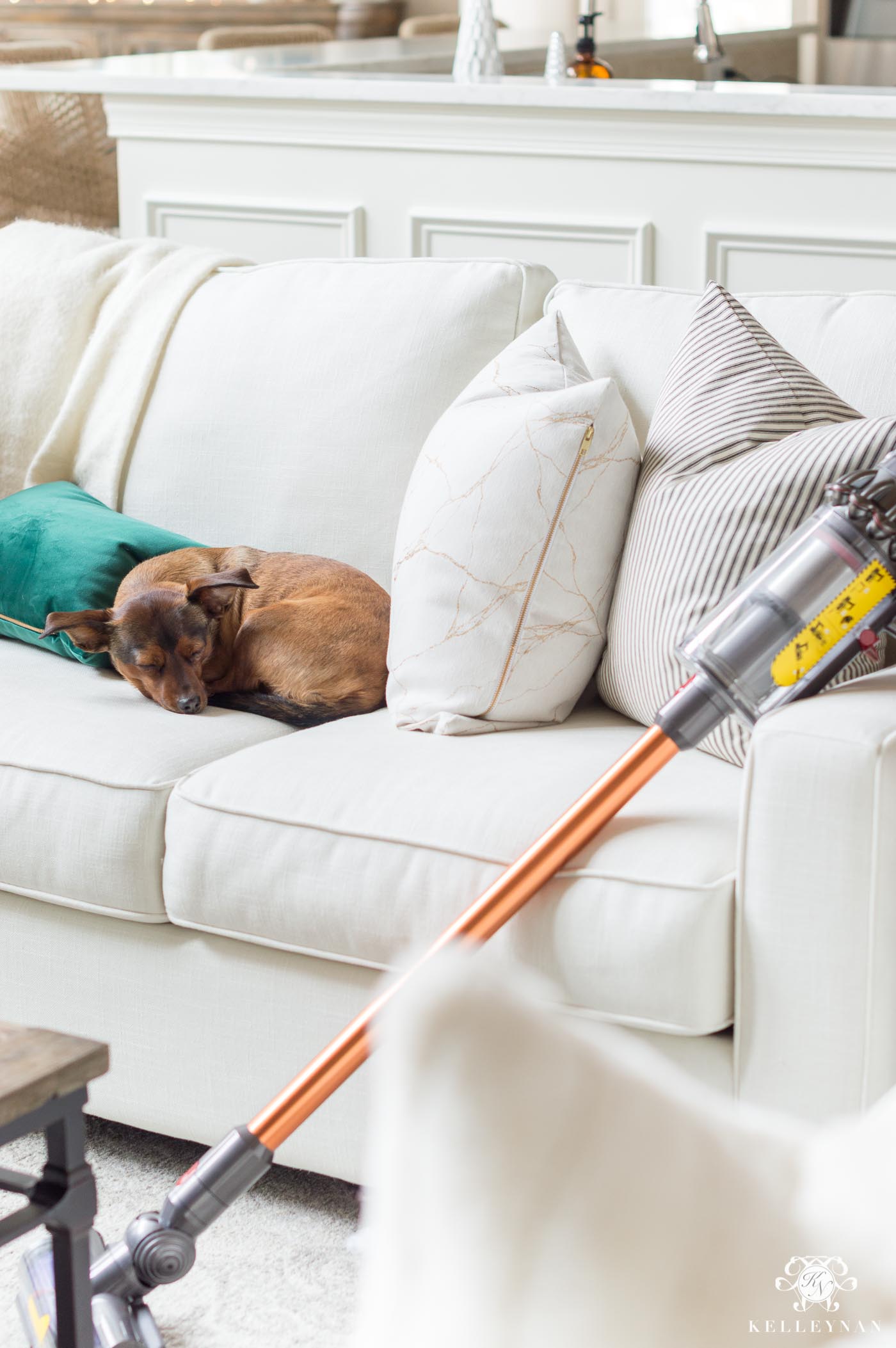 With 10 minutes to spare, you can literally grab your cordless vacuum and run all over your hardwood floors. The goal is to get any "tumbleweeds" (that's what I call my rug lint mixed with dog hair haha), crunchy garland that's fallen, glitter that's settled, and larger pieces of dirt. Unless the rugs are covered and obvious, I concentrate on the hardwood flooring where it's most obvious. You don't need to break out any of the special attachments and you aren't necessarily getting every nook and cranny. Literally, just cruise around your hardwoods in one pass, sucking up anything in your way. Note- if you don't have a powerful cordless vacuum, this will take a while longer.
This Dyson stick vacuum made our lives so much better earlier this year. After weighing all the different models and versions (and polling and messaging with a lot of readers who helped steer me in the right direction), I ultimately sprung for the latest – the V10 Absolute. The brand new version (HERE) is currently a couple hundred dollars cheaper than what it was when I purchased. Conversely, you can get the first model Absolute (the V6) on sale for almost 70% off at $186 right now (HERE). See all the stick vacuum deals, options and versions HERE.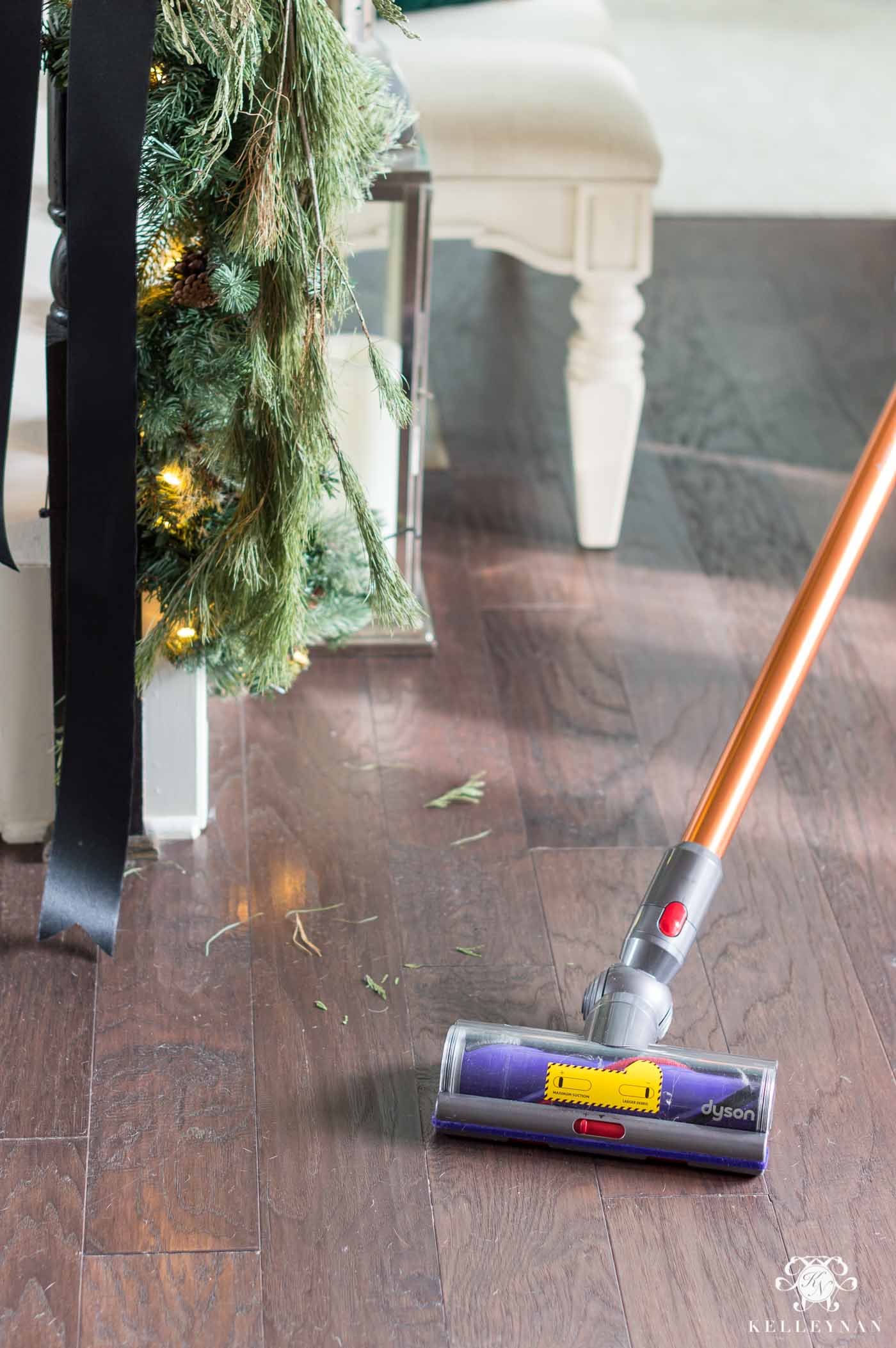 ---
Scroll & Tap to Shop the Dyson Stick Vacuums

---
10. SET OUT A HAND TOWEL
1 minute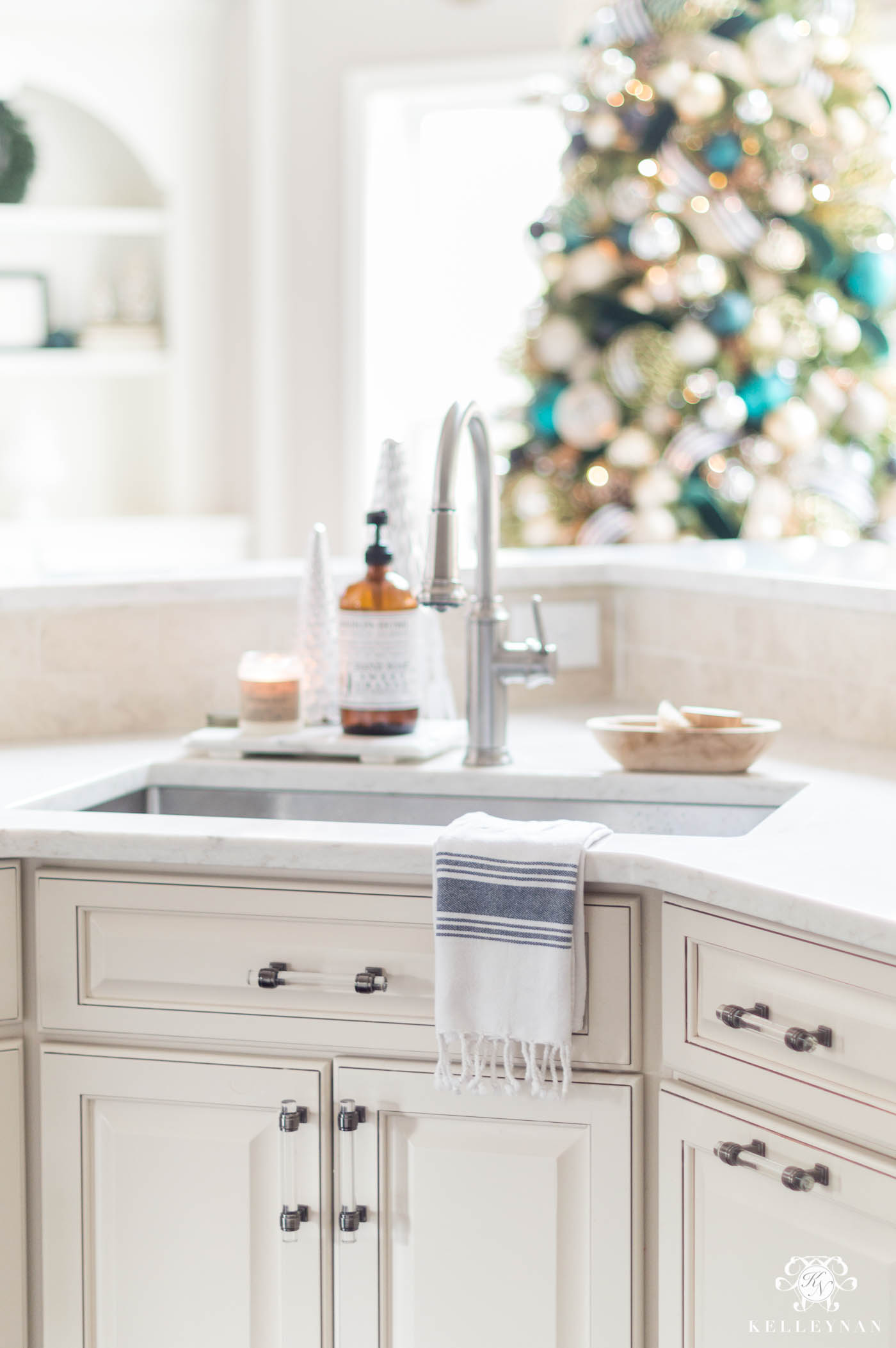 Setting out a nicely folded hand towel is the finishing touch that will make your kitchen look clean and ready. Don't leave a crumbled towel on the counter that makes it look like someone's been at work.
---
Scroll & Tap to Shop the Hand Towels

---
BONUS: SET APPETIZER/DESSERT ON A PLATE
If you knock everything else out with a few minutes to spare, hit up the cookie stash you've been working on or get inside your fridge. You can pull a cookie dessert plate or cheese board together quickly.
Wishing you the best next few days with your planned (and unplanned) holiday guests!
---
Scroll & Tap to Shop the Post

---