This past week, we finally put the finishing touches on our holiday home and set up our front porch Christmas decor. If you've been a KN reader for a while, you know that regardless of what we have going on on the inside (pink trees, blue trees, meadow trees, etc.), that I like to honor the traditional craftsman-style exterior of our home with a classic vibe. I've used the same snow-flocked corner tree with red berry sprigs every Christmas since we moved in and while I didn't want to deviate from the overall feel, I was ready to change things up a little. This year's goal- make the front porch feel like a cozy Christmas forest. I don't know if that's actually a "thing" but I feel like maybe it could have been in a Hallmark movie… or maybe I'm thinking of an old clay-mation movie? Regardless, I had a very real idea of what I pictured a Christmas tree forest to be, and some very simple ideas on how to pull it together.
*While this post is published in partnership with The Home Depot, as always, all opinions, concept, and content are my own. Affiliate links may be used in this post. Click HERE for full disclosure.*
Front Porch Christmas Decor
My first rule in outdoor decor is that you don't have to actually use outdoor decor. Now, let's not get crazy – you still have to put in your due diligence, check the fine print and confirm that things won't be ruined by the elements. But, I like to expand my options beyond decorations that are intended for outdoor/yard use. With covered porches, you can get away with a lot more 😉 For example — a faux fur throw and a copper mixing bowl — maybe not meant for the outdoors. Technically. But, what's the worst that could happen in a single season, on a covered porch in north Georgia during the cool weather months? When you move beyond decor that's reserved for outdoor use, you can start thinking less about "porch decor" and more about an extension of your living space.
After starting with my two polywood rocking chairs and adding two slender, natural woods-style trees — one 5′ and one 6′ — I officially declared my porch a "forest" and expanded the Christmas scene.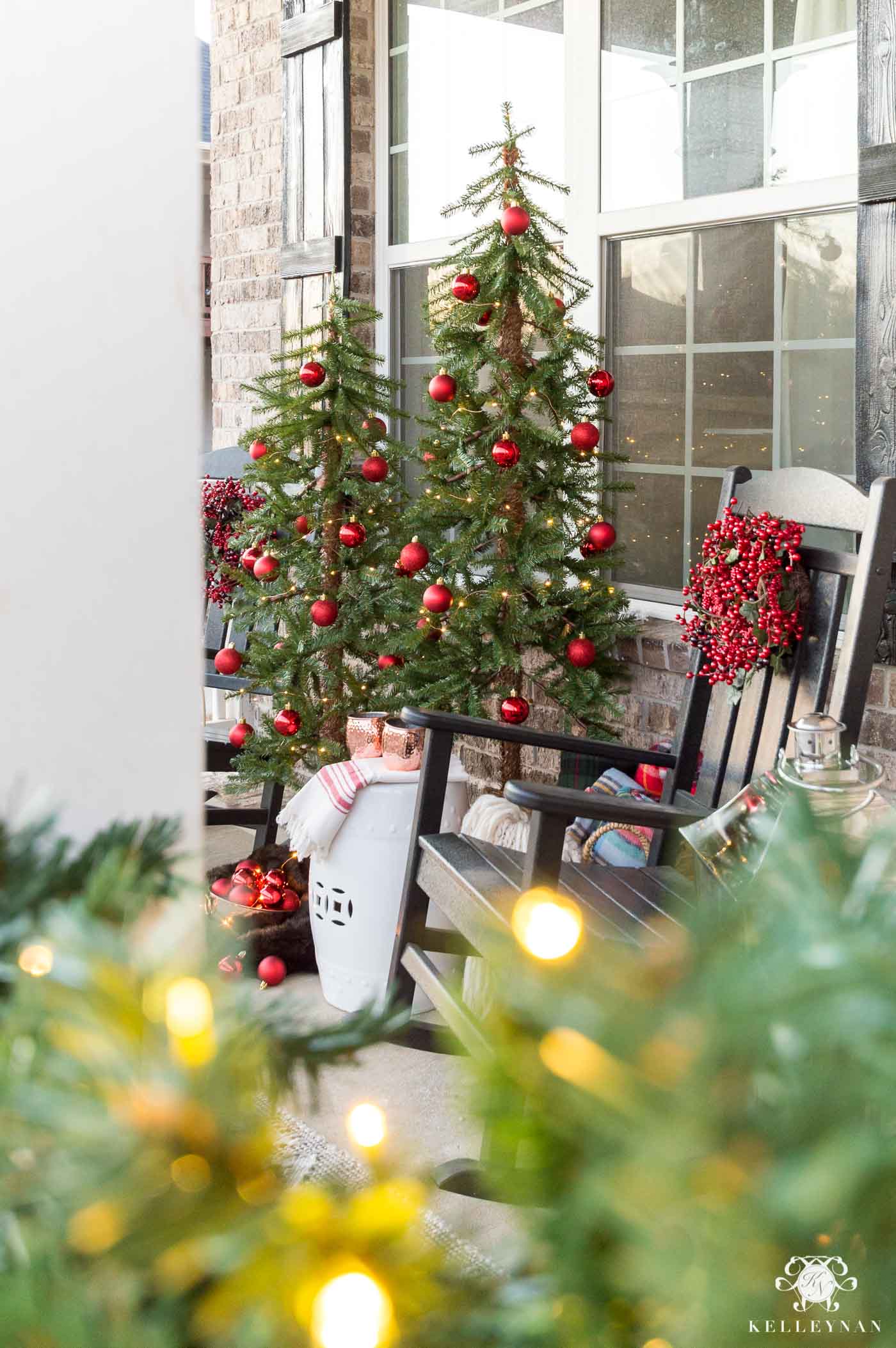 By the way, my polywood rockers still look brand new almost four years later. They are a little more than standard painted wood but with their ability to weather and withstand the elements, it's totally worth it. If you're looking for a special/family gift, these would be a total hit.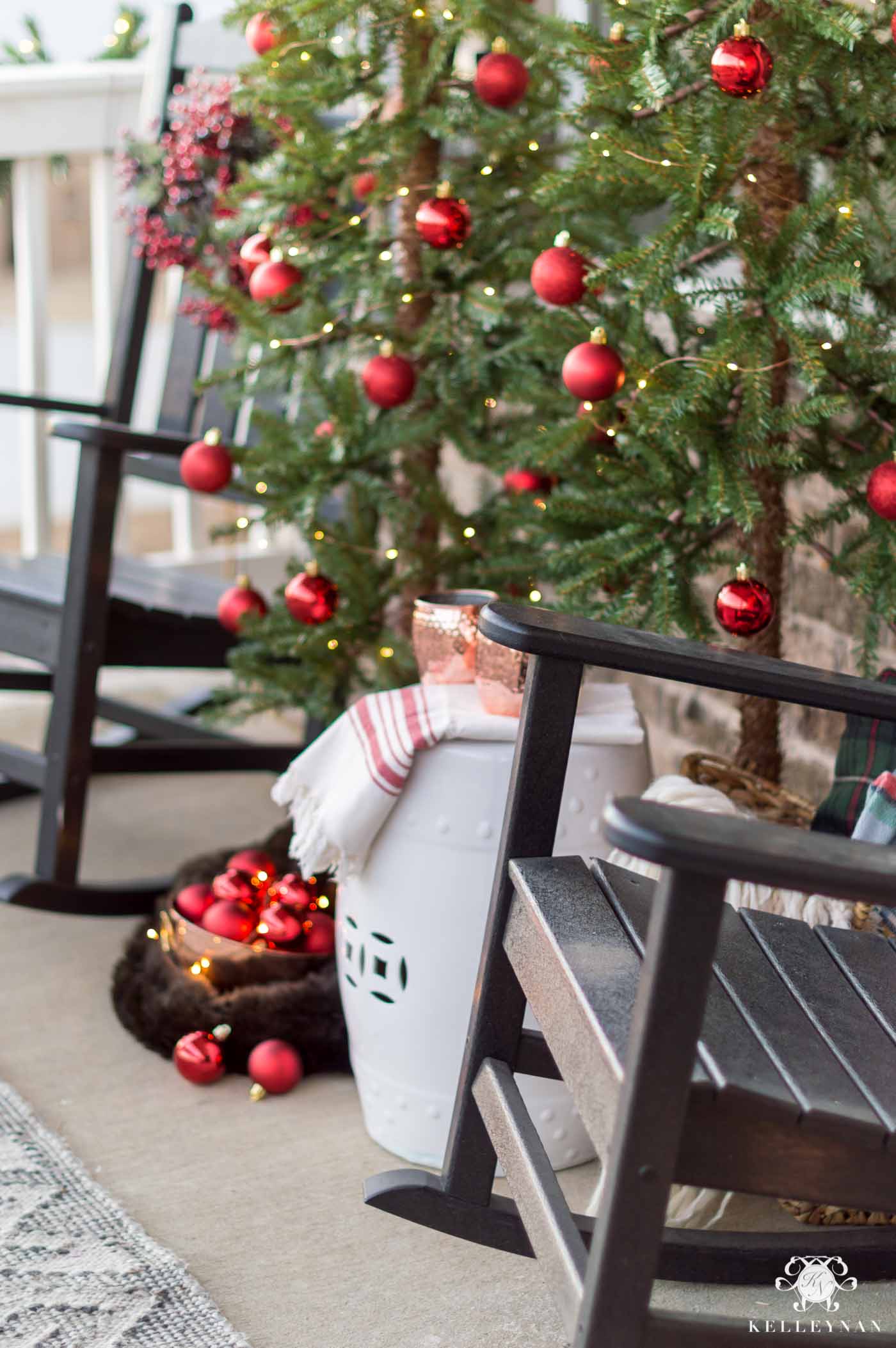 One type of item I do try to check to make sure they can withstand the outdoors are lanterns. Some (like THESE) are made for indoor/covered porch and should endure without rusting. I actually scored two tall 31″ chrome lanterns on sale for $42/each, marked down from $169. I always get questions on oversized lanterns that I find but big lanterns typically come with big price tags. I was so stoked about this deal, I ordered another pair (in bronze) as a gift for someone to put on either side of their front door. I ordered a third shorter lantern for myself at 22″, also on killer sale for under $30, marked down from $119. Indoors, outdoors, summer or winter, if you've been looking for some statement lanterns, you can't beat these. Even though they're pretty massive, they ship free (all orders from The Home Depot over $45 ships for free).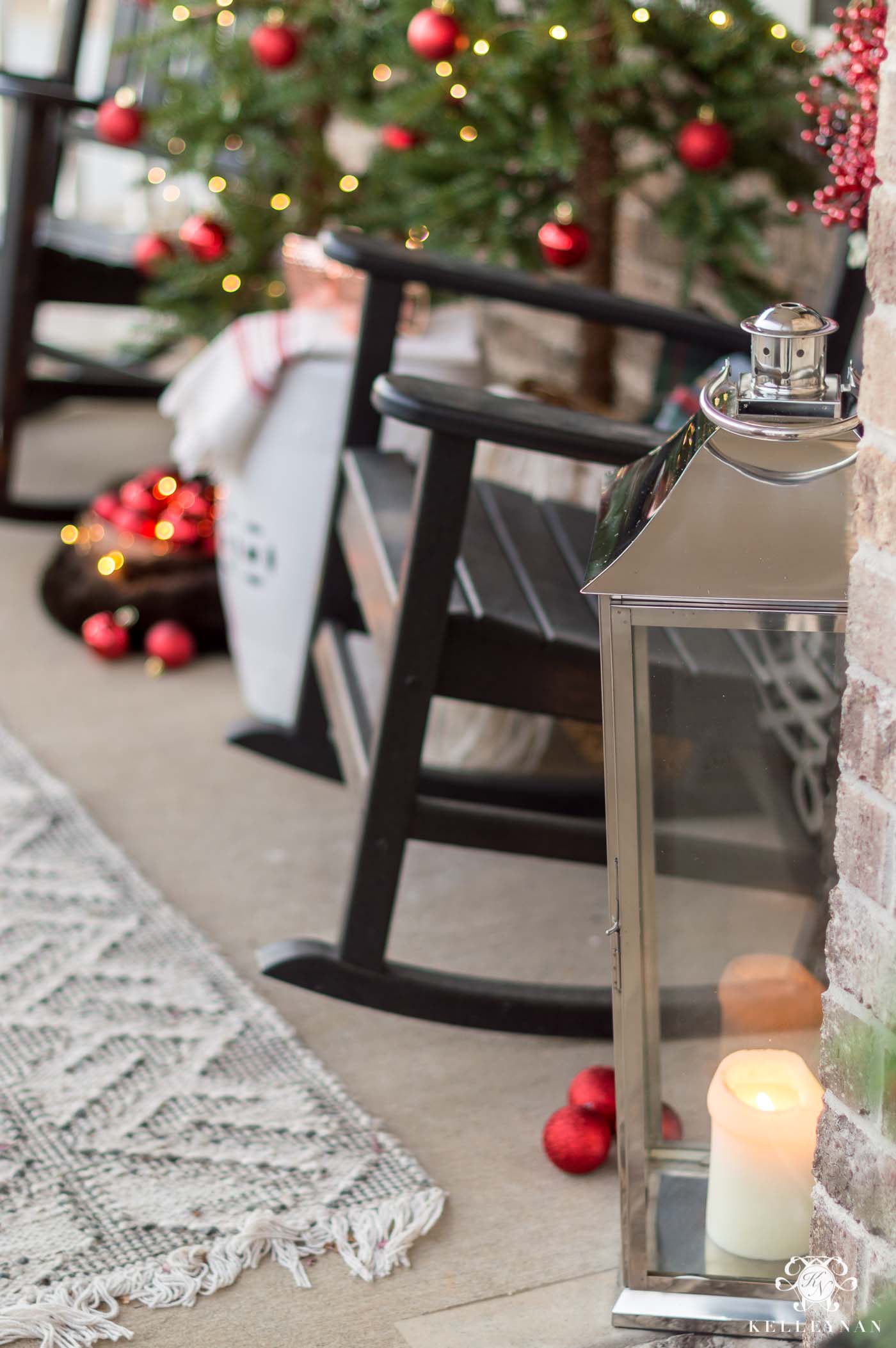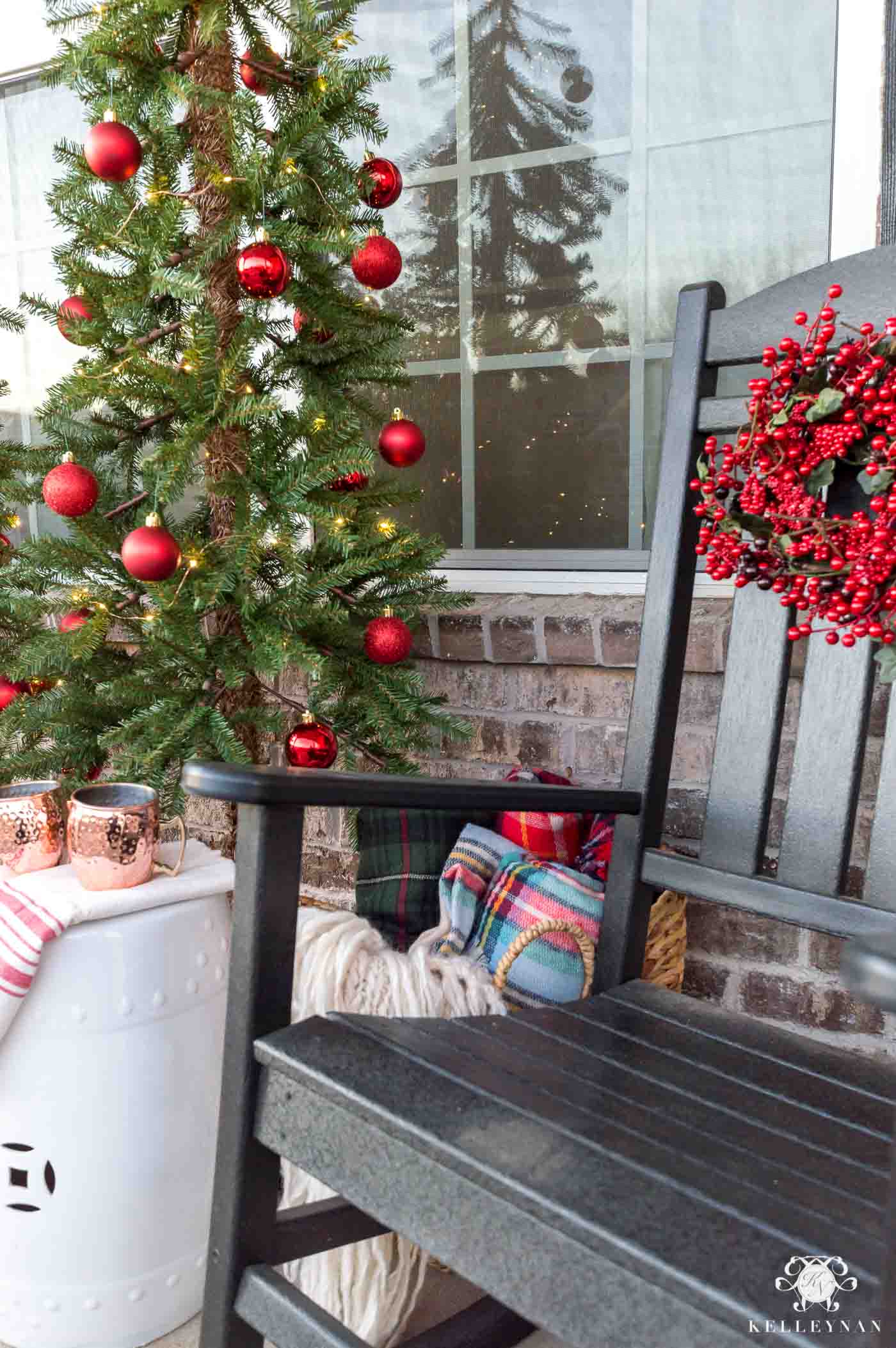 I've used green on black before but for it to really pop and to be visible from the road, I think my porch looks way more festive in crimson reds. In lieu of pillows, I ordered a pair of THESE red berry wreaths and tied them onto the rockers.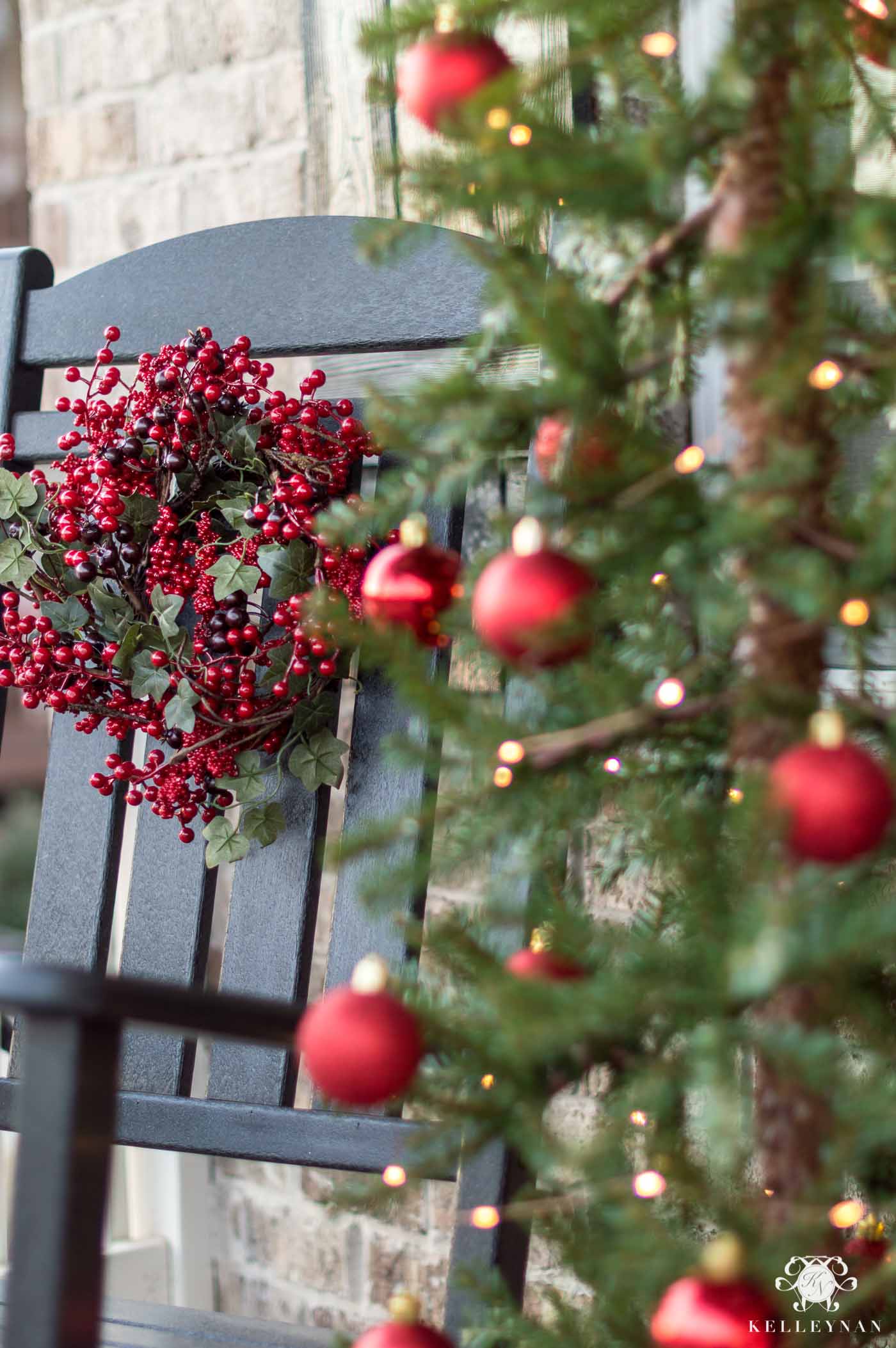 To keep it more "front porch living" and less "backyard patio", I like to use some versatile pieces you can find inside my home, too – like this garden stool. I use it as a center table year-round between my rockers but it's also been known to double as a plant stand and move around as needed.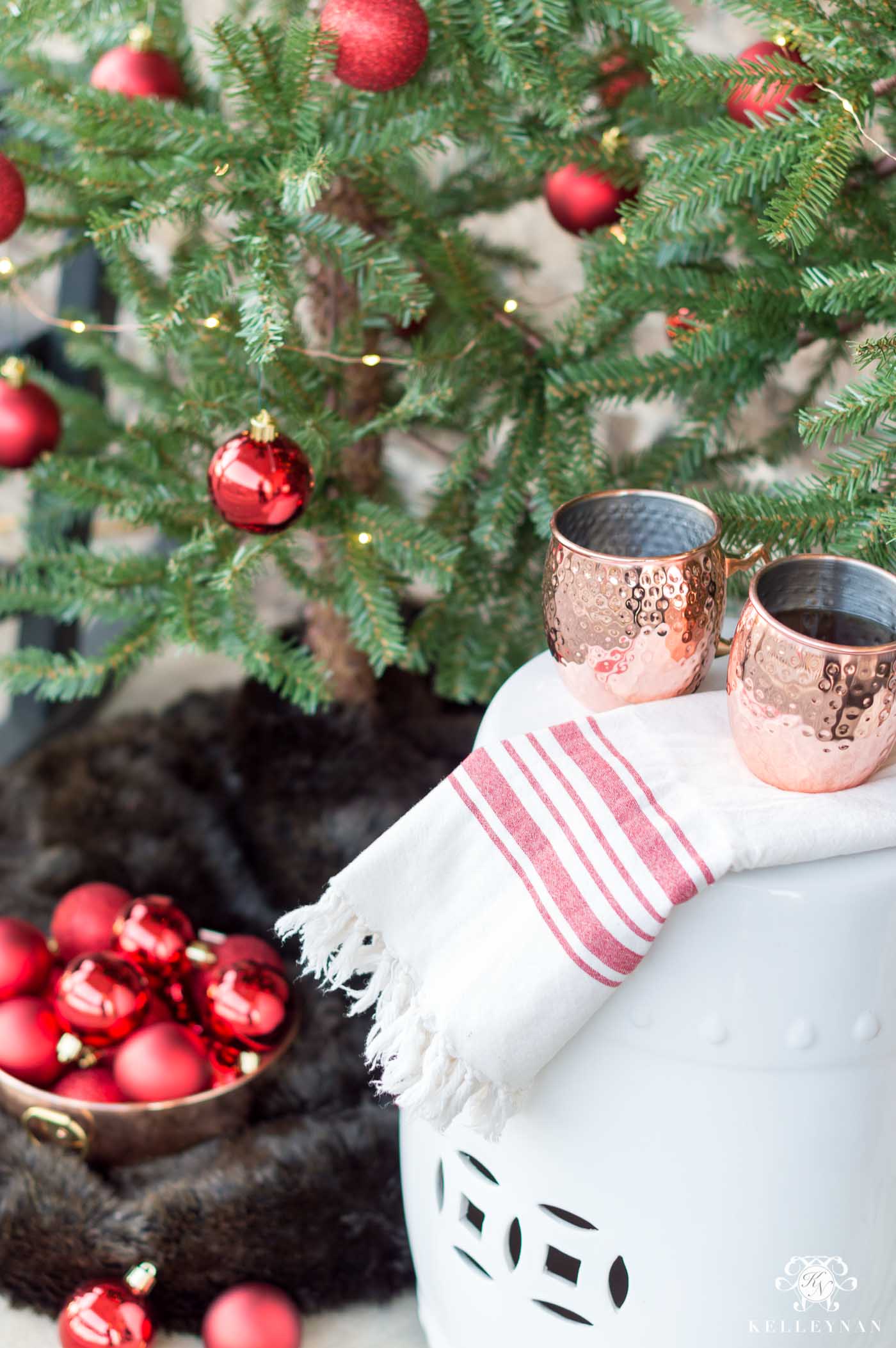 Decorating the front porch during for Christmas is kind of like setting up a store's holiday window display. Yes, you want it to be functional so you can "live it", use it, and enjoy it but there's so much potential in creating a special "moment" neighbors can peek at from the street and guests can take in when they visit.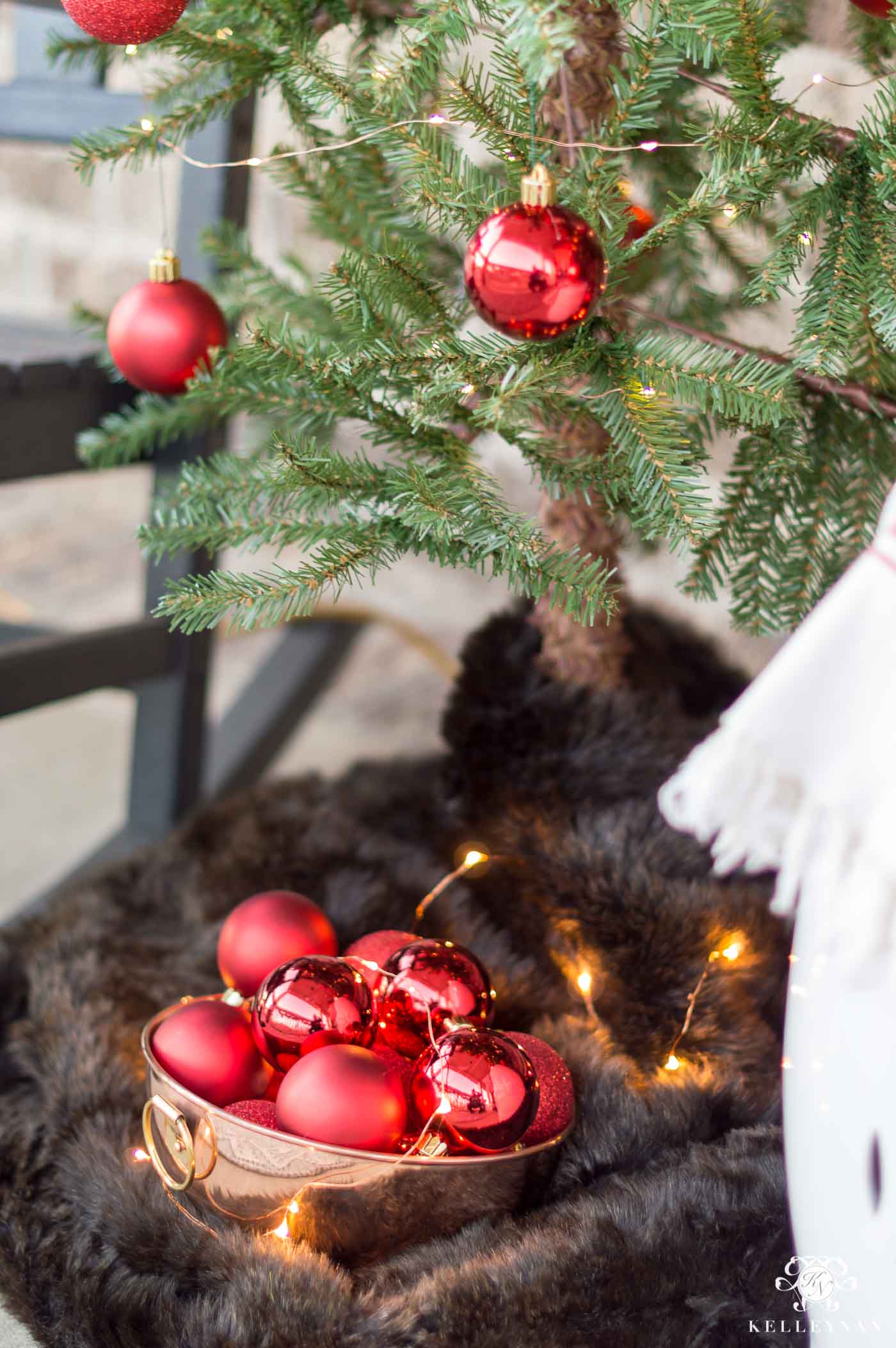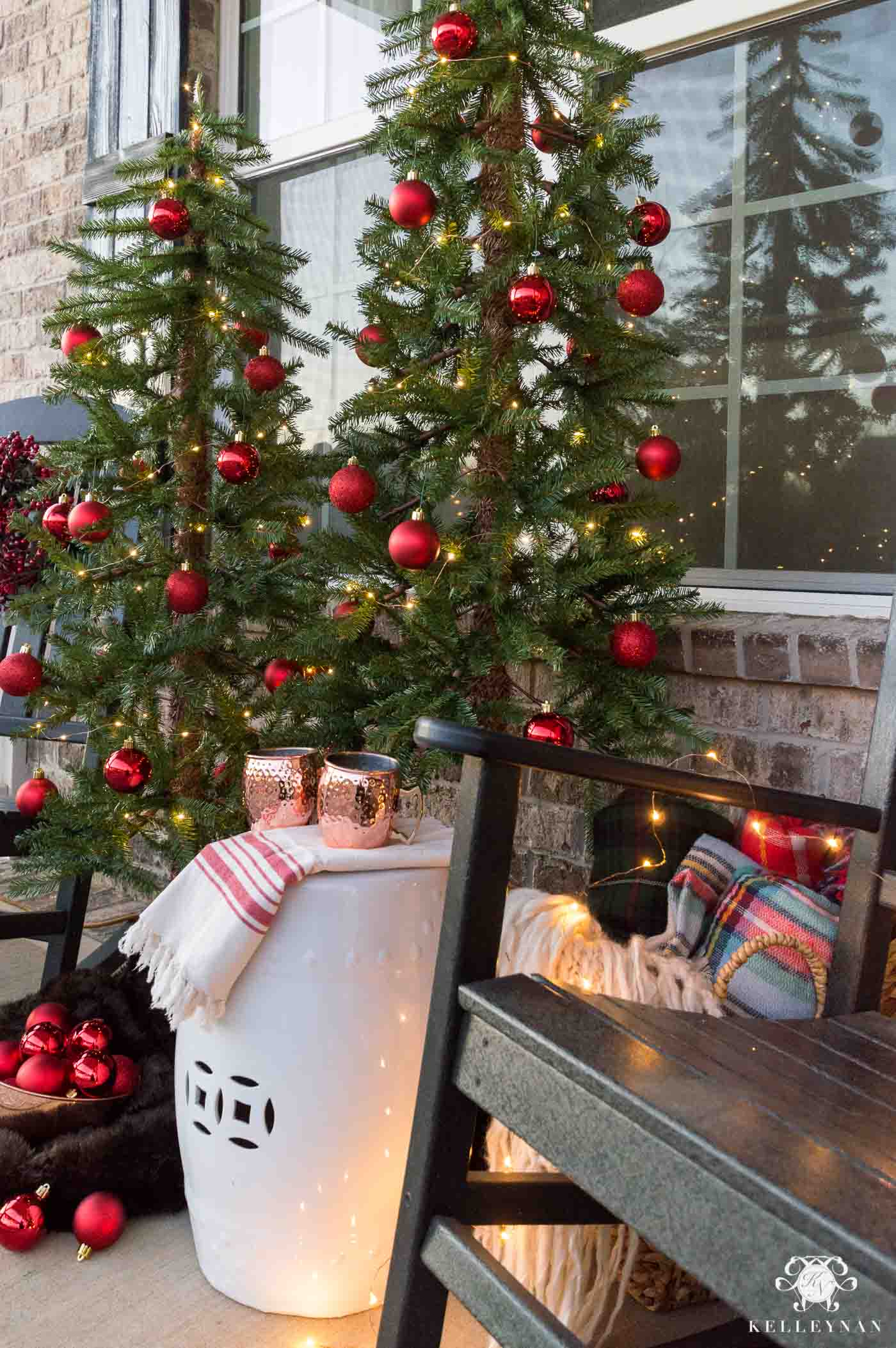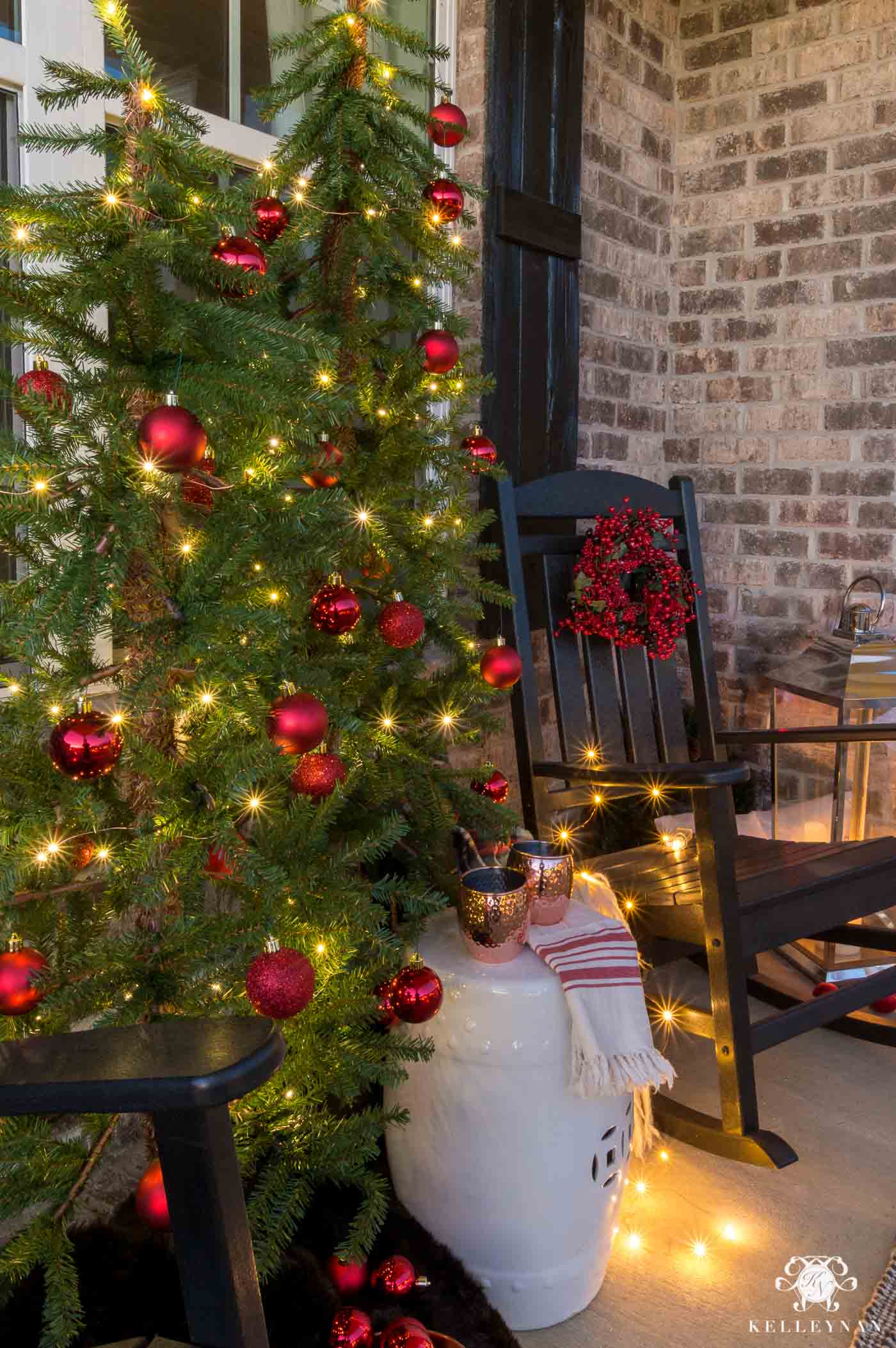 To really make things cozy, layer them – front to back, side to side, top to bottom. Stagger your porch decorations and furnishings as though you're setting up a conversation area.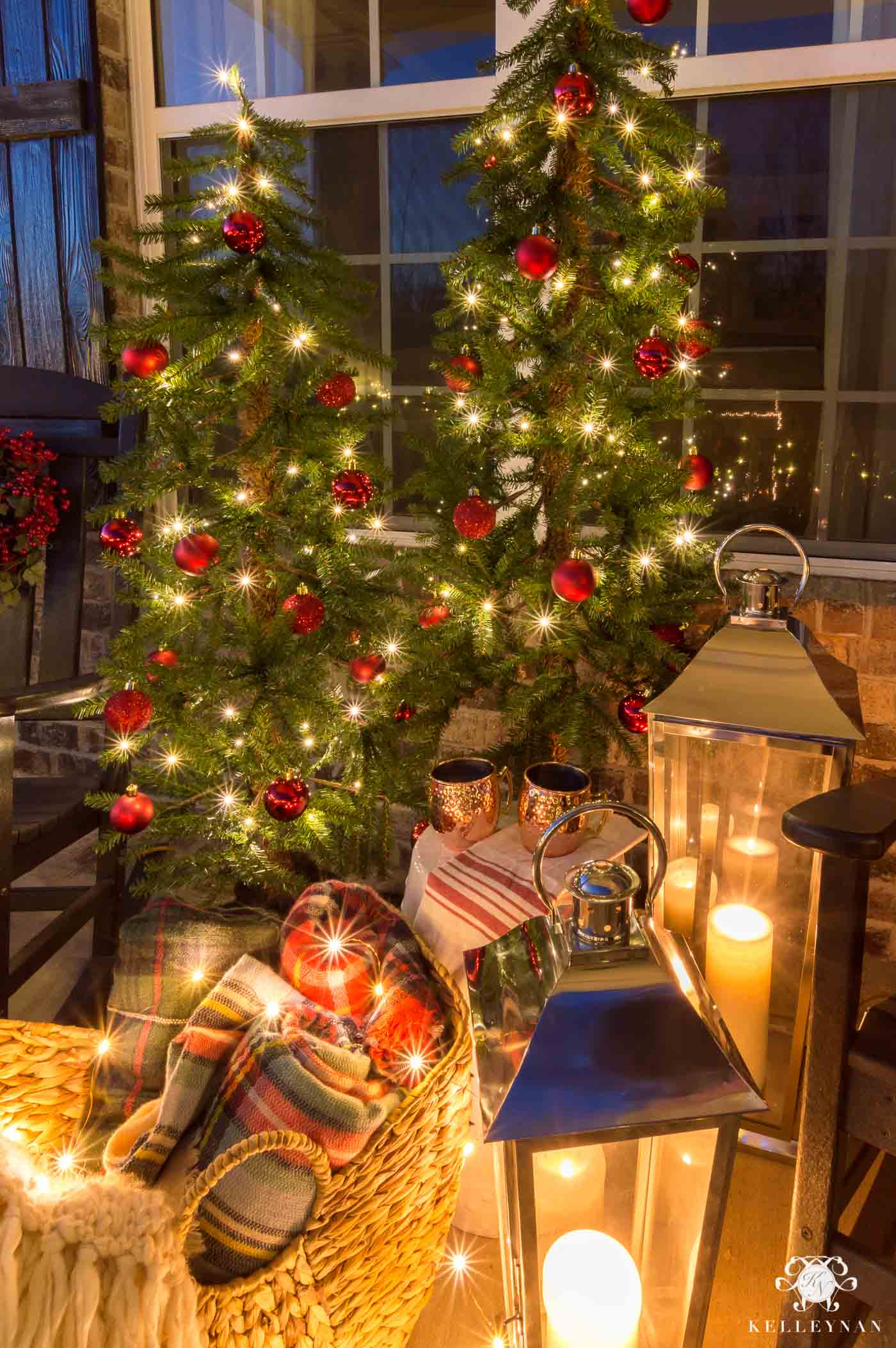 And obviously, I don't think there's such thing as going overboard on ambiance from the twinkle lights in the trees to the loose, draping strands, to the glowing lanterns.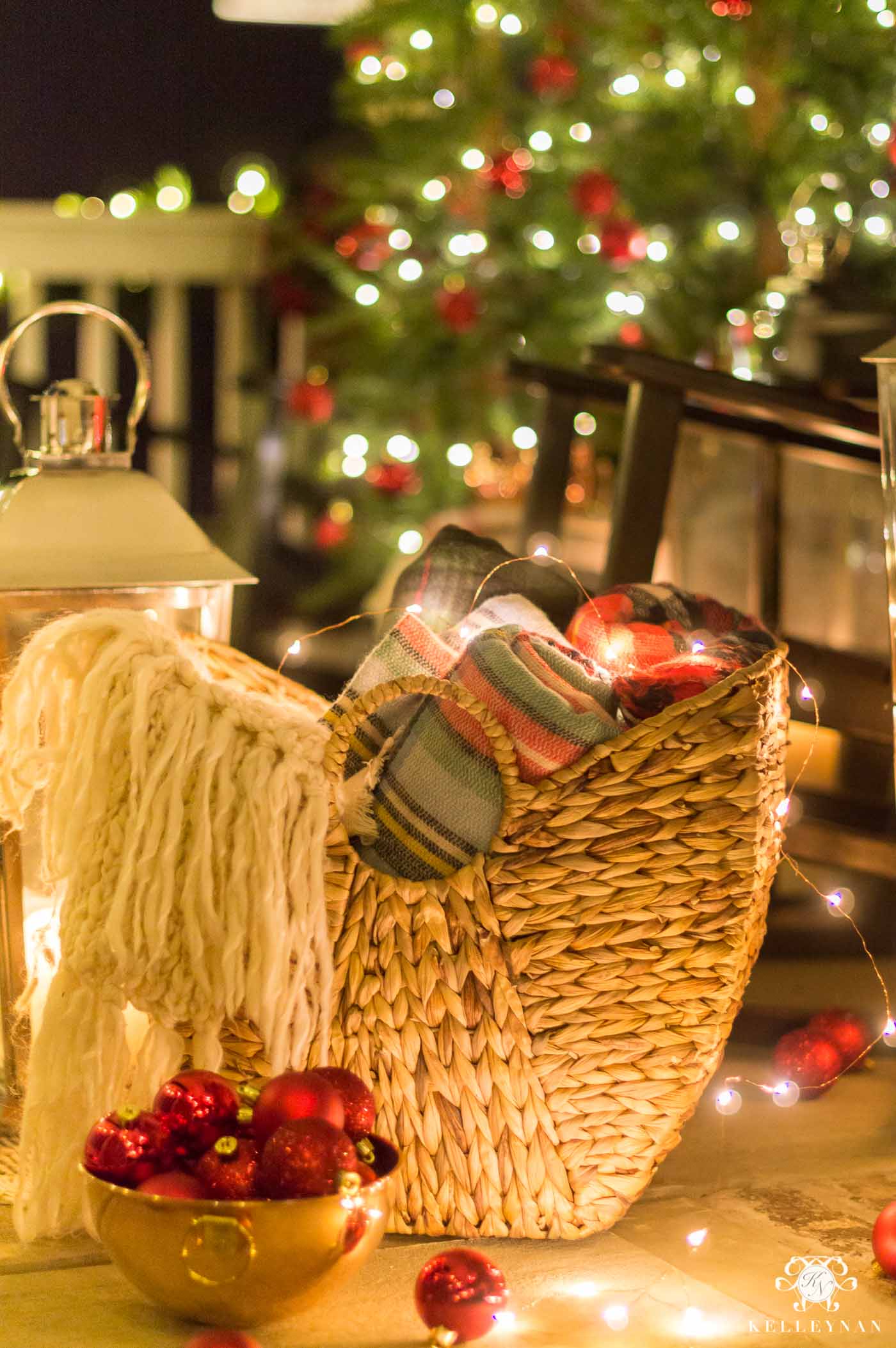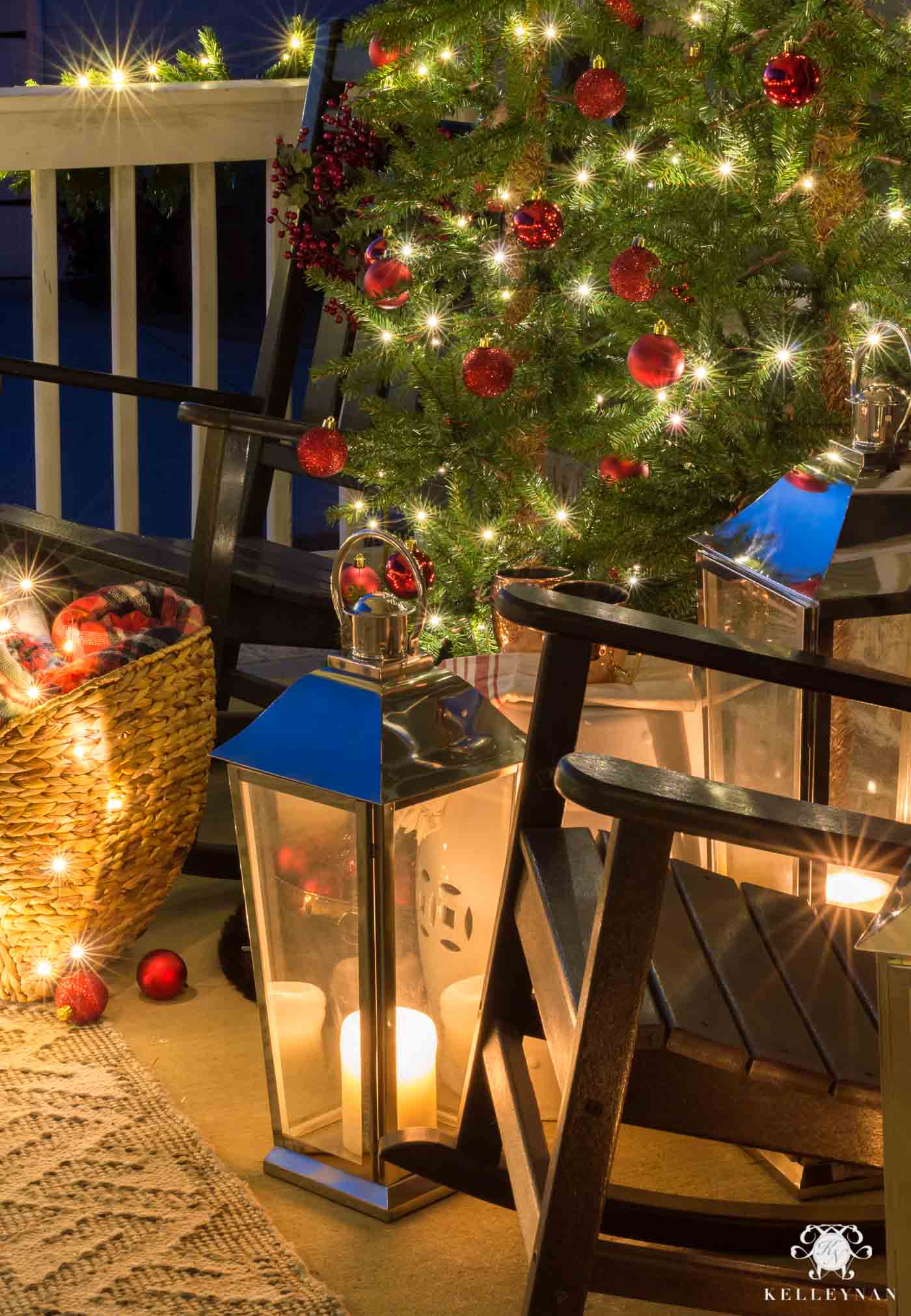 When you're hunting for ways to bring the inside out and how to make your porch look more like a store display, don't overlook your closet. Each year, I bring out my blanket scarves and use them in holiday decor when I'm not actually wearing them. I corralled some favorites in THIS basket and while they totally read "cozy Christmas forest" in my eyes, they're also super practical to keep within arms' reach.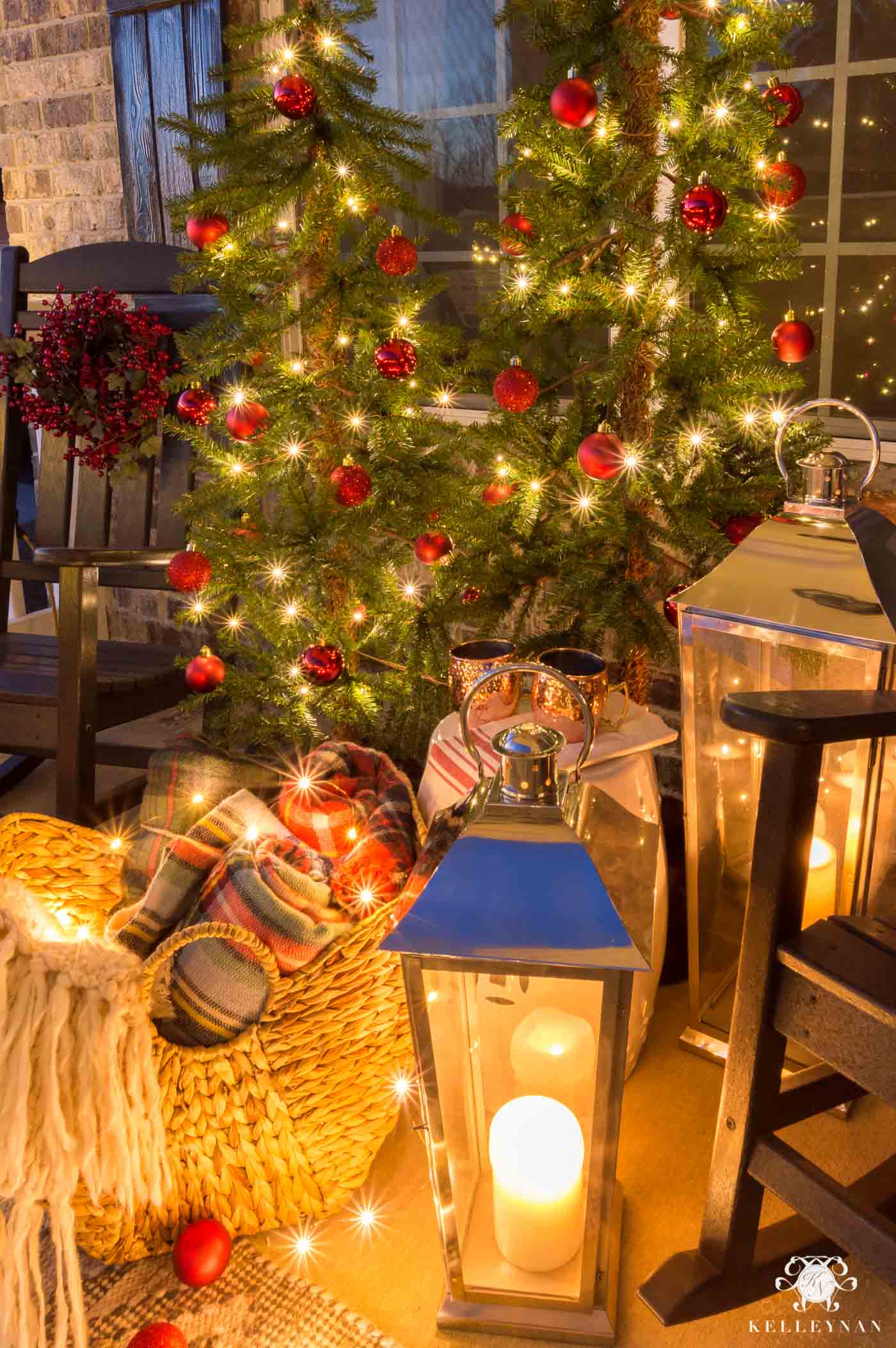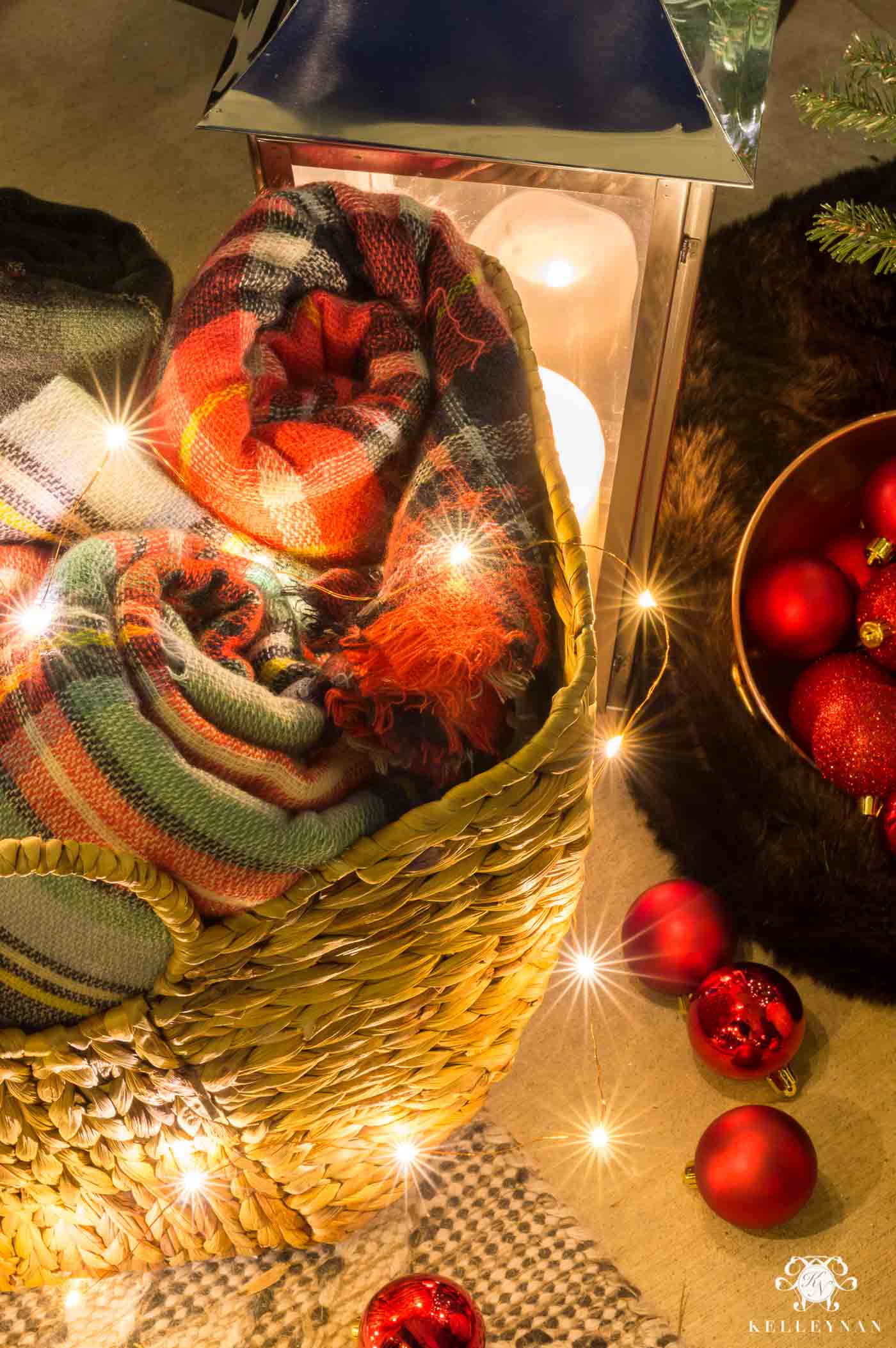 Each year, I do just a little bit more on the front porch. I've gone from the bare minimum to setting up full scenes and it's now become one of my favorite spaces to infuse with a little Christmas. Probably because even though I don't want to render the space unusable, you can get a little more creative without worrying as much about practicality. I'd love to hear about your front porch style! I've included all my porch sources — from the Christmas trees and ornaments to bowls and baskets — below. Be sure to subscribe to my emails at the bottom of the post to see the final posts of the Christmas season and to catch all the projects hitting KN in early 2019! PS: There's a pretty major announcement coming soon 😉
Scroll & Tap to Shop the Post



Polywood Rocking Chairs // Garden Stool // Large Woven Basket // Red Ornament Balls // Copper Mugs // 5′ Tree // 6′ Tree // Red Berry Wreaths // 31″ Lanterns // 22″ Lantern // Copper Bowl // Battery String Light Strands // Faux Fur Throw (similar) // Indoor/Outdoor Runner (similar)