This is one of my favorite collection of gifts to curate each year because the items are either 1. typically on my own wishlist; or 2. are so personally beloved, I can't talk about them enough. There's a little bit of everything, including stocking stuffers and smaller gifts, daughter gifts, sister gifts, mother gifts, friend gifts, wife gifts, and more. You can find more information and a full description beneath the graphic below!
By the way, don't miss the first collection of gift ideas released this season, that are more interest focused. Check out hobby gift ideas HERE.
*Posts on KelleyNan.com may contain affiliate links. As an Amazon Associate I earn from qualifying purchases. Click HERE for full disclosure.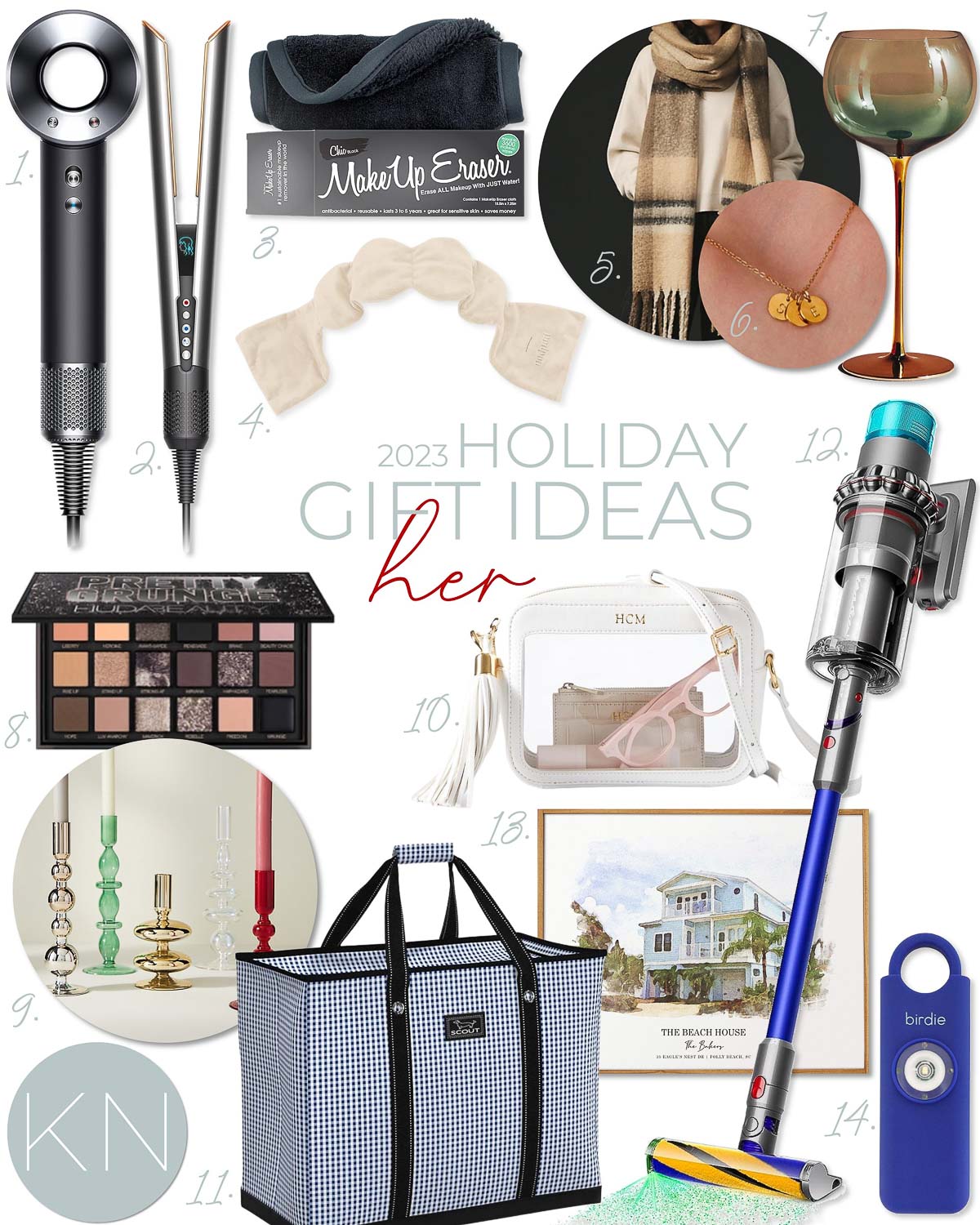 1. Dyson Supersonic Hair Dryer | 2. Dyson Corrale Hair Straightener | 3. Make Up Eraser Cloths | 4. Nodpod Light Blocking Weighted Sleep Mask | 5. Anthropologie Plaid Scarf | 6. Tiny Initial Coin Handmade Necklace | 7. Tinted Wine Glasses (set of 4) | 8. HUDA Beauty Pretty Grunge Eyeshadow Palette | 9. Taper Candle Holders | 10. Clear Crossbody Bag | 11. Scout Extra Large Tote Bag | 12. Dyson Gen5 Outsize Cordless Vacuum | 13. Personalized Home Portrait | 14. Birdie Personal Safety Alarm
1. Dyson Supersonic Hair Dryer — I timidly and suspiciously upgraded to this hair dryer a few years ago and I can confidently say — it's absolutely worth the investment! I don't know the science behind hair tools but I love that it isn't bulky and the way it smooths while it dries is unmatched. It's currently on sale for 25% off and ships free via Amazon HERE!
2. Dyson Corrale Hair Straightener — This was actually a more recent purchase and it's one of the best buys I've made this year. It's cordless and has a charging cradle (though you can also use it with a cord) and it turns off automatically after ten minutes of not being used. I use it for both straightening and curling and I've never used anything that has gotten and kept my hair so straight. I'm looking forward to having fewer hair tools to travel with! I also love that the sides of the straightener have a protective barrier that make it more difficult to burn you!
3. Make Up Eraser Cloths — I use these every night when I wash my face/take my makeup off and they are so effective. It feels like you're rubbing a fleece blanket across your face but it literally makes your makeup disappear. You can use it with a makeup remover (I use THIS makeup removing balm) or use it with just water — the cloths take care of lipstick, waterproof mascara, etc. etc. After I use them, I just toss them in the washing machine and dry them with the rest of my laundry (they've held up to a seemingly infinite number of cycles. I prefer the black cloths so there's no chance of makeup staining but the cloths come in a ton of colors! Also, when I made the switch from disposable wipes to these a few years ago, my cystic breakouts disappeared. Eliza even has her own Disney Princess Make Up Eraser set (which is technically a mini travel set) which works perfectly on her little face. It's also available in a Mickey and Minnie Mouse version, which will probably be our next purchase! You can browse a lot of really cute mini 7-day travel sets HERE.
4. Nodpod Light Blocking Weighted Sleep Mask — It's literally described as "A Hug On Your Head". I mean… sold. I'm in love with the idea of a weighted blanket for your eyes , and this is actually on my wishlist this year. It also blocks out light and can be used cool or warm. It's a great stocking stuffer or small gift, is perfect for travel and comes in several different colors HERE.
5. Anthropologie Plaid Scarf — This extra long scarf comes in several stunning colors and patterns and if you haven't experienced the magic and quality of an Anthro scarf, well… they are superb. I recently purchased this long plaid scarf, that's also available in a rainbow version.
6. Tiny Initial Coin Handmade Necklace — This dainty necklace is a fantastic deal and is available in gold, silver, or rose gold. You can choose one to five stamped initial coins for your chain and right now, the small shop has it on sale for 60% off (making it start at $16.50!) HERE.
7. Tinted Wine Glasses (set of 4) — These are just stunning. Even if I didn't "need" wine glasses, I would make room for this gorgeous set. They would make a great gift for a special hostess, friend or any "her" on your gift list. I love the dark green version, but all three color combos they have are beauties. The glasses also come in martini or coupe shapes in the same color options, too.
8. Huda Beauty Pretty Grunge Shadow Palette — I became a big HUDA Beauty fan when I fell in love with THESE matte lipsticks — I have a bunch of their long lasting colors but Staycation is the BEST nude!) Their latest eyeshade palette — Pretty Grunge — has all the gorgeous shades from subtle to dramatic, matte to shimmer, making it a great, versatile and special addition. It's so so pretty in person.
9. Taper Candle Holders — These unique taper candle holders, come in a bunch of colors, shapes, and sizes. I love the idea of gifting a pair but several parading down the length of a dining table would make a stunning statement!
10. Vegan Leather Crossbody Bag — I received this THIS cear crossbody bag last year as a gift and have used it constantly, since 2023 has been a year of constant concerts for us. You can monogram it with pretty gold foil letters, too. I have the navy and love the white that is new for this year — it also comes in camel and black. It comes with a thin leather shoulder strap but I prefer the wide straps listed further down on the product listing that come in lots of different colors and patterns. These small or large tasseled pouches are also a great add to make this gift even more special.
11. Scout Extra Large Tote Bag — This Scout Extra Large Tote Bag has been a savior to us and we've used it to transport all of the things! The capacity of this thing is absolutely wild. I dare you to take it on a beach trip and not rave about it afterward 😉 It's light-weight and waterproof and is the perfect beach bag to hold plenty of beach towels and other beach necessities. It has a bust-proof bottom and can even be sprayed out. Thanks to the zippered top, you can fill it to the brim and easily stuff it into your trunk among non-flexible suitcases when you are traveling. I have a LOT of different Scout tote bag styles but love this smaller bagette market bag that I use pretty much daily for library books and purchases. Both bags come in lots of different patterns and ship for free via Prime.
12. Dyson Gen5 Outsize Cordless Vacuum — The latest cordless Dyson — Dyson Gen5 Outsize Cordless Vacuum — is another wish list item for me. I love my Dyson vac that is several models behind this one. While the Dyson Gen5 Outsize Cordless Vacuum is pricey, it has lots of advanced features, including a run time of over two hours and the ability to detect invisible dust on hard floors. I can promise you, if you buy someone an appliance/cleaning tool like this, they WON'T be mad.
13. Personalized Home Portrait — I think it's the ultimate compliment to gift someone a picture of their home and it's something they likely would never think to purchase themselves! This watercolor-look portrait can be personalized with names, location, etc. and can be ordered in three different sizes. It also makes a great family gift, housewarming gift, anniversary gift or wedding gift.
14. Birdie Personal Safety Alarm — I received the Birdie last year as a stocking stuffer and I never go anywhere without it. It's easy to pull apart to make the alarm sound but it's never accidentally disengaged. I keep it on THIS bubble bracelet key ring and while I've never had to use it, I feel safer when I'm out, just knowing that I have it close by.
Subscribe to emails at the bottom of the post and check back often over the next few weeks as we continue to share more gift ideas and all things Christmas and holiday home!
Other Posts to Check Out