Thanksgiving is one week from today – just let that sink in for a minute. What?! When I'm working my way through my gift list, it helps for me to start with more general gifts and then work my way into those that are more wishlist-specific. And, when I find a winner, I'm all about buying multiples and basically making it the "gift of the year". Like last year- I gifted three Instant Pots and then asked for one for myself (THIS is the one I have). Today, I've rounded up 10 versatile gifts for everyone – from original and unique to proven crowd-pleasers – that will surely help you start brainstorming, get your wheels turning, and help you start checking those names off. Here's to the official start of the holiday craziness- I know you can't see me but I'm cheers-ing you from north Georgia tonight in solidarity 😉
*Posts on KelleyNan.com may contain affiliate links. Click HERE for full disclosure.*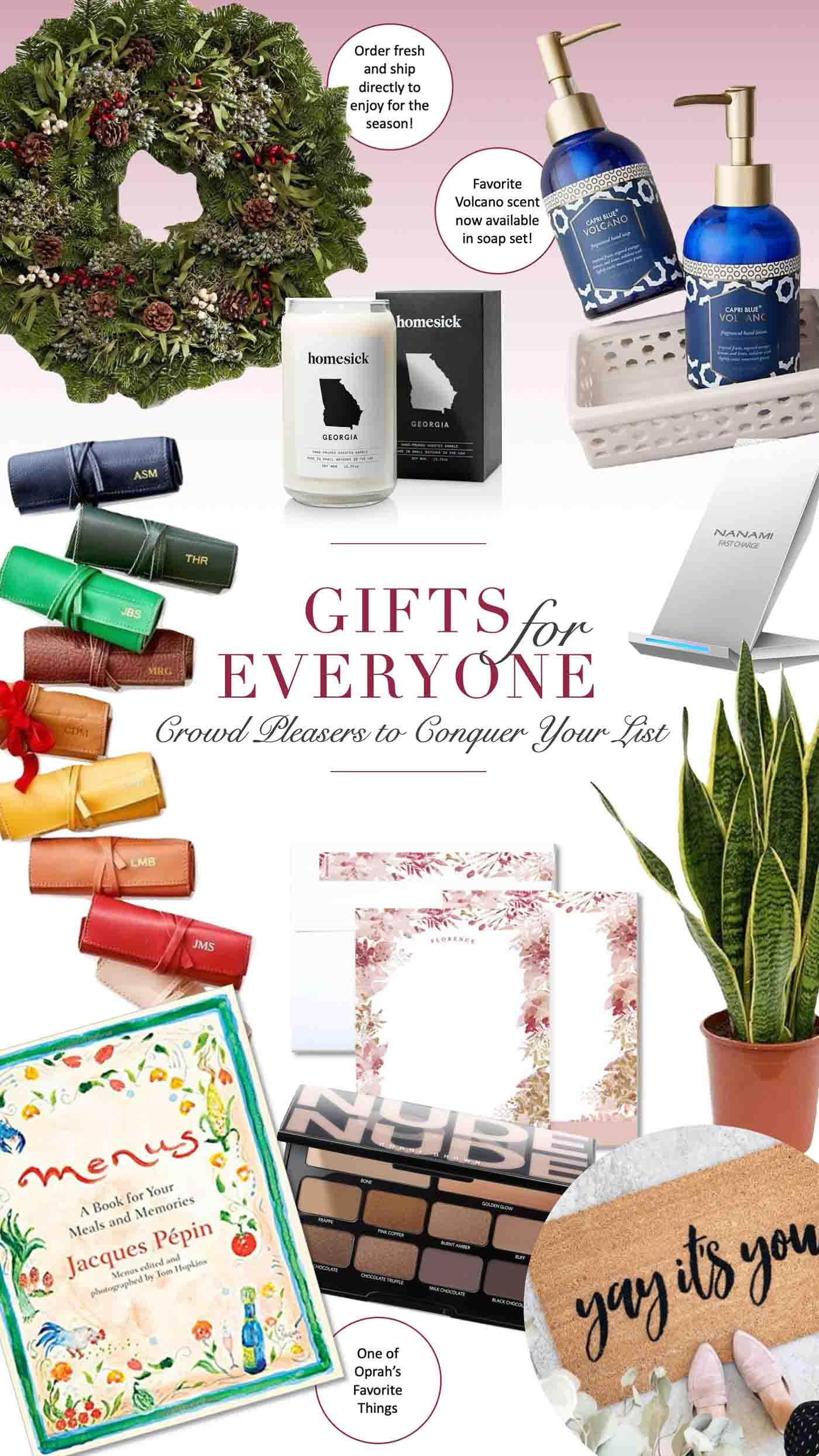 Live Woodland Eucalyptus Wreath // Capri Blue Volcano Soap & Lotion Set // Homesick Candles // Leather Charger Roll Up // Quick Wireless Charging Stand // Menus Book/Journal // Stationery Set // Bobbi Brown Nude Eyeshadow Palette // Door Mat // Snake Plant 

Live Woodland Eucalyptus Wreath // My mom actually started sending these wreaths one year and they were such a hit, she decided to continue the tradition. She can order and have them shipped direct and her recipients are able to enjoy them throughout the season. There are some wreaths out there (from retailers I love) that apparently just don't "bring it" when it comes to live wreaths. But, these have received RAVE reviews. Bonus- anyone who receives one gets to be marked off the list early, no wrapping necessary!
Capri Blue Volcano Soap & Lotion Set // I'm not unique in that the Capri Blue Volcano candle is my all time favorite scent. But, I just saw that they now have a hand soap/lotion set available!! While it's on the pricier side for soap, it's still an affordable gift; it's also one of those things I would love to receive as a gift myself since I probably would be hesitant to make the spurge on soap for myself. If you have any Volcano fans on your gift list (or even if you don't), this one's a surefire winner!
Homesick Candles // These candles are available in scents representing states and cities across the country; how cool is that?! Each scent is unique to the state/city it represents. Maybe you have friends/family who have relocated, or maybe you have kids in college (or are in college yourself)- this is a thoughtful gift with a sweet sentiment that will 100% be appreciated.
Leather Charger Roll Up // Whether I'm on a road trip or am flying somewhere, my charging cables and earbuds are always a wreck. even if you roll them up individually or put them together in a pouch, they will without a doubt end up being one big ball of mess. This chic roll-up keeps the cords bungeed, separated, and organized and can easily be slid inside your tote. Bonus- you can have it monogrammed at no cost 😉
Quick Wireless Charging Stand // A quick-charging stand with no need to wrestle with a cord, sign me up! Extra awesome- you can charge horizontally or vertically, and watch videos while your phone is charging. This version is compatible with most recent phone models but double check to make sure the one you're purchasing for is listed.
Menus Book/Journal // I added this to my own list immediately after Oprah launched her annual list of favorite things. It's a journal to log dinners and get-togethers with friends; a spread to make note of the menu on one side and the guests on the other. It's super original and perfect as a hostess gift, sister, mom, friend, teacher, or just to have on hand.
Stationery Set // Personalized stationery is another one of those things that you want but don't necessarily want to invest in yourself. This beautiful print is available in several color schemes and, you can choose how large of a set you want to gift.
Bobbi Brown Nude Eyeshadow Palette // This Bobbi Brown palette is universal enough to be appreciated by any lady but is regal enough to be special. It has fantastic, high quality colors that can be mixed between both glam and everyday looks; whoever you gift this palette to will definitely be impressed. If she likes the Urban Decay Naked palettes, she'll love this one.
Door Mat // Quirky doormats are in and this is one of my favorites. Perfect for someone you know well… or even someone you don't.
Snake Plant // The unkillable houseplant! I get so many questions on mine (I have several throughout my home) and seriously, put them in a space that receives at least a little light, give it 1/4 cup of water every few weeks, and you're set. No joke. Houseplants make awesome gifts but houseplants that your recipient can be confident in make the best gifts. Plus, these are on sale for $13 right now and ship for free!
On Saturday, I'll be sharing my first few trees of the season! You can subscribe to my emails at the bottom of this post, to have holiday goodie alerts delivered to your inbox all season long 😉