Yes, I know it's technically not even fall yet, but hear me out. Once that first day of fall hits (it's literally less than a month away), in our house, it seems like a scramble through the fourth quarter, through the holidays, until mid-January. And I know, we do a lot of it to ourselves. Between the gifts, decorating, and festivities, it seems to hit all at once and if you aren't ready, Halloween through New Year's can become more of a chore than a celebration. Some say the resolution is easy- cancel certain aspects, trim the gift list, simplifying decor… And while I do think there is some unnecessary excess and it is a good idea to evaluate to make sure you aren't "doing" just "to do", the truth is, I like searching out gifts and I enjoy having my house decked out. But, I don't like doing it all at once and becoming the most miserable and stressed out. Two years ago, I had my Christmas cards finished, addressed and stamped by November and put them in the mail the day after Thanksgiving. I finished my shopping by Cyber Monday and planned fun evenings with neighbors. That was a great Christmas. Last year, I didn't send cards at all, Dave's co-workers didn't get tins of cookies for the break room (from me), and the entire season was just a sprint. Well, I've committed to not letting that happen again this year. Regardless of how busy you actually are once the holidays hit, here are four things you should start preparing for Christmas now to make it easier on yourself (and your family) in the coming months.
*post may contain affiliate links*
1. HOLIDAY CARDS
Make/update your list and start getting any needed/updated addresses. Raise your hand if you typically have a card or two without a proper address, still sitting in the kitchen waiting to go out on Christmas Day. Making sure you have updated addresses now will not only help your planning, but will likely get a quick response from your card recipient before they become all involved in the hustle and bustle.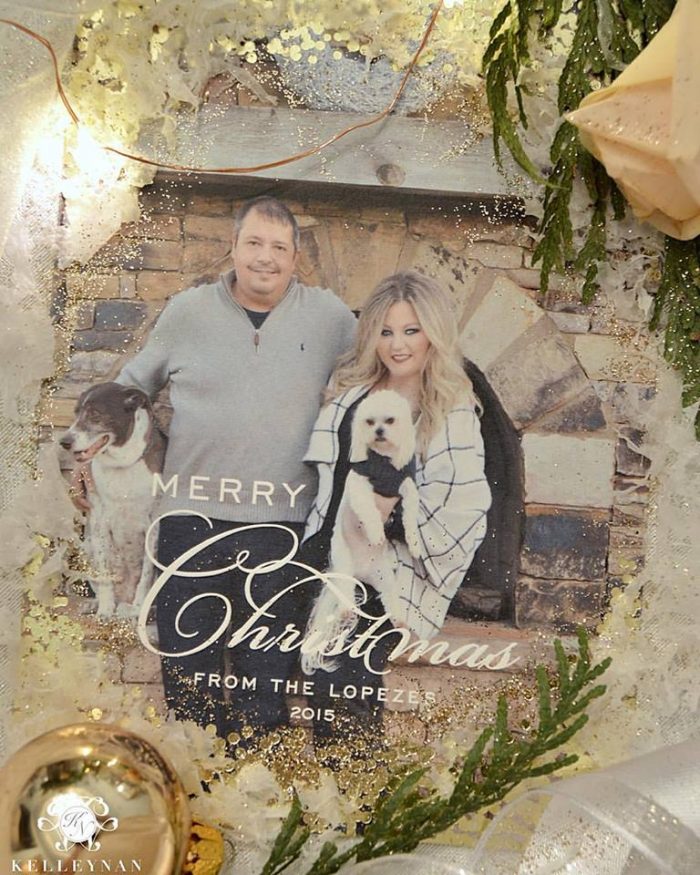 Decide what you want your card to be. If you use store bought cards (the best time to stock up on these is after Christmas 😉 ) make sure you have them and if not, go ahead and order. If you send out custom/photo cards, start reviewing card layouts first. This may sound silly but depending on the card's text/graphic overlay and if it is horizontal/vertical, it can change the way you take your photos. My favorite place to order our cards is through Minted. As a bonus, they have an address book which keeps your addresses saved season after season. If you really have your act together, you can have them address your cards for free 😉 If you already have the photo you want to use, you are one step ahead. If not, plan a date on the calendar, and book your photographer (if needed). Seriously, do this NOW. The only reason we didn't send cards last year is that time got away from me and when I realized I was behind, we had zero availability left in our schedule to have pictures taken.
2. TREE TRIMMINGS, DECORATIONS, & WRAPPING ESSENTIALS
We all laugh about Christmas decorations being out on display now, even before we've decorated for Halloween. You can roll your eyes about all the ornaments, draped from hooks on display but while you are, go ahead and start picking them up before they're picked over. Hobby Lobby is my go-to for filler ornaments, wreath bases, and garland. And, it's all 40% off right now. I have been that person who has waited until November and even before Thanksgiving, am disappointed that the bins of picks are down to two of each. Don't they know that you need 938573 picks to make your tree basically disappear into one big wonderland?! haha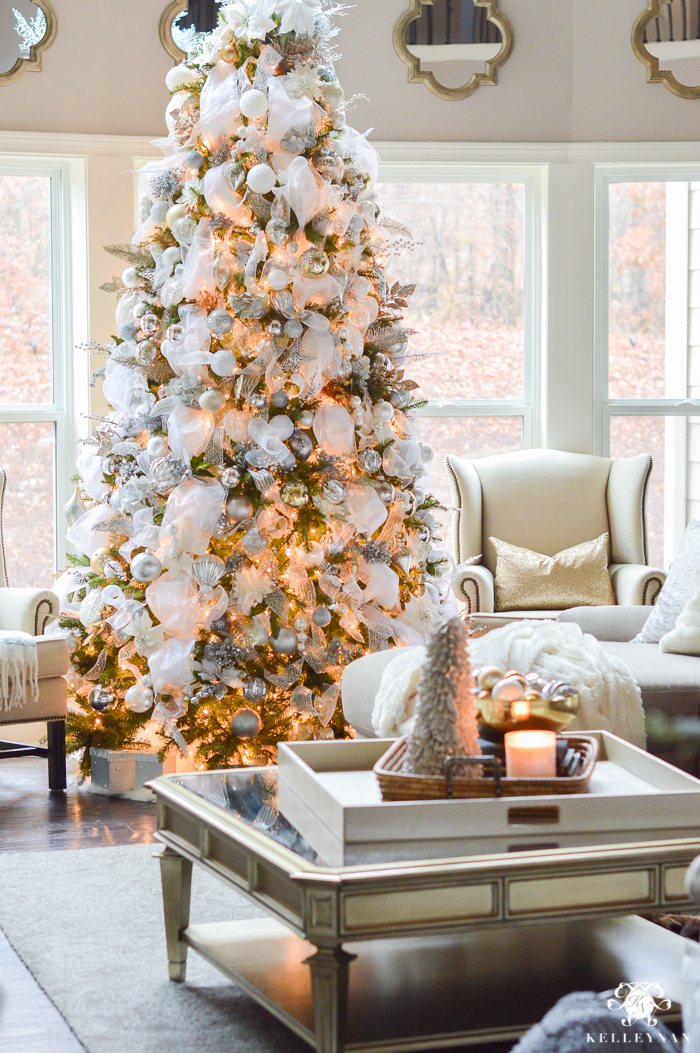 I'll finally be doing a tree tutorial this year, after requests the previous two years. What you need to know now- start prepping LOTS of wide wire-edged ribbon, ornament packs, picks, and even floral stems as they go on sale. I'm not kidding when I say to get a full effect, you need A LOT. (UPDATE: You can now see my tree decorating tutorial HERE)
If you know where you want garland (bannisters, doorways, mantel, etc.), take measurements and start shopping. In store, they usually only carry several strands at a time but it isn't uncommon to need far more feet than is available. Take measurements of your surfaces, locate outlets to determine if it makes more sense to get pre-lit garland or opt for battery-powered light strands, and make notes in your phone. When you're out, you will already have your dimensions on hand.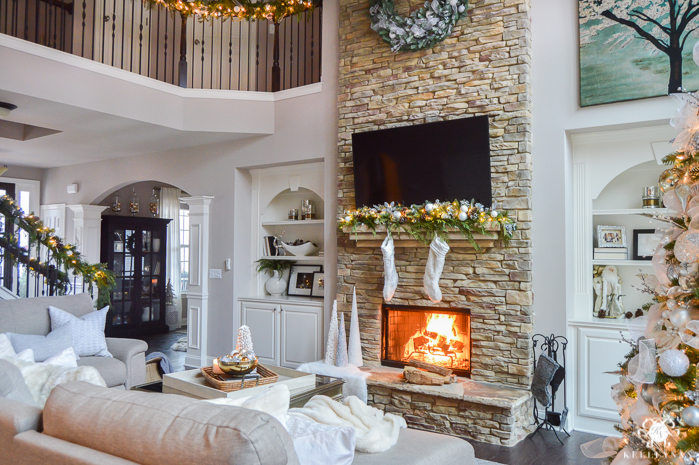 Do you need more gift wrap this year? If not, as always, purchasing after the season is the best time to load up but if you do, start looking now for basic wrap which can be used for holiday. Solid colors and simple patterns can be snatched up now but once the holidays hit, anything close will be lumped into holiday wrap.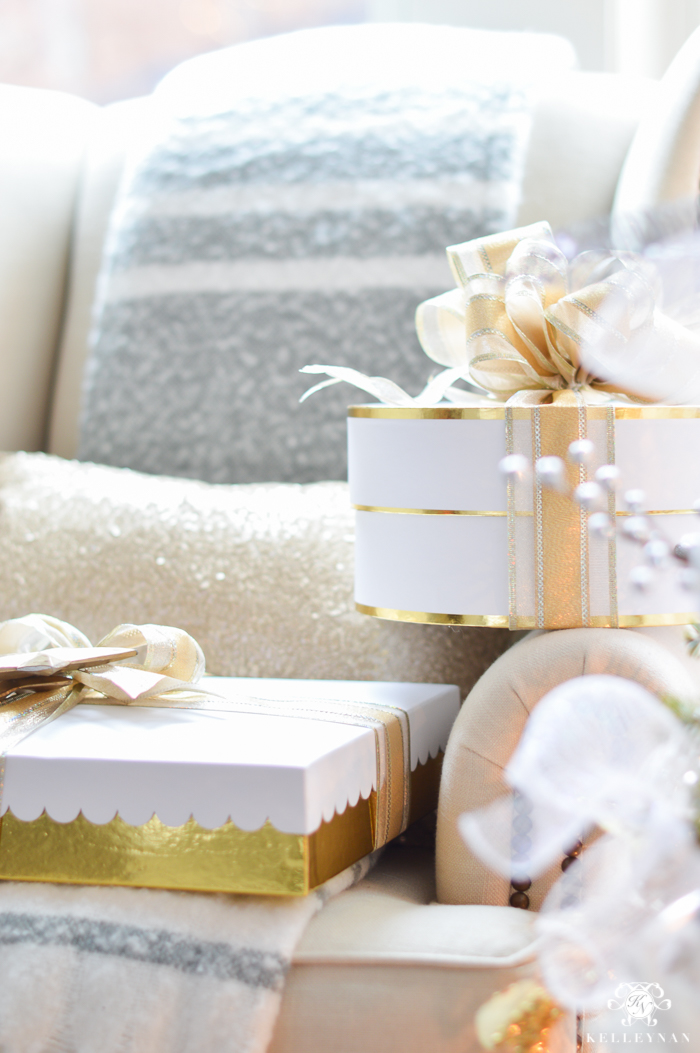 Need a new tree? Check Amazon (HERE); there are still great deals to be had. Balsam Hill also has some gorgeous trees on sale; you may remember THIS POST from last year – they are the most realistic trees I have.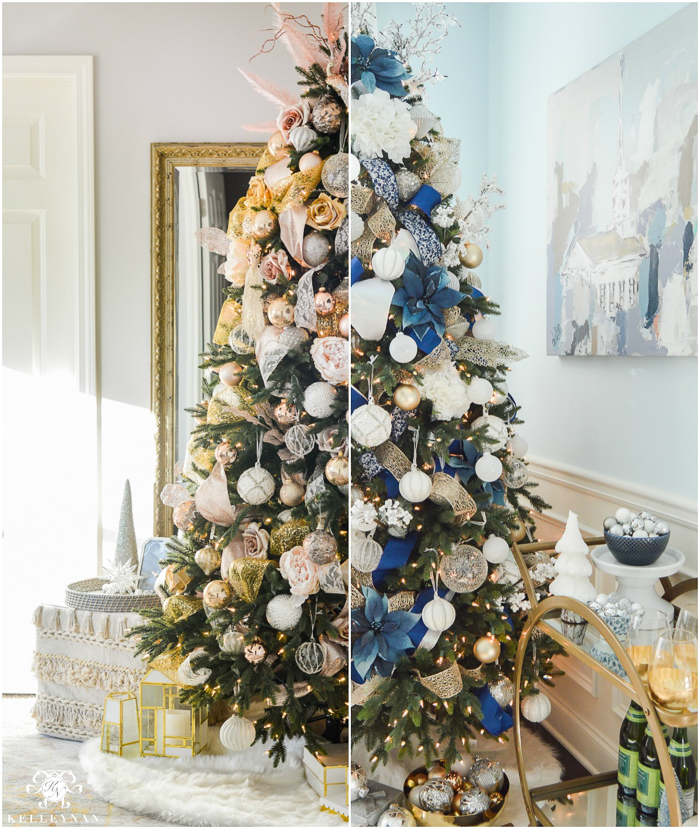 3. TRIPS/TRADITIONS
Christmas falls on a Monday this year; if you are hoping to take some time off work, go ahead and submit your request. A lot of offices will honor the request of those who ask first but won't let the entire office take off at once. Do you know where and with whom you will be spending the holidays? Make dinner/celebration/trip plans now so it doesn't become difficult later. Once the family plans are solidified, you can look at open dates for any dinners/parties/activities. With work celebrations and family get-togethers, we typically don't have an abundance of open weekends to hang with friends. If you know you want to host something, go ahead and stake claim. You can take it a step further and send out a Save the Date on Facebook and ask that your friends go ahead and put the event on their calendar. They will be more likely to plan around your par-tay if they know about it before the season starts. Typically, you only have one to two weekends (four days between Saturdays and Sundays) to plan. With the weekend after Thanksgiving being tough, along with the weekend before Christmas, that leaves TWO WEEKENDS. Two Fridays and two Saturdays.
4. CHRISTMAS GIFTS
I actually did start my Christmas shopping this past month during the Nordstrom Anniversary Sale. Remember this gift idea post? Y'all, I was so proud. But, the few things I got for my husband in advance, I actually ended up giving to him early so he could try on the sale items. Dang it. Make a list of gift recipients; it's not a bad idea to assign a budget, either. Start a brainstorming list for each in your phone notes so as you think of possibilities, you log them immediately. Yes, great deals can be had during Black Friday through Cyber Monday, but a lot of items can be ordered further in advance at the same or greater discount. Store anniversary sales, room events, end of summer, and a big weekend to mark your calendar for- Labor Day. Labor Day sales will be gearing up this coming week and typically, you can find items on your list at the same price (or slightly less) than the after Thanksgiving rush. Items to definitely get a jump on now- anything that will have to be custom, shipped overseas, hot toys and monogrammed items. Planning a surprise trip as a gift? Start watching hotel and airfare so you aren't forced into purchasing at a premium at the last minute.
Ok, so do you feel ready to start tackling some things? Start small and start slowly. In 2 months, it will make a huge difference! Any other tips on things to start preparing now? Let me know in the comment section below.
For Christmas inspiration, check out a few of the following: