It is time to get in our fall feels and today, we're talking about all things that will ensure we're set for the season and set up to welcome and make this our coziest fall yet! When I decided I was ready, there was no tiptoeing. I dove into every single thing on this list and I'm in full on autumn embracement mode. If you're craving any and everything "cozy fall", today's post is for you!
*Posts on KelleyNan.com may contain affiliate links. Click HERE for full disclosure.
9 Ways to Get Your Ultimate Cozy Fall
Don't miss, I repeat, don't miss Number 1 on this list. Created from the most subconscious places of my heart, I crafted a custom fall playlist that sums up all my snuggliest fall feels over the course of almost 60 songs.
1. Put On This Ultimate Cozy, Moody, Fall Playlist
There are so many reasons songs were added to this playlist I created for KN readers. When I was creating and editing the list, some songs made the cut because of the haunting instrumentals, others because of lyrics, but mostly, I added songs that evoked visceral, personal fall memories or that I could clearly imagine serving as the soundtrack for hypothetical scenes and situations. I rely on sense memory and imagination when I craft playlists 😉
A few thoughts and places these songs took me… driving down the road at night with a chill in the air; driving down the road at sunset with sun peeking through trees, covered in changing leaves; wet roads with matted, changing leaves at dusk; early morning pumpkin patch visits; hayrides; sipping wine on a chilly porch at night; pouring a whiskey drink in a dim living room; cuddling up under heavy, knit blankets; starting a fire in the fireplace; Meg-Ryan-rom-com-set-in-NYC; heading to a corn maze with friends; layered sweaters, hoodies, and jean jackets; small local bookstores; walks through the woods; elaborate masquerade parties; fall festivals; Stars Hollow/Virgin River/Tree Hill/Blue Bell (insert favorite fictional small town here); decorating the porch for fall in the evening; coffee outside in crisp air at sunrise; reading on a front porch swing; small towns with walkable streets; blustery cities with twinkle lights; melancholy and heartbreak; prepping for dinner on a Sunday afternoon with windows open; and lots more! My mind goes a lot of places, ok? 😉
TBH, I have refined and have already been playing this playlist on repeat — especially in the evenings on low, while I cozy up with a book before bed. I wanted to cover my bases so if you listen to music via Spotify, you can stream the below…
Or, if you prefer to listen to music via Apple music, you can find the playlist here…
Are there any songs that take your right to your coziest fall place?
2. Order This Fall Beverage
I've taken my Starbucks trip frequency down about 20 notches this year 😉 but I've been waiting (maybe all year?) to be able to order coziness in a cup and have it drop me right in my fall feels. One of my regular go-to drinks — actually already has fall-heavy vibes so if you aren't a typical chai drinker, definitely try it out. Here's how I order my version of an iced "dirty chai"…
grande iced chai tea latte
with two pumps of chai
and two pumps of sugar free vanilla
with nonfat milk
and a shot of blonde espresso
It's lighter because the standard chai tea latte comes with four pumps on chai; I cut that in half and sub in two pumps of sugar free vanilla syrup. Also, I sub the standard 2% milk with skim milk. The shot of espresso is what makes it "dirty", but I prefer the blonde espresso to the regular espresso.
I was excited for the fall menu to hit so I could start getting all the pumpkin things — while Starbucks actually came out with an iced pumpkin cream chai tea latte, it's really calorie heavy. So, while not super "light", I did a slight customization to my usual for a slightly less loaded version of the new drink. Here's what I ordered and loved…
And, I'm calling this a Dirty Pumpkin Chai.
grande iced chai tea latte
with two pumps of chai
and two pumps of pumpkin
with nonfat milk
and a shot of blonde espresso
It was pretty sweet (delicious but sweet), so I will likely cut out one of the pumps of pumpkin next time.
And here's a tip, if you don't already know…If you're a Starbucks Rewards Member, fall beverages are BOGO every Thursday afternoon in September!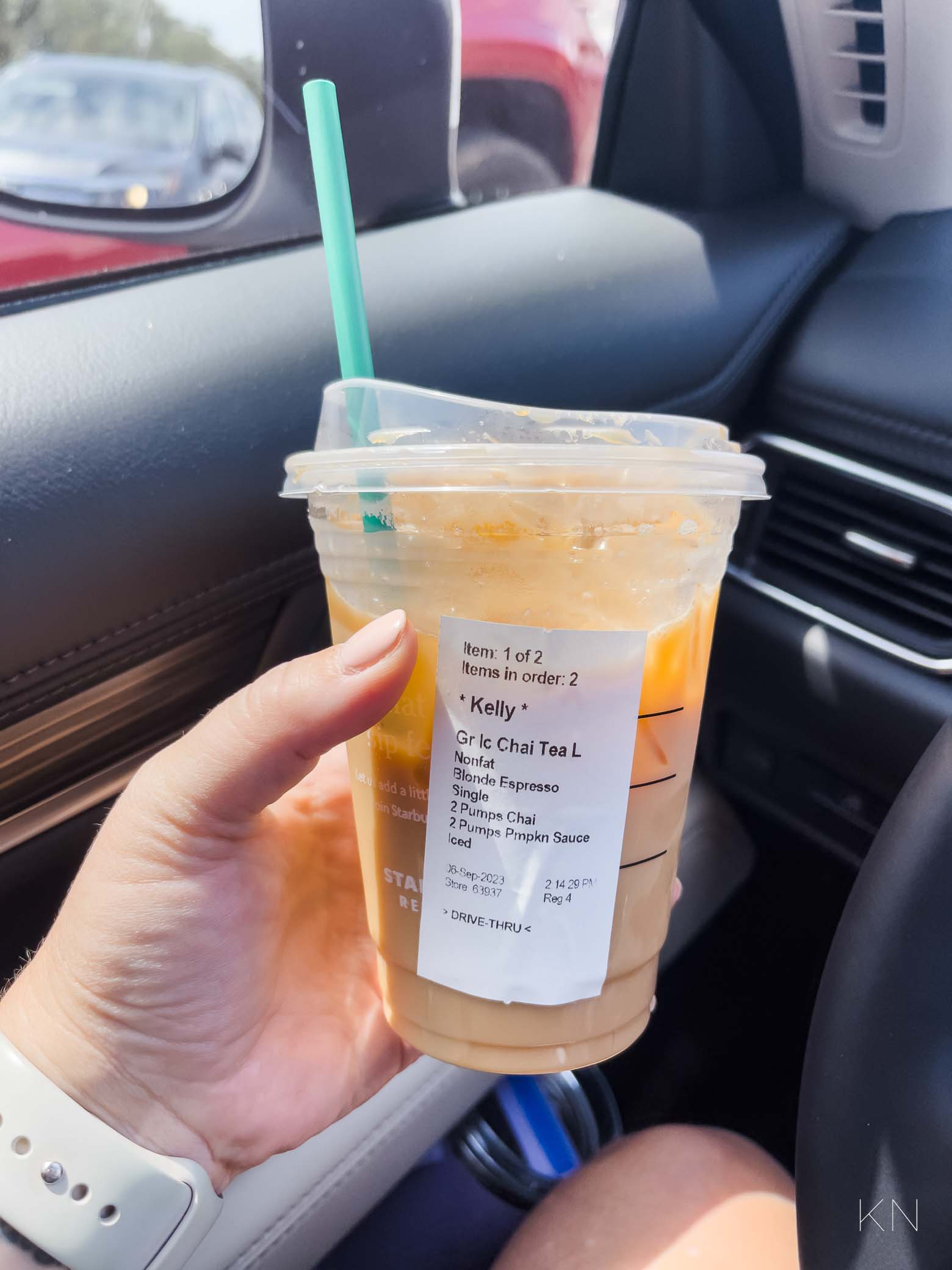 3. Binge the Gilmore Girls (Again)
Because is there truly any other place that will transport you straight into the season like Stars Hollow? Gilmore Girls is ALL the good fall things! No matter how many times you've watched it, there's always room to watch again.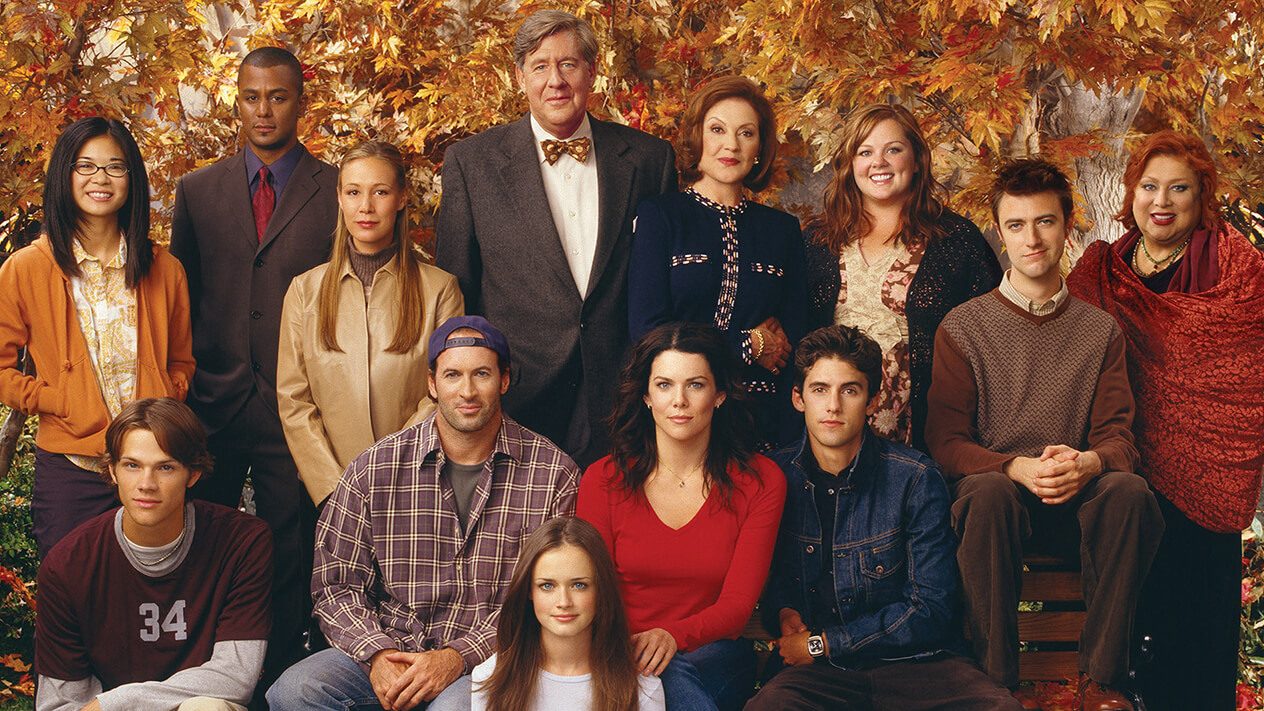 By the way, I thought it was too obvious when I published the list so it wasn't included, but you can find a recent post I published with shows that are worth it to not only watch once, but to binge multiple times HERE.
One underrated show that will most similarly drop you into fall had only a brief run, but October Road was great. And if you watched it but didn't know, they actually aired a short finale episode you can find on YouTube!
I also love The Vampire Diaries for fall 😉
Side note — speaking of fall beverages and Gilmore Girls, apparently there's a Gilmore Girls Starbucks order circulating TikTok (originated from @cozybarista) — I have not tried it (and it looks REALLY sweet), but here's what it is…
warm apple juice
2 pumps cinnamon dolce
3 pumps chai
whipped cream
cinnamon dolce topping
4. Fall in Love With Books Again
If you're a reader, you already know the magic of being transported into the books you're reading but if you haven't been reading much, pick up a book (preferably reminiscent of fall) ASAP. There's literally nothing cozier than wrapping up in a blanket and getting lost. And, you're in luck because I just launched my top 10 fall book recommendations HERE!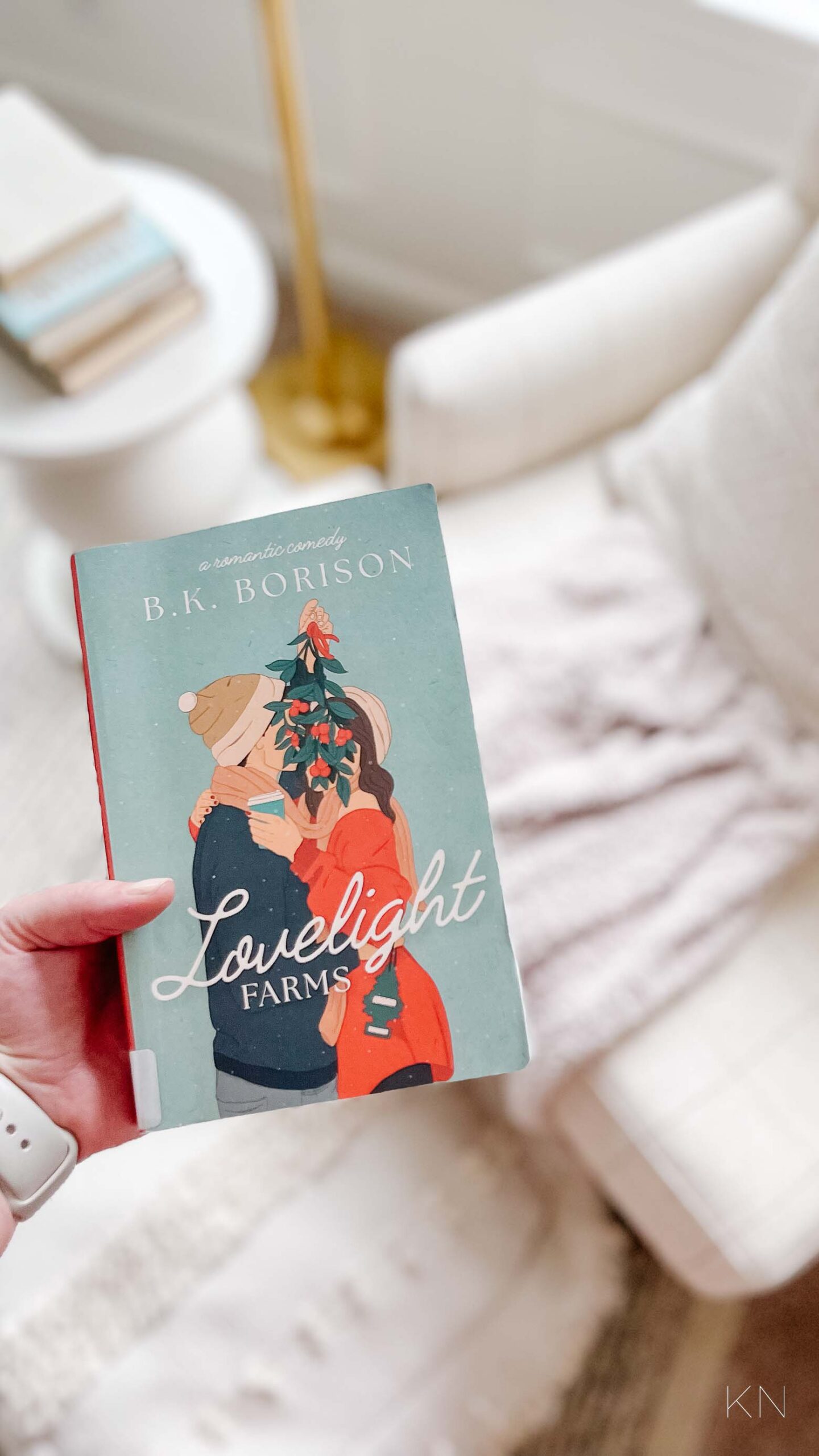 By the way, I included Lovelight Farms as a top fall read but I just started the third book — Mixed Signals — and it's giving me the same kind of warm coziness in a setting that feels just like Stars Hollow. Read them in order for best character development, but I am halfway through this one and it's probably my fave yet!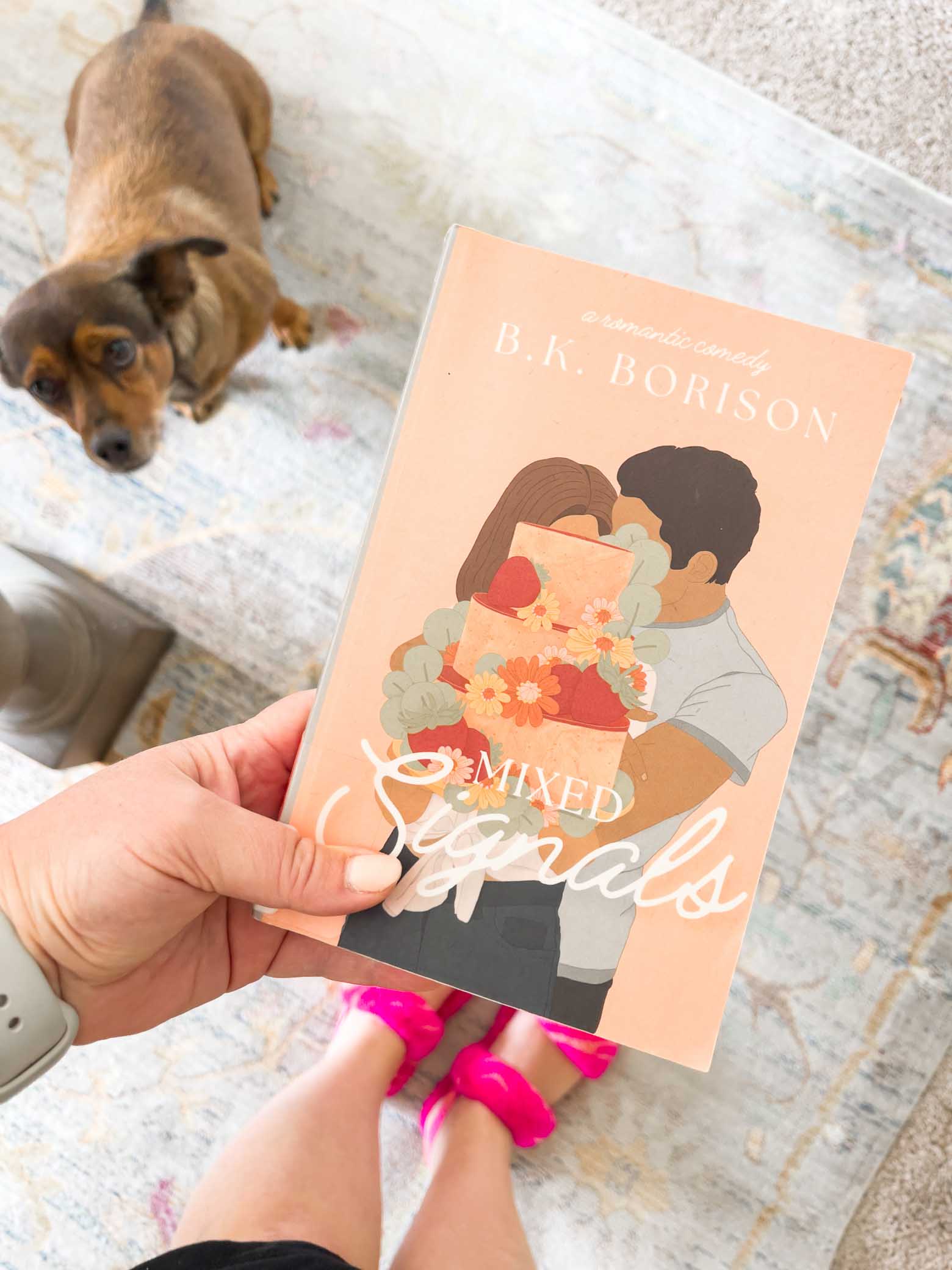 5. Add These Comfort Dishes On the Menu
Break out the casseroles, soups, and bowls of comfort! Nothing screams fall more than having a large pot of something simmering on the stovetop (or in the crockpot) or a sweet treat baking in the oven. Bonus if you have savory and sweet scents in the kitchen at the same time 😉 If you're ready to dive in, below are a few favorites on KN that are perfect for fall…
CHILI
Homemade chili is my number one recipe that I love to prepare during the cool weather months. I love to cook a large batch of it, so that there's enough for leftovers and then I'll use the leftovers to evolve into other meals throughout the week. I've shared some of the ways I use those HERE, along with a full-blown board with the ultimate chili toppings, that's especially fun for game days and fall gatherings.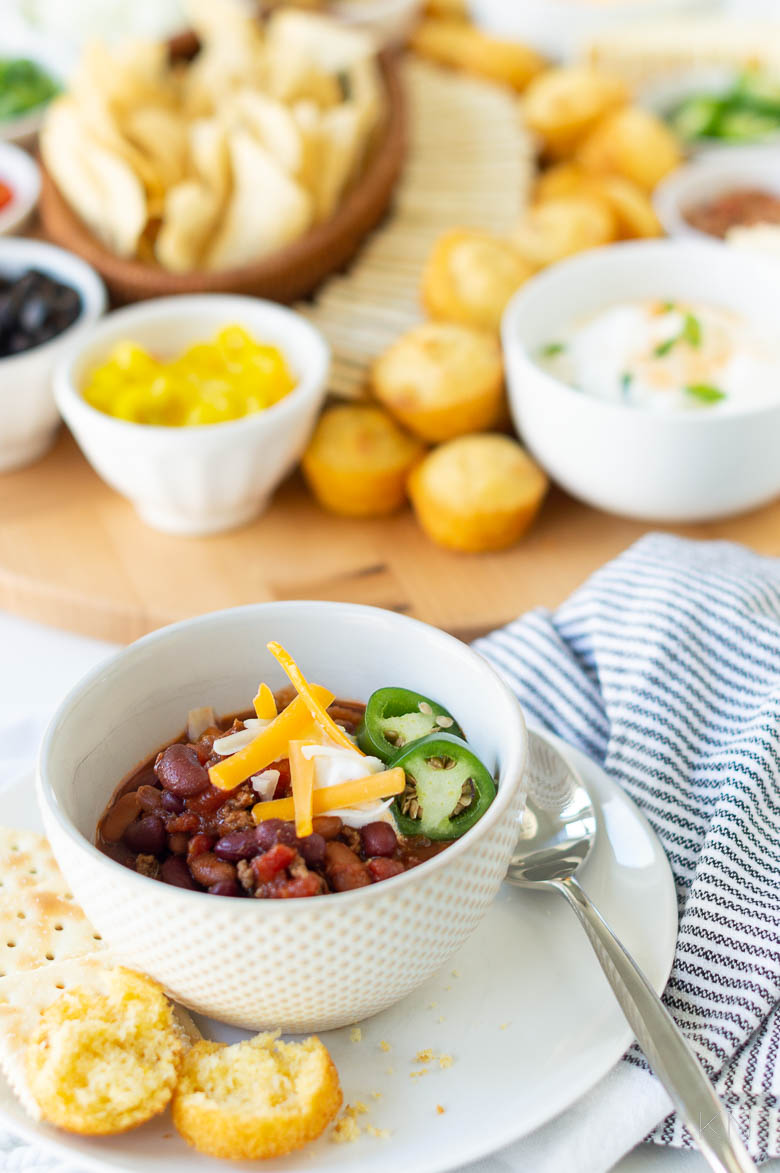 ULTIMATE BEANS & CORNBREAD BOWL
I recently shared my recipe for the Ultimate Beans and Cornbread Bowl and was so gratified to receive your comments on how you couldn't wait to make this recipe when the weather cooled down in the fall. It's so easy to make and the leftovers are great. And, if you're heading to a fall festival or pumpkin patch, be on the lookout for chow chow relish (the perfect accompaniment to this dish).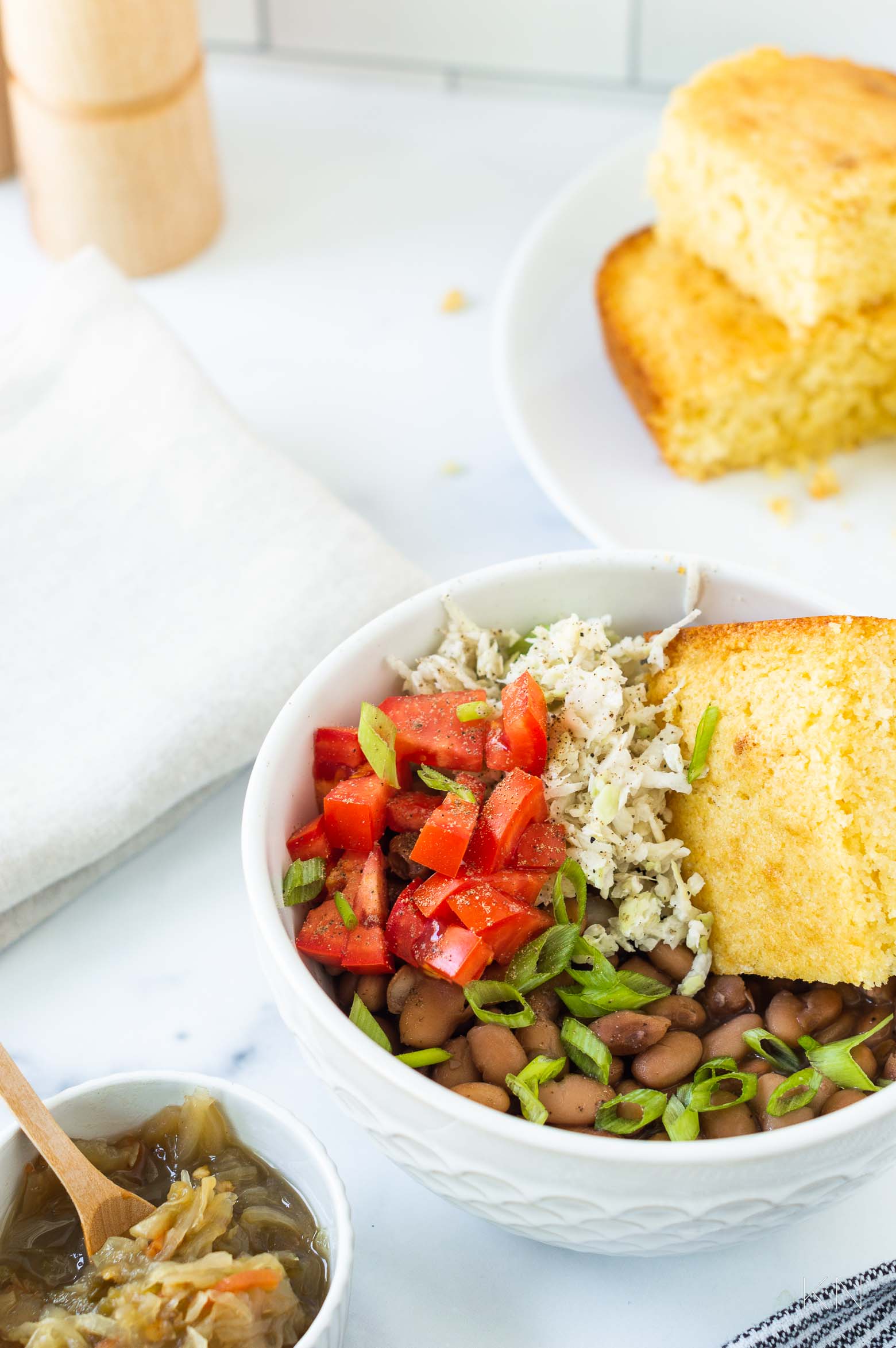 Ultimate Beans & Cornbread Bowl Recipe
STOVETOP CHICKEN & BISCUITS
This Stovetop Chicken and Biscuits recipe was passed down by my grandmother, BeBe. It was a family favorite and the perfect comfort food. The recipe isn't hard to make, but does involve several different steps…but it's definitely worth it! Paired with a salad or other green vegetable, it's fancy enough for company or yummy as a special family meal.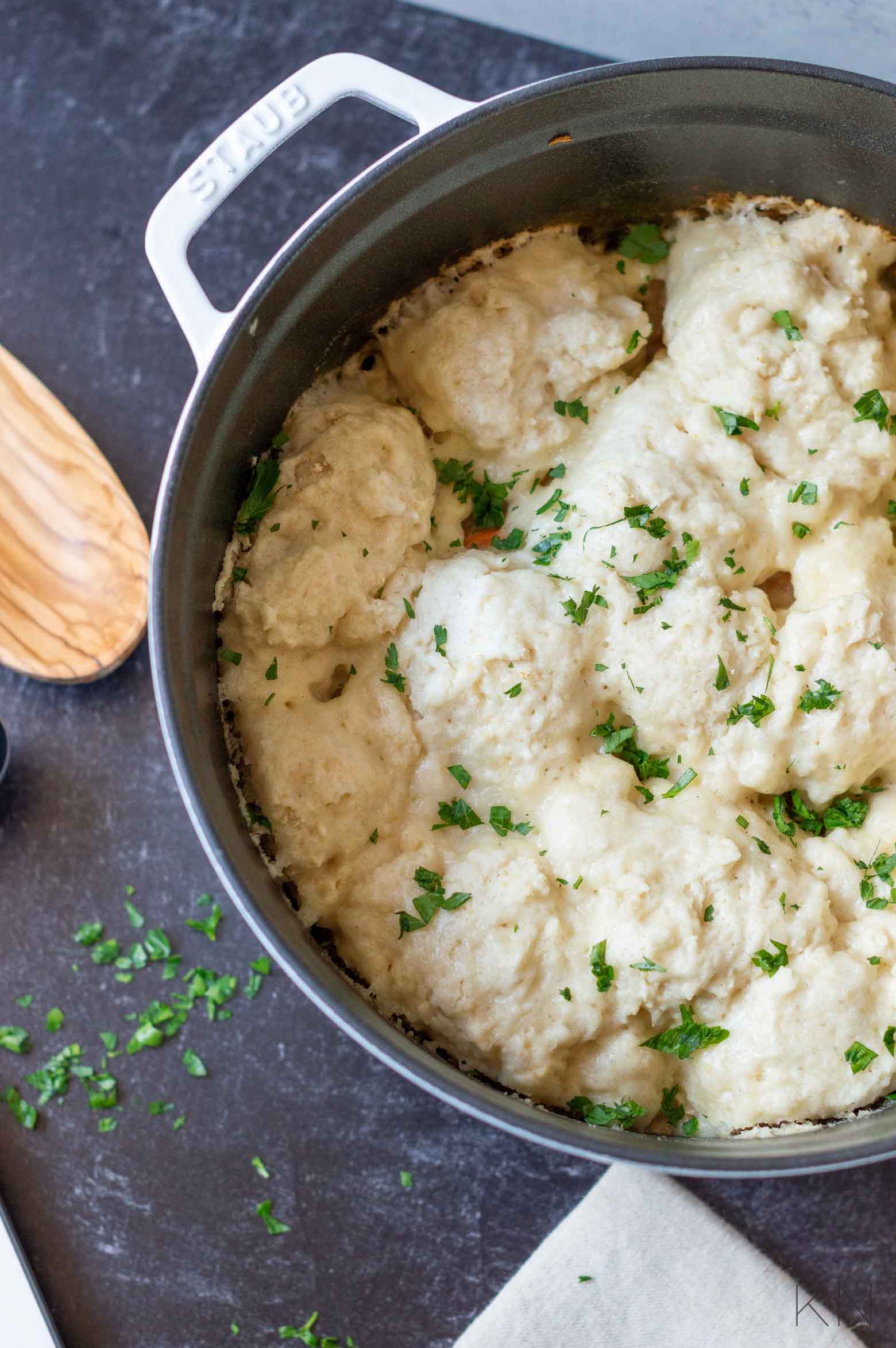 Stovetop Chicken & Biscuits Recipe
FRESH APPLE CAKE
I always know the fall season's arrived when my mom bakes my favorite — Fresh Apple Cake. She likes to bake the cakes in smaller loaf pans so she can gift a couple of cakes to others (they also freeze beautifully!). You don't have to add the caramel glaze to the cake, but it adds just the right sweetness to the cake.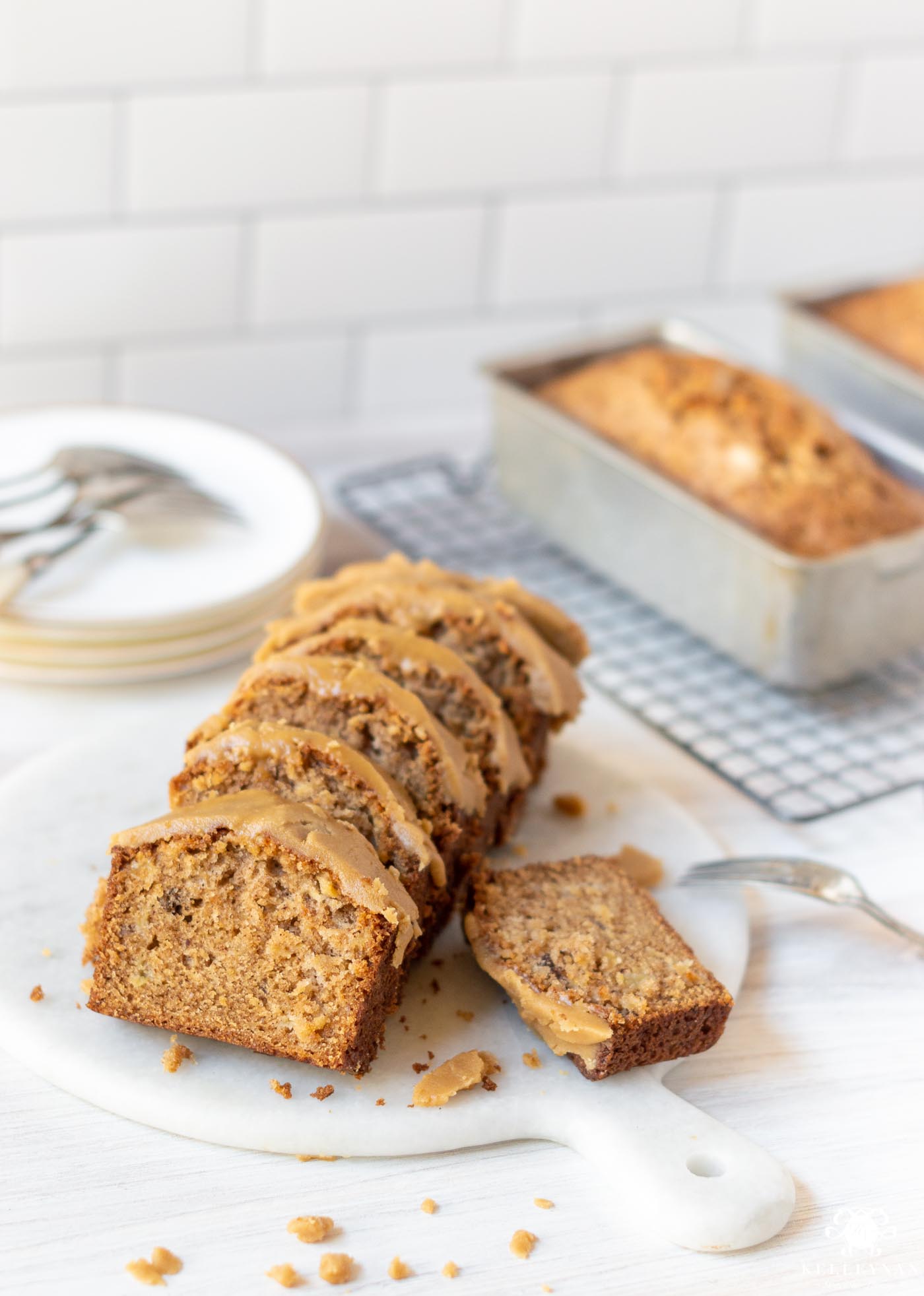 DUTCH OVEN POT ROAST & VEGETABLE BEEF "STEWP"
If you grew up having pot roast for your Sunday dinner, this two-for-one meal planning dish, Dutch Oven Pot Roast and Vegetable Beef "Stewp" makes one reminisce those days. Since you typically have beef and veggie leftovers from the first pot roast night, the Vegetable Beef "Stewp" is the perfect solution for transforming those leftovers in to delicious "stewp" (so named because I prefer less liquid…you can always add more liquid to make "soup"!)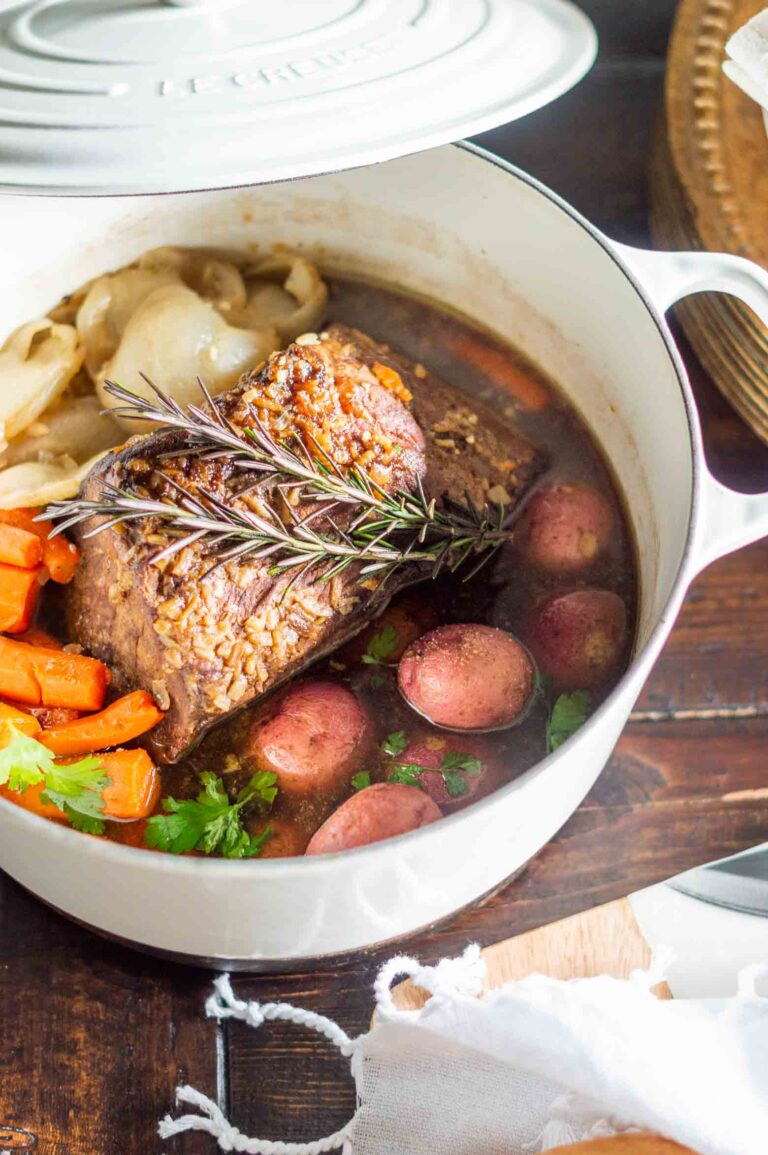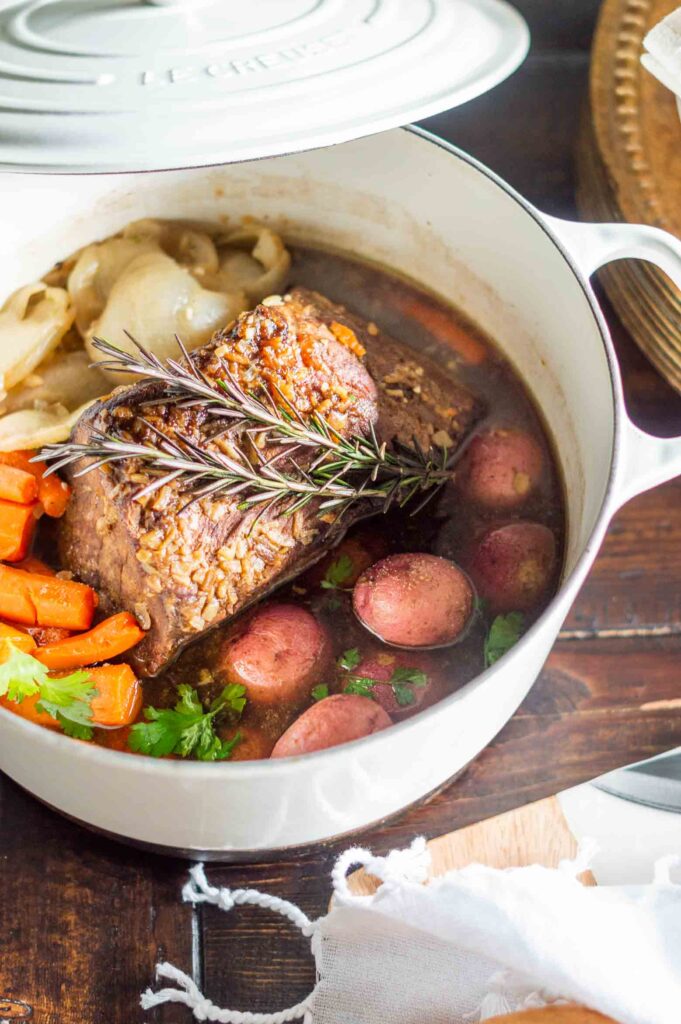 Dutch Oven Pot Roast & Vegetable Beef "Stewp" Recipes
CLASSIC CHICKEN NOODLE & CHICKEN TORTILLA SOUPS
Two of my favorite soups, Classic Chicken Noodle and Chicken Tortilla Soup can be cooked and simmered on the stovetop or in a crockpot. I typically prepare the Classic Chicken Noodle Soup on the stovetop, since I start the process by sauteeing the carrots, celery and onion and boiling the chicken before the soup ingredients are assembled for the simmering process.
Side note — I actually made my first batch of noodle soup for the season last night since I had a lot of crudites that needed to be used. We were shocked to find we were out of chicken so I pulled cut and frozen turkey out to thaw that we had on hand — it was fabulous!
My Chicken Tortilla Soup recipe starts with a spicy chicken mixture I prepare the day before for crock pot chicken tacos, and there's always plenty of that spicy chicken mixture left to add to the soup. It's so easy to dump that and all of the other ingredients into a crockpot and simmer it for several hours until it is done and ready to serve.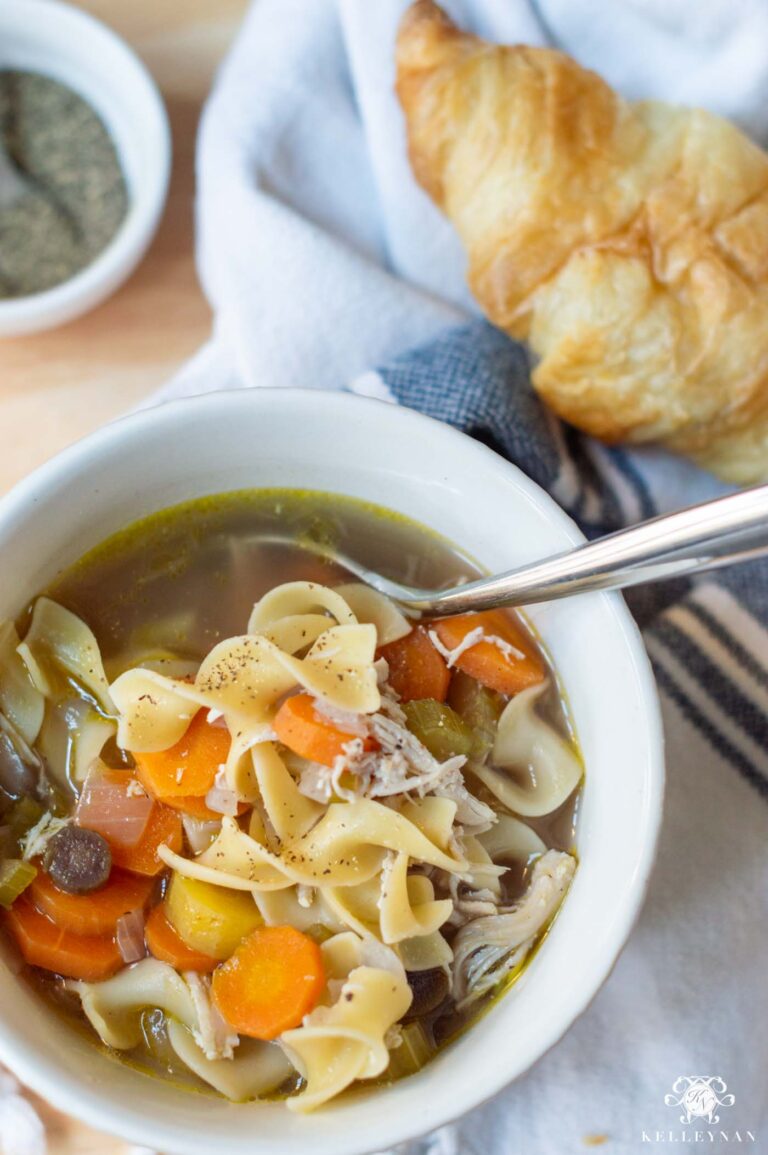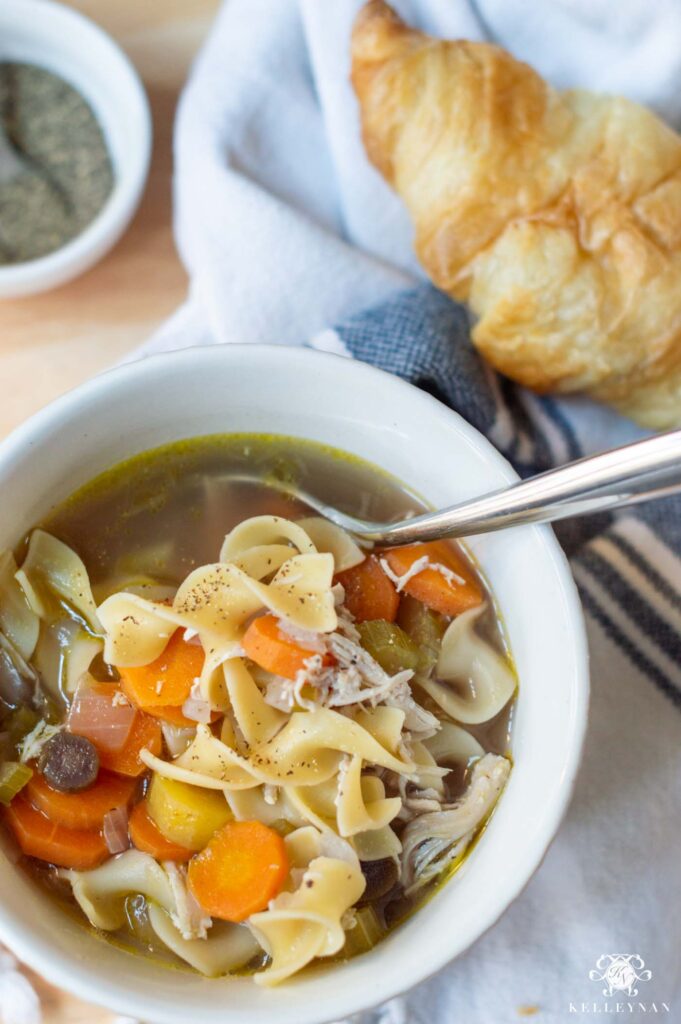 Classic Chicken Noodle Soup Recipe | Chicken Tortilla Soup Recipe
6. Let This Scent Take Over Your Home
You'll pretty much always find a candle burning — at minimum — in my kitchen and seasonal scents are a splurge I've ultimately maintained, even since minimizing. When fall's on the horizon, I want to smell leaves, pumpkins, apples, and spice in my home. All. The. Time. THIS Spiced Cider Candle by Capri Blue (who makes the Volcano candles) is the perfect blend of apples and spices and is fab! I also love THIS Pumpkin Clove Candle that's available in three different container colors. If you're curbing your season-specific candles, I'm still a firm believer that the Volcano scent is the perfect any-time-of-year burn. It comes in several different jar colors, like this Ivory Capiz Jar and this Black Matte Jar but I am crushing hard on the deep plum-purple jar for fall HERE.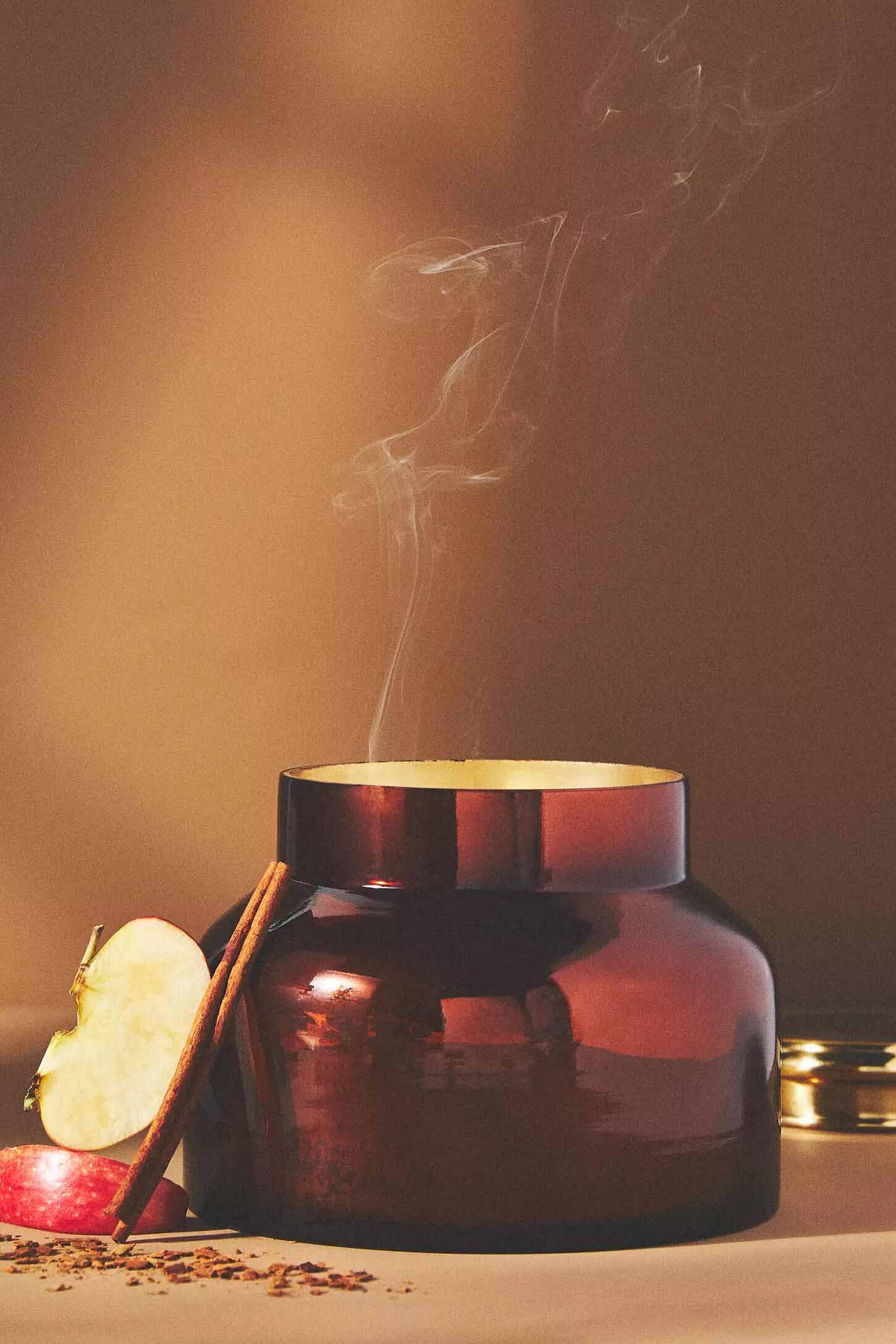 7. Cuddle Up with the PB Teddy Throw
I have tons of soft throws but there's something extra about a cozy throw with weight that feels more like a weighted blanket. My favorite (hefty) cozy throw to reach for in the fall is this Cozy Teddy Fur Throw Blanket. I have multiple colors and keep them at the foot of the bed and in the living room for family tv sessions. It comes in two sizes (I prefer the largest size) and in several colors HERE. My favorite is the tobacco color because it looks especially like teddy bear fur and is the best cognac color.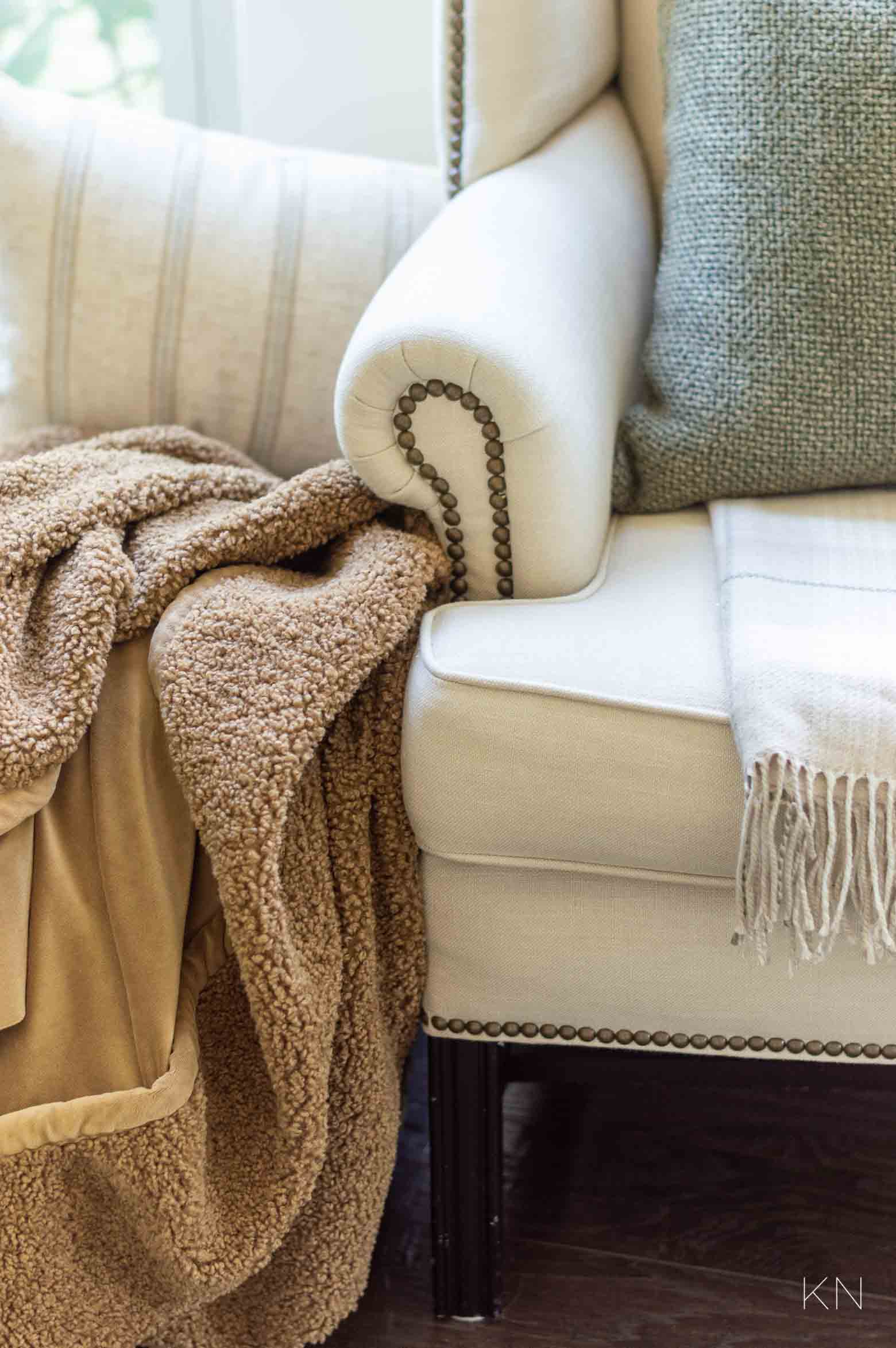 If you aren't a fan of the added weight, my other favorite (lighter) throws to have on hand is this cozy fringed throw (at under $30 and free shipping, the price can't be beat), that I virtually have in every room in the house and this Barefoot Dreams CozyChic Throw Blanket.
8. Get Comfy In These Sweats
At any given time from late summer to late spring, you'll find me in cozy, oversized Aerie athleisure. Around the house, yes, but also running errands. I am restraining since I have a closet full of cozy Aerie from previous years, but I did treat myself to THIS oversized sweatshirt in the dark purple, which is currently 30% off (it also comes in a ton of colors). A minimum of one new soft addition will help me celebrate the upcoming chill just a little more, right? 😉
I'm also loving THIS Lumber Jane Fleece Shacket and THIS Big Hug Hooded Shacket for seasonal diversity and layering. Both come in a bunch of colors and both are also 30% off right now.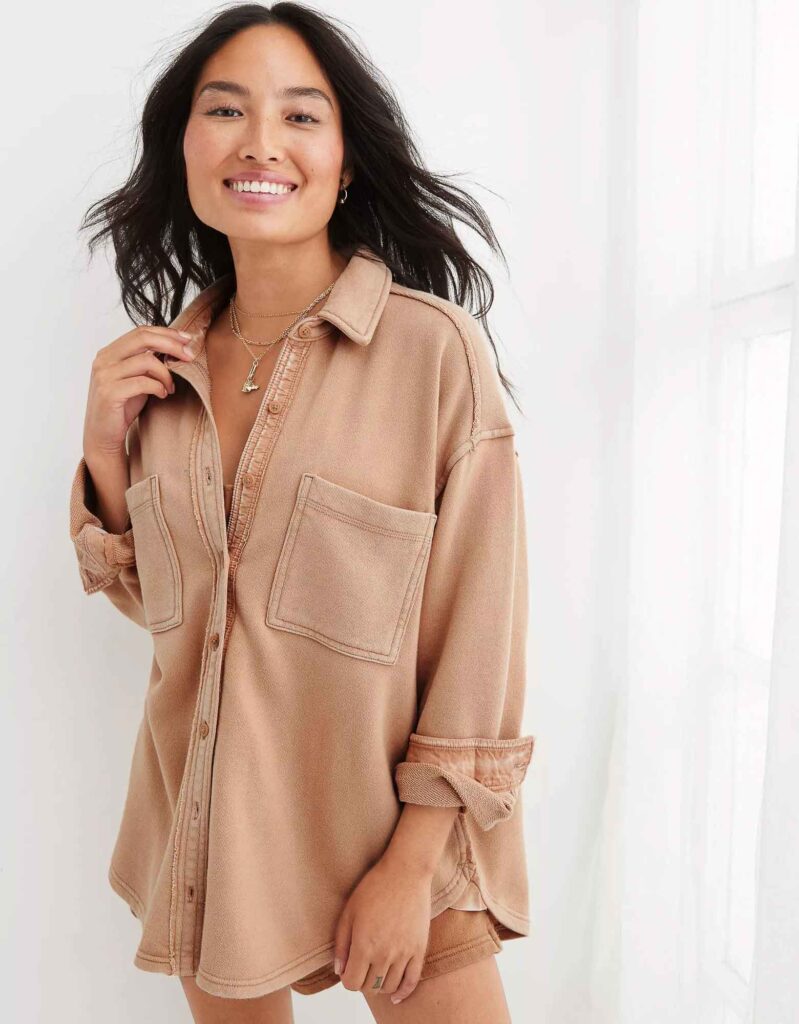 Aerie Lumber Jane Fleece Shacket | AE Big Hug Hooded Shacket
9. Set a Fall Ambiance Video As Your Background
When I was in my first Georgia apartment (we'll just say it was in the era of DVDs 😉 ), with no actual fireplace, I purchased a fireplace DVD of a crackling fire. It was a great improvisation.
Fast forward to present day and while we have a fireplace (at least in the living room), you can actually turn to YouTube and search out fireplace videos with popping, burning embers, in all kinds of different fireplaces.
BUT, take it a step further — you can actually search YouTube for different scenes and put them on as background ambiance. Try phrases like "fall ambiance", "cozy fall ambiance", "fall window", etc. It's easy to go down a rabbit hole of possibilities but there are a ton of background videos that are mostly still, aside from twinkling lights, falling leaves, burning fires, rippling water, rising steam, etc. Most have slight background sounds too of falling rain or wind — you can turn it down to just above mute for a peaceful, cozy vibe.
It's cool during the day…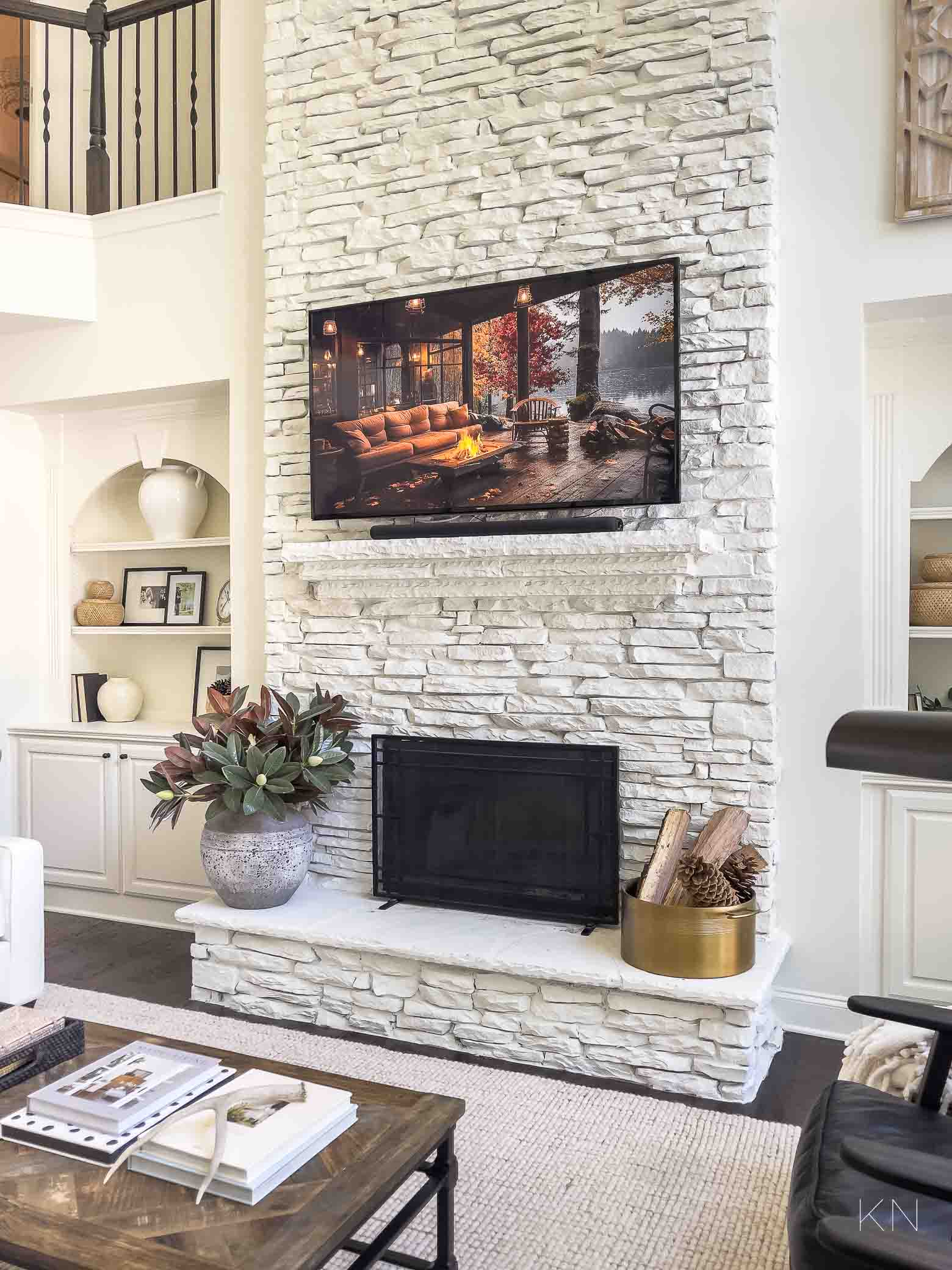 Sources: Wool/Jute Rug (Natural) | Coffee Table | Black Rattan Tray | Black Leather Arm Chair | Large Cement Vase on Fireplace Hearth | Faux Magnolia Branches (seven branches in this arrangement) | Brass Party Bucket | Fringed Throw | Small Round Vase on Built In Shelf | Round Black Cabinet Knobs
but I've most been enjoying setting scenes at night when it's dark out, especially when I'm reading.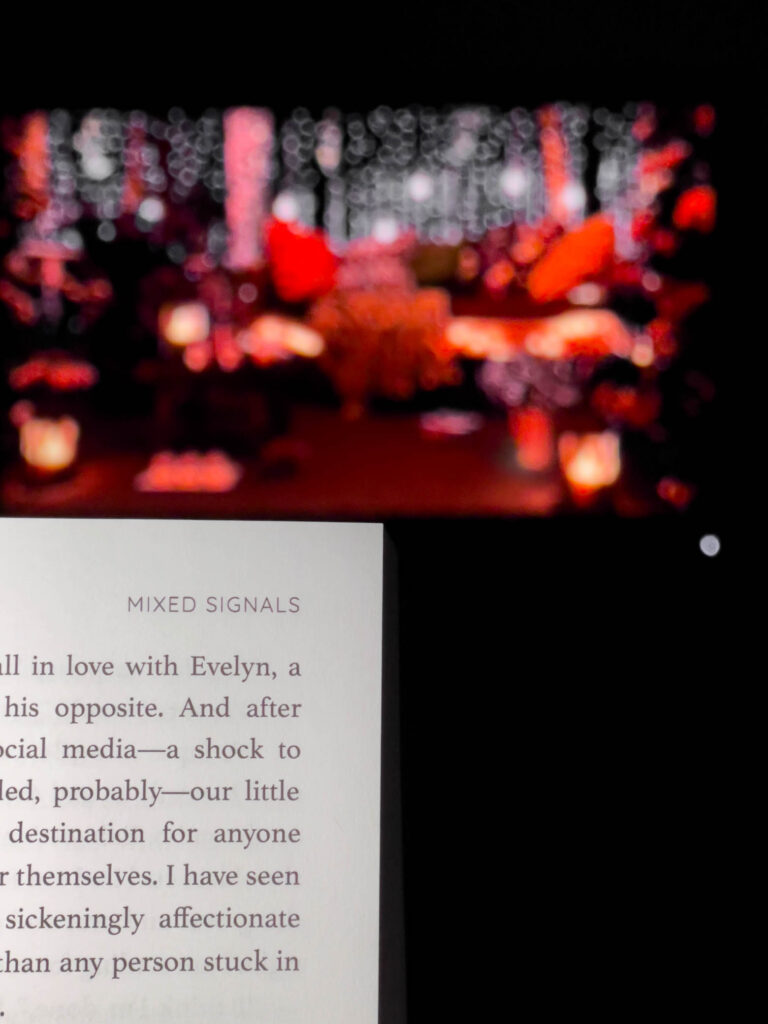 Going through all the ways to maximize the fall cozy vibes and to force autumn into our homes was a visceral experience and I'm even more excited at the end of this post than I was when I started.
Have you started hinting at fall in your home yet? What are your favorite ways to make your self/home/week/family/nights cozy?