In our house, we've officially stepped into fall mode and have started immersing ourselves in any and everything that brings the season to life. Although, I'm still hoping for at least one final pool day 😉 But, this is the time of year things start to really speed up, schedules and activities start getting a little more chaotic and the end of the year — holidays and seasons — start to run together. Speaking from experience, it can be easy to overlook things in Q4. So today, we're pausing a beat to look ahead to determine what can and should be completed/planned for now that our Christmas-season-selves will thank today's-selves for. Trying to do too much will take us away from living our best fall but there's still a good amount of simple holiday planning that will make life easier a few months down the road.
Now, a caveat. This is also one of the main times of year in the past that left me feeling totally overwhelmed and was a catalyst in my decision to simplify and minimize different areas of my life. Along with the physical stuff, I included schedule exhaustion and time stressors. Expectations around the holidays can rob you of joy before you even realize it, so when you're making your list of what can be done in preparation for the holidays, you may get to some items on your list that — if you're honest with yourself — seem to create more and more stress. Maybe now is the time to just give yourself permission to forego those things entirely. Don't save for later… just cross them off. If it's December 1 and you're feeling like a slave to your calendar and to-dos, it's easy to feel like a failure for the self-imposed expectations you've established. Removing that pressure now can help fend away some of that disappointment.
Ok, back to the things we are going to do, though. For all the personal non-negotiables and activities/parts of the season that are most important, it is advantageous to plan ahead where you can, so you're leaving time within the actual season to enjoy and have the flexibility to make adjustments.
*Posts on KelleyNan.com may contain affiliate links. Click HERE for full disclosure.
With these 12 things to go ahead and plan/prep for the holidays now — some can be done now, some need to be done now. So, let's get to it!
1. Holiday Cards
That's not to say you have to do holiday cards. Just, that if you want to do them, now is the time to plan for them.
If you send cards annually (or if you want to start sending them this year), make/update your list and start getting any needed/updated addresses. Making sure you have updated addresses now will not only help your planning, but will likely get you a quick response from your card recipient before they become all involved in the hustle and bustle. We order our cards from Minted and I always opt for addresses to be printed on the envelopes. When we get the box in the mail, all I have to do is stuff and send them. I order a few extras just in case we have late additions or I realize I errantly forgot to change an address. I keep my address book on their website so I easily add or make changes to the address book. And, I always keep a card to frame and set it out on display each year 😉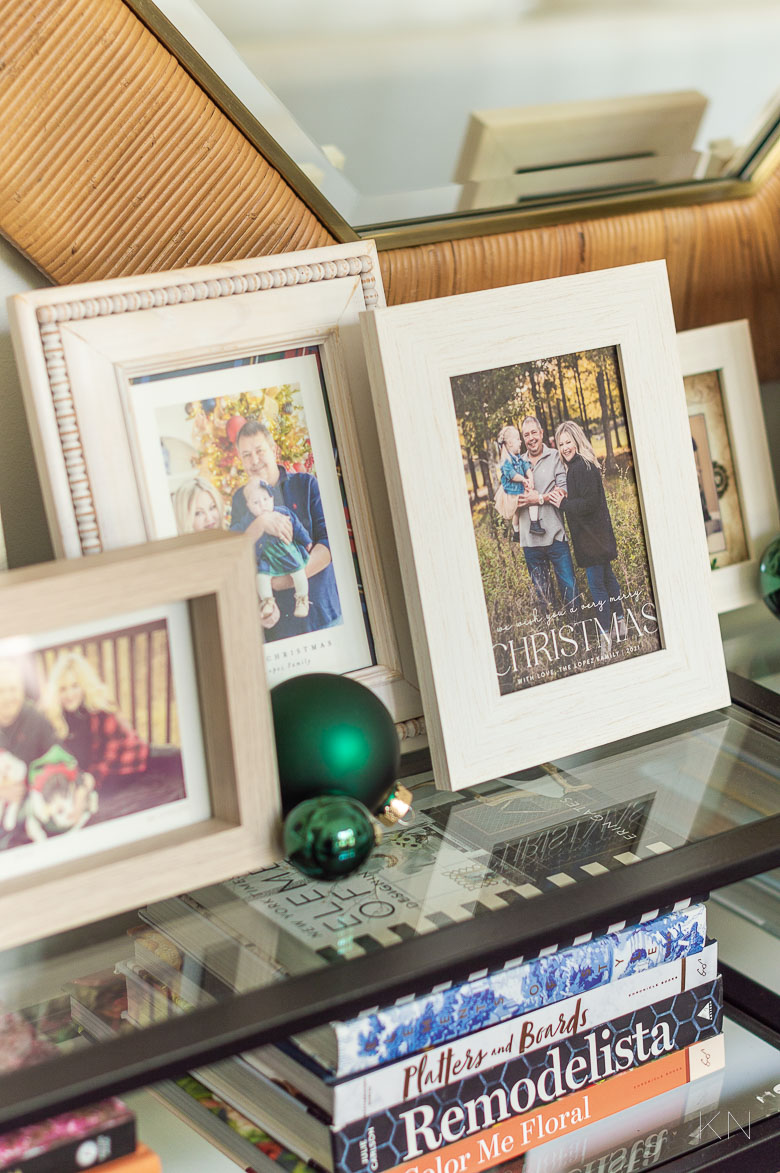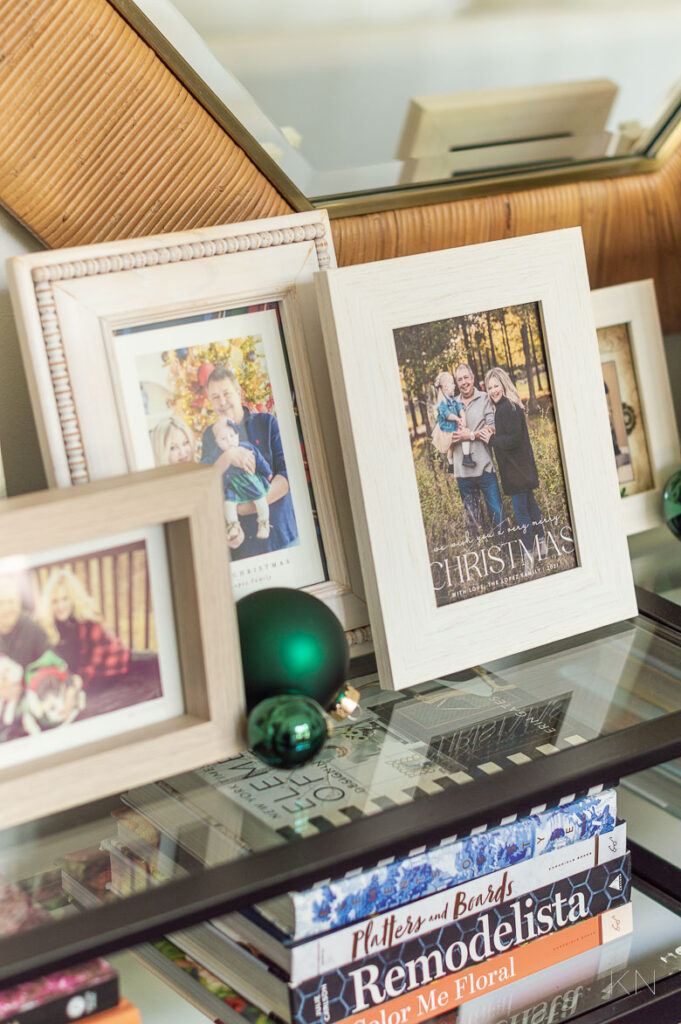 Along with addresses, determine what you want your card to look like (in general terms). If you use store bought cards, (the best time to stock up on these is after Christmas 😉 ) make sure you have them and if not, go ahead and order. If you send out custom/photo cards, start reviewing card layouts first. This may sound silly but depending on the card's text/graphic overlay and if it is horizontal/vertical, it can change the way you take your photos. A lot of Minted's cards can be either/or now, but you can browse layouts HERE.
If you already have the photo you want to use, you are one step ahead. If not, plan a date on the calendar, and book your photographer (if needed). Seriously, do this NOW. Their fall schedules are likely already verging on being filled to capacity.
I absolutely love how our Christmas card turned out last year but we didn't have family photos and I decided to have a quick backyard session with Eliza. One of her candid photos of her pointing gave me the perfect idea…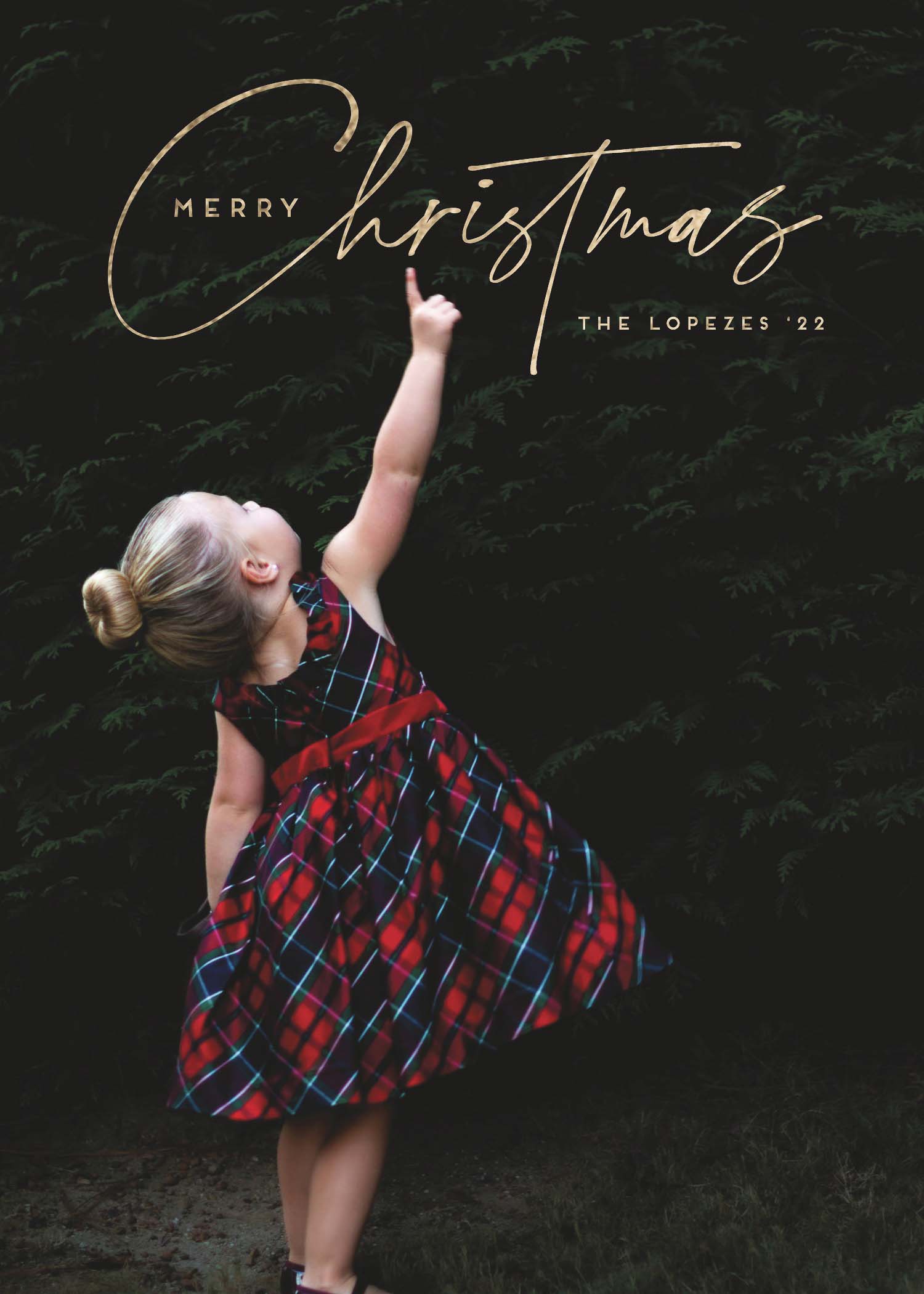 Tartan Dress: 2023 Version in Red; 2023 Version in Green
This year, we will either be doing something similar or I'll pick a photo we already took throughout the year since a family photo session just doesn't sound like something my brain can currently handle. See? Giving myself permission to lower expectations/mark things off the list 😉
2. Schedule Santa, Services, & Ticketed Events
The place where we visit Santa annually drops their calendar the first Monday of October each year and the slots are filled quickly, usually before the end of that day. I have our booking date calendared, and will go into my appointment request with a time and date in mind.
I also know I have to book certain activities and services now because if I try to do it even a month from now, availability will likely be nil. Going to a light show that requires advance ticket purchase? Buy them and book them now. Polar Express? Pick the date and get your tickets. Is the Nutcracker ballet on your list this year? Go ahead and make it a reality. Plan to hire someone to hang lights/decor at your house? We actually scheduled ours two months ago for this year's Christmas season because this type of service alone is growing higher and higher in demand (in our area, at least) and their calendar is filled before the start of the season. Look back at last year's calendar, think about what you wanted to do that ran out of availability… whatever it is — try to book it now.
Lastly, can you schedule any personal business meetings that need to happen before the end of the year? Your accountant or financial advisor to chat/decide on giving/tax strategies? Do you need to make sure your hair stylist has a spot reserved for you? Any doctor appointments? This time of year is busy for everyone and everyone's schedules are stretched thin. Get on their calendar first.
3. Calendar Events
Along with booking and scheduling services and activities where demand outweighs availability, now is a great time to go ahead and schedule yourself, too. If you want to host a party, put it on the calendar. If there are traditions you don't want to miss (cookie baking day, Christmas tree farm, etc.) go ahead and put it in your planner. Is there somewhere you want to volunteer? A special shopping day? Even reserving the day(s) you want to decorate is a good move.
I have totally been the person IN December who looked at my calendar and realized there were not enough days or hours to even do some of the basic things I wanted to because I had already committed my time to other occasions.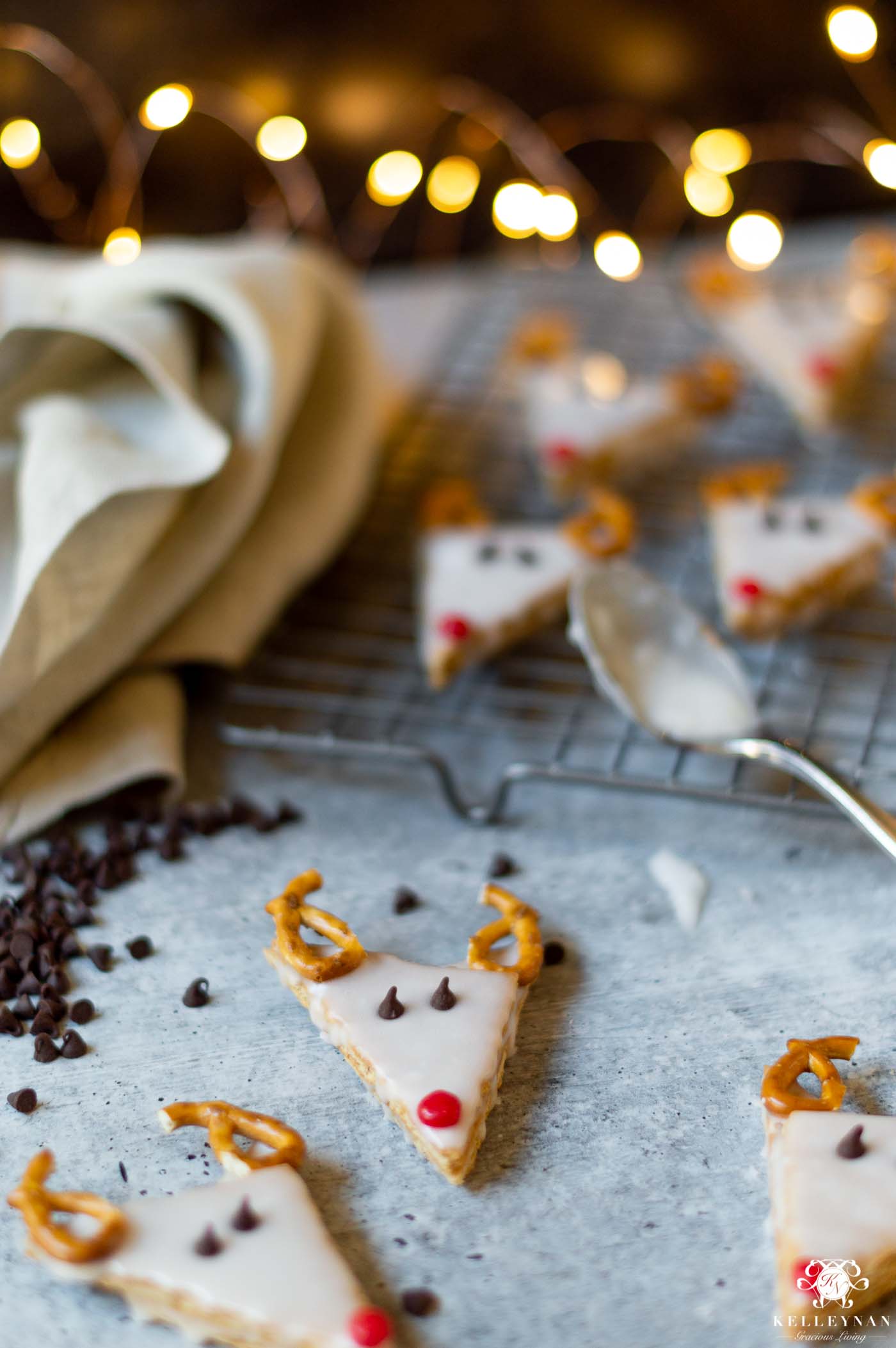 Find five favorite simple treats (with five ingredients or less) to make during the holidays HERE.
4. Inventory Your Decor
Do you add to your decor each year? Change color schemes? Switch up themes? Expand a holiday collection(s)? The point is, if you are needing/wanting something (from a new tree to ornaments to garland), retailer stock starts selling out early and if you wait until you're actually decorating for Christmas, chances are, you've waited too long. If you're thinking "let me just get past Halloween first," it's likely it will absolutely be too late. I ordered a few things last year at the beginning of October. I think they finally arrived the week before Christmas. It's becoming increasingly more common for things to not be restocked once they've sold out for the season.
And if you're shopping in person at At Home, Hobby Lobby, or a place with tons of decorations, they get their shelves set early but they also start getting picked over early. If you need a lot of a single item (picks, stems, ribbon, bells, wreaths…) you have to shop early.
I was finally able to have my outdoor window wreaths last year because I shopped early enough in the season to secure the number I needed.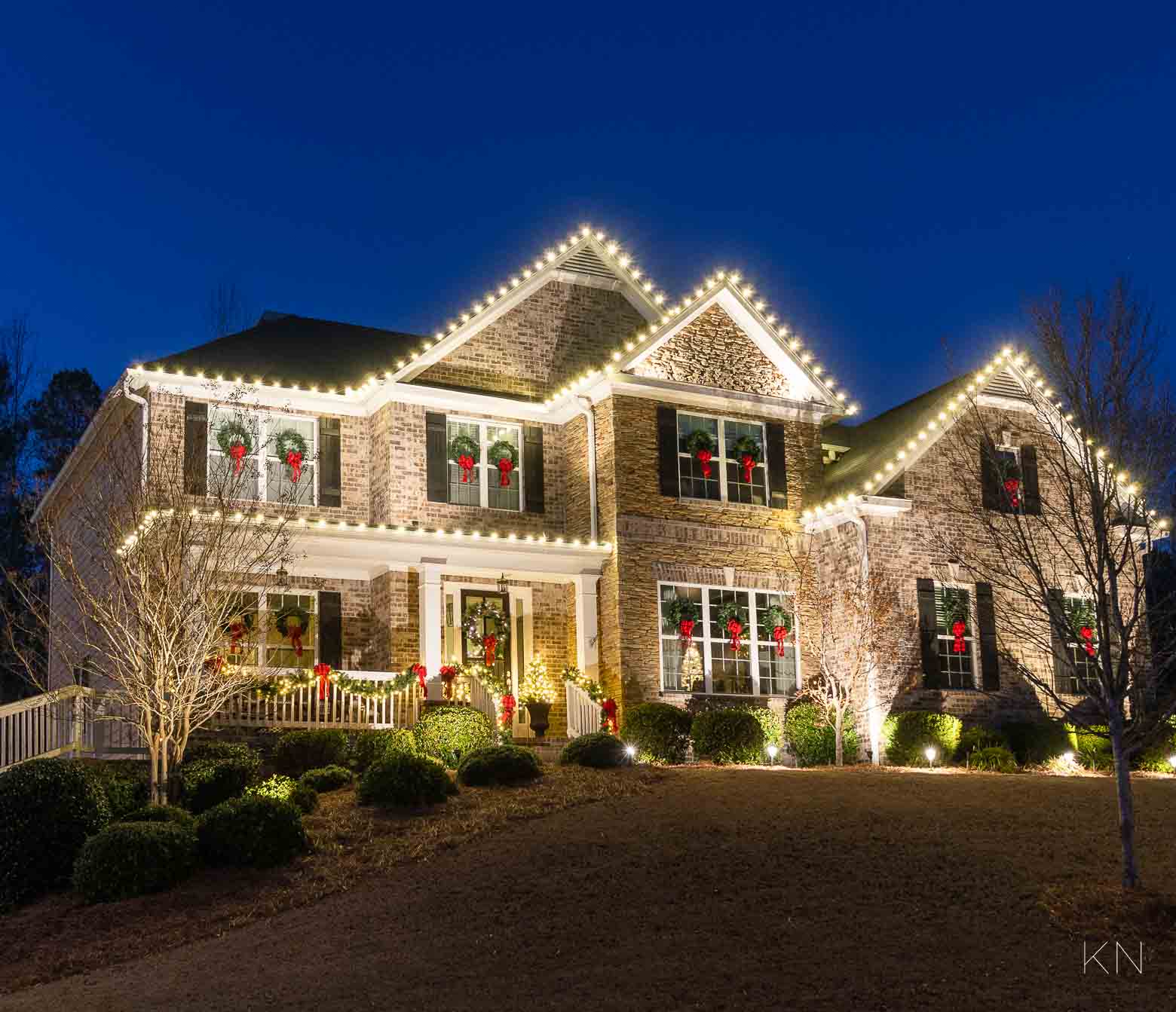 Here's a look back at last year's green Christmas color scheme in the living room…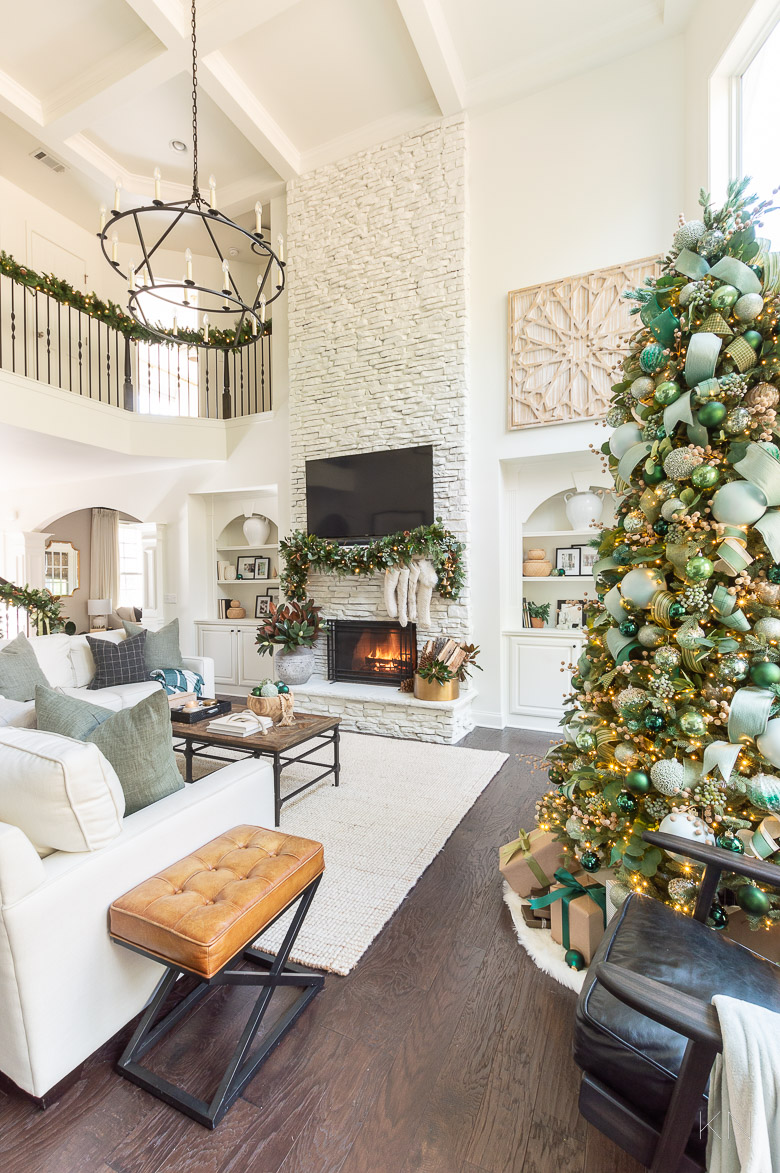 Sources: Iron Chandelier | Wool/Jute Rug (Natural; 8 x 10′) | Christmas Stockings (assorted) | Large Wood Wall Art | Sofas | Leather X Stool | Black Leather Arm Chairs | Coffee Table | Large Vase on Hearth | Faux Magnolia Stems (seven were used in this arrangement) | Brass Party Bucket | Green Linen Pillow Covers | Window Pane Checked Pillow | Green Plaid Throw
My favorite decor addition last year is handmade and MTO and the listing was removed (I'm guessing for production, due to demand?) before the season even started. THESE hand carved wooden trees are timeless and precious and will be with me forever. They're currently available to purchase but I don't know how long that will last.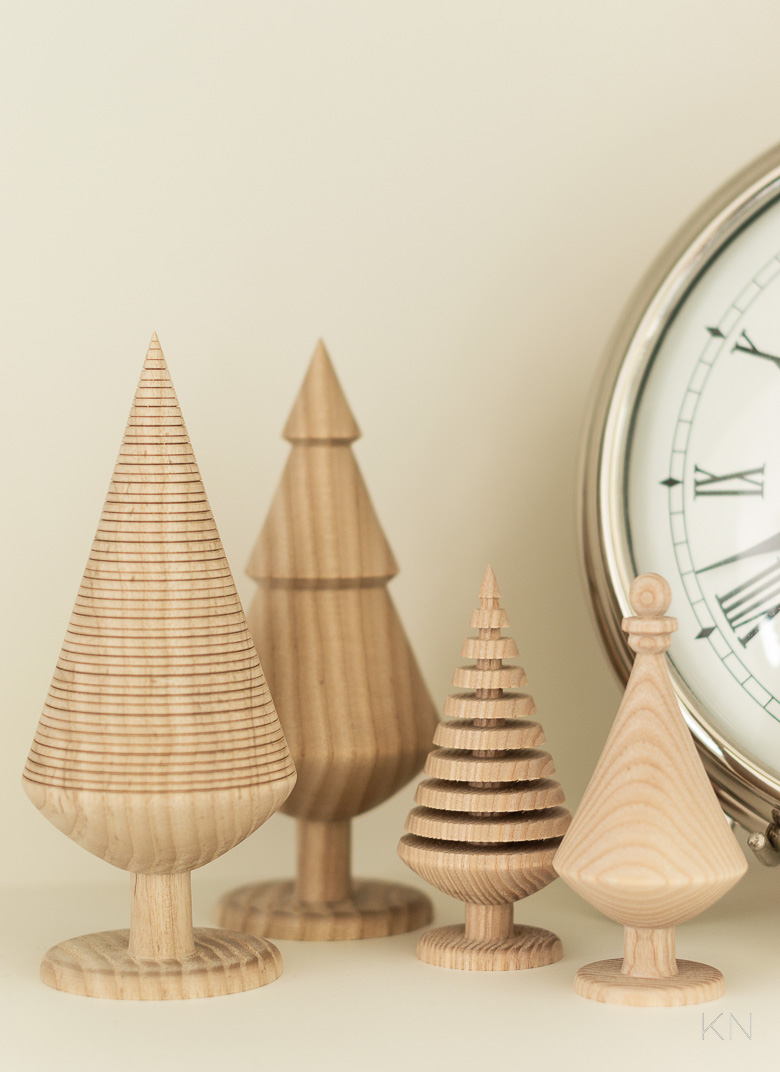 Sources: Wooden Trees | Pocket Watch Clock
THIS nativity also sold out early in the season but is back. It's beautiful and isn't so large that it requires a ton of space. Again, timeless…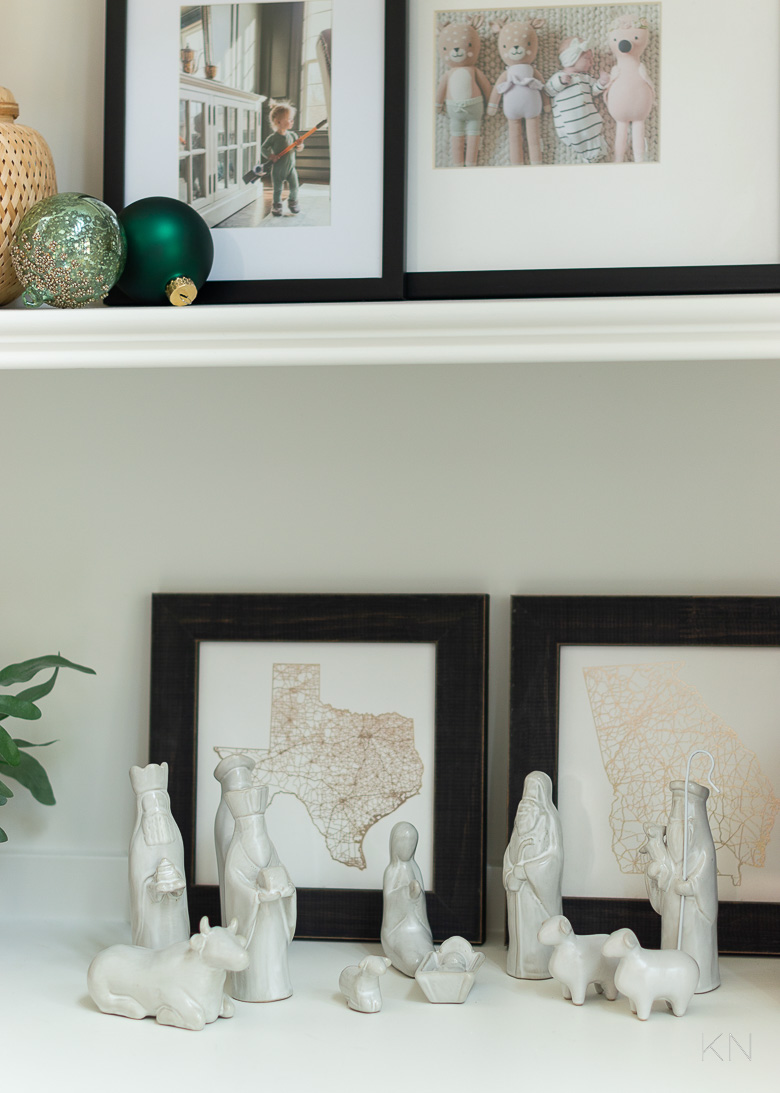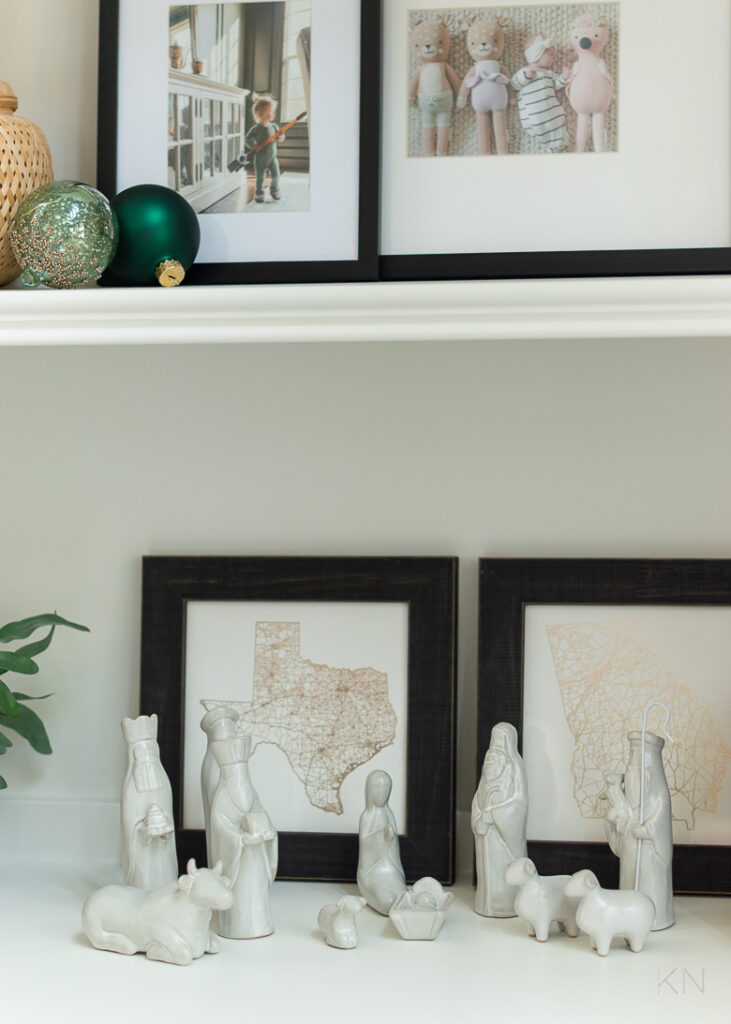 I used THESE berries (I found on Amazon HERE) all over the place last year but they went early in the season. They were a personal favorite and probably the number one favorited Christmas decor piece of KN readers. I nestled them throughout all my strands of garland and main living room tree.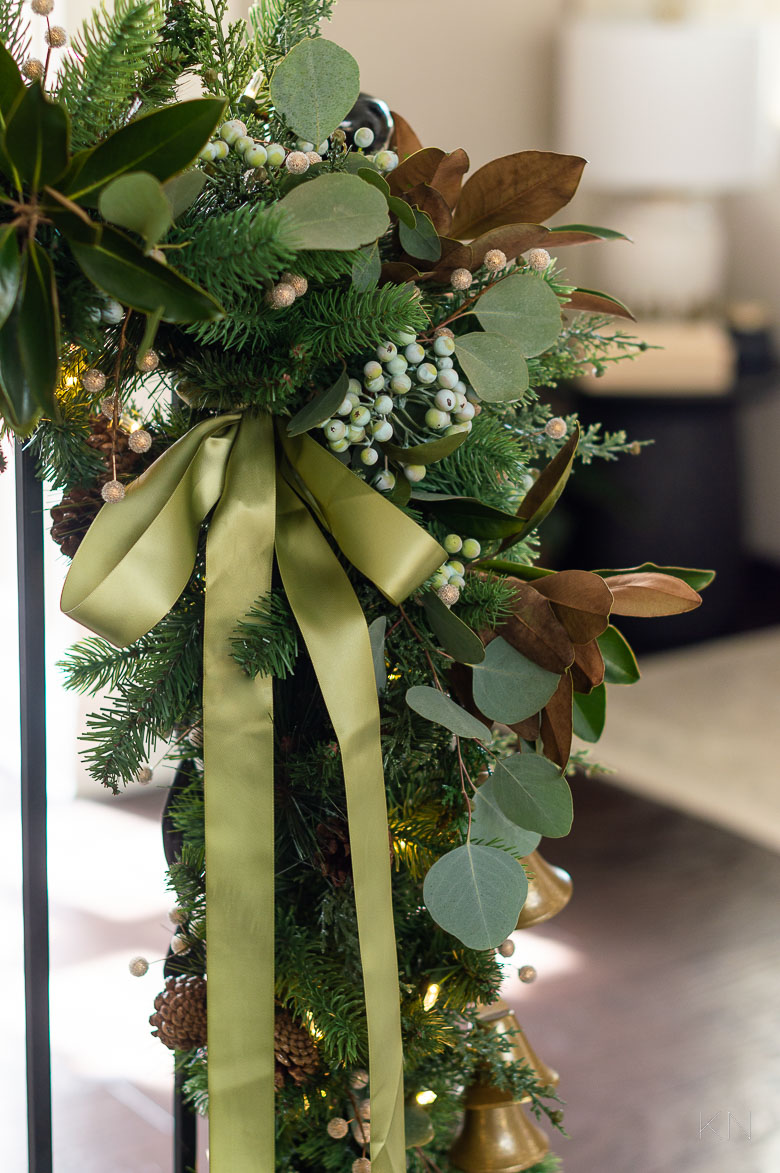 Faux Berries (Pinkish Green) | Eucalyptus Leaf Stems
I'm typically busy shopping for Christmas tree extras to round out whatever themes I'm going for that respective year, but y'all… Christmas is going to be a bit different in my house this year. I've committed to only using what I have in storage. I'm also cutting back on the volume of Christmas decor to alleviate some of the set up and breakdown exhaustion and am hoping to donate a LOT after decorating but prior to the actual season. This is an area I've been nervous to share I'm simplifying, since Christmas ideas are truly some of my favorite things to share on KN, but I'm also really looking forward to being able to breathe a little more over the next few months. You can find last year's Christmas Home Tour HERE and stay tuned for this year's, which will launch in November.
5. Locate Your Gift Wrap
I wrap gifts as my orders show up at my door so wrapping presents never turns into a big to-do. For me, doing a little at a time and staying on top of it is incredibly helpful. Along with not having some big tasks right before Christmas, you also don't have to worry about lots of storage space and hiding spots. If you operate the same way, or, you want to try this method for the first time, you'll only delay and procrastinate if you don't go ahead and prep your gift wrapping supplies. If they're in storage, go look now and determine if you need more for the season ahead or if you're set. If you're set, gather it together and put it in a convenient spot where you'll actually be wrapping presents. You can find a post I wrote a couple years ago on prepping wrapping and storage supplies HERE.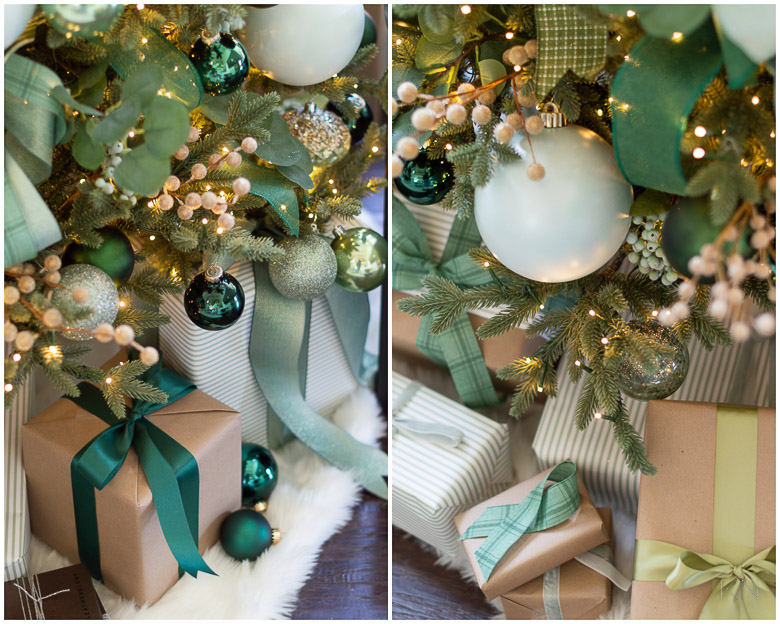 Sources: Faux Berries (Pinkish Green) | Eucalyptus Leaf Stems | Green Burlap Wired Ribbon | Ivory Canvas Wired Ribbon | Spring Moss Burlap Wired Ribbon | Brown Craft Wrapping Paper | Mint Velvet Ribbon
My favorite gift wrap to use that is 1. inexpensive and 2. coordinates with our decor regardless of my colors and themes year after year is THIS brown craft paper. (Pay attention to width and length!) We get more creative with bows and maybe an accent paper, but especially now that I'm focused on minimizing, I love that I can use this for so many gifts.
6. Plot & Wrap Your Book Advent
We do a book advent, starting December 1, leading up to Christmas day. I recycle books from the previous year that we already own and will pull any that Eliza has outgrown. If we need more, it's a great time to go ahead and order however many are needed to make sure we have 24 to wrap. You can find a full post on our book advent HERE.
I try to coordinate the books with the general time they'll be opened. The first book to unwrap is always a Biblical Christmas story with Jesus' birth to start the season and remind us why we celebrate. The Night Before Christmas is the final book on Christmas Eve. But, there's also other specific books I time accordingly — like 5 More Sleeps 'Til Christmas on the 20th, etc.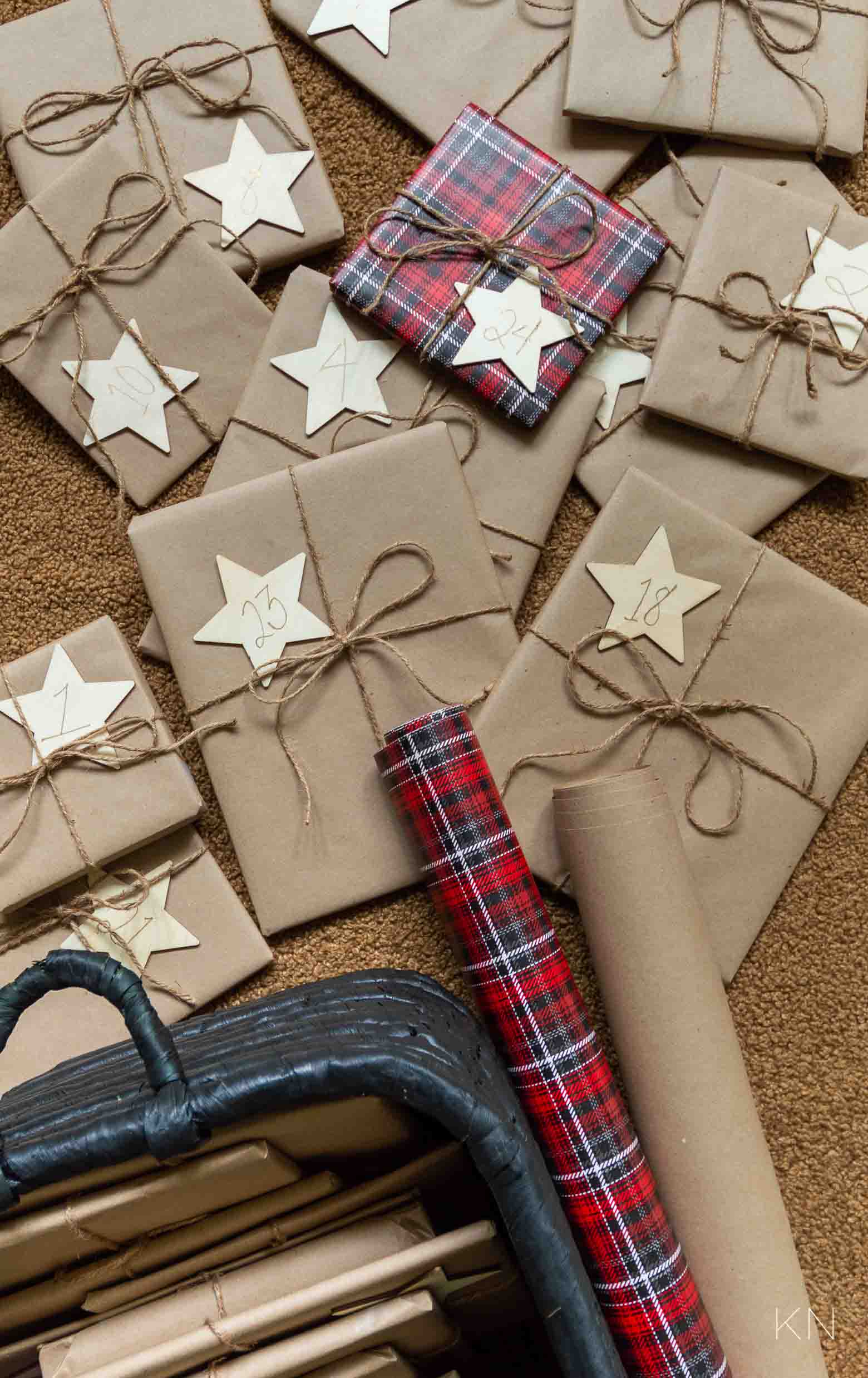 Sources: Seagrass Basket (similar) | Brown Craft Wrapping Paper | Wooden Stars | Twine | Plaid Wrapping Paper
Because this is a pretty significant effort, I am planning to get all the books wrapped early this year so I'm not pressed for time around Thanksgiving when things are nutty.
7. Establish Your TBR List
Honestly, this is a new one to me since I've turned into such an avid reader (and fan of the public library 😉 ). But, just as I've worked to include lots of delicious, cozy fall books into our current season (see my Top 10 fall book recs HERE), I'm also working on my holiday TBR (books 'to be read'). Why is this something that should be done now? Well, if you're a super casual reader or just plan to buy a book when the mood strikes in a couple months, maybe it doesn't. But, if you reserve books at your local library or an online service like Libby, those wintery holiday books are going to start racking up a waitlist soon. I've already been able put my name on a waitlist for a couple new physical releases I'm looking forward to that I should get right after they launch, and I tagged a few digital and audio Christmas books on Libby to add in the next week or so.
Lovelight Farms by B.K. Borison is perfect for Christmas season and if you don't get to it this fall, it's a winter must!
A few books that I haven't read and know little about but are on my own TBR…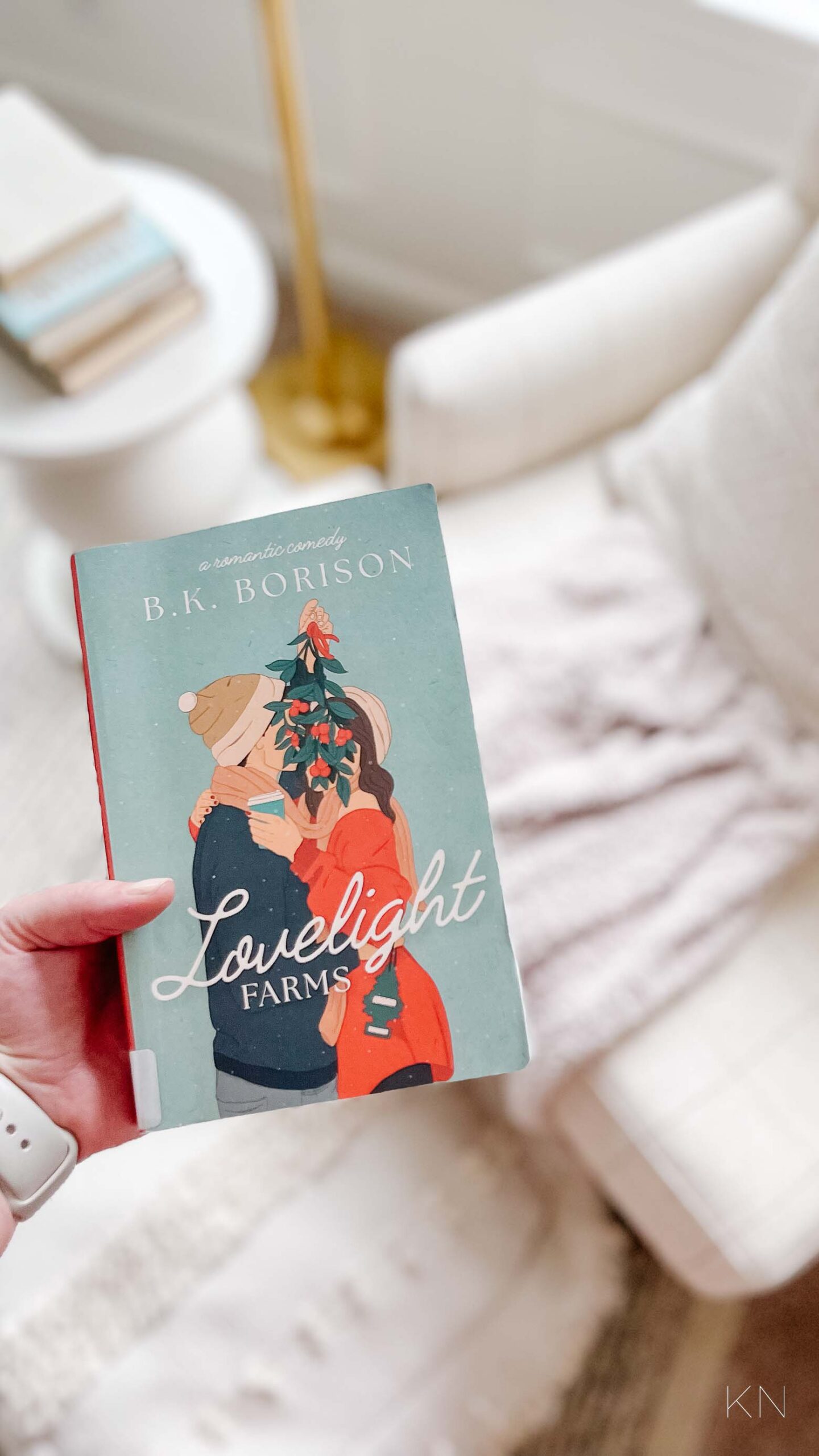 8. Determine Your Gift Recipient List (& Budget)
Even if you don't have a clue about what to get for anyone, at minimum, make a list of who you plan to shop for this year. Don't forget anyone you typically gift outside of family (or want to start gifting) — teachers, service providers, small group members, neighbors, babysitters. Again, not suggesting you have to but depending on your relationship or how involved you/they are, people to consider.
Once you have your recipients listed, you can start brainstorming gifts. Don't forget — non-material gifts/experiences can be gifted early!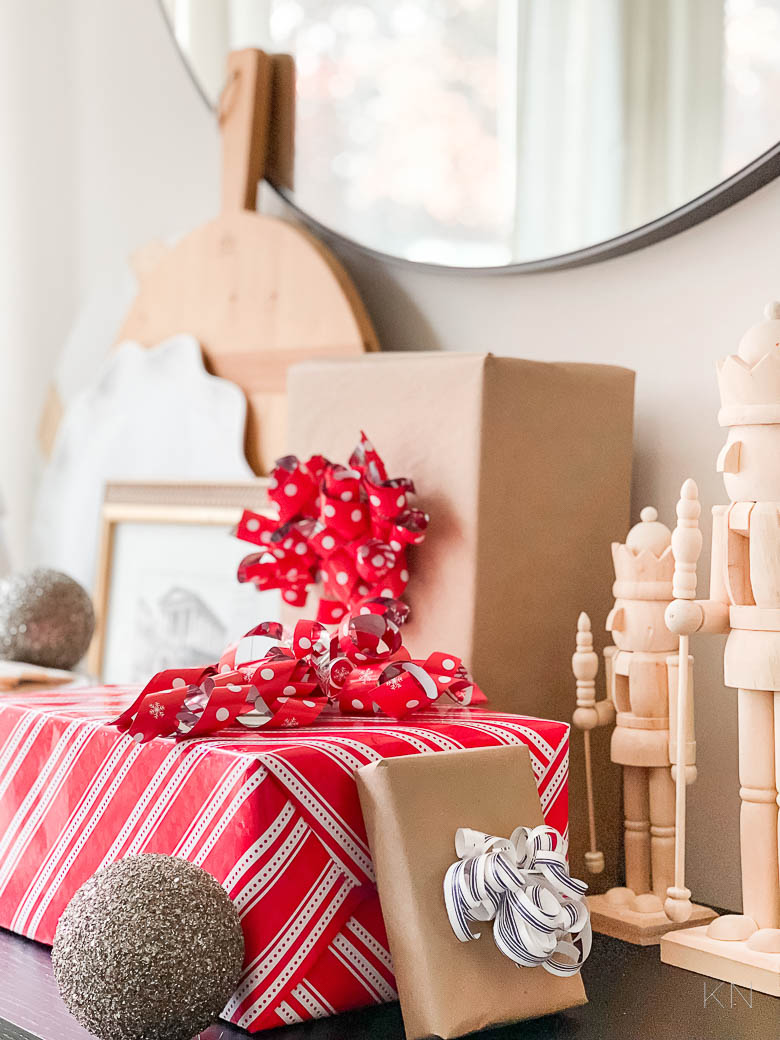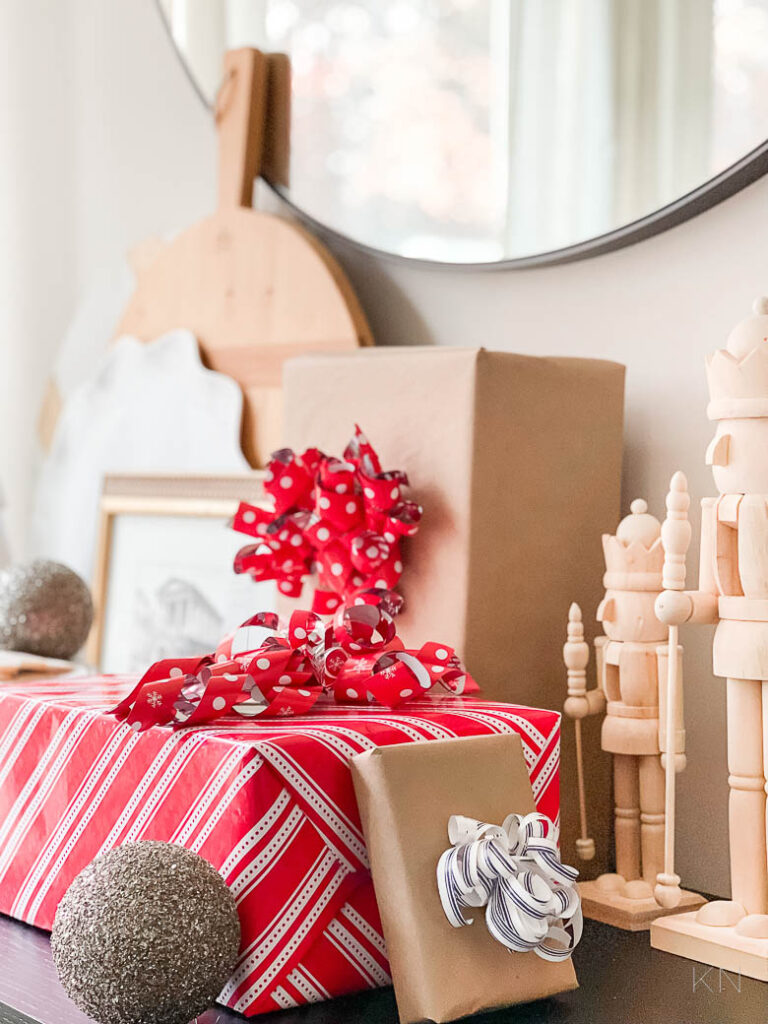 Sources: Brown Craft Wrapping Paper | Natural Wood Nutcracker (similar)
9. Plot Elf On the Shelf
This one is a bit controversial. Some people just don't do it, some people are simple, some are elaborate. I know elf kits that have the supplies with each day mapped out have been helpful to a lot of families in recent years. Regardless of what you do, if you DO want your elf to interact in ways they haven't in the past, make a list before your mind becomes weighted down with more pressing matters. No judgment here on whatever camp you fall in when it comes to the elf 😉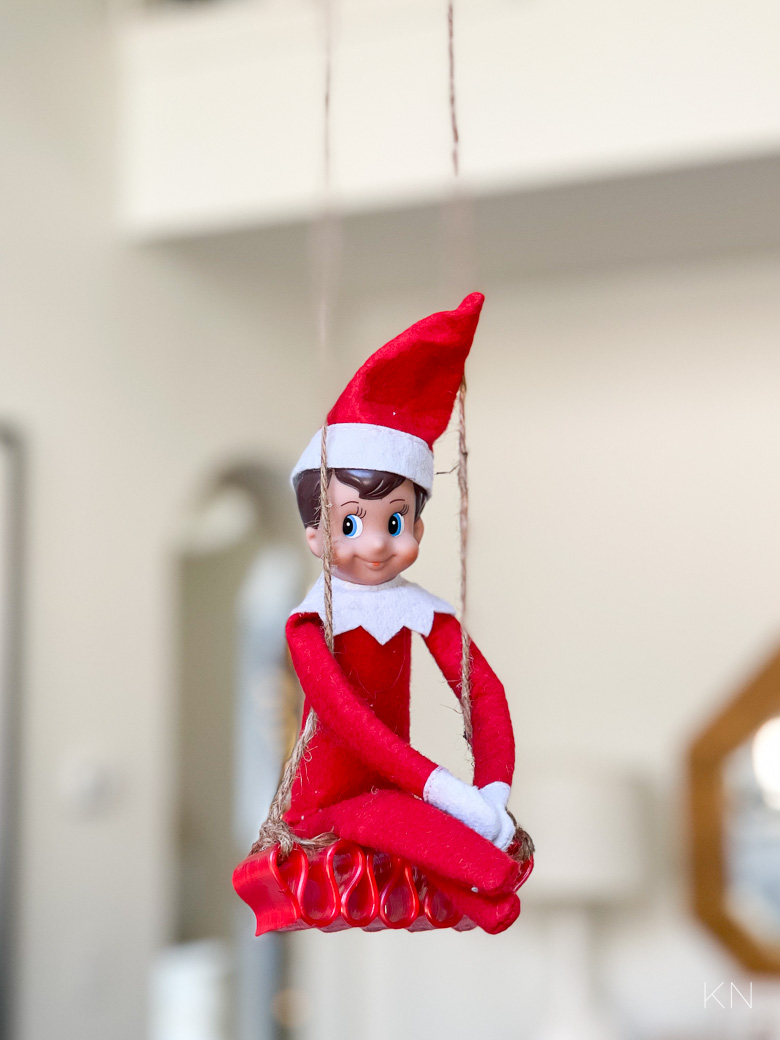 10. Start a Holiday Food Stockpile
If you have a set menu for the holidays — Thanksgiving, Christmas, etc. — you can totally start collecting non-perishables as they go on sale so 1. you get the best deal, and 2. you are set when the shelves in stores start running bare closer to the holidays. My mom has always been great at this — specifically for more hard-to-find items. For non-perishables, create holiday meal plan and shopping list so that staples can be purchased as they are on sale.
If you like the idea but it seems overwhelming, jot down your menus and baking list, and then go through your ingredients. Just be sure to mark them off as you purchase 😉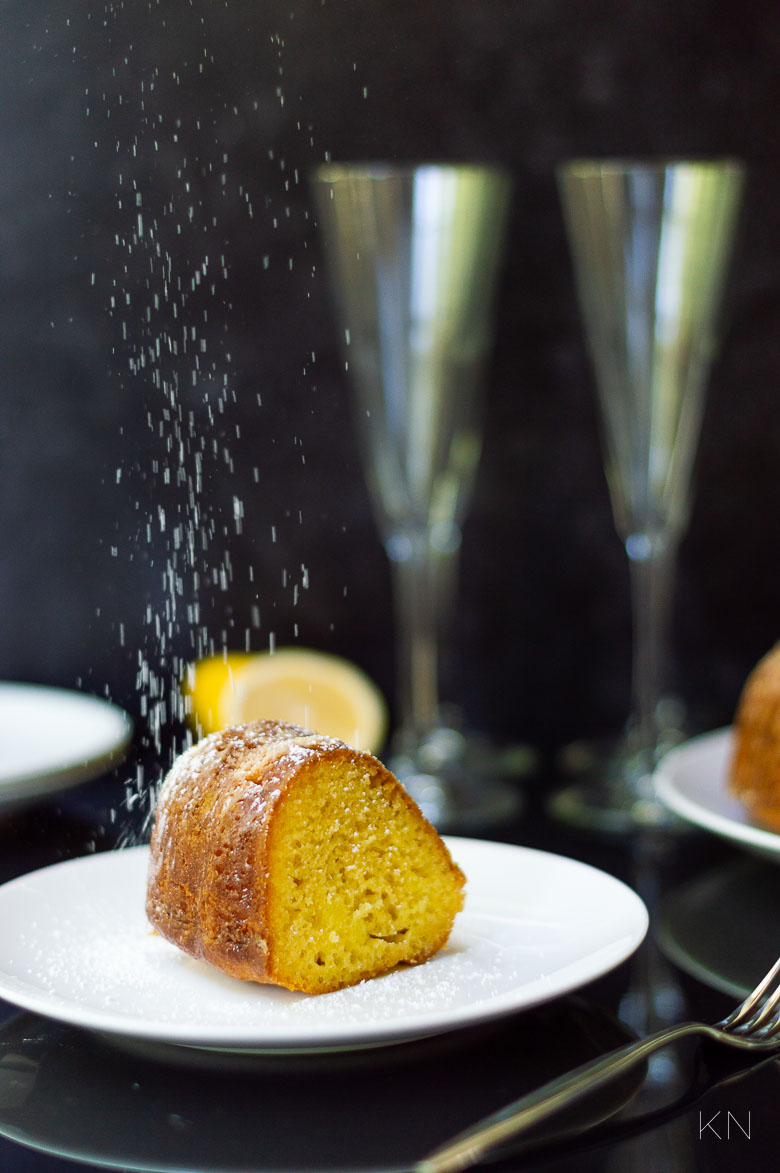 11. Schedule Home Repairs
If there's something that's been on your list of minor home repairs/to-dos, and it shouldn't wait til next year, do it now. You'll be glad you did before the holiday excitement and busy-ness hits. Also, if it's something that could wait and your rest-of-the-year schedule just seems too tight, give yourself permission to bump it to 2024. But, go ahead and calendar/schedule it so it doesn't go another year.
A few small random chores that will be on my list to tackle… polish the silver and yard clean-up. If you are due for a chimney sweep, go ahead and get them scheduled. You can find a full home maintenance checklist I published recently HERE.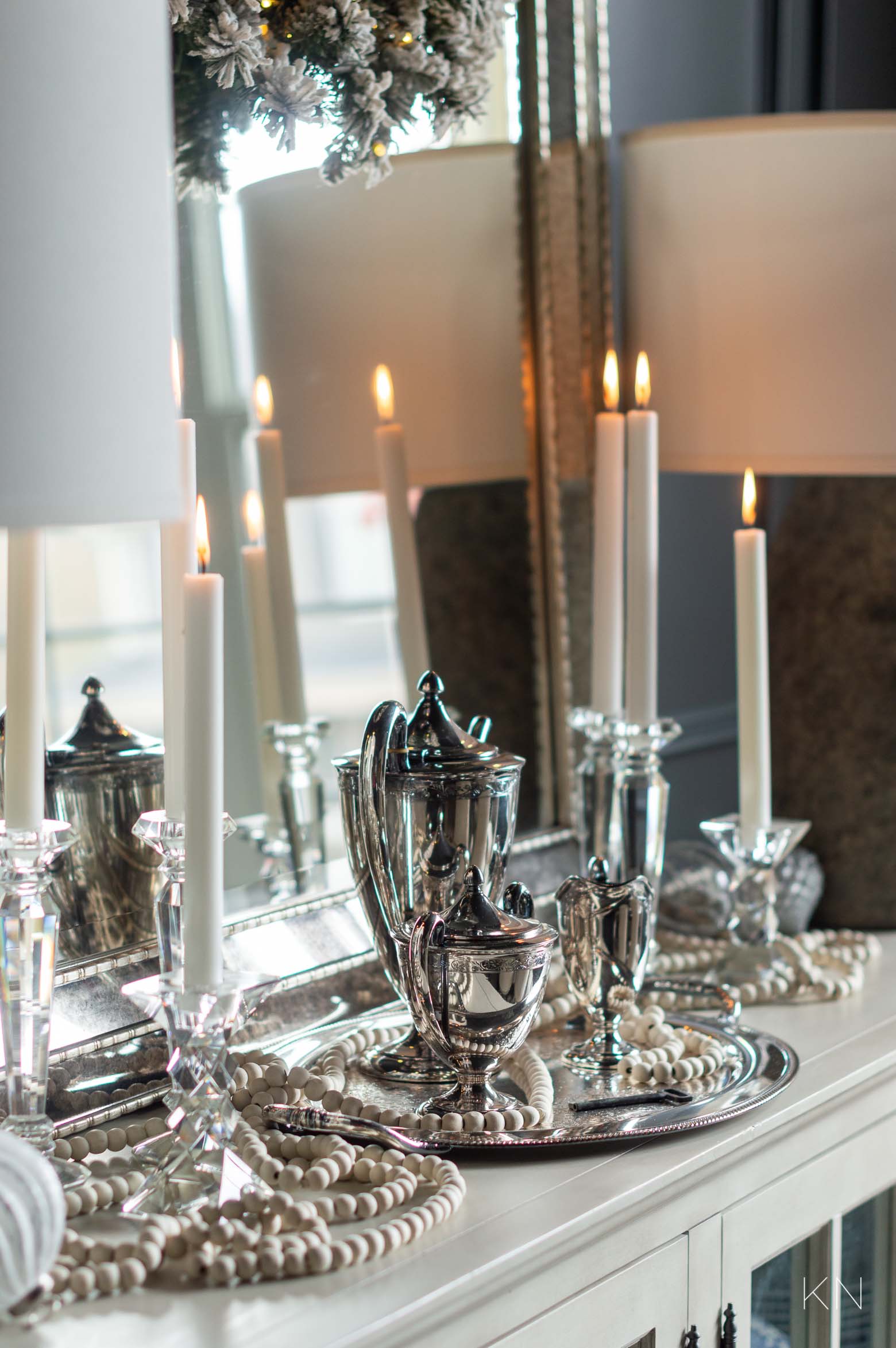 12. Curate a Holiday Playlist
You can catch my cozy, moody fall playlist HERE 😉 When I decide I'm ready to move to a new season, candles and songs are typically where I start and I wanna be ready. I am going to go ahead and get my playlist ready so as soon as the mood strikes (whether I'm driving, cooking, decorating, or doing laundry), I can hit 'play' and be taken to all my favorites. Any get-togethers — we'll be set. Christmas Eve, morning, and dinner? Done.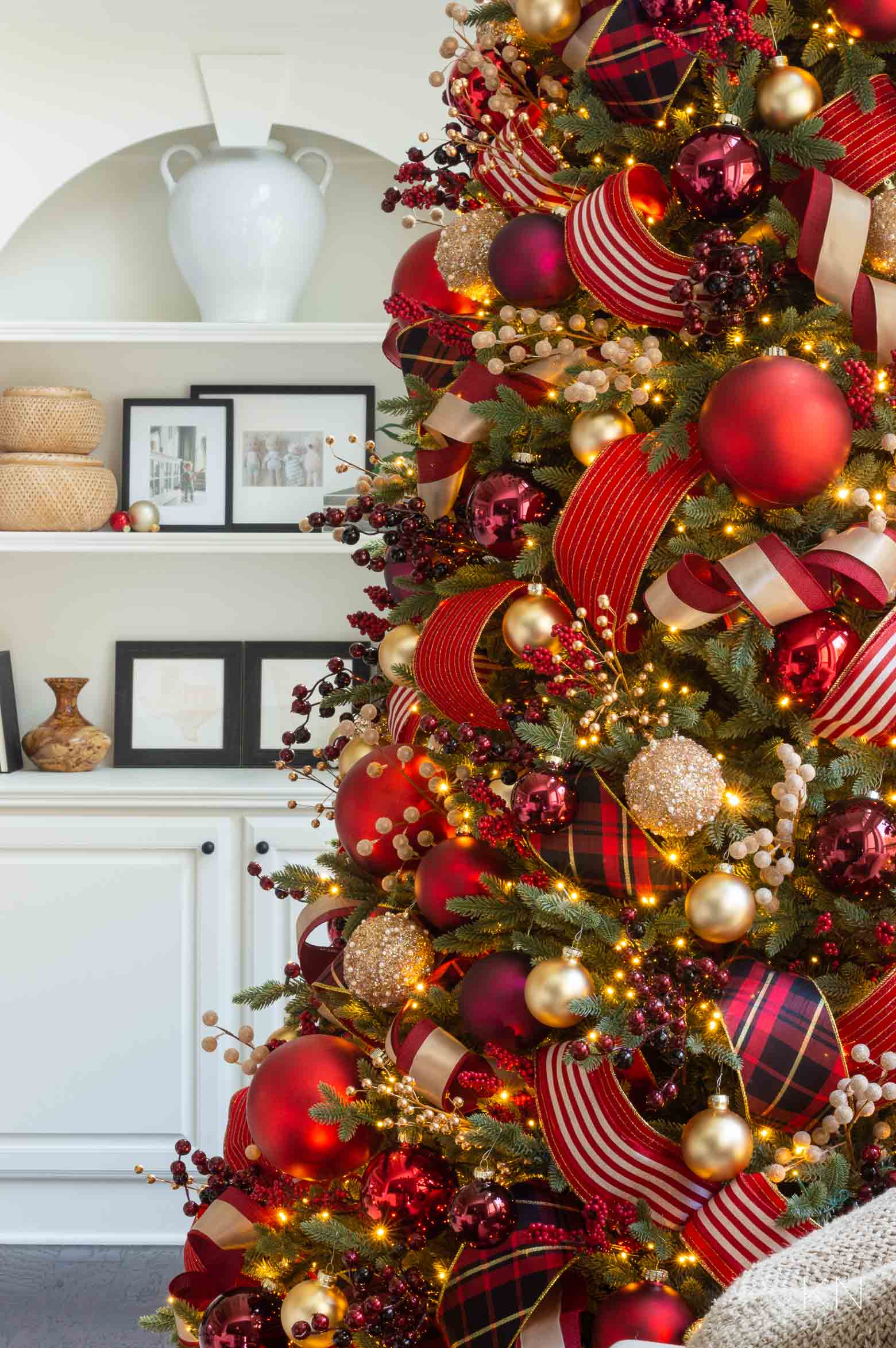 Sources: Tartan Ribbon | Red and White Cotton Canvas Striped Ribbon | Wired Velvet Red and Gold Striped Ribbon | Burgundy Wired Burlap Ribbon (similar)
The intent of today's post was not to overwhelm but to lay out a little reality, helpfully and non-threateningly. Some of these may not apply to you and some of these you may have your own timeline/system for. But, my hope is that if you have a tendency to panic, get overwhelmed, and a lot like me, this will serve as a good starting point to start to hash things out.
I'm kind of curious how I will ultimately simplify our season and work toward cutting out some of the stressors of previous seasons. Will I be successful or will it inevitably be a repeat? We'll see. But, I'm heading into it with intentionality, hope, and a little bit of organization that should put me on the right track 😉
Other Posts You may Be Interested In