I think 2020 created an extra strong need for comfort, nostalgia, and the familiar — at least, for me it did. And, so often now, it's not even that I crave a new show. I crave the best of what I know, the stories I'm already familiar with, and the "friends" I don't have to wonder if I will/won't like. I've re-watched more shows than I should probably admit — some more intently than others. And, while some I know so well I can recognize specific lines, there's others I remembered I loved but realized in re-watching that I'd forgotten full plot points, endings, and characters (those are the best kind of surprise). If you find yourself thinking "they just don't make 'em like they used to", are longing for stories you can invest in, or maybe even forgot how much you loved a show a decade ago, today, I'm sharing my favorite, ultimate re-watch comfort binges in this guide of TV shows to binge. And, you know what? If you watched a show in real time before streaming, being able to see it all together just hits different. 😉 Maybe you'll be reminded of a show you love, or maybe you'll even find a show you meant to watch but never did.
*Posts on KelleyNan.com may contain affiliate links. Click HERE for full disclosure.
I decided to split my list into two categories — "feel good" and "drama". While some of the "feel good" are dramatic, it's how I view them. The feel-good shows are comforting in a different way than the more dramatic (and thriller) shows, but they nostalgically all give me comfort in the familiar. I have only included shows in the list that I have watched through more than once. There are a few I should probably add to my re-watch list, but maybe we'll get there one day 😉
Feel Good Shows
Between the characters, settings, and stories, each of these shows has always made me excited to keep hitting "next episode" after the previous concludes.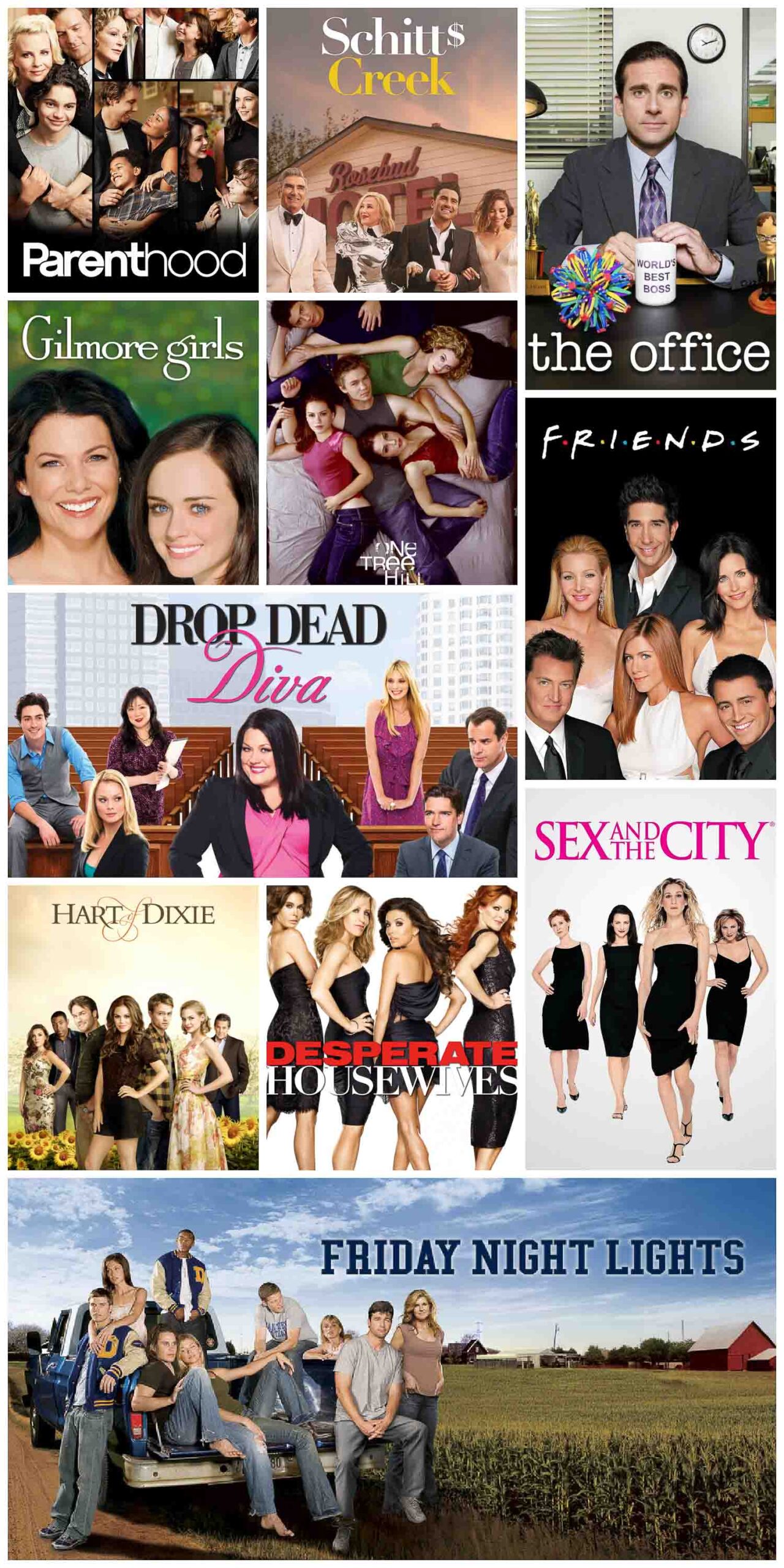 *I considered indicating the streaming services for each show but there are SO many services now and a lot of overlap, it isn't hard to Google/search and find each of these.
Gilmore Girls — Among the most predictable in the list, the quaint fictitious town in which so many of us would like to live, along with the quirky characters and undeniable chemistry between the mother/daughter duo is the ultimate comfort.
One Tree Hill — I'm in the camp of Dawson's Creek doesn't even come close to comparing to this CW show and I've probably watched this series more than any other on the list. Set in NC, the characters lives just seem more relatable and it's the perfect mix of humor meets drama (a little more "out there" in later seasons).
Friday Night Lights — Even if you aren't into football, this Texas show centered around the town of Dillon had the most brilliant acting, filmography and shooting style, and the ultimate relatability. Coach Eric and Tami Taylor are my favorite TV couple of all time.
Drop Dead Diva — Maybe the most underrated show, the likable characters and fun cases, coupled with the "will they or won't they" makes this show feel fresh every time. The supernatural element has very little to do with the series.
Hart of Dixie — The stereotype of what you may think living in the deep south in a tiny town (with a glamorized lens), it's a silly story where you still get invested in the characters. It's the age old story of the city girl getting thrown into the country and seeing if she will adapt and thrive or flee. The cast is awesome and I lived in Daphne, AL, next to Fairhope — both centered right where the fictitious town of Bluebell was, so I was extra invested and interested.
Sex and the City — No explanation needed, but this is still a great short show to put on late at night, while doing chores, or while on the treadmill. The episodes are short, quirky, and it's fun to go back to the late nineties and early aughts.
Friends — Same as above, this is the ultimate comfort, whether you watch the episodes randomly or stream the entire series. But, if you haven't streamed in order, all at once, I highly recommend it! It gives a better picture and reminder of just how the individuals and the group evolved over the course of their 10 seasons. Especially great if you need something on in the background.
The Office — I started this show before my first "big girl" job and honestly, it was how I thought (and hoped) my work life would be. I love a dry humor and the subtle nonverbal exchanges and expressions you have to be paying attention to catch.
Parenthood — The ultimate! Similar feel to Friday Night Lights (they share the same creator) with relatable, poignant story lines from a family in different stages and situations. Such a likable cast and likable characters and you'll root for every single one. Depending on my season of life, I've related and gravitated towards different characters each time I've watched.
Desperate Housewives — Probably the kookiest of the bunch and even though it's filled with drama, most of it is shared in a lighter way. They're all pretty unlikable in a charming way.
Schitt's Creek — One of those you appreciate more when you pay attention to catch all the subtleties and hilarity that each of the characters bring. It's about time for a full re-watch of this one (again)!
Honorable Mentions of TV Shows to Binge More Than Once…
Younger — In the honorable mention category for two reasons — 1. I haven't watched it through a second time, and 2. I still can't decide how I feel about that ending!
Life & Beth — I watched this through, and then watched it through again with Dave. I am not an Amy Schumer fan but her character in this show is painfully relatable, average, and fun to watch. I just realized I don't think my mom has seen this one so I'm gonna have to get her to bump it to the top of her list!
The Mindy Project — Mindy Kaling is just gold to me and TMP, to me, is her best. I haven't watched it through a second time so I'm dropping it here, but I just adore this show and her relatable, hilarious quirks.
Shows With All the Drama
There are plenty of drama shows I really loved that aren't in the list for one reason or another. Either they stress me out too much or I feel like it was too long of a journey to go back, etc. Example — I loved Breaking Bad, Mad Men, Ozark, and Sons of Anarchy… but I don't think I can go back and they aren't "comforting" as the shows below are (to me 😉 ).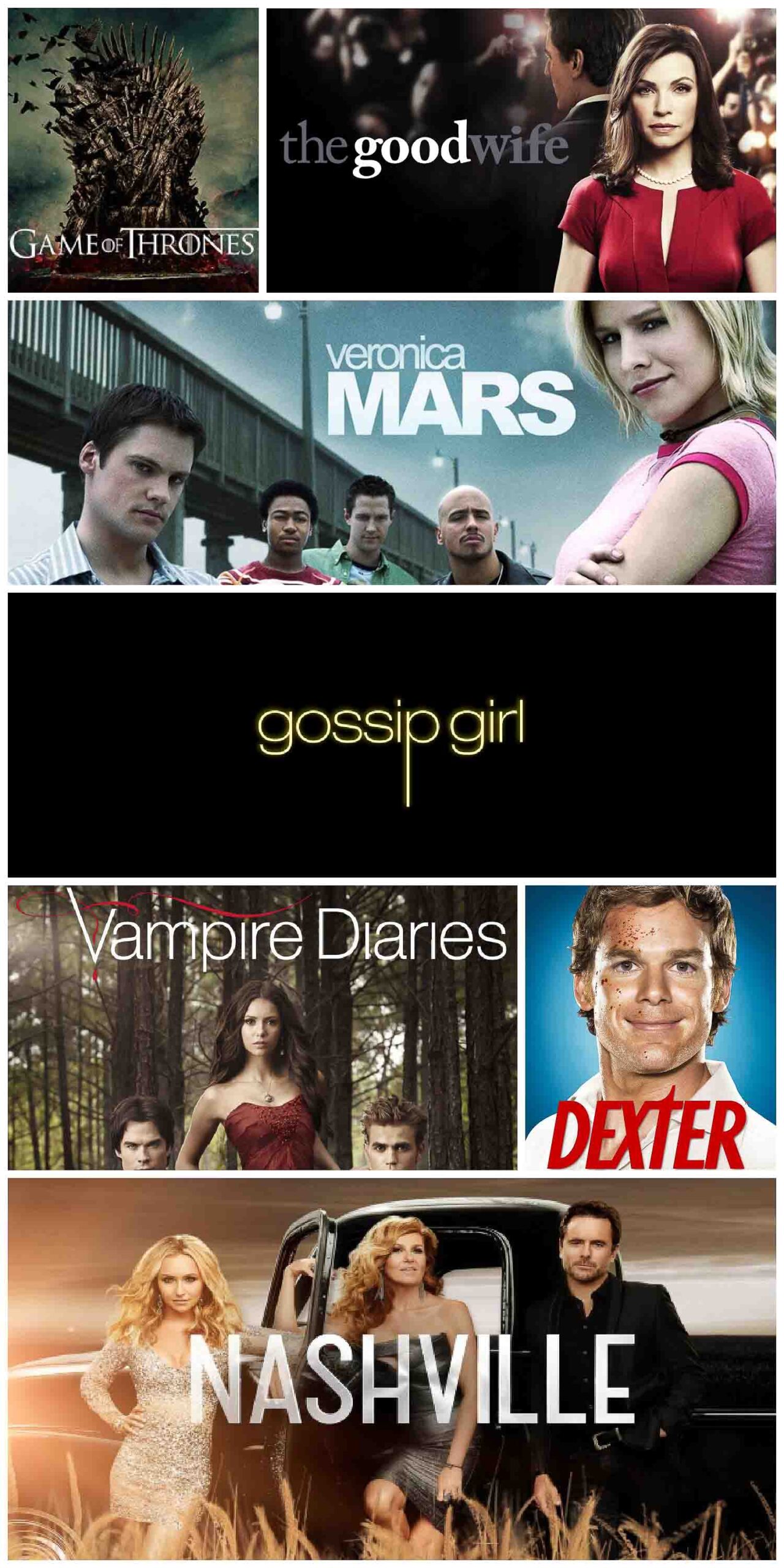 Game of Thrones — I liked it even more when I watched it again and learned more when I watched it through with subtitles. After seeing the full story unfold, it's awesome to go back to the beginning to watch how it all connects and unfolds. Definitely have to pay attention to this one!
Nashville — I just recently re-watched this one after our Nashville trip (see the recap HERE). TBH, most of the characters drive me nuts but the music (all original songs), the landmarks, and (most) of the stories totally had me. Night time soap material.
Vampire Diaries — I preferred the earlier seasons but there's just something about those CW shows! I loved following the love triangles and not knowing when something was actual going to be "final".
The Good Wife — One of those shows that still feels fresh re-watching it, I loved the dynamics between the love interests, the law firms, and all the court cases. So smart, so good. That ending, though…
Gossip Girl — The original (not the re-make). It was a whole vibe when it came out, from the fashion to the unrelatable lives of teens living on the Upper East Side. And while I honestly can't relate to anyone, it's escapism at its finest.
Veronica Mars — I liked the initial seasons more than the new seasons Hulu brought, but don't let the name fool you — this isn't some sort of Harriet the Spy. It's pretty dark but Kristen Bell is awesome.
Dexter — Like GOT, this one was shocking to me the first time I watched it, but gore aside, there is so much cleverness and so many surprises wrapped up in this show. I loved each season's primary case, the small cases within the season, and of course, the Dexter factor of it all. BTW, if you haven't watched it through a second time, trust, Season 4 doesn't get any less upsetting the second time around.
*To see what I've read recently that I'd give at least 4* to, check out my favorite recent reads HERE.
Like This Post on TV Shows to Binge? Here's Another Post to Check Out…
Pin/Save For Later