At the beginning of the month, my mom and I got away and headed to Nashville for three days and three nights. I hadn't been able to spend much time in Nashville, since my bachelorette party over a decade ago, and my mom had only visited the outskirts of the city in the past. I've had work trips — both downtown and in the Opryland area — but as those went, downtime was sparse and I was never able to make the time to explore. This trip though… this trip — we had a blast! I planned the trip as a gift to her several months ago, so we were so excited when it was finally time to go. I received restaurant recs from many of you on Instagram (I included those in a recent newsletter but will also include them below) and we kept our schedule flexible with general ideas of the places and areas we would visit on each day. We were total tourists and our days stayed pretty packed, but at an enjoyable pace. So today, still fresh off the enjoyment of our trip, I'm going to share where we went and what we did, to give you some ideas of things to do in Nashville.
*Posts on KelleyNan.com may contain affiliate links. Click HERE for full disclosure.
When I was planning a small trip, I wanted it to be an easy drive (it's four hours from home), I wanted it to be walkable, and I wanted there to be a mix of entertainment and good food. Also, wanting to go in late winter/early spring, I wanted to make sure we went somewhere with mild weather and little chance of extreme snow and cold. For that criteria, Nashville was the perfect choice. And as a side note, one of the things that was most impressive was that everyone we met was so darn nice and friendly. In contrast, I've visited Chattanooga a handful of times over the past few years and while it's close, we enjoy it, and it's also in Tennessee, surprisingly, the level of service and friendliness is like night and day. We'll continue to visit Chattanooga but Nashville was a crazy-pleasant surprise. And the cleanliness of the city and each establishment we walked into was also something we couldn't stop talking about — especially to be so tourist-centric and popular with young people.
One last note — as I mentioned, it's been more than 10 years since I was in Nashville. It has grown and changed so much. There were a lot more people, but especially going at the time of year we did at the beginning of March, it wasn't alarming at all. As someone who gets anxious in crowds, I managed just fine.
Ok, let's get into it — what we did in Nashville as two tourists, for a three day trip.
Day 1
We left home early on Wednesday morning, before sun up. The four-hour drive was easy and we played lots of country music along the way to prep ourselves for Music City. We were armed with restaurant recommendations from many of you and decided we would begin our jaunt with a Mexican lunch at Rosepepper Cantina in East Nashville. We were trying to be strategic and assumed we would be having lots of southern food and chicken so we planned to have something a little different to start the trip. Once we left the interstate, the drive through East Nashville was so charming. Wemade our way through the neighborhoods and arrived at the cantina right at their opening hour. But, once we arrived, we found that Rosepepper was closed for kitchen work that day. Since we were set on a Mexican style lunch, we shifted and decided to venture to another reader favorite, bartaco, in the 12 South Nashville area.
BTW – the 12 South area was so cute with a brunch and drinks type vibe.
bartaco isn't Mexican but it's kind of like a fresh, trendy fusion with different types of street "taco" options. We started with the "Razz," a special raspberry margarita featured during Margarita Week. We couldn't decide between salt or sugar on the rim, so we both went halvsies on the rim flavoring.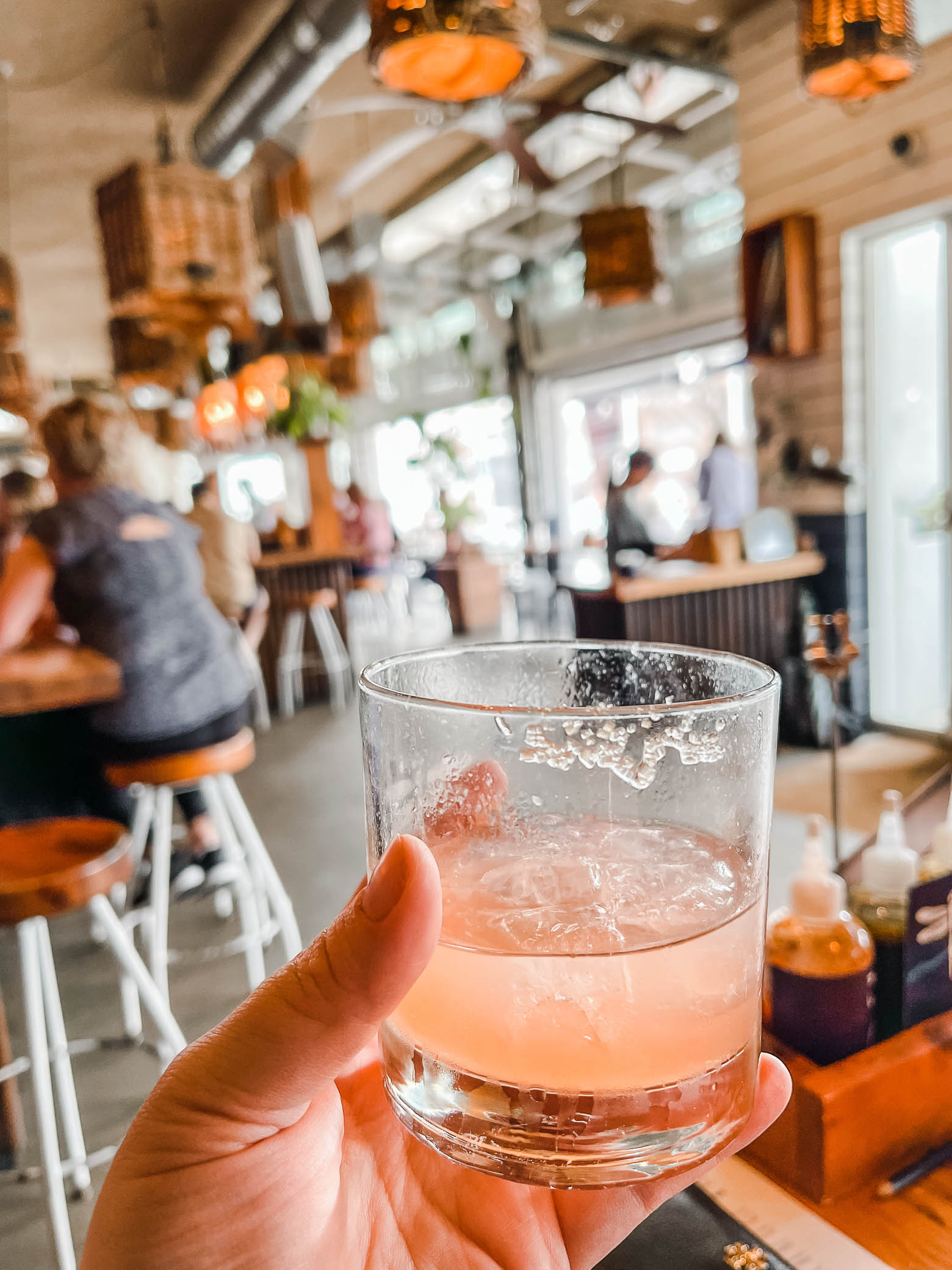 We also started with the homemade guac, served with whole corn tortillas. (If you go, definitely get the guac! It was my favorite part of the meal) We tried a variety of their street tacos, each one was only a couple of bites. My favorite was the spiced chicken verde and my mom's favorite was the baja fish.
After lunch, we visited some of the surrounding shops, like Draper James (Reese Witherspoon's)…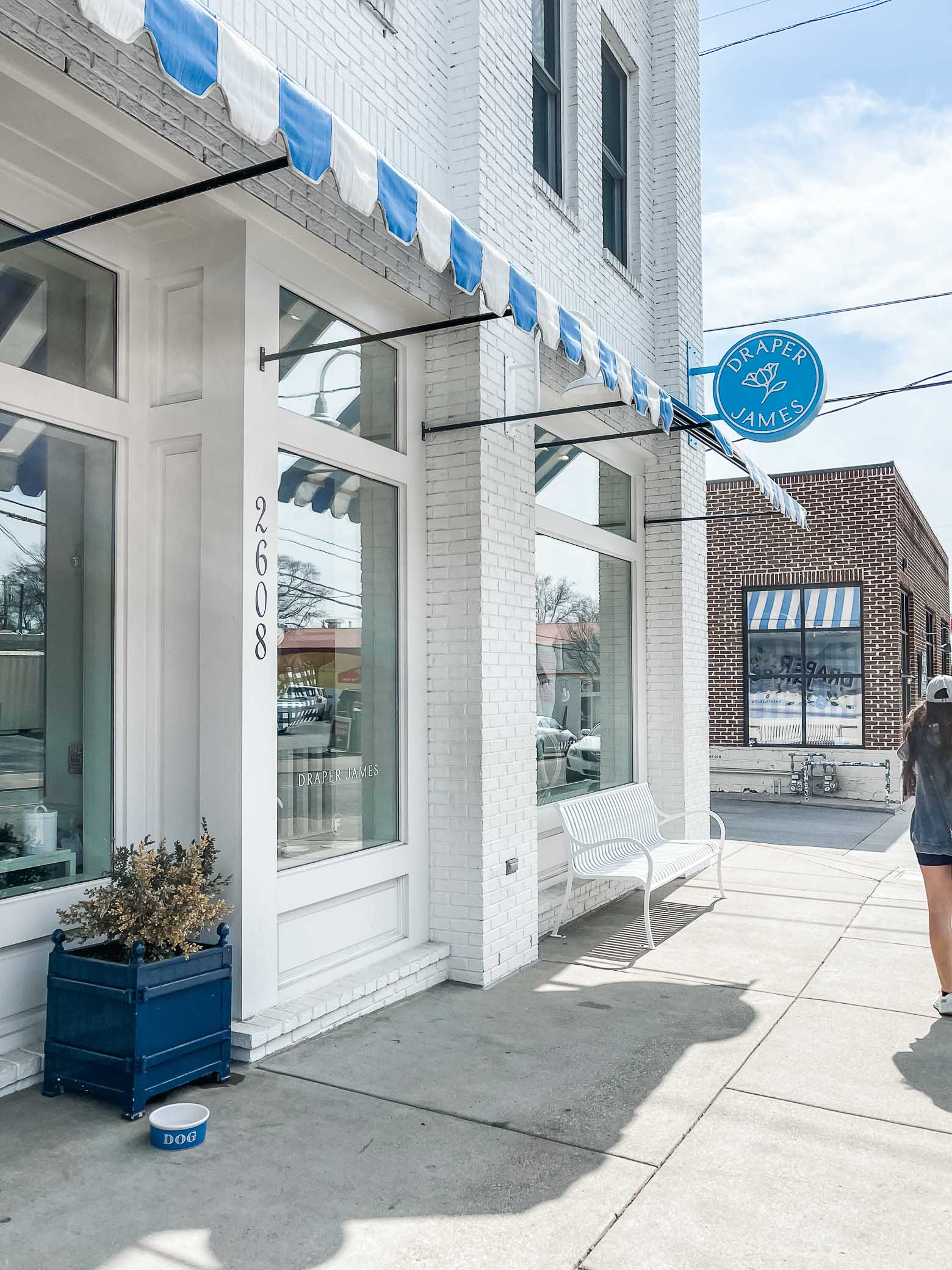 S
toney Clover Lane (custom patch bags)…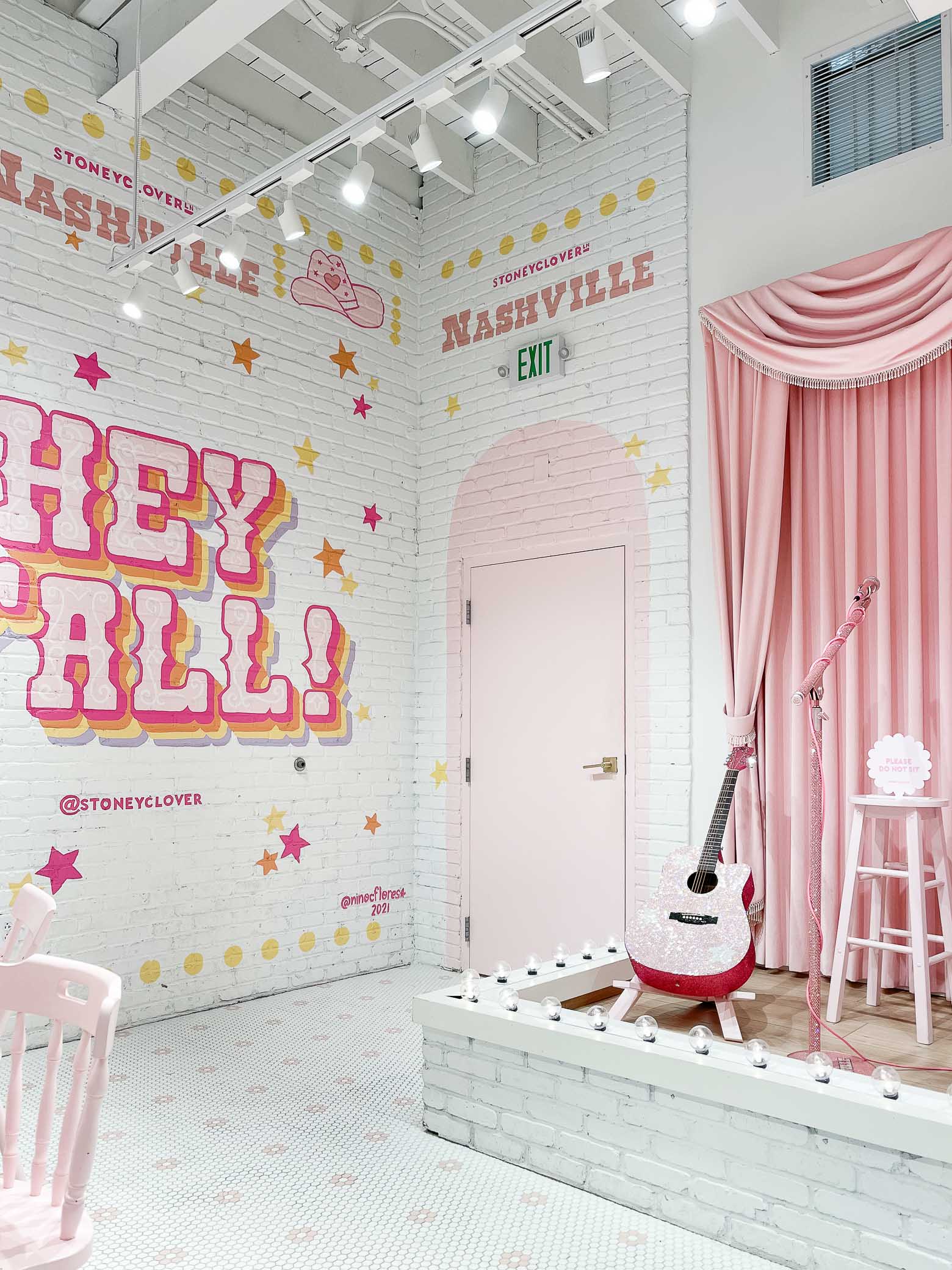 and Summer Classics (higher end home). I'm not 100% on logistics, but love the idea of faux greenery for a deck ceiling…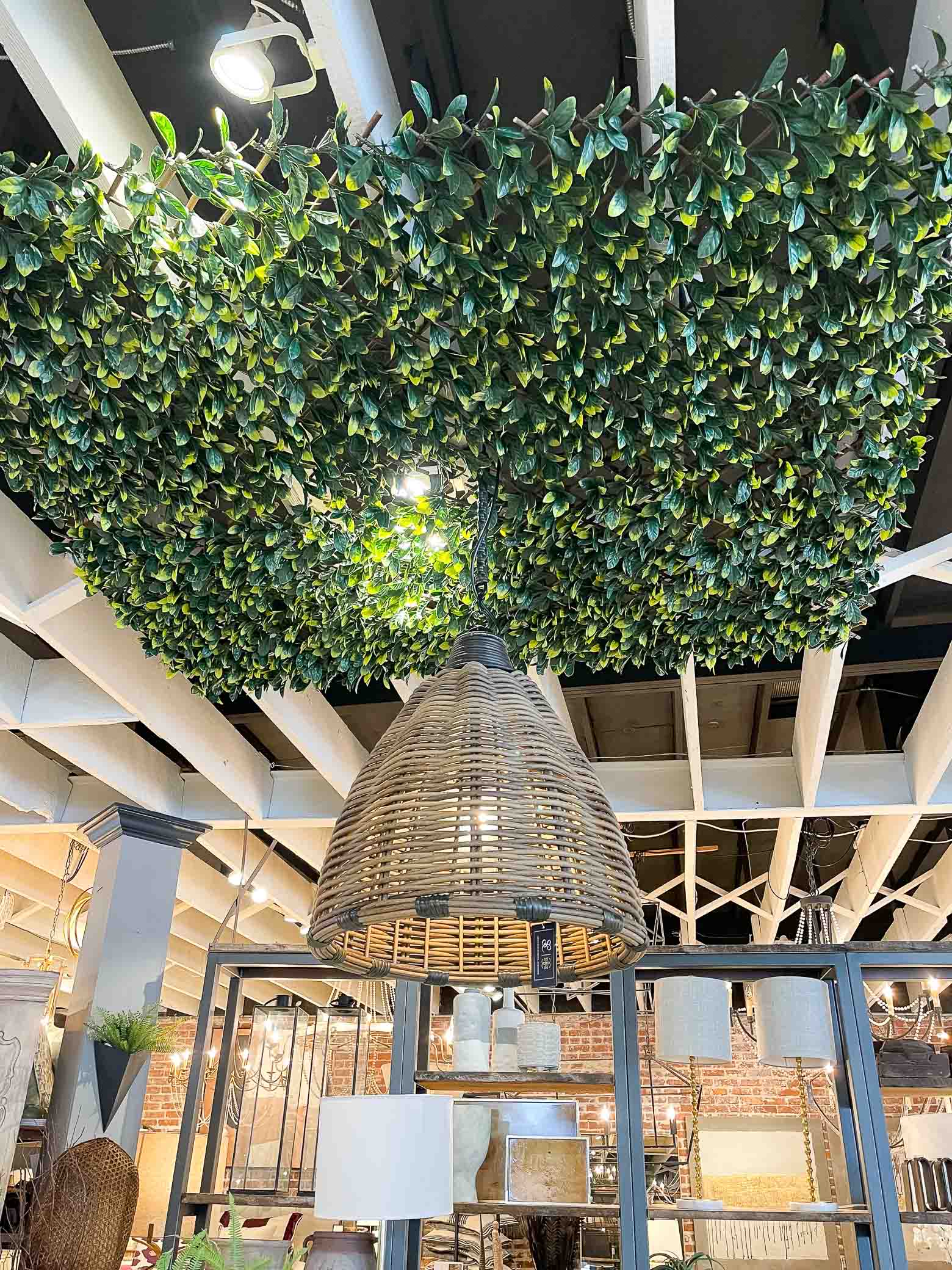 We were pleasantly surprised that the weather was breezy and warm…some folks were already sporting sundresses and sandals. Again, I was all about the vibe here.
From there, we went to check in to our hotel in Downtown Nashville. We stayed at the JW Marriott, which was downtown, but about two blocks away from Broadway, just removed from all the lights and buzz. I loved the location and the hotel was great.
Since our room wasn't quite ready, the concierge stored our bags and we set out to explore the city on foot and headed toward Broadway. The architecture of the older buildings along the way was lovely and so many of the spring-flowering trees were in bloom.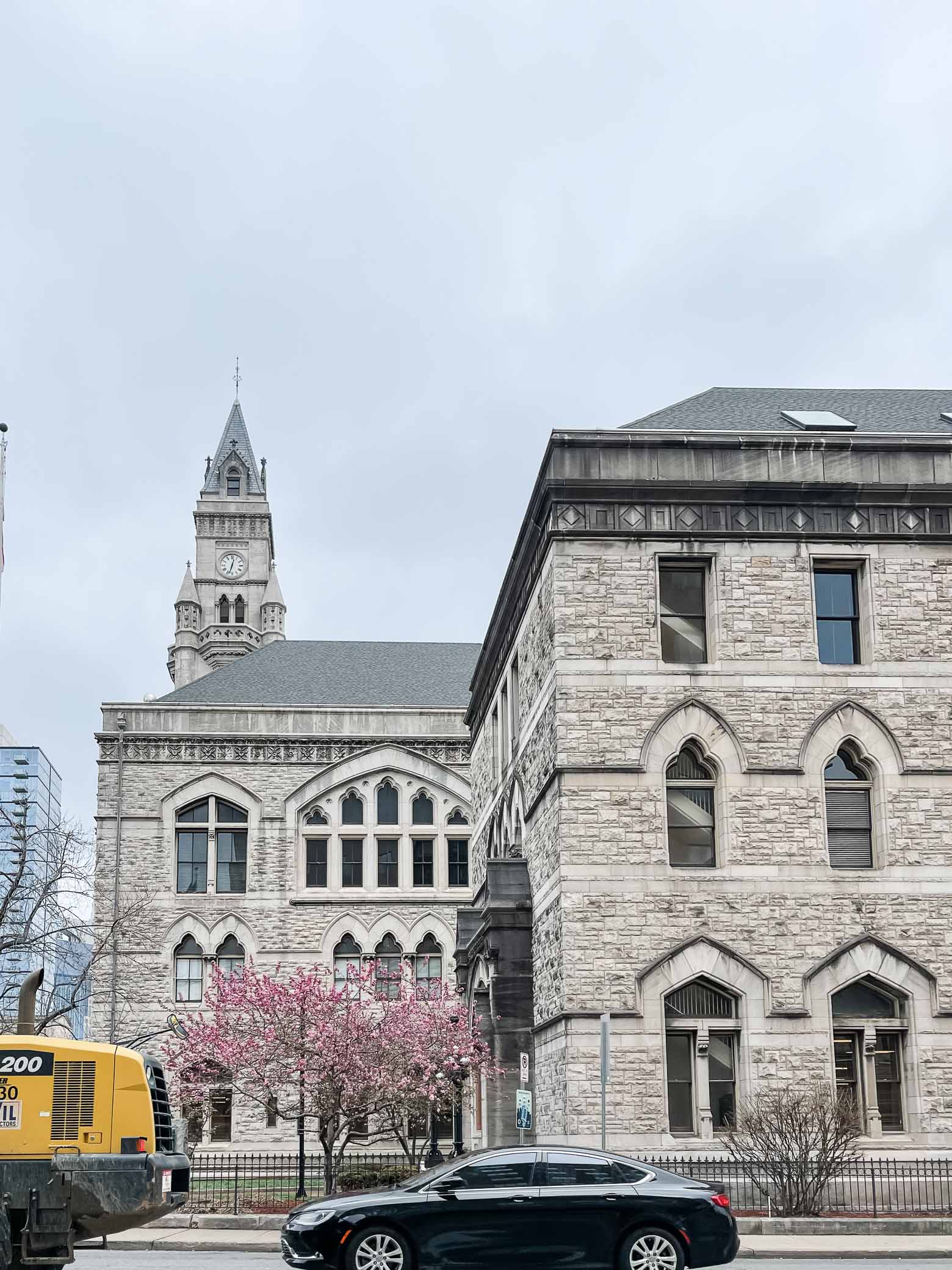 Once we arrived on Broadway, our first stop was at Ole Red, Blake Shelton's place. Most of the bars lining the strip are new additions since I was last in Nashville. It was crowded for a Wednesday early afternoon in early March, but we found a seat at the bar, with a great view of the live music act. These folks were great and an afternoon acoustic set was just what I'd been hoping for to set the tone of the trip.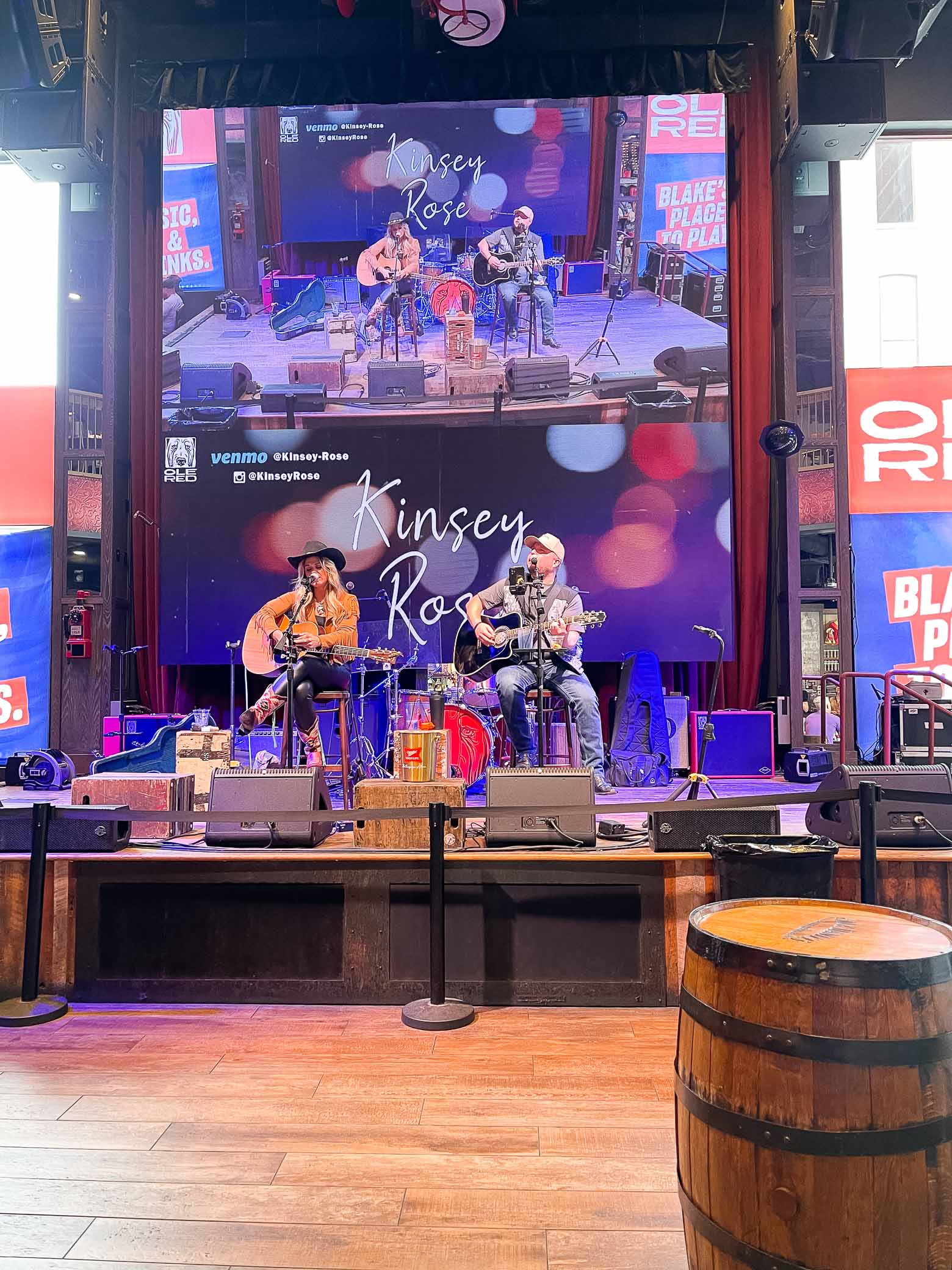 My mom and I are both fans of hard cider, and the bartender-recommended local Diskin Cider on draft, which did not disappoint.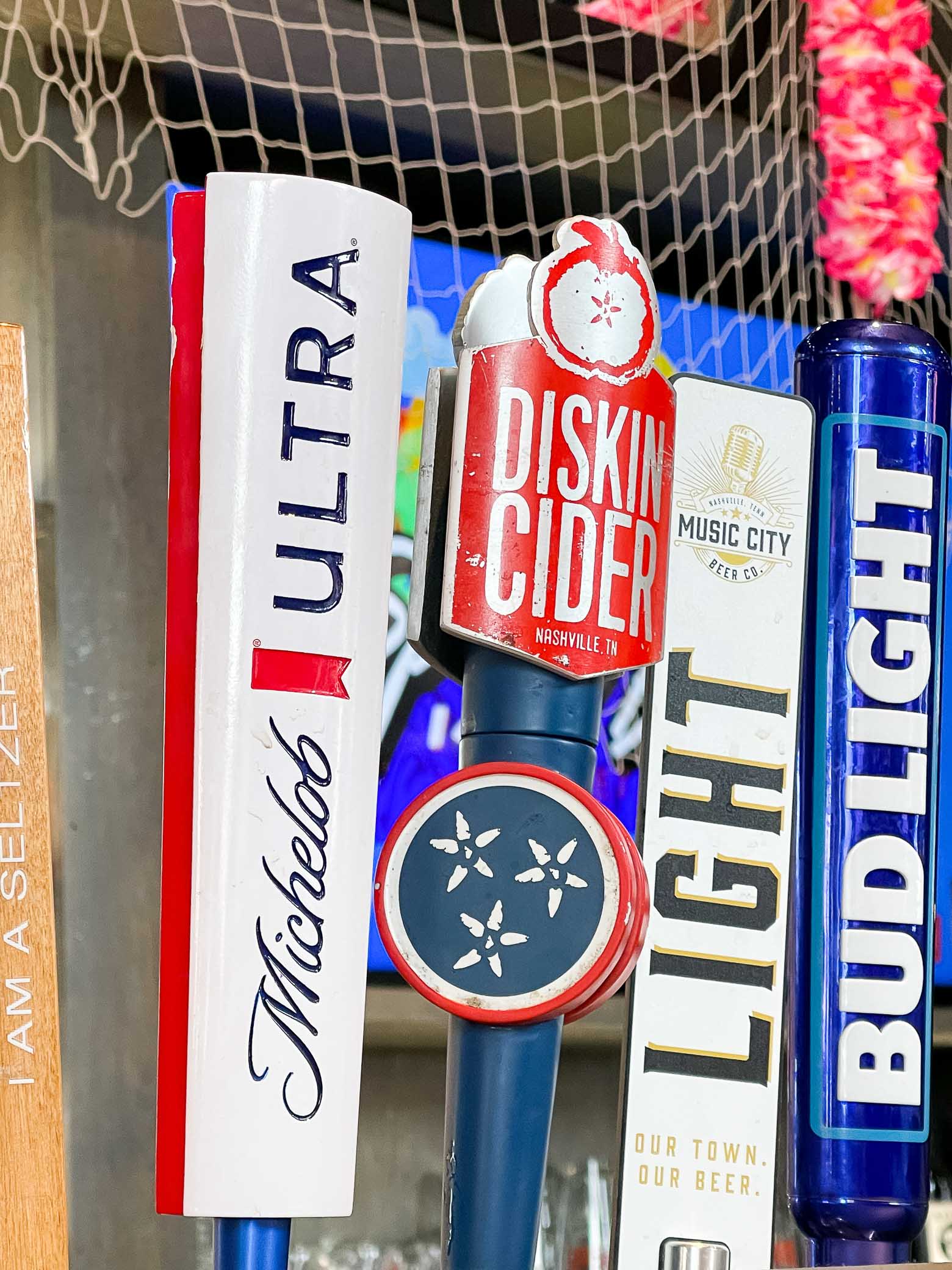 One of the absolute highlights of the trip was that I spotted Marty Stuart and Connie Smith sitting at a table to the right of the music stage. I was definitely star struck but that hair was unmistakable. Any of you early country music fans will know exactly what I'm talking about 😉
We then walked up to Printer's Alley — well known but slightly removed from Broadway — and it was really quiet during the day. We settled on Alley Taps, which was dim and cozy, and sampled their hard cider on draft (yes, again.) They also played less honky tonk and country and more indie/jam music (like Mofro), which was a fun change of pace.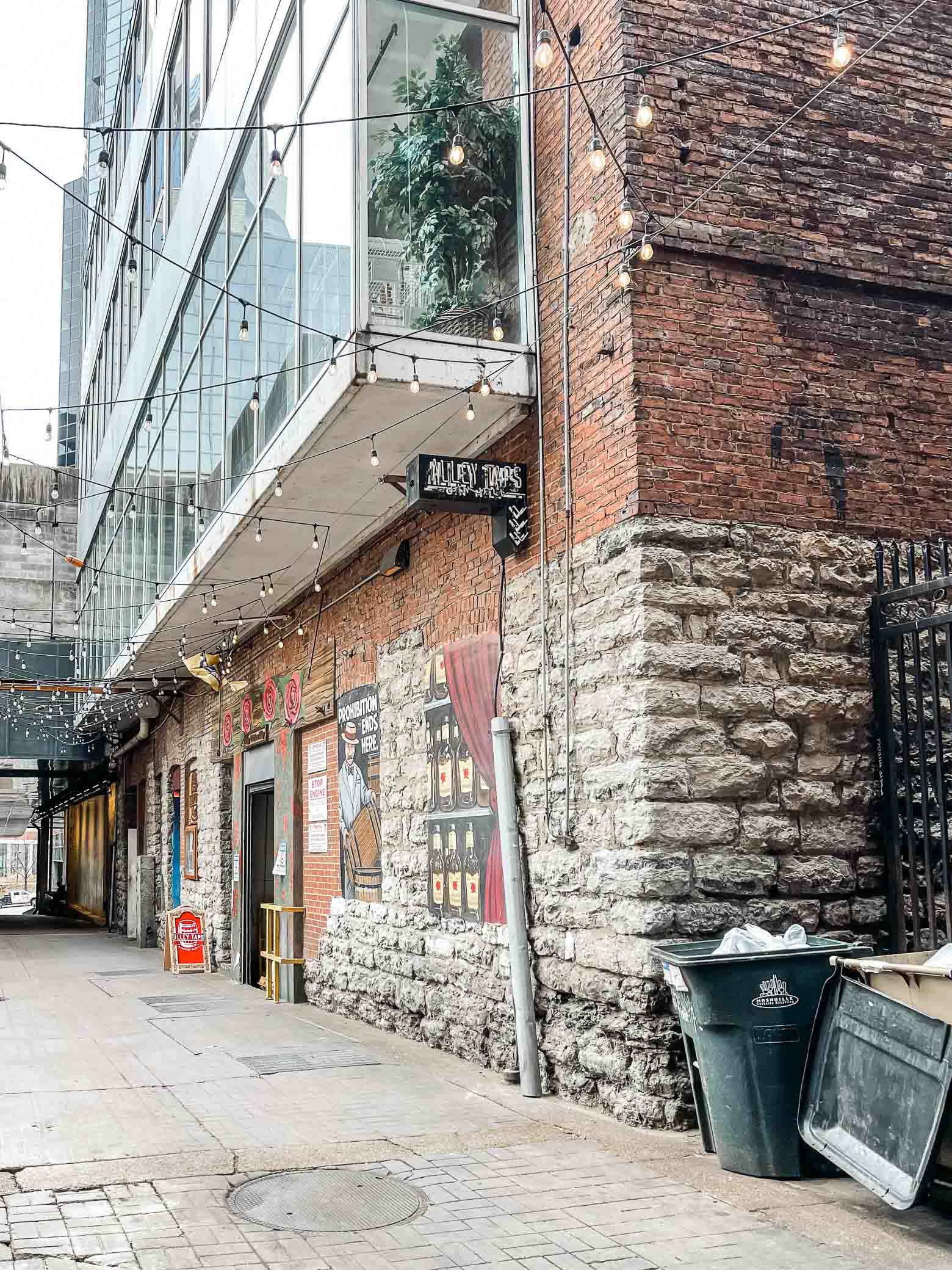 There was hardly anyone else in the bar, but we made ourselves right at home — after a couple hours, we headed back toward the hotel. We stopped at NashHouse Southern Spoon & Saloon for supper — simply because it was almost right across from the hotel — and really enjoyed it. I had a four-dish veggie meal and my mom had a smash burger, topped with pimento cheese and a fried green tomato. They also had a live music act, who was great, and definitely a treat for entertainment during dinner. After that, we FINALLY checked into our hotel room for the night.
By the way, both my mom and I brought our folding 3 in 1 travel chargers which continues to be the ultimate fave travel accessory, charging my Airpods, Apple watch, and phone, all with a single cord. The compactness and efficiency of this thing can't be beat. You can find it in nine colors on Amazon HERE.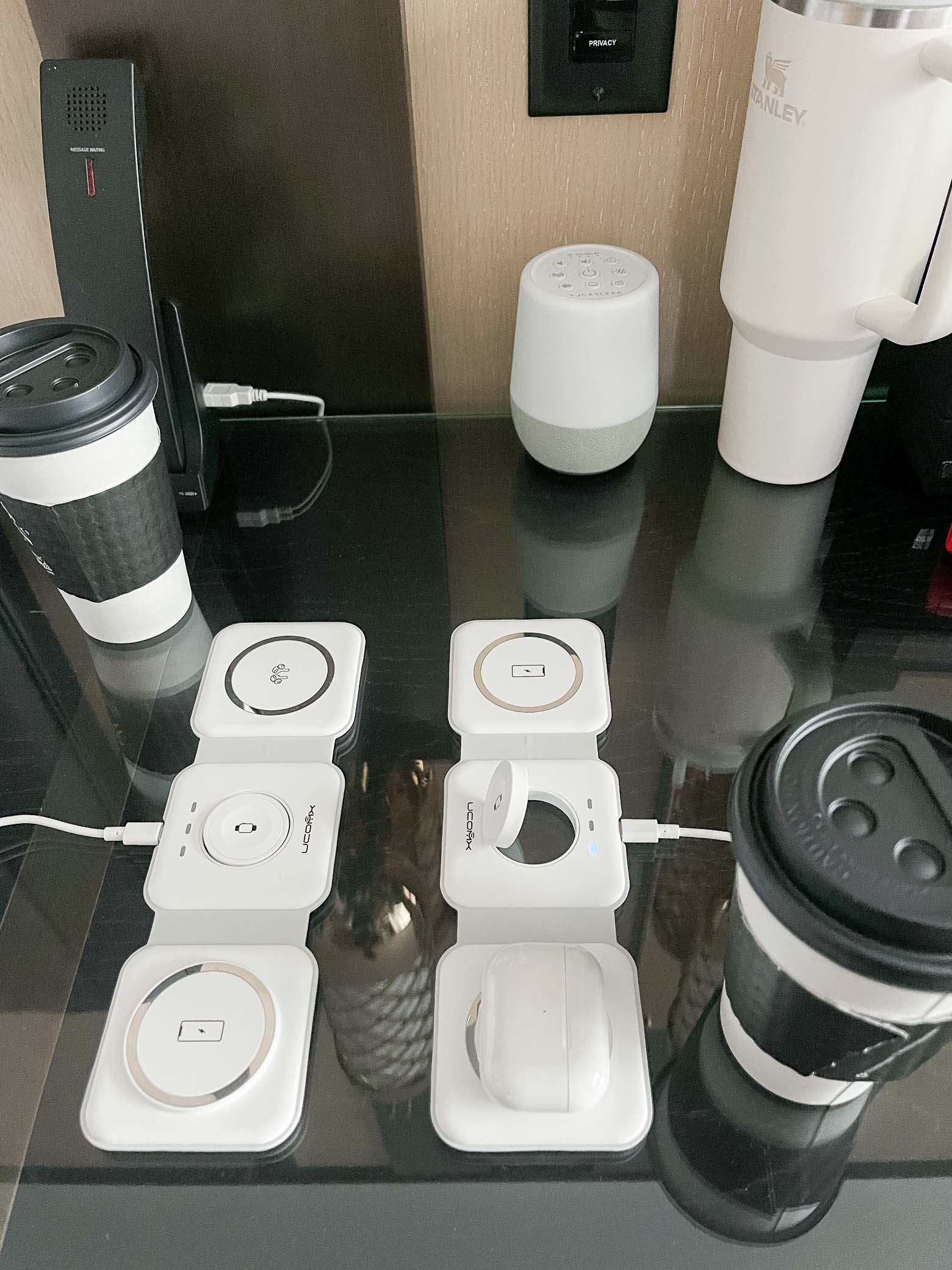 Another note about the JW Marriott — we are a Marriott fam but some Marriott hotels have better beds and pillows than others (can't stand the pillows at the Westin, love the beds at the SpringHill Suites, love the linens at the Ritz…) and the JW Marriott beds are fabulous. So comfortable.
Day 2
The next day, my mom grabbed us some lattes from downstairs…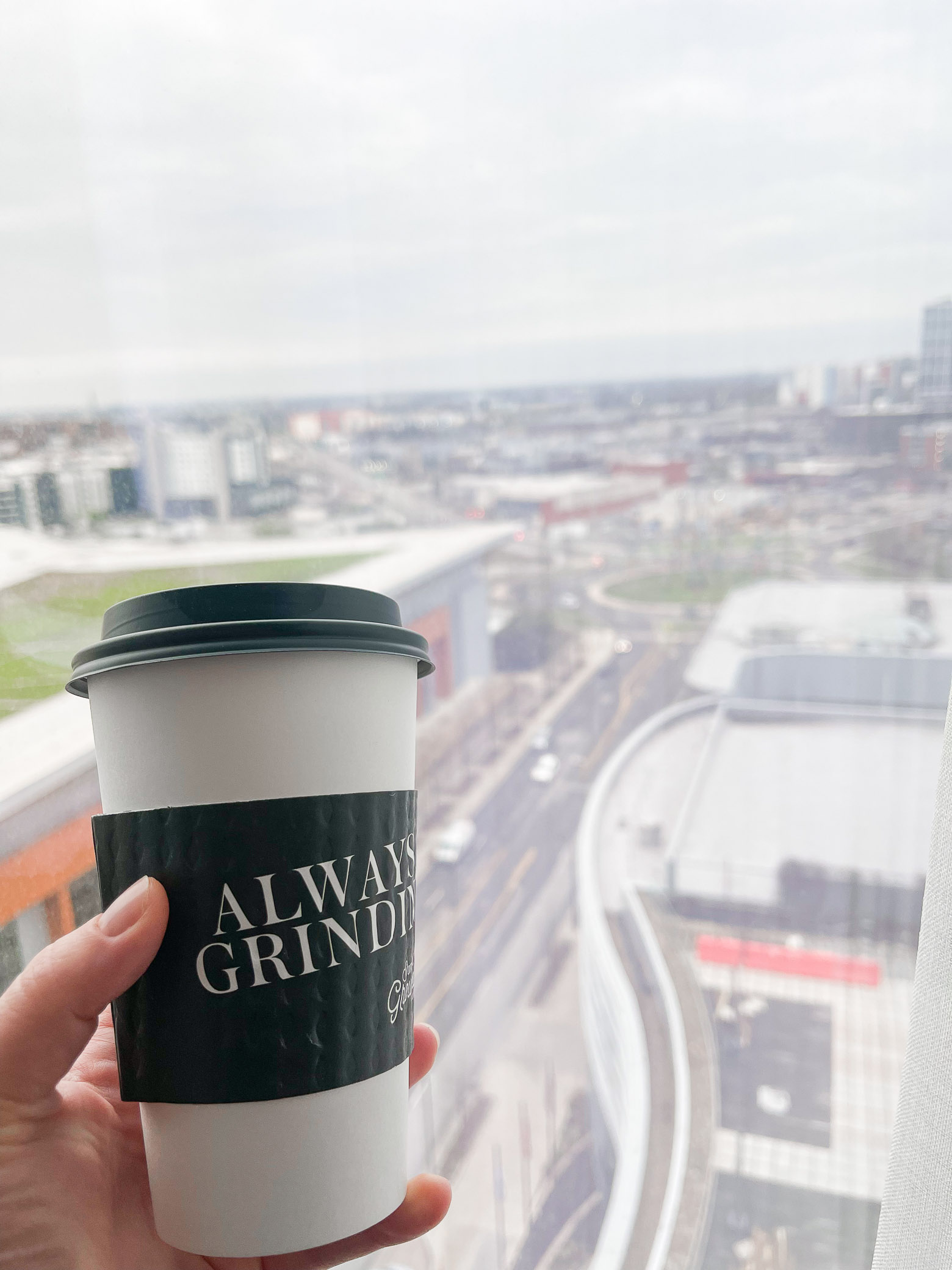 and we headed out to get to the Country Music Hall of Fame and Museum around opening — a super short walk from the hotel. We passed Bridgestone Arena along the way and there were tons of people standing in line. With people running around, excited and on their phones, I asked someone what was going on — she said that Morgan Wallen had just announced that he was putting on a free show the following night and whoever came to the arena that morning would get free tickets (until they ran out). I actually have a hotel room booked for his concert in Atlanta this summer, but don't actually have concert tickets. I wasn't selected in the pre-sale (despite having signed up as a verified fan) so I'm hoping we can snag some before the show — had we not already had plans for the next night, I would have been really tempted to go spend the morning in line…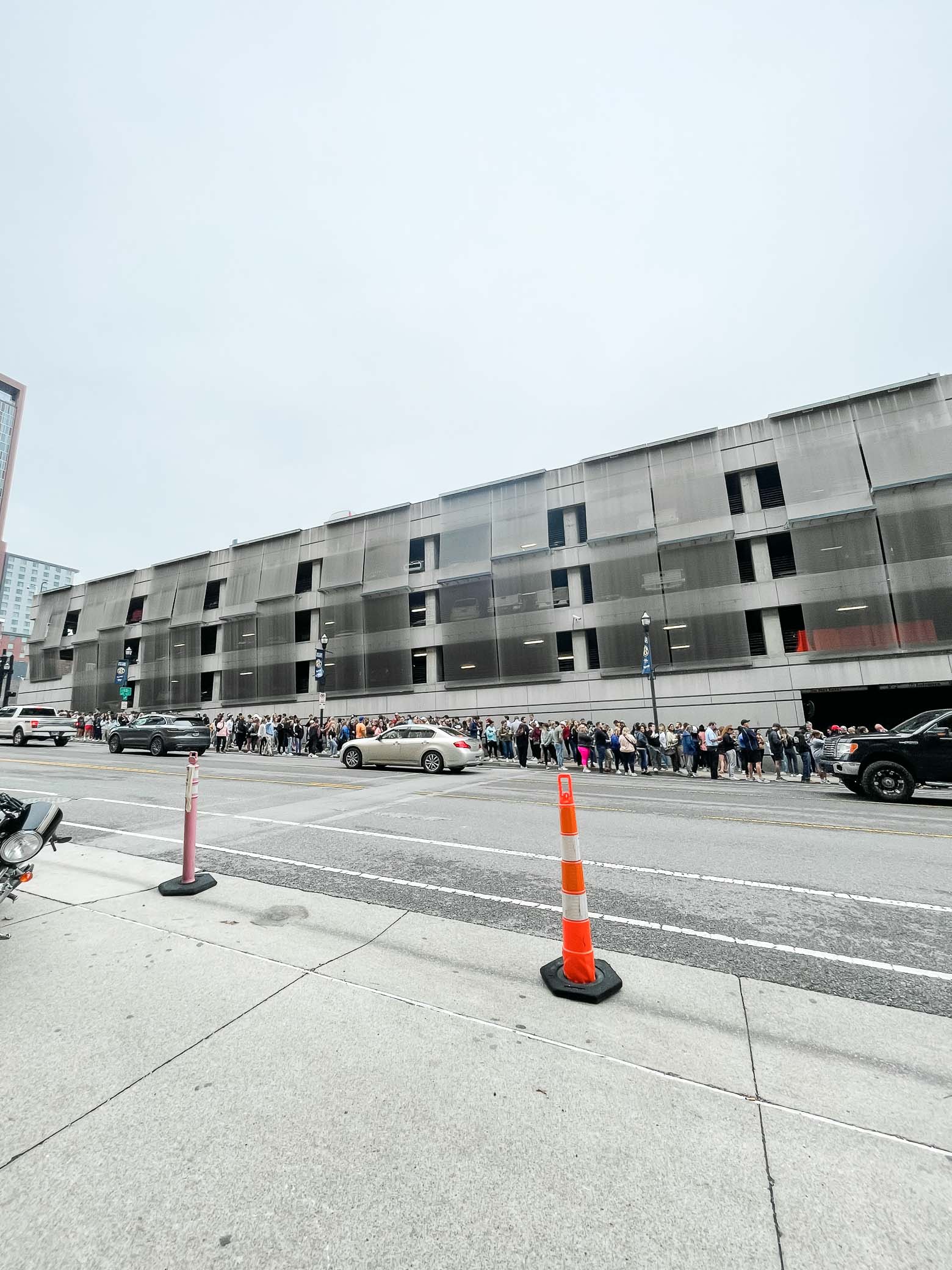 We headed on to the Country Music Hall of Fame and Museum and I was so glad we got there early — there were no crowds.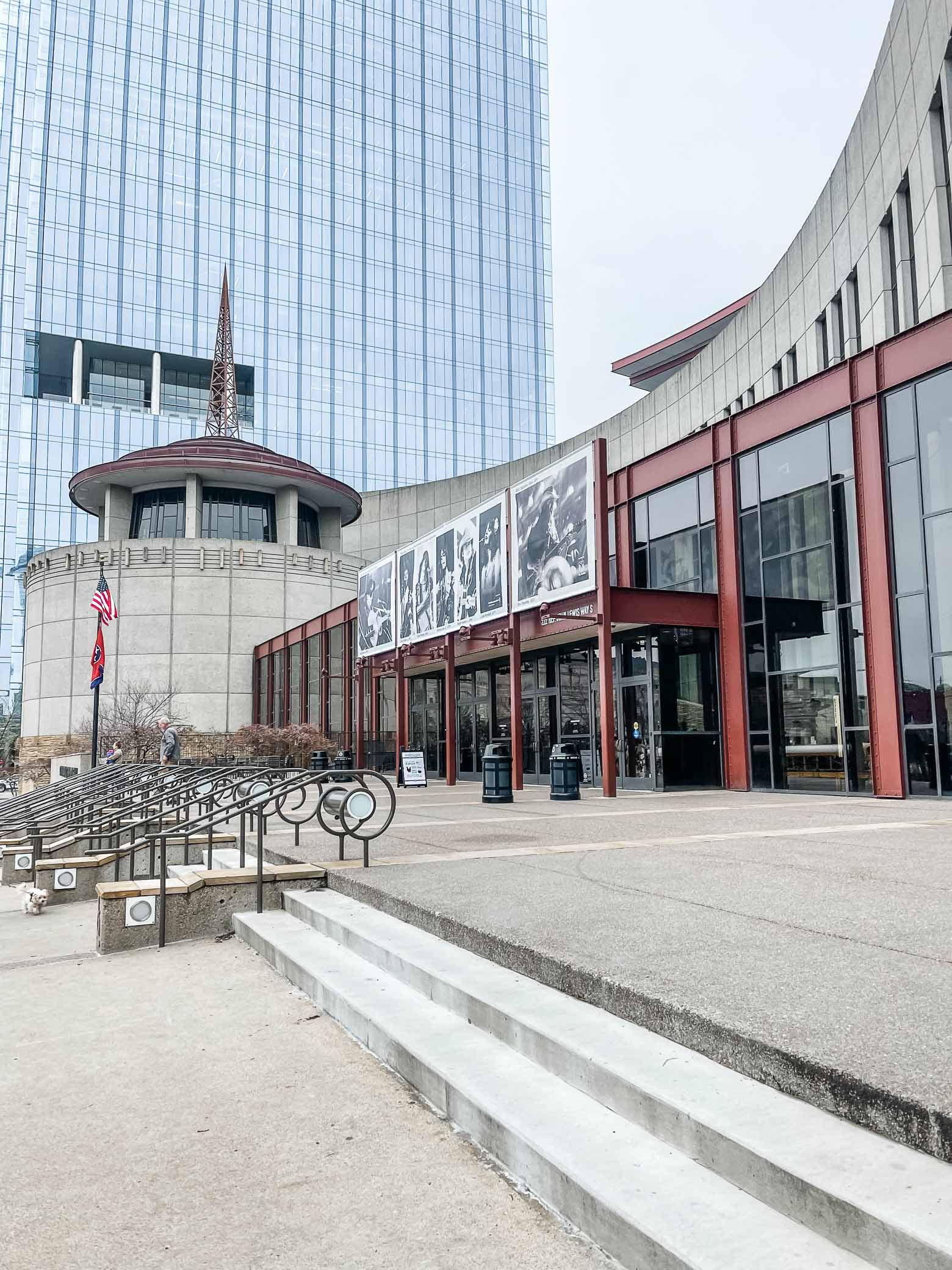 We made out way through the museum at our own pace and especially loved seeing some of the costumes and cars that were donated, including Elvis Presley's gold Cadillac.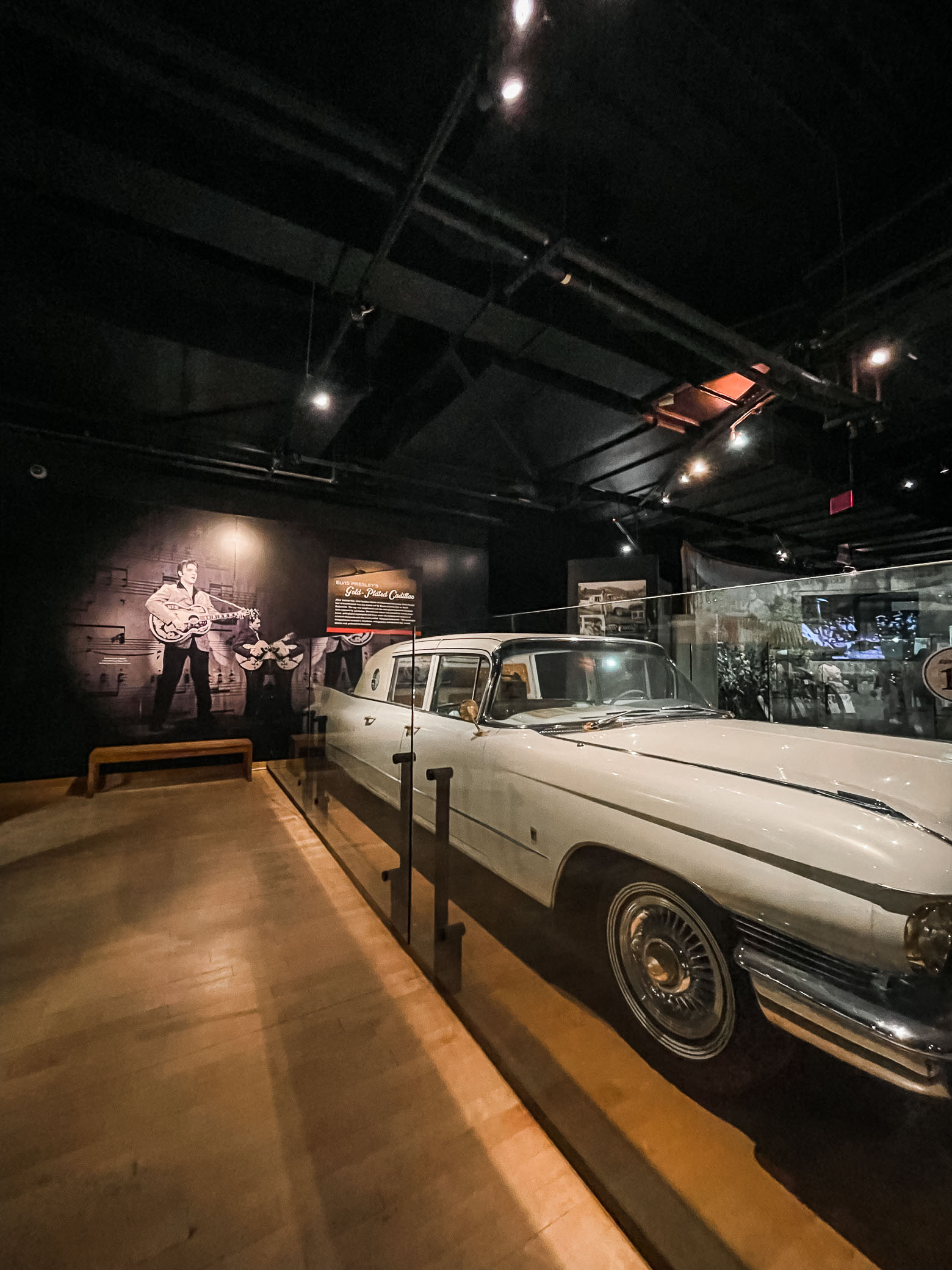 I took lots of pictures for Dave, who I know would love the guitars and other instruments.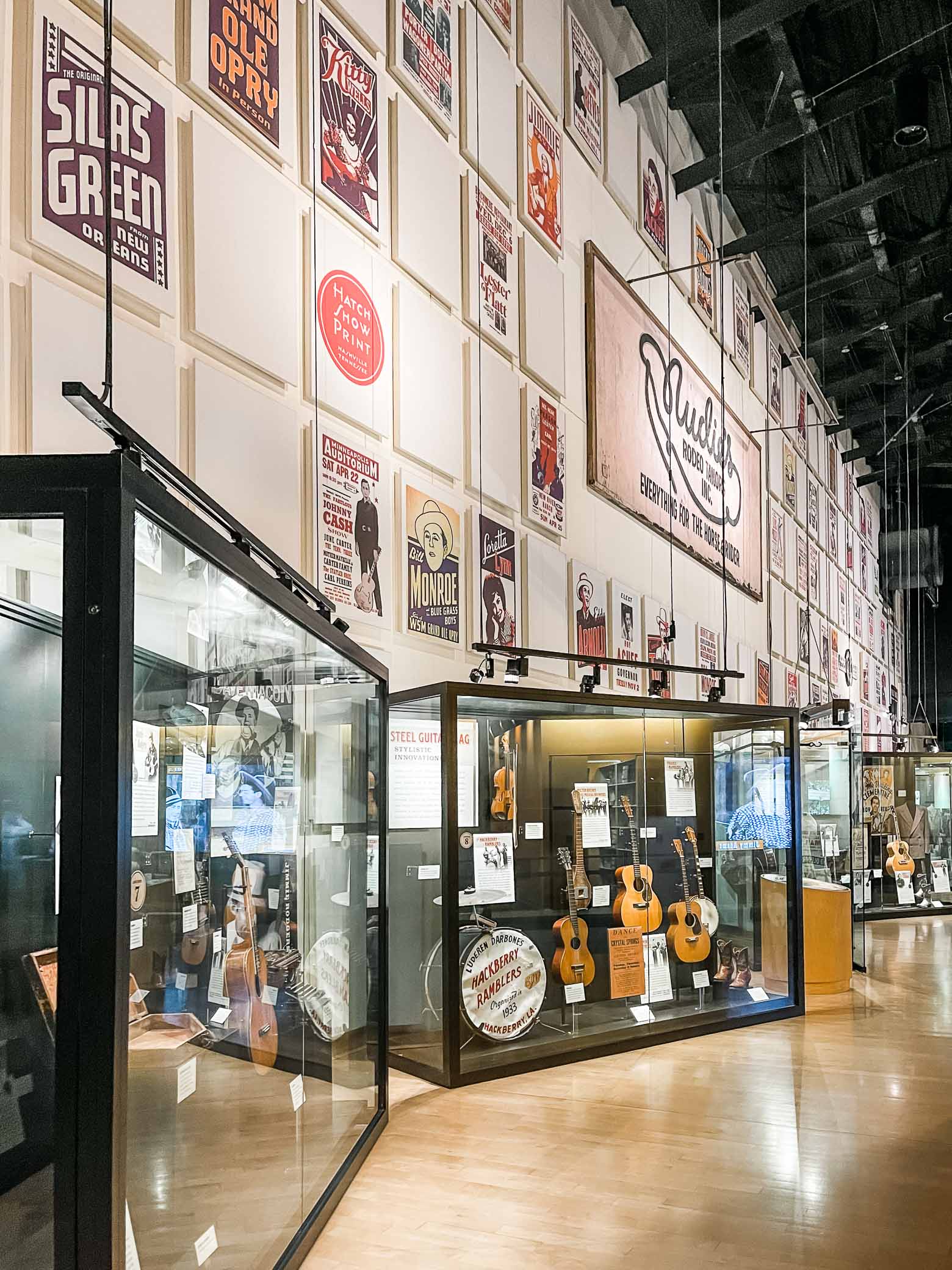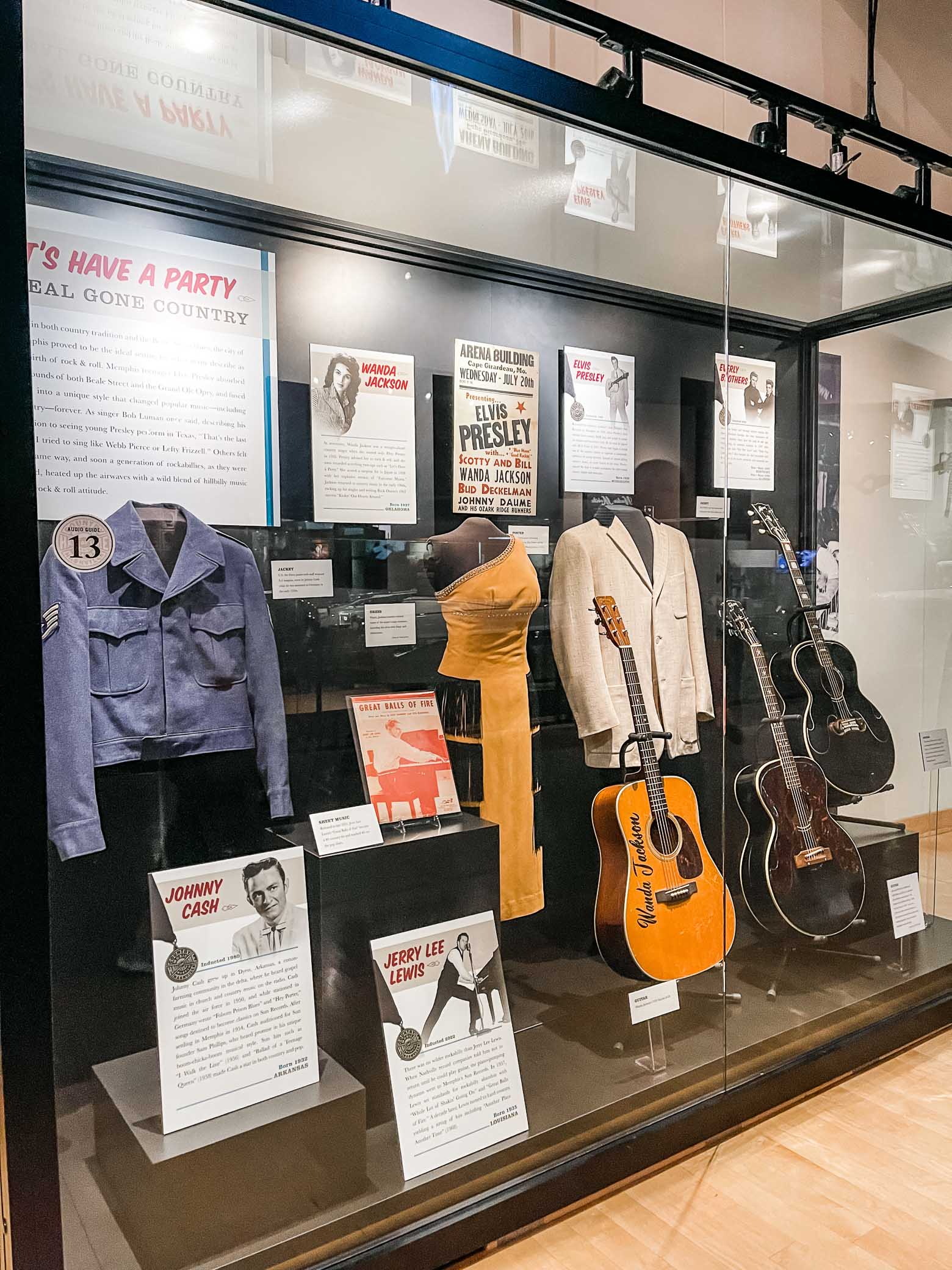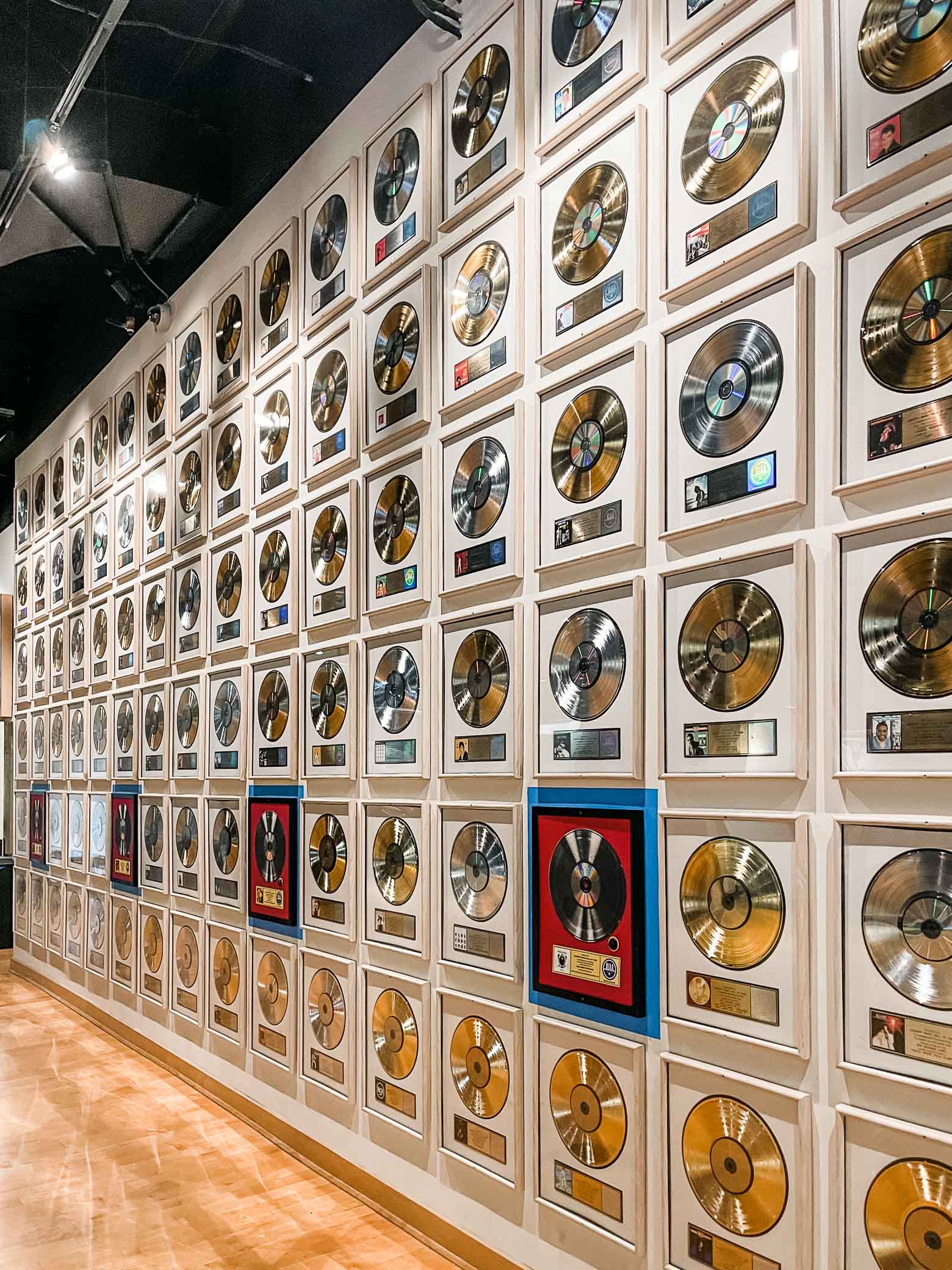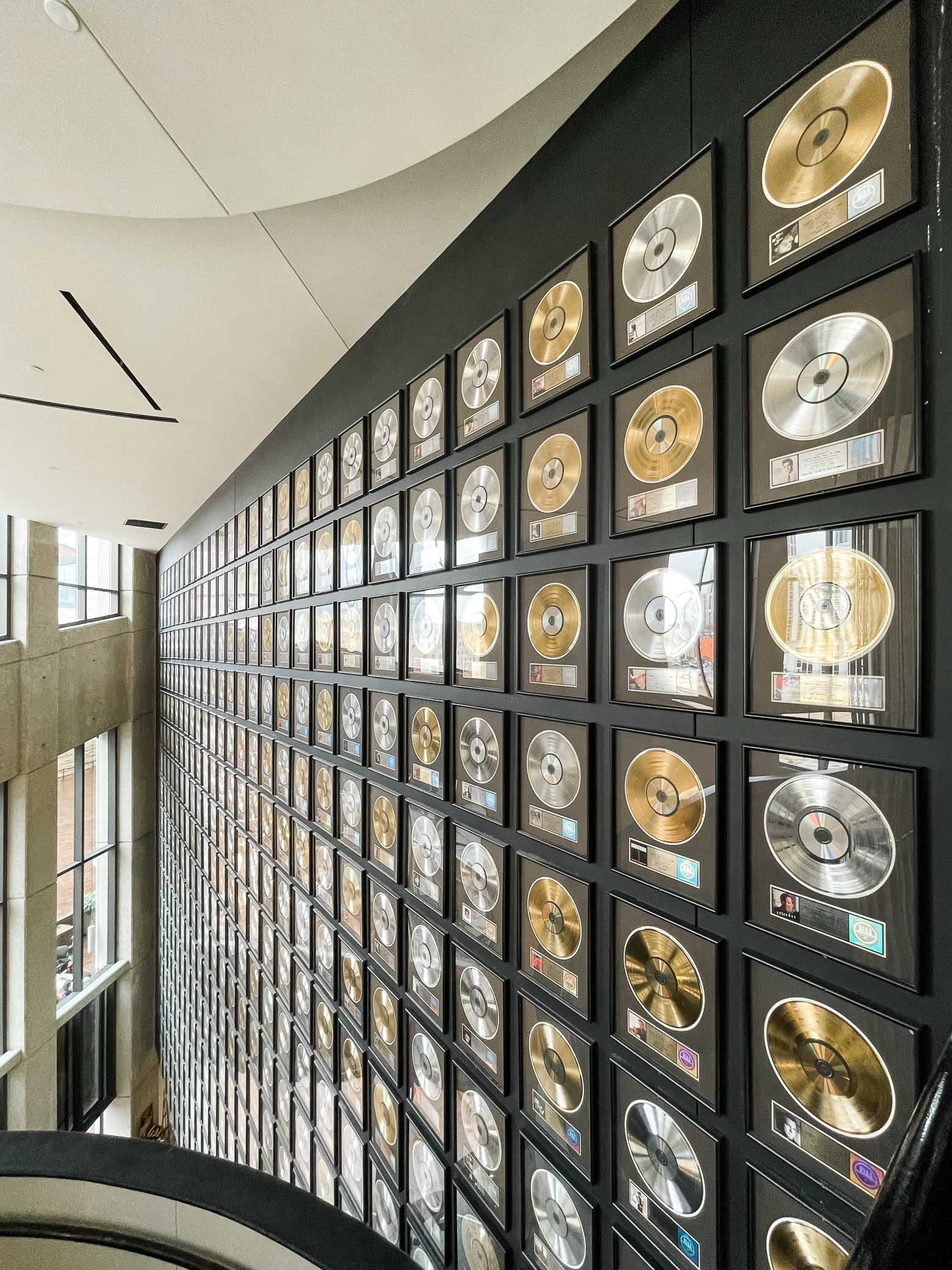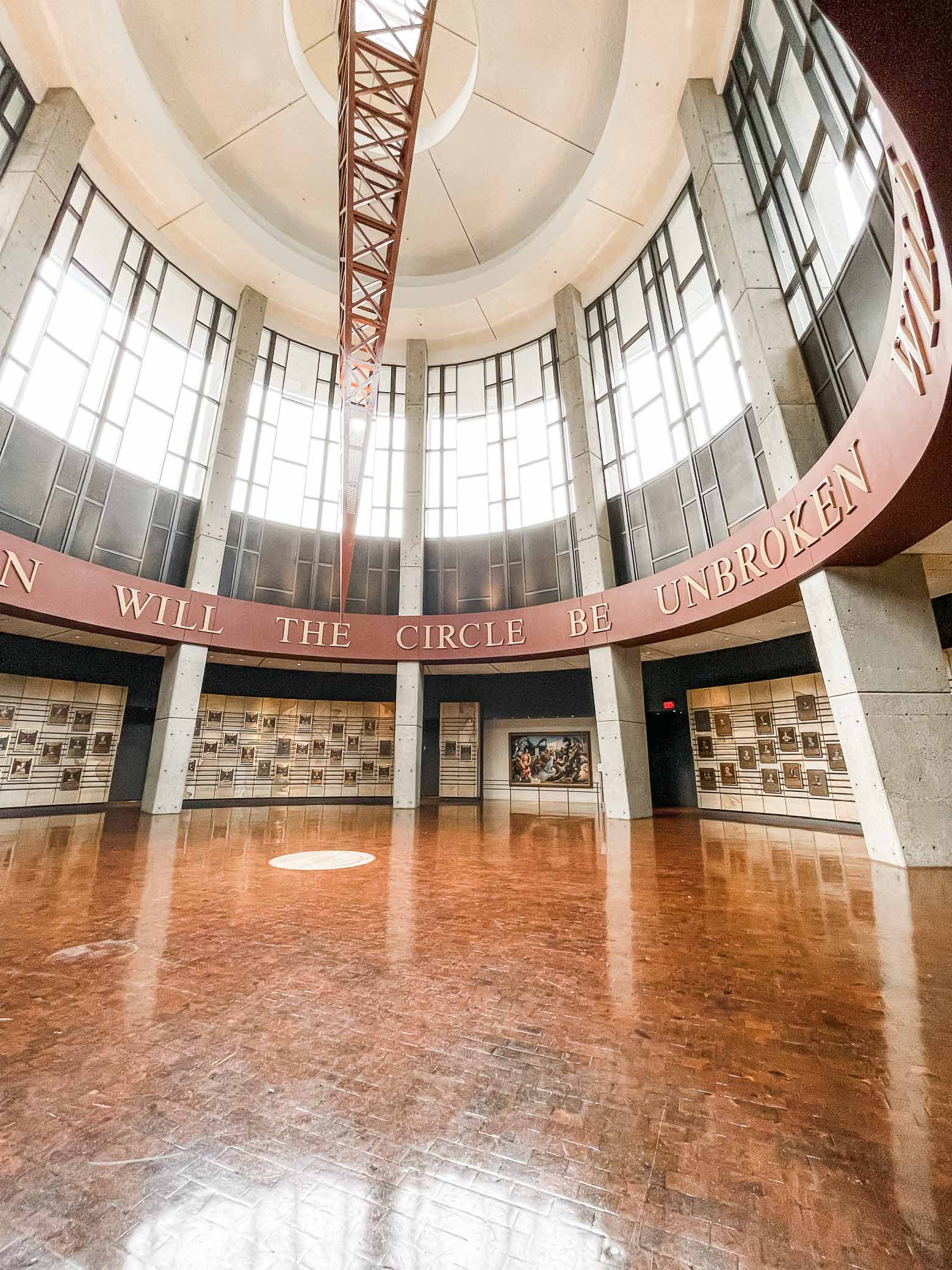 From there, we headed to Hattie B's on Broadway and when we passed back by Bridgestone Arena, the Morgan Wallen line had grown by a ton — it was nuts.
We arrived at Hattie B's for a quick(ish) bite right before the huge crowds we had seen there the day before. This was another popular reader recommendation and it was so good. Based in Nashville, they have multiple locations and have expanded out a little — it looks like they even have two locations in Atlanta, now). My mom and I both got the tenders meal, that came with two sides. It was A LOT of food, though. When I go back (which I definitely will) I would split the tenders and share the sides, which were wonderful. My favorite was the macaroni and cheese. We were so amazed that even though the place filled up while we were there, everything was extremely clean and someone checked on us several times. You sure don't see this often in many "fast food" type restaurants.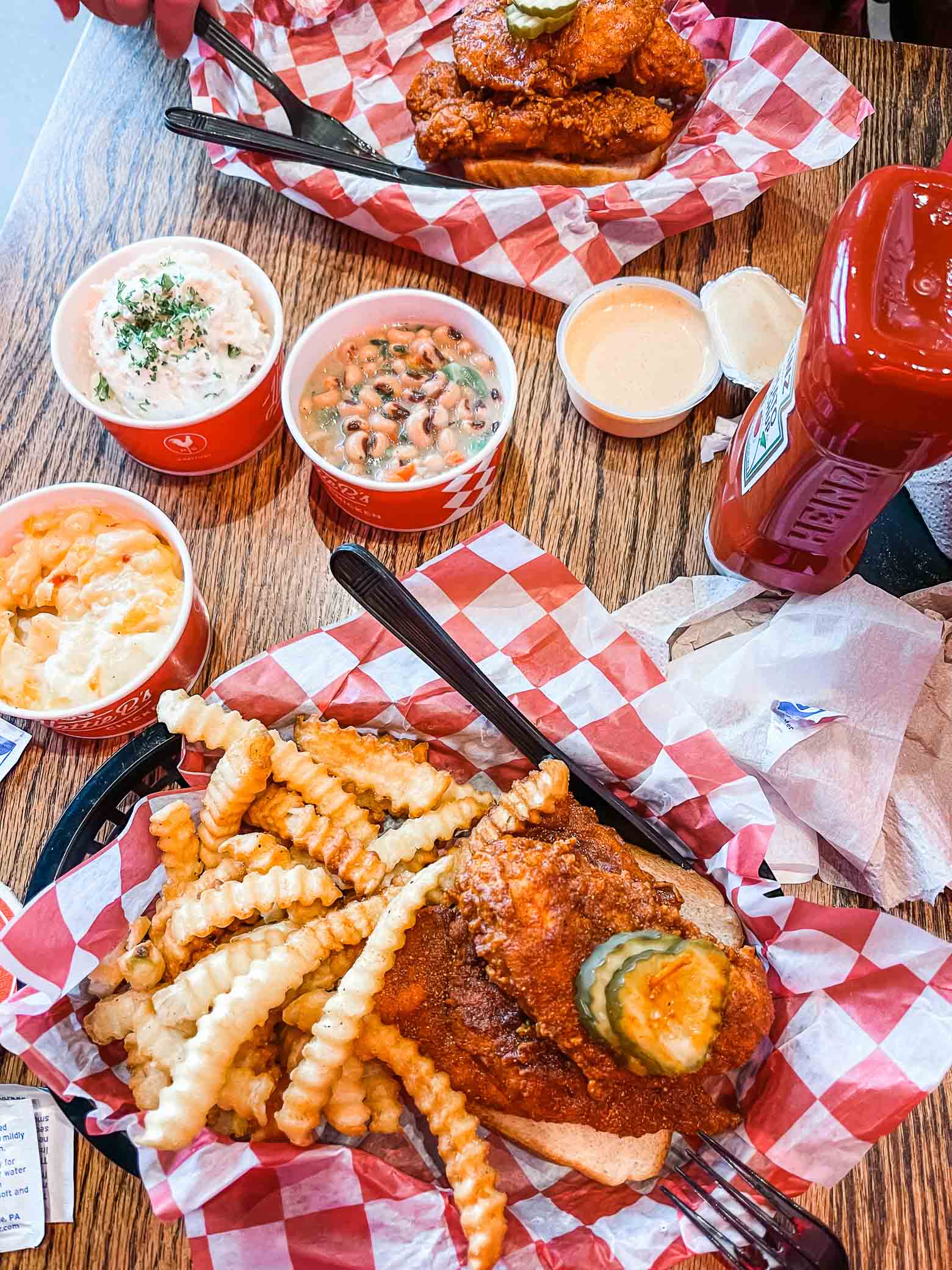 After that, we strolled back to our hotel to drop off our shopping bag (a xylophone for Eliza and guitar picks for Dave) and headed to The Gulch. We strolled around and visited a few shops, including Jessie James Decker's Kittenish…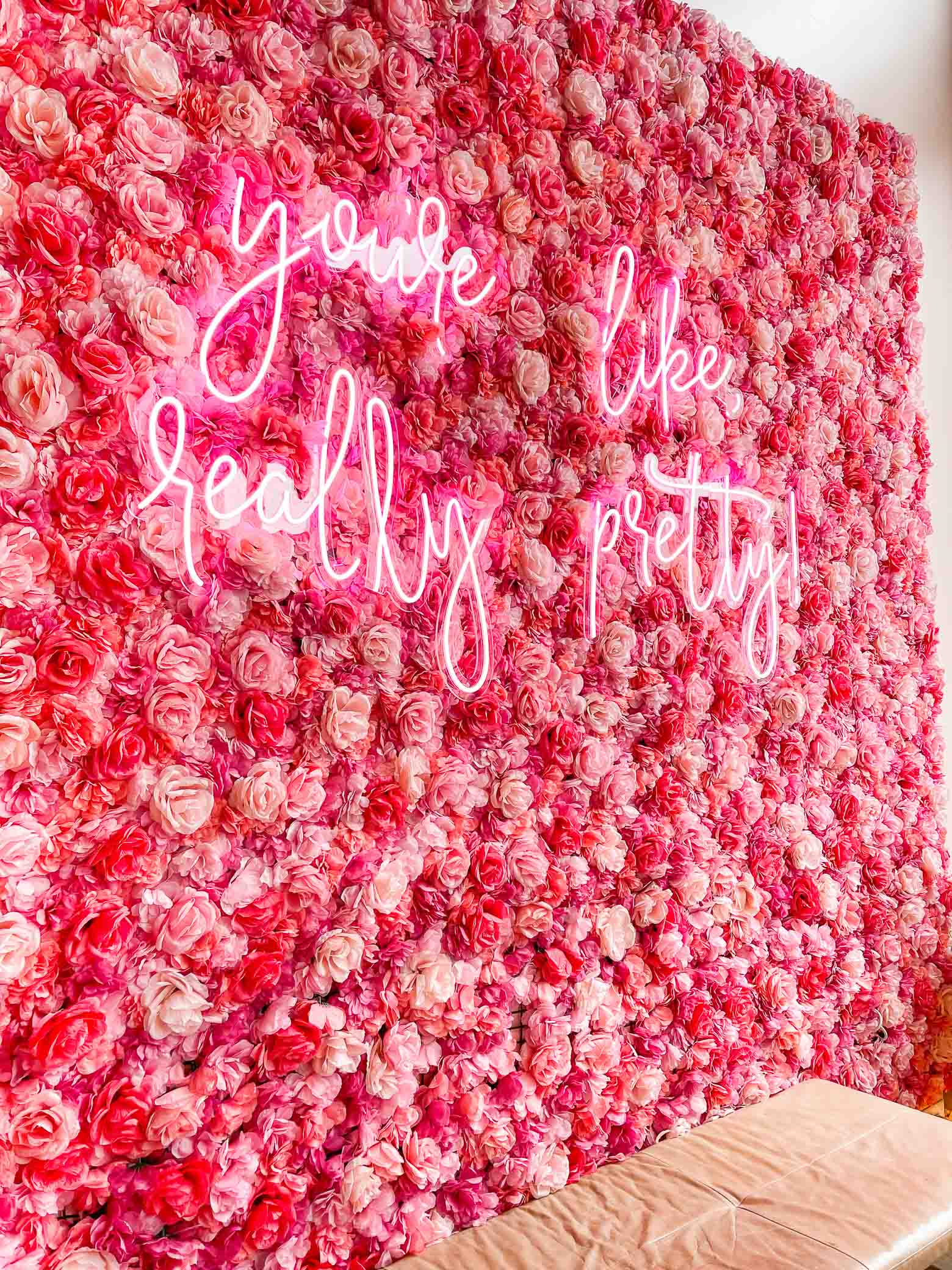 and Kristin Cavallari's Uncommon James.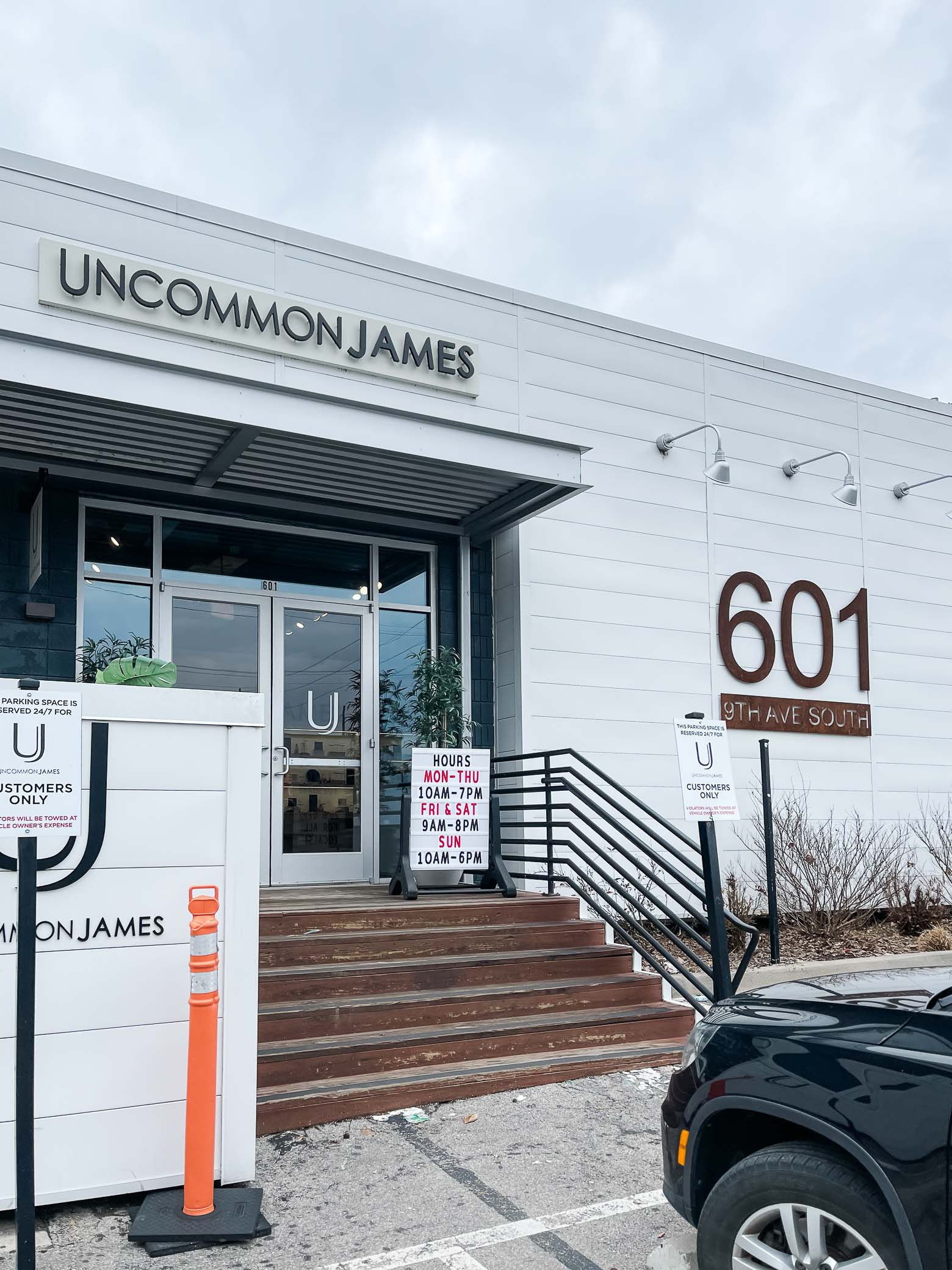 We grabbed our first Uber of the trip and headed to the Riverfront to enjoy pre-supper Bloody Mary's from Acme Feed & Seed's rooftop bar. We were able to view the river, the train station alongside it and the comings and goings of the various bike bars. The Bloody Mary's were nice and spicy and the late afternoon temp was perfect, even though it was cooler than the day before.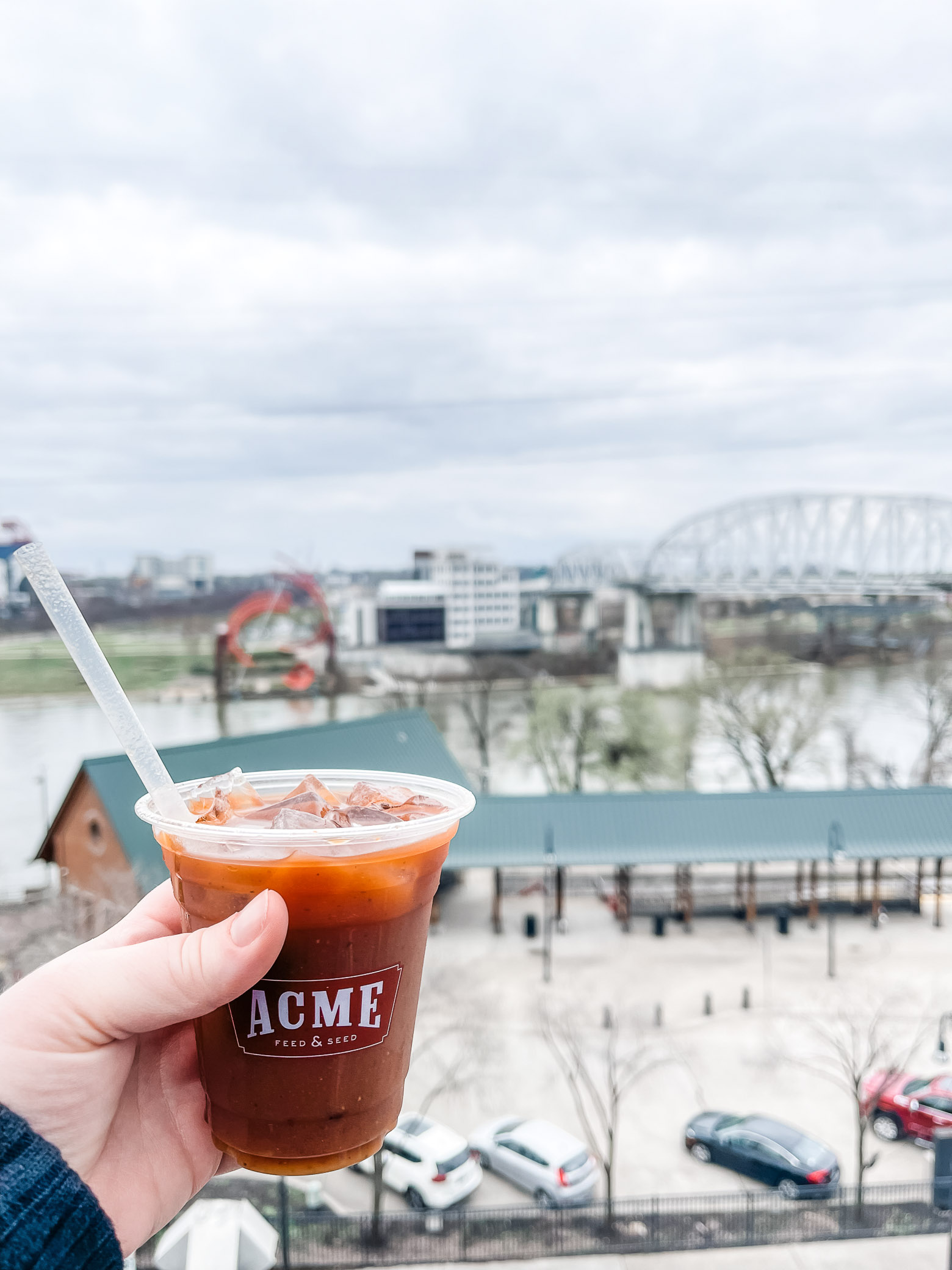 FYI- there are TONS of Instagram-able wall art installations around Nashville…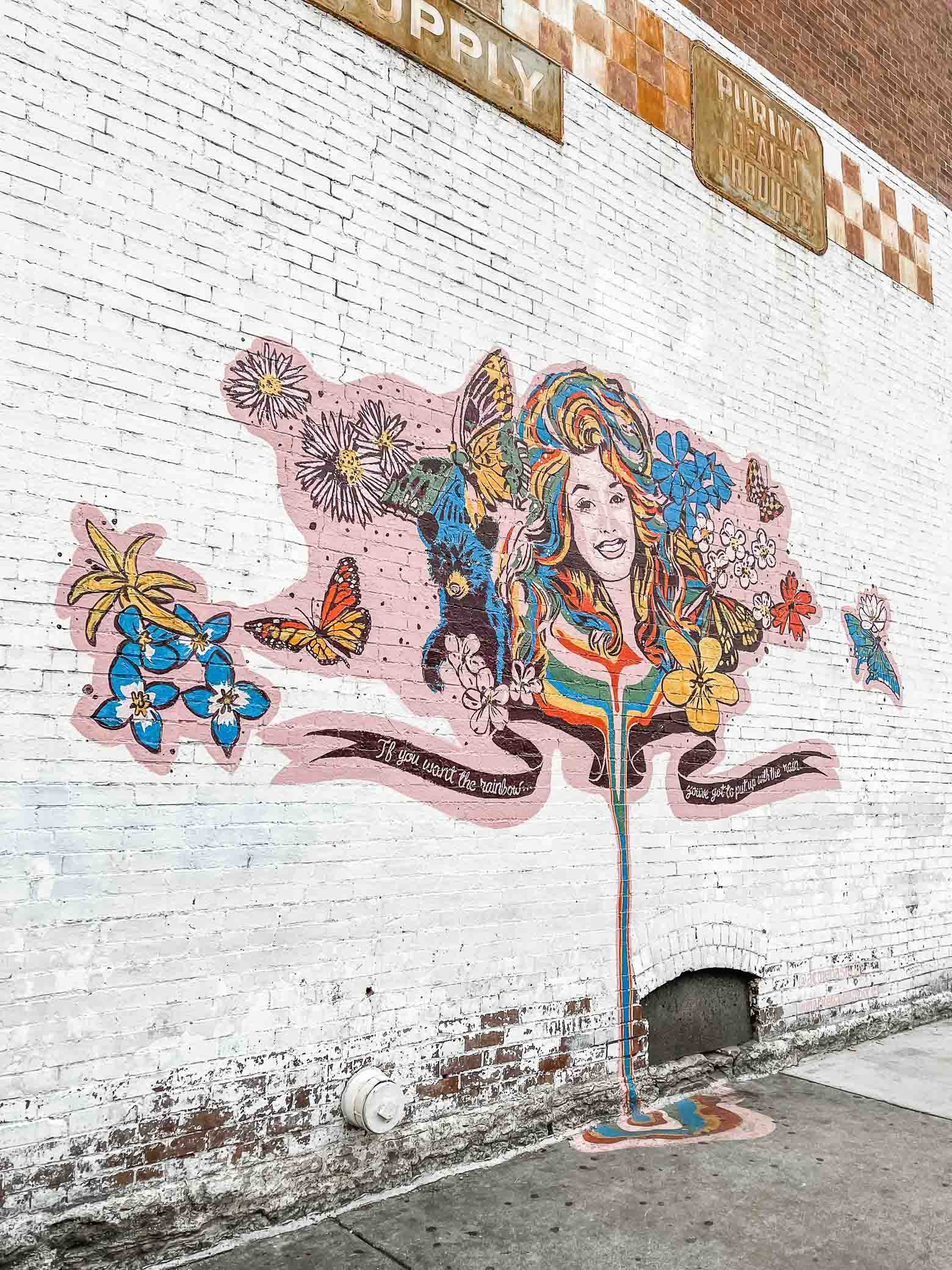 From there, we walked down two blocks and up two blocks to one of my favorite restaurants from the past, The Southern. I had the Hot Chicken Salad, and I believe it was my favorite meal of the trip! I couldn't stop talking about it and I'm still thinking about it. My mom had the Wedge Salad and we shared an order of Brussels Sprouts. We were also served miniature herb biscuits, which were so good.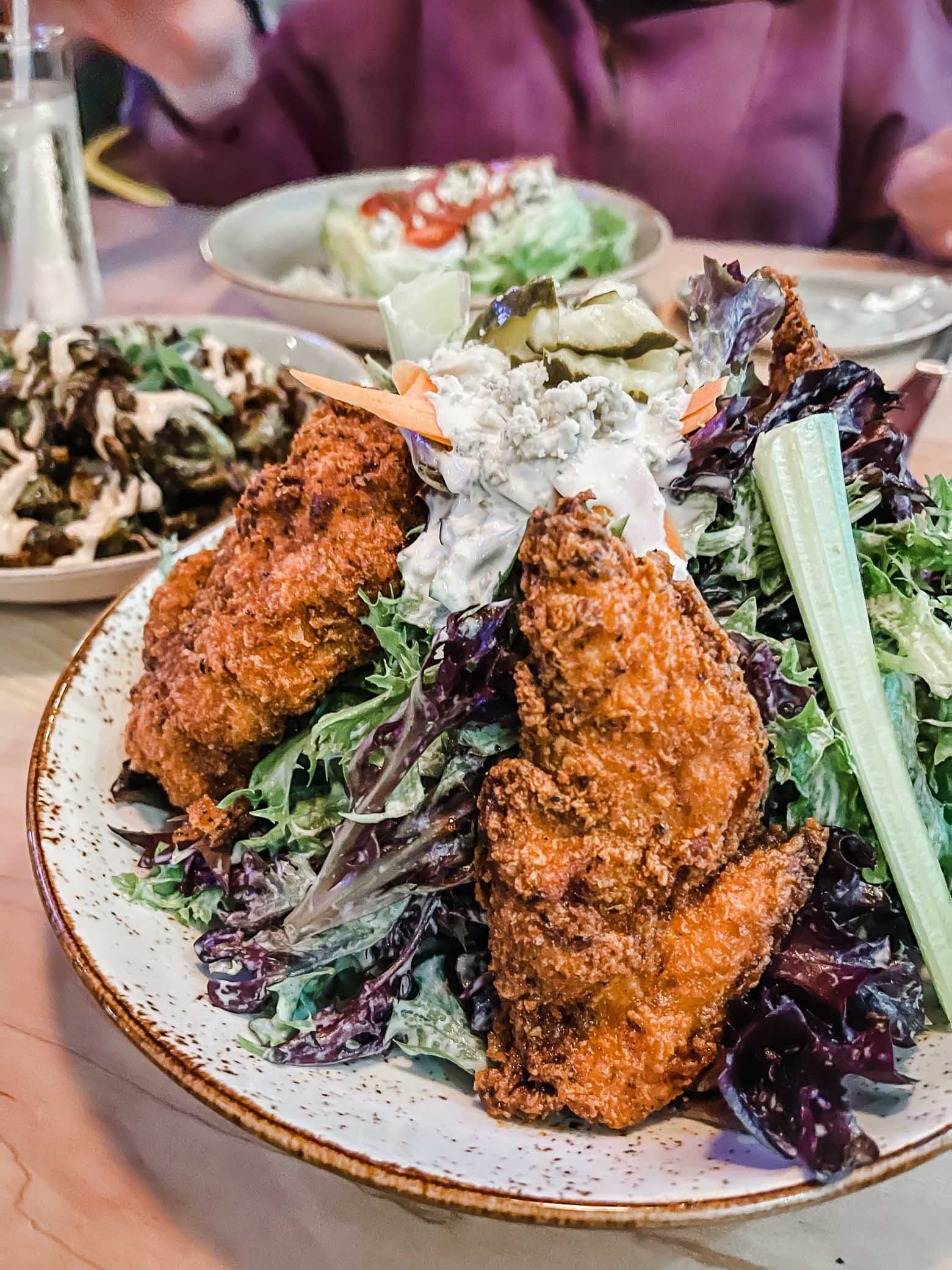 Then it was back to Broadway! Since the following night would take us away from downtown, I knew this would likely be our last chance to hear some live music. So, we committed and stopped in at a few places on the strip.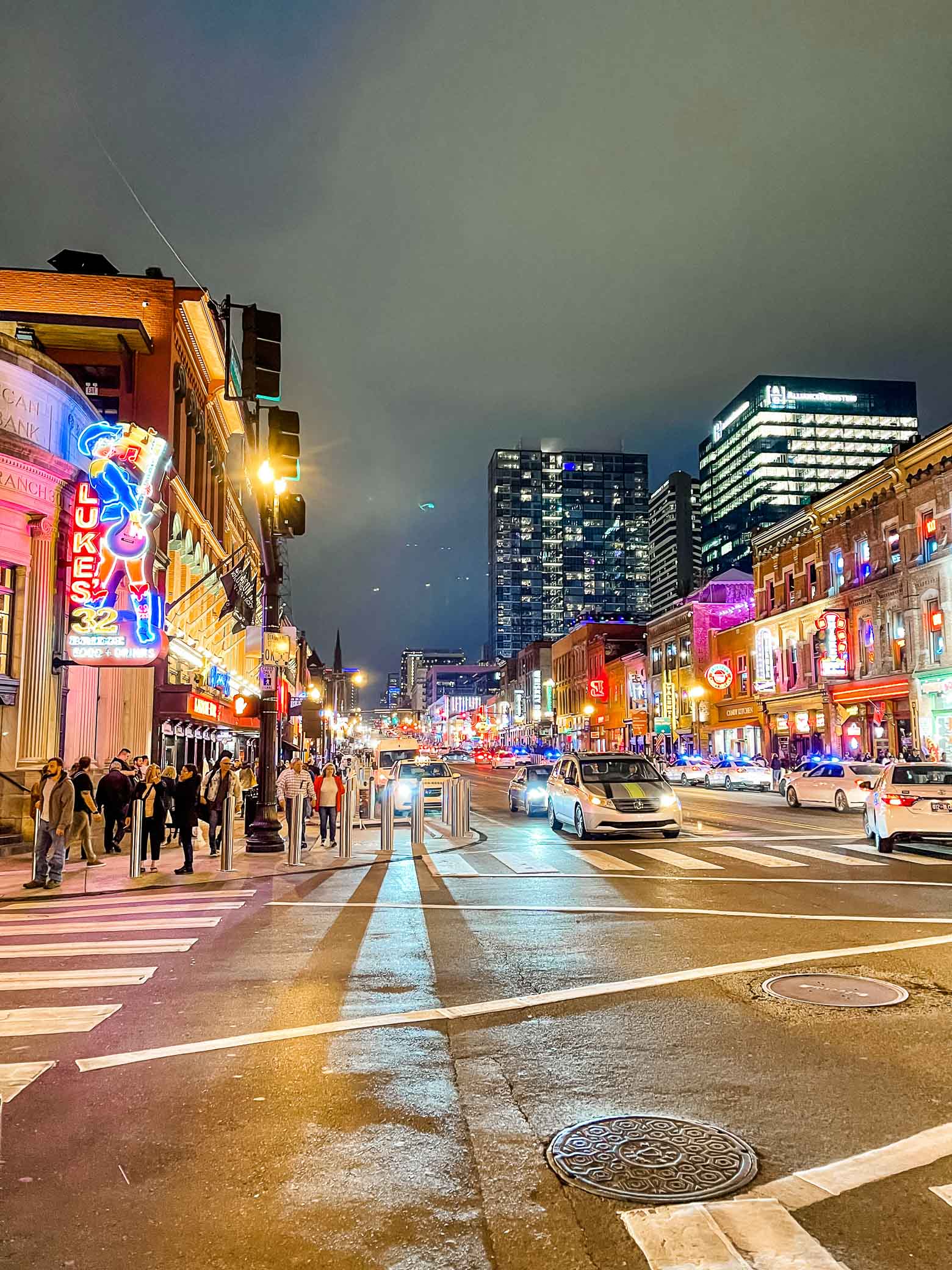 Every bar and restaurant has live music so it was kinda hard to settle on our first destination. Based on what we could hear and the level of crowd, we decided to check out Casa Rosa, Miranda Lambert's bar.
After that, we went up the street to The Valentine and really enjoyed the four-piece band that played some classic rock, country and blues.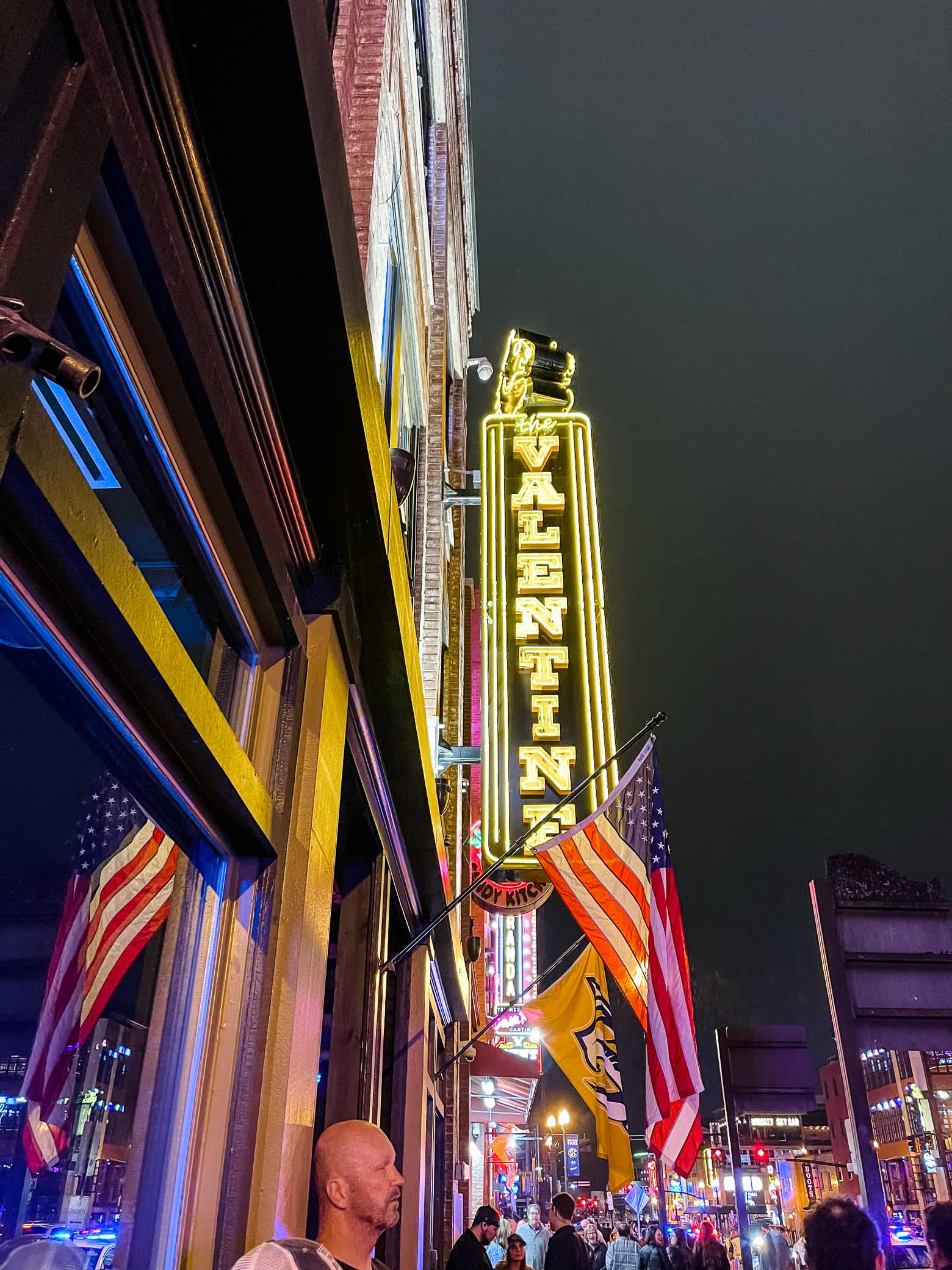 These guys were great — seriously, so much talent everywhere.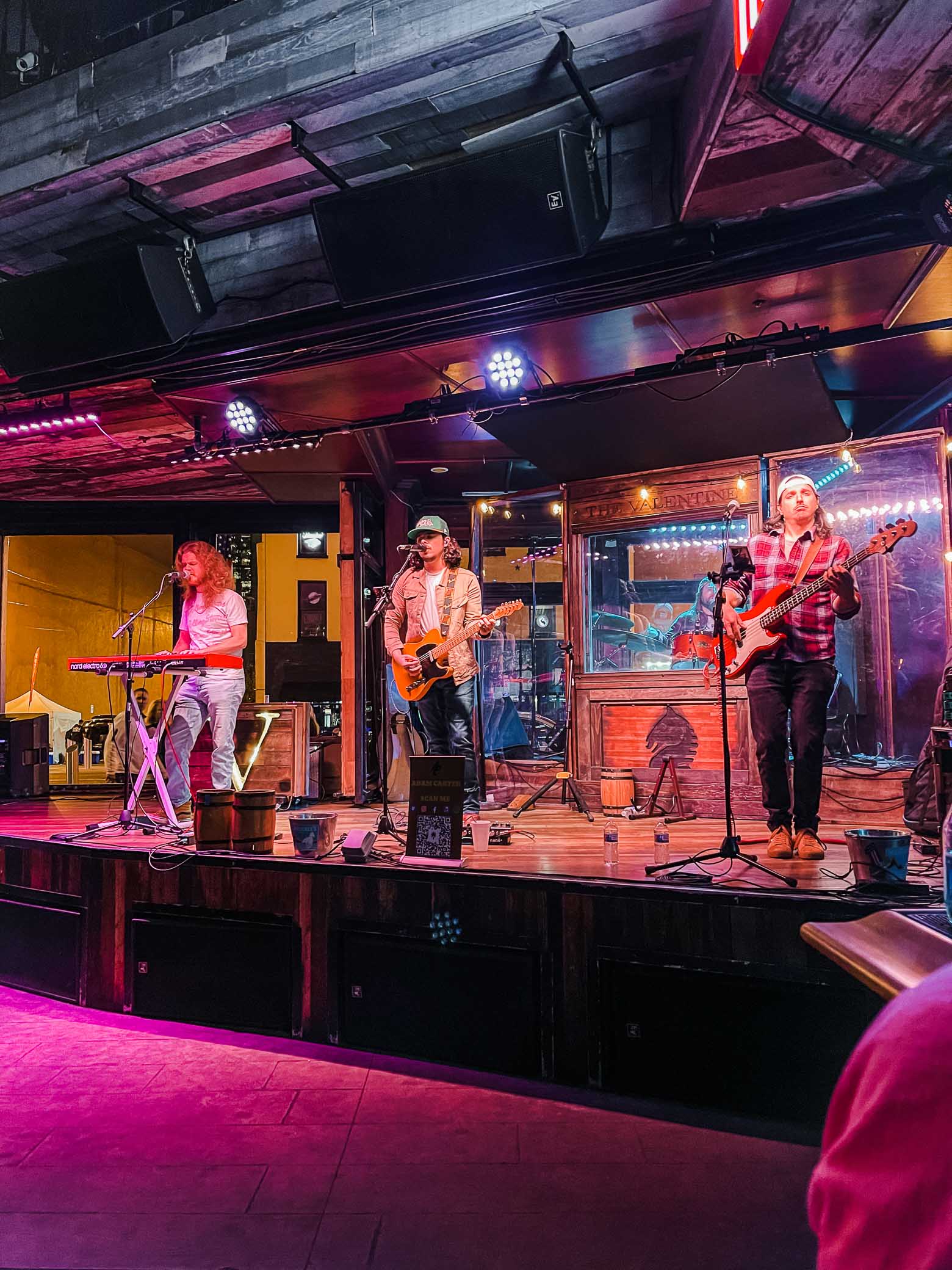 We loved seeing the lights at night, including the horse drawn Cinderella carriages as we headed back to our hotel.
Day 3
The next morning, we headed to the Nashville Farmers Market. I guess we were too early in the season, because the vendors were sparse. There was a great plants and pots nursery, that we loved perusing and as we were leaving, more and more food vendors and visitors were arriving, so it appeared to be a good place for lunch.
Then, we headed to Germantown and stopped at a thrift store to pass some time before our lunch spot, Monell's, opened for lunch.  Monell's came highly recommended by many of you and we could certainly understand why! The meals are served family style and you are seated with others at the table. The couple next to me had been there the day before and came back the next day, since they loved it so much. From salads, to veggies, to biscuits, to pasta, to fried chicken…everything was so good! You're instructed to keep your phones stashed away, dishes were continuously passed to the left, and we loved the experience. Amazingly enough, the only time it rained during our Nashville visit was during the time we were inside Monell's having lunch. The rain miraculously disappeared by the time we were finished.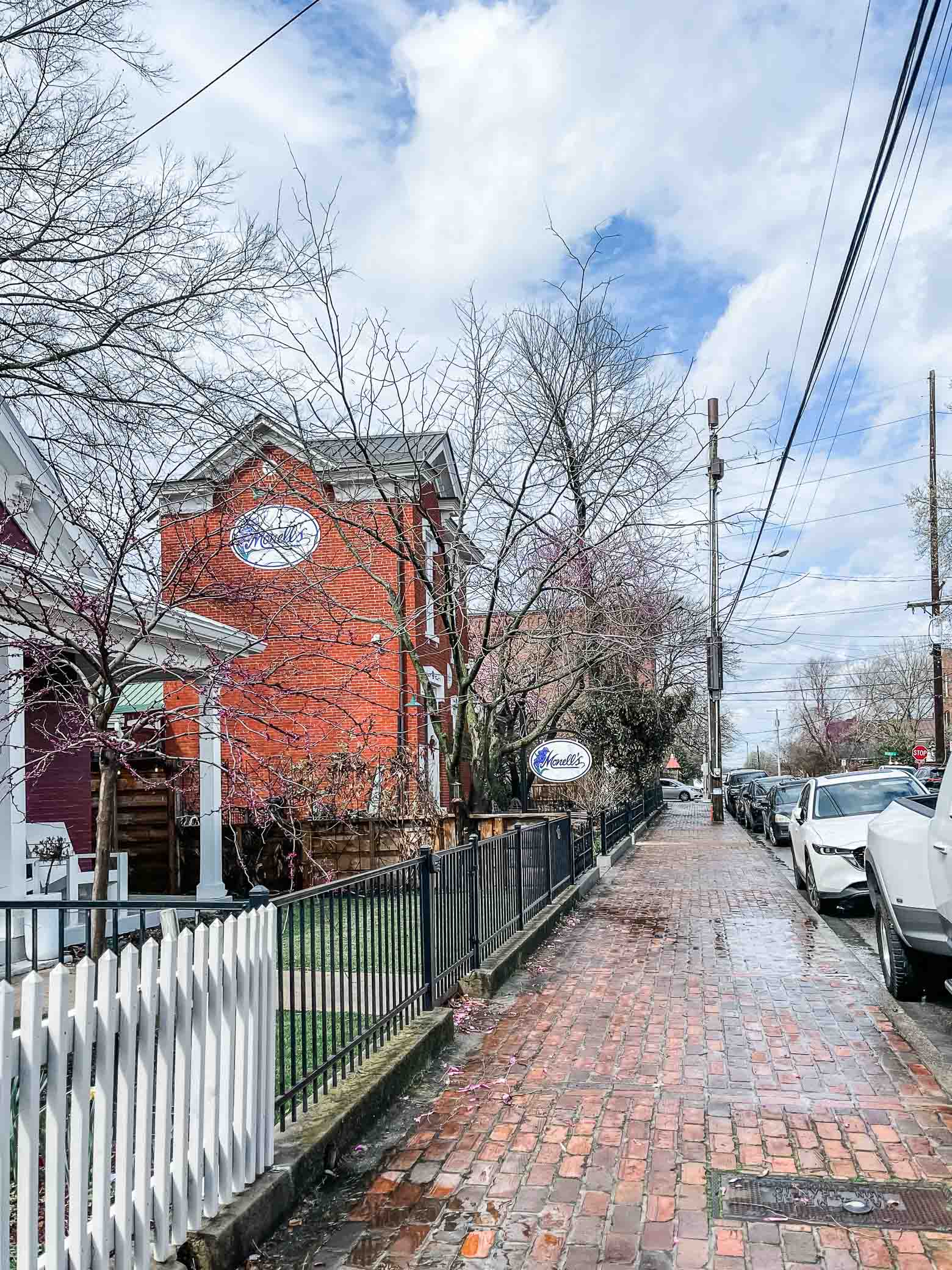 After lunch, we headed back to our hotel for a little rest, before our big night out at the Grand Ole Opry. We leisurely got ready and little did we know that high force winds were blowing throughout the city's area. As we Ubered to the Opry, our driver was amazed at all the power outages that had occurred that day. The street lights and traffic lights were all dark. Power was even out at the Opry Mills mall. But all was well at the Opry and we were assured there was enough generator power to ensure that the show would go on, no matter what.
I had purchased tickets online several months ago when the only act listed for the evening was Mark Wills — I'd never been to the Opry and wasn't sure what to expect, but as time went on, more acts were added to the lineup.
When I purchased our seats, we had our pick of pretty much anywhere in the place, and I LOVED where we chose — the second pew back, just left of center. By the night of the show, Maddie & Tae, Jason Crabb, William Beckman, Jordan Davis, Ashley McBryde, Dierks Bentley, and one my faves, Jamey Johnson, had been added. Each artist played 2-3 songs, and Dierks played the full second hour. It was laid back, smaller scale, and unlike any other venue I've ever been to. There were a lot of other fun attractions in the area, so maybe next time for that…
For 90's country fans, here's Mark Wills…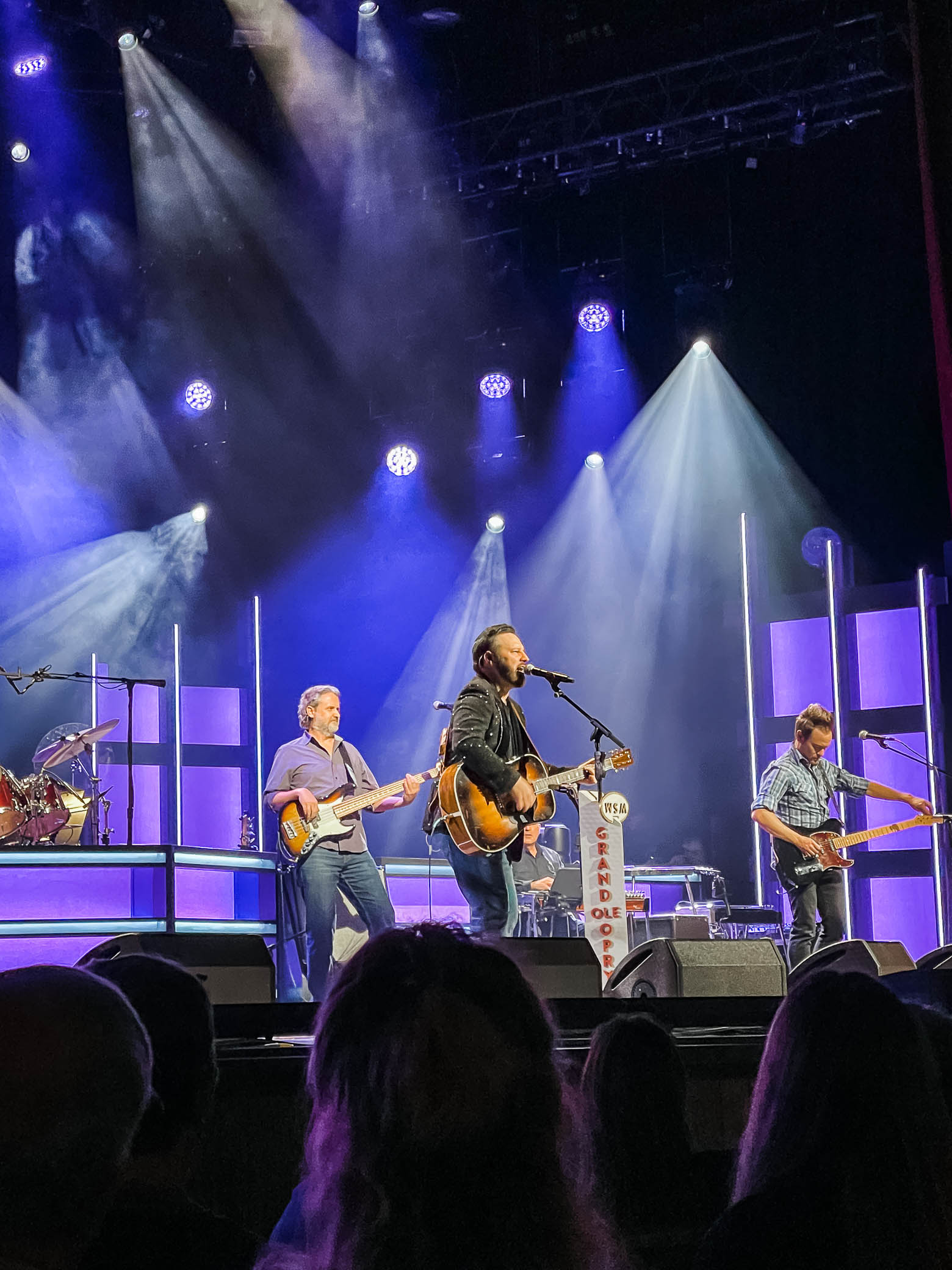 Maddie & Tae's voices were stunning.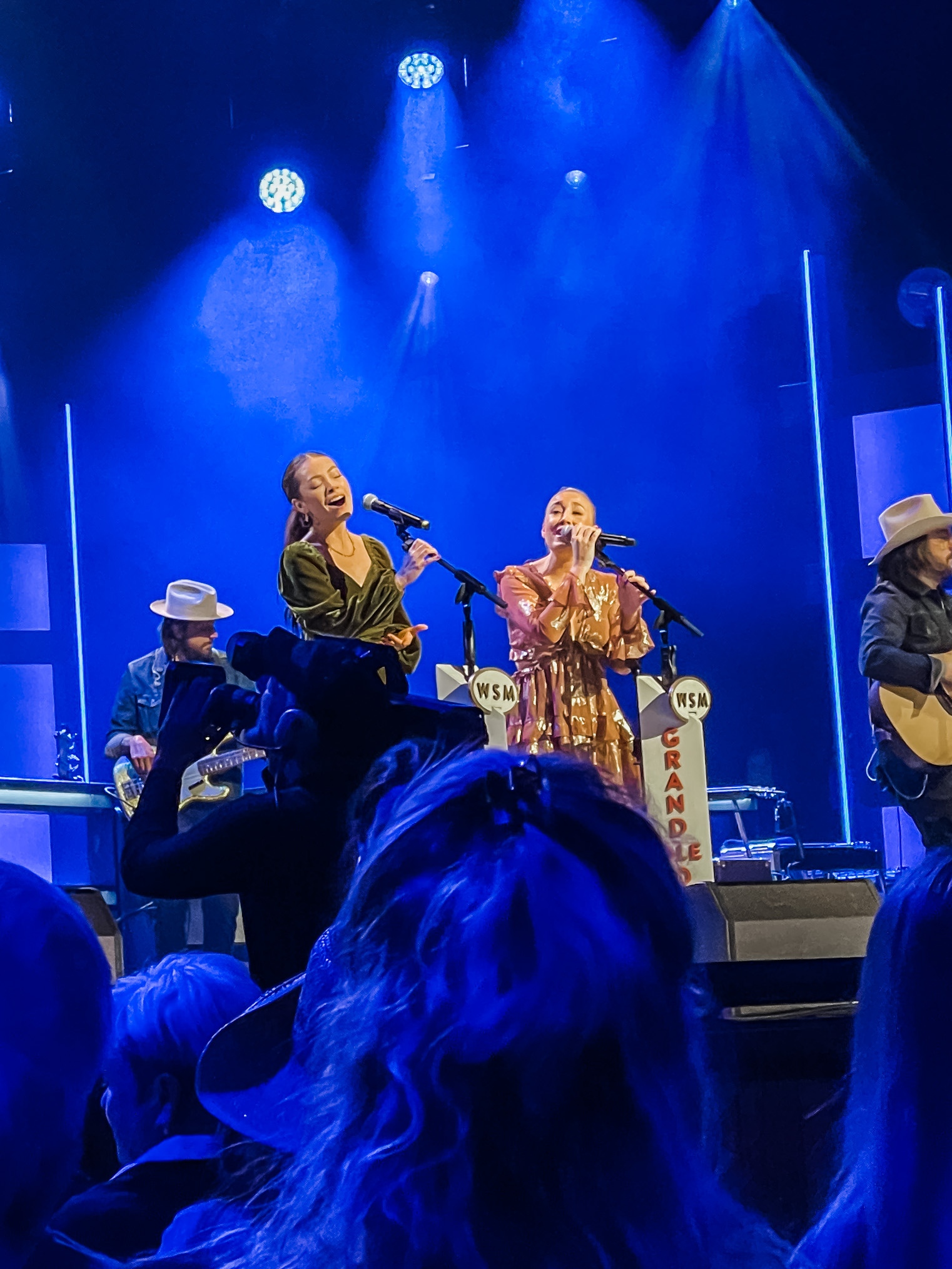 Jason Crabb paid homage to the troops and I may have gotten a little teary…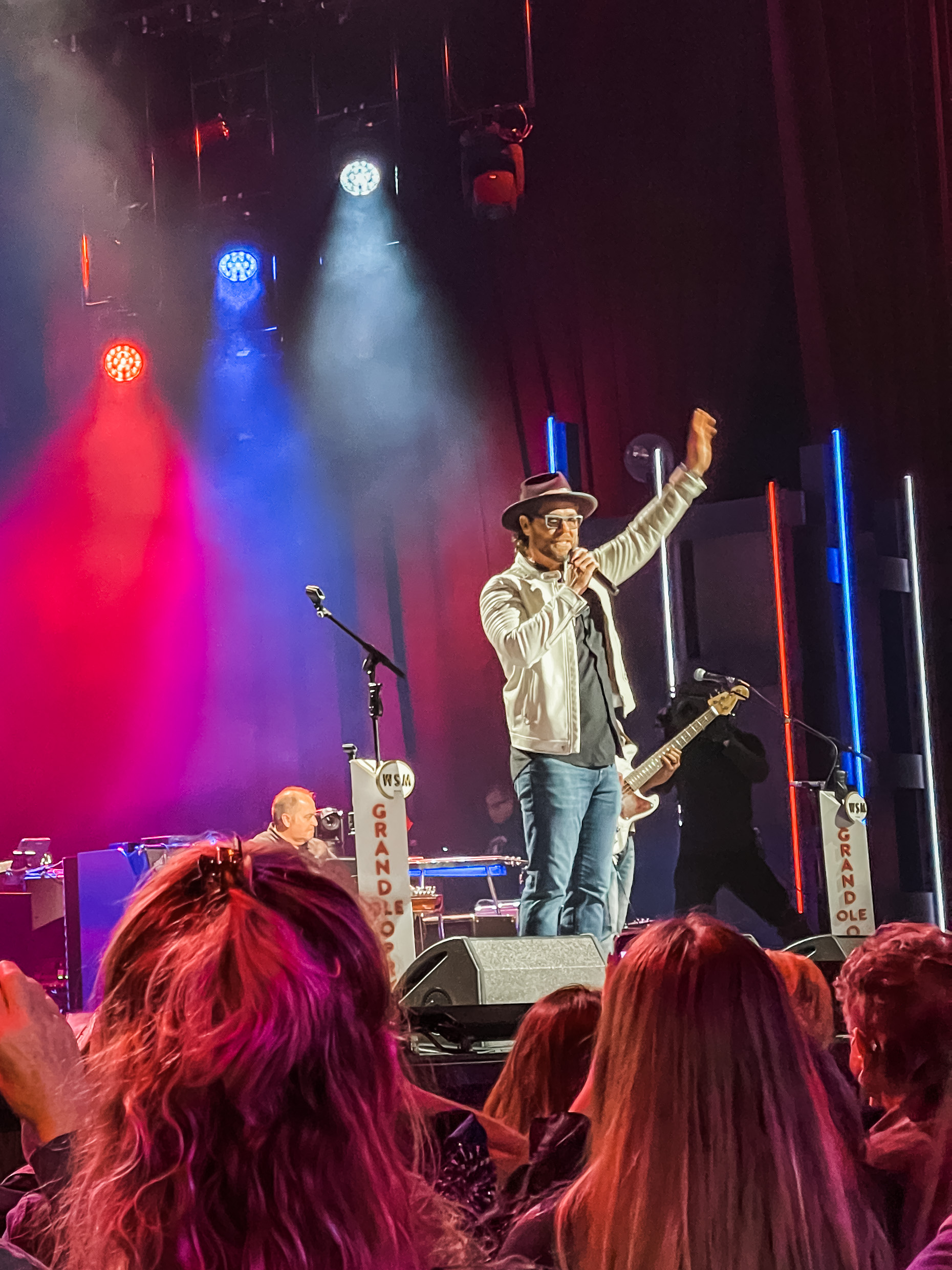 I last saw Jamey Johnson in Athens, probably almost 15 years ago — adore him and he was probably my highlight of the night.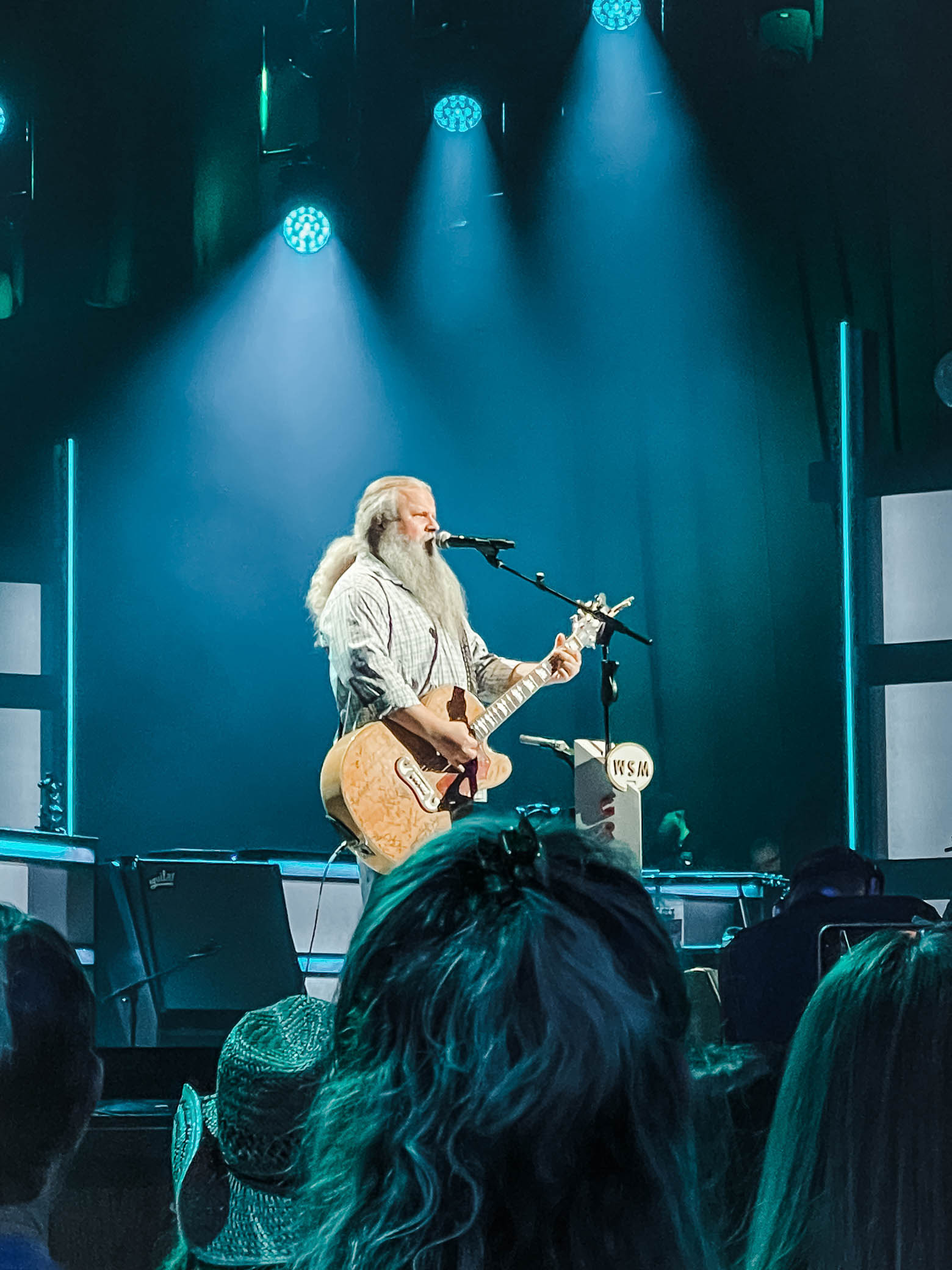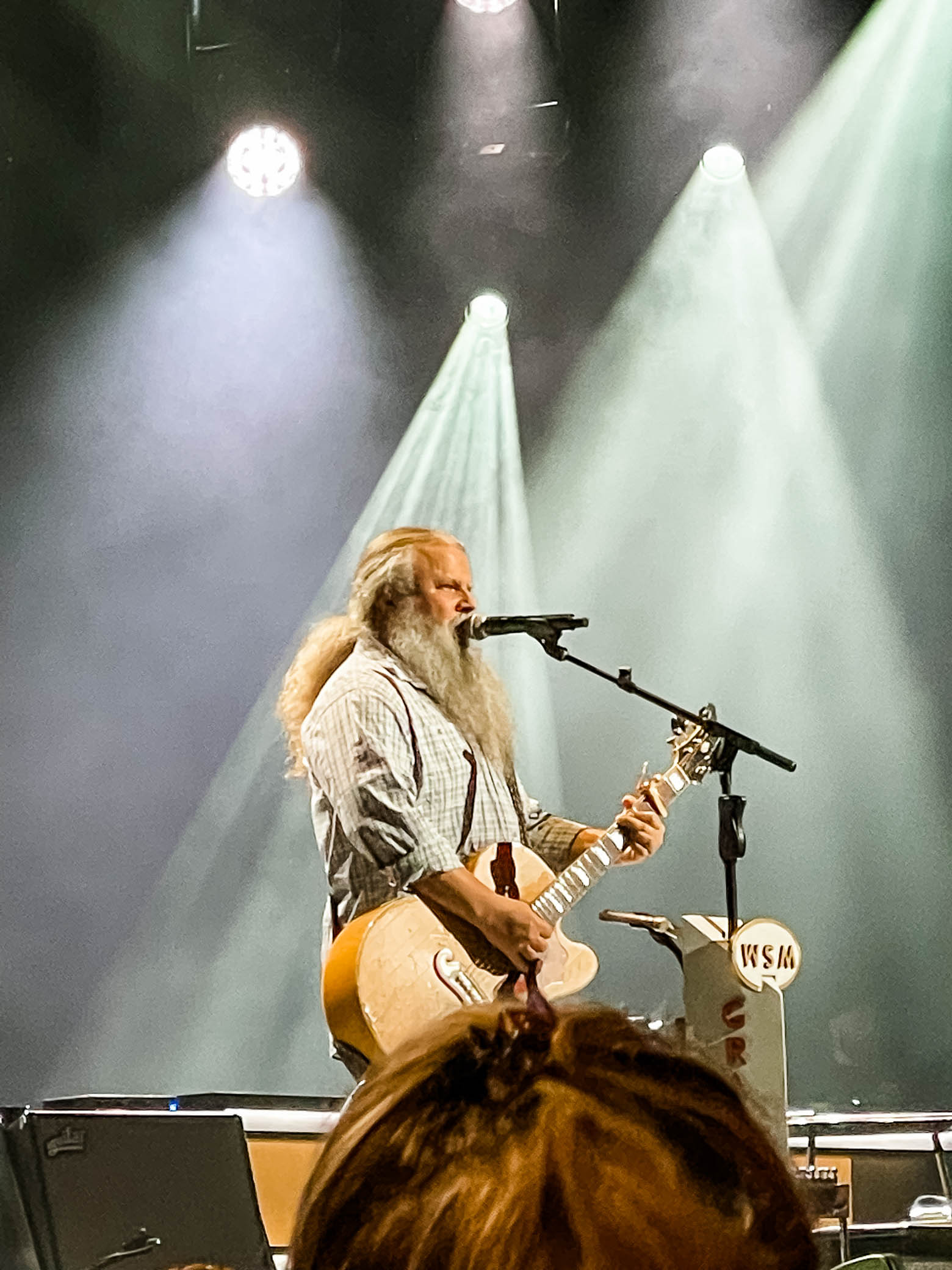 Jordan Davis played Buy Dirt and Next Thing You Know, and joined Dierks for a song later in the show…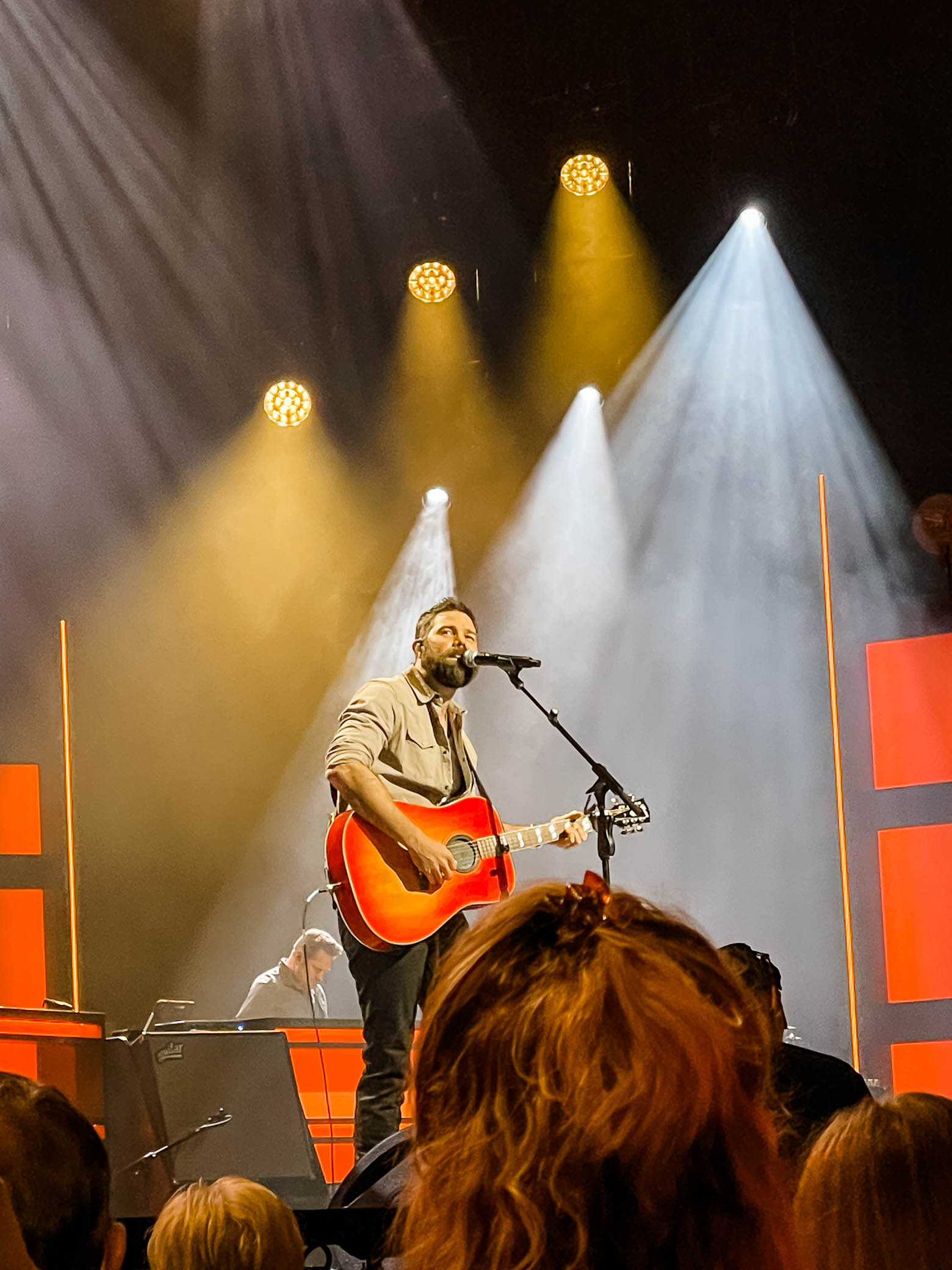 And here's Dierks.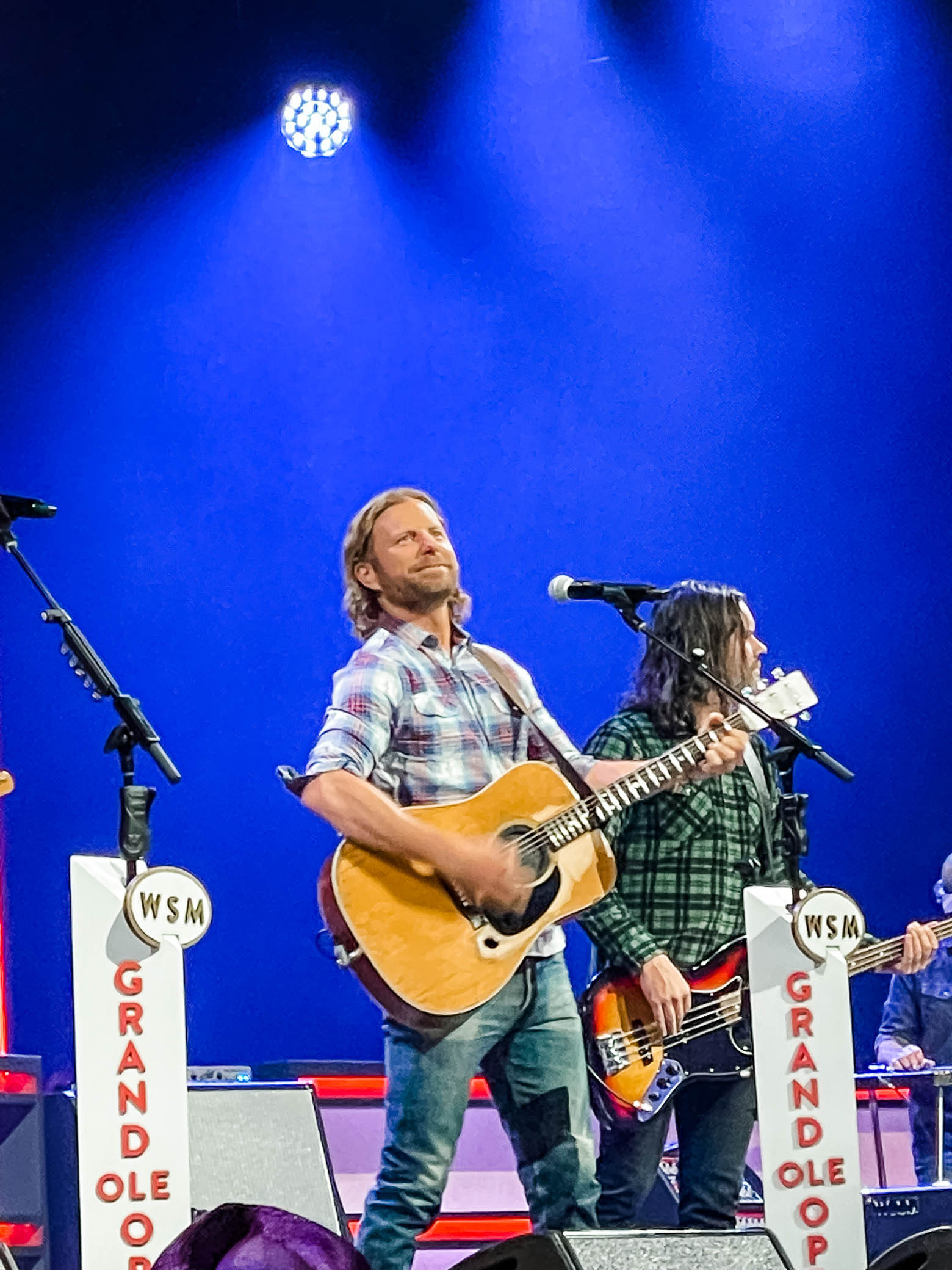 Ashley McBryde was a surprise guest and she came out and sang their new duet, Cowboy Boots.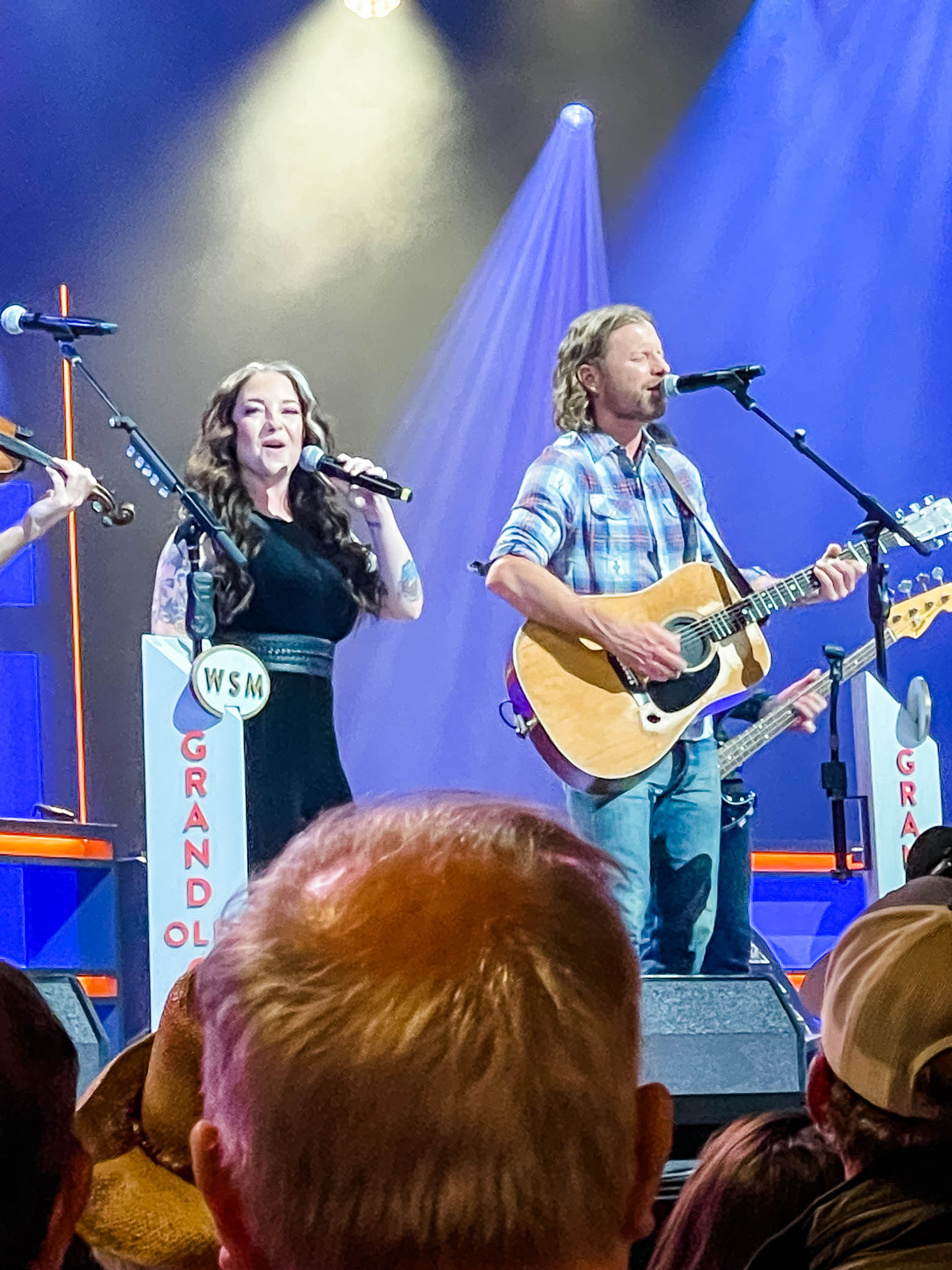 We headed home the next morning, but we had such a great time. There was so much variety in all we did and the food and bevs were top. We also loved seeing the different city neighborhoods and the renovations that were occurring throughout the city (I still want to go back and visit areas on the periphery like Franklin) . Dave wants to go so I'm sure we'll be planning a trip at some point in the next year, but honestly, I want him to do, experience, and eat all that we did on this trip — it may just be a repeat!
Travel Essentials — What I Took
IG Nashville Restaurant (& Other) Recommendations
I've bolded the places we went that were included in recommendations, and/or my notes.
RH Cafe (we have that here) | Hattie B's | Ladybird Taco | Five Daughters Donuts | Biscuit Love (for breakfast!) | Bartaco | Puckett's (I've eaten here in Chattanooga) | Optimist | City House | Henrietta Red | Milk & Honey | Adele's | The Twelve Thirty Club | Loveless Cafe | Nash Trash Tour Bus | Country Music Hall of Fame | Studio B | Kayne Prime | Edley's Bar-B-Que in 12 South | Loveless Cafe (for breakfast) | Miel | The Southern Steak and Oyster Bar | Bourbon Steak | Five Points Pizza | Virago | Sunda | Proper Bagel | The Stillery | Rose Pepper | The Gulch | Church and Union | Stateside | Husk (they have this in Charleston) | Skull's Rainbow Room | Monell's | 404 Kitchen | Lockeland Table | Pinewood Social | Josephine's Bourbon Steakhouse | The Yellow Porch | Liberty Common | Hampton Social | Whiskey Kitchen | Etch | Pancake Pantry | Korea House | Bouqueria | Barcelona | Superica (we have this at home) | Brick Tops | The Row Kitchen & Pub | Hall's Steakhouse (been here in Charleston)
A Few Other Documented Tourists Posts You May Be Interested In