In general, I prefer large nightstands — both for the storage aspect, as well as the expanded bedside table surface. You can actually check out THIS post I wrote a few years ago on some favorite bedside bachelor chests. But, sometimes, space is more limited and that's when the  planning can get a little trickier. In areas like kids' bedrooms, guest bedrooms, and apartments, rooms are typically smaller and more often than not, small nightstands or narrow nightstands are a necessity. In today's post, I'm sharing my favorite bedside tables, currently available, that are on the "small nightstand" end of the spectrum — in widths of 21″ and under, and 22″-25″, more average size dimensions.
*Posts on KelleyNan.com may contain affiliate links. Click HERE for full disclosure.
Small Nightstands — 21″ & Under
While your space may call for a small nightstand, a "small nightstand" doesn't necessarily mean a flimsy nightstand. Check the weight and construction to gauge the build. But, if you're looking for a narrow nightstand on a budget or as an interim solution, there are plenty of inexpensive options out there, too. Most of the nightstands I've sourced below are intended for a long term solution, but they still range across a variety of budgets. You can find links to my favorite small nightstands in the most narrow widths below the following graphic. (Many of the nightstands featured in today's post come in multiple finishes and color options, and some come in multiple size options, too.)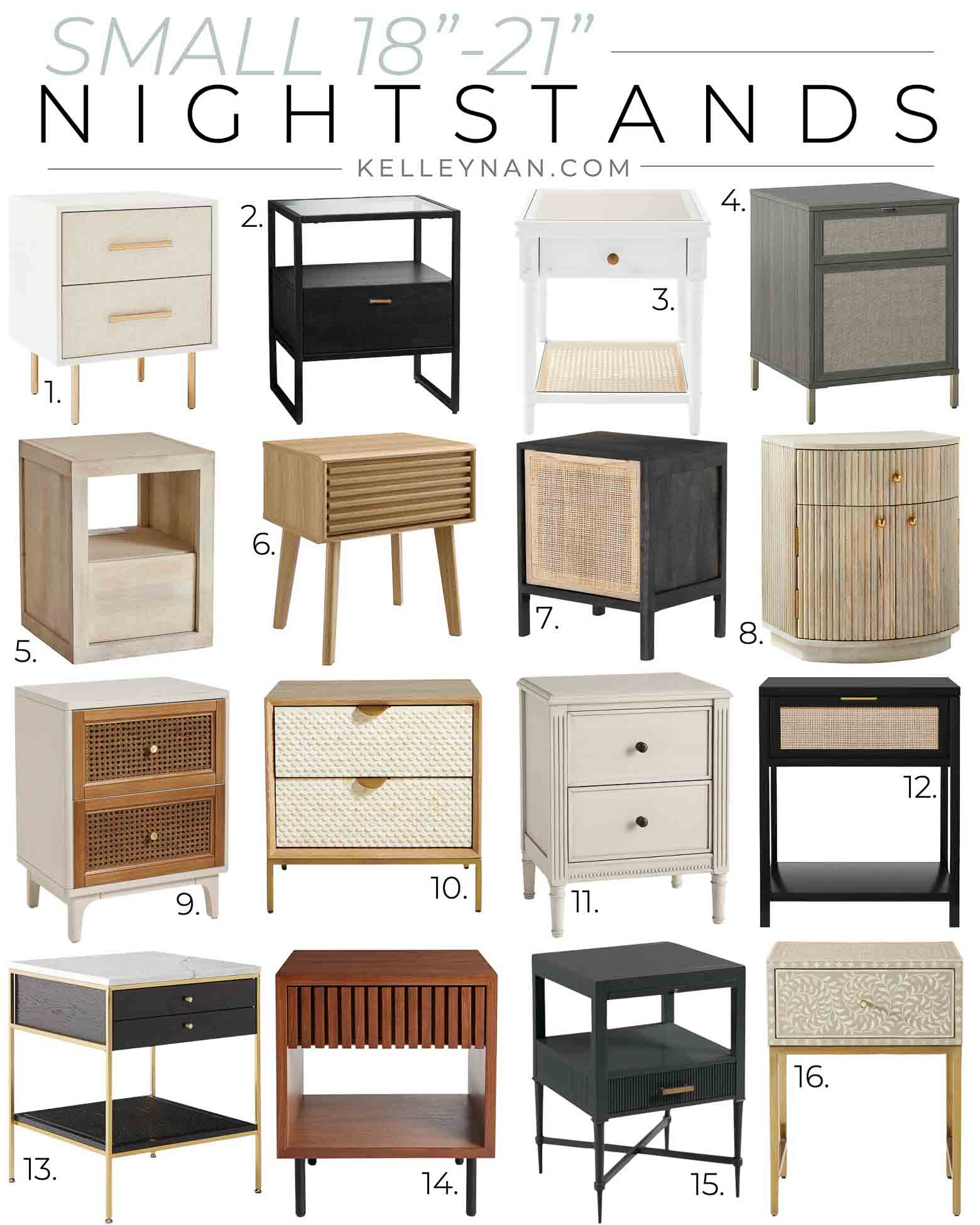 Sources: 1. | 2. | 3. | 4. | 5. | 6. | 7. | 8. | 9. | 10. | 11. | 12. | 13. | 14. | 15. | 16.
In general, Pottery Barn Kids (nightstands HERE) and Pottery Barn Teen (nightstands HERE) are great places to find smaller nightstands that are also shorter — perfect for low profile beds. West Elm (nightstands HERE) is also great since they design so much for apartment living.
Eliza has Number One and let me tell you — the size is incredibly deceptive for the heft of this thing! It's constructed really well and is as sturdy as they come. I initially thought we'd do one nightstand for Eliza since her bed wall is tighter on space, but ended up with two after loving the first so much and finding a second at an outlet. I landed on these nightstands because I loved the different materials and colors — it made it really easy to marry her bedroom finishes with the white wood, gold hardware and legs, and organic raffia drawer fronts.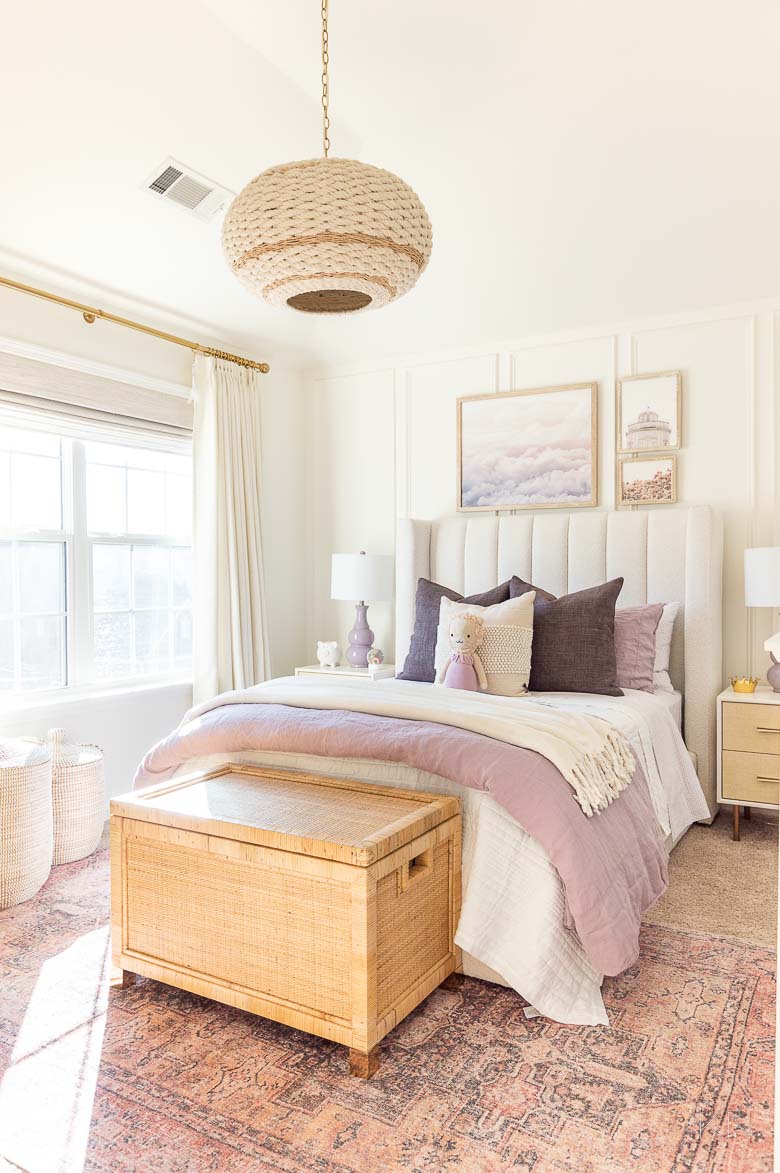 Sources: Woven Pendant Light | Bed  (full, vertical tufted, tall, white chunky boucle fabric) | Mattress | White Linen Quilt | Purple Linen Duvet Cover & Shams | Sheets | Cream Throw | Plum Linen Throw Pillow Covers (24″) | Cream Knotted Pillow | Stuffed Lion | Area Rug | Rattan Storage Trunk | Woven Hampers | Nightstands | Lamps | Crown Catch All Dish | Rainbow Snow Globe | Piggy Bank | Cloudscape Art  | Castle Art  | Jacaranda Art  | Curtain Rod | Curtain Rings
Coming it at just over 20″ in width, the height of the nightstand is also perfect for her lower-to-the-ground platform bed, with no box spring.
I especially love how it looks with THIS rattan trunk with gold feet at the foot of her bed (on sale for 20% off w/ code SPRING).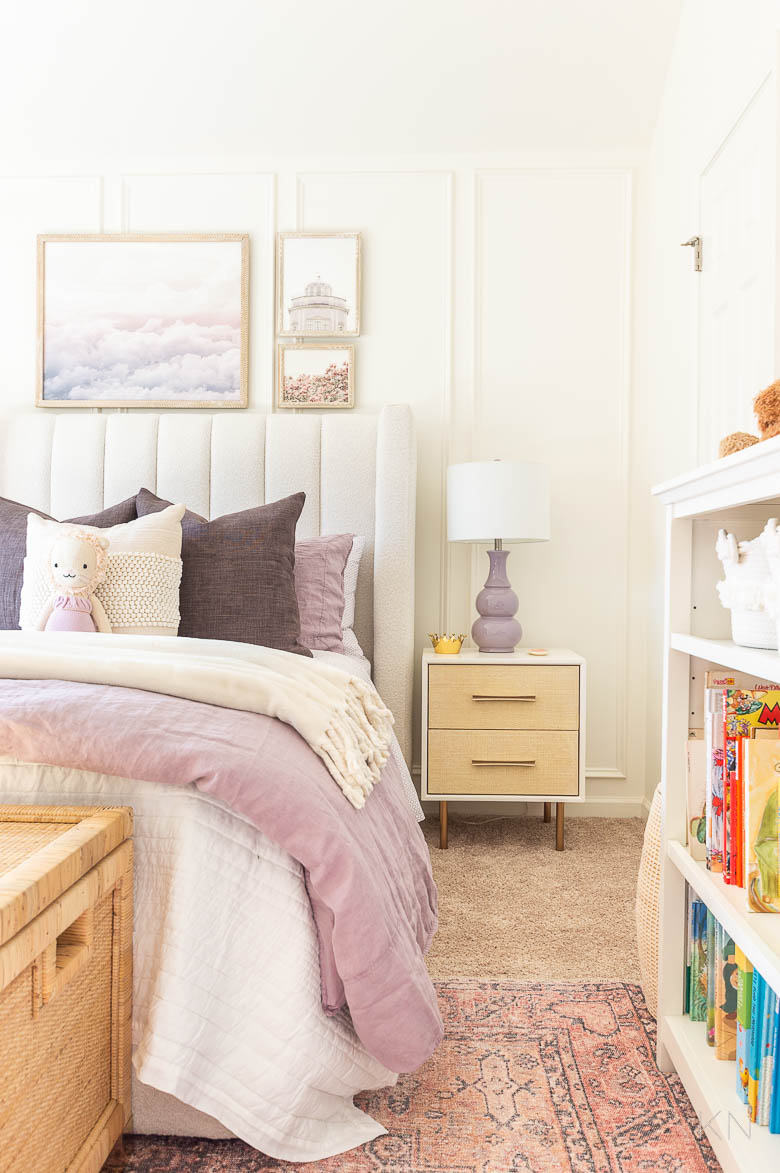 Sources: Area Rug | Bed  (full, vertical tufted, tall, white chunky boucle fabric) | Mattress | White Linen Quilt | Purple Linen Duvet Cover & Shams | Sheets | Cream Throw | Plum Linen Throw Pillow Covers (24″) |  Cream Knotted Pillow | Stuffed Lion | Rattan Storage Trunk | Nightstand | Lamp | Crown Catch All Dish | Cloudscape Art  | Castle Art  | Jacaranda Art  | Book Case
Having two nightstands with double drawers was a big selling point too because I will take as much storage in her bedroom as I can — you know, little girls with all their treasures and things ;).
Number 5 may look simple but it has built-in power — perfect for charging cables and lamps. I love the clean simplicity of this bedside table.
Number 3 (on sale for 20% off w/ code SPRING) doesn't have as much closed cabinet storage but it's still one of my favorite nightstands of all time — simple and timeless. I'm such a fan of the Harbour Cane line (on sale for 20% off w/ code SPRING) in general — it's actually the same line as what Eliza's crib was (HERE).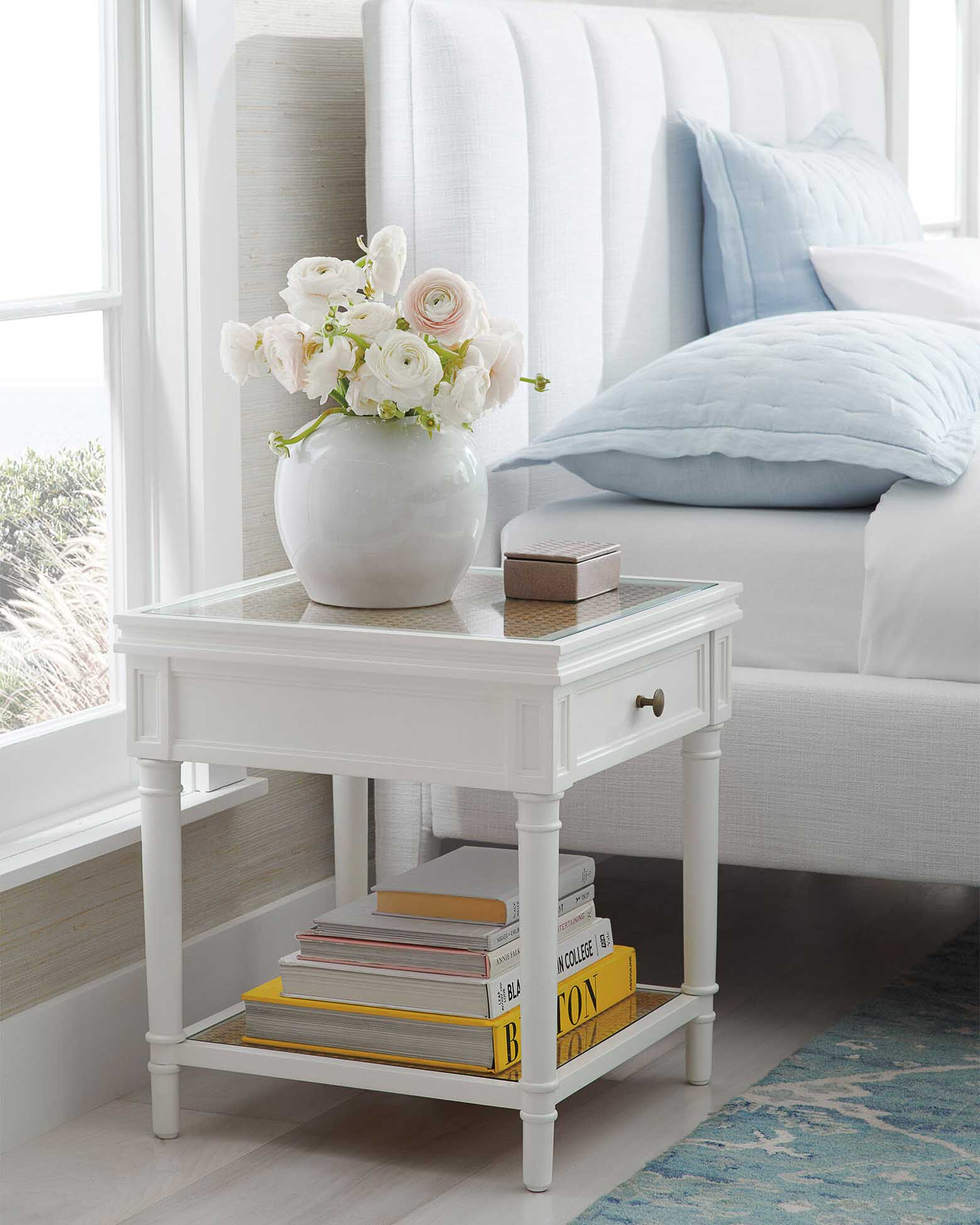 Harbour Cane Nightstand (on sale for 20% off w/ code SPRING) (Photo via Serena & Lily Product Listing)
On the darker side (though some come in white finishes, too) with more streamlined structures and less storage are these small nightstands. The details do slightly vary but for a similar aesthetic look, there's an option for most ranges of budgets — from the under-$100 narrow nightstand (love the drawer front detail!) on Amazon (Number 12), to a still easier on the wallet Pottery Barn option (Number 2), all the way to the higher priced McGee & Company option (Number 15).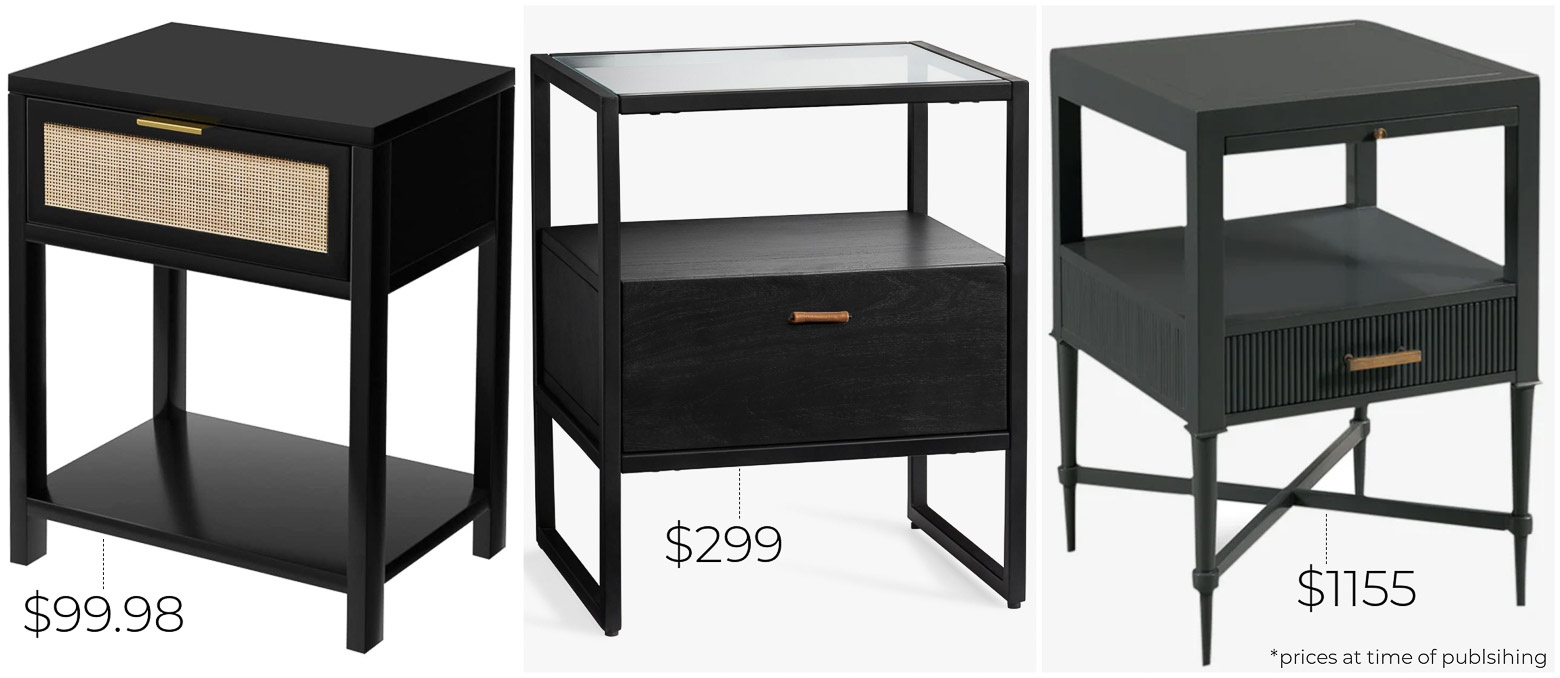 Among some of the easiest on the wallet narrow nightstands, Number 9 is on Amazon (HERE) in a one drawer, two drawer, AND three drawer option! Also on Amazon, THIS light oak with rattan front is under $87, and THIS one is white wood with rattan drawers and gold hardware.
Along similar lines, in a black finish but with a little bit of drawer space, I have THESE small nightstands for the small downstairs guest bedroom. With their narrow footprint, we were still able to use two — one on each side of the bed.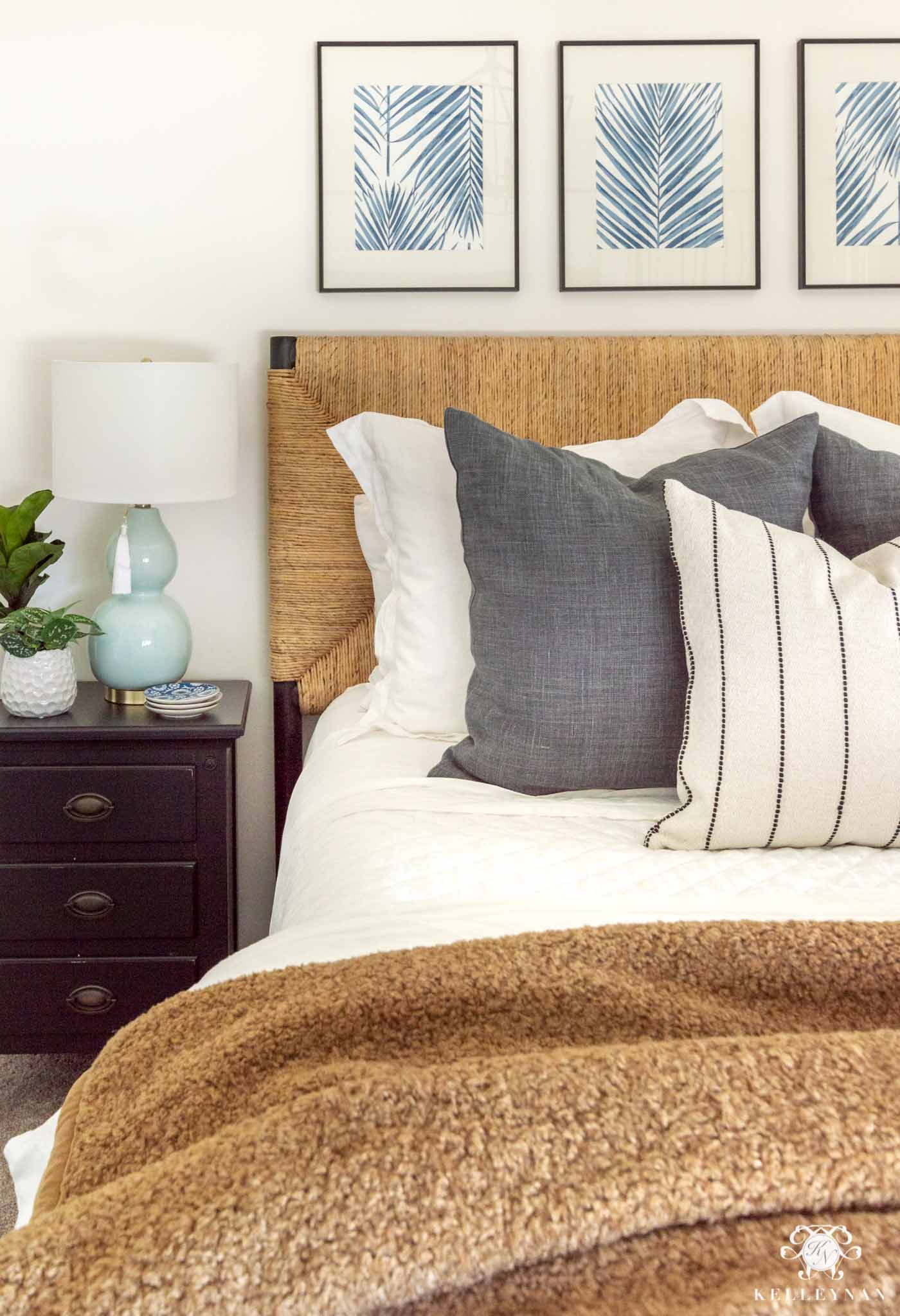 Sources: Nightstand | Blue and White Wallpaper (for DIY Art) | Black Frames | Belgian Flax Linen Quilt (white)  |  Belgian Flax Linen Duvet Cover & Euro Shams (white) | 700 TC Sateen Sheet Set (white) |  Tobacco Teddy Bear Throw Blanket  | 24" Blue Belgian Linen Throw Pillows (Gunmetal)  | 20″ Black & Cream Stripe Pillow
Number 10 has gorgeous details of scalloped layered natural bone, and I loved the curved silhouette of Number 8 (which comes in both a white and black version HERE).
For more storage, the two-drawers in Number 11 are substantial and deep and the finish of the narrow nightstand makes it really easy to coordinate with black, white, and various wood tones in the rest of the bedroom.
If you have less than 18″ for a nightstand, a floating nightstand which requires zero floor space is also an option! I love THIS affordable rattan floating nightstand, as well as THIS more substantial light oak floating nightstand — both on Amazon.
Small Nightstands — 22″ – 25″
In terms of "small nightstands", these bedside tables aren't quite as narrow and could probably be qualified as more average in size. But, in comparison to chests and nightstands you might find in primary bedrooms, these are substantially smaller in size. If there's room, I tend to like to push the envelope on size (again, for storage and surface space), and if you have a smaller room but are only planning on one nightstand, these may also be an option. Below, you'll find small-ish nightstands that range in size from 22″-25″.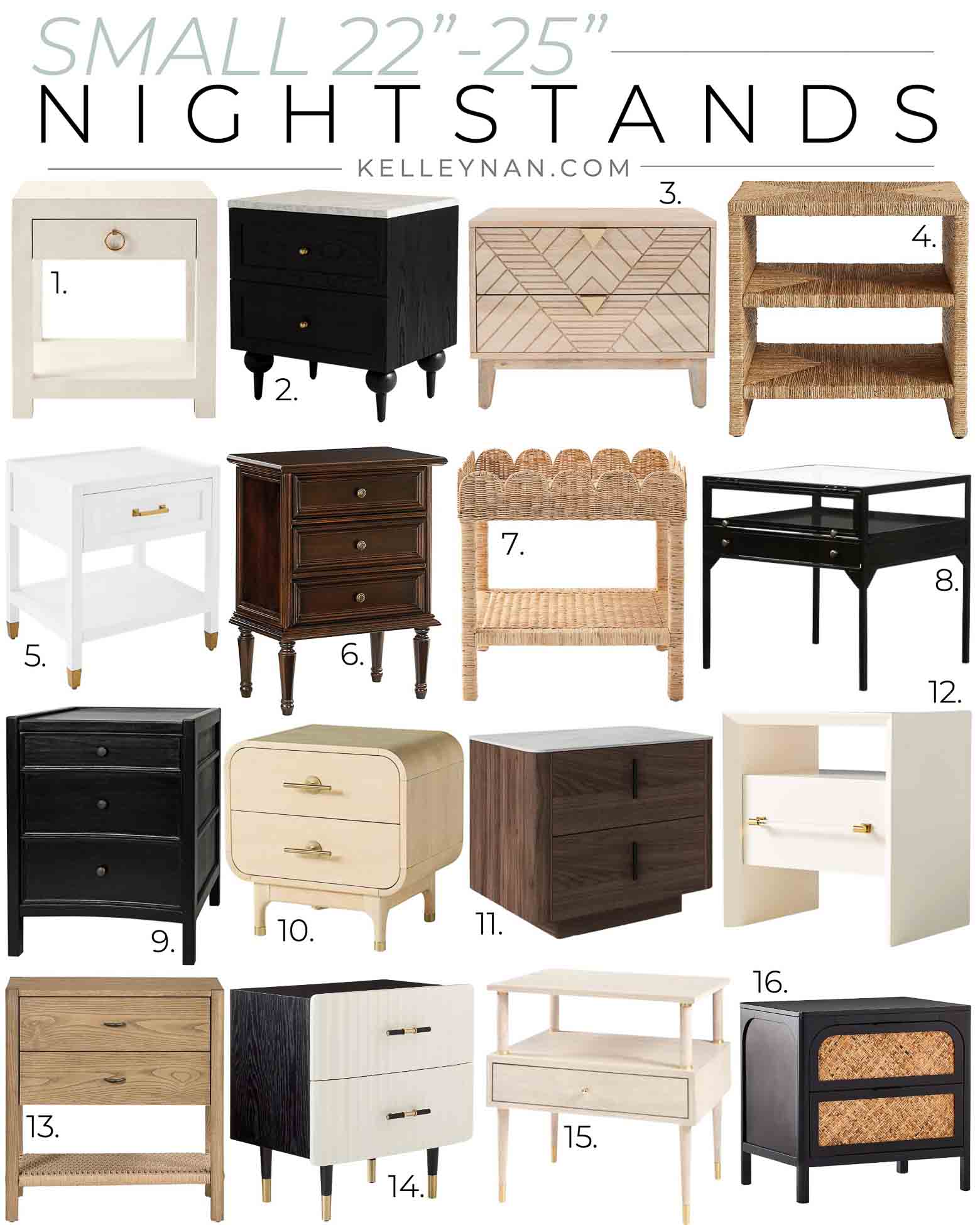 Sources: 1. | 2. | 3. | 4. | 5. | 6. | 7. | 8. | 9. | 10. | 11. | 12. | 13. | 14. | 15. | 16. 
Coming in at 24″w, the carrara marble top on Number 2 is stunning and I'm just in love with the overall construction — from the hardware and general shape to the knobby legs. It also comes in three color options, including the pictured black, HERE.
My mom had all but begged me to try to use THIS rattan scalloped edge nightstand (Number 7) (on sale for 20% off w/ code SPRING) in Eliza's room — I wanted to because that detail is adorable, but I didn't quite have enough room and I really needed cabinet space for storage.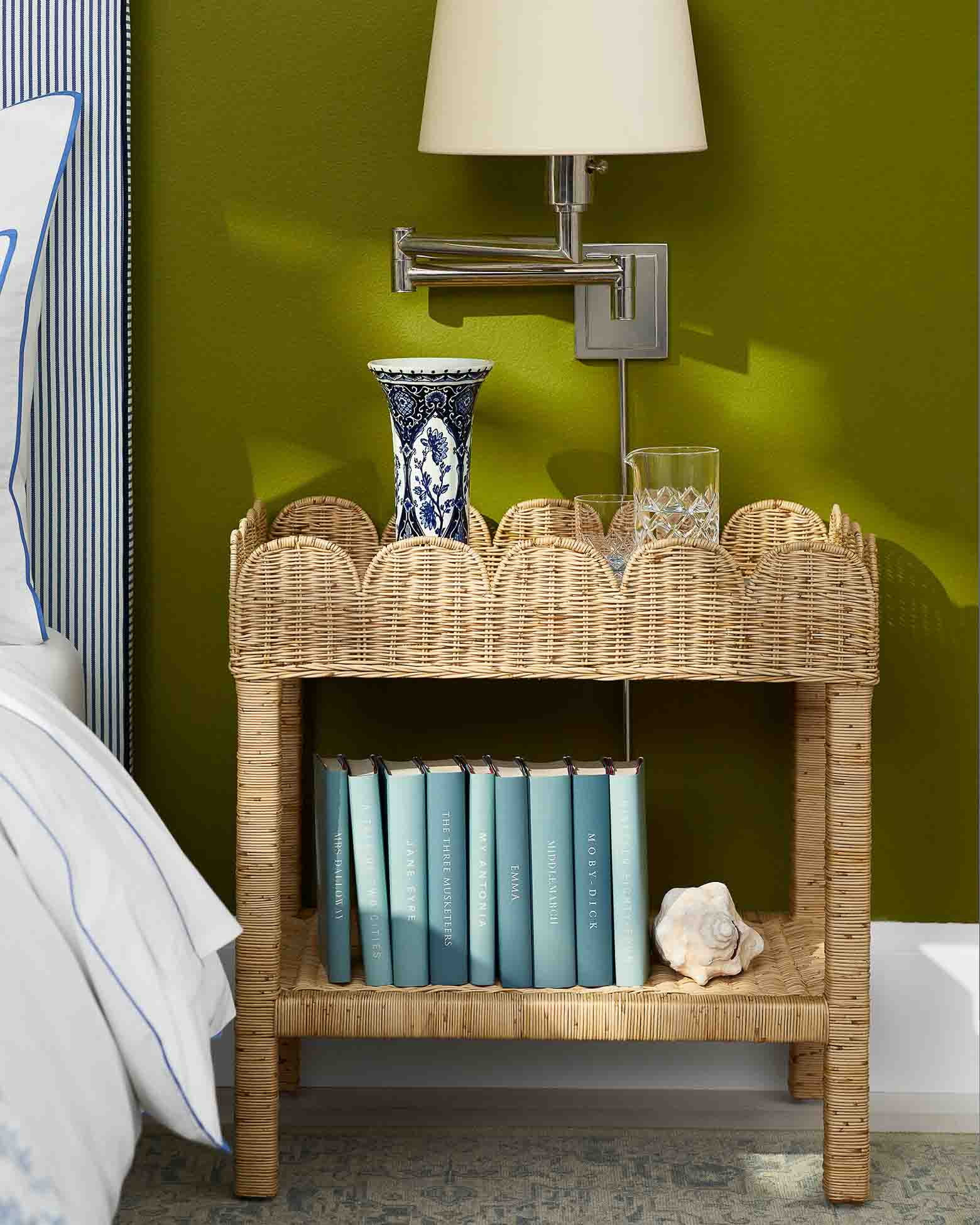 Rattan Scalloped Nightstand (on sale for 20% off w/ code SPRING) (Image via Serena & Lily Product Listing)
In the woven family, I also love THIS open shelved, rattan PB nightstand — especially for a guest bedroom.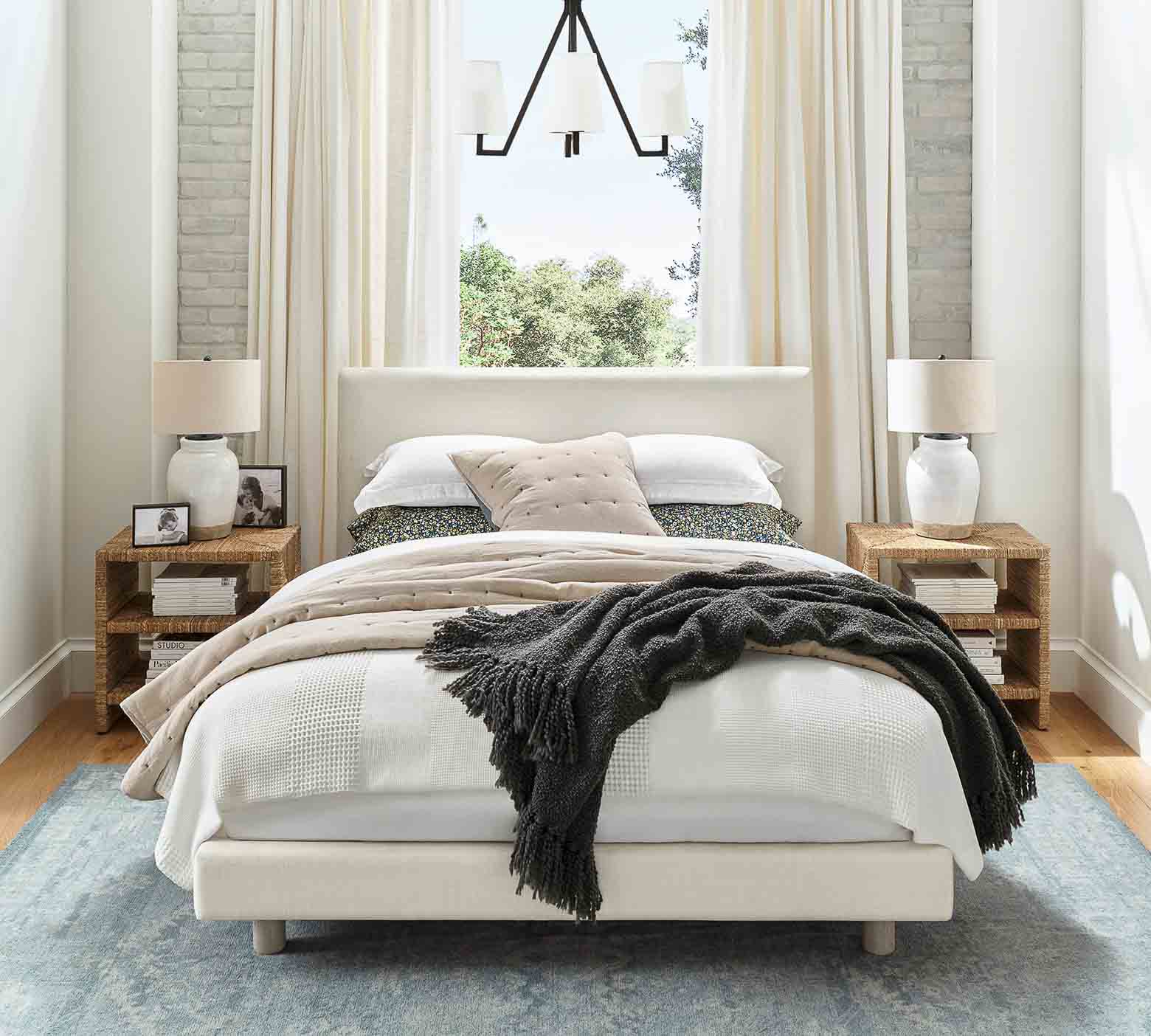 Rattan Nightstands (Photo Via Pottery Barn Product Listing)
Number 6 is classic and I'm loving the dark wood that's coming back in popularity, quickly (it's almost a dead ringer for the wood in my antique secretary desk (seen in the conversation room HERE) . If you aren't as much of a fan of the dark wood, the nightstand actually comes in five finish options, including a really pretty soft blue HERE.
Number 14 is contemporary and full of fabulous details — I especially love the crimped fronts. While the retailer styled it with a black bed, I think they would also be beautiful with a clean lined canopy bed or a white oak wooden bed.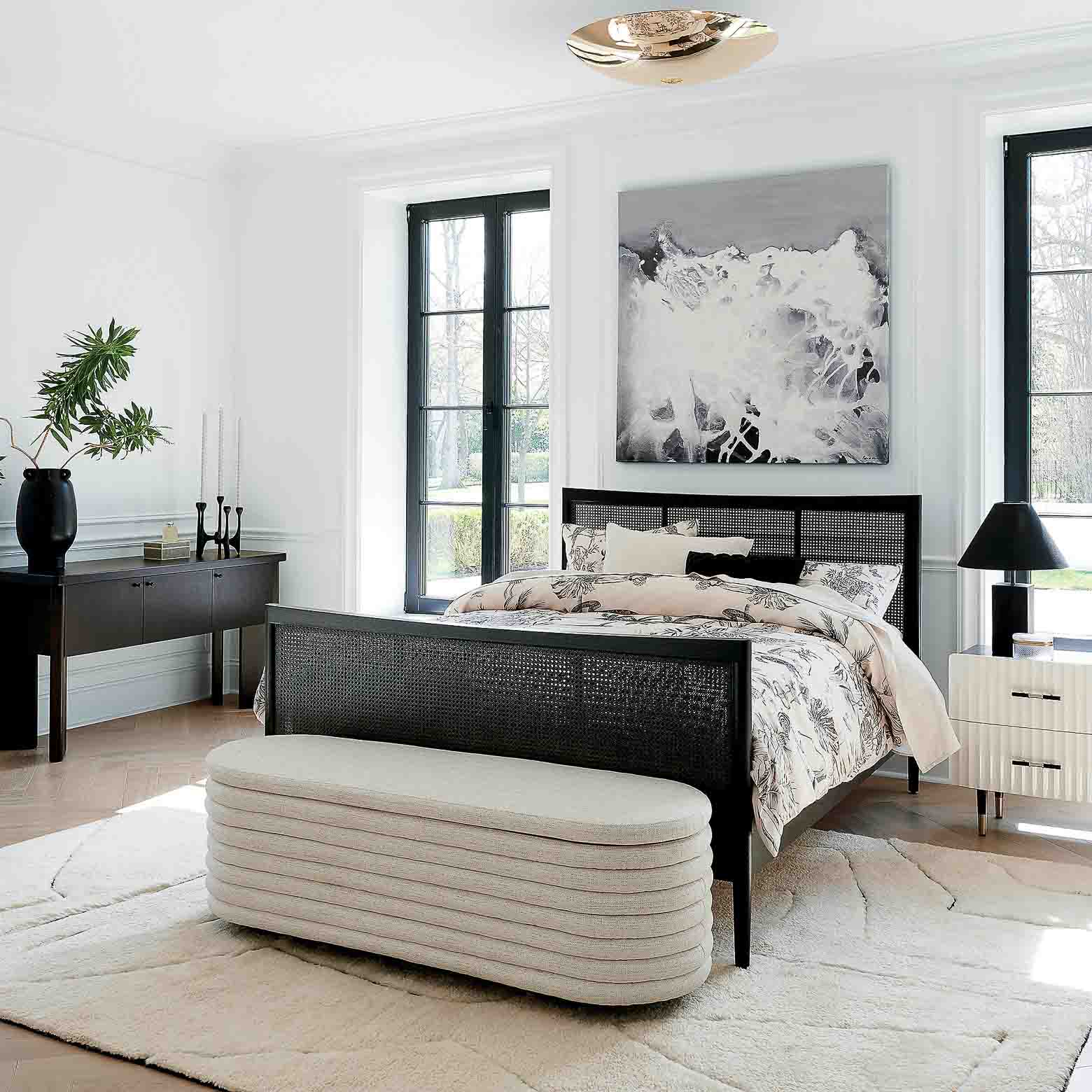 Nightstand (Photo Via CB2 Product Listing)
A Few More Tips When Selecting Narrow Nightstands
A lot of accent tables, nightstands, chests, and console tables can be used universally, depending on the space, but nightstands tend to be deeper, so if you're planning a nightstand to go in place of a table, just be sure to check dimensions.
Also, be sure to check your bed height compared to the height of the nightstand. Less of an issue with small nightstands, larger nightstands in particular could tower over the mattress height. Potentially more of a small nightstand issue, if you have a tall bed, the nightstand could be dwarfed. Again, check the height!
I like to choose a nightstand as part of the entire bed-scape as they're really just an extension of the bed in terms of width and detail. (Check out THIS post for favorite organic table lamps). They also are an easier piece of furniture to purchase after the rest of the room has come together, as a way to tie in textures, materials, colors, and finishes from the other pieces in the room.
Be honest before you start looking — what could you benefit from most? storage space or surface space? If you need extra storage, don't compromise. Do you prefer something with built in power? Is a drawer for essentials a must?
If you have a favorite lamp already set and ready to go, make sure to check the dimensions of the top of the nightstand. Also, the height of the nightstand compared to the height of the bed may be a good indicator of the ideal lamp size you're looking for.
If you aren't already, you can subscribe to emails at the bottom of the post for more tips, more space reveals, and more projects as they happen in real time!
Other Posts You May Be Interested In