Full disclosure — today's post took a turn and grew a mind of it's own. I was planning to give a full progress report on minimizing over the past few months — what we've done well and what we need to work on — but I got so excited writing about a single facet, that I decided it deserved its own, stand-alone post. So today, we're talking about strategizing with groceries, how it plays into minimization, how we've saved money, and basically, our full process when it comes to shopping, meal planning, and stocking up. Consider this your warning — it is literally thrilling — like, true jubilation status — for me to watch our grocery savings and to challenge myself in our meal planning so if you don't get jazzed about that, you probably wanna check out now, haha.
*Posts on KelleyNan.com may contain affiliate links. Click HERE for full disclosure.
Decluttering the Pantry & Freezers
When I talk about my capacity to manage the things in our home, food is included. Food is included in a major way, actually. We've pretty much always been somewhat calculated in our meal planning and grocery management, but since I've been overwhelmed by the volume of goods stashed in our freezers and pantry, I wanted to work towards thinning out our accumulation. We've progressed really well and as a bonus, I've also enjoyed the monthly savings.
In general, I like having things on hand but I hate waste, when items start to overextend beyond their containers, and feeling a little bit of decision paralysis from too many options. The truth is, we could eat from the pantry and freezer for a while if we had to, but a weekly fresh produce restock is necessary for us. And while it isn't perfect, I've been working to get our always-good-to-have-on-hand items when they're on sale.
Similar to walking into your closet and thinking you have nothing to wear — because in reality, you have so much you just can't see it all and have too many options — opening a pantry that is overflowing can give that same feeling. I hate having to pull everything out to try to locate something, buying multiples of things unknowingly, and having hidden items expire. While I like our long-time methods in general, there was marked improvement that could be made and I wanted to get our food stash down to something that wouldn't overwhelm me and that would help us be better stewards of what we did have.
So, a few months ago, I declared that along with decluttering, we would be focusing on prioritizing shopping our pantry and freezers first, taking full inventory, before coming up with our weekly meal plans. Months later, we still have a good bit of back-stock but we can see everything and the volume is so much more manageable.
Where We Shop (& the Perks)
Depending on where you shop, your strategy may be different. Here's where we do our shopping…
Publix — Regular grocery shopping (1x/week)
Costco — As needed for bulk meat, bulk items we use a lot of, & sale items (See my Costco list regulars HERE)
Trader Joes — Once every other month(ish) — it's a trek but I love getting produce, freezer, and specialty items here (See my Trader Joe's favorites HERE)
Local Meat Market — Occasionally for special meat occasions
Walmart — when we need to do delivery (I <3 our Walmart+ membership!)
Weekly Shopping
Some people say "Publix is expensive" but it's not — if you know how to shop it. It's actually probably the cheapest option around. And if you're familiar with Publix and their BOGOs, you know what I'm talking about. I know that their policies vary from state to state, but in Georgia, you don't have to buy two of something — you can get one at 1/2 price if you just want to purchase single item on its own. Also, when something is listed on sale (for 2 for $4, or something like that), with most items, you don't have to actually purchase two. You can just purchase one for $2. I've been monitoring the ads long enough now, I know what kinds of items go on sale regularly so there are certain things that we only purchase when they're on sale.
If you shop at Publix, make sure you create a Publix account. At least in my area, the new weekly ad is released on Wednesday. They add virtual manufacturing coupons daily, I believe. I always run through and check them all so they'll be applied to my account, and when I enter my phone number at checkout, the discount automatically applies. I always take a look to see the sale items and what's on BOGO, make note, and then take a look at my pantry. I strategize between the two to come up with the weekly meal plan. Also, if you have a coupon on your account and there's also a BOGO, it will give you both deals.
I'm not into extreme couponing (though, I get why it's exciting and appreciate those of you who do), but my method only takes a few minutes and essentially zero effort.
What Changed Over the Past Several Months
Dave loves grocery shopping and before this deliberate effort, we did things a little differently. We've meal planned for the week for the past decade and I've always tried to share ingredients across meals, but I paid no attention to deals. I would make the shopping list, based on what we needed for meals for the week as well as what I wanted in general for lunch, snacks, or anything I thought needed to be restocked. Then, Dave would go to the store and buy everything on the list. So, there was strategy there, but not nearly to the extent we now practice. It's not that we're eating a lot differently, but we are literally spending half the money, just by paying attention.
Excluding our Costco trips, our grocery bills are ranging from $35-$85/week (including meat on some trips, OTC meds sometimes, etc.) Keep in mind, if you have no arsenal in your pantry/freezer and are shopping from scratch without pantry staples, the bill can be significantly higher.
Bulk Shopping
So, if I'm trying to minimize and not have as much overflow, how do I justify bulk shopping? There are several items that are worth it to us to buy in bulk, for the value. And thanks to our rack in the basement to hold overflow paper products and extra boxes of some select things, we don't "feel" it as much from a visual clutter perspective.
We purchase most meat in bulk. Sometimes, we'll buy on an as-needed basis from the butcher down the street, but we typically purchase our meat in bulk from Costco. If it isn't already separated and ready for the freezer, Dave will open the package, portion it out, and vacuum seal it in meal-sized portions with his Food Saver. He also gets the replacement seal rolls when they go on sale at Costco. Because of that, we rarely purchase our primary meat at Publix, but will on occasion if something is an exceptional deal.
Costco is pretty predictable when it comes to things going on sale, too. Just about everything goes on sale there occasionally, so we try to wait to make our purchases when that happens (especially since most of the items we purchase are more occasional items). Some things we would likely never make it through and the value isn't worth it to us vs. our pantry capacity, but there are plenty of items that we will only purchase from Costco, because of the value. For example — Rao's jarred sauce is expensive at the store. But, Costco has a two pack of large jars for almost the same price a a single small jar at the regular grocery store. It also goes on sale pretty often which will knock another $2+ off an already good deal.
I love Costco produce — it always seems to last such a long time and is a great value! But, there aren't many things I can justify getting unless I plan to split something with my mom. I do like getting the bag of 6 romaine hearts — my mom and I will split them, and I cut, wash, and store them in my salad spinner for the week for salads, wraps, etc. perfectly. I think those are currently $4.99(?) for the 6-pack ($2.50 for my huge portion), so it's a great deal to always have cut lettuce on the ready for whatever you're making that week — from a quick side salad to tacos to blts.
I actually wrote a full post on my go-tos and faves at Costco, along with some tips HERE.
Simplifying Meals
My current passion for simplifying has extended to the kitchen, too. I've never been one for complicated meals — especially during the week — but with the value of time at a premium, wanting to deal with limited ingredients, and aiming to have my family sitting down to dinner between 5:00 and 5:30, I'm keeping things especially easy these days.
I'm always a fan of casseroles (especially for the advantage of clearing out leftover produce in the fridge) but a lot of nights now involve a grilled protein Dave made ahead on Sunday, along with an easy veggie (frozen, fresh roasted, etc.), with a starch. I've especially been working to reduce out our stash of rice and pasta packets, frozen sides, etc. Simplicity is more valuable to me than creativity in this season of life. We still keep things varied to an extent, but we're enjoying a lot of our old standards as the "heroes" of our meals these days.
Meal Planning Process & Strategy
When I'm coming up with our meal plan, I take inventory of the things we need to thin out/have had a while/are getting ready to expire/etc., and try to come up with meals we can make, based on the ingredients we already have. As I mentioned, for the most part, these aren't complicated meals. Dave grills on Sundays so I'll usually plan for him to grill extra meat at that time. Steak on Sunday? I'll ask him to make a little more that we can cut up for steak Salads on Tuesday. He almost always grills chicken for my lunches for the week (way cheaper than the Boar's Head turkey I've historically done). If we're having hot wings, I'll ask him to do additional wings with bbq sauce for a dinner in the next few days, too. That makes planning for sides super easy later in the week.
We shop weekly for produce but I don't buy ALL THE PRODUCE. I limit it to what's on sale/not currently price gouged. We keep it to the meal plan — not an abundance, just to have "options". Making the meal plan ahead of time is key and using what's on sale to help guide me has been a fun challenge.
And as I've talked about umpteen times on KN, when planning my meals, I also plan for meals that can share ingredients (especially produce). Here's an example of my thought process, literally, an actual example from today…
We have an opened bag of Pepperidge Farm dressing in the pantry. We have a bunch of onions, too. Would it make sense to make meatloaf next week (key ingredient — Pepperidge Farm dressing)? Well, I also already have a can of canned tomatoes, we have mustard and ketchup in the fridge, we currently have eggs, we have all the spices, we have brown sugar in the baking cabinet that isn't hard… I think the only thing we would need is a bell pepper! Yes, we should definitely make meatloaf. And with the remaining bell pepper, we could either cut that up to go on salads one night. Or, I could also do a chicken casserole since I know I still have too many cream of mushroom soups. I could use the rest of the onion from the meatloaf, too. We have the chicken, the Greek yogurt in the fridge (that is probably close to expiring and should be eaten), and we have crackers for the topping, still. Yes! I'll make a chicken casserole. And after I plan some of the other meals, if I have other leftover veggies, I can throw those in, too. I just need some celery. And then, to use the celery, I was already wanting some wings this weekend (that we already have) so we can cut them up for crudités to serve on the side of the wings. And I've been needing to use up some of our frozen potato bags so we can have the rest of that bag of sweet potato fries on the side.
Meals that can evolve into other meals are also a big deal in our house. I know that whenever we have sloppy joes, I'll use the leftovers to make sloppy joe shells two nights later (or a sloppy joe pasta bake with whatever pasta we have on hand). If we have tacos or chicken tacos (or something similar), I know we'll be having taco salads two nights later. If we make homemade chicken tenders, we'll have them on their own one night, and then on a salad, in a wrap, etc. on another night. Roast in the crock pot becomes vegetable beef stewp. Etc. Etc. Etc. Here are a few posts where I give examples and ideas…
Here's an example of an inexpensive but delicious, quick dinner from this past week. Dave noted the week before that we needed to incorporate a bag of Trader Joe's frozen fettuccine alfredo into a meal since we'd had it in the basement freezer for an embarrassingly long time. We also had a brand new bag of Bird's Eye steamed broccoli and cauliflower that I grabbed for 1/2 price in a recent grocery trip. Dave prepped grilled chicken that we had on hand, and seasoned it with Italian seasoning on Sunday. So the night of dinner, I popped the chicken in the oven for reheating while I cooked the fettuccine on the stove (7 minutes), and popped the bag of veggies in the microwave to steam during that time. This dinner took (literally) 7 minutes. Not including the bulk fresh/frozen chicken from Costco we had (a single large breast is more than enough for us), I had picked up the bag of fettuccine from TJs for $3.99 and the steam fresh veggies were $1.80 on BOGO (1/2 price). Pretty dang good for a family of three.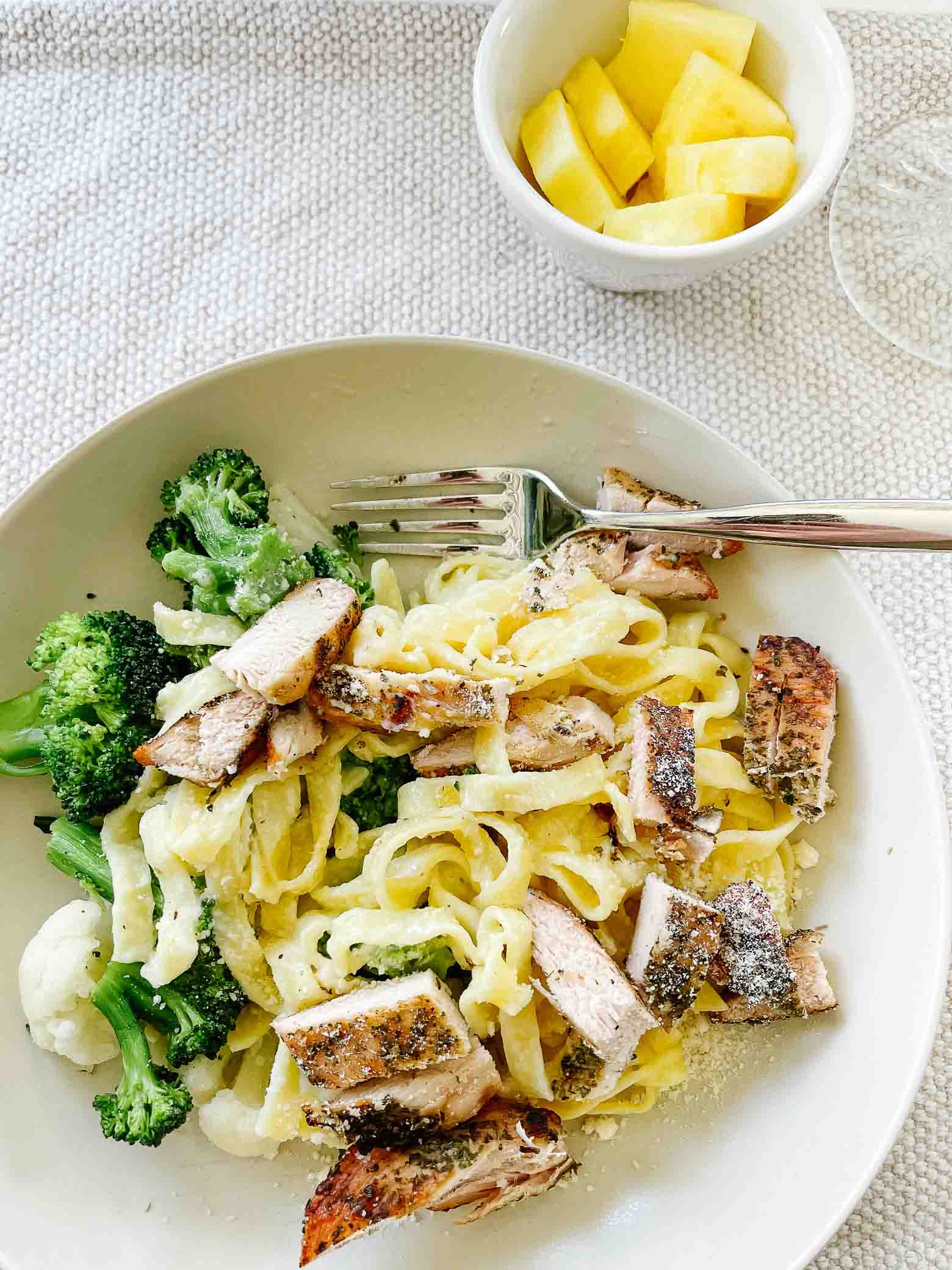 Mini Bowls | Stoneware West Elm Pasta Bowl – no longer available (SIMILAR) | West Elm Textured Placemats (I wash & dry regularly)
Reframing the Meal Thought Process
Instead of saying "I think I want breakfast for dinner this week" and then having to buy all the ingredients from bacon to eggs to milk to pancake makings, etc., I'll wait for something(s) (like bacon) to go on sale, see what supporting ingredients I already have, and determine if the dish could be pulled off in a cheap way. We actually bought our favorite bacon (Hormel Black Label thick cut) for 1/2 price last week and put it in the freezer, so when something else we need goes on sale, it will be the perfect time to plan for that meal. BTW- when I started paying more attention to prices, bacon is expensive. That pack we like has a regular retail price here for $10, so 1/2 price is a great deal.
How I Buy On Sale, Keep a Reasonably Stocked Pantry, Without Excess & At a Good Deal
When we do our weekly shopping, I also shop the BOGOs that we use regularly (snacks, pantry staples, regular meal sides, etc.) — even if we don't have a plan for it that week. If we're low on chicken broth and it's on sale, even if I'm not using it this week, I'll buy it. Frozen veggies — I always like to have broccoli & cauliflower on hand. When you can plan ahead for 1/2 price cheese (we go through a ton in this house), it feels like such a win. This can bite you though if you aren't paying attention or get carried away. We've found a pretty happy medium, though. And, there are several items that go on sale, literally every other week or at least every two weeks.
Dave has specific snacks and snack brands he likes. Only purchasing those when they're BOGO has saved us a ton. And for my sandwich/wrap sides (pretzels, rice cakes, etc.) — I only buy them on sale. We only buy cereal when it's BOGO and that also determines the brand of cereal we do buy.
We've also become less brand loyal about some things. I go through a lot of salsa and there's usually at least one salsa brand on sale. If I need it sooner than later, I'll just get what's on sale. Same for cheese brands. Instead of saying "we need Cheerios", I think "we need cereal — I'll see what's on sale that fits my specifications".
If we have an abundance of a general category (like Eliza snacks), I won't purchase any more (even on sale) until the stash is smaller.
If one of our typical pantry staples runs out, I'll put off re-purchasing it until it goes on sale (or it becomes necessary).
I like to have bananas on hand and we do a pretty good job eating them. I'll usually buy one more fruit (maybe two if we're feeling crazy) but what's on sale determines what I buy. I like to serve a small bowl of cut up fruit with a lot of our dinners to make sure it's used.
Our approach may seem to stringent for some, but it's worked well for us and nobody is lacking. There are some things that no matter how I try to plan, we end up paying full price. There are some spendier items I'm loyal to and consider "musts" (like Dave's Good Seed thin bread), but getting the things that always go on sale (most pantry staples), when they're on sale, keeps me from feeling any guilt.
A lot of these practices seem small, broken out individually, but they add up to a lot. In addition to working our way through our overstock and whittling down our pantry and freezers, we've been saving a ton of money. I'll also add — we hardly ever eat out. I'll usually grab a Mod Pizza for myself on Friday night or we will go to lunch after church on occasion, or my mom and I may go to lunch every couple of weeks, but we prepare our meals at home 98% of the time. That makes grocery savings extend to food savings in general. I actually just sat down and thought about it, but believe it or not, I actually haven't had Chick Fil A a single time in 2023. And I love Chick Fil A! But also, the expense of a Chick Fil A meal for our fam could probably literally exceed what some of our weekly grocery bills have become.
If it seems like it's too much work, it actually feels the opposite. When I limit my options (to what we already have and what's on sale — with some exceptions), I limit the endless possibilities that week. We have canned soup with a side of garlic toast — both which were bought on sale 😉 — without shame. We will stretch a batch of $2.99 lettuce throughout an entire week, and it makes me feel accomplished. Our fridge is happier, our pantry and freezer are happier, our bank account is happier and I'm happier.
And I know I shared a lot about my grocery store here, specifically, and some of this may not apply. But, there are several strategies if you're interested in saving money, getting things out of your pantry, and minimizing the chore of groceries in general that can absolutely be applied.
Getting intentional and more strategic with our groceries has lifted a weight. Maybe that's just a weird personal thing but if you get overwhelmed too, taking a look inside your meal planning and grocery habits may just end up being — dare I say — therapeutic.
Since this turned into an admittedly dorky grocery shopping fan-girl post, I will be posting my intended comprehensive progress report soon 😉
Other Posts You May Be Interested In
Older Posts: