Today's post has been a long time comin'! For the past two years, whenever I've shared that I was heading to Trader Joe's on Instagram stories, I'd have requests to share a list of all my TJ favorites. I finally planned an extra long trip, took full inventory, and made note of all my regular staples.  If you don't have a nearby TJ's, I hate that for you! If you have one even within an hour, it's worth the trek. I try to get to ours at least once a month but since it's a two hour round trip to our closest store, I don't have the advantage of making weekly visits and constantly trying new grocery items. Over the years though, I have sampled my way through the store and am pretty confident in the must-have Trader Joe's products for our home.
*Posts on KelleyNan.com may contain affiliate links. Click HERE for full disclosure*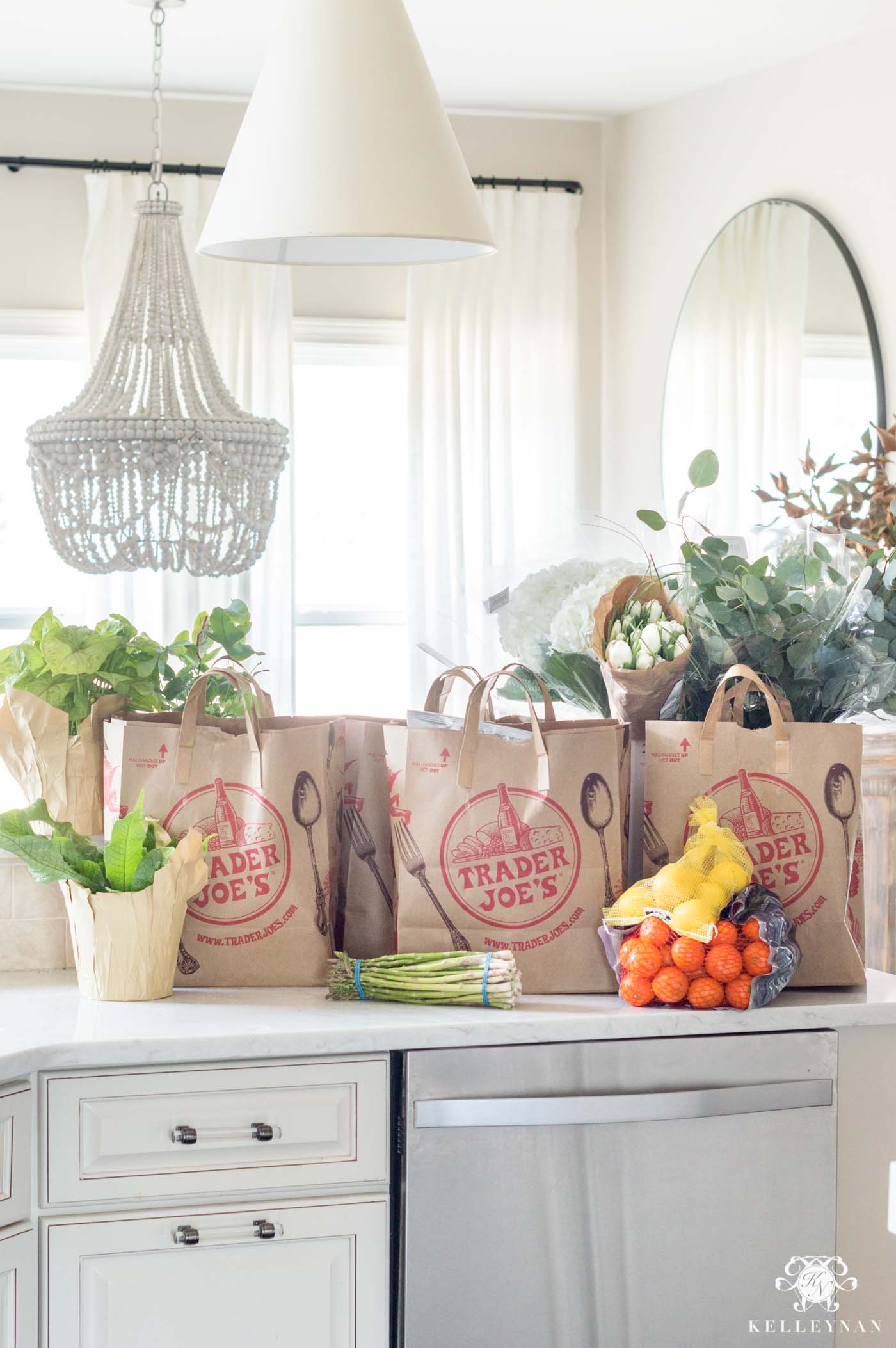 If you've never been, it can be overwhelming — you don't know what's good, what to try, what you need, what you'll waste… The good news is that I've never purchased something that was a total miss. Some items I purchase because they're less expensive, others because they're different… And, I'm not only sharing my favorites! At the bottom of my list, I've included the products that were suggested the most by all of you! It would take a long time, a lot of meals, and more dedication than I have to sample everything Trader Joe's carries but my tried and true shopping items are listed below. So what's good at Trader Joe's? Read on.
Favorite Trader Joe's Products & Shopping List
Freezer
Margherita Pizza
Farfalle with Cheese & Spinach- I have this for lunch occasionally; it would also make a great dinner side
Asparagus Risotto- love this as an easy dinner side!
Vegetable Fried Rice- I have an entire recipe on how I serve this HERE
Tempura Sweet & Sour Chicken- most people know about the orange chicken, but I prefer the sweet and sour! The biggest difference is that the orange chicken has both dark and white meat while the sweet and sour only has white meat
Hatch Chile Mac & Cheese
Riced Cauliflower- we stock up on this and serve in lieu of rice/pasta for more saucy meals/stir frys 
Supersweet Cut White Corn- inexpensive, quick, great flavor
Melange a Trois (cut tri-color bell peppers)- great short cut without paying a premium
Spinach Lasagna- love this for lunch
Dry Goods
Taco Shells
Pitted Kalamata Olives
Vanilla Almond Clusters Cereal
Hearts of Palm- love having these on hand for salads (they're in a pouch)
Canned Garbanzo Beans
Canned Black Beans
Canned Organic Joe's O's Pasta- like spaghettios, and yes, I am all about 'em 😉
Spices/Sauces
Everything But the Bagel- the best seasoning I put on everything from meat to veggies; may be TJ's most popular product
Taco Seasoning- we love this blend! Beware- it's on the spicier side
Ginger Paste
Seasoning Salt
Salsa Autentica- this is a finer salsa, like at a Mexican restaurant
Salsa Verde- awesome on chicken enchiladas 
General Tso Stir Fry Sauce
Carolina Gold BBQ Sauce
Italian Tomato Paste (squeeze tube)
Produce
Trader Joe's produce overall is reason enough to make a trip. We have always been lucky with some of the freshest, juiciest fruit and veggies and their prices can't be beat. Plus, they have specialty items that are more difficult to find anywhere else. They package groupings together in a smart way too so be on the lookout and be thorough. If you are prepping for a party especially, spend some time combing through. Here are just a few items on regular rotation-
Bananas
Lemons
Limes
Bags of Mandarins
Prepared Salads
Asian Stir Fry
Multipacks of Grapes (red, purple, and green)
Artichokes
Rainbow Carrots
Mini Heirloom Tomatoes
Snacks
"Walks Into a Bar" Breakfast Bars- like Nutrigrain but I think better
Organic Chia Bars
Gummy Scandinavian Swimmers- like Swedish fish in a few flavors
Nuts & Seeds (all- smoked mesquite almonds are favs)- awesome prices on all nuts and mixes
Dark Chocolate Peanut Butter Cups- way better than the milk chocolate
Salted Tortilla Chips
Cracker Assortment- the only box of crackers you need for a cheese platter
Sesame Sticks
Lemon Squares- in the bakery area
ALL Cheese Varieties
Oatmeal Cranberry Dunkers
Other
Flowers (especially silver dollar & seeded eucalyptus & tulip bundles)
Small House Plants
Charlee Bear Dog Treats
Seasonal
Pumpkins
Pumpkin Bread Mix
Boxwood Wreaths
Reader Favorites
I had a ton of feedback when I asked for reader must-haves but these are the most replicated answers, in addition to some of my own personal favorites above. So, what's everyone else purchasing?
Cookie Butter
Chili Lime Seasoning
Reduced Guilt Guacamole
Chocolate Croissants
Gnocchi (cauliflower & sweet potato)
Wine
Orange Chicken
Microwave Jasmine Rice
Spatchcocked Chicken
Plantain Chips
Chicken Fried Rice
Hummus
Cauliflower Pizza Crust
Roasted Cauliflower & Cheese Ravioli
Have your own favorites/must-haves not mentioned? Let us know in the comment section at the bottom of the post!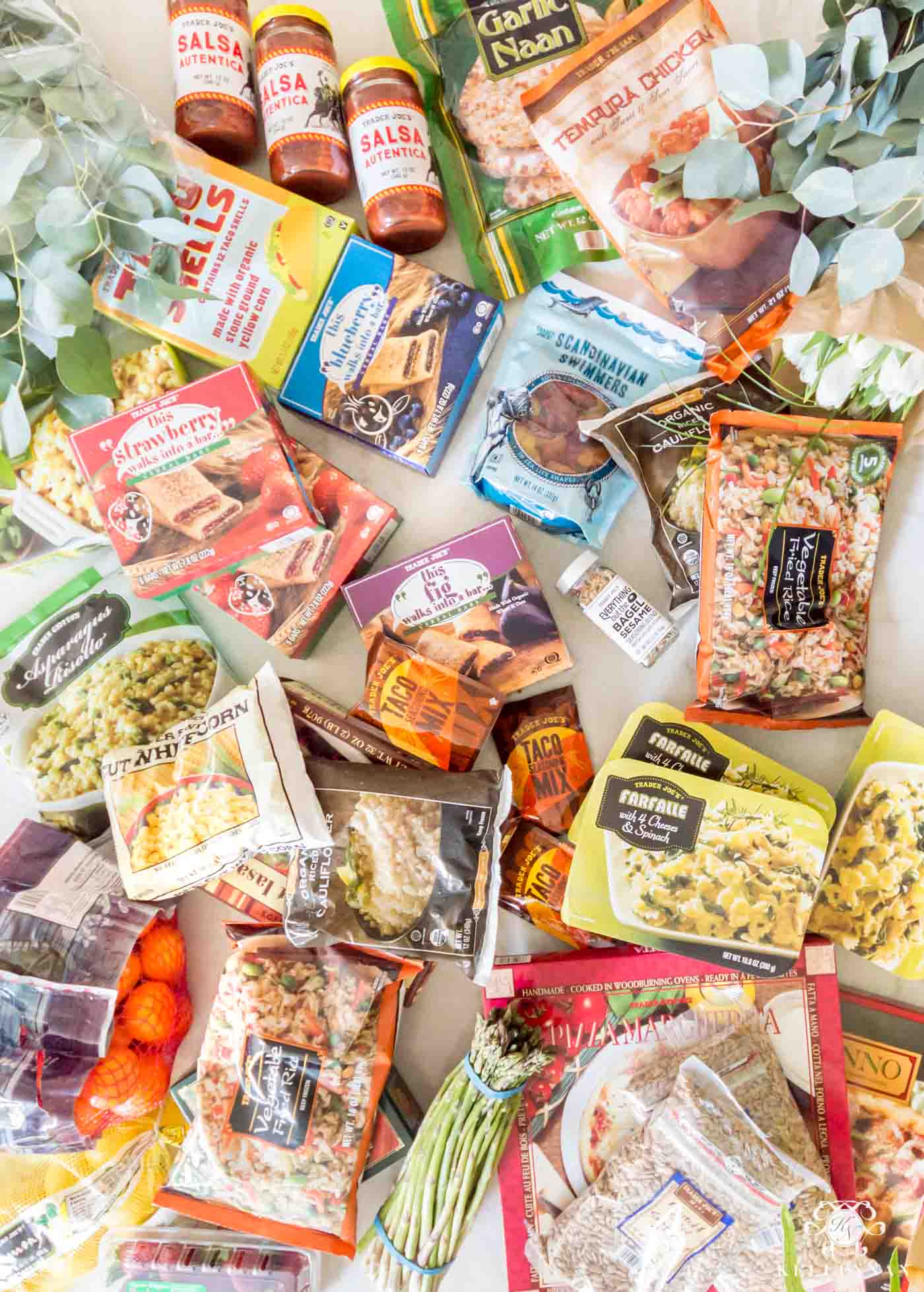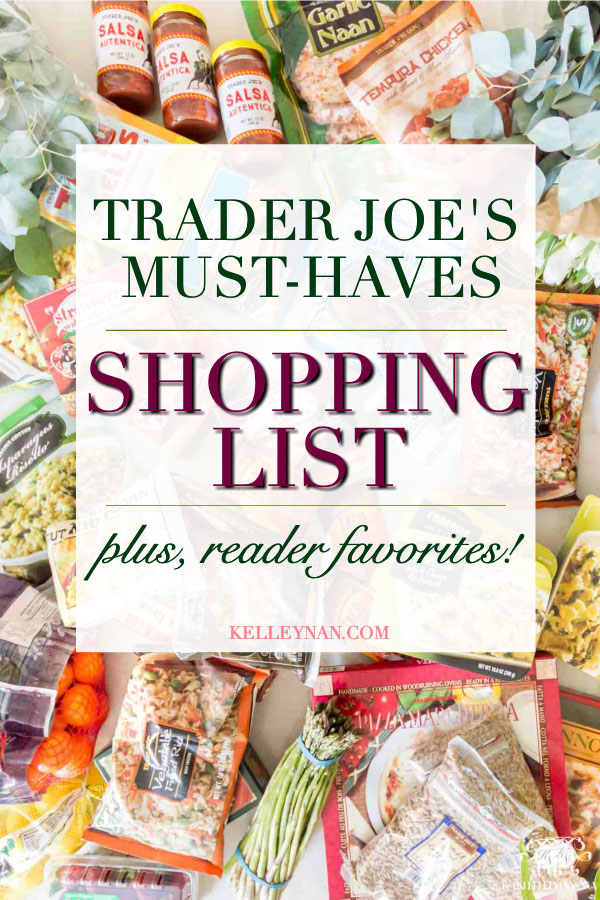 Serena & Lily Sale Favorites
I've been waiting for this sale for weeks to get a few goodies for myself. This gorgeous retailer is more of a splurge for my budget but their furnishings and home decor are gorgeous so when they have a rare sale pop up, I'm all in! Right now, they have 20% off across their entire site HERE with code INSPO.
My cane-sided crib (HERE) was purchased there at the very beginning of this year and just this morning, I grabbed THIS macrame crib skirt and THIS oxford sheet on sale.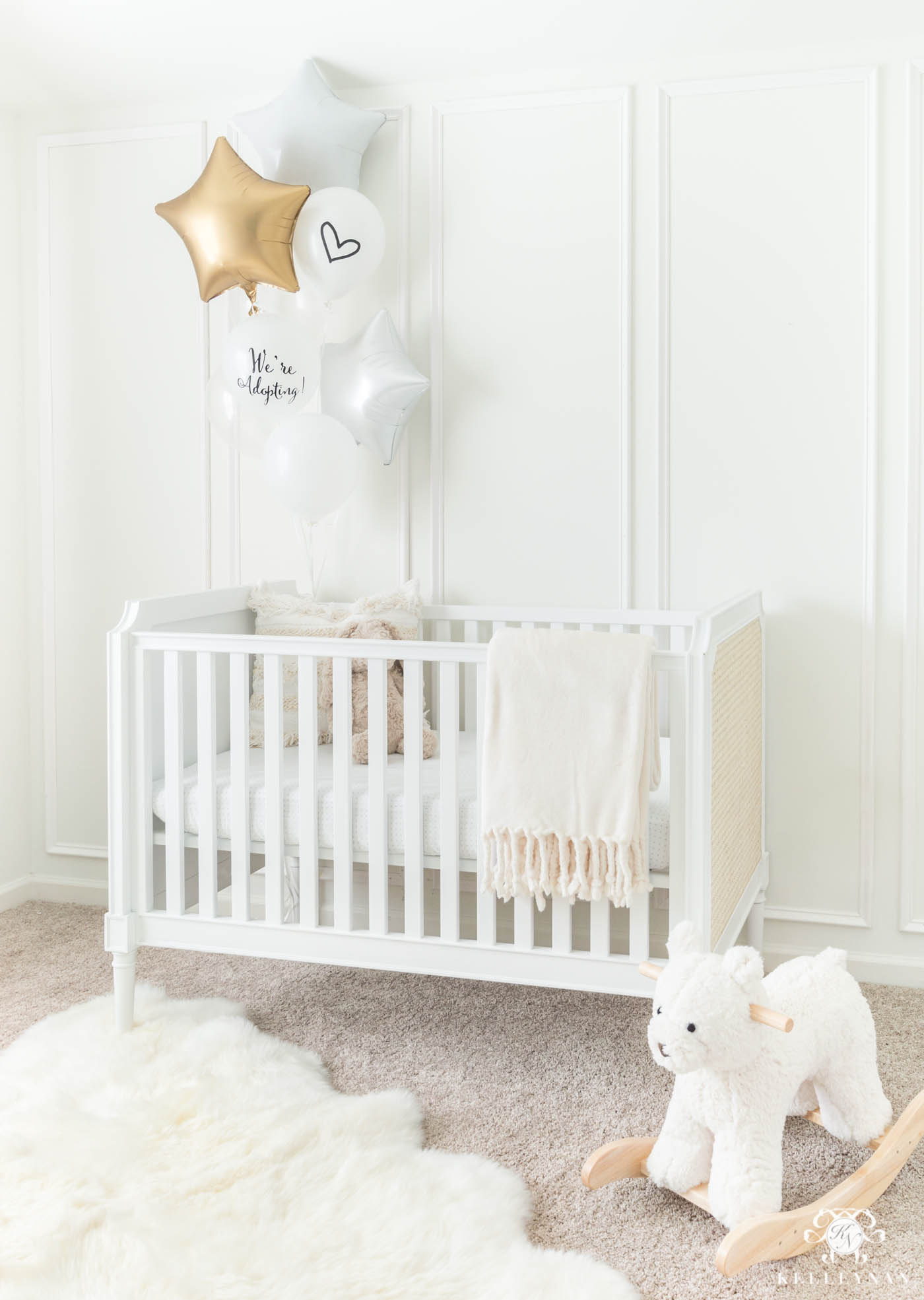 You can see the full gender neutral nursery design plan HERE (reveal coming early next month!) and see other sale favorites that are up for grabs at a rare discounted rate below!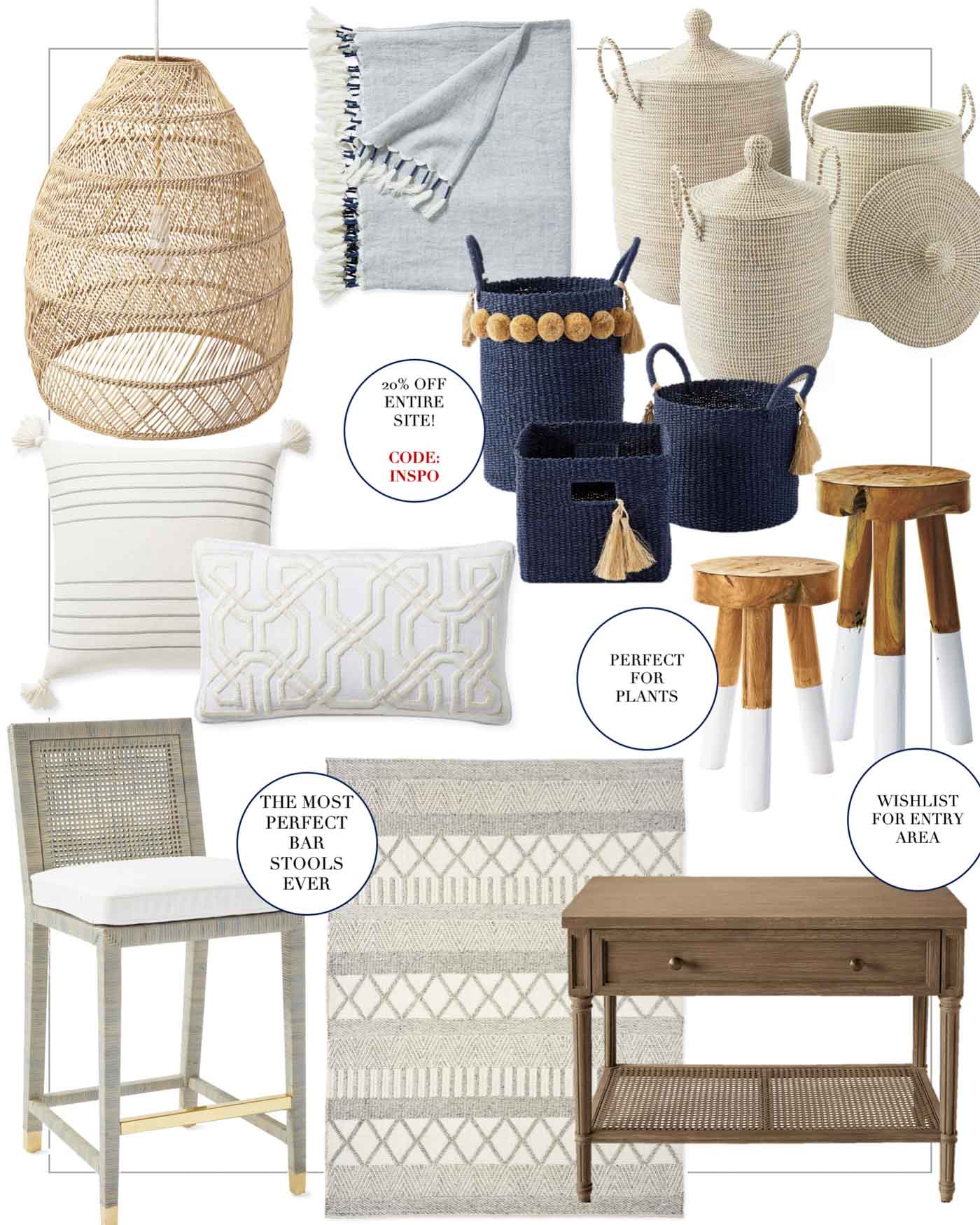 ---
SCROLL & TAP TO SHOP

---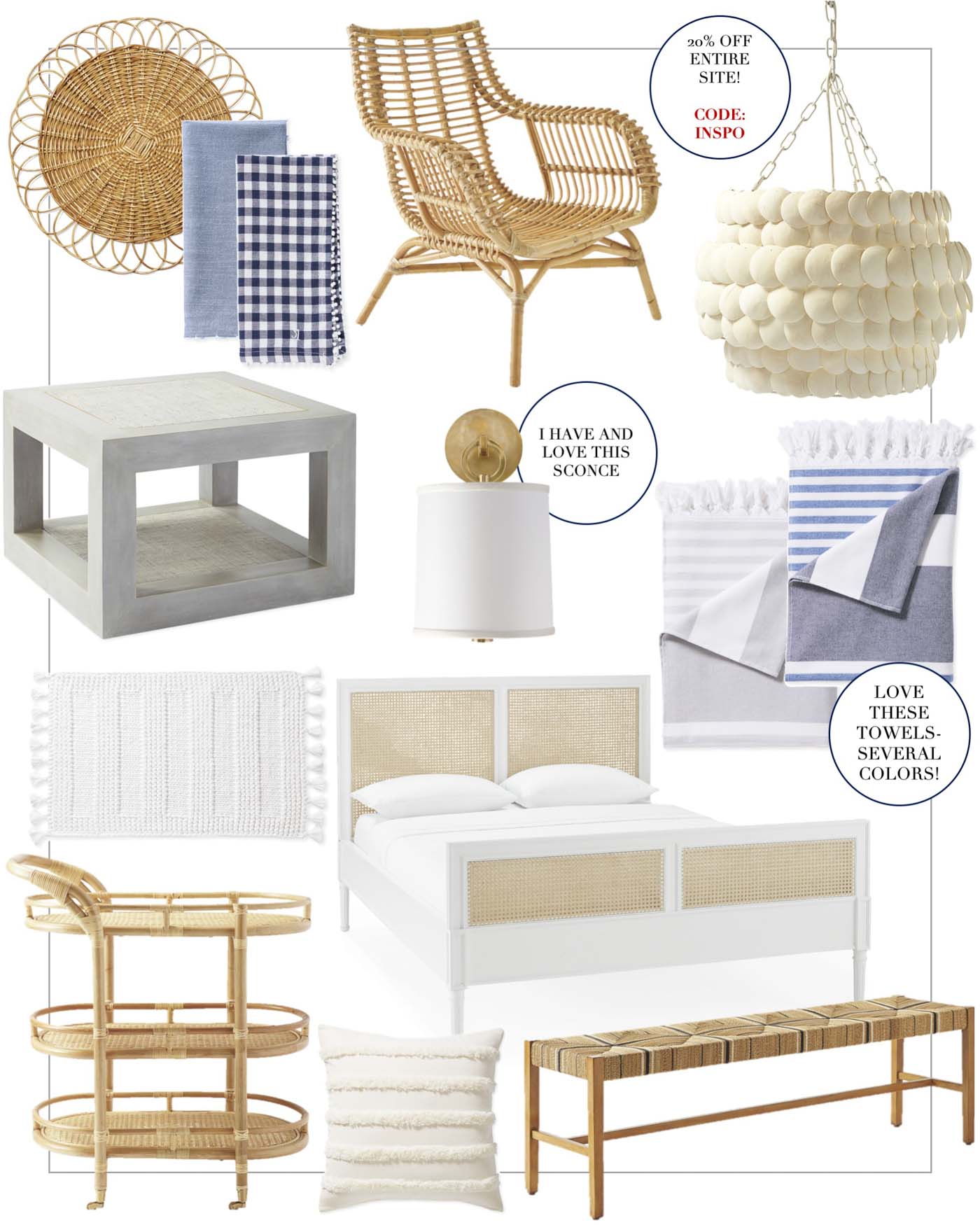 ---
SCROLL & TAP TO SHOP

---
The sale ends in a few days and won't be back for a while 😉