If you are a frequenter of Trader Joe's, I don't have to explain the undoubtable love affair that I (and most likely you) have with the store. Most everything I have found is so good, they have a ton of healthy choices, and the prices can't be beat. I even take my mom when she comes into town, so she can load up her coolers to take some of our favorite fare back home with her to lower Alabama. Ok, if we are taking time out of our visit to grocery shop, you know we've got it bad 😉 Actually, along with Costco, I think I am long overdue to share our fav finds and must-haves from TJ's. It's a two-hour round trip for me to make the trek to our closest store so when I go, I stock up. Probably the single item I load up on the most is their Vegetable Fried Rice. And, I probably have it at least once every other week – as a side or a meal in itself. If you've had the veggie fried rice on its own, it's fine. If you serve it with marinated chicken on top, it's even good. But I like to stretch it and make it into more of a custom side, with all the fixin's', and that makes it fantastic. With maybe five more minutes, you can try this recipe hack to dress up that basic fried rice. And if rice isn't your thing, you can take my Asian Ginger Sauce and use it as a marinade, all on its own 😉
*Posts on KelleyNan.com may contain affiliate links. Click HERE for full disclosure.*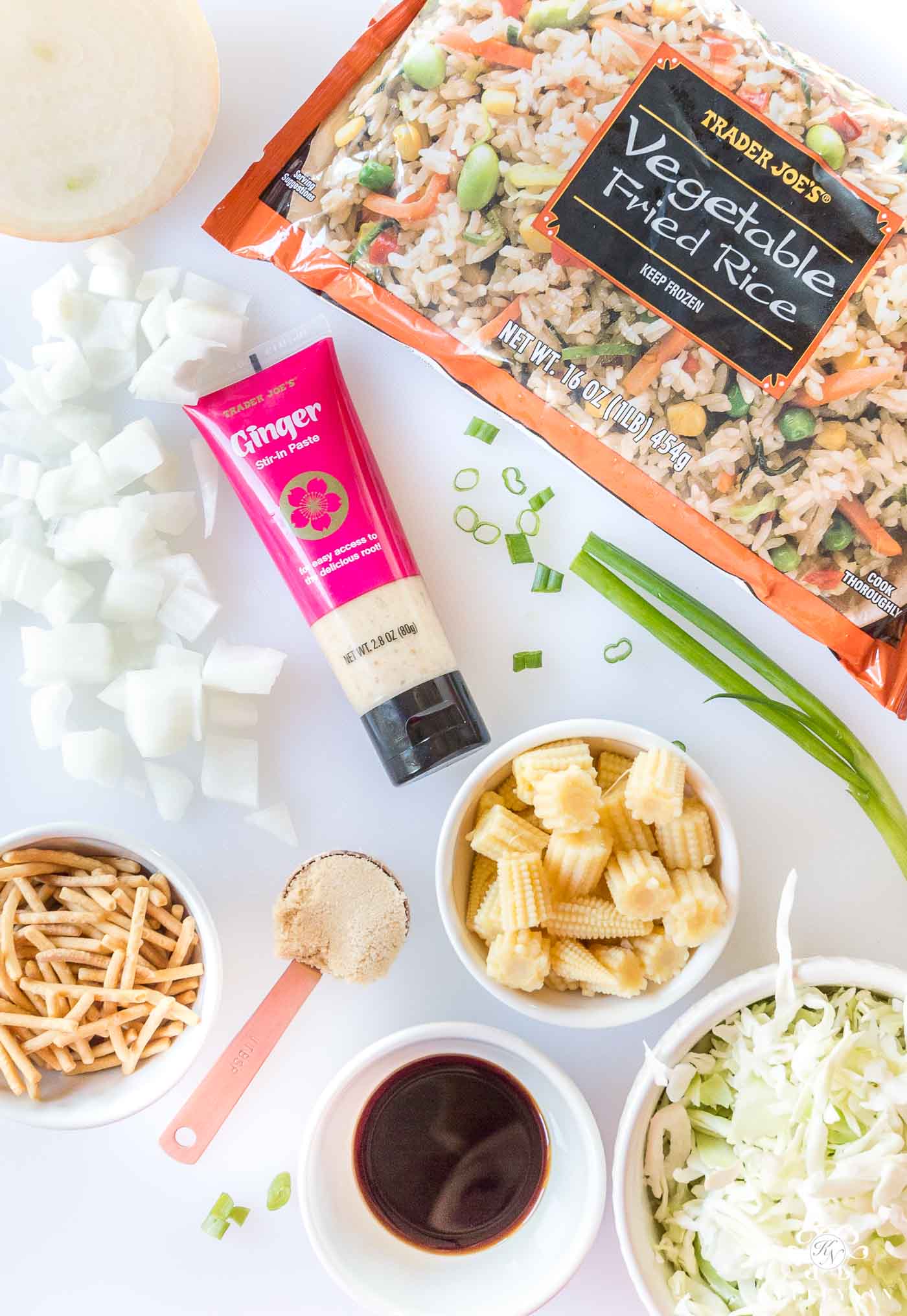 How to Dress Up Trader Joe's Fried Rice & Asian Ginger Sauce- Simple Recipe Hack
Trader Joe's carries other frozen fried rice varieties (I've heard great things about the chicken), but, they all contain egg, which I don't eat. So, in our house, we stick to the veggie and while we haven't, it's totally conducive to adding your own protein, if you choose. One of my favorite things about the TJ's fried rice is the edamame. It doesn't have a ton, and you can add more, but it's such a fun part of the mix.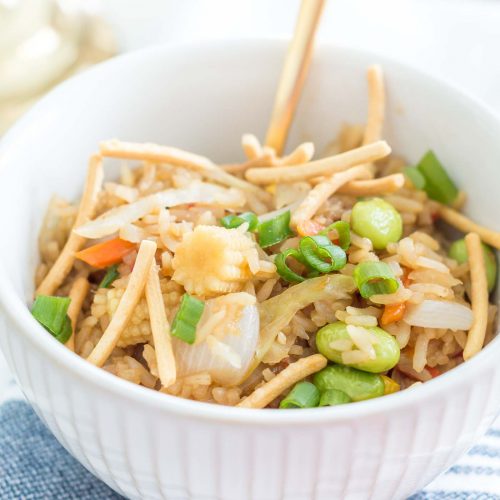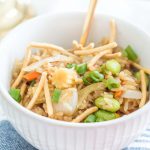 Trader Joe's Vegetable Fried Rice (with Asian Ginger Sauce)
Ingredients
1

bag

Trader Joe's Vegetable Fried Rice

1

Tbsp

Vegetable Oil

1/2

Yellow Onion

roughly chopped

5-10

oz

Shredded Cabbage

1

cup

Chopped Baby Corn

1/2

tsp

Ginger Paste

2

Tbsp

Soy Sauce

2

Tbsp

Light Brown Sugar

Onion Powder

(to taste)

Garlic Powder (or Fresh)

(to taste)

Diced Green Onion

Chow Mein Noodles
Instructions
Heat vegetable oil on stove, according to package instructions.

Add roughly chopped onion and shredded cabbage; stir and saute over medium heat.

When onions and cabbage become limp, add bag of vegetable fried rice, along with cut baby corn. Stir occasionally.

In a small bowl, mix soy sauce, brown sugar, ginger paste, onion powder (to taste), and garlic/garlic powder. Stir sauce well.

About a minute before the rice has finished cooking, add sauce mixture to pan and stir well, coating rice and vegetables. Allow to simmer for approx. 1 minute.

Serve as is or add diced green onion and chow mein/rice noodles.
Recipe Notes
*You can add other vegetables also. If adding bell pepper, add at the same time you saute the onion and cabbage.
**You can taste the Asian ginger sauce prior to adding to the rice and alter the measurements to your preference.
***You can add chicken, serve alongside chicken, or prepare the fried rice as a meal on its own.
---
As I noted in the recipe, this truly is customizable so don't be shy with the extra goodies you add in. One of the beautiful things about this particular bag is that it comes in under $2.30 a bag. But, if you don't live near a TJ's, you can apply the same steps, veggies, and sauce to whatever variety your local grocer carries.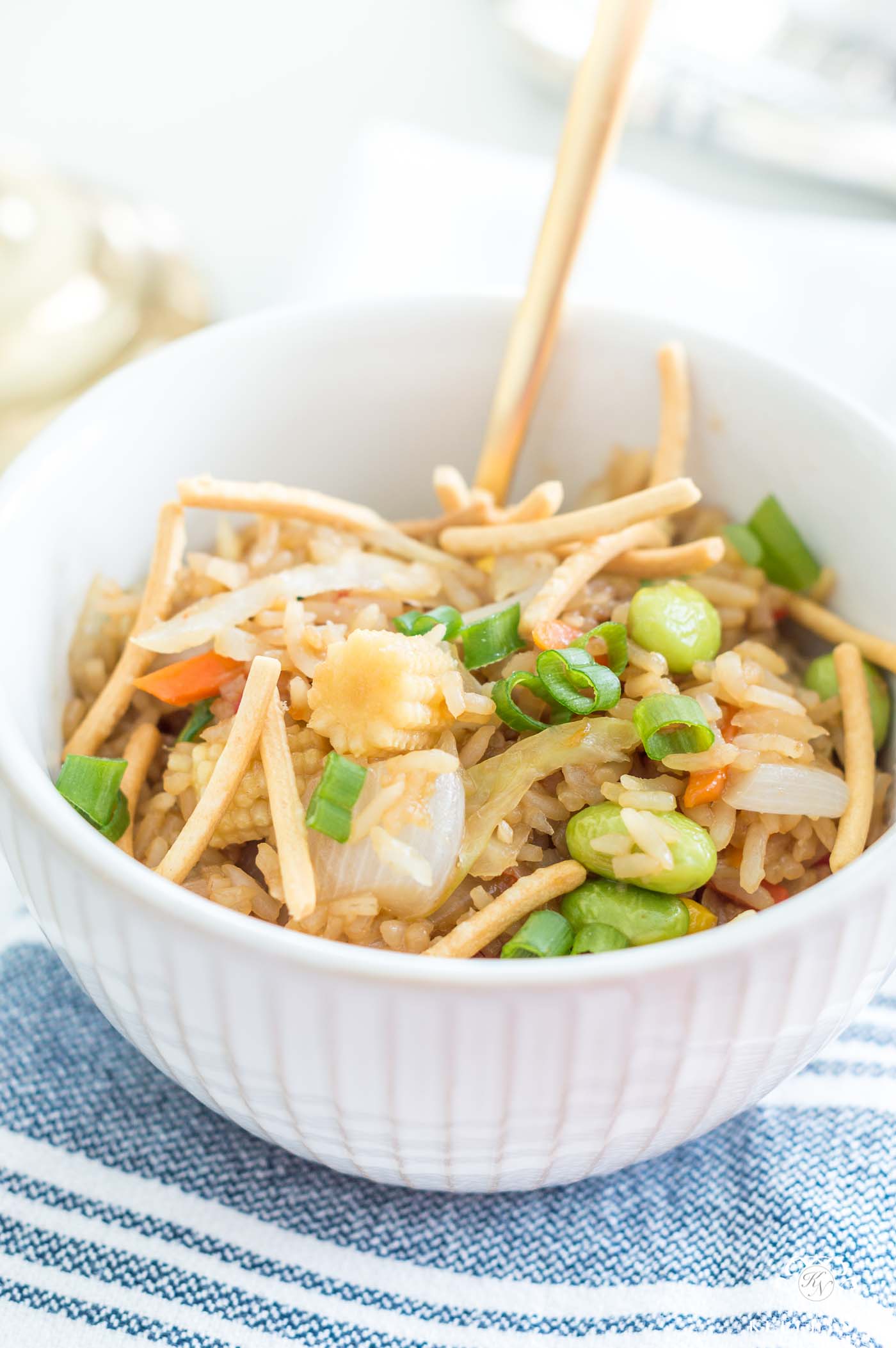 Now that I've dipped my toe in, I'll definitely have to come back to share other favorites from TJ's soon. To make sure to catch it when I do, be sure to sign up for my emails at the bottom of the post.
Other Simple Recipe Ideas to Try
---
Scroll & Tap to Shop Kitchen Favs & Featured Items



---