Last month, we made some huge strides in switching out light fixtures throughout our house. I still have several other areas I want to tackle but #time #budget #eventually 😉 Out of six that I ordered (actually, eight but I'll get to that in a few) my sweet electrician (ahem… Dave) hung all but one (because it won't arrive until June).  You may have already noticed some of the updates but I wanted to wait til this post to share all the details, plus a few hiccups along the way. Our kitchen lighting was at the top of the list but once I started, I wanted to keep going; the end goal was affordable transitional lighting. Since the light fixtures I selected were on the "less expensive" end of the spectrum, I was able to knock out a few rooms. While I've made some big improvements with recent lighting updates, I still have several spaces to tackle; here's what we accomplished this past month.
*Posts on KelleyNan.com may contain affiliate links. Click HERE for full disclosure*
KITCHEN & BREAKFAST NOOK LIGHTING
This has been a priority lighting update area for a while, but because I wouldn't just be switching one light, but making multiple changes, I wanted to hold off until I felt I could do them at once. I also had a hard time making up my mind on style and finishes because our home has a pretty open concept. Of course, the new lighting had to coordinate with lighting in the same sight line that had already been updated, but I didn't want what we selected to clash with existing fixtures that would eventually be changed, either. Looking through the living room, we have the big fan, flush mounts over the catwalk, recessed lighting, and the foyer lantern pendant; these can all be viewed together, including the kitchen and breakfast nook. I was unsure if any hardware in my kitchen would change (or maybe even other elements?), possibly altering the pendant options above the bar so I wanted to go with something that wasn't metal-heavy in the breakfast nook. I wanted something lighter. I wanted something transitional that would update the space a little bit and marry some of the more rustic elements. I wanted to modernize it a little without switching furniture. Sounds like I had some pretty high expectations from one light fixture, huh? haha Well, I had had my eyes on a wood bead chandelier for the past few years and I decided that regardless of the finish I decided for the bar pendants, it would work. So, I went for it. Instead of just showing the difference between lights in recent weeks, I thought I would first show you where I started. If you've been around since the beginning, you may remember this.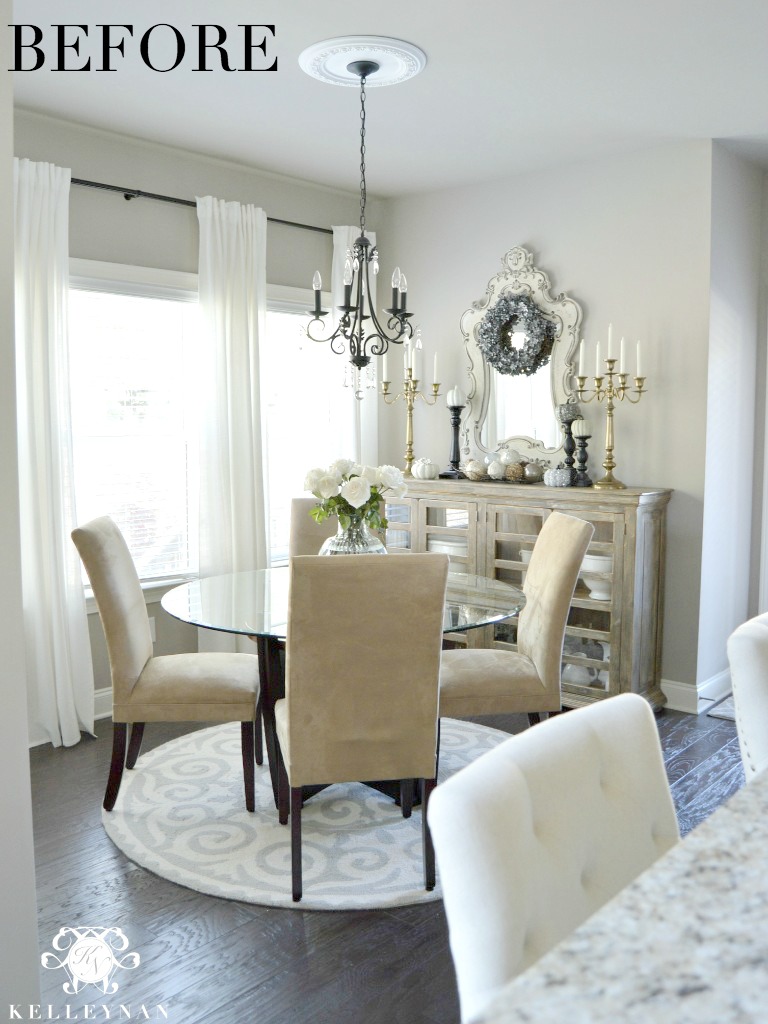 I ditched the too-small rug, went a little less French country on the mirror, changed up the chairs, and gave the table a paint job, and landed on this look.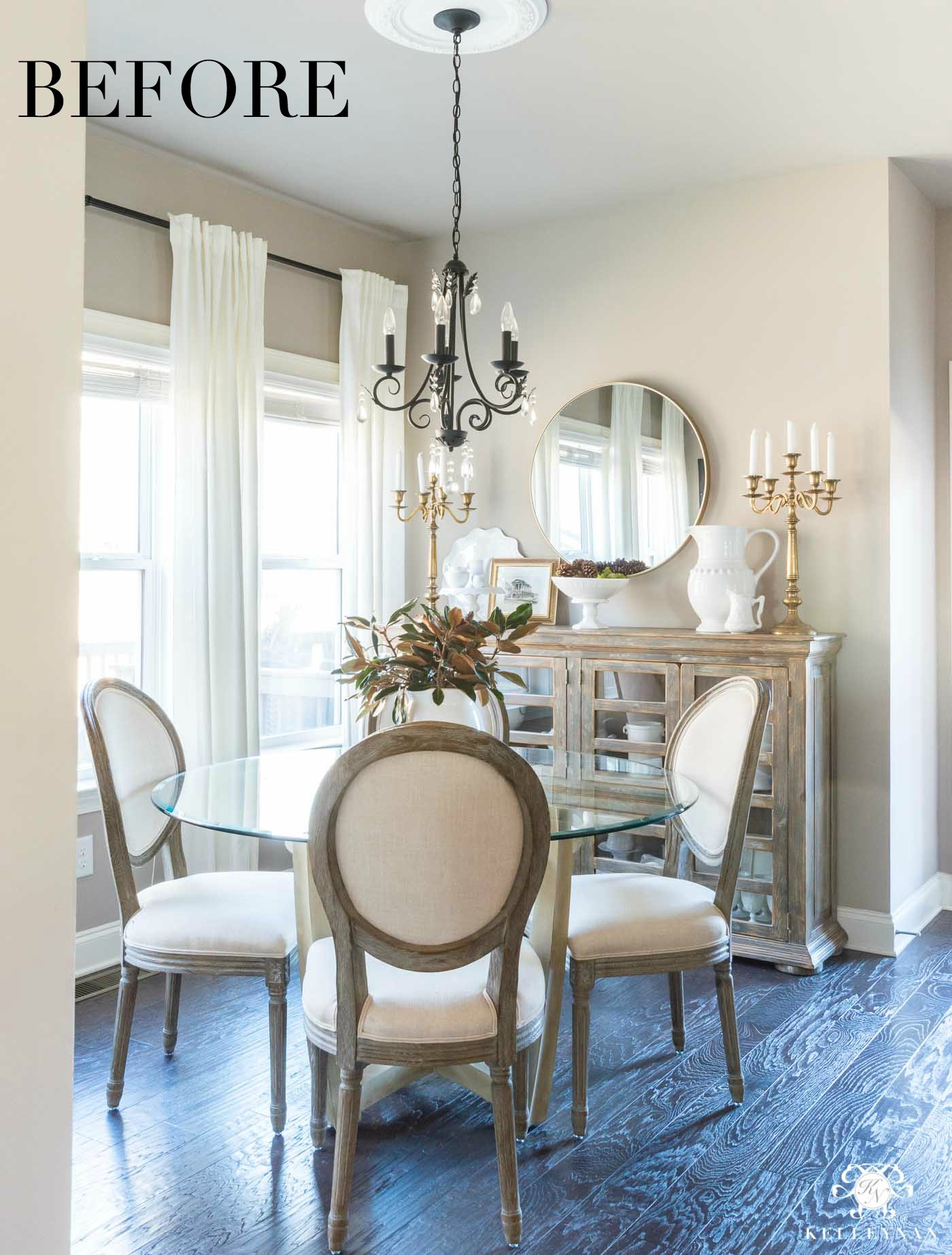 After almost convincing myself that I probably needed to scrap the entire space to be happy with it, I changed the overhead fixture and fell back in love with my breakfast nook. Here's the difference it made.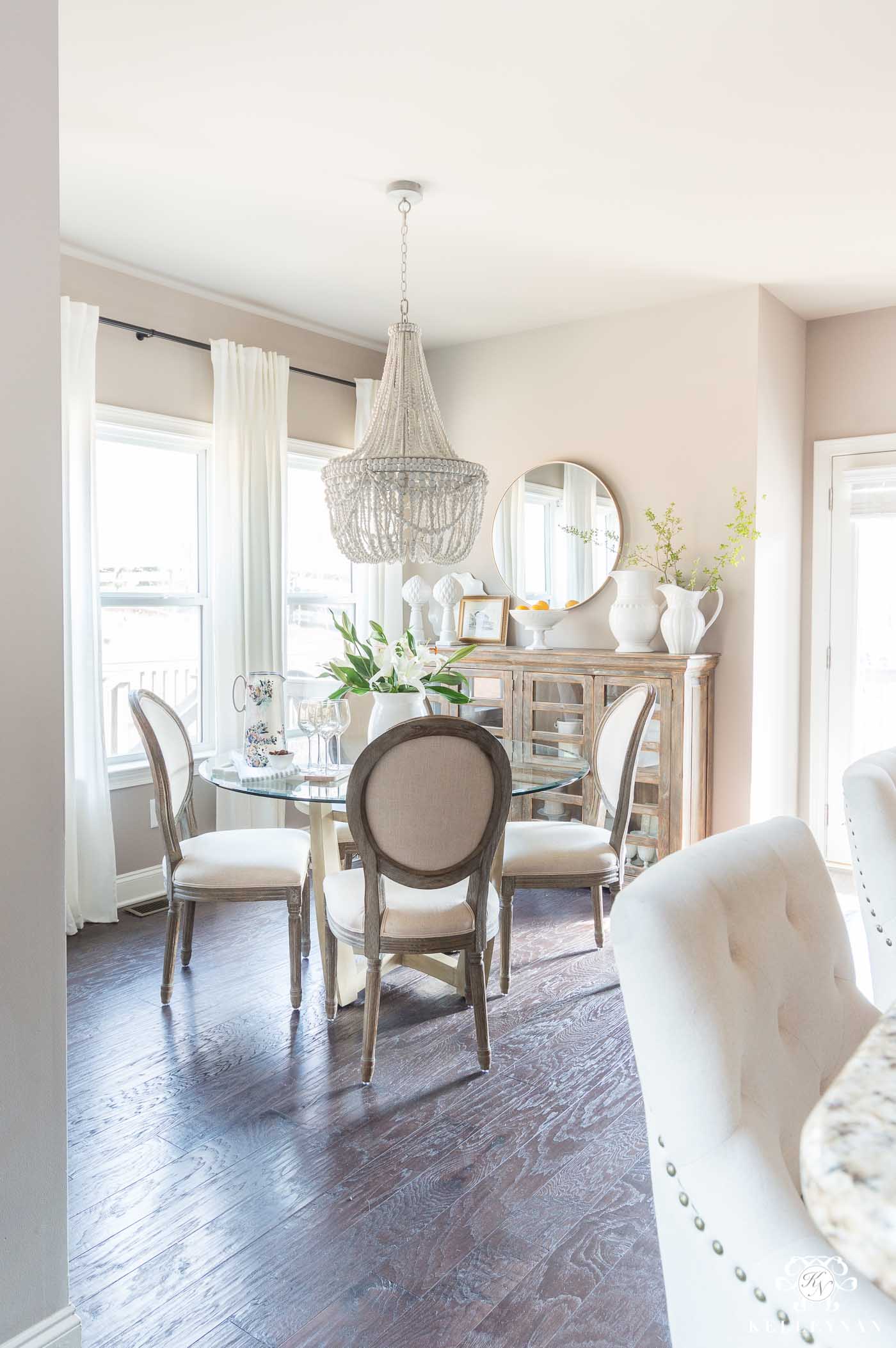 I am thrilled. Over the moon. And this is why I went on a month-long light-changing bender haha. I was reminded how dramatic of a change one lighting update can make.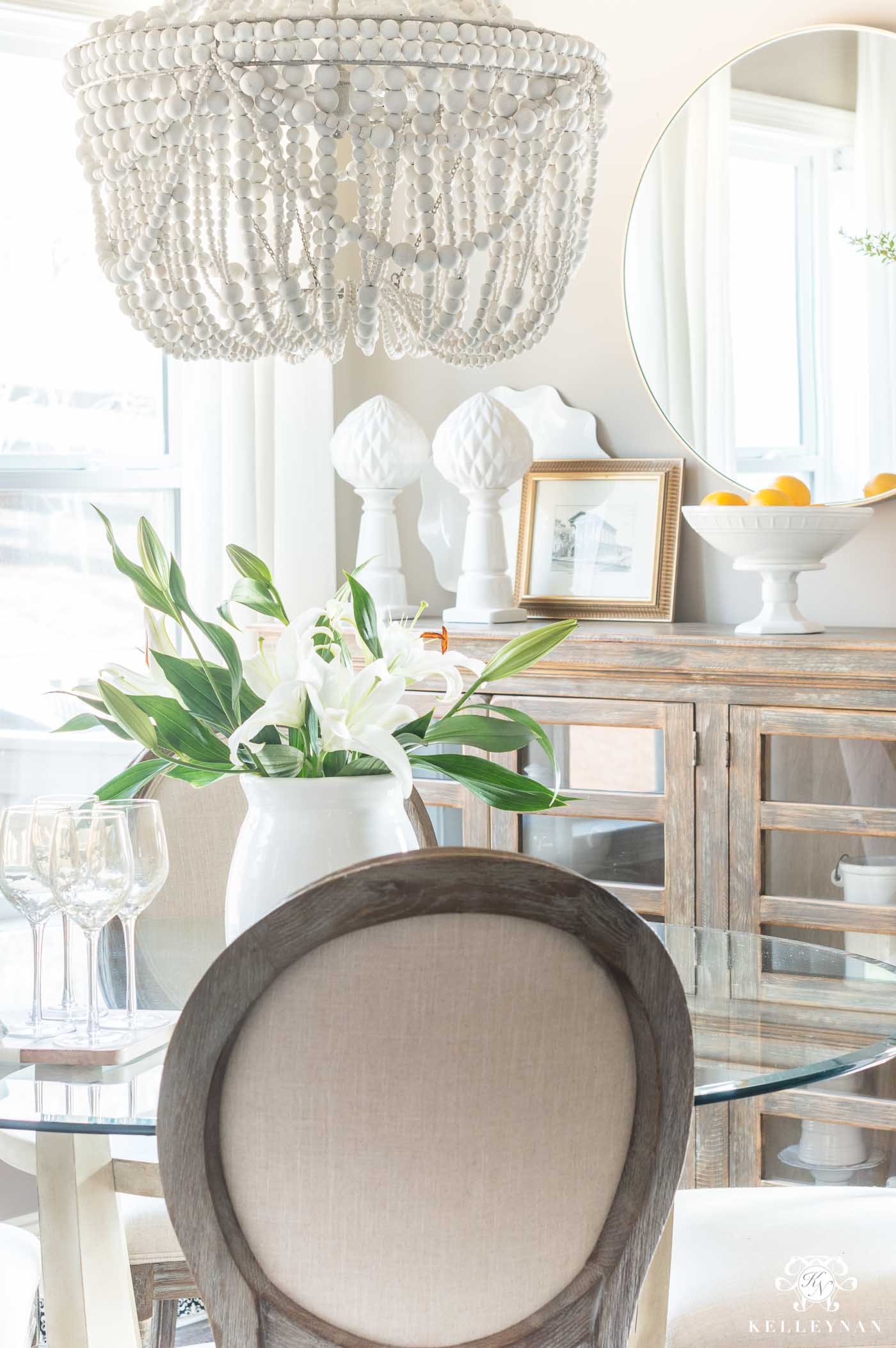 | Francesca Beaded Chandelier |
Ok, so once we had the light fixture picked out for above the breakfast room table, I switched focus to above the bar. If I didn't have the Darlana lantern (HERE) in the foyer in direct sight, I would have gone with two small Darlana-esque pendants and been done with it. But, I didn't want to duplicate so I searched and searched and searched some more. I had plans to go with a pewter-y color and then came across the Goodman pendants; the antique nickel color was exactly what I had been wanting. The price tag was not.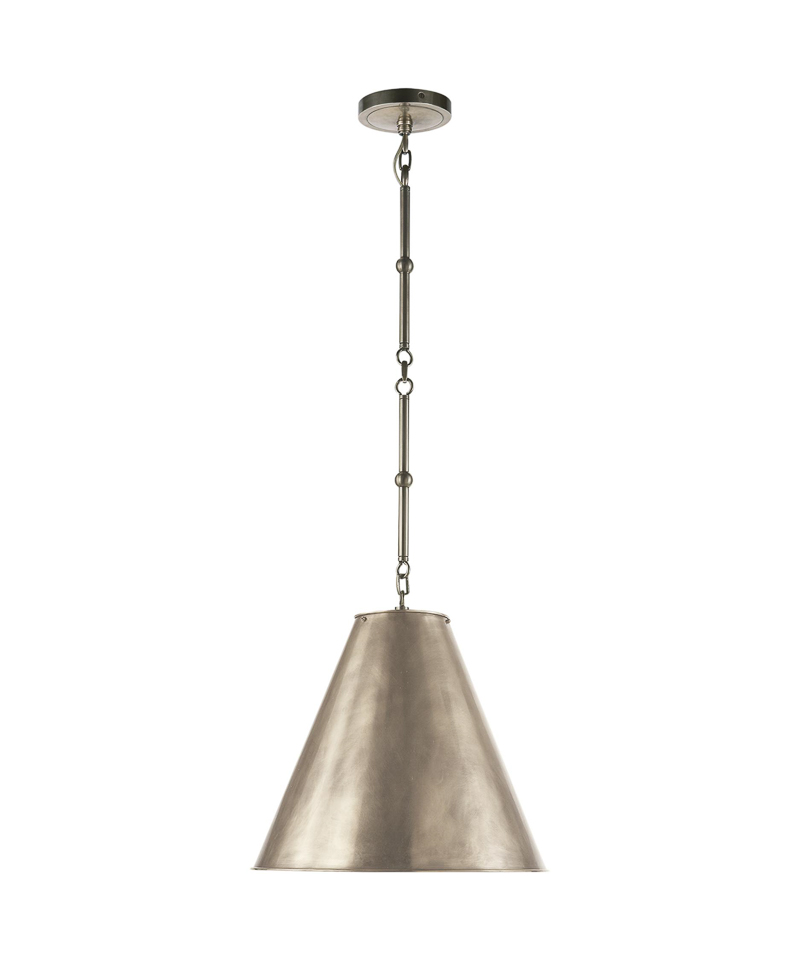 | Goodman Pendant |
Not knowing if the direction of our kitchen would ultimately change, I couldn't justify the cost. Then, I went an entirely different direction – and totally messed up. As a reminder, this is how we started…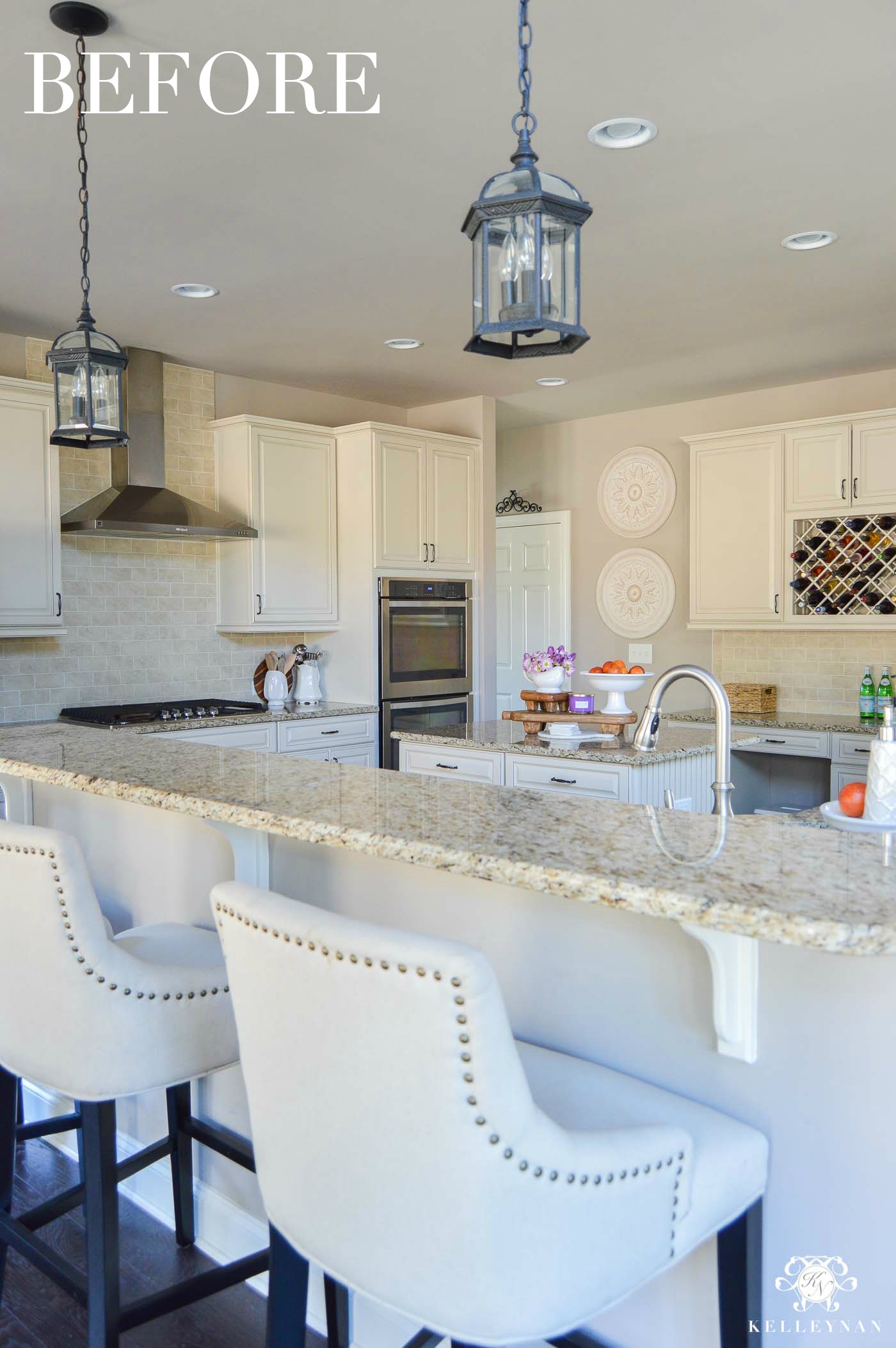 And then I got the idea of some simple glass globes. I almost went with clear but then thought white milk glass would make it look just a tad more modern. Umm… Ok, you guys… when done "right", in the right space, I love these lights. In our house, against the traditional creamy kitchen, they just looked like stark circus balls hanging from the ceiling.
| West Elm Structural Glass Globe Pendant |
That is one long night Dave will never get back. I immediately switched gears back into "research mode". Another light I have loved forever that I thought may be worth the splurge was the Morris lantern (HERE); but, it only came in brass and shiny nickel. And, let's be honest, it was still out of my current budget.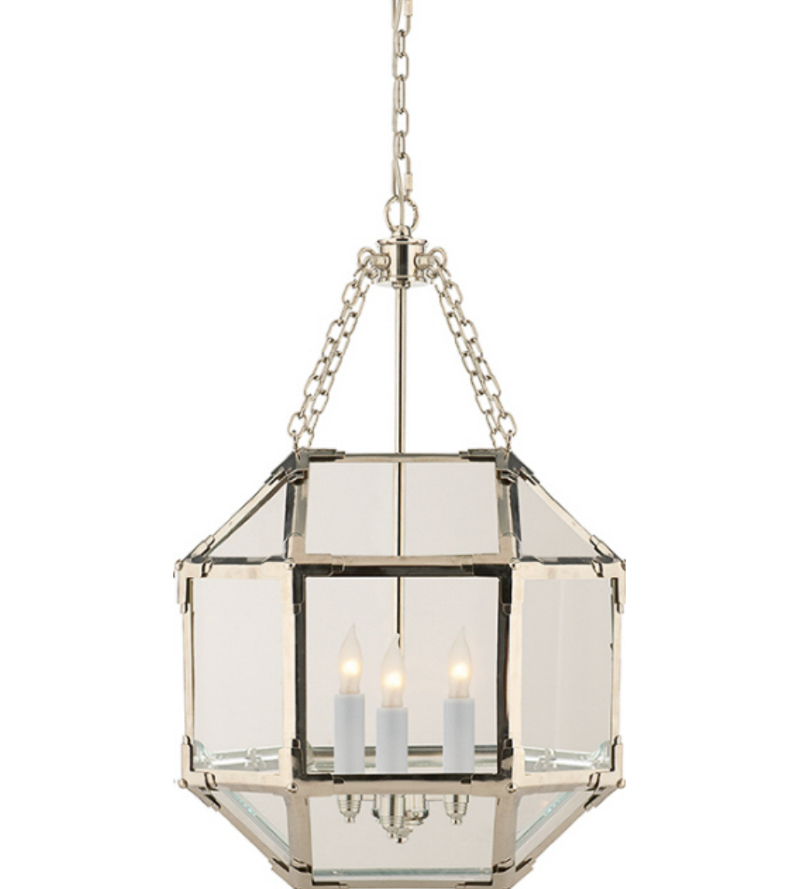 | Morris Lantern |
Then I stumbled across a light fixture that was the perfect size, came in a champagne finish (actually, "vintage silver", and was so close to the Morris lantern – I knew it was my solution. When I saw they were 75% less than the cost of the Morris, I couldn't place my order quick enough. I was a little nervous though- they weren't just a "good deal"; they were ridiculously inexpensive compared to similar fixtures. Before I share my thoughts, here's how they look.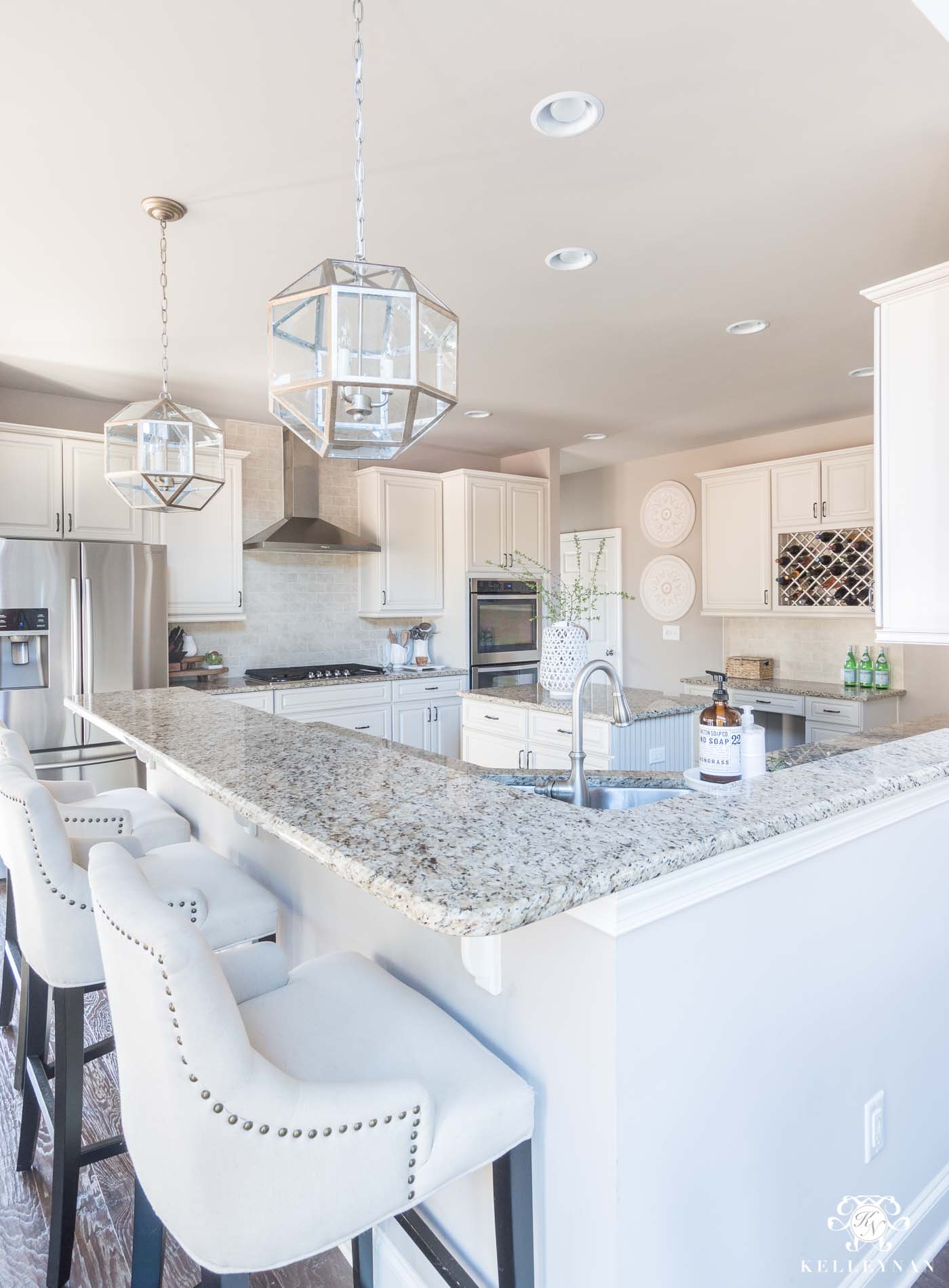 | 3-Light Vintage Silver Pendant |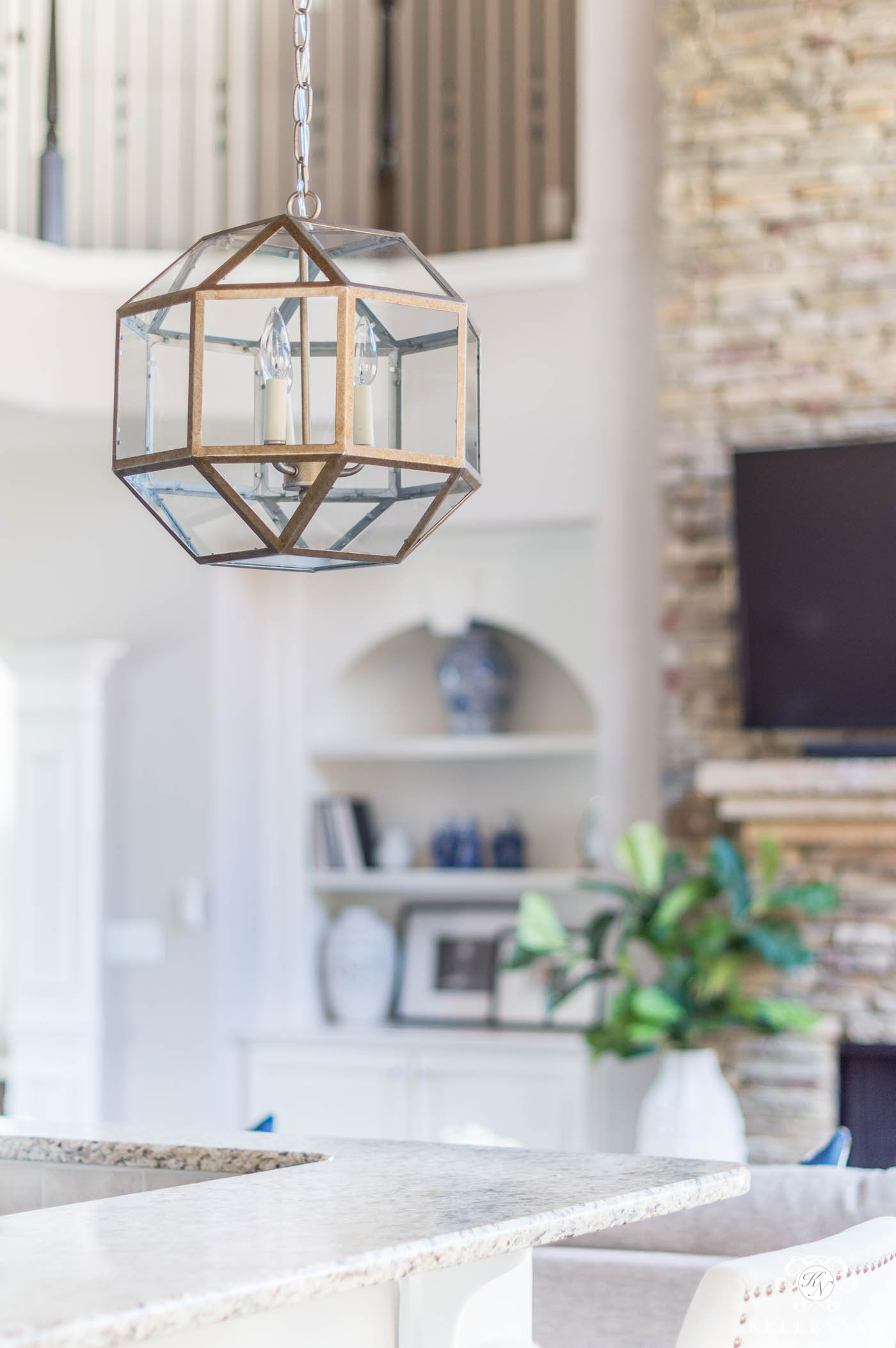 Overall, I really like them…
Pros:
Super affordable
Perfect color I couldn't find elsewhere
Easy to install
LOVE the look
Comes in two perfect sizing options
But there are a few caveats…
Cons/Surprises:
I didn't realize I would have to insert each glass pane; it was a bit time consuming – there are bendable tabs inside like a picture frame
The inside finish is not consistent with the outside finish
Would I order them again? For less than $150, in a heartbeat. If budget was a non-factor, would I have paid the premium for the others? Yes. Well, maybe – they still didn't have the exact color I needed but if I was going for a brass or shiny silver, for sure.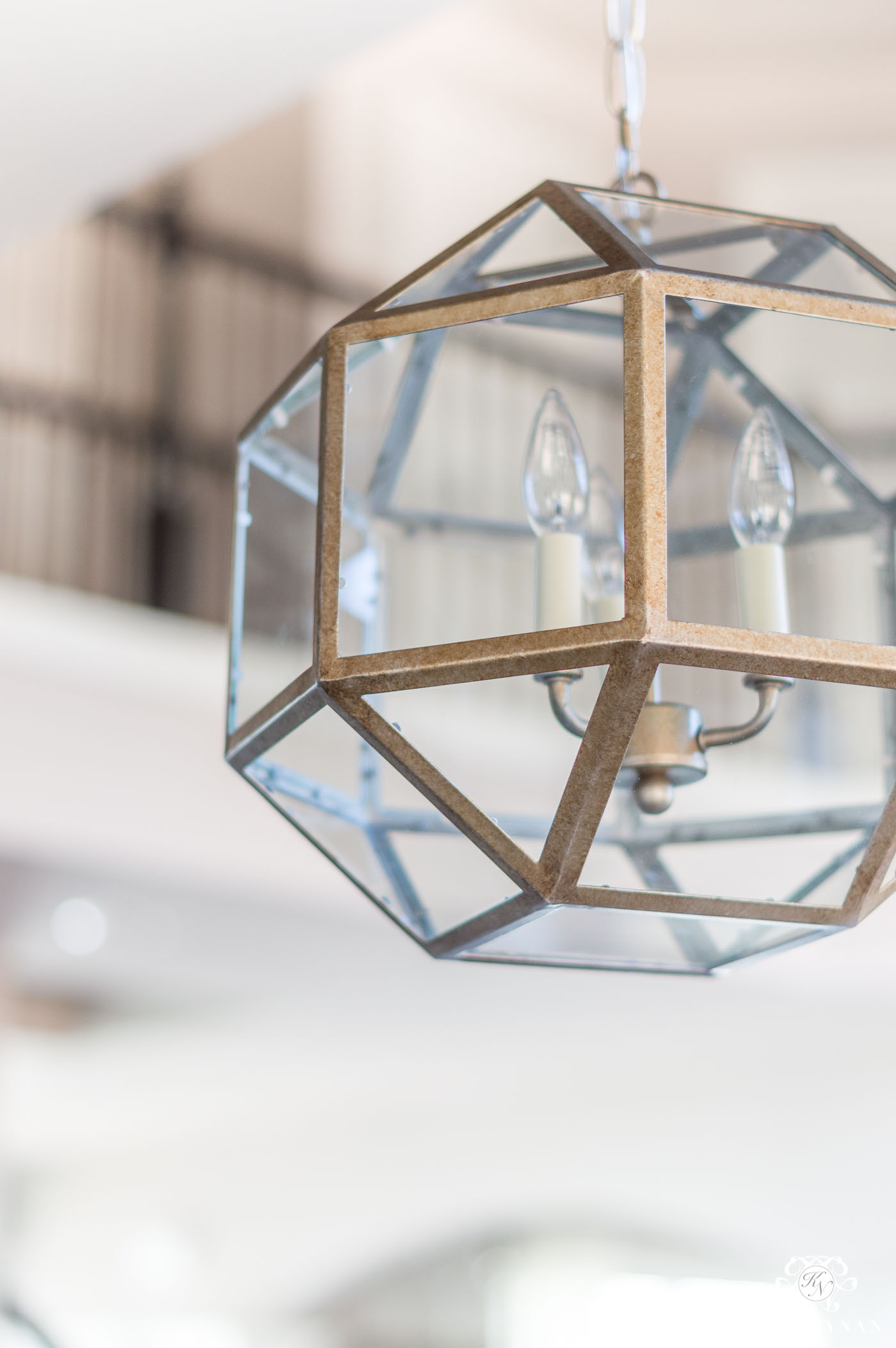 But, we were able to switch out three fairly substantial fixtures for under $1,000 and the look we achieved, well… I'm thrilled.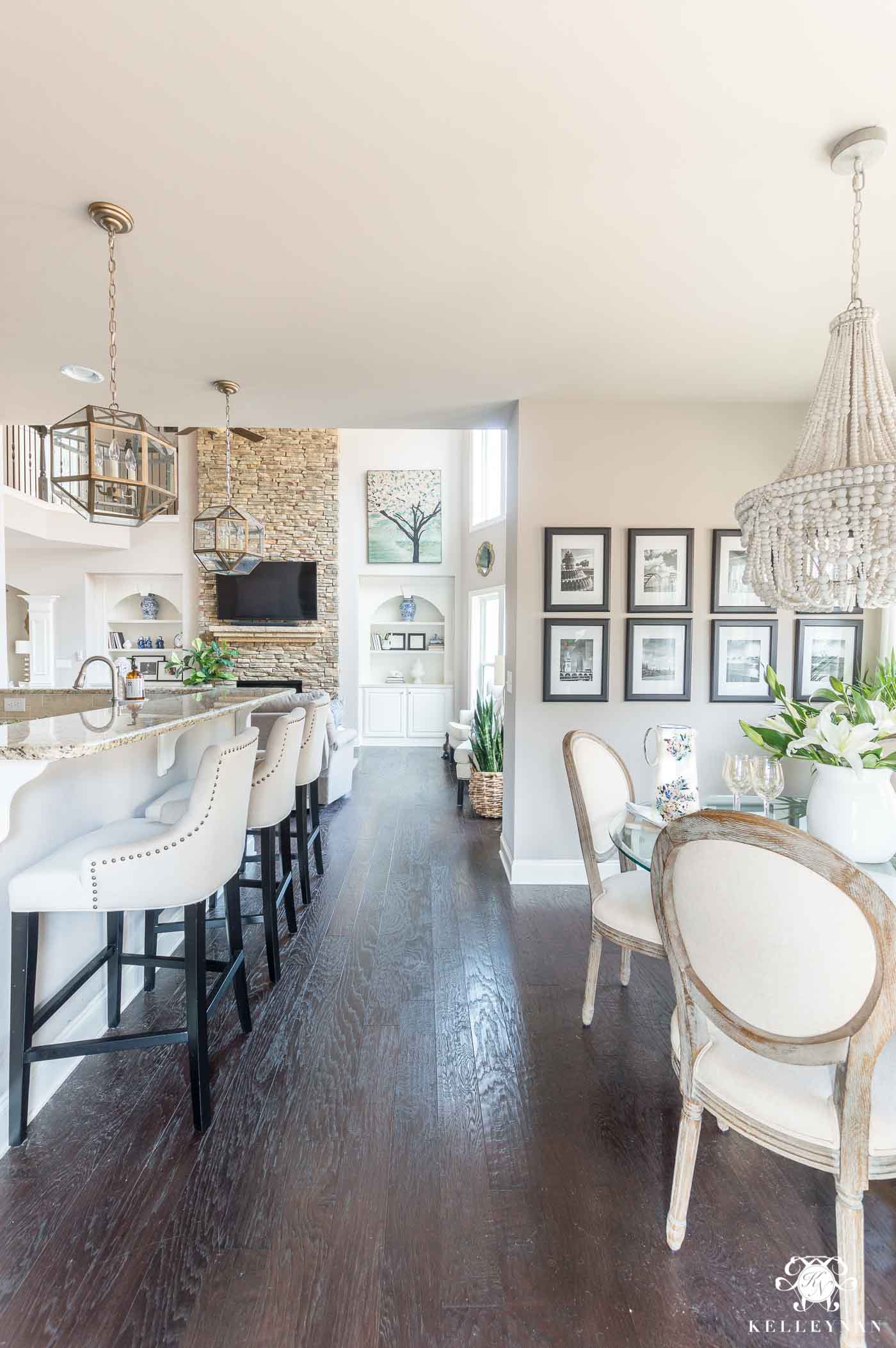 ---
SCROLL & TAP TO GET THE LOOK

---
Another light I wanted to go ahead and knock off my list is in the butler's pantry, between the dining room and kitchen. I didn't want it to compete with the crystal chandelier in the dining room but I also didn't want it to be too simple. It needed to be able to complement both spaces. I found this capiz flush mount (HERE) and decided it was the perfect fixture to bring the rooms together. Unfortunately, it won't ship out until June so it will be a little while before I can share an in-life update.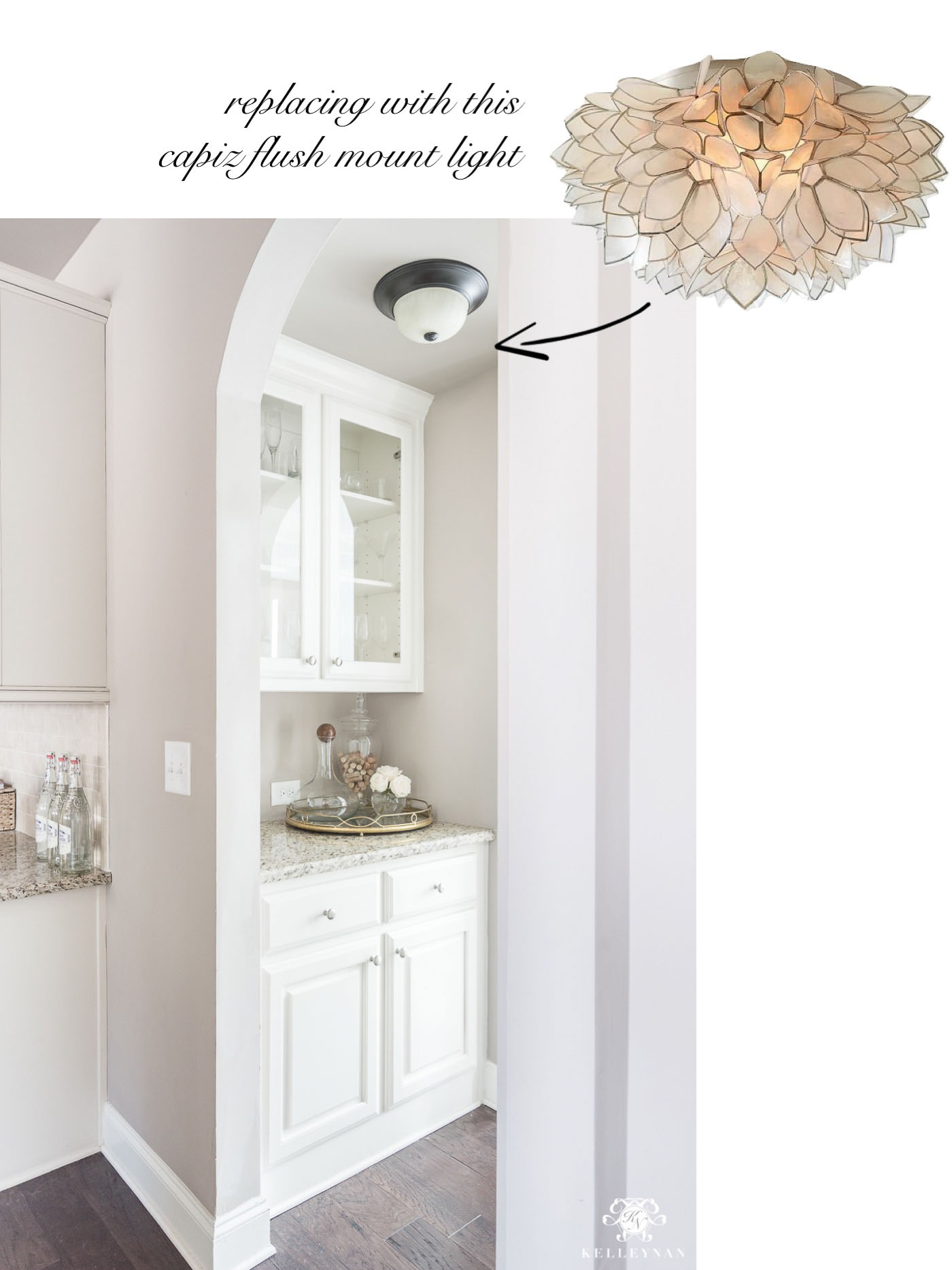 OFFICE CLOSET LIGHTING
I already shared a small lighting update from my office closet makeover (HERE); the bell flush mount (HERE) comes in multiple colors and is under $60. I ordered a clear bulb with it which was listed as one of the suggestions on the website and the difference in lighting production is crazy.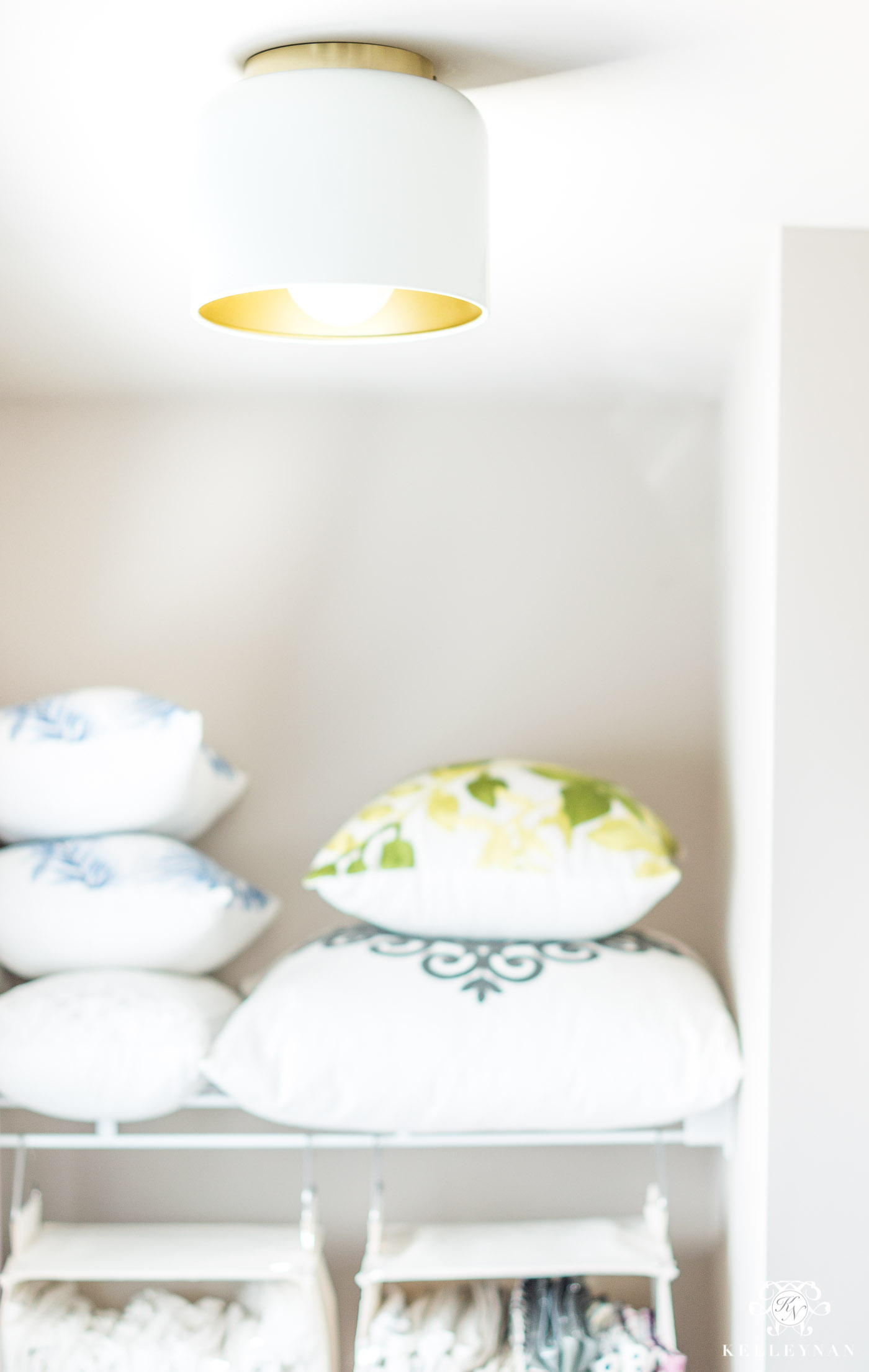 | Bell Flush Mount |
GUEST BEDROOM LIGHTING
The final lighting update is the white guest bedroom that we recently cleaned out after having had it dubbed a "keep-the-door-closed-and-don't-open" situation for the past year. You could say it was my incentive and treat for getting it whipped back into shape 😉 I don't have a "before" but in this tall vaulted ceiling, there was a short, standard fan. Here's how the guest bedroom looks now…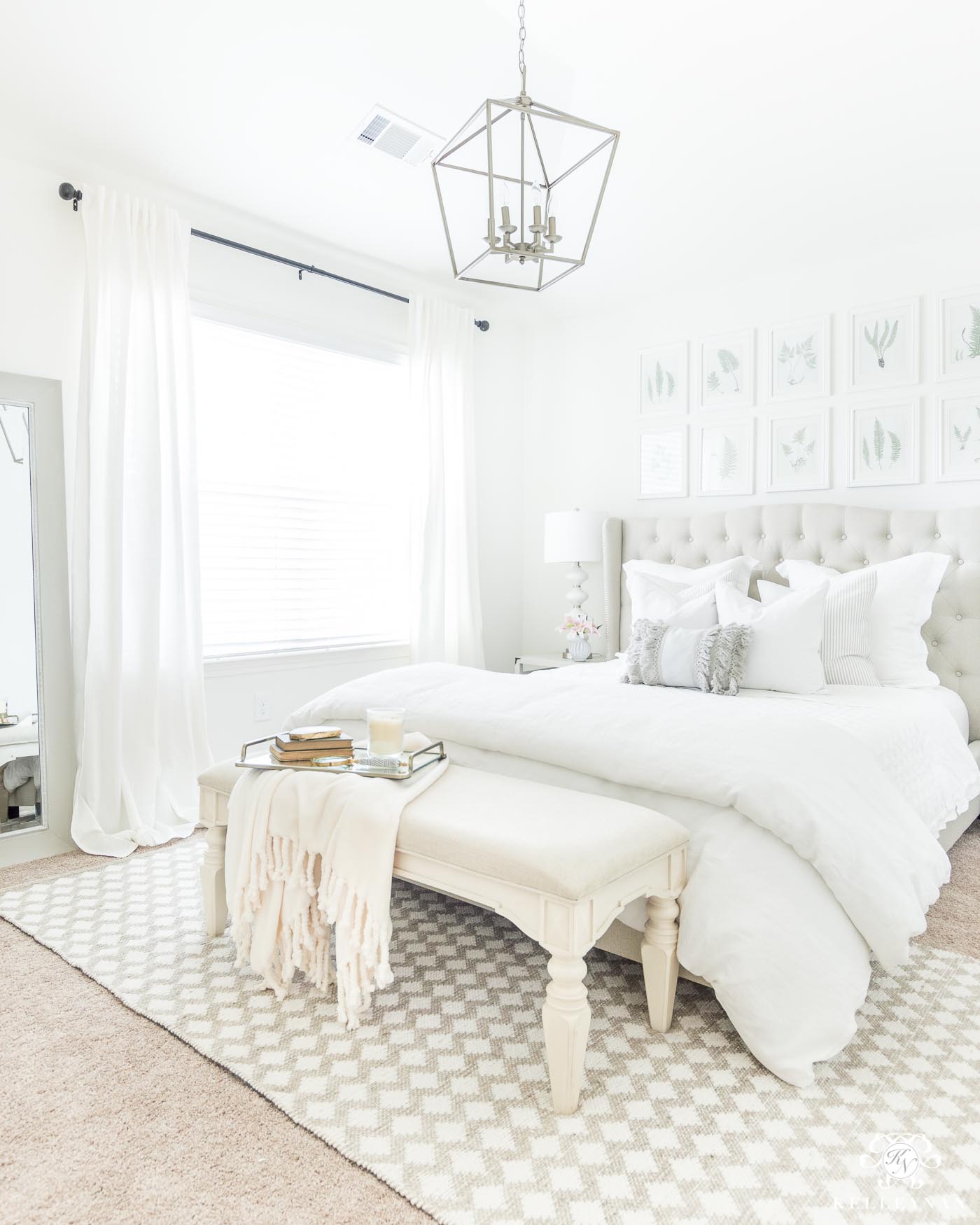 ---
SCROLL & TAP TO GET THE LOOK

---
Here's the crazy part. If you know about the Darlana lantern (like the one in my entry), you know how pricey they are. This similar lantern is comparable to the medium Darlana but is $500 LESS than the Darlana, coming in at only $147.99. There are several colors available but this is the Antique Silver Leaf; you can find it HERE.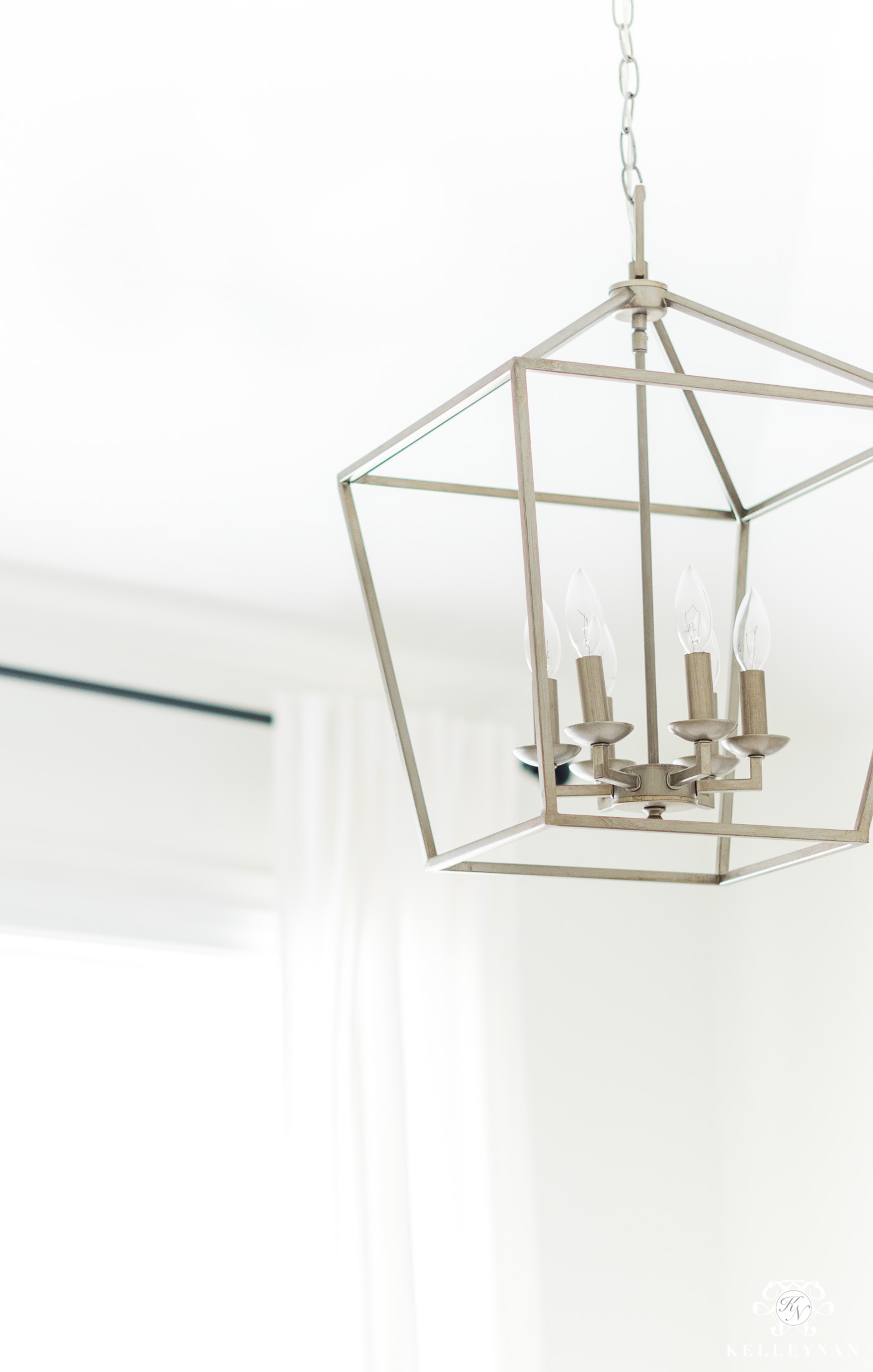 | Vintage Silver Leaf Lantern |
Next on the list of priorities is my great room (which will be a doozy with how high the ceilings are), the catwalk, and the stairwell. I'll be sharing those (hopefully) sometime in 2018 and will be sure to show off my capiz flush mount in the butler's pantry when it comes in this summer. If you aren't already subscribed, drop your email below to get all the updates delivered straight to your inbox.
SCROLL & TAP TO SHOP THE LIGHTING