Y'all, I'm not gonna lie- I kind of feel like I've kind of fallen behind on starting on spring in our home because I've been so involved with all that #organization, but, today all that changes! Today, I'm finally sharing some easy spring table decorations with a spring fling table that is easy enough for anyone to pull together. I hope that all my tables have simple components that are easy to pull off but seriously, this table is pretty dang easy and the centerpiece makes a big statement for any spring party- from simple dinners to showers. To go along with the simplicity, I'm also sharing the most simple Greek pasta salad recipe ever. (Like, don't-laugh-that-I'm-posting kind of simple.)
*Posts on KelleyNan.com may contain affiliate links. Click HERE for full disclosure.*
My inspiration for the entire setup was recalling this sweet little stash of butterfly clips my mom had. Since I had a visit planned a couple weeks ago, she graciously let me borrow them to bring them back to Georgia to play with. I'll be honest. Before this table was simple, it was pretty involved and difficult. When I stepped back to observe my work, to be honest, it was pretty much a wreck. I had envisioned a garland of limbs with small floral buds weaving down the center of the table. What I selected ended up looking more like a small campfire of woody kindling than a sweet butterfly farm. I tried to add to it – moss, flowers, etc. – before ultimately deciding to scrap the whole idea and go simpler. I went out to my yard and snipped a few branches with fresh green growth, put them in a vase, and ta-da! I had my base.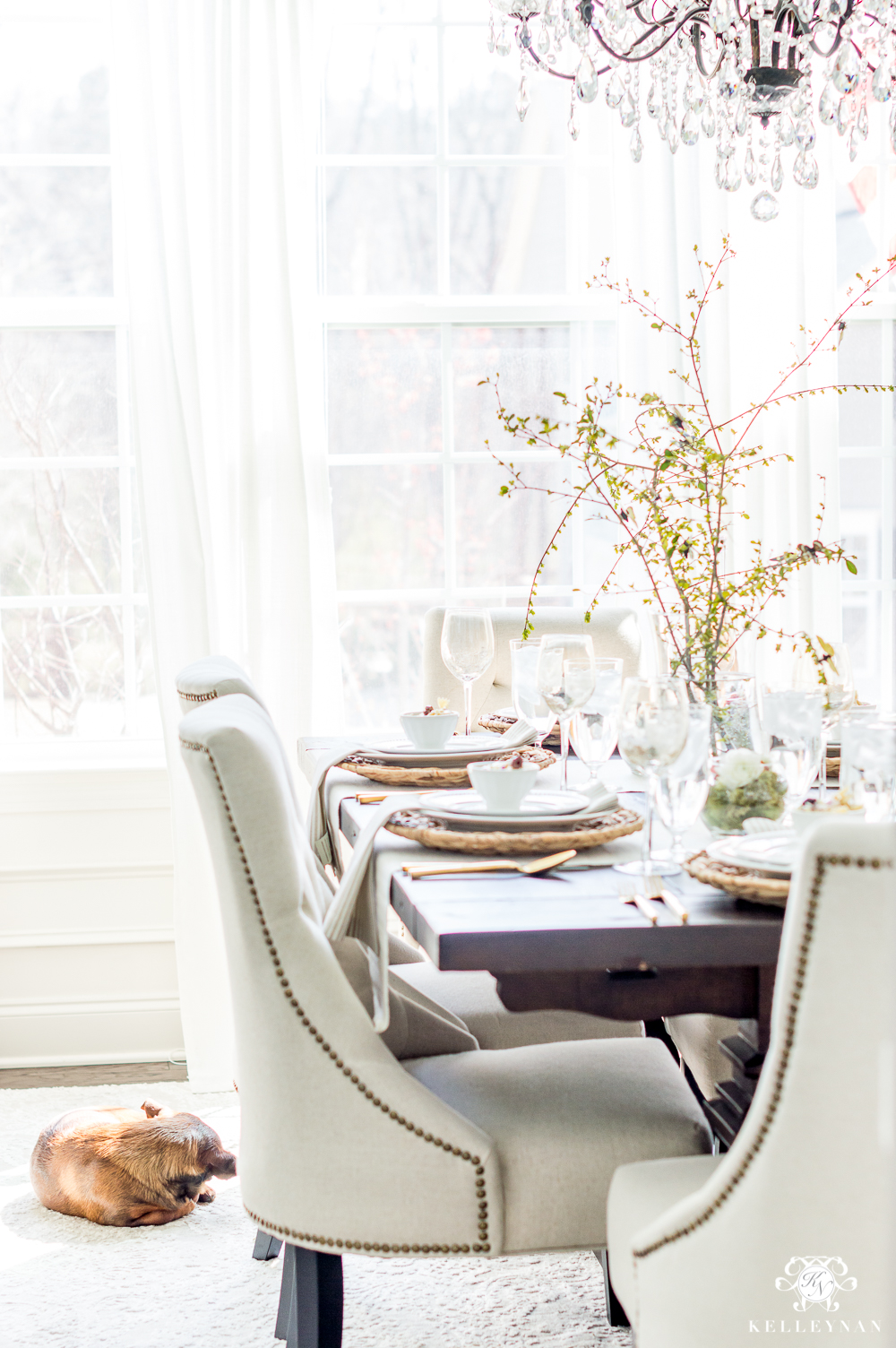 Whimsical and stretching naturally in all directions was the look I was going for and these branches achieved that so much better than (what was basically) stiff, straight flower sticks. The butterfly clips are so light weight that they were able to be clipped to even the most thin branches to resemble that "floating" look you see in real life.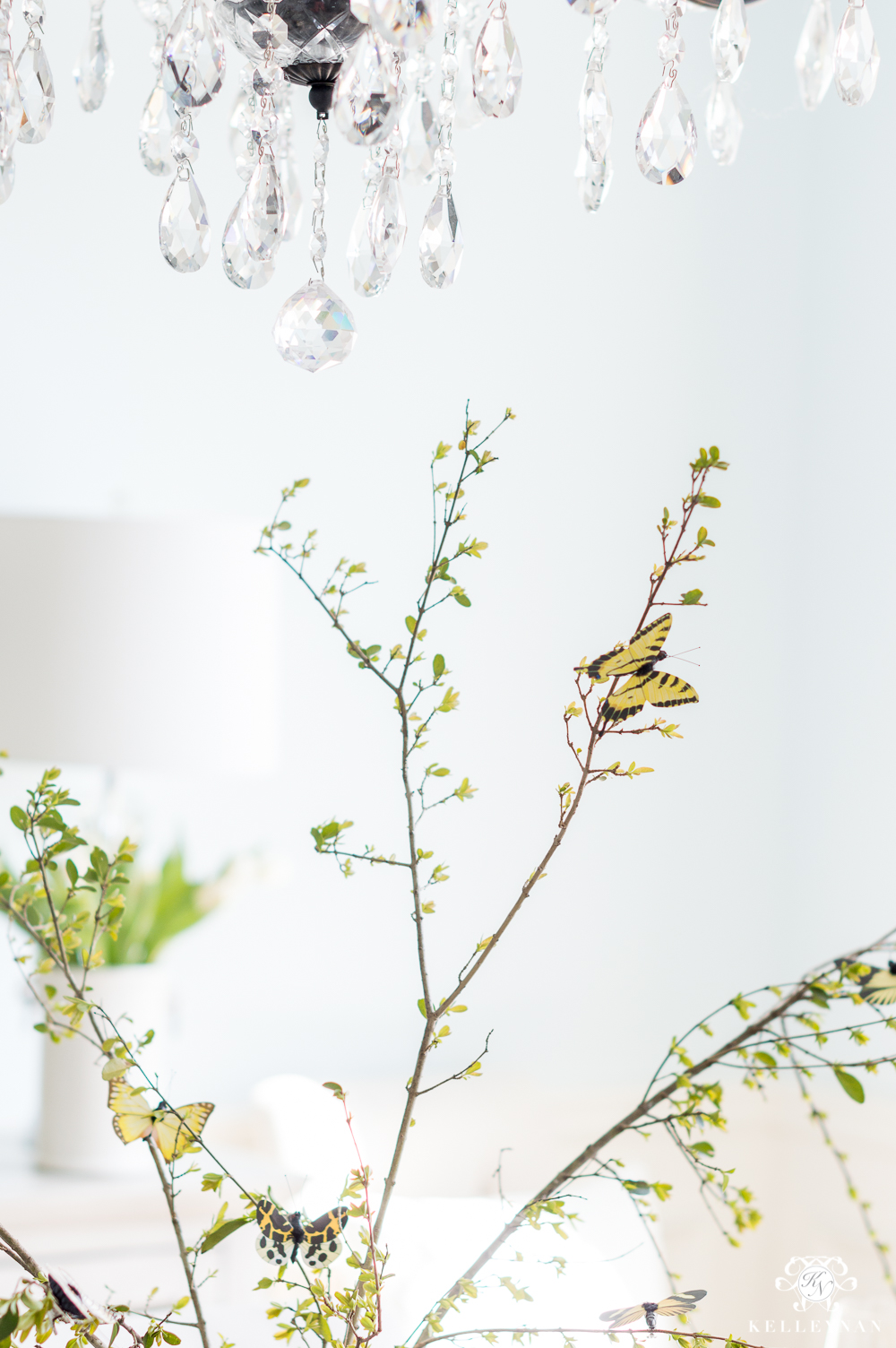 The branches are tall enough to clear all the head space around the table and the limbs stretch more horizontally down the table and less on the shallow sides.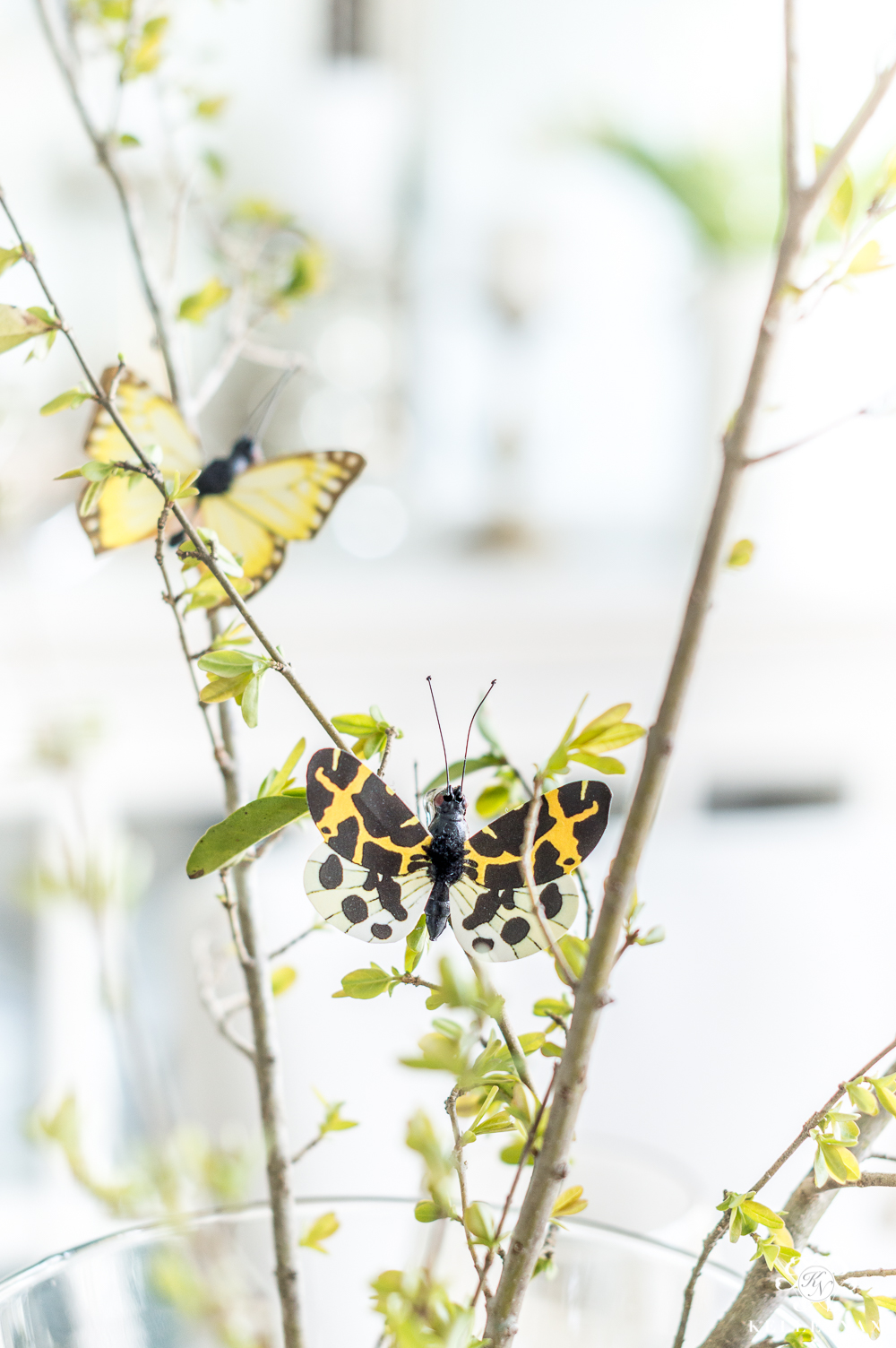 While my first plan took over an hour to construct before ultimately tearing it down and starting over, this simple centerpiece literally took a few minutes. It would even be perfect for a kitchen island or arrangement all on its own; here is the result.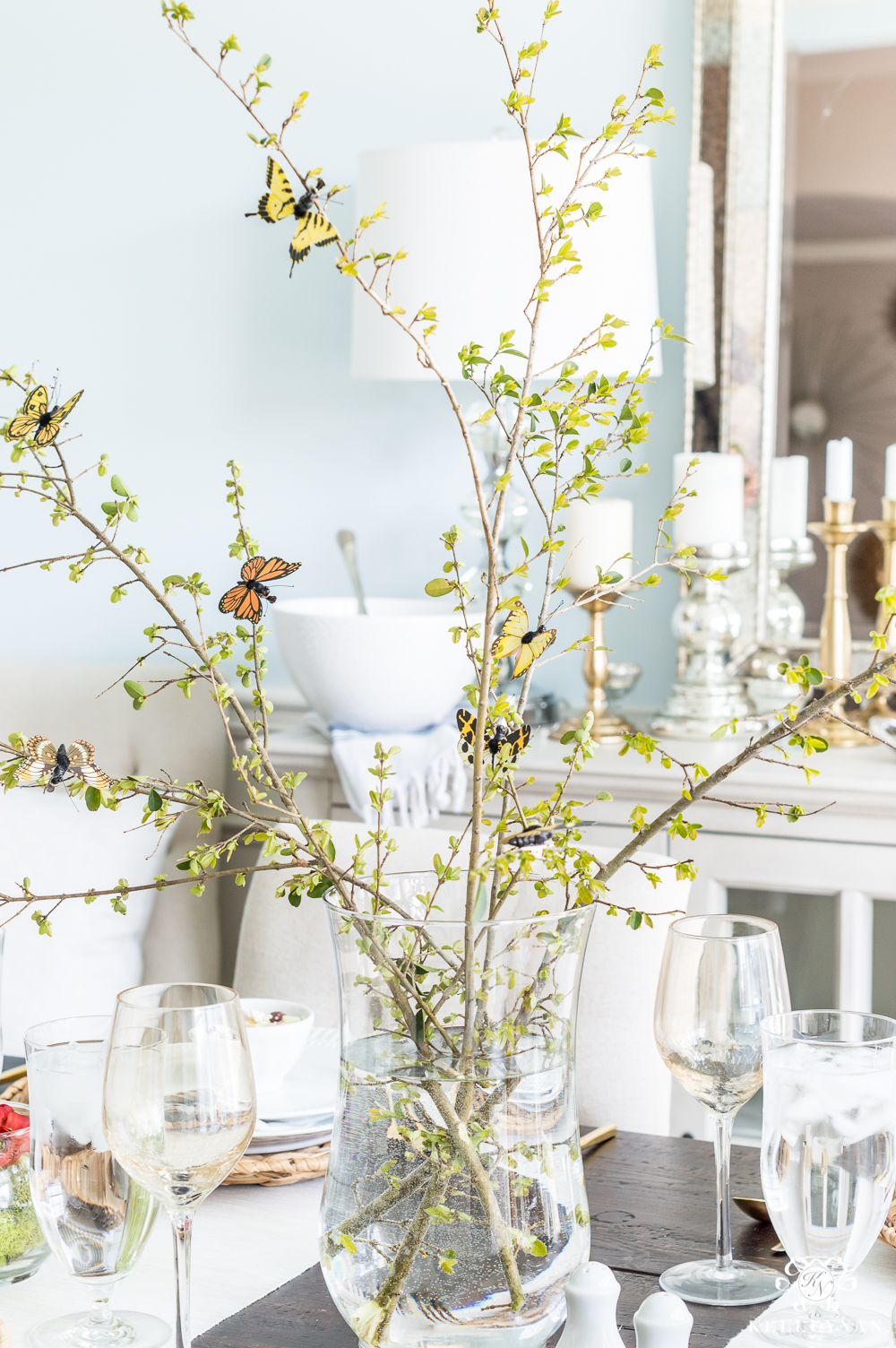 I'm kind of in love and am now thinking of all I've been missing – like, I'm thinking I need to do some serious research to see what else is available on clips for other arrangements. I'm not sure where this specific set of butterflies came from but there are a ton of options online. You can scroll and tap to shop a few I rounded up below.
---

---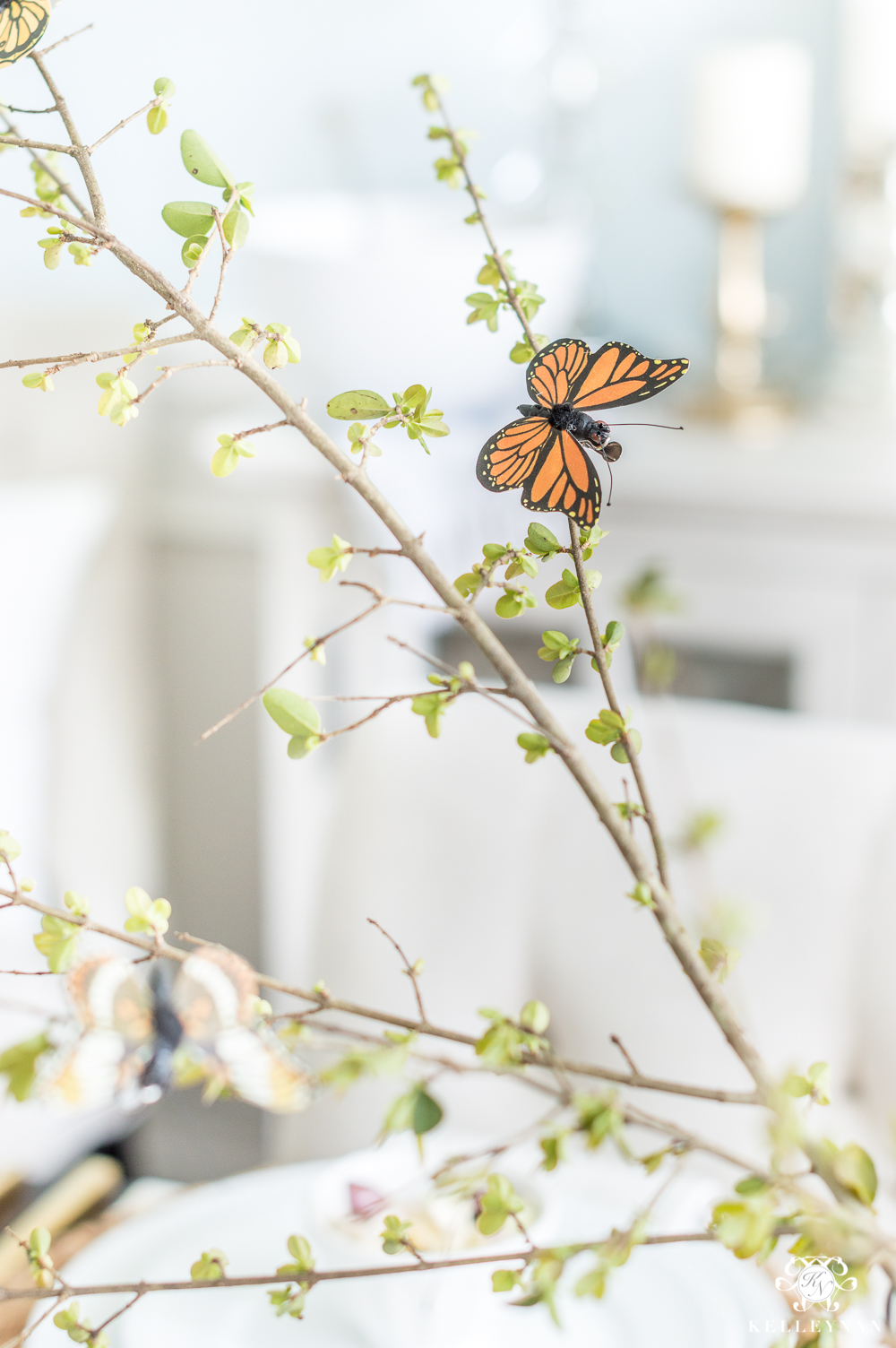 Each of the place settings are made up of simple white, everyday dinnerware (HERE) and the hyacinth chargers (SIMILAR) remind of me a butterfly basket/net. Very casual and simple- just like the concept, centerpiece, and menu. I have the full place setting sources linked at the bottom of this post 😉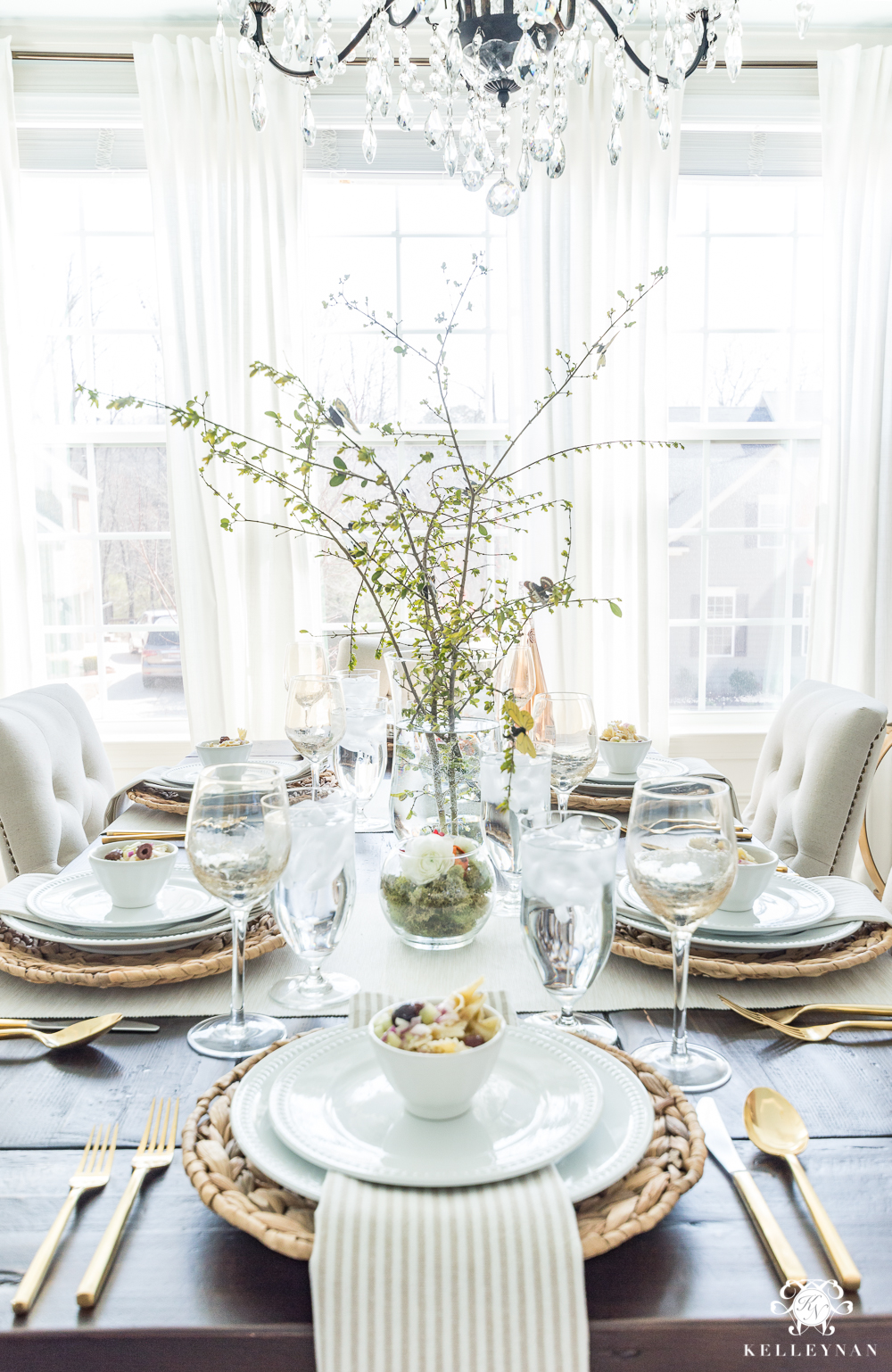 Another fun little table addition are these terrarium-esque mossy ranunculus arrangements. When I was working on my original centerpiece, I ended up cutting them down to nestle in the "firewood logs". I wanted to find a way to still use them in the table so I gathered the little guys and split them between bud vases before putting the bud vases in my small, round vessels and surrounding them with moss. Again, these would be adorable all on their own or in the living room on a side table/bedside table.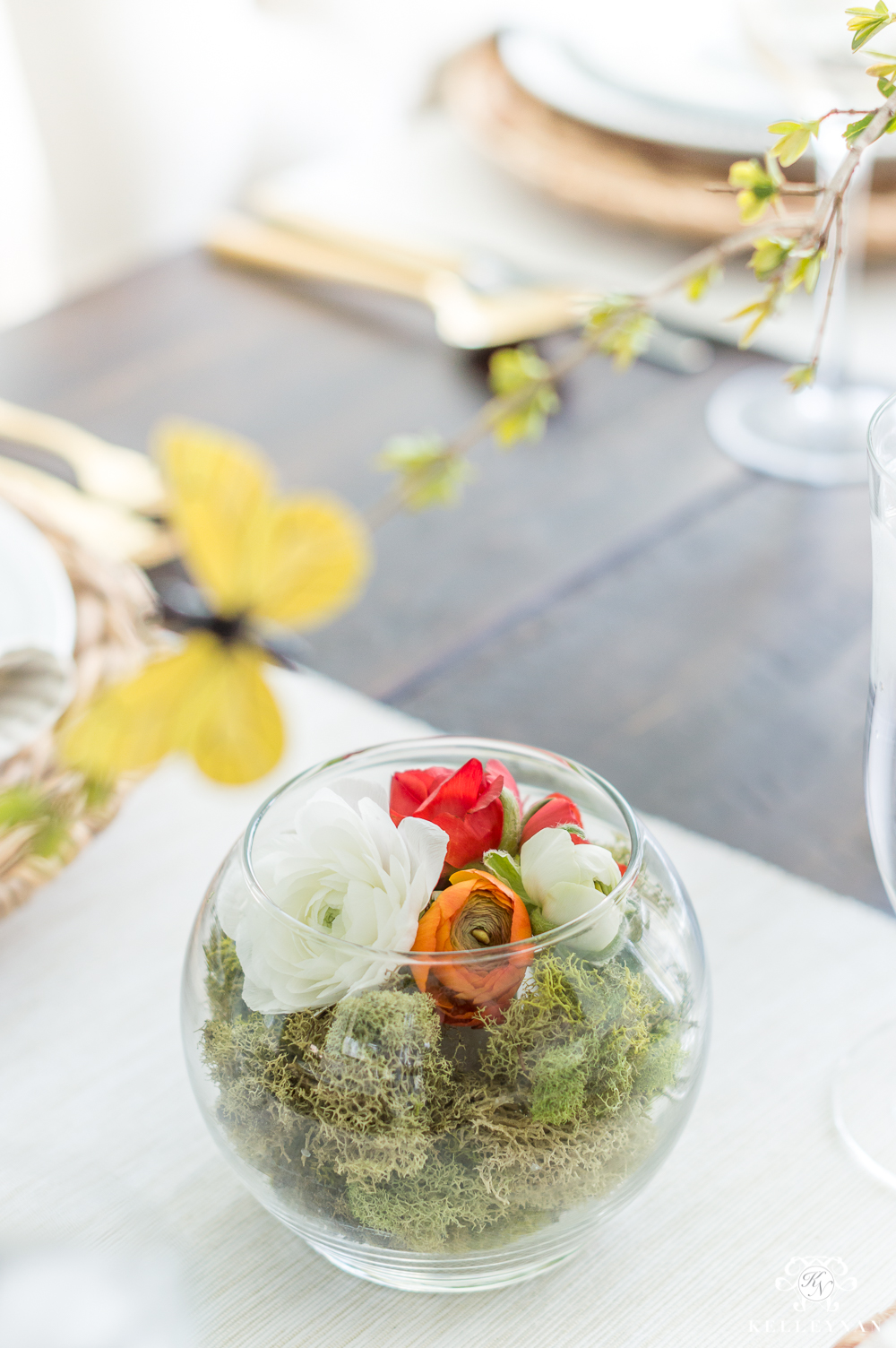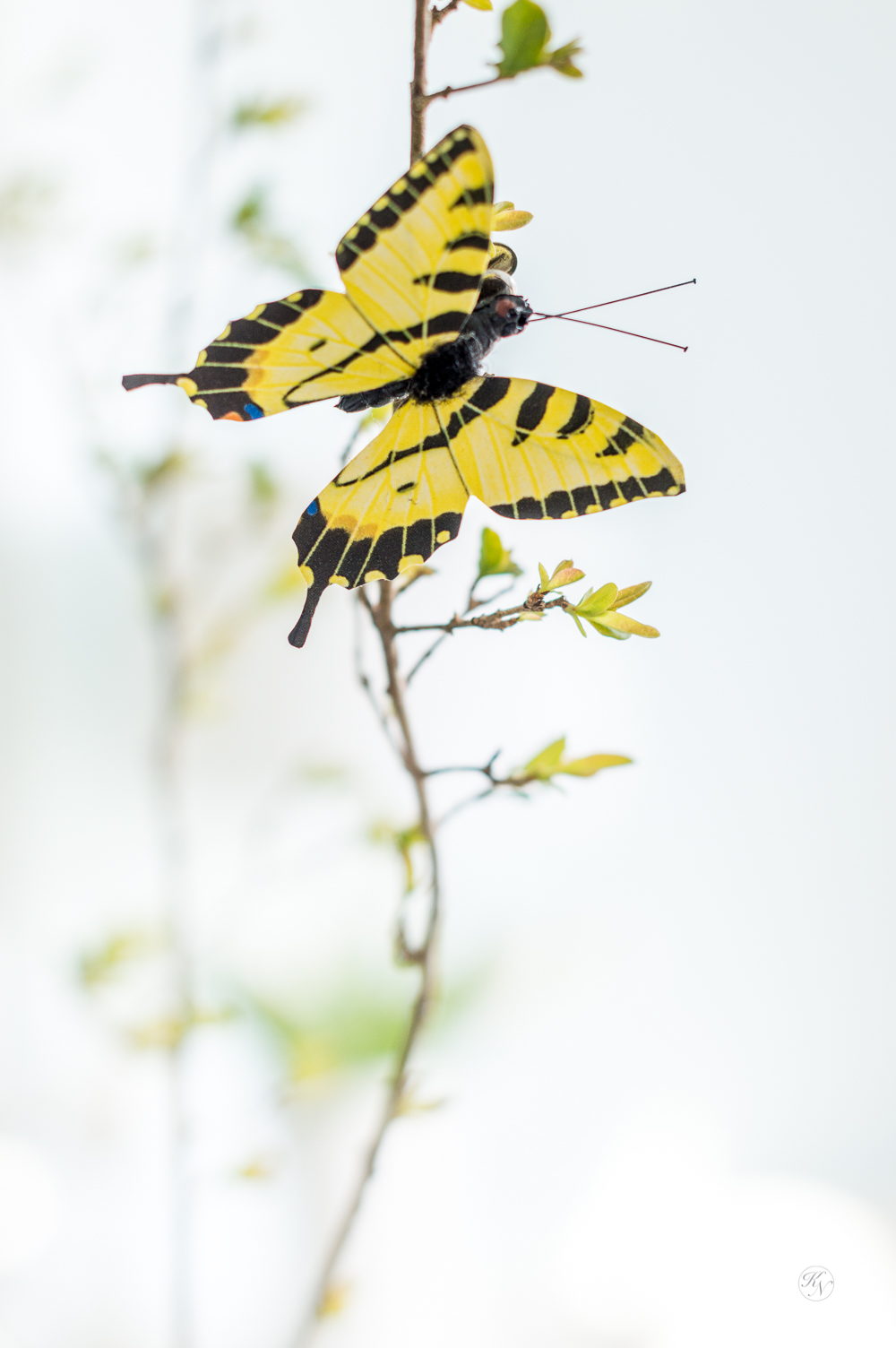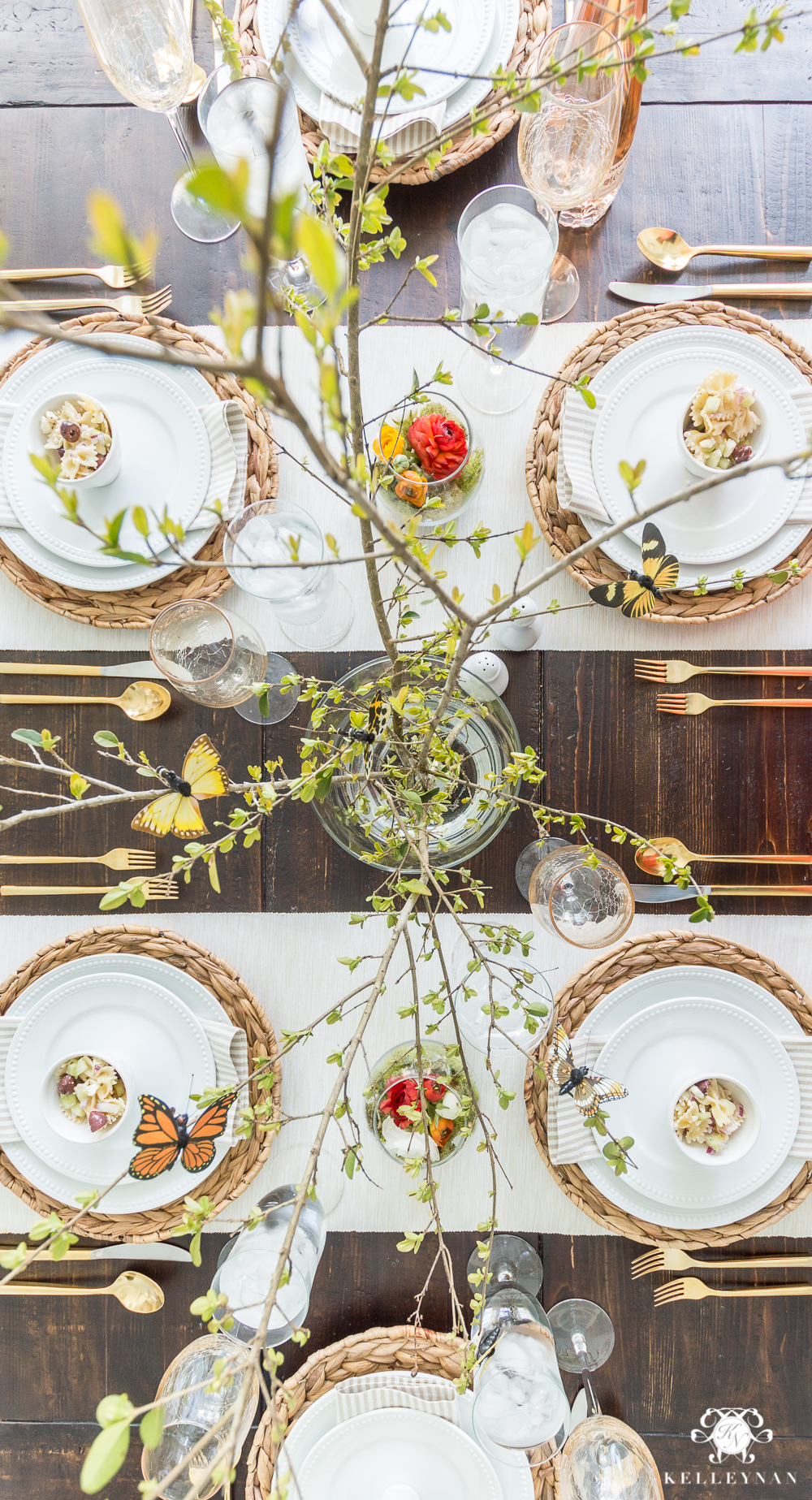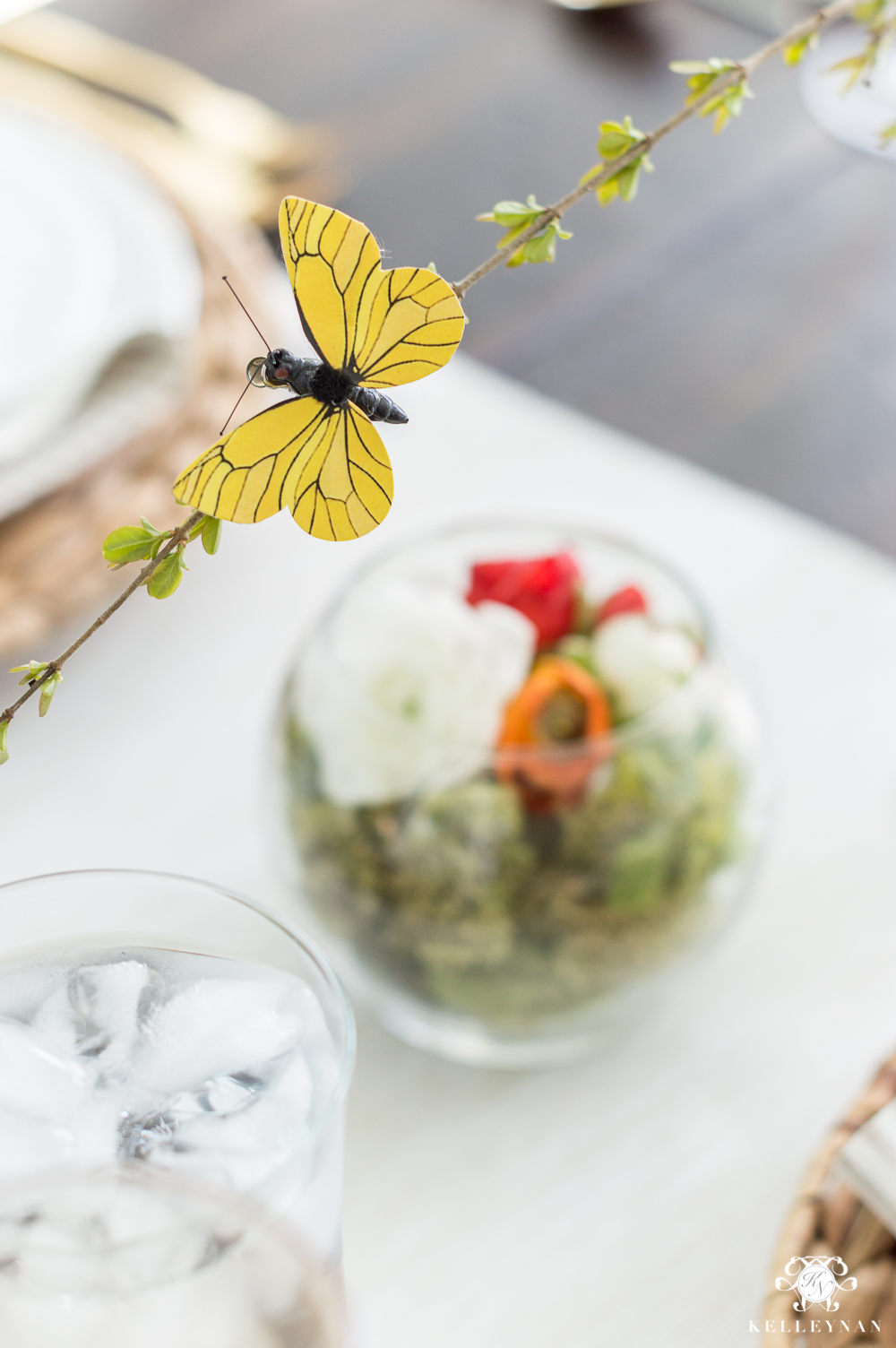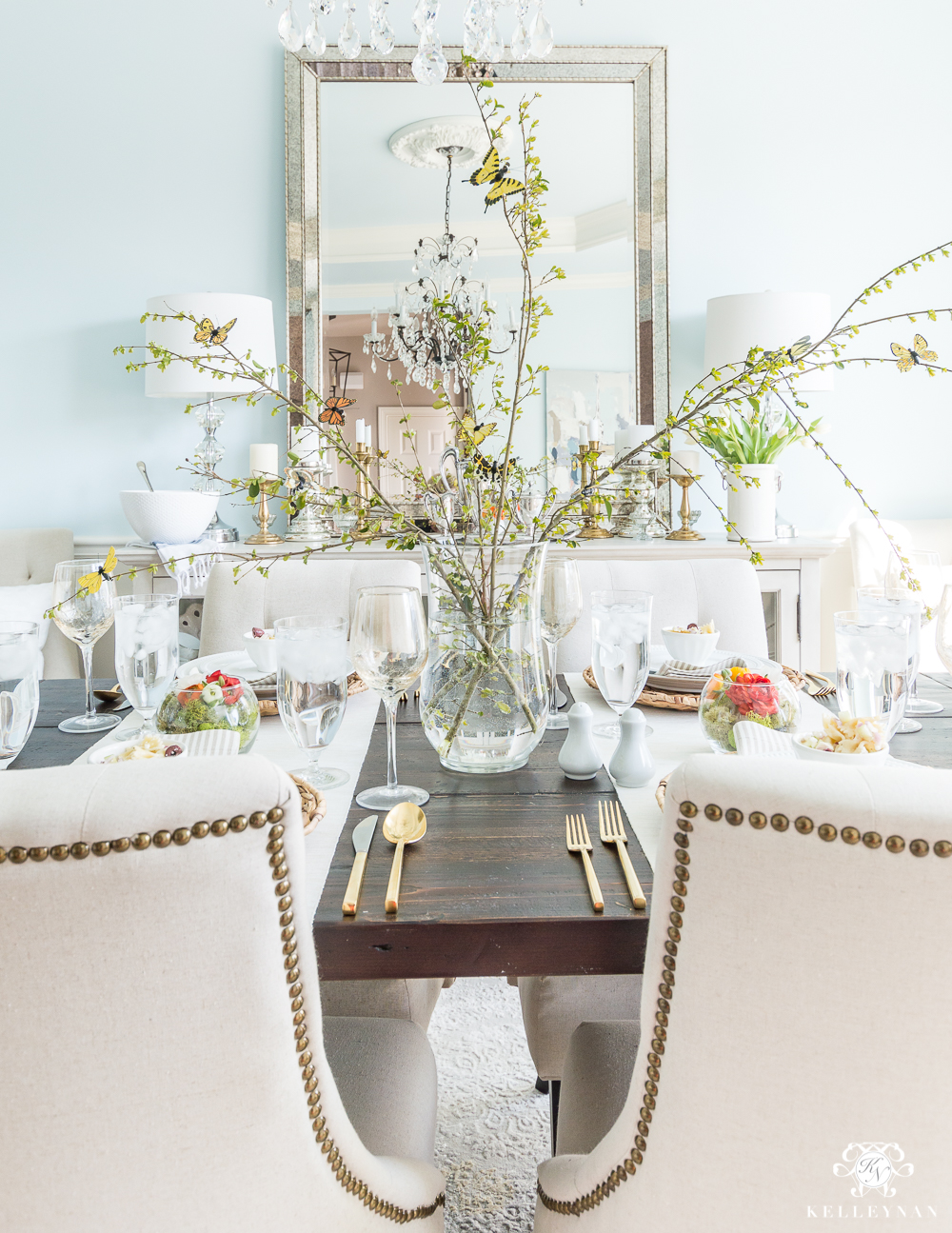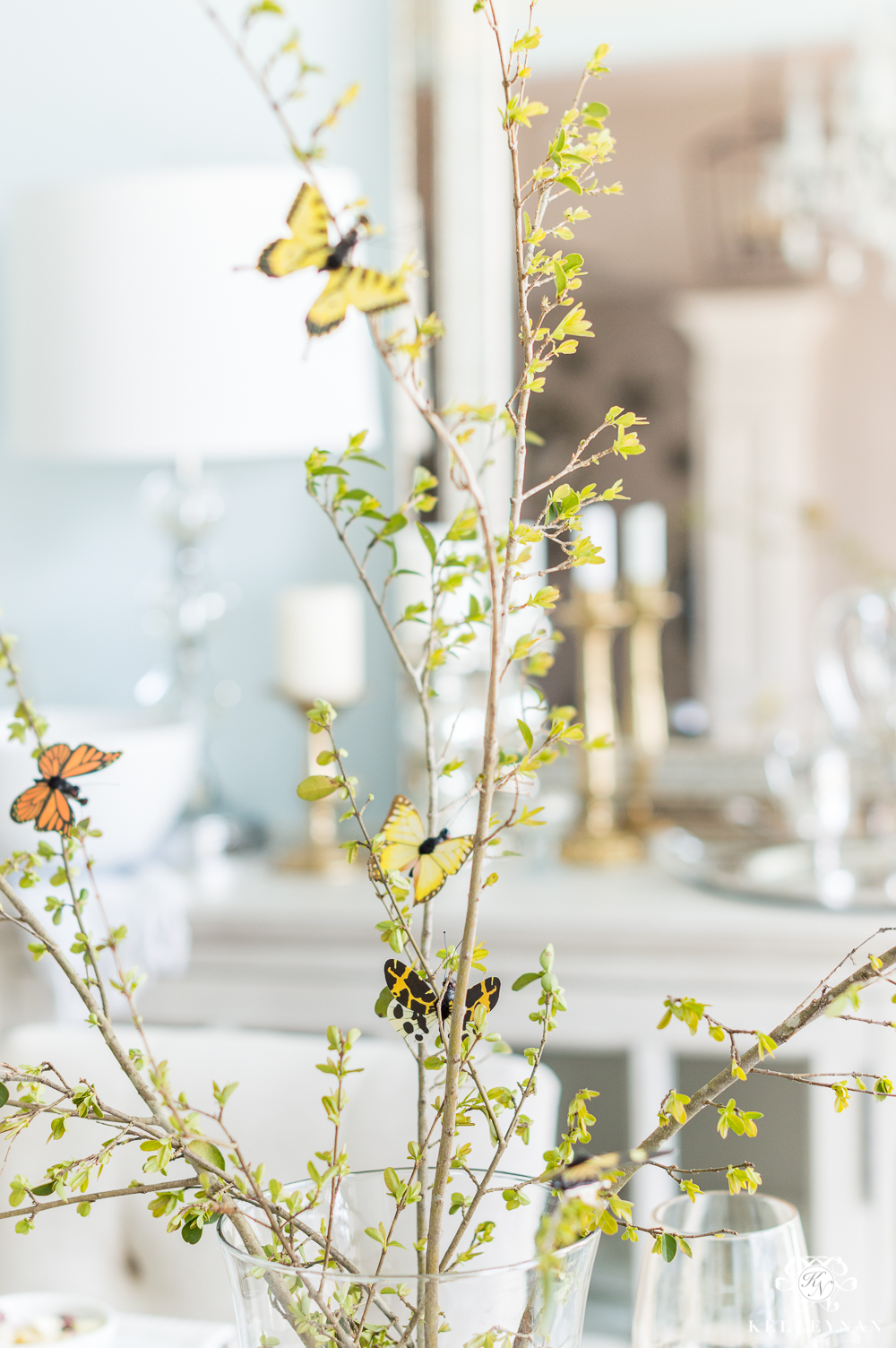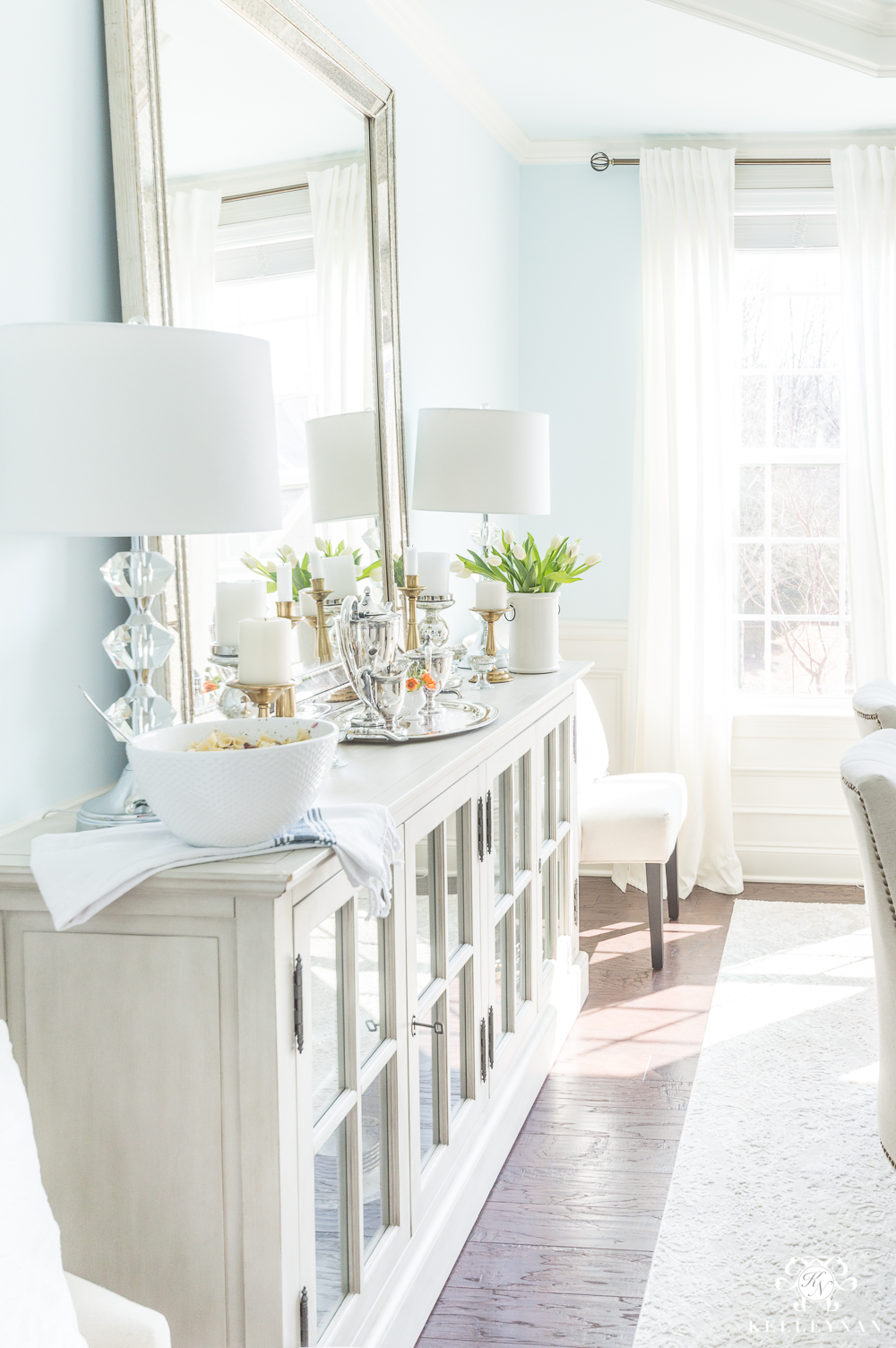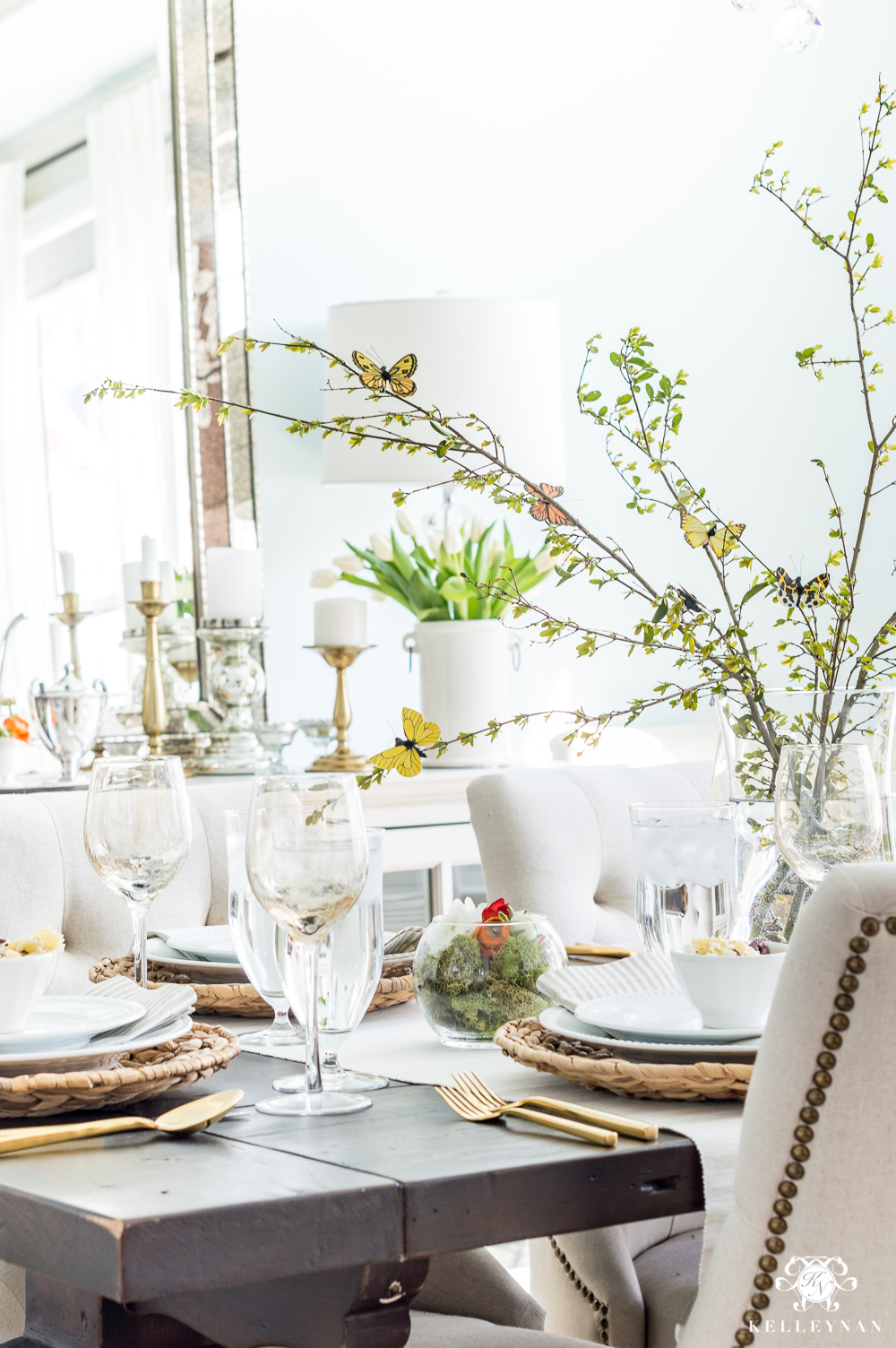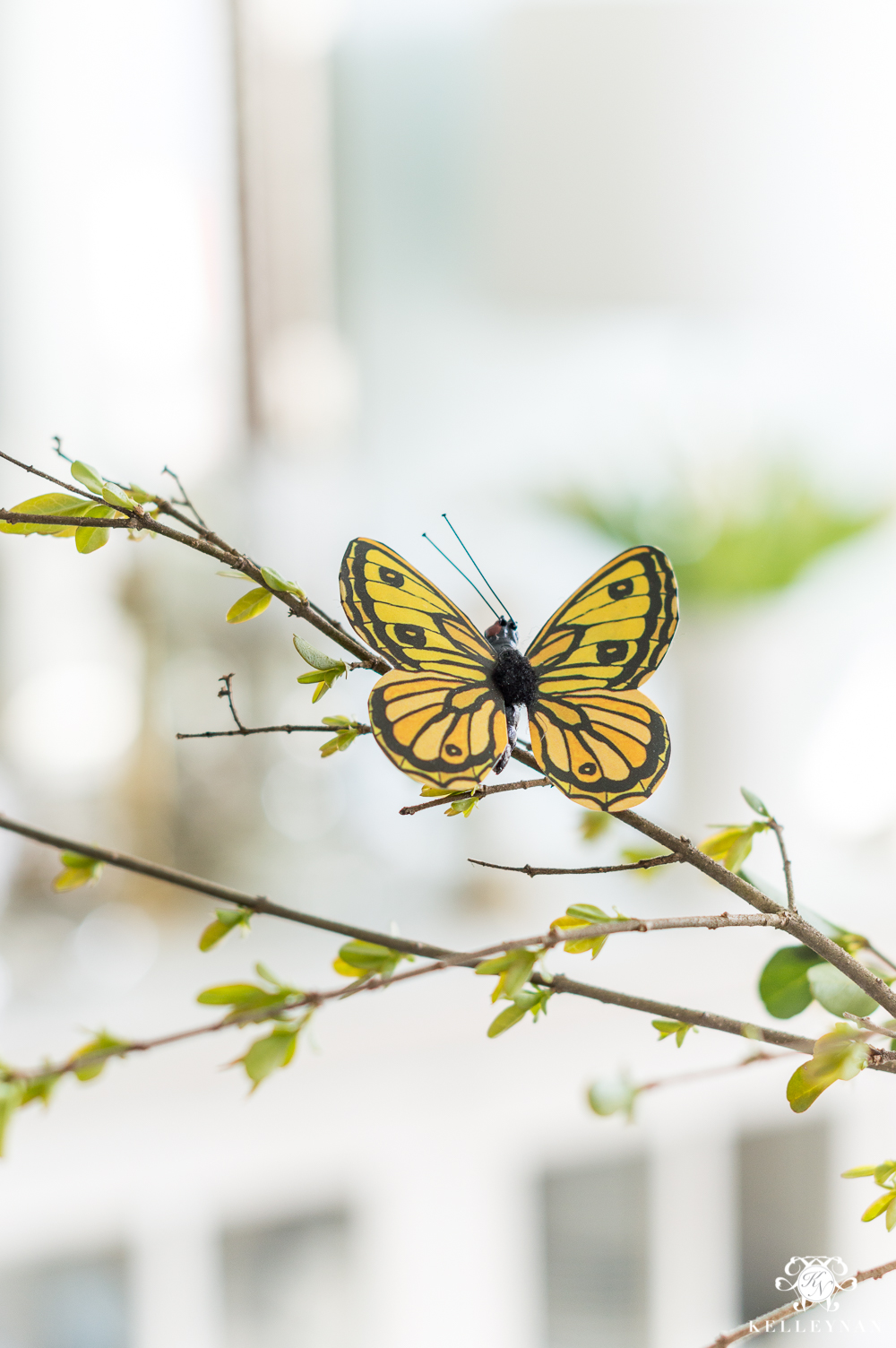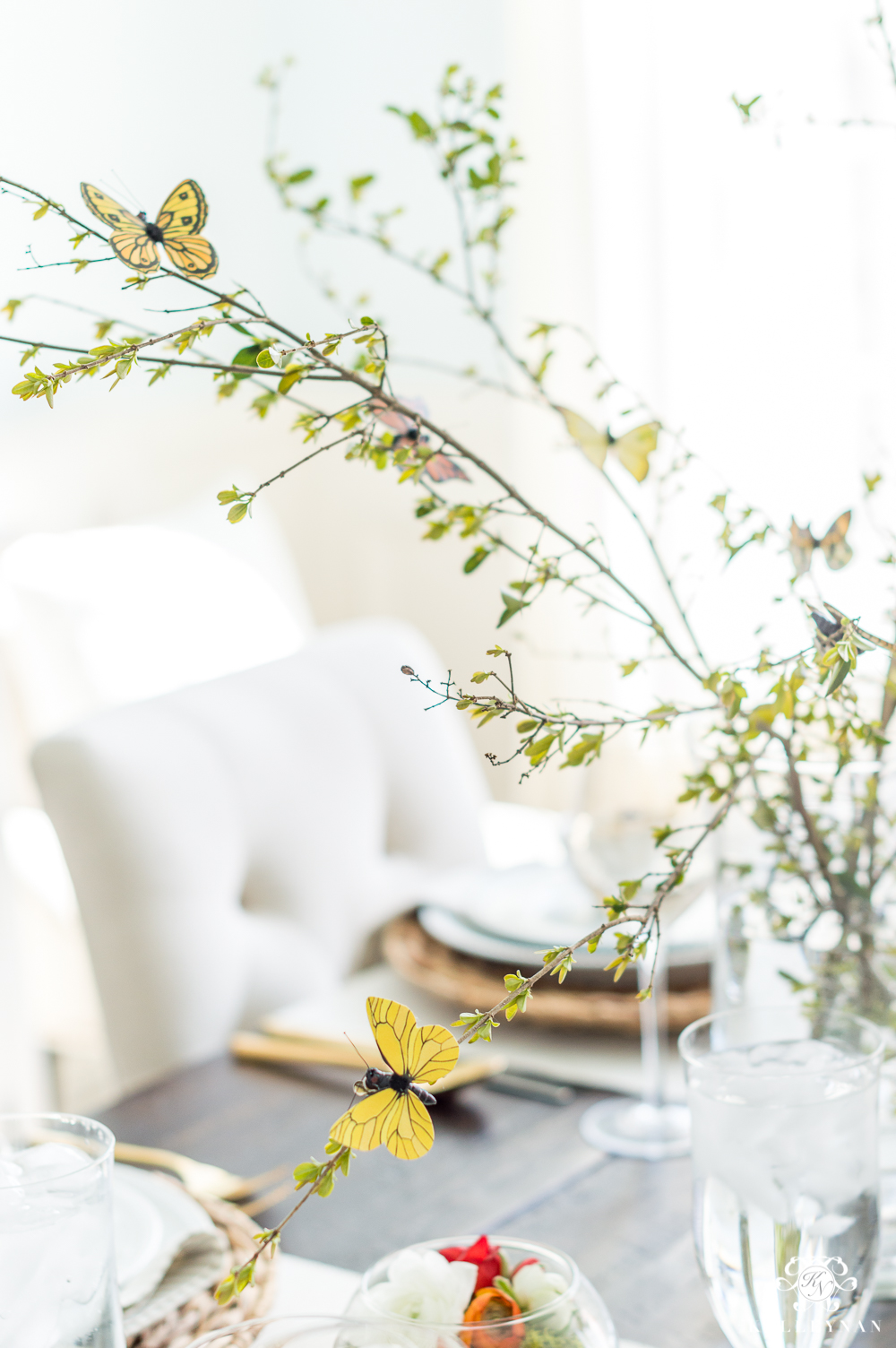 So, what goes with these simple butterflies? Simple bowties. Bowtie pasta that is 😉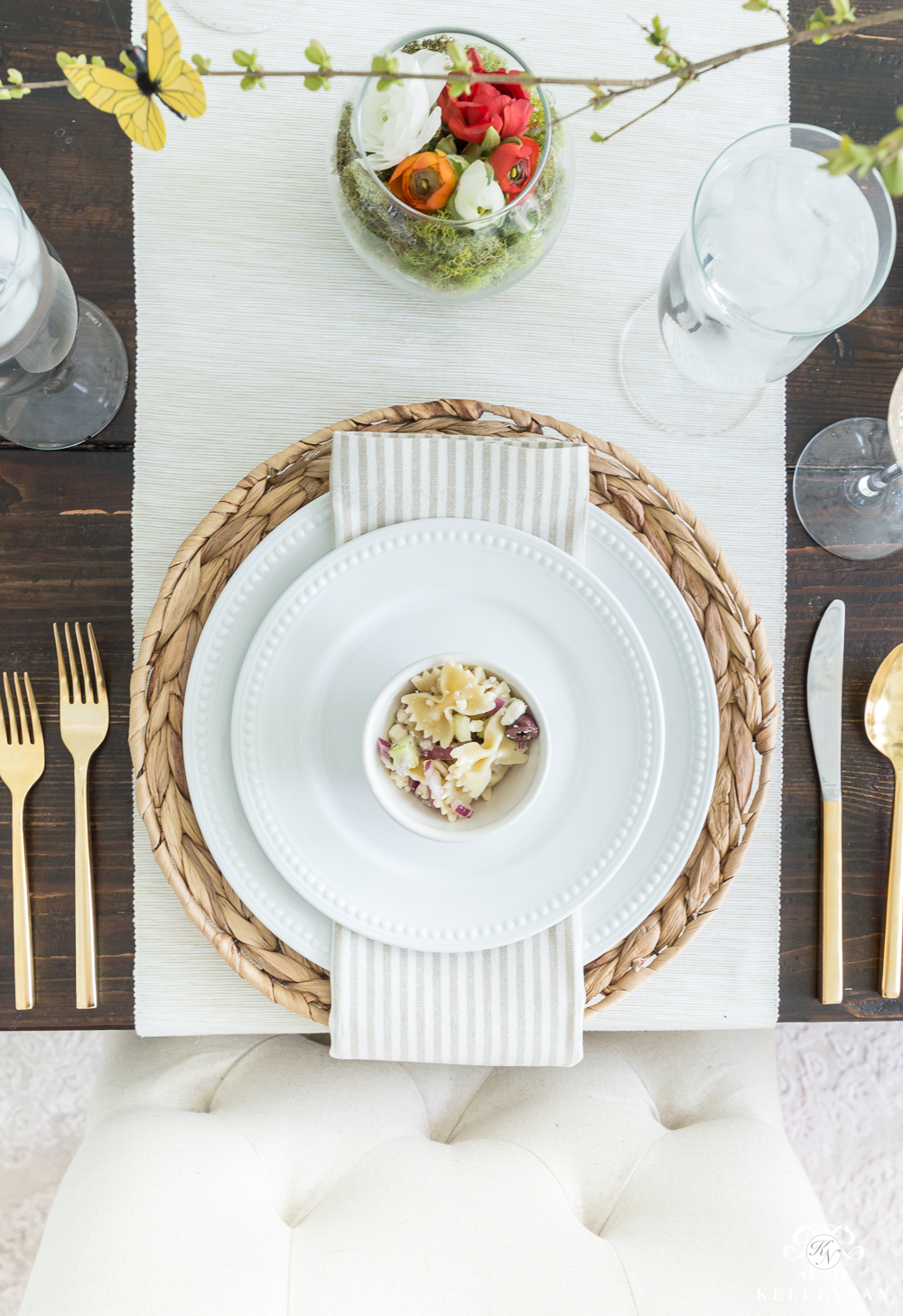 This past weekend, I made my first spring salad of the season- an easy 6-ingredient Greek pasta salad. Again, it's so simple I almost feel silly sharing but I think most of the time, when people think of pasta salad, they think of Italian dressing, tomatoes… you know, the standard. By restraining yourself and subbing the dressing, you can switch it up with this yummy Greek version – perfect for dinner side or barbeques.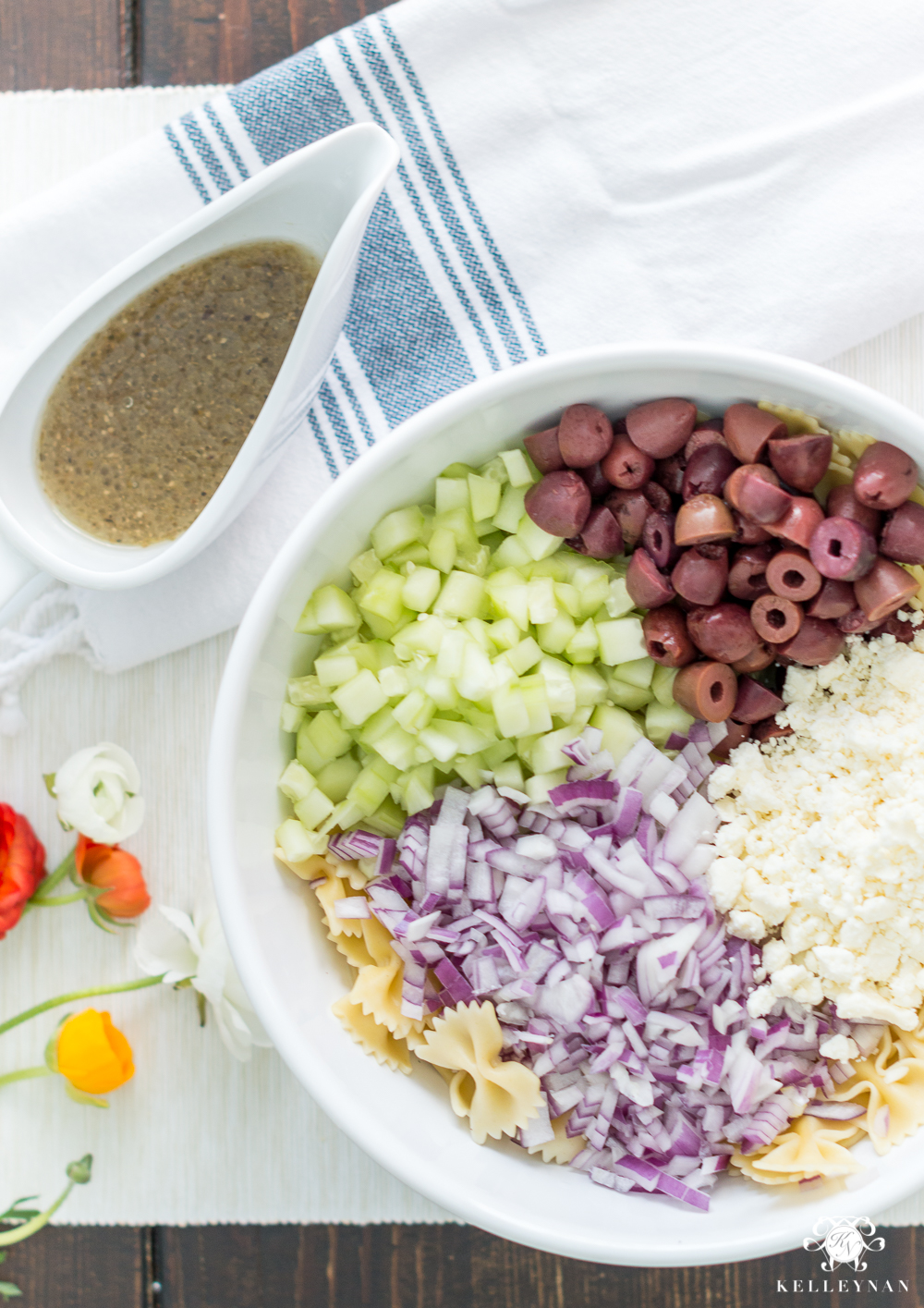 ---
6-INGREDIENT GREEK PASTA SALAD
---
Ingredients
1 box bowtie pasta 
1/2 red onion
1 6-8oz. package feta cheese
3/4 jar kalamata olives
1 English cucumber
1/2 bottle Greek salad dressing
Instructions
Boil pasta for 12 minutes, drain, and pour into large serving bowl
Dice red onion and cucumber, finely; add to pasta bowl
Add kalamata olives (can slice or add whole) and feta cheese
Add about 1/4 bottle to bowl and stir well. Refrigerate. Before serving, add another 1/4 bottle and stir well.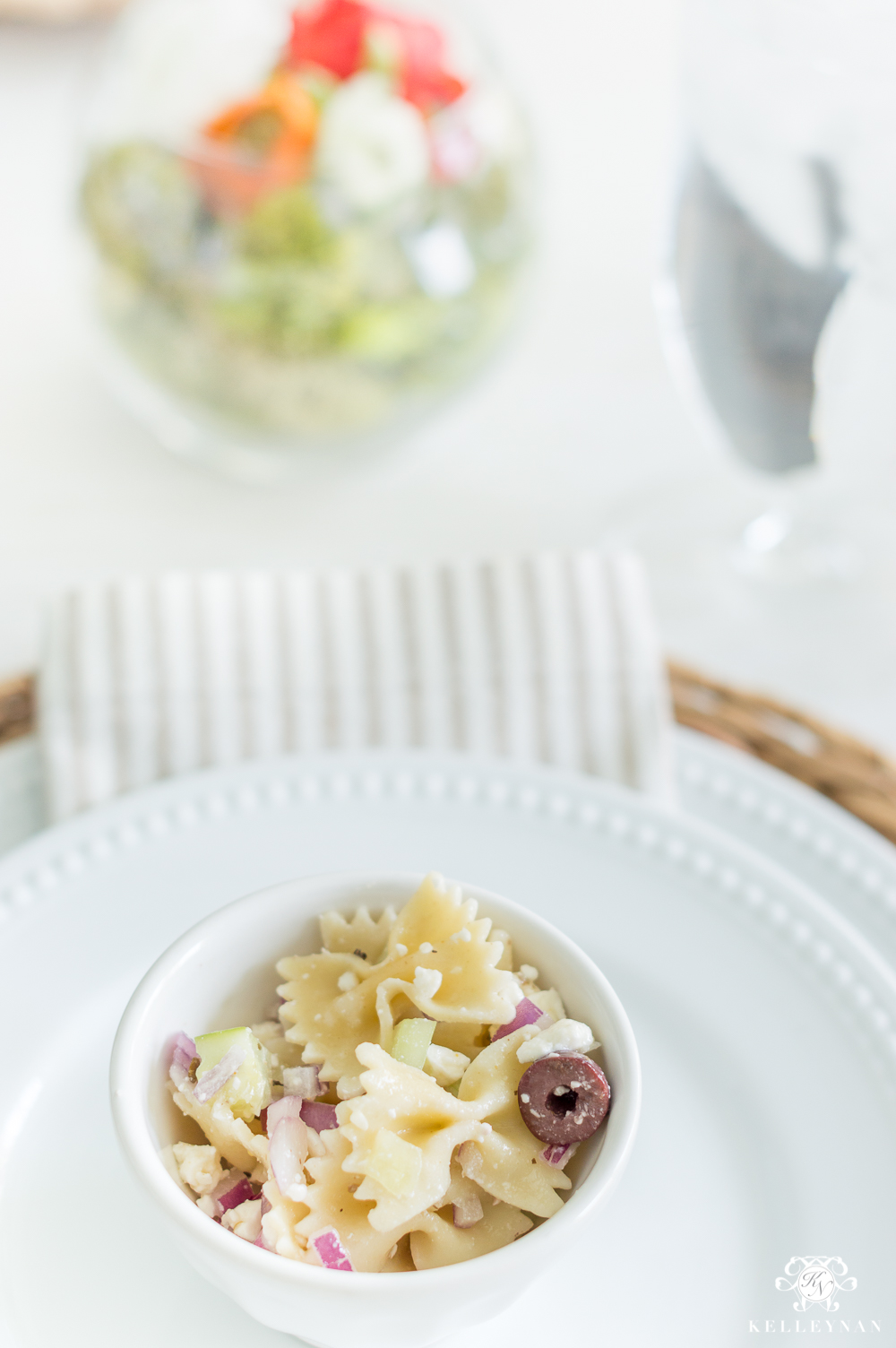 Told you it was simple 😉 But seriously, delish.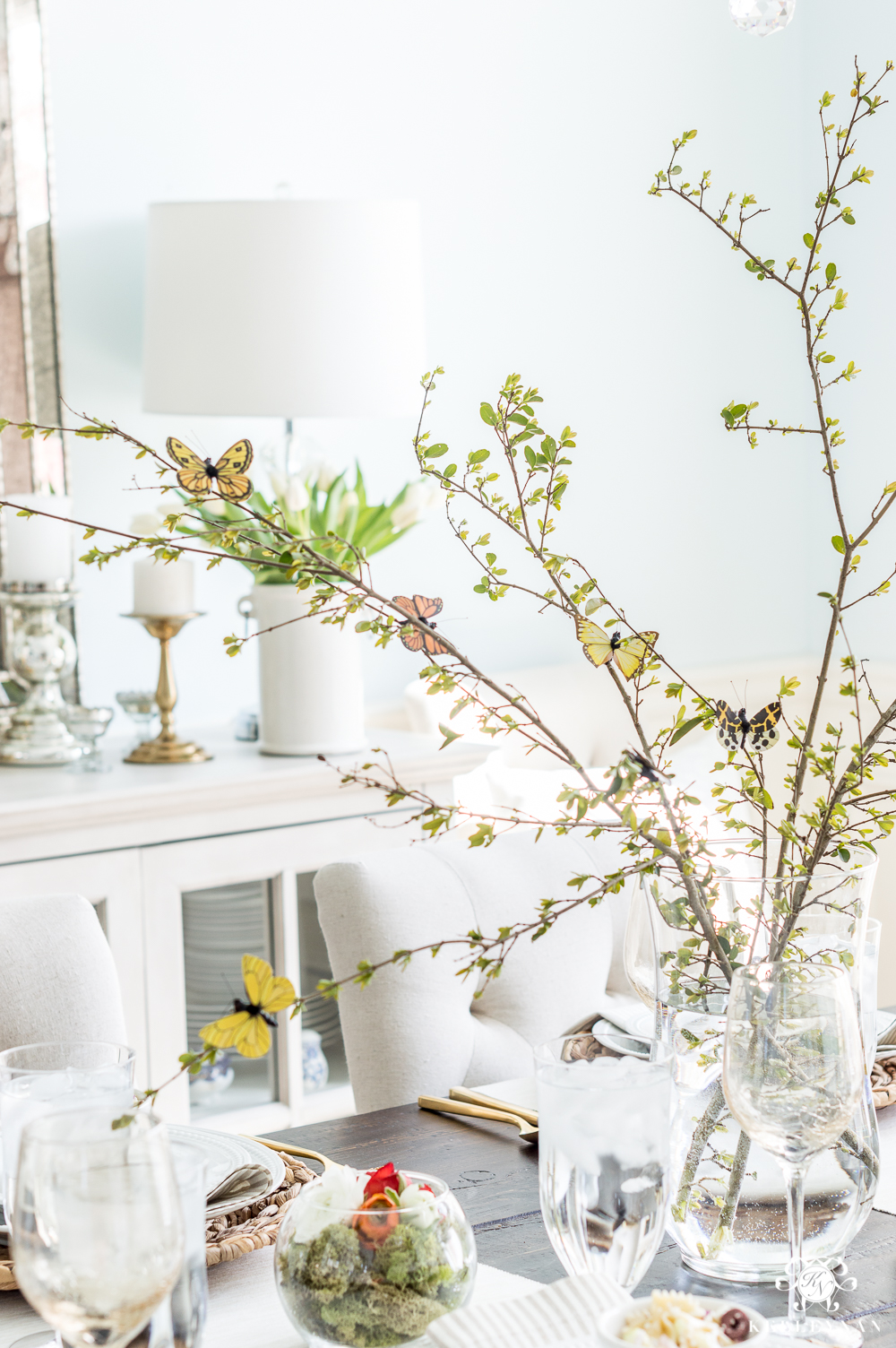 My full spring home tour will be going live next Tuesday (woo!); subscribe to receive my email updates below and don't miss a thing 😉




Chargers (SIMILAR) | White Casual Beaded Plates | Centerpiece Hurricane Vase | Mini Latte Bowls | Crackle Wine Glasses | Tapered Candle Holders | Pillar Candle Holders | Gold Flatware | Neutral Table Runners | Striped Napkins | Dining Chairs – Linen | Bar Cart | 12-Light Chandelier
 | Mirror: Homegoods – (SIMILAR) | Dining Table:  (84″ in Salvaged Brown) | Buffet: (72″ in Distressed White) | Curtain Panels
: (98″ in White) | Rug: HomeGoods- Safavieh | Lamps: HomeGoods – (SIMILAR) | Silver Tea Service: Family Heirloom | Paint: Lauren's Surprise by Sherwin Williams | Flooring: Nottaway Hickory in Weathered Saddle