I am not one of those people who only wears flip flops to the beach. I wear them just about year round. I even prefer wearing them over being barefoot around the house because of the support and cushion. About a month ago, I decided I wanted to try a new brand and ordered a pair Havaianas. I heard a lot about them and the reviews were wonderful. When I shared on my Instagram stories, I immediately had a flood of messages – probably more than I've ever received off of one story. Havaiana fans came out in droves, swearing by them and others messaged with their favorite brands. You guys- people are really passionate about their flip flops! I get it. I am too. That's why we're here. So after fielding more messages than I knew what to do with, I got an idea. I saw a few brands that were being repeated over and over – I decided to order multiple pairs and put them each to the test. Today, I'm officially hosting a "Flip-Flop-Off", sharing my findings and review on choosing the best, most comfortable flip flops.
*Posts on KelleyNan.com may contain affiliate links. Click HERE for full disclosure.*
PUTTING IT TO THE TEST:
CHOOSING THE BEST, MOST COMFORTABLE FLIP FLOPS
The flip flops I ultimately ordered were:
My goal is to "be able to walk around Disney World all day" – while that is the ideal measure, I don't live close to Disney. Instead, I wore them around the house and on errands. Admittedly, some I knew weren't "for me" as soon as I put them on. I know there are a ton of popular brands I could have added to the mix but for this project, I stuck with a few because of time and of course $$$. One brand I did not try myself but Dave loves is Rainbow (HERE); if you are a lady and a hardcore fan, let me know in the comment section 😉 As a caveat, keep in mind that these are my personal reviews for my personal preference for my feet. If you have different needs, you may have a different conclusion. So here we go… the pros, cons, and a review on each brand and style I tried.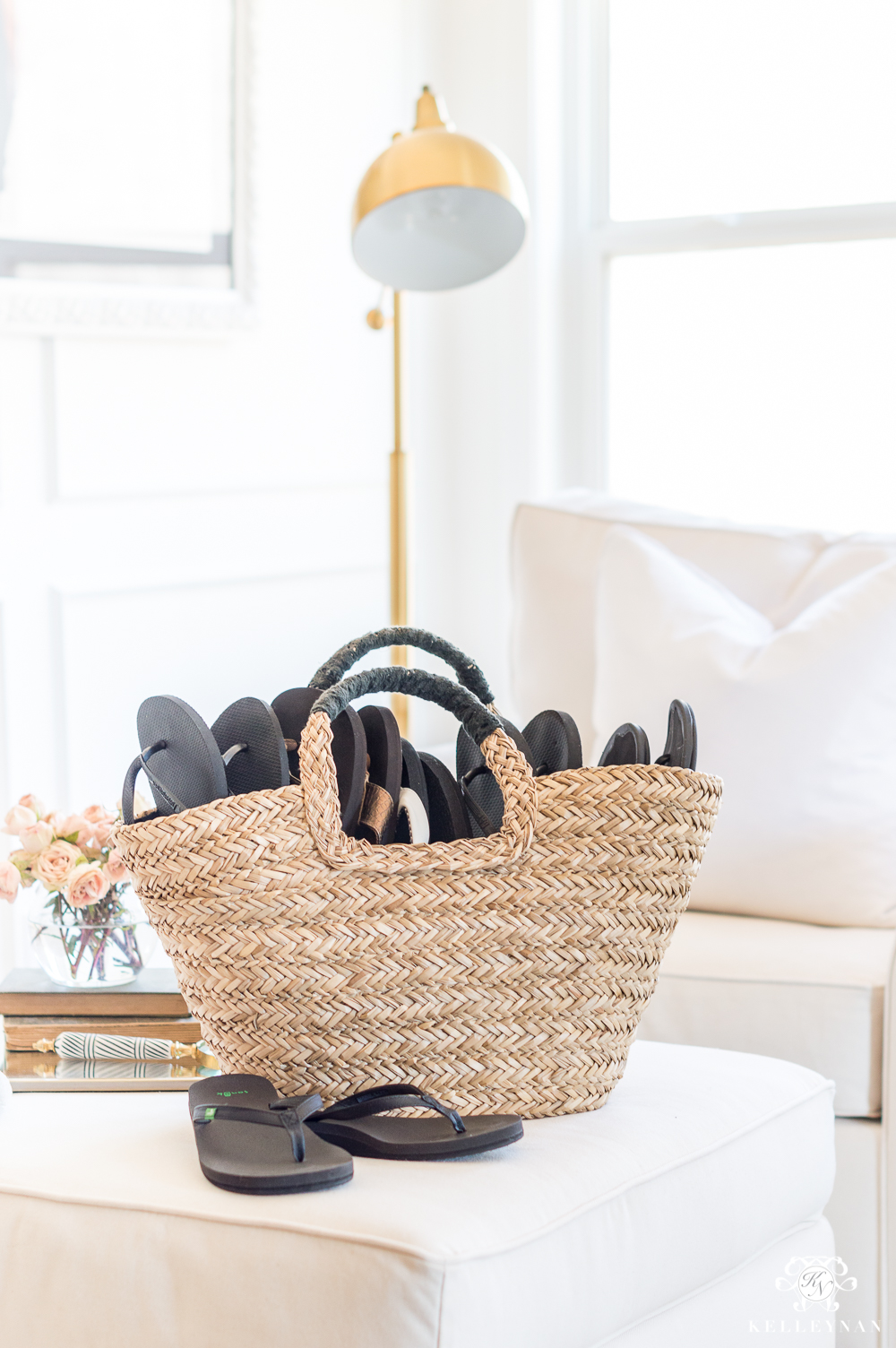 ONE LAST NOTE before we jump right in. Obviously, I didn't realize how much lint was on my leggings during my flip flop try-on session. You have been warned haha.
GAP FLIP FLOPS
Ok, to be clear, I did not order these. I have had them forever and tried them on as a reminder of what a "standard" flip flop would feel like as my baseline. Back in the day, I had every color of Old Navy flip flops- I mean, for a few bucks a pair, I'm sure a lot of you did! When I was younger, they were fine. As I've gotten older, there is no way I could stand or walk long distance in those things. I need cushiness and support! For shower shoes in the dorm, they are fine. For the pool, absolutely. But if you are looking for a comfortable flip flop, these just don't cut it for me. The Gap flip flop is basically the same. Fine to throw on for something quick but I wouldn't want to cruise around a theme park in them. (Find them HERE)
PRO: At $7.95/pair, they are inexpensive. Great basic for throwing on or tossing in your bag.
CON: No support and not comfortable enough to wear all day.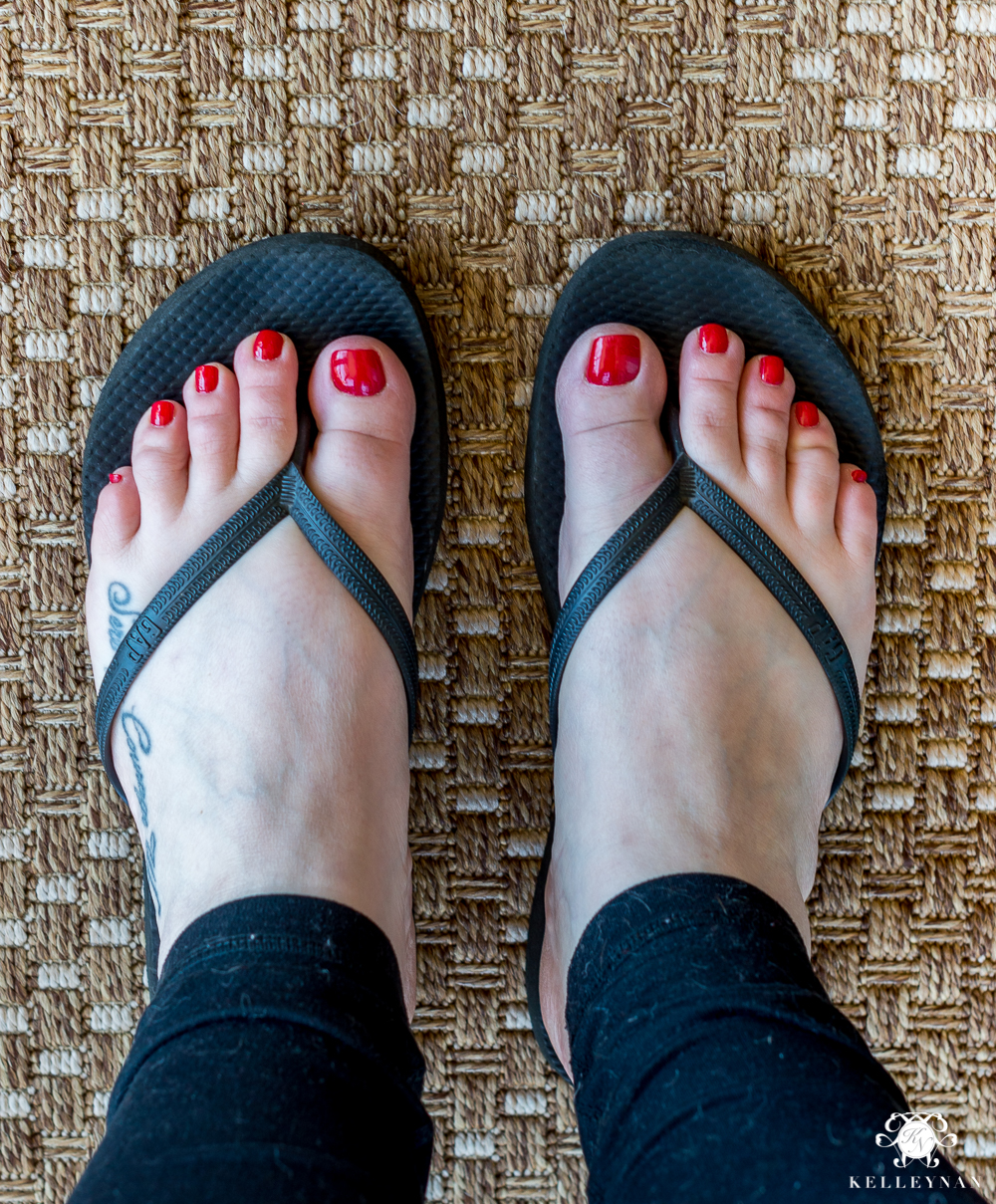 HAVAIANA SLIM FLIP FLOP
You guys. Before I came up with the "Flip-Flop-Off", these are what I ordered. Havaianas were it. I wanted to love them. I thought I would love them. The reviews were great. But… you guys… I did not love them. The "feel" of the sole was good but they were flat. The worst part for me was the plastic part between my toes hurt. That being said, there are a TON of fantastic reviews on these (and many of you raved about them!) so just because they weren't for me doesn't mean they aren't for you. I've gotten pretty finicky in my footwear and need support and sponginess. If you need something basic, I would definitely go for these before GAP or Old Navy. (Find them HERE)
PRO: They have great reviews from thousands of people; come in a ton of colors; are cute for a basic flip flop, and I found them under $20.
CON: On the narrow side; piece hurt between my toes; too flat and thin.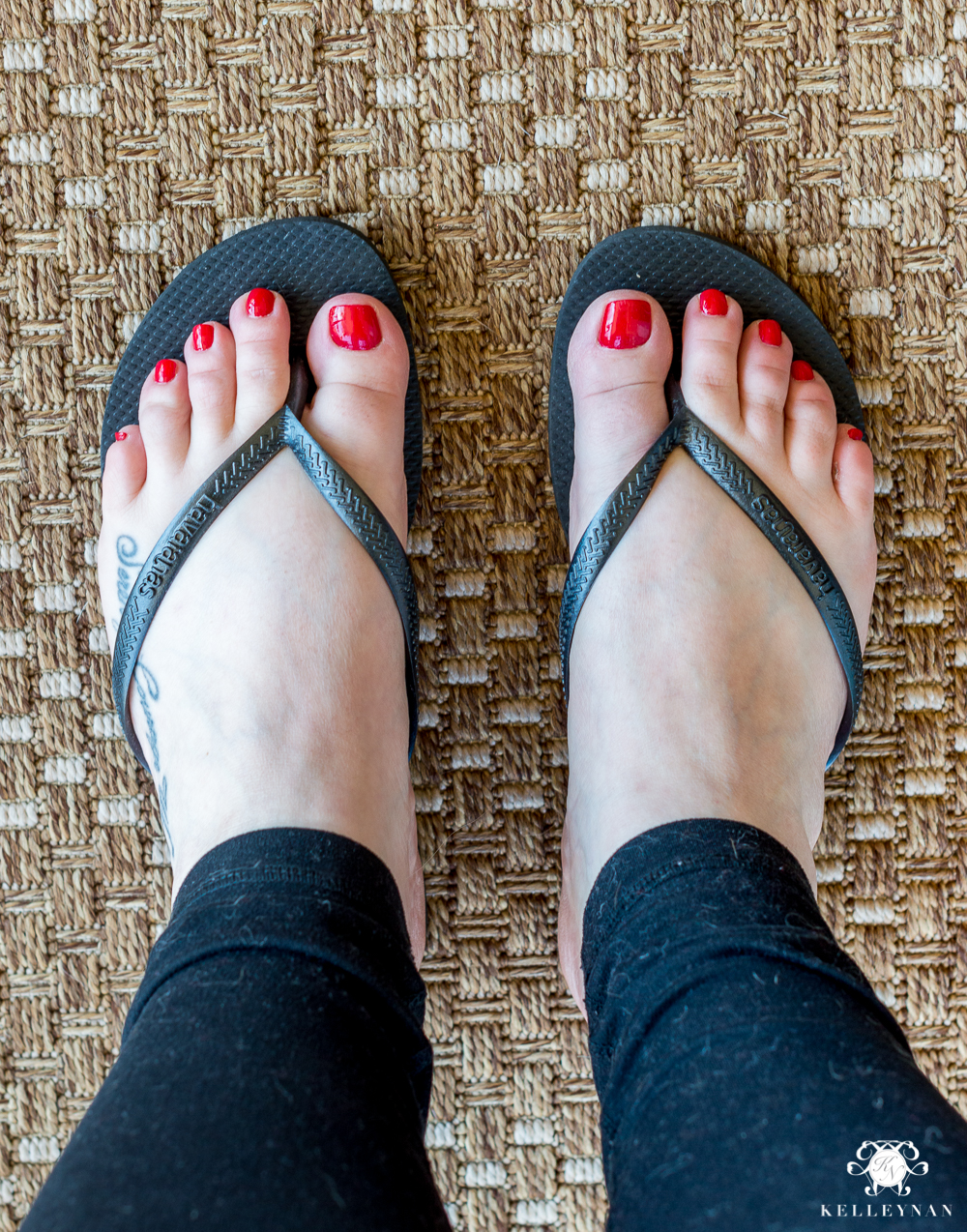 OLUKAI OHANA FLIP FLOP
I thought I was finished ordering but there were several people who messaged and said I absolutely had to try these, claiming their arch support was second to none. I love good arch support! So, I ordered 'em up. These were very different than the others I tried- the sole wasn't squishy – they were more like a sturdy sandal. And that arch support? Well, that was no joke. Unfortunately, it was almost TOO much arch support for me. My foot had to rock forward over the arch (maybe I'm flat-footed?) so the arch support just pressed into my arch, almost uncomfortably. I've heard orthopedists have recommended this brand because of the support, but, unfortunately, they were not for me. If you are on the fence or are looking for something with awesome arch support, definitely give these a try. They have free shipping and free returns (HERE) so if they don't "wow" you, you can return them like I did 😉 (Find them HERE)
PRO: Fantastic reviews (probably the best of the entire bunch); arch support like I've never experienced; comfortable between the toes.
CON: Most expensive of the "Flip-Flop-Off" at almost $65/pair; arch support was too extreme (almost painful) for me; look a little "sporty"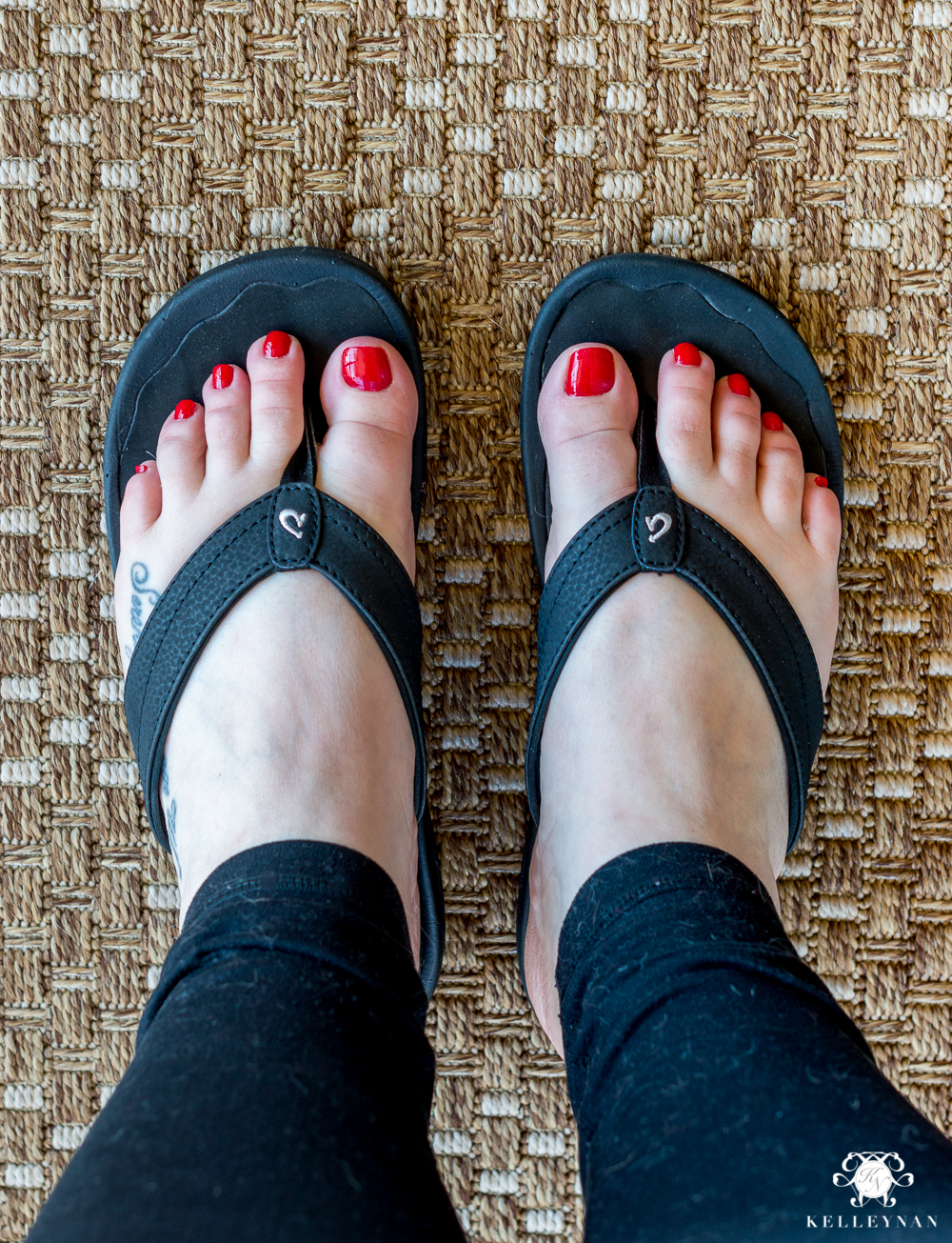 SANUK YOGA MAT FLIP FLOP
These were the second pair of Sanuk flip flops I ordered (sharing the first in a bit) – honestly, I just fell in love with the comfortable straps and how thick and cushy the sole was. As indicated in the name, these are constructed of yoga mat material and feel like you are walking on clouds. There isn't an arch support, per se, but, they are so cushy the sole supports my foot well. I actually ordered these in two colors- white and black 😉 They are mid-priced around $32/pair. (Find them HERE)
PRO: THOUSANDS of great reviews; available in several colors; comfortable straps, cushy sole
CON: They aren't as "cute" as some of the thin strapped rivals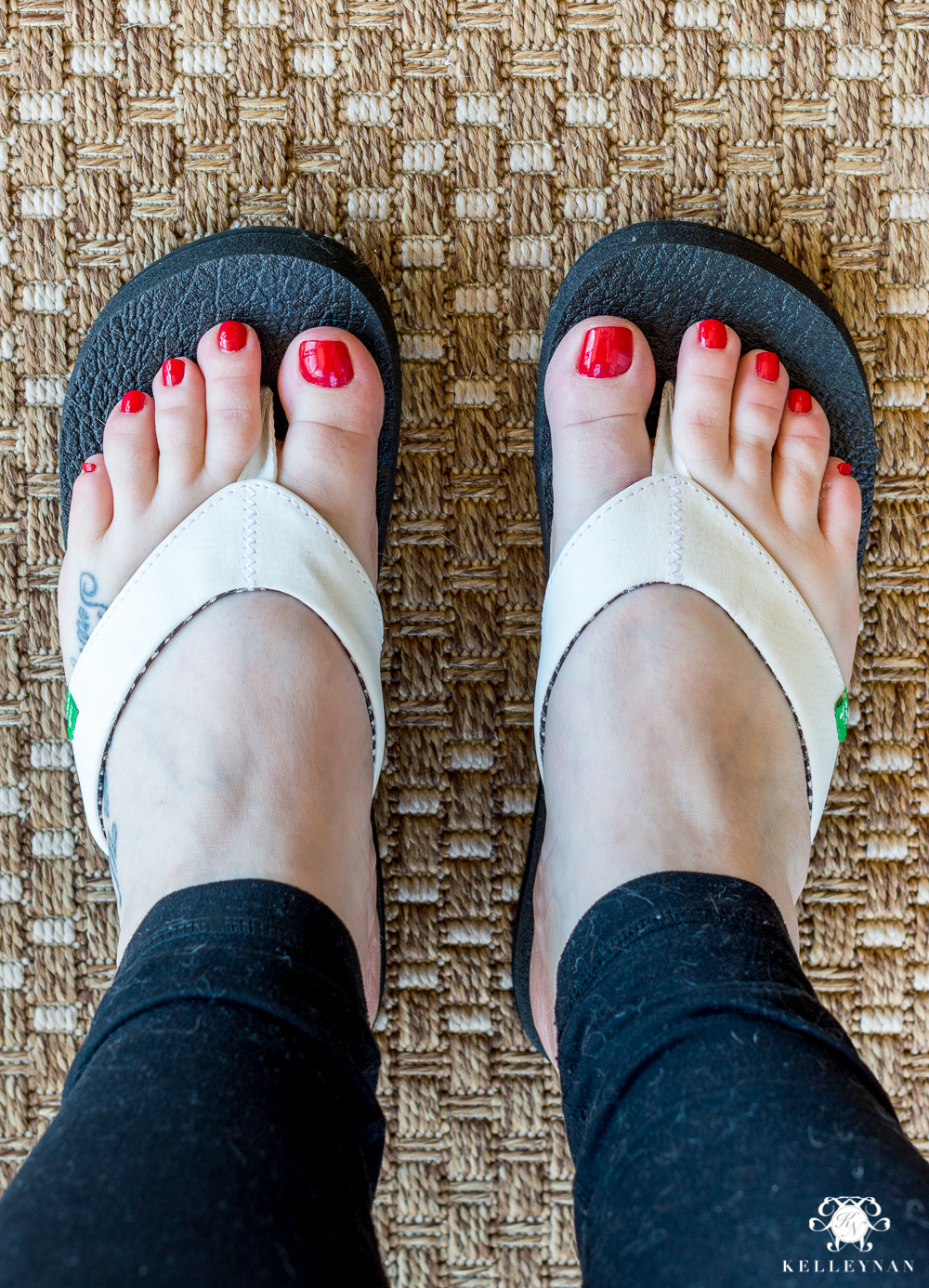 YELLOW BOX FLIP FLOPS
These were the flip flops that started it all for me. I didn't order these new; I already have several pairs. These were the first comfortable flip flops I owned and why I wanted to branch out to try other brands. My mom turned me onto these as she has been a faithful fan for years, too. After a year, the sole wears down and I need to toss a lot that no longer "do their job". These are another mid-priced brand. That being said, I do like the Sanuks better than the Yellow Box! (Find them HERE)
PRO: Comes in a ton of colors and styles; comfortable between the toes; cushy sole (especially the Mellow Mat style)
CON: A little clunky in appearance; wears down after continual wear (note: these are the only pair I can comment on longevity since the others are new)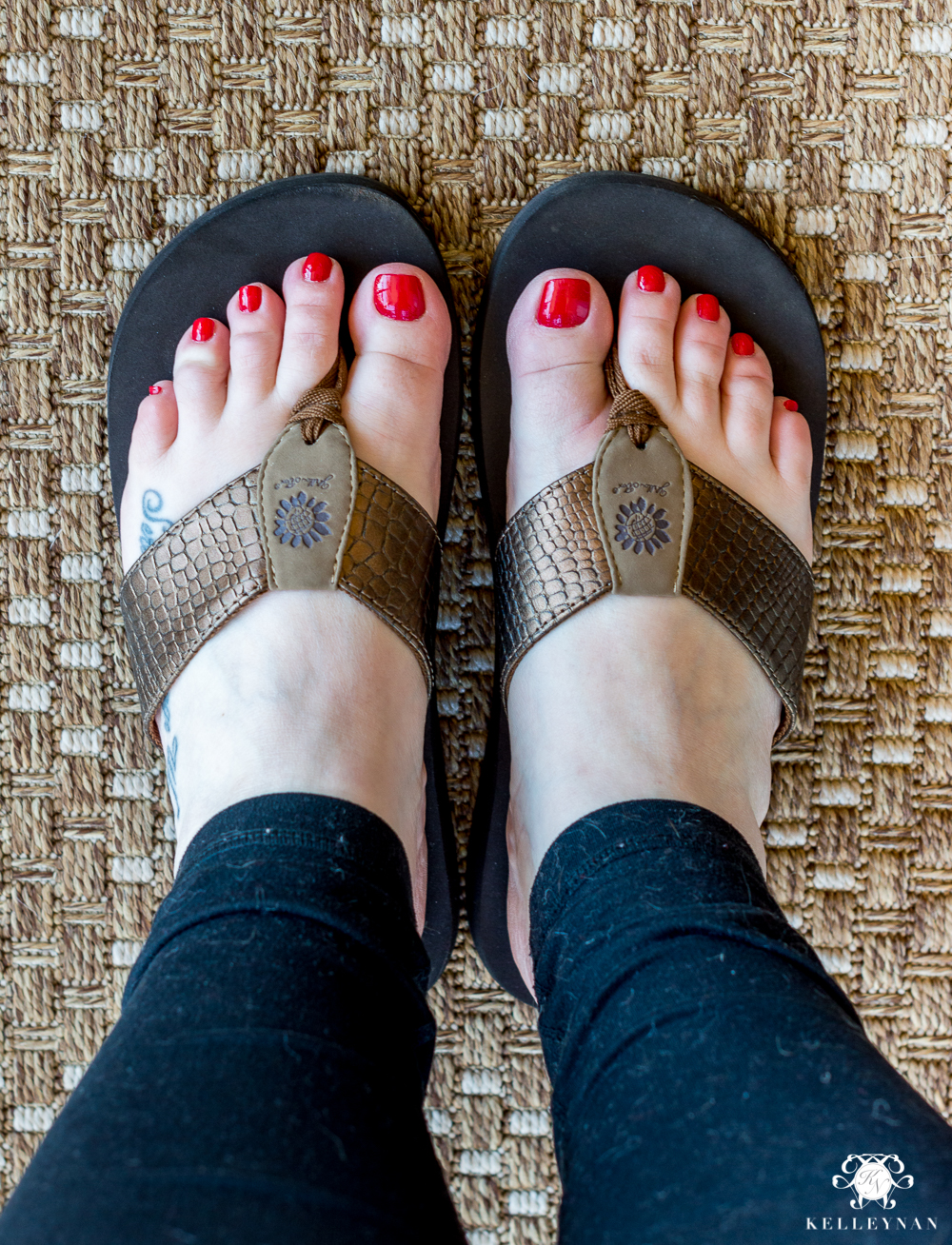 *THE GRAND WINNER*
SANUK YOGA JOY FLIP FLOPS
These were the second pair of flip flops I ordered (and the first pair of Sanuks). I was nervous when I opened the packaging because they are thin (which I knew but I was nervous they would feel like the Havaianas I tried). I slipped them on and it was like everything I had been needing in a comfortable flip flop- even though they aren't thick, they are still cushy and supportive (also constructed of yoga mat material). The piece between the toe is comfortable and my favorite part- it has an arch support curvature that fits my arch perfectly. I was also nervous about the slimmer strap and while it isn't cushy like the Sanuk Yoga Mat flip flop, they aren't uncomfortable at all. I will be ordering more of these FOR SURE. They have quickly become my go-to and I've been wearing them non-stop. Even if you just need something thin for occasional wear, I can't say enough good things about these. These are mid-priced, coming in just under $30. (Find them HERE)
PRO: My FAVORITE flip flop of the review; has an arch support; comfortable sole; cute with thin straps; can walk and stand for hours
CON: Not as wide of a strap as some of the others but I prefer the thin strap that is a little cuter than those that do have wide straps.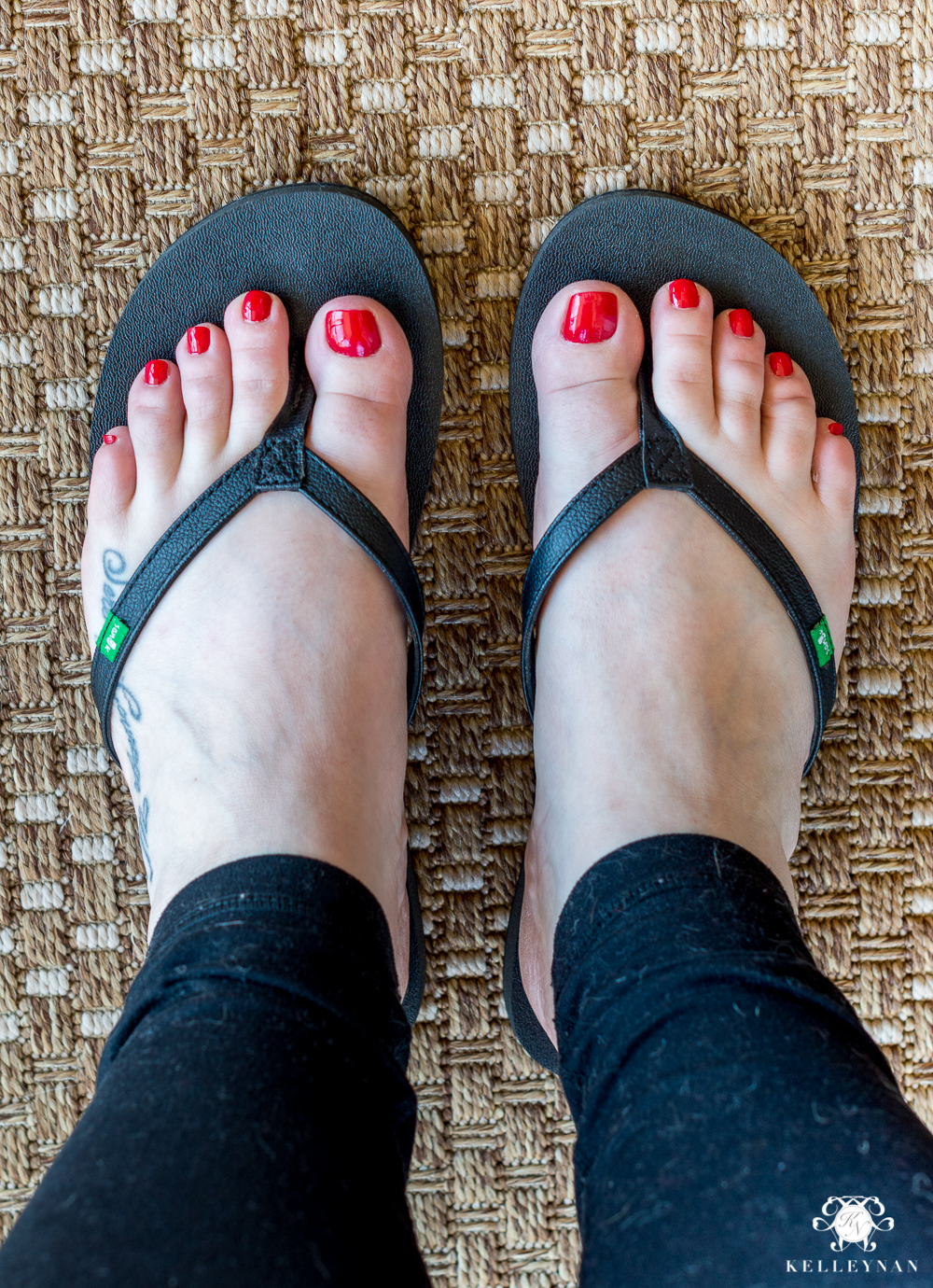 Have a favorite flip flop on this list? One I missed? One you want others to know about? Let me know in the comment section below. And, be sure to subscribe to my emails below and never miss a project (or fun review 😉 ) again!
---
SHOP THE FLIP FLOPS

---