Whenever I go dark, it's probably safe to assume that I'm working on a big project. Today, I'm sharing the fruits of my spring labor with my 2018 Spring Home Tour! It's probably my favorite of the year since by this time, most of us are tired of slugging through the cold, post-Christmas months. It feels good to bring some life and freshness back in. I wanted to share decorating ideas for every room in the house which motivated me to actually clean several rooms that had turned into drop zones (I'm looking at you, office and white guest bedroom!) That means- this is a long tour. As in, bring-your-favorite-snack-and-pour-yourself-a-drink kind of "long". I also finally started on some lighting updates and while I didn't get them all installed just yet (and I still have a ways to go in updating some), we have been working to get those installed, just in time for the season, too.
You'll see some new goodies I've sprinkled throughout, but even more old favorites I repurpose from season to season. Hopefully, you'll be inspired to take a second look at some of your own pretties you haven't considered bringing out for the new season. Now, I'll go ahead and welcome you on in to hang with me for a bit 😉
A FULL SOURCE LIST CAN BE FOUND AT THE BOTTOM OF THE POST
*Posts on KelleyNan.com may contain affiliate links. Click HERE for full disclosure.*
---
DECORATING IDEAS FOR EVERY ROOM
Our grass still looks gray, like an old, scraggly beard, but that's ok because we are rocking some fresh new pinestraw 😉

For the first time, I finally spray painted my urns flanking the door. It took zero prep, half a can of paint, and five minutes of labor to freshen these guys up as good as new. If you have outdoor furniture/pots/etc., never underestimate the power of a good 'ol can of Rustoleum. Also worth noting, your eyes aren't playing tricks on you – our flag really is that big. I knew we were due for another since our former one had faded. This was one of those frequent little "surprises" from Dave haha. While it's probably more size appropriate to sit atop the Capitol building in Atlanta, well, you can't say he isn't patriotic 😉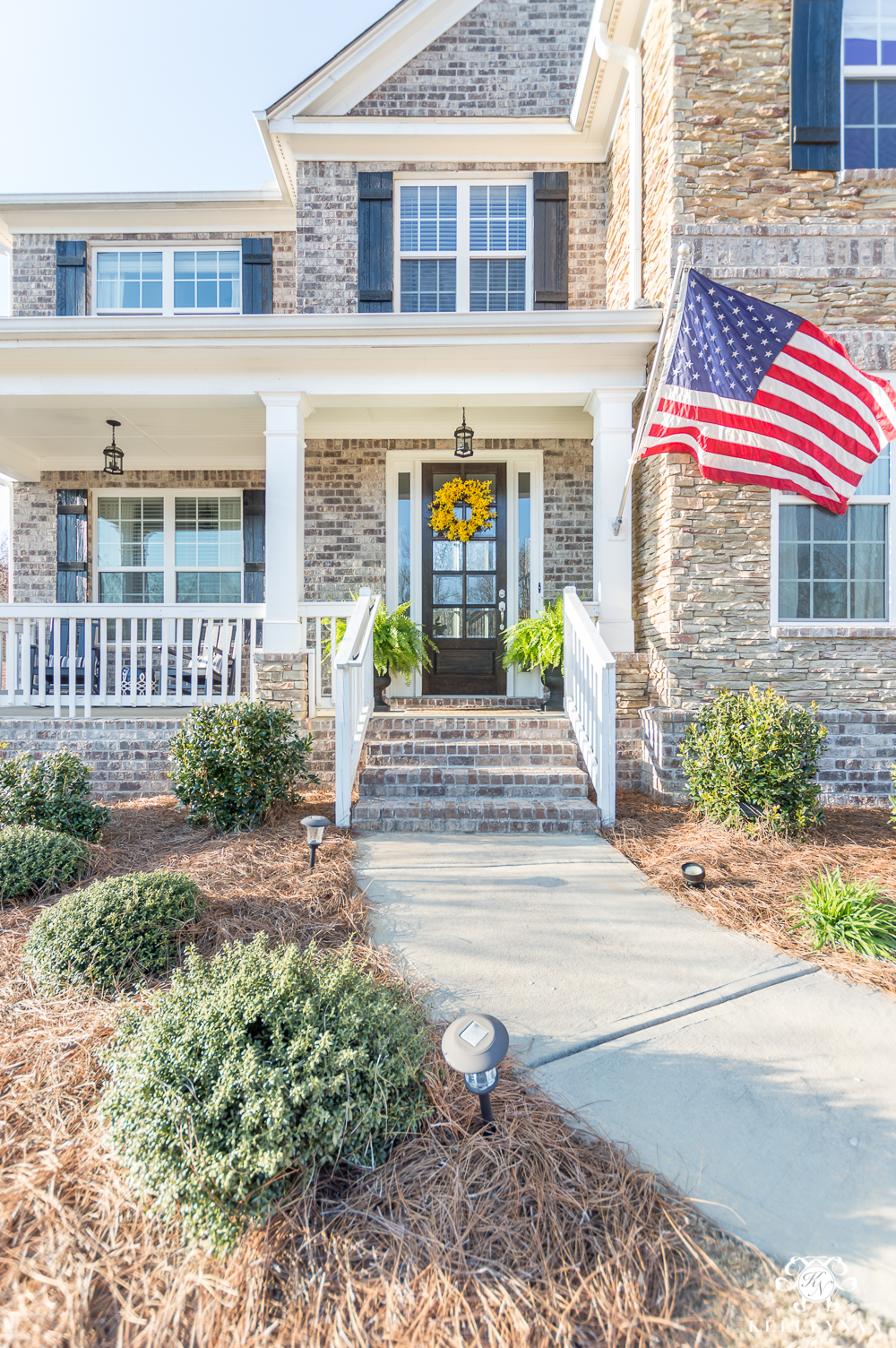 Our front door was also decked with a new yellow Forsythia wreath (HERE). In the past, I've used a lot of wreaths made of greenery for spring, but I just really wanted it to pop this season. It's also on sale right now for under $40.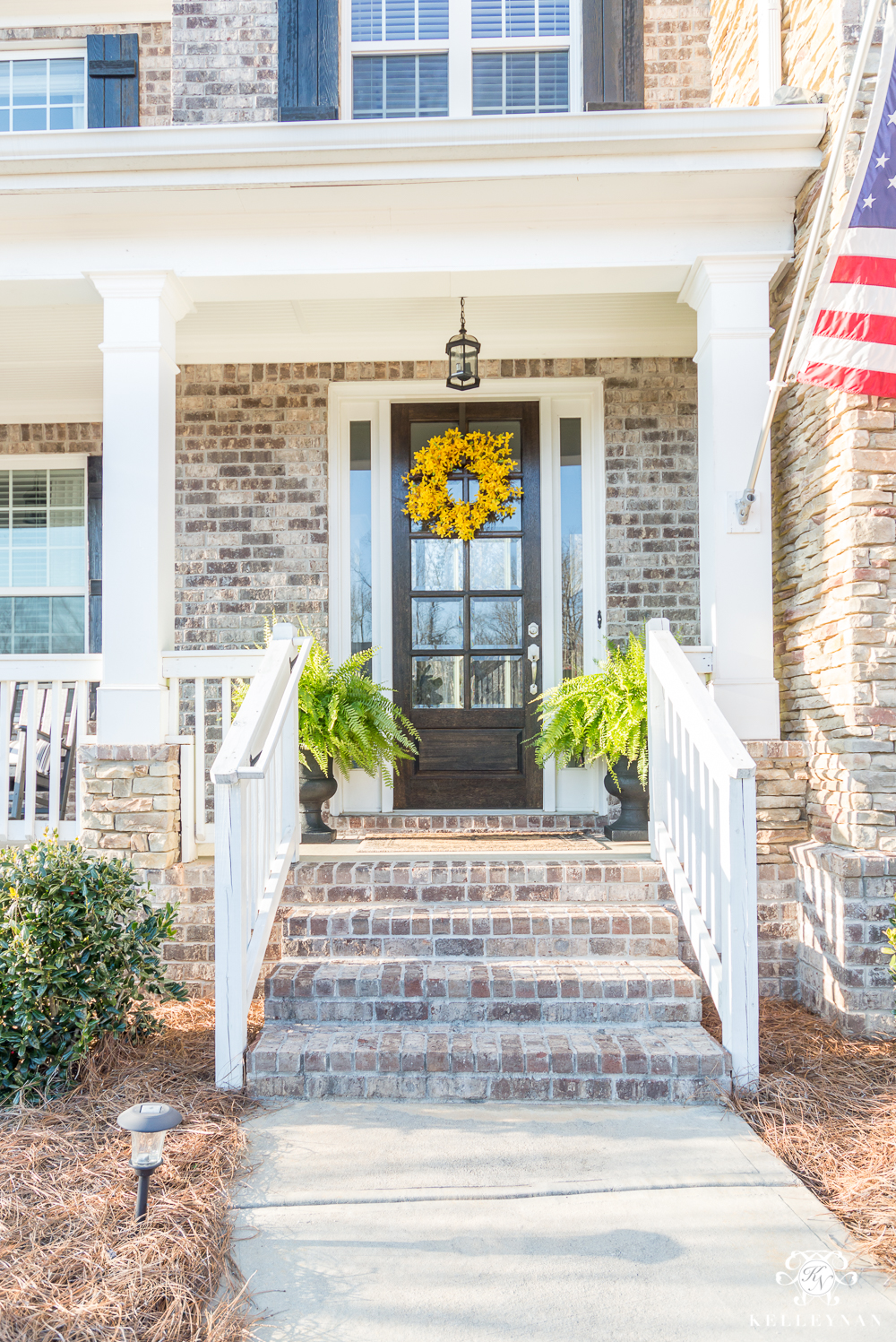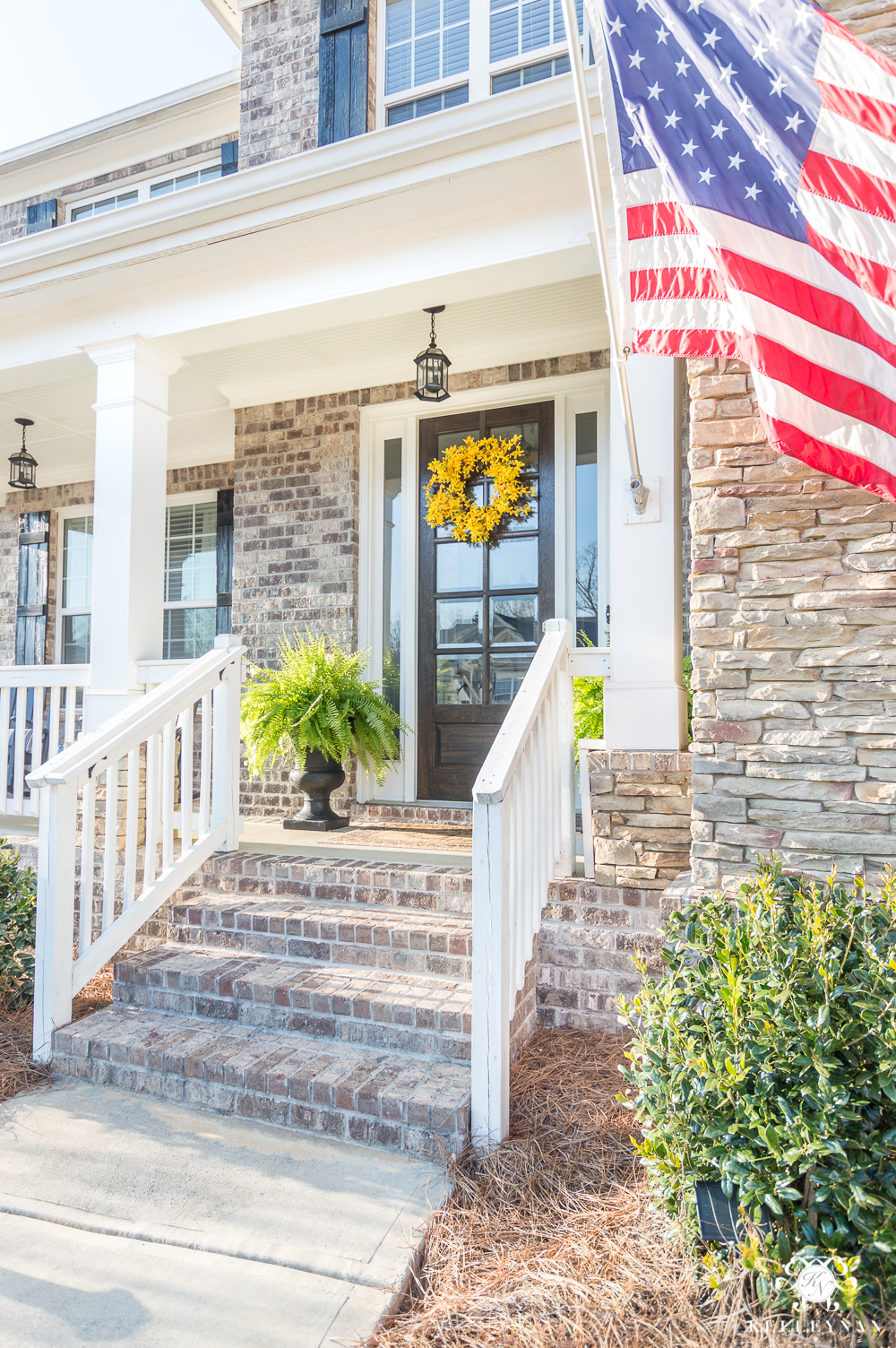 ---
SCROLL & TAP TO SHOP

---
Just inside, you'll see my favorite lantern that gets rotated season after season. I kicked the snow and pinecones to the curb and traded them for some moss and a small vase of purple flowers.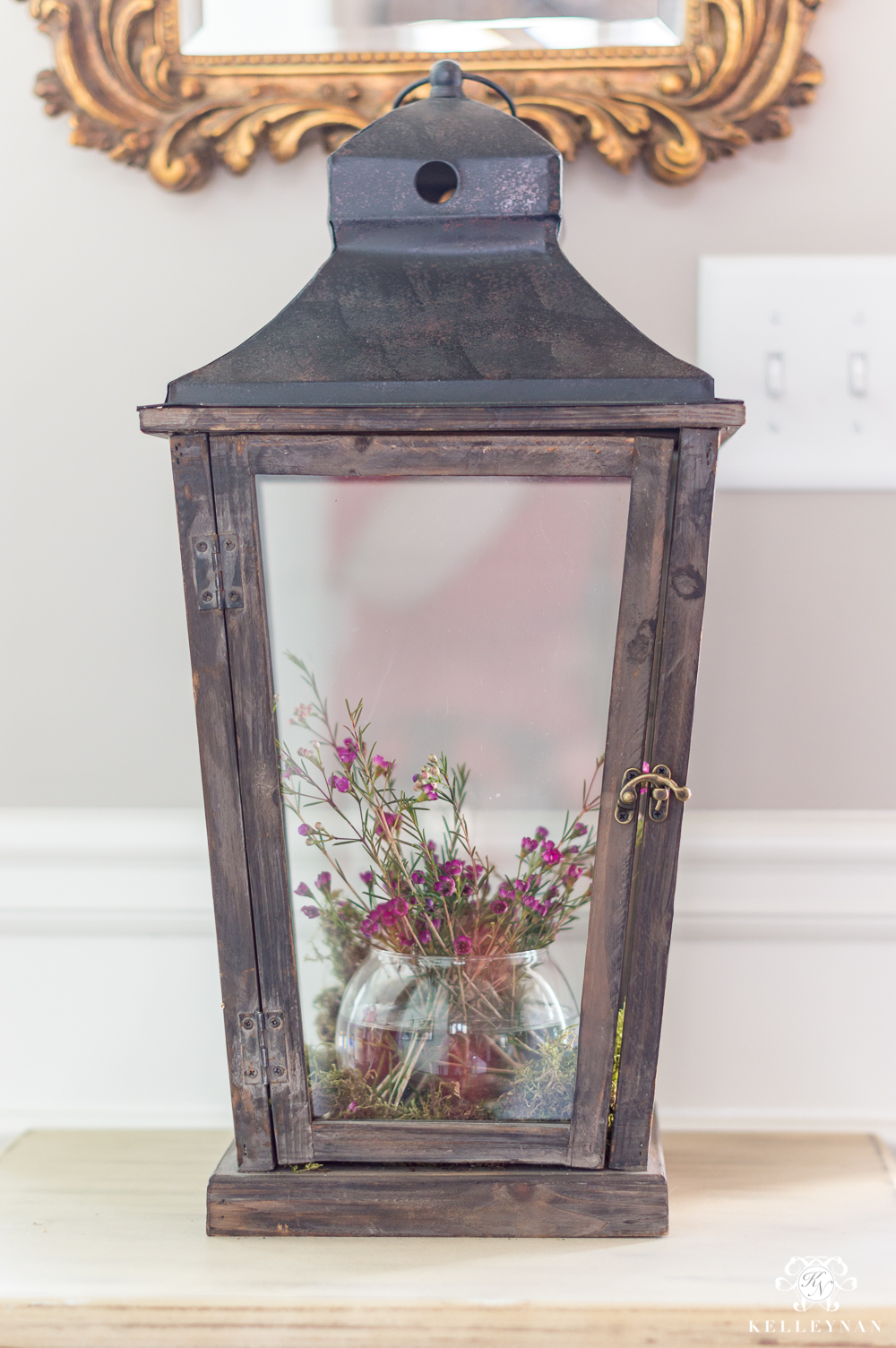 I just shared my spring butterfly table (HERE) this past week (have you made that easy pasta salad yet?). When I cleared it, I decided to keep everything clean and minimal – kind of like a fresh dining room spring cleaning re-start.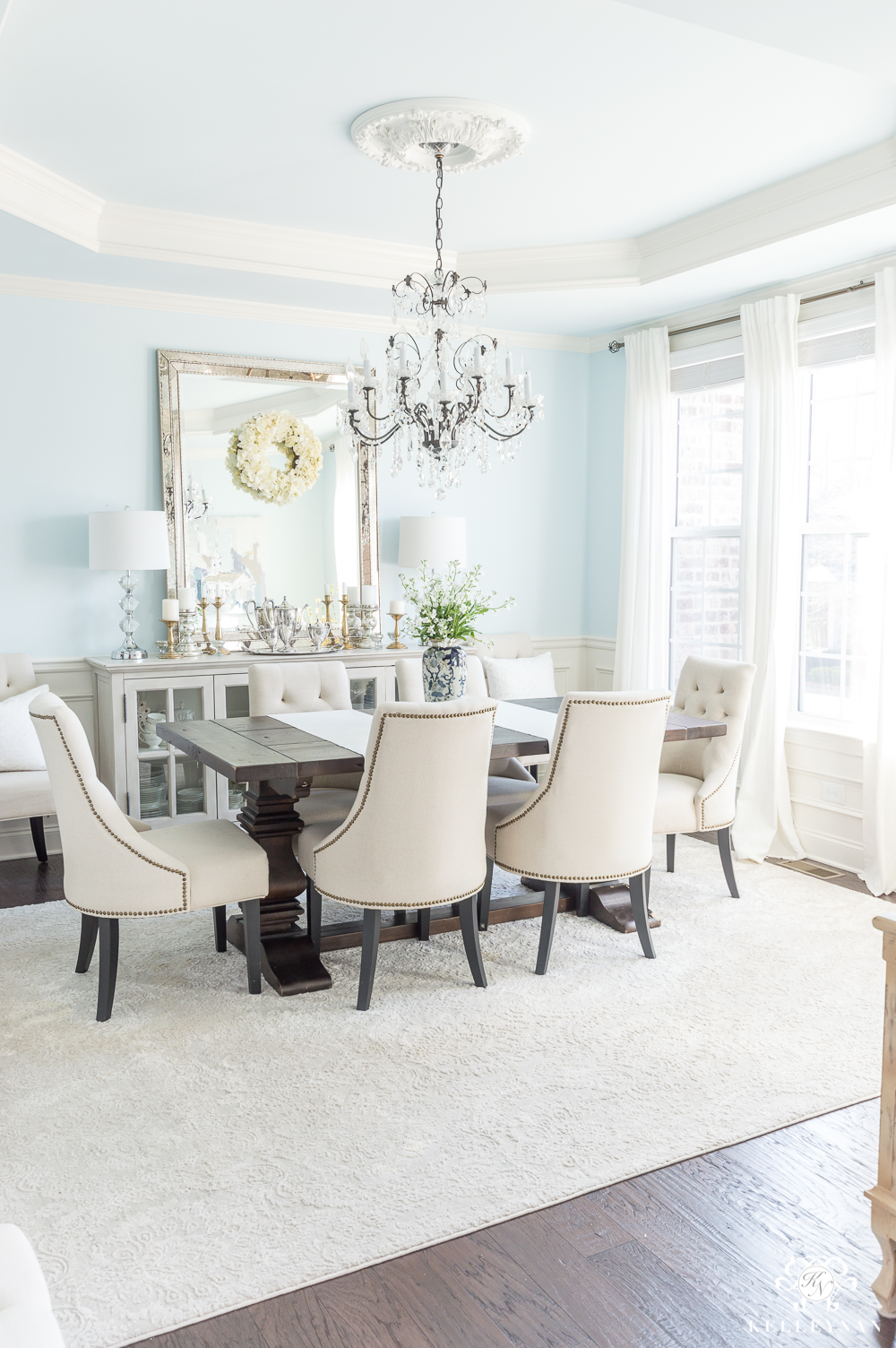 I added a simple blue and gray vase (HERE) as the sole centerpiece – it's also on sale right now 😉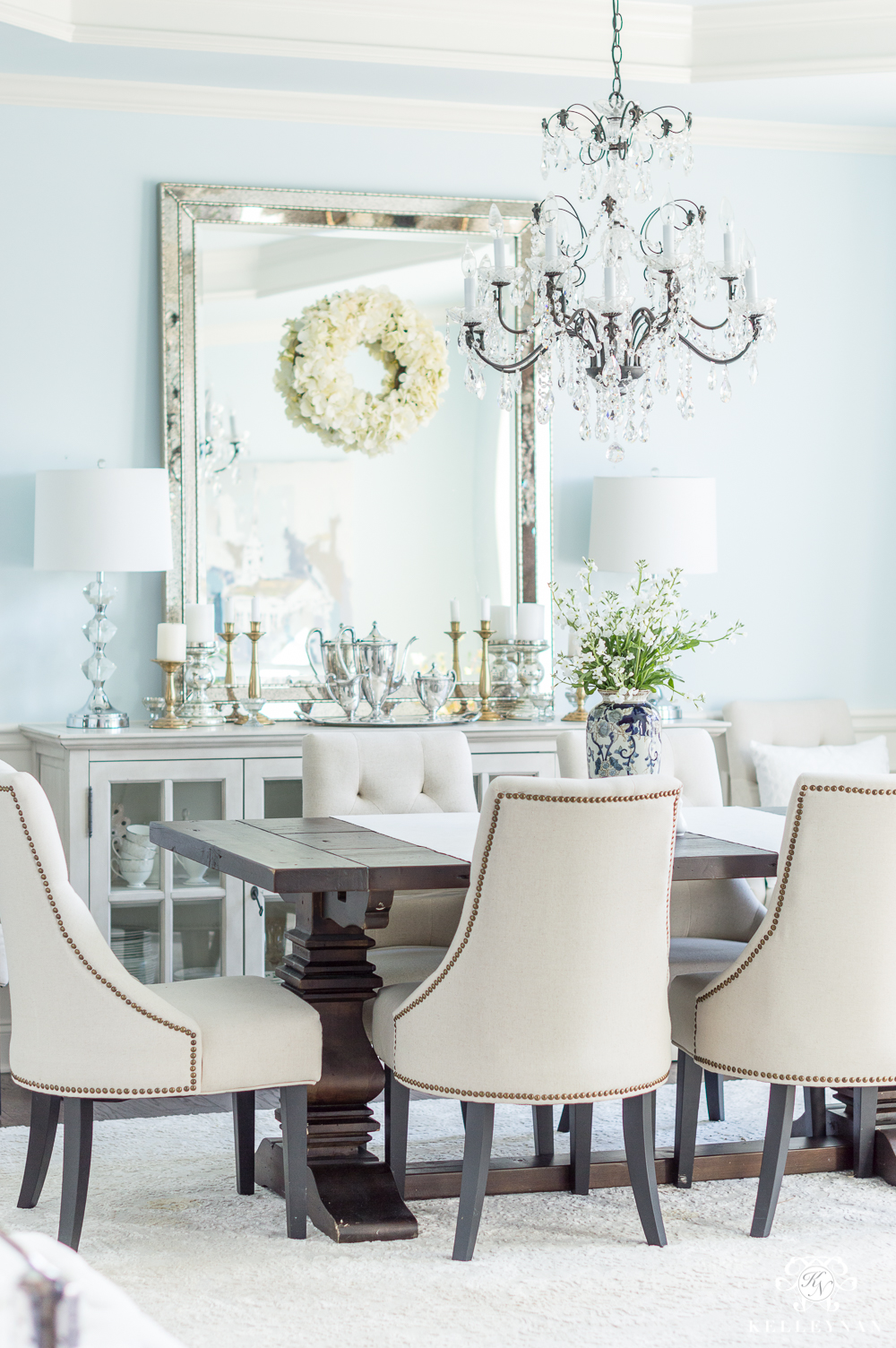 I have the sources listed at the bottom of the post but if you missed it, I also shared a dining room dupes post (HERE) for affordable look-alikes.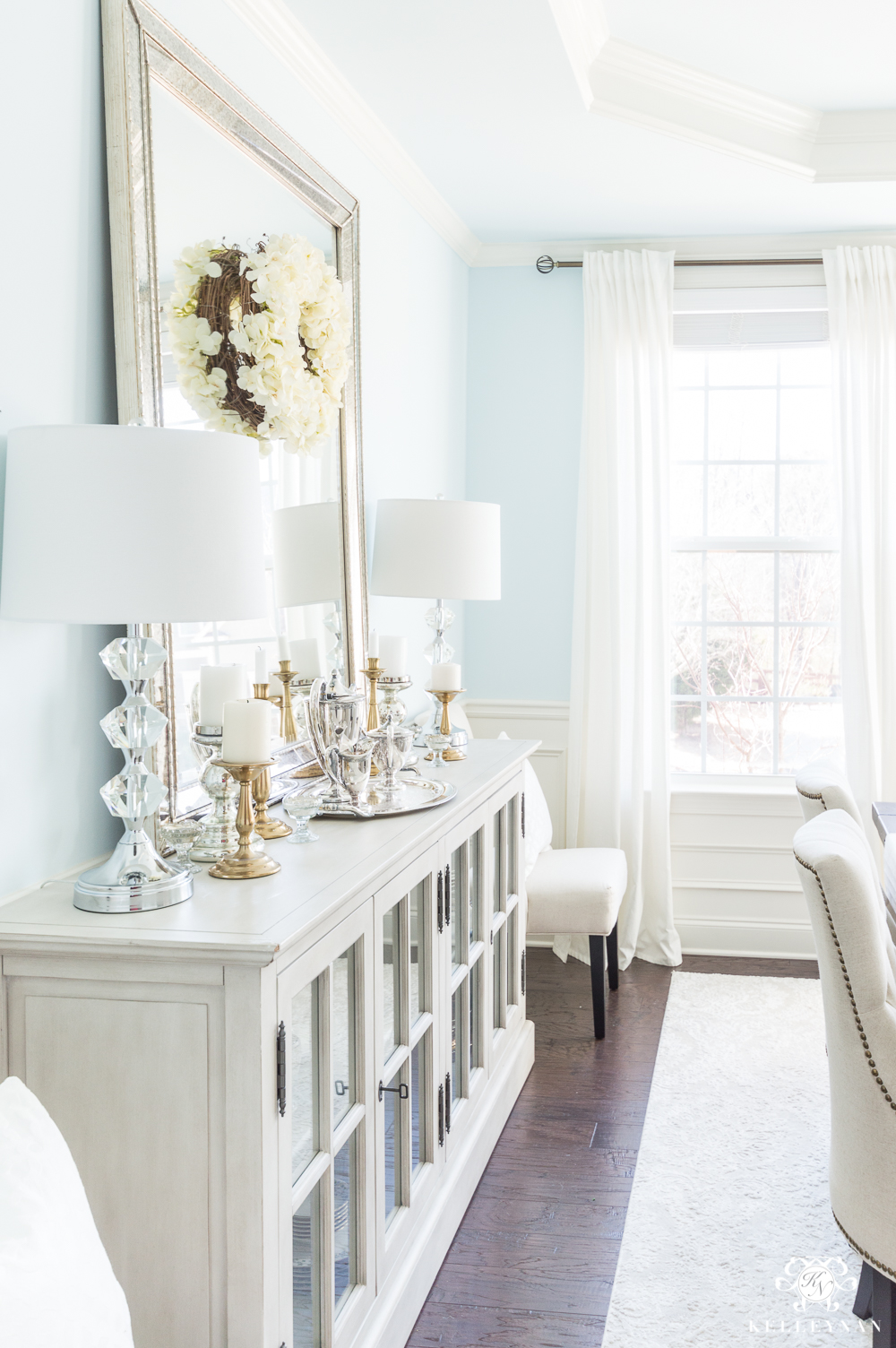 I never feel guilty about purchasing and DIY-ing new wreaths since I recycle and use my former wreaths season after season. If you have spares you aren't using, consider hanging some from command hooks on interior doors and/or mirrors. This white hydrangea wreath was a DIY from a few years ago (shared HERE).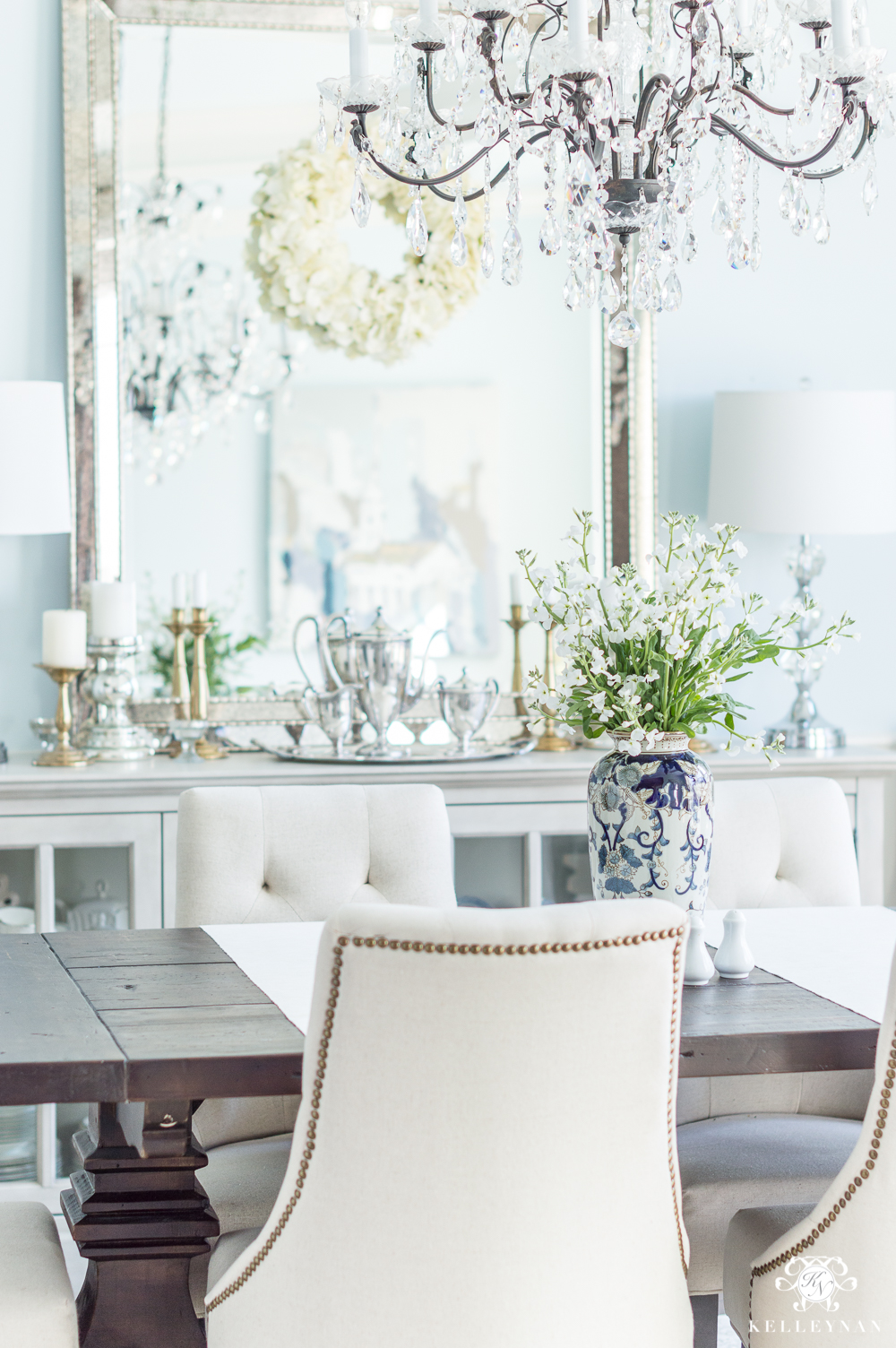 ---
SCROLL & TAP TO SHOP

---

Across the foyer, my sitting room is looking fresh, with only two pillows being switched up for the season.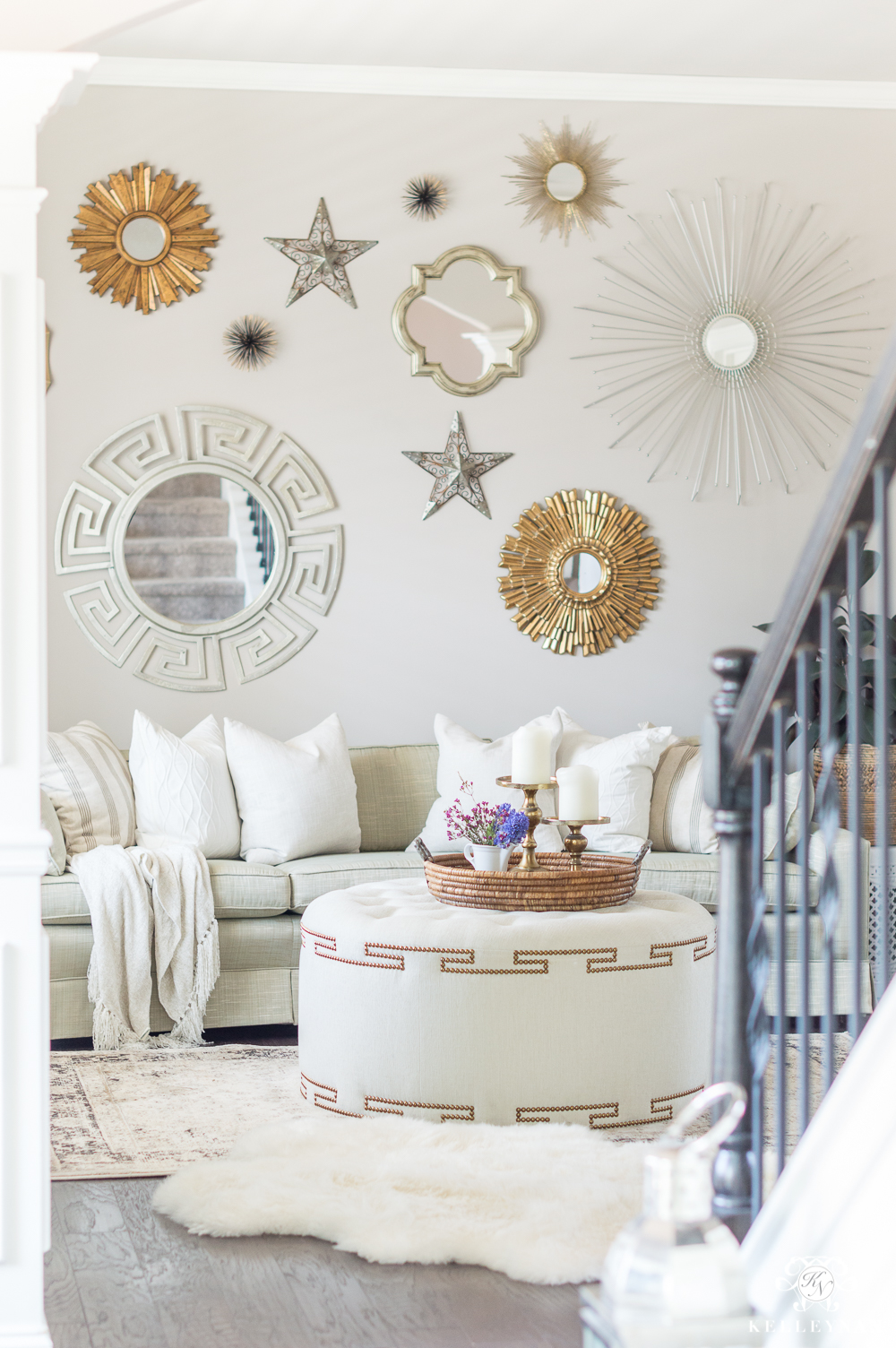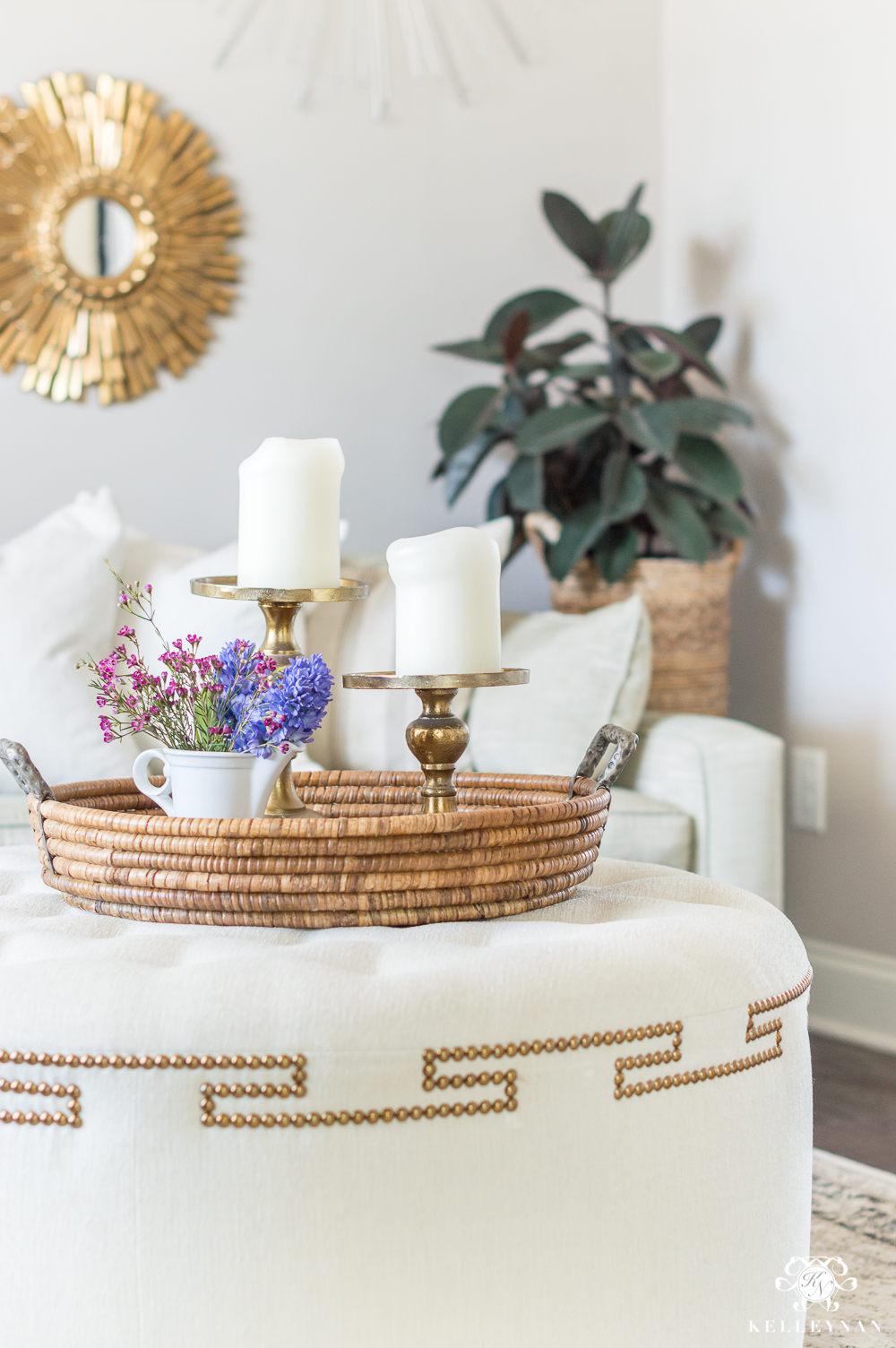 ---
SCROLL & TAP TO SHOP

---

Now, we'll head over to where I've been spending a lot of time making updates. Notice any changes? I have been dying to switch my pendants and breakfast nook fixture for a long time and this past month, I finally pulled the trigger. I hit a few road bumps before we "got here" so I'll be sharing more on the lighting specifics in a separate upcoming post. Remember the lanterns that were here before? They were about a third of the size of these! One thing I love about these pendants (HERE) is the antique silver finish. It's almost a champagne which helps marry several of the finishes I have throughout the surrounding rooms.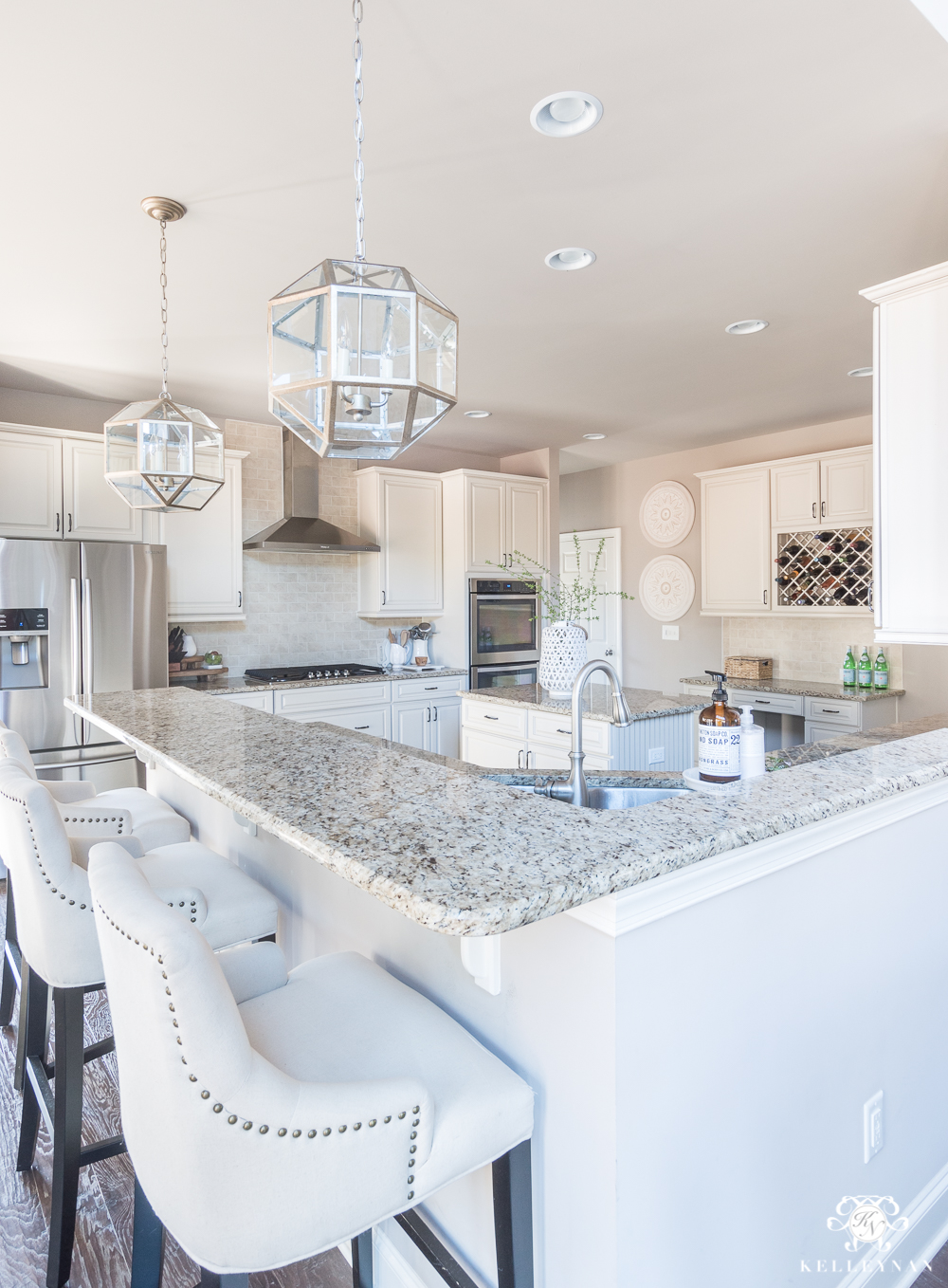 Similar to the dining room, I didn't want visual (our countertop) clutter – I stuck with an oversized island statement with this large, white bamboo lantern (SIMILAR) and some newly sprouted branches from the back yard.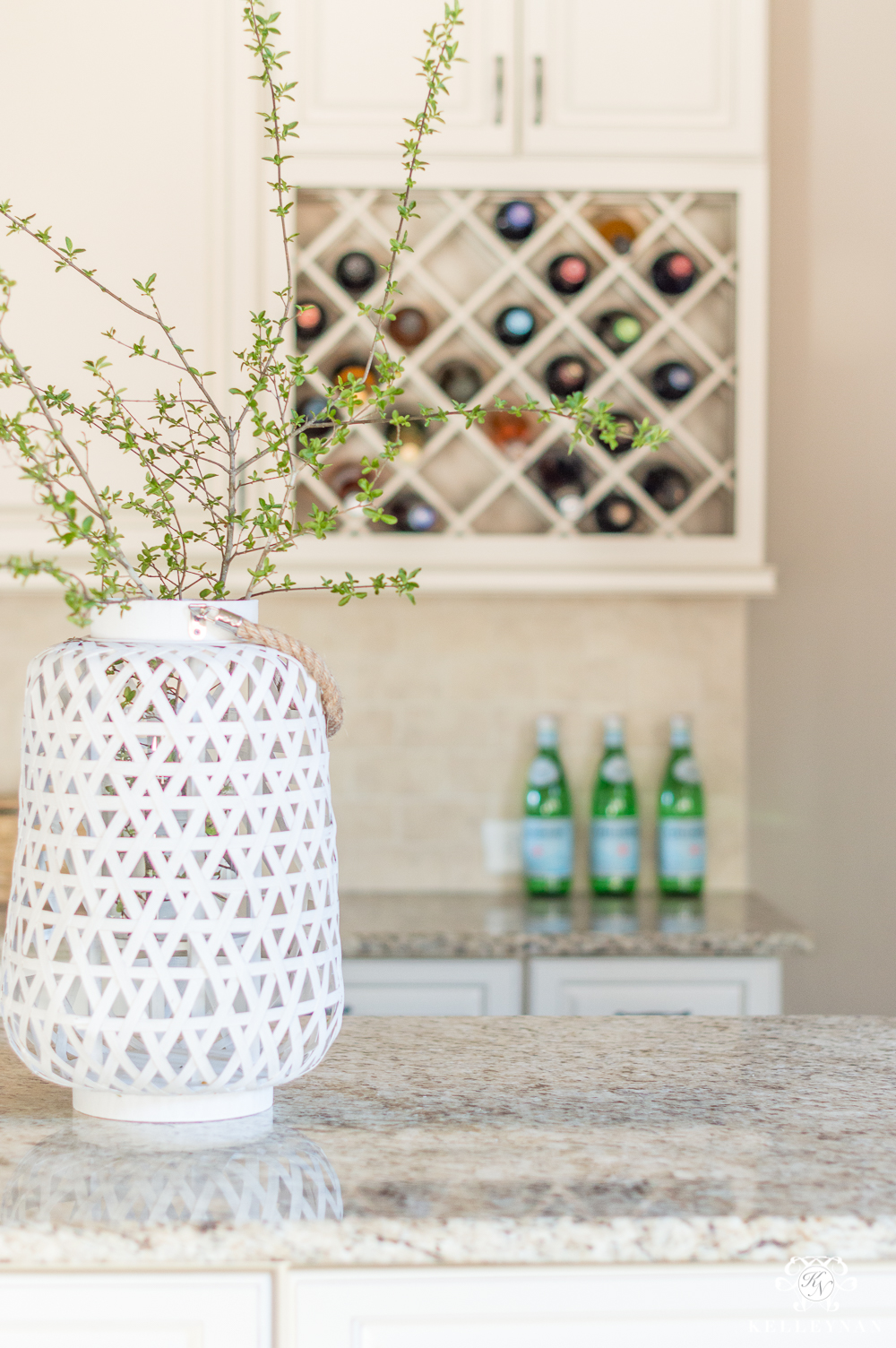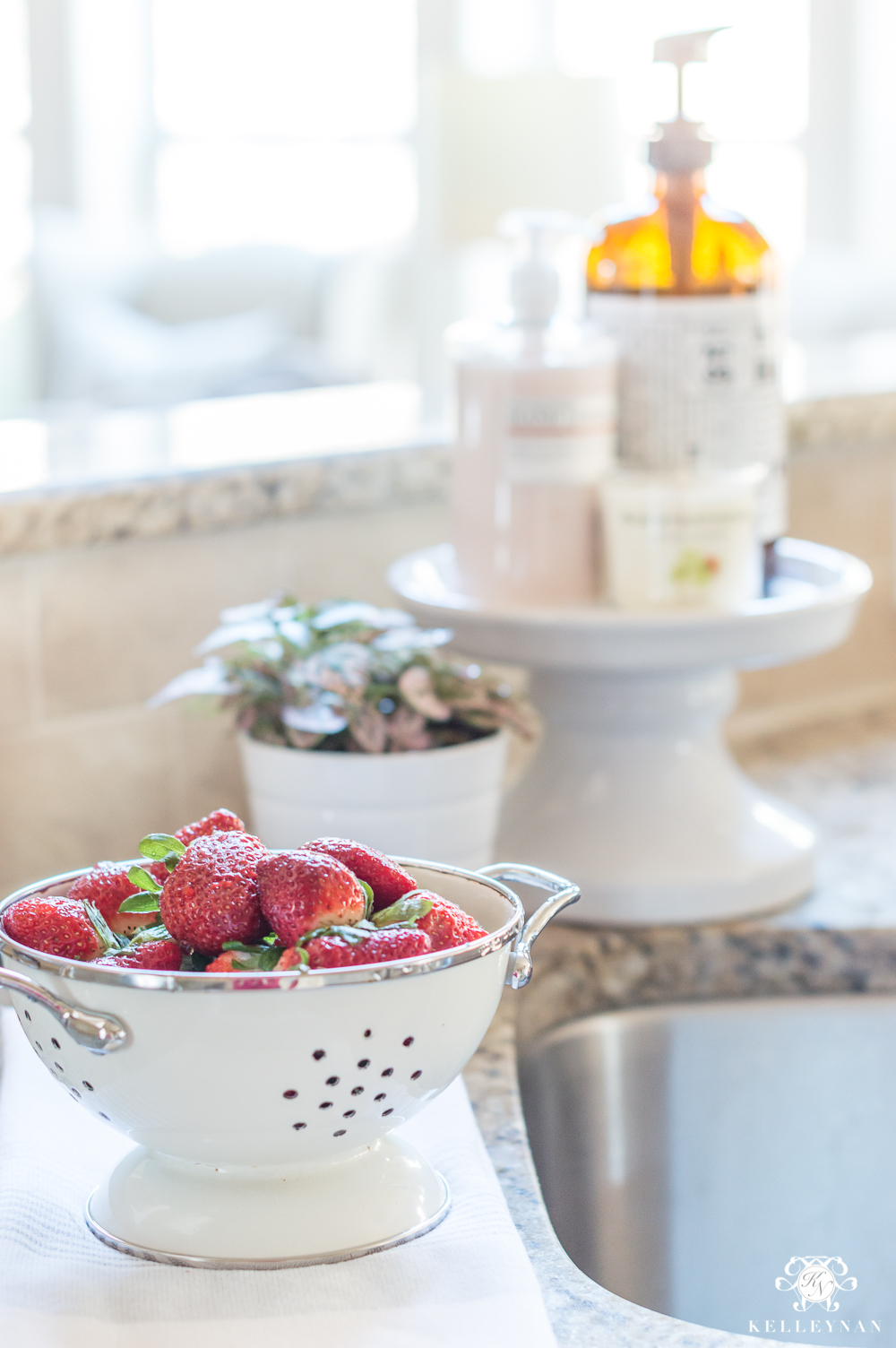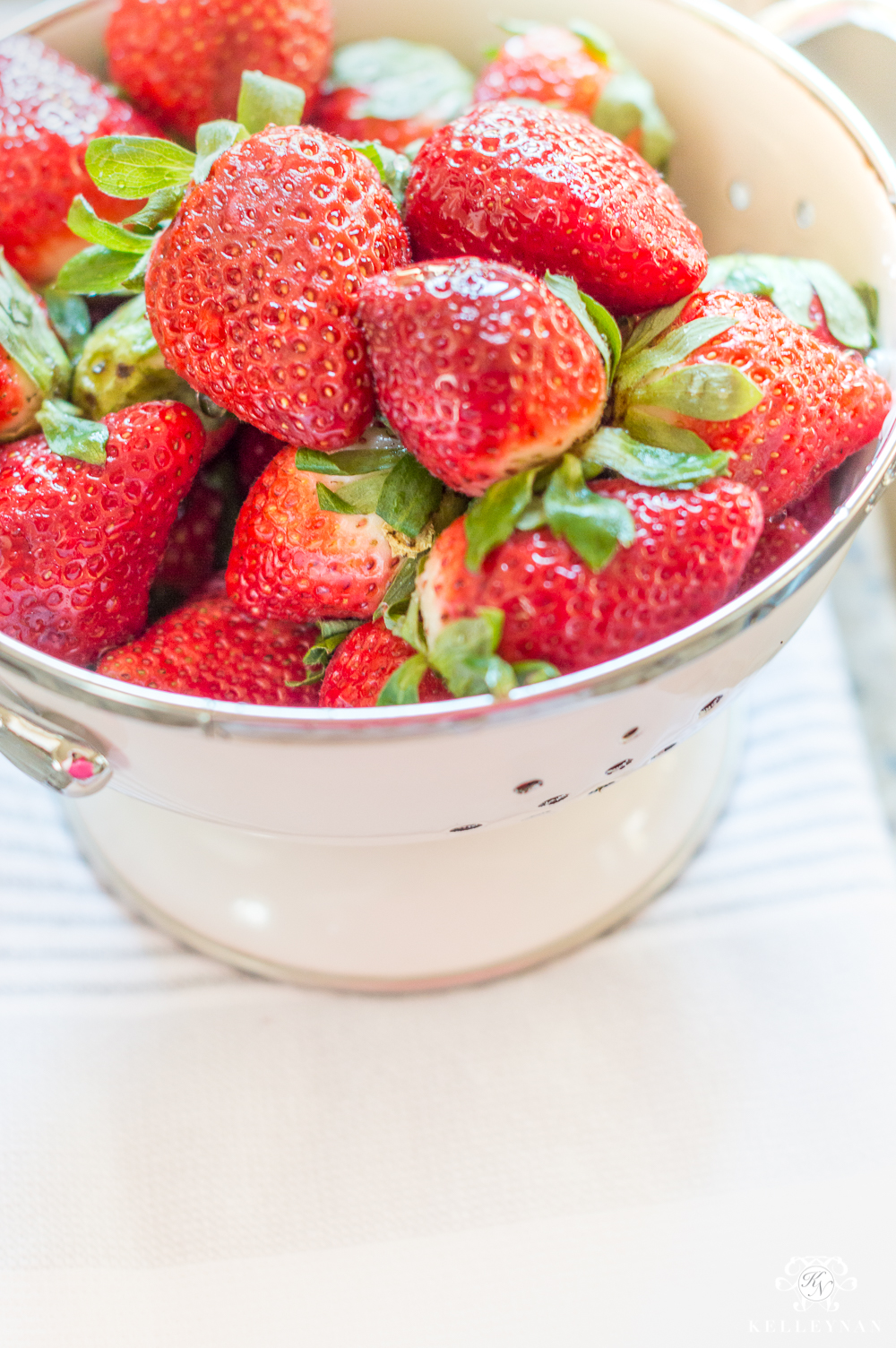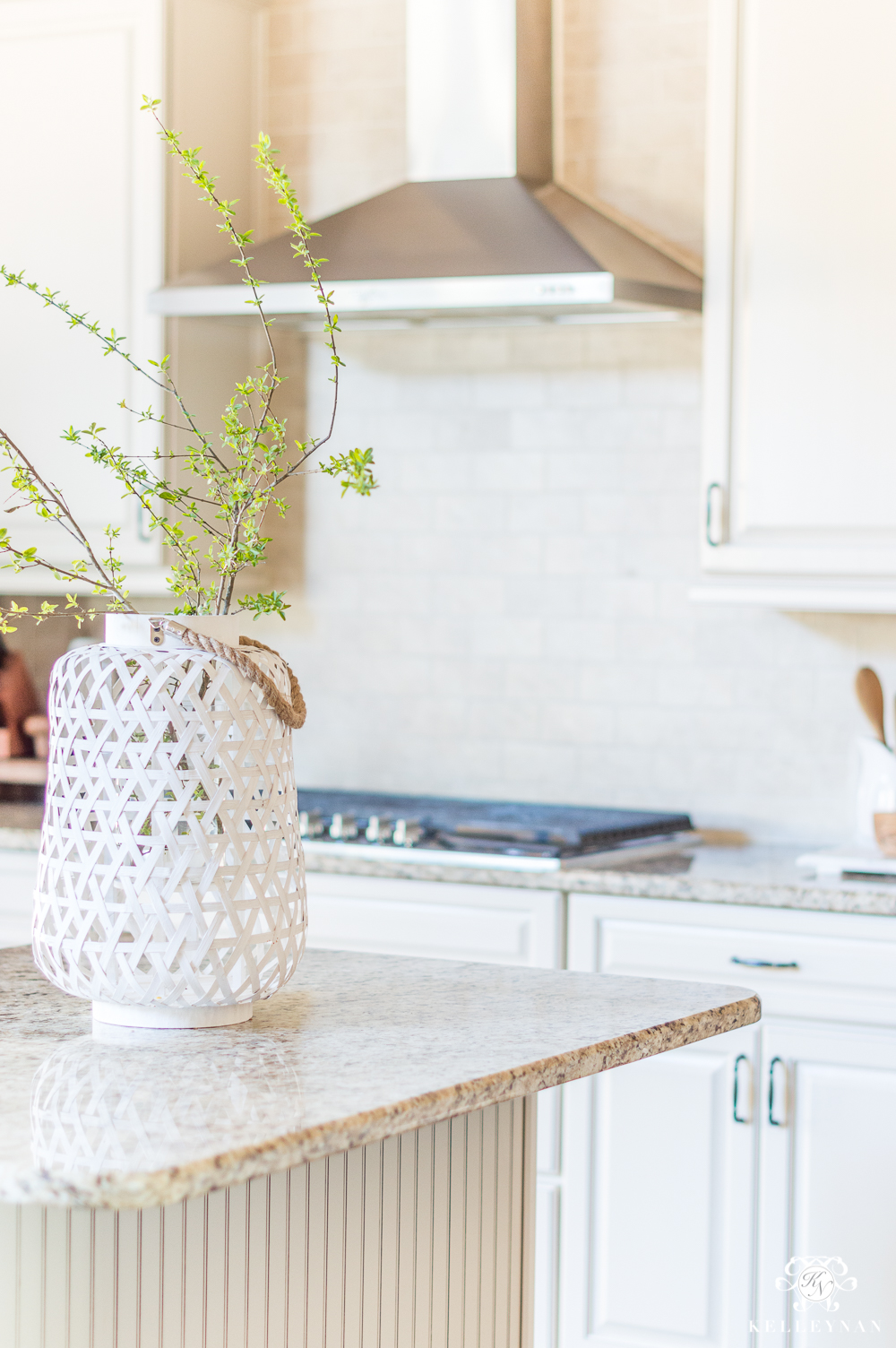 My mom recently gave me this sweet little olivewood salt box (HERE); she's had the same one for years. Something you may or may not have figured out yet about me and Mama Nan- if one of of has and loves something, chances are, the other will soon have it also. We are two generational parallels of the same person haha.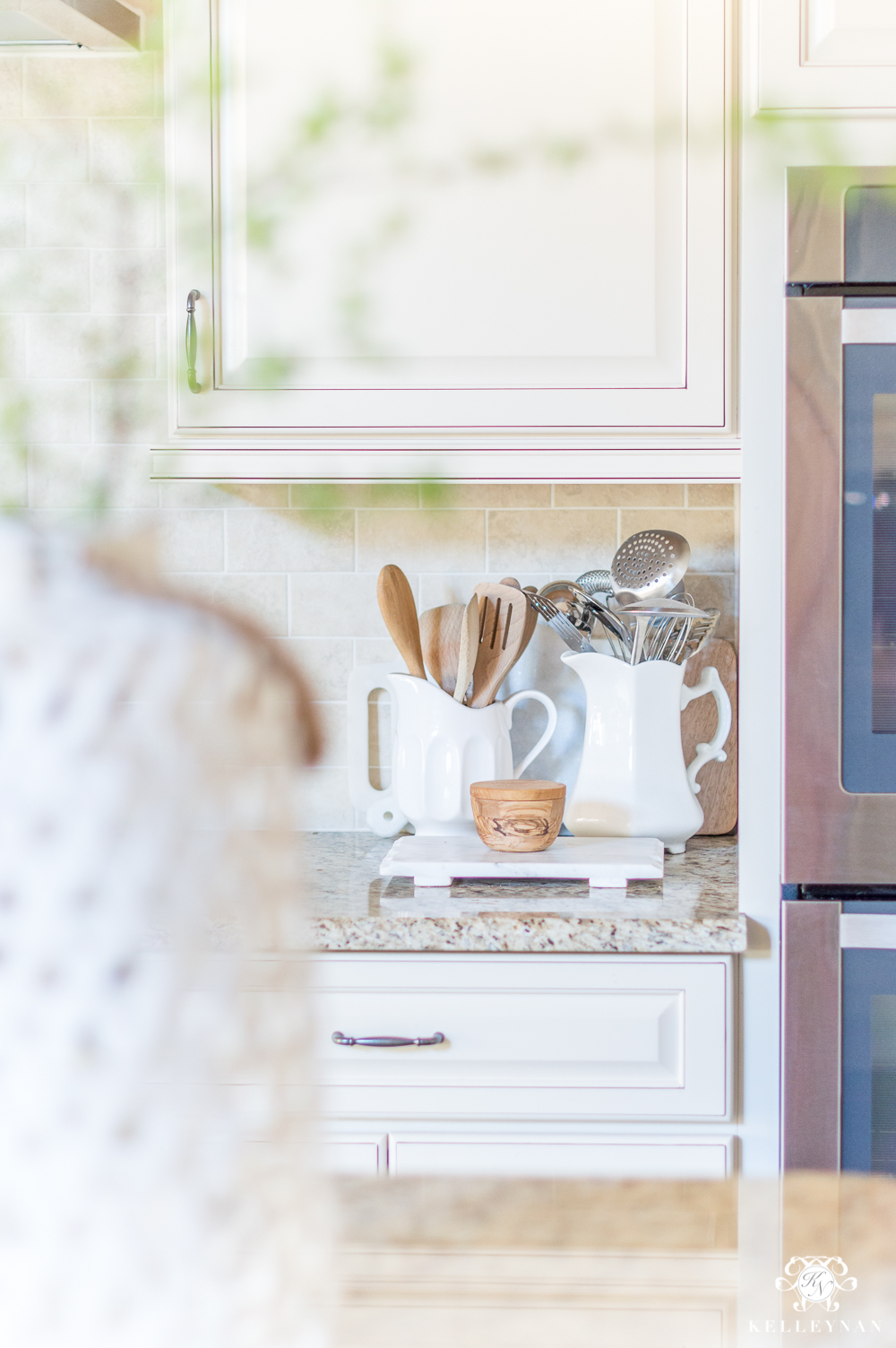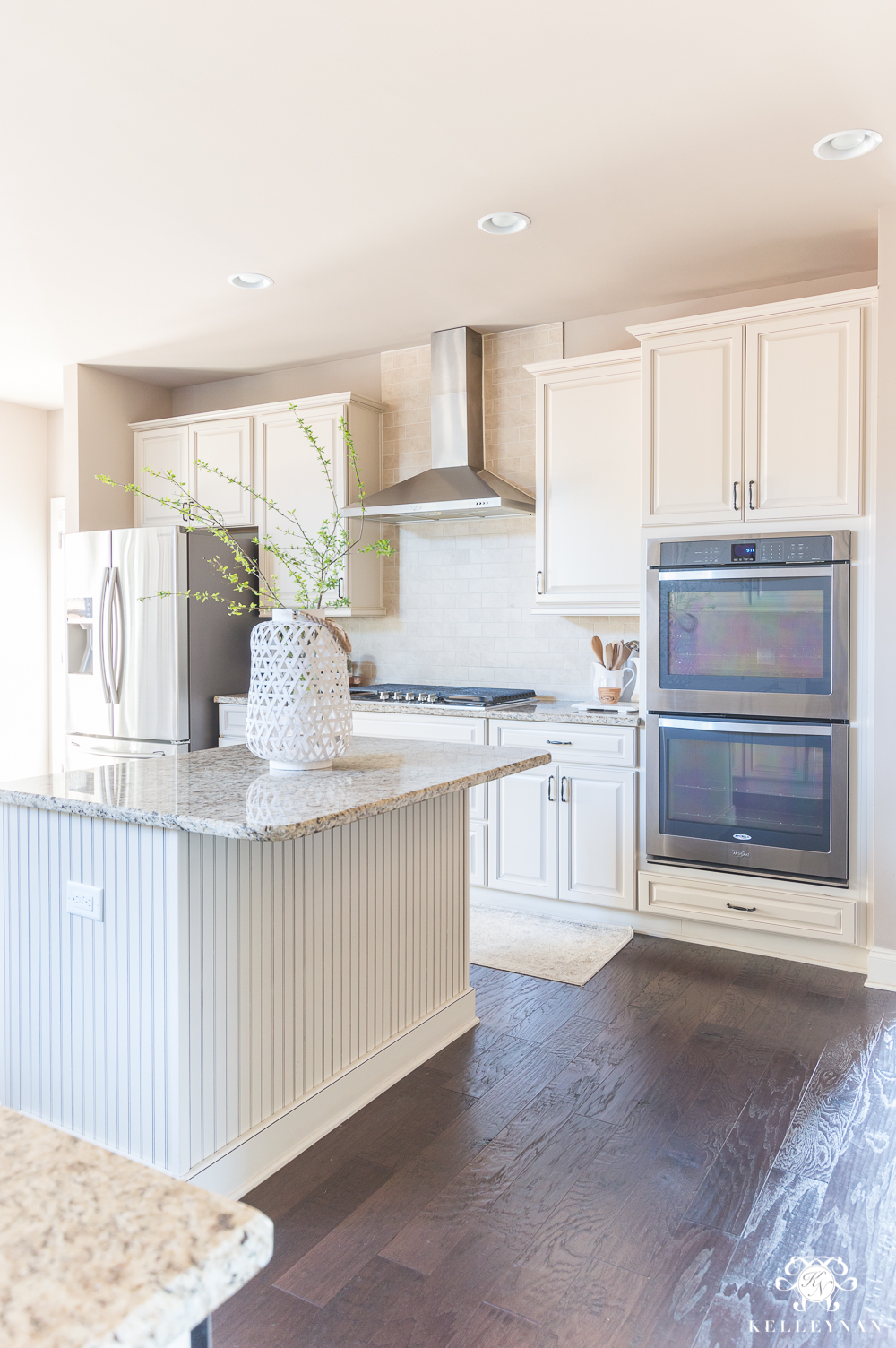 ---
SCROLL & TAP TO SHOP

---

The other lighting update- this beaded chandelier (HERE) I've had my eye on for years. After we installed it, I had no idea why I waited so long to make the switch. It even made me like my Perfect Greige paint in here more – it just brightened up the space instead of leaving it as a heavy black hole.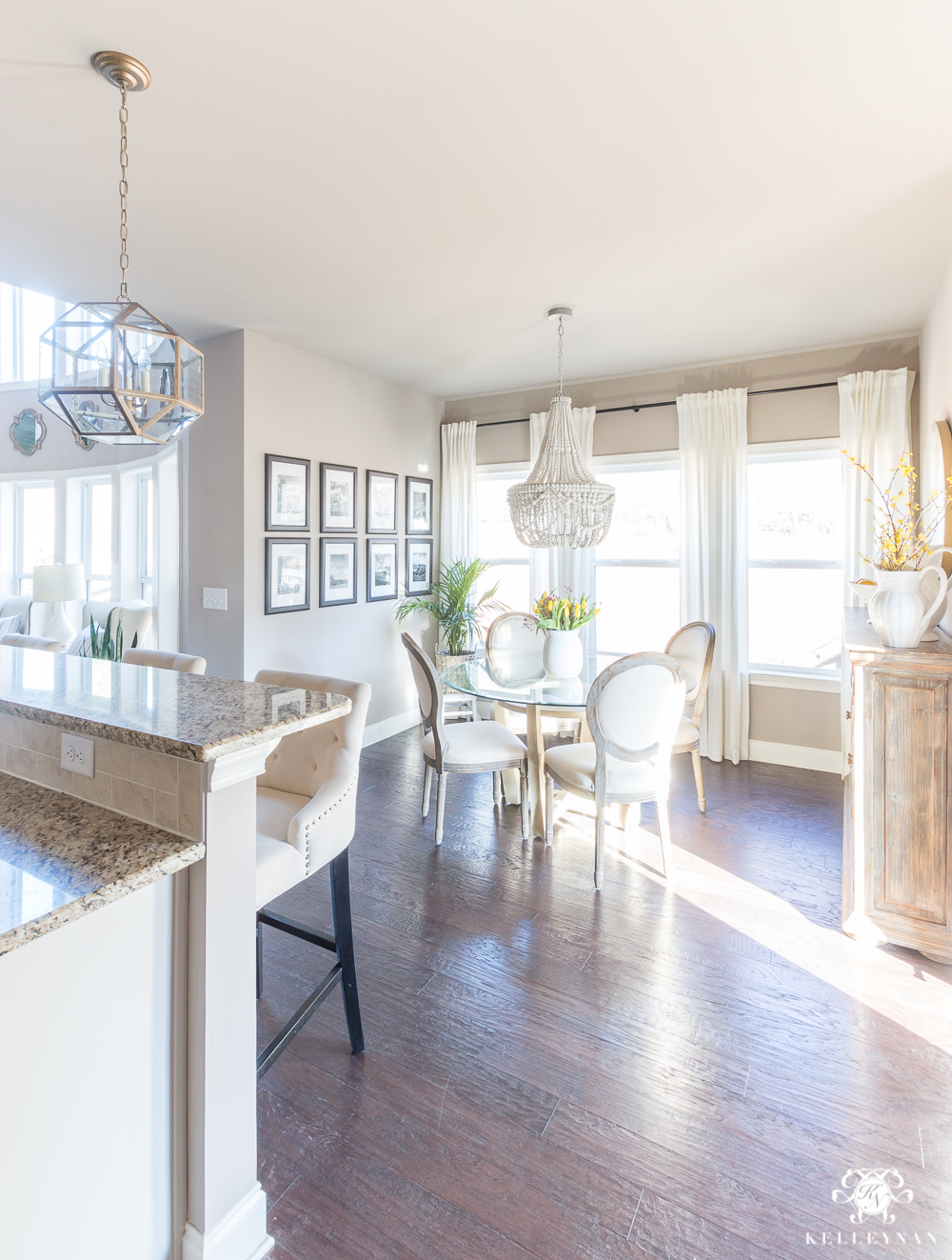 This is also the first time since we moved in that I decided to take a break from the big brass candelabras.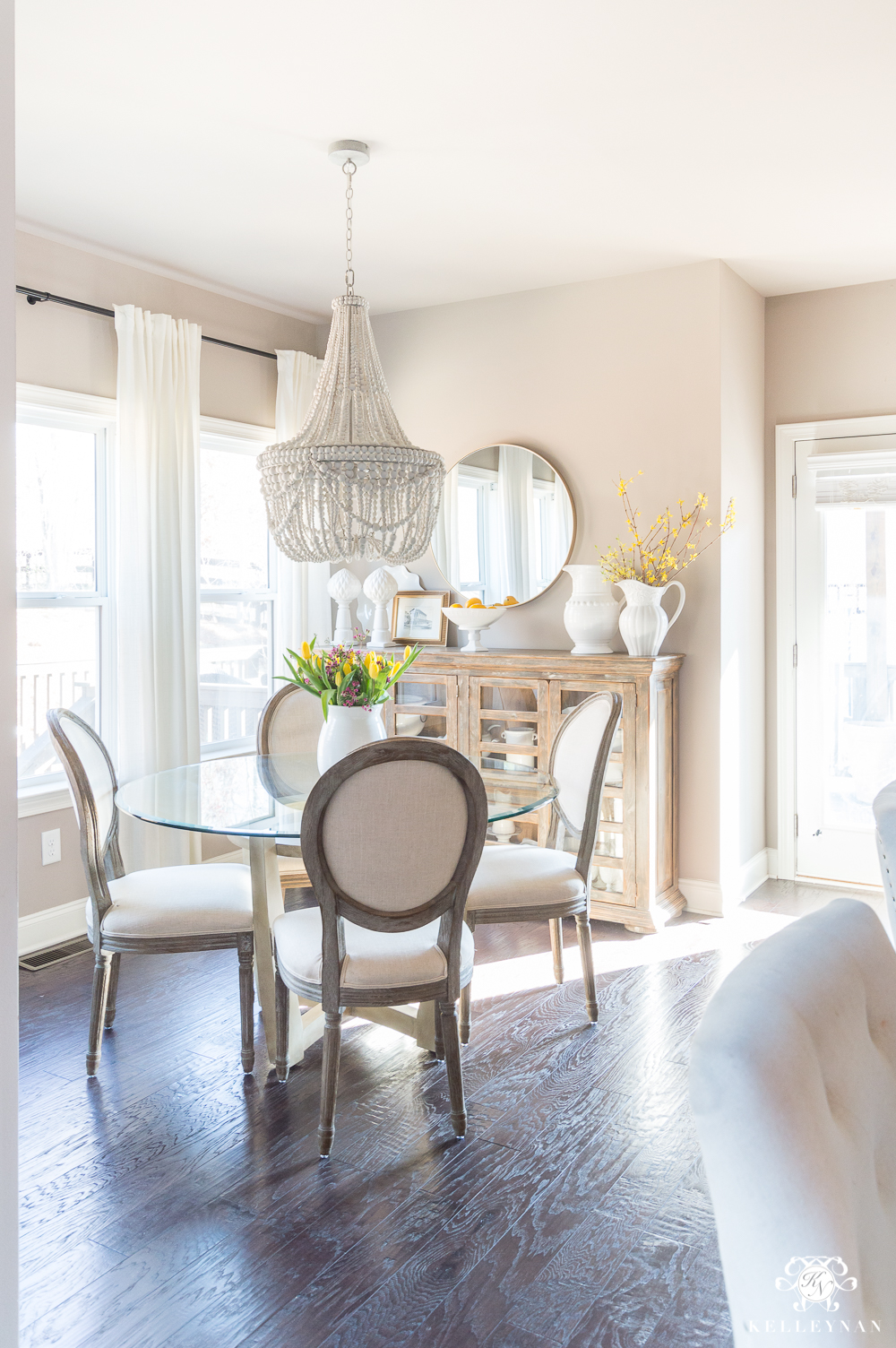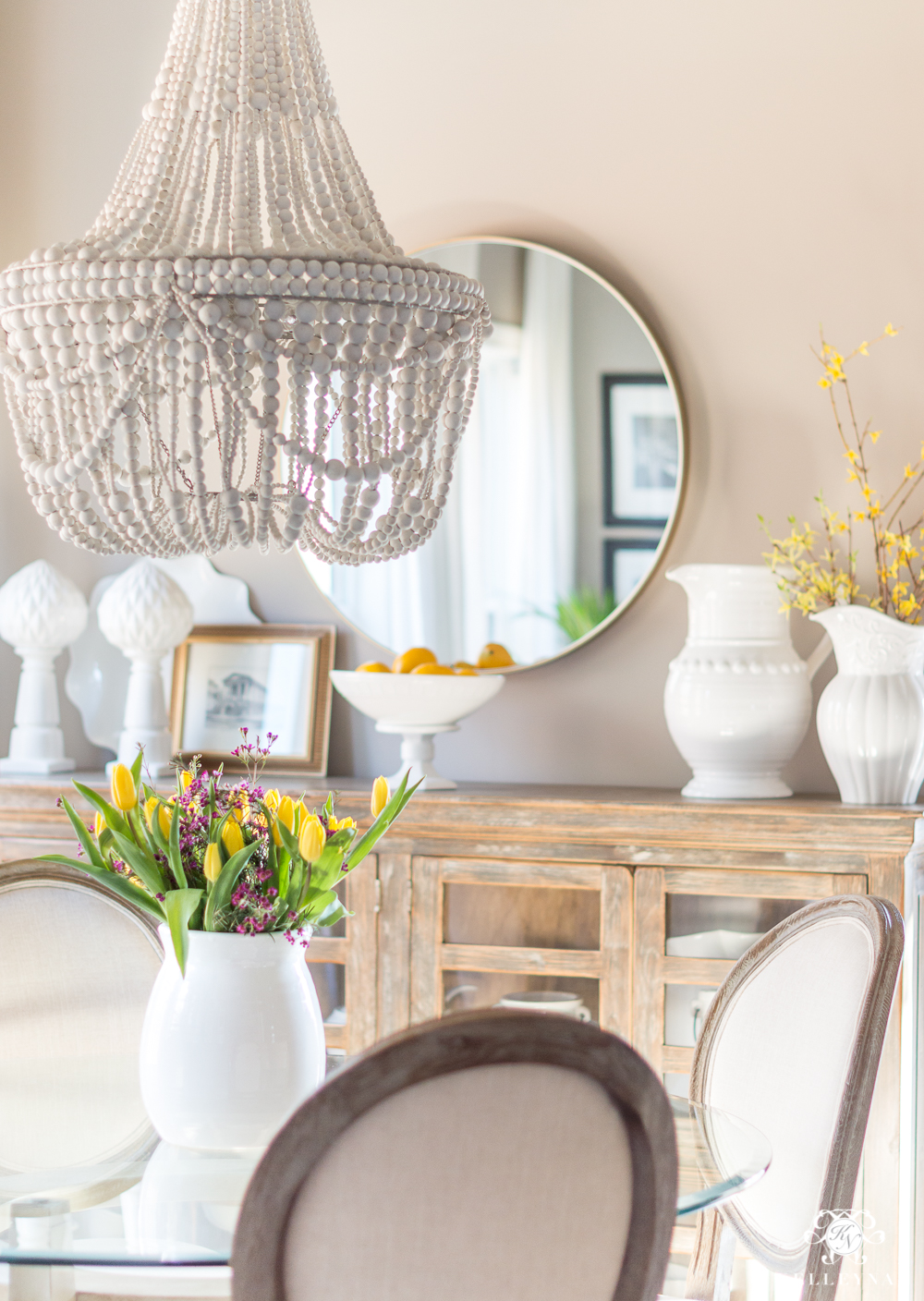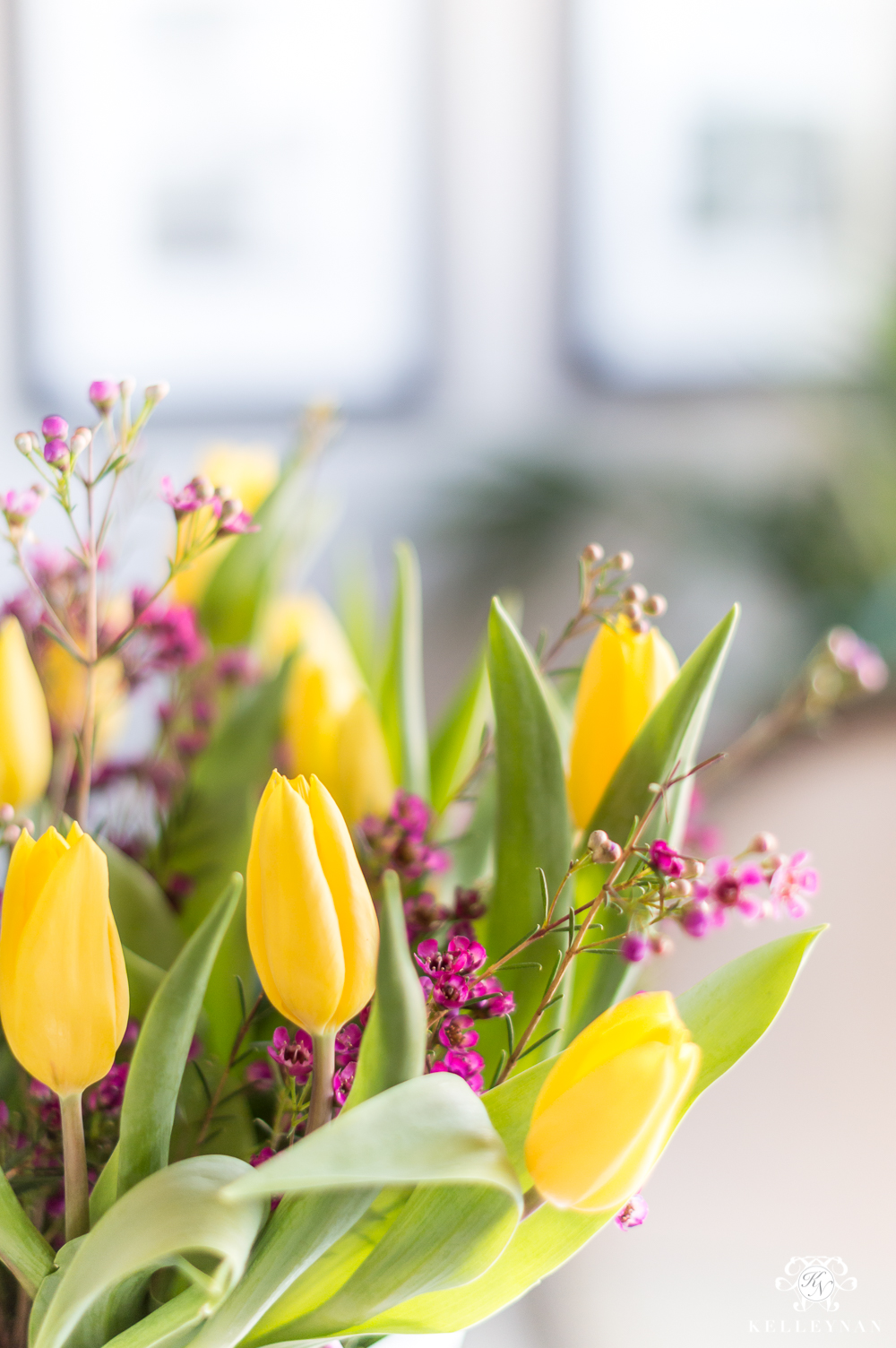 Since I continue to have success with my houseplants (I've been bringing them in in waves since last year), I decided to add a palm to the bunch. My snake plants and rubber plant are beyond simple; I know the palm requires a little more watering but we'll see how she does 😉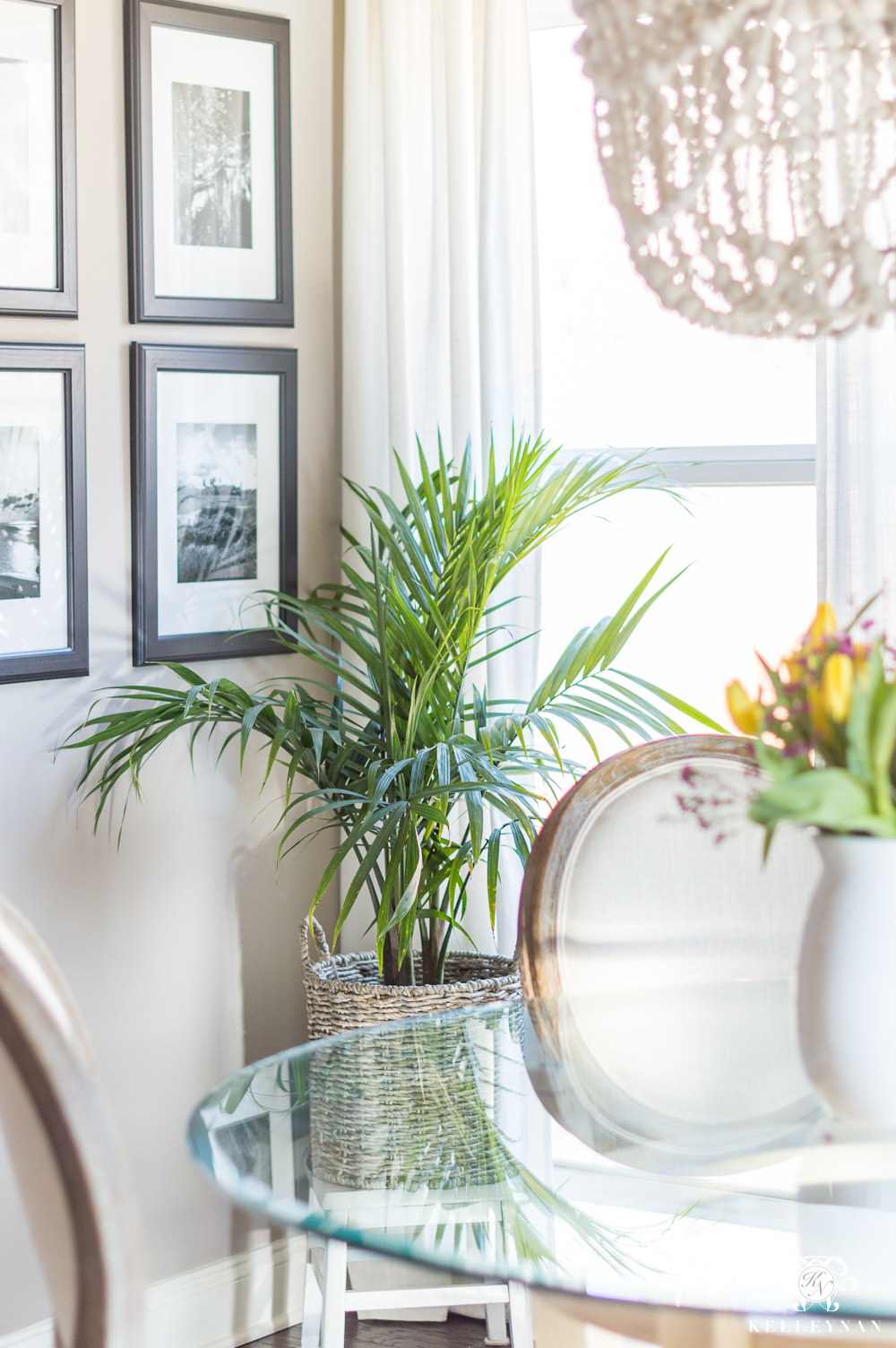 Forsythia branches may be my new "thing". When I first got them, they looked like brown sticks with yellow buds. But, after a few days, the buds started blossoming (and hanging around). Then, I noticed that they are continuing to have new growth – you can see some green buds that are new below. Today, there are even more than that and the stems are still covered in yellow flowers.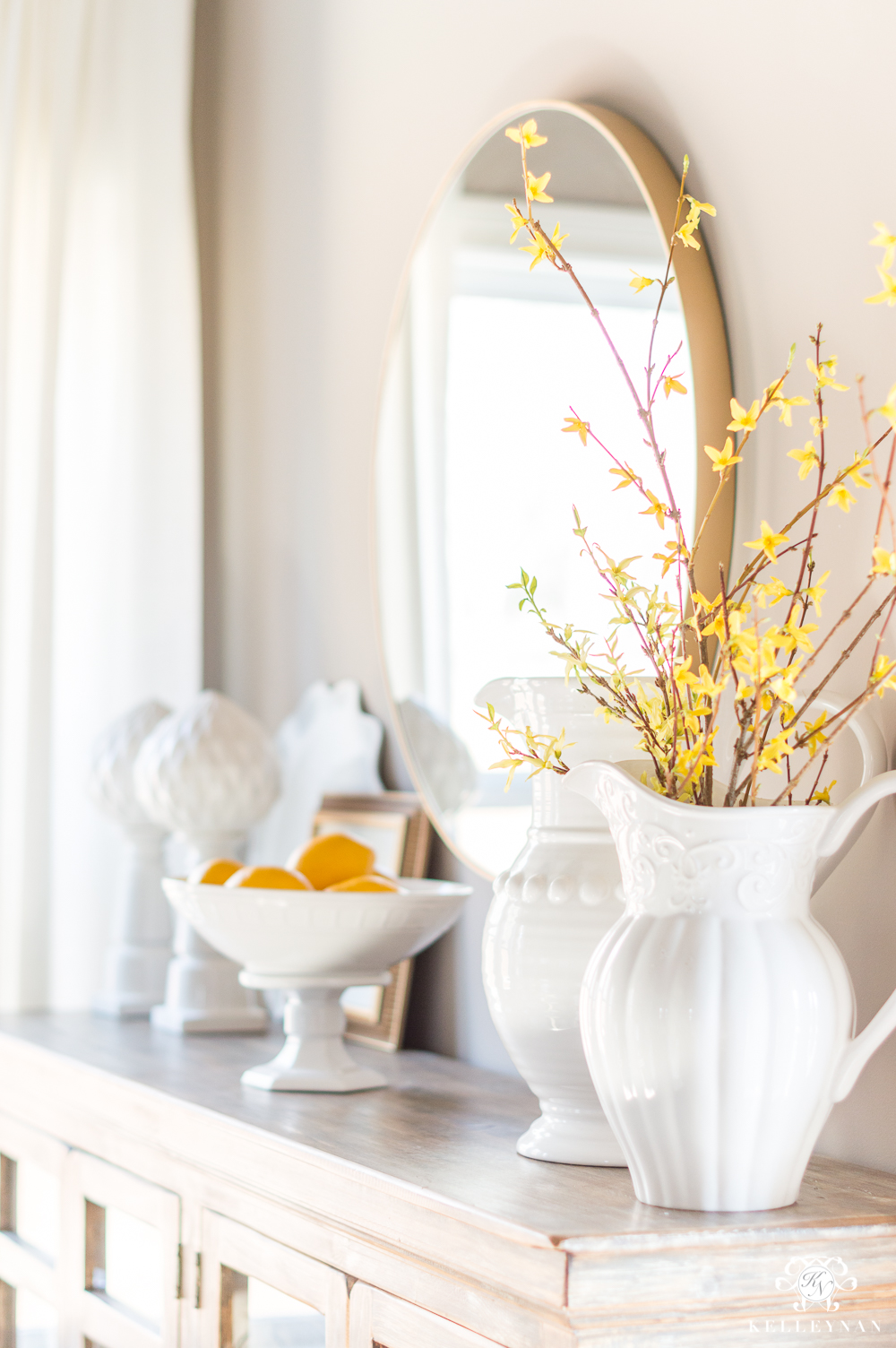 ---
SCROLL & TAP TO SHOP

---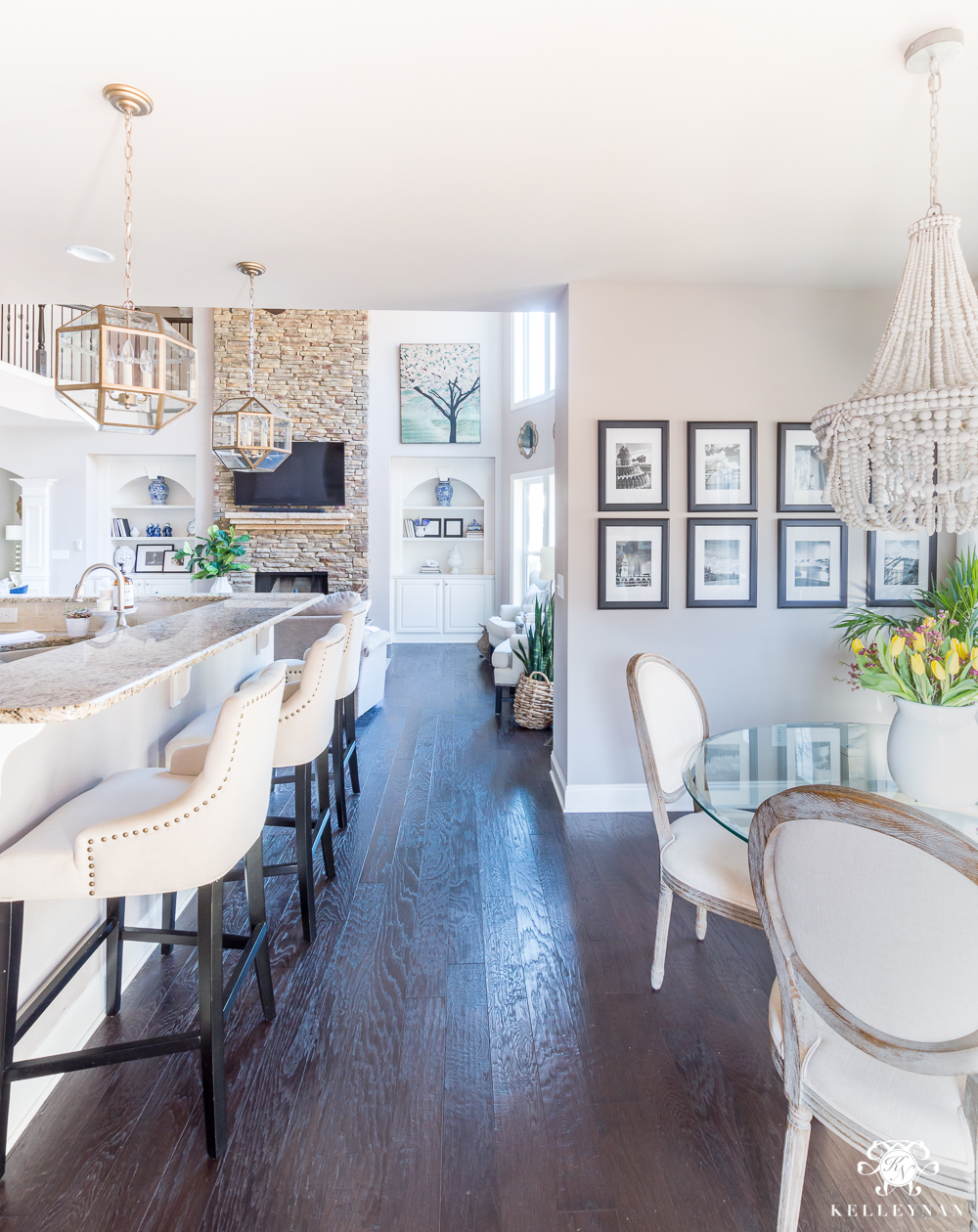 I brought the living room back to its former blue and white glory – my favorite look for this space.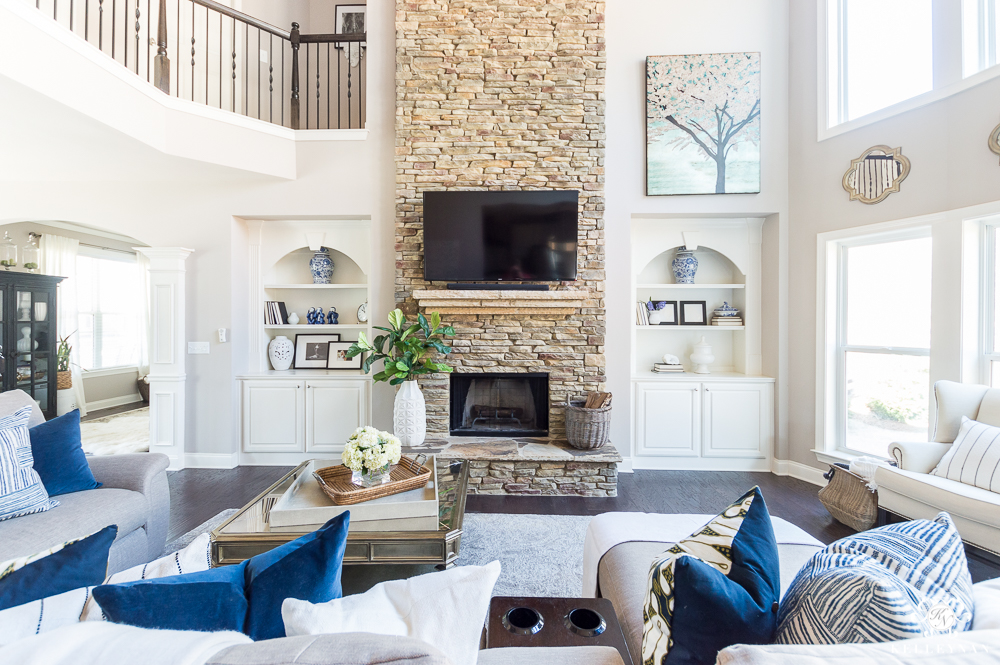 I get a lot of questions about how many (faux) fiddle leaf fig stems (HERE) I used to get the vase on the fireplace so full – there are three. They are a little pricey (a littler under $40/ea.), but, you can use them in all kinds of arrangements all over the house in singles or multiples.
If you squint, you will see our coffee table is still shattered. Truth- it will stay shattered until we replace it. But, I don't want to replace it until I decide on other updates in this space. So… we are just living our life, trying to ignore that ugly elephant in the room haha.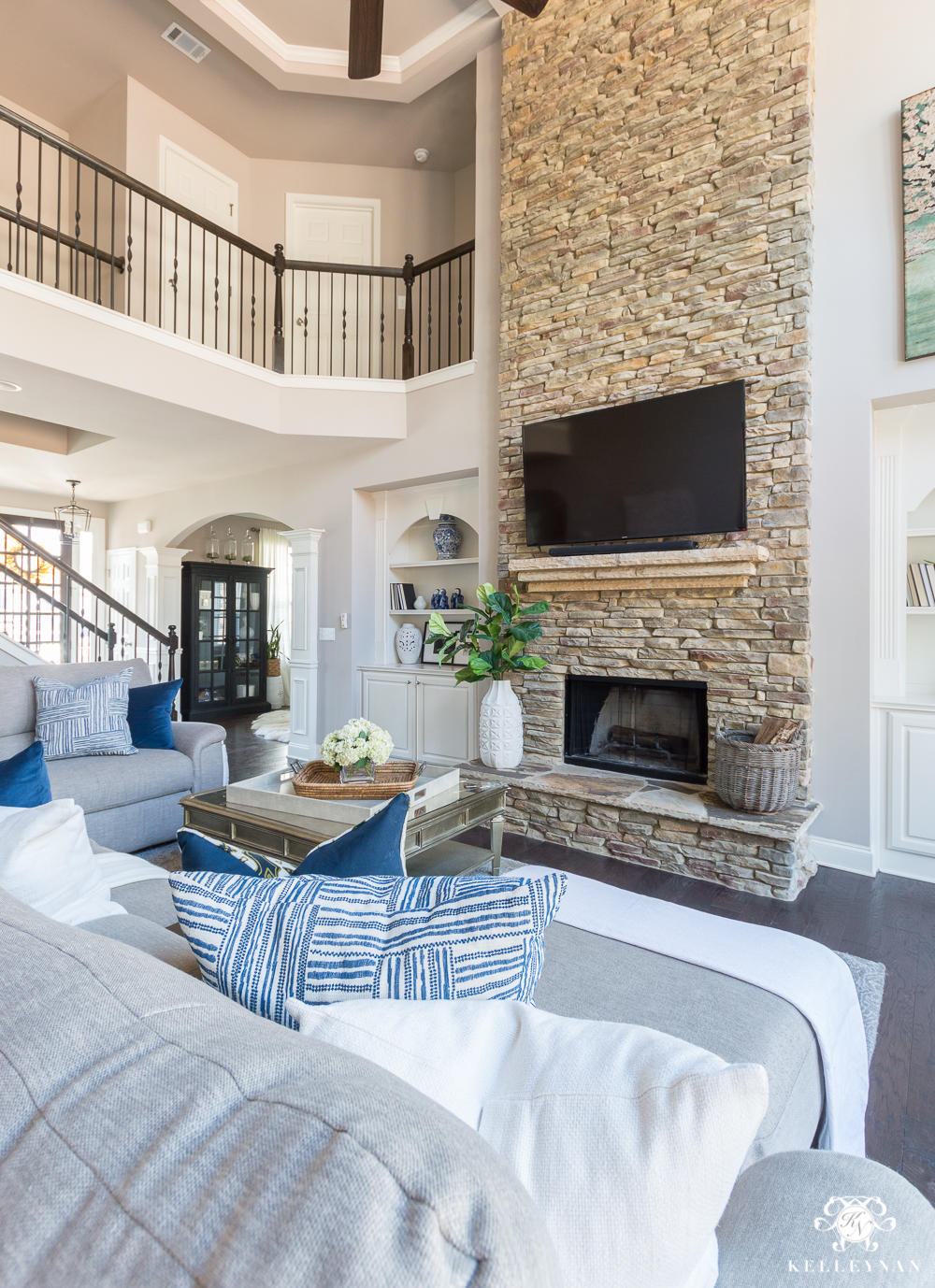 I probably should have also mentioned that this home tour is kind of like one big "Where's Waldo?" of the pups. Mister made his debut in here but Maggie is the one who really steals the show. She insisted on following me everywhere I went with the camera. At one point, I just gave up haha.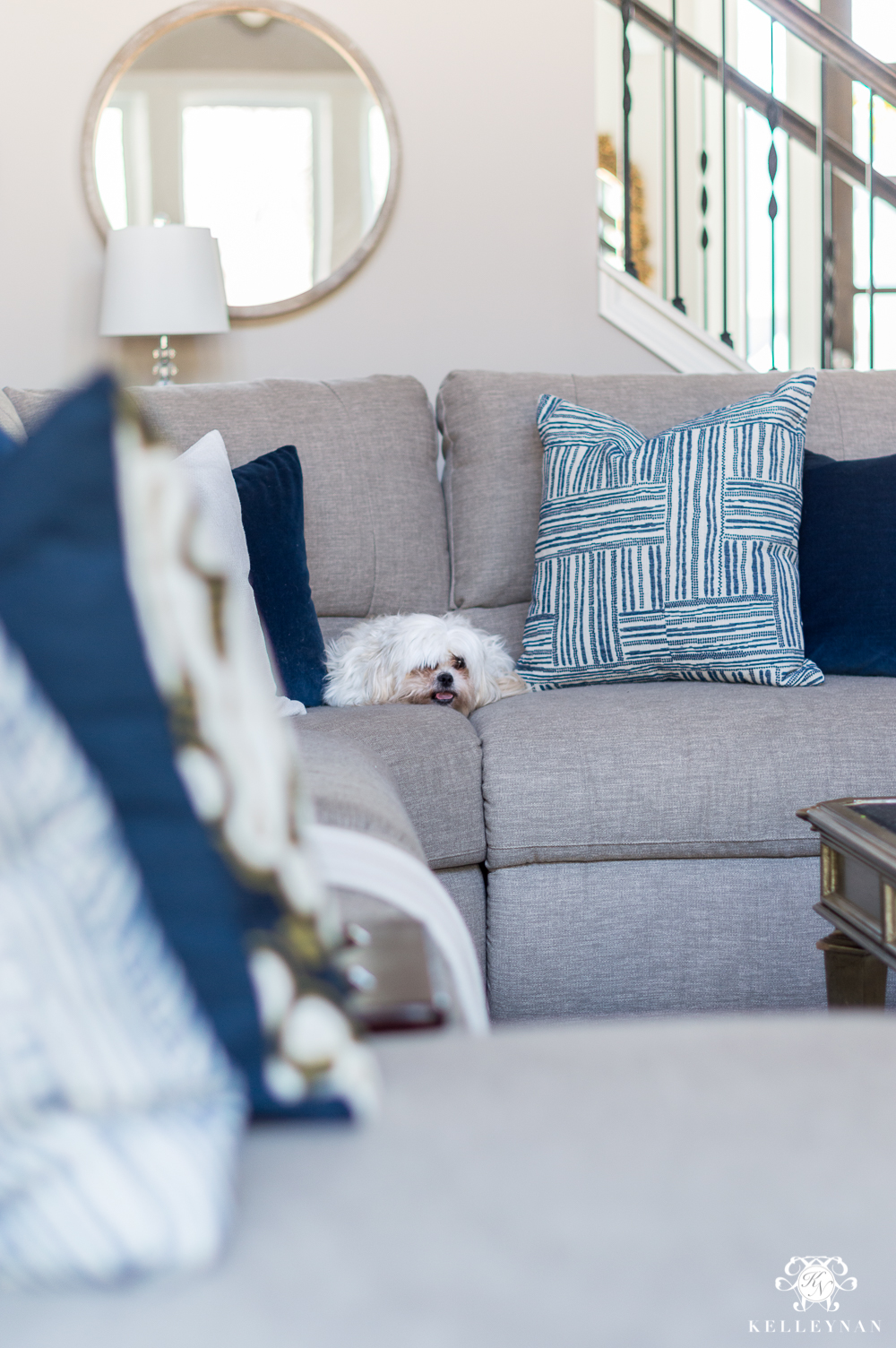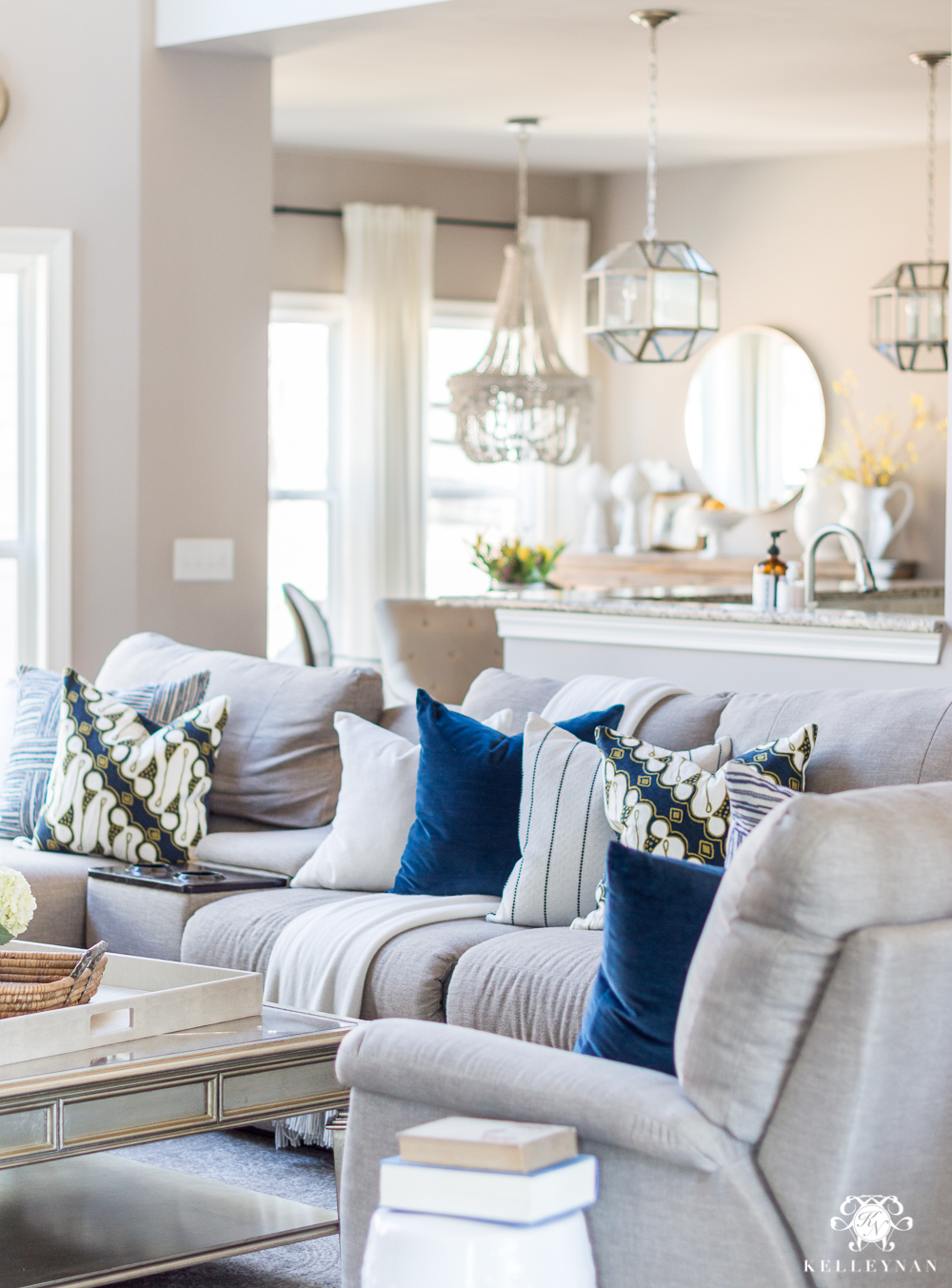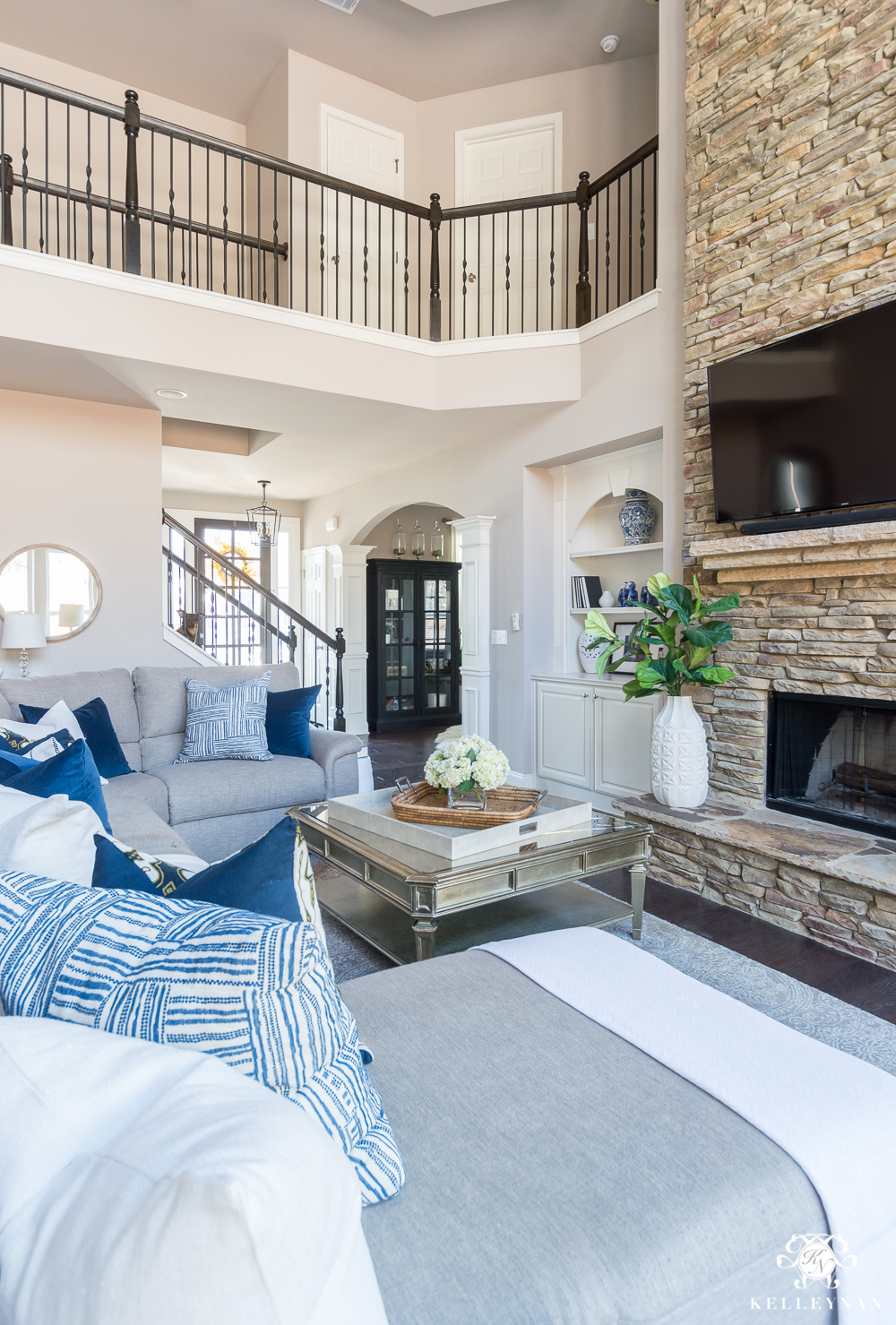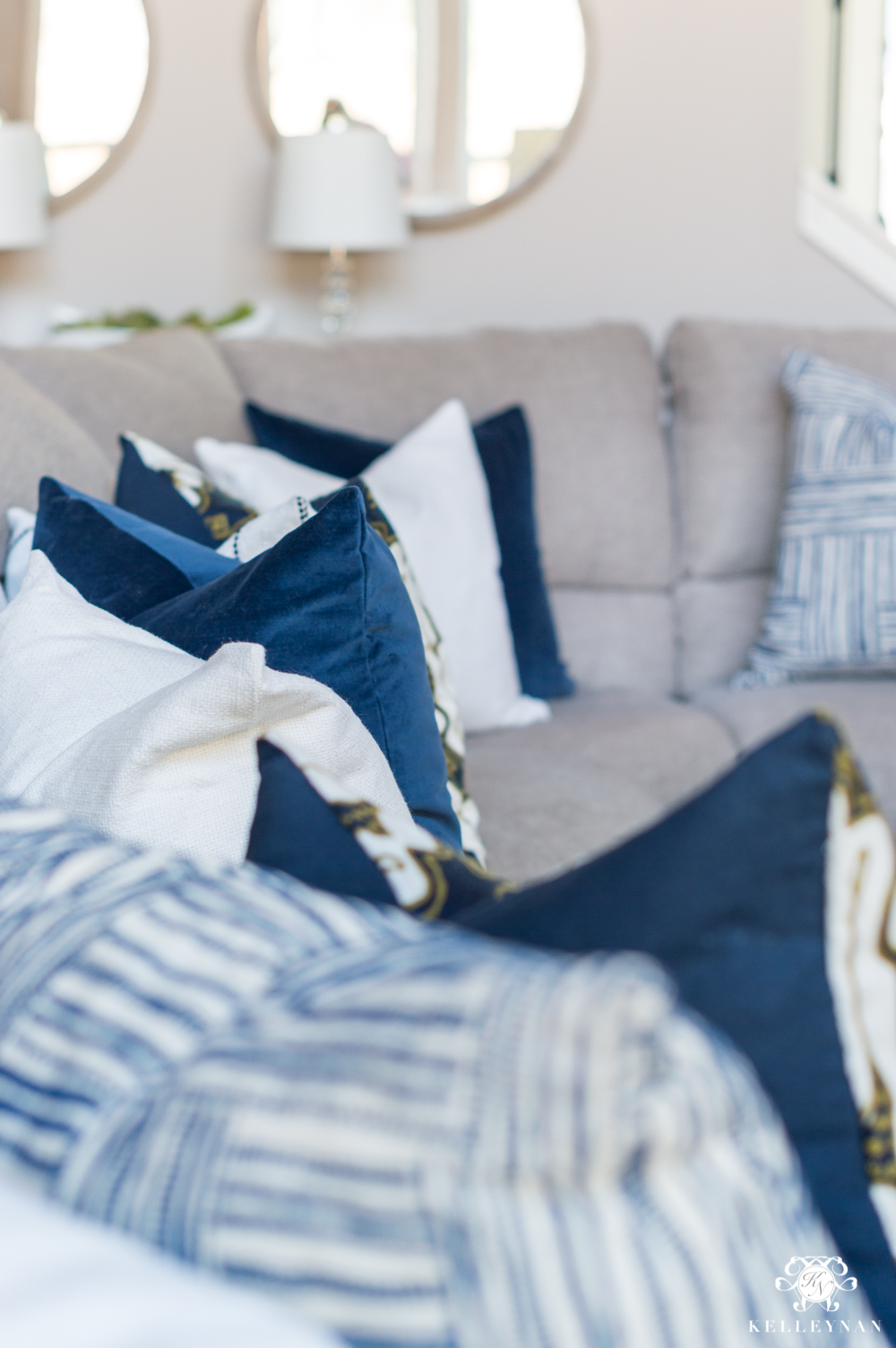 These new pillows were some of the only "new" things for the season. After loving my velvet numbers and the striped pillows in my bedroom, I decided to replicate a similar setup in the living room.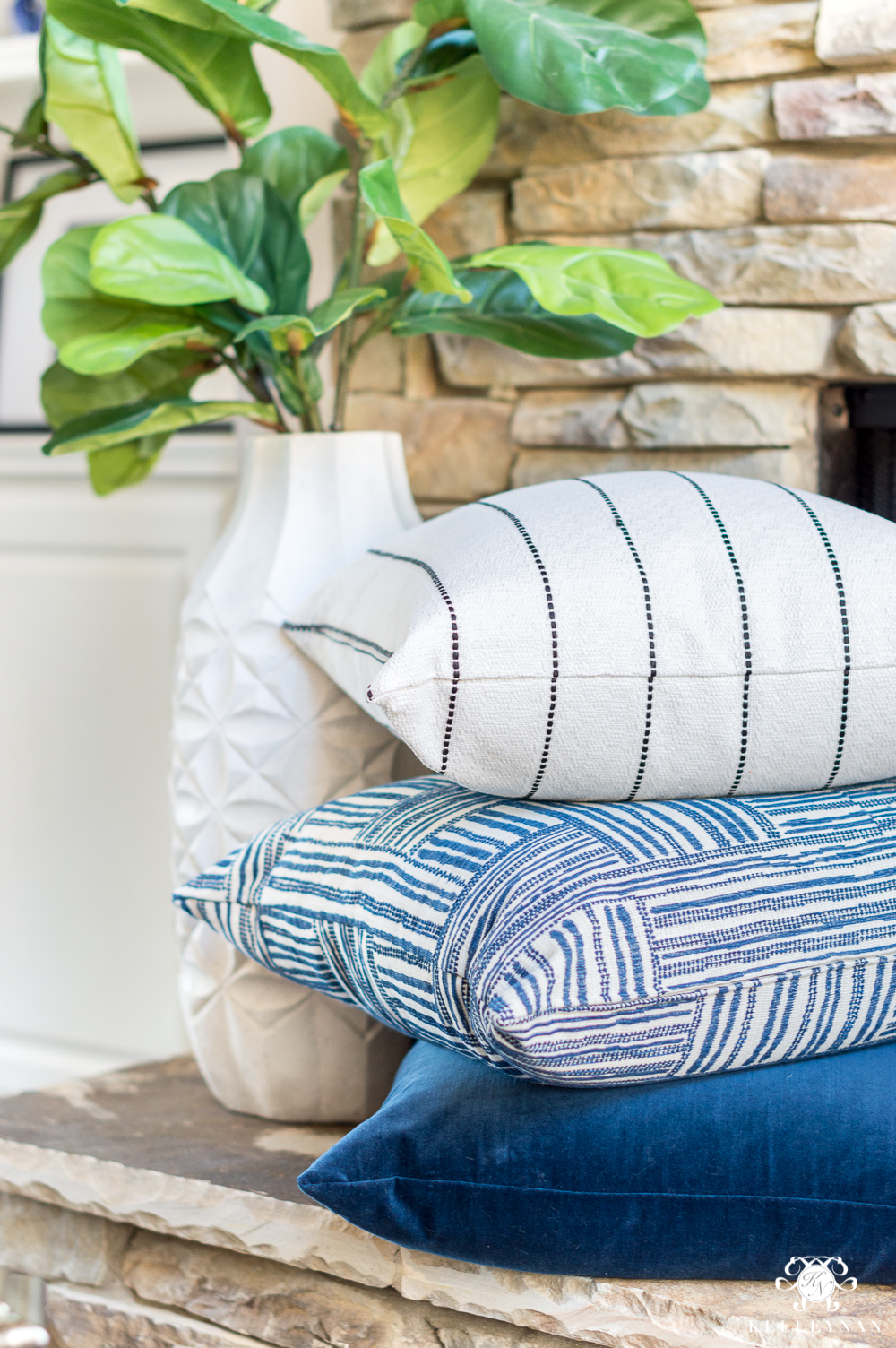 ---
TAP CORRESPONDING NUMBERS BELOW THE PILLOWS TO SHOP
---
Another thing I love about the classic blue and white – you can mix old and new and it just works. The top shelf holds a large ginger jar from HomeGoods (SIMILAR) while the second shelf holds a piece passed down through my family.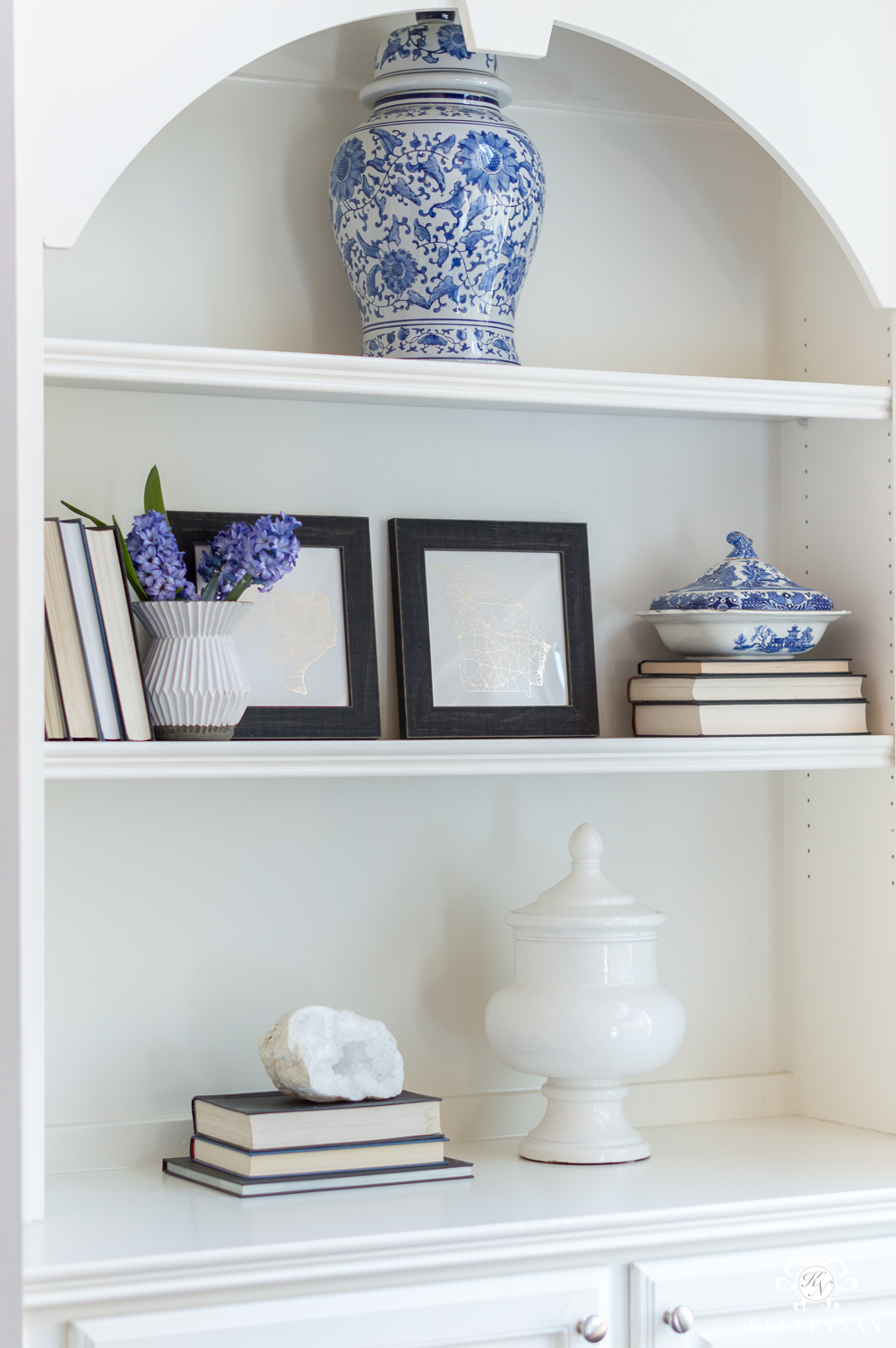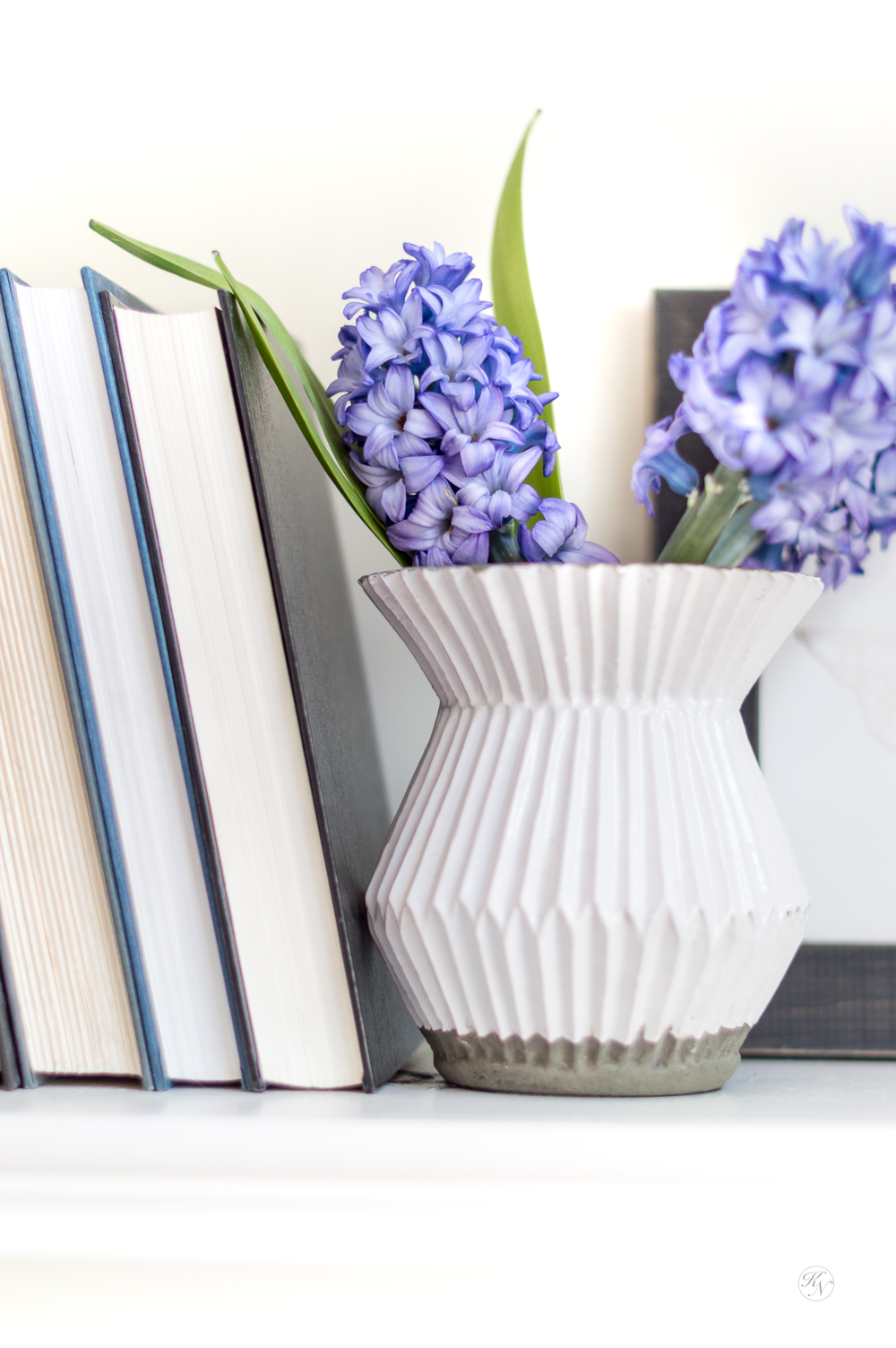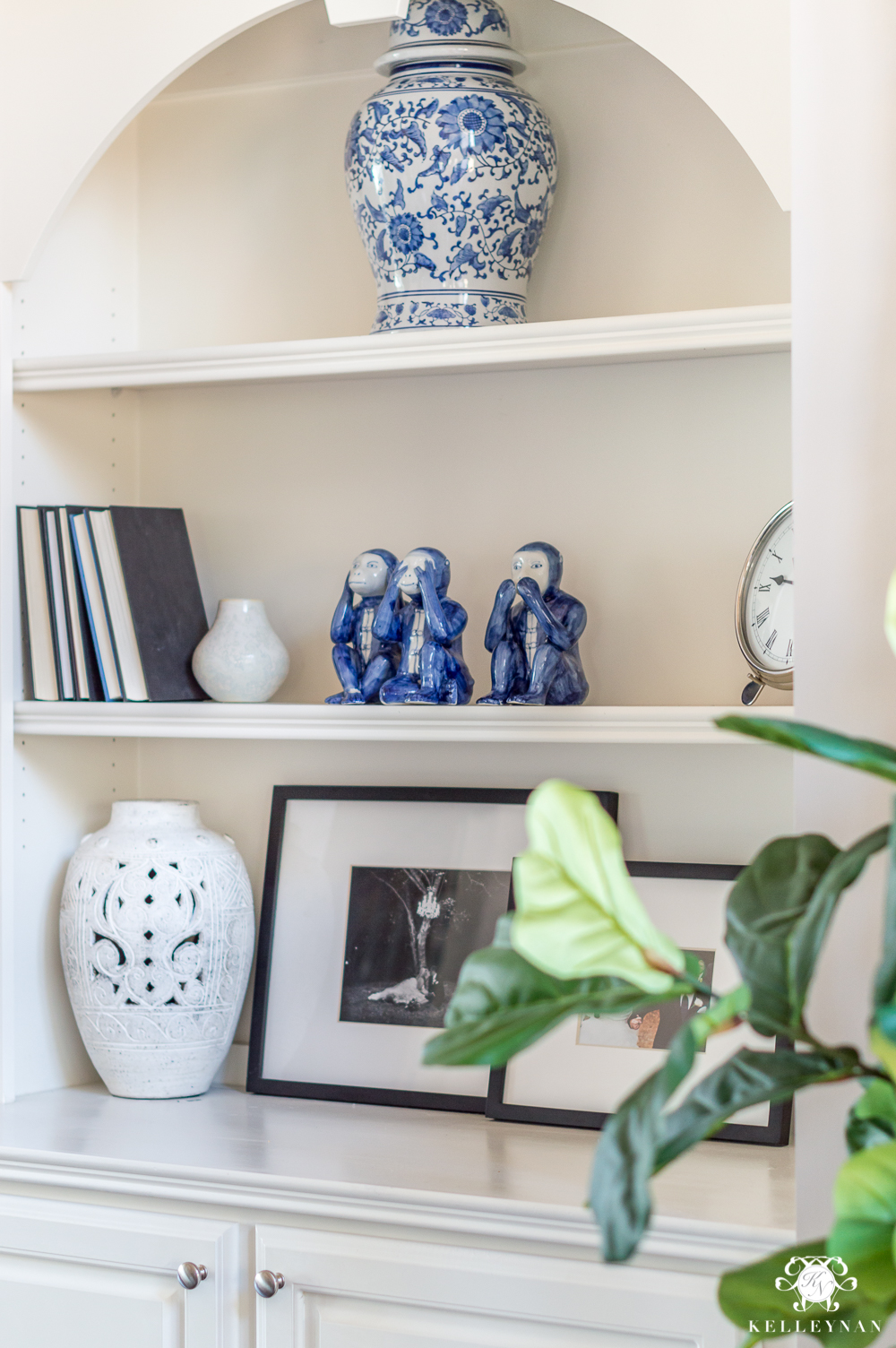 Same on this shelf- these "Hear No Evil, See No Evil, Speak No Evil" monkeys are my mom's – I was dying to use them for spring and I still can't tell if she is going to let me keep them "indefinitely" haha.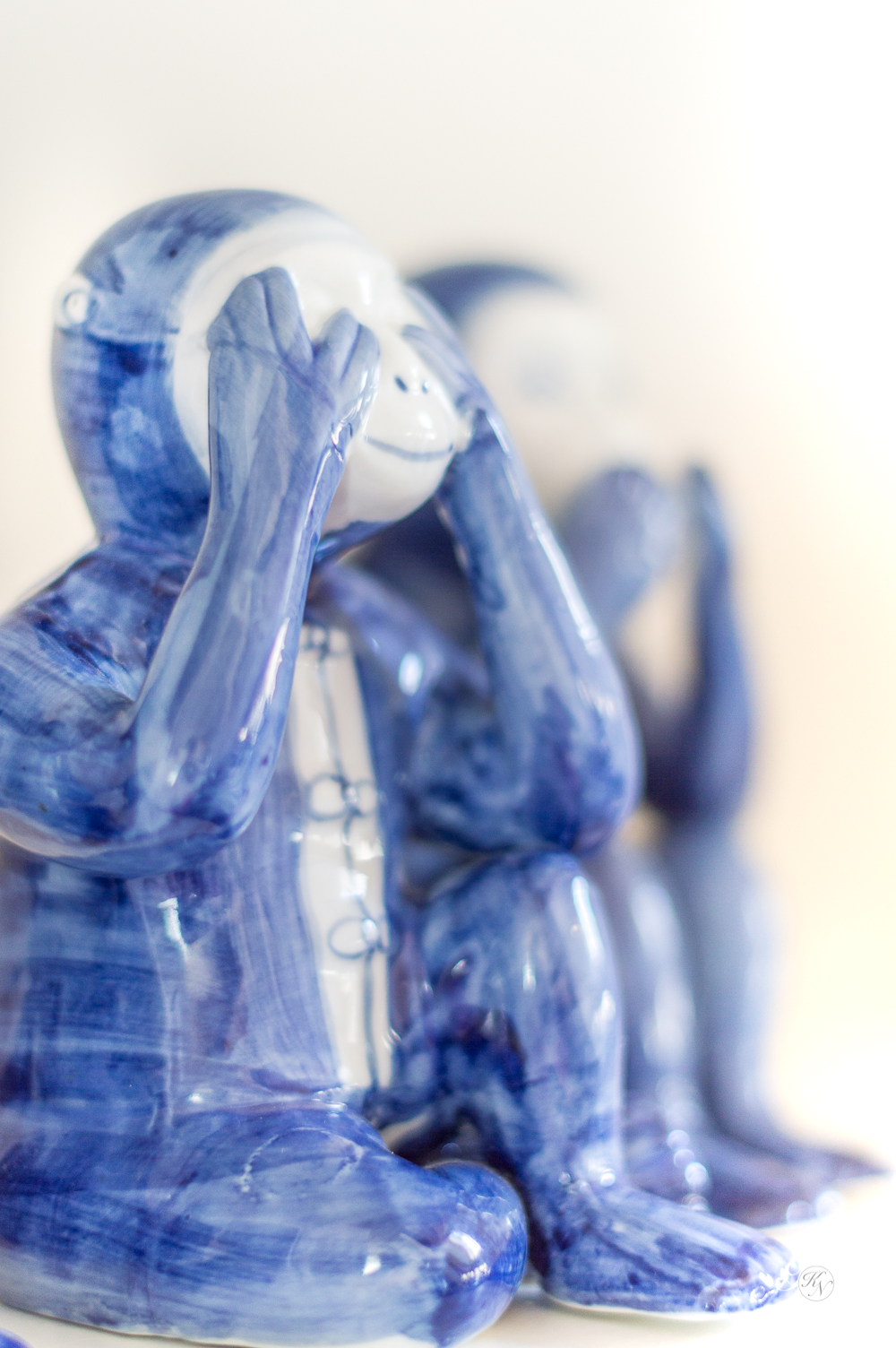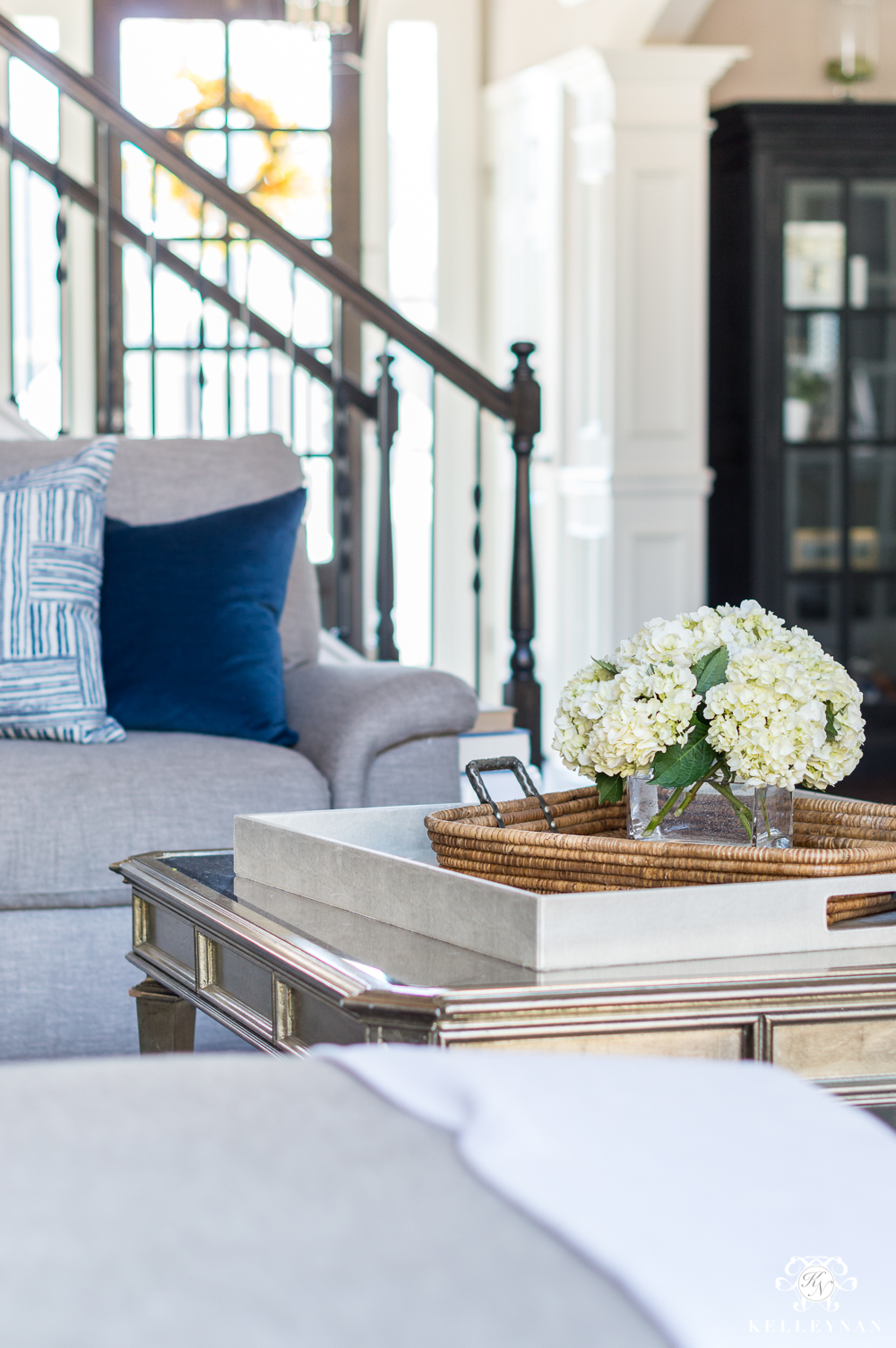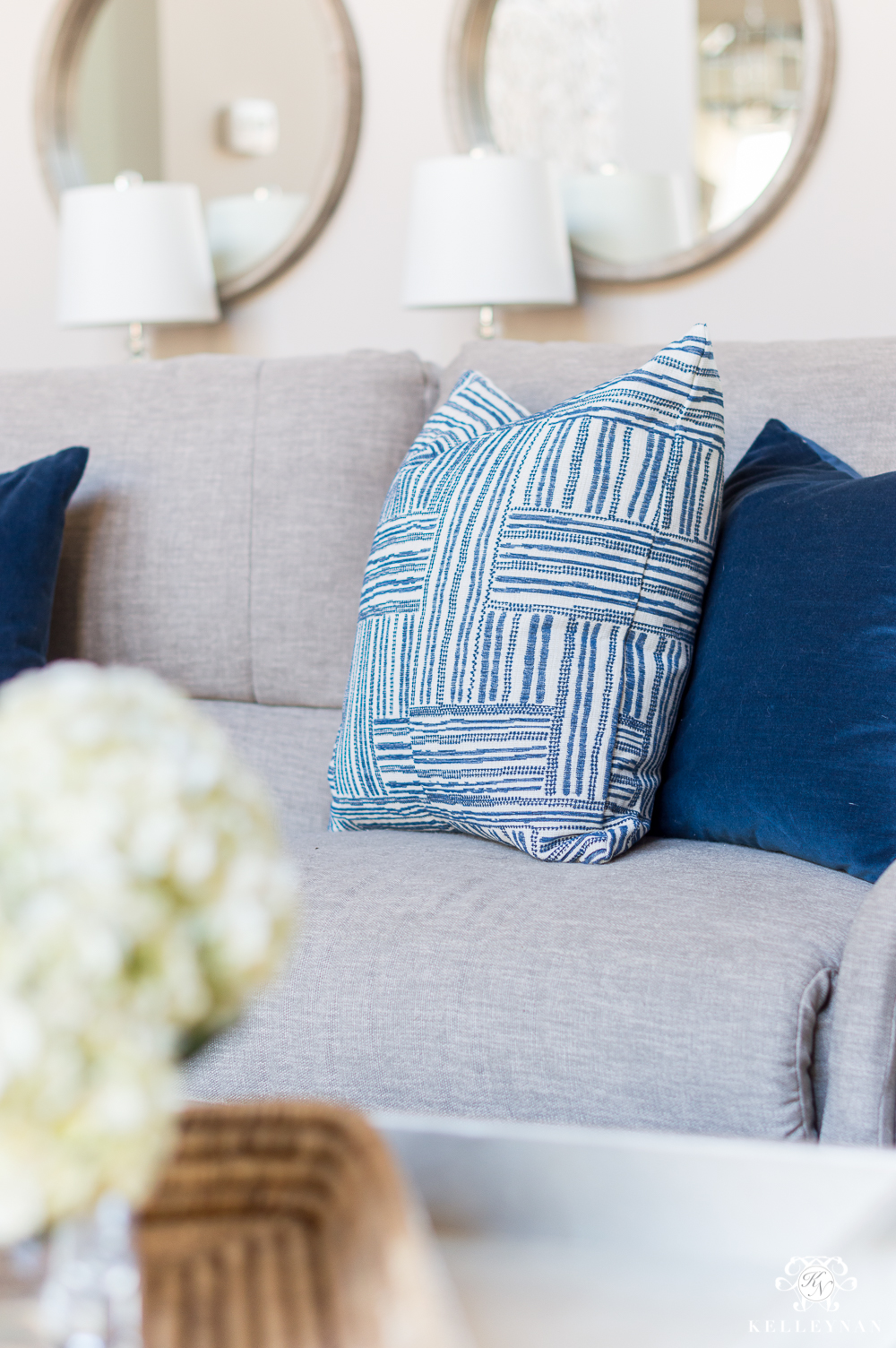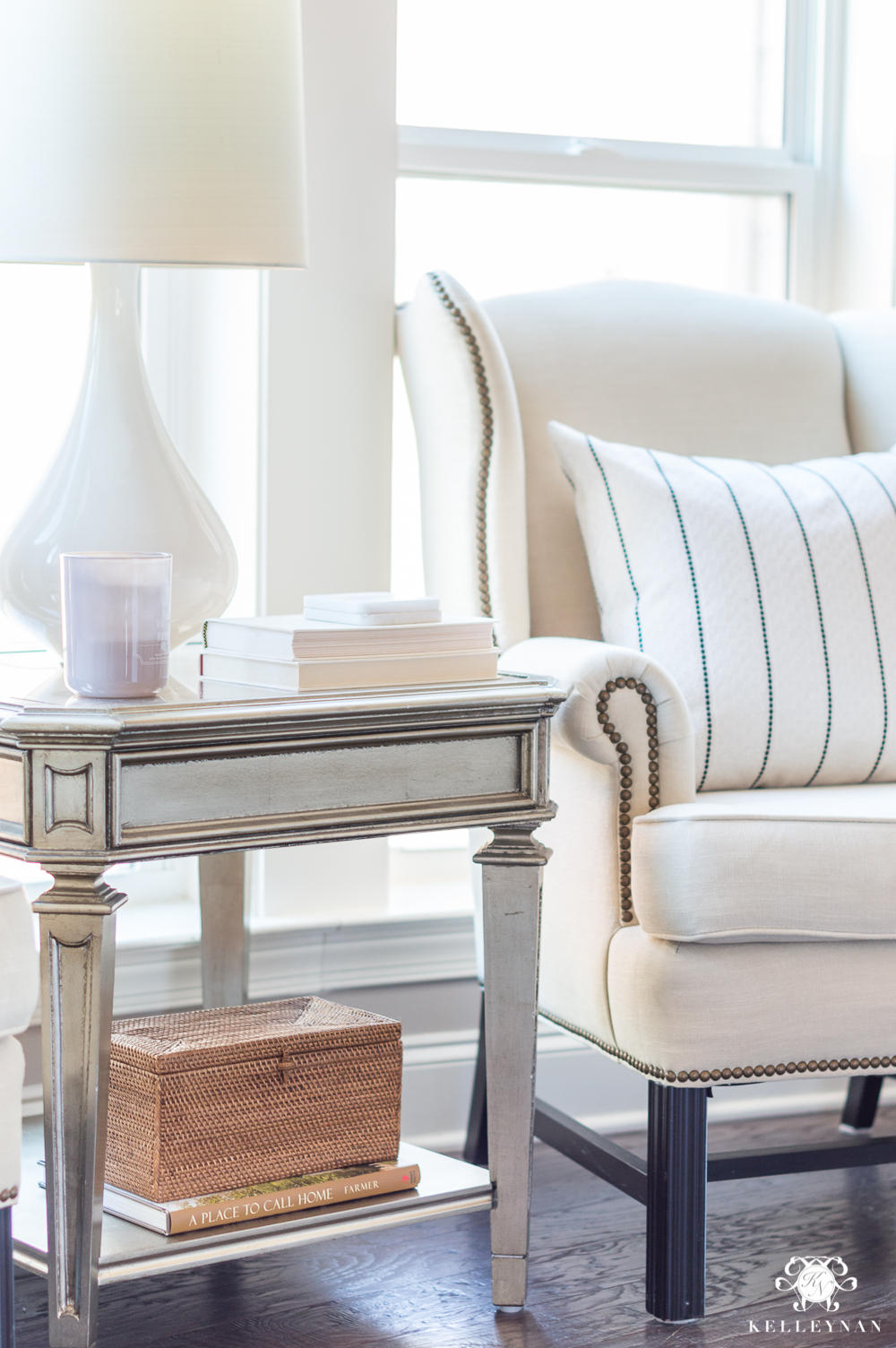 There's my girl! PS: for all of you I told that Maggie was a "Dorkie", we recently found out… well… she isn't. I'll probably share that story soon, too 😉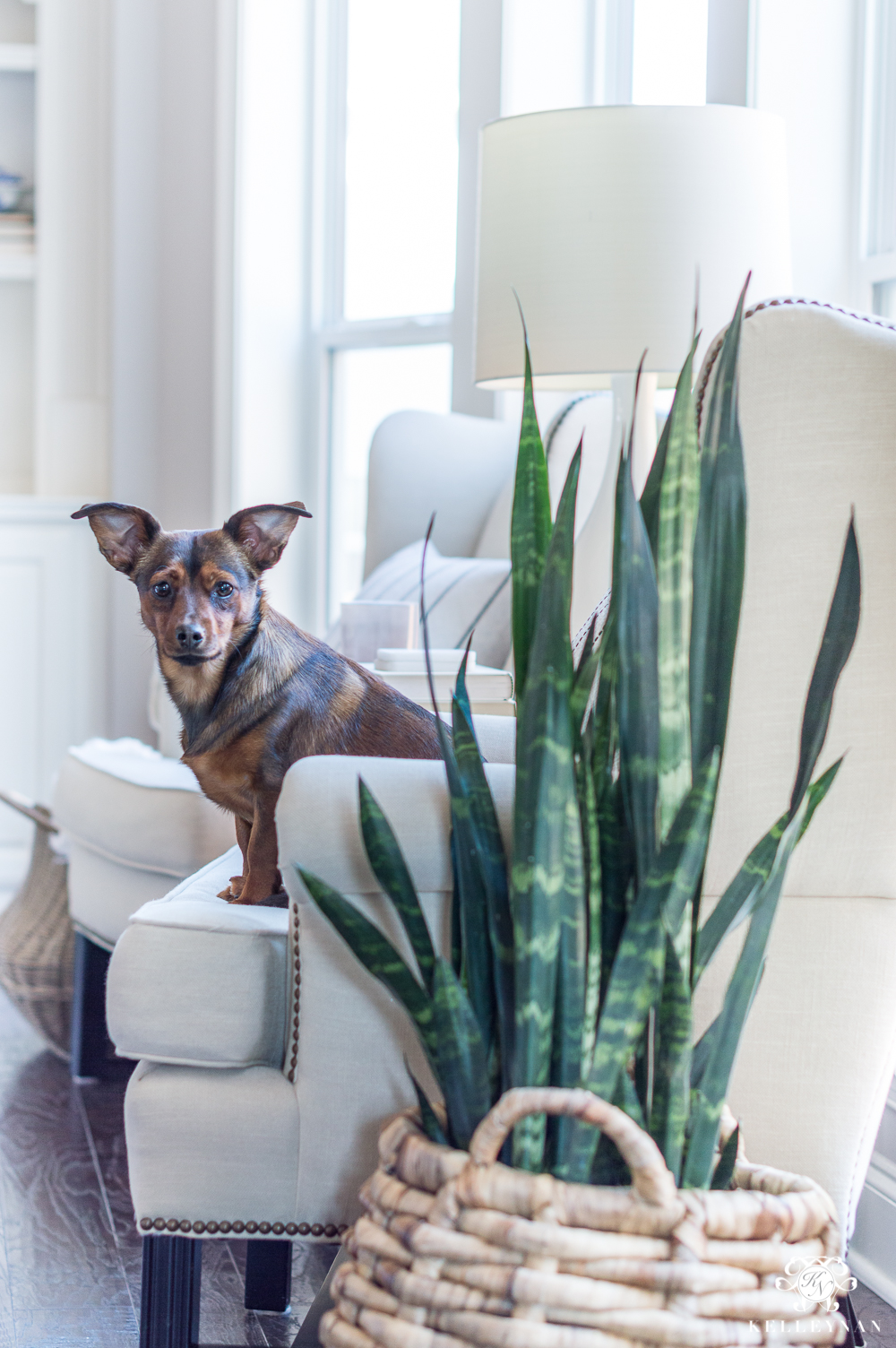 I'll be looking to switch this lighting soon, maybe along with the other room updates, but I have a feeling this may be a "save-for-a-while" type of update. Anyone have a scaffold with a few electricians we can borrow, send them our way 😉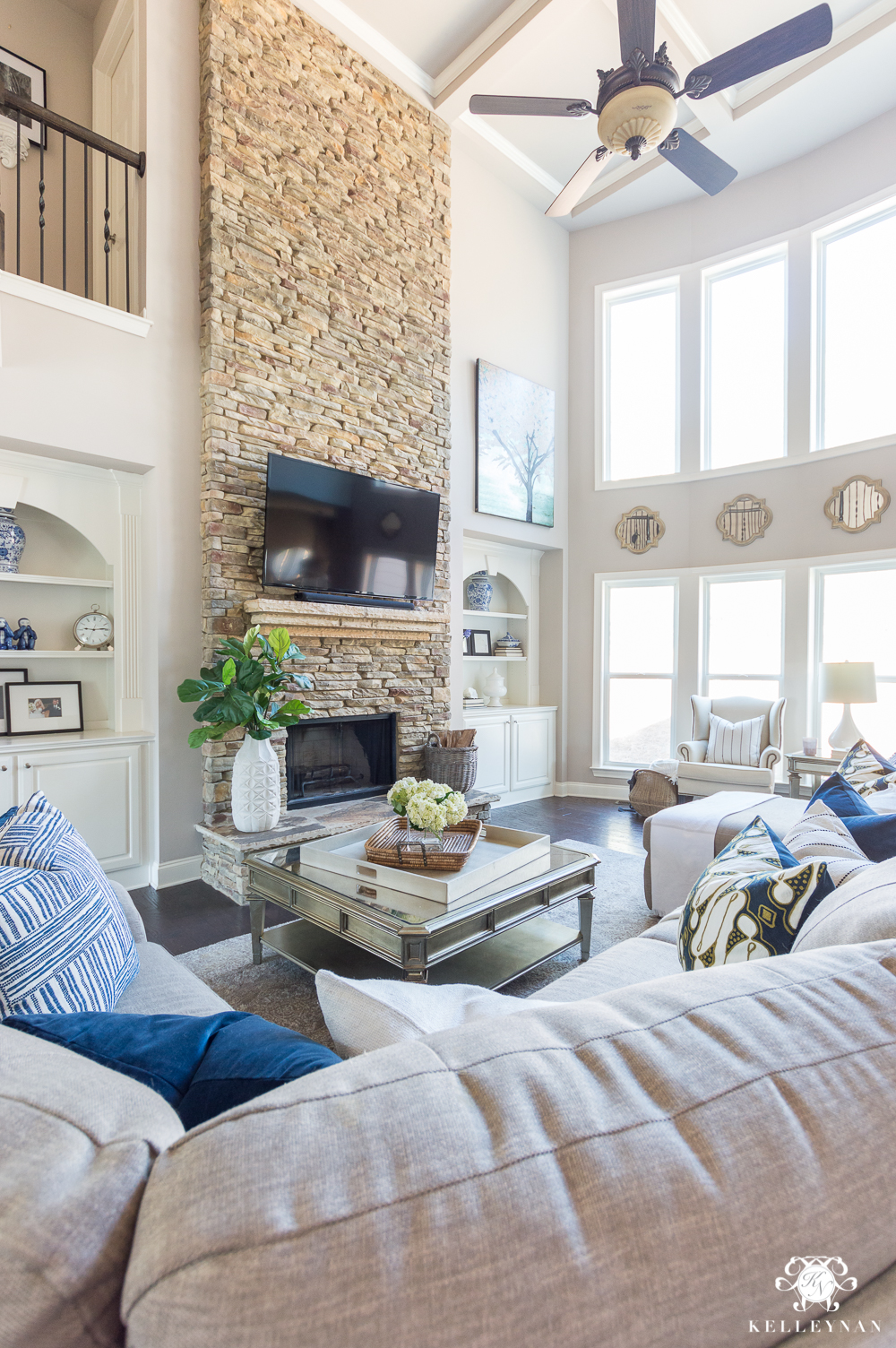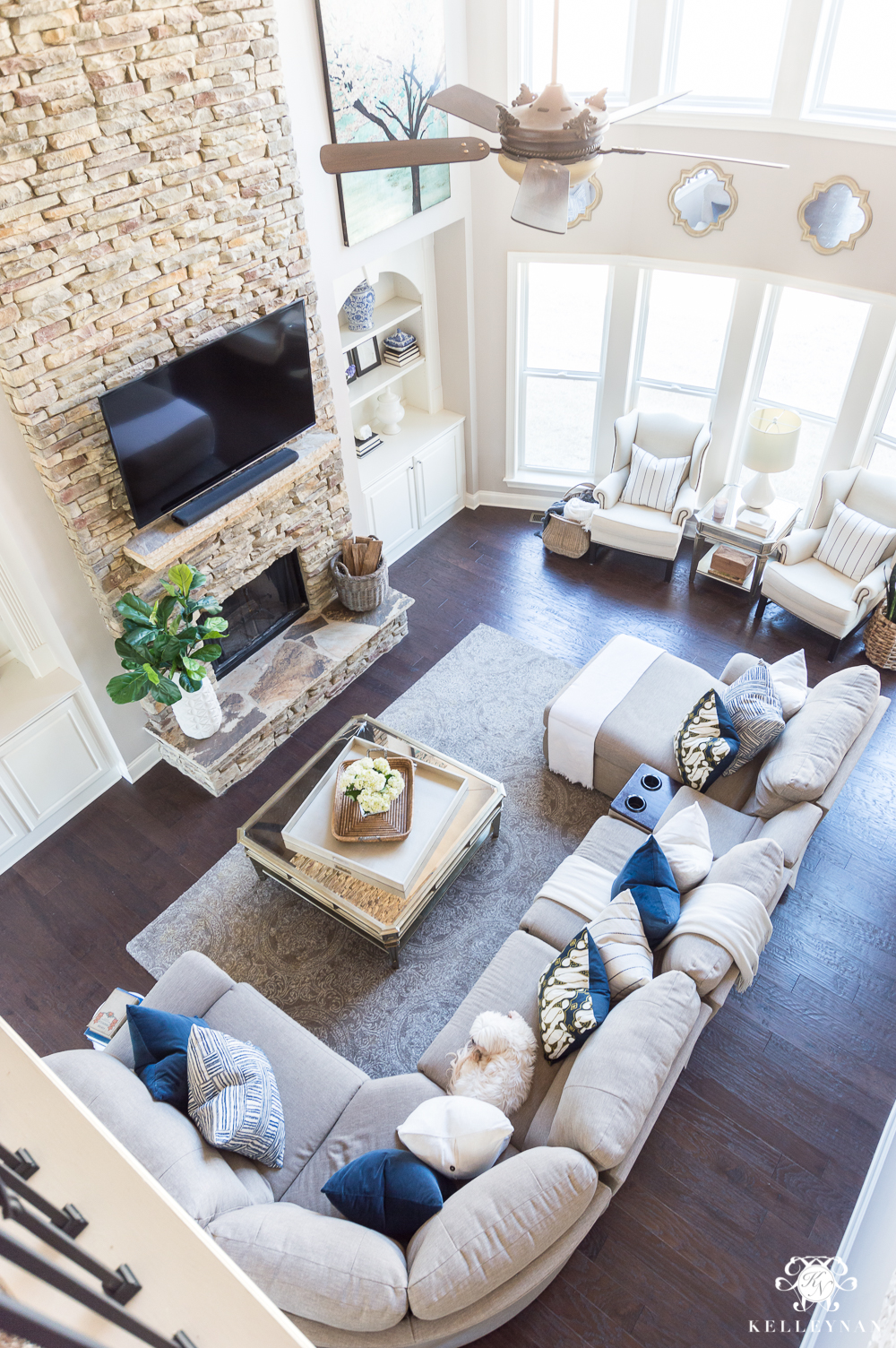 ---
SCROLL & TAP TO SHOP

---

Until I whipped my office closet into shape (HERE), this space was a wreck since before Thanksgiving. Once it was tidy, I made just a few seasonal updates to really freshen it up.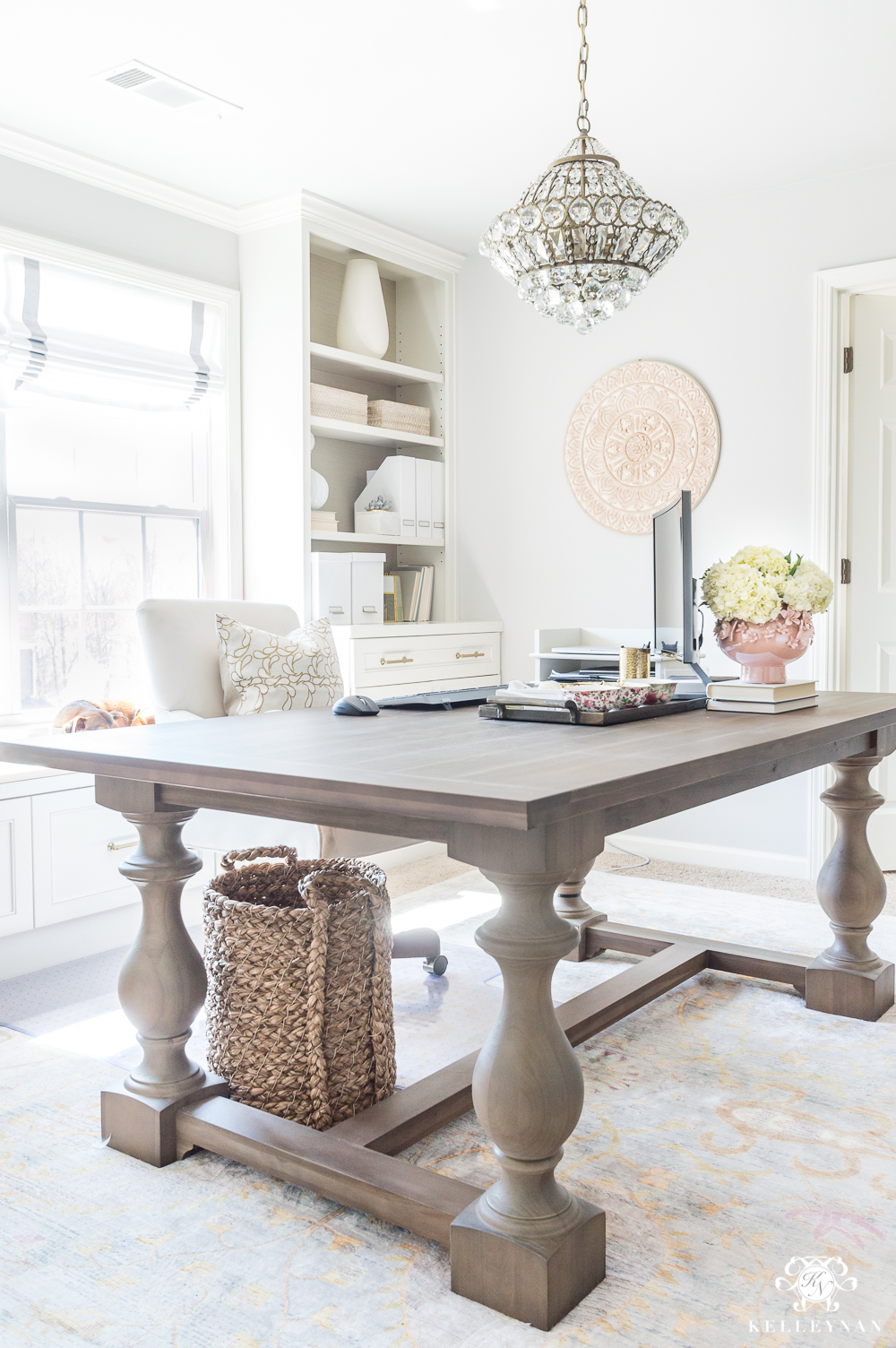 I can't tell you how much I missed working in here. I've noticed a huge boost in productivity since I cleared the clutter and got back in.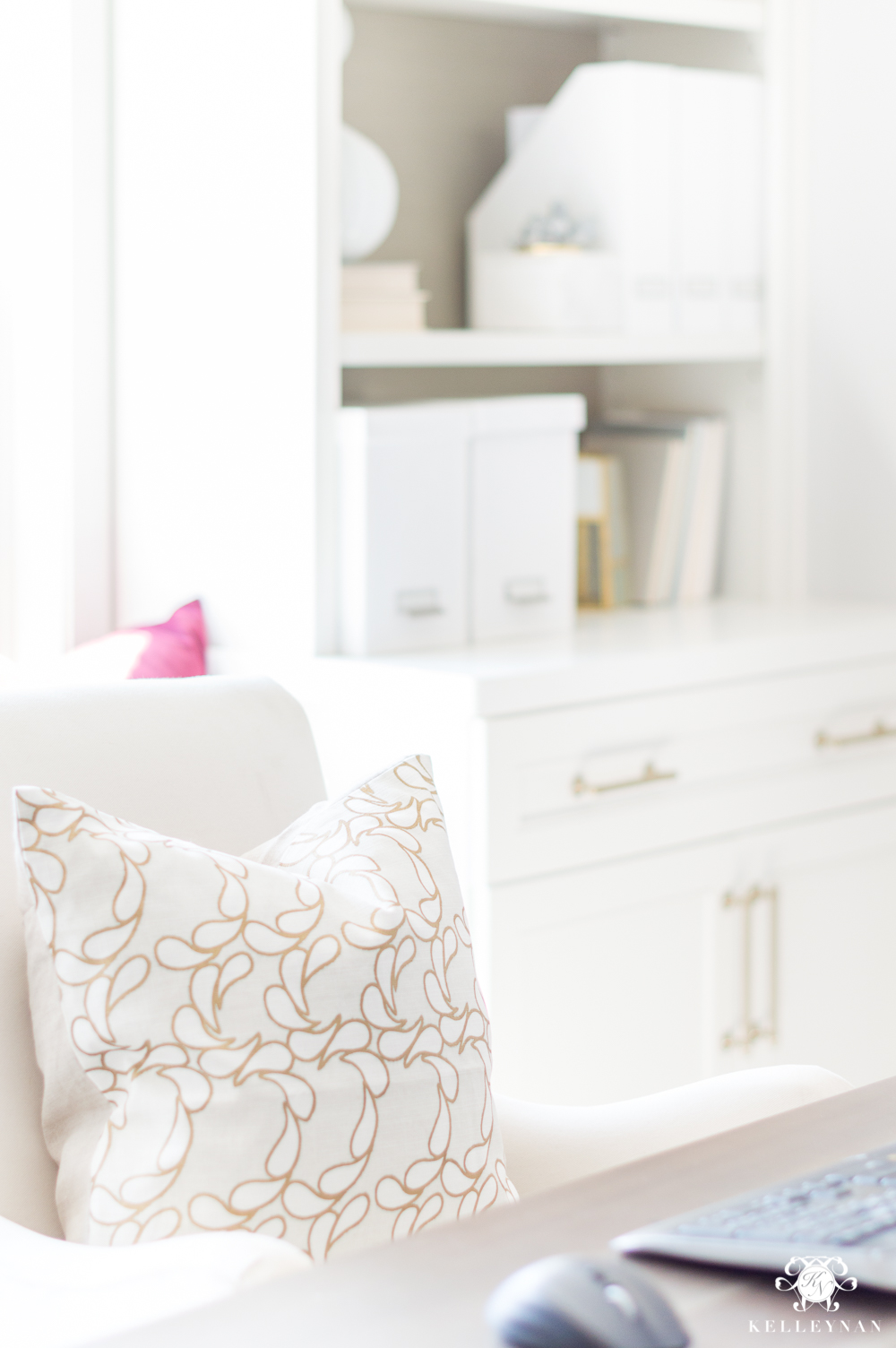 I swapped my white china footed bowls for these cutie floral numbers – sweet little vintage teacups would also be adorable!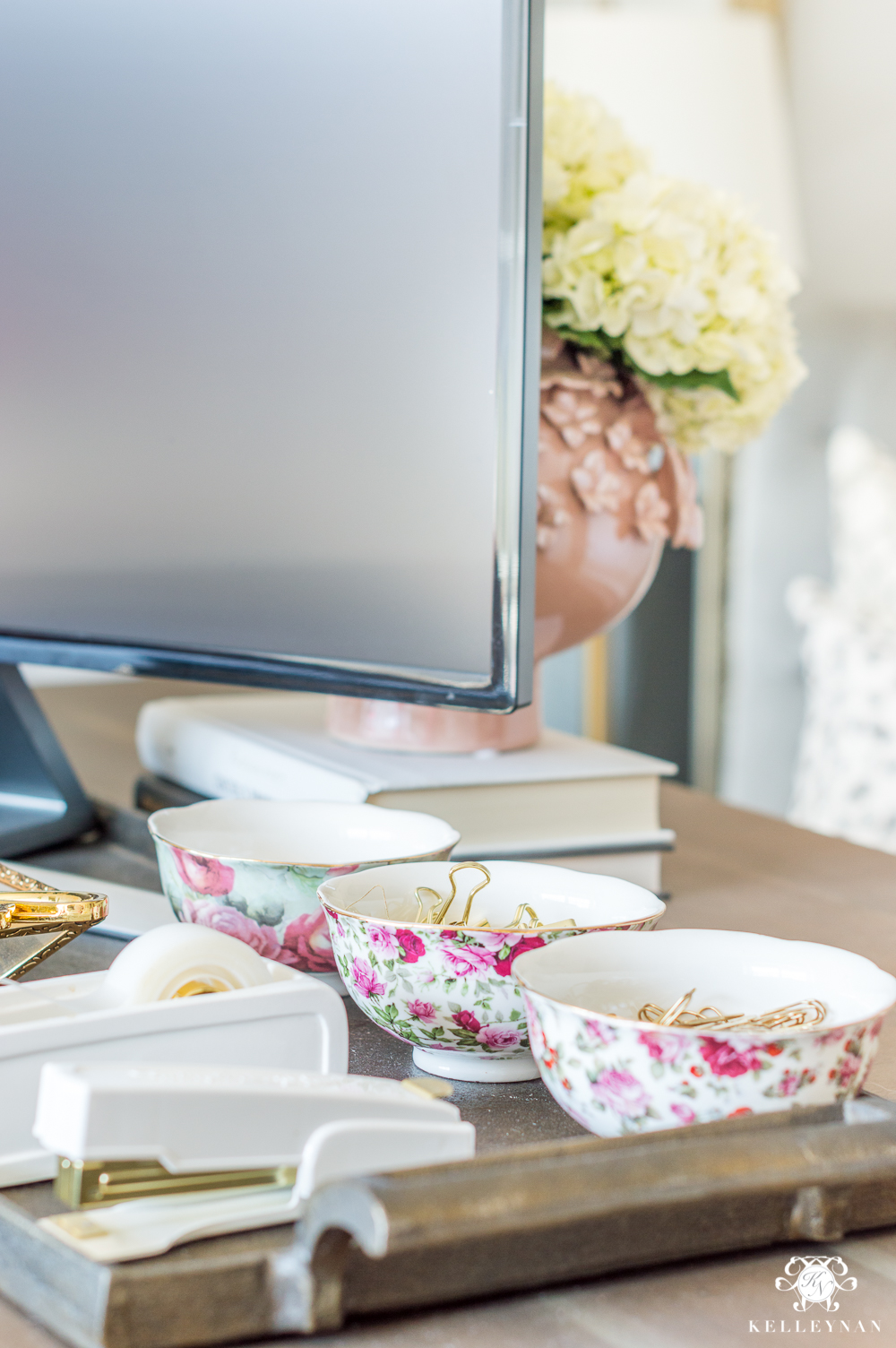 And added a pink vase with ceramic spring detail (HERE). As a warning, I realized it was slowly leaking water so I asked the store about it – they said it wasn't designed to actually hold water. (Umm?) I still don't know if that is true but if you do want it for flowers, I would use a small glass/vessel inside the vase to contain the water.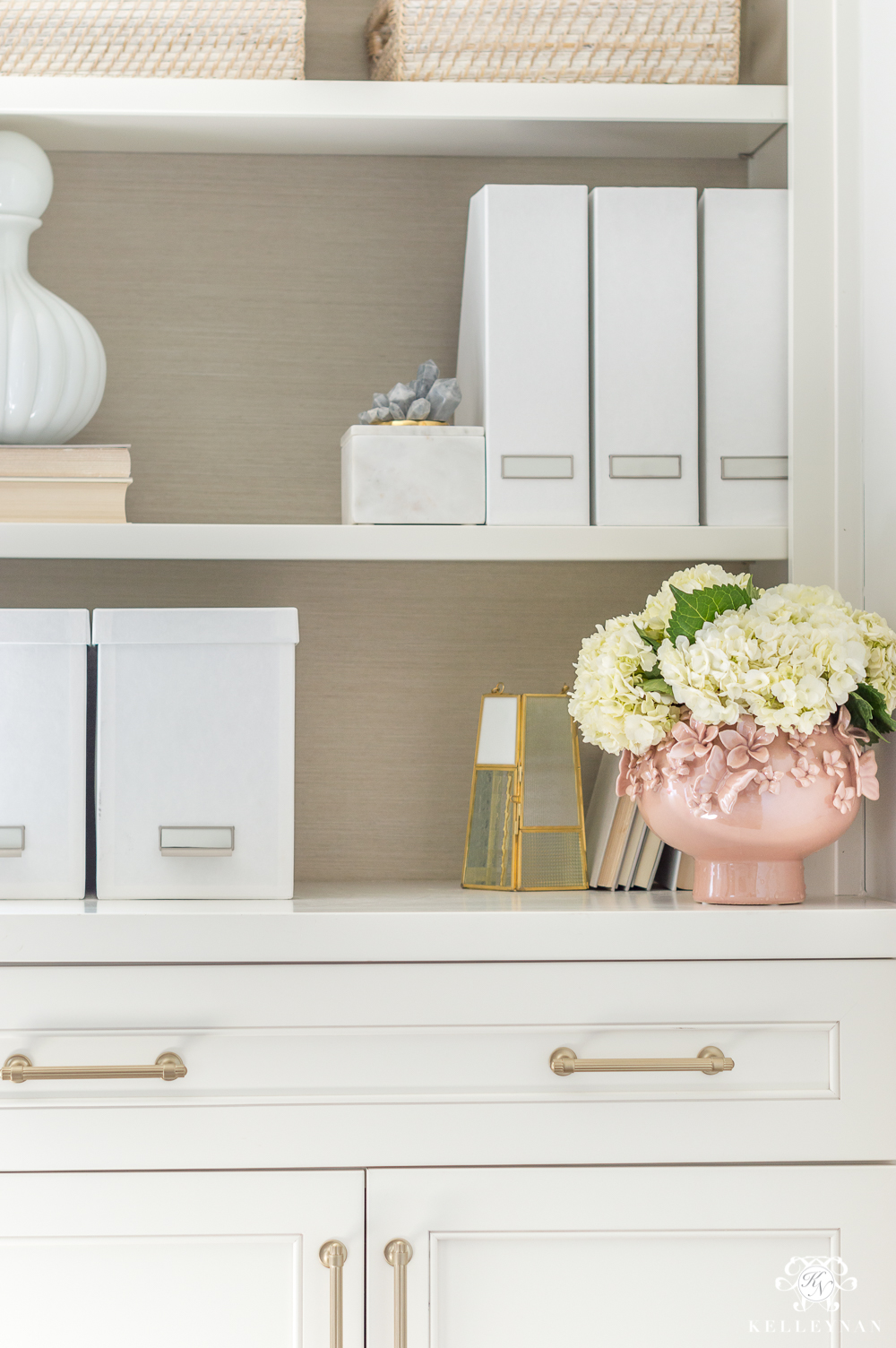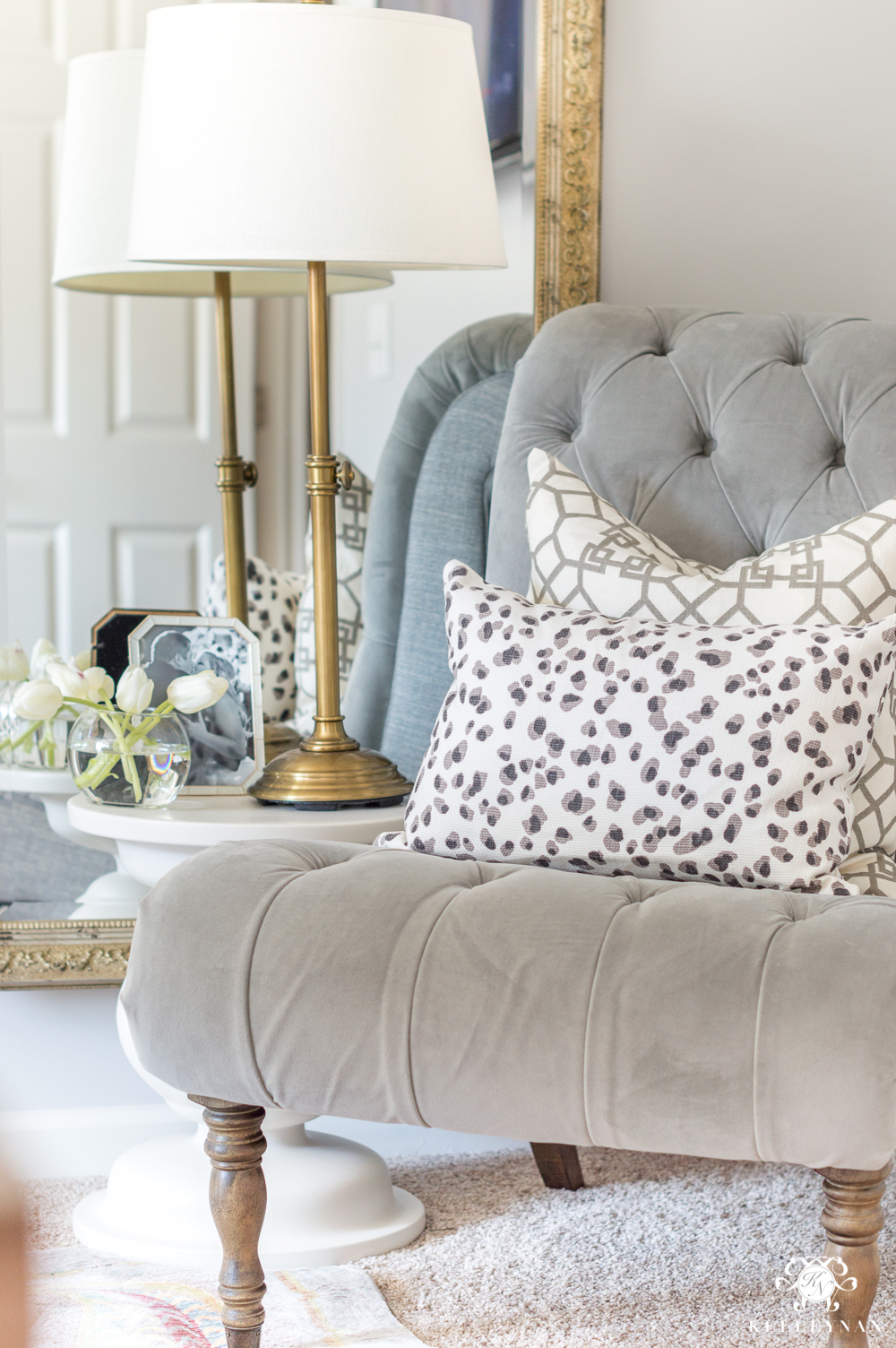 ---
SCROLL & TAP TO SHOP

---

I'm basically still on a high from our master bedroom makeover.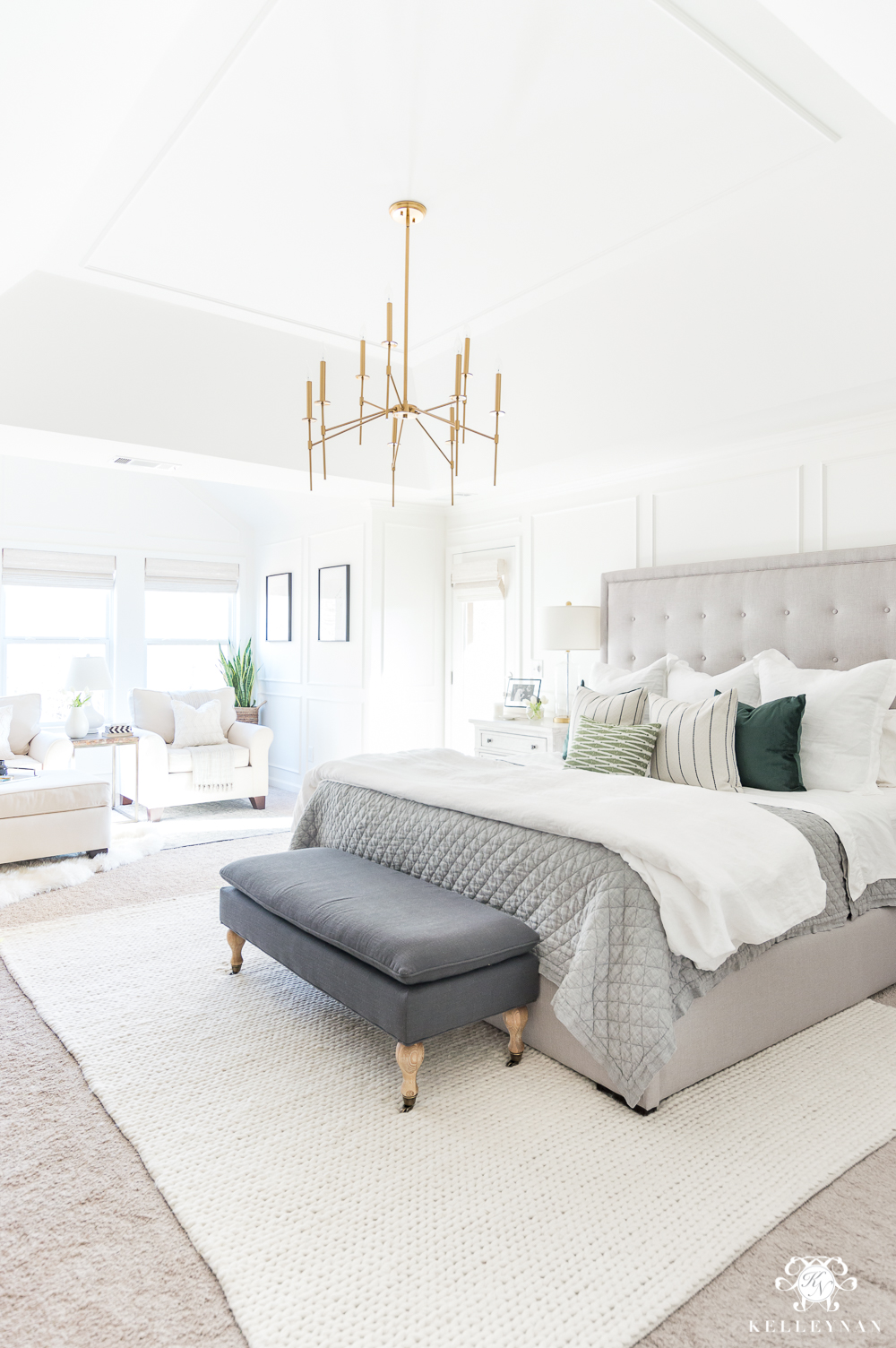 Aside from a few pillow and textile changes, it transitions into each season beautifully. Believe it or not, aside from the garland, the only change from Christmas is the lumbar pillow swap-out. See? It pays to use neutrals and choose things that can be used throughout each season 😉
A little secret- we STILL haven't filled and organized our nightstands (HERE). It's on "the list" but when we do them, I want to do them right.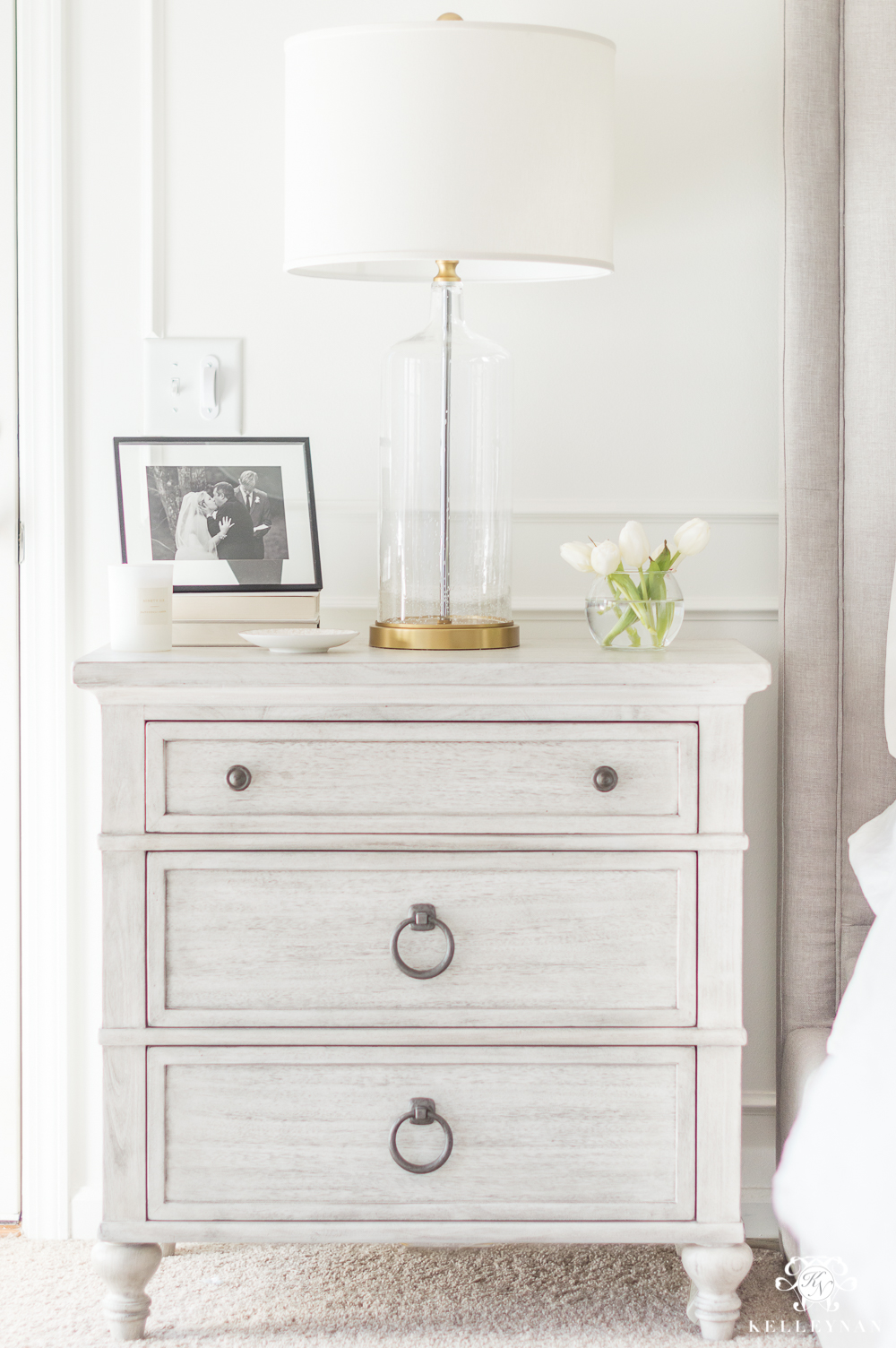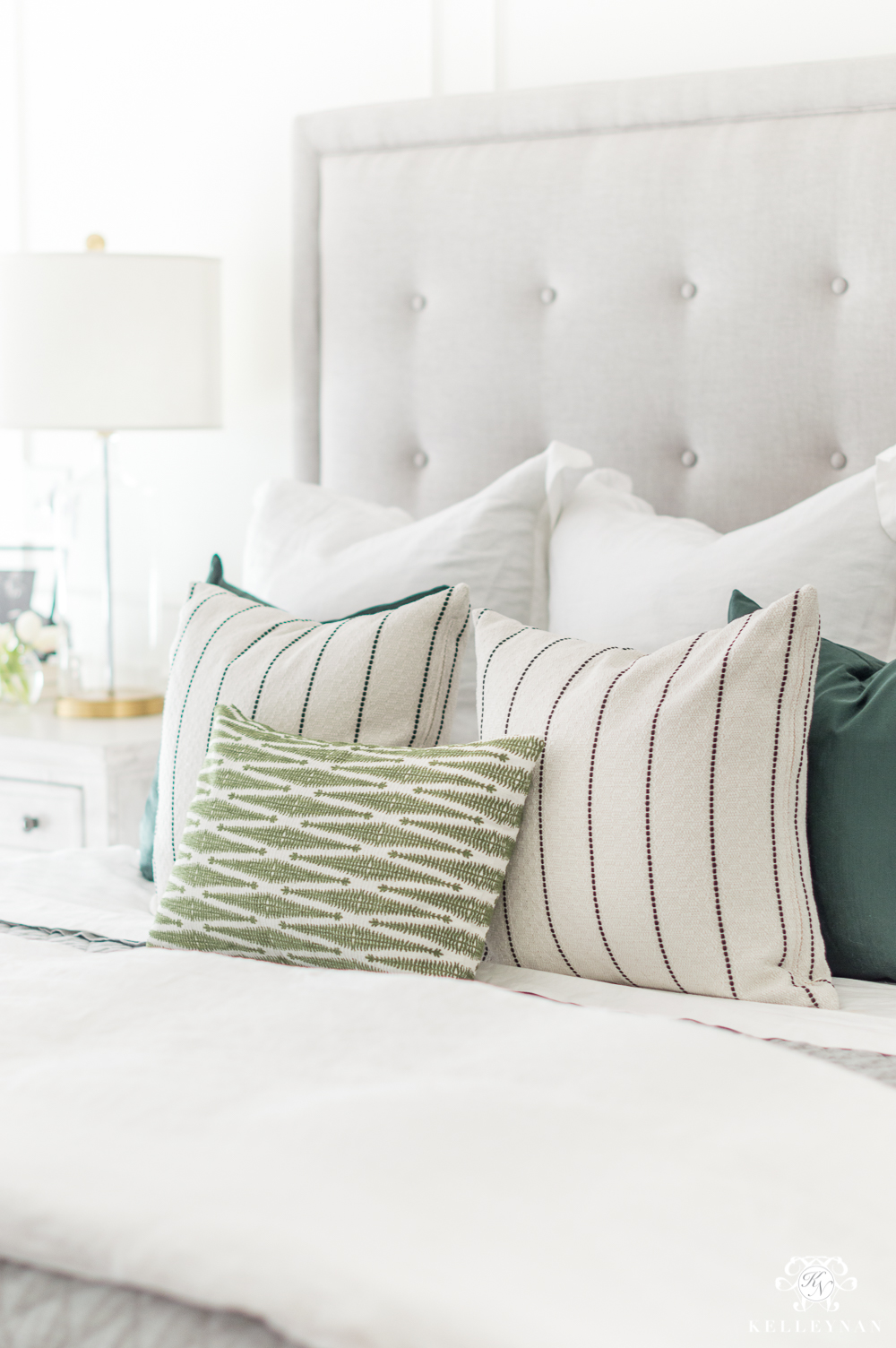 ---
SCROLL & TAP TO SHOP

---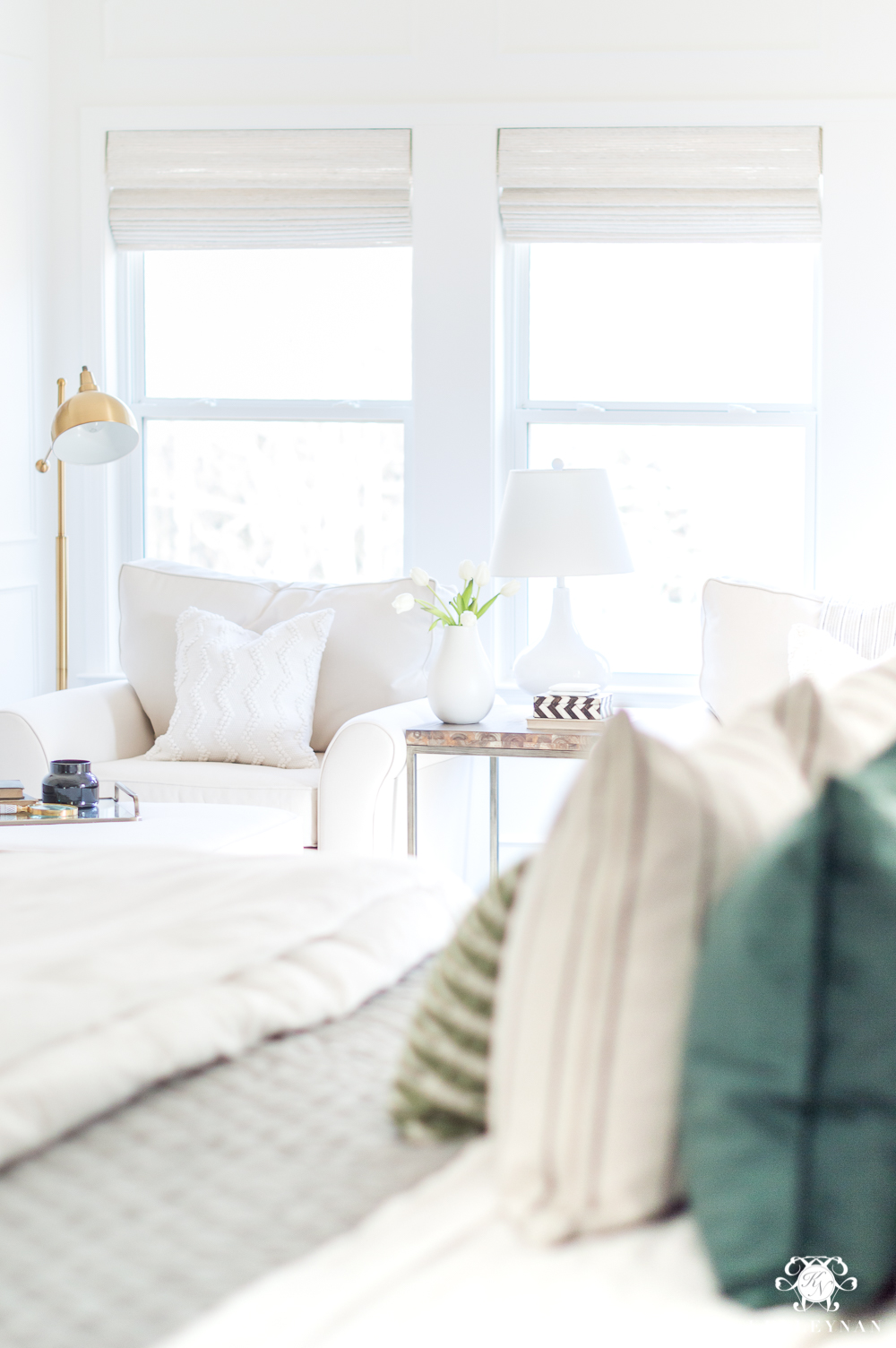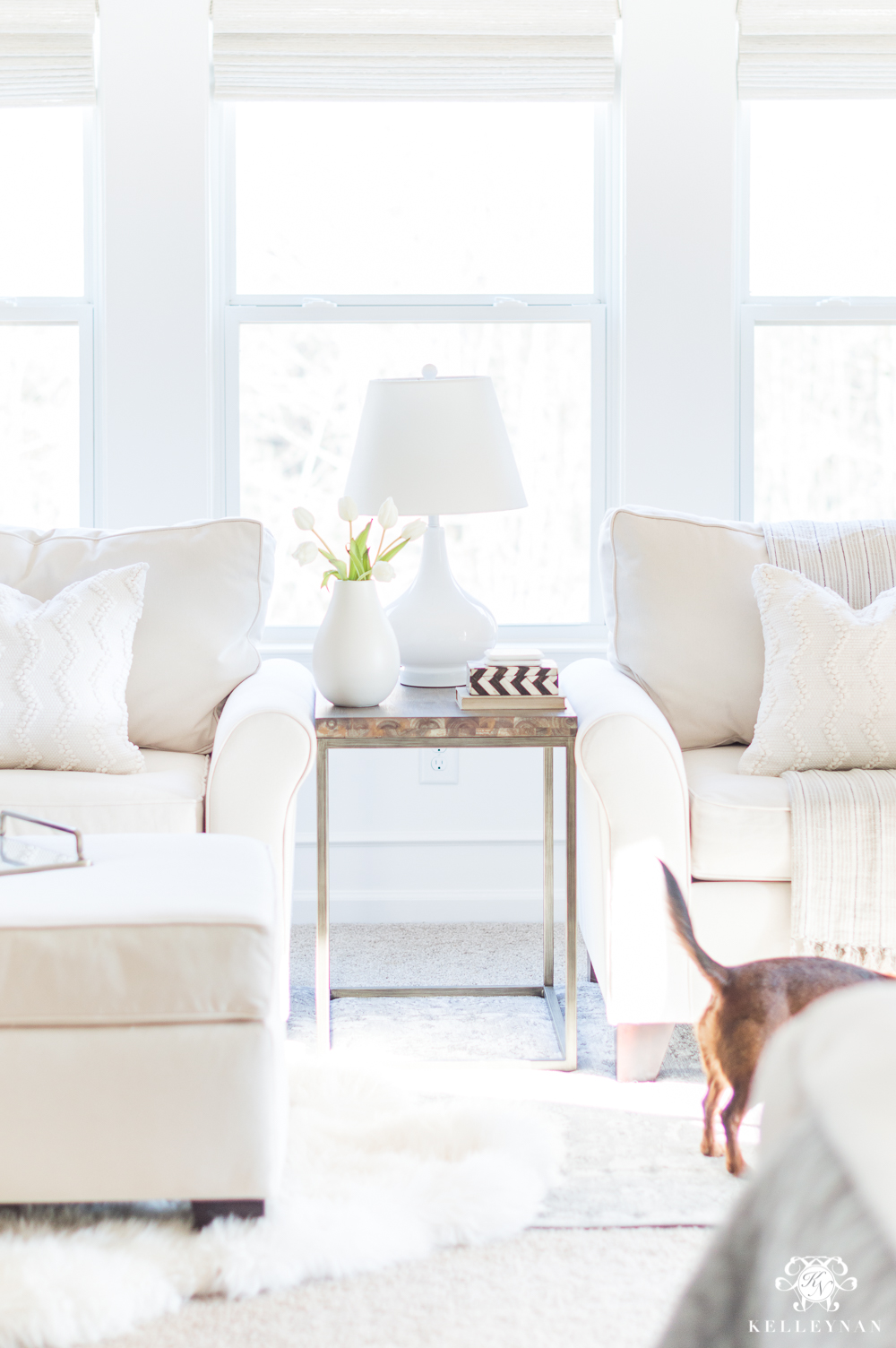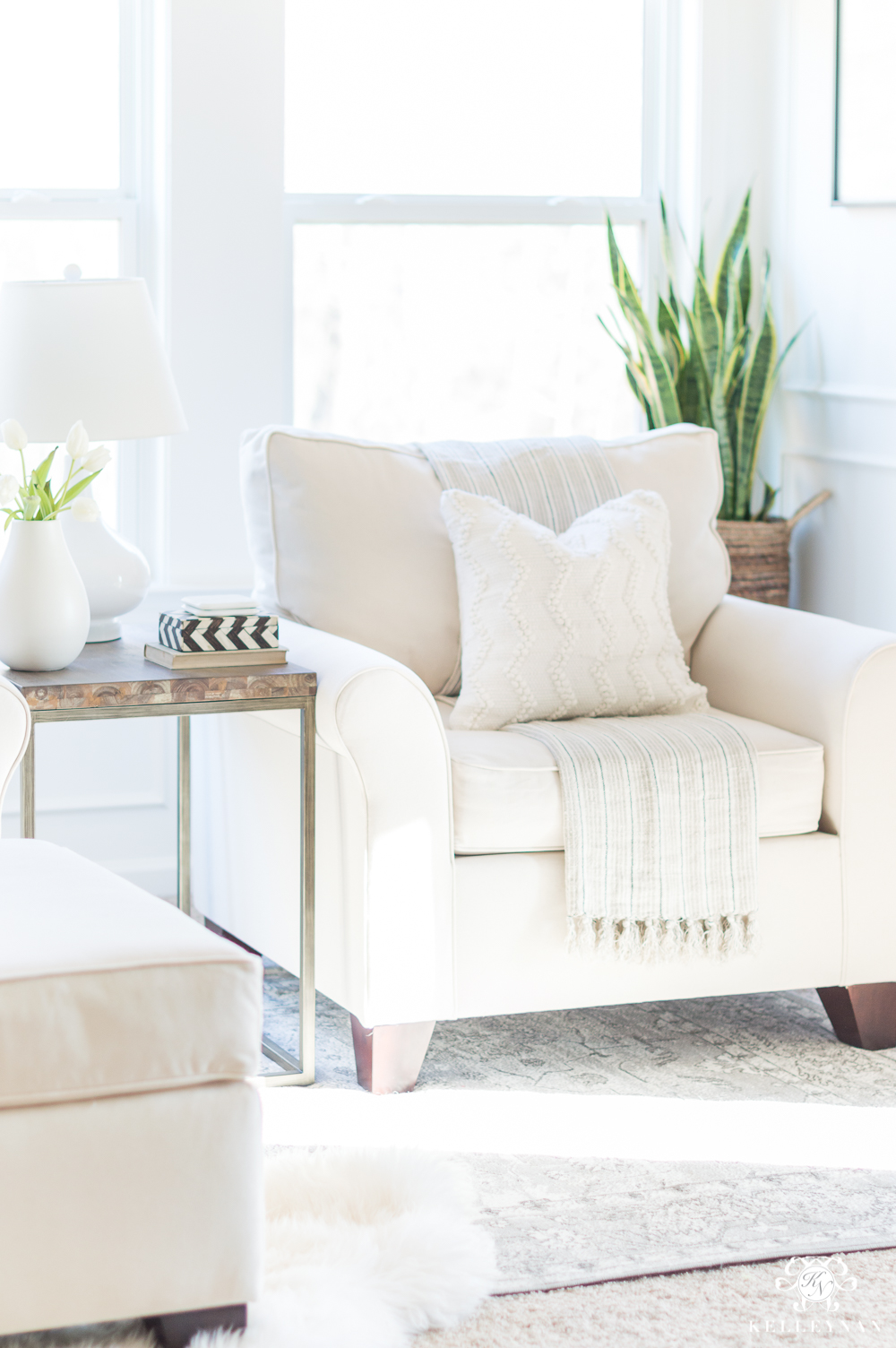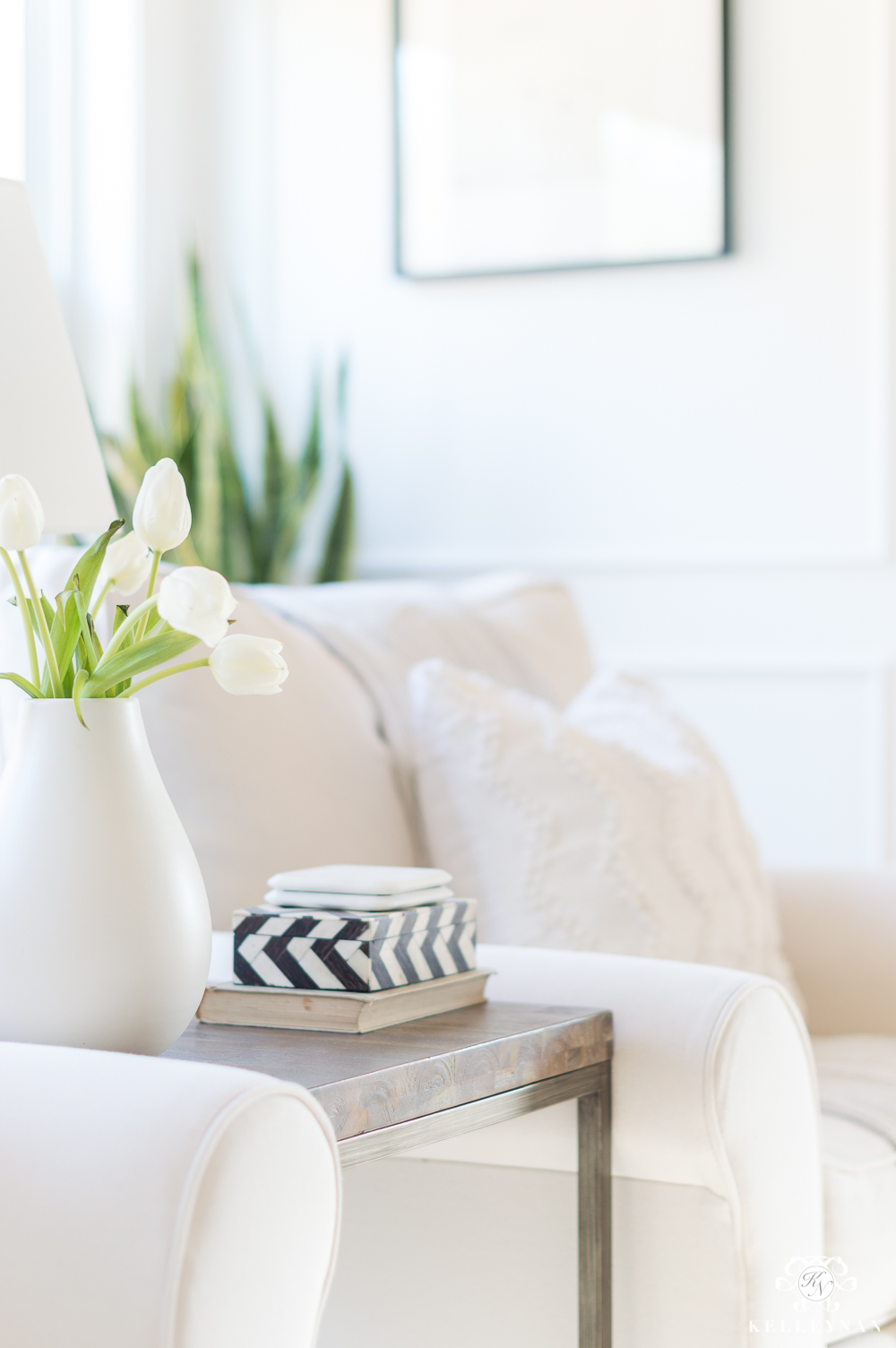 ---
SCROLL & TAP TO SHOP

---

I've made no attempt in hiding that the blue and white guest bedroom is my favorite guest bedroom. I love it so much, I haven't even wanted to make the tiniest changes. I finally decided to brighten and lighten it up for spring by removing some of the bedding layers and layering in a few floral pillows.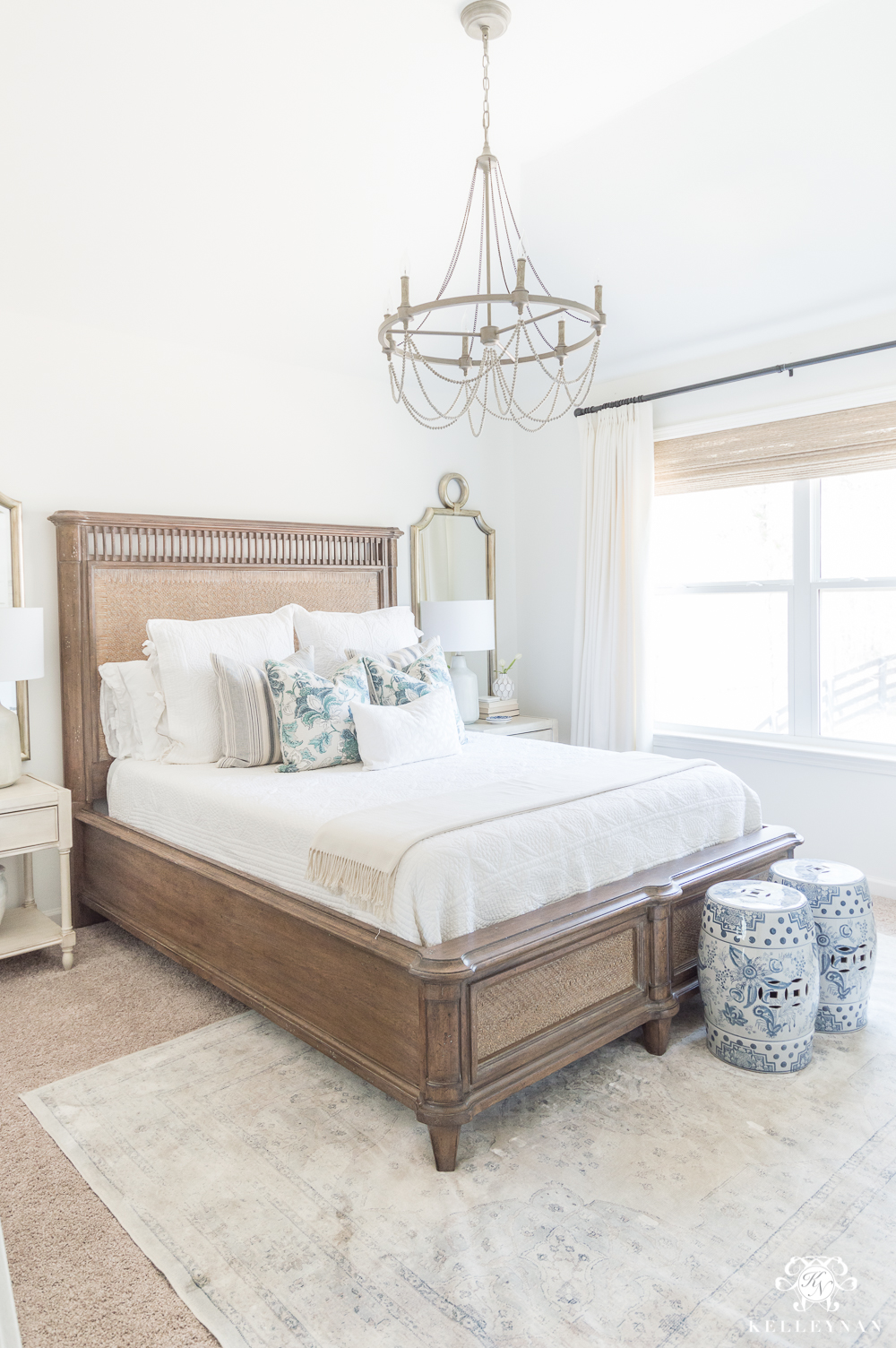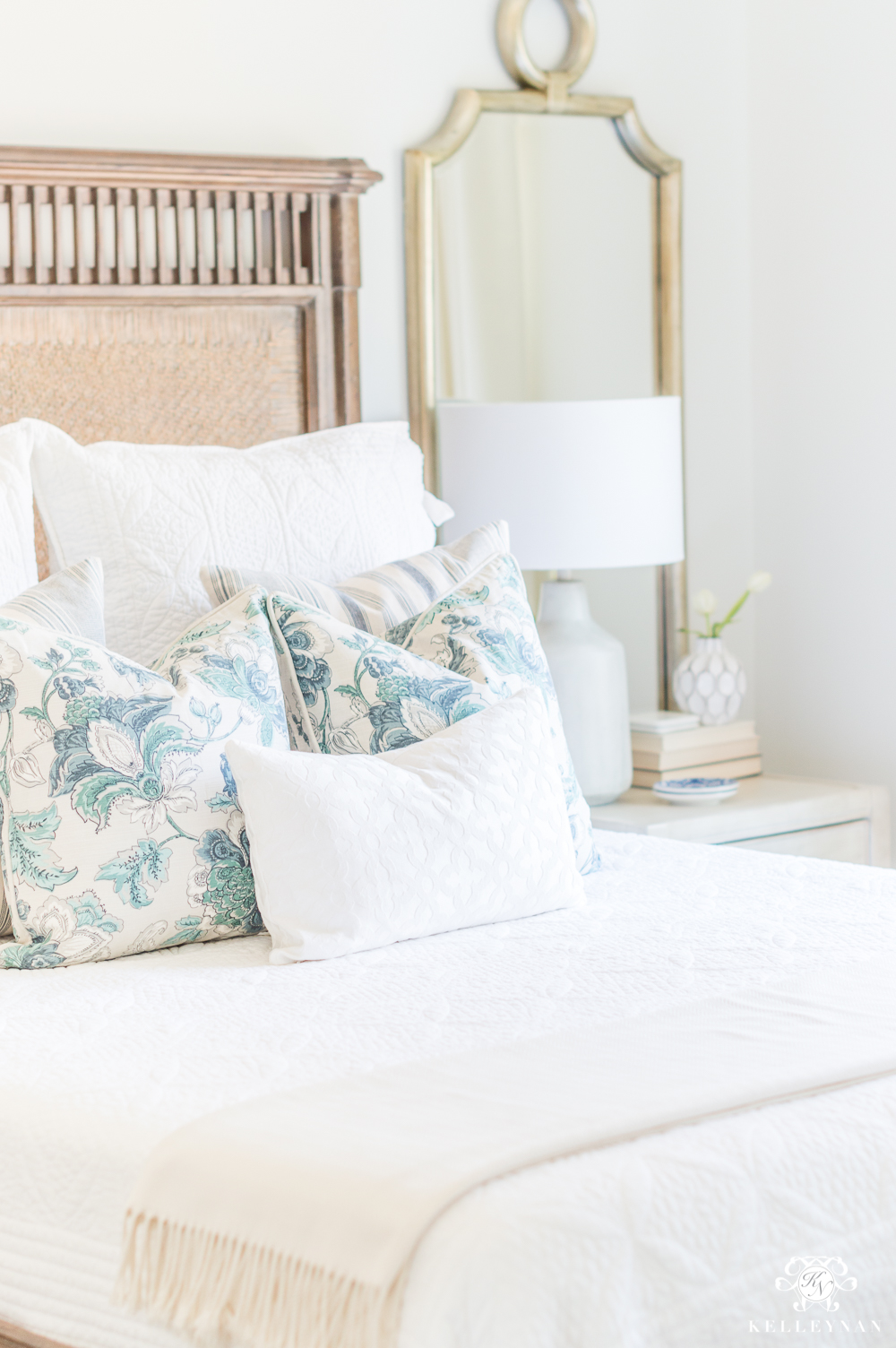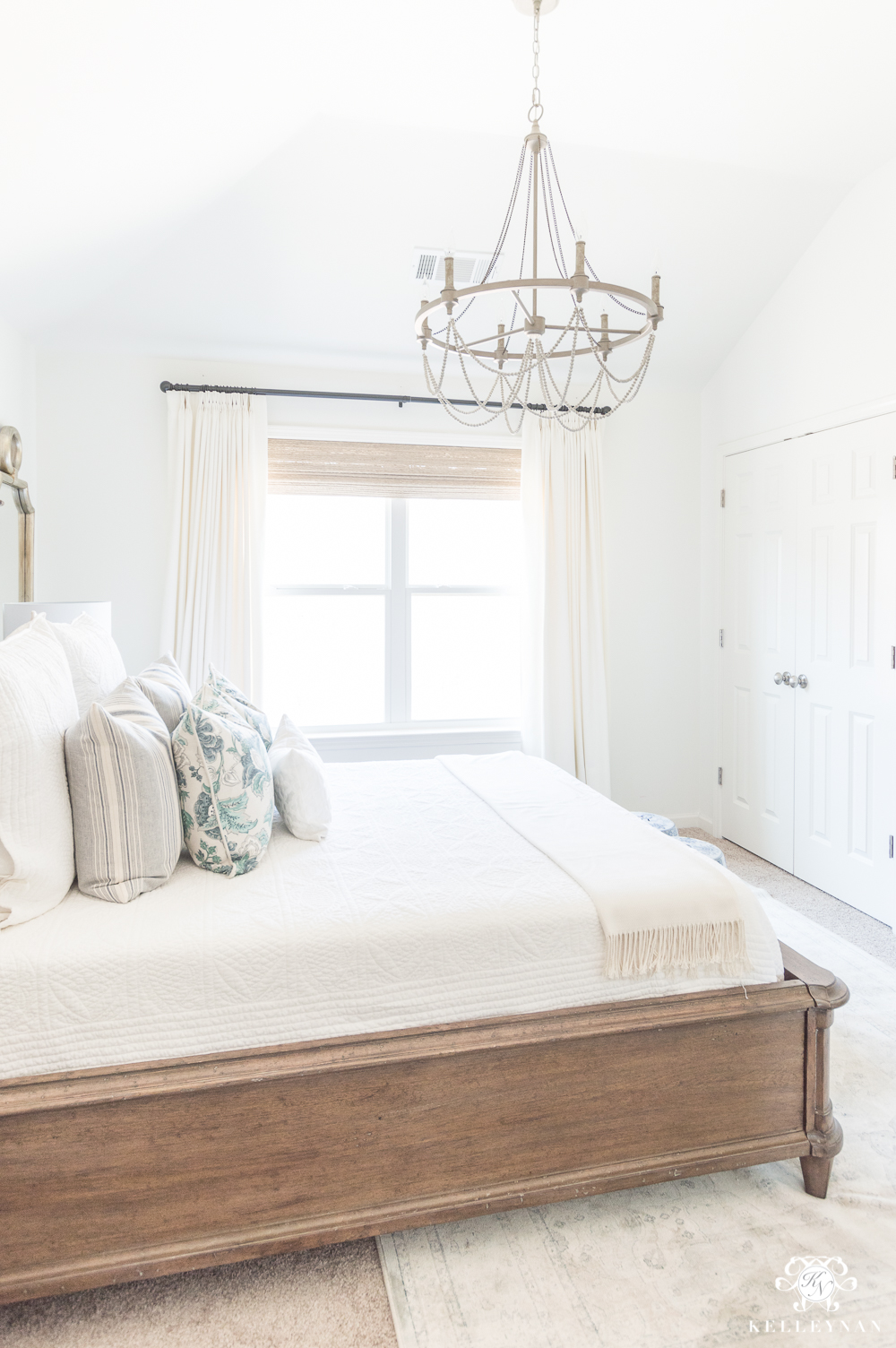 ---
SCROLL & TAP TO SHOP

---

And there's a reason you haven't seen this guest bedroom in a while. Since before the reveal of the previous guest bedroom, this one has been filled with all the cast-offs, a mattress, contents of an old dresser, and even light fixtures. No joke, you could barely open the door.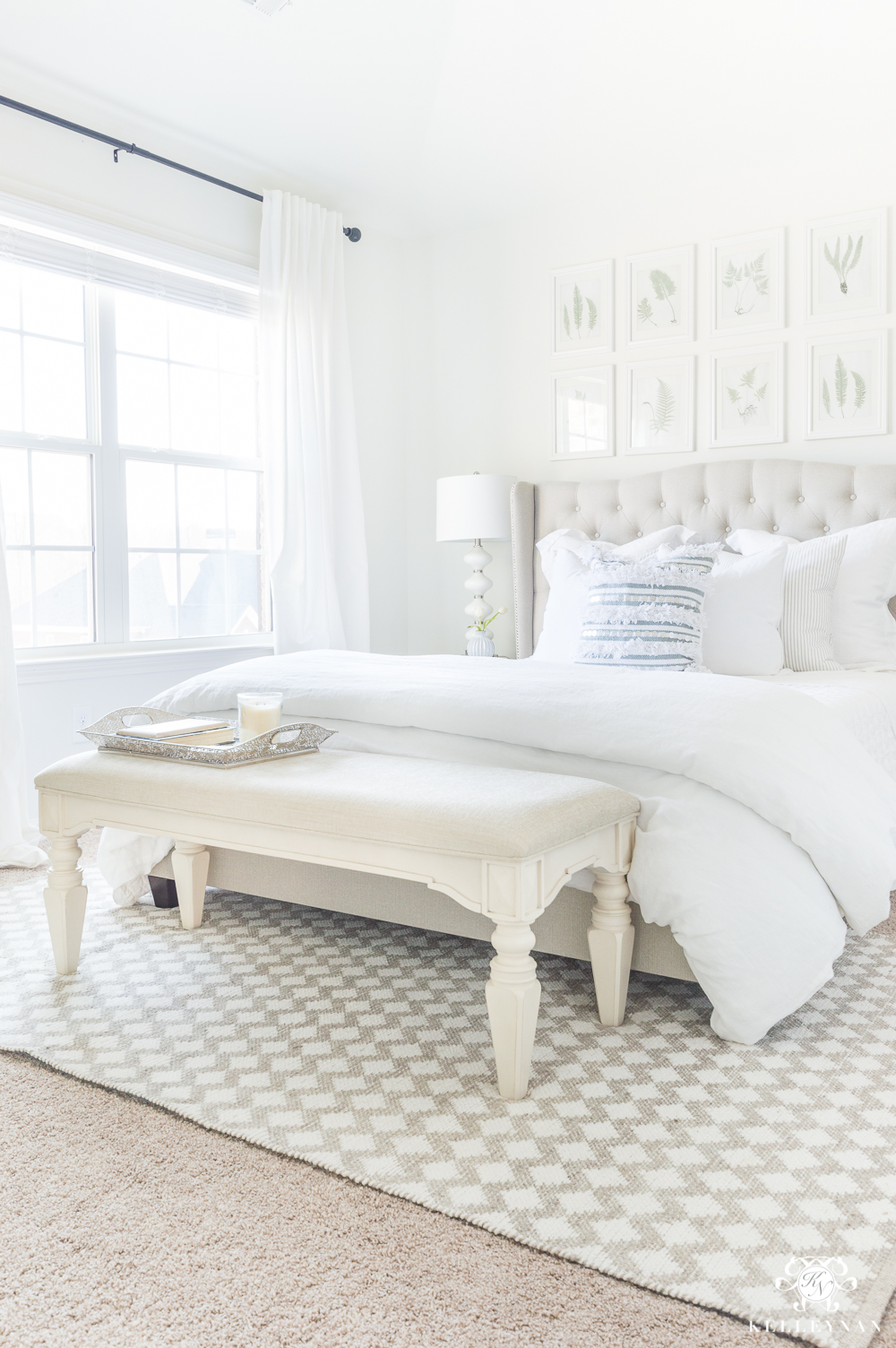 But Dave, in his Dave-like way, treated me to a totally cleaned out bedroom when I returned home from visiting my mom a few weeks ago. (Maybe I should go away more often?) I have a new light fixture for this room I'm pretty excited about that hasn't been installed just yet… soon!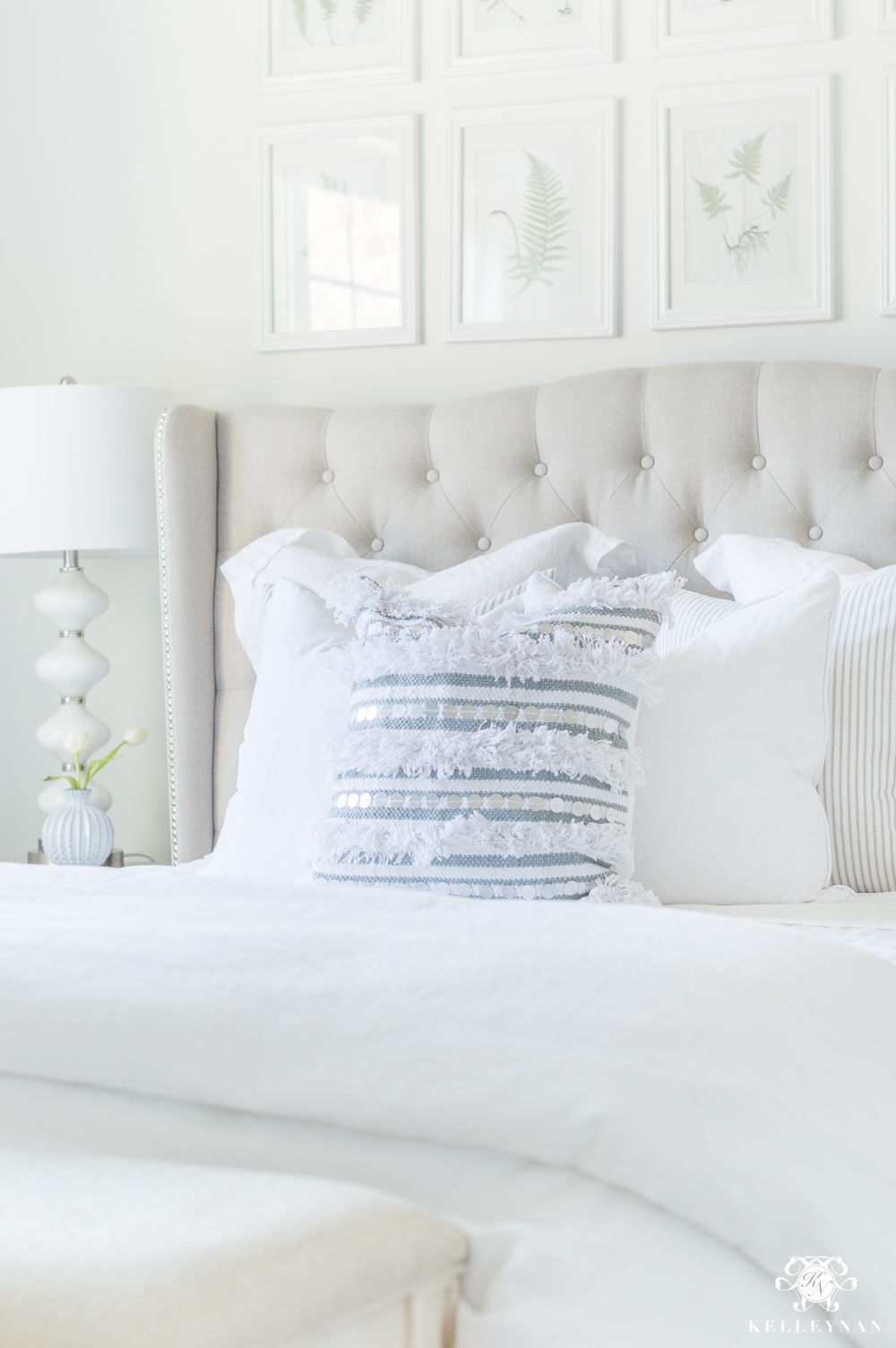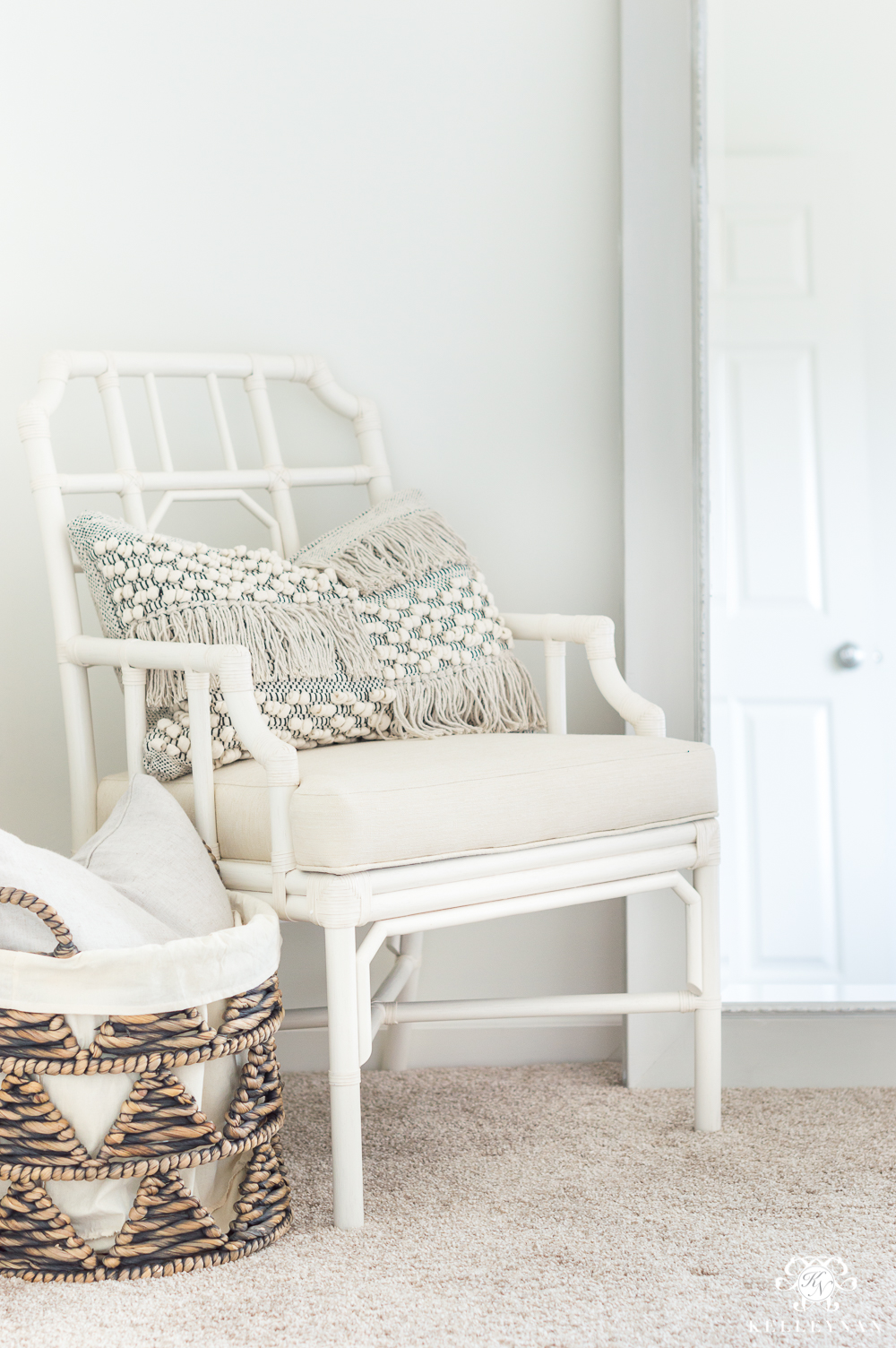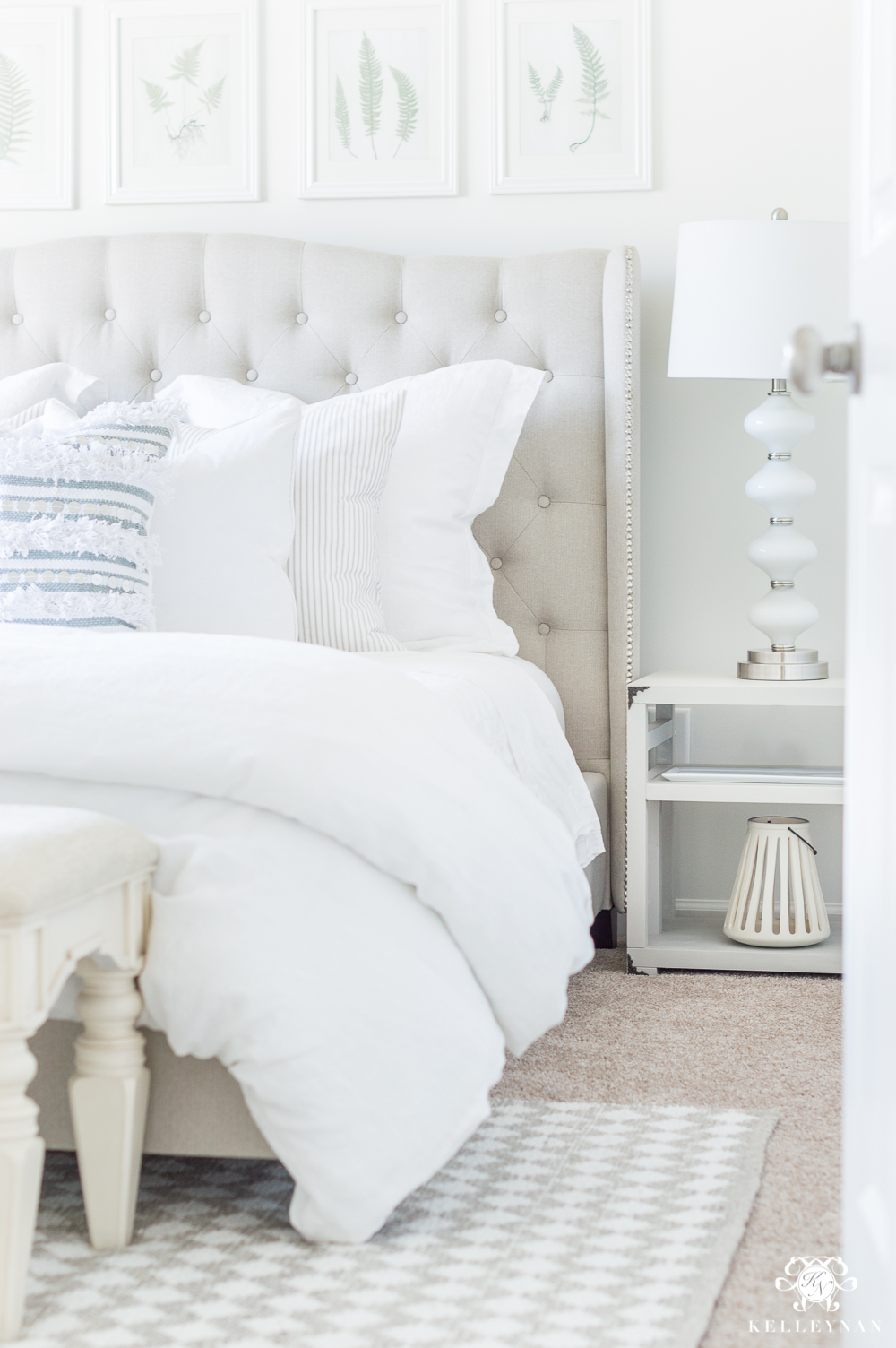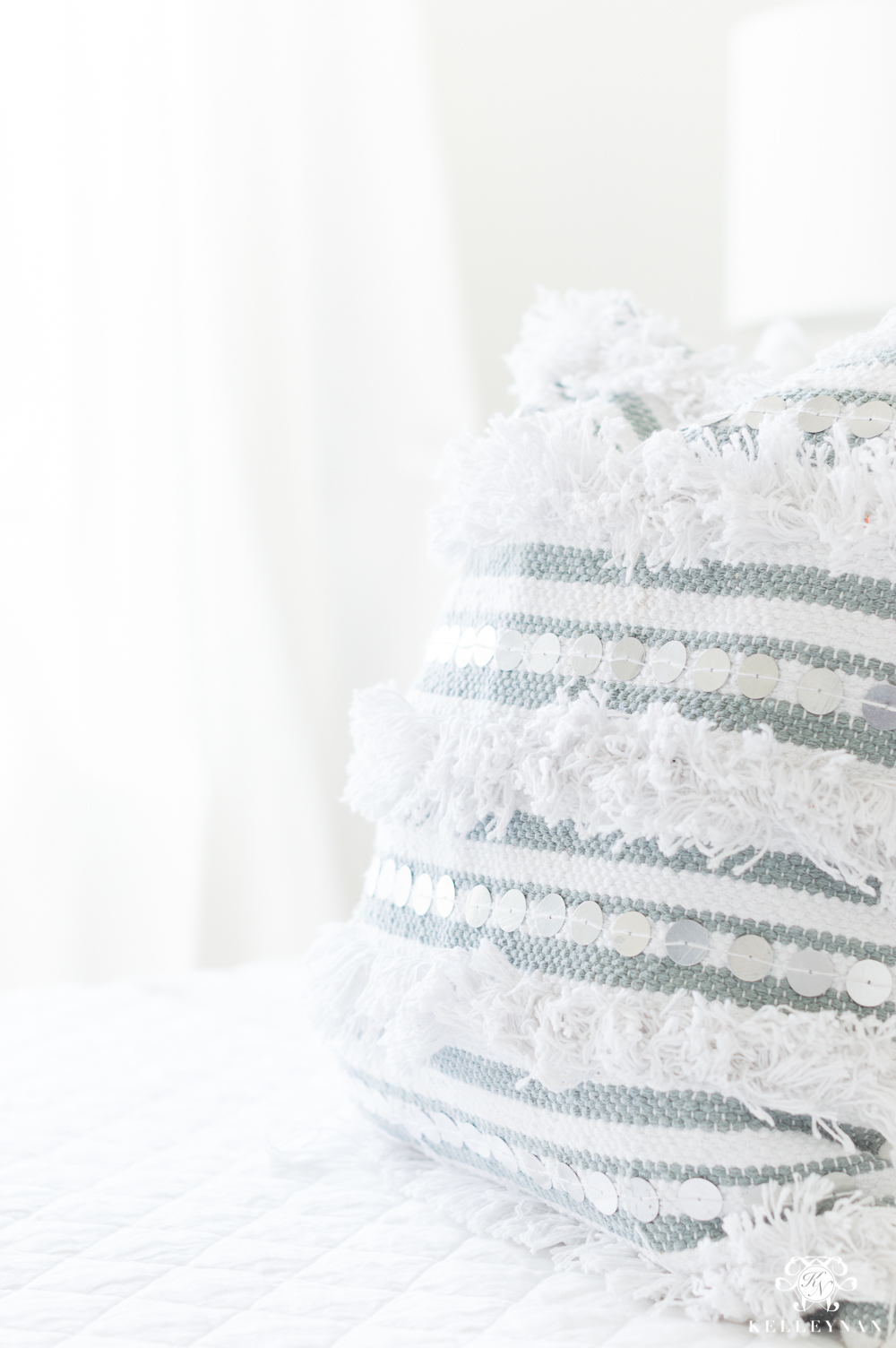 ---
SCROLL & TAP TO SHOP

---
Phew, you guys! That's it! We made our way through most of the rooms in the house; we always do a lot but this may be the most ever in one tour 😉 If this was your first time stopping by, I hope you'll come back! If you spotted something on the tour you were curious about, I have all the sources, details, and paint colors just below, separated by room 😉 If you aren't already, you can subscribe to receive my updates via email HERE. I've got a lot on my plate this spring and I'm looking forward to sharing it all 😉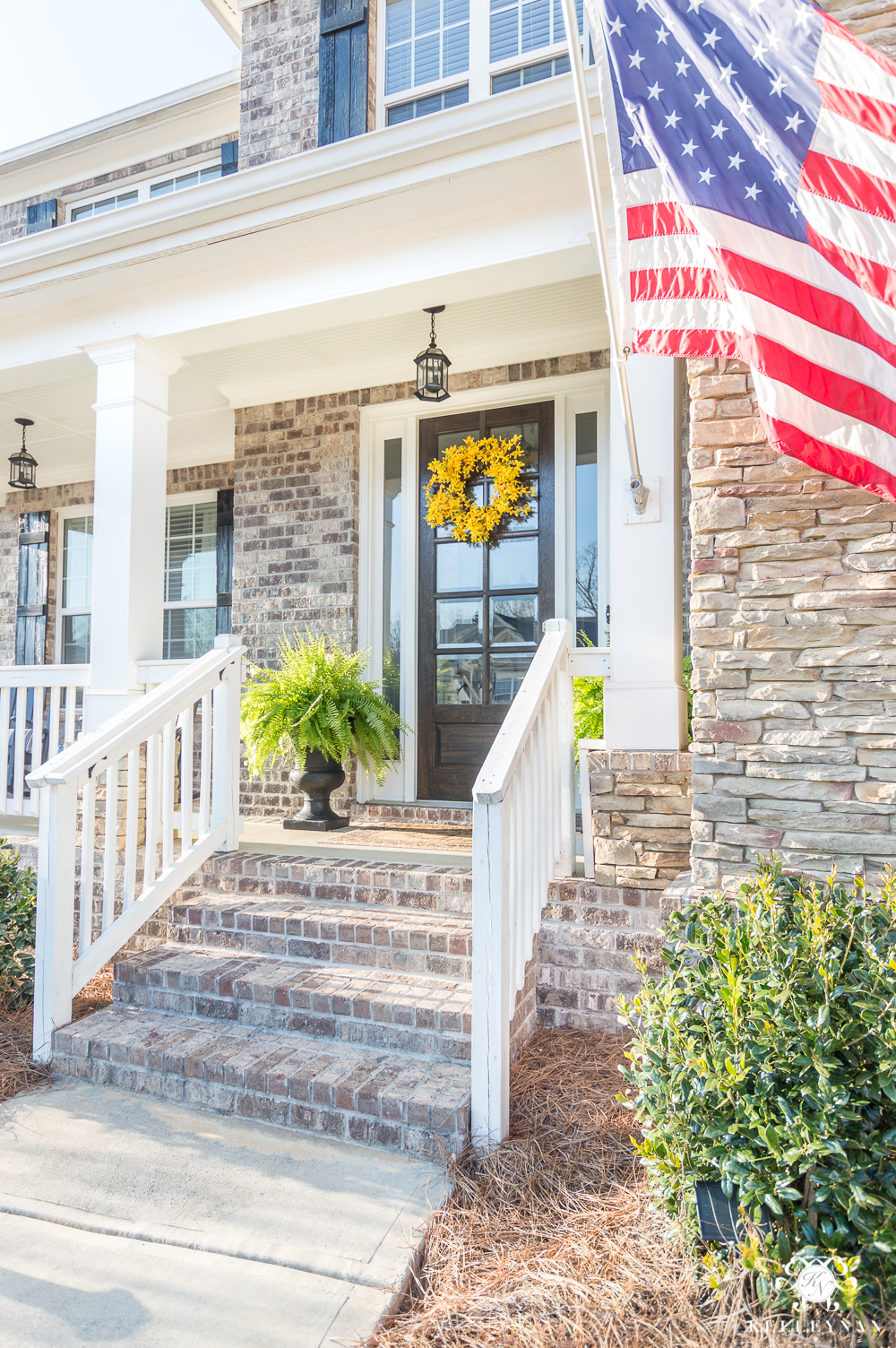 FRONT PORCH


Yellow Forsythia Wreath | Urns– SIMILAR (original from Lowe's several years ago) | Rocking Chairs | Front Door Mat | Pillows- Restoration Hardware
DINING ROOM

Chairs – Linen | Bar Cart | 12-Light Chandelier
 | Blue & White Table Vase | Tapered (Brass) Candle Sticks | Pillar (Brass) Candle Holders | Mercury Glass Candle Holders | Mirror: Homegoods – (SIMILAR) | Dining Table:  (84″ in Salvaged Brown) | Buffet: (72″ in Distressed White) | Curtain Panels
: (98″ in White) | Gold Bar Cart | Rug: HomeGoods- Safavieh | Lamps: HomeGoods – (SIMILAR) | Silver Tea Service: Family Heirloom – (SIMILAR) | Cream Table Runners | Church Painting | Hydrangea Wreath (DIY Tutorial HERE) | Water Lillies Art | Paint: Lauren's Surprise by Sherwin Williams | Flooring: Nottaway Hickory in Weathered Saddle
FORMAL LIVING ROOM




Basket (SIMILAR) | Greek Key Ottoman | Floor Lamp | White Garden Stool | Curtain Panels
: (98″ in White) | Curtain Rod | Ottoman Basket Tray: Pottery Barn – no longer available (SIMILAR) | Chair | Sheepskin: Costco (SIMILAR) | Rug: HomeGoods (SIMILAR) | Apothecary Jars | Brass Candle Holders: HomeGoods (SIMILAR) | Sofa: Antique | Restoration Hardware French Casement Double-Door Cabinet in Black Oak Drifted | Basket (SIMILAR) | Striped Pillows | White Pillows: HomeGoods (SIMILAR) | Sunburst Mirrors: Various Sources – (Similar HERE, HERE, HERE, HERE) | Quatrefoil Mirror | Wall Urchins | Paint: Versatile Gray by Sherwin Williams | Flooring: Nottaway Hickory in Weathered Saddle
KITCHEN

Bar Stools | Lantern Light Fixture Pendants (Vintage Silver) | White Bamboo Lantern (SIMILAR) | Mini White Colander | Olive Wood Salt Box |  Wooden Paddle Board | Soap Pedestal |  Marble & Wood Cutting Board | Raw Edge Marble Cheese Board | Round Wood Wall Decor (SIMILAR)| Coasters | Soap Pedestal | Refrigerator | Cabinet Pulls: Pewter (SIMILAR) | Faucet | Stainless Cooktop
 | Stainless Steel Canopy Pro Style Wall Mount Range Hood
 | Pitchers: Unknown | Paint: Perfect Greige by Sherwin Williams | Cabinet Paint: Unknown | Granite: Giallo Ornamental  | Backsplash: Puebla Travertina Beige in 3×6 tiles with Snow White Grout | Flooring: Nottaway Hickory in Weathered Saddle
BREAKFAST NOOK

Chairs | Table: Refinished (DIY Project HERE) | Wood Beaded Chandelier | Round Mirror (SIMILAR) | Curtain Panels
: (98″ in White) | Curtain Rod |  White Soup Tureen | Platter | Sideboard: HomeGoods (SIMILAR) | Stool Under Plant (I painted white) | Ice Bucket | Wine Cooler | Wine Trough | Cake Stands: HERE, HERE, HERE | Ceramic Vase (SIMILAR) | Plant Basket: HomeGoods (SIMILAR) | Gallery Wall Frames (SIMILAR) | Pitchers: HomeGoods | Paint: Perfect Greige by Sherwin Williams | Flooring: Nottaway Hickory in Weathered Saddle
GREAT ROOM


Indigo Velvet Pillows | Black Striped Pillows | Indigo and White Patterned Pillows | Indigo, White, & Green Patterned Pillows | Silk Cream Pillows | Monkeys- Antique | Blue & White Ginger Jars (SIMILAR) | Chunky Gray Throw with Tassels in Basket | Volcano Ash Floor Vase | White Vase | White Vase 2 | Accordion Vase | Terracotta Vase | Thatcher Wing Back Chairs | Table Lamp | Garden Stool | Blanket Basket | Quatrefoil Mirrors Between Windows | Gold Foil Texas & Georgia State Art Prints | White Lidded Urn | Tree Art | Log Basket | Round Mirrors: World Market – no longer available (SIMILAR) | Wooden Tray: Pottery Barn – no longer available (SIMILAR) | Volcano Candle | Mirrored Console Table: HomeGoods (SIMILAR) | Console Table Lamps: HomeGoods (SIMILAR) | Oversized Tray | ZGallerie Palais Side Table (IDENTICAL) | ZGallerie Palais  Coffee Table (IDENTICAL) | Rug: HomeGoods (SIMILAR) | Alarm Clock | Sofa: La-Z-Boy Aspen Collection | Fan: Progressive Lighting | Paint: Versatile Gray by Sherwin Williams | Flooring: Nottaway Hickory in Weathered Saddle
 OFFICE

Amerock Cabinet Pulls on Cabinets (Golden Champagne – 6 5/16″) | Amerock Cabinet Pulls on Drawers (Golden Champagne -5 1/16″) | Blush Flower Vase | Gray & White Pillow | Leopard Pillow- discontinued | Wine Velvet Pillows |  Grass Cloth | Lamp (Table – Brass) | Linen Tapered Drum Lamp Shade (Medium -White) | Wallingford 16″ Wide Antique Brass & Crystal Chandelier | Soft Shimmer Large Art Print (30×40, white mat, matte brass frame) | Gold Foil Leaf Art (11×11, matte brass frame) | Round Wood Carving | Rug (7'10" x 10'10") | Roman Shades (linen with silver ribbon) | Trestle Table (Gray Acacia – 76″ x 43″) | Gray Velvet Slipper Chair – HomeGoods (SIMILAR) | Gold Mirror – HomeGoods (SIMILAR) | Desk Chair | Long Antique Brass Tray | Scissors | Tape Dispenser | Stapler | Glass and Gold Dish | Initial Coaster | Hammered Brass Pencil Cup | Acrylic Notes Holder | Lilly Pulitzer Planner | File Boxes | Magazine Holders | Document Boxes | Whitewash Baskets | Gray Short Neck Vase | Top Shelf Vases | Eduardo Garza Crystal Box | Gold Lanterns | White Vase with Stopper – discontinued from West Elm | Small White Vase – discontinued from West Elm | Slipper Chair: HomeGoods (SIMILAR) | Seat Cushion – DIY (HERE) | Floral Bowls: Tuesday Morning | Linen, Gold, White Chair Pillow: Discontinued | Carpentry – Bobby Barton of Heartwood Renovations, and Darryl Ponquinette of Ponquinette Fine Woodworks | Paint: Sherwin Williams On the Rocks
MASTER BEDROOM

Bed | Nightstands | Dresser- Restoration Hardware (no longer available) | Bench | White Linen Duvet Cover & Euro Shams| Belgian Flax Linen Linen Quilt (in Flagstone) | King Linen Shams (in Flagstone) | Green Velvet Pillows | Black & Cream Striped Pillows | Green & Natural Lumbar Pillow | 700 Thread Count Sheets | Leaning Floor Mirror- HomeGoods | Chandelier | Bedside Lamps | Chunky Cream Wool Rug (8×10) | Foo Dog- HomeGoods (Similar) | Catch-all China Dish | Oversized Double Handle Basket- HomeGoods (Similar) | Hamper- HomeGoods (Similar) | Moulding | Paint: Simply White by Benjamin Moore
MASTER BEDROOM SITTING AREA

Oversized Chair (in natural) | Oversized Chair with Ottoman (in natural) | Side Table in Sitting Nook | White Table Lamp (set of 2) | Garden Stool | Bird Art Print 1 | Bird Art Print 2 | Moulding | Woven Shades (Bali White; Cordless) | Brass & Mirror Tray on Ottoman | White Pillows in Chairs: HomeGoods | White Vase with Tulips | Linen Throw | Black Volcano Candle | Gray Rug in Sitting Nook (5×7) | Sheepskin- Costco | Floor Lamp
GUEST BEDROOM 1

Archipelago Platform Bed | Safavieh Pagoda Garden Stools | Nightstands | Nightstand Hardware | White Quilt & Euro Shams | Sheets | Center White Lumbar Pillow (12×20) | Striped Pillows- HomeGoods |  Floral Pillows- HomeGoods | Cream Throw- HomeGoods | Murray Feiss Six-Light Chandelier | Lamps | Safavieh Vintage Oriental Light Blue/Cream Rug | Fisherman Art | Bedside Mirrors | Curtains (Linen Weave Vanilla Bean with Bronze Drapery Rod & Ring Clips) | Cordless Woven Shades (Bali Natural) | Full Length Mirror- HomeGoods | Luggage Rack | Blue & White Trinket Dishes (Trio) | Coasters | Hamper- HomeGoods | Elephant- HomeGoods | Small Nightstand Vase- West Elm (no longer available) | Driftwood Bowl- HomeGoods | Pot- HomeGoods | Paint: Alabaster by Sherwin Williams
GUEST BEDROOM 2

Gray & White Ticking Striped Pillows | Bed (Queen) | Belgian Linen Duvet Cover & Euro Shams – white | Belgian Linen Diamond Quilt (White) | Rug (5×8) | Mirrored Brass Tray | Bamboo Side Chair | Curtain Panels
: (98″ in White) | Lumbar Pillow in Chair | Lanterns | Moroccan Wedding Pillow (SIMILAR) | Bud Vase | Lamps: HomeGoods (SIMILAR) | Bench: HomeGoods (SIMILAR) | Mirror: DIY Project | Night Stands: DIY Project | Fern Prints | Basket: HomeGoods | Frames: Michaels – (SIMILAR) | Throw: HomeGoods | Paint: Alabaster by Sherwin Williams
*Note: Post contains affiliate links and sources throughout the post. Where product is no longer available, a similar substitute has been listed.