This past month, I was so proud/happy/relieved (insert all the emotions) to get my office closet organized from top to bottom (see that post HERE if you missed it). But, one of the most common questions I received wasn't about organizing my throw pillows, but where I typically find my pillows. The short answer- I am always on the lookout for fun patterns and textures but over the years, I have narrowed my "go-to list" of sources. So, where do I shop for throw pillows? What do I look for in throw pillows? Some throw pillows are cheap, others are a little more of an investment, but rarely do I go crazy on high-cost varieties. Today, I'm going through my pillow-sourcing process and sharing my favorite affordable stops.
*Posts on KelleyNan.com may contain affiliate links. Click HERE for full disclosure.*
WHERE TO SHOP FOR THROW PILLOWS
I truly don't think any place is off limits but I do have favorites when it comes to a good balance of quality and cost. You already know you can find plenty of pillows at pretty much any retailer but that's not what this is about. This is about my favorite throw pillow sources and shops.
Tonic Living: I only discovered Tonic Living within the last year; between my master bedroom reveal and spring home tour, I have already used their beautiful, decorative pillows A LOT. Here's what I love- they are mid-priced but the quality is phenomenal. Their specialty is fabric and it shows in their product. They always have nice solids but continually bring in new patterns and prints. Plus, with each pillow you click on, they have suggestions of coordinating pillows. Super simple. You can shop their pre-made pillow sizes or request a custom order. You can also have curtains, ottomans, etc. made in the same fabric. These are substantial and thick so you won't find any flimsy, wrinkly number here! Shop Tonic Living Pillows HERE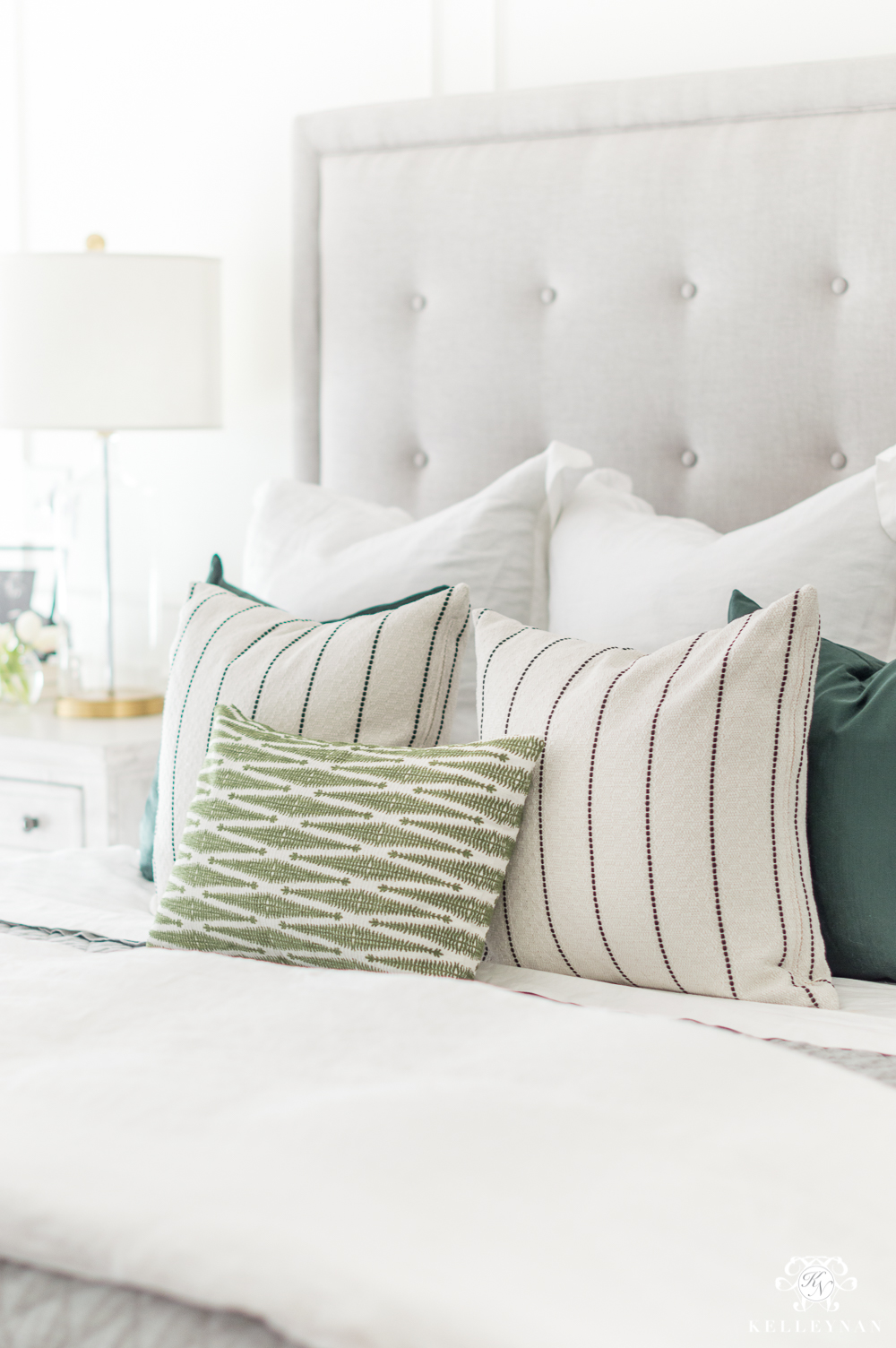 Front Green Patterned Pillow | Striped Pillows | Green Velvet Pillows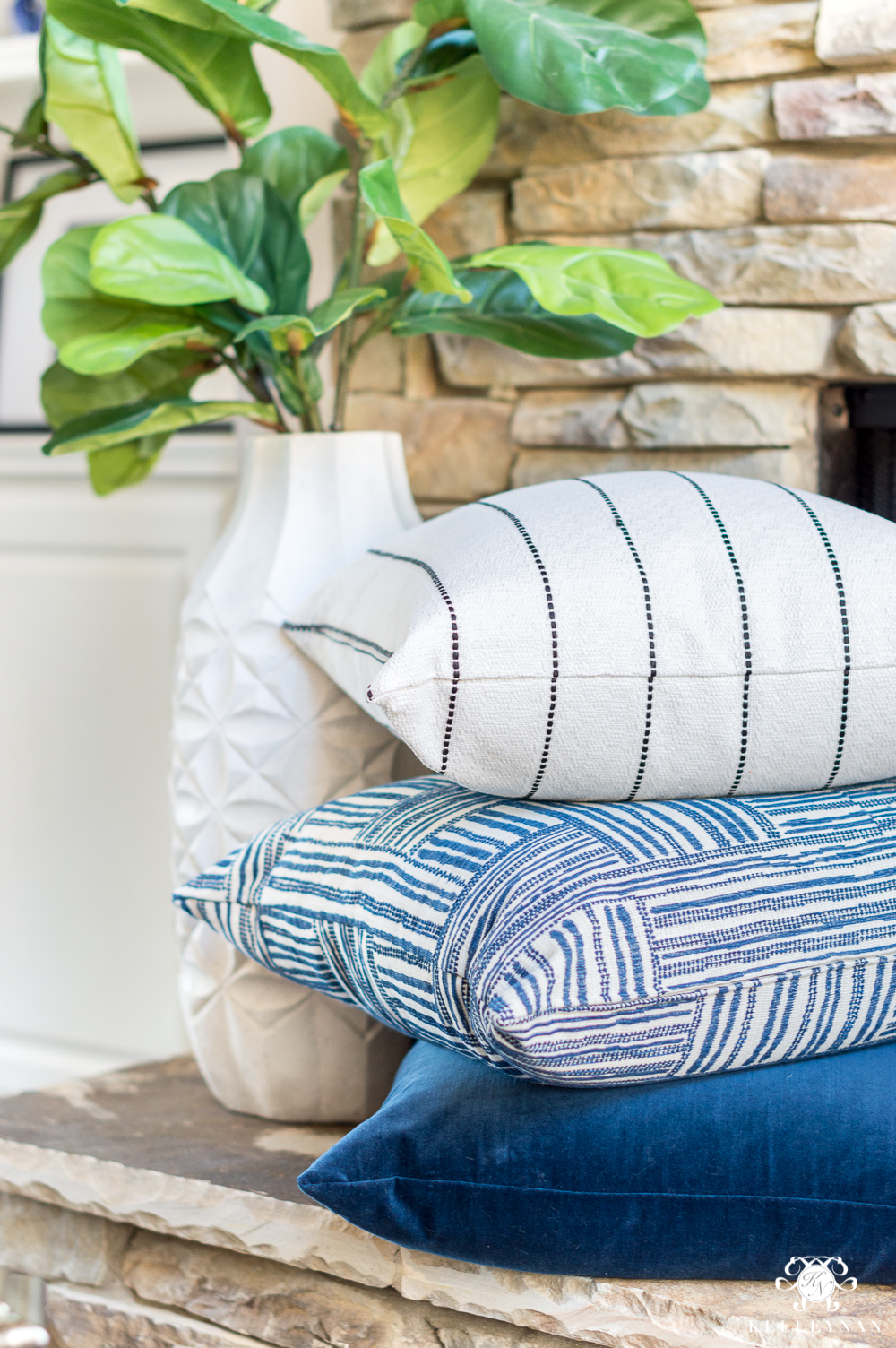 Striped Pillows | Indigo Patterned Pillows | Indigo Velvet Pillow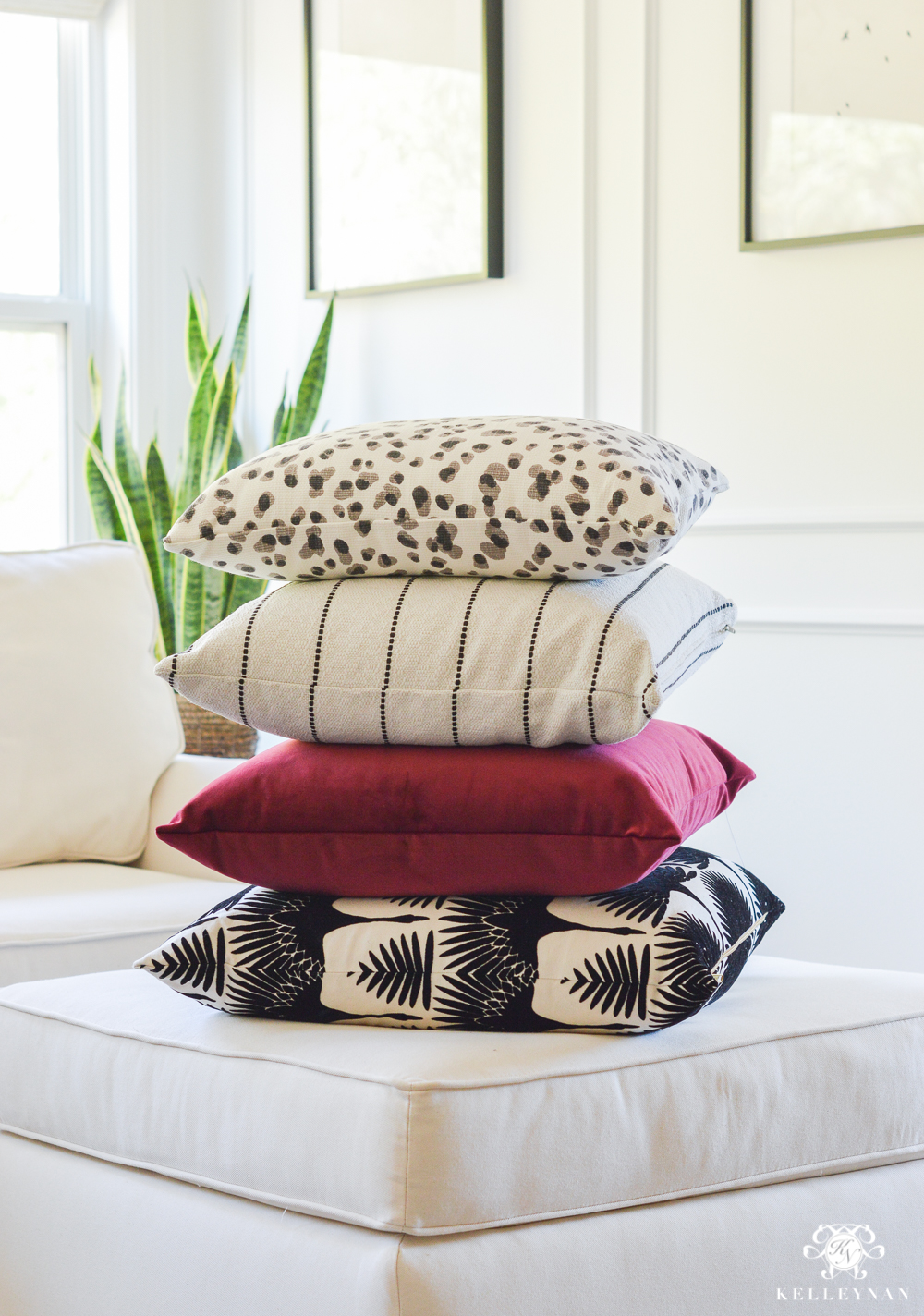 Snow Leopard Pillow (out of stock) – regular Leopard Pillow HERE | Striped Pillow | Wine Velvet Pillow | Black and White Flock Pillow
Willa Skye Home: Willa Skye was my first introduction to custom pillows. They have so many fabric options and are a dream to work with if you are looking for custom pillows (from sizes to cords, tassels, etc.). This shop was another shocker for the quality you can get at a reasonable price. Some of my favorite pillows have come from Willa Skye and each season, I continue to mix, match, and move them throughout the house. Shop Willa Skye Home pillows HERE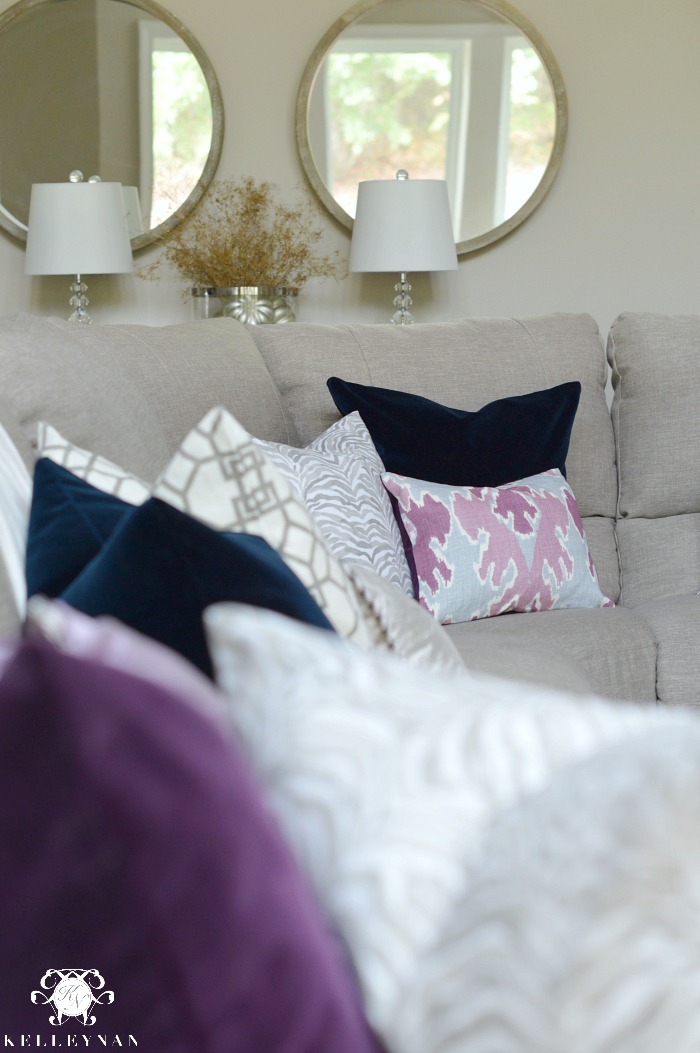 Navy Velvet Pillows | Purple Patterned Pillows | Gray Zebra Striped Pillows | Deep Purple Velvet Pillows | Lavender Velvet Pillows | Pelagos Gray & Cream Patterned Pillows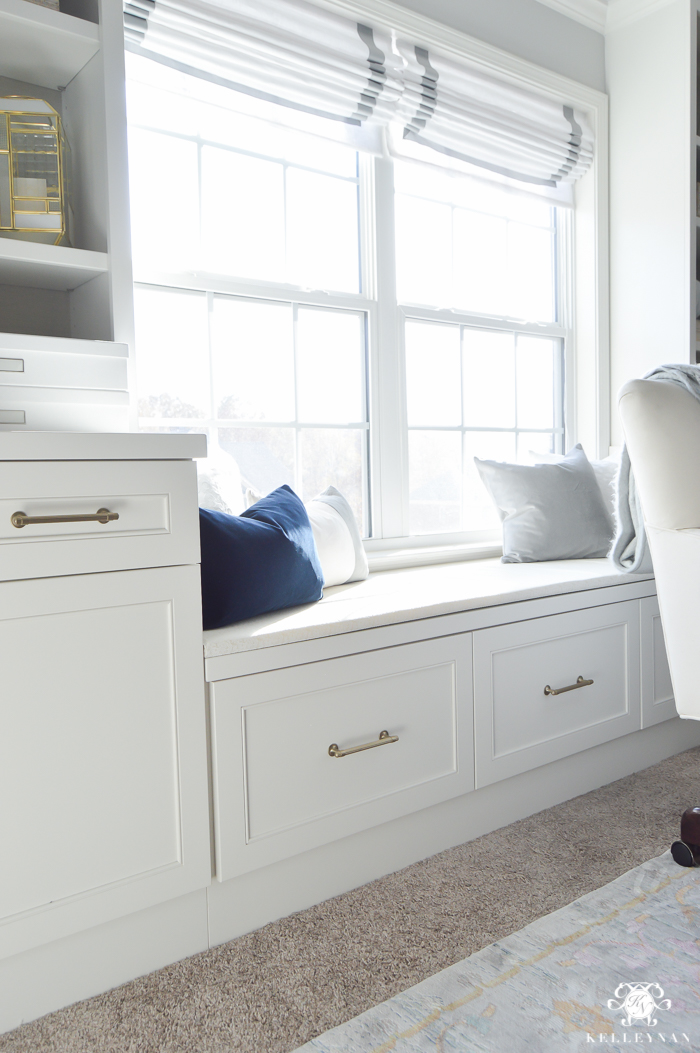 Navy Velvet Lumbar Pillow | Gray & White Color Block Pillow | Gray Velvet Pillow | White Patterned Pillows
West Elm: You're probably already familiar with West Elm and while I probably shop their sister store, Pottery Barn, more often, I find way more pillows at the more modern West Elm. While a lot of my furniture and more substantial pieces are more traditional, pillows are one of the areas I try to go more "fun" and modern to bring a fresh, updated look to the space. That's what gives my home a more transitional vibe 95% of the time. You have to act fast because they tend to sell out quickly but they are fantastic for seasonal favorites and are always running great sales. Shop West Elm pillows HERE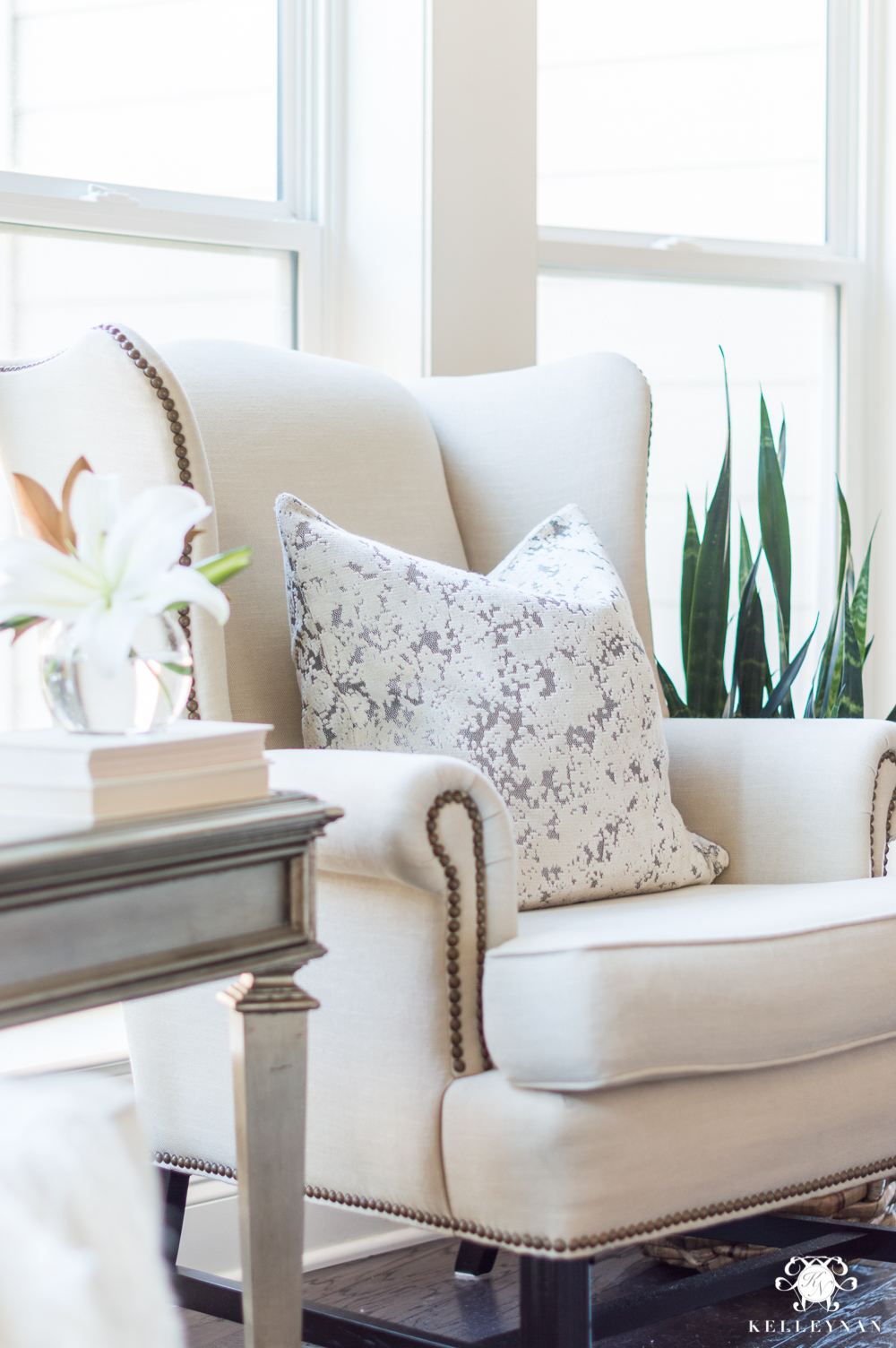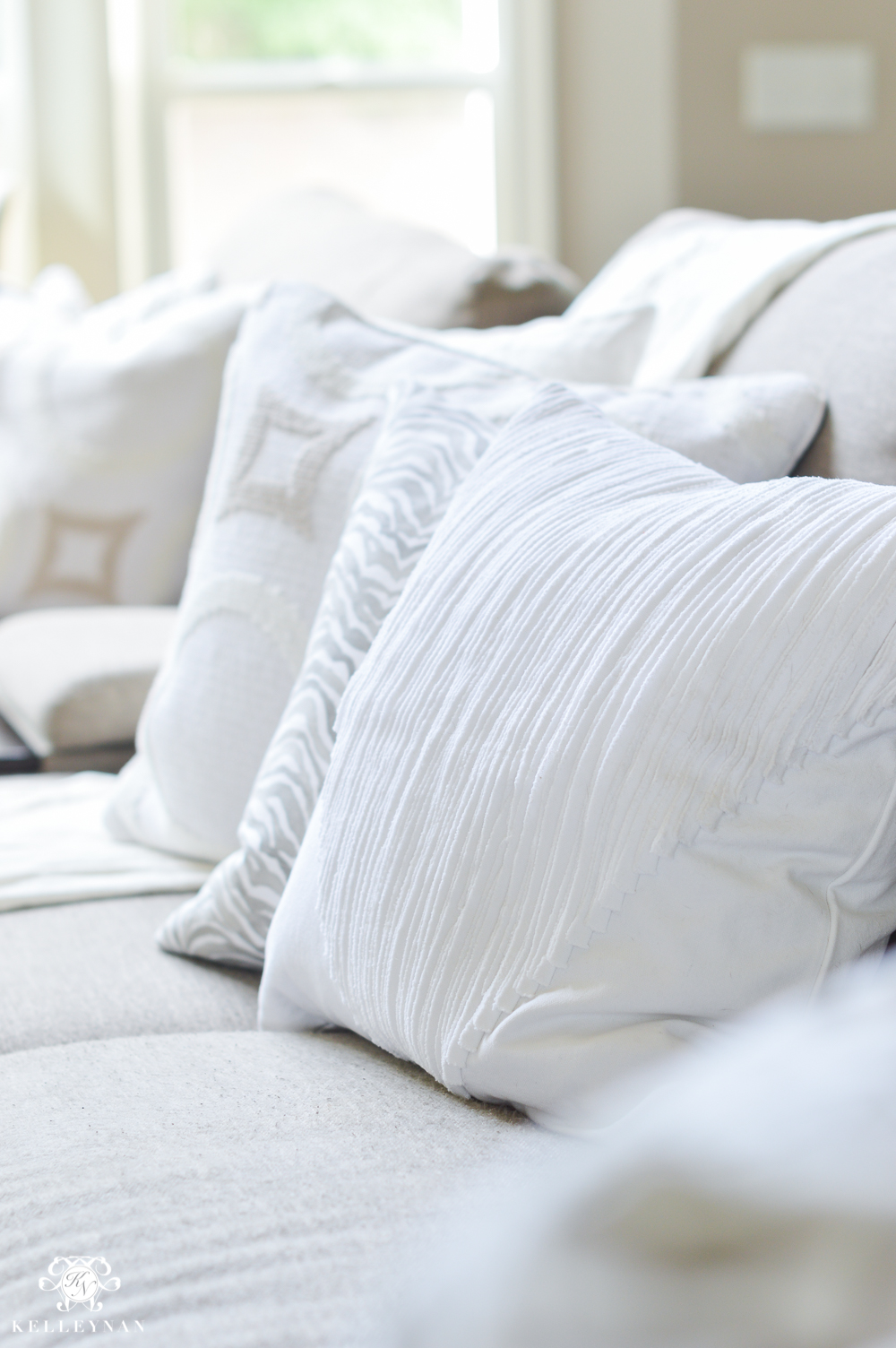 Frayed White Pillow | Shapes Pillow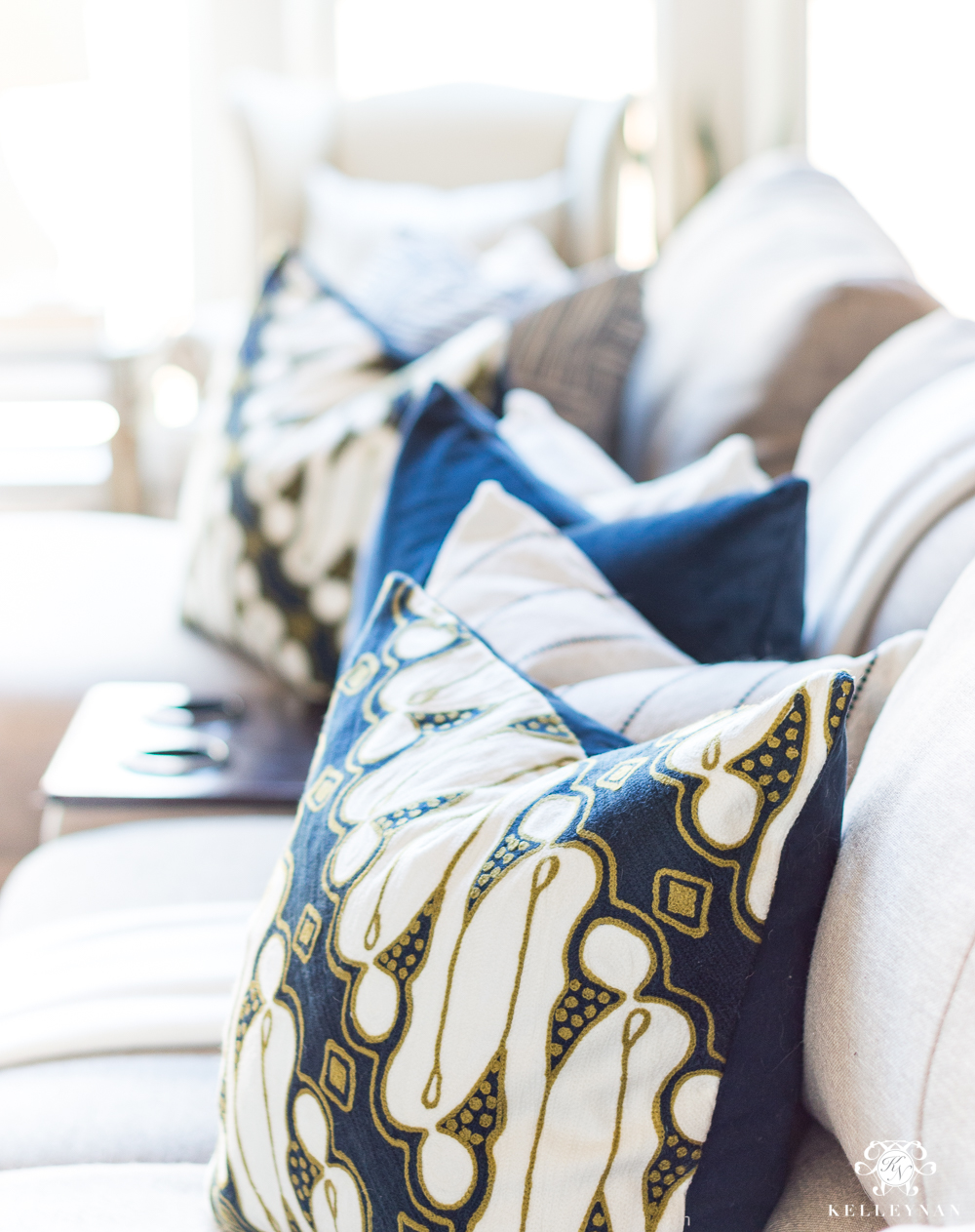 Navy & Yellow/Green Patterned Pillows | Stone White Silk Loomed Pillow
Nordstrom Home: They have a huge selection at several price points and now that they've brought Anthropologie into the mix, I am even more of a fan. My favorite part of shopping pillows from Nordstrom, beyond the selection, is their free shipping and returns (like all of their items). It feels more non-committal and no-risk so you can give your throw pillows a try-out to make sure you like them. Shop Nordstrom pillows HERE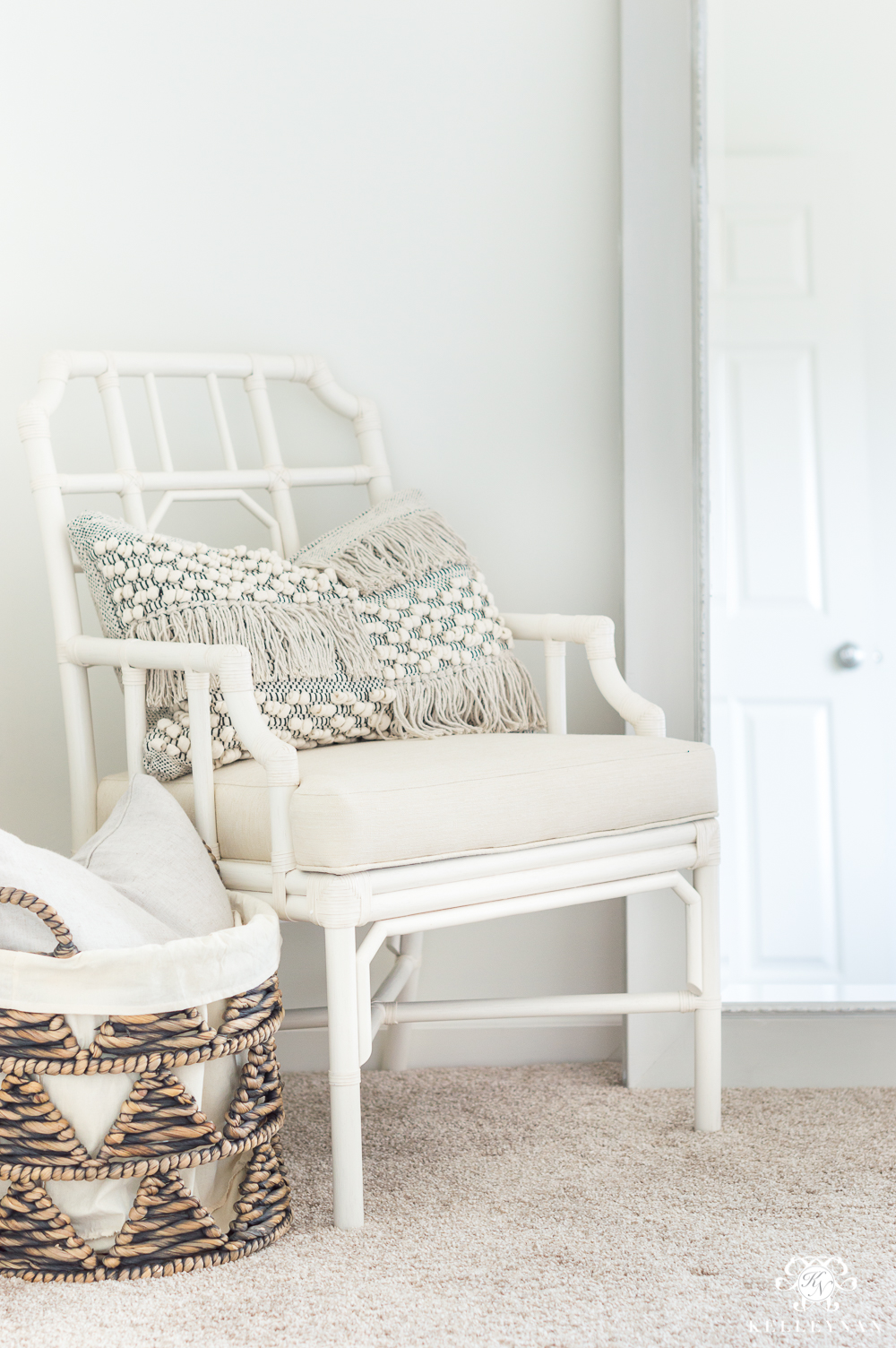 HomeGoods: My favorite time to find pillows at HomeGoods is when I'm looking for 1. outdoor pillows, or 2. winter pillows. They are super inexpensive, most indoor pillows come with feather inserts, and they always have a good selection of furry/cozy numbers in the winter. They can be hit or miss but I have been known to cruise through the store with an overflowing pillow cart, more than once.
HOW TO MIX THROW PILLOW PATTERNS
Because most of my rooms have a neutral palette, it's hard to really mess up a pillow combination. I don't have to worry about clashing colors as much and a lot of times, one single pillow is the determining factor of what vibe I decide to go with for any given season. I don't have "rules", per se, but the guidelines I typically use for a winning combination are:
Solids are always a-ok
Mix in one small-scale/thin print (like a ticking stripe)
Mix in one large-scale print (like floral/geometric/whimsical pattern)
If I don't mix a large and small-scale print/color pattern, I will look for a textured solid color to mix in with one or the other, and the solids
If you're unsure, just play around and do what "feels" best 😉
Here are a few examples. (Each pillow is shoppable by tapping on the corresponding number below each mock-up)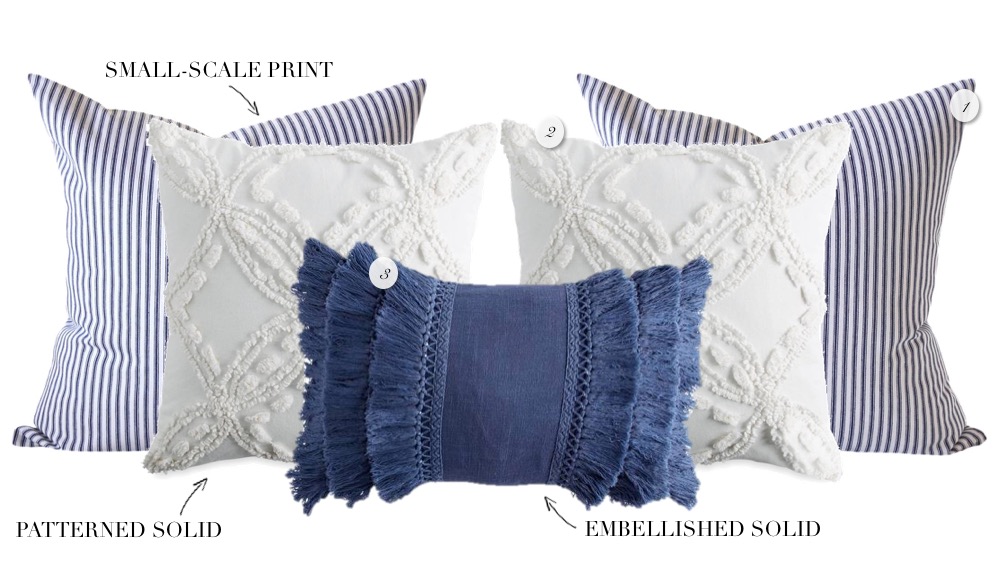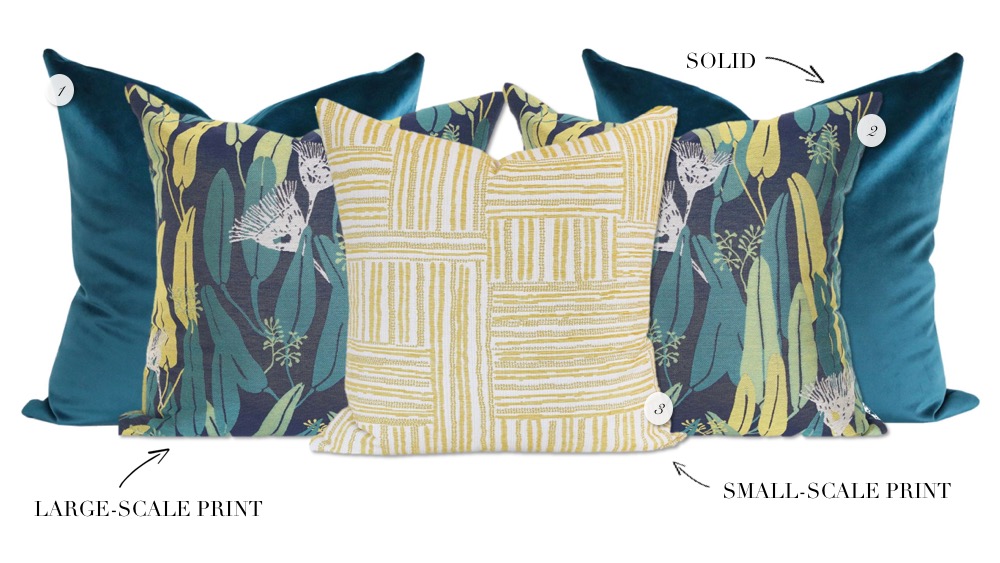 WHAT'S THE DEAL WITH THROW PILLOWS VS. THROW PILLOW COVERS?
There are two things I look for when deciding on pillows. 1. Does it have a zipper? 2. Can it have a down insert? These questions are basically one in the same that come down to this- I don't like pillows that are stuffed with polyfill an have no zipper to remove it. If it is described as "polyfill" but has a zipper, I will still purchase and switch the insert. I have accumulated so many pillows inserts over the past several years, I will likely never need another. Ever. What's so great about down/feather inserts? They fill out the corners more easily, they are easiest to re-shape and re-fresh, and they are able to have that slouchy look (if you are into karate chops 😉 ). No lumps and way more comfortable. I always try to go one to two inches larger on the insert than the pillow cover to keep it plush. Once you have a nice arsenal of inserts, you'll be able to purchase covers without worrying about making separate purchases. If a retailer lists "pillow", it should come with an insert; if it lists "cover", without. Some retailers even allow you to choose what kind of insert you want (included in the price) but always read the description first.
*PILLOW TIP*
Most HomeGoods pillows are 20″ and usually already have 21″ inserts. If you have older pillows you don't want or plan to donate, unzip your collection first and see what you can save. When I do have to order new inserts, I typically go HERE 😉
If you aren't already, be sure to subscribe to my emails at the bottom of this post. I'll be offering an exclusive to subscribers soon that you won't want to miss!
LIKED THIS POST? HERE ARE SOME OTHERS YOU MAY ENJOY