It's the perfect time of year to start talking about comfort dishes, cozy kitchens, gift ideas, and as a bonus — today's post ties all those fall and holiday feels together! I'm sharing some of my favorite cool weather meals, one pot dinner possibilities, and some gift ideas for those extra special occasions or people in your life. My kitchen remodel (Phase II) hasn't yet begun, but even in its current state, it's feeling totally fit for the season and the holidays ahead!
*This post is published in partnership with Wayfair, one of my favorite home retailers. As always, all opinions, concept, and creation are my own. Posts on KelleyNan.com may contain affiliate links. Click HERE for full disclosure.
Form Meets Function: When Last Night's Dinner Cookware Doubles as Today's Kitchen Decor
Over time, I've built a full collection of the cornerstone of today's post — my Le Creuset ® cookware. From a big 'ol stock pot; to the perfect sized, universal Dutch oven; to the more petite braiser, I've got all my bases covered. And while I don't typically display them all at once, any single piece is pretty enough to show off on the stovetop.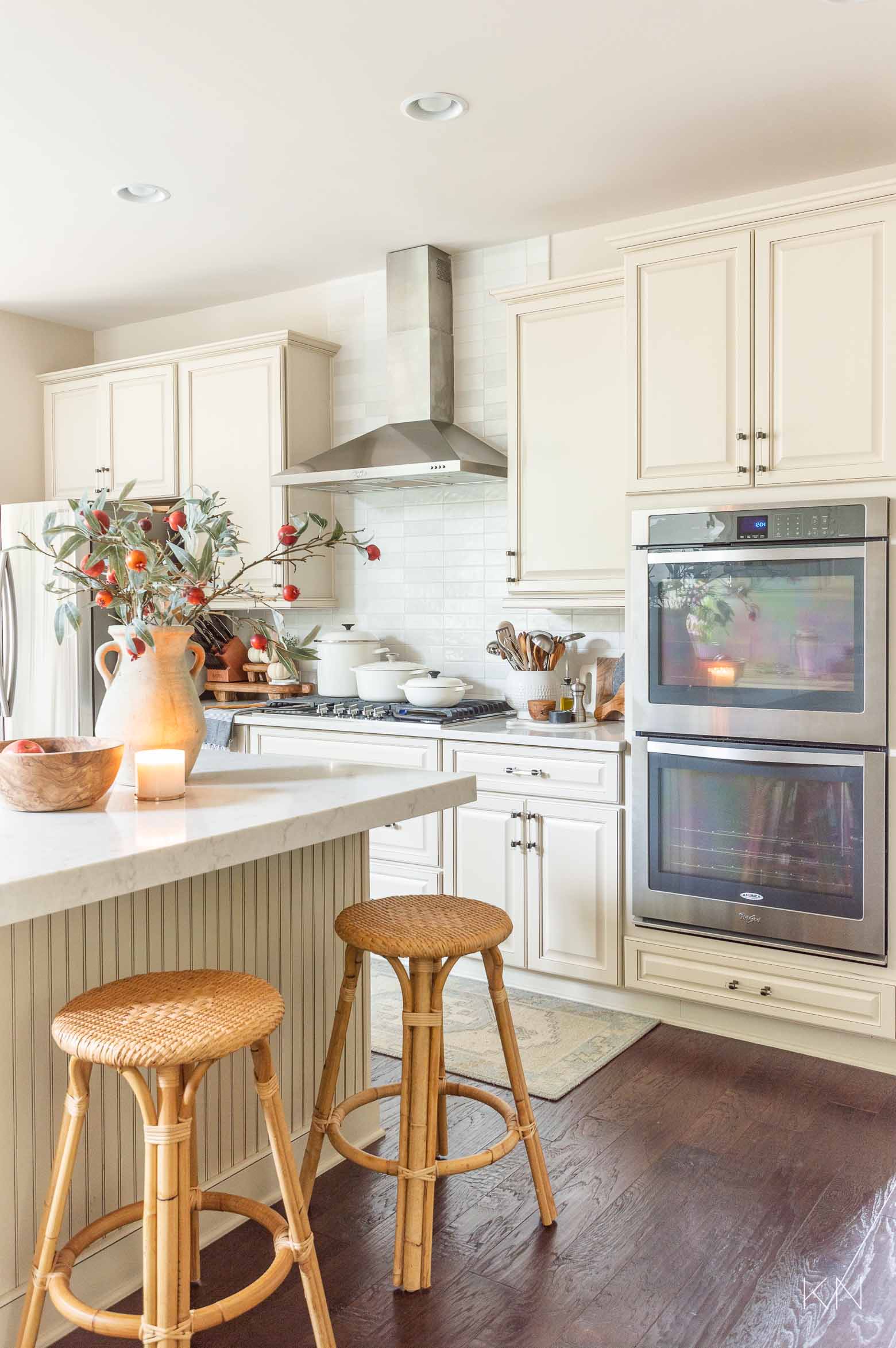 Le Creuset ® Dutch Oven | Le Creuset ® Braiser | Le Creuset ® Stock Pot | Kitchen Runner | Cabinet Pulls | Turkish Towel (similar)
Styling the kitchen with your best, pretty, functional pieces gives it the feeling that it's an actual, working, regularly used kitchen which in turn, gives it a nostalgic feeling of family dinners and dishes of comfort. While I don't love cluttered countertops, I do love displaying my prettiest and most used tools (something we've chatted about many times before). With a kitchen full of organic materials — lots of wood and marble — I've kept my Le Creuset ® collection to a single tone in all white. It's timeless, easy to coordinate, and never gets old. Here's a look at the staple pieces in my collection.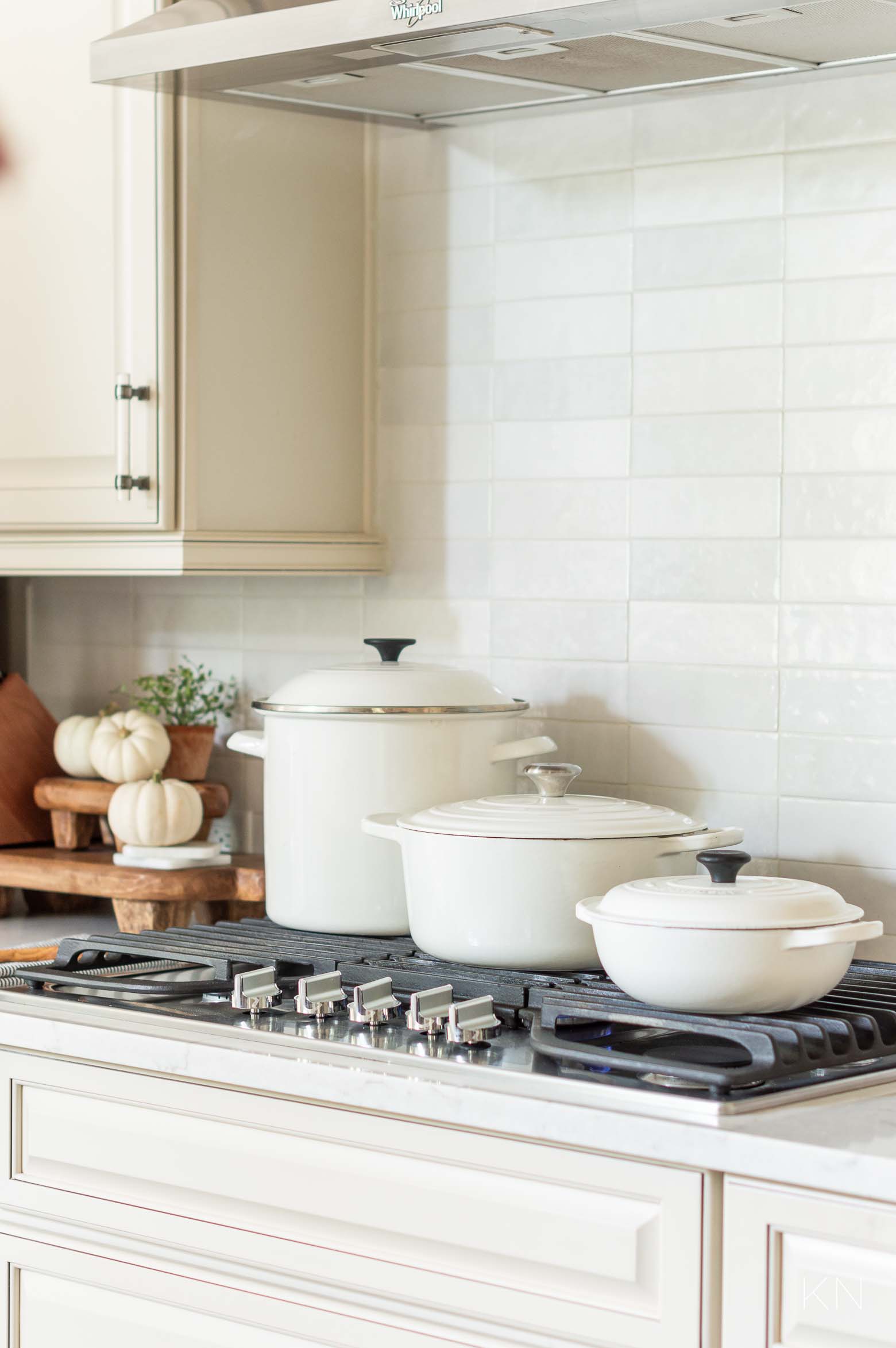 (L-R) Stock Pot | Dutch Oven | Braiser
Keeping your special cookware out in plain sight is fitting for any time of year, but especially during those cool months when you're craving comfort
everything
. While I prefer my cookware to coordinate and to be more subtle, you can also get more creative with a pretty, bold "pop" since Le Creuset ® comes in a ton of colors, from a vibrant red to dark blue and all kinds of hues between. A
red Dutch oven
can bring instant "Christmas" vibes to your kitchen, in a sea of otherwise neutral decor and wares.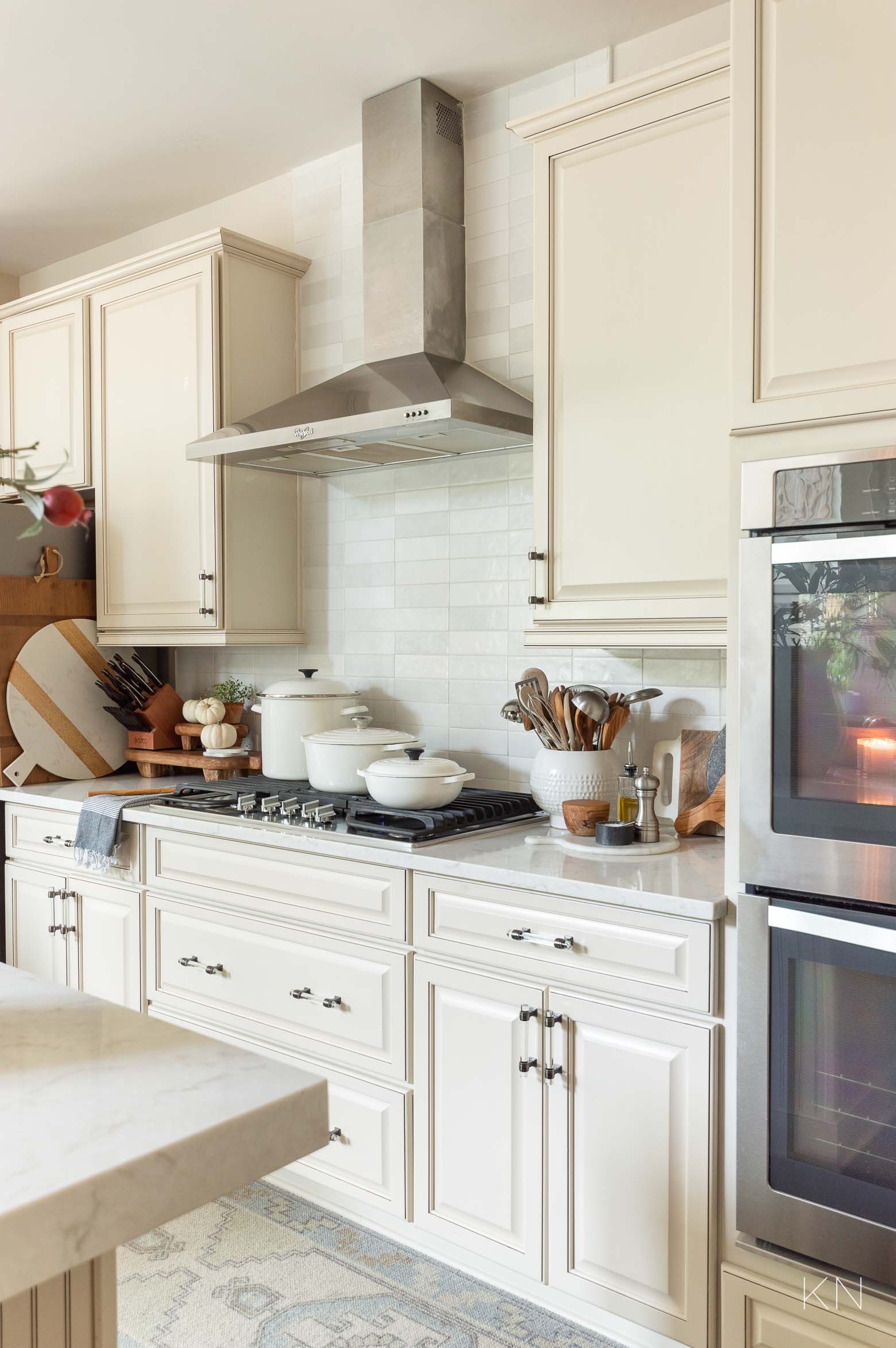 Le Creuset ® Dutch Oven | Le Creuset ® Braiser | Le Creuset ® Stock Pot | Kitchen Runner | Cabinet Pulls | Turkish Towel (similar)
But my favorite piece to keep on display — and my most used piece — is my
Le Creuset ® Dutch oven
. At 7.25 qt., it's the perfect size — big enough for a generous one-pot meal or big batch of chili, but not so big that it will only get used during massive gatherings. You can find all the sizes and colors available
HERE
from Wayfair — they all ship free. Plus, Le Creuset ® is currently offering 20% off, when you buy three or more pieces from Wayfair! You can browse the full Le Creuset ® collection
HERE
.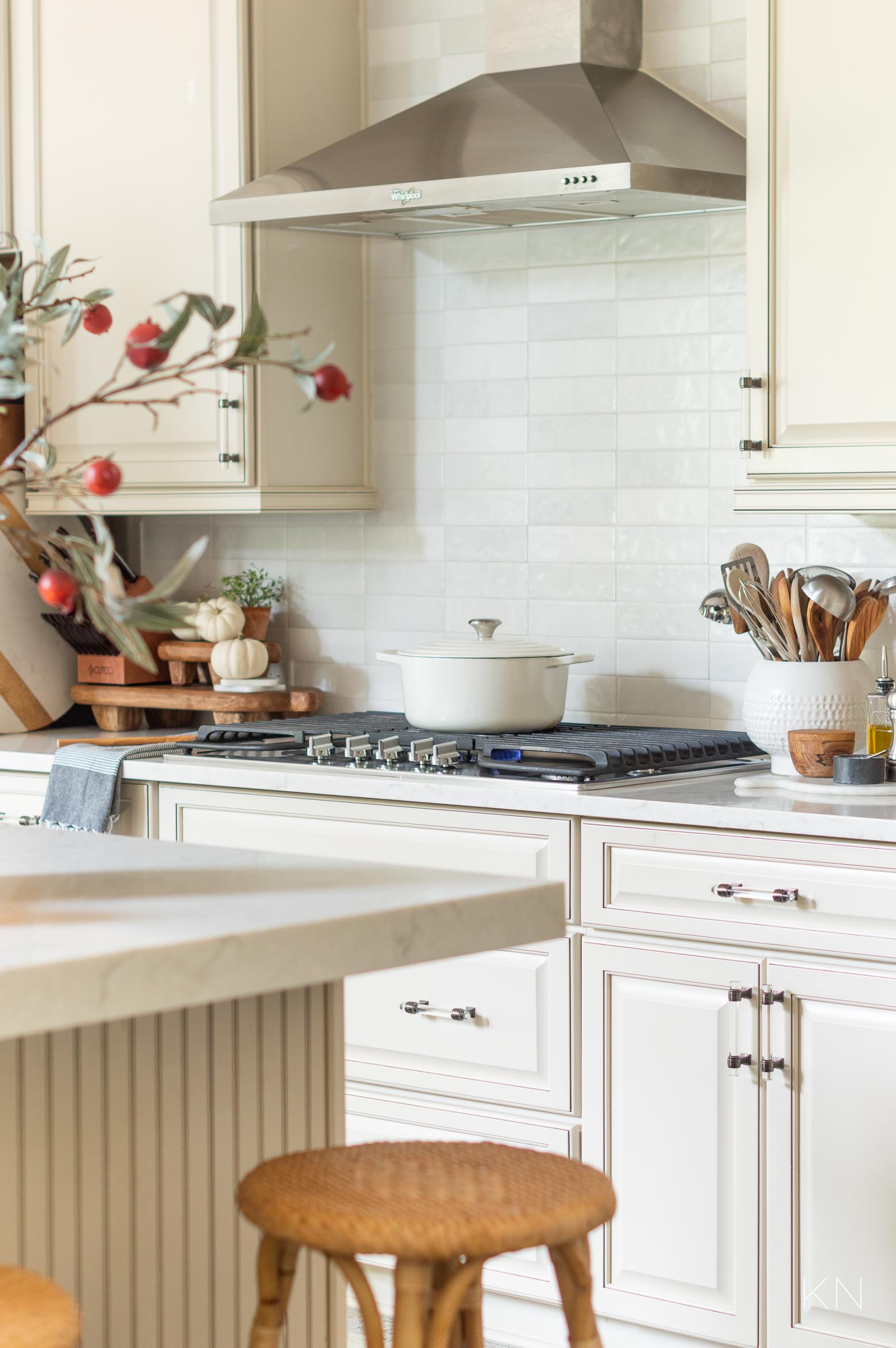 And yes — it looks pretty on display in the kitchen and while cooking, but it also is pretty enough to serve from directly.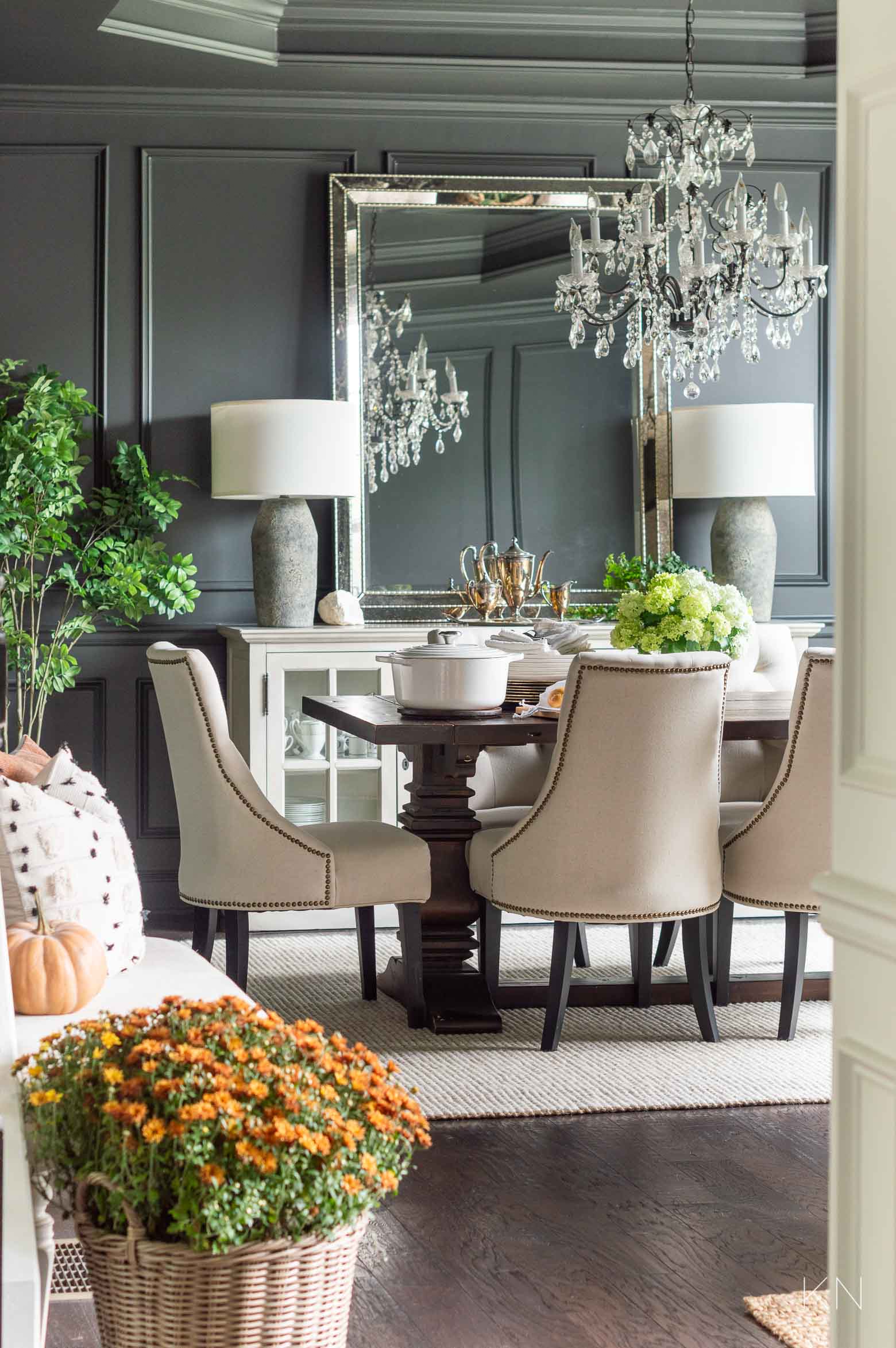 If feeling like you need to transfer a dish from a pot to a platter is a pain point for you, having a single pretty piece from prep to cooking to serving is
so
much easier!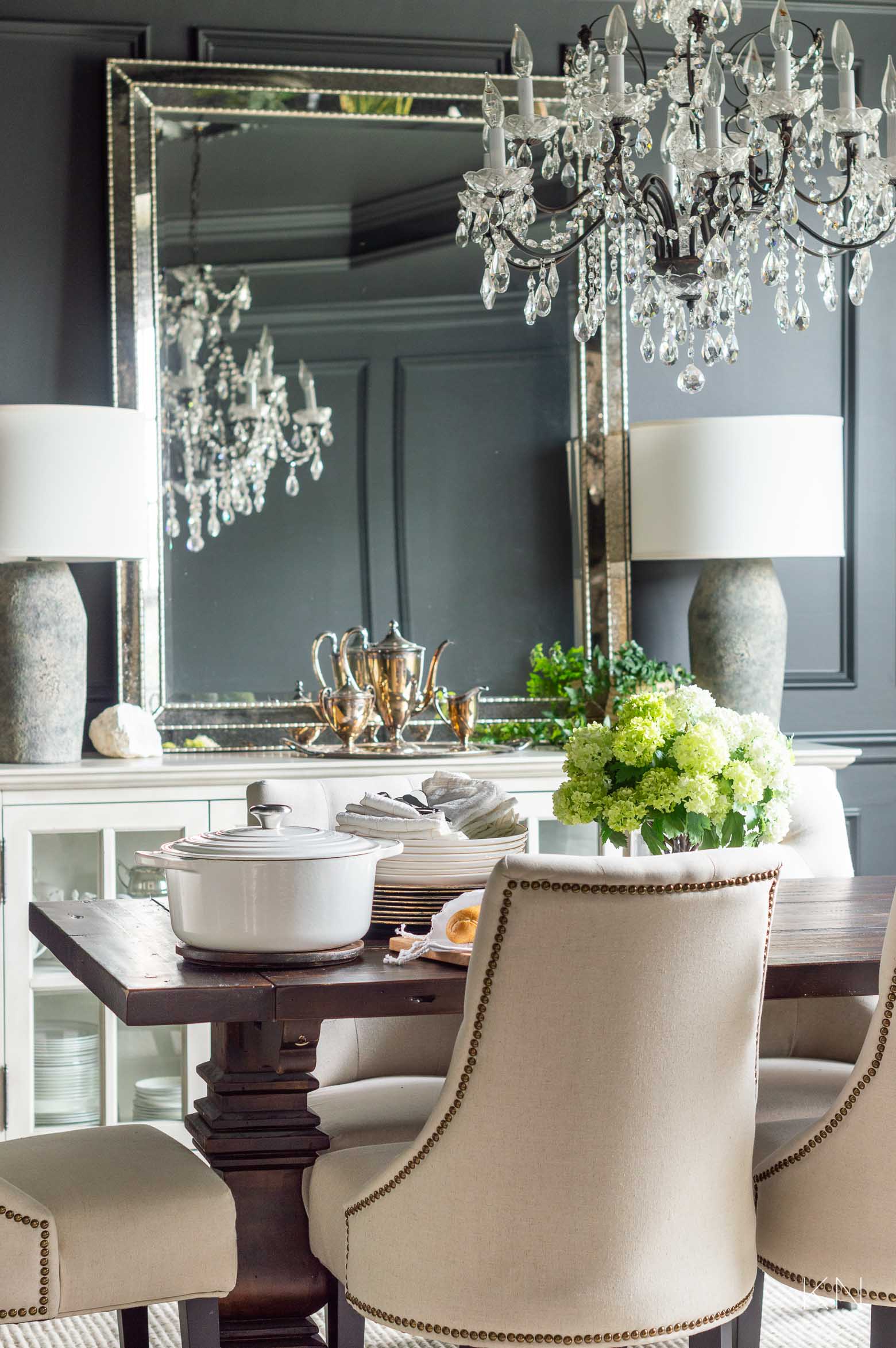 The
Dutch ovens
are enameled cast iron and resistant to chipping, cracking, scratching, and discoloration. And, they cook evenly and insulate so well, you can start something in the morning and keep it on the stove all day. They can even go right into the oven, up to 500 degrees and they're designed with tight lids that keep the moisture in and recirculate it back into the dish.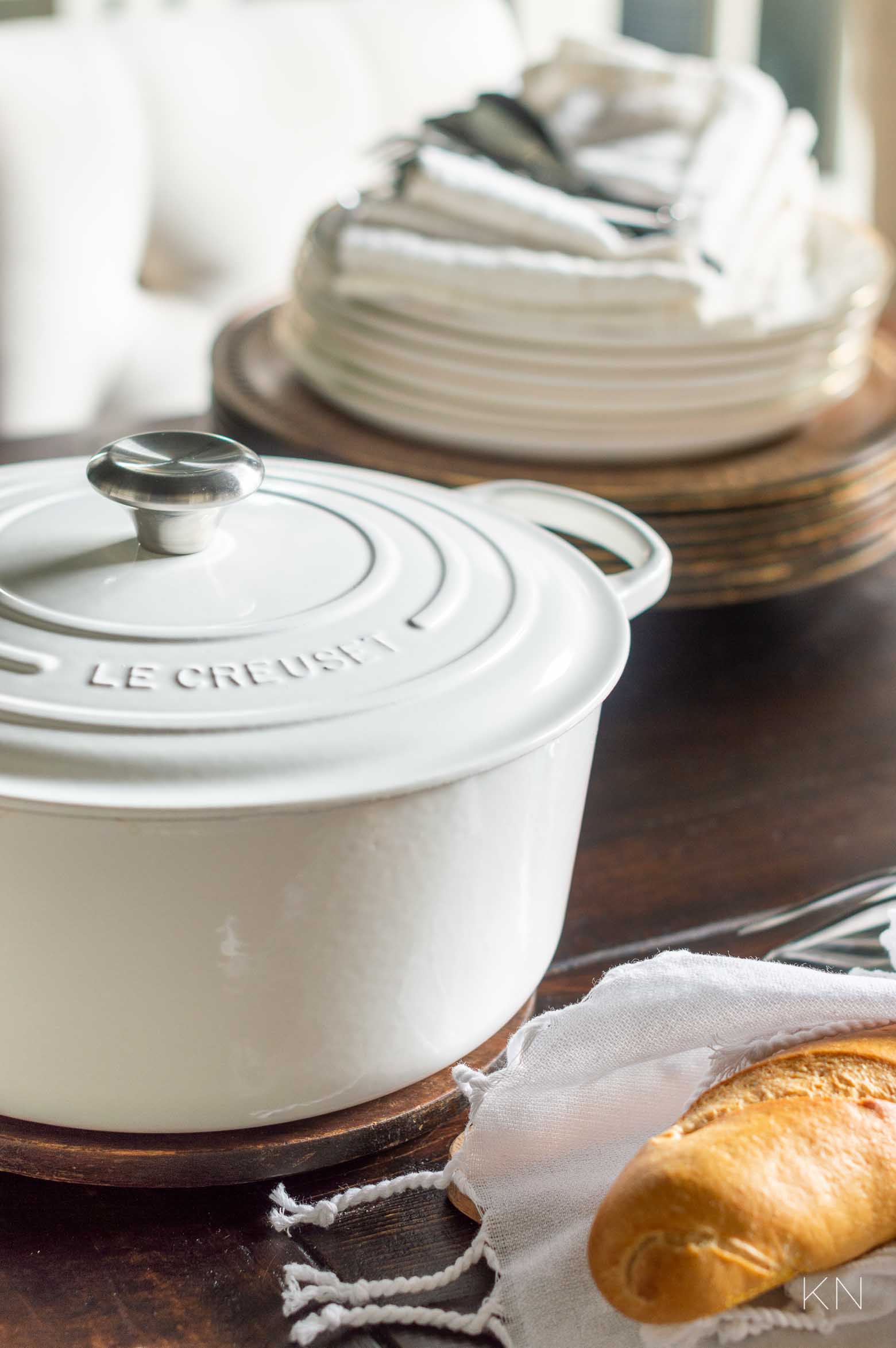 And as we step into the cooler months, I thought it would be the perfect time to share a traditional take on an easy, hearty classic… the pot roast dinner.
Dutch Oven Pot Roast Recipe
It's easy, it's rib stickin', and it's the perfect dish to start in the AM. I prefer a lean cut of beef, so I usually go for a sirloin tip or bottom round in lieu of a chuck roast. A lot of people tend to gravitate toward chuck roasts since the fat helps make the meat tender, but the Dutch oven will help make even the leanest meat more tender. And, as I mentioned, you can prep, cook, and even serve from the same Dutch oven. For best results, I do start off by searing each side of the roast, after patting each side with salt and pepper.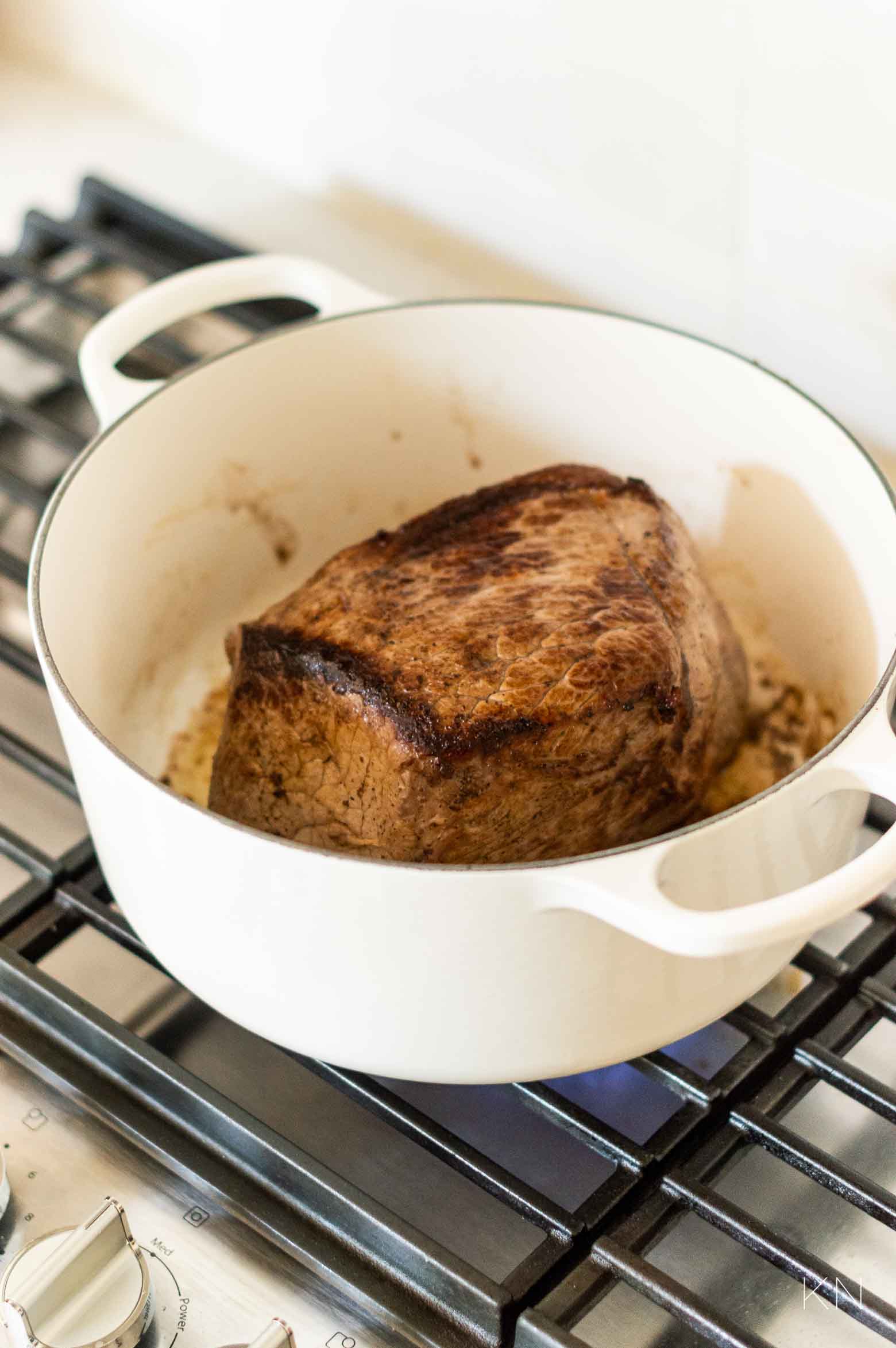 While I use beef broth and just supplement with water, you can also use 100% broth.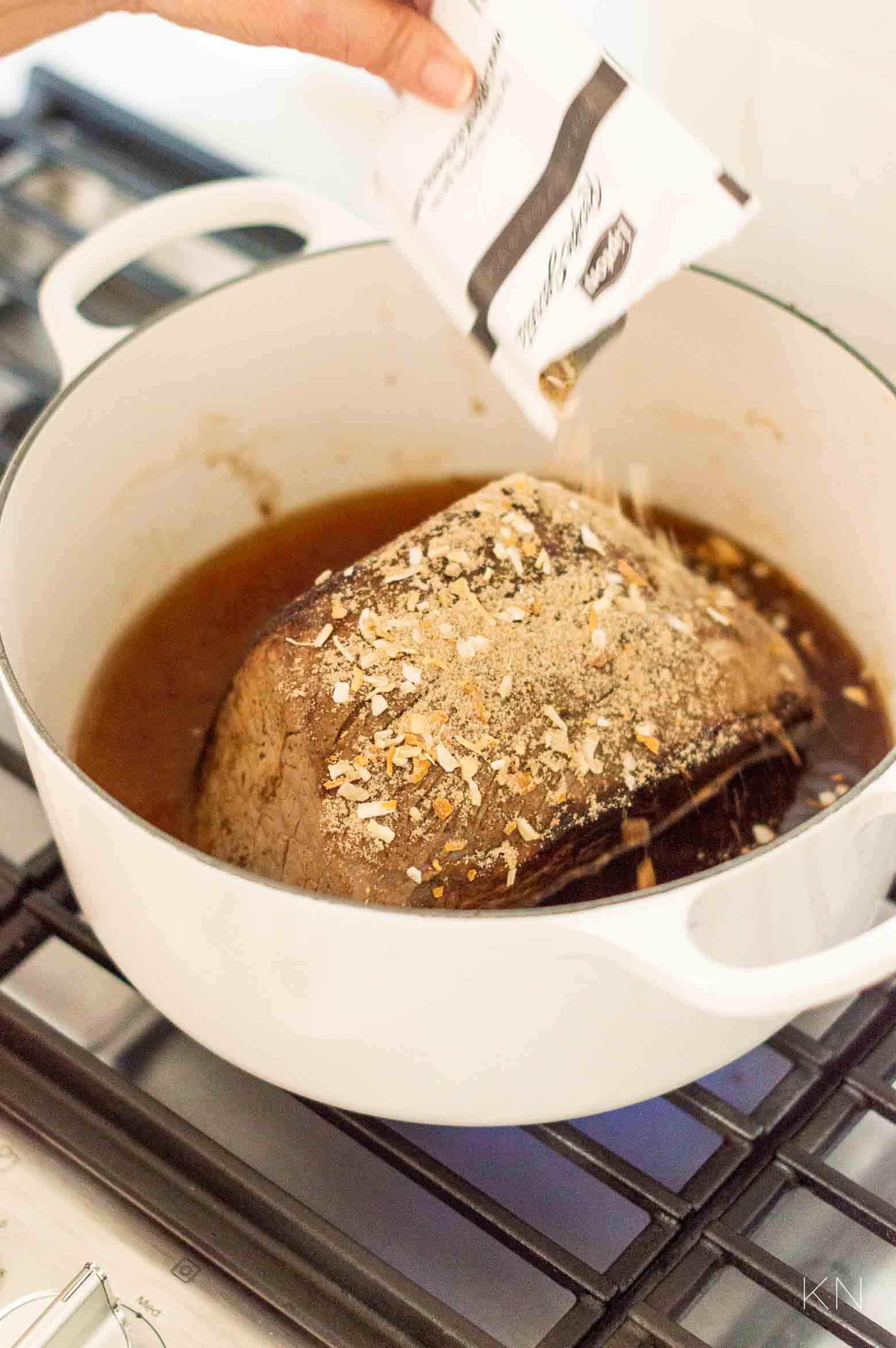 I let the meat cook for a few hours and only add the vegetables about an hour before it's time to serve. I don't add any supplemental herbs (optional but I love the hint of rosemary) until the very end and then put the lid back on to rest for just a little bit.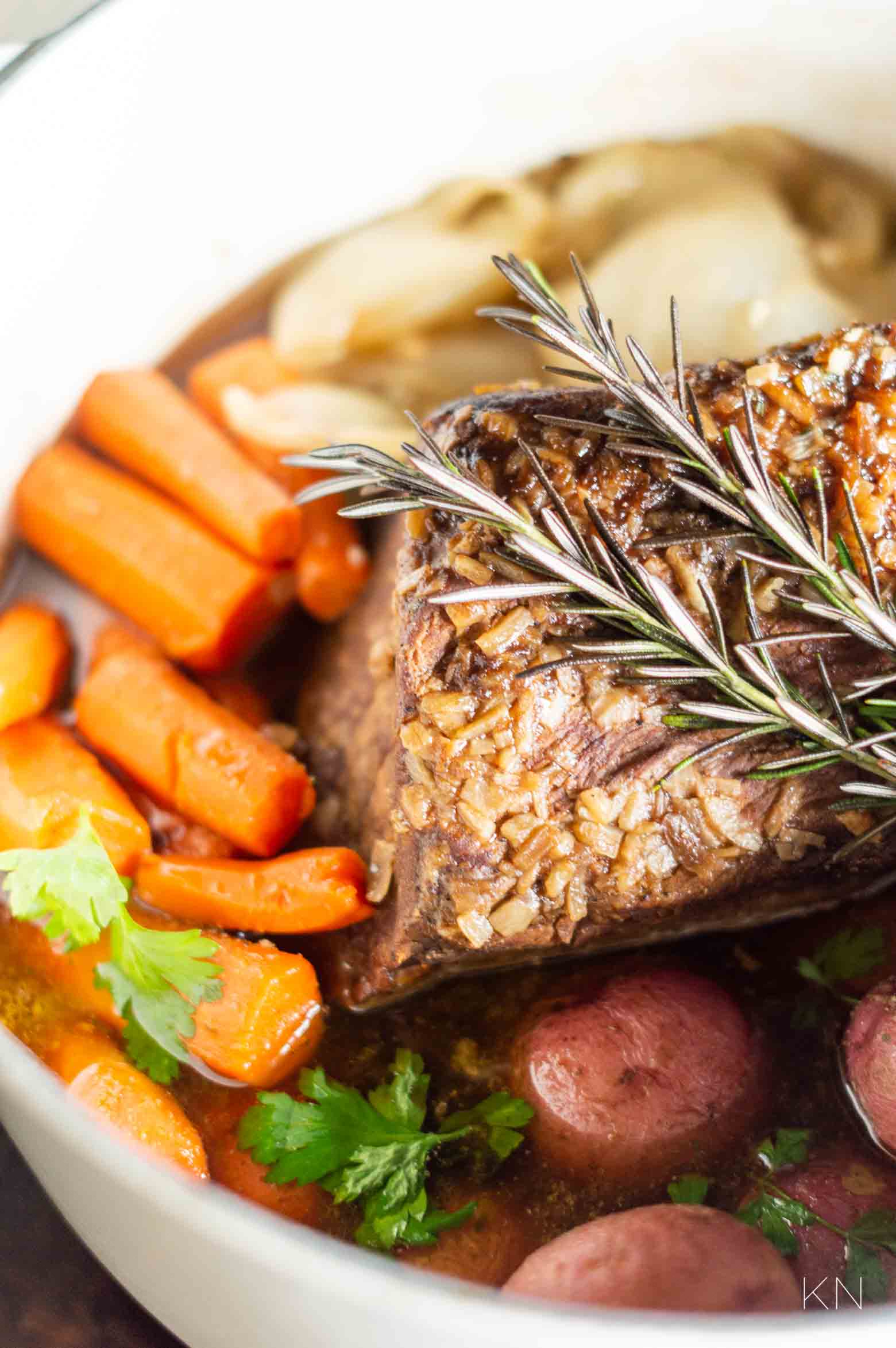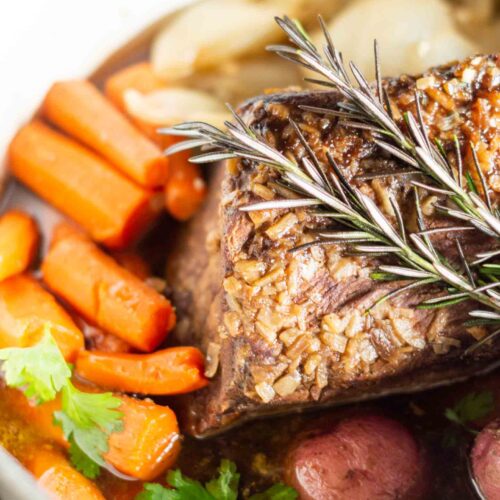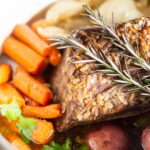 Traditional Dutch Oven Pot Roast
This is an old and favorite recipe where the entire meal may be cooked and served in one pot. Through the years, the cooking methods and accompaniments may have been changed by many, but this recipe is still one of my favorites!
Cook Time
3
hours
10
minutes
Ingredients
1

3 -4 lb.

Beef Roast

May use chuck roast, but my preferred cut is sirloin tip or bottom round

2

Tbsp

Vegetable Oil

Salt

Pepper

1

Envelope

Dry French Onion Soup Mix

2

cups

Beef Broth

5-6

Small to medium red-skinned new potatoes

It is best to leave whole, but may be halved

4-5

Small yellow onions, peeled

May be halved if large

4-5

Large carrots, peeled and cut into chunks
Instructions
Heat oil in Dutch oven over medium heat.

While oil is heating up, liberally add salt and pepper to both sides of the roast.

When oil is hot, add roast to the Dutch oven. Sear on first side for approximately 5 -6 minutes or until meat is easily lifted from the Dutch oven. Turn over and repeat on the other side. (Note: if the cut of beef is thick, you may also sear the sides for a minute or so.)

Sprinkle French onion soup mix on roast.

Add beef broth around the roast. Lower the stove tem to medium low. Check the roast periodically and add additional liquid, if needed.

After the roast has cooked for at least two hours, add the potatoes, onions and carrots to the broth around the roast. Salt, pepper and/or onion salt may be sprinkled on the vegetables, if desired. (The longer you cook the roast, the better. At a minimum, cook for two hours)

Cook for an additional one hour. Continue to check on the roast periodically to ensure the broth continues to simmer. Add additional broth or water, as needed.

Roast is done when you can easily shred it with an inserted fork.
Recipe Notes
Prior to serving, garnish the roast with rosemary branches and the vegetables with parsley leaves (optional). 
While it's a total family pleaser to serve on a Sunday evening, it's also special enough to serve to company. There isn't much labor involved, but it's so flavorful, it makes it feel like preparing that dinner was your priority for the day.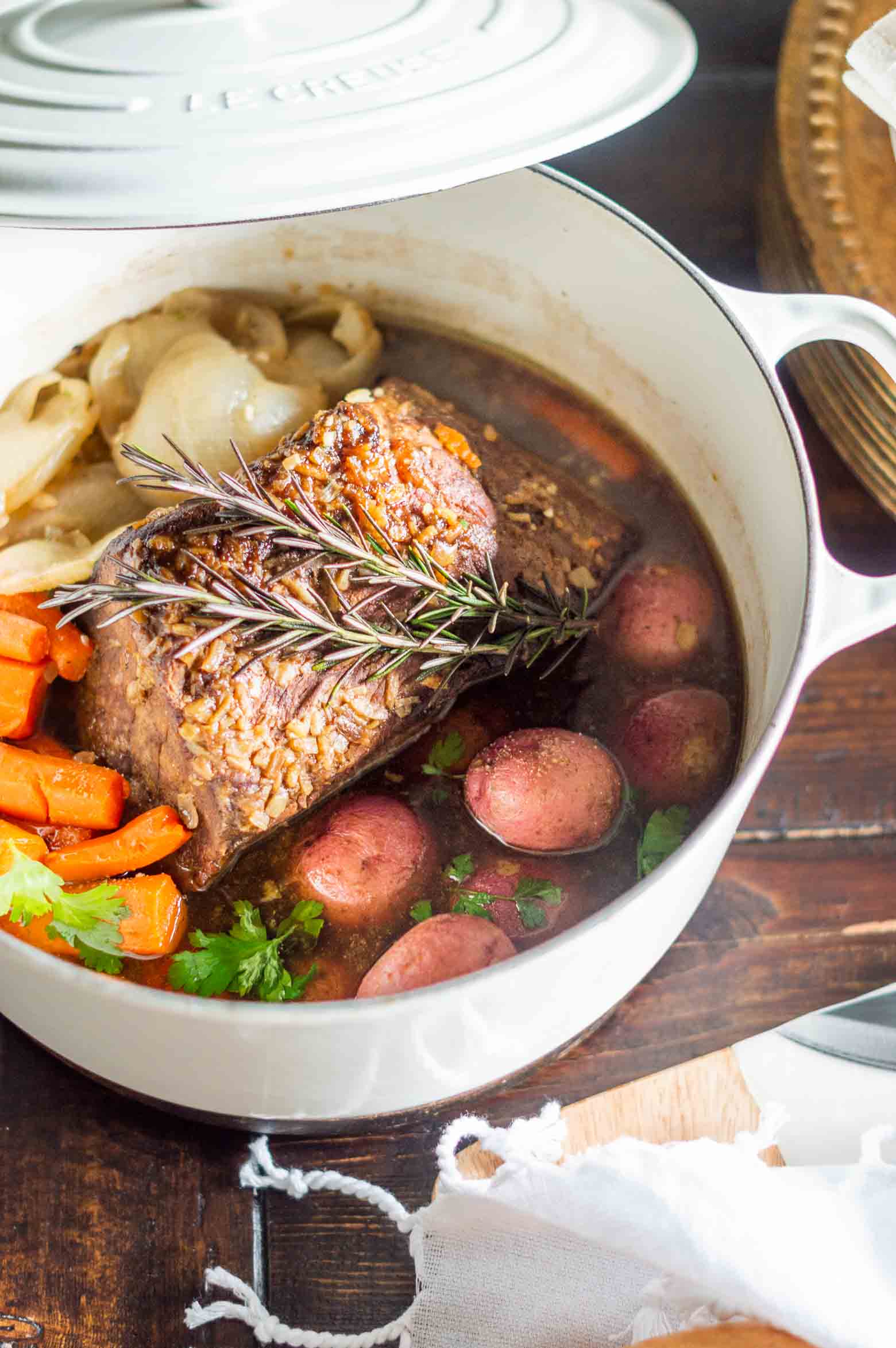 And my favorite part about pot roast dinners… the leftovers!
How to Use Pot Roast Leftovers
The pot roast is a tender beef and while it's flavorful, it isn't too specifically seasoned that it wouldn't be versatile in its second life. From this pot roast round, I made one of my favorites for lunch — bbq beef wraps.
Just heat the leftover beef in a bowl, add some bbq sauce and mix well until you have a saucy consistency, place on a wrap/tortilla, and garnish with pickles and red onion. DELISH!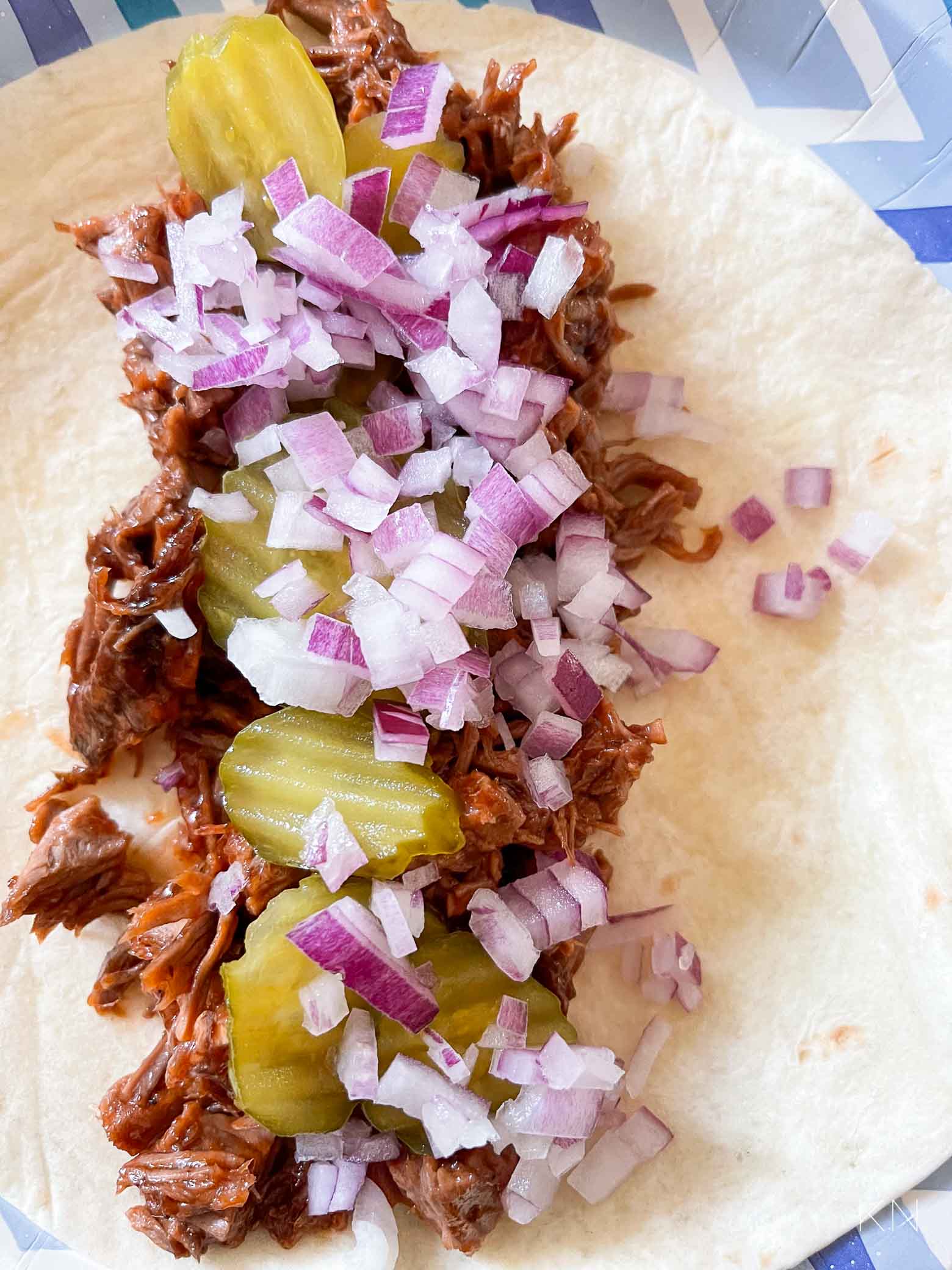 I also made a vegetable beef soup (or in our house, "stewp" since we prefer more of a stew consistency). This is my go-to for pot roast leftovers and it always yields enough to even freeze portions, after having a batch for dinner. You can absolutely use your
Dutch oven
for the stew/soup/"stewp" — I even
prefer
it — but a
stock pot
will help with those
extra
large portions.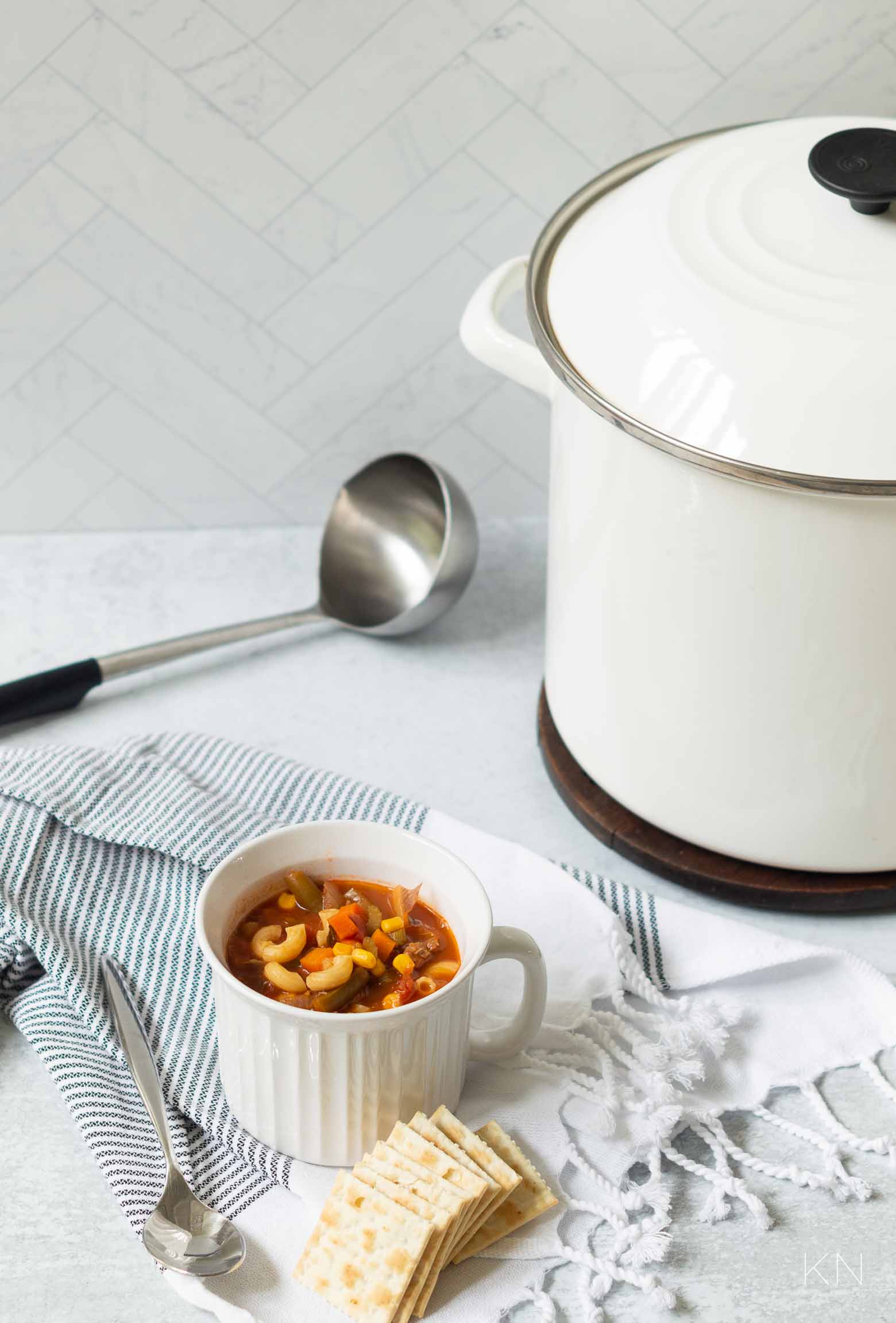 Here are a few subsequent dinner ideas, following your initial pot roast dinner.
Leftover Pot Roast Meal Ideas:
Vegetable Beef "Stewp" (recipe below)
Beef Stew
Roast beef hash
French dip sandwiches
Barbecue beef sandwiches or wraps — garnish with pickles and chopped purple onion
Barbecue beef salad — try with Ranch dressing!
Barbecue beef stuffed potatoes
Shredded beef nachos
Beef Stroganoff
Lettuce wraps
Stuffed peppers
Beef quesadillas
Brisket-style tacos with salsa
Turn au jus into gravy and serve with rice
And here's the easy recipe for vegetable beef "stewp"!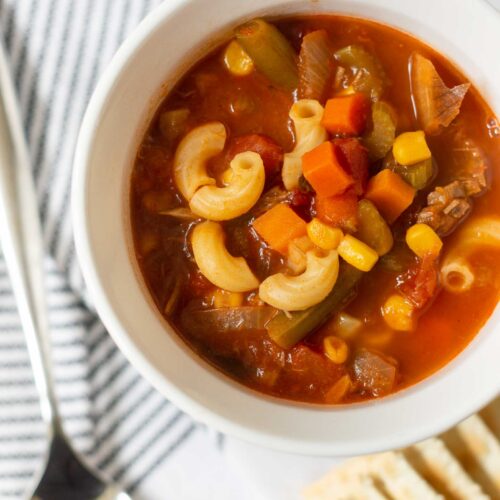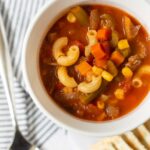 Vegetable Beef "Stewp"
This is a hearty and delicious "stewp" that is based on the leftovers of the Traditional Dutch Oven Pot Roast recipe. Why "stewp?" The consistency may be made as thick or liquid-y as you prefer. The thicker the consistency, the more it is like stew. The thinner the consistency, the more it is like a soup. Adding more liquid and less solid ingredients will result in Vegetable Beef "Soup."
Ingredients
Leftover roast

Shred or chop into small pieces

4

Cups

Beef Broth

Chicken Broth may be substituted

2

Stalks

Celery, diced

It's good to chop and add the leaves for extra flavor!

1

Onion, peeled and diced

1

Can

Finely diced tomatoes, including juice

1

Can

Crushed tomatoes, including juice

1

Can

Yellow corn, drained

1

Pkg

Frozen soup vegetables

Leftover pot roast vegetables

1

Cup

Elbow macaroni

Salt and pepper, to taste
Instructions
Add shredded/chopped leftover roast to stock pot or Dutch oven.

Cover with beef broth and turn stove heat to medium.

Add the celery, onions, tomatoes, corn and frozen soup vegetables.

Add chopped leftover roast vegetables and turn heat to medium low.

Add salt and pepper, to taste.

Simmer for one hour or until celery and onion are tender.

Throw in elbow macaroni and stir to incorporate. Continue to simmer until macaroni is al dente.

NOTE: If you desire a thinner consistency, you made add additional broth or water during the cooking process. The macaroni will thicken the consistency, so you may add liquid at any point in the process.
Recipe Notes
You may add additional vegetables (i.e. carrots, potatoes, etc.) according to your taste. Make sure to add raw vegetables to the pot early in the process.
Cooked shredded chicken may be substituted for the beef.
Any leftovers may be frozen and enjoyed later.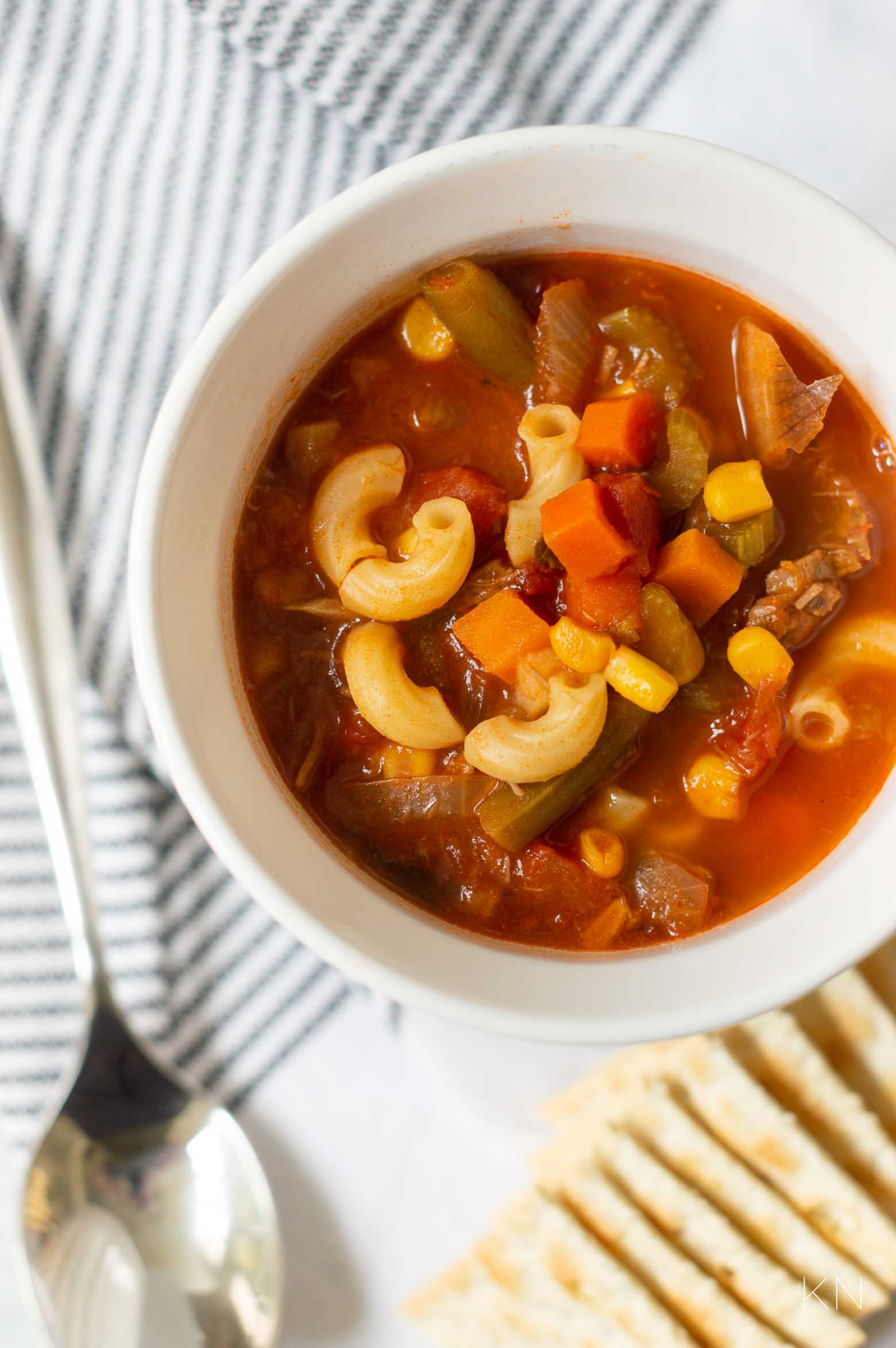 Dutch Oven One Pot Dinner Ideas
Le Creuset ® Dutch ovens are investments but along with their can't-be-beat cook, they are awesome for flavorful, juicy one-pot meals. Here are a few more one pot dinner ideas to cook and serve direct from your Dutch oven.
New England Boiled Dinner
Gumbo
Red Beans and Rice
Chili
Spaghetti
Beef Stew
Shrimp Creole
Bouillabaisse
Hungarian Ghoulash
Braised Chicken and Vegetables
Chicken and Dumplings
Ham and Bean Soup
Frogmore Stew
Jambalaya
Brunswick Stew
Pork Roast
Chili
Beef Stroganoff
Chicken and Rice
Chicken Noodle Soup
Mulled Cider
Holiday Potpourri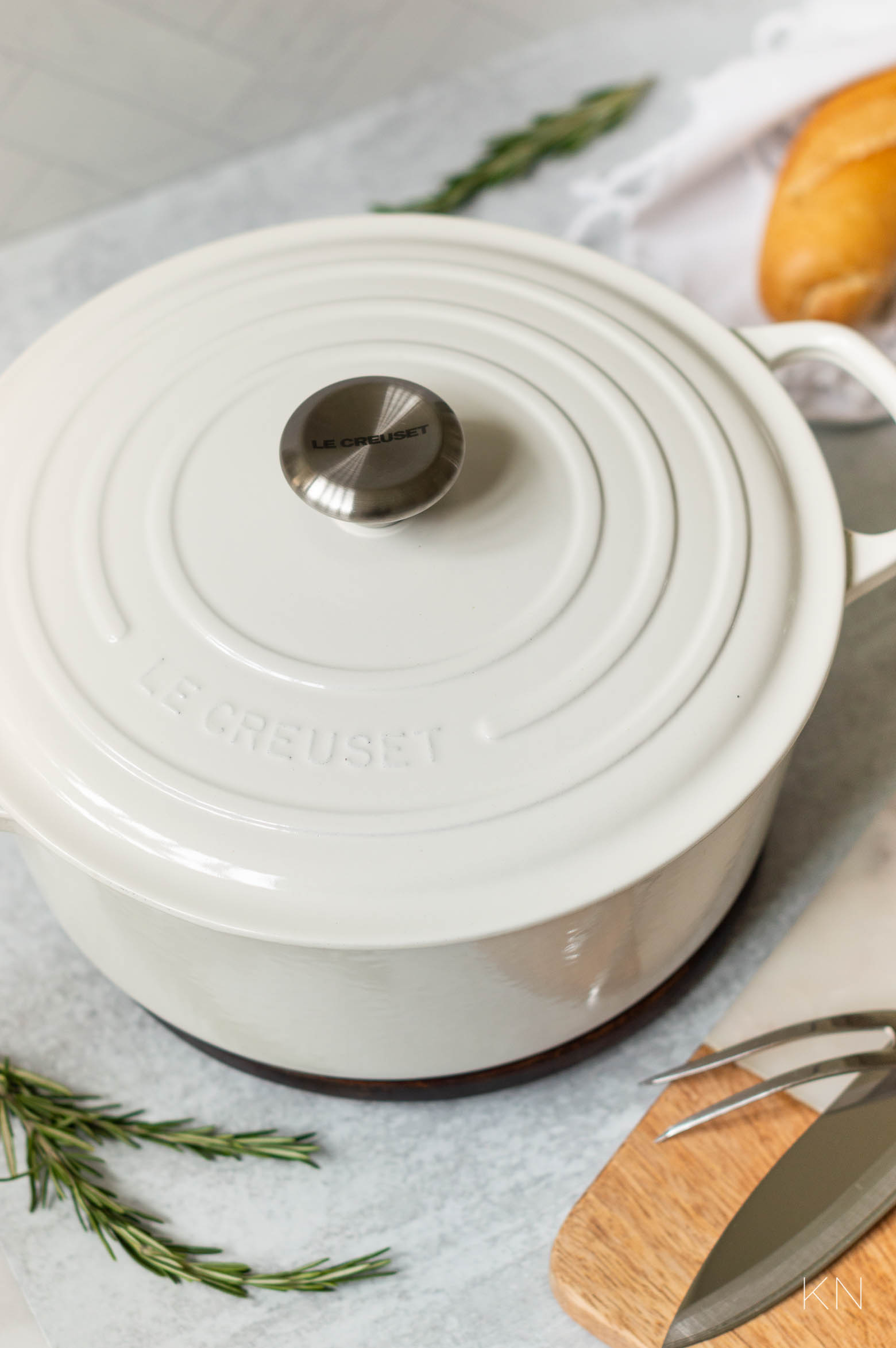 Premiere Kitchenware & Le Creuset ® Gifting — Occasions & Pairing Ideas
As I mentioned, Le Creuset ® Dutch ovens are incredible lifetime, generational pieces. And, they're the "ultimate" for those who love to work in a kitchen — but they're also investments. While they probably aren't the caliber gift you're going to just gift anyone, I've received pieces as gifts from those closest to me, and the gesture has meant so much. While those who use them swear by them, those who aren't as familiar may be hesitant about the benefits and allure of investing in quality cookware or may not be accustomed to splurging on themselves. But, gifting someone something they may not purchase for themselves is one of my favorite kinds of gifts to give. *As mentioned above, Le Creuset is currently offering 20% off purchases of three pieces or more, through Wayfair HERE.
Here are a few occasions where a
Le Creuset ® Dutch oven
would make an incredibly special gift:
Shower or Wedding Gift (you can even split the cost with a friend, depending on your budget)
Anniversary Gift (if you were looking for a time to splurge, this is it)
Someone who just upgraded their kitchen (they probably will be eager to upgrade their kitchen

ware

, too)
Cooks as a hobby
Joint Family Gift (instead of several items individually, get together with your siblings to gift one substantial, meaningful piece)
Cooks as a profession
Mother's Day Gift
Father's Day Gift
Housewarming Gift (another opportunity to upgrade and split the cost)
College Graduation
And if you're planning to gift a
Dutch oven
, here are a few gift pairing ideas to make the gesture even more personal:
Cookbook
Family recipes in a recipe box
Wooden stir spoon
Garlic Press
Soup Ladle
Kitchen Towel
Spices
Holiday Stovetop Potpourri Mix (dry ingredients with recipe)
Apron
Trivet
Hot pads
Recipe Ingredients (i.e. Bean soup mix, marinara sauce, etc.)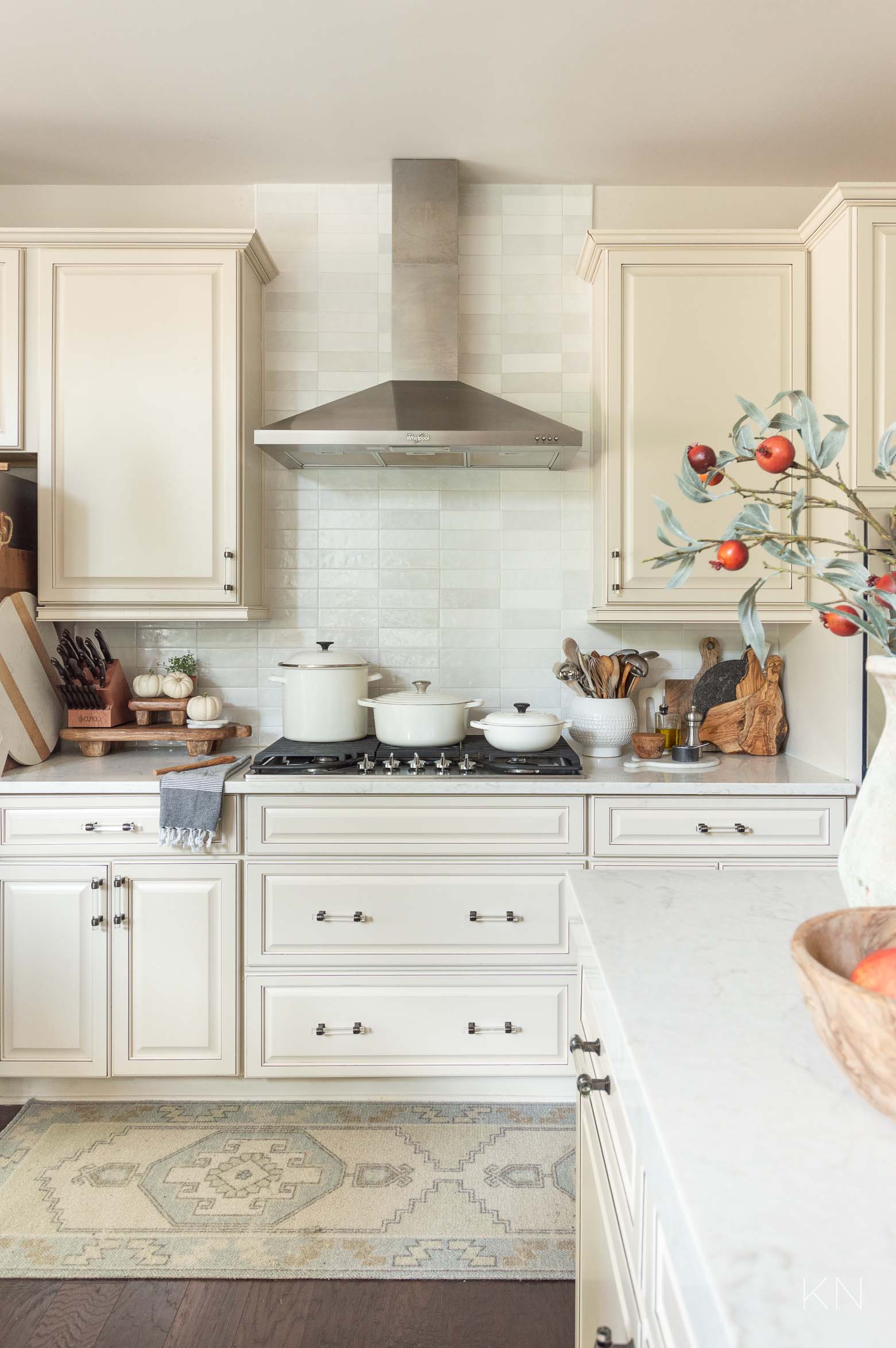 Do you keep your favorites on display in your kitchen to double as decor? Are you a big believer in one-pot meals and have a favorite go-to to share? Have you ever gifted or been gifted quality cookware that still stands out in your mind? Share in the comments below! This is my favorite time of year — not just in general, but for here on KN. There's lots of holiday to come and you can subscribe to emails at the bottom of the post to make sure you get all the updates on the latest!
Shop the Post
Le Creuset ® Dutch Oven | Le Creuset ® Braiser | Le Creuset ® Stock Pot | Kitchen Runner | Cabinet Pulls | Turkish Towel (similar)