My small office bathroom is FINISHED! If you've followed this project (plan HERE and progress post HERE), you know this bathroom was initiated by accident and completed totally backwards. What started as a brown bathroom, turned into a plan for a white bathroom, but ultimately transformed into a pink bathroom! Read on to see all the details along with the before and after.
*Posts on KelleyNan.com may contain affiliate links. Click HERE for full disclosure.
**Full source list and product details can be found at the bottom of the post.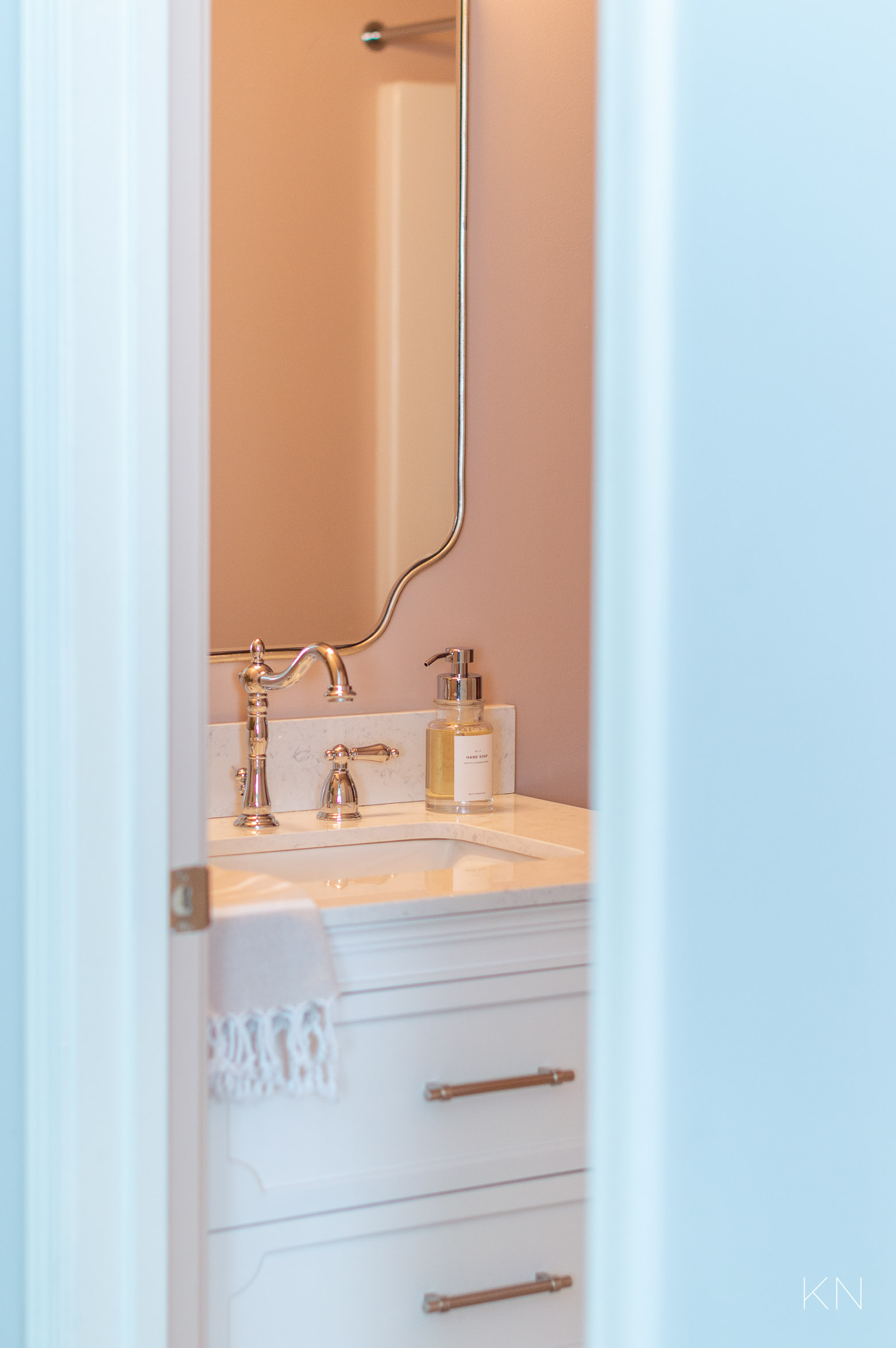 How the Pink Bathroom Came to Be
When I flooded part of our house, the only damage to my small office bathroom (also used as a guest bathroom) was a few tiles. Even though it was builder-basic with a simple cut glass mirror, a standard vanity sconce, a dark brown vanity, etc., I only ever planned to replace the floor tile (which covered less than a 5'x5′ area). My plan was to grab some inexpensive tile that coordinated with the greige walls and dark vanity, but was light in color (compared to the brown tile that was previously laid). I went with white/gray marble looking polished tile in 12×24 inch tiles and the total after tax for three boxes was $80, which was way more than I even needed. Awesome.
Again, I had zero plan to do anything else. However, when the subcontractor went in to demo the former floor and lay the new tile, to my surprise, the vanity was also ripped out by accident, leaving needed baseboard repair, wall repair, paint, etc. We had company coming days later and had to have a functional bathroom. It didn't have to be pretty but we had to be able to wash our hands and take a shower. In needing a 48 hour turnaround from essentially "gutted" to "working-plumbing-status", our contractor sprang into action and advised I pick a vanity that was available in-store locally (Home Depot/Lowe's). I lucked into finding a single 30″ vanity at Lowe's that was within the budget the contractor provided, ordered a faucet on Amazon, and we had a working bathroom within two days.
The flooring had been laid and the vanity and toilet was in, but it was temporary. With all the wall repair that had to happen, along with missing baseboards, the vanity would have to come back out. The vanity drawer would also have to be notched to make way for the plumbing. The vanity was also too tall for our cut glass mirror that was still hanging on the wall. So, I ordered a new mirror to coordinate with the vanity. And then, all the main fixtures had been switched except for the vanity light, so I determined now was the time to do that too.
Even though one thing was leading to another, it was all assembled and even concepted totally out of order. If I had started from scratch, knowing I was going to be remodeling a bathroom to the degree I ultimately did, I probably would have sourced some different furnishings and chosen different tile flooring, and I definitely would have taken the shower insert out and replaced it with a tub (or maybe even just a shower) and tiled the walls. But, the floors had already been replaced and everything had to be turned around so quickly, the shower insert stayed and we proceeded, planning around our spur-of-the-moment replacements.
When we got to the point of painting, my first instinct was to go "white" to brighten the small dark room that has zero natural light. But, I then saw it as an opportunity to make it warm, a little funkier, and a little more colorful that I would typically do in the rest of my house. The bathroom is in my office and functions as a daily bathroom for me, plus occasional guests. And before I knew it, I was planning a pink bathroom. You can see THIS post where I go into how I landed on the color — Setting Plaster by Farrow & Ball. We'll pick back up on this story in a bit 😉
So now that I've given the Cliffs Notes version of the saga, let's get to the fun stuff — the "before" of where we started (after the flooring and vanity were ripped out), and the end result of the makeover.
Here's a quick shot of what the bathroom looked like on the initial day of panic…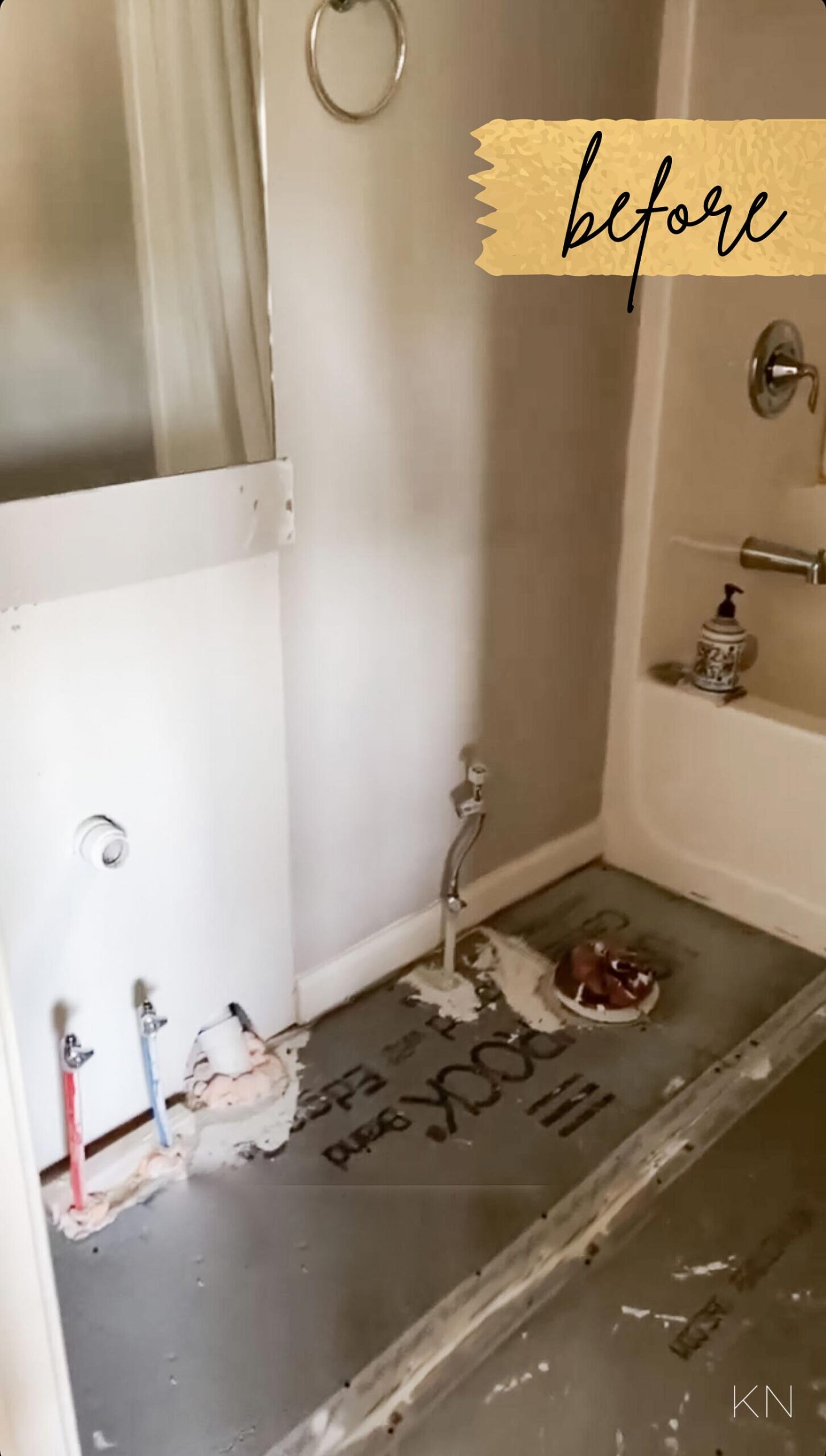 And here's what my sweet, small, pink bathroom in the office looks like today!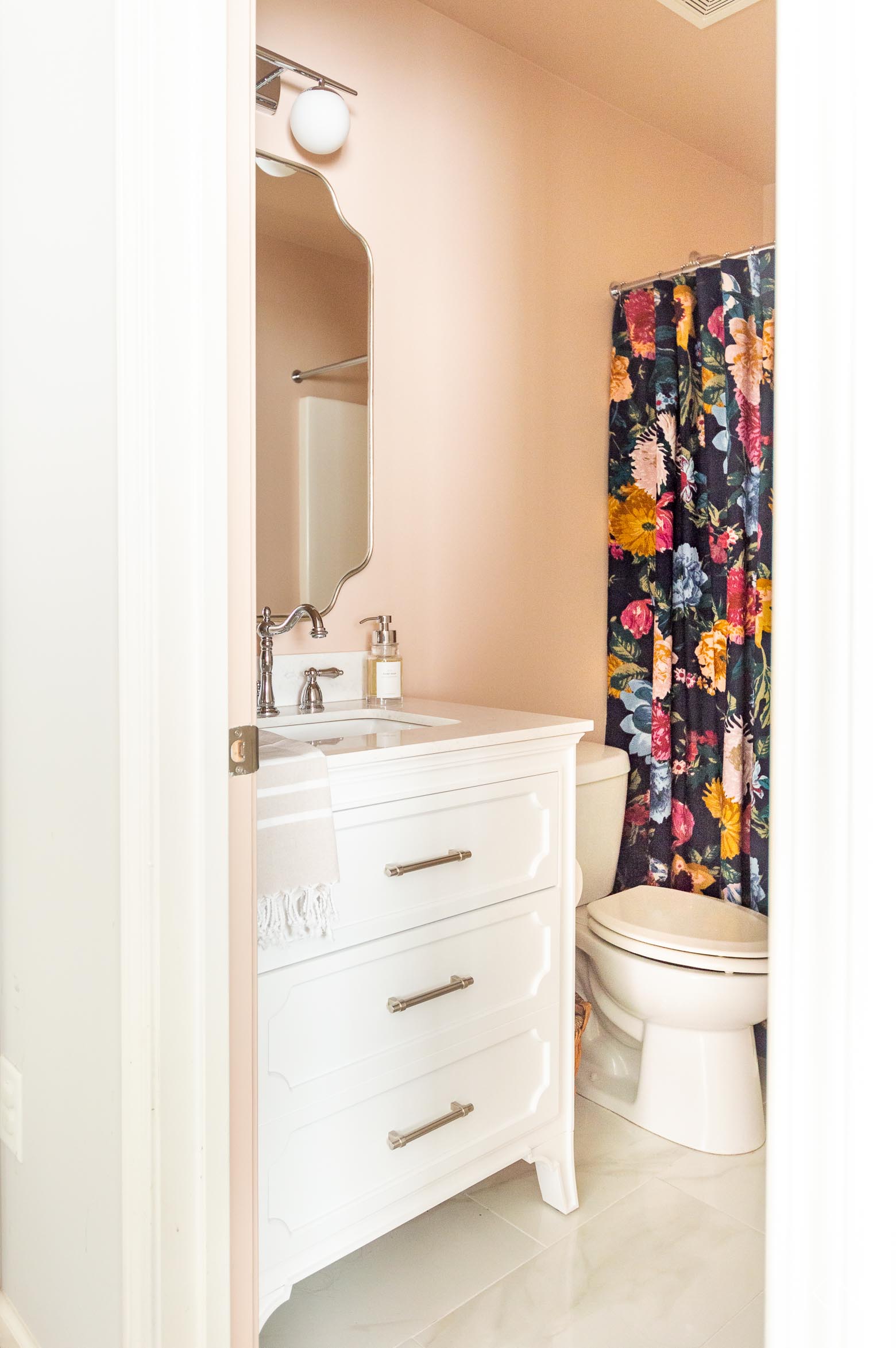 Sources: Faucet (polished chrome) | Mirror | Sconce (chrome) | Shower Curtain | Hand Towel | Foaming Soap Dispenser (chrome) | Custom Bottle Label | Shower Curtain Rod (chrome; 54″-90″) | Shower Curtain Rings
As I mentioned, there is literally zero natural light, so capturing photos was a challenge. I've included a couple of shots without vanity lighting, and several shots with. I wanted color and I wanted a bold moment, but I chose to keep my "boldness" to the shower curtain so I could easily change out the statement, should I ever want to. I love the warm pink walls — especially bathed in the warm glow of the vanity lights — but they would just as easily coordinate with a classic white waffle weave shower curtain, or something patterned but more subtle.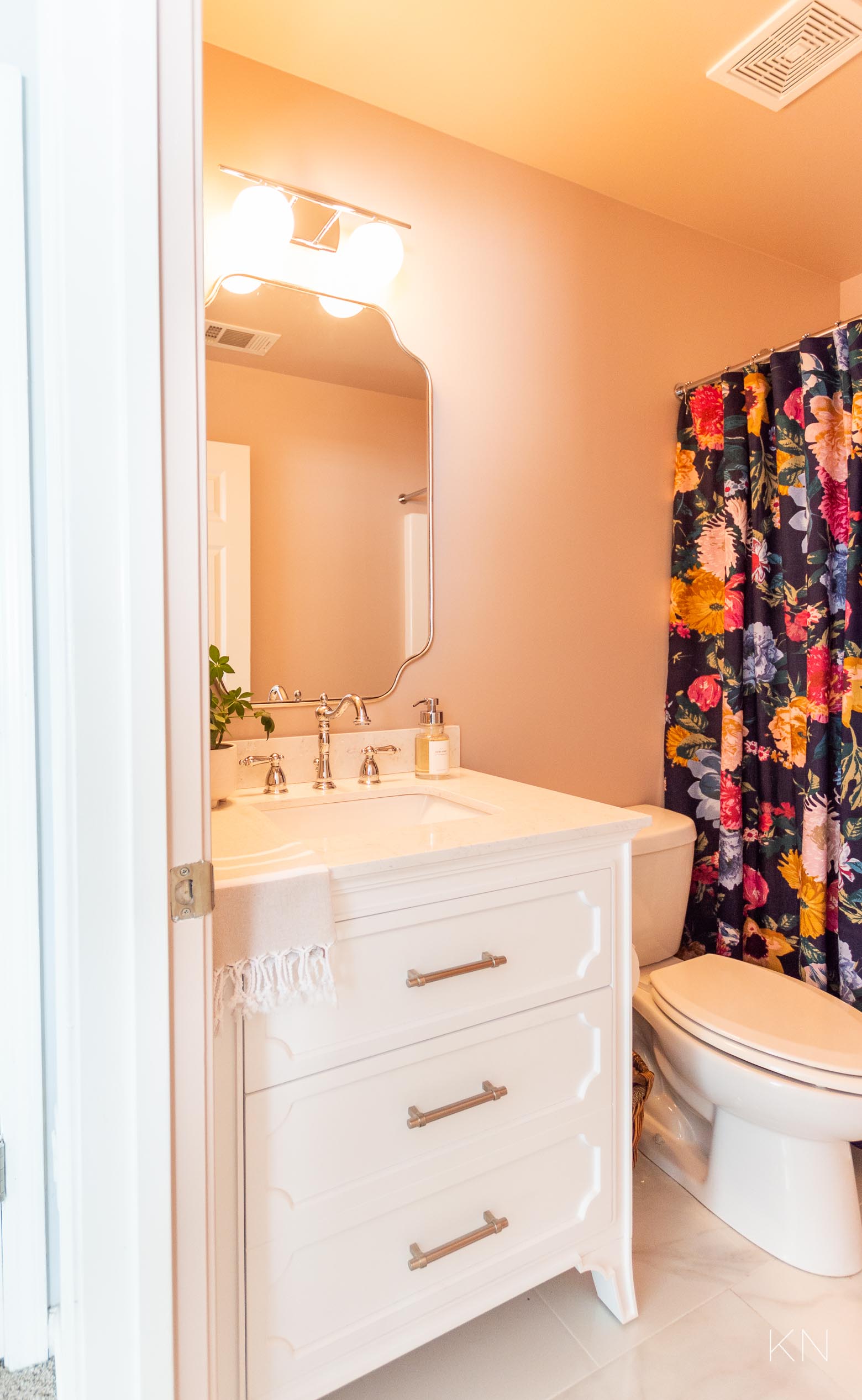 The vanity came with brushed silver hardware and I ordered a chrome faucet, so the rest of my finishes were based off of those — a chrome vanity light, a brushed silver mirror, a chrome foaming soap pump, a chrome shower curtain rod, and chrome shower curtain rings.
The ceiling is also painted in Farrow & Ball's Setting Plaster, as are the doors and molding.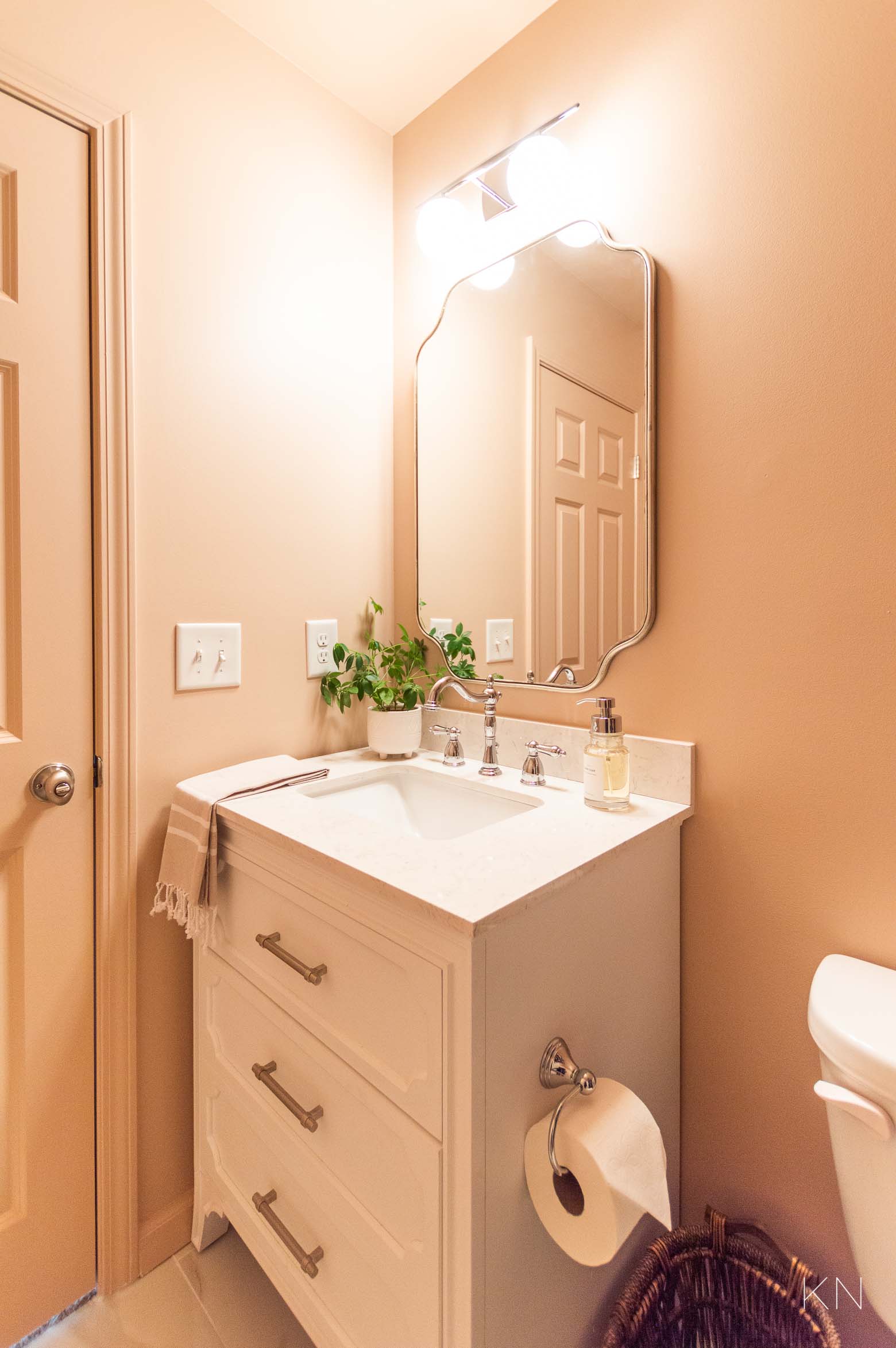 Sources: Faucet (polished chrome) | Mirror | Sconce (chrome) | Hand Towel | Foaming Soap Dispenser (chrome) | Custom Bottle Label 
With such a simple, small space, I had a lot of fun choosing just a couple of countertop accessories. THIS foaming soap pump is from the same small company I've purchased several others from — in amber bottles and clear. You can choose between six pump finish colors (mine is the chrome).  It's a heavy weight and holds 12 oz — it holds a bottle of Bath & Body Works foaming soap perfectly.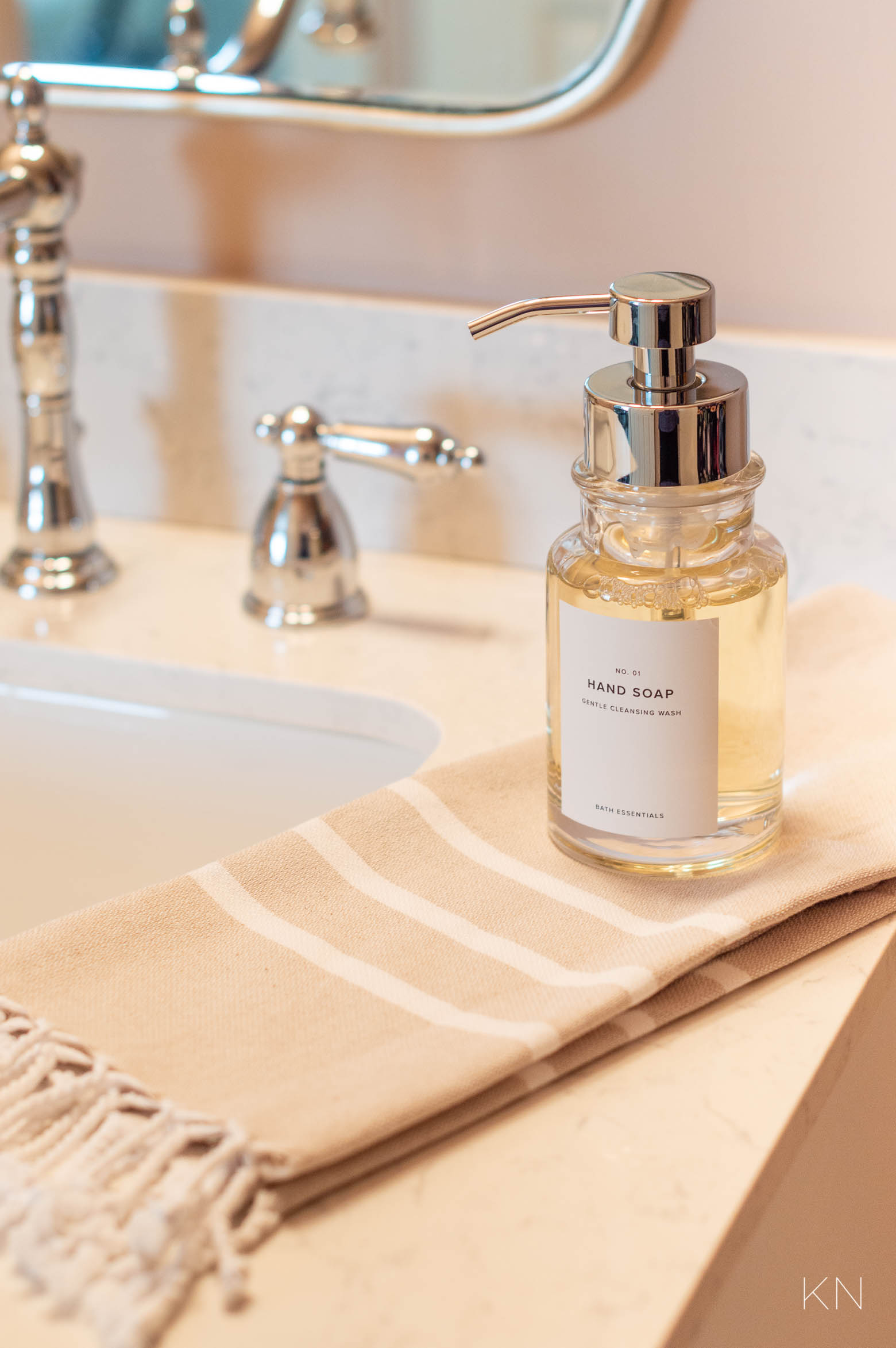 Sources: Hand Towel | Foaming Soap Dispenser (chrome) | Custom Bottle Label 
The label on the outside (HERE) was actually a custom order from THIS shop. You can request for the labels to read whatever you prefer, and they sent a full sheet. They also have pre-made (suggested) labels for everything from the bathroom to the kitchen.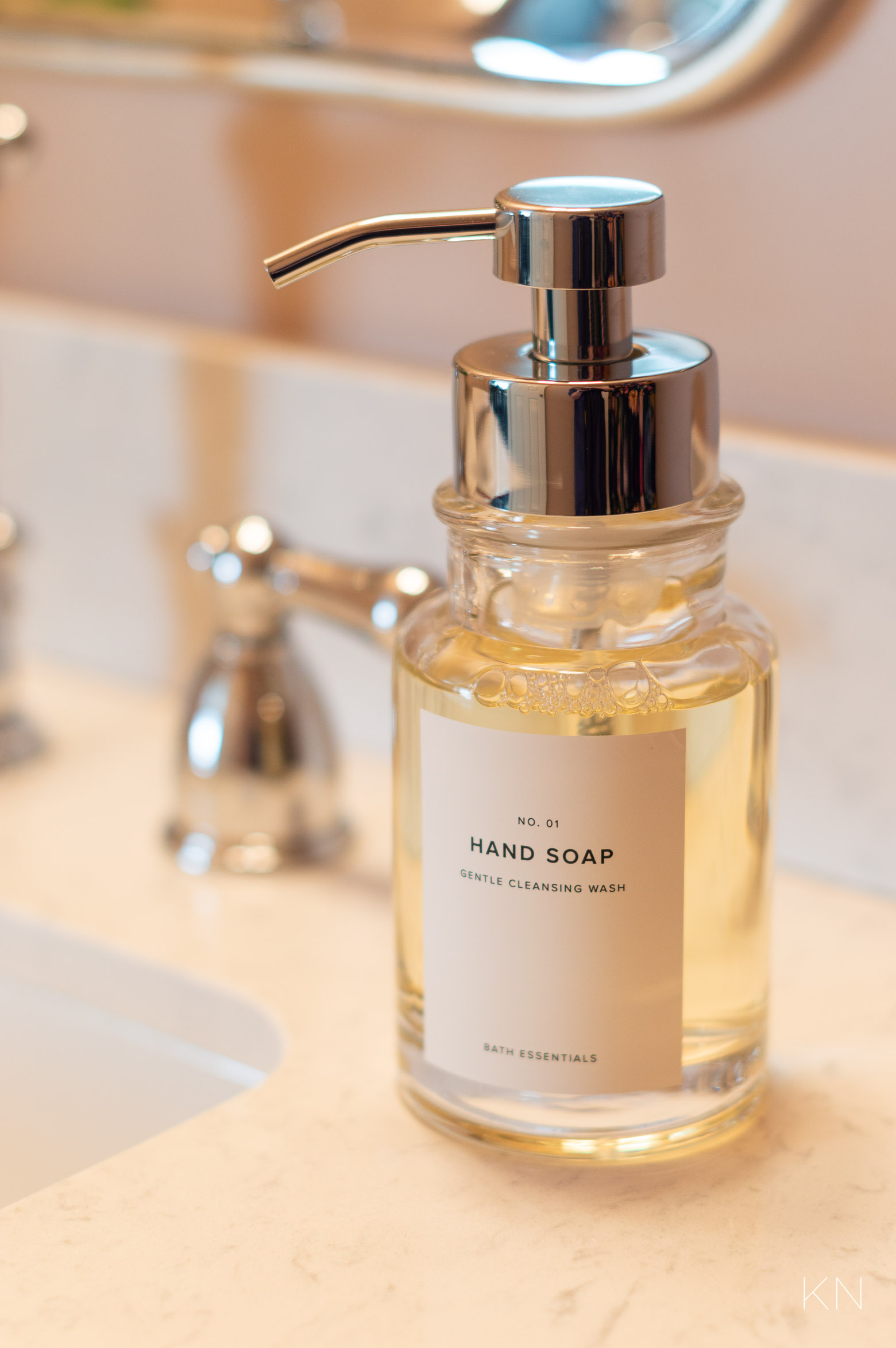 Sources: Foaming Soap Dispenser (chrome) | Custom Bottle Label
I ordered a batch of my favorite Turkish tasseled hand towels — on sale for just over $4 each — and settled on THIS neutral striped towel.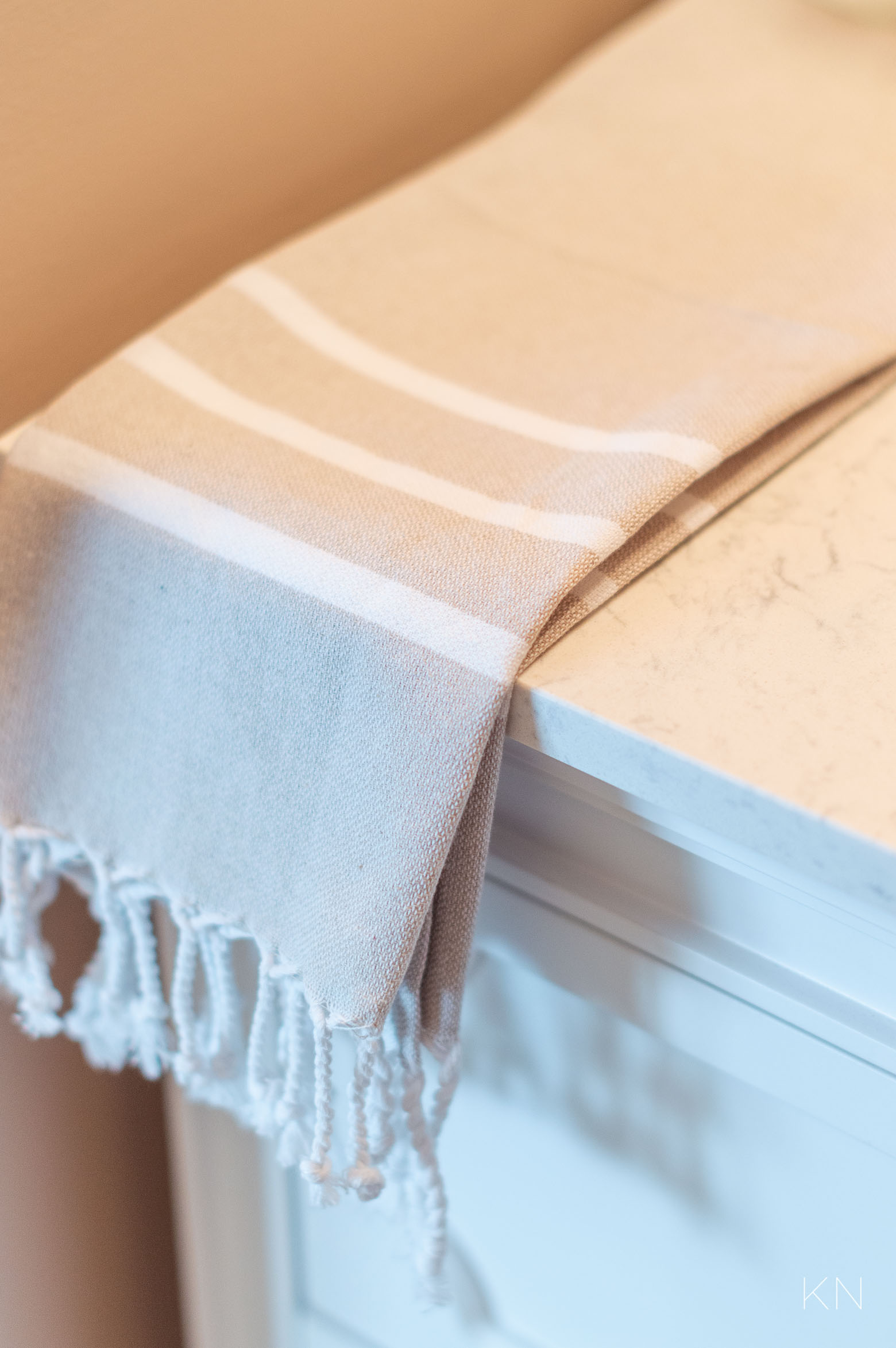 Sources: Hand Towel 
And THIS faucet is featured in multiple bathrooms in my house. It's pretty and good quality, but isn't nearly as pricey as some of the similar options.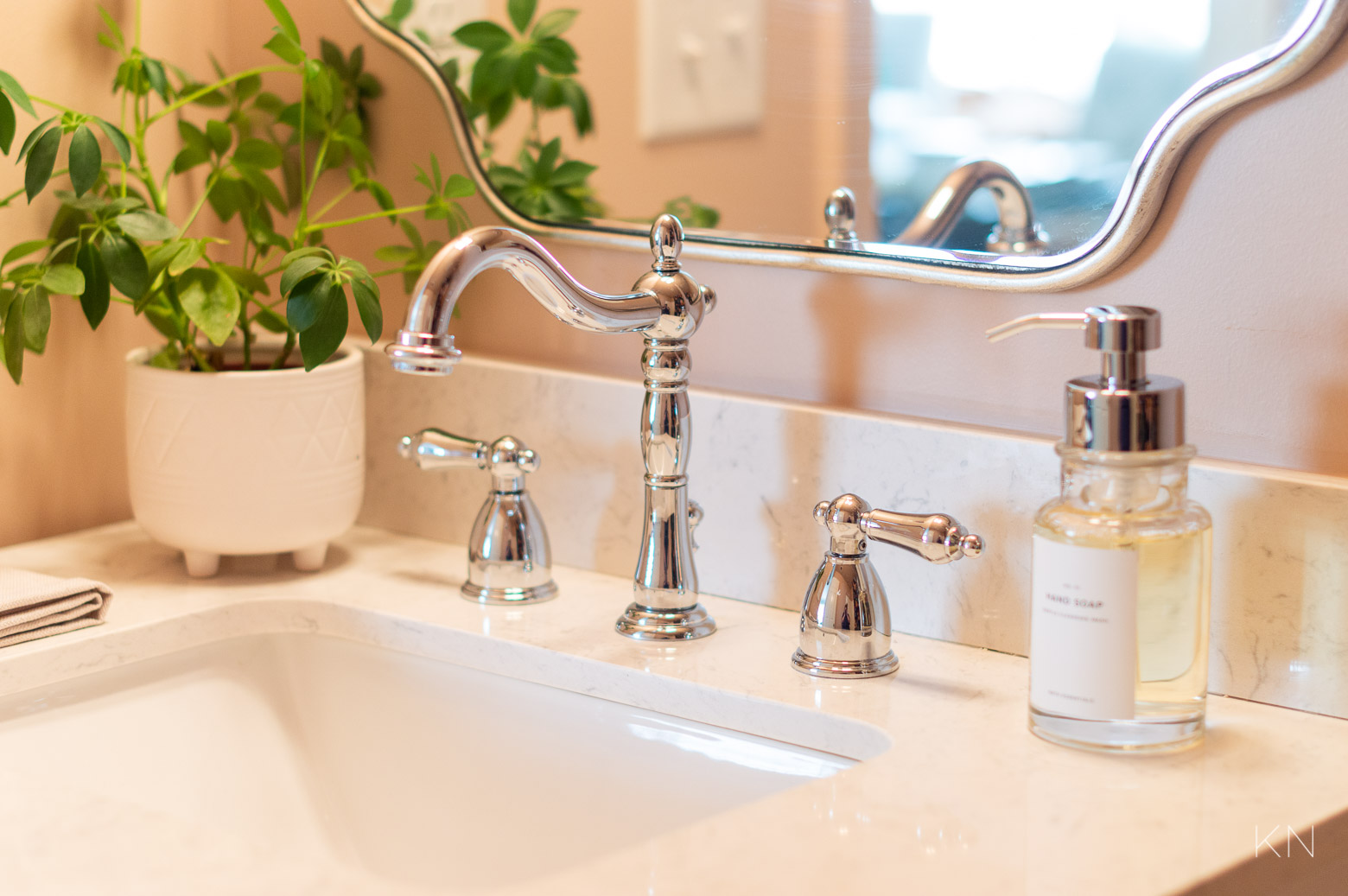 Sources: Faucet (polished chrome) | Foaming Soap Dispenser (chrome) | Custom Bottle Label
I've had this little planter for years and the Aztec print used to be outlined in black and more pronounced. However, after my kitchen succulents started growing mushrooms and I dumped it, I stuck this planter in the dishwasher — all the black came off but I love the subtle etched pattern that was left behind. You can find a set of similar planters HERE — as a bonus, I bet you have a 20% off coupon to make the set $23.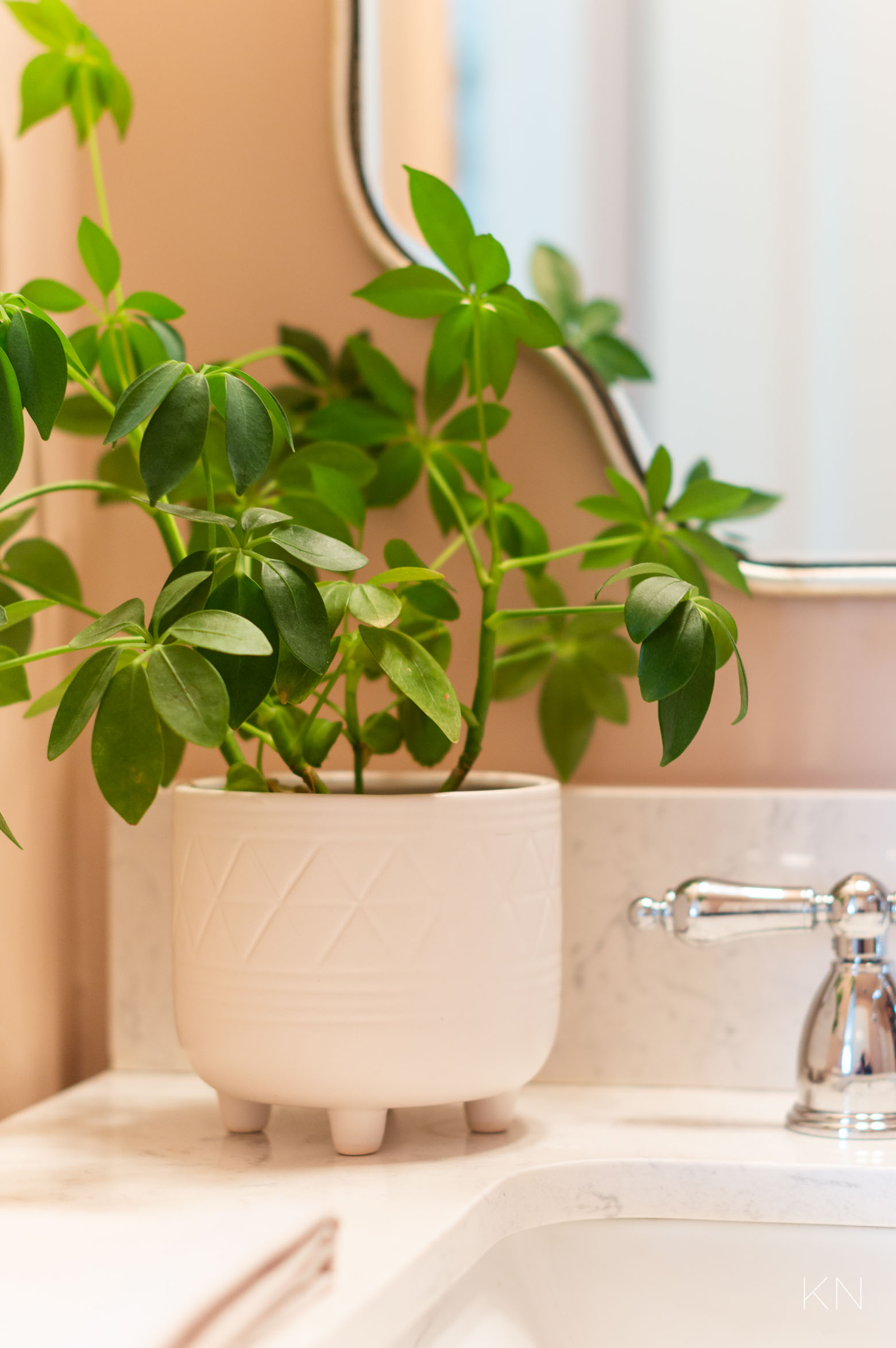 THIS bath mat is currently on sale for 20% off (with code NEWSEASON). While most everything else in the space — from the floor to the vanity — was done on a budget, THIS detail was more of a splurge for what it is. However, I did pay full price and wish I had scored the current sale price! It comes in two sizes and several colors and is so beautifully crafted. When not in use, I have it folded over the side of the tub.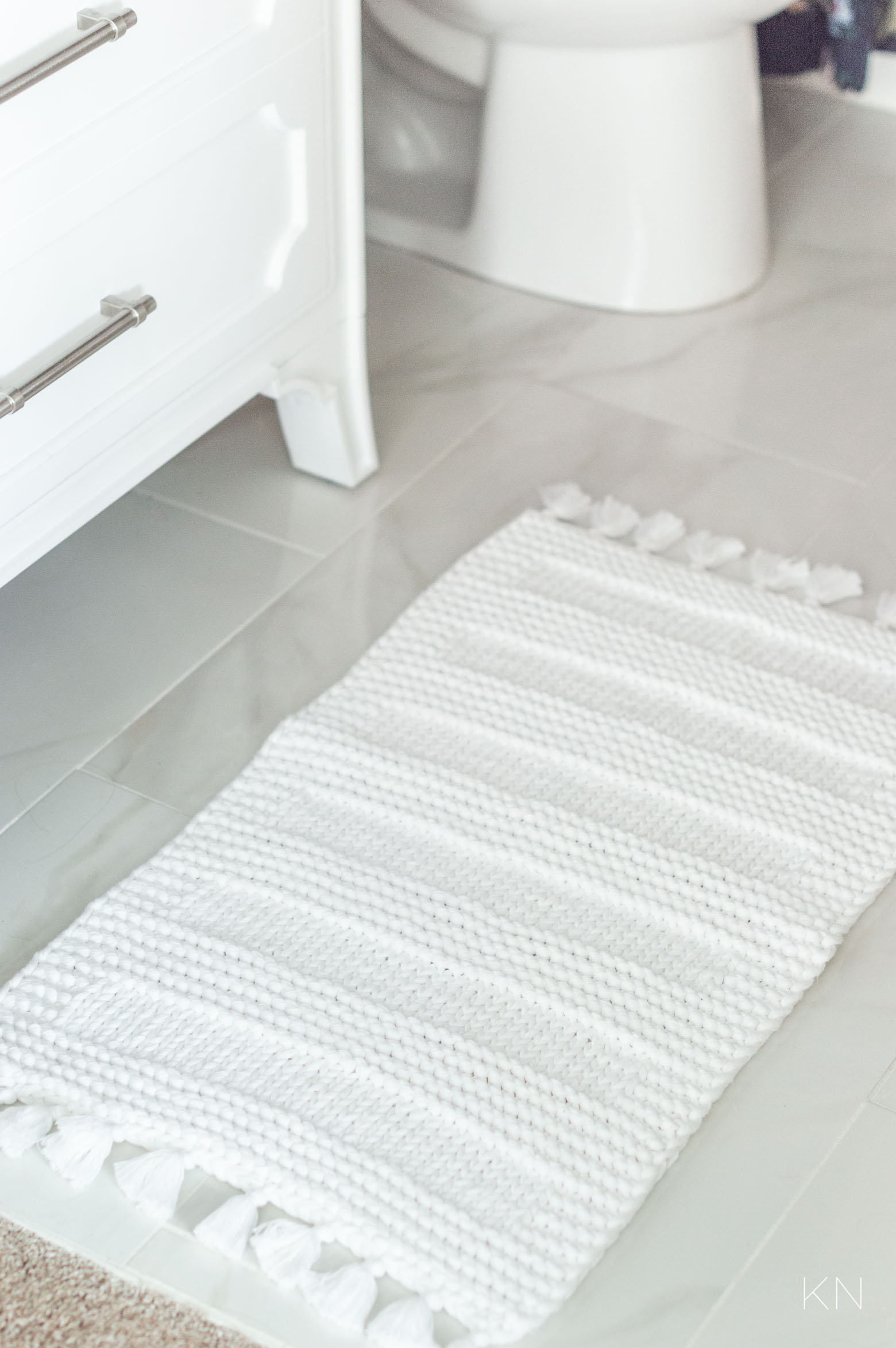 Sources: Bath Mat (white) 
The top drawer of the vanity is perfect for daily essentials and the bottom (which is actually the bottom two drawer fronts as one single tall pull-out) is perfect for upstairs back stock, toilet paper, etc.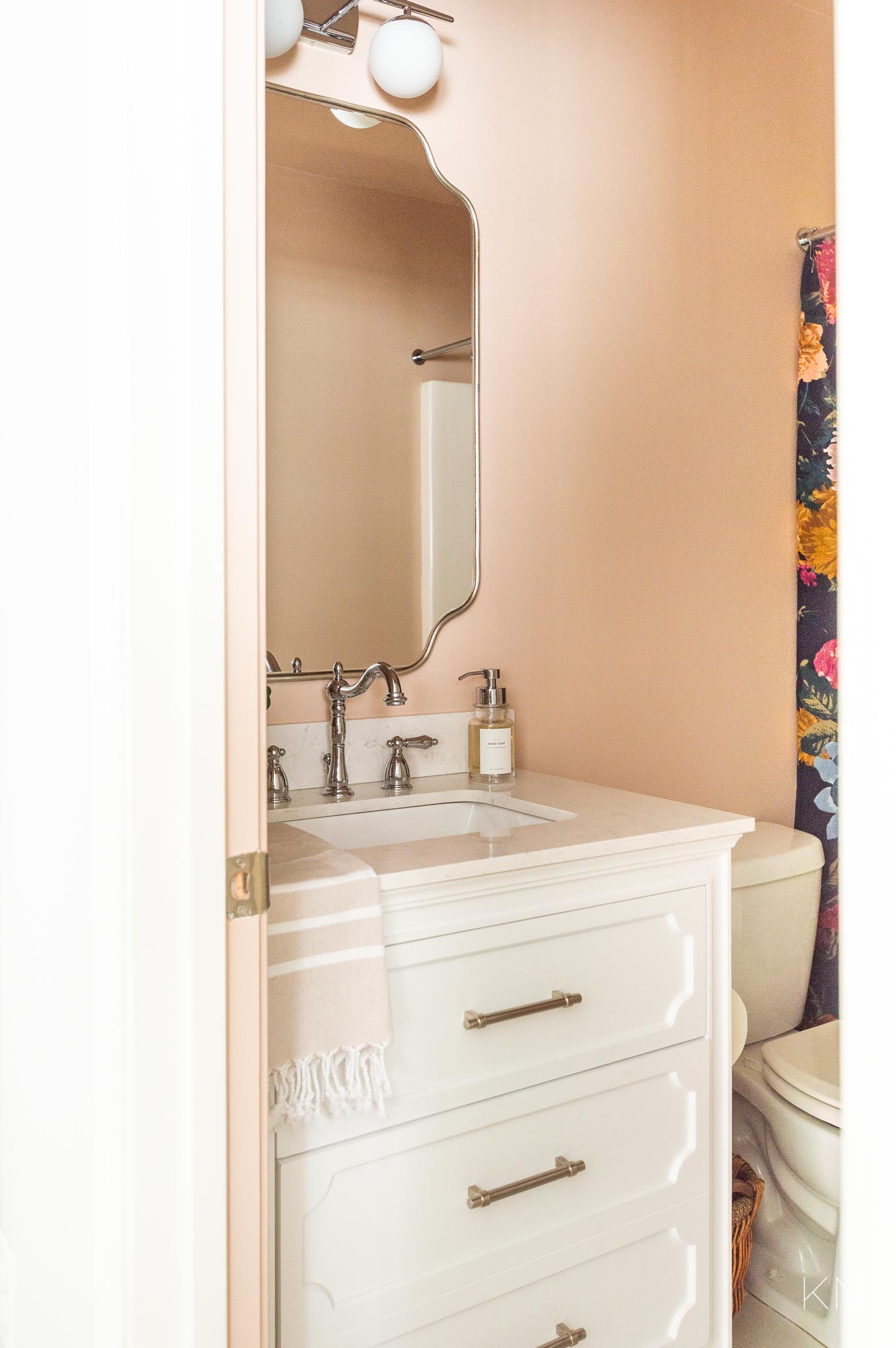 Like most rooms in our home, I have this bathroom light on a dimmer. It's such a small detail in a seemingly less significant space, but it makes such a powerful difference. While I typically gravitate toward light, bright and clean, this cozy, feminine space makes me smile every time I set foot in it.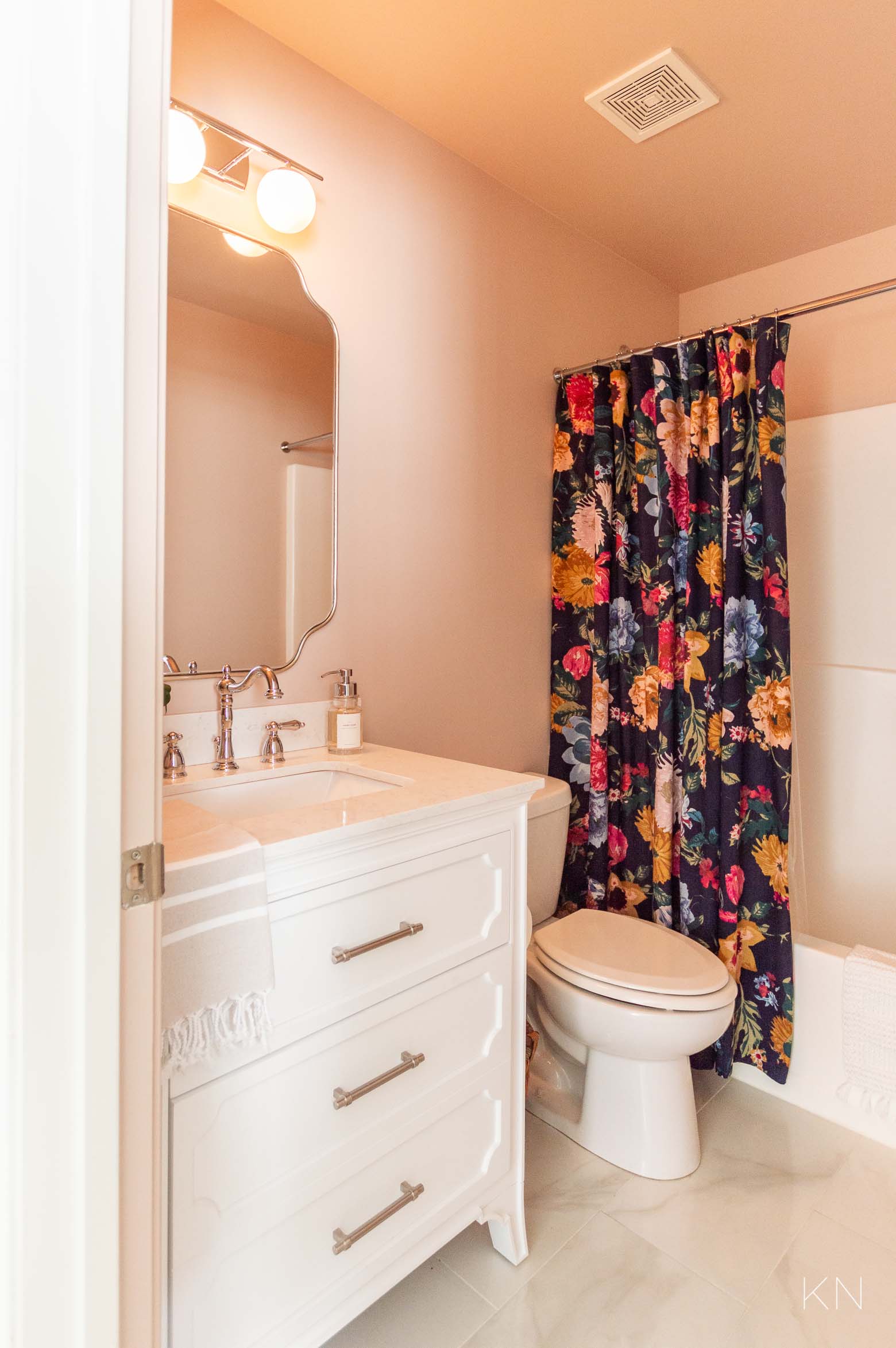 Sources: Faucet (polished chrome) | Mirror | Sconce (chrome) | Shower Curtain | Bath Mat (white) | Hand Towel | Foaming Soap Dispenser (chrome) | Custom Bottle Label | Shower Curtain Rod (chrome; 54″-90″) | Shower Curtain Rings
… And our little pink bathroom off the office is done! I'm so happy to have another space in our home completed — and even more happy I was able to transform something into a palette a little outside of my norm. Slowly but surely, we're getting back to normal, just in an improved "2.0" version, haha. This bathroom update is so different from our master bathroom remodel and I'm getting so excited to cap off the final remaining details, so I can share that full remodel. To catch all the befores, and afters, and transformations, and more, be sure to subscribe to emails at the bottom of the post.
Pink Bathroom Sources & Details
Paint Color: Farrow & Ball Setting Plaster (walls and ceiling are Modern Emulsion finish; Trim and door are Modern Eggshell finish)
Sources: Faucet (polished chrome) | Mirror | Sconce (chrome) | Shower Curtain | Bath Mat (white) | Hand Towel | Foaming Soap Dispenser (chrome) | Custom Bottle Label | Shower Curtain Rod (chrome; 54″-90″) | Shower Curtain Rings | Vanity (Lowe's — 30″ Allen + Roth Helena)
Floor Tile: 12″x24″ San Giorgio Andover White Polished Porcelain Tile from Floor & Decor

Other Posts You May Be Interested In