I've always loved a small, versatile table (my mom believes you can't have too many, haha) but it wasn't until searching for a small accent table to be positioned next to our tub in the master bathroom (see the latest progress HERE) that I put a lot of thought into it and my hunt turned into something next level. I wanted something that was small but not as small as a stool… and nothing too leggy… I wanted a small accent table that had more of a substantial base and was stumpy but it had to have fairy narrow dimensions to fit in the spot I was shopping for. And, it couldn't be too tall. I found exactly what I was looking for and it's even better in person — and along the way, I found several small accent tables that are perfect for small spaces from everywhere to the master bathroom (like mine), to a small sitting area or even a bedside surface in a room that's tight on square footage. Today, I'm sharing 20 favorites from black wood to concrete and marble, from fluted to rattan. Plus, I'm sharing a few noteworthy Labor Day deals at the bottom of the post!
*Posts on KelleyNan.com may contain affiliate links. Click HERE for full disclosure.
20 Versatile Small Accent Tables for Small Spaces
Most of the small accent tables below come in different finishes and colors — some even come in a couple sizes. Be sure to make note of the dimensions of each — the height for where you need it to fall in comparison to what it will be setting beside and the width for the overall space and also if you plan to have a lamp on top. Links for each of these can be found below the graphic. Also note — several tables are on sale this weekend for Labor Day!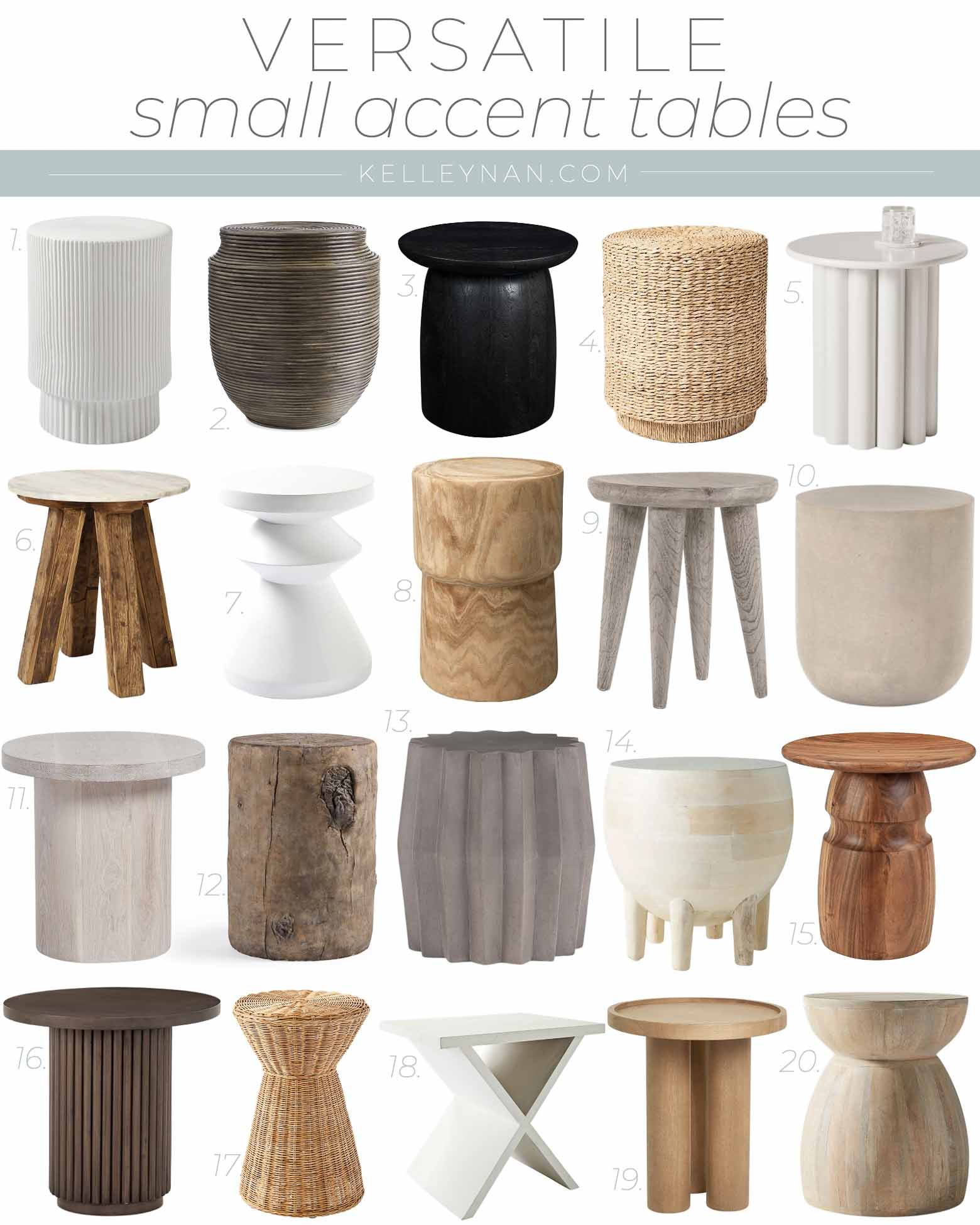 Sources: 1 | 2 | 3 | 4 | 5 | 6 | 7 | 8 | 9 | 10 | 11 | 12 | 13 | 14 | 15 | 16 | 17 | 18 | 19 | 20
The small accent table that won me over was Number 1 — I ordered the 13″ for my space but it actually comes in a 16″ version and is now available in four colors! Handcrafted and only $179, it's one of the most affordable small side tables in today's post and can be found HERE. Here's a peek of what it looks like beside my tub. As an aside, the master bathroom is almost finished, with the exception of a few details. I'm still determining whether I want to share before a few final touches are complete or whether I'll share a little sooner…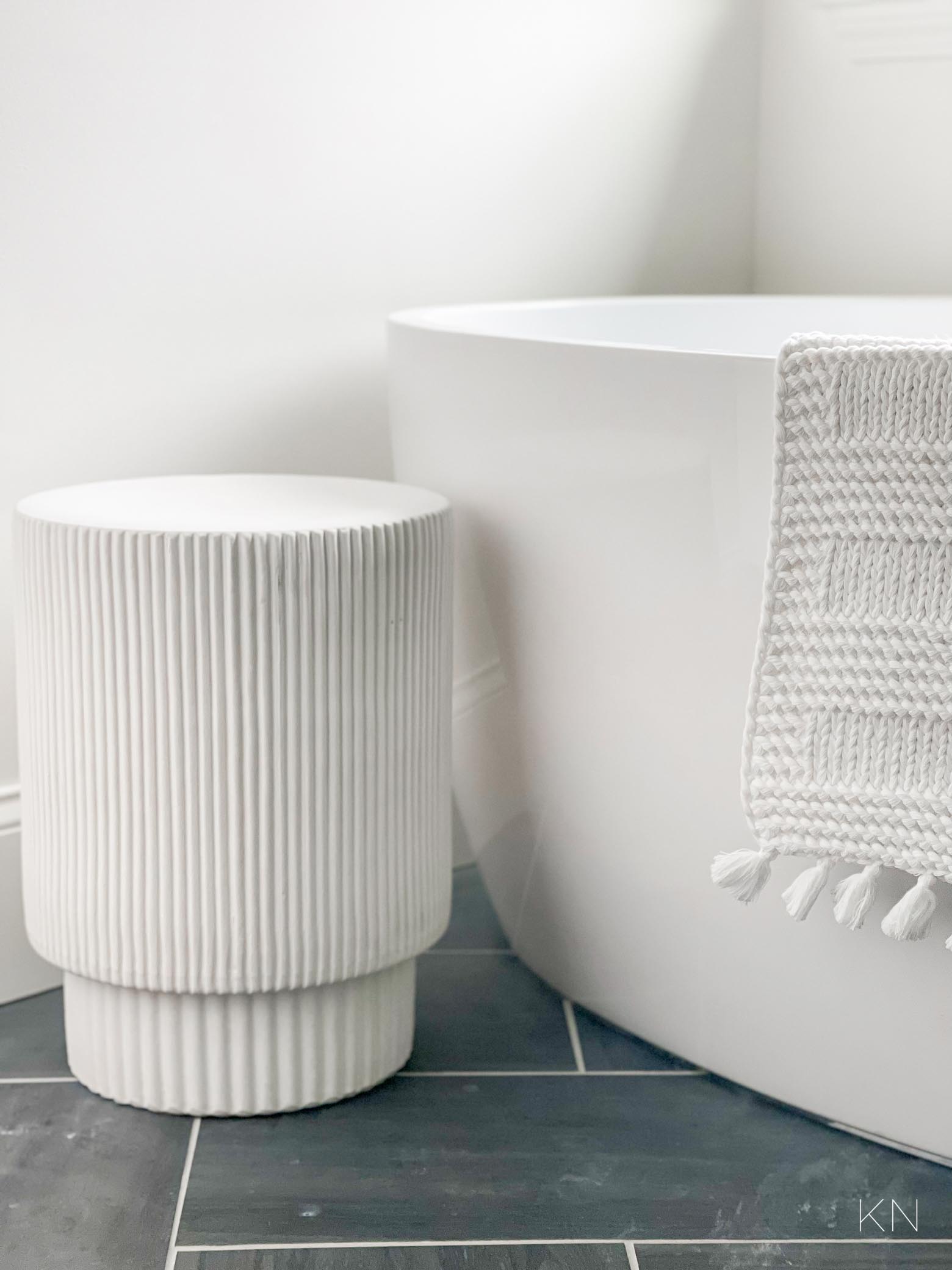 Sources: Tub | Floor Tile | Side Table | Bath Mat
Another space that called for a small table was in the spot nestled beside the loveseat in the conversation room (see the full reveal HERE). While I included an even smaller version of the small accent table for the post (Number 3), you can find the slightly larger version like mine HERE. It's solid acacia wood and while mine is a black finish, there is a natural wood option, too.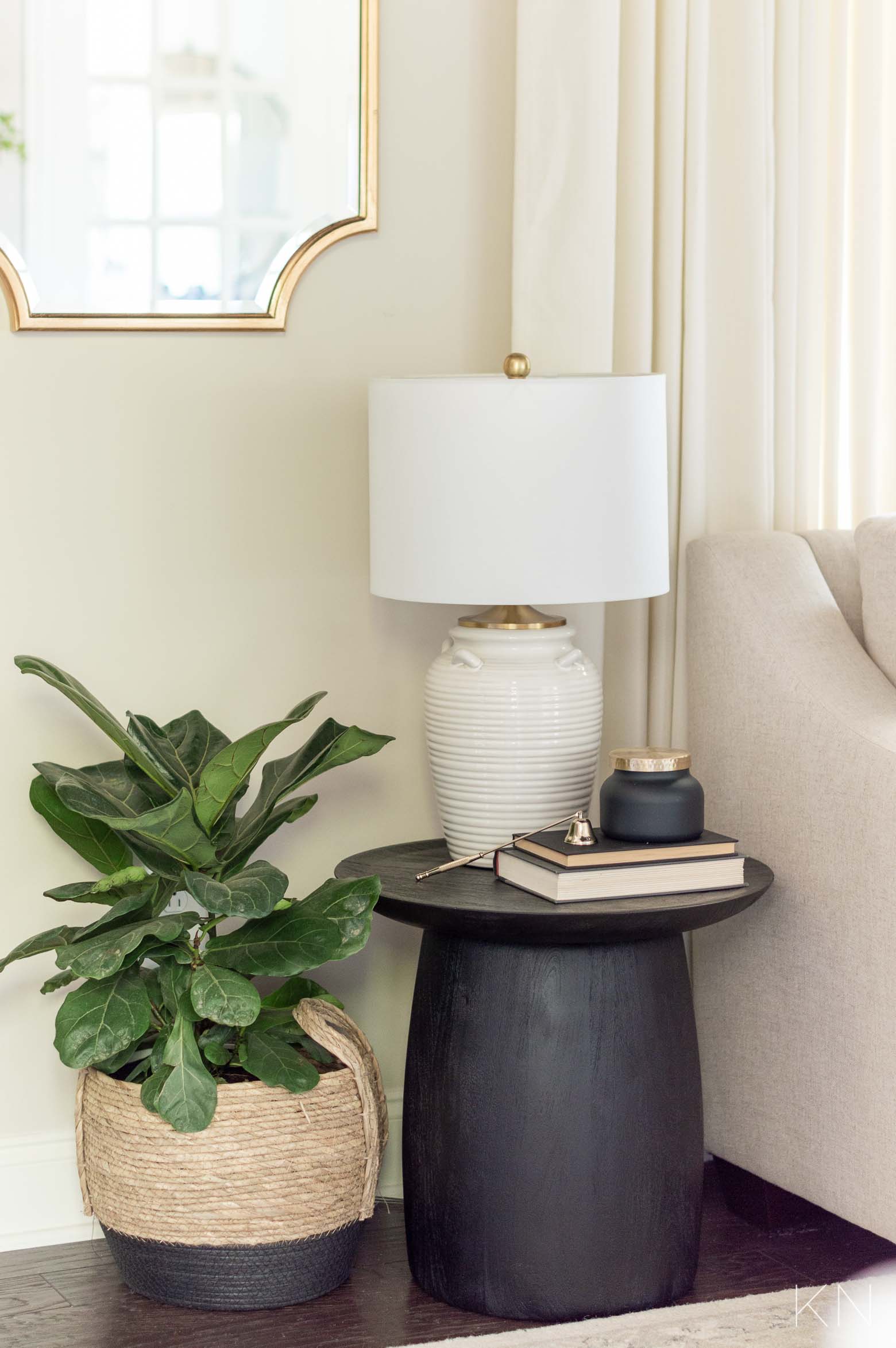 Sources: Black End Table | Ivory Ceramic Lamp | Candle Snuffer (Part of 3-pc Accessory Set) | Black Matte Capri Blue Volcano Candle | Plant Basket (similar)
And when I posted my bedroom sitting area last year, I had so many link requests for this small accent table next to the chair. While it's unfortunately no longer available, it's incredibly similar to Number 7. There's free shipping on that table right now with code YOUPICK. By the way, the chair (HERE) now comes in a charcoal version with a white thing windowpane pattern!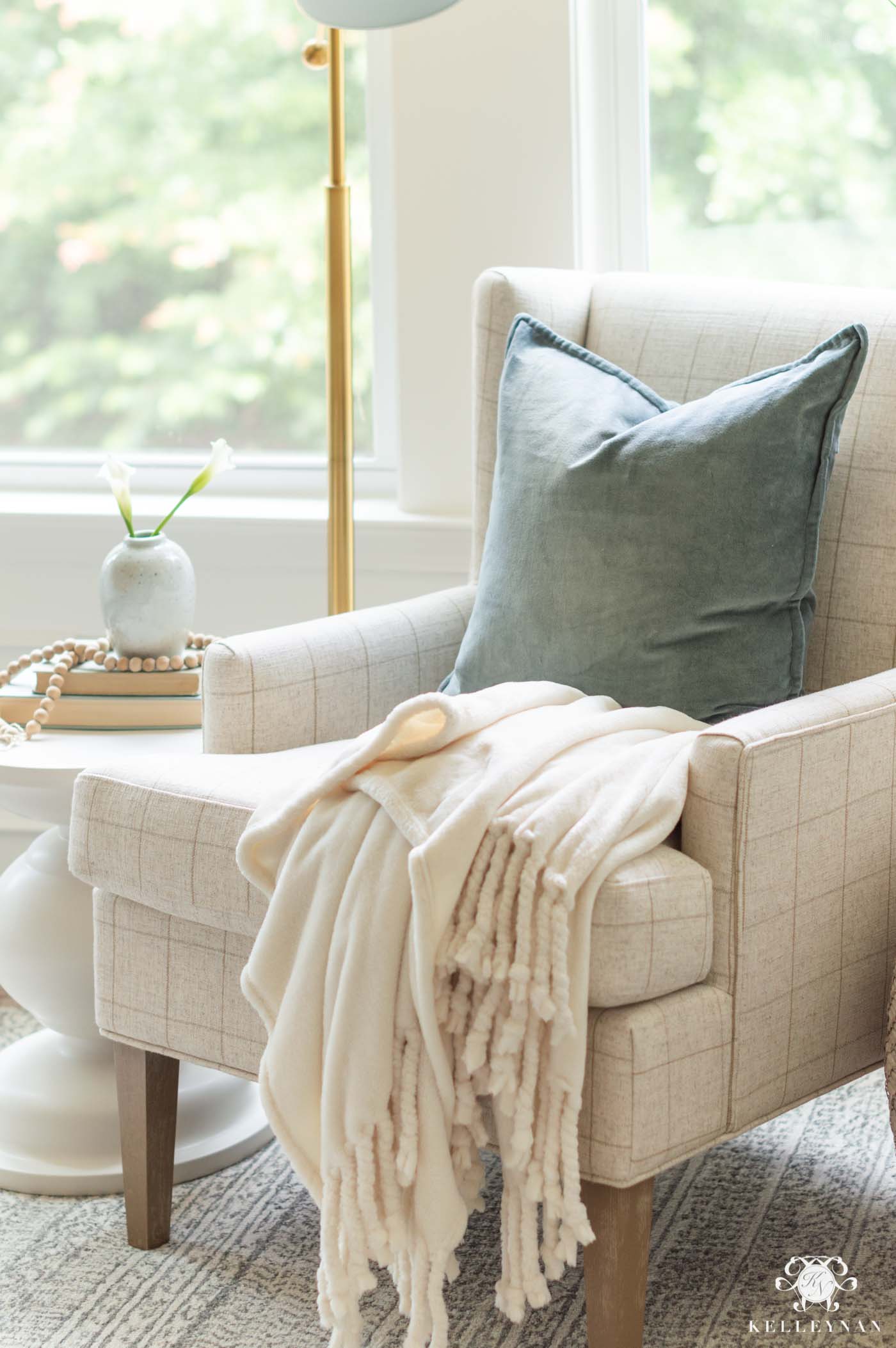 Sources: Pillow (sea foam) | Throw Blanket (vanilla) | Chair | Rug | Floor Lamp
Notable Labor Day Sales
I waited until this weekend to order a few things that have been on my list and honestly, was a little disappointed in the majority of sales. But, while site-wide sales seem to be a little lackluster this weekend, there are a few individual items that are a good deal right now for the holiday.
Remember my dining room revamp a few months ago (full reveal HERE)? I even asked opinions on the wool jute rug (HERE) and ultimately went for it in my own space (mine is the 8'x10′ in the "natural" color). We've been so happy with it and it is so well constructed. As a matter of fact, I've been looking for a new rug for our living room for months and I finally decided that since I loved this rug so much in our dining room, I'd order the same one for the living room. Unfortunately, I did it a couple weeks too soon because it's on rare sale this weekend! I've had it rolled up behind our sofa for the past week and we plan to unroll it today. You can find it HERE.
Those organic table lamps on the sideboard are also 15% off this weekend with code BYESUMMER HERE.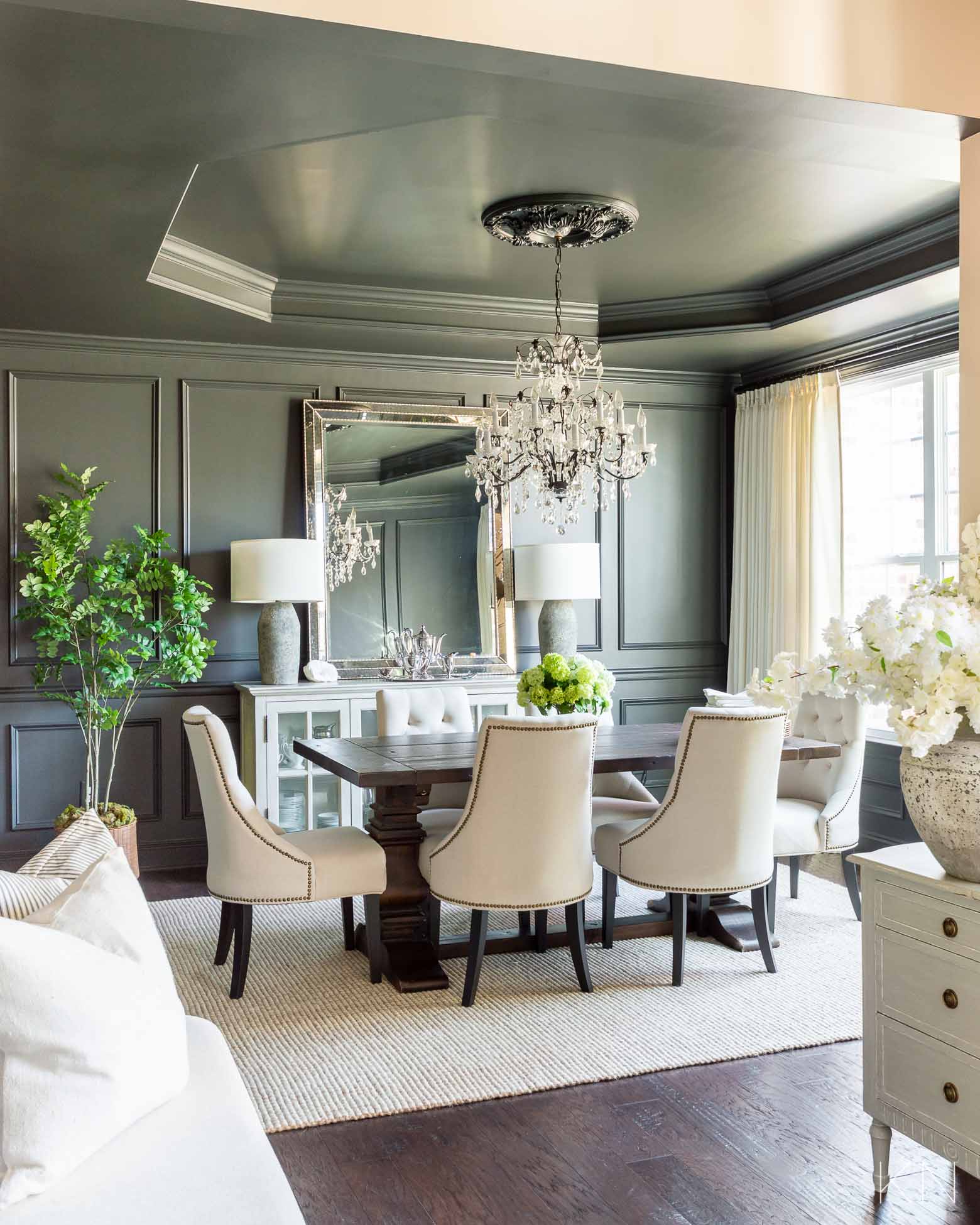 Sources: Dining Chairs | Viburnum Centerpiece (similar) | Rug (natural; 8'x10′) | Chandelier (similar) | Faux Tree | Tree Basket | Reindeer Moss | Lamps | Framed Art Print | Curtain Rod (120″-240″) | Curtain Rings | Foyer Chest | Large Vase | Dining Table – RH (similar)
My mom had purchased THESE multicolor pillows a while ago and they were so gorgeous on her bed, she actually ordered another one this weekend for her living room. The shades are so varied but muted and not bright so it's an easy pillow to incorporate with a lot of color schemes. It's 22″ and 32% off right now HERE.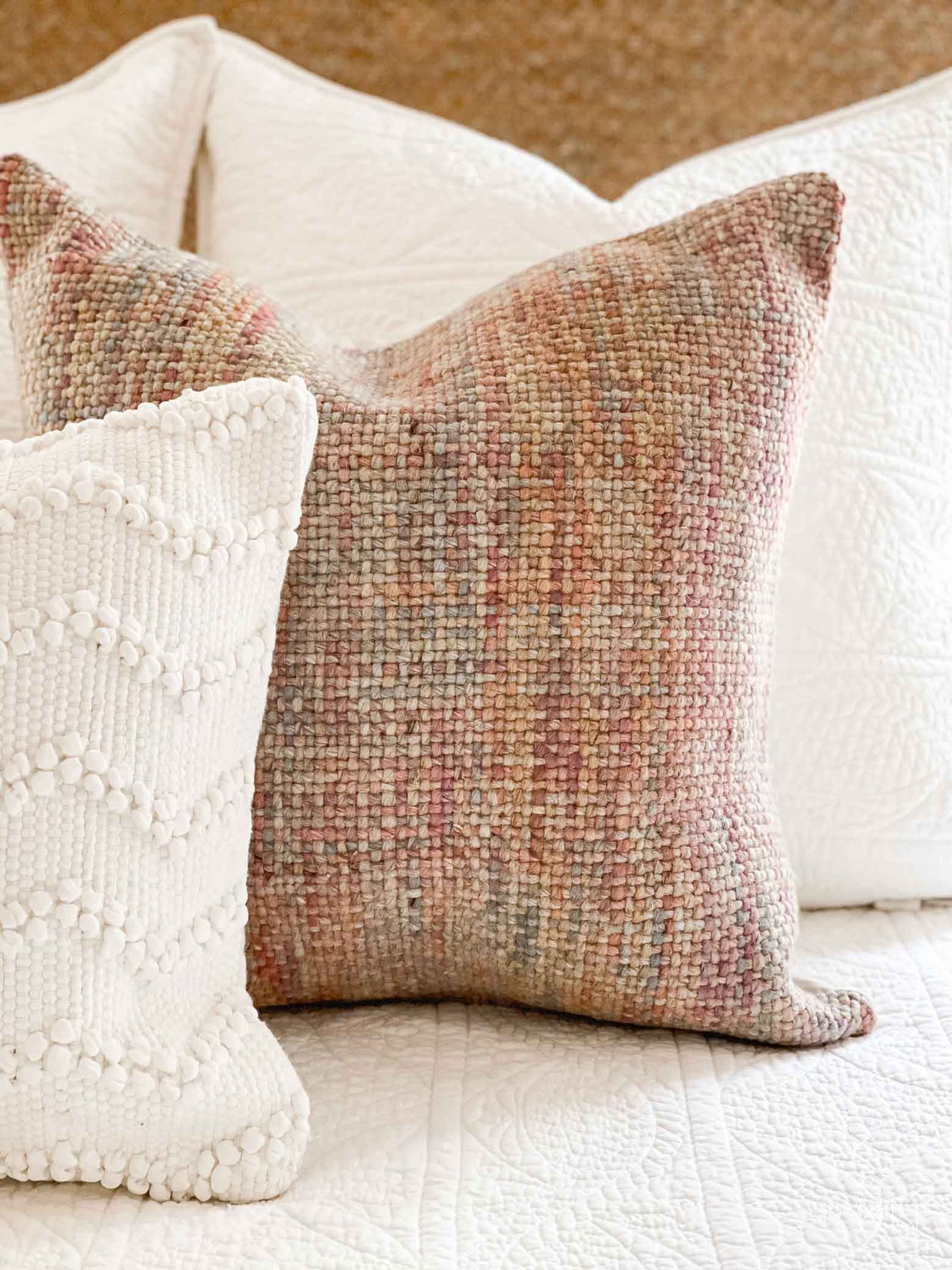 Sources: Cotton/Linen Quilt and Shams | Multi-color Pillow Cover
Another notable deal right now is the weekend discount on these light fixtures. My mom has the chandelier in her dining room and it is stunning! The flush mount version is a great option for an entry with low ceilings or any room with low ceilings that you still want to make a little more dressed up.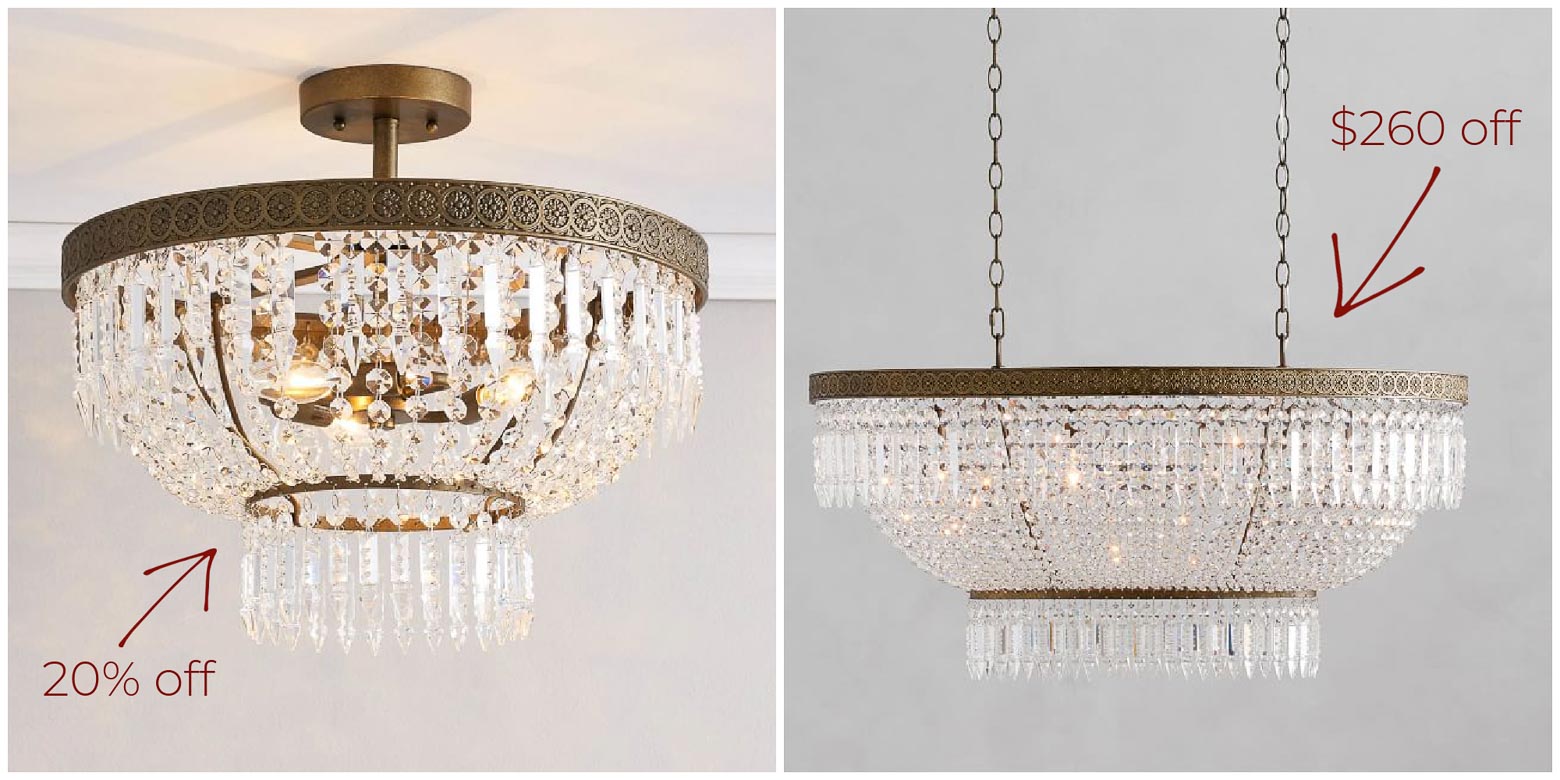 Sources: Flush Mount | Chandelier
I shared this wooden bowl in my newsletter last week and I ordered the black in the 16″ option — while that color isn't on sale, the pretty gray one is! It's actually 40% off in all sizes offered right now HERE. I plan to use mine on the kitchen island with artichokes but it can easily be moved to the breakfast table as a centerpiece, coffee table, or even bookshelf.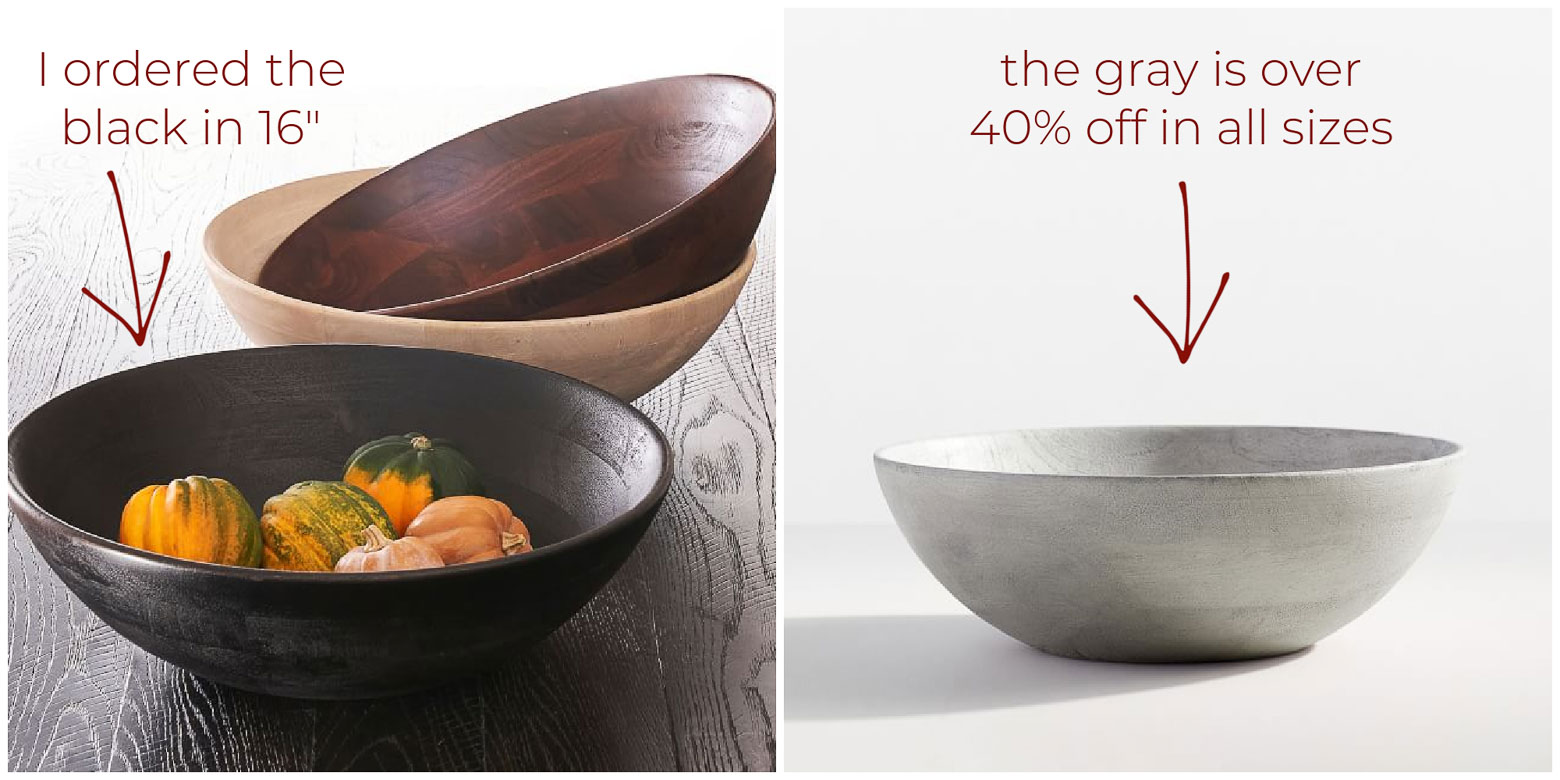 Sources: Wood Bowl — comes in four different colors and three sizes!
My slender 82″ olive tree — great for tighter spots that could use a little green life — is 25% off right now with code LABORDAY HERE. It also comes with free shipping and free returns.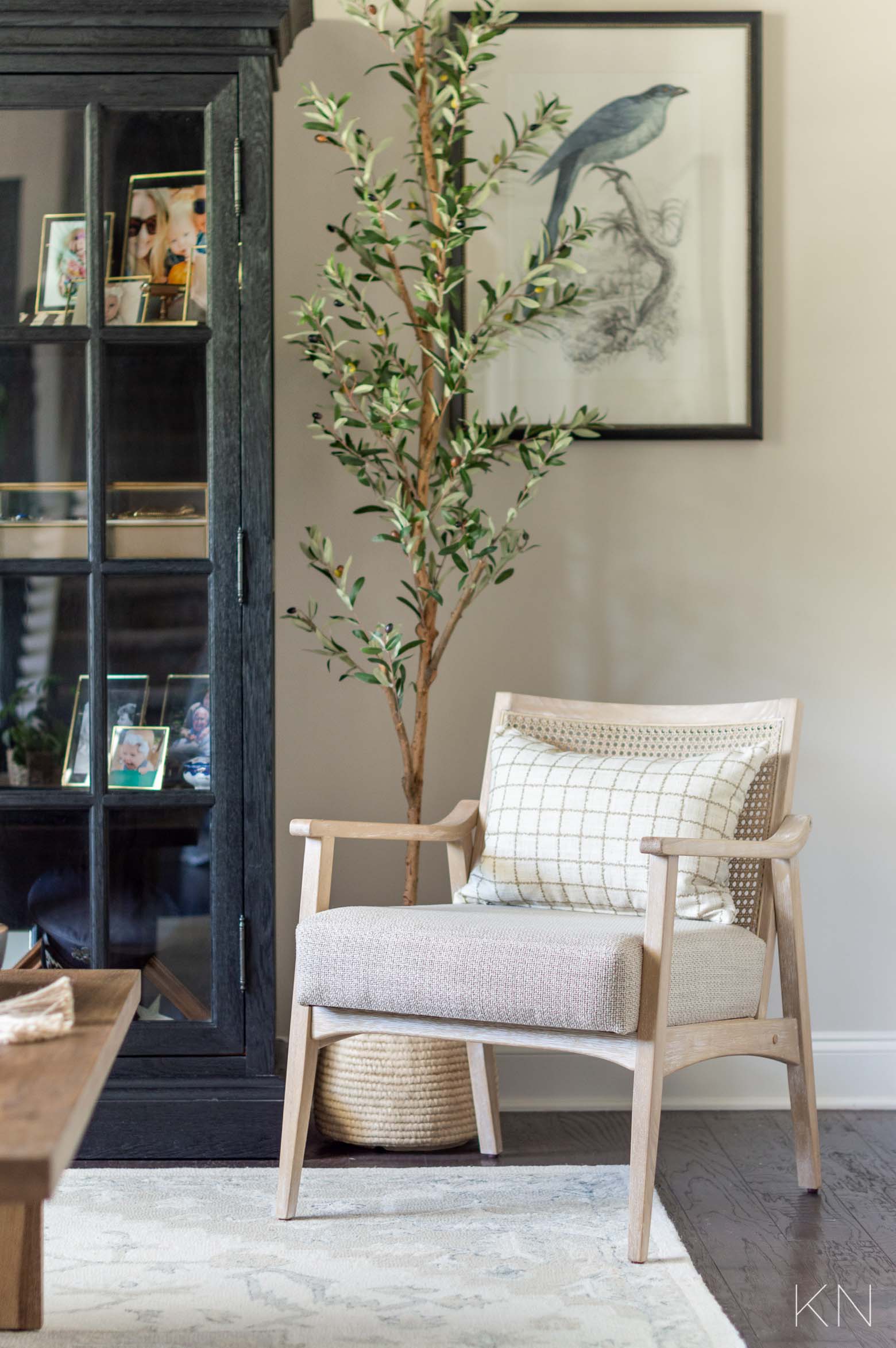 Sources: Faux Olive Tree — 25% off and ships for free! | Ceramic Basket Planter | Black Curio Cabinet (similar) | Cane Accent Chair | Bird Print Pair | Rug (8 x 10′)  
I'm a sucker for a good sink-side soap solution and I know you all are too — that's one detail I always get comments on when I share my kitchen sink. My mom scored THIS marble tray for her bathroom and opted for the small. It's the perfect addition to a sink and both the large and small are 35% off right now (and ship free). The small version is actually only $20 right now HERE.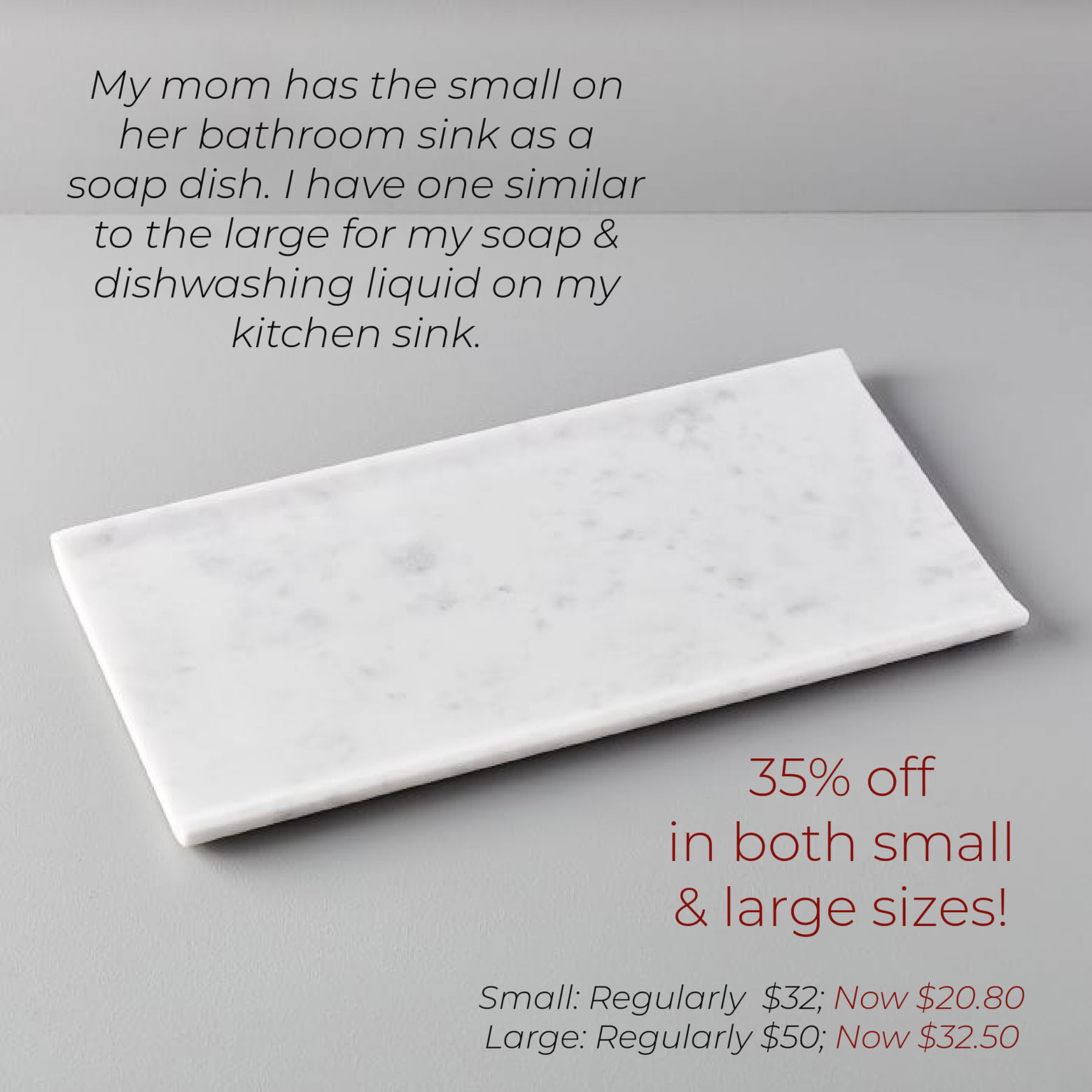 Source: Marble Trays
Some of my nicest lighting is 15% off this weekend with code BYESUMMER. I haven't shared two of them on the blog yet but my new bedroom chandelier can be found HERE and my new living room fixture can be found HERE (mine is the large size). A light you have seen before is my conversation room light HERE, that also qualifies for the discount.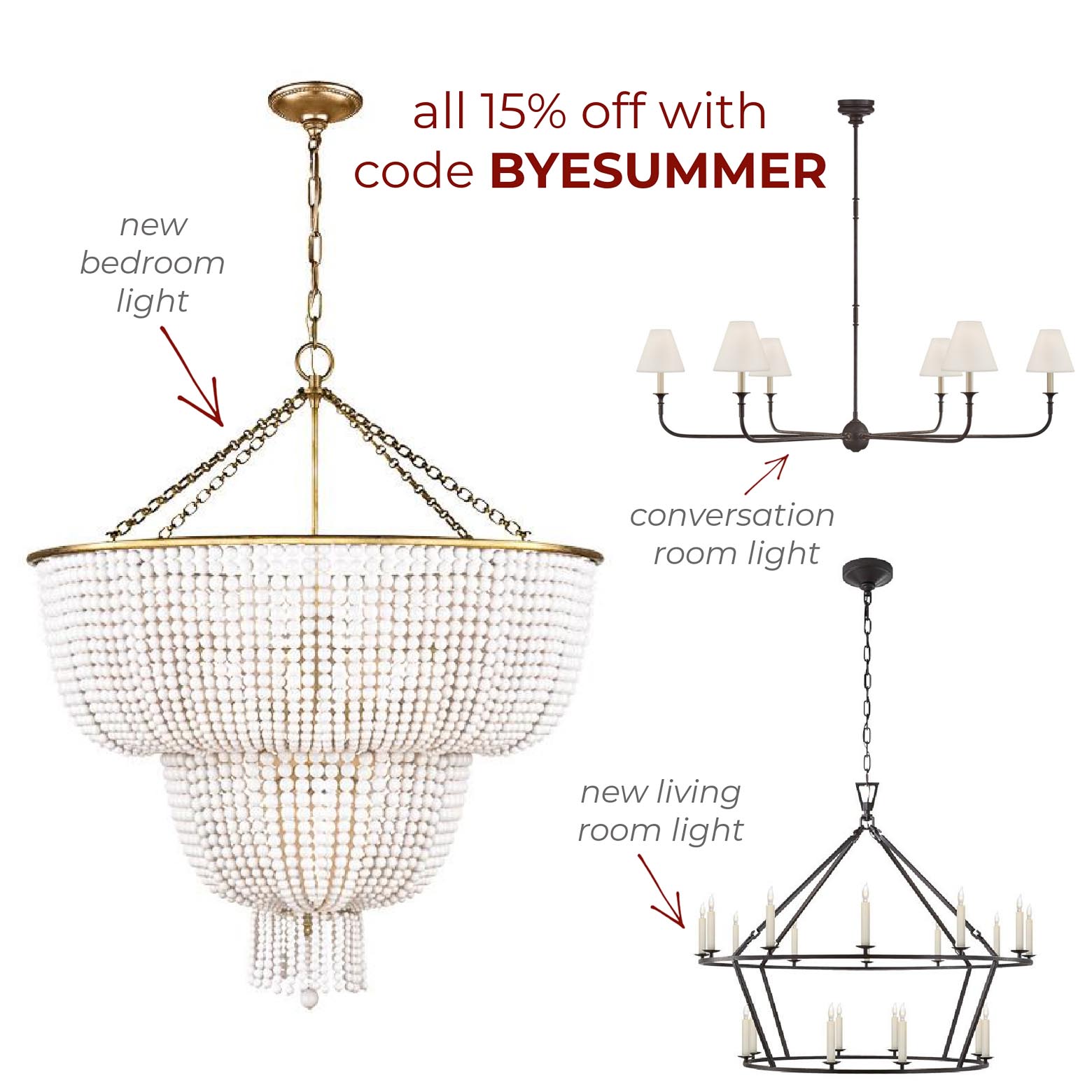 Sources: Beaded Chandelier | Chandelier w/ Shades | Two Tier Candle Chandelier
If you missed the sale on Volcano candles last week, good news! The mercury glass and iridescent with copper lid options are both on sale this weekend.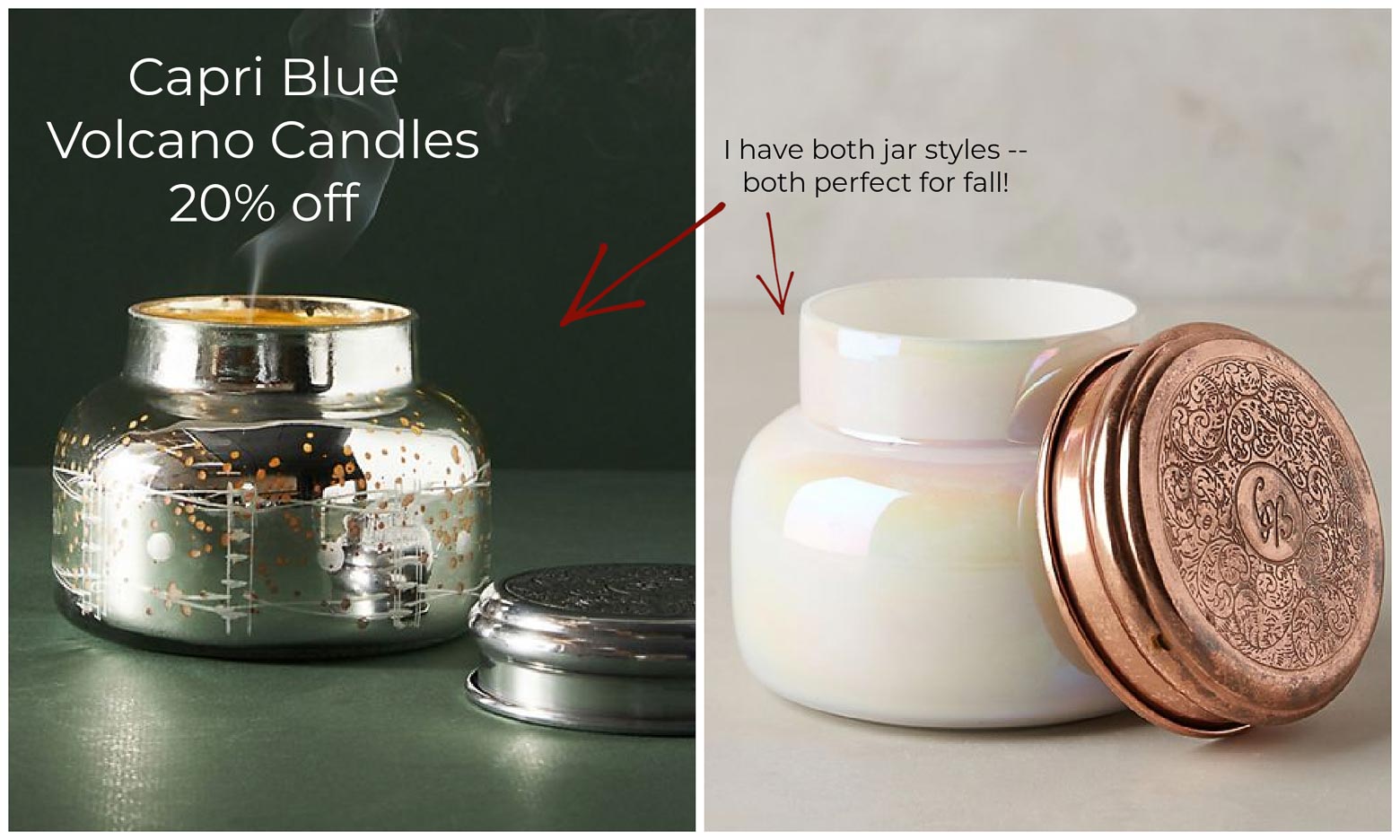 Sources: Mercury Glass Volcano Candle | Iridescent w/ Copper Lid Volcano Candle
Both my mom and I did score our annual planners this weekend — we'd been waiting for a sale to make the plunge and this weekend, they are 25% off with code LABORDAY HERE. This is the planner we've both used for the past few years and it's served us well. This version has 17 months and runs from August '21-December '22. You can see what the page layouts look like in the product listing photos HERE.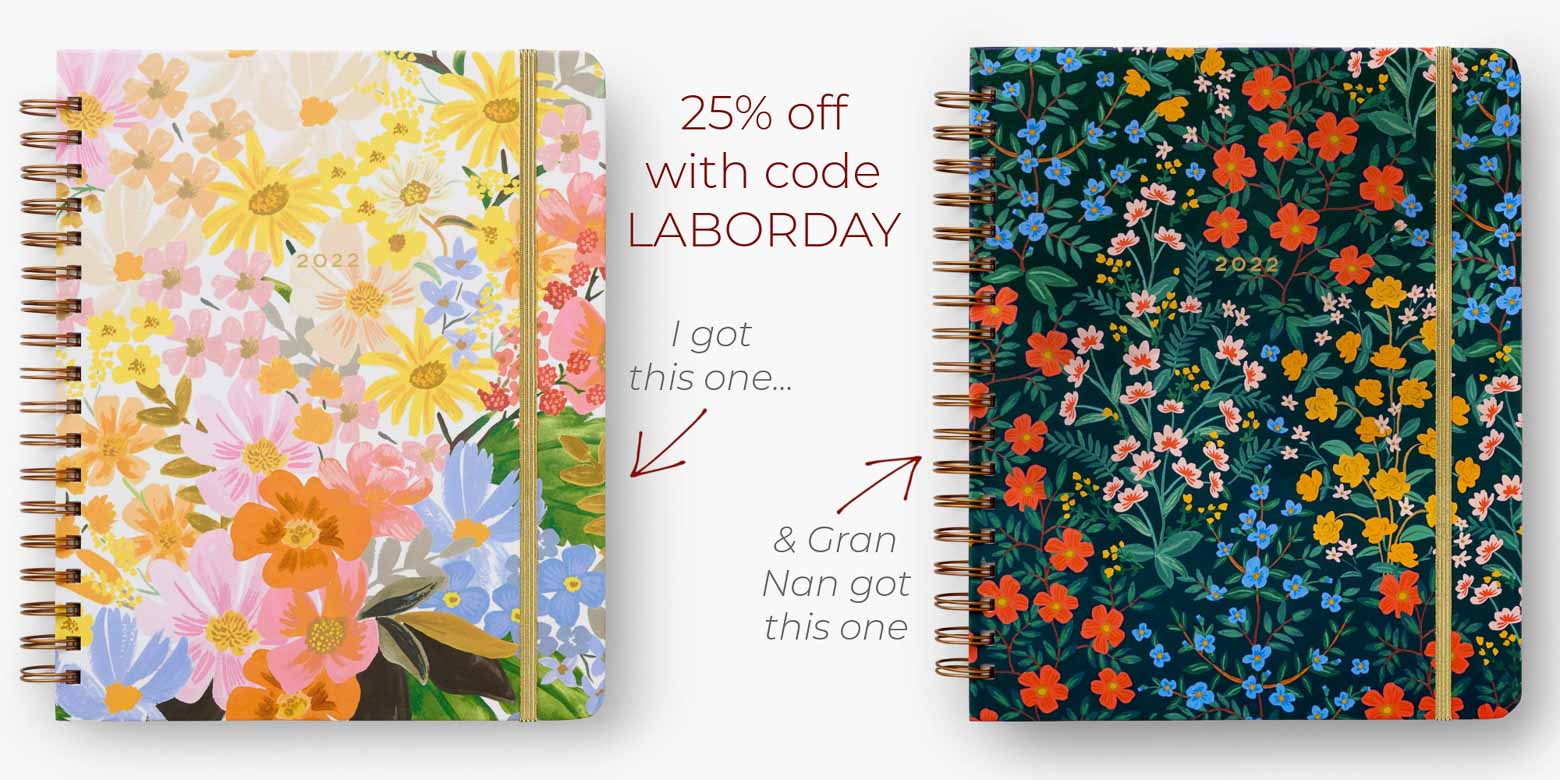 Source: 17-Month Planner
In terms of other  sales/sitewide sales, I'm sharing the most notable discounts from the retailers I frequent below. You can click on any retailer name below to browse.
Serena and Lily: Free Shipping on everything with code YOUPICK
Kitchen Counter Stools | Eliza's Crib | Macrame Crib Skirt | Gran Nan's Office Desk
McGee & Company: 15% Off Sitewide with code BYESUMMER
Conversation Room Chandelier | Living Room Chandelier | Master Bedroom Chandelier | Dining Room Lamp
Anthropologie: 20% Off ALL ready to ship; Free Shipping On Orders $50+
Lulu & Georgia: 20% Off Order w/ Code LABORDAY20
Loft: 50% Off 2+ styles; 40% Off 1 w/Code YIPPEE
Leatherology: 10% Off Sitewide w/Code DAYOFF10; Free Shipping On Orders $100+ or $5 flat Rate Shipping
Bloomingdale's: Extra 50% Off items labeled EXTRA 50% OFF CLEARANCE; 30 – 50% Off many items
Pottery Barn:  Warehouse Sale Up to 70% Off furniture, outdoor, bedding and more; extra 20% Off Clearance w/Code LABORDAY; Free Shipping on orders $99+ w/code LABORDAY
Pottery Barn Kids: Sale Up to 70% Off  hundreds of items; Extra 20% Off Clearance w/Code SUMMER; Free shipping on $99+ with code SUMMER
Pottery Barn Teen: Sale Up to 75% Off  hundreds of items; Extra 20% Off Clearance w/Code SUMMER; Free shipping on $99+ with code SUMMER
West Elm: Sale Up to 70% Off; Free shipping on bed, bath & more
Williams Sonoma Home: Warehouse Sale Up to 70% Off
Ballard Designs: Up to 30% Off Sitewide
Rifle Paper Company: 25% Off Sitewide with code LABORDAY; Free Shipping on $50+
My Favorite Planner
Wayfair: Up to 70% off; Free Shipping on Orders $35+ — Some of my favorite finds are on sale, including:
Entryway Mirror | Entryway Rug | Master Bedroom Chests | Guest Bedroom Lantern Chandelier | Guest Bedroom Mirror | Conversation Room End Table | Powder Room Wallpaper | Powder Room Vanity | Kitchen Faucet | Nursery Mirror
Janie & Jack: Extra 20% Off Sale on Sale for Up to 70% Off Many Items; Free Shipping
Old Navy: Up to 50% Off Everything
American Eagle: 25%-60% Off Sitewide
Kendra Scott: 20% Off everything
Macy's: 20% – 60% off — Extra 20% Off with code LABOR
The Company Store: 20% off sitewide with code H21LDW
Gap: Extra 50% Off sale items w/Code SALE; 30% Off everything else
RUGS USA: Up to 75% Off, some of my favorites are on sale! Free Shipping
Guest Room | Breakfast Nook | Living Room
Joss & Main: 20% Off Sitewide w/ Code TAKE20; Free Shipping 35+
Boutique Rugs: 60% Off w/ Code LABOR60; Free Shipping
Mark and Graham: Up to 70% Off Warehouse Sale; Free Shipping on $99+ w/Code FREESHIP
Nearly Natural: 25% Off First Purchase; Free Shipping
Olive Tree in the Conversation Room
*Exclusions May Apply
I hope you're all enjoying your Labor Day weekend. We started ours yesterday with a long walk (since the weather has been ridiculously amazing), followed by a trip to the park, lunch at a neighborhood burger joint, visit to Gran Nan's, some light chores and baking, and the inaugural game of the UGA football season last night.  Sending all the wishes for health, happiness, and healing your way today. xoxo