Whenever I share a room reveal, I often get requests to share more of the details of the space. I've also had requests to share how I mix "old" with "new" over the years and today, I'm marrying the two ideas to talk all about that glass door cabinet in our conversation room. I indicated in the reveal (HERE) that I would be doing a deeper dive to share just what was in that tall black piece — not only is it filled with an assortment of conversation starters (for the literal conversation room), but it's also one of my favorite moments in the house because of everything it holds. Styling glass door cabinets can be tricky because they are intended for display and there's not much room for hiding behind the clear fronts. But, that doesn't mean it has to be styled with perfectly coordinated decor. It also doesn't mean you can only include single collections of unique tchotchkes, acquired throughout a lifetime. Our cabinet is a culmination of many things and today, I'm breaking it all down and sharing how I've kept some sense of order and cohesion, while displaying a curation of the most random items and special mementos.
*Posts on KelleyNan.com may contain affiliate links. Click HERE for full disclosure.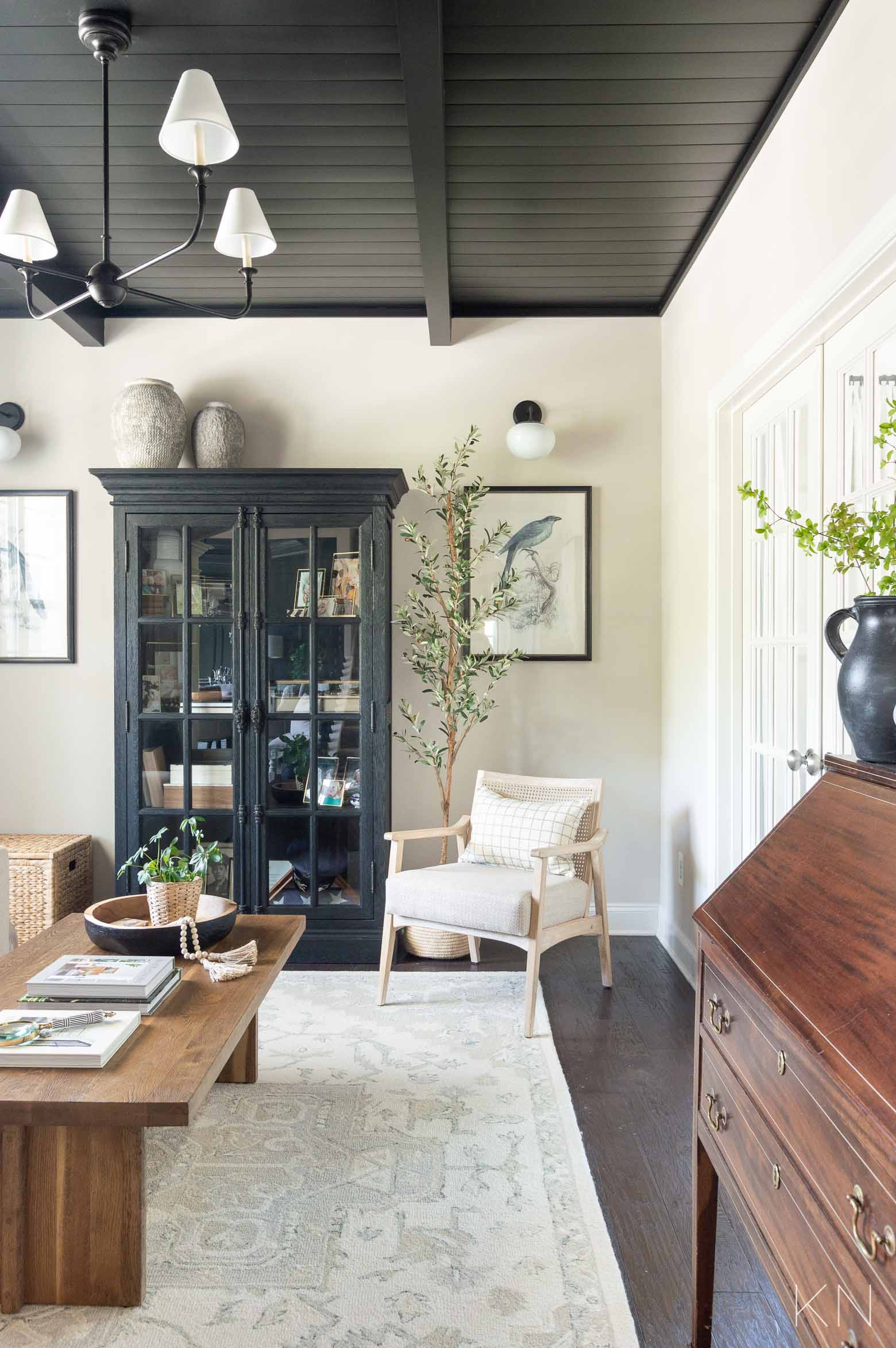 Sources: Chandelier | Sconces (similar) | Rug (8 x 10)| Bird Print Pair | Coffee Table | Black Carved Tray | Wooden Beads | Coffee Table Seagrass Planter (similar)| Cane Arm Chair | Lumbar Pillow | Faux Olive Tree | Olive Tree Pot (11″) | Black Ceramic Vase (small) | Large Cement Vase | Smaller Cement Vase | Large Gold Picture Frame | Small Gold Picture Frame | Water Hyacinth Storage Trunk
Before we jump into it, I do feel the need to defend decorative accessories, in general. Decor is just that — decor. It doesn't have to be functional decor and it doesn't have to serve a purpose. If it can make a spot in your home more beautiful and makes you happy from the visual, maybe that's all the purpose it needs. Decor doesn't have to have some deep-seated history or special story, either. I see others criticized from time to time for using books in their decor or for having mass-produced/easily accessible decor. Why? It's decor. If it makes the owner happy, that is its purpose.
Now that I've said my peace about that ( 😉 ), I'll say, I have a blend of both categories throughout my home. But, I never feel pressure to display something, just because it was given to me or has a story. I can usually find some way to use it but if not, I'll tuck it away in storage. But, that's not the story today. When I was designing and scheming the plan for our conversation room, I wanted to intentionally make space for lots of little family memories. Most of my special pieces and passed down family items are incorporated throughout the house — something here, something there — but I wanted this glass door cabinet to be totally dedicated to memories.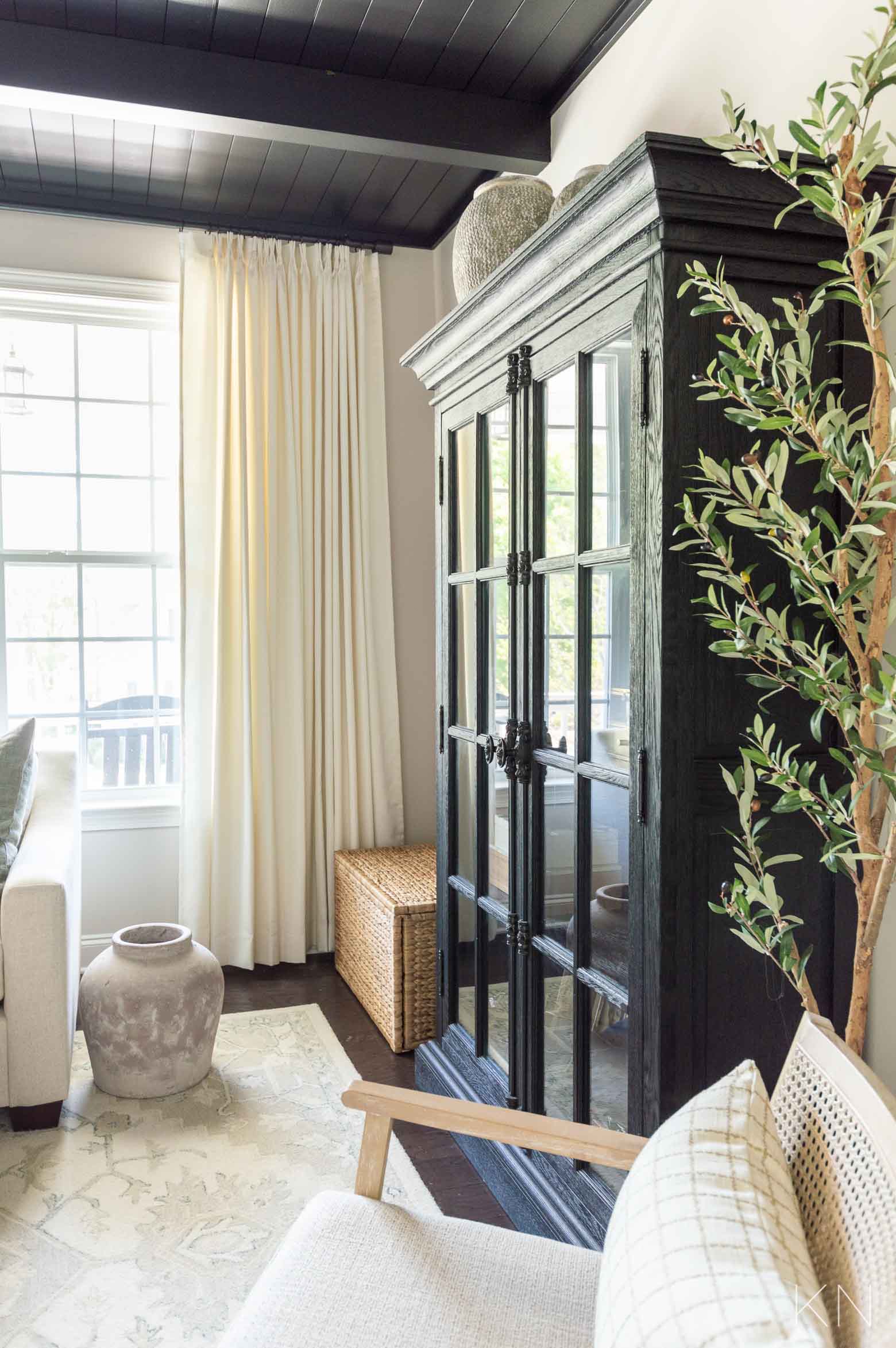 Sources: Curtains — Linen Weave Vanilla Bean | Curtain Rod | Curtain Rings | Loveseat | Large Terracotta Urn | Water Hyacinth Storage Trunk | Cane Arm Chair | Lumbar Pillow | Faux Olive Tree 
How to Style a Glass Door Cabinet
I have tons of family mementos — many so small, they wouldn't "stand alone" well. But together as a collection? Well, I thought I could do something special with that. While the mementos obviously don't "coordinate" aside from the fact that they're mostly antique, I took advantage of frames, storage, and additional accessories to bring it all together.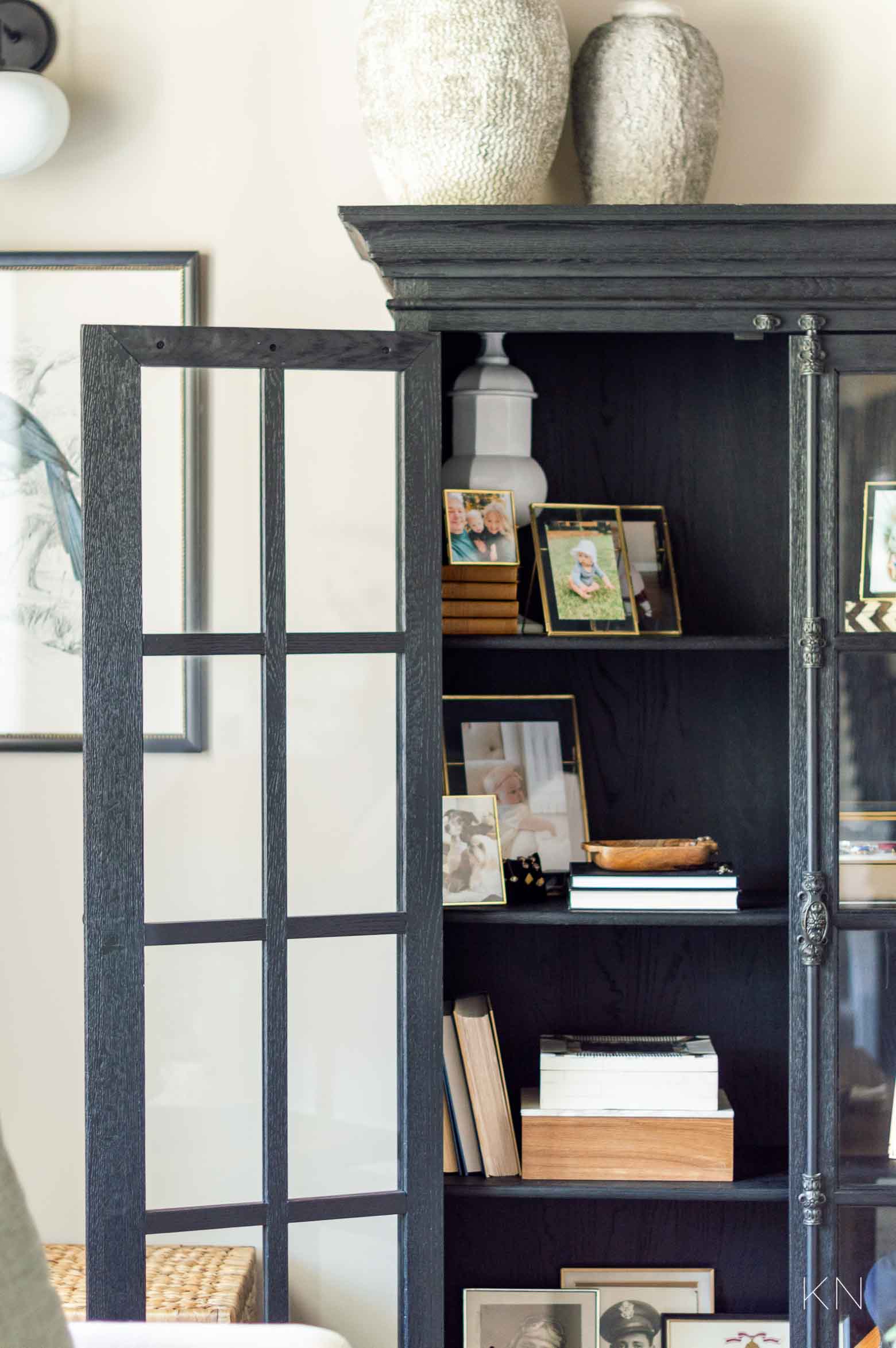 Sources: Small Wooden Bowl | Large Metal Picture Frame | Smaller Metal Picture Frame
Along with special moments we've collected from our families, I wanted to showcase more photos. Especially since Eliza came along, I just felt like we didn't have enough photos on display and this glass door cabinet was the perfect opportunity to showcase some favorites. Here's what I did to display it all.
1. Determine Complimenting Colors/Finishes
After taking inventory of what I wanted to display inside the glass door cabinet, I chose storage and frames based on the room along with the display items. Earthy finishes with a little brass and some white for contrast is what I decided on. Because all the mementos are in lots of colors, I wanted to keep the surrounding decor and storage more cohesive.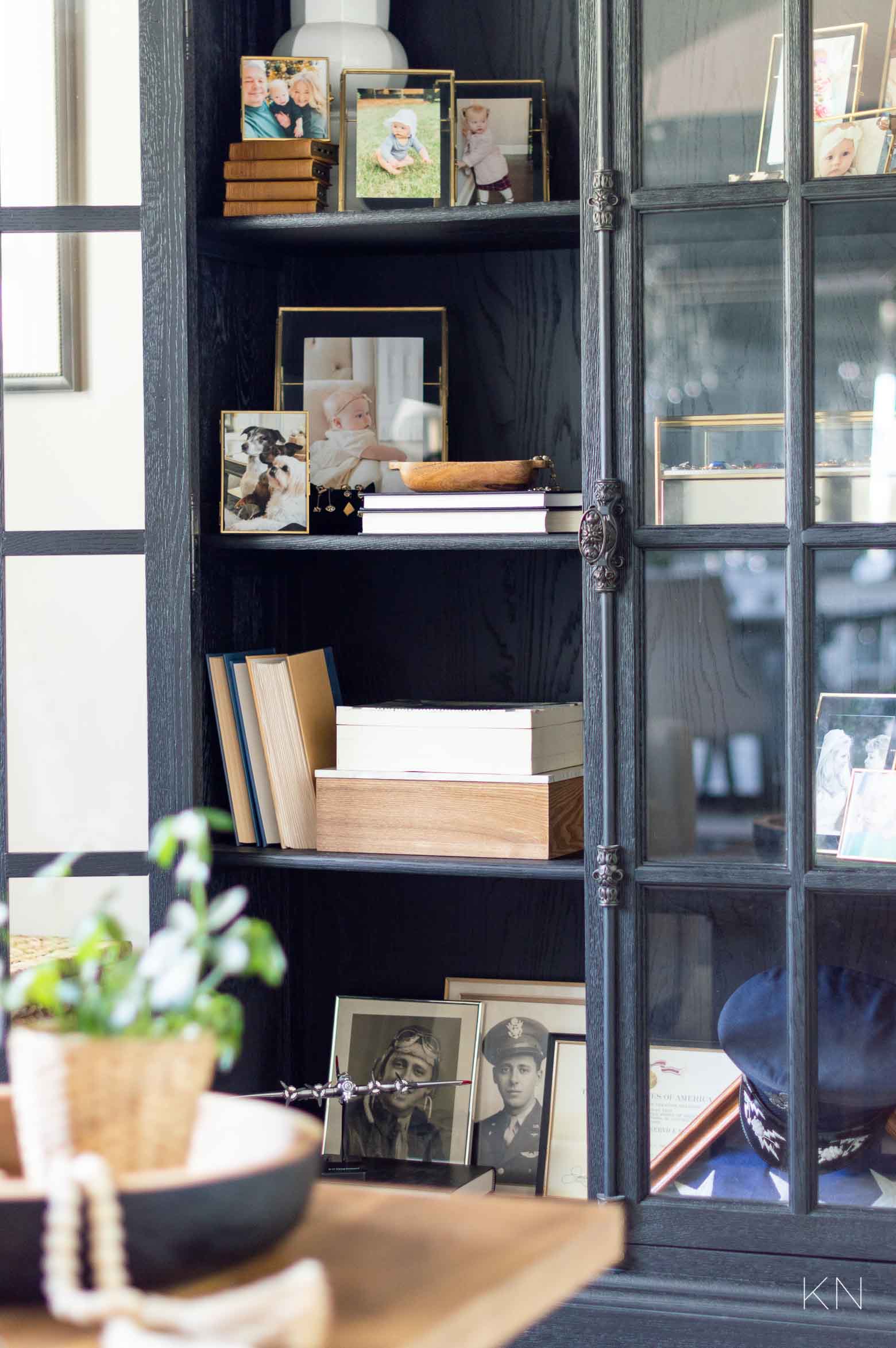 2. Group Like Items and Determine Display & Storage Solutions
I took a walk down memory lane and also set back and listened as my mom told me stories about each item and why it was special. If you've never done this, I definitely recommend it! She re-told stories from when my grandparents went to UGA and stories she'd been told about her grandparents. I learned more about their careers and life highlights and we even made a few joint discoveries, sifting through old boxes. I pulled a lot of items and sorted them in categories and started figuring out what made sense in terms of display. I pinned my grandparents' sorority and fraternity pins to a velvet watch pillow (you can find them in packs on Amazon HERE)…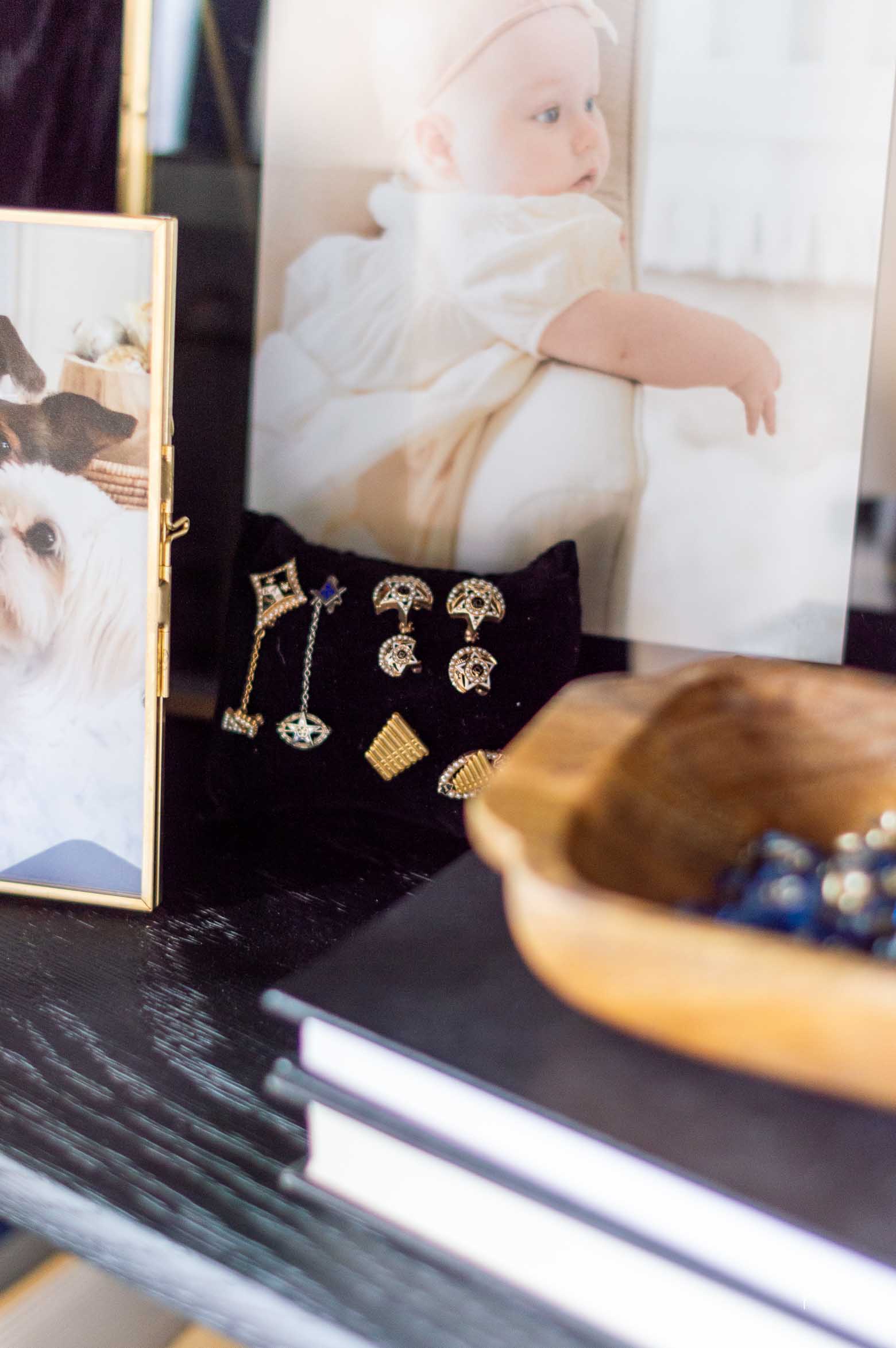 and I used THIS small wooden dish to corral several strands of rosary beads.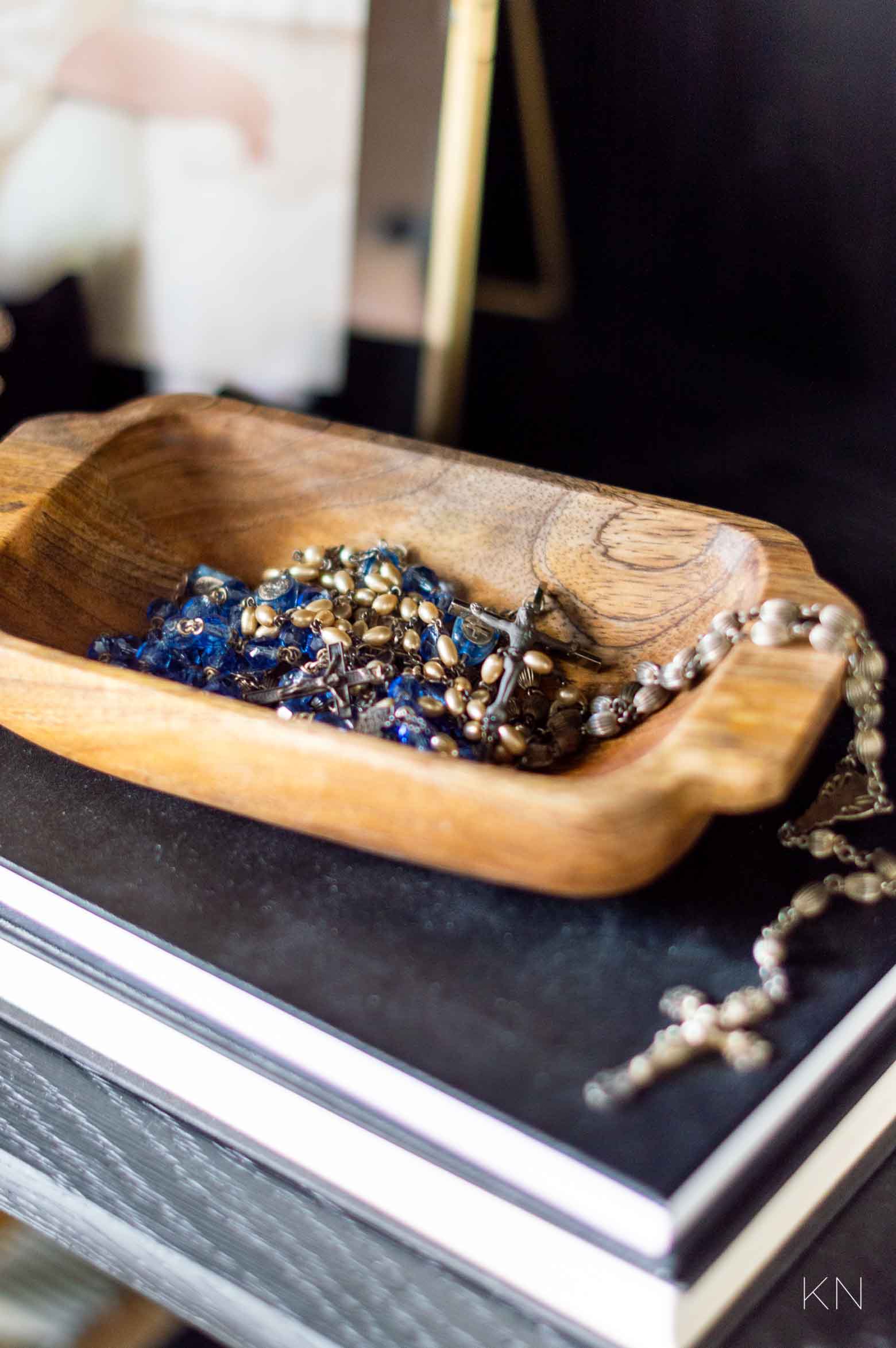 And, not everything has to be "displayed" to be included. Similar items that I wanted accessible and with the display items can be tucked away in stackable boxes on the shelves. In terms of decor (and functional decor), I don't think you can ever have too many boxes — they are awesome stacked on books, stacked on each other, or standing all alone on bookshelves.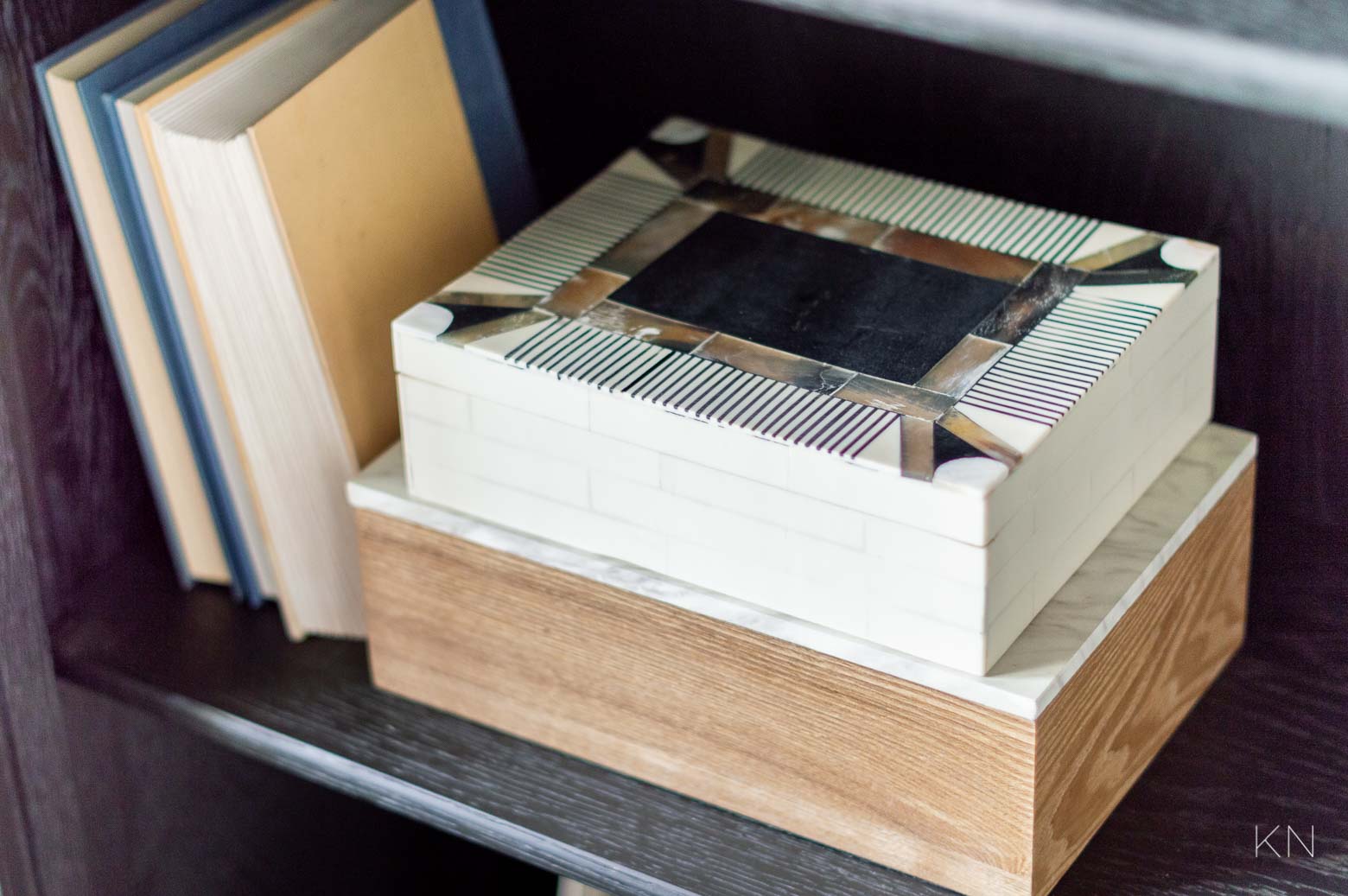 Scroll & Tap to Shop Boxes


My favorite box and display in the black glass door cabinet though is my brass framed shadow box. While it lent itself well to displaying everything from my parents high school keys and my grandmother's DAR membership card, it also has a pull-out drawer where I've stored important keepsakes and the original boxes for everything on display.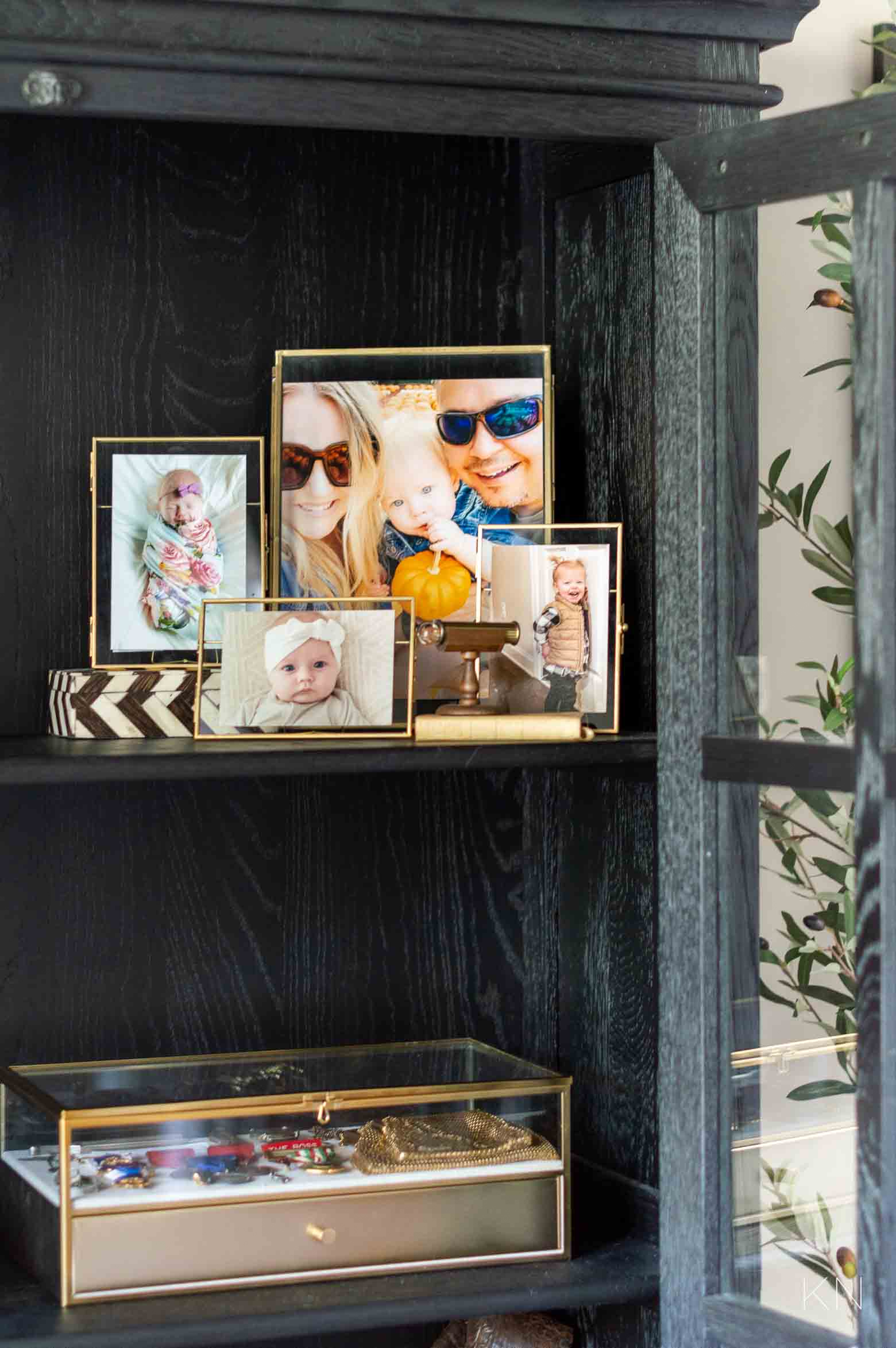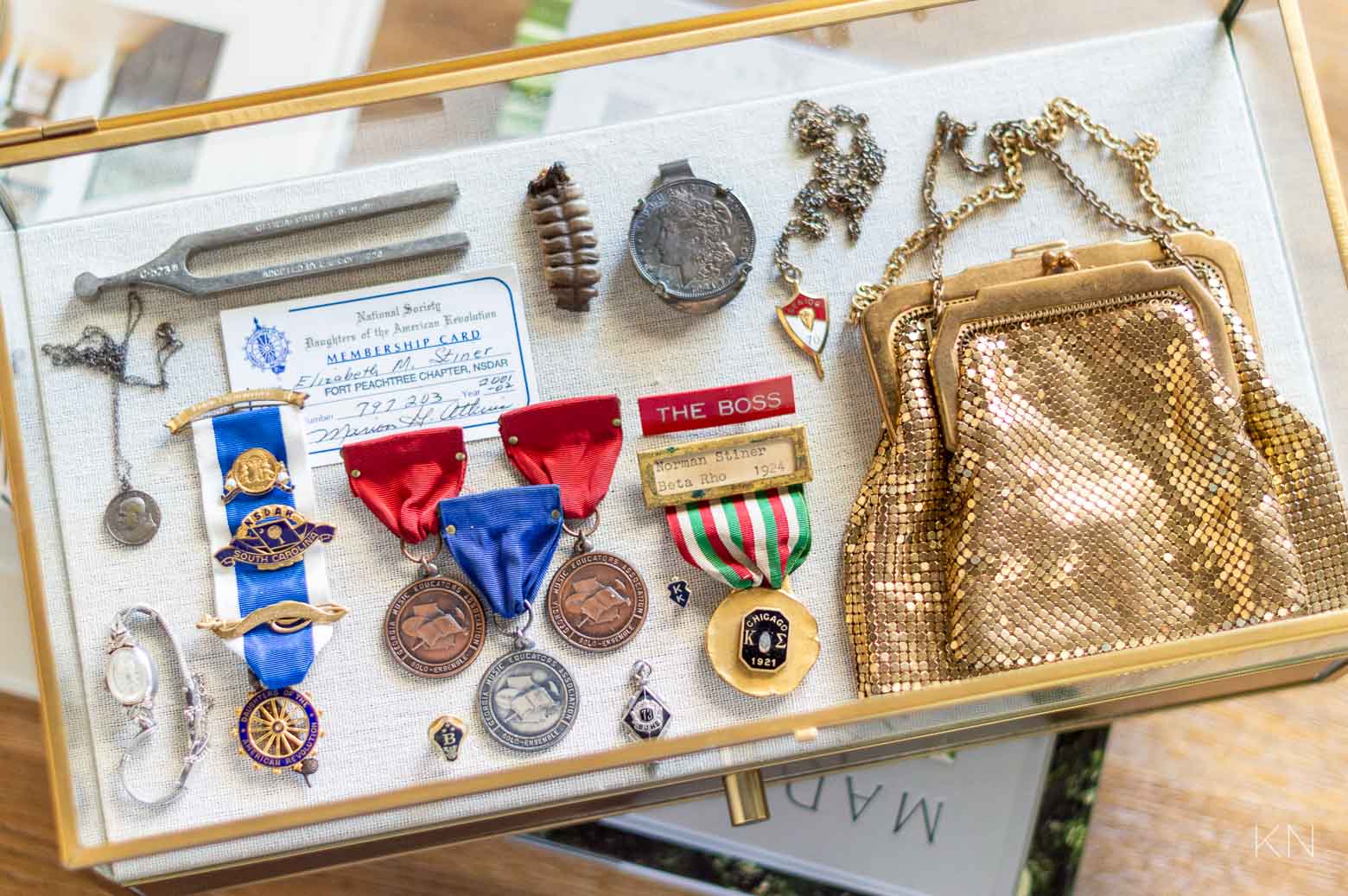 Scroll & Tap to Shop Display Boxes

While I have more small items, Dave has some incredibly cool and special keepsakes from his family. Dave's grandfather's rifle scabbard (a gun holster that mounts onto a horse saddle) from Mexico is propped in the corner…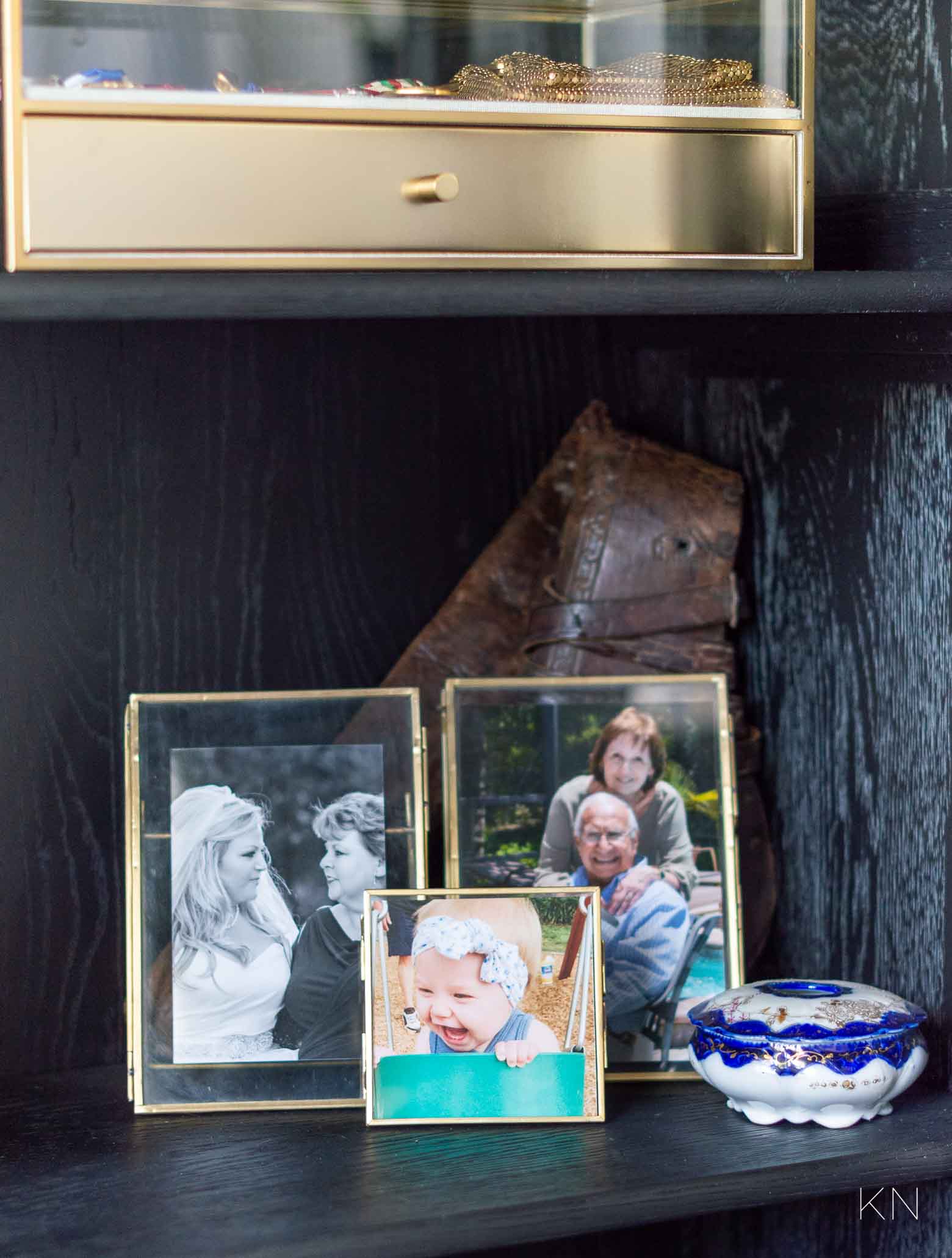 and his other grandfather was a decorated military service member who served during the WWII era. He was a B17 pilot in the Army Air Corps and was a POW in Germany for a few years — he ultimately retired as a Lieutenant Colonel. Dave was so moved to receive some of the incredibly special items from his mom a few years ago and I'm so glad we finally got them out so they can continue to be seen and talked about.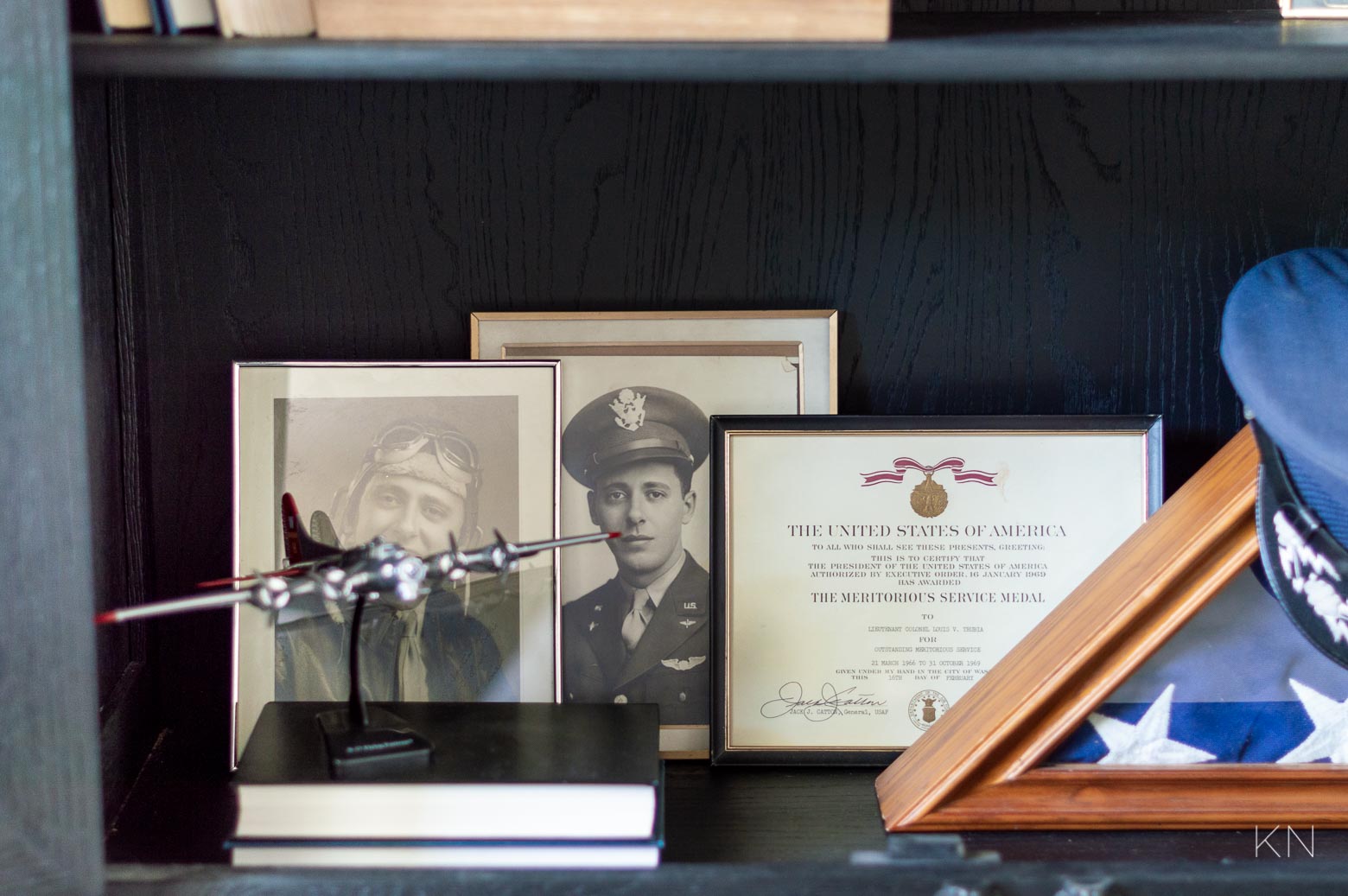 From a marble kaleidoscope my grandmother gifted me as a little girl to a pocket bible she had gifted to her grandmother, so much of what is included in this glass door cabinet is sentimental. In contrast to the "old", I incorporated photos in uniform, more modern slim brass frames.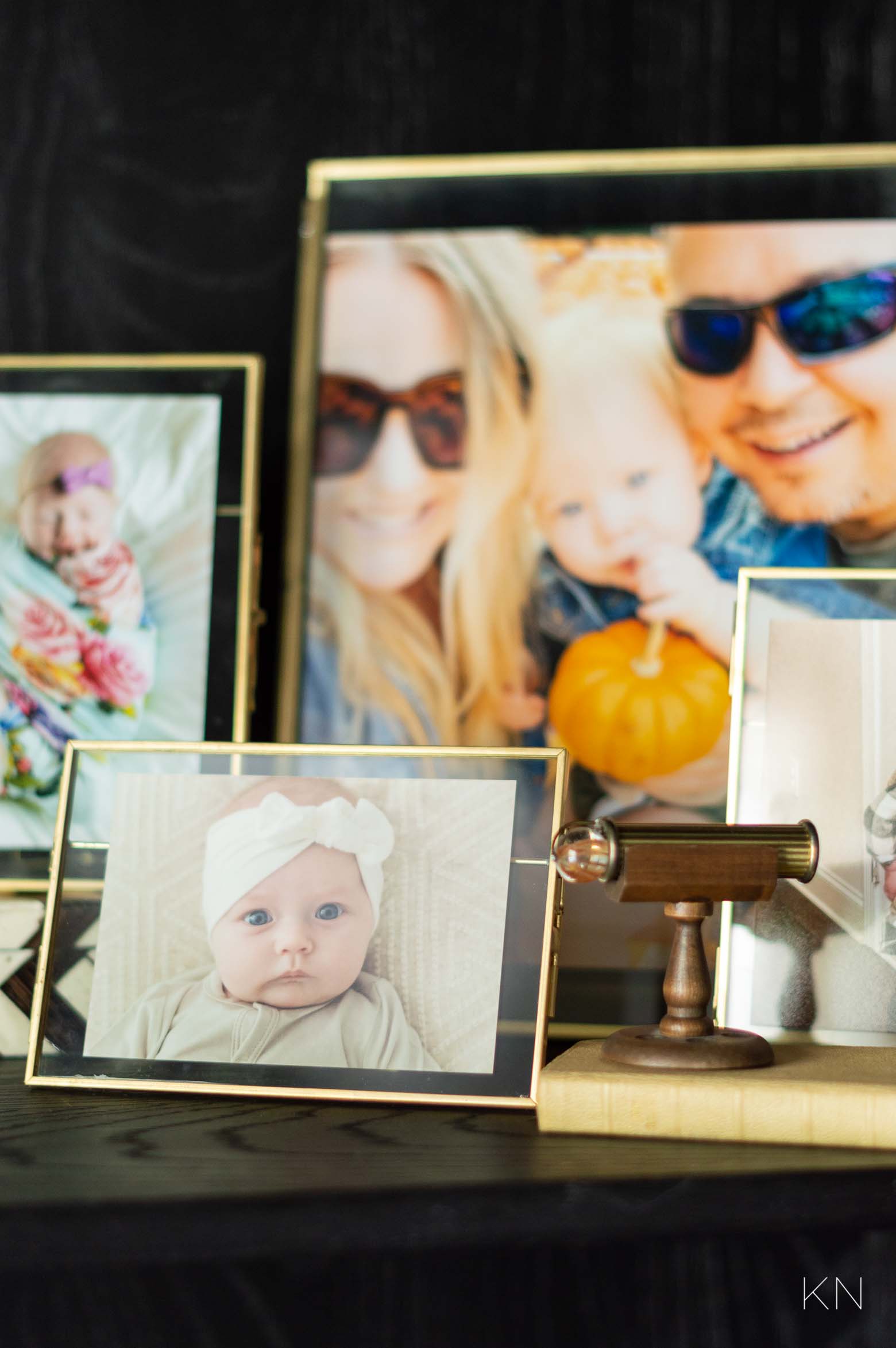 Scroll & Tap to Shop Photo Frames

3. Layer, Stack (and Layer Some More)
To give the glass cabinet shelves a curated, intentional look, I layered items both front to back and vertically. Where I could, I let the keepsakes serves as pedestals, too.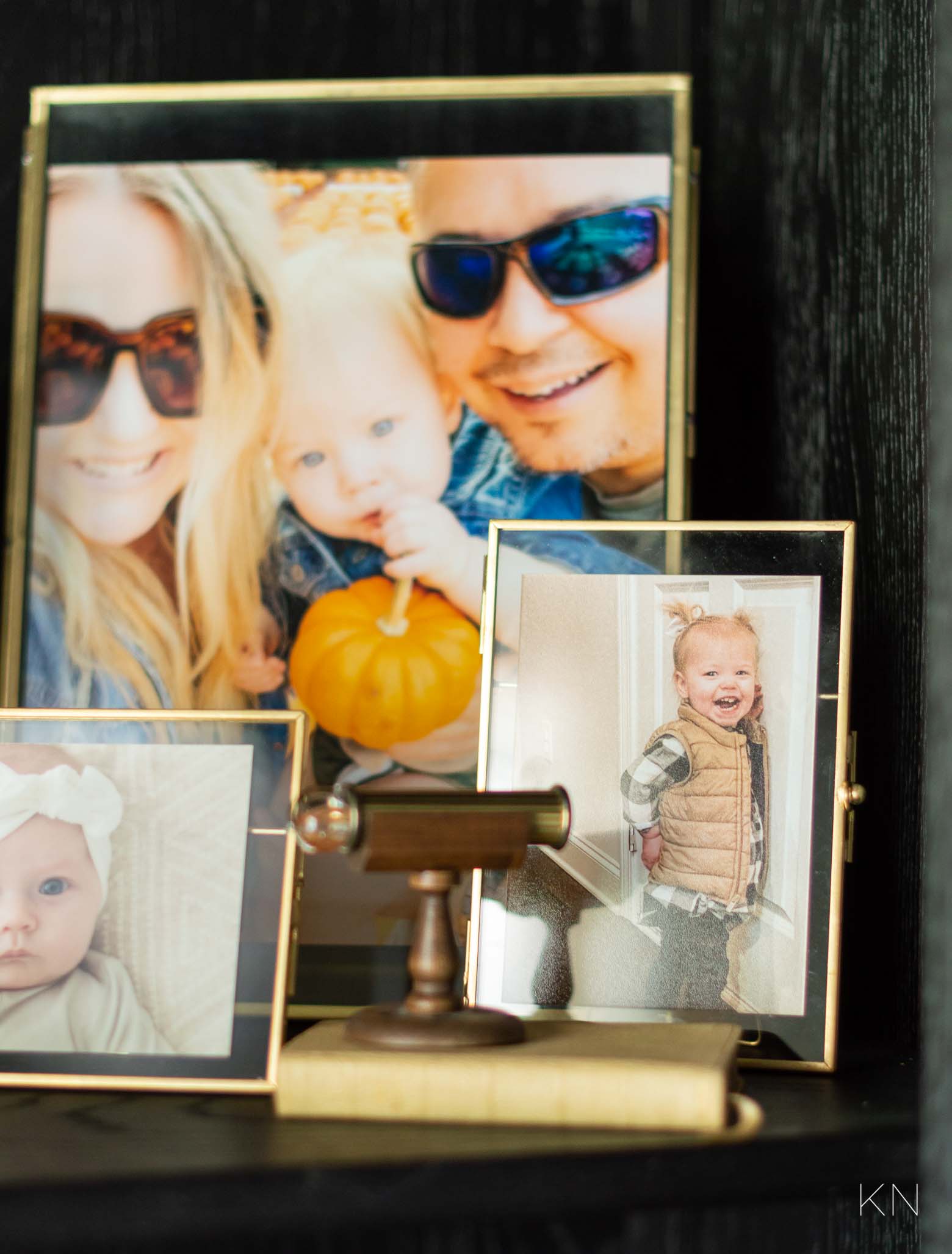 This little stack of faux books was labeled with my mom's name, along with her siblings and dad. They were small "secret" banks she always remembered fondly from her childhood.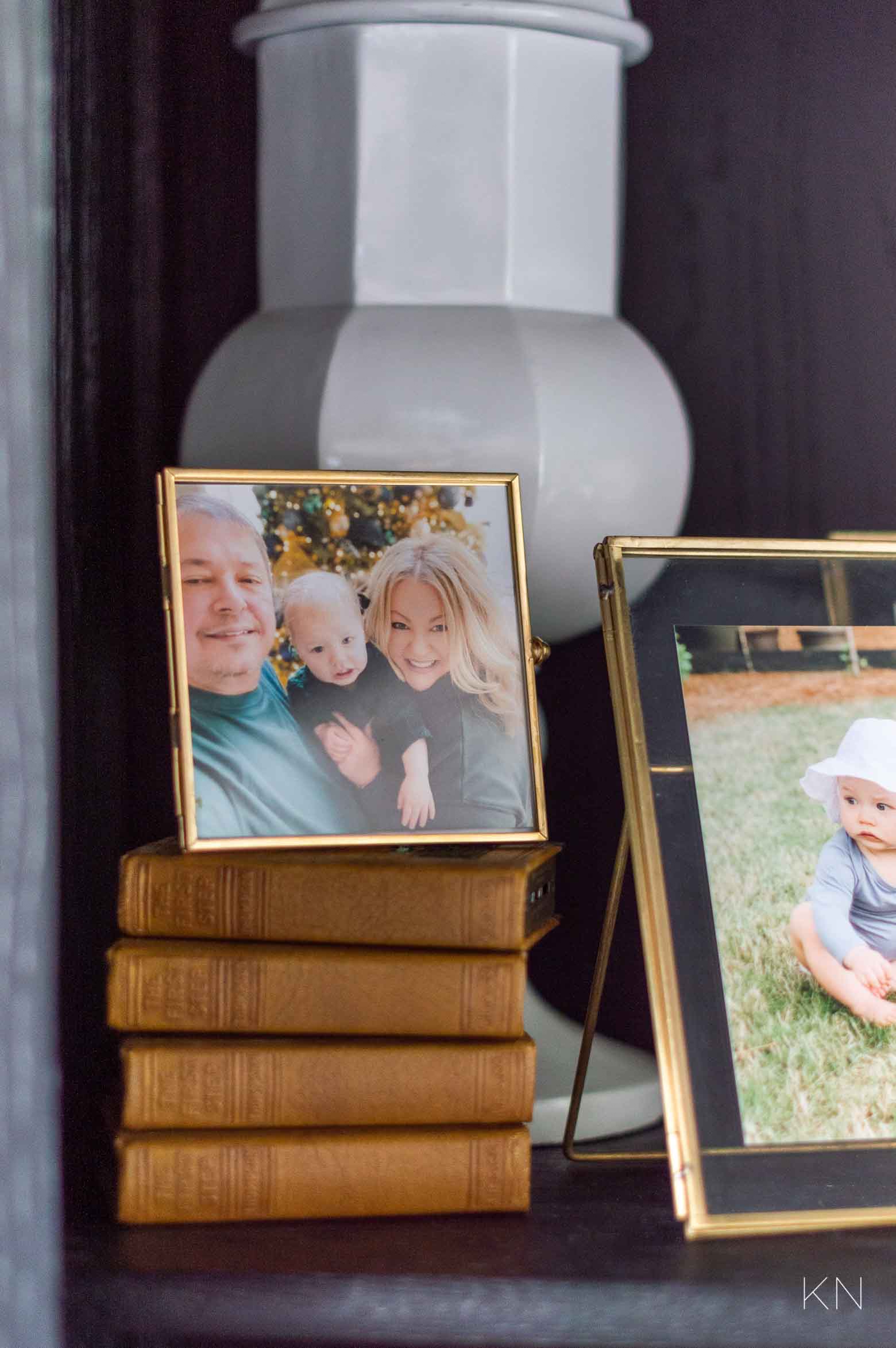 I used different sized photo frames to stagger about, and when I needed height, I incorporated a few decorative accessories I had on hand. Without having something to fill some of that vertical space above each shelf, the mementos and photos would have looked really short, linear, and would have fallen flat.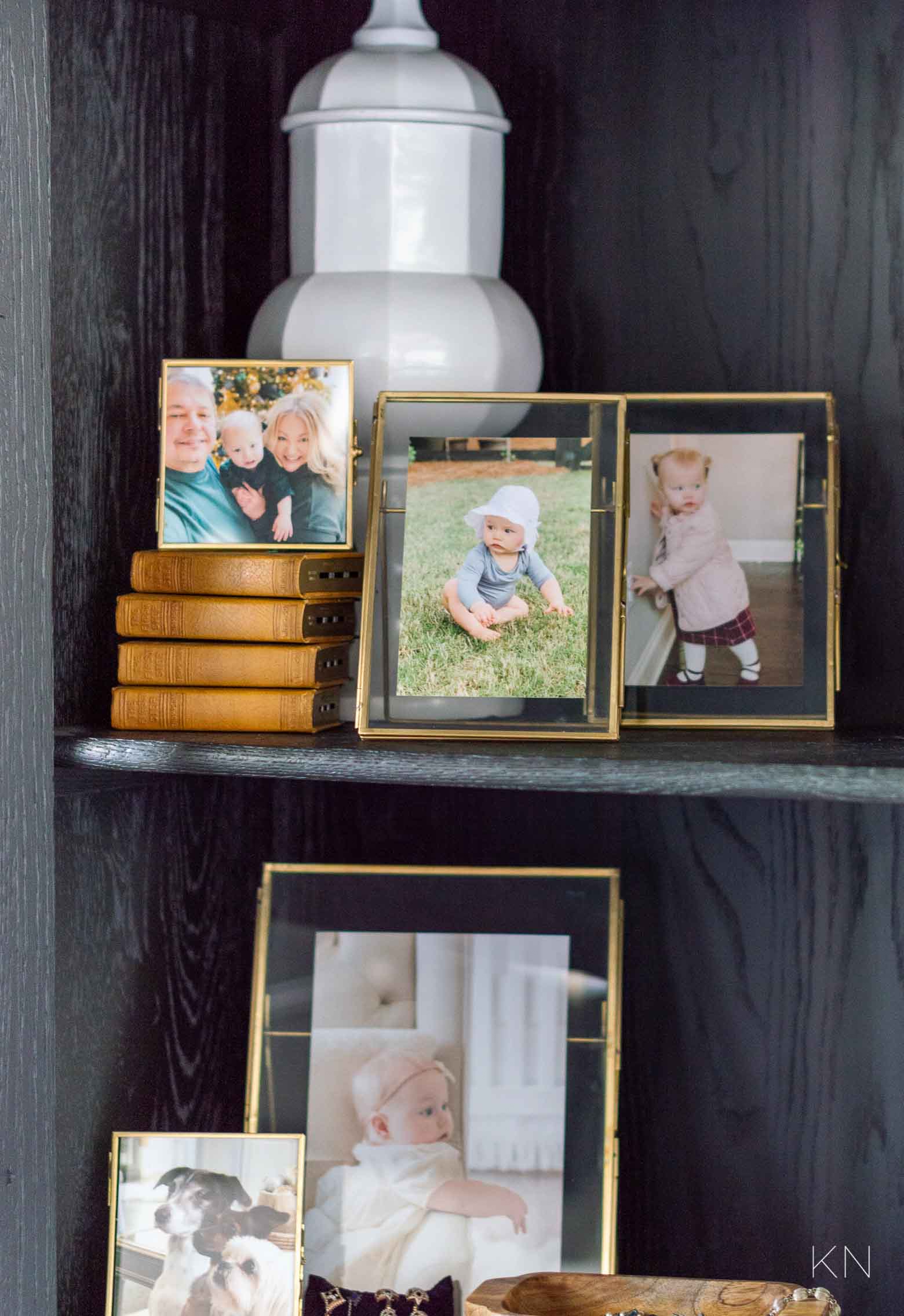 Also, most of my framed photos are quick shots from my iphone. You don't have to exclusively display only professional photos. And if you're worried about the quality, print it in black and white — that hides almost any imperfections 😉 I use Mpix online for printing all my photos.
With a door frame and latch running down the center of the cabinet when closed, I styled each shelf half — one left and one right side — for the most part.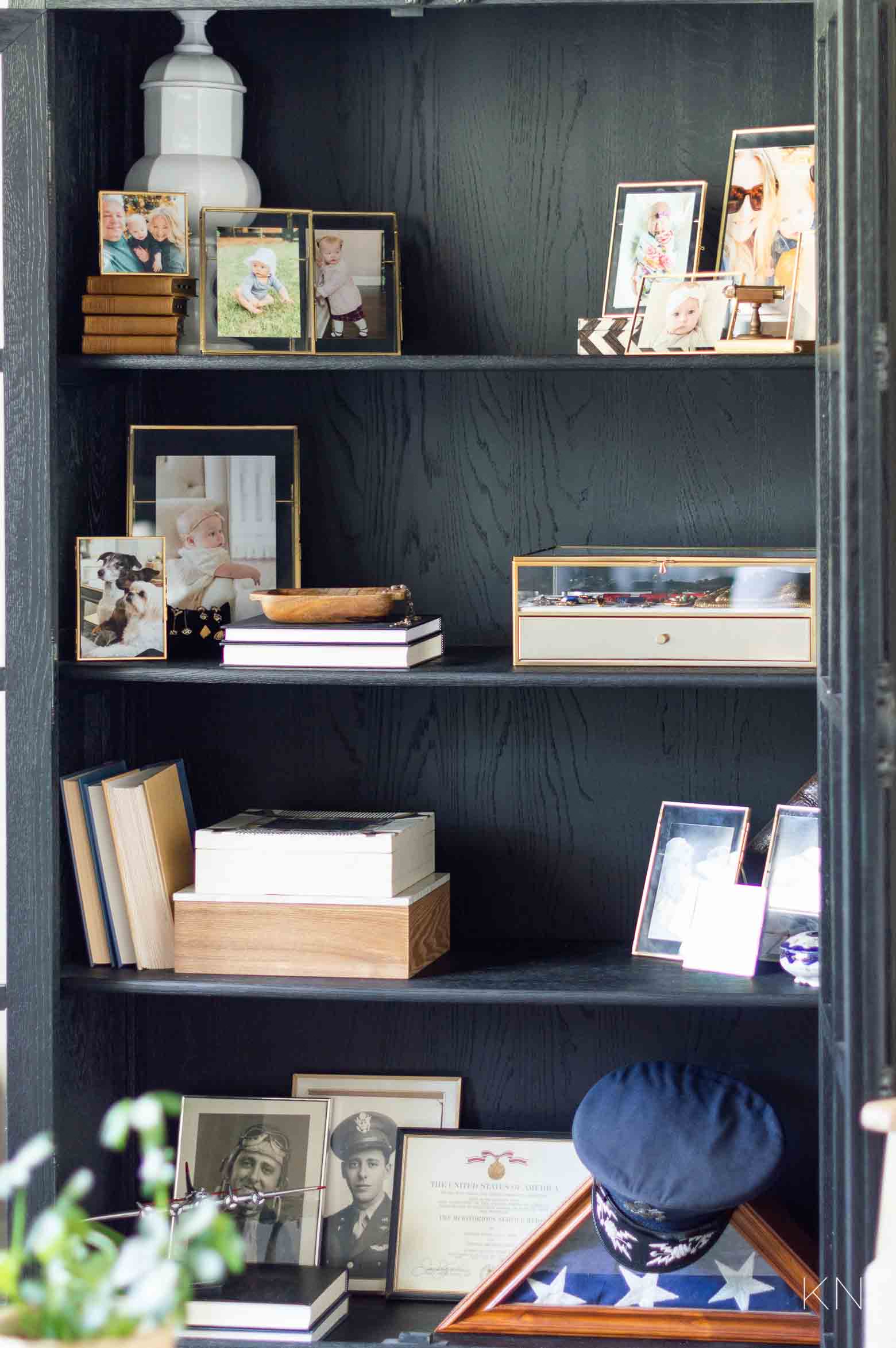 By having a closed door cabinet with glass doors, it feels more like a protected collection of memories, rather than overt shelf decor. And, if you typically aim to decorate your surfaces with more cohesion, glass door cabinets are an awesome way to incorporate and display special family mementos, without having them overpower a space.
15 Favorite Glass Door Cabinets
I scored my black casement cabinet several years ago at the RH outlet and to this day, it's remained one of my favorite pieces. It's timeless and is so multifunctional. From displays in a dining rom or living room to a way to a solution for exhibiting your family photos and keepsakes, I'm sharing some of the prettiest, transitional glass door cabinets out there. While an investment, many are on sale right now. And, most come in a few different color finishes and several come in different size options!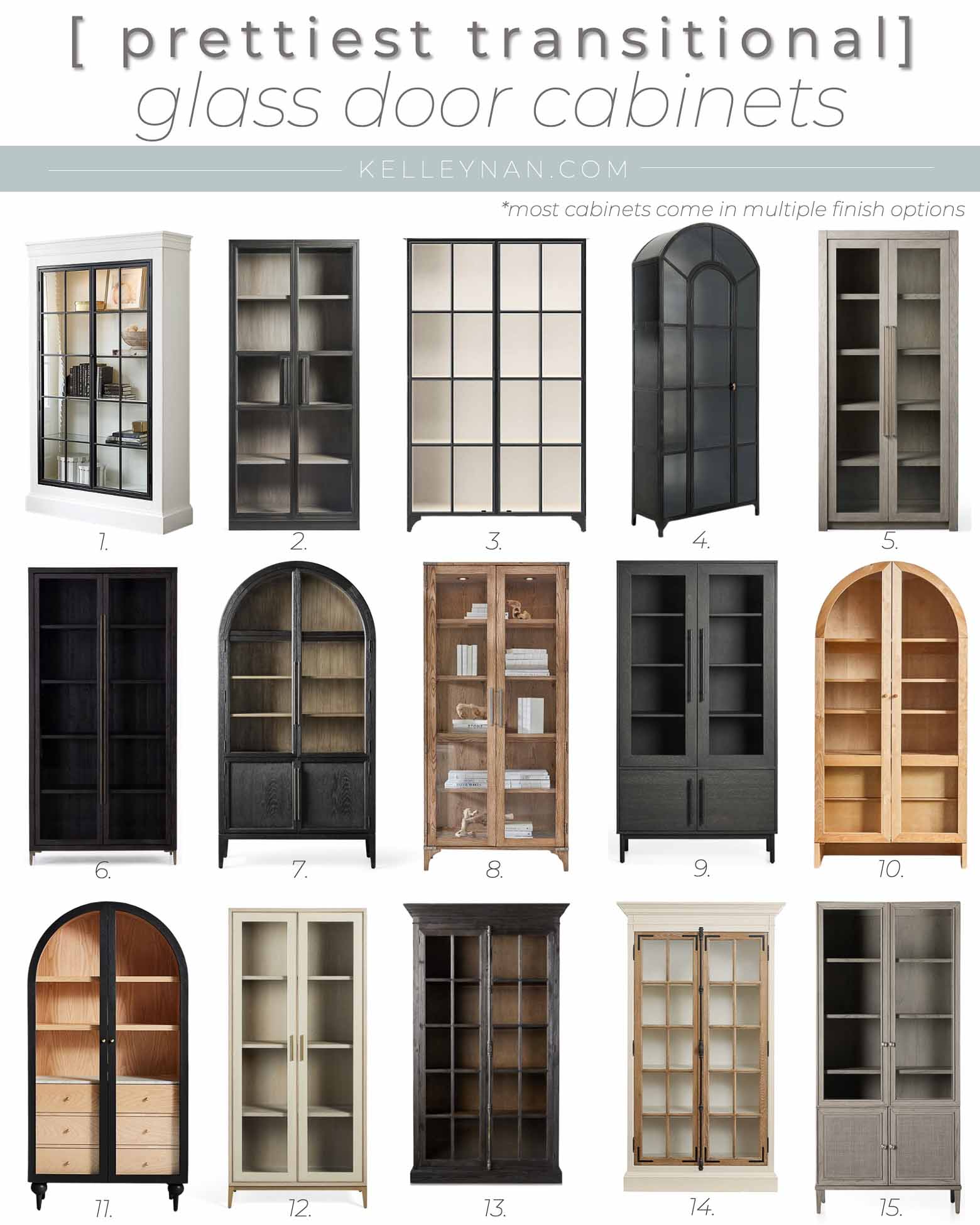 Sources: 1 | 2 | 3 | 4 | 5 | 6 | 7 | 8 | 9 | 10 | 11 | 12 | 13 | 14 | 15 
One thing I love about so many of these glass door cabinets is that while the concept and basic construction is classic, a lot of these pieces have more updated statement hardware and details.
Do you display your family moments, keepsakes, and special items that have been passed down? When I had some girlfriends over recently, a couple of them were so enamored with what each thing was and commented "I want something like this!" Well, it's easy to display them when you have a designated go-to as a "home" for them. And, I bet once you have a designated spot, your parents/grandparents/etc. will probably be more eager to pass a few things along.
Shop Glass Door Cabinets