Last week, I shared the "why" and start to one of my latest (unplanned) room makeovers. You can catch that post HERE with all the details, the plan, and how we got "here," but long story short, and to catch you up, a misstep in replacing the tile floor resulted in a full (yet, still "mini") makeover of my office bathroom. But, unlike my typical makeovers, this one was initiated by accident and I had lots of constraints to work around — as well as a much tighter budget than what's going on in the master bathroom (see the latest update on that project HERE). I started with an inexpensive floor tile that was selected to go with dark cabinets that were previously in the space. And then on a whim, a vanity had to be grabbed locally and the rest is history. Using what I already had, and when I saw this space would — in fact — need to be painted, like my other impromptu projects, I tried to see it as an opportunity instead of a series of inconvenient mistakes (haha). Today, I'm sharing the halfway point of our office/guest bathroom progress — and for the first time ever, I have colorful walls. And, not just colorful, but a bathroom with pink walls!
*Posts on KelleyNan.com may contain affiliate links. While this post is created in partnership Farrow & Ball, all opinions, concept, and creative are my own. Click HERE for full disclosure.*
You can see the final Office Bathroom Reveal HERE.
Choosing Pink Paint for a Small Bathroom
Again, I did share some of my thought process and details in the plan post for my small bathroom HERE, but in identifying this bathroom makeover as an opportunity to step outside my typical comfort zone — as I did in our powder room (HERE) — I was totally inspired by a bold, colorful floral shower curtain. And that was my jumping off point. But, instead of creating a totally bold space, I decided to go the route of a bold moment, with feminine details. With a white vanity and flooring and a colorful shower curtain, the difference between the two totally lies in the paint choice.
Farrow & Ball Color Consultancy
Find out more details on Farrow & Ball's Color Consultancy HERE.
Raise your hand if you most certainly reach some level of analysis paralysis when it comes to choosing the "right" paint color. If I could raise 10 arms, they would all be raised. I've talked about this pain point multiple times here on KN — I'll never forget that paint-in-the-kitchen debacle! I think I ended up with 20 paint can samples with swatches slathered on every wall and still couldn't decide?! Well, as I said, when the opportunity arrived to do something different in the office bathroom, and after deciding on a shower curtain as a jumping off point, I started leaning into the idea of going pink for the walls. But, not a nursery (baby) pink and not something bright… a "mature", warm pink. And that's where I was when I met with Patrick O'Donnell, international brand ambassador and color expert with Farrow & Ball.
They're high quality and eco-friendly and I've long admired Farrow & Ball and their infamous use of gorgeous color that they're so well known for, but using color is… well… intimidating. Fortunately, they've identified that direction and affirmation of selecting paint is a feeling and need for just about everyone. As an answer to that widespread challenge, Farrow & Ball has implemented a color consultancy service — both in person and virtual — to help guide you in your decision when determining paint for your space. (*Note: in-person consultancy has been put on hold for the time being, so virtual is an awesome option to explore!) So, before making any moves in my office bathroom, I had a virtual meeting with Patrick. And, it was simple, valuable and brilliant.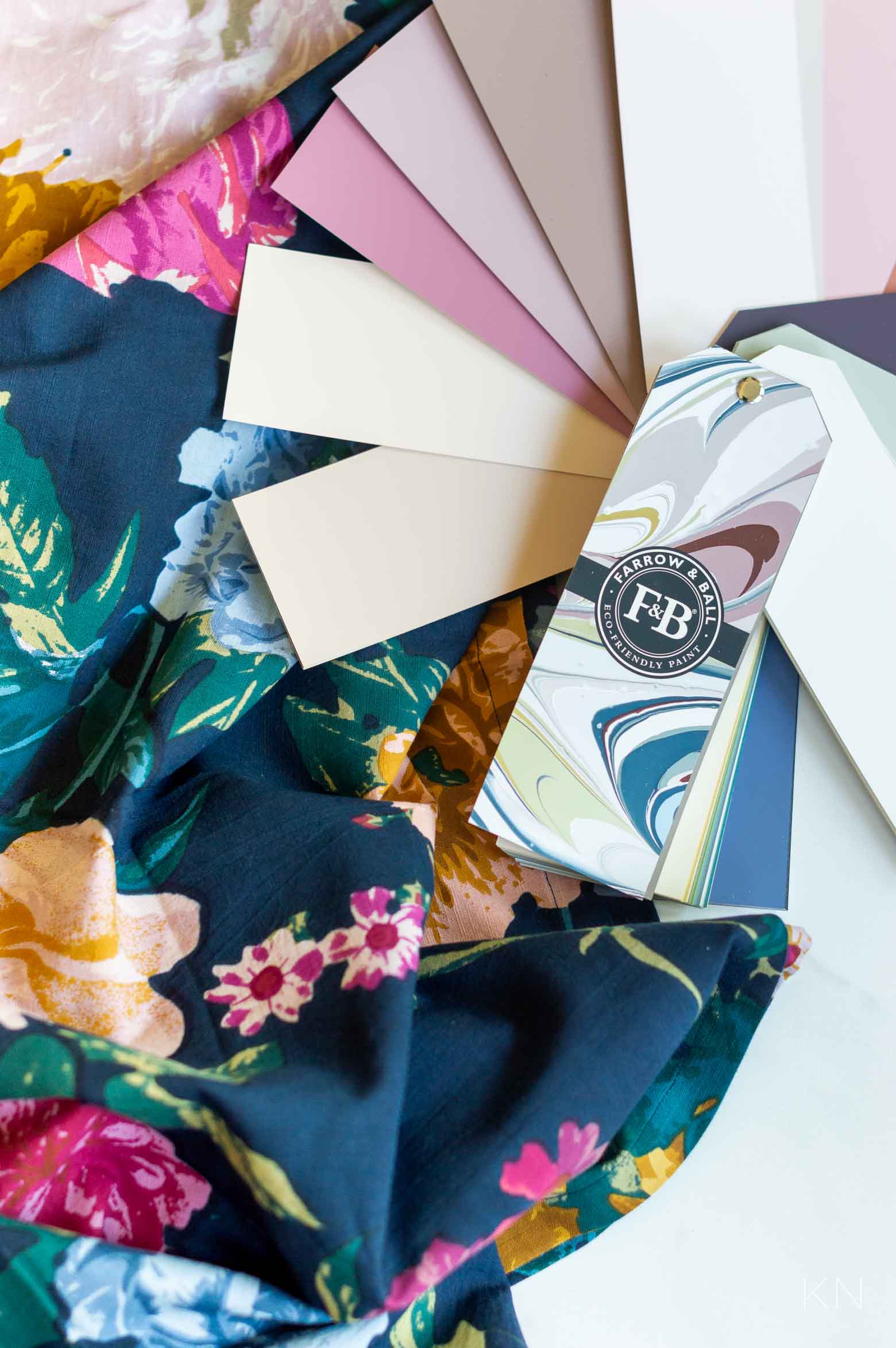 Available in the USA, UK, and Canada, you can find out more information on what's involved in Farrow & Ball's color consultancy service and how to book HERE, but here's how it worked…
First, I filled out a questionnaire prior to my meeting. It's totally encompassing and asks everything from questions about function and room sizes to aesthetics you're drawn to and any major pieces you're keeping in the space. It asks what colors you like vs. colors you want to steer clear of and the style you're aiming for.
Next, I reviewed the Farrow & Ball color deck I received prior to our meeting, and I pulled all the paint swatches that were my top contenders. You can see all their colors HERE and browse rooms for inspiration HERE.
Next, we met! After our introduction — by the way, Patrick is based in the UK, was so kind, and was so easy to talk to — we reviewed the space and my initial thoughts and I spoke to what was important. I showed him around via video chat — through the office, through the bathroom, and even shared product listings/items I had ordered. These were some of the main discussion points, opportunities, and challenges we chatted about and took into consideration.

The bathroom is small (58″x95″) with ceiling height of 95″.
The bathroom has no windows and receives almost zero natural light — the biggest challenge, in my opinion, when it comes to choosing a paint color.
The paint would need to coordinate with the floral shower curtain — again, without going too bold. I had already selected the mirror, faucet, light fixture and vanity — all of which had some feminine features.
The bathroom is connected to my office and I use it most often, with the exception of occasional guests. I wanted it to complement my office, even though it would likely have somewhat of a different feel with some of the bold choices I was considering.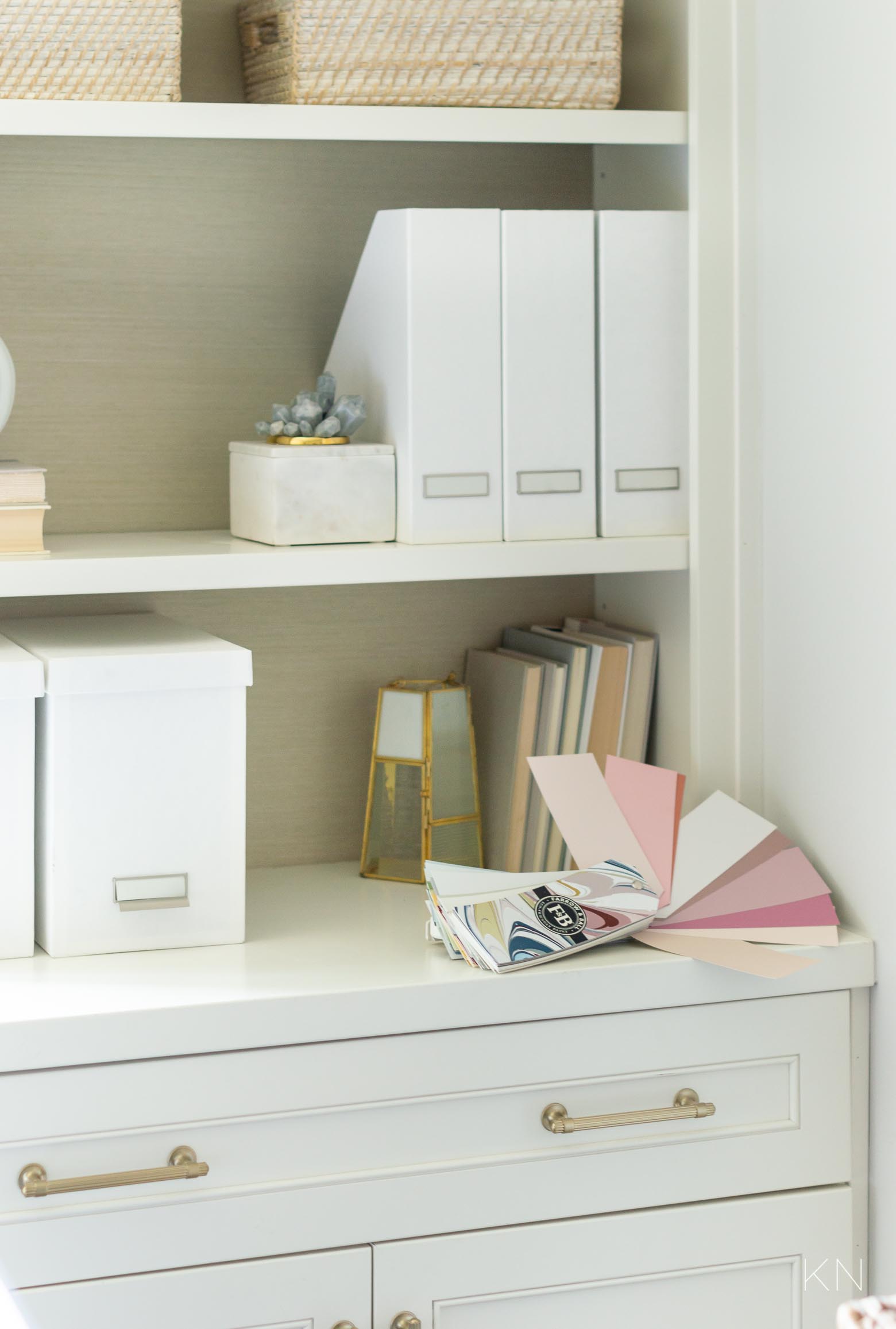 I'll be honest — I halfway expected for Patrick to confirm that the color I had in mind — Peignoir (a beautiful dusty pink) — would be a stellar choice and I'd be on my way. But, taking into account all the factors we had reviewed, Patrick indicated that while Peignoir is a gorgeous color, in my small bathroom with no natural light, it would likely appear dark and more gray. Not what I envisioned in my bathroom, coming from a dark greige with violet undertones. You can see some beautiful rooms painted in Peignoir HERE.
I hadn't really considered my quick-pick not working for what I was looking to achieve and this is the point my head would have spun a bit, without clear direction of where to "go" next. And, this is also where Patrick's color consultancy, guidance, and experience proved to be invaluable. Taking into account everything we had discussed, he recommended Farrow & Ball's "Setting Plaster" — also a dusty pink but also totally different. To be honest, it wasn't on my radar prior to our virtual consult. Would it be too pink? Too tan? But, I now had the advantage of being empowered with the knowledge of someone who had indepth color experience with Farrow & Ball paint and I trusted his suggestions. Not only did he make the color recommendation, but he also told me exactly what finishes I needed, based on the nature of the space and materials used and the amount of paint I would need for each — Modern Emulsion for the walls and Modern Eggshell for the trim and door. Both are washable and wipeable and stain resistant — perfect for the bathroom, and Patrick indicated would keep those water spots from popping up. I ordered his recommendations without even testing them myself — totally out of my comfort zone as I always test test TEST, but I wanted to experience his recommendation easily without second guessing myself. You can see different rooms in Setting Plaster HERE.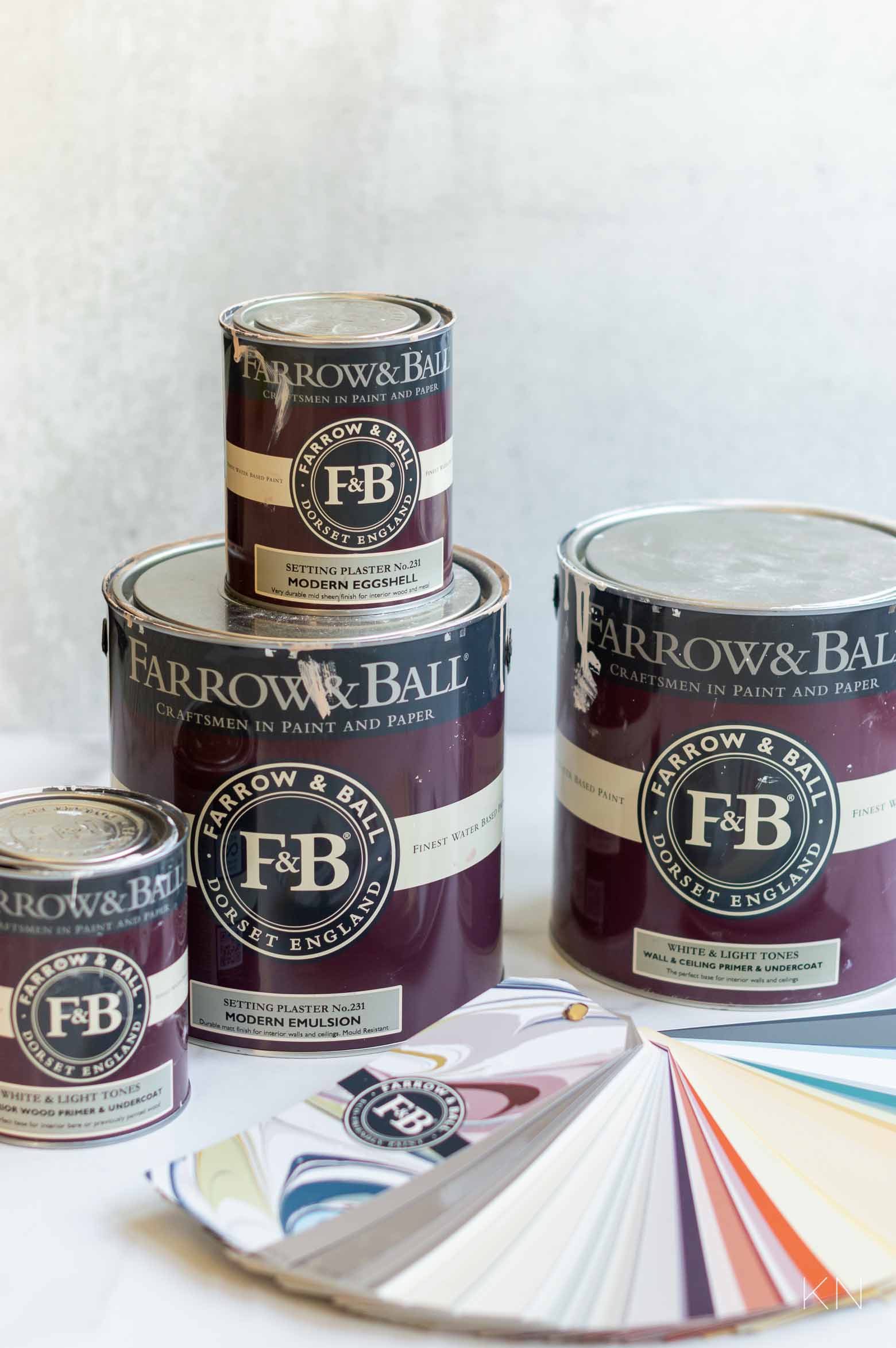 I mentioned this in my last post, but here are a few of the colors I was considering for the small office bathroom…
Here are a few pinks I've considered…
You can order a free Farrow & Ball color card HERE.
Scroll & Tap to See More Photos of the Paint Colors

The Small Bathroom Paint Color — Farrow & Ball: Setting Plaster
I quickly received the paint — for the walls, trim and door, as well as primer for both — and I was anxious to see the result. And I waited. And this is how it turned out.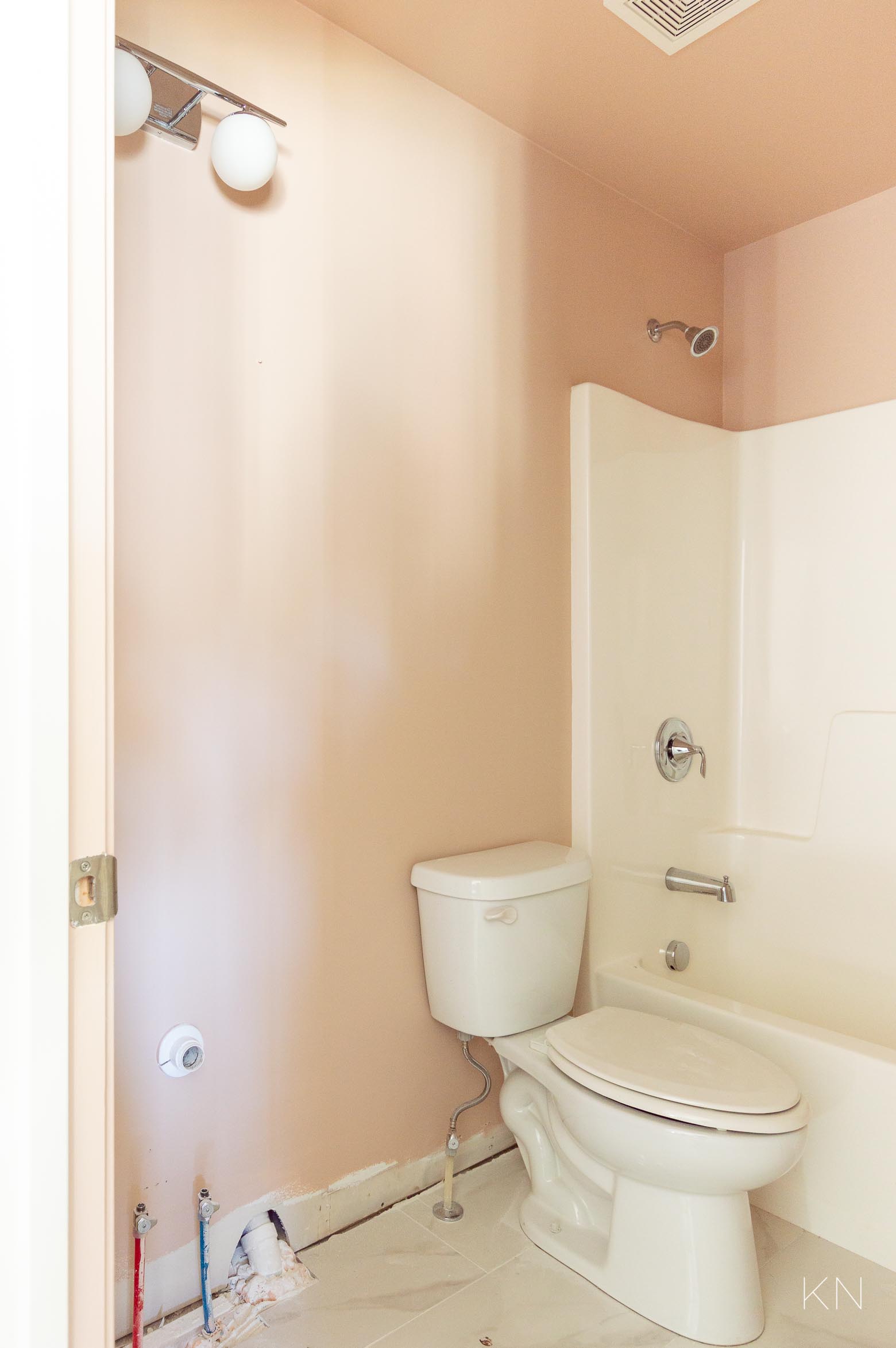 While I'm not sharing until the reveal, I already have the vanity back in place and especially next to the white, I'm so glad I went with this color. Like I said, one of the biggest challenges was that I get essentially zero natural light in this space (and I worked hard for these photos, haha) and that factor in itself is going to make any paint darker and more shadowy. While the photos and paint chip of Setting Plaster appeared lighter, in my space, it was exactly how I had hoped. It would have been so much more difficult to try to land "the" color with my typical guess-and-check methods, and in this instance of using color specifically, Patrick led me to a paint color that wasn't even on my radar.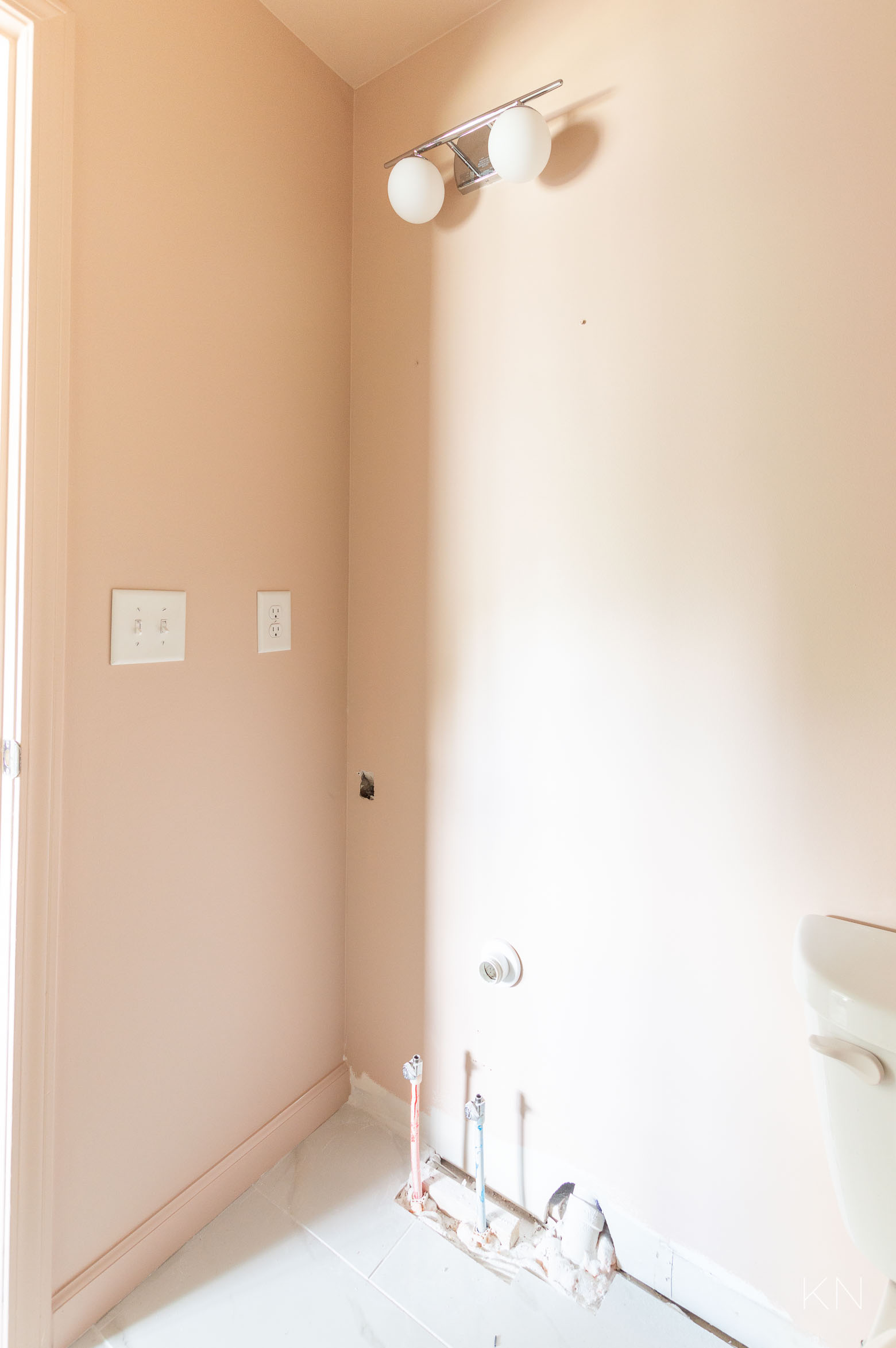 This is what it looks like, with the door closed and the vanity light on. I love the look of using uniform paint colors for trim and doors, and in this small bathroom, Patrick agreed.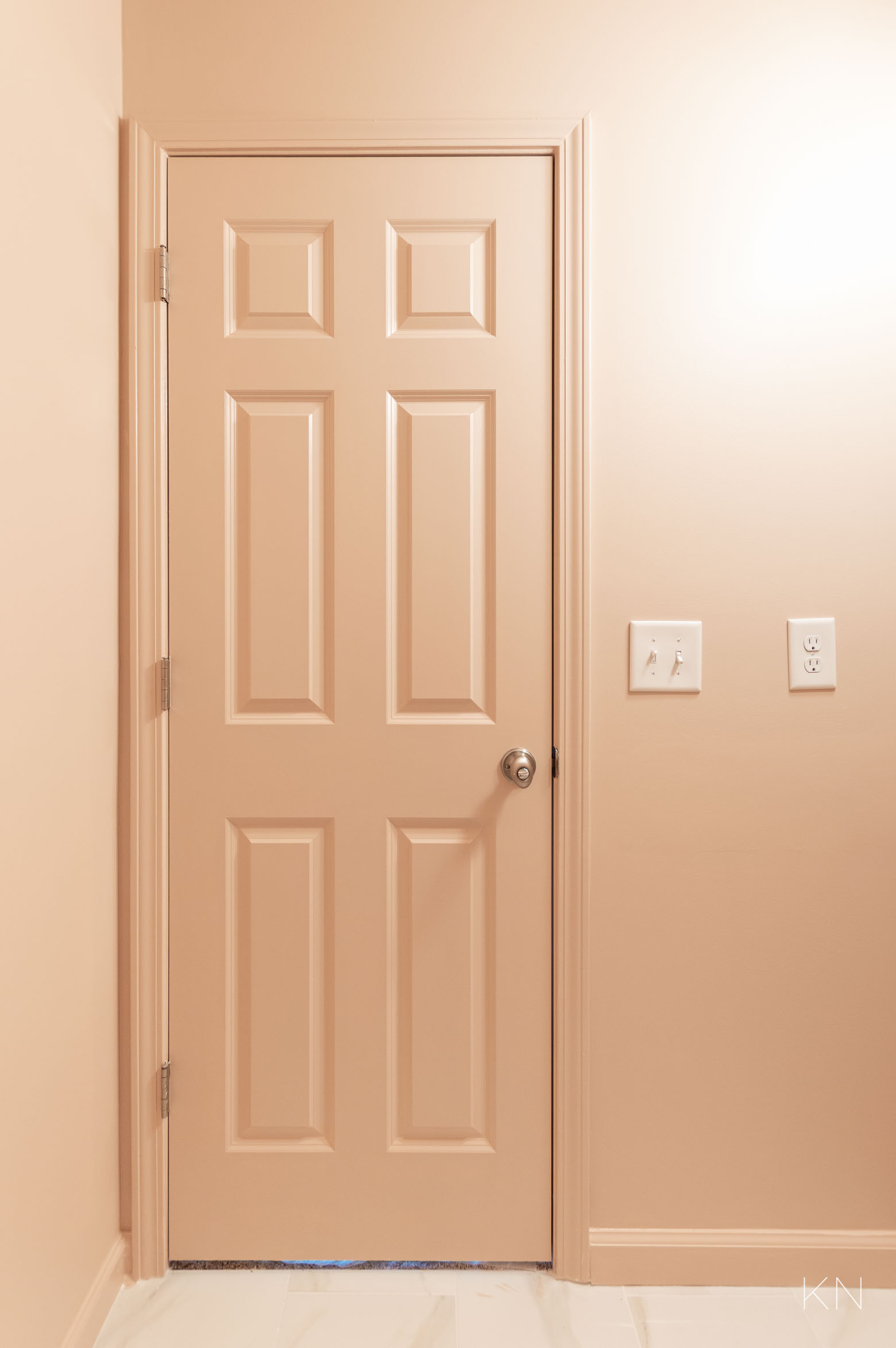 The front of the door that's on the interior of my office remained the same color.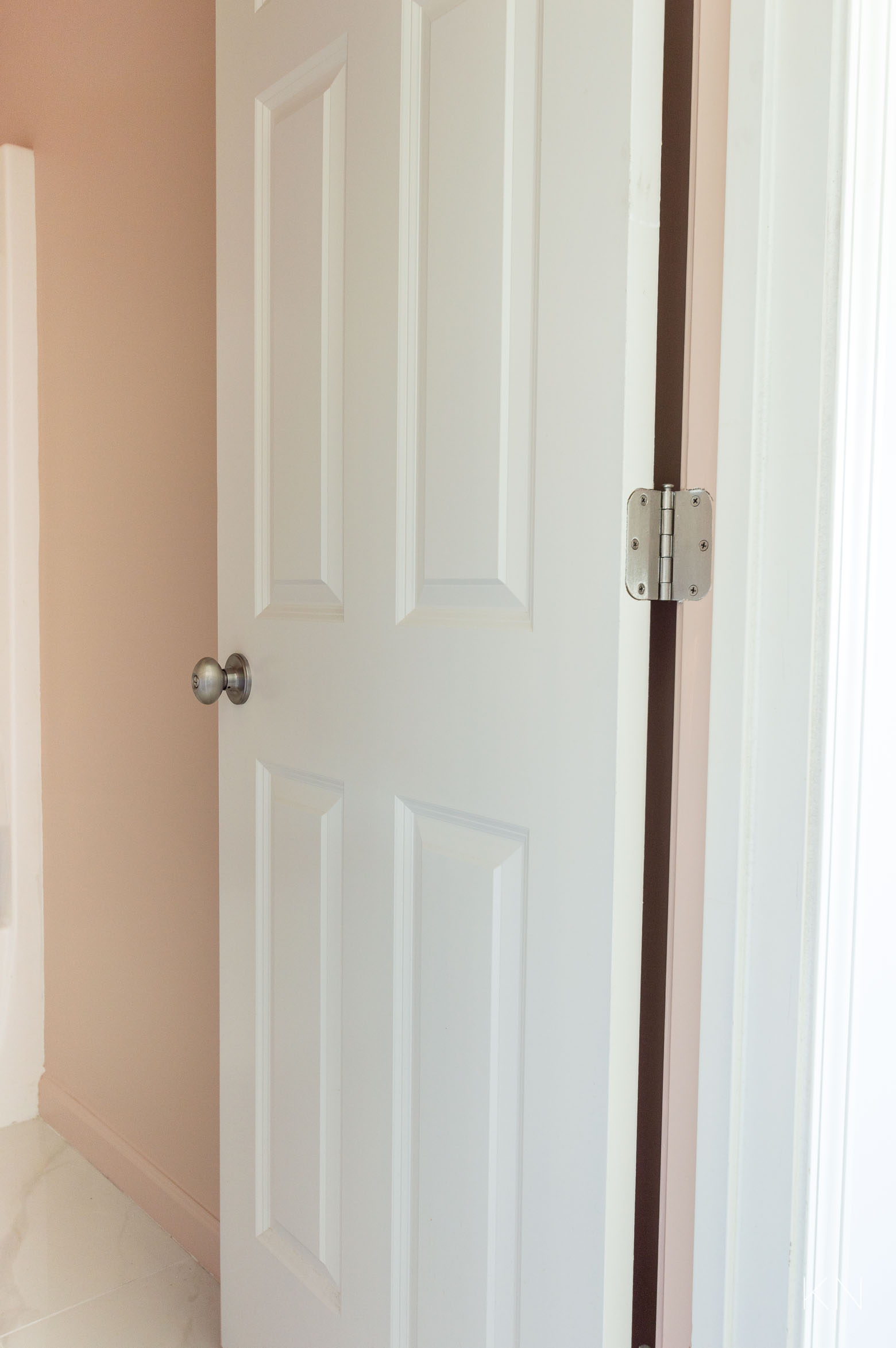 As of today, the vanity is back in place and we're only a week or two from sharing a final reveal of this space makeover. It's crazy to think that this space literally just looked like this…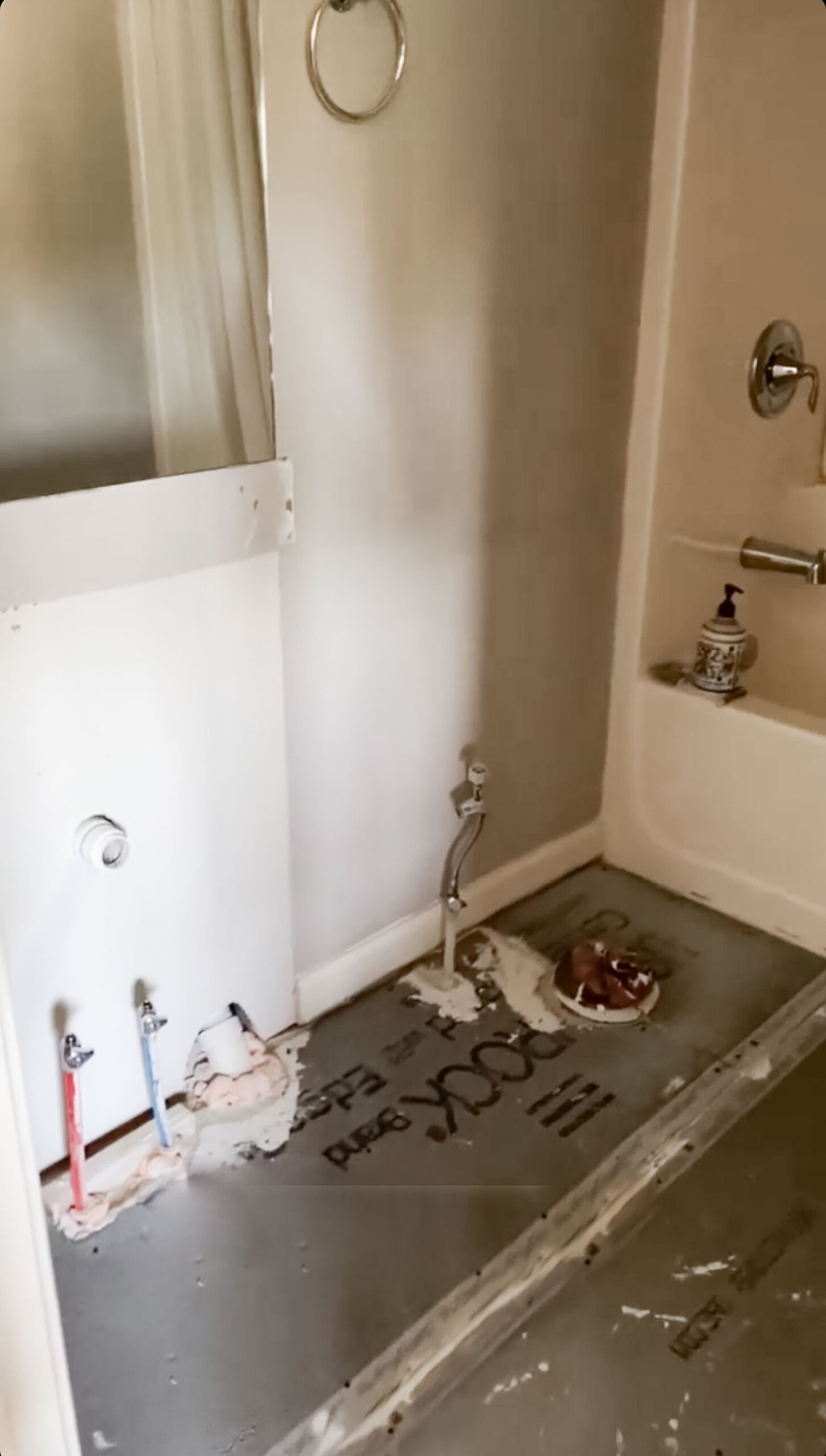 And almost overnight, is already in a much happier state!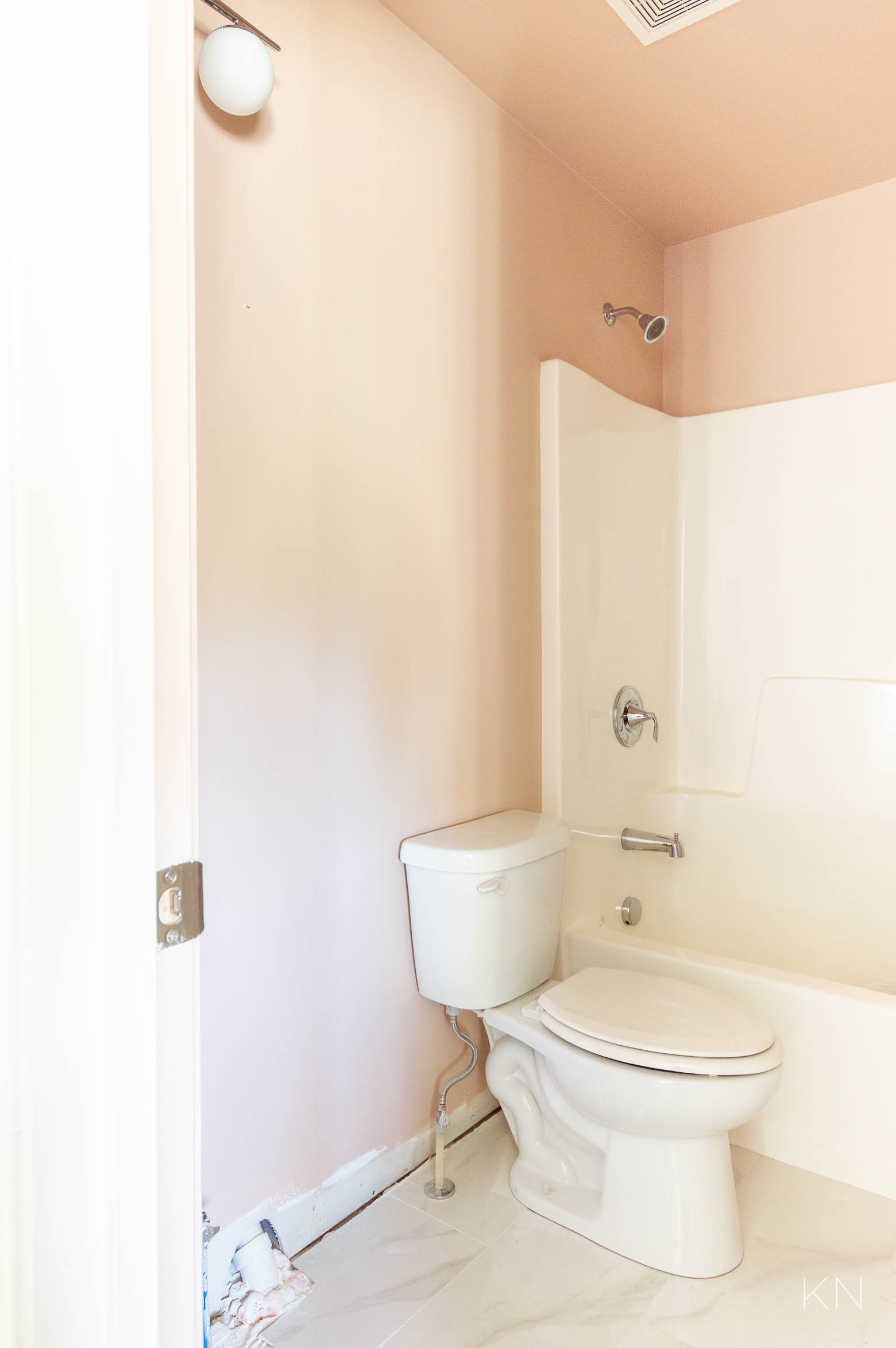 Yes, you can still order sample paint pots (that ship free) HERE on the color page; you can see other sample options HERE, too. But, after going through my reservations about making the plunge on committing to a paint color and experiencing Farrow & Ball's Color Consultancy service first hand, I would 100% recommend it for anyone needing an opinion or assistance in setting the stage for their space. You can find out more about the service HERE and stay tuned, because I'll be posting the full space reveal SOON! If you aren't already, you can subscribe to emails at the bottom of the post to make sure you don't miss a thing 😉
Small Bathroom Featured Sources
Paint: Farrow & Ball Setting Plaster |  Shower Curtain | Vanity Sconce | Mirror | Vanity Faucet
You can see the final Office Bathroom Reveal HERE.