Let me tell you a little story. It's one that starts where I flooded my master bathroom — which you all probably know by now 😉 The part of the story you may not have heard just yet is that while the flooding went through the wall to the office bathroom, we ultimately found out that aside from the floor tile, nothing else would have to be replaced. As a result, I actually wasn't even going to bother touching up paint or anything. I was actually relieved to hopefully be able to get it back into working order quickly without tacking on another "to-do" or cluttering any more of my mind. But… that wouldn't have been exciting, right? Long story short, when the sub-contractors went in to (I thought) lay the new tile and call it "good", when they left at the end of the day, I instead walked into a near-entirely demoed bathroom. Shock just scratches the surface of my initial reaction. So, guess what? We're doing another bathroom. It's on a much smaller scale and totally different than the master in every sense of the word, but it is another bathroom nonetheless! And today, I'm sharing snapshots of the demoed space, along with my vision and plan which should come together for a finished space pretty quickly.
*Posts on KelleyNan.com may contain affiliate links. Click HERE for full disclosure.
The Office Bathroom: The Current State
The office bathroom — which also serves as a guest bathroom — is on the most basic side of boring. There's zero natural light and even though it is painted in SW "Versatile Gray" — a medium greige paint that used to cover the entire house, it's dark. It didn't help that the vanity cabinet was dark and the flooring was a brown tile. The vanity light was basic and dated and the mirror was a standard cut piece. Nothing pretty about it but again, with all that's going on with other projects and rooms and all the disruption in our house, I was ok not tackling another thing.
I had gone to a flooring warehouse and picked out an inexpensive polished porcelain tile that I thought would "go" with the dark traditional cabinets and walls and would lighten up the floor a bit. That's all I was planning to do. And honestly, if I had know where this room would ultimately take me, I would have chosen a different tile.
When I walked in the bathroom, expecting to see a "fine", fully functioning bathroom, instead, this is what I walked in to find…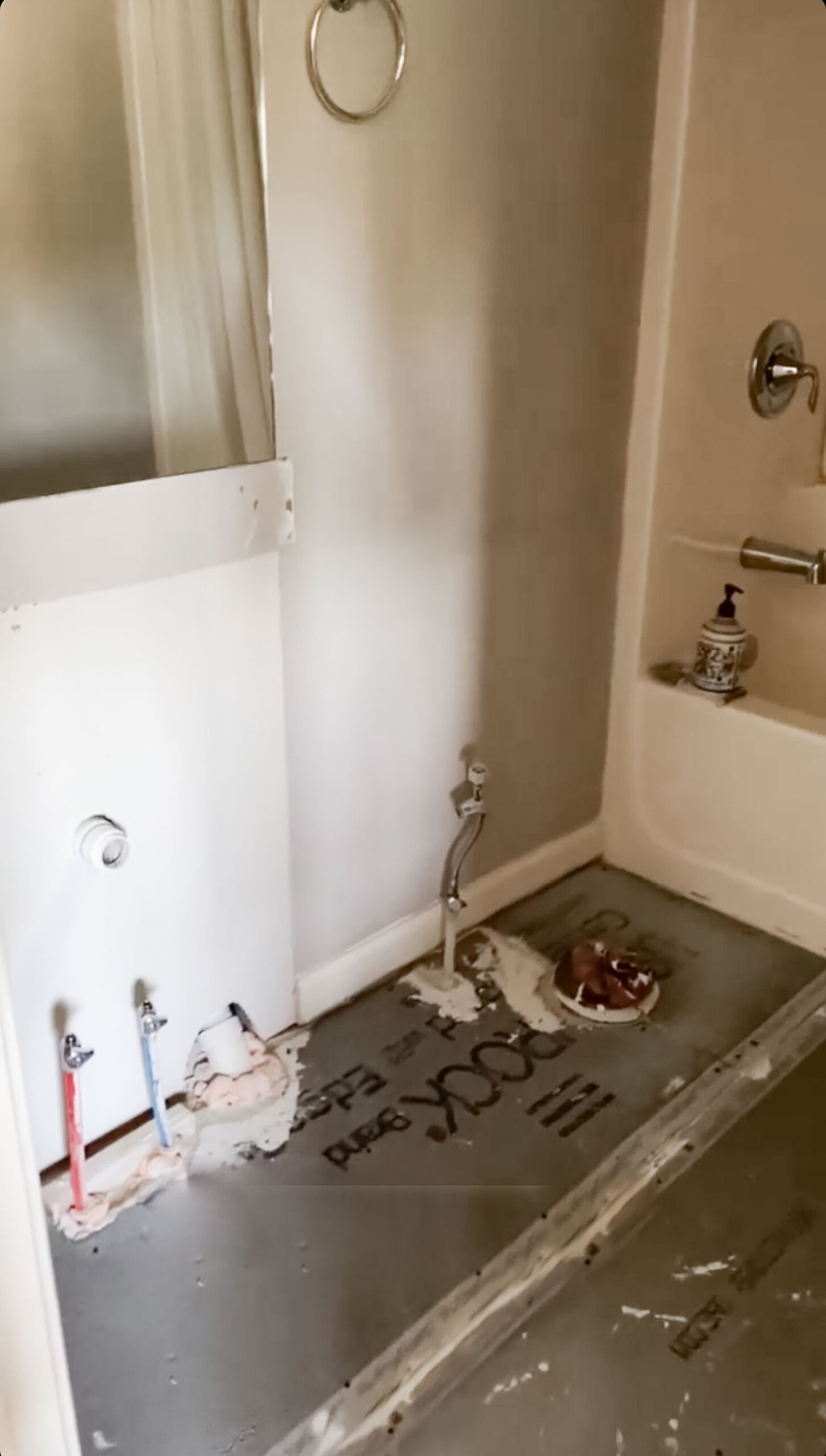 Yikes. I wish I had taken actual photos, but I was able to grab these stills from videos I shared on Instagram stories.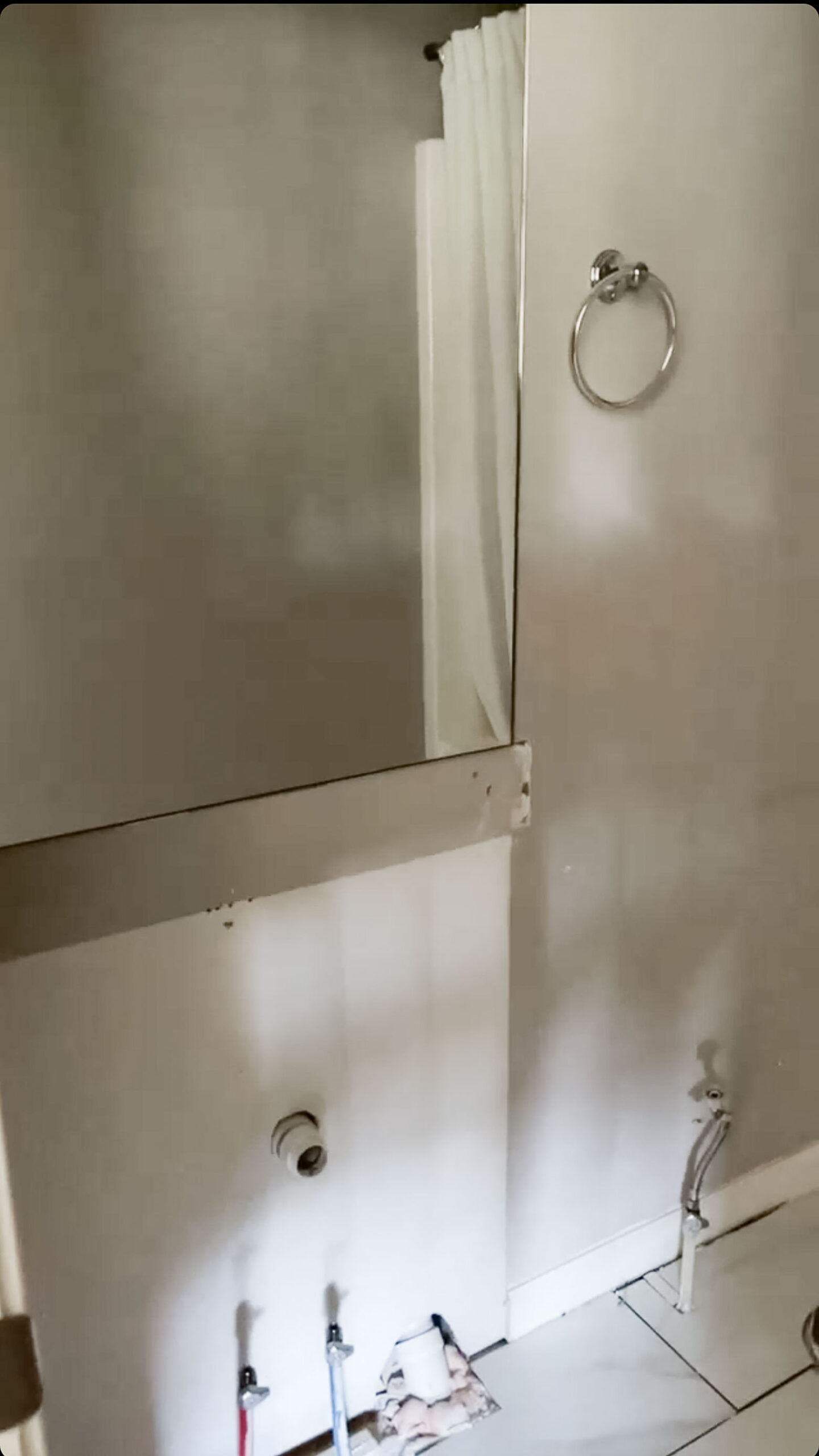 Not only had the vanity been removed but all that "no need for touch up paint" was an impossibility now. The drywall had severe damage from backsplash being ripped off, baseboards were partially ripped out… it wasn't good.
We had company coming three days later and we had to have a functioning bathroom. Our contractor sprung into action and for the quickest remedy to get us working plumbing, instructed me to pick a locally in-stock vanity at a Home Depot or Lowe's. I lucked into finding an inexpensive one and they had flooring laid, the toilet re-installed, the vanity set and the faucet (also an Amazon Prime quick-delivery order) installed within two days. It was actually pretty amazing.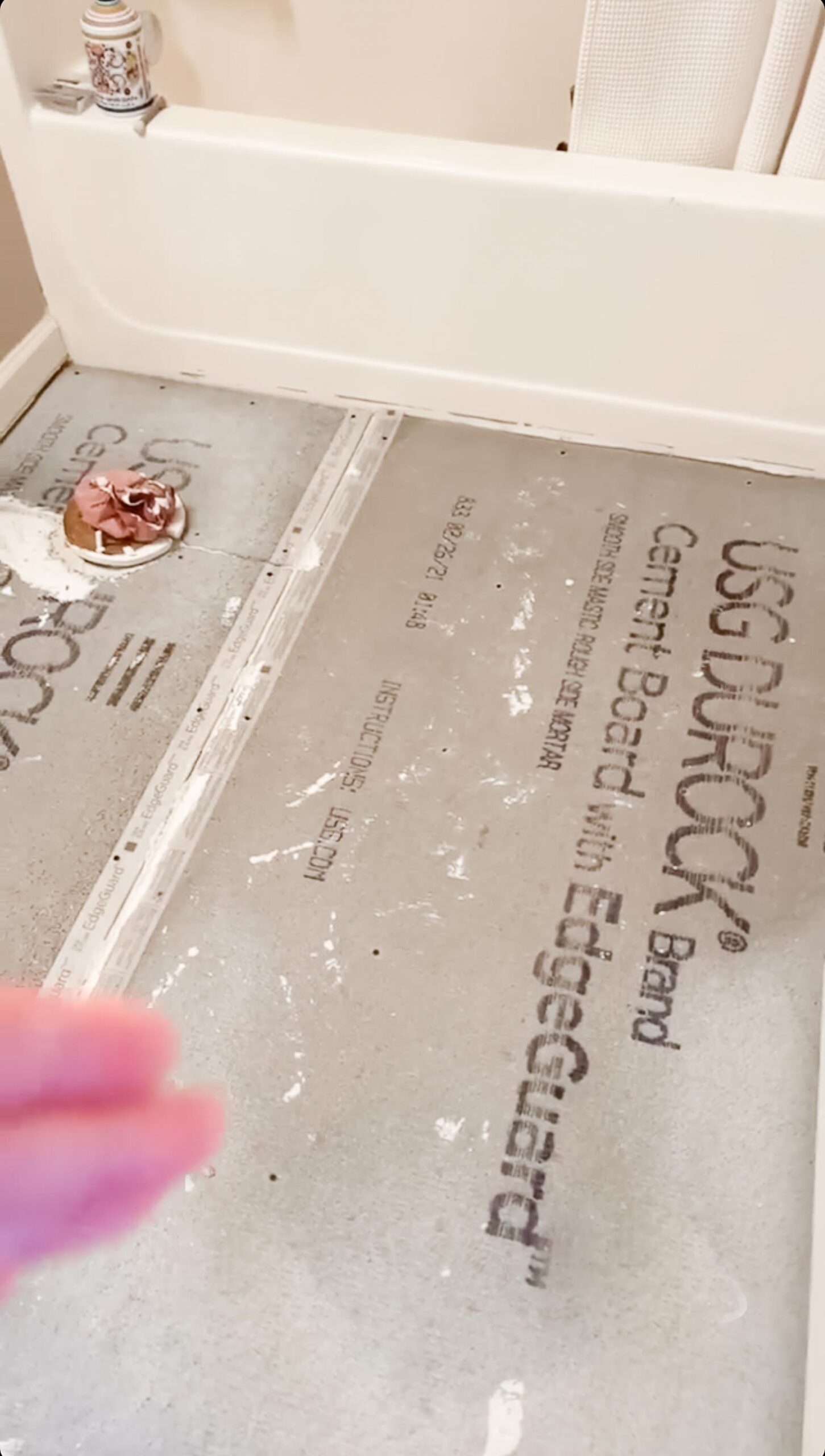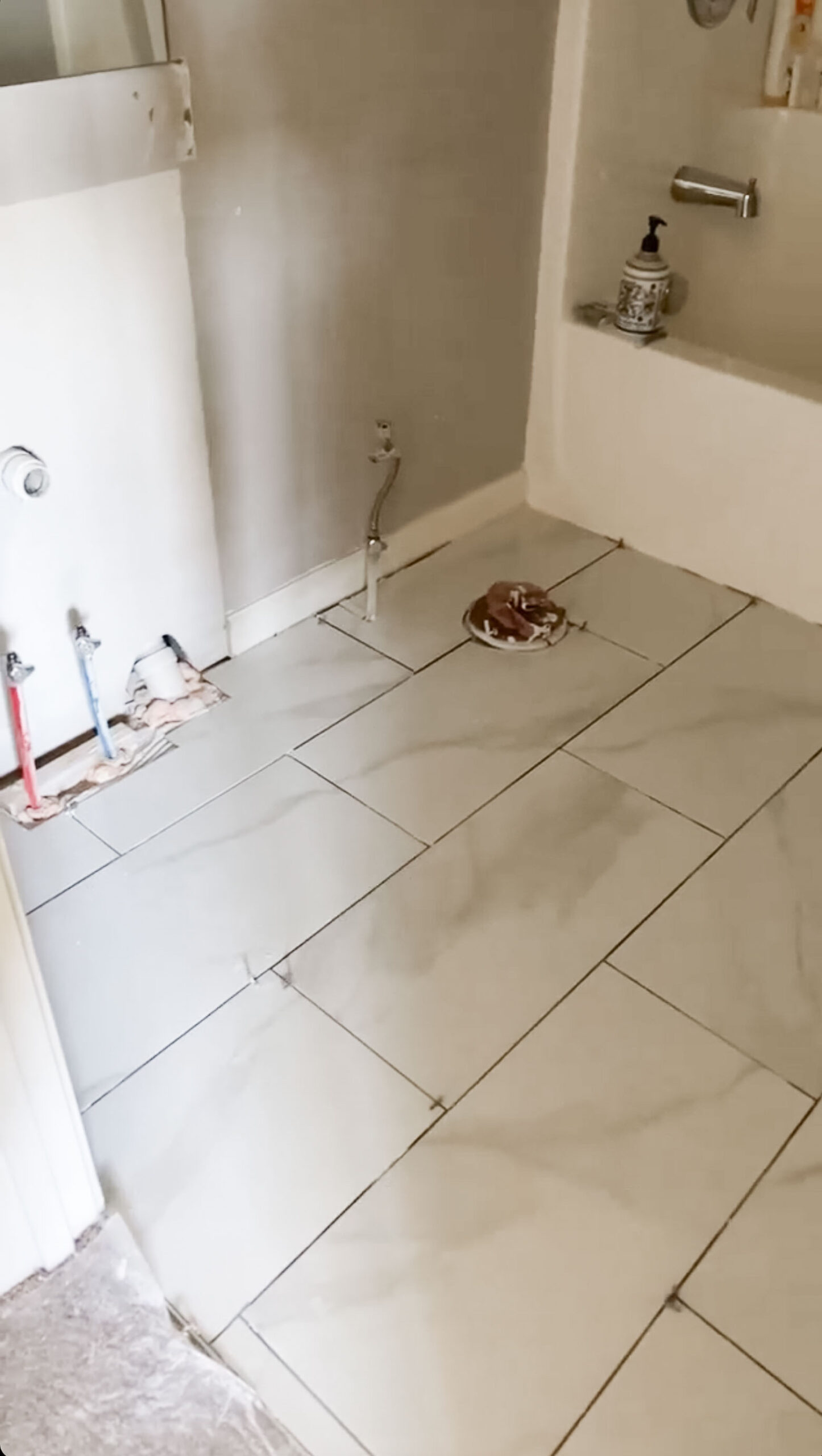 Once we rushed through the emergency stage, a few things set in. I knew I would have to paint and touch up drywall but the new vanity backsplash was also too tall for the less-than-ideal cut glass mirror. Which meant the mirror would have to be changed out, too. And then — aside from the bathtub — the only remaining original item would have been the vanity sconce I didn't care for. So, my not-gonna-do-it project quickly spun into a full on makeover.
The Small Bathroom Design Plan
While the project itself quickly escalated, so did the makeover plan. Like I said, I already had new flooring I had picked to go along with my dark cabinets. So, I kept that. I also have a new vanity (from Lowe's) that sure, if I had ordered something I likely would have opted for something different, but honestly, it was pure luck that they had one (and only one) of these cute white vanities in stock locally. I went from thinking I would go with something fresh and white to something more feminine and punchy pretty quickly.
First of all, my master bathroom (see the latest progress HERE) is all about bright and serene, so this small bathroom is an opportunity to do something different. It's also attached to my office and I'm the one who uses it (along with guests from time to time). A combination of these realizations — coupled with the lines of the vanity — started steering me towards something just a little more feminine. With an opportunity for color.
One of my favorite spaces I've done is our powder bathroom (see the reveal HERE). While I didn't go crazy, I loved using wallpaper and incorporating some fun colors and graphic prints. It's easier to do that in small spaces. So, I thought this little bathroom makeover could be another chance to do something different.
I wasn't planning any of these room renovations but I definitely wasn't planning this one — even after the flood. Because of this (and the nature of the space), I'm definitely mindful of budget.
So now that we've gotten the formalities and the "why" out of the way, here's a look at my plan for the space.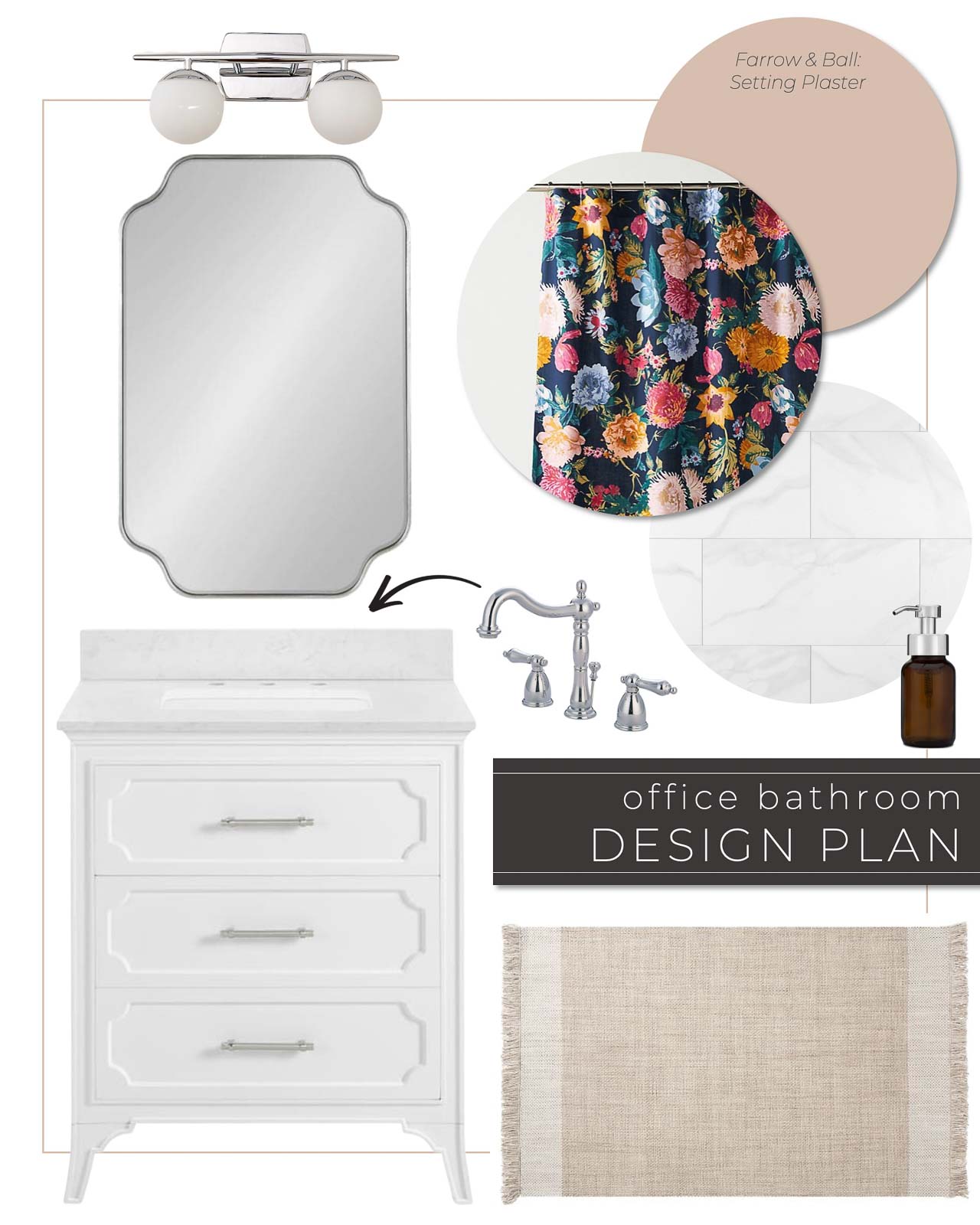 Sources: Sconce | Mirror | Paint | Shower Curtain | Vanity Faucet | Amber Foaming Soap Dispenser Bottle | Rug | Vanity — Lowe's Allen + Roth Helena 30″ | Floor Tile — 12″x24″ San Giorgio Andover White Polished Porcelain Tile from Floor & Decor
I typically share my plan before I've started but unknowingly landing myself in the middle of this project, I've actually already made a little progress.
The flooring was secured a couple months ago and has already been laid.
The vanity was the first thing purchased — after no more than a 10-minute local search. While that was installed for immediate use, it's actually going to have to come back out for a bit. The contractors and plumbers worked together to get the bathroom in usable condition but obviously, there is still ripped drywall, baseboards, etc. So, the vanity will be coming back out until those repairs can be made and the space can be painted.
As soon as I ordered the vanity, I immediately ordered my go-to faucet (HERE). It comes in several finishes but I ordered the identical-to-my-power-room-faucet in chrome. You can see it in my powder room HERE.
After things settled in, I ordered THIS affordable mirror in a brushed silver (to coordinate with the vanity pulls). The curves feel kind of dainty to me 😉
And then, I ultimately ordered a new double vanity light (because, might as well go ahead and do it, right? haha) I ordered it in chrome but it also comes in brass.
Once I had the basics covered, I caught a glimpse of THIS bold floral shower curtain. I have never done a bold floral like that and while I'd be too nervous to go that bold with a wallpaper in a space that get so steamy, I thought this shower curtain would be the perfect way to go colorful and bold without the long-term commitment. I also thought by sticking to the curtain, it could be a bold moment instead of a totally bold space.
But, I think I'm taking it a step even further. While I originally planned for simple white walls, with my new bold curtain and new outlook on what this space could be, I've started considering a warm/mauve-y pink for the walls.
Here are a few pinks I've considered…
There's a LOT of considerations and we'll dive into that more in a progress post soon.
Colorful Floral Shower Curtains
When I saw THIS shower curtain, it totally transformed my initial plan. If you're thinking of going more bold or incorporating more color in a bathroom, a shower curtain is an awesome, safe way to bring a little fun to the space. And while I love the one I chose, there are so many pretty options out there. Here are 12 floral shower curtains — from bright to bold and moody — that can help you chase after a fun color vibe. All shower curtains are linked below the following graphic.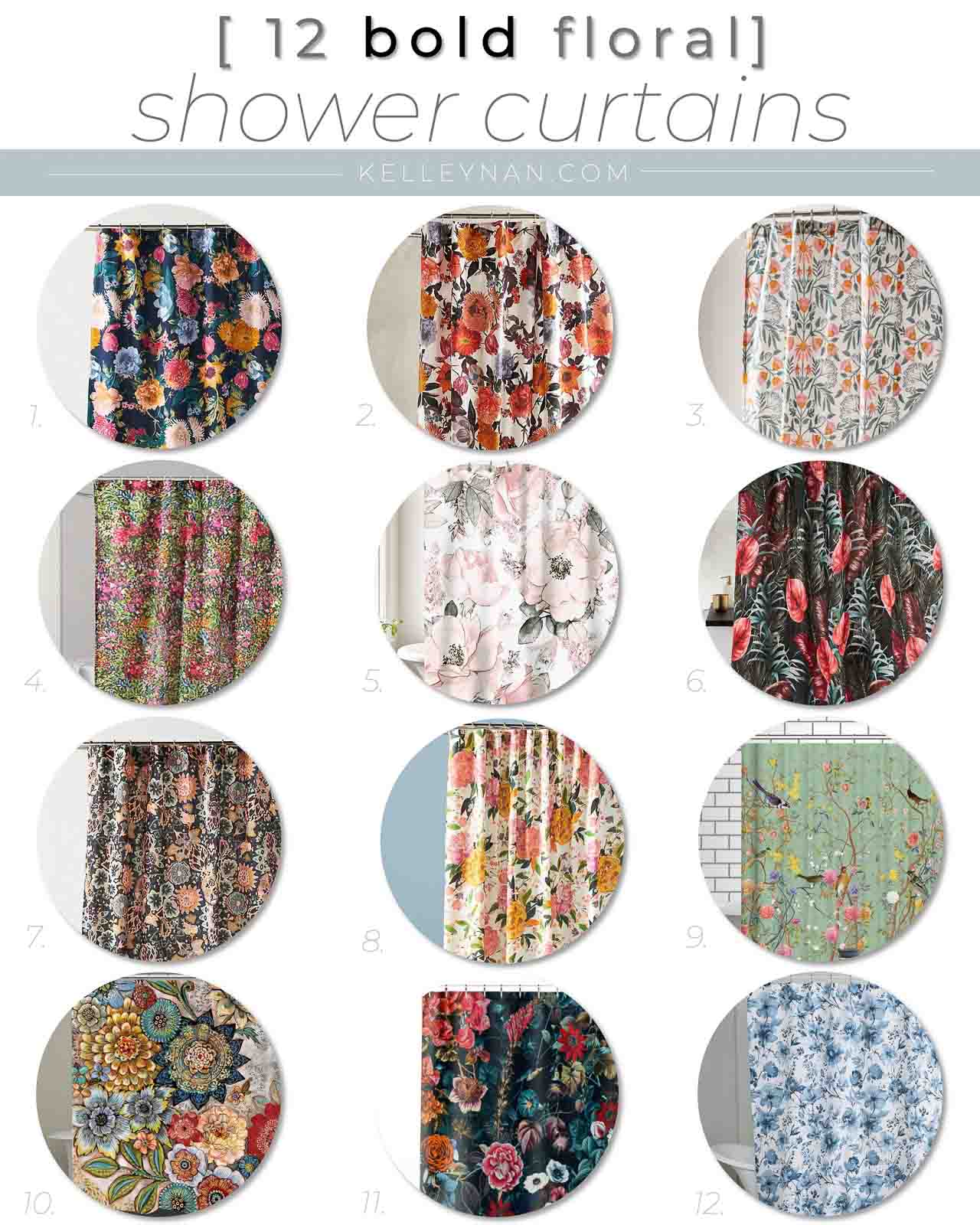 Sources: 1 | 2 | 3 | 4 | 5 | 6 | 7 | 8 | 9 | 10 | 11 | 12 
Like I said, I'll be progressing this space pretty quickly… much more quickly than that master bathroom 😉 To follow along — I'm thinking one progress post, followed by a reveal — be sure to subscribe to emails at the bottom of the post.