A few months ago, we decided we were going to become a "treadmill family". As a former "elliptical family" and the first to admit it was used early and sparingly at best, I determined that if we were in fact, going to bring a treadmill into the house, it would need to basically be so convenient and visible that there would be zero excuse for laziness. There isn't room in my office so the best place I determined to house our new gym equipment would be… in the sitting area of our master bedroom. I shared my plans on Instagram stories and while I knew then there wouldn't be much hope for making a piece of equipment "pretty", I was determined to do the best I could to furnish around it to lessen the anticipated aesthetic nightmare. I am function over form, first and always. Today, I'm sharing how I addressed the challenges within the small space and what our master bedroom sitting area looks like today — gigantic treadmill and all!
*This post is published in partnership with Wayfair, one of my favorite home retailers. As always, all opinions, concept, and creation are my own. Posts on KelleyNan.com may contain affiliate links. Click HERE for full disclosure.*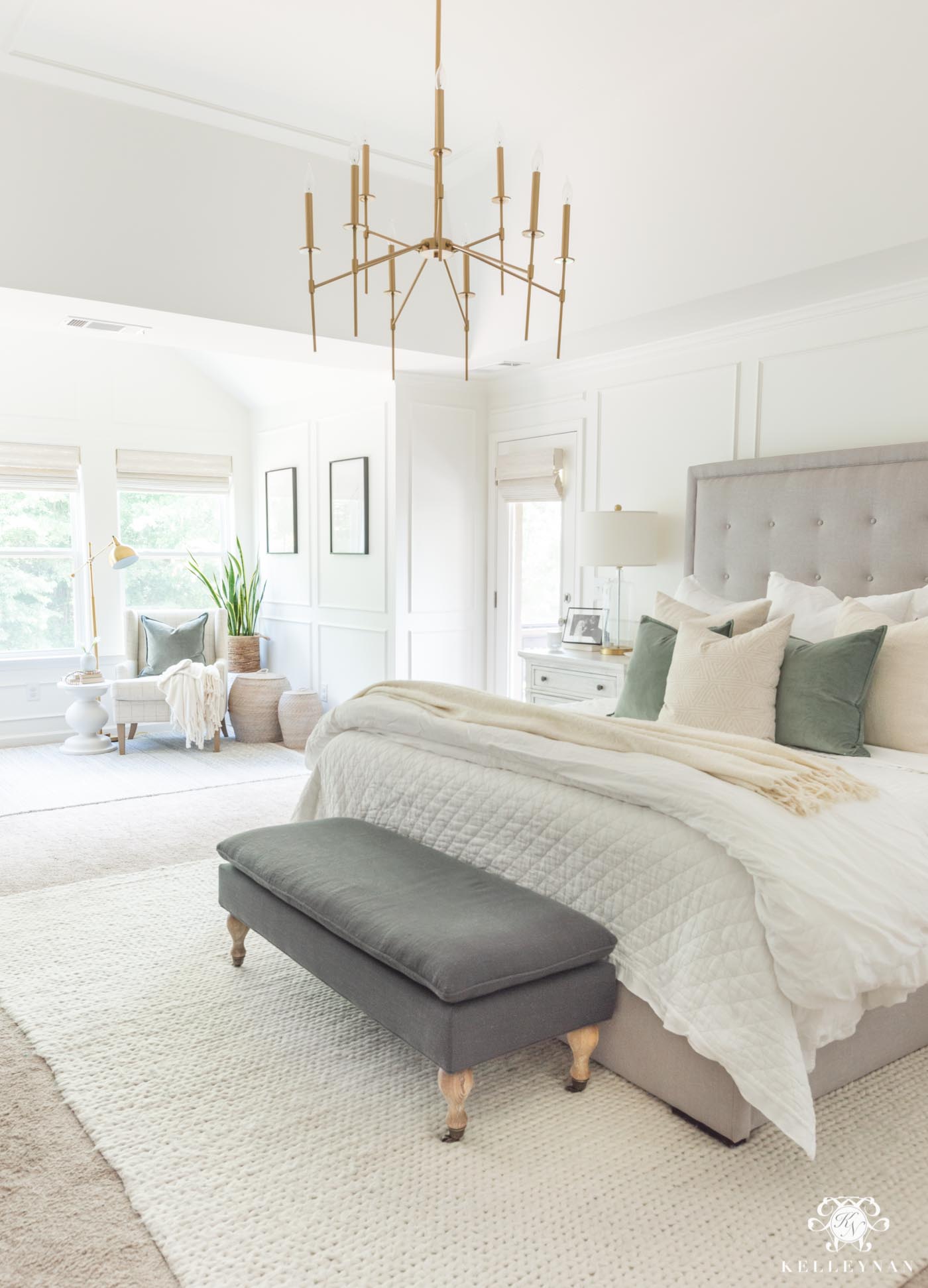 Sources: Chandelier | Rug | Bed | Padded Bench | Nightstands | Glass Lamps | Linen Quilt | Linen Duvet Cover & Shams | Green Pillow Covers | Fringed Throw | Accent Chair | Floor Lamp | Accent Table (similar) | Throw Blanket | Sitting Area Rug | Birds on a Wire Art (1) | Birds on a Wire Art (2) | Lidded Baskets
Getting the Master Bedroom Sitting Area to Accommodate a Treadmill
I've said before, while I appreciate the size of our master bedroom, it's also a little painful to see a space that isn't often used that I would have loved allocated to something like expanding the tiny laundry room. (Did you see my recent small laundry room organization makeover HERE?) Before adding a treadmill was even a thought, we had two oversized chairs, an ottoman, side table, and multiple pieces of lighting and other accessories. Without gym equipment, it was already a tight fit that was rarely used. Coupled with the addition of Eliza's toys, I knew the setup would have to be reconfigured and we would have to re-plan the space with smaller pieces. It was already evident that two chairs were totally unnecessary — as was the ottoman — but I did want to bring a little more storage in. My goal was to split the space, with the treadmill on one side and a dedicated sitting area and extension of our bedroom on the other. This is a look back at what the master bedroom sitting area looked like before…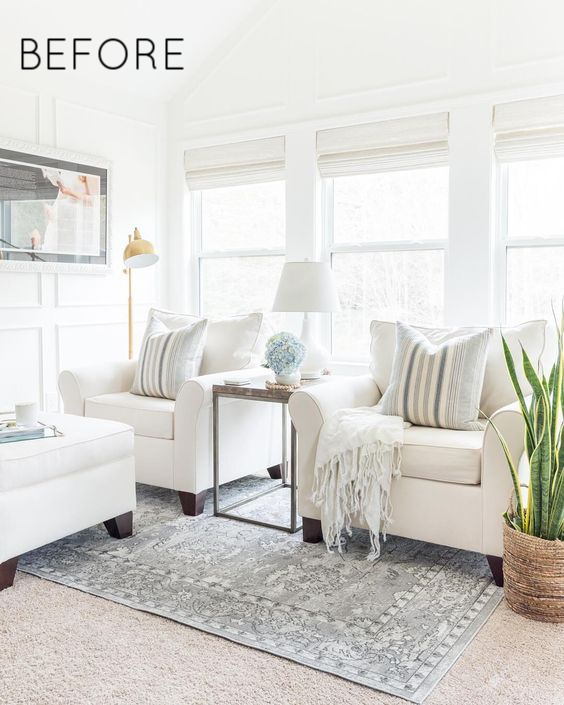 And here it is, downsized with far more open floor space today.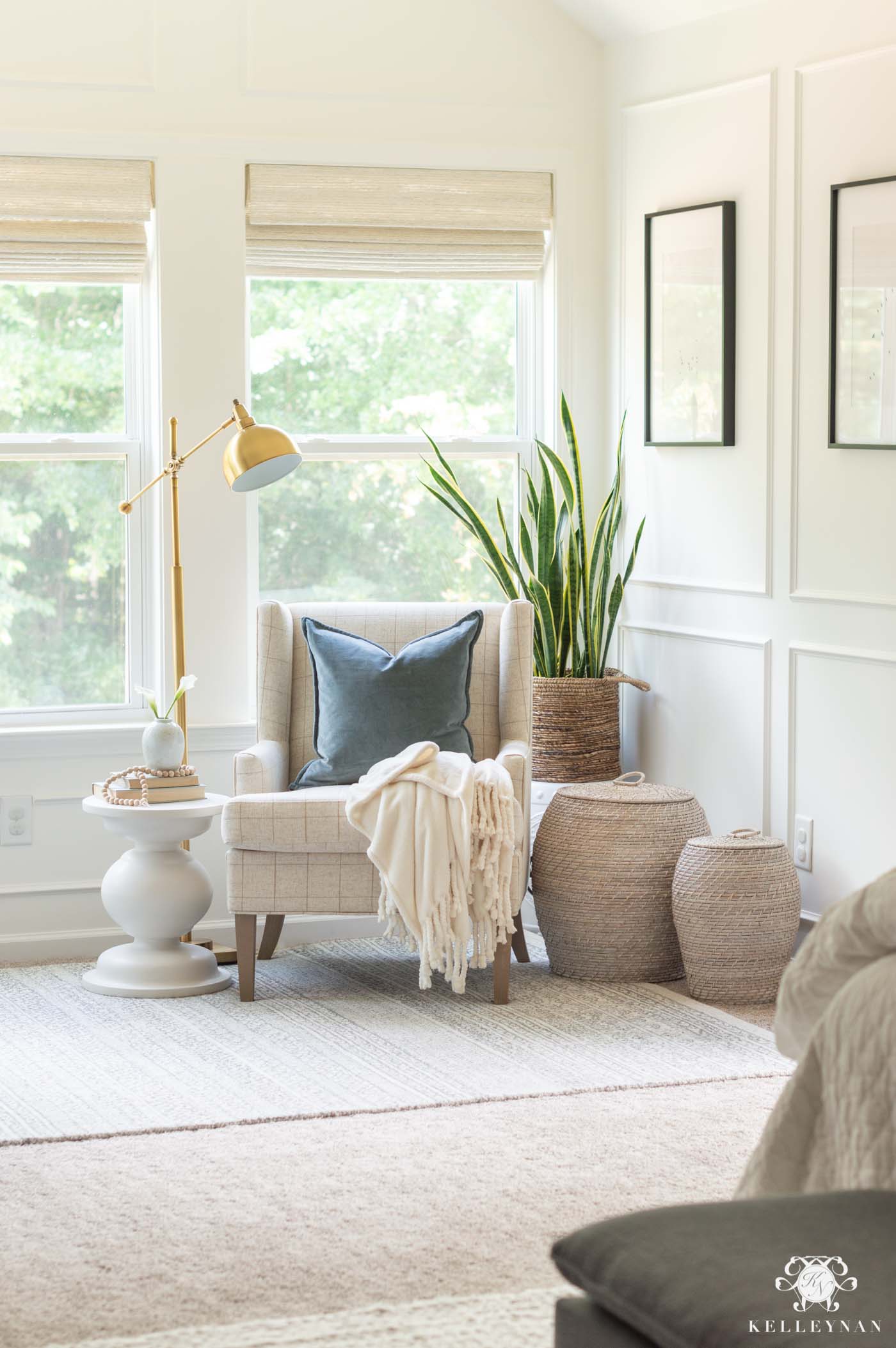 Sources: Accent Chair | Floor Lamp | Accent Table (similar) | Throw Blanket | Sitting Area Rug | Birds on a Wire Art (1) | Birds on a Wire Art (2) | Lidded Baskets | Wood Bead Garland | Green Pillow Cover
After living with the treadmill and former sitting area furniture shoved all around half the bedroom for months before finally tackling this project, it feels so so good to have reclaimed our space! And the full picture of our sitting area, large treadmill and all, well here it is.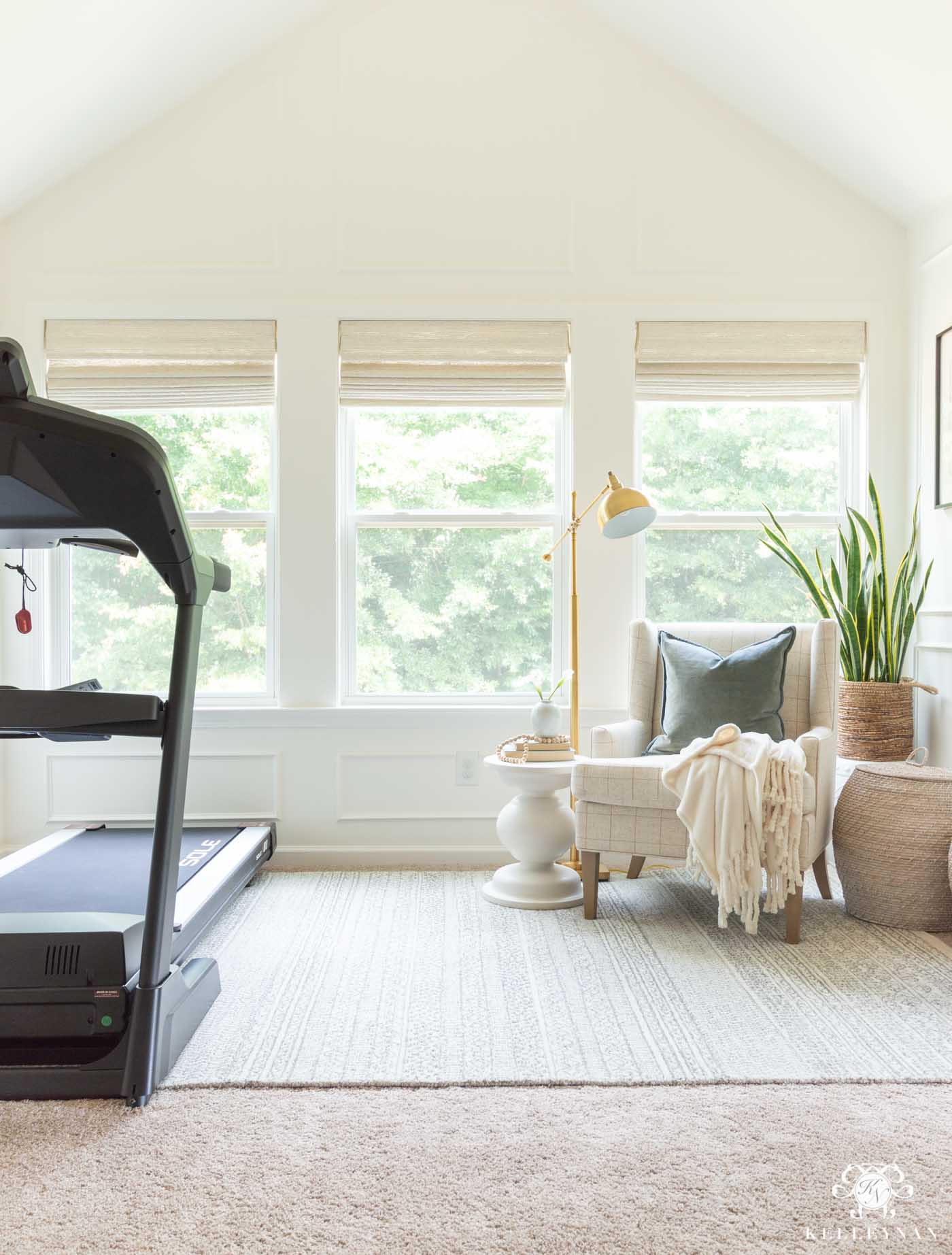 I knew the treadmill would be big, but in person, when it arrived, I was shocked by its size. Like I said, I didn't have much hope in making the actual treadmill pretty, but I am pleased with the solution I came up with to accommodate the gym equipment while splitting the area with a smaller, dedicated sitting nook corner. The TV that's mounted on the wall in front of our bed has an arm that pivots so I can swing the TV all the way over. I (or Dave) can also jump on while we watch our evening shows and we can still both see with an unobstructed view. Total win.
Coordinating the Sitting Room and Main Master Bedroom
When you have a large space, it can be tricky to keep it cohesive without going full on "matchy- matchy". The same thing goes for homes with open floor plans where you see all the furniture and rugs in one line of sight. (You can see a post I wrote a few years ago on coordinating bedroom furniture finishes HERE). When I cleared the sitting area, I had a near-blank slate as a starting point. While my tufted bed is a gray color, our bedroom stays pretty dark with little sunlight and I didn't want the sitting area to look like an extension of a cave… I switch pillows often so I wanted to keep the basis of furniture and rugs neutral (I love mixing all shades of neutrals together, from white and gray to cream, ivory, and silver). Instead of going totally solid, I found this thin-lined grid pattern wingback chair — the chair itself lends itself to so many different styles.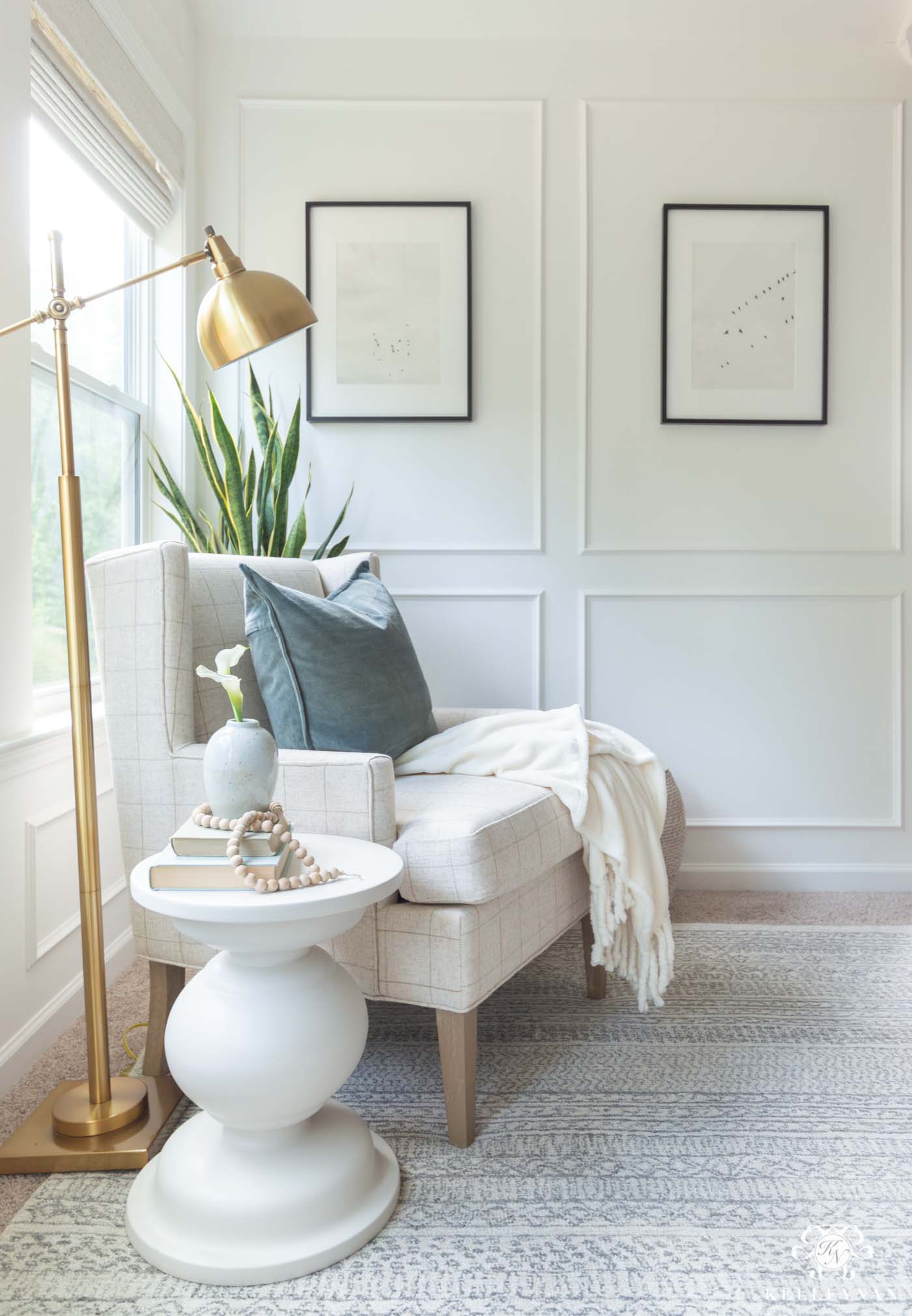 A favorite (and easy) way to tie the sitting area in seamlessly to the main part of the bedroom is to use the same throw pillows in both. These cotton pillows with a velvet-like texture come in a TON of colors with a down insert option, and three sizes to choose from — mine are "Sea Foam" in 20″x20″ but they also come in 18″ HERE.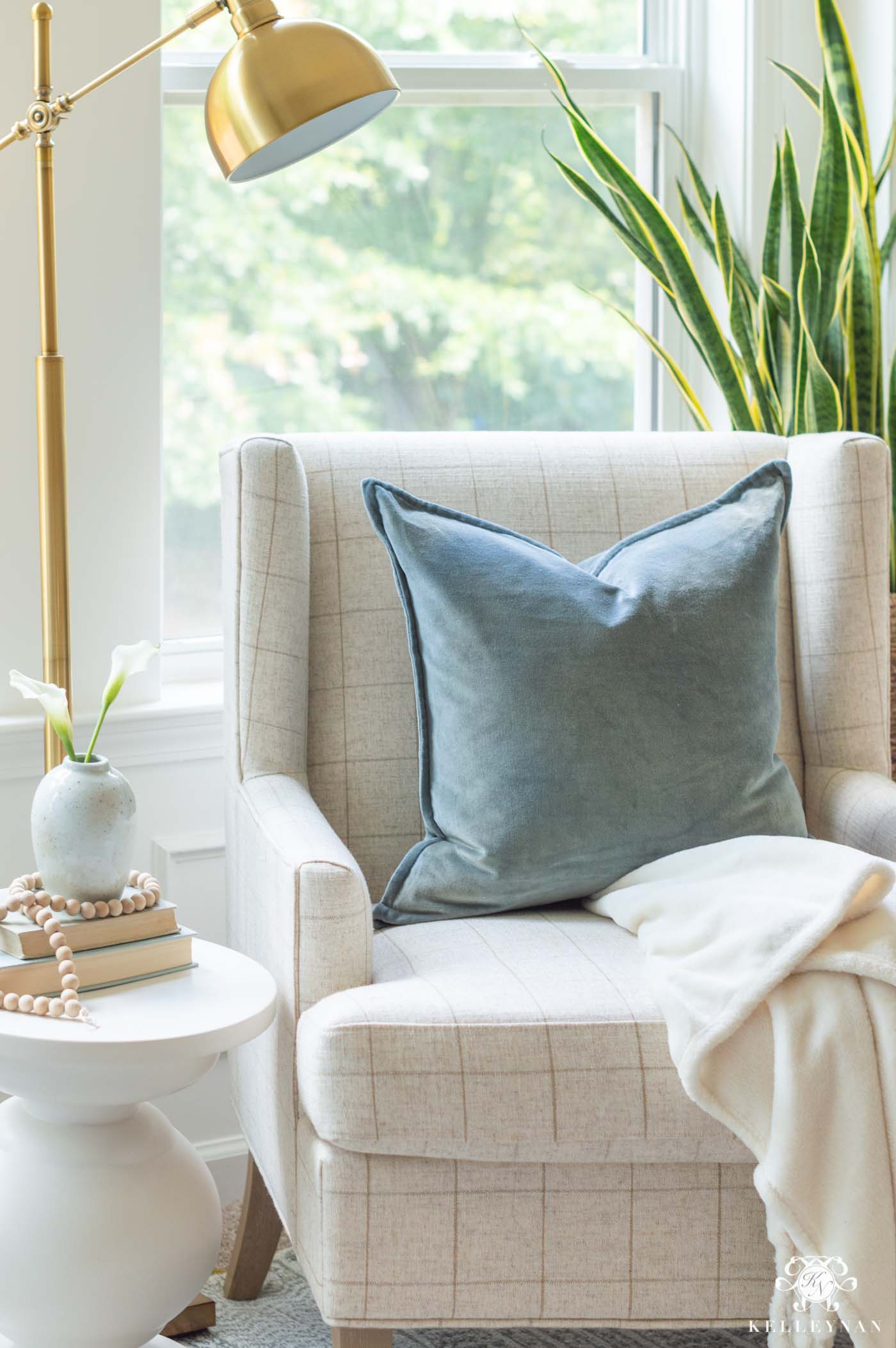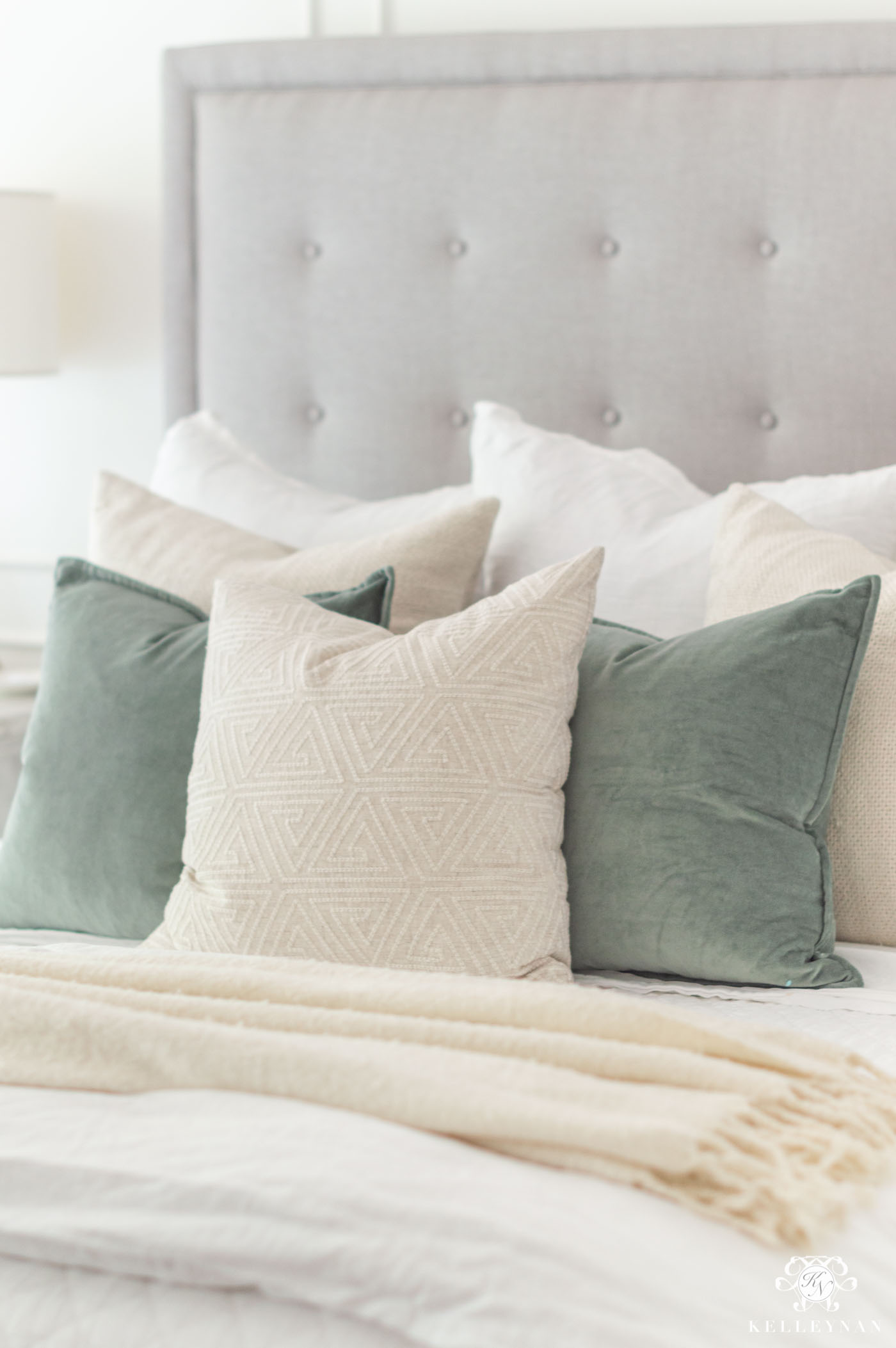 One of the most important aspects to marrying the master bedroom and the master bedroom sitting area though — coordinating the rugs. Again, that can be a little tricky, right? But, it doesn't mean you have to use two solids or two of the exact same color. I needed a rug that was slightly larger than my previous so the treadmill could set totally on top; I also needed something thicker to accommodate the weight. To play off both the cream in the rug and gray in the headboard, I found THIS RUG — a perfect addition to incorporate the master bedroom neutrals and set the tone of the sitting area. I went for the 6'x9′ size (HERE) — there are a lot of sizes available but it looks like they are selling out quickly. It's an especially good rug to go on top of carpet (think living room, under the bed, in an office…) because it's a thick wool — it lays flat and won't bunch up or crease. Because of the thickness and substantial weight, it was also perfect for the treadmill.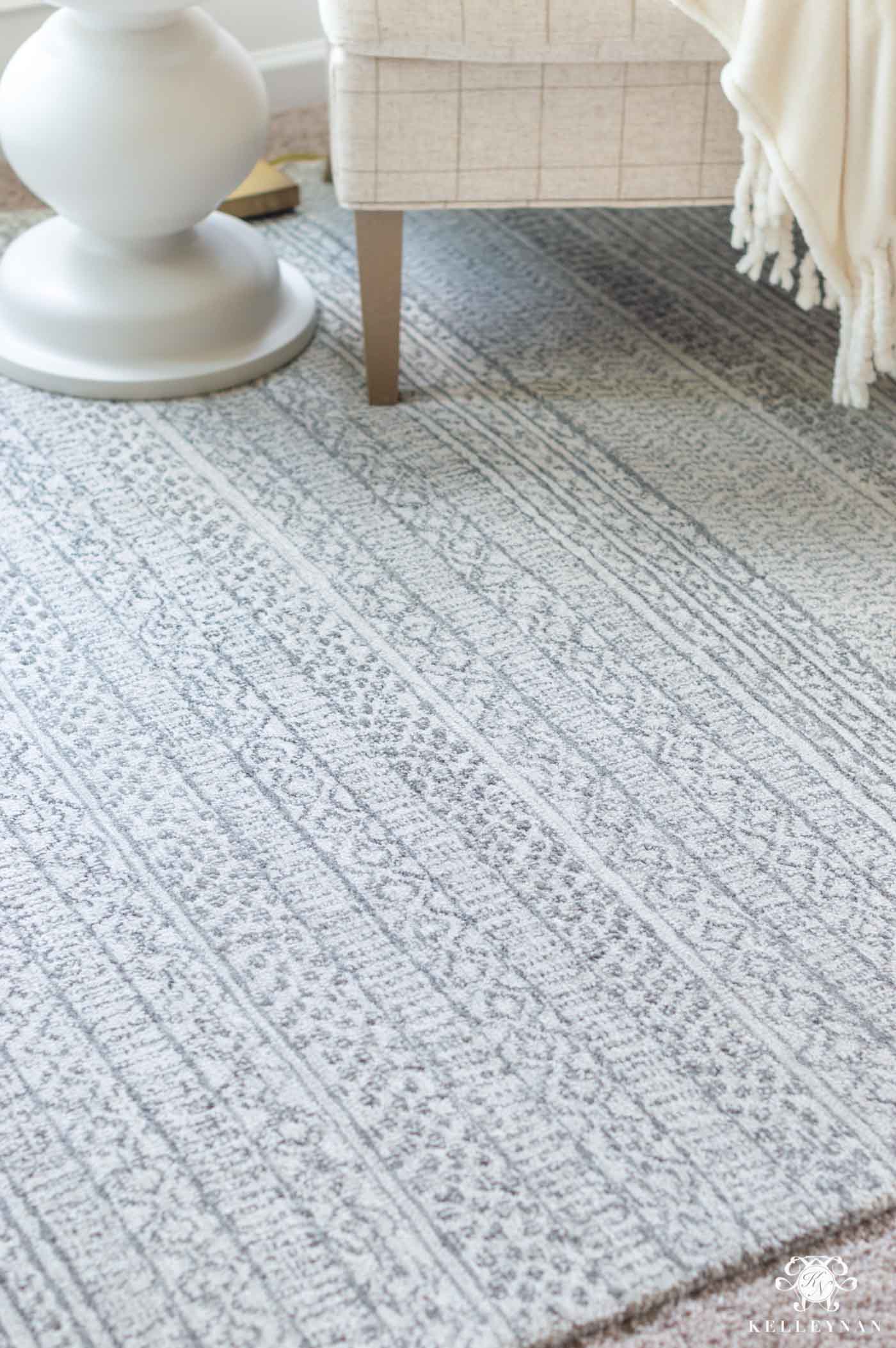 It's a linear pattern and while there's contrast in the gray and cream, it still has a subtlety to it — interesting but subtle.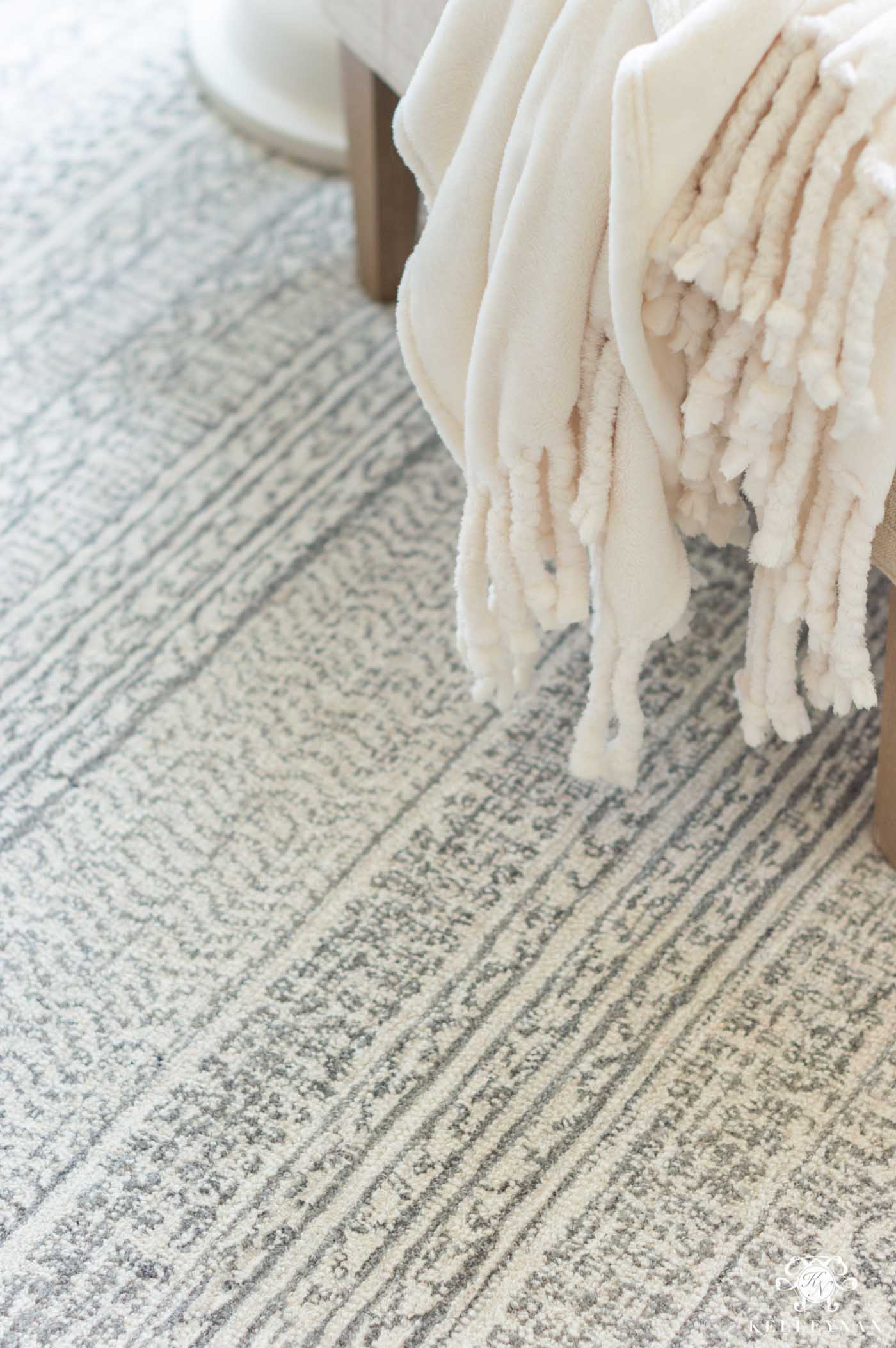 How to Use More than One Rug in One Room
Even though I opted for a more neutral rug, you don't have to play it totally safe to bring in a rug with color. The general guideline I use to marry two rugs in one space is to select one that is a single color or tone on tone (it can have textures and shapes, I just try to stay away from pattern), and then use a second rug, with pattern, that has the solid rug color incorporated somehow.
Another note about more colorful rugs — they don't look as colorful on the ground as they would on the wall. You can have a colorful rug that's more interesting with neutral furnishings, and the room can still come off as a neutral. Here are 16 tribal and medallion rugs I love — that fit styles from traditional to whimsical and bohemian — that would pair well with neutrals. As all Wayfair items, all of these rugs ship free at $49+. Each rug is linked below the graphic.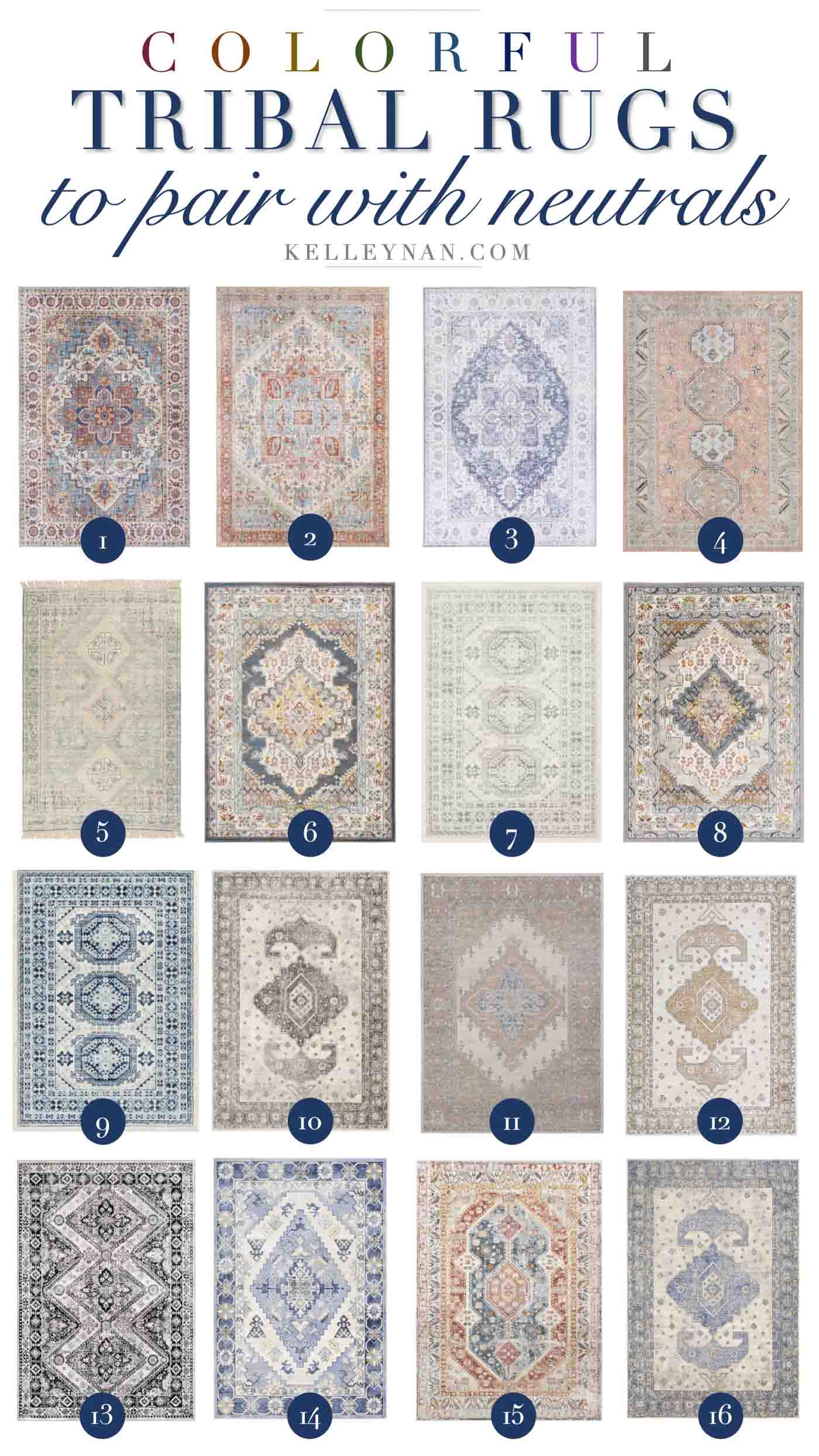 1 // 2 // 3 // 4 // 5 // 6 // 7 // 8 // 9 // 10 // 11 // 12 // 13 // 14 // 15 // 16
Scroll & Tap to Shop the Rugs

You can find Wayfair daily sales, across all home categories, and other on-trend updates, from $39.99 HERE.
Other Sitting Area Updates
When we had two large, oversized chairs and a big ottoman, we didn't have much room for toy storage — we like to keep some hidden storage in the primary rooms Eliza spends time in for 1. camouflage and 2. instead of hauling everything all over the house. Until now, we still used her woven, open bassinet — across the room — to store an unsightly, growing pile. I found THIS pair of rattan baskets to remedy the situation.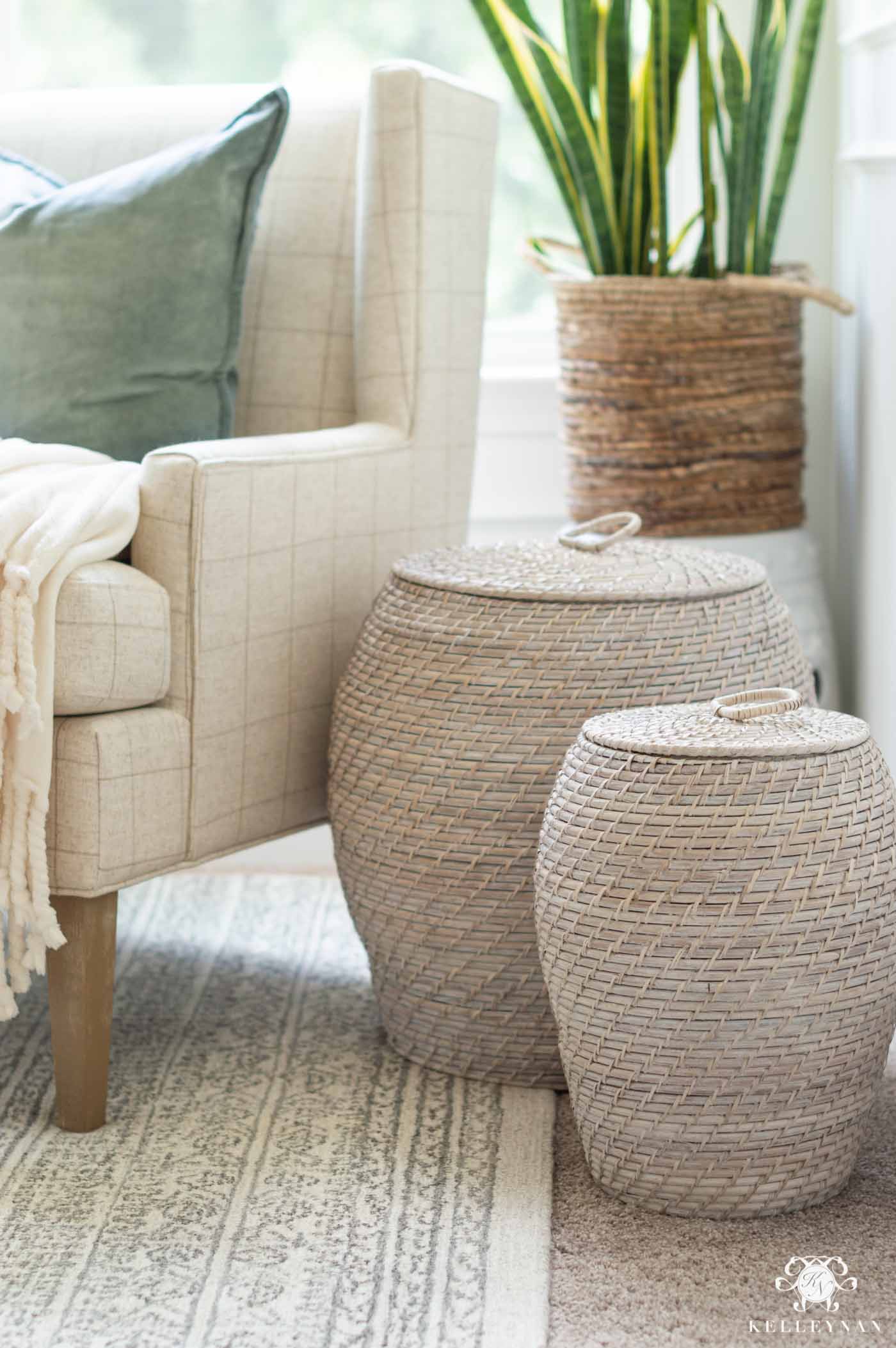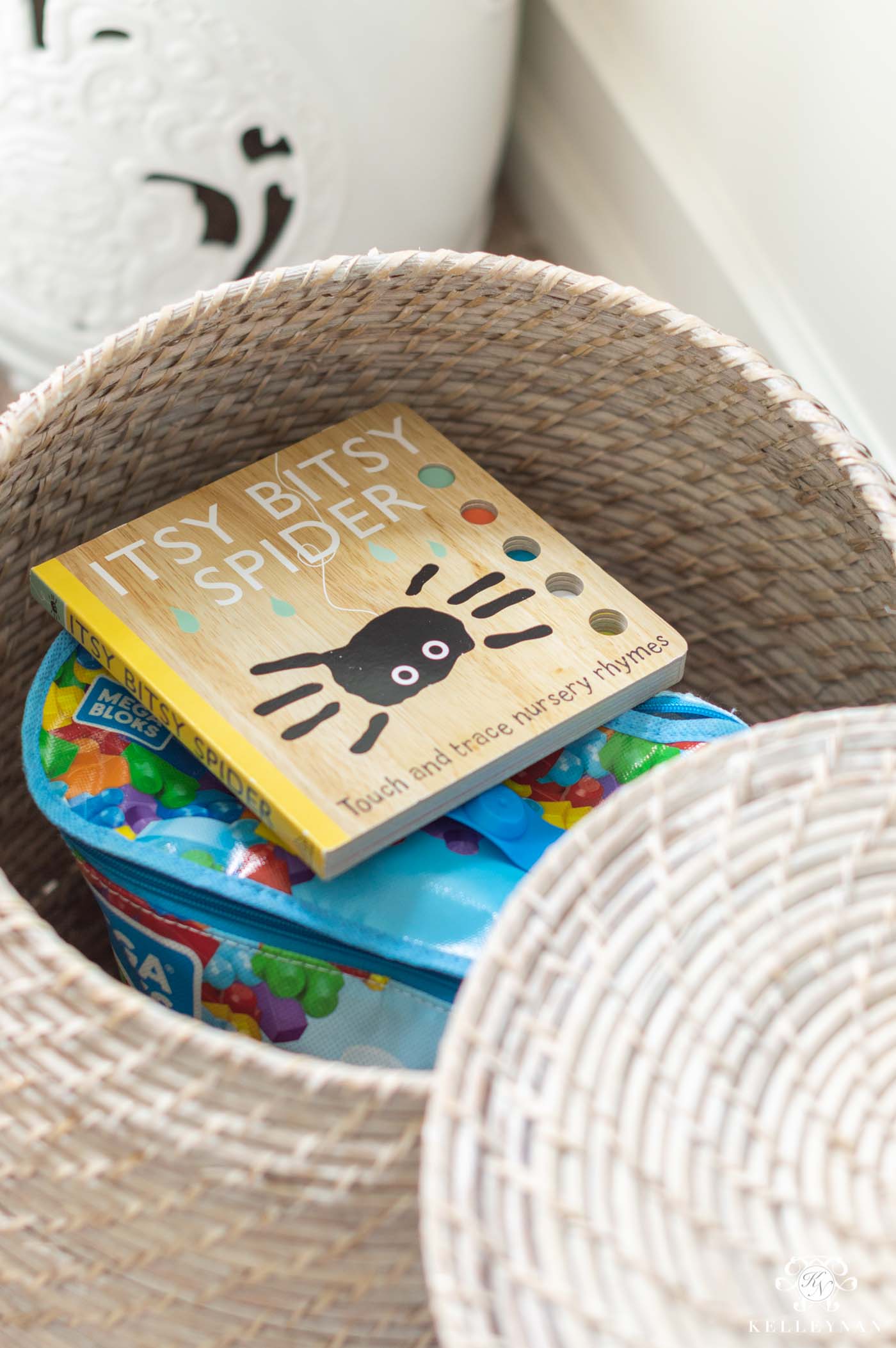 I repurposed a small side table and am continuing to use the same swing arm floor lamp and garden stool that I've had in the space, and the wood bead garland is the result of a weekend craft this past year. But I did find this cute textured vase — I suppose I'm somewhat of a collector of small, versatile vases that can be moved across the house, especially on bookshelves or side tables 😉 All the new additions and on trend updates — from the chair and pillows to the baskets, vase and rug — were one-stop-shopped and sourced from Wayfair; they all arrived quickly, shortly after I ordered. Once I get started on a project — even a mini overhaul like the sitting room — I appreciate not having to wait a long time before things arrive to get started (and finished).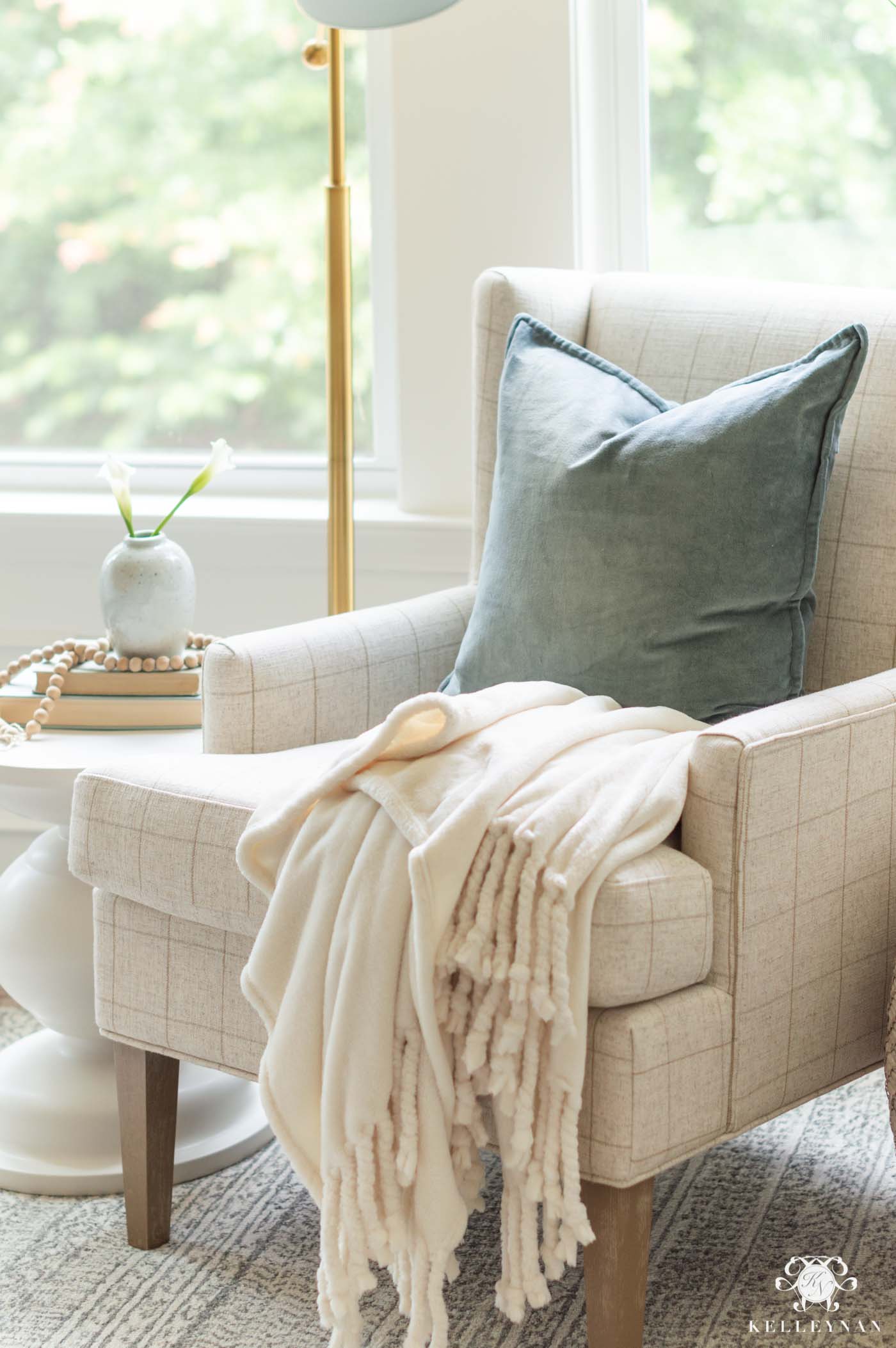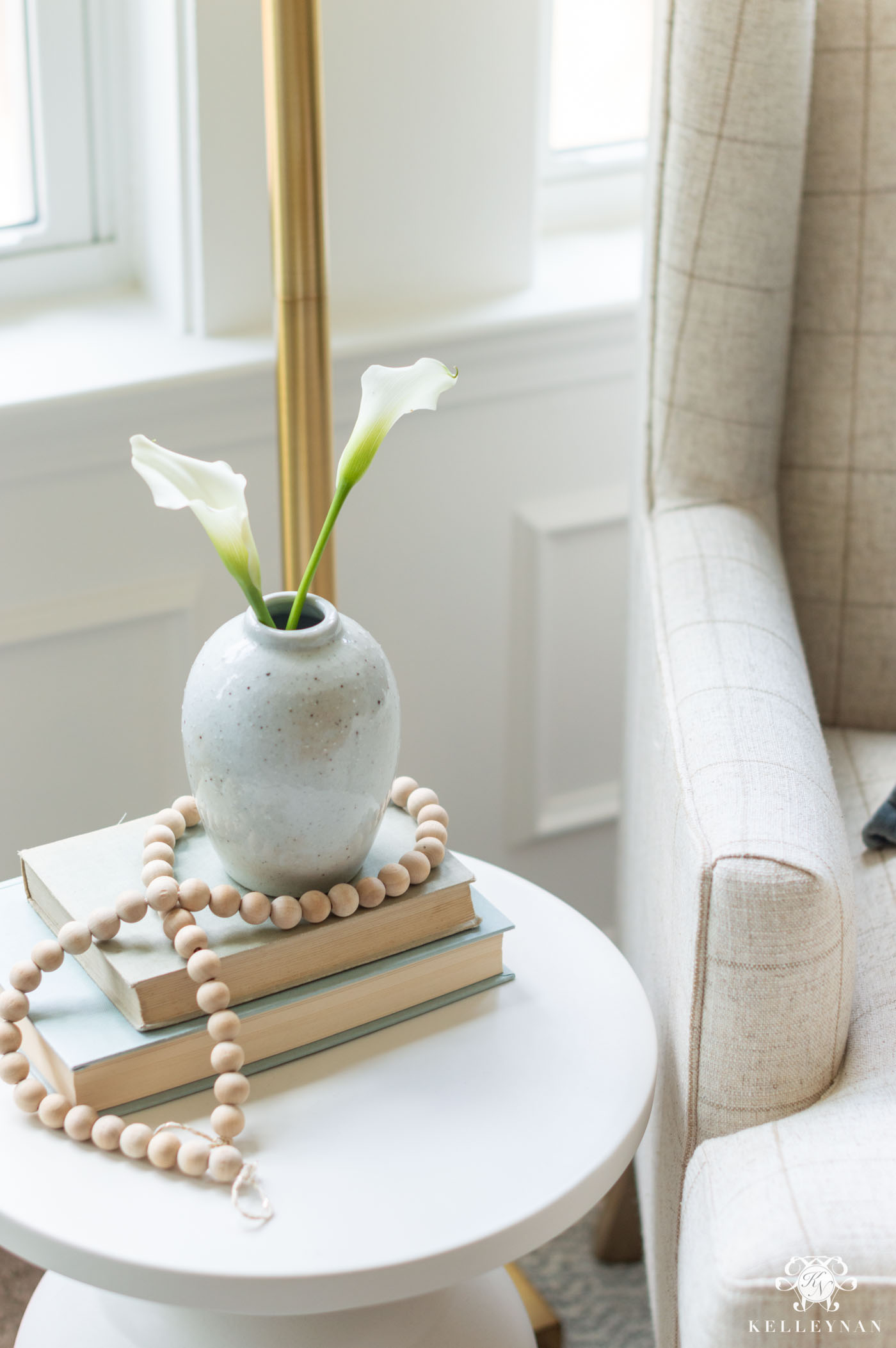 And just like that, with a few changes, I downsized the sitting area to a sitting corner and while the rug and upholstered chair are different colors from the rug and upholstered bed in the main part of the bedroom, all the same tones are present in some way and tied together.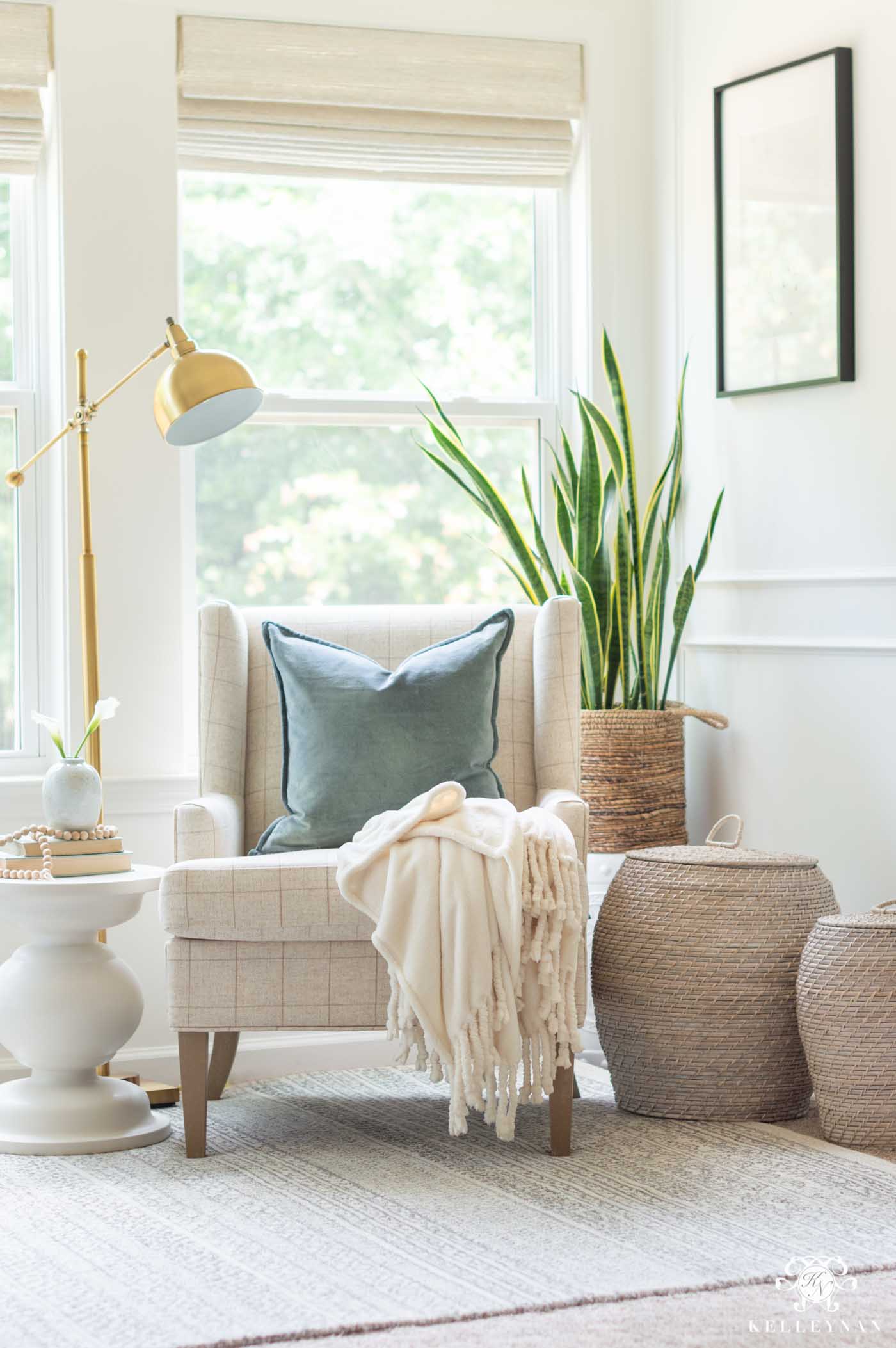 I still have a few priority spaces on my list and am always transitioning our spaces to best suit to our family and lifestyle; you can subscribe to my emails HERE to stay in the loop and see when those projects begin, along with how we adapt our surroundings to maximize livability!
Scroll & Tap to Shop the Post
For all available master bedroom sources and details, visit my Master Bedroom page HERE.