Better late than never, right? haha Coming in at the last minute, in the final week, today, I'm sharing 10 Father's Day gift ideas — most are personal favorites we have but I also included a few cool/sweet randoms across the web I found while searching. While some may not arrive until after this Sunday, others disclose that they will arrive in time and others have the option for expedited shipping. Honestly, I just finished this morning  and while I opted not to pay extra for quick shipping, I'll just include a photo in a gift box of what's on the way (my go-to whenever I'm running a little behind). All links and descriptions can be found below the following graphic.
*Posts on KelleyNan.com may contain affiliate links. Click HERE for full disclosure.*
Father's Day Gift Ideas
The 10 ideas below include gifts from several different price points. If your family doesn't typically "do" traditional gifts, come up with a game plan for the day to spend Sunday/this weekend, doing what the dad you're celebrating likes to do and eating what he likes to eat. If you are looking for traditional gift ideas, let's get into it!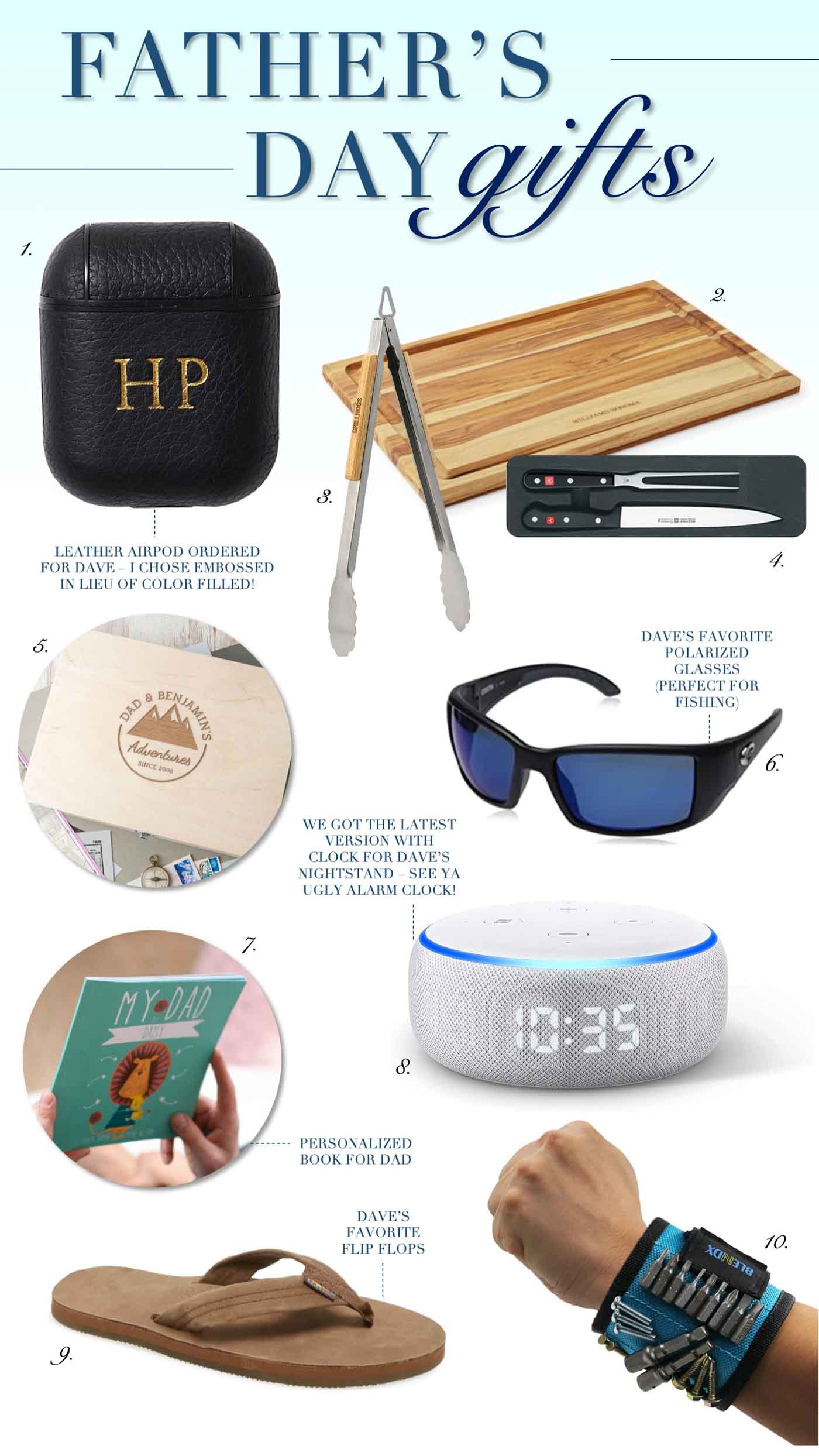 1. Leather Airpod Case (SIMILAR) // 2. Outdoor Teak Carving Board // 3. Grill Tongs // 4. WÜSTHOF Carving Set // 5. Adventure Box // 6. Costa Del Mar Polarized Sunglasses // 7. Custom Book for Dad // 8. Latest Echo w/ Clock Face // 9. Rainbow Flip Flops // 10. Magnetic Tool Wristband

I just ordered Dave THIS leather Airpod case (SIMILAR) this morning; you can choose the font (or no personalization), in several color options. I actually opted for no color and went with the embossed leather, instead. We are constantly mixing up our Airpods so this should resolve that issue, as well as give an extra (stylish) protection.
One of my go-to gift themes is accessories for Dave's Big Green Egg; I gave it to him as a gift YEARS ago and it's one of his favorite things he owns. We are ordering a new table that will hold his large egg and mini egg and while I want him to pick out exactly what he wants there, grilling accessories/replacements are always a win. If your "dad" doesn't have a nice carving set, board, tongs, etc., consider doing a bundle — you can even throw in some fresh cut steaks from the local butcher!
I shared something similar this past Christmas but I LOVE the idea of a customized "Dad and Me" adventure box to hold memories — from ticket stubs to rocks and vacation tokens.
Dave's favorite sunglasses — for everyday and fishing — are polarized Costas. If you're fishing, you can see directly in the water; the blue lenses are apparently best for deeper water and the green are best for shallow/lake/stream. If your "dad" is the outdoorsy type, these come in a ton of different frame colors and options!
This sweet personalized book isn't guaranteed by Sunday, but is a sweet gift, especially for brand new dads (Father's Day or not!)
Dave had a HUGE, ugly alarm clock he wouldn't kick until a few weeks ago. Echo released a new version of the Dot that has a discreet (but easily seen in the dark) clock face. We finally retired the monstrosity on his nightstand and replaced it with THIS Alexa! It's on sale right now HERE.
Dave has tried several brands of flip flops and while THESE aren't the cheapest, he says that no others compare; after a few years, he is on his second pair.
I just think this magnetic wrist cuff is brilliant — from big projects to hanging some pictures, this wristband can hold nails and screws, up to larger items like screwdrivers while you work!
Whether you have big plans this weekend or are keeping it lowkey, happy Father's Day weekend to you all!