I alluded to (yet another) makeover project that was in the beginning stages, and today, I'm going to share the "why" with as many plan details as I can. When I flooded a portion of the house (see that post HERE), fortunately, the kitchen was totally untouched. But, with so many tile projects set and so many contractors in and out, I thought, "hey, why not go ahead and change the kitchen backsplash while they're here?" If you caught my mini kitchen makeover a couple years ago (see the reveal HERE), you may be familiar with our cream kitchen. At the time, I didn't want to take on anything major aside from countertops and a few cosmetic updates. Every selection I made was intentional and was made with the purpose of complementing my cream kitchen cabinets. I wasn't a fan of my almost-brown backsplash but it was more than I wanted to take on at the time and it did work with the color of my cabinets… But, here we are — a few years later — and with all going on inside the house, switching the backsplash felt like a minor, easy improvement. But… I was wrong and a domino effect would soon ensue.
*Posts on KelleyNan.com may contain affiliate links. Click HERE for full disclosure. 
Kitchen Backsplash Update
I suppose the bright idea to switch the backsplash didn't just come out of nowhere. Along with being on "my list" for a long while, after seeing the Cloe tile (the tile we installed in the master bathroom shower) and its varied colors from gray to white and cool to warm, I thought it would be the perfect, simple replacement tile for the kitchen. Surely the varied neutral shades would blend well with my cream cabinets. They are 2.5″x8″ tiles and while I went with a vertical stack in the shower for an updated look, I liked the idea of going with a horizontal stack in the kitchen. (You can see the latest master bathroom update with the vertical tile HERE)
I have a difficult time with photos in my kitchen since it stays pretty dark and there's no direct light. Here's a look at how it looked before — the backsplash tile actually appeared darker in person, most of the time…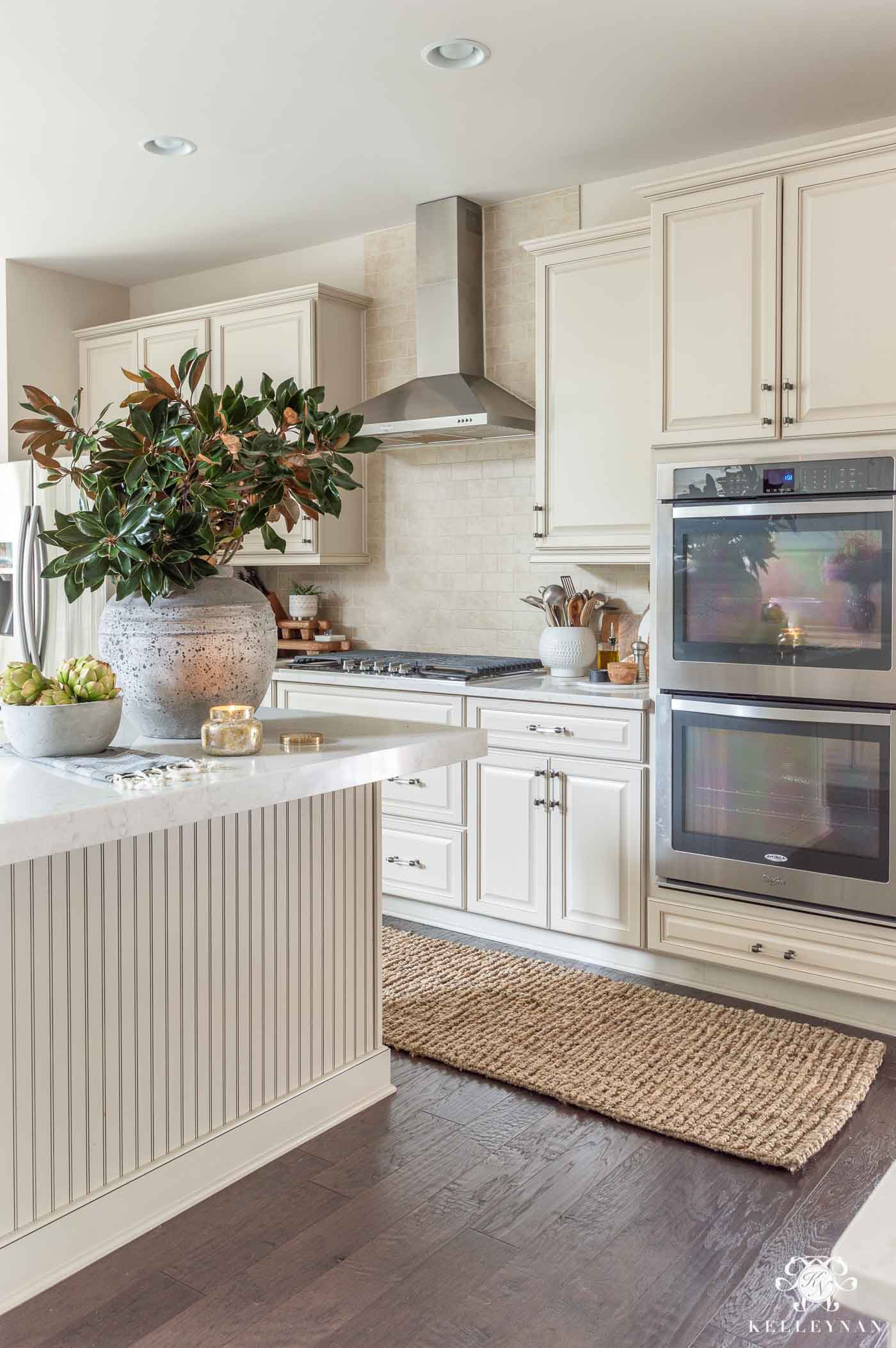 And then, they replaced the backsplash and this is what we had.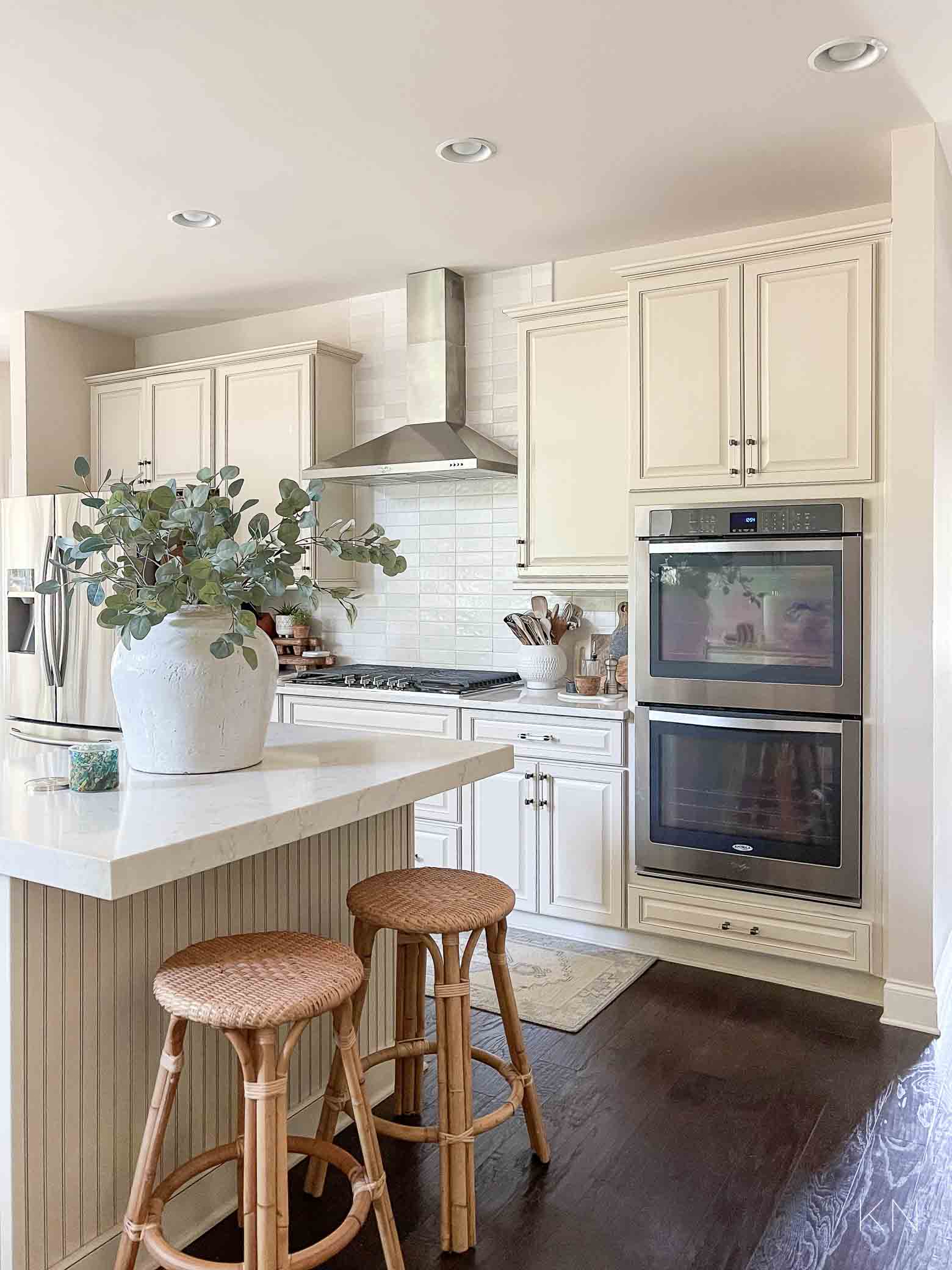 Counter Stools | Runner | Vase
So many things ran through my head. The first being "oh no". I loved the tile, I loved the pattern, and I loved how it looked with my countertops. But… I hated how it looked with my cream cabinets, how yellow it made them look (or emphasized the yellow tones), and it undid all the work I had so carefully and previously planned around the cream kitchen and disguising its yellow. Even though the tile is varied in color, none were creamy enough to blend in with the cabinets and the overall feel in general — with the more sleek lines — contrasts too much (for me) with my traditional cabinet style. So, I made a call to my contractor and said "I know we weren't planning to, but is it a really big deal to paint the cabinets?"
The Plan for (Another) Mini Kitchen Makeover
The contractor connected me with their cabinet guy and even before these conversations, I knew painting the cabinets would be an expense. It's totally different than painting walls and doing it "right" involves several steps and a whole process. And this is where the domino effect really set in. When he came out to meet, I asked him for 1. a quote for painting the cabinets and 2. a quote for painting the boxes and replacing the doors to a shaker style. While I am "fine" with the raised panel, I would prefer a modified shaker style and with painting being a bit of an expense, I found out that in the scheme of things, it actually wouldn't be that much more to just go ahead and replace the cabinet doors. I also spied a couple of cracks — whether it was the paint or something else, this helped direct my decision. So, new doors it is. But if I do new doors, there's a few other things I may as well consider while I'm at it. So, here's what we're leaning toward…
new doors with new paint color
update the molding to a cove crown molding
change hardware — I love my current hardware but I am thinking of doing something different with the new cabinet color. Maybe even a gold/brushed brass…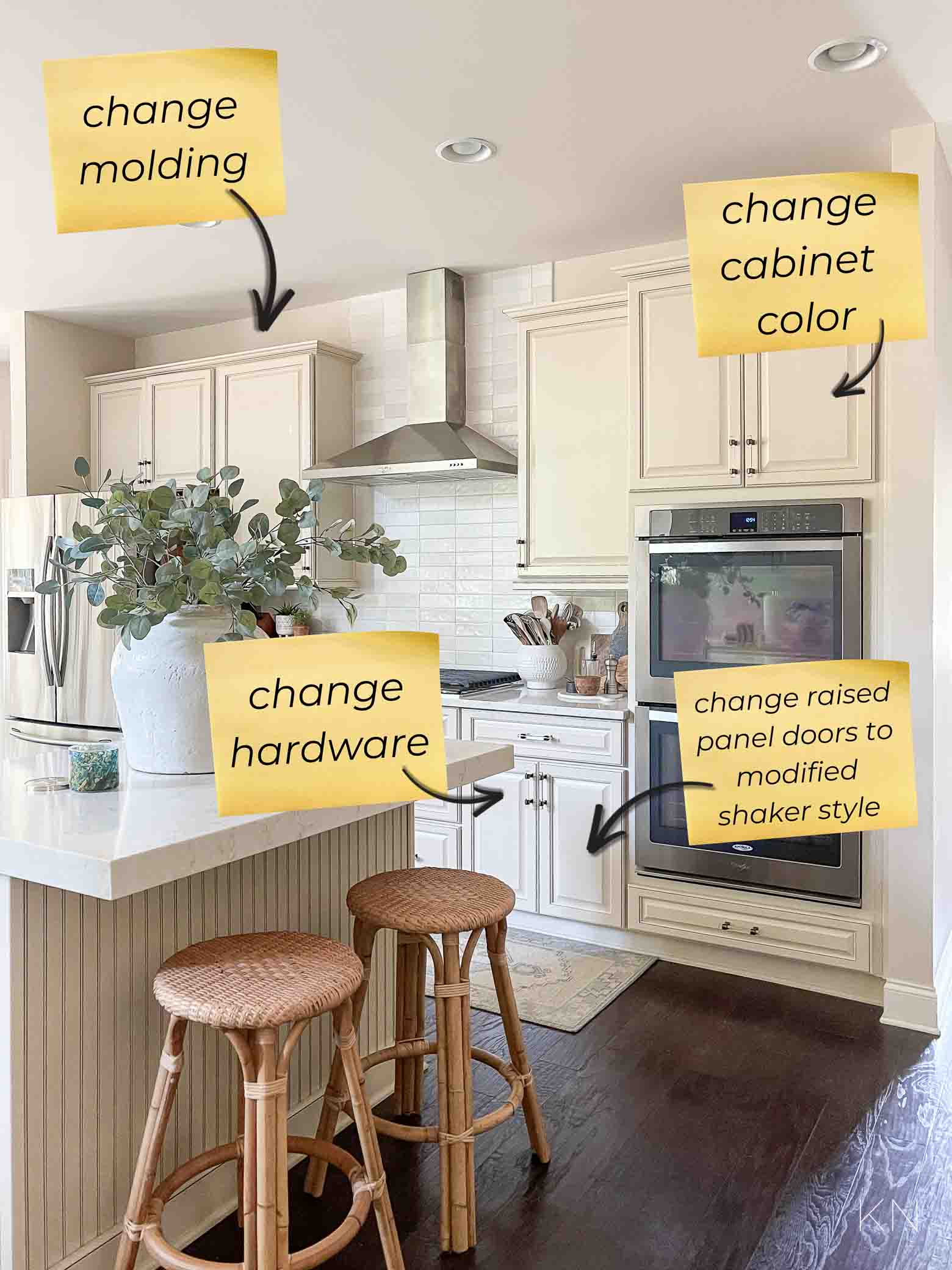 Counter Stools | Runner | Vase
For the cabinet paint color, I don't want to go white white. And I love the look of a mushroom/greige cabinet but with little light in the kitchen, I don't want to make it even darker. So, I am leaning toward Agreeable Gray by Sherwin Williams for the cabinets (a pale warm greige). And, with the cabinet color update, we'll also be updating the paint on the walls and ceiling — I'm leaning toward white walls with my go-to, Benjamin Moore Simply White.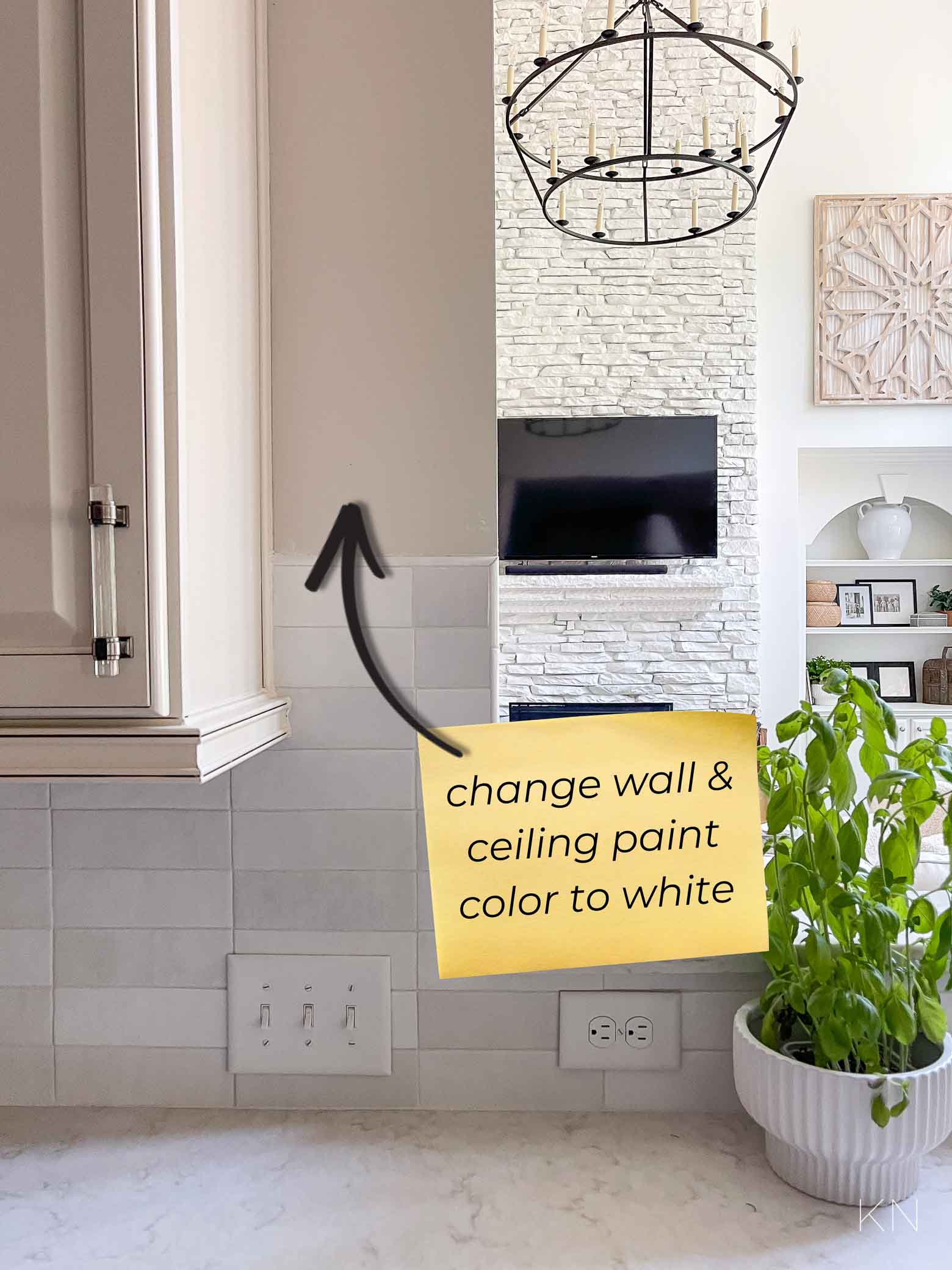 And with the cabinetry makeover, I thought it wouldn't hurt to look into doing a few other updates that were on a wish list. I regretted not having the fridge surrounded when we moved in and the cabinet guy said that wouldn't be that big of a deal, so… we plan to alter that.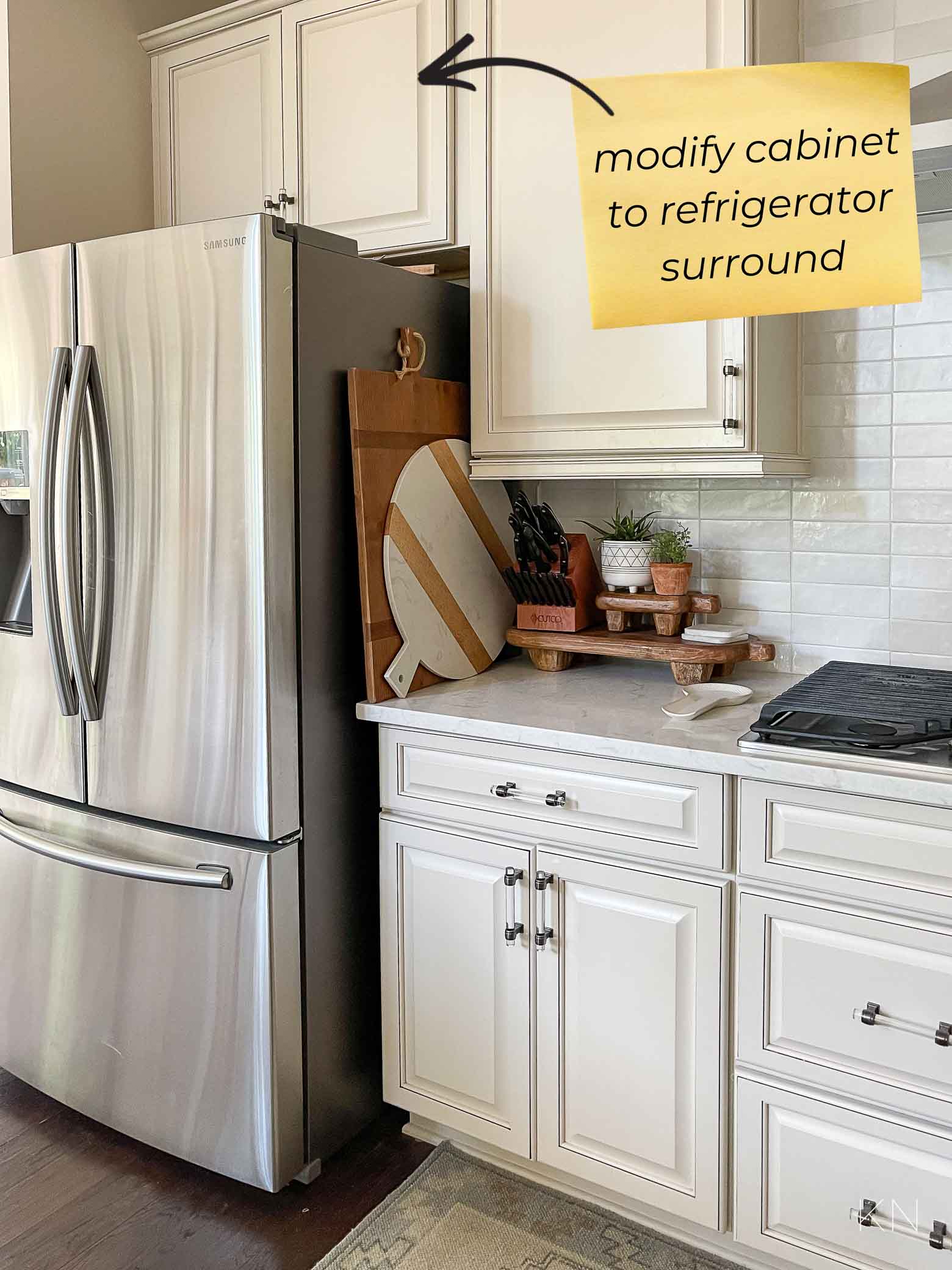 White Board | Large Wood Board (size: large)
I am planning to have the small island sides changed up a bit, and move from the glazed beadboard to something more paneled looking, which will coordinate with the cabinets.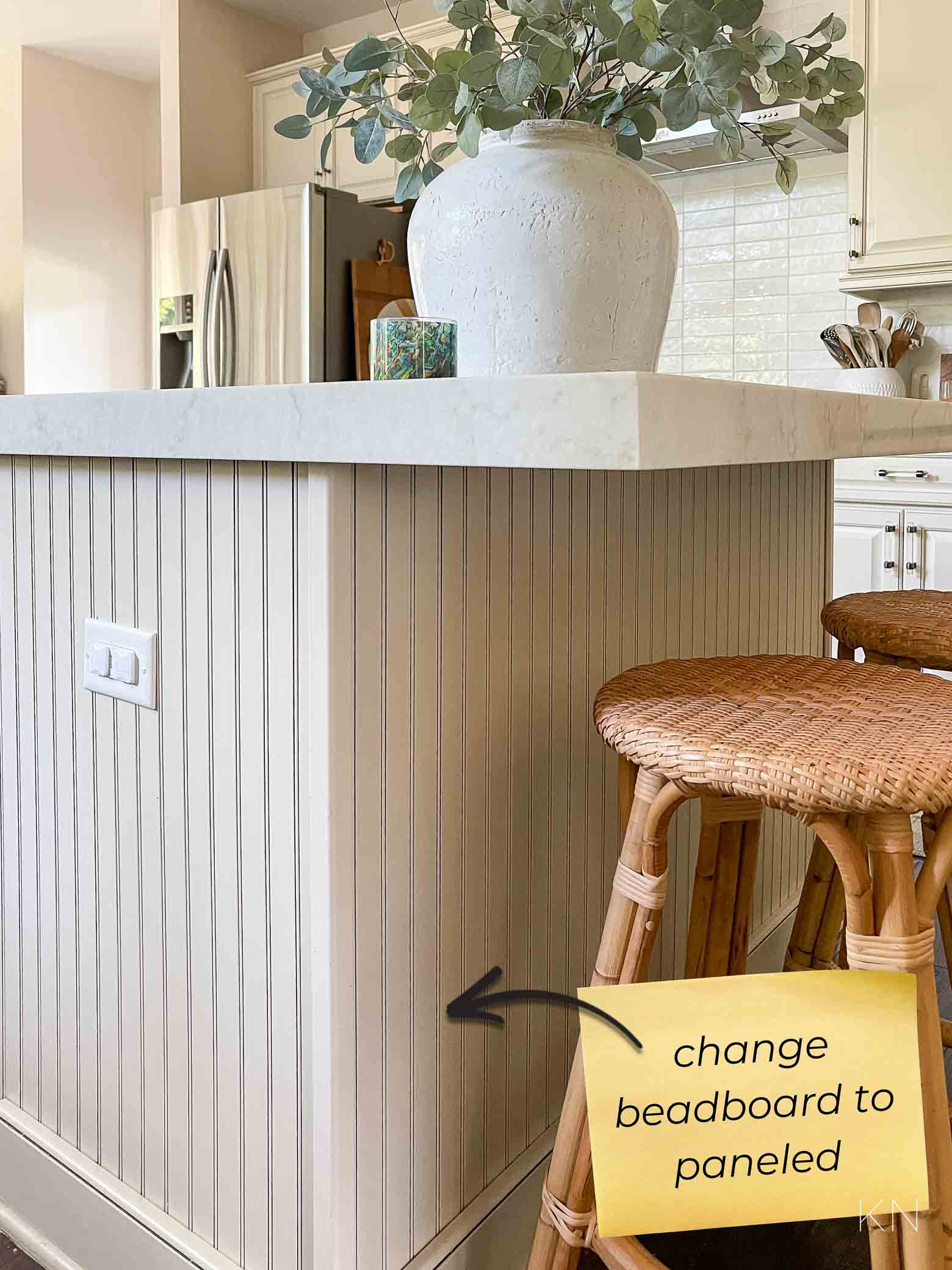 And lastly, go ahead and have a vent hood built that will go up to the ceiling. We aren't taking the cabinets to the ceiling, but I thought the vent hood alone would make the space look a little more custom. I am going with somewhat of a straight up and down box design with some detail and will design that with the cabinet maker. I'll also need to purchase a vent insert.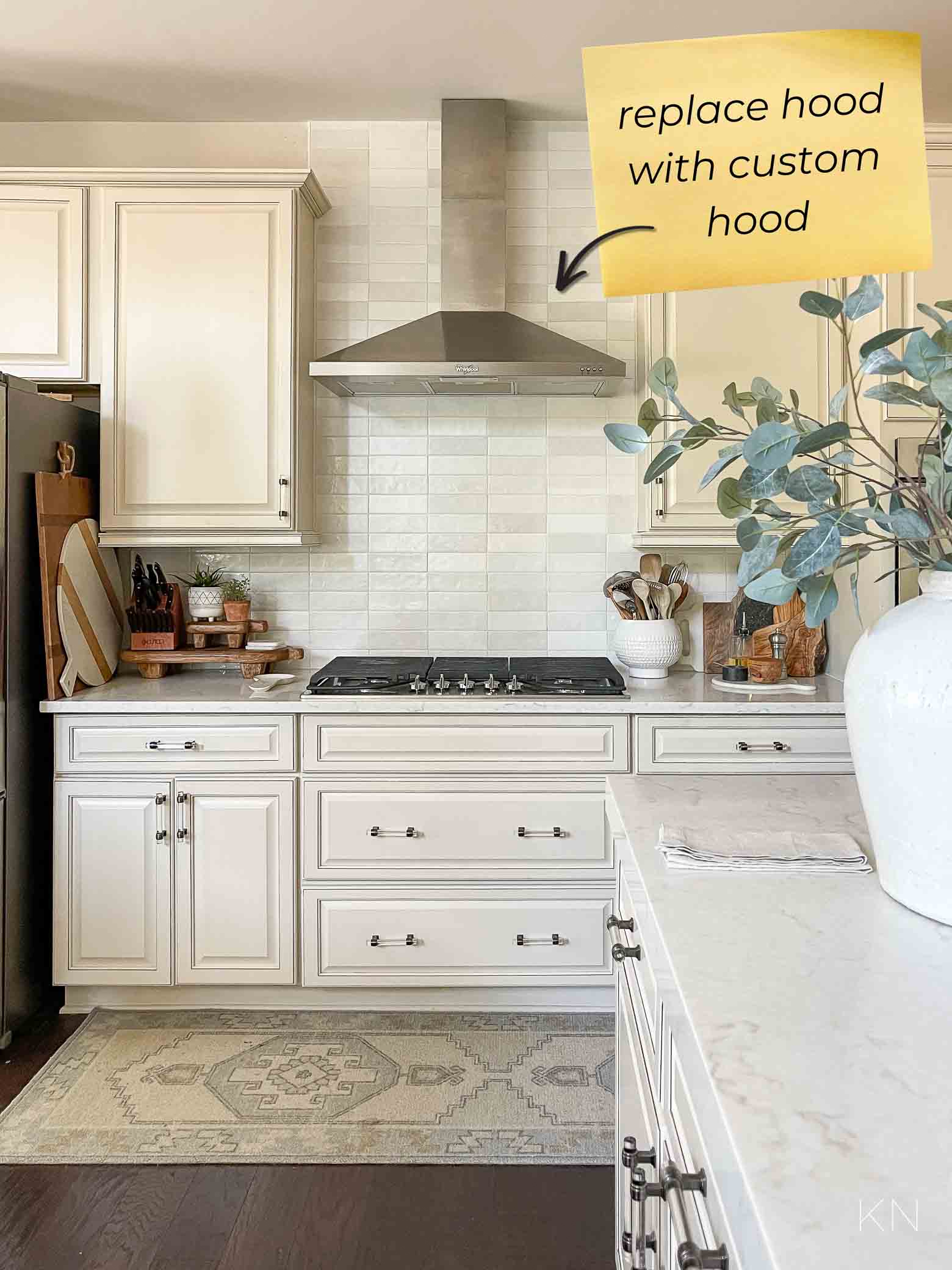 Cabinet Pulls (color: gunmetal) | Runner | Vase | White Board | Large Wood Board (size: large)
Mini Kitchen Makeover Timeline
So when is this all happening? Honestly, I don't know. Paint — especially Sherwin Williams — is impossible to find right now in the type we need and I don't want the cabinet makers to color match, so until they are able to source the acrylic paint for the cabinet, we are at a standstill. It won't be much of a journey and will pretty much be completed all at once, followed by wall and ceiling paint. I am guessing it will be after the first of the year before we have a finished project to show but I will be sure to share any frustrations, challenges, and all the things I'm sure to learn along the way once we have officially revamped.
In the meantime, the focus is on getting this master bathroom (progress HERE) completed, sharing the finished office bathroom (progress HERE), and getting Eliza's playroom (plan HERE) back in the queue! We were able to reclaim our master closet this past week and purged and organized the crap out of it, haha. That in itself has taken a huge load off my shoulders. Holiday decorating is upon us and I'm planning to hopefully finish reveals for both bathrooms before the end of the year, but the playroom and some other projects we've started will likely be put on pause/be worked on quietly in the meantime. To catch all the updates and reveals, be sure to subscribe to emails at the bottom of the post! Thank you for sticking with us and our makeover journeys as we continue to evolve the spaces in our home — both intentionally and by accident 😉
Kitchen Sources