With much of the house in disarray and under "in-progress-project" status, I haven't been motivated to celebrate the seasons through my decorating this year. But, with some projects nearing completion, coupled with the approach of my fav season, it was easy to get excited about acknowledging a little autumn in the entry — a space that's free of boxes, plastic tarping, overflow, and greets you as soon as you open the front door. With just a few simple switches and fall entry decor additions, my small foyer area is feeling fresh for the first time in at least a year!
*Posts on KelleyNan.com may contain affiliate links. While this post is created in partnership Walmart, all opinions, concept, and creative are my own. Click HERE for full disclosure.*
Fall Entry Decor
Our small entry acts as the middle point between our dining room (reveal HERE) and conversation room (reveal HERE). Both rooms are transitional in style with some really traditional elements, mixed with a few trends and pieces with modern, clean lines. Each space also has a major contrast moment — one with a black planked ceiling and the other with nearly black molded walls — and I wanted to infuse just a little fall color that would play well with both. I'm totally vibing with warm neutrals in all of the textures — woven, tufted, wood — and have declared "orange" a "rust", which totally qualifies as a "neutral" this season. With a few inexpensive additions from Walmart — coordinated with a few items from my arsenal — I turned my entry bench from "nondescript" into an intentional moment that feels "fall" as soon as you step in the door.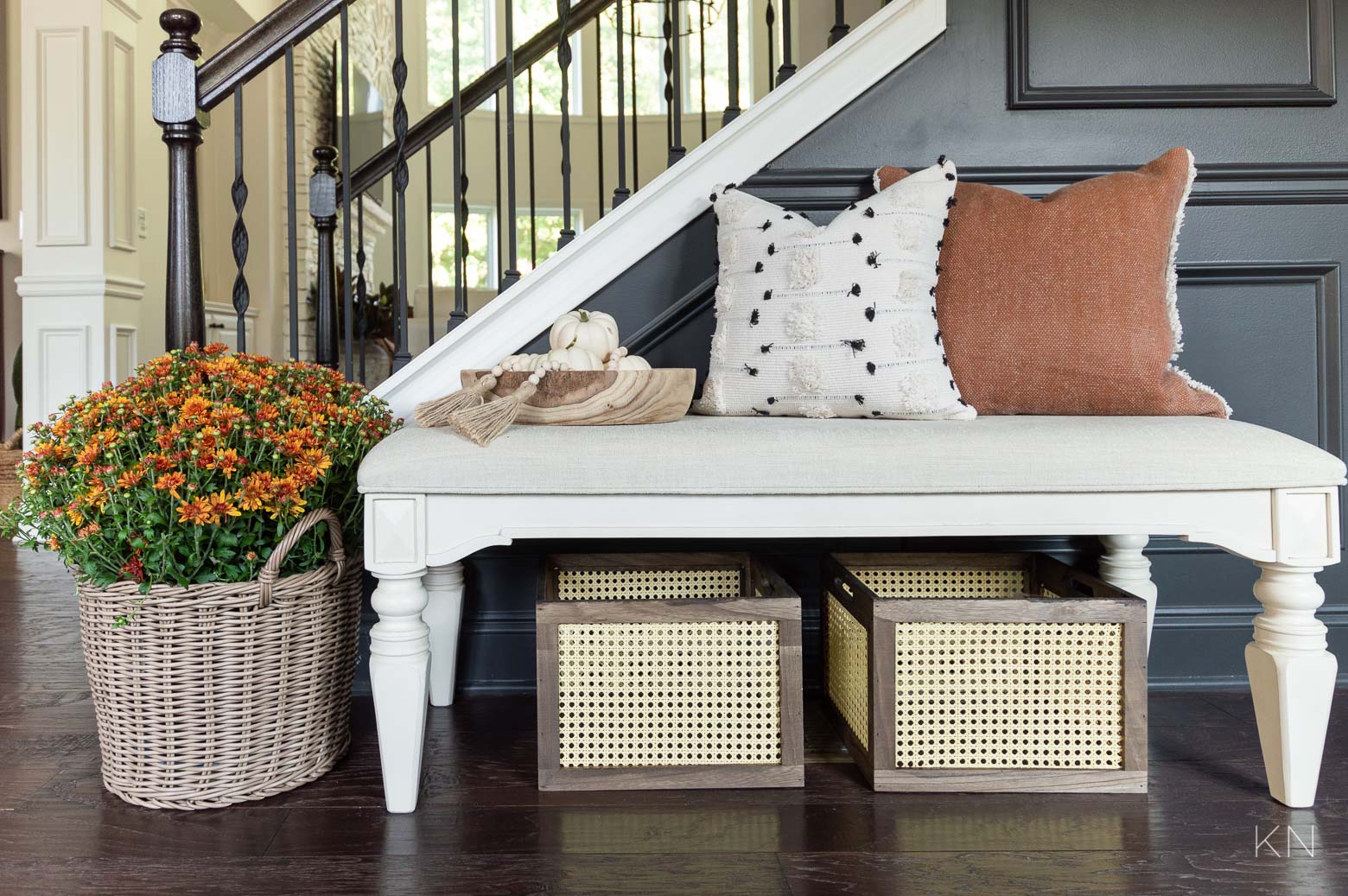 Sources: Handle Basket (set of two — one large, one medium) | Rattan Cane Crate (large) | Wood Bead Garland | Neutral Tufted Pillow | Caramel Fringed Pillow
Our entry isn't formal but it also isn't an appropriate spot for a totally casual mudroom situation. It shares a wall with our dining room — the most formal area in our house — and I want it to fall somewhere in the middle… casual but refined.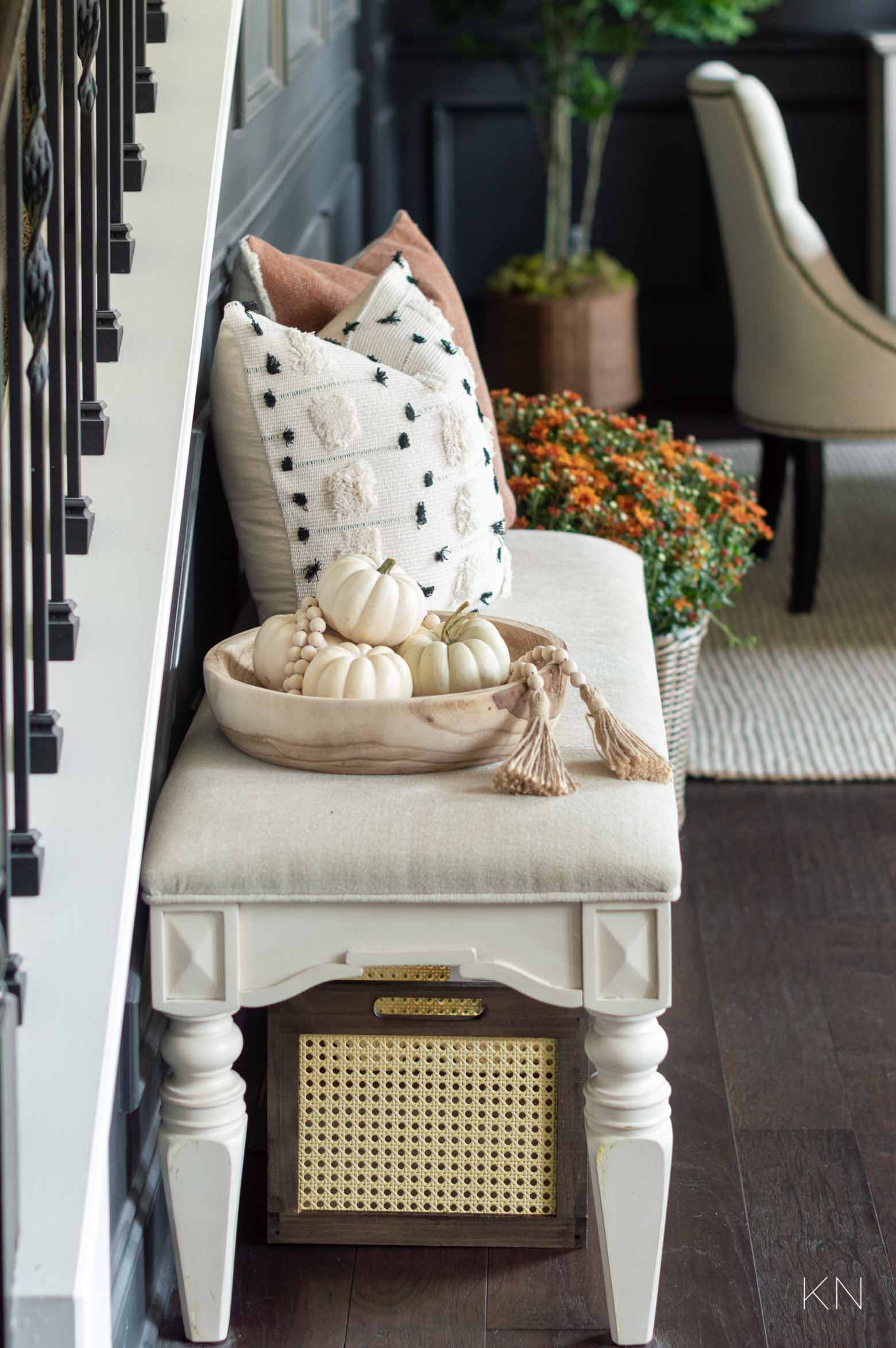 But, that doesn't mean we can't still incorporate some functionality. I know we are one family in millions who amass so many items that end up getting stacked in piles to go upstairs. Not just from around the main level living areas but from random deliveries that seem to show up daily. The entryway is somewhat a depository for incoming and outgoing packages and my hope is that these cane-sided crates will be the perfect storage solution for staging those items and the items that need to be dispersed to the other rooms in the house. They come in two sizes but these are the large — they nestle under our bench perfectly, to assist in the effort. The small is only $13.98 while the large is currently only $17.98 (both sizes HERE).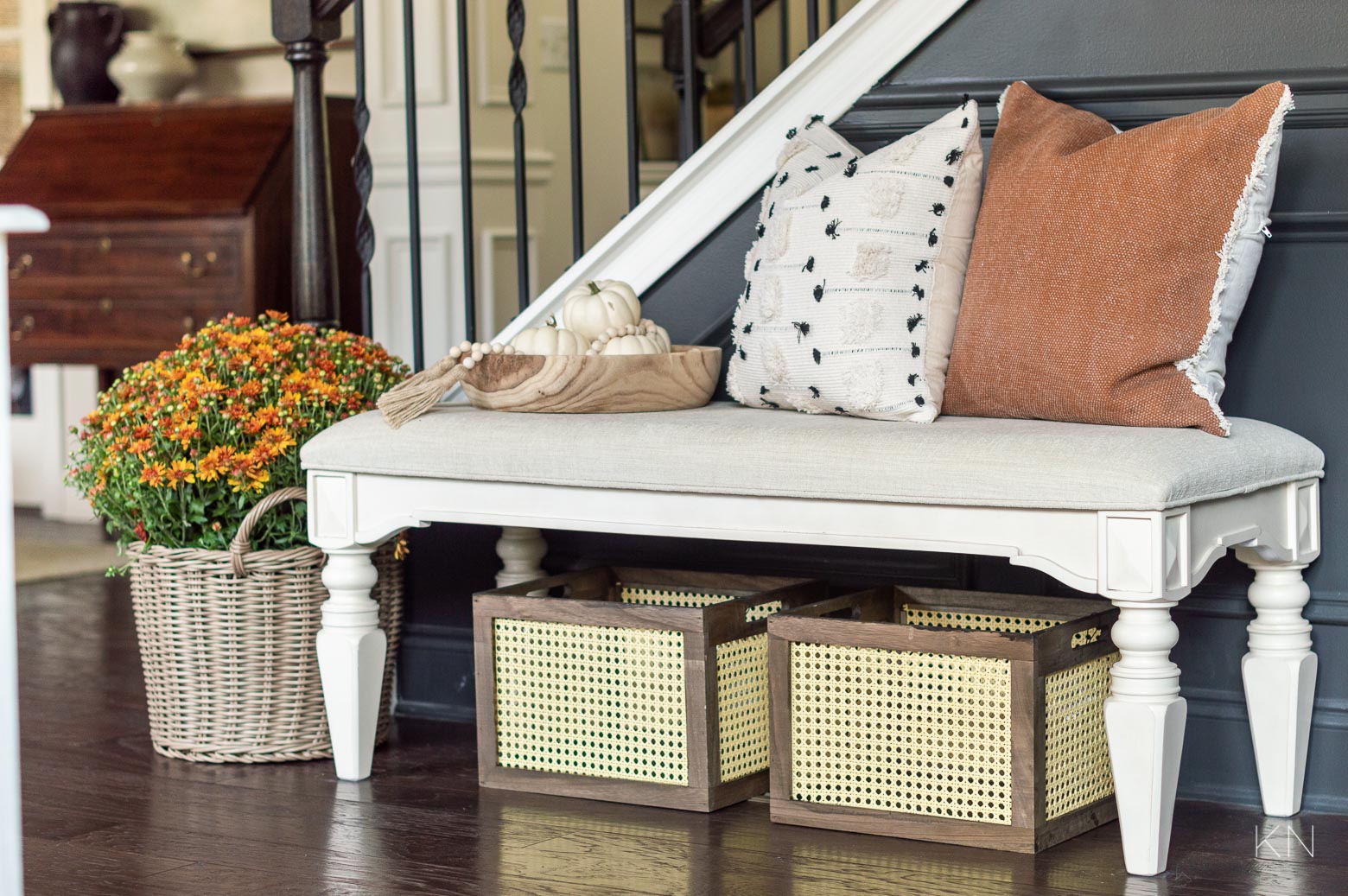 Sources: Handle Basket (set of two — one large, one medium) | Rattan Cane Crate (large) | Wood Bead Garland | Neutral Tufted Pillow | Caramel Fringed Pillow
While we haven't yet made our annual trek to the pumpkin patch just yet, I picked up a few pumpkins in white and muted orange, along with an orange mum, as the anchor for my fall entryway color palette. I tried mini white pumpkins in a shallow bowl with a strand of wood bead garland…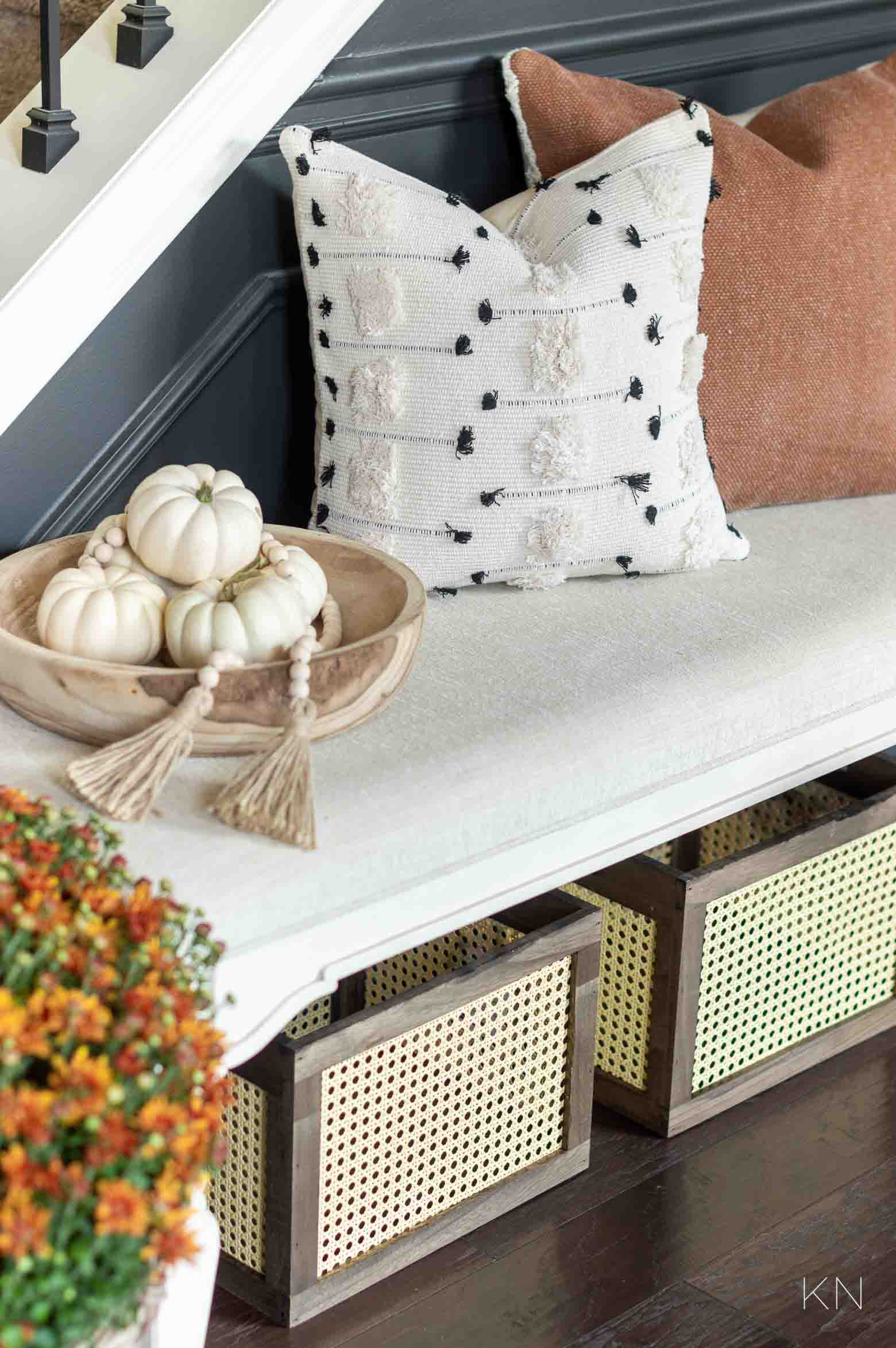 Shop the Sources/Get the Look

and a simple pumpkin all on its own. While the bowl of white pumpkins won on this day, I ultimately decided to keep this single pumpkin cutie atop the bench for the rest of the season.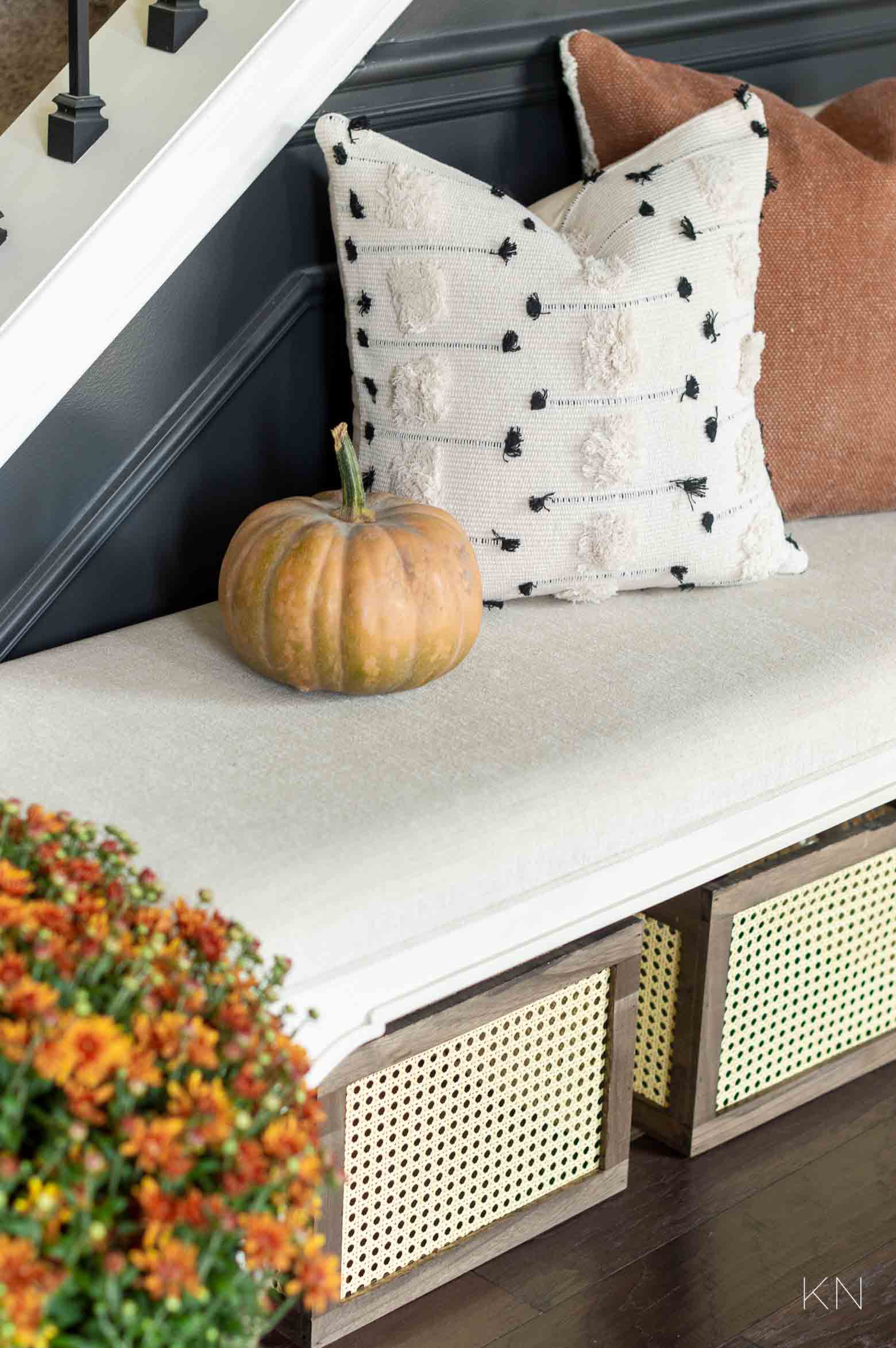 One of my favorite, most versatile accessories — not just for fall but in all seasons — is THIS wood bead garland. It's inexpensive and I drape mine on everything in every room, from coffee table books and boxes to bowls and trays. If you style up a vignette and it just feels like something is missing, toss this garland on and it will immediately elevate your decorated moment into a casual-with-intent win.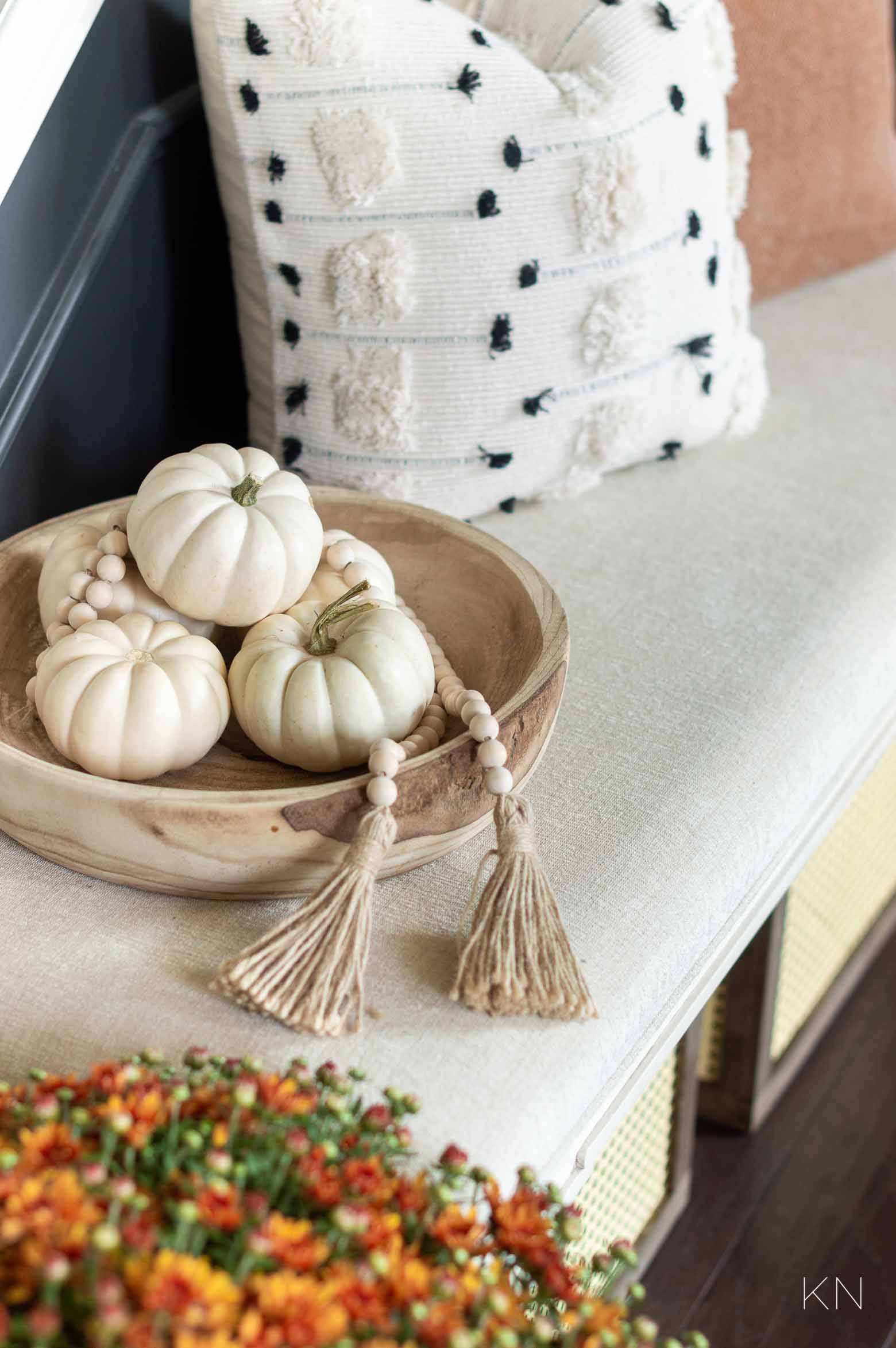 Sources: Wood Bead Garland | Neutral Tufted Pillow
THIS neutral tufted pillow and THIS caramel fringed pillow added all the texture I was looking for and just the right amount of color. Both covers have zip closures so you can pair them with your favorite pillow inserts. At only $19.49, I was especially surprised by the quality of the neutral pillow cover (HERE) — it's thick and looks way more expensive than it is.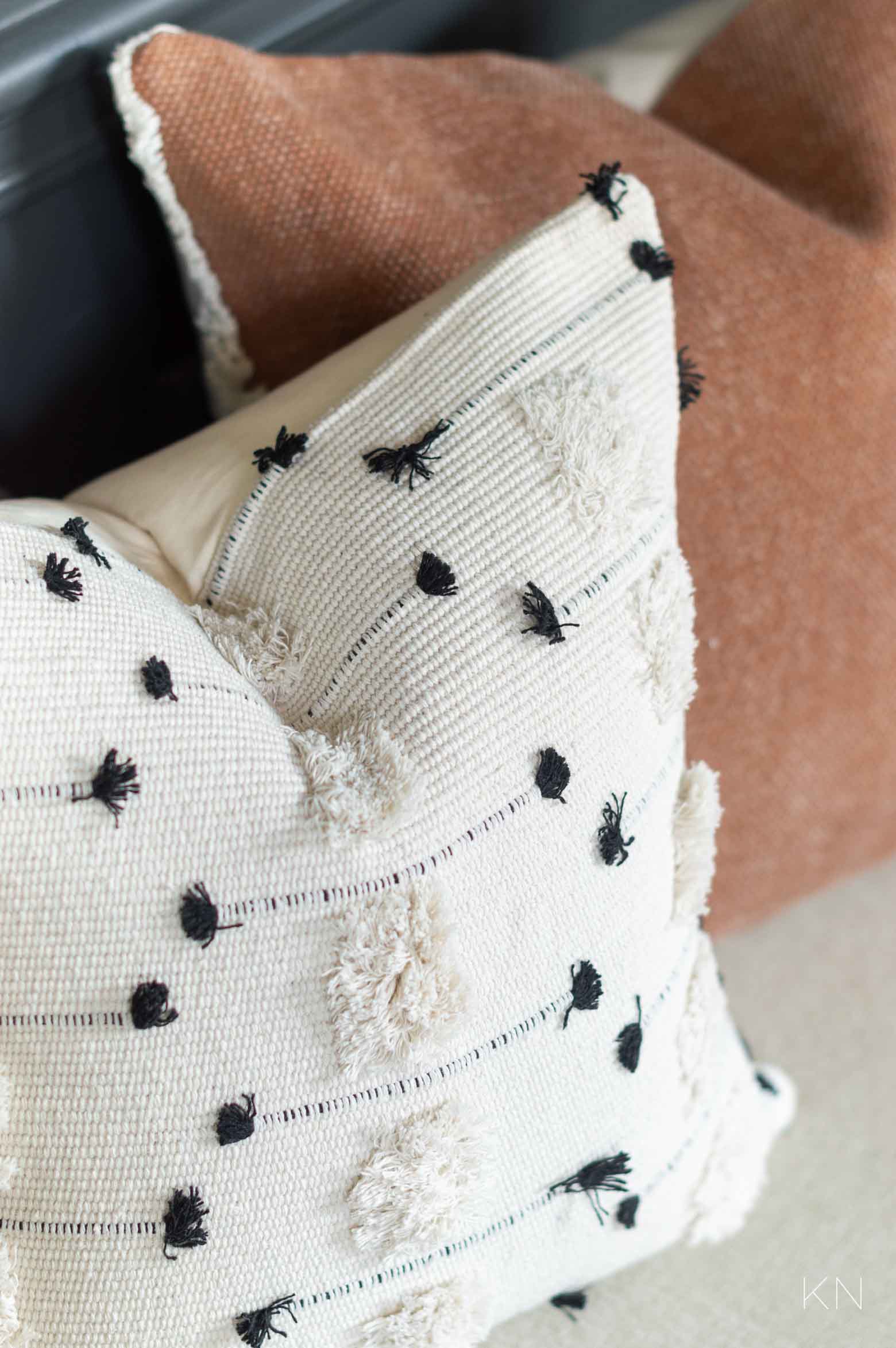 Sources: Neutral Tufted Pillow | Caramel Fringed Pillow
I've been crushing on orange mums ever since I went a little crazy with them on last year's porch. This was the perfect opportunity to bring one right inside. While I typically leave them in their containers outside, THIS handled storage basket makes the perfect container. It's made of resin so it's durable and as a bonus, it actually comes as a set of two (HERE) — one large and one medium sized basket. My mum is nestled in the medium — the smaller of the two.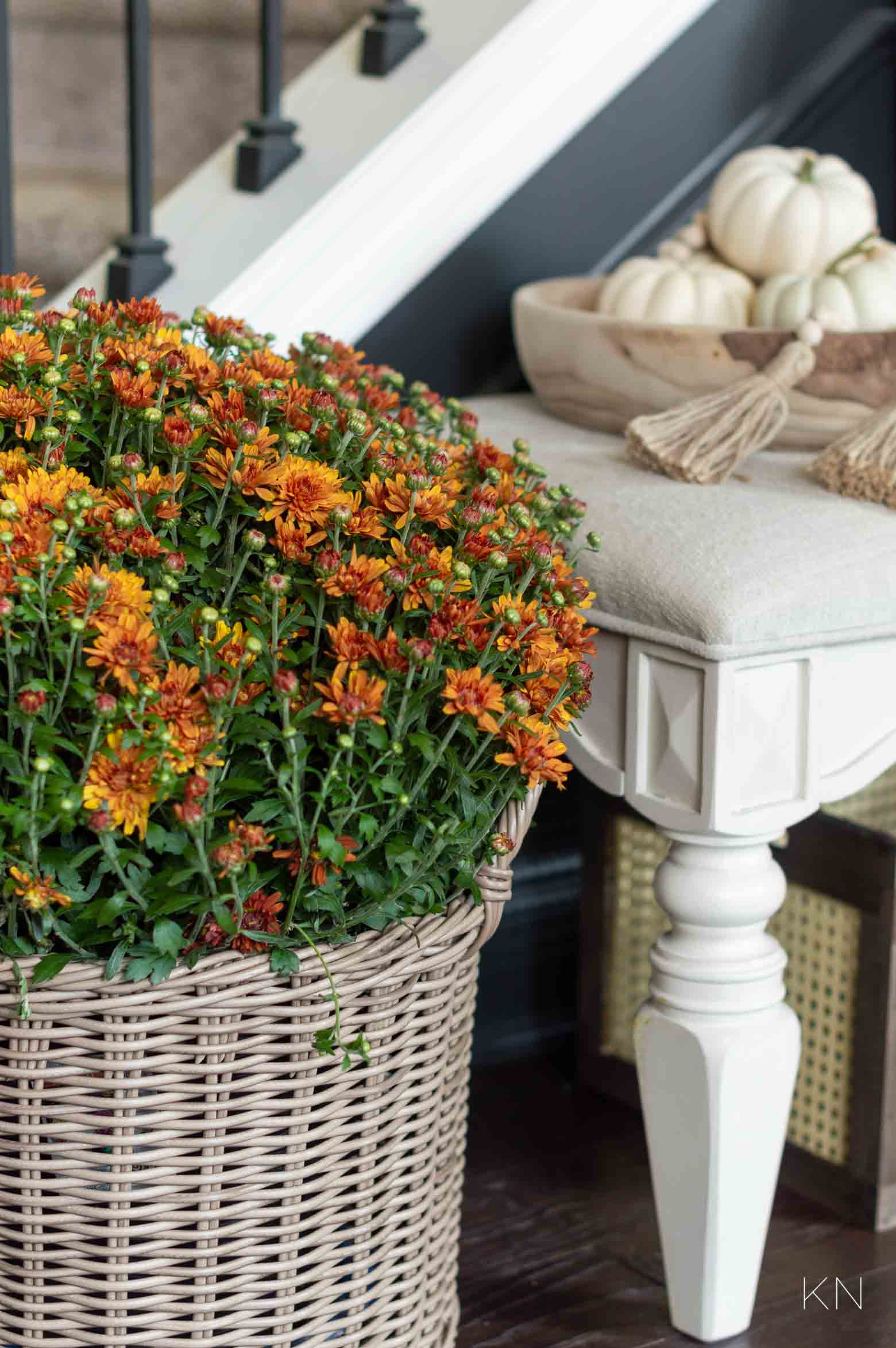 Sources: Handle Basket (set of two — one large, one medium)
And just in case you didn't know, you can actually order live mums in the color of your choice, directly from Walmart HERE. They have lots of sizes, colors, and combos available that will show up on your doorstep. All the reviews are positive noting the great shipping method and condition of the mums — full of buds and in perfect condition. Of course, if you have a Walmart+ membership, they ship free 😉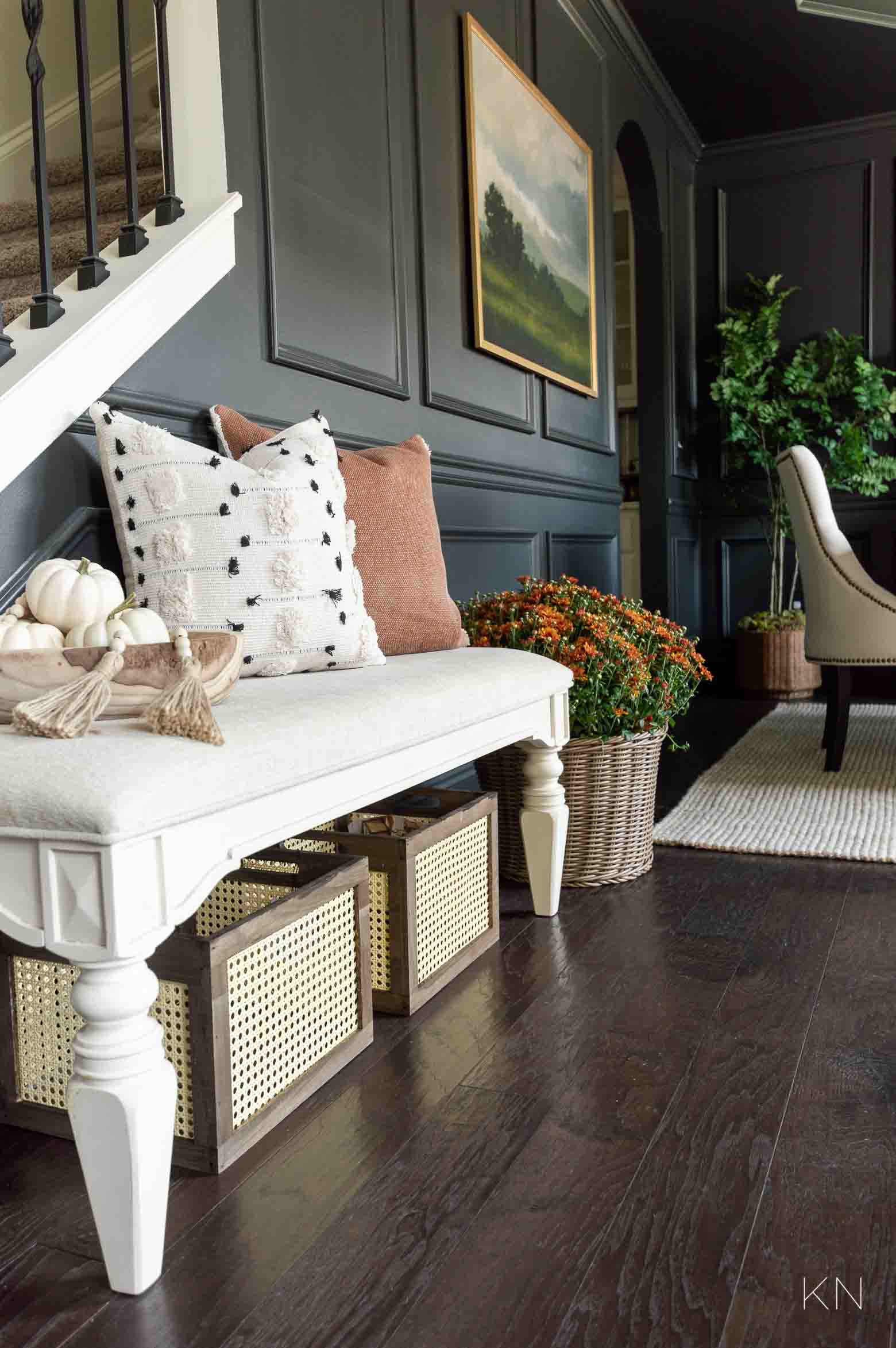 Just beyond the stairs, you may spy a few changes in the living room — I have those set to launch on the blog within the next week so stay tuned!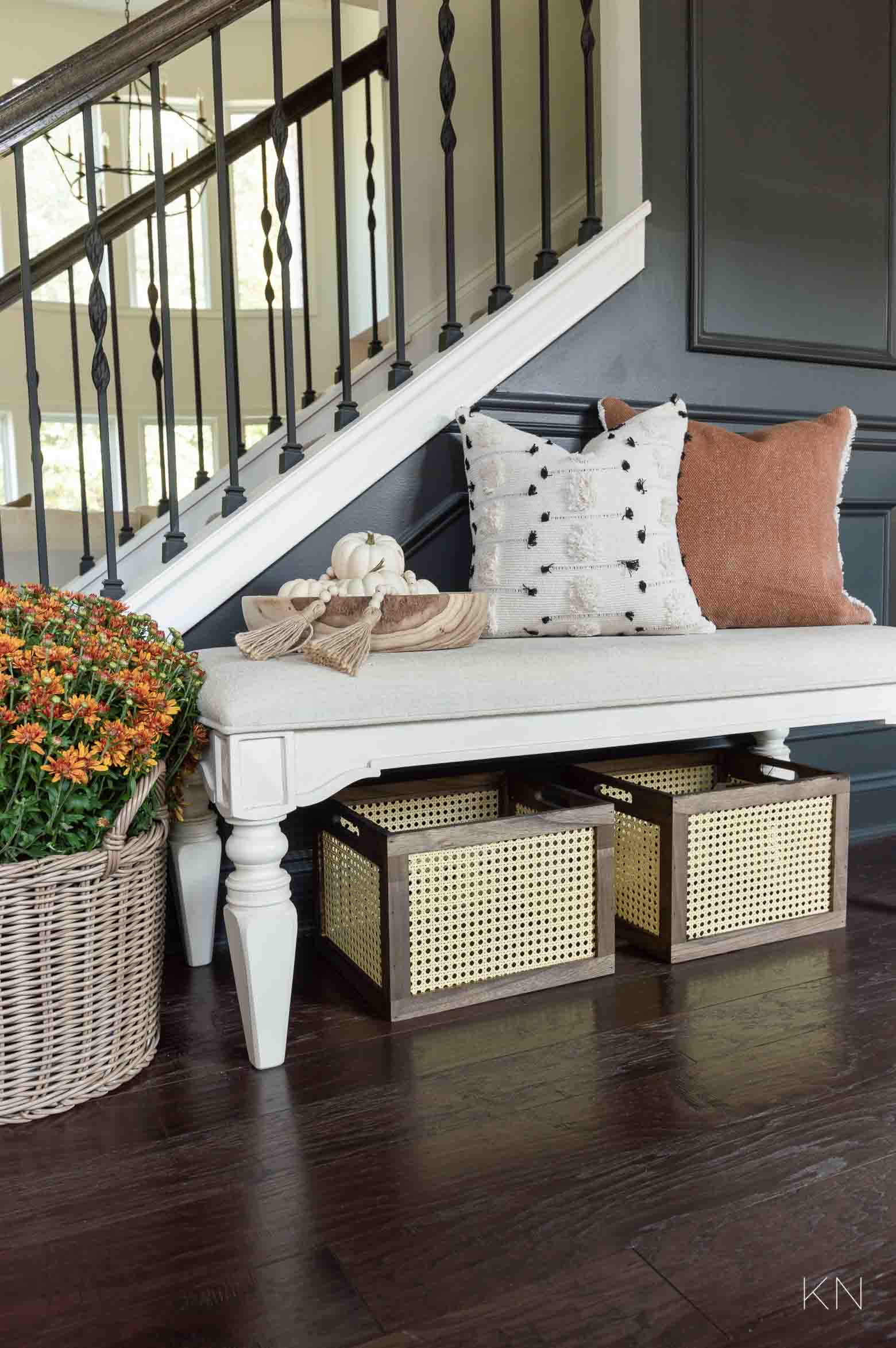 Sources: Handle Basket (set of two — one large, one medium) | Rattan Cane Crate (large) | Wood Bead Garland | Neutral Tufted Pillow | Caramel Fringed Pillow
I came across so many great, affordable fall (and everyday) finds from Walmart Home in my search for kicking off my home's look for the season, I've included some of my favorites below! I already own several of these, myself, and while I re-purpose throughout the year, I use them across seasons. Everything I've ordered from Walmart always comes quickly, and should you need to, returns are so easy. For seasonal decor especially, affordability is key and the price points are totally budget friendly. All links can be found at the bottom of the graphic below.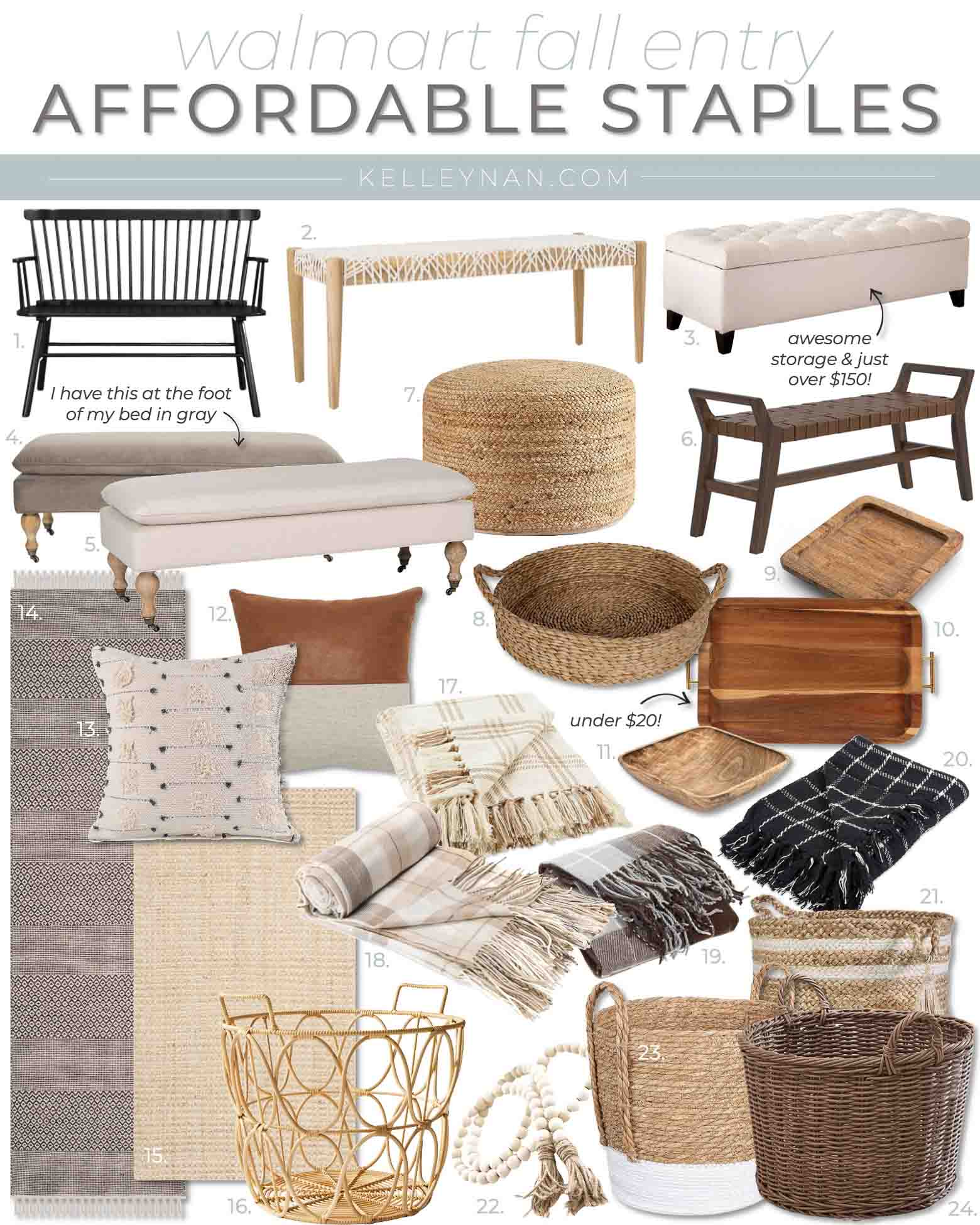 1 | 2 | 3 | 4 | 5 | 6 | 7 | 8 | 9 | 10 | 11 | 12 | 13 | 14 | 15 | 16 | 17 | 18 | 19 | 20 | 21 | 22 | 23 | 24
As someone who believes you can never have too many baskets, I have Number 21, Number 23 and Number 24. Number 23 comes as a set in two size options, as does Number 24. Number 16 though is a crazy cute and inexpensive option — you get a set of two for under $25!
I have the runner rug Number 14 and not only does it come in 10 runner sizes, it also comes in several full rug size options and three colors. I have the 8'x2′ version and it makes a great kitchen runner in front of the stove, especially at only $37.98!
I have Number 4/Number 5 as the bench at the foot of my bed in Steel Gray (there are several color options) for years and it's been perfect — I love the cream color and mushroom taupe, though!
I love love love the black Windsor bench (Number 1) and have considered it many times for our entry. It comes in black, gray and white and the black and gray options are — get this — only $173.68!
At 51″ long and under $155, I'm considering Number 3 for the storage bench that will go in Eliza's playroom (see the plan HERE), below the window. It's affordable, has a soft top that can almost act as a window seat, and has great hidden storage for function. But, a storage bench is also an idea piece for an entry!
Number 10 is a pretty acacia wood tray that 1. is only $19.94, and two, is perfect for a coffee table or bench at 20″x13″. I love the warm gold handles, too. The woven round tray (Number 8) is 16″ and under $25 and along with a bench topper, coffee table piece, etc., makes a great base for a centerpiece for a dining table or kitchen island.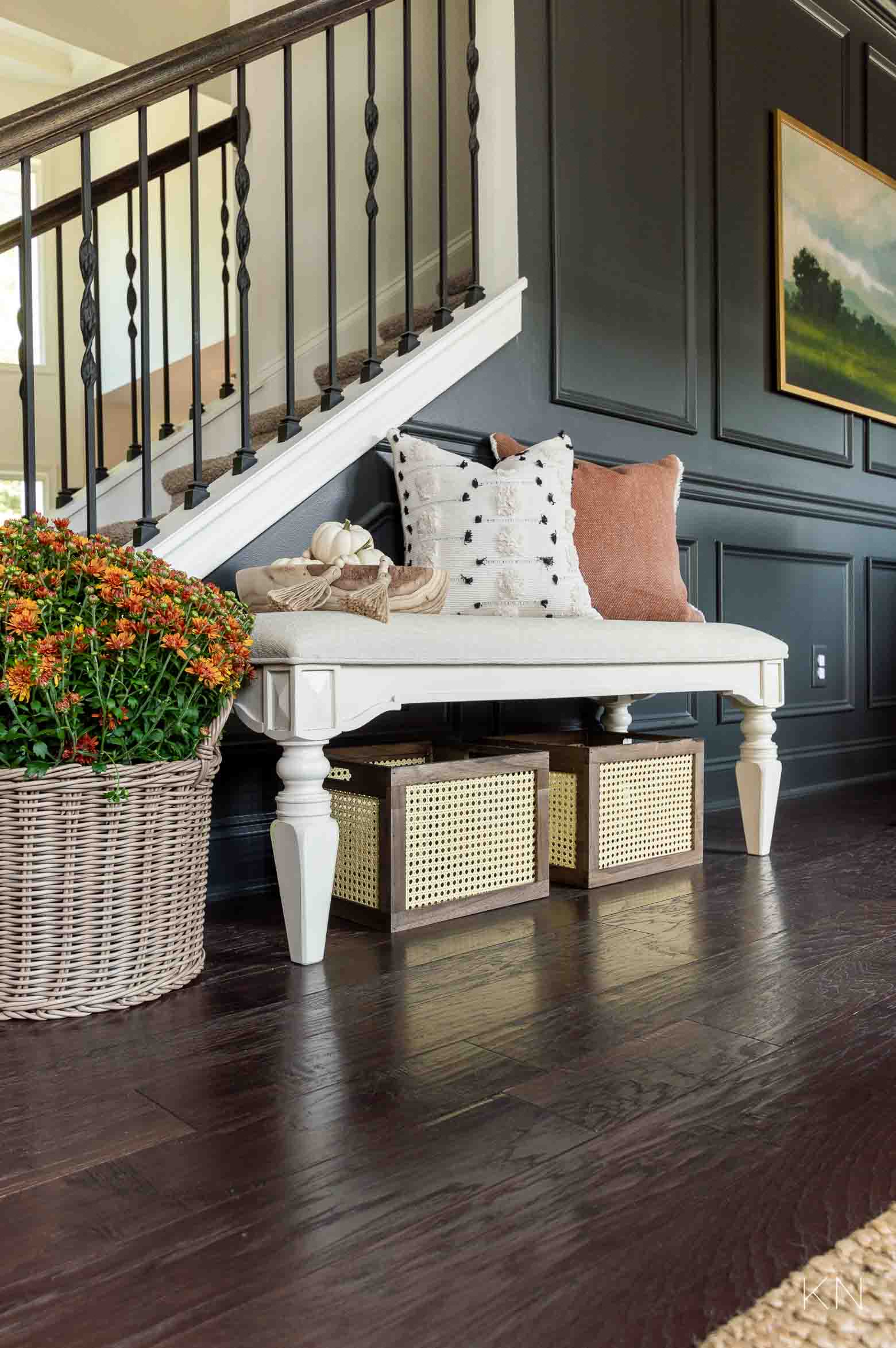 Sources: Handle Basket (set of two — one large, one medium) | Rattan Cane Crate (large) | Wood Bead Garland | Neutral Tufted Pillow | Caramel Fringed Pillow
Stay tuned for more fall coming soon — along with a few finished remodeled spaces (eventually, haha). To catch all the highlights throughout the rest of the year, be sure to subscribe to emails at the bottom of the post!
Scroll & Tap to Shop Affordable Fall & Entry Decor
Find more Walmart Home fall finds HERE.