With the onset of fall, I vowed that this would be the year I returned as a regular viewer and fan and celebrate college football each weekend. My family is a team of diehard UGA fans and it was always a ritual to tune in to cheer on the Dawgs every Saturday, starting in September. But, a few years ago, when I was managing the blog along with my other full-time job, weeknights and weekends (ie: Saturdays) were dedicated to all you see here on the blog. I wasn't able to be as present and watch regularly and instead, had to catch scores and highlights from Dave. But, when Eliza arrived, I vowed to work towards reserving those weeknights and weekends to family time — and thankfully, for the most part, I've stuck to that commitment. Last year though, football and the empty stands just didn't feel exciting… so I sat most of the season out. But… this season… this season — I'M TOTALLY ALL IN! We're three weeks in and I've planned around each and every game, reserving Saturday kick-offs as our priority for the day. And, I'm loving it all. I'm loving how it's making fall feel more like fall again and I'm loving rediscovering my passion, excitement and connection to SEC football. If you're a football fan — more specifically a college football fan… most specifically an SEC football fan — you know the unrivaled feeling of college game days and the combination of excitement mixed with the tradition you grew up on.
So… this is the year. It's also the year I've been working to instill that same excitement of what fall Saturdays are all about in Eliza — she's been dressing in red, black and white; watching alongside us until bedtime; learning how to chant "Gooooo dawgs! Woof, Woof!"; and most importantly — learning that game day calories don't count 😉 Football food is the most fun food and we've been setting up mini "at home tailgates" to nosh on during game time. And then, I had an idea. In partnership with Walmart and with the benefits of our Walmart+ membership, I assembled a football game day charcuterie board of all the classic favorites — from tailgate bites to concession stand snacks.
*Posts on KelleyNan.com may contain affiliate links. While this post is created in partnership Walmart, all opinions, concept, and creative are my own. Click HERE for full disclosure.*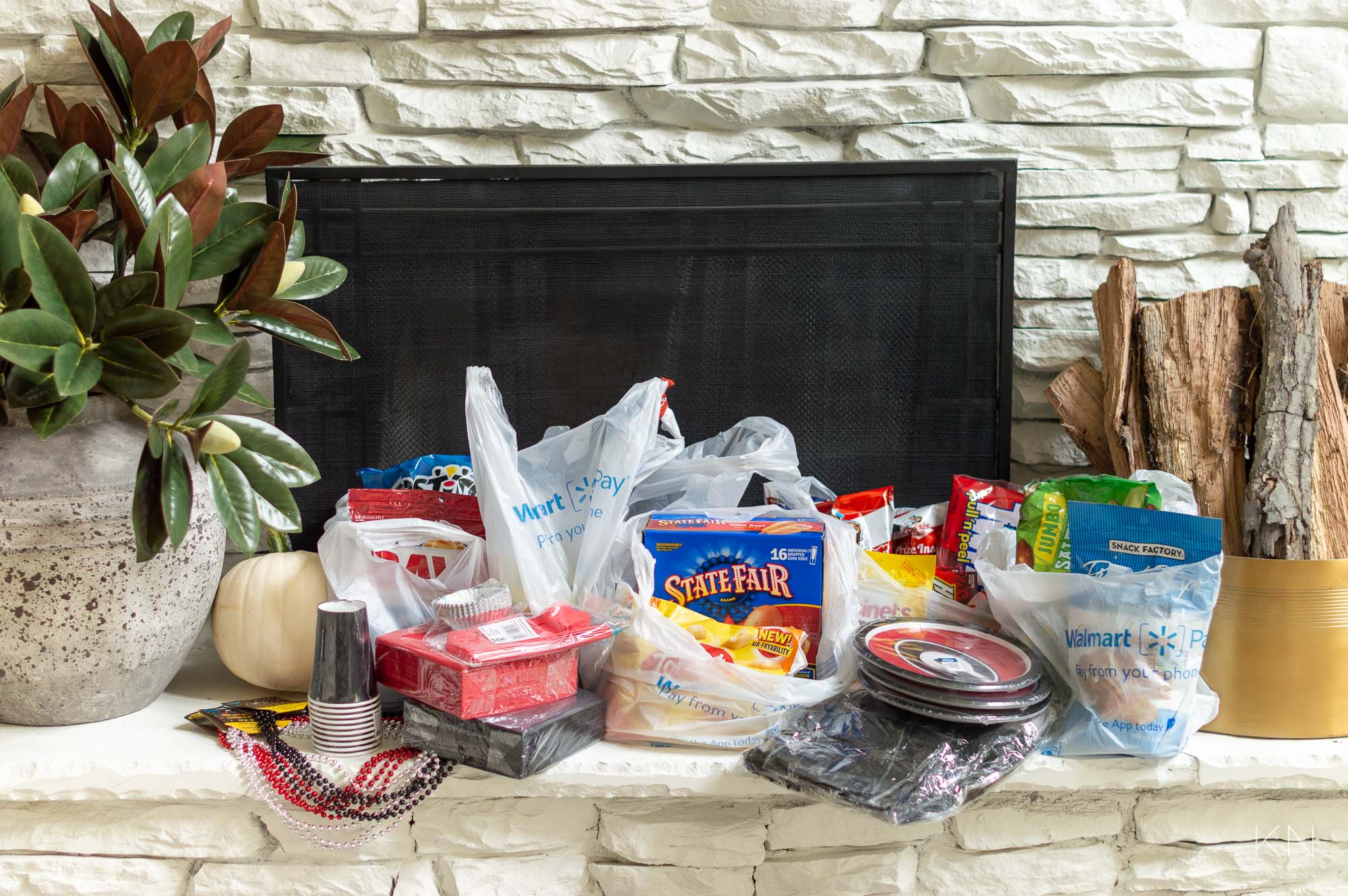 Since this past summer, online orders from Walmart and our Walmart+ membership has come to the rescue more than a handful of times. And, while we may not be able to make more time in the day, I appreciate anything that helps our family make the most of the time we've been given. Walmart+ actually has free same day delivery — from your local store with a $35 minimum — as one of their most enjoyed benefits for tons of customers. We live just a little too far out of range currently and I'm hopeful we'll be included soon as they continue to expand this portion of the membership. I ran my dad's address though who doesn't live far from us, and while he is still in a more rural area, he is included in free same day delivery from his store. You can check your address HERE to see if you qualify for this portion of the membership benefits.
You can find a full list of Walmart+ membership benefits HERE, but the following are the specific benefits we use most often:
Free delivery from your store with $35 order minimum with same prices as in-store (restrictions apply). See if you qualify for this benefit HERE.
Free shipping from Walmart.com — tons of items with two day shipping — with no order minimum! Get as few or as many items as you need, as often as you want! (excludes freight & marketplace)
Find more details on all the membership benefits — like membership prices on fuel — HERE and find an FAQ about the program HERE.
The Walmart+ membership price is $98/year or $12.95/month. BUT, you can try it for free for 15 days HERE.
Here's just a few (totally) random orders I've placed with my Walmart+ membership in the last few weeks alone:
football game day essentials — from food to plastic/paper goods, pom poms, etc.
cookie cutters
laundry stain treater
organizers
fall decor
outdoor deck cleaner
baby shower gift
wipes
coffee table book
Squishmallow for Eliza
long scrub brush handle
Like I said — super random and all split into lots of orders but there's no shipping charges from items on Walmart.com whether you purchase one item or ten so I don't find myself waiting and trying to consolidate orders.
We've also ordered groceries for store pick-up that have always been fresh — since Dave passes by on his way home from work, all it costs us time-wise is the few minutes it takes me to search and cart items, and Dave pulling in to have them load his truck.
Now, let's get to our latest game-day celebration where we used the benefits of our Walmart+ membership exclusively to craft a ready-to-eat, store bought, football charcuterie board!
Game Day Charcuterie Board
I love creating a charcuterie board (you all know this! you can see my full gallery of boards HERE) and as much as I think they can make even the most mundane moments a little more special, hunting for ingredients is 90% of the battle. It can be time consuming wandering the aisles. But, I created this board in record time! Here's how I did it…
I ordered festive game-day goods (plates, pom poms and beads, etc.) from Walmart.com — everything arrived quickly
I made a list of everything I wanted on the board
I placed my order for grocery car-side pick-up (again, most of you will likely live within range for free deliveries from the store with a $35 minimum and can omit the next step!)
Dave picked up the order on his way home from work — step two and three literally saved me 2-3 hours from my typical drive to store, wander, check-out, impulse buy, drive home.
I threw together the ingredients
Here's how the game day football charcuterie board turned out…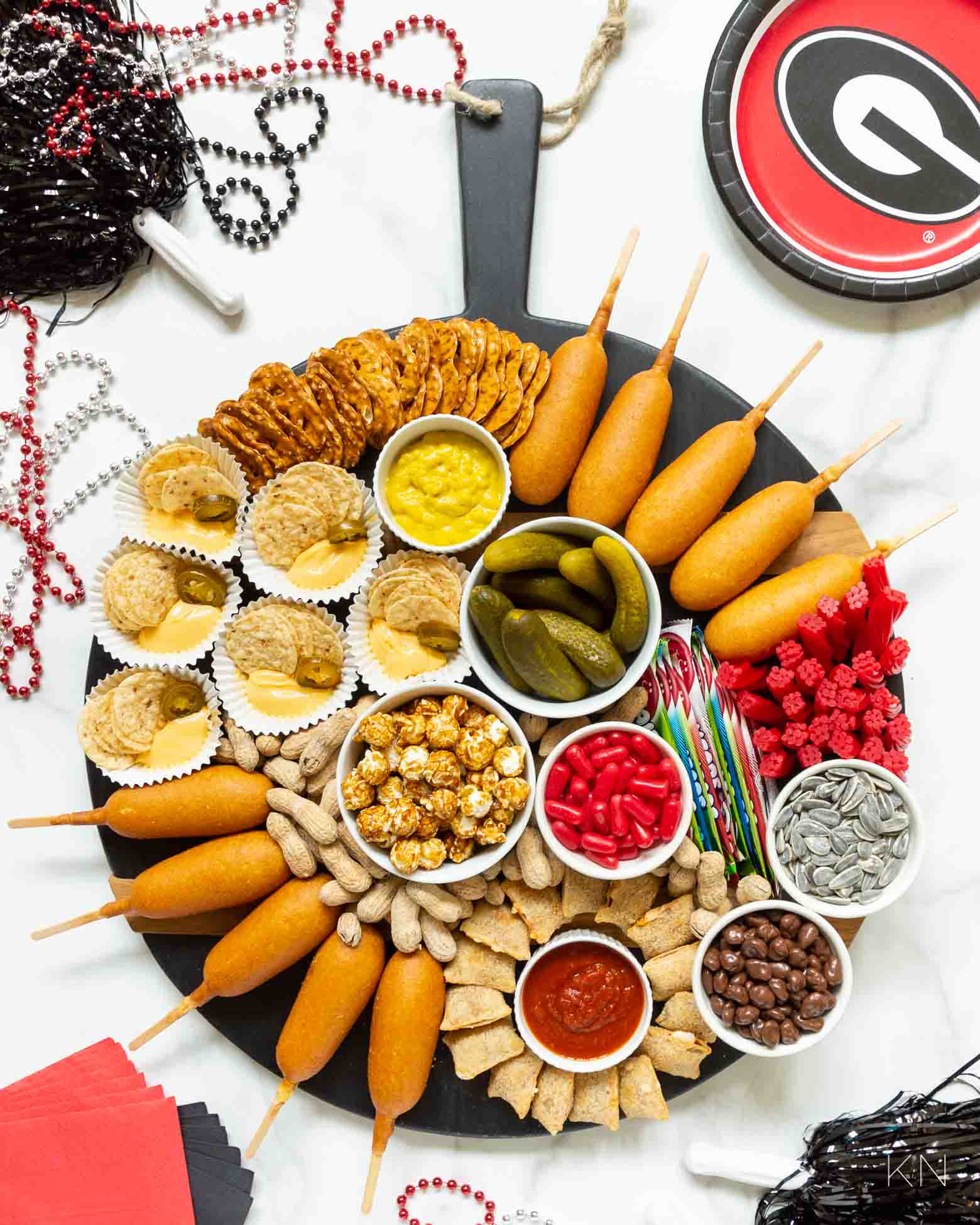 Littered with favorites and must-haves and all the traditional game day grub, consolidated into one succinct grab and go grazing board.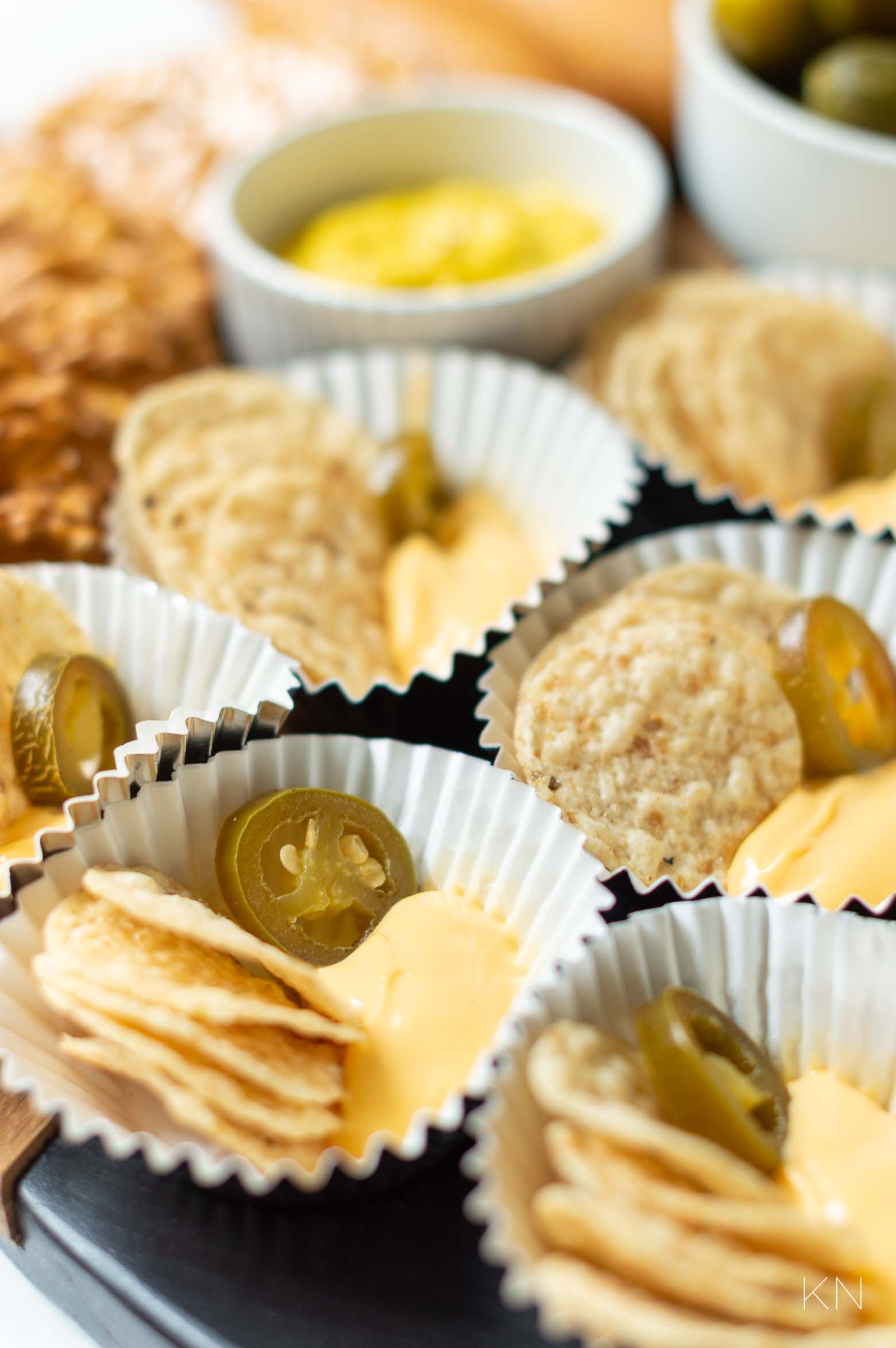 *Tip to Elevate the Ordinary: The mini nacho cups are probably my favorite. I ordered silver cupcake liners along with my grocery pick-up order and added a few mini tortilla chips, a scoop of cheese, and a jalapeño slice to garnish each.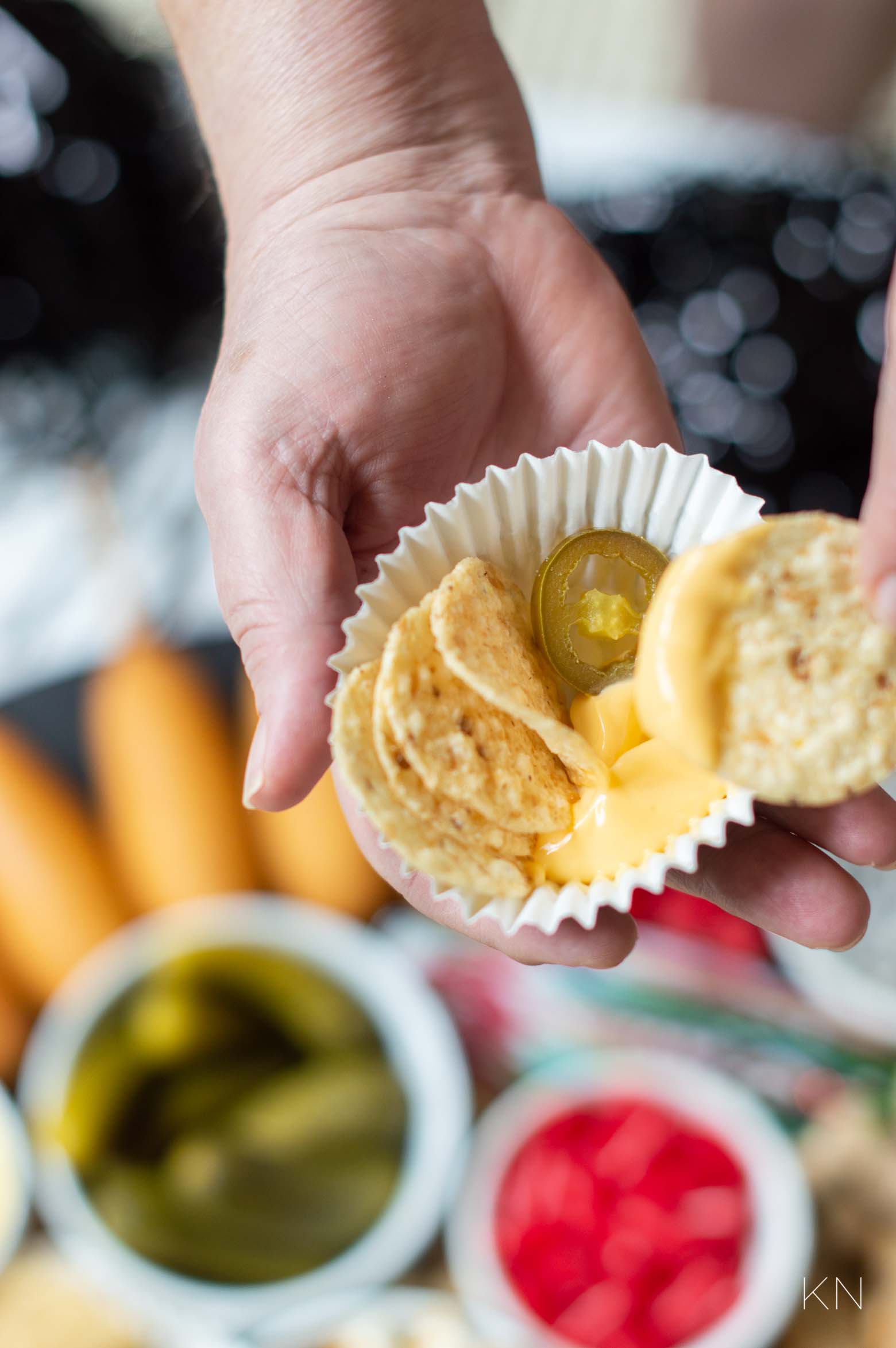 Even pizza rolls (my mom's favorite, haha) look more posh when plated and arranged on a board with a marinara dipping sauce.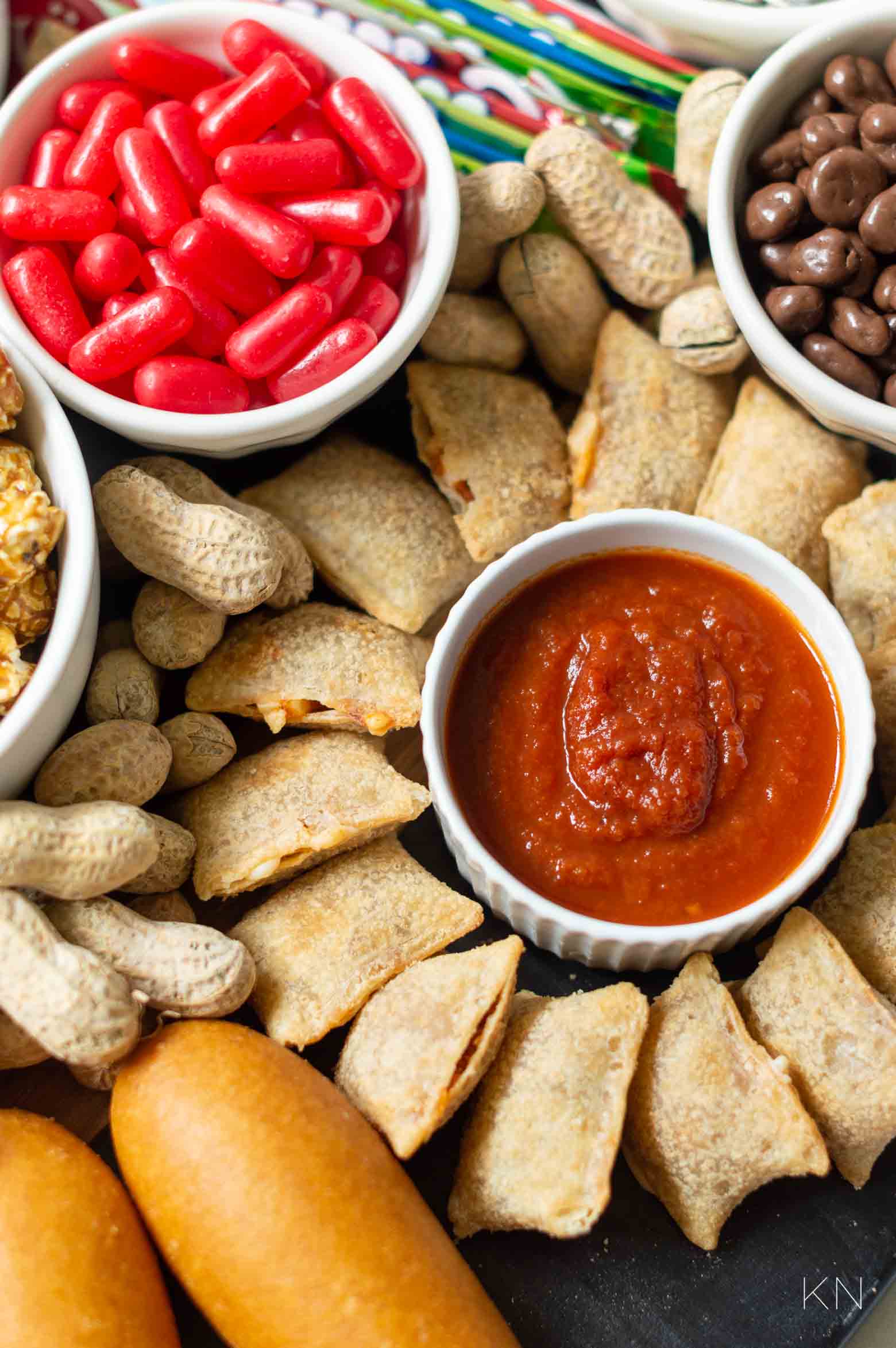 I probably would have walked around the store for an hour searching for more obscure items like salted sunflower seeds, but when you're placing a grocery order online, it's a lifesaver to type in "sunflower seeds", have them pop up, and add them to your virtual cart.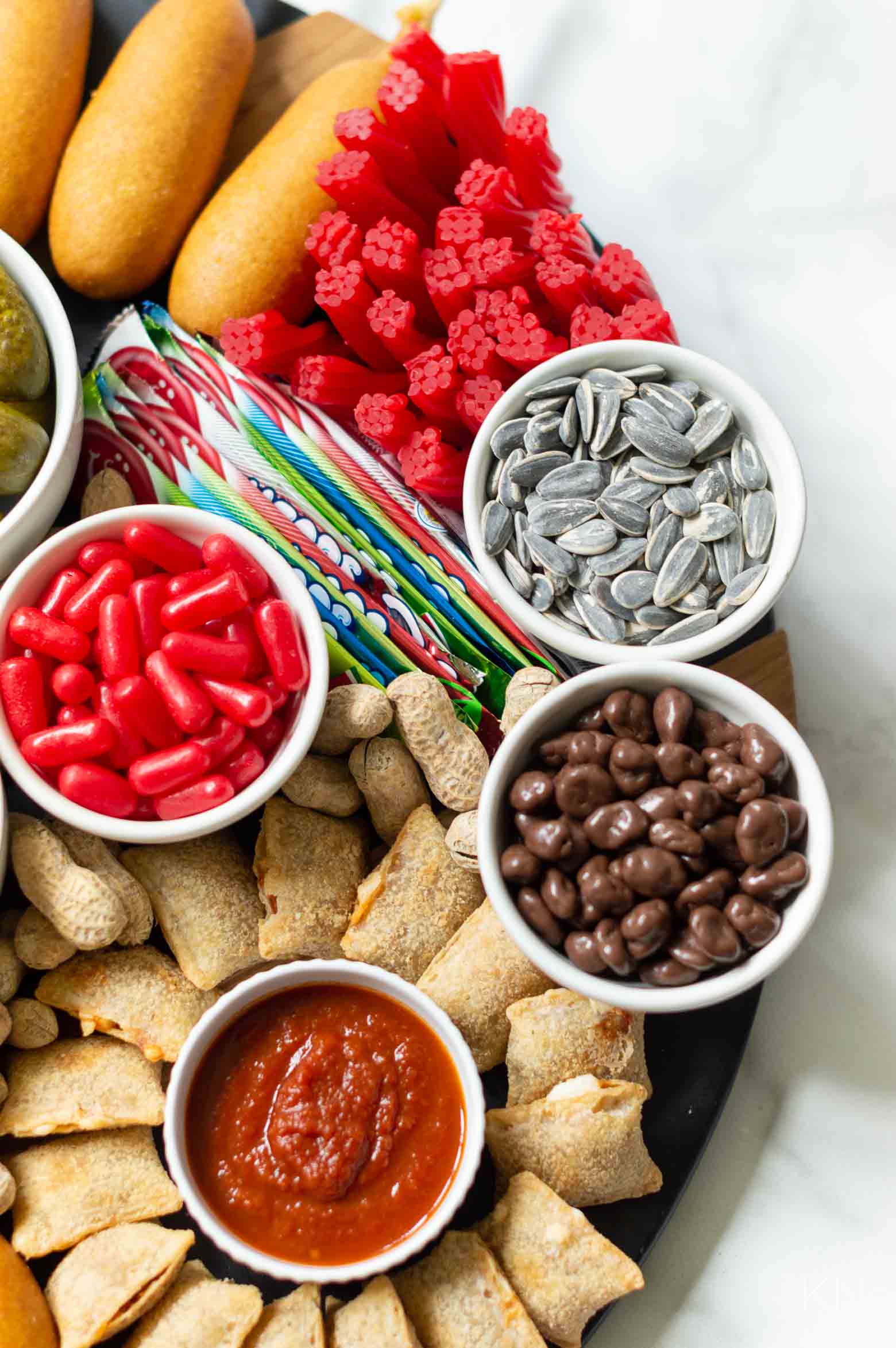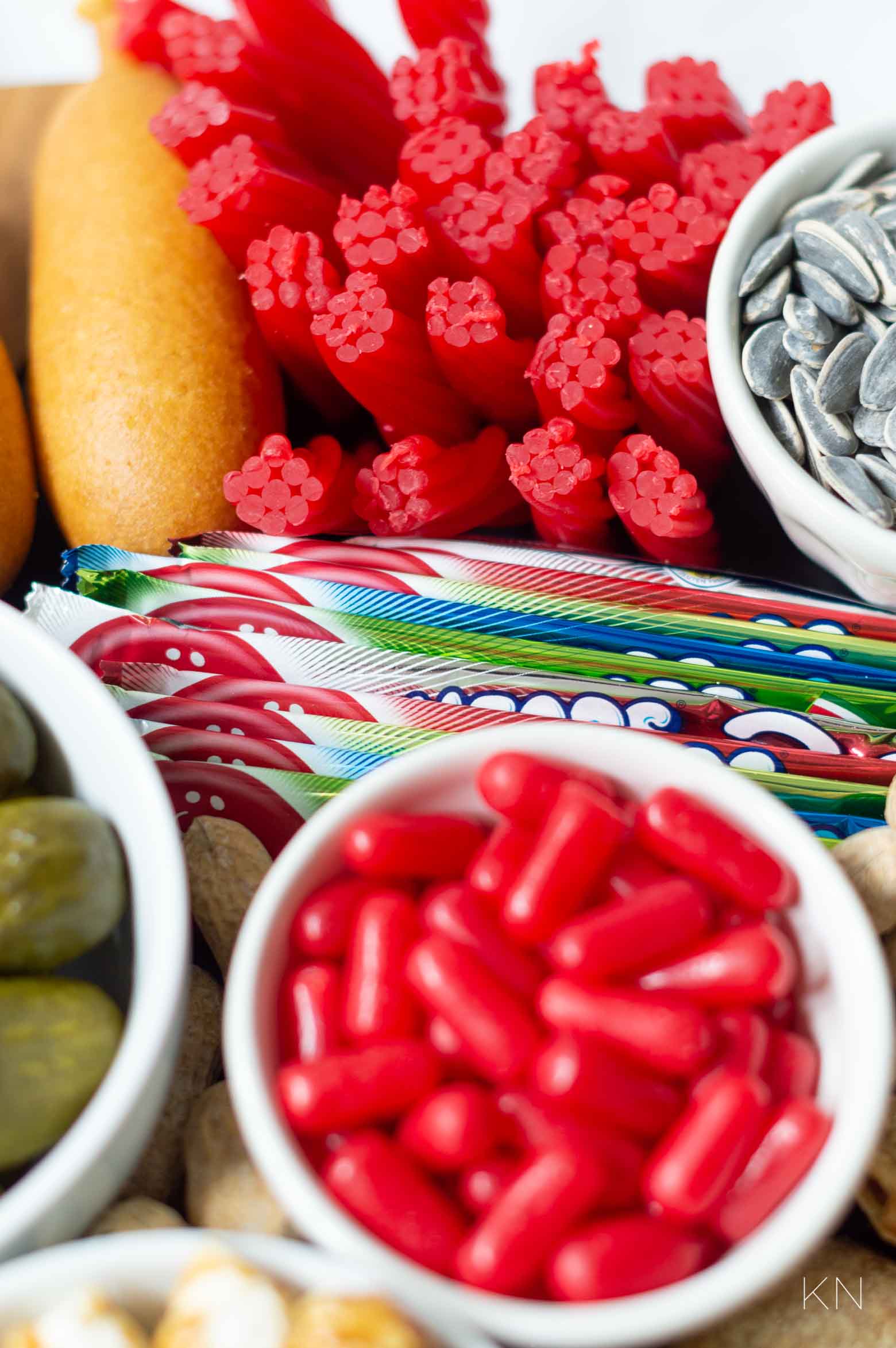 THESE simple, small white bowls have been a board staple on just about every board I've created over the past few years. And, they're only $1.98 each.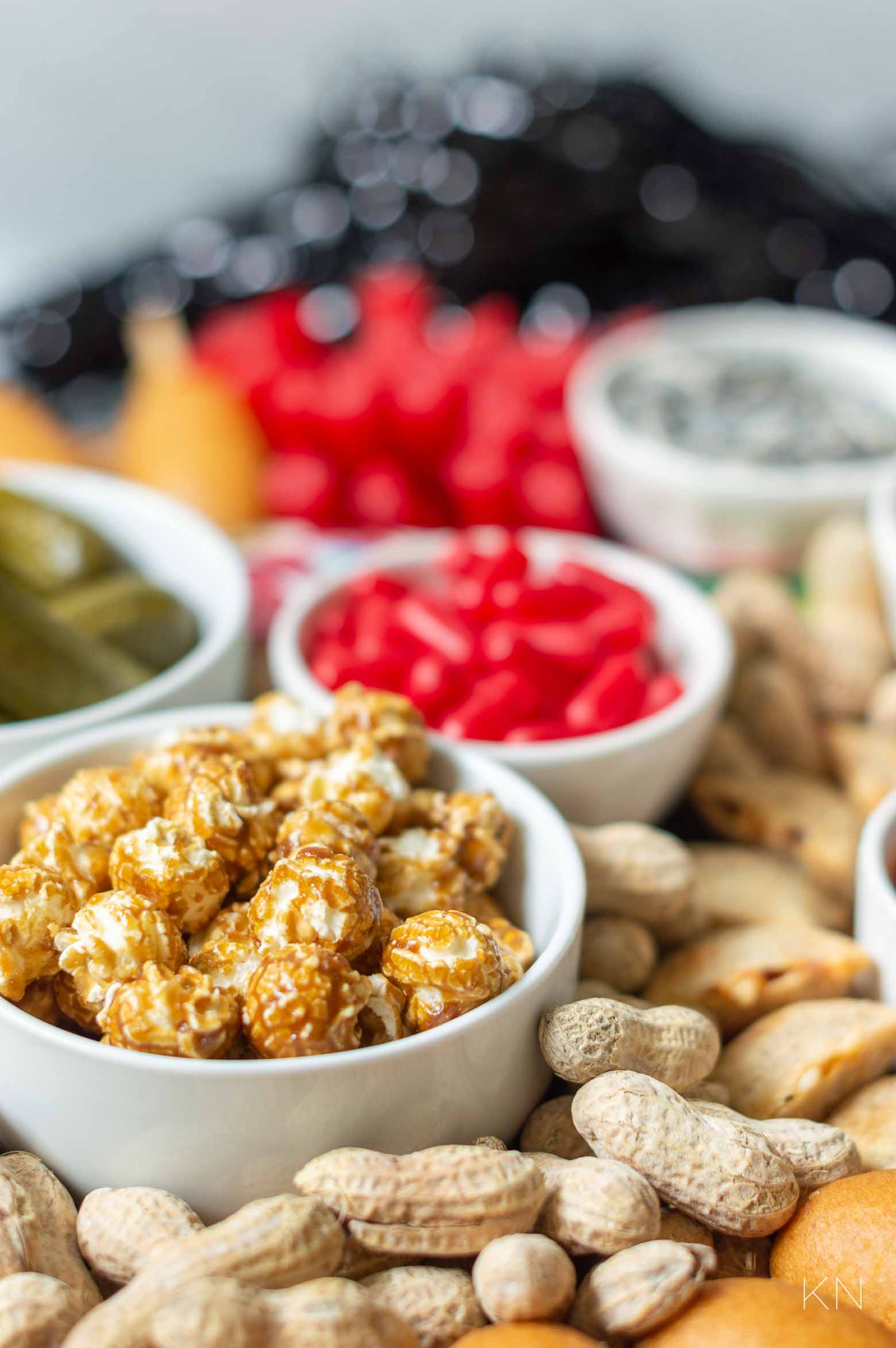 You don't have to involve all the condiments/dips — just a few that can be used universally… like mustard for the pretzels and the corn dogs. Or, cheese for the nachos and pretzels.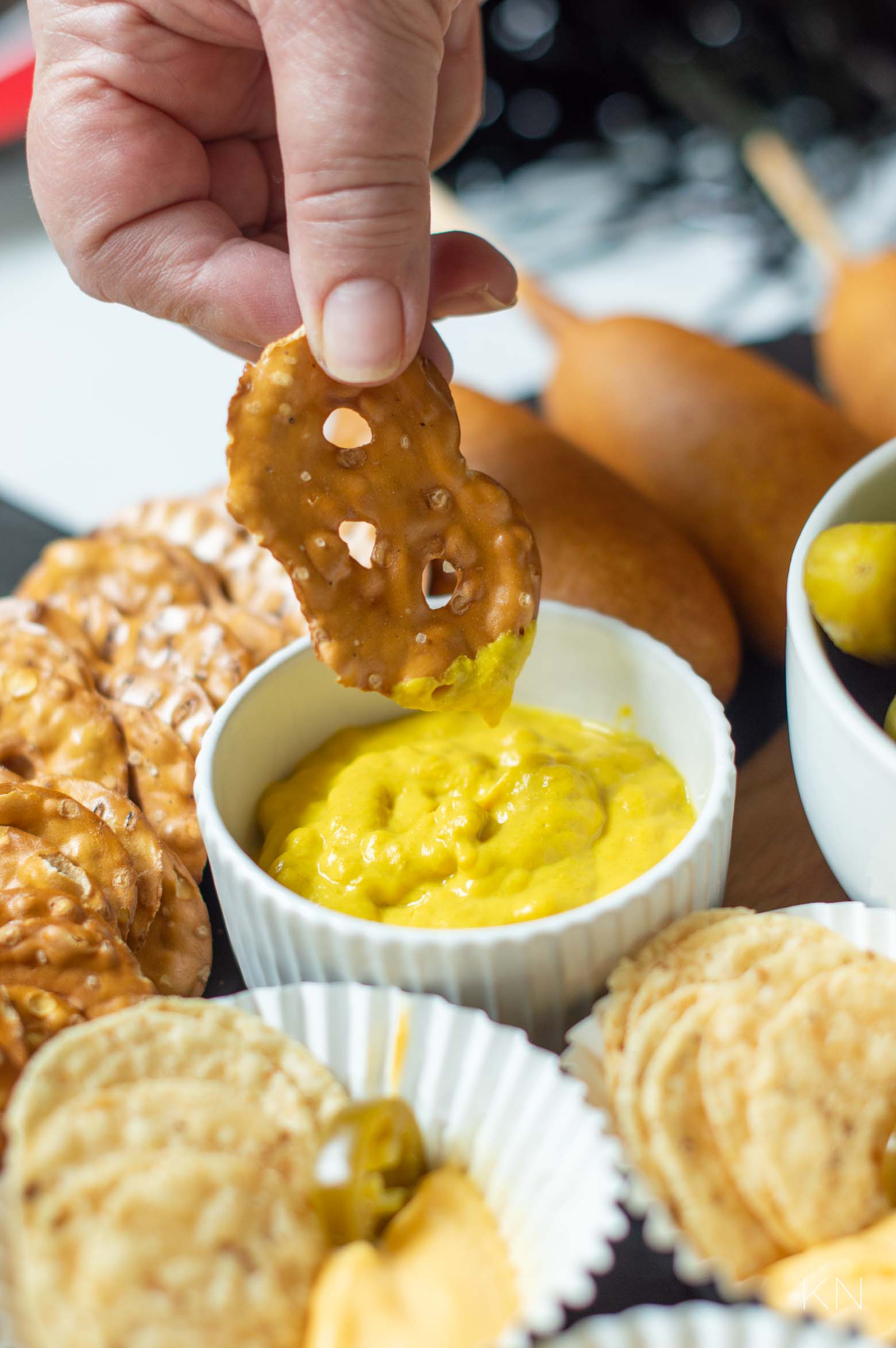 Here's all the ingredients on the at home tailgate grazing board…
Pretzel crisps
Corn dogs
Mustard for dipping
Mini nacho cups
Cracker jacks
Dill pickles
Twizzlers
Air heads
Hot tamales
Roasted peanuts
Sunflower seeds
Pizza rolls
Marinara sauce for dipping
Raisenettes
With fresh, quality groceries from Walmart, whether you opt for curbside pick-up or delivery, you can even go a more produce-heavy route and do burgers/dogs with toppings, a nacho board, etc. I have a few examples of these types of boards in my "Boards" gallery HERE.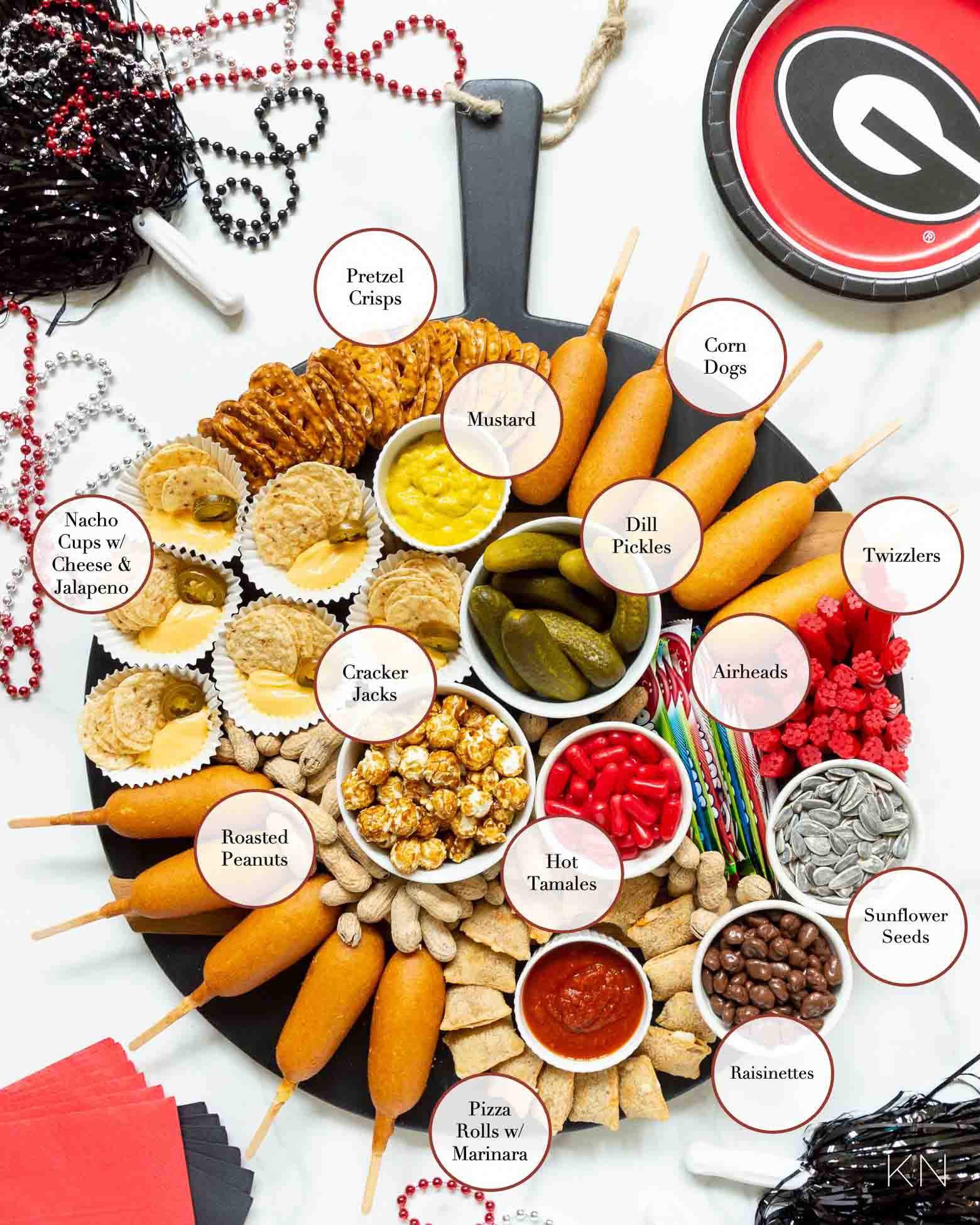 My favorite easy, inexpensive game-day celebration find was the 6-pack of pom poms (12 pom poms total) that are currently only $9.99 HERE.
Walmart had all our colors and team party-ware in stock and available for quick delivery — you can check to see if they have yours too, but if you're a UGA fan, you can find all we ordered here:

Find out more about the benefits of a Walmart+ membership HERE — you can search with your address, sign up for a free trial, and start saving time this fall today.
What are you doing to make fall feel more "fall"? Are you getting into football this year? What do you do to make game days feel just a little more special? Share it in the comment section below!