In today's snack around the plate, I'm sharing all my latest favorites as we welcome fall! From another podcast I can't stop listening to, to finally — a replacement for my discontinued favorite nude lipstick, read on for my most noteworthy current crushes, finds, and FYIs.
What is a "Snack Around the Plate"? Growing up, this was the phrase my mom called meals she would assemble with random favorites when scouring the pantry and fridge. And, while each item didn't totally go together, assembled as one collective, I loved them! Basically, "Snack Around the Plate" posts are just a smorgasbord of randomness — "a little of this and a little of that" from all things lifestyle. It's a mish-mosh highlight reel from a favorite recipes to favorite finds.
*Posts on KelleyNan.com may contain affiliate links. Click HERE for full disclosure.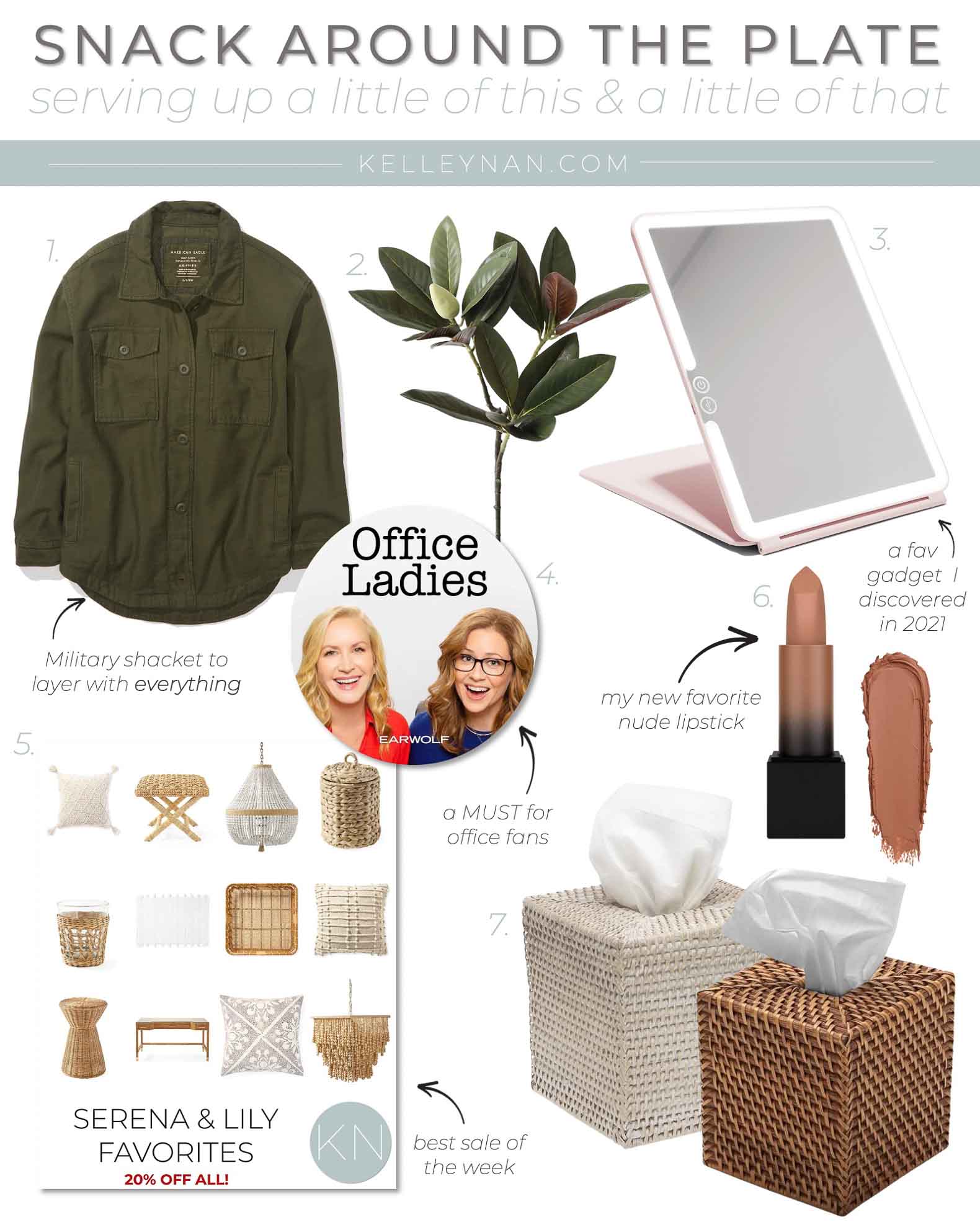 1. Military Style Shacket: Warm enough for a fall jacket but light enough to wear as a shirt, THIS olive green military style shacket will be on repeat throughout the next season. It also comes in a cream and camo (the camo is currently 25% off HERE). It has an oversized fit and I sized down one size in mine. It was the perfect layer for our first cool morning to the pumpkin patch this past week — I paired it casually with a t-shirt, leggings, and tennis shoes, but it could totally be dressed up with jeans and mules, too. This is one of those — "I like it so much and it's so versatile that I think I'll go back for the cream color, too" type pieces!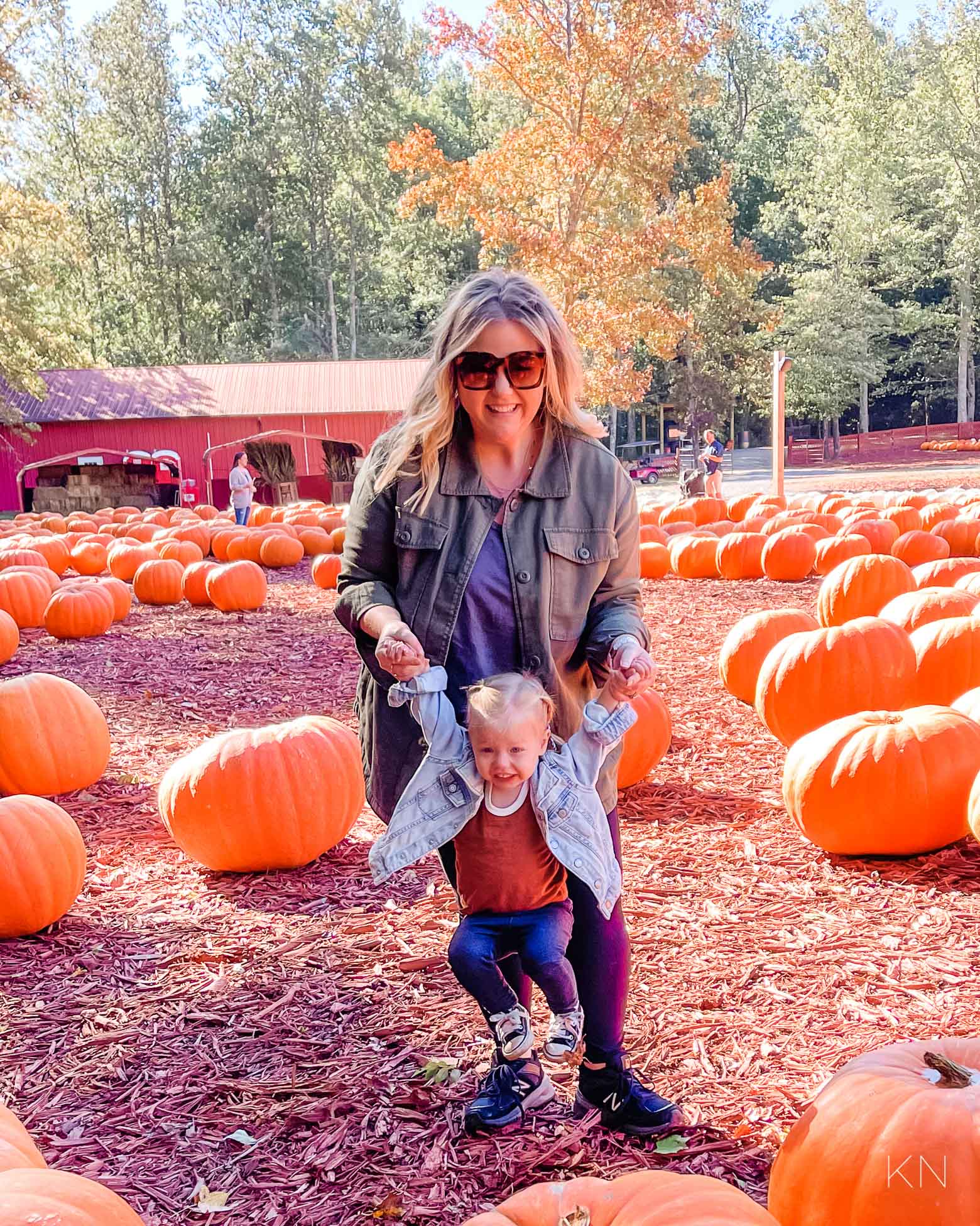 Sources:Shacket | T Shirt | Leggings | Tennis Shoes | Sunglasses | Eliza's Black Jeggings (comes in a three pack) | Eliza's Converse Sneakers
And since we grabbed a few rare family photos during our outing, here's a mini photo dump of our trip to the pumpkin patch 😉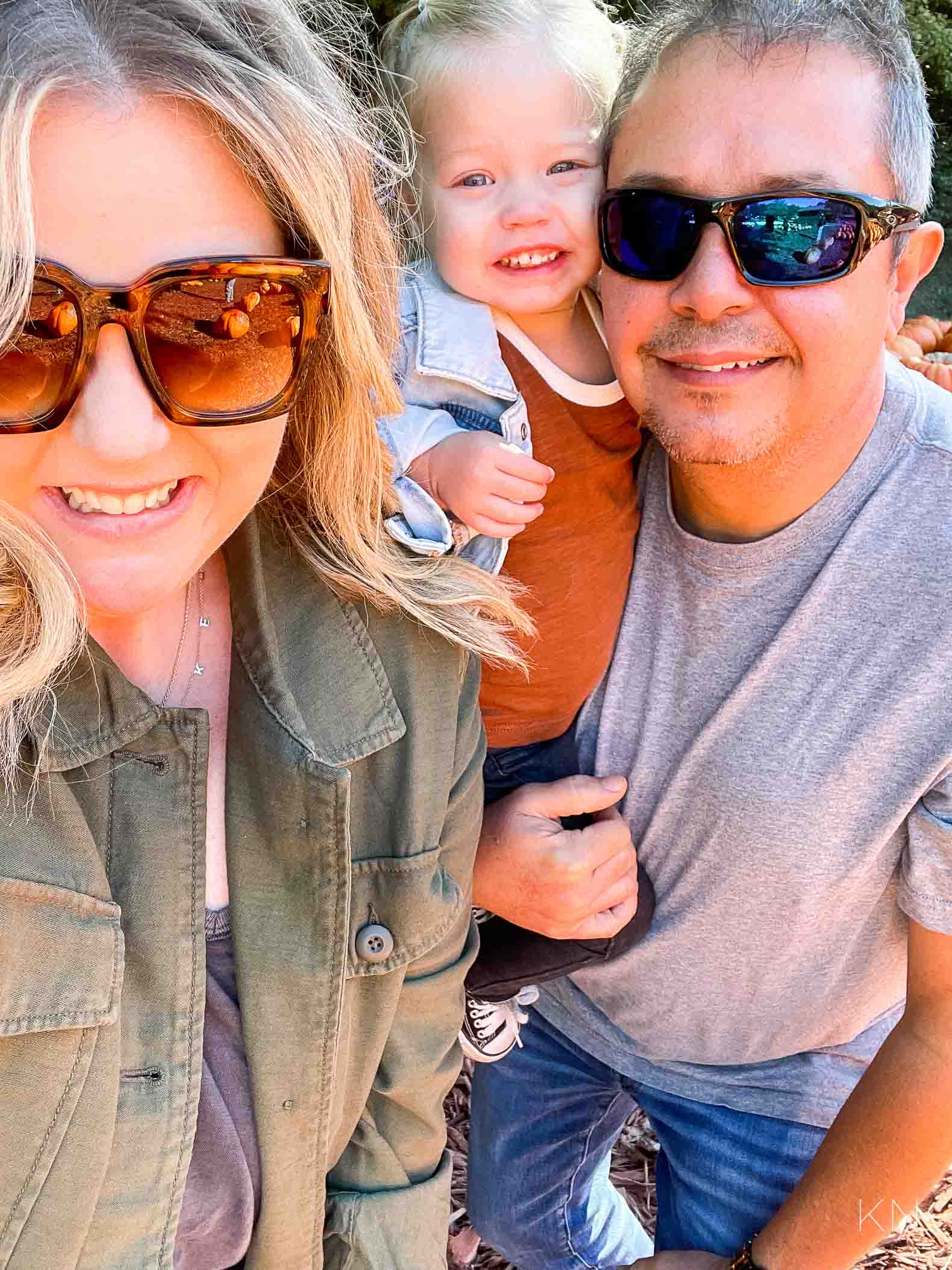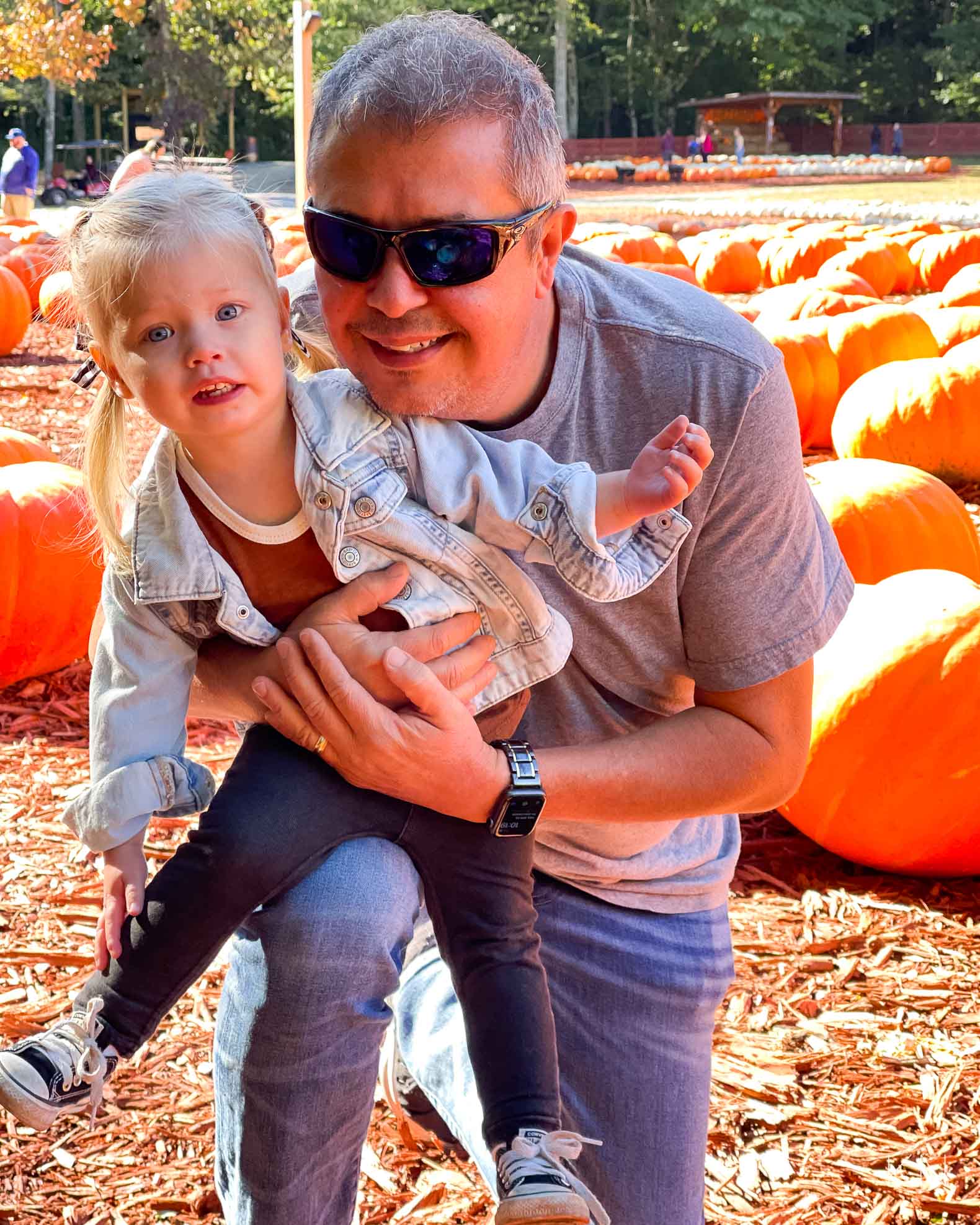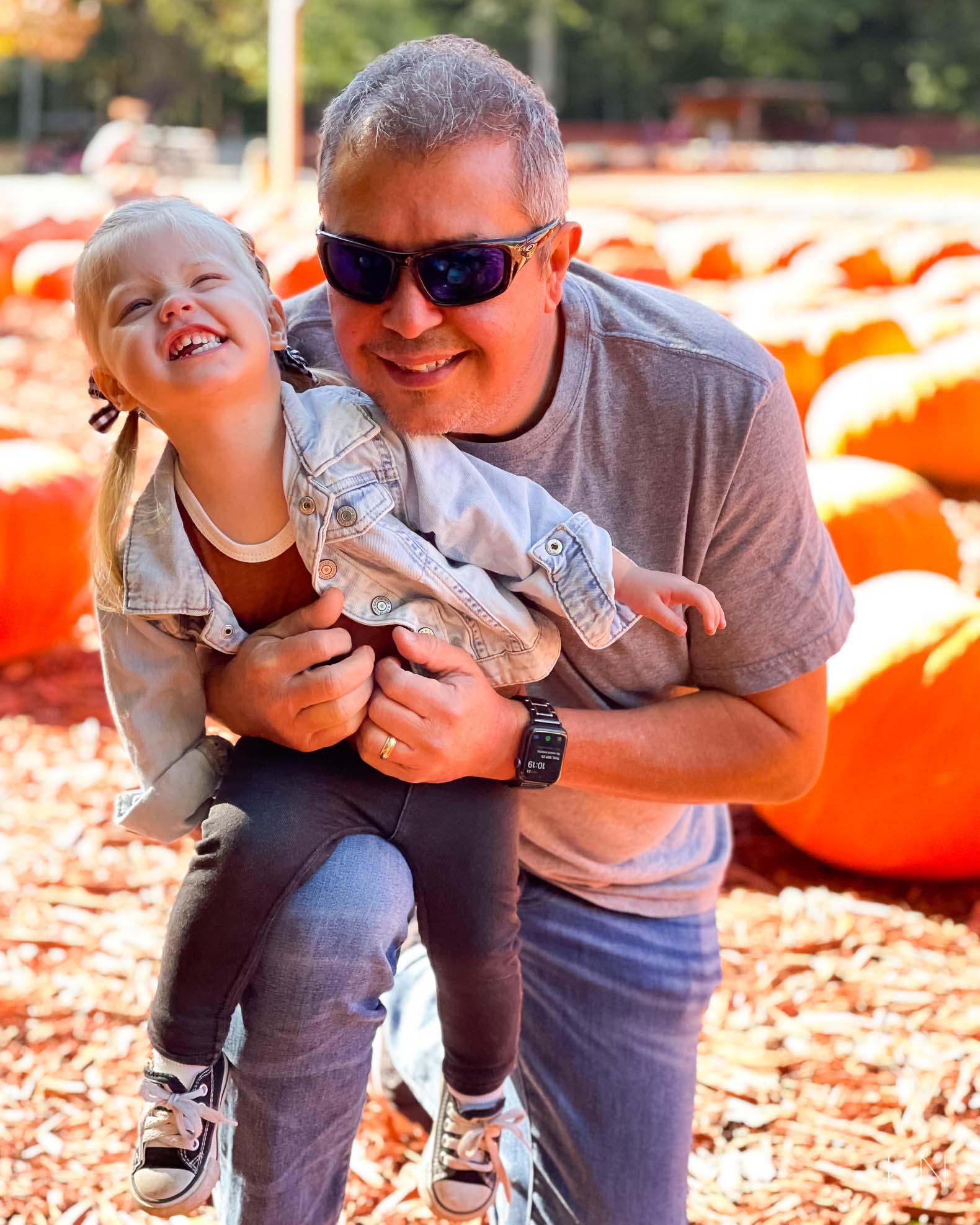 Eliza's black gingham bows are no longer available in this color, but this hand-tied style is by our favorite bow company. You can get 10% off your first order using THIS link.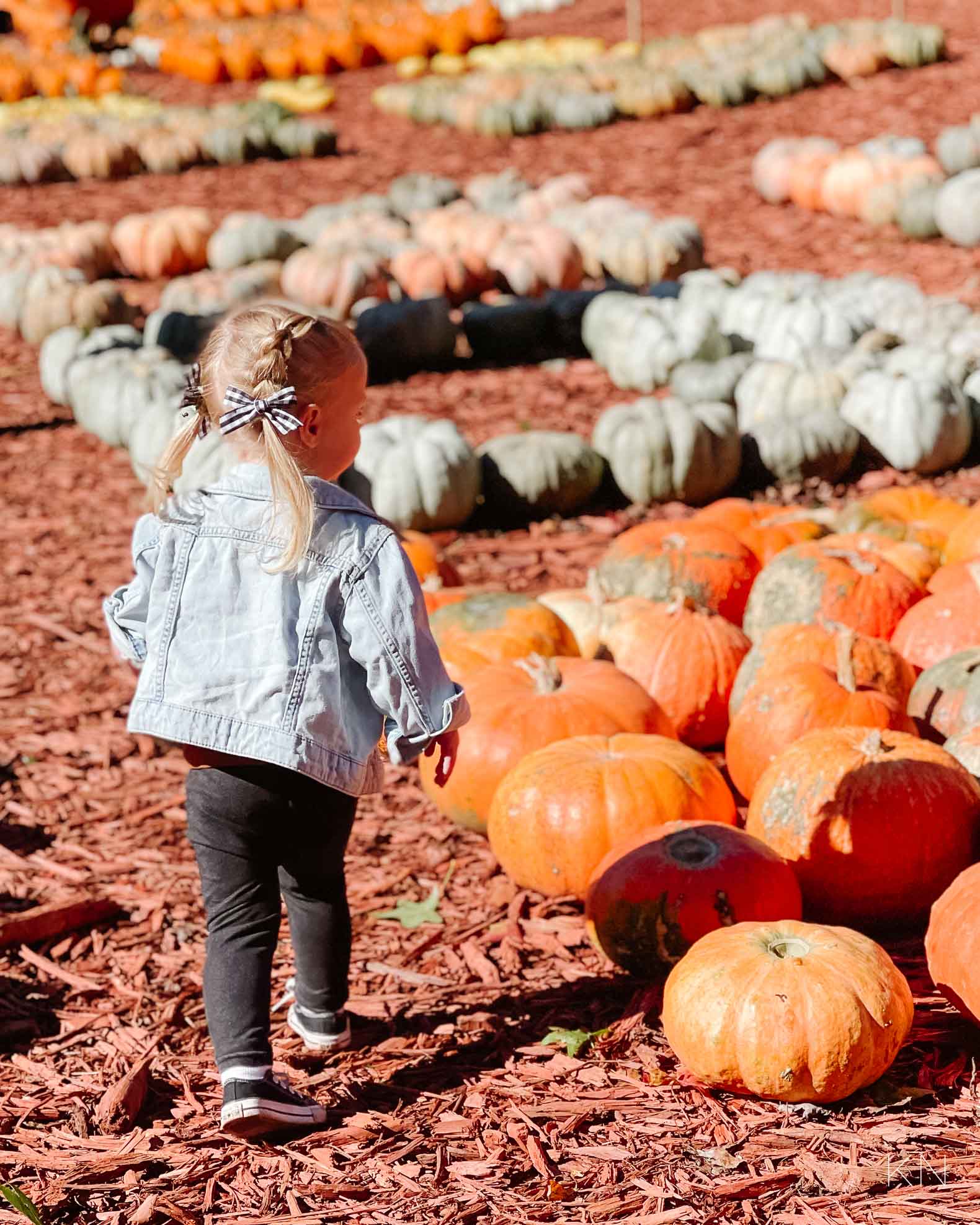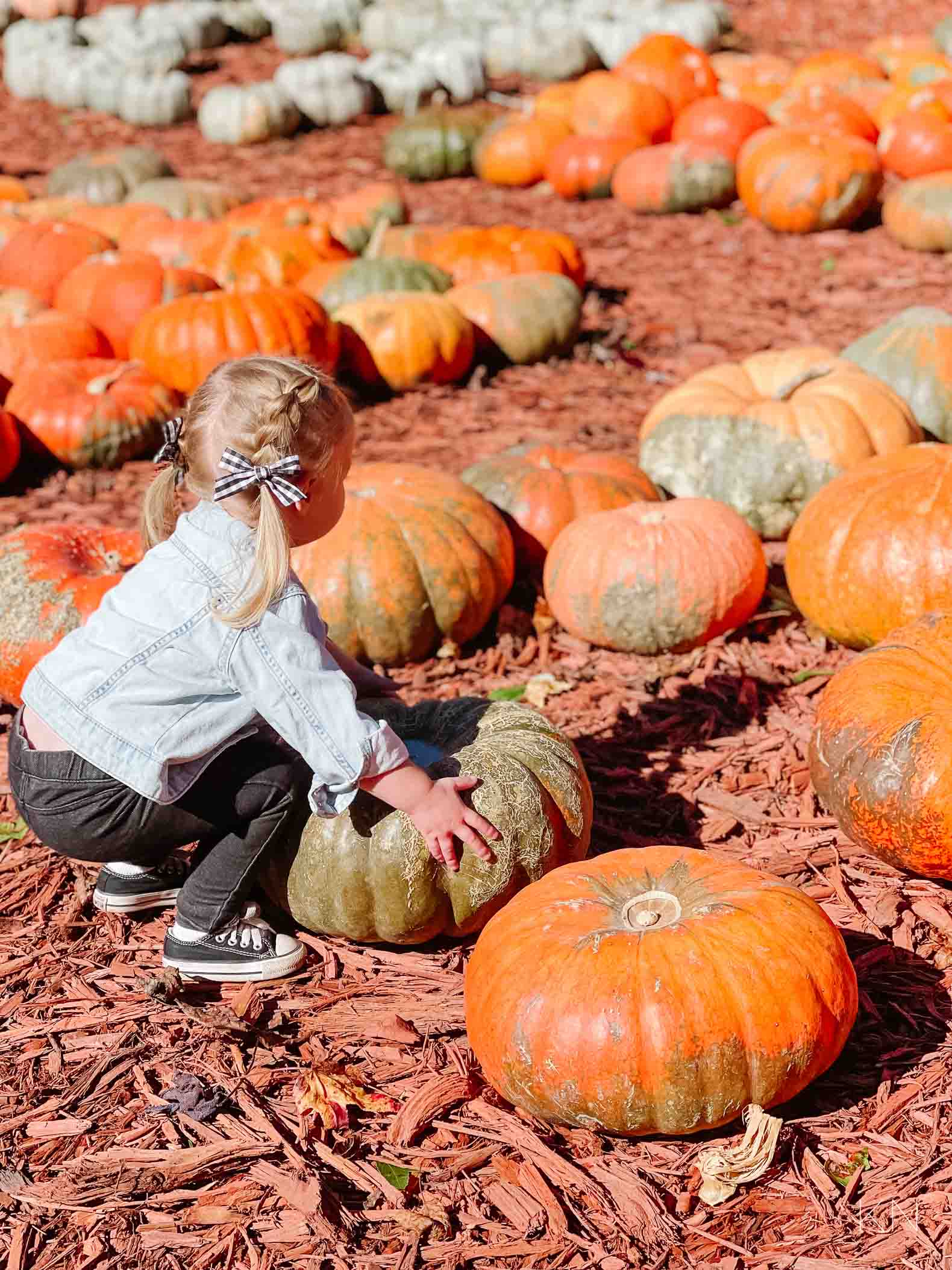 It was the perfect day and the perfect way to welcome fall <3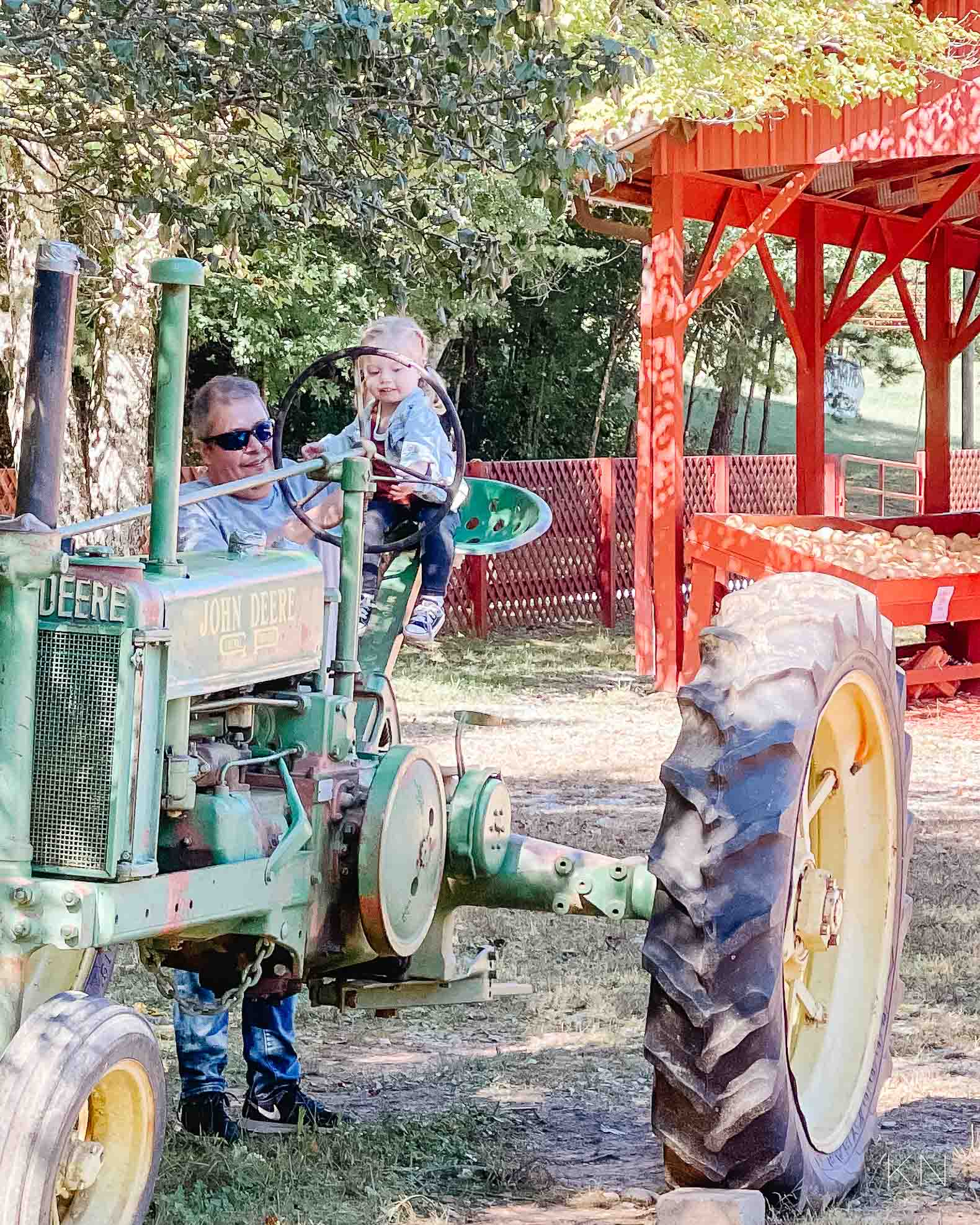 2. Faux Magnolia Stems: I've shared these a few times already, but every time I do, I get more questions and comments. I'm sure I'll still forage and use live magnolia stems from time to time but these long, faux magnolia stems were 100% an awesome investment. They're hearty, realistic, and look great in big arrangements or just as a few stems.
In the huge vase below, I have seven stems…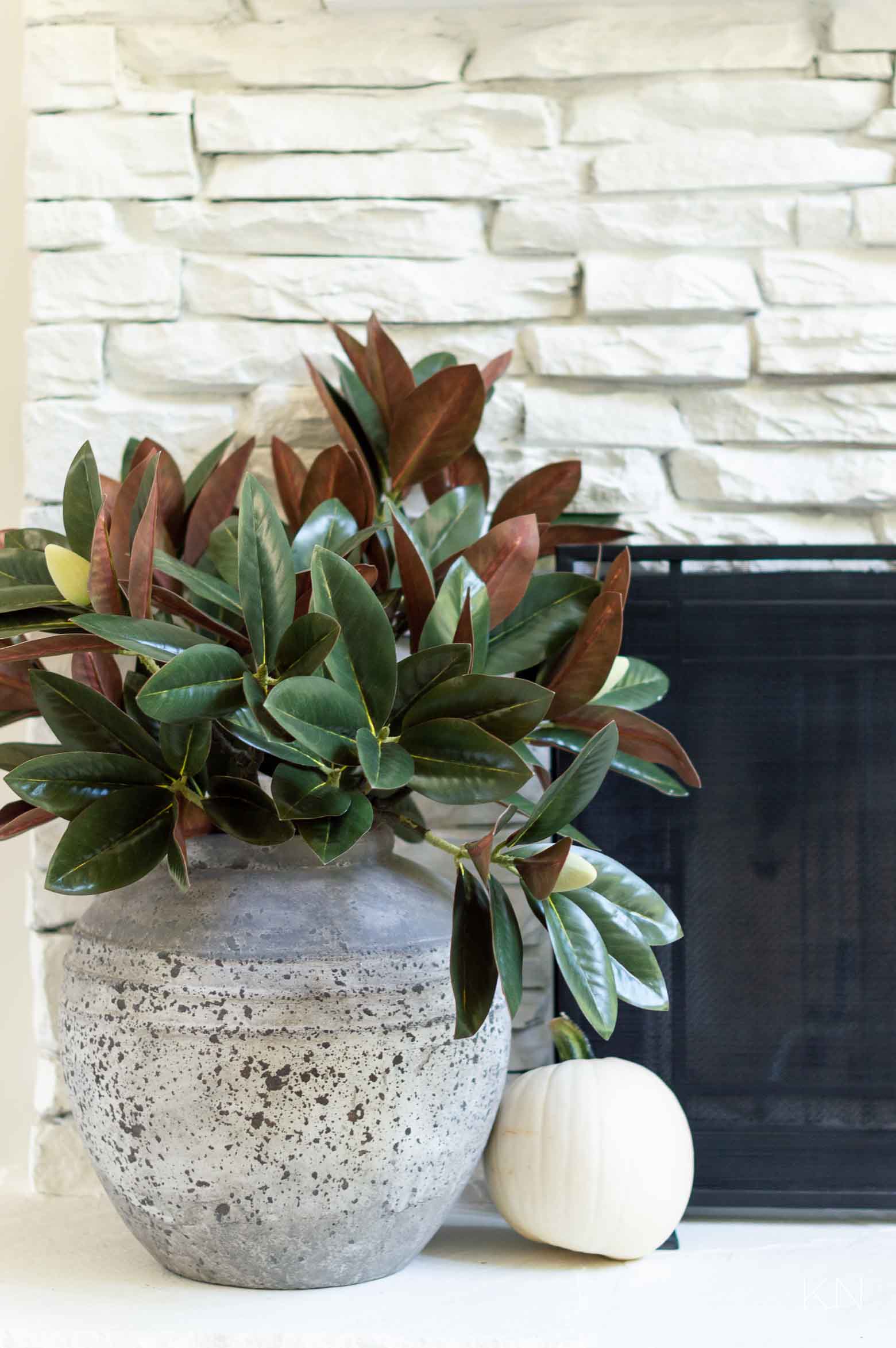 Sources: Faux Magnolia Branches (I used seven here) | Cement Urn | Fireplace Screen
but in another vase in the breakfast nook, I have a more simple arrangement of only three.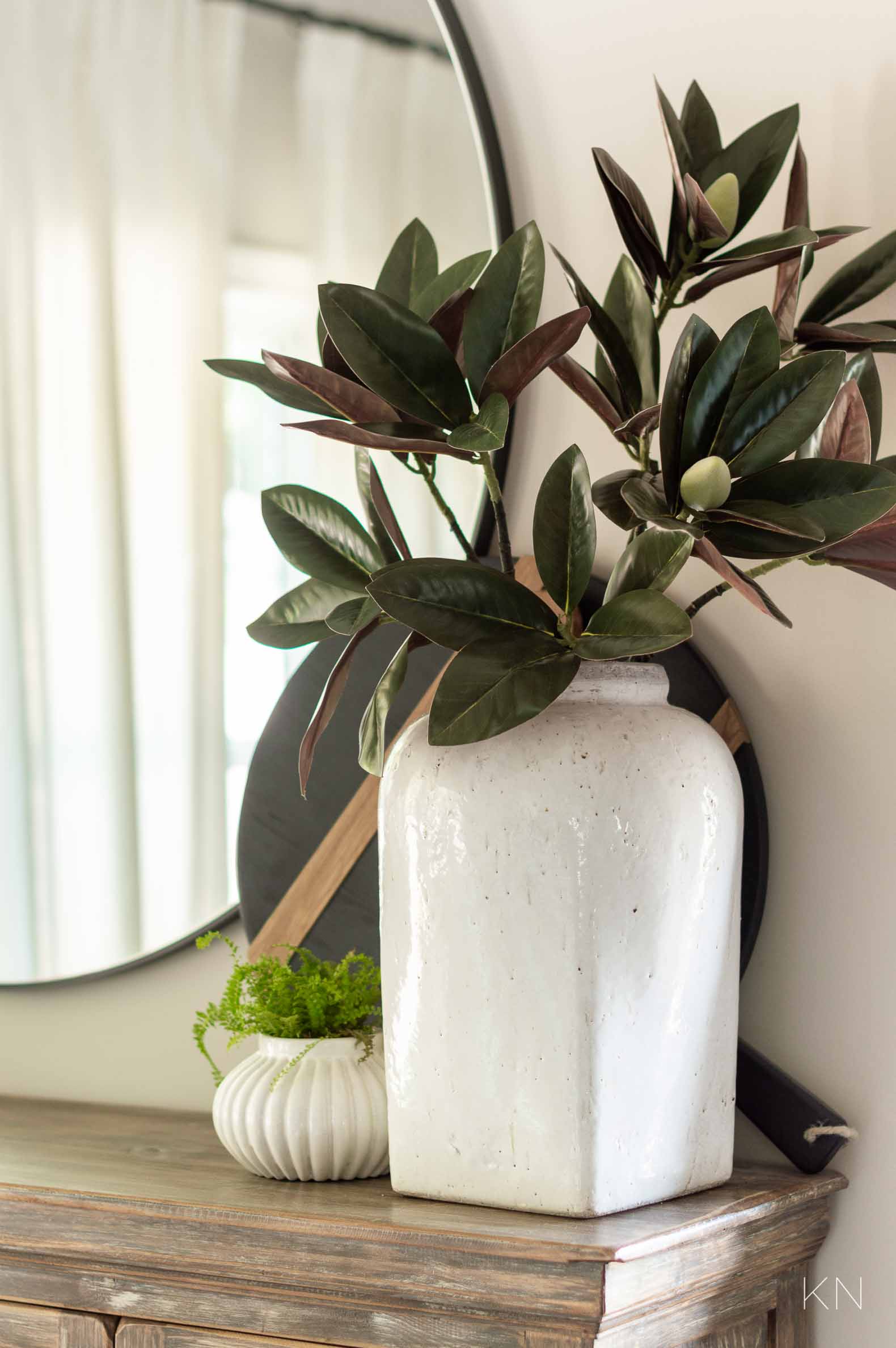 Sources: Faux Magnolia Branches (I used three here) | Large Vase | Black Round Board | 48″ Mirror in Black
These are awesome for fall, but will also carry through the rest of the holiday season, into winter, and because magnolias are evergreens, are actually appropriate year-round.
Here are a few other pretty fall stems if you're looking for an arrangement with longevity…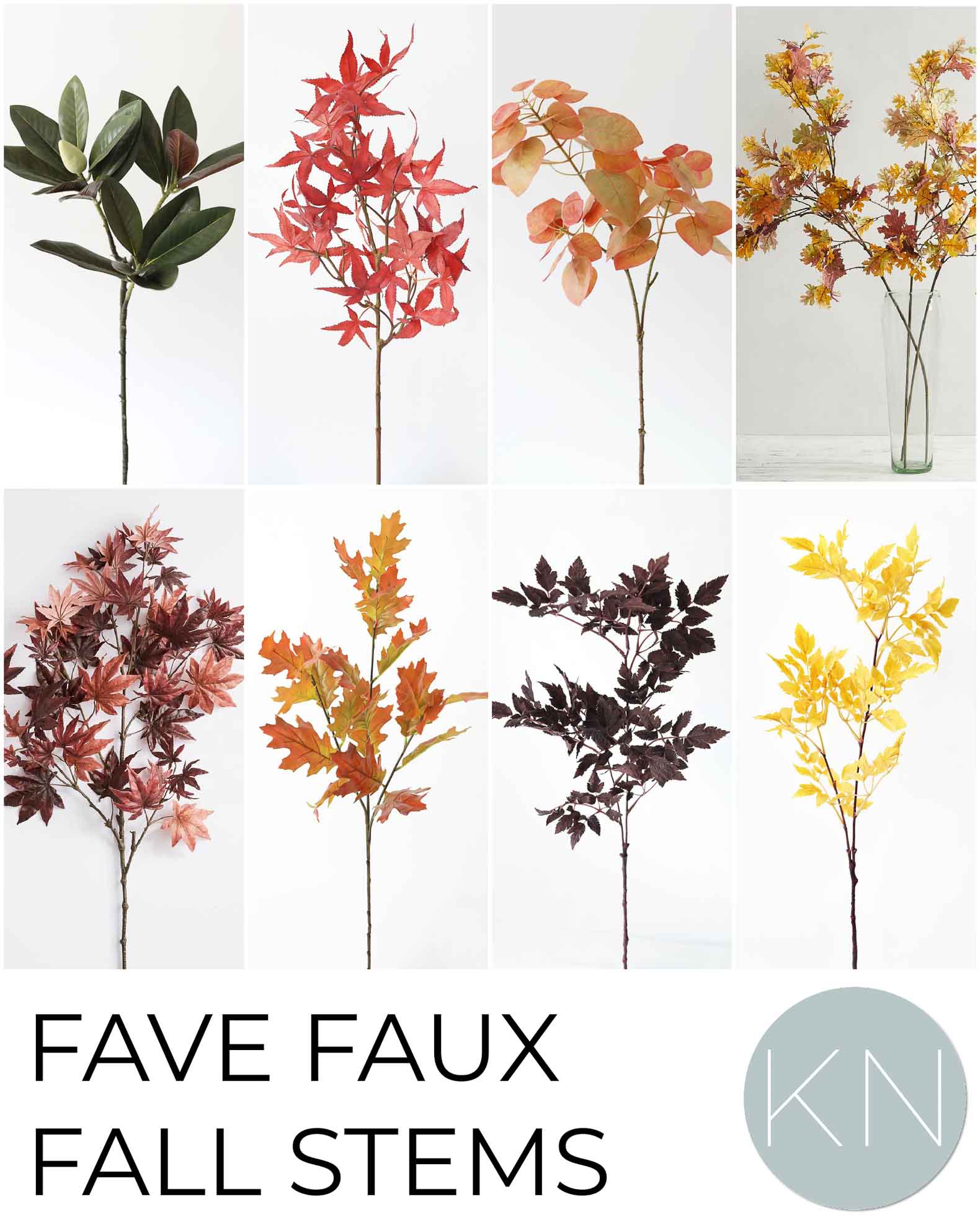 Sources: (Top, Left to Right) 1 | 2 | 3 | 4 (Bottom, Left to Right) 1 | 2 | 3 | 4
3. Travel Light Up Mirror: Right now, my travel light up mirror is almost 60% off! I have the pink but it also comes in a silver/gray. The case has almost a smooth silicone-type coating but pretects the mirror for travel beautifully. It has three light options (from cool to warm) and it charges via USB. It stays charged for a long time. The case also acts as a stand 😉 I'm such a fan of it, I actually decided against re-installing my makeup mirror in my bathroom and will instead use this mirror. It's been such a lifesaver while our remodel has been going on. You can find the full size HERE and the mini version (even better for travel!) HERE. At such an affordable price point, these also make awesome holiday gifts!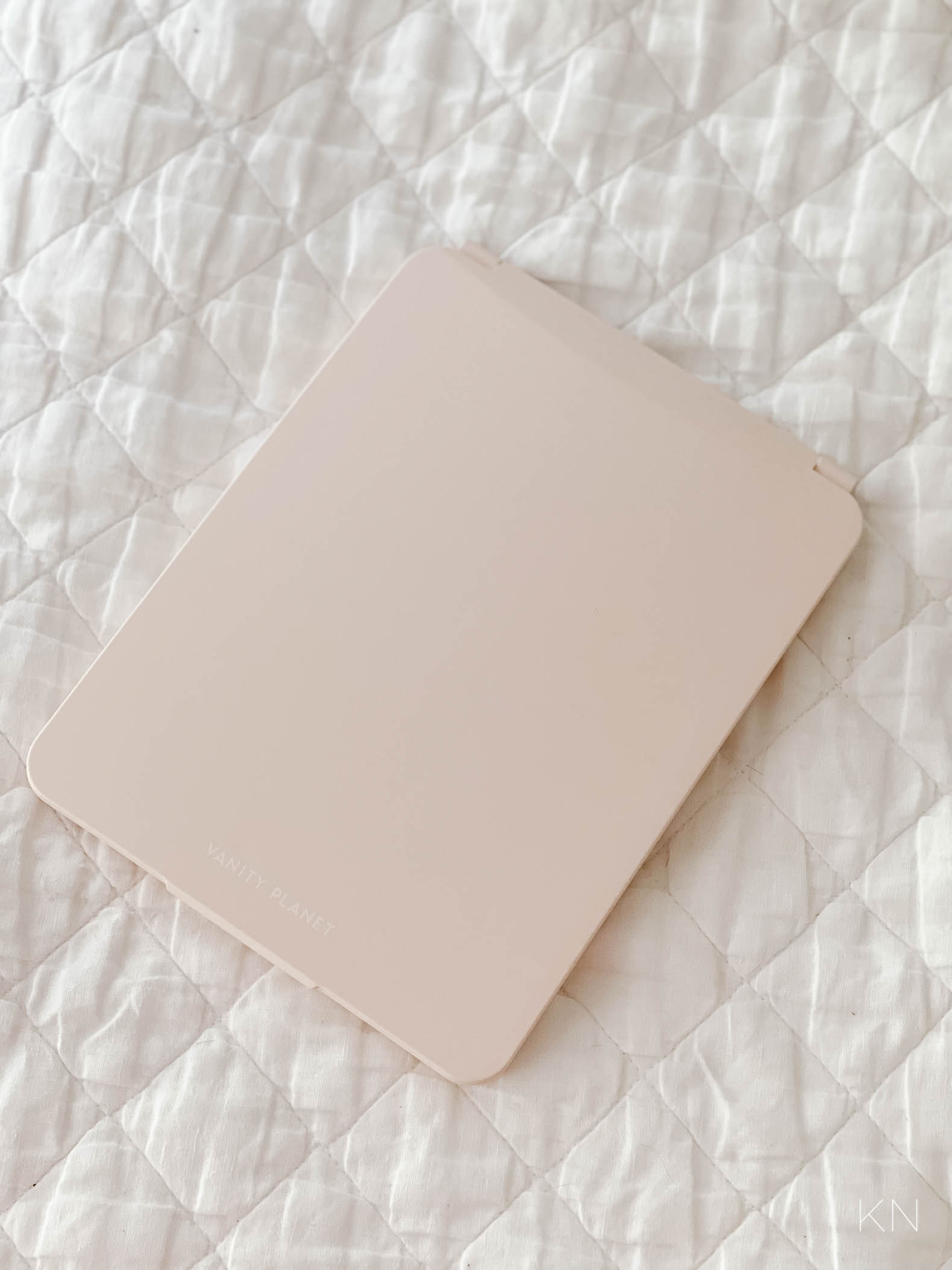 Source: Travel LED Mirror
You can see it in action in this video I filmed and posted to Instagram stories shortly after I learned how much I loved it…
4. Office Ladies Podcast: If you're a fan of The Office, you must listen. You just must! I was looking for something lighter to listen to (when I'm not listening to true crime podcasts) and after really liking the format of podcasts that listen and recap shows in order, I tried this podcast with Angela Kinsey and Jenna Fischer as the hosts. I've also a total Office junkie so I can't get enough. They recap all the episodes giving behind-the-scenes scoop and so much more. It is such a bright spot in my days and I actually prefer this over the Drama Queens (One Tree Hill podcast) I talked about in the last SAP! They started in 2019 so there's lots to binge and still lots more they have left to record.
5. Serena & Lily Sale: I'm kicking myself after just having paid full price for our new bath mat, but Serena and Lily is currently hosting a 20% off sale with code NEWSEASON HERE. They're one of those retailers I love but at their higher price-points, their sales are when it really helps.
*Also, as an FYI, if you drop your email HERE along with your birthdate, while they don't have sales often, Serena and Lily will send you a birthday "treat"!
**You can also request they send you a catalog (it's the only product catalog I keep out at our home because everything is so beautifully styled, filled with inspiration HERE.
Here's a few things I've shared and highlighted in the past from our home:
And here are some beauties you'll find in the site-wide sale. You can find links for each below each graphic.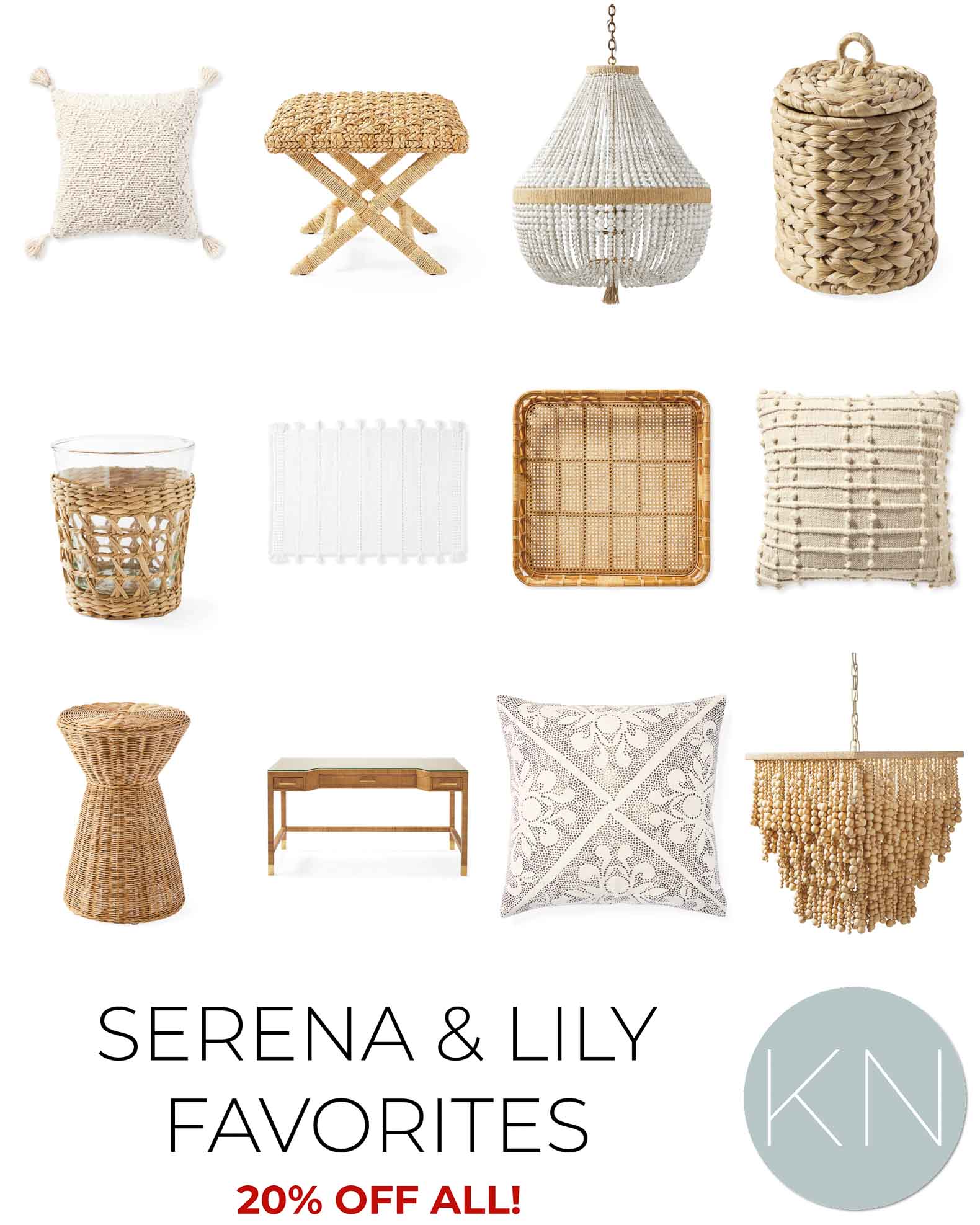 Above Sources: (Row 1, Left to Right) 1 | 2 | 3 | 4  (Row 2, Left to Right) 1 | 2 | 3 | 4 (Row 3, Left to Right) 1 | 2 | 3 | 4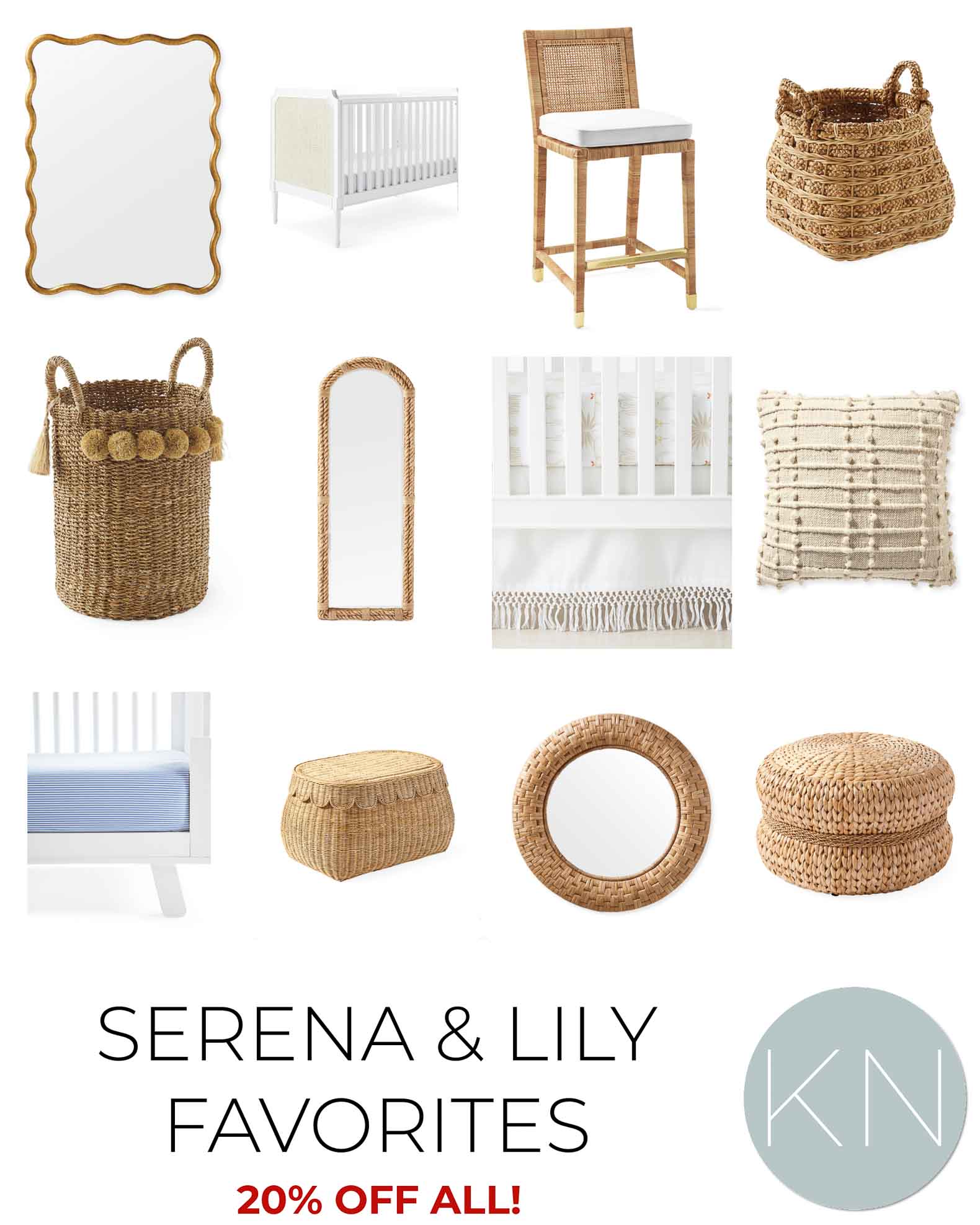 Above Sources: (Row 1, Left to Right) 1 | 2 | 3 | 4  (Row 2, Left to Right) 1 | 2 | 3 | 4 (Row 3, Left to Right) 1 | 2 | 3 | 4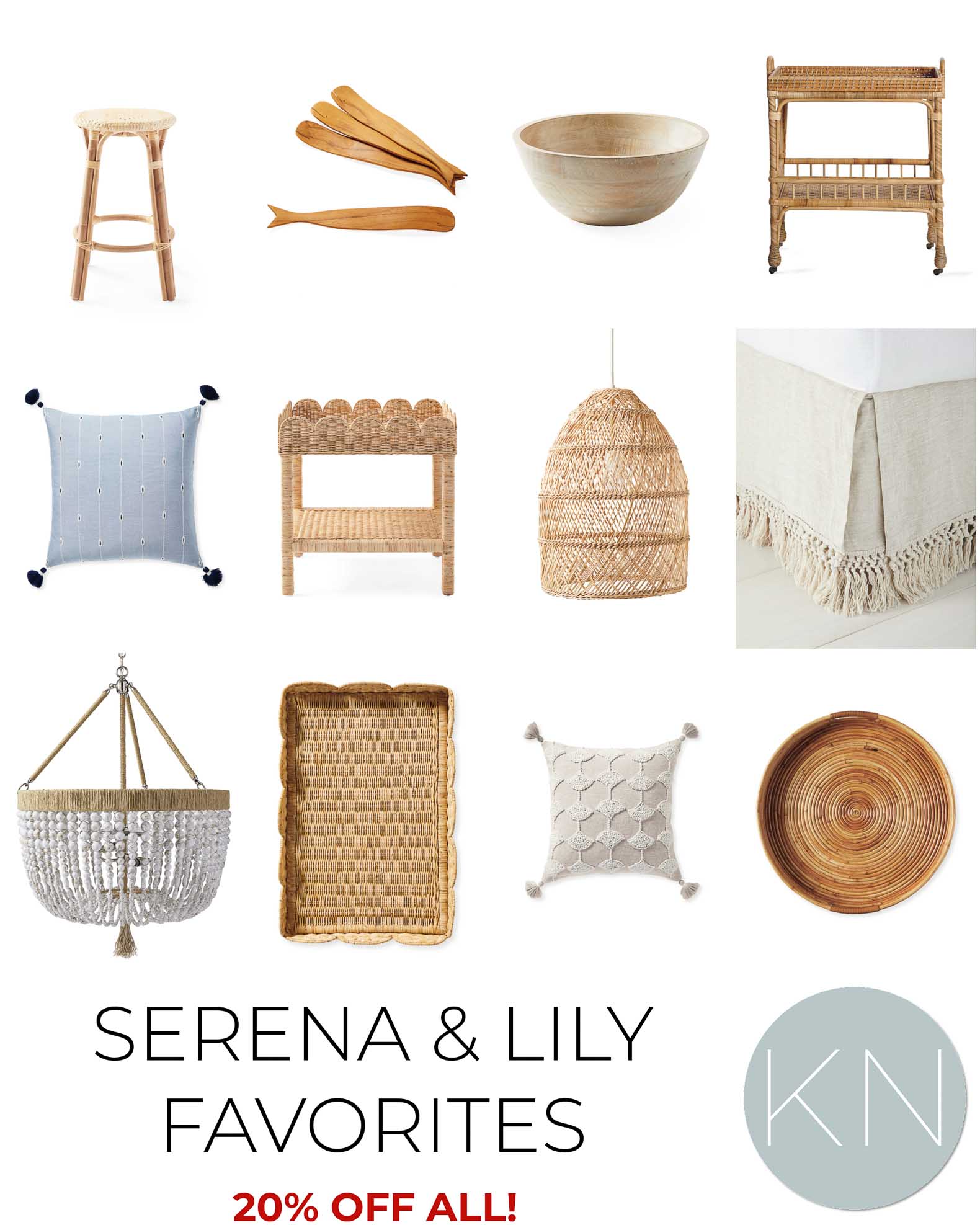 Above Sources: (Row 1, Left to Right) 1 | 2 | 3 | 4 (Row 2, Left to Right) 1 | 2 | 3 | 4 (Row 3, Left to Right) 1 | 2 | 3 | 4
6. Favorite Nude Lipstick — Huda Beauty Lipstick in Staycation: My favorite nude lipstick that I wore ALL THE TIME was discontinued a couple years ago. I preserved the tubes I had left and used them sparingly, waiting for the day for the last of it to disappear. And as I've tested other nude lipsticks, trying to find something that could replace my beloved "Really Me" by MAC, this past week, I FINALLY DID! Not only did I find a replacement, but I found a new nude lipstick I like even more than my old faithful. When it comes to lip color, I like something nude or really bold — not much in the middle. And, with my fair skin, I prefer a cooler nude.
THIS lipstick in "Staycation" is the most beautiful nude with latte undertones and somehow is long lasting and matte without drying or crumbling. It feels amazing and I can't get over my excitement of finding it. So far, I've paired it with THIS Sephora lip liner in the color "Nothin' But Nude".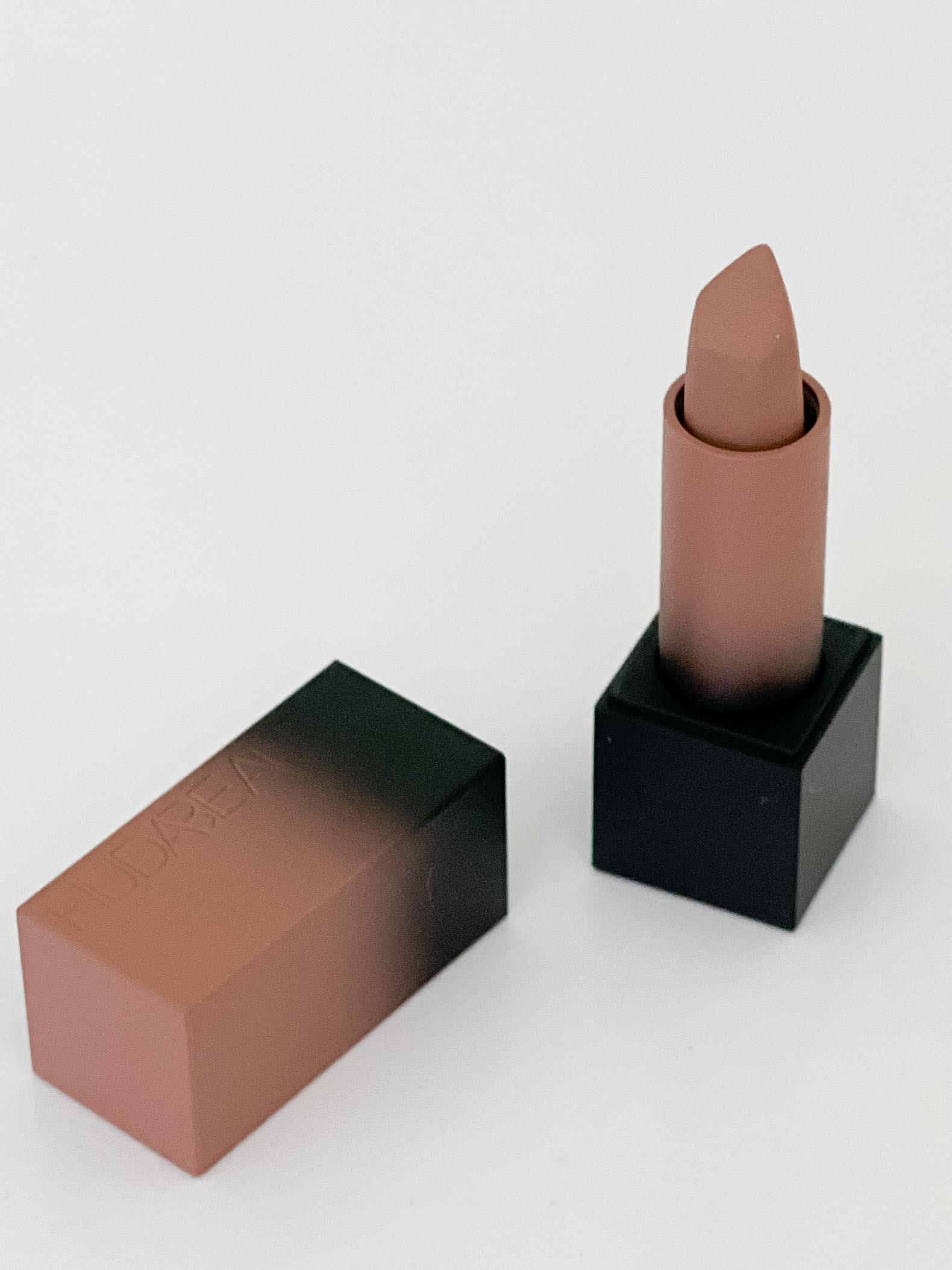 Sources: Huda Beauty Lipstick in Staycation
I grabbed a quick selfie this morning before church to better see the color…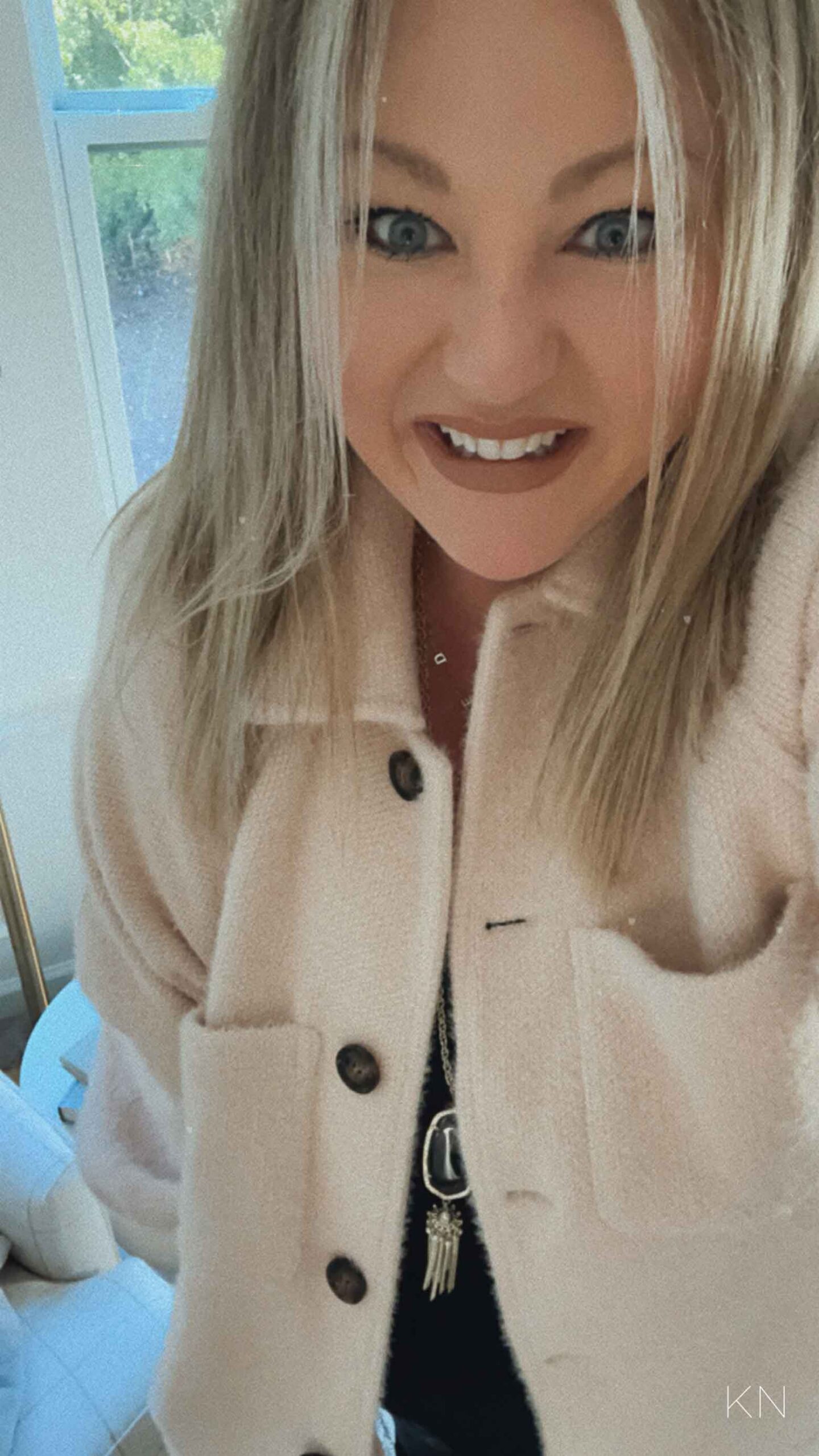 7. Rattan Tissue Box Covers (Whitewashed Rattan) (Brown Rattan): Another random home item I found on Amazon that I've shared a handful of times, if you're tissue-box obsessed like we are and have them all over your house, THESE covers dress your boxes up enough to have some stashed in every room. We have five of the whitewashed covers (one on each nightstand, one in the kitchen, one in Eliza's room and one in my office) and one of the brown rattan covers in the living room. At a current price of $18.80, the brown covers are the lowest I've seen them by almost 50%. They both ship free via Prime.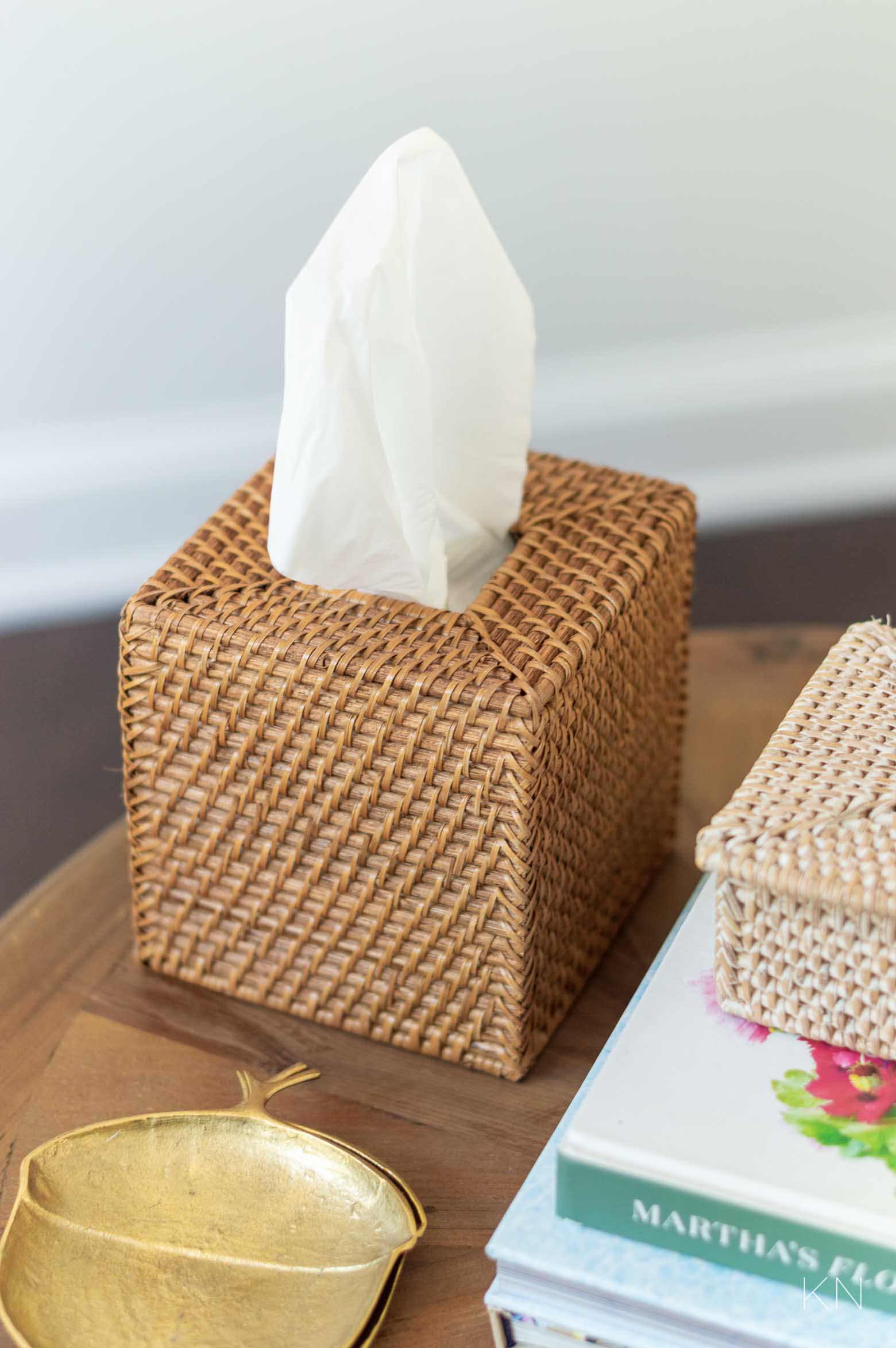 Sources: Dark Tissue Box Rattan Cover (shown) |Whitewashed Tissue Box Rattan Cover
Sending all the best to you all as we celebrate fall! For updates, projects, reveals, and holiday coming soon, be sure to subscribe to emails at the bottom of this post.