When it comes to my mental obstacles in decluttering, clearing out things that aren't really used but I can't help but classify them into hypothetical future practical near-necessities, are tough. And, the kitchen is full of them. Seemingly brilliant tools are only brilliant if you use them. And what about items that are typically classified as "standards" in a kitchen — that you only have because you think you're supposed to have them but don't use them? They're taking up space. What about tools you use so often, you think you need a back-up in case something happens to yours, or a back-up to the back-up in case it's dirty or misplaced? An overabundance of spares eat up valuable storage and become another thing to maintain/clean. It's easy to talk about in general terms, until it comes to you and your kitchen. Then, there's all kinds of excuses and reasons why you and your things are the exceptions — at least that's how it works for me 😉 So, when I started taking decluttering — both storage and visual clutter — and simplifying seriously, I started opening drawers to tackle my own demons. Some drawer got a full overhaul, some saw a few tweaks… some kitchen drawer organizers were added to some kitchen drawers and other kitchen drawers didn't need anything except the contents inside. Today, I'm sharing a look inside each drawer throughout the kitchen and sharing how I took them from "working" to "working for me".
*Posts on KelleyNan.com may contain affiliate links. Click HERE for full disclosure.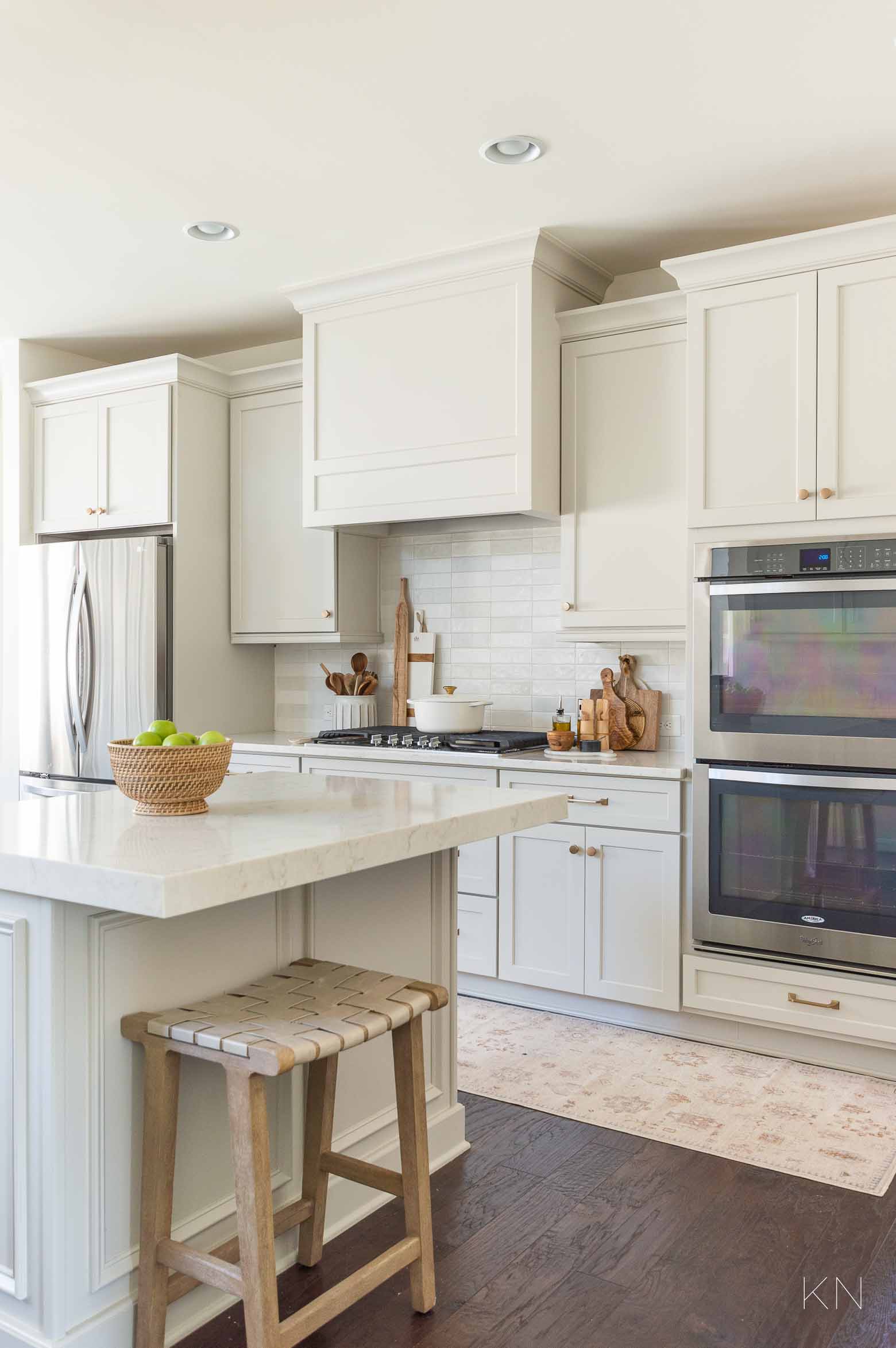 Woven Leather Backless Counter Stool | Rattan Bowl | Runner (2.5'x10′) | Backsplash Tile | Drawer Pulls (champagne bronze 6 5/16″) | Drawer Pulls (champagne bronze 5 1/16′) | Cabinet Knobs (champagne bronze 1 5/16″) | Dutch Oven (7.25 qt) | Dutch Oven Gold Knob (large) | Textured Spoon Rest | Utensil Crock | White Cheese Board | Olive Wood Cheese Board | Olive Oil Bottle | Olive Wood Salt Keeper |  Counter-Depth Refrigerator | Range Hood Insert 
With the kitchen officially finished (see the reveal HERE), there were no more excuses not to get the contents of the drawers whipped into shape, too. Kitchen drawers are a great place to visit early on when you feel inspired to declutter because you don't have to set chunks of time aside to make major progress. Sure, you can tackle full drawers or several drawers at a time, but to get started, all you really have to do is start opening drawers and pulling stuff out. In my defense, most of my "systems" were still working pretty well, they were only hindered by excess. They needed a major edit. As I opened each drawer, I considered "what would make this better?" and "what don't I like about this drawer?" Even my best drawers had improvements to be made and we're going to walk through each one!
Kitchen Drawer Organizers & Drawer Organization Solutions
Some of my drawers had organizers that worked well, and some of my kitchen drawer organizers were good in theory, but didn't function as well as they could. First, I'm a big proponent of using what you have — finding ways to gather and sort items so you can keep them separate, displayed, and seen is most important. But, as I fine tune solutions and take drawers from decluttered to organized and know what works/doesn't work from previous experience, I like working towards kitchen drawer organizers that don't just "work fine", but work the best for my specific needs and items.
Another note before we get to what goes inside the drawers is the flow of the drawers. I made a few switches when I considered consolidating a few different types of drawers but they're all around similar drawers and in proper position, within the kitchen.
Flatware Drawer
My flatware drawer previously had a plastic, expandable organizer — I had it in my drawer for years. I liked that it was expandable so it could fit my drawer pretty well horizontally, but I didn't like that the largest compartment was too large for any single item that made sense in that drawer. So, I used smaller compartments to try to separate that space. They shifted around and another big realization was that my silverware was too heavy for a plastic organizer. It all shifted around and wouldn't stay fully expanded. I had some more basic knives and kitchen shears that weren't stored well, my corn cob holders took up a too significant amount of real estate, and I had held onto too many serving spoons and forks from previous flatware sets I no longer owned… you know… just in case 😉 We hardly ever use the serving spoons that came with our flatware, much less the pieces from previous sets, but I was holding onto them for a hypothetical Thanksgiving in the future when we may have more food than normal. While my basic flatware stayed in their respective compartments, there was a lot of improvement to be made. I successfully thinned out my serving utensils to the pieces that came with my flatware and the few special pieces, and relocated my shears and the couple of knives to a different drawer. Here is where I started…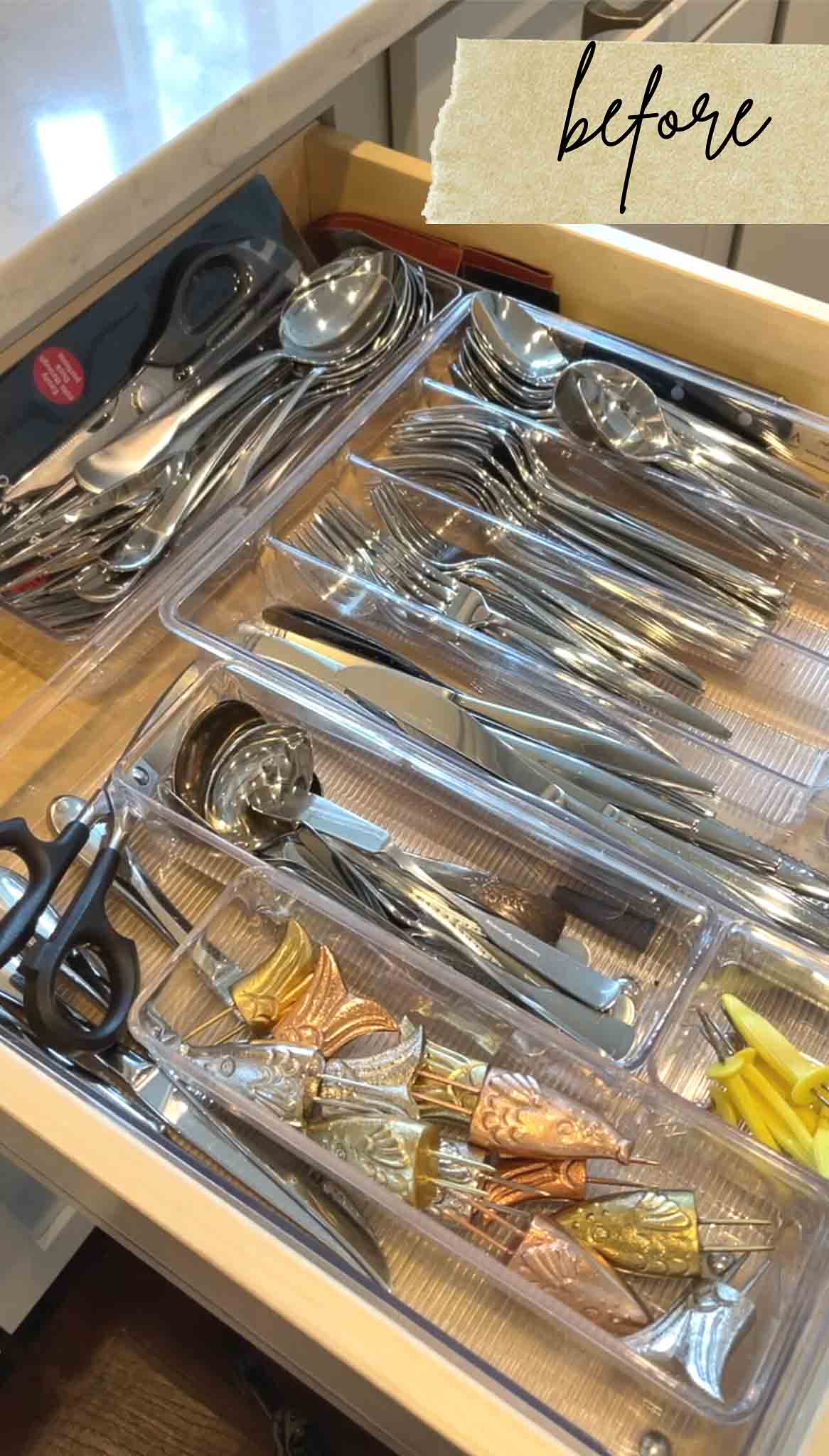 And without getting rid of anything I needed, here is how I transformed the drawer in just a few minutes!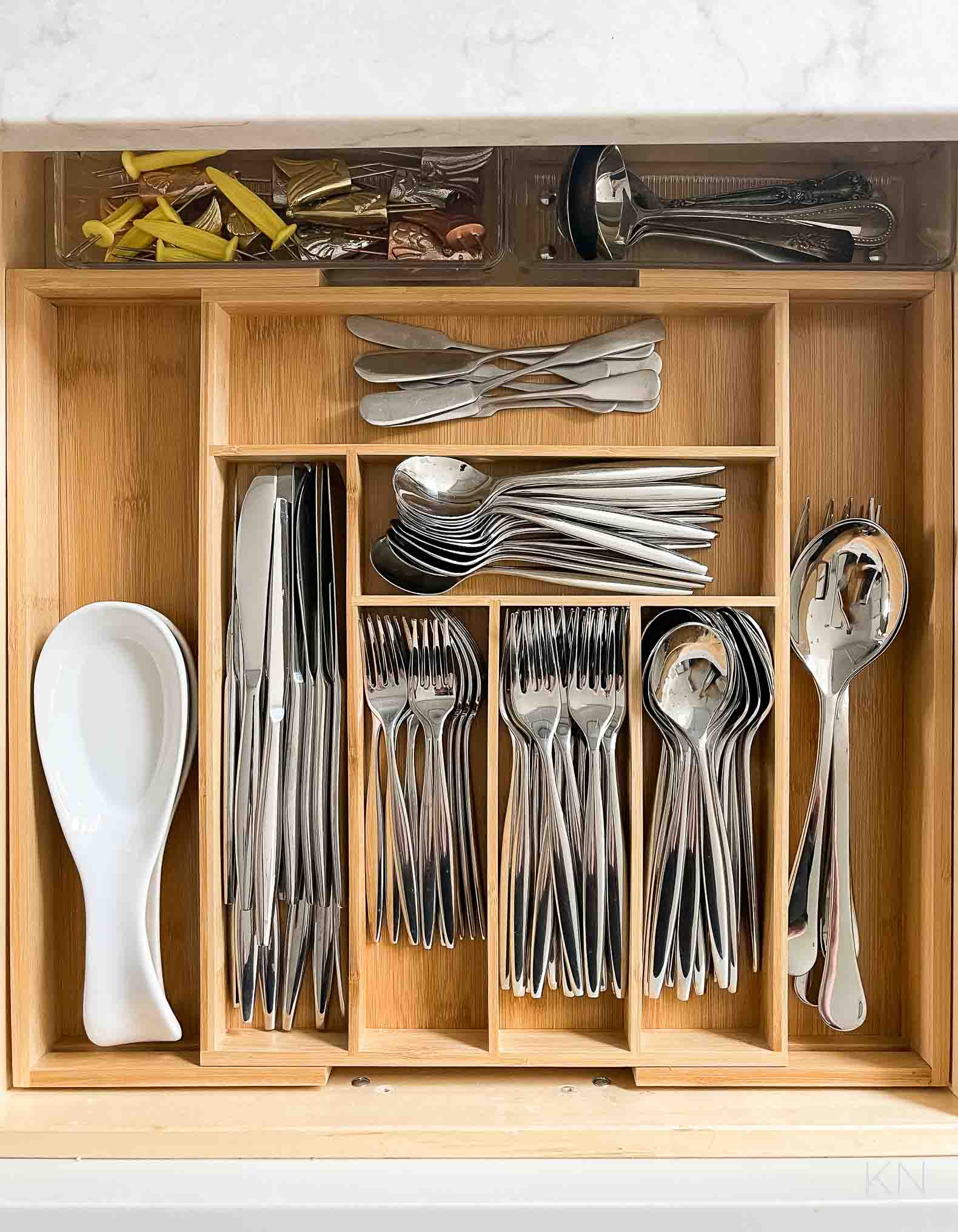 Expandable Bamboo Drawer Organizer | Shallow Drawer Organizers
With the addition of my spoon rests, I think there is just as much in here as before, but it's laid out better and serves my needs better. While THIS organizer expands, also, I like that each side expands (instead of only one big compartment), and the wood is heavy enough to not shift in the drawer. We have a few sets of flatware in here and it still stays put! In the back, there was still a little room to more thoughtfully store a single row of rarely used items in this drawer category, that I still wanted (gravy ladle, corn cob skewers…) We've been living with these drawers for over almost two months now, and as the most often used/accessed drawer in the kitchen, this one was a huge improvement! Just because we had a lot of serving spoons didn't mean we needed them. Coming to terms with letting go of things that were good, just excess and unneeded in the kitchen, helped me continue this pattern and practice throughout other spaces, like the office closet (see that decluttering project HERE).
Cutlery /Knife Drawer
Even though I had some drawers that were overstuffed, I had other drawers that weren't used to their full potential and were underutilized. Some didn't have a clear purpose. At the same time, I have been craving to declutter my countertops — which seemed a feat since I pretty much only keep functional items and tools on my counters. Between our nice single-purchased knives that lived in the drawer without a proper home and the large knife block on the counter, I decided to give an in-drawer knife block a go, to get them out of sight and consolidated together, while still keeping them easily accessible. I don't know why we didn't do it sooner — we love the result!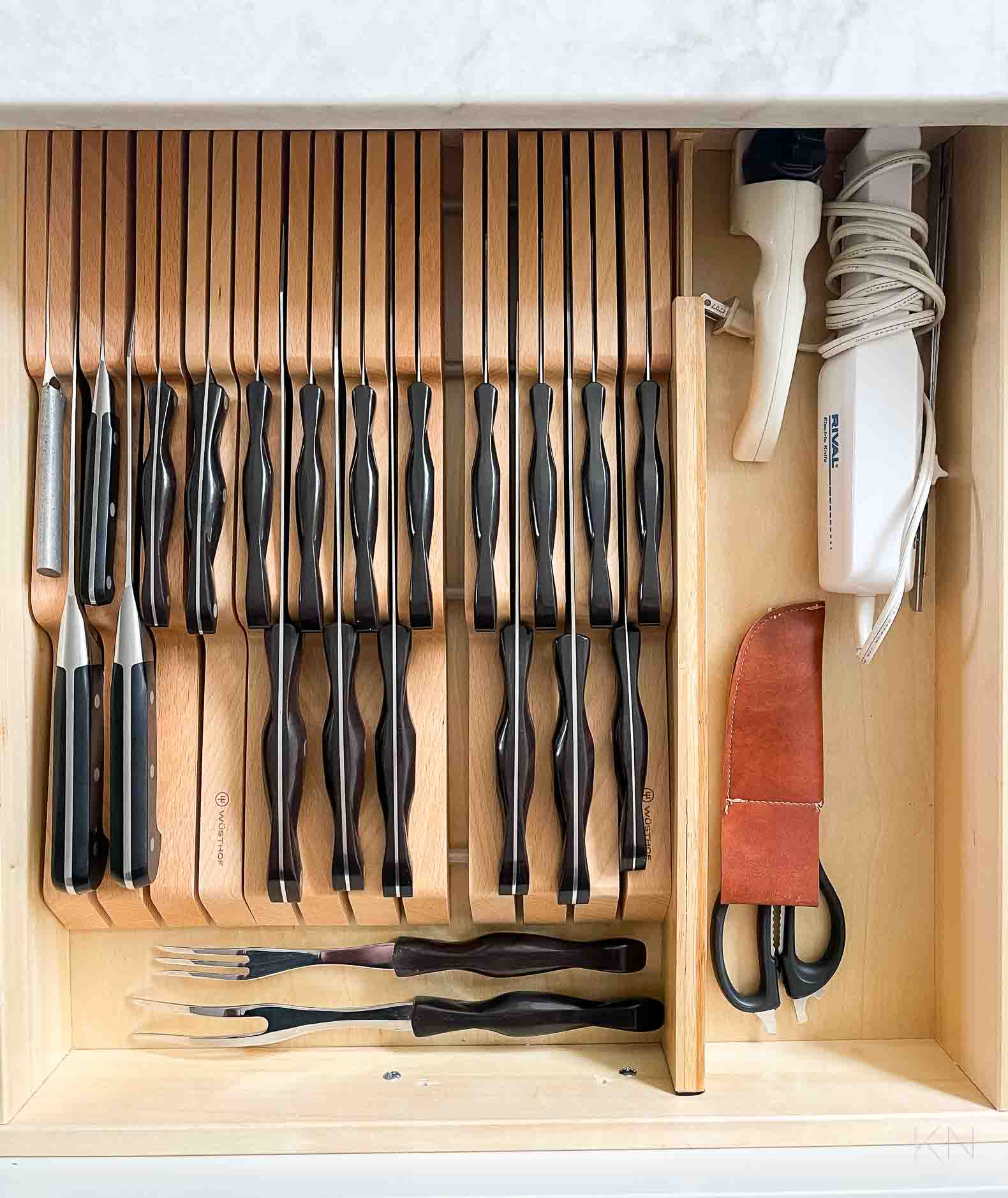 14-Slot In Drawer Knife Storage | 7-Slot In Drawer Knife Storage | Bamboo Kitchen Dividers (4 pcs) | Cutco Super Shears | Tomato Knife | 7″ Slim Chef's Knife | 4″ Paring Knife | 8″ Chef's Knife | Steak Knives
I had originally purchased THIS 7-slot knife storage a long time ago, intending to only use it for our individual knives. When I decided to add our big Cutco set to the mix, I added the 14-slot storage block, also. They work together seamlessly. By the way, I don't have a stick style sharpener, but if you do, you can see the spot open for that to be stored, also. To keep them unmoved and all in place, together as one unit, I used my favorite expandable bamboo drawer dividers. They come in a four-pack, in multiple colors, in both small and large sizes. This drawer called for the larger size. These dividers are my single-most favorite organizing tool I have — I'll share lots more spots where they helped me (even in lieu of kitchen drawer organizers) throughout the post. PS: There's a 10% coupon on the Amazon listing right now HERE.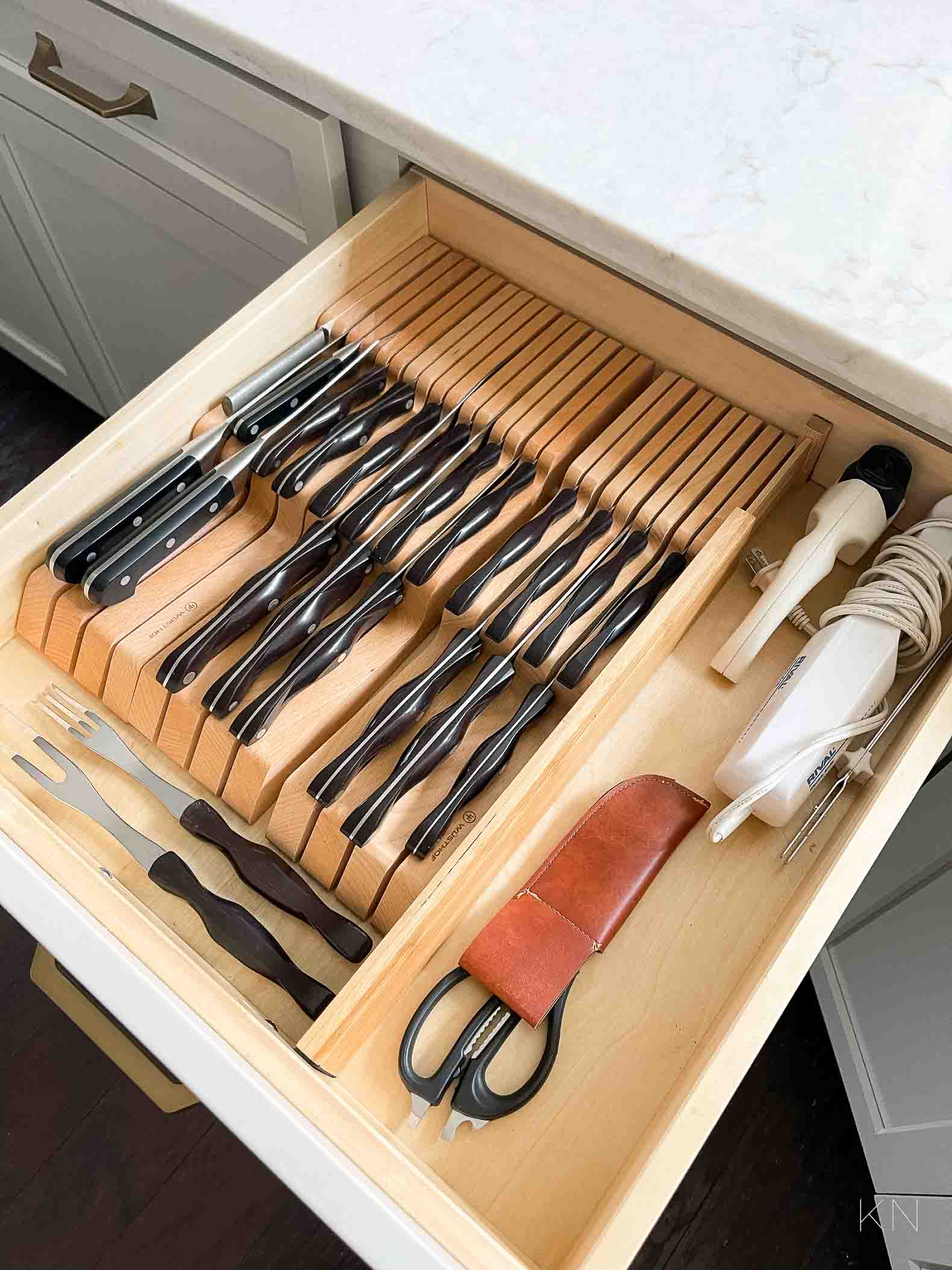 14-Slot In Drawer Knife Storage | 7-Slot In Drawer Knife Storage | Bamboo Kitchen Dividers (4 pcs) | Cutco Super Shears | Tomato Knife | 7″ Slim Chef's Knife | 4″ Paring Knife | 8″ Chef's Knife | Steak Knives
The drawer is positioned right next to my flatware drawer, too. Perfect.
Since it's been important to rid the kitchen of excess visual clutter, along with the knife blocks, there are a few things I identified that if I found just the right thing, I would be able to get them moved off the counter. I don't have a built-in paper towel holder, or space in a cabinet, and my cabinet door below the sink is too small, but our appliance cabinet was just the spot to affix THIS paper towel holder with self adhesive. We haven't missed it on our counter one bit and it's been the perfect solution. This switch took seconds!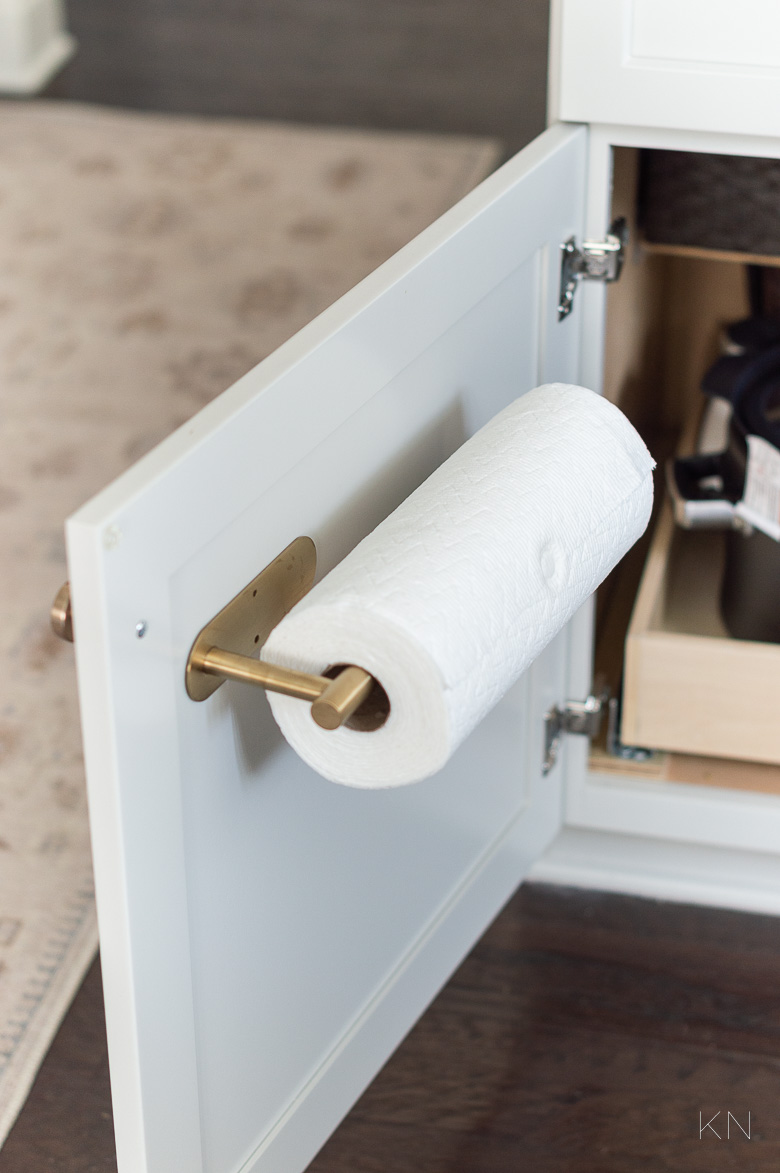 Kitchen Towel Drawer
I was formerly using that big knife drawer for kitchen towels (and a random rolling pin). There was a smaller drawer nearby that had a bunch of random nonsense inside — I determined that I could fill that drawer and still have more towels than I needed. Luckily, it was right next to the sink and the dishwasher, which is where I would want it locationally, too. So, I decided to downsize the towel drawer and tossed the rattiest towels. Moving forward, if it doesn't fit in this drawer, it goes. If I bring home a new towel, I have to get rid of a towel. The rolling method still works best for me, almost a decade after first trying this drawer organization technique.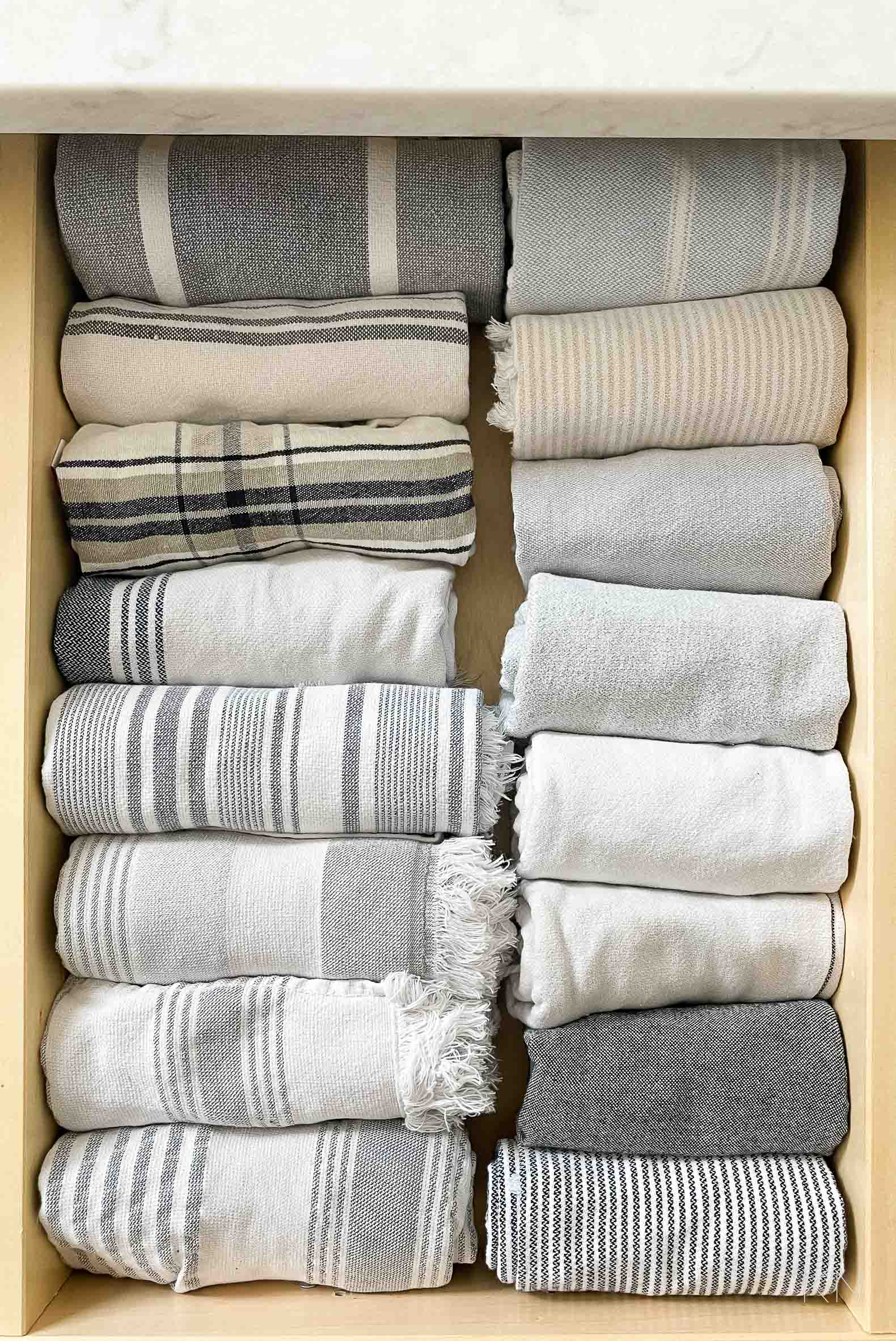 My favorite kitchen and hand towel source is still THIS Turkish Etsy shop, where you can get high quality tasseled Turkish towels for under $4 a piece. Even though they ship from Turkey, they arrive quickly and they offer free shipping on orders of $35+. I use THESE types of hand towels in my kitchen, but also my bathrooms, too. I bought a bunch of THESE solid white tasseled towels for our bathroom ($3.60 right now), but I wash them each week with our towels — with OxiClean or bleach — and despite thinking I'd need my back-ups by now, the originals are still in gorgeous, perfect condition.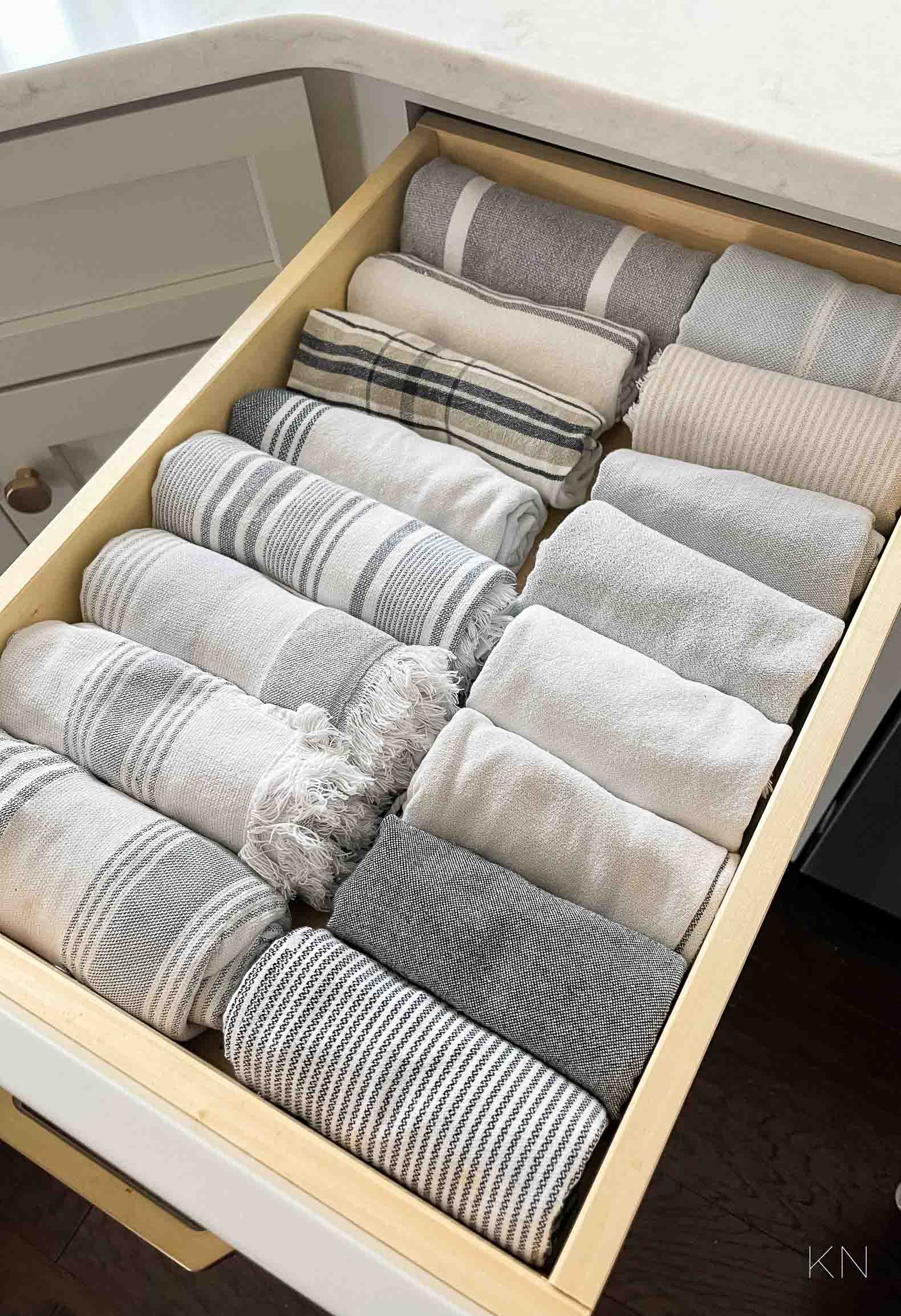 Kitchen Utensil Drawers
This is a prime example of a drawer not needing more organization, but instead, just needing a serious (and honest) evaluation and a good decluttering. I've used THIS expandable utensil organizer for years — it's longer and expands wider than anything wooden I've been able to find on Amazon. I also thinned out my wooden spoons on the counter, next to the stove. Anything that was in poor shape was retired. I don't need those, along with 20 silicone spoons at the same time, so it made clearing my drawer when I considered what I needed, even on the most involved of cooking days. Melon ballers — didn't need those. Five peelers? Overkill. There are a few utensils we rarely use that I didn't toss all the way yet — I put them in a bin to see if the need comes up. If not, those will go, too.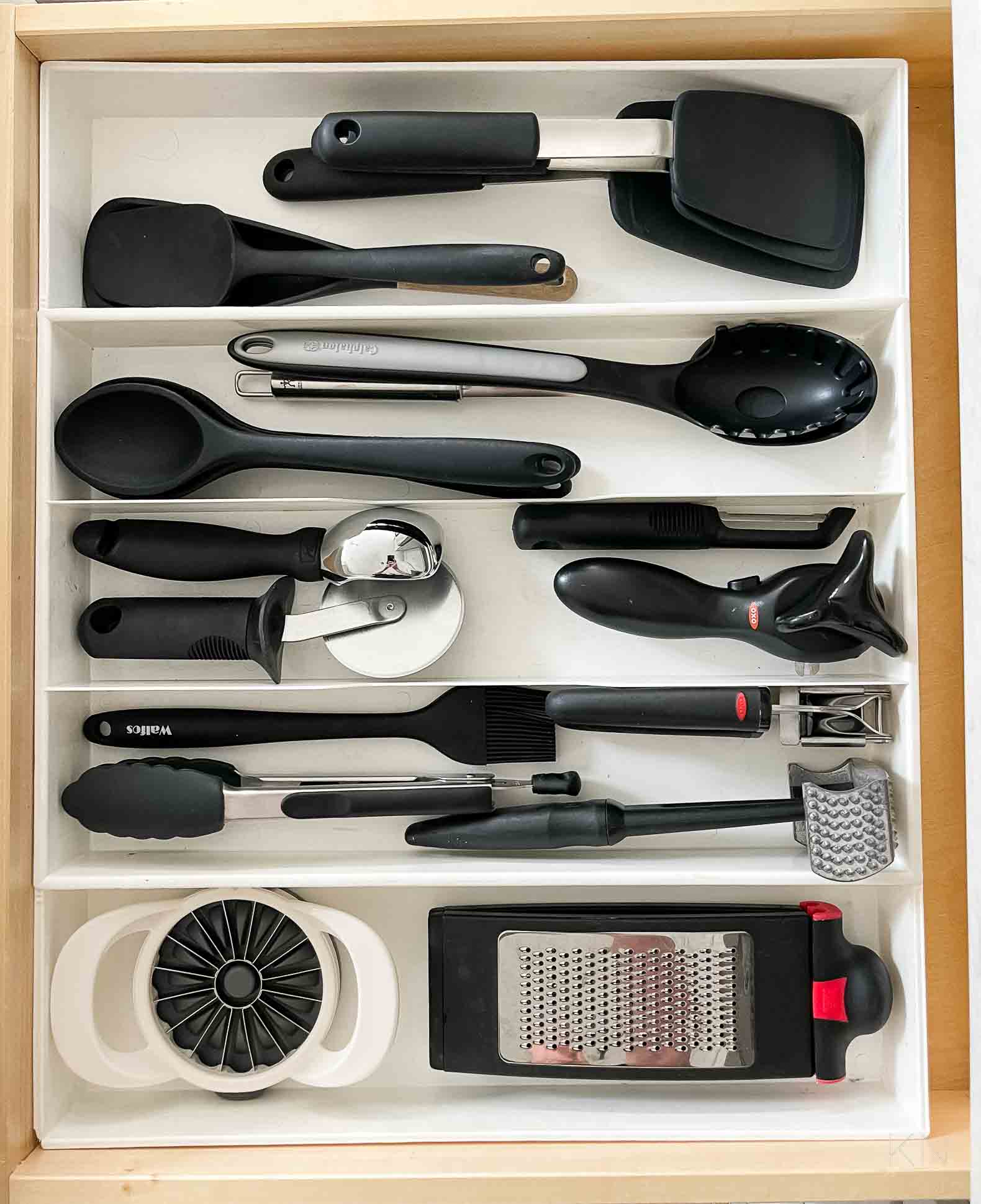 Expand A Drawer Utensil Tray | OXO Spatulas | OXO Locking Tongs | OXO Swivel Peeler | Silicone Cooking Spoon Set (4 pcs) | Thin (16 Slices) Apple Corer | Ice Cream Scoop | OXO Can Opener | OXO Garlic Press | OXO Pizza Wheel | OXO Folding Grater | Silicone Basting Brush 
There's also more than one specific-food type of tools that are really nifty and smart, but I'm not typically willing to get it out just for that one thing and stick to using what I have. I passed those on and haven't missed the ones I parted with.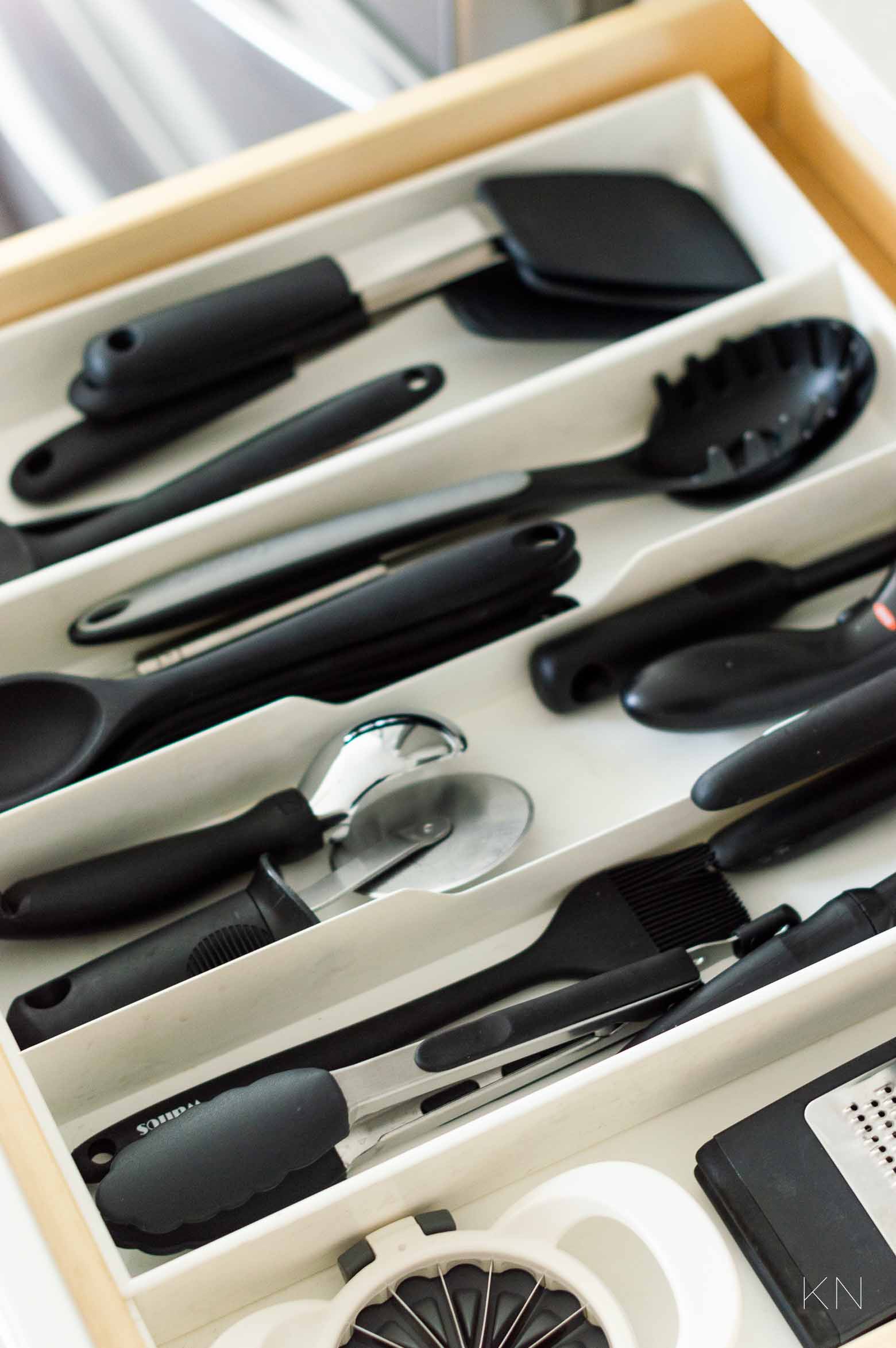 While we use wooden or silicone 90% of the time, I have other metal utensils I wanted off the counter, I still wanted to keep, and I didn't want to clutter up my primary drawer. After decluttering, consolidating, and better defining drawers, I had a drawer I could allocate on the other side of the stove to those lesser used but still important tools, along with trivets and hot pads. Instead of trying to find an organizer large and specific enough to handle these bulky utensils (I wouldn't have found one), I used my trusty expandable drawer dividers to customize a compartment for the drawer contents. A super narrow compartment for the rolling pin, a wider compartment for hot pads… it worked perfectly. If you can't find a utensil organizer you like, I would 10/10 recommend creating your own by using THESE expandable dividers.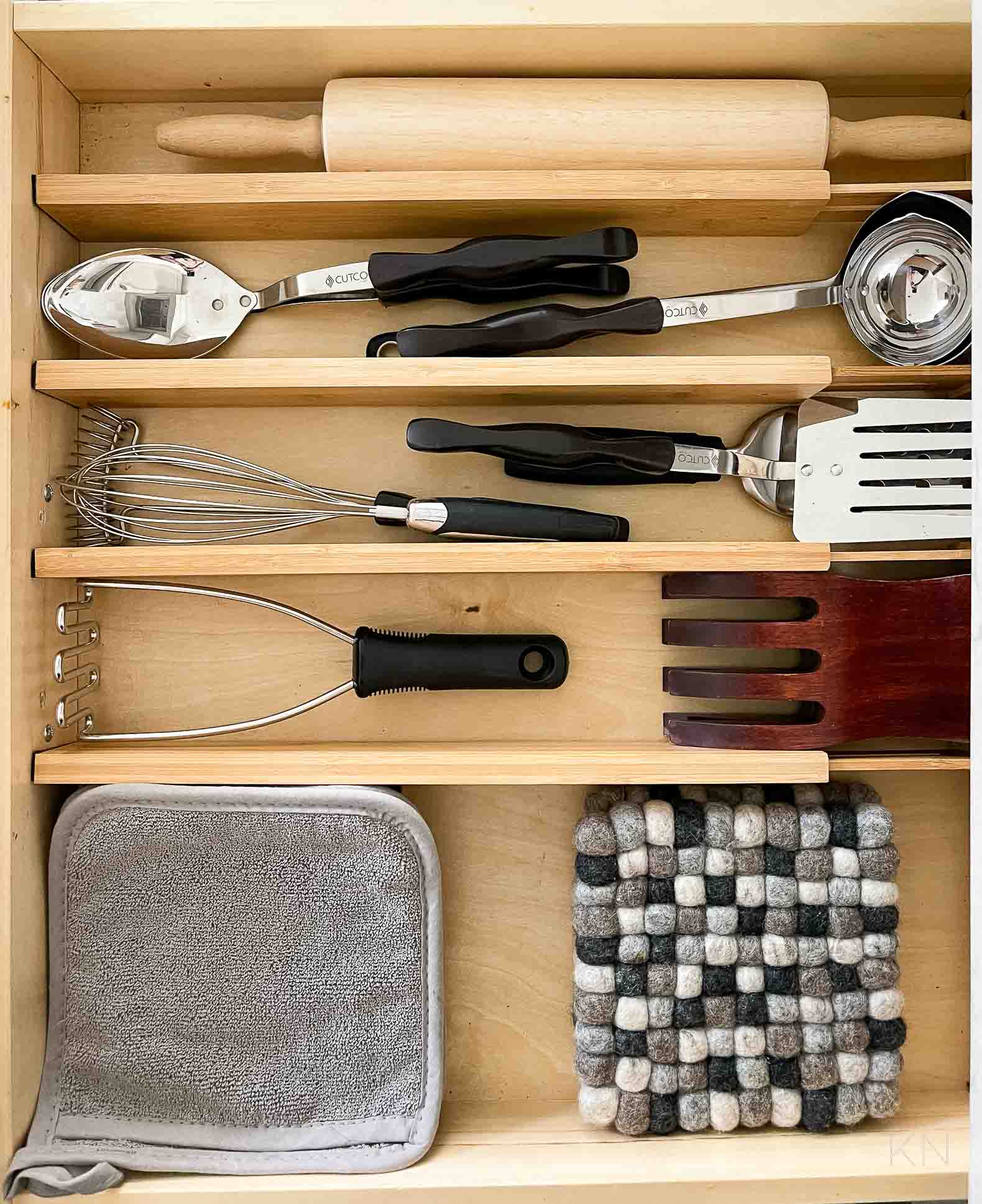 Bamboo Kitchen Dividers (4 pcs) | Pot Holders (set of 2) | Potato Masher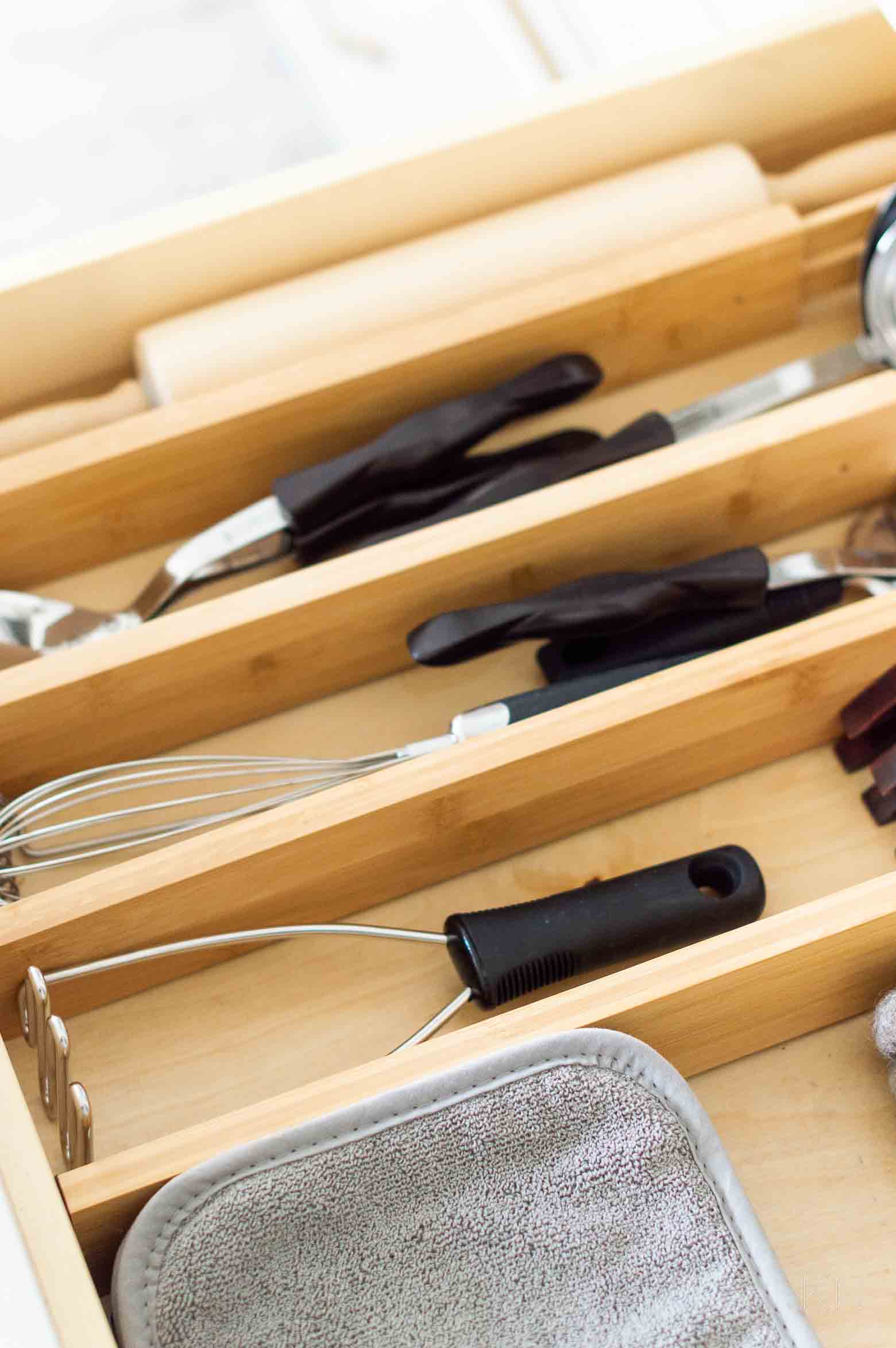 Baking Drawer
I got real with my baking supplies this past year. I limited myself to two sets of measuring cups and spoons (not the 34990 I had). I also considered what I actually use — not what I may use one day, in an ideal world, on a weekend where I have nothing else going on… you get the idea 😉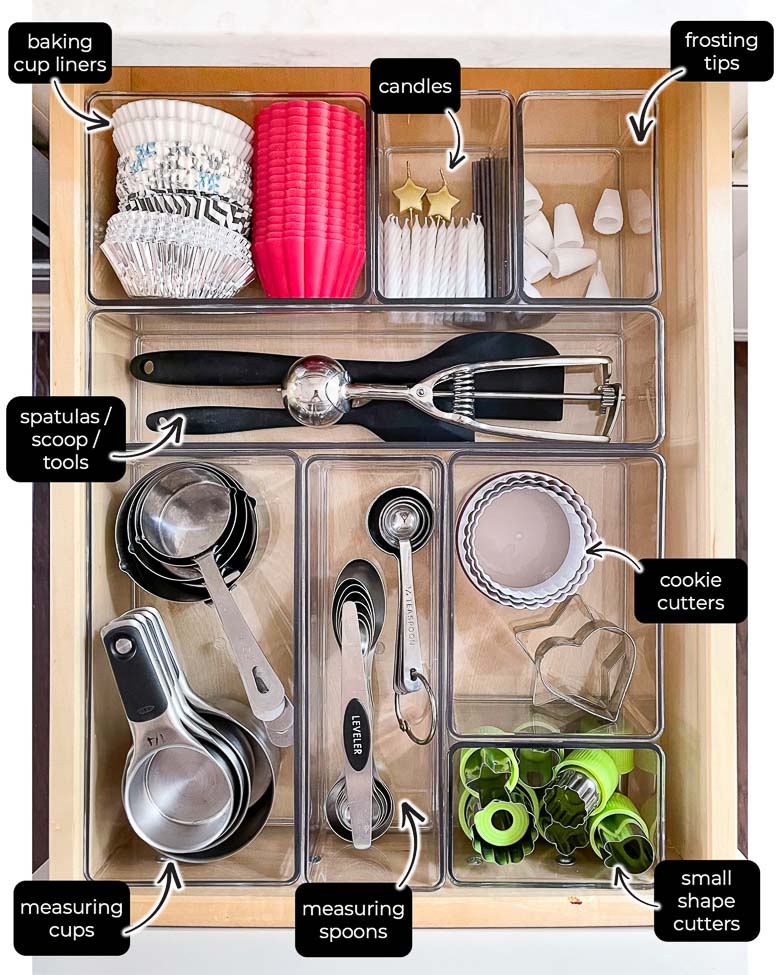 The Home Edit 10-Piece Plastic Modular Storage System | The Home Edit Six-Piece Kitchen Drawer Organization System | Silicone Spatula Set (3 pcs) | Measuring Cups (4 pc set) | Magnetic Measuring Spoons (8 pc set) | Small Shape Cutters (9 pc set)
I have never needed more than THIS 3-piece set of spatulas (which I use often) so I tossed all the randoms I'd accumulated outside of THIS set.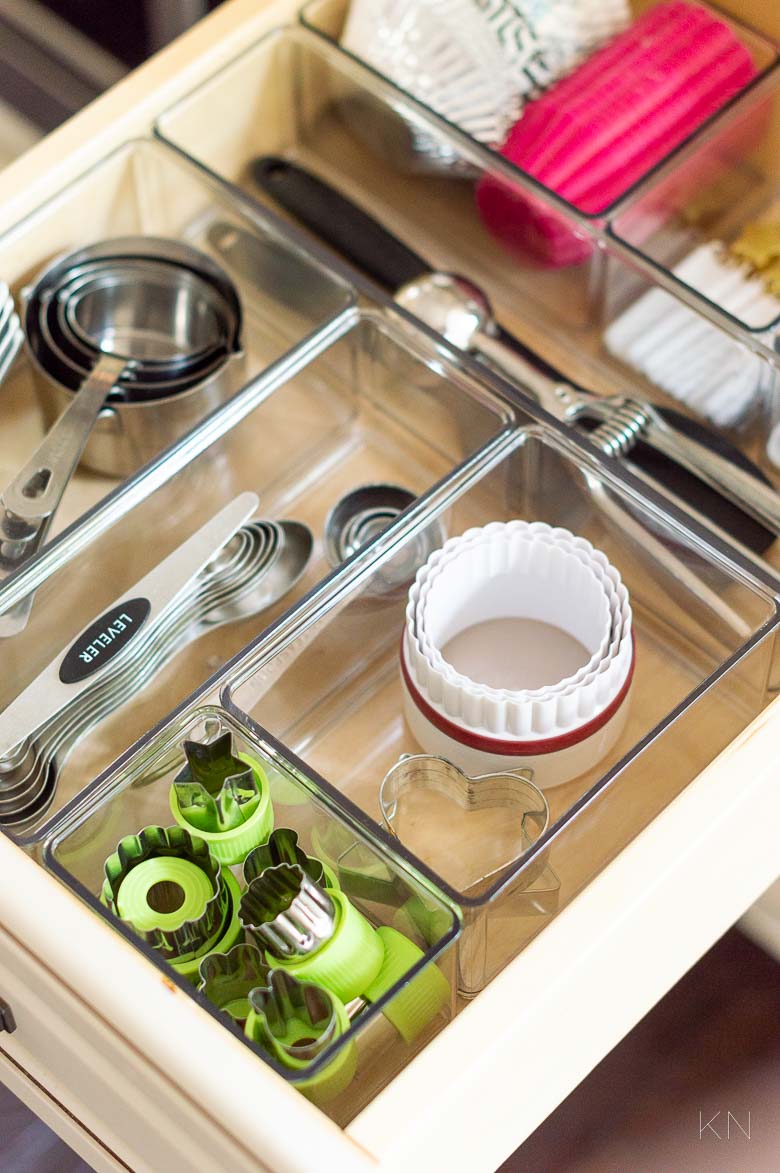 The Home Edit 10-Piece Plastic Modular Storage System | The Home Edit Six-Piece Kitchen Drawer Organization System | Silicone Spatula Set (3 pcs) | Magnetic Measuring Spoons (8 pc set) | Small Shape Cutters (9 pc set)
I also wanted to make THESE shape cutters more accessible. I love using them for Eliza — when I think about them — but I didn't often think about them since they weren't where they should be.
Food Storage Drawer
A drawer that had had a few things creep in that didn't belong was the drawer we use for kitchen food storage and wrap. I stand by THESE food storage bag organizers as one of my favorite finds ever, but it was even more helpful when I anchored them in place using (again) one of THESE expandable drawer dividers.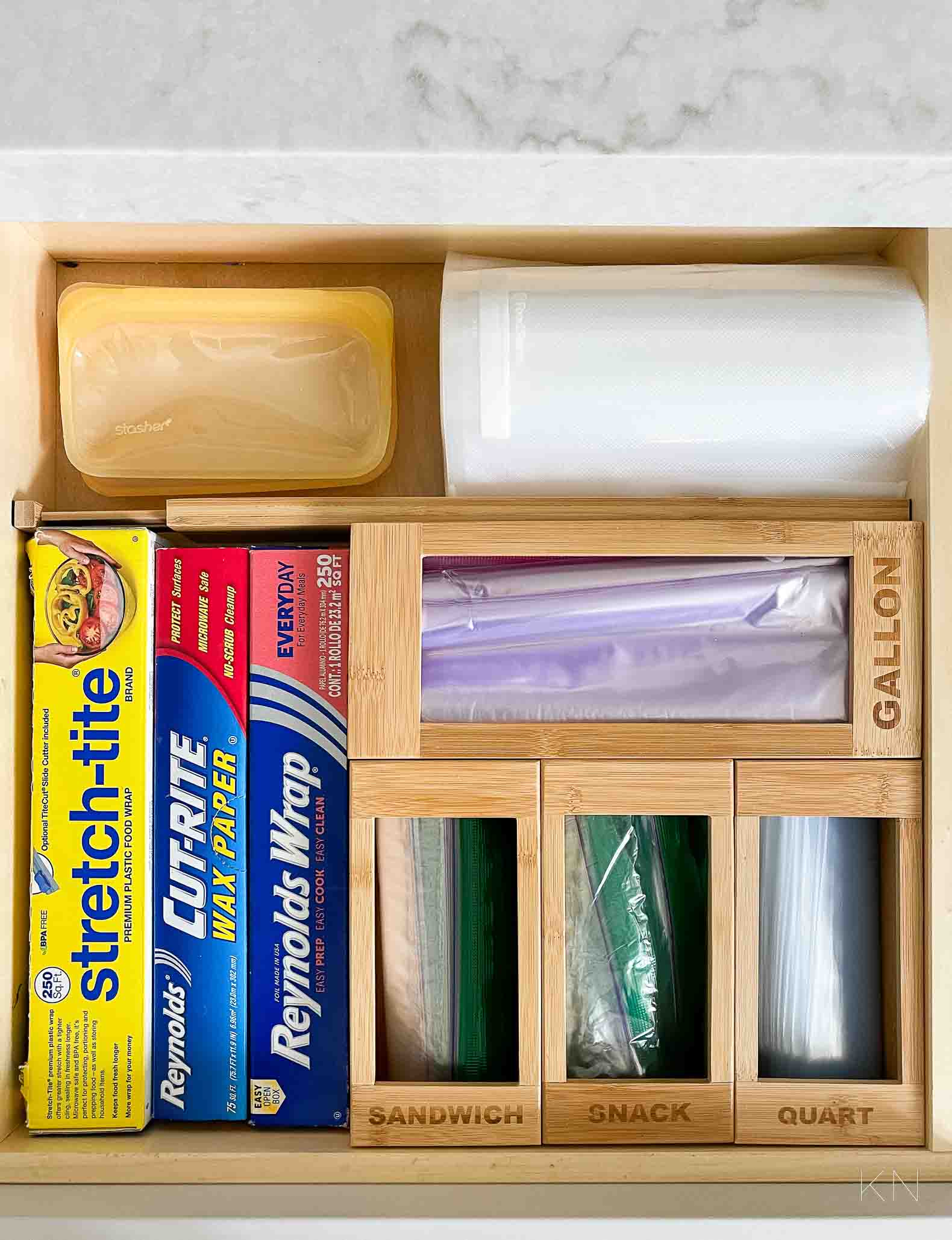 Bamboo Plastic Bag Organizers (4 pc set) | Bamboo Kitchen Dividers (4 pcs)  | Reusable Silicone Stasher Bags
I haven't found containers for any of the wraps I feel confident in enough to commit to, but they don't bother me in their original packaging as much as the flimsy baggies did.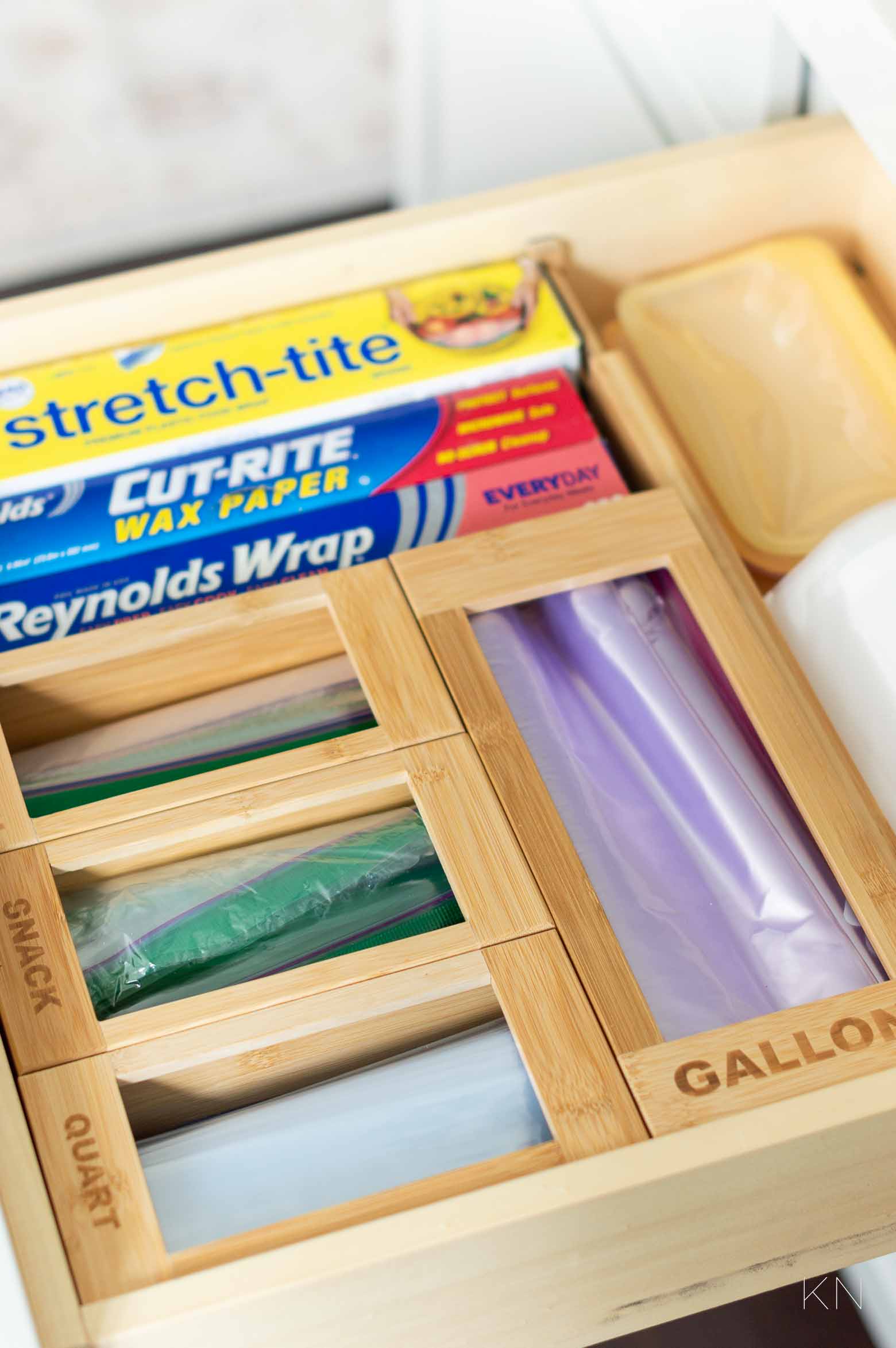 Bamboo Plastic Bag Organizers (4 pc set) | Bamboo Kitchen Dividers (4 pcs)
Kitchen Paper & Accessories Drawer
So — those random drawers? We use paper plates pretty regularly here for lunch and snacks so I keep those easily accessible, alongside our napkins. But, there's lots of space left. That's where I took my drawer dividers and created spaces for some of those other often used items that didn't have another home (like our drinking straws and my rolling dish drying mat).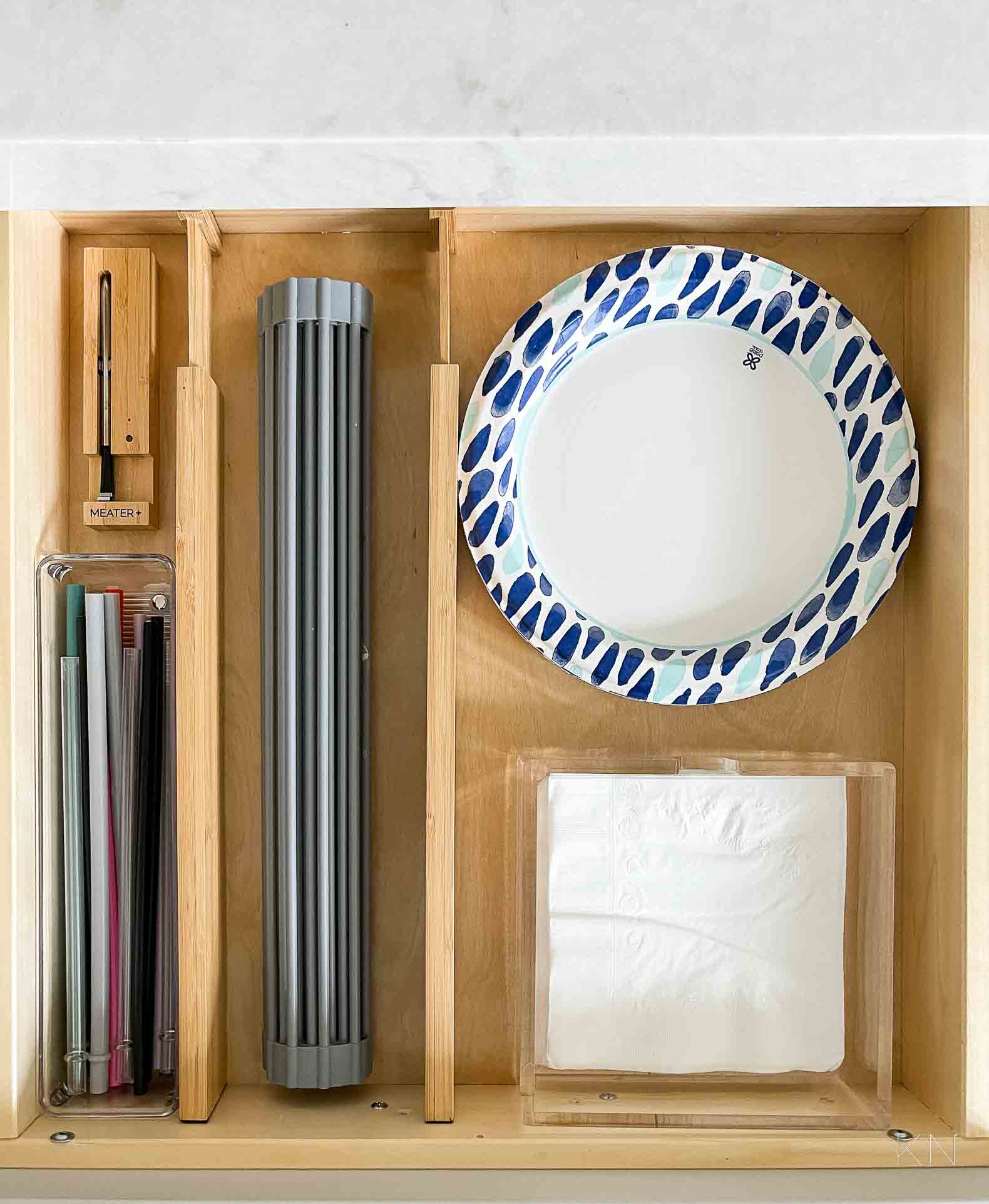 Bamboo Kitchen Dividers (4 pcs) | Shallow Drawer Organizer | Roll Up Dish Drying Rack | Smart Meat Thermometer | Acrylic Napkin Holder
By the way, my last napkin holder was a purple metal one from college with a clamp that came down on top. It sometimes flipped up and prevented the drawer from opening so I finally (two decades later) purchased THIS new acrylic napkin holder. It's thick and sturdy and stays put inside the drawer!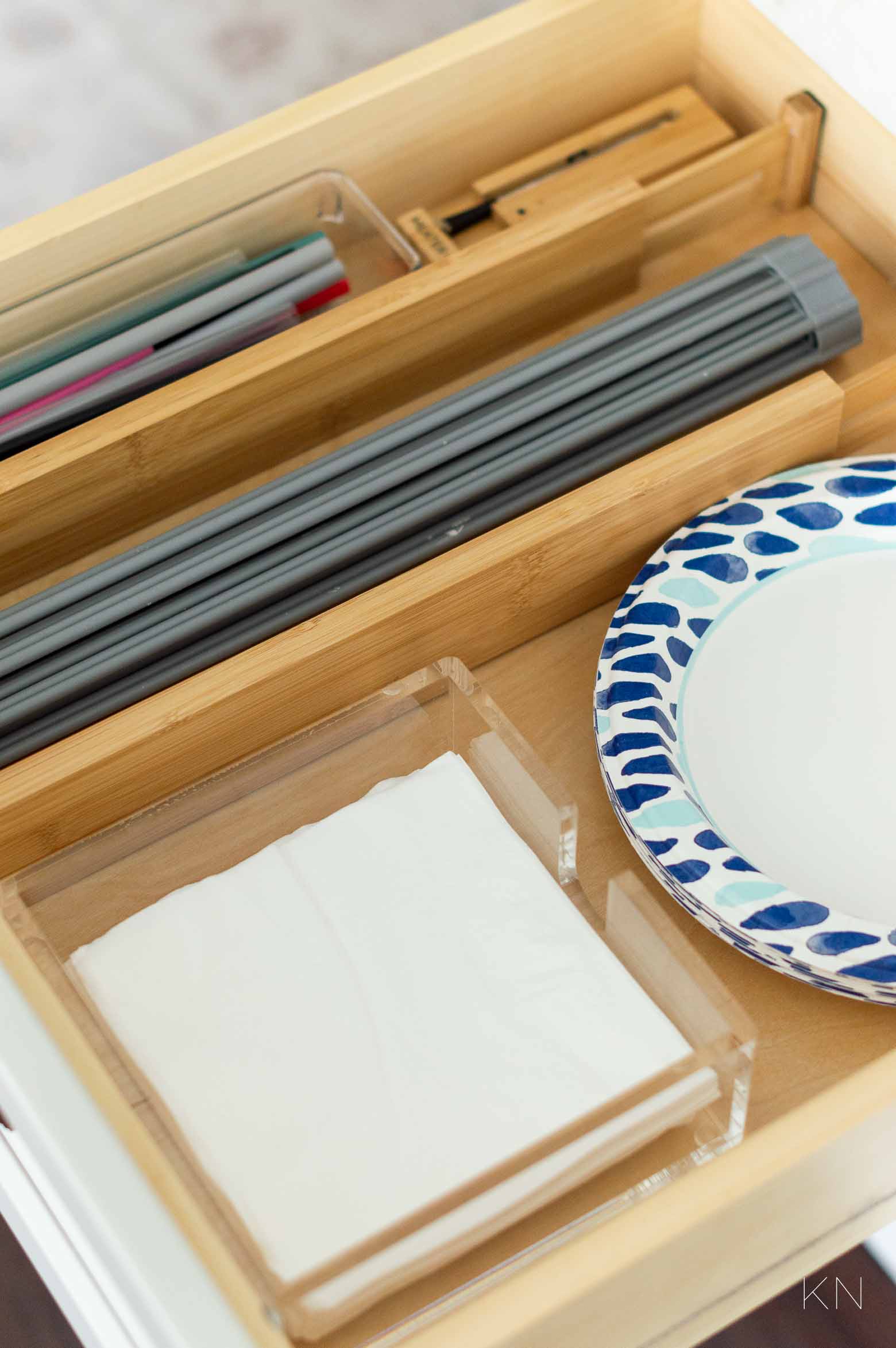 Bamboo Kitchen Dividers (4 pcs) | Shallow Drawer Organizer | Roll Up Dish Drying Rack | Smart Meat Thermometer | Acrylic Napkin Holder
Something else kind of random that I just found and implemented this week is THIS ridged beverage mat for cans and/or bottles inside the fridge. I couldn't find a can organizer for our newer fridge that would hold enough and in the correct dimensions, but THIS new mat from OXO is brilliant. It works incredibly well, stacking several lines high, with zero wasted space (unlike traditional can organizers). One side of the mat is for cans, the other is for bottles. And, they don't move! I'll be sharing this on IG in more detail soon, and of course, back here on KN when I get a chance.
Pots & Pans Drawers
We were overdue in needing to purchase a new everyday cookware set. We bought THIS pretty GreenPan one last year and have LOVED it. We wash it by hand, don't use metal, and generally try to take care of it, but we don't go overboard. It has been phenomenal in terms of even cook, non stick, etc. Plus, it looks great — it comes in lots of colors (we have the taupe) HERE. Even though we needed a new set, it was still tough getting rid of some of our previous pots an pans – even with cracks, chips, and peeling! Like the other drawers, I decided I would only keep what would comfortably fit in my two pot and pan drawers below the cooktop. I also didn't want to stack them so I wouldn't have to worry about chipping as much. Instead of storing lids separately, I put them on each respective piece — unlike what I've done in the past, it works perfectly. And, I don't have to test out lids, trying to find the right size, every time I go to cook.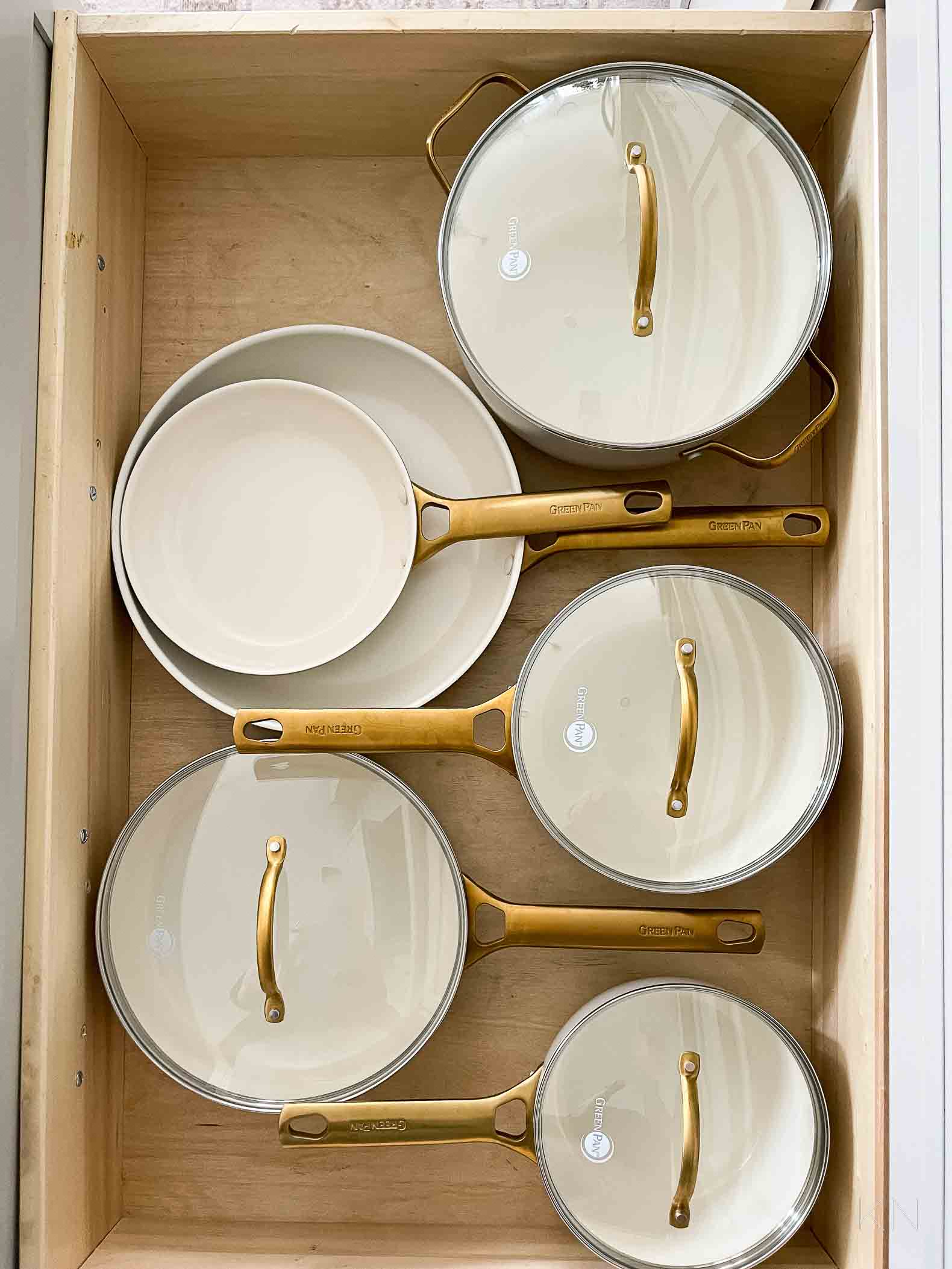 GreenPan Non-Stick Cookware (10 pc set)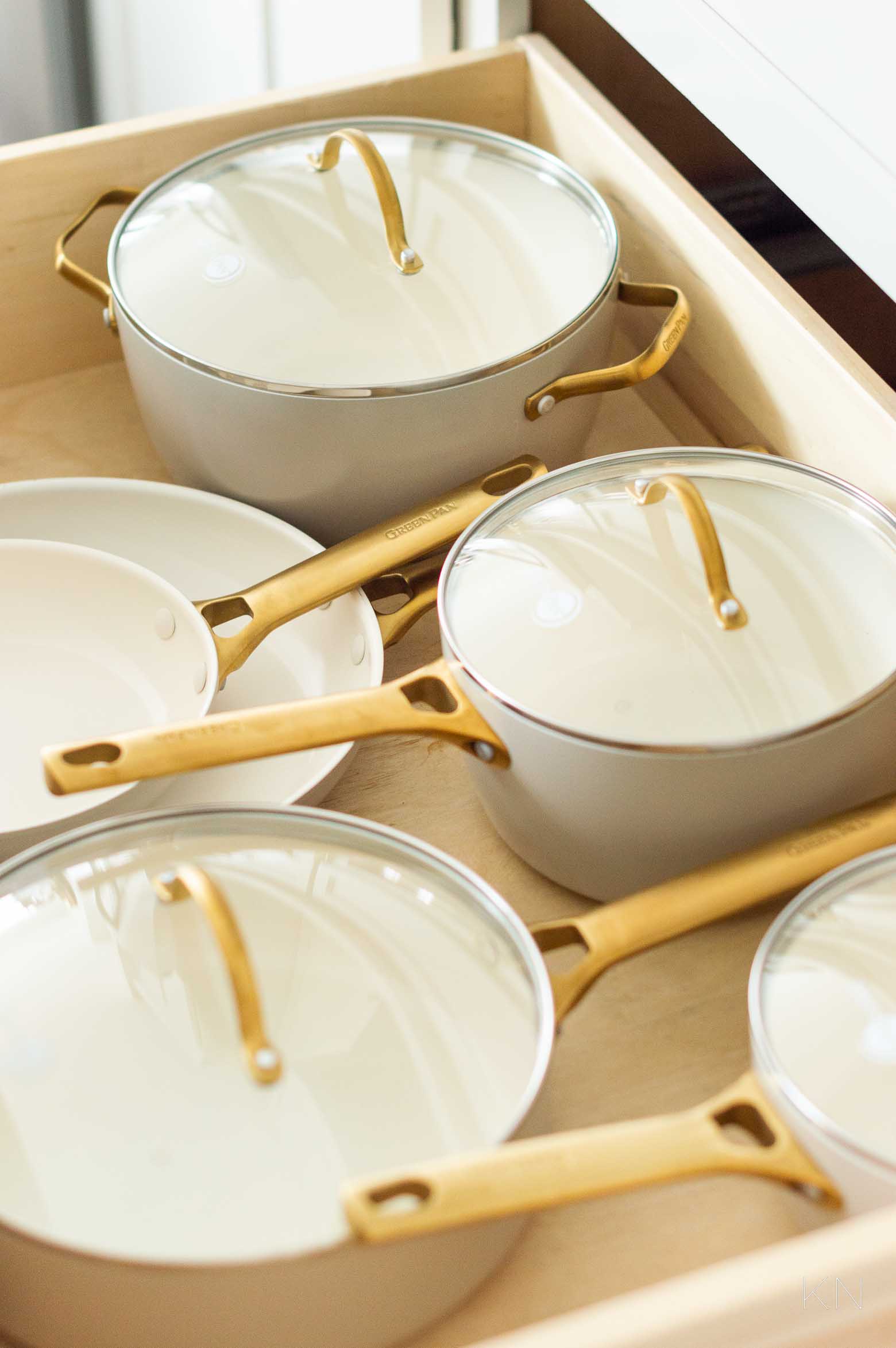 GreenPan Non-Stick Cookware (10 pc set)
The lower drawer holds the heavier stuff — before, it held other cookware that was in poor condition that I had a hard time parting with and some of these nicer pieces were tucked into unusable spaces in the backs of cabinets. Getting my cookware together has improved my kitchen flow so much.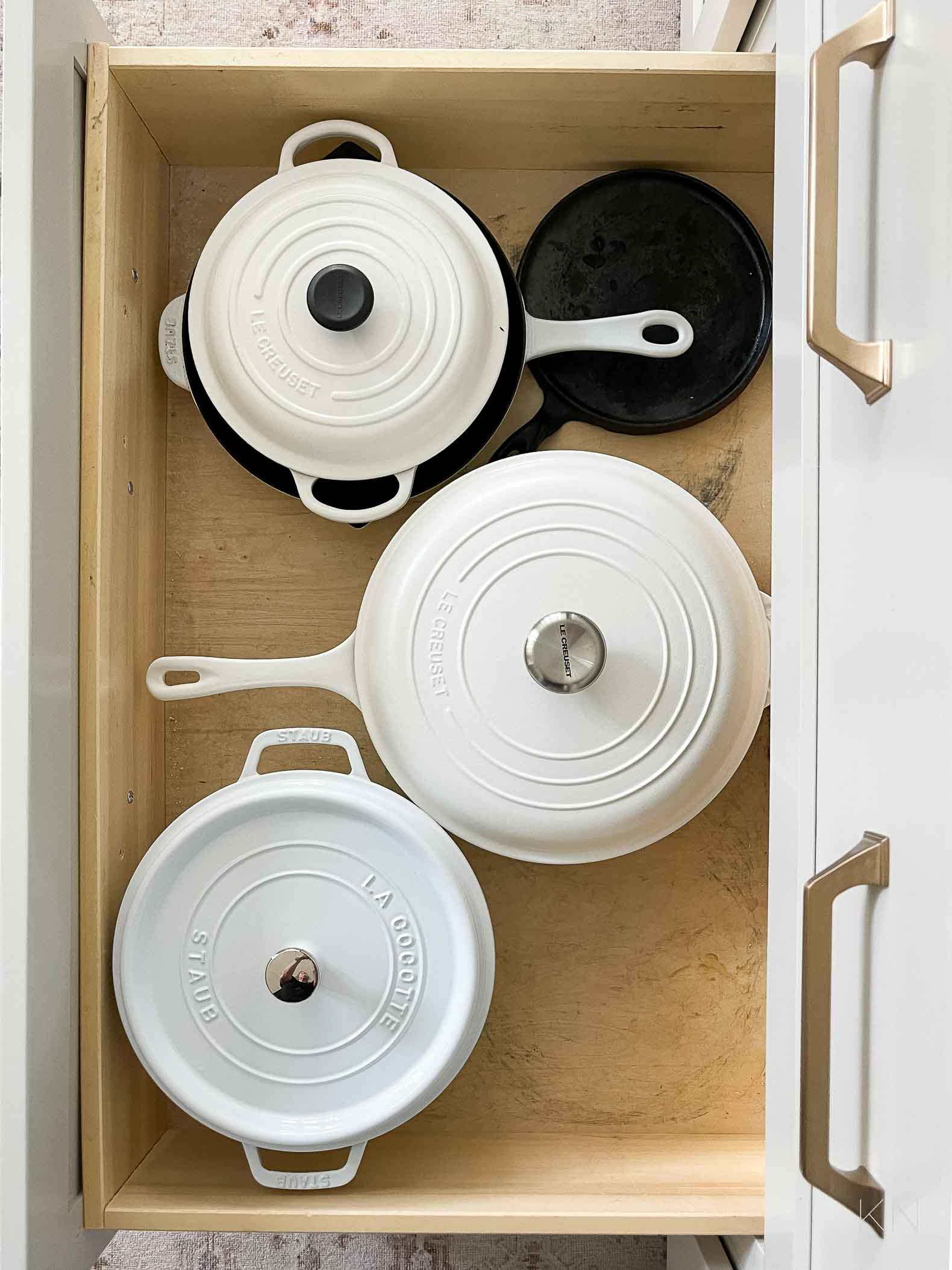 LeCreuset Braiser | Staub Frying Pan | LeCreuset Deep Saute Pan w/Lid | Staub Cocotte
Stationery Desk Drawer Organizers
While I already shared these, they are technically in the kitchen, so we'll revisit the stationery desk drawers, too 😉 Even though these are multi-purpose drawers, the key is to give each drawer a purpose (even if there are a few). If it's truly junk, it has no place. By giving each space and drawer guidelines, they've been able to remain in pretty perfect condition since they were organized many months ago.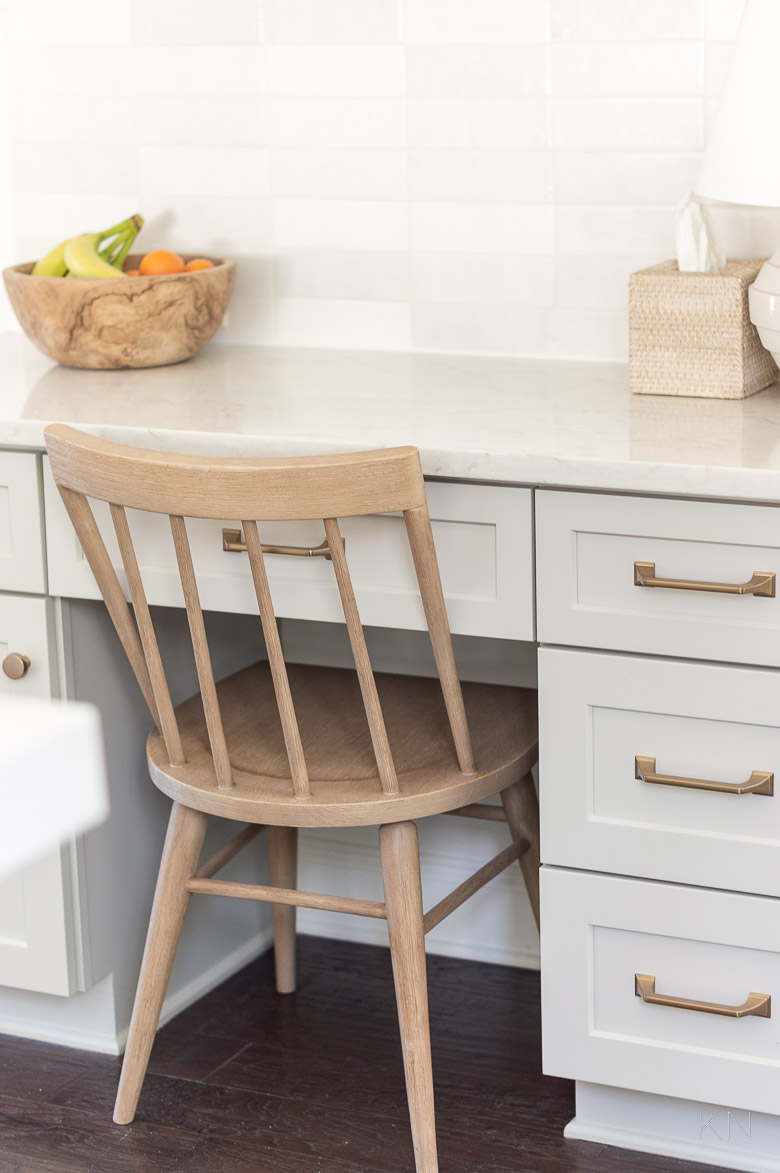 Sources: Chair (sea drift) | Tissue Box Cover | Backsplash Tile | Drawer Pulls (champagne bronze 5 1/16′) | Cabinet Knobs (champagne bronze 1 5/16″)
In general, I can't recommend THESE clear organizing compartments enough. I have bought so many sets and have mixed and matched throughout so many drawers in our house — you can see them in the office HERE, too.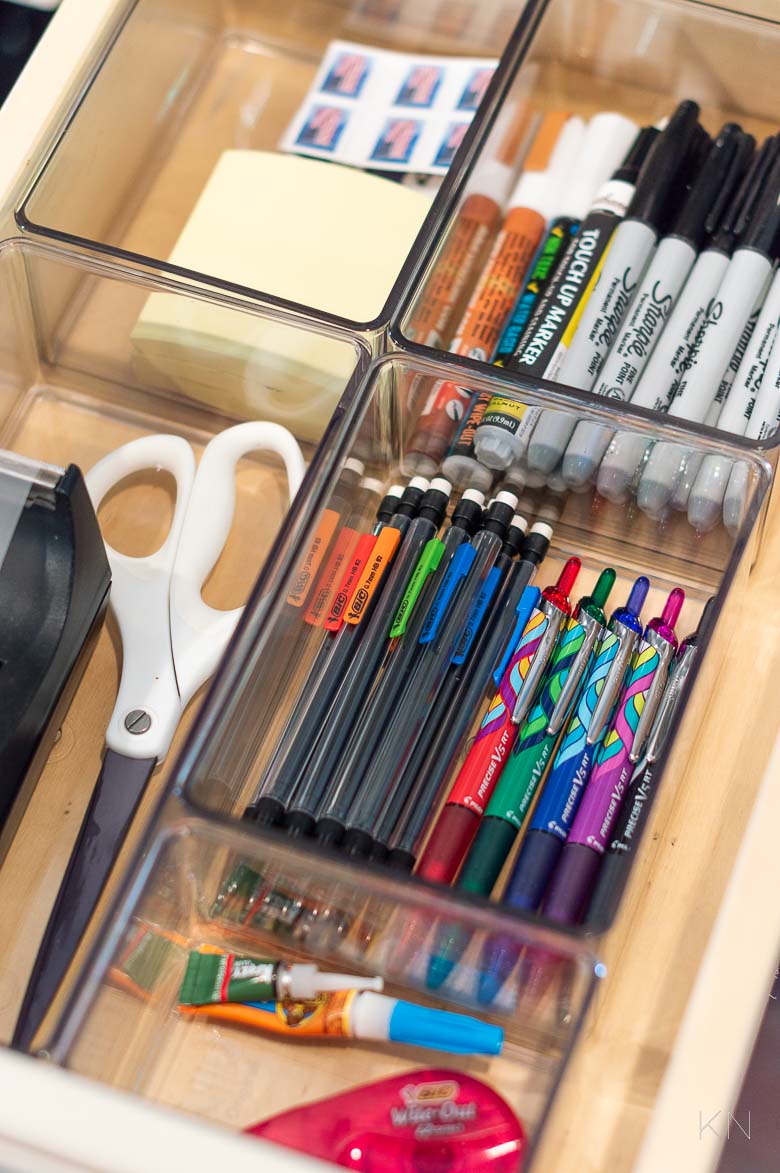 The Home Edit 10-pc Plastic Modular Storage System | Ballpoint Pens | Mechanical Pencils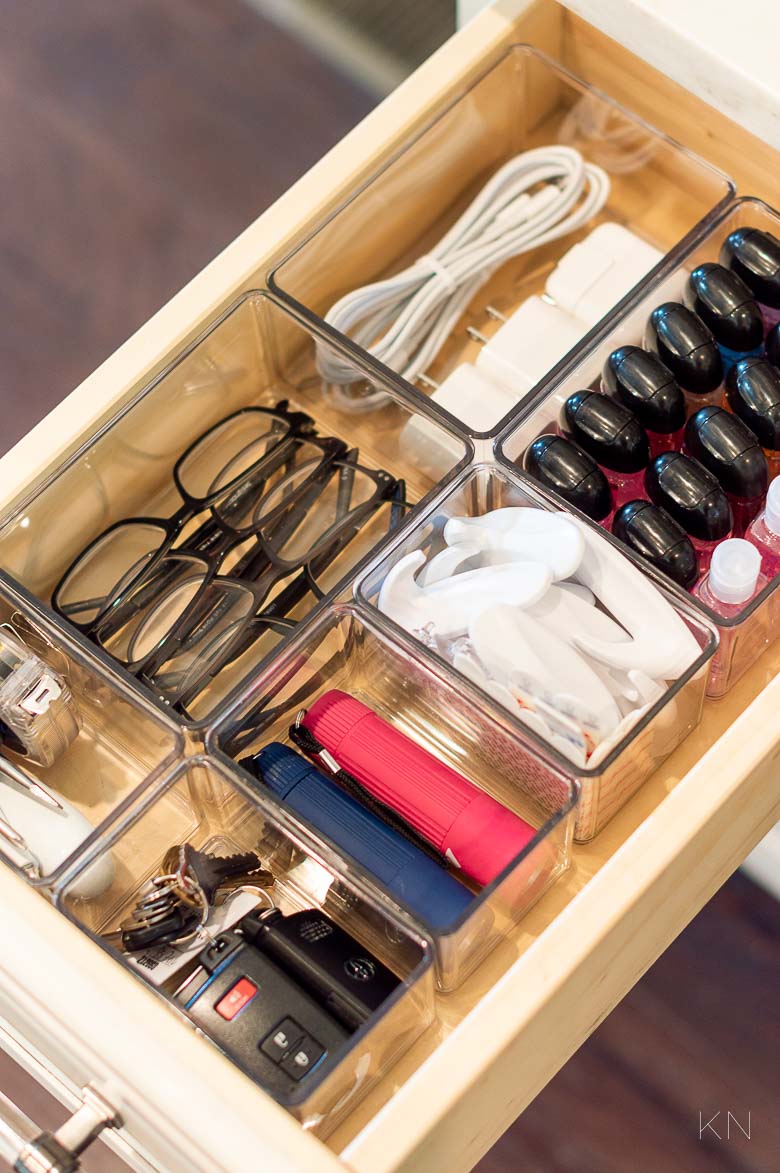 The Home Edit 10-pc Plastic Modular Storage System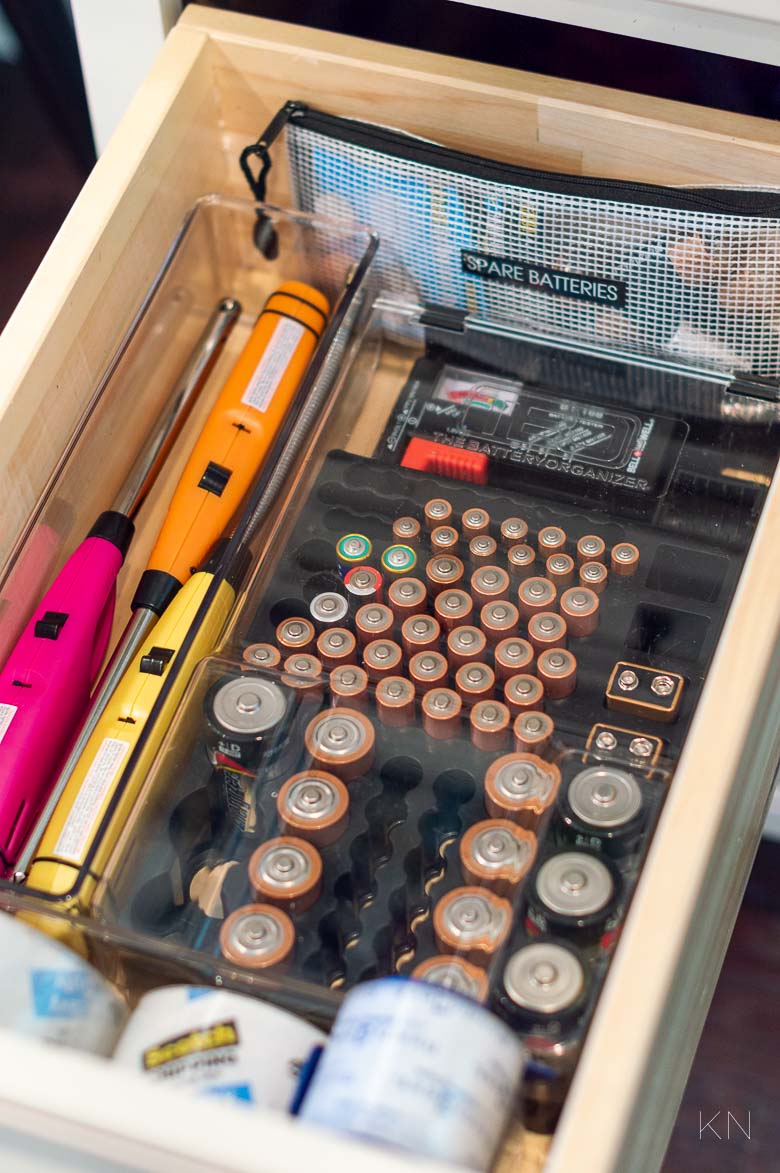 The Home Edit Six-Piece Kitchen Drawer Organization System | Battery Storage Case | Pouch for Spare Batteries (18-piece set) | Label Maker
Working my way through the kitchen, first decluttering and then ultimately organizing — and not just organizing but organizing more objectively in a progressed, learned system — has made our updated kitchen even better. Functionality in the kitchen is top priority so to have our focused efforts working so well for us in a space we spend so much time feels fantastic. (See the recent kitchen reveal HERE). It's also motivating to keep it up and continue to be bold in identifying things that aren't serving as and way easier to stay organized when you're organizing within a finite space, instead of trying to expand storage solutions.
For continued progress as we simplify, declutter, organize, and live more intentionally, you can subscribe to emails at the bottom of the post!
Other Posts You May Be Interested In
Decluttering the Office Closet
Under the Kitchen Sink Organization