At the beginning of the year, my office was at the top of the list in terms of organization priorities. I designed my office back in 2015/2016, organized my supplies at that time and then, for the most part, never revisited. I had a totally different occupation at that time and while there were major adjustments in terms of needs and items I needed to have on hand, I never made any changes to reflect those. There are still areas in the office that are serving as "interim storage" that will need to be cleaned up in the next month or so but I finally got in there, cleared out my office built-ins, purged, and developed/refined my organization solutions. As a result, today, I'm sharing six office organization ideas with my approach to tackling each space from the drawers and cabinets to the cords and shelves (with specific storage ideas for each).
*Posts on KelleyNan.com may contain affiliate links. Click HERE for full disclosure.
I'll likely be updating the office in a small way at some point this year, after priority projects have been completed. Like my supplies and their solutions, I haven't made the first change to my office since I completed the design. Not in lighting, rug… nothing. I have a few items and transitions on my wishlist so we'll see where we get with those later in the year. Here's a reminder of what my office looks like…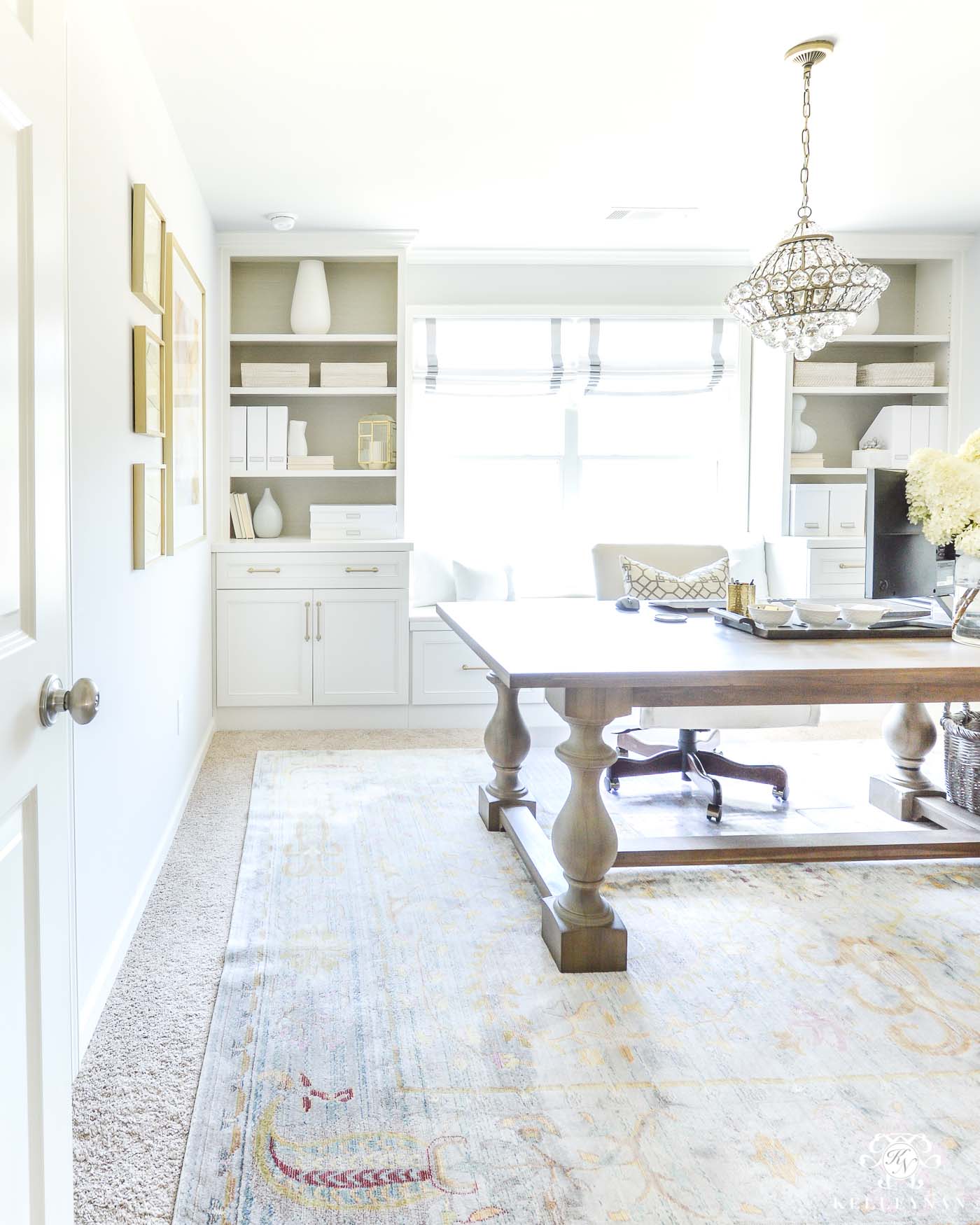 Sources: Chandelier | Rug | Large Art | Small Art | Roman Shade | Pillow on Chair | Desk Tray (large) | Footed Bowls on Tray | Rattan Bin | Magazine Storage Box | File Storage Box | Document Storage Box | Teardrop Vase | Cabinet Pulls
Check Out Office Organization Ideas in Action Here…
1. Office Organization Ideas: Drawer Organization
My office drawers in the built-in unit weren't bad. But, they also weren't really doing their job, either. In my main daily supply drawer, I had a single plastic organizer, that in theory was ok, but the amount of space wasted between each compartment, coupled with the non-customizable set configuration of each holder just didn't let me efficiently organize and store what I needed. I was also way overdue in visiting what I had accumulated vs. what I needed. Here's a glimpse of how my primary office drawer looked before…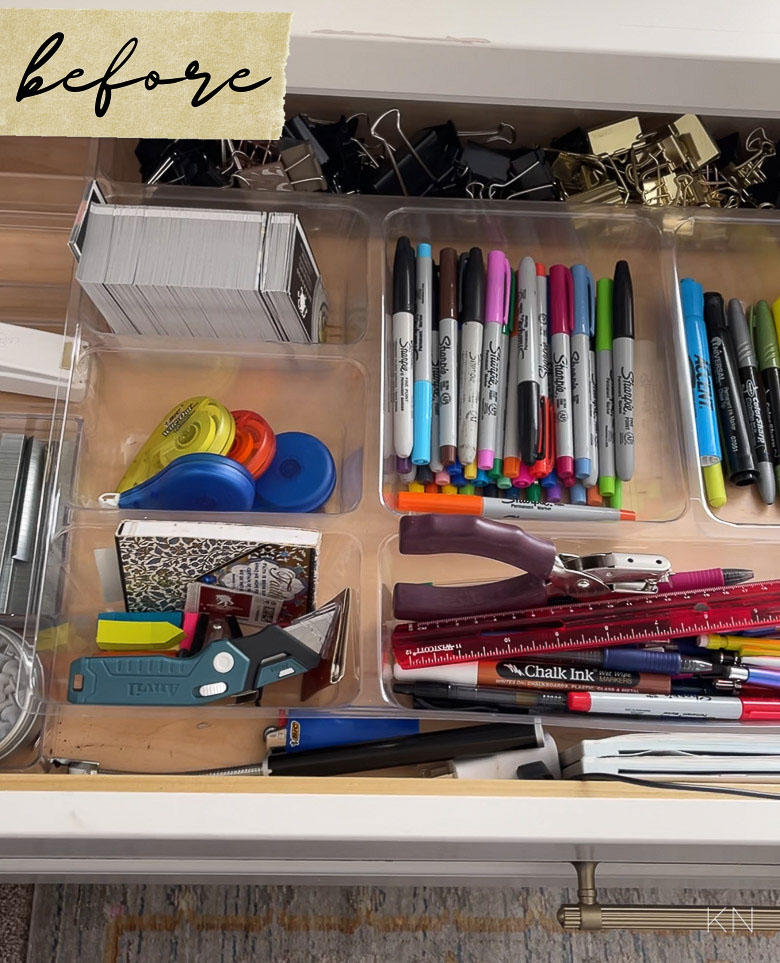 And here's the "after". By switching to THESE clear drawer bins, I was able to fit way more in my drawers and use compartments that were actually configured to my needs. Instead of bins with slanted edges that waste space, the thin straight up and down sides allow for about 30%+ more storage capacity.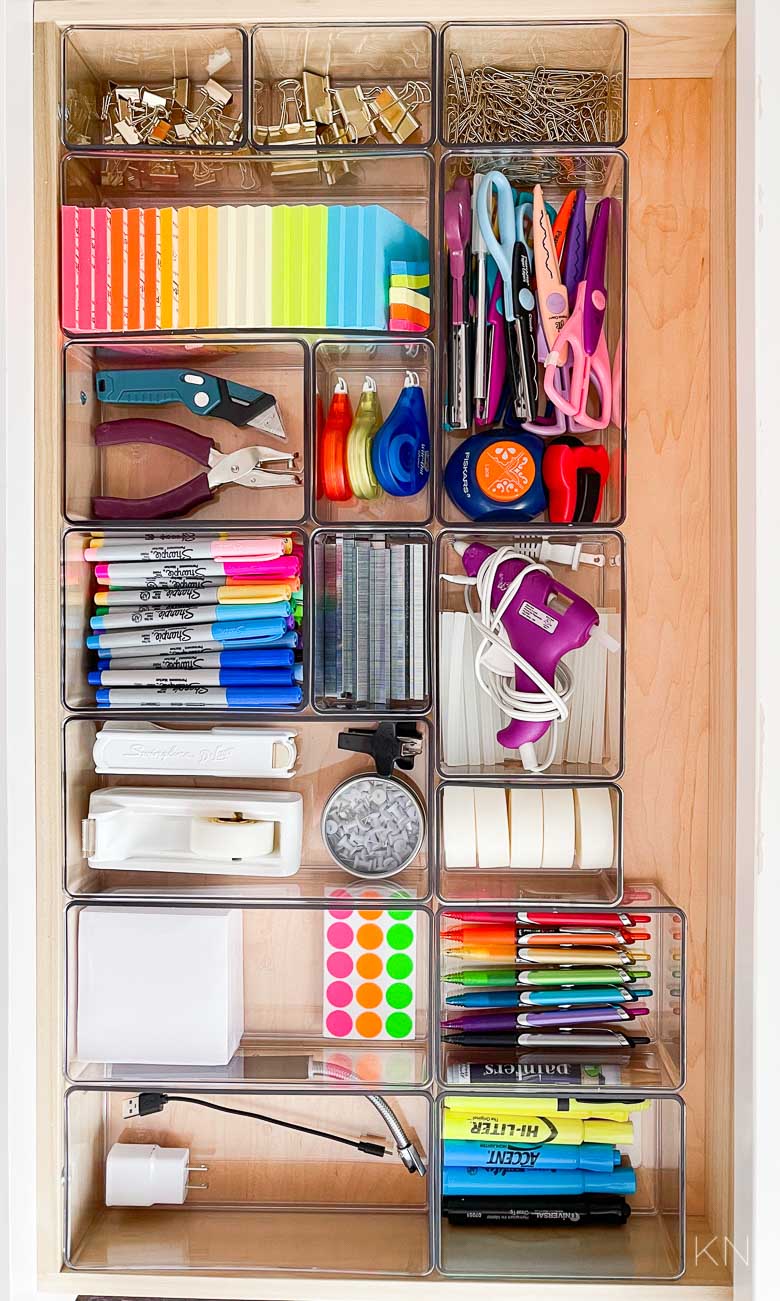 Sources: Plastic Modular Storage | Tape Dispenser/Stapler Set
They come with 10 pieces and are designed as a modular set — they can even stack if you want to put them on shelves or in cabinets. I mixed and matched three sets across two huge drawers with several bins left over for other drawers in different rooms.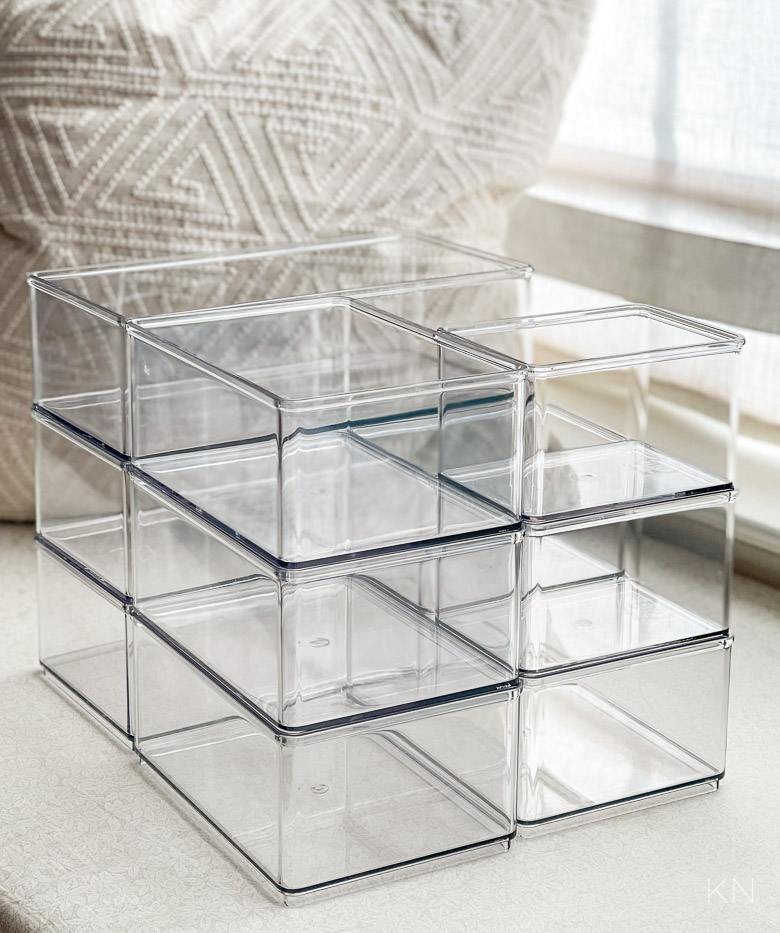 If you have a difficult time parting with things that are technically not flawed, I bet your office supplies situation is out of control. The freebies you get in the mail, the promos from local businesses, random items you've acquired and tossed alongside the rest of your supplies because "why not?" Have you ever used any of it? I have a favorite type of pen and I use those and those alone. Exclusively. So, the collection I'd amassed with names on the sides and flashlights on the end, well, they were doing nothing except adding clutter.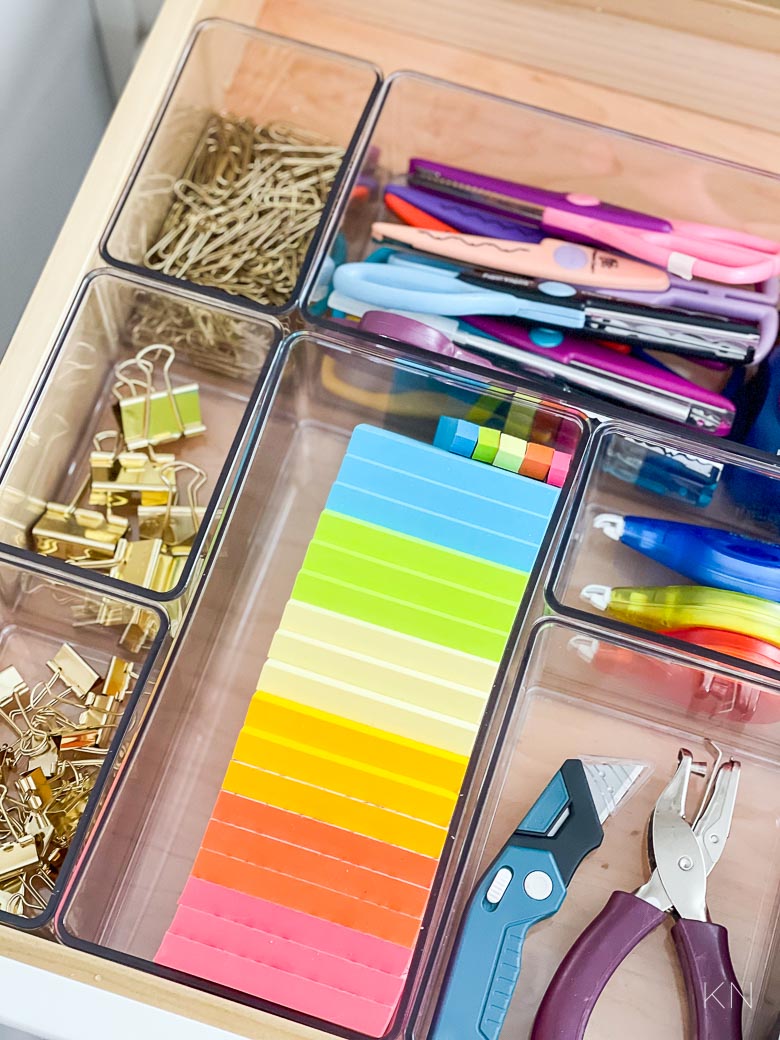 I also parted with items I only needed in a brief season of life. I'd held on to extras for years and while they were still in new condition, I would never use them again. Give yourself permission to whittle down your collection and only keep what you will use.
Somehow, I had collected collections of paperclips in all colors and enough binder clips to outfit a small school. I barely even use either. So, I still kept more than I honestly needed, but then bagged the rest to donate.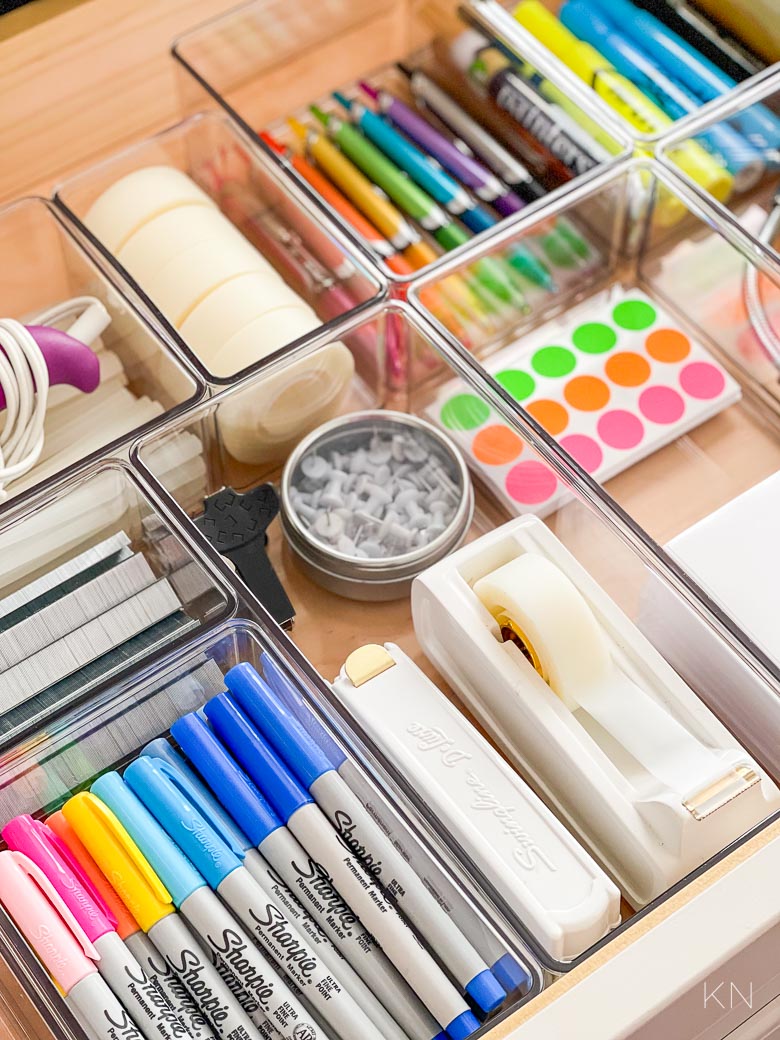 On the other side of my built-in unit is my large drawer that was never really dedicated to anything but over time, had turned more and more into a junk drawer. I moved supplies to the first drawer once I had room with my new clear organizers and then came up with a plan for cables and odds and ends. Here's a glimpse of the "before" drawer…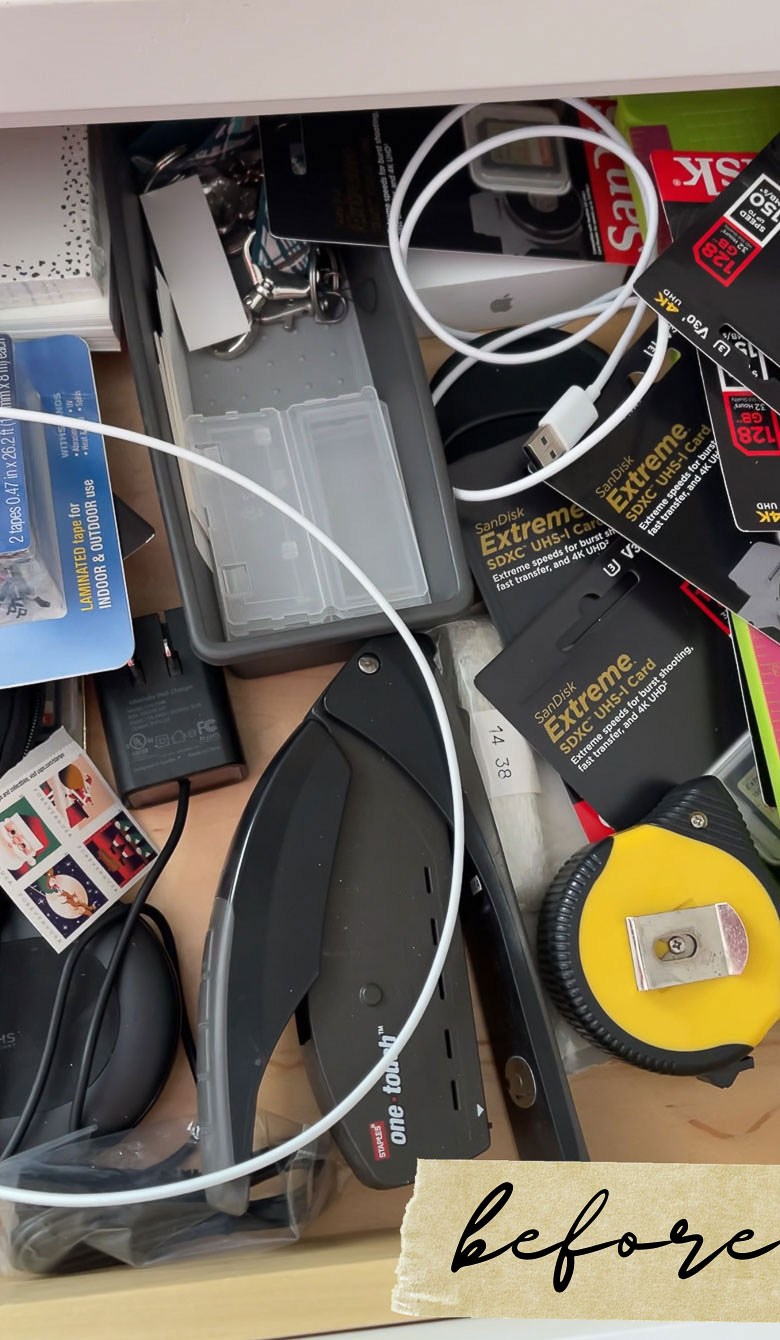 And here's the "after". Like the supply drawer, there's still so much room for growth as needs evolve or additions are made.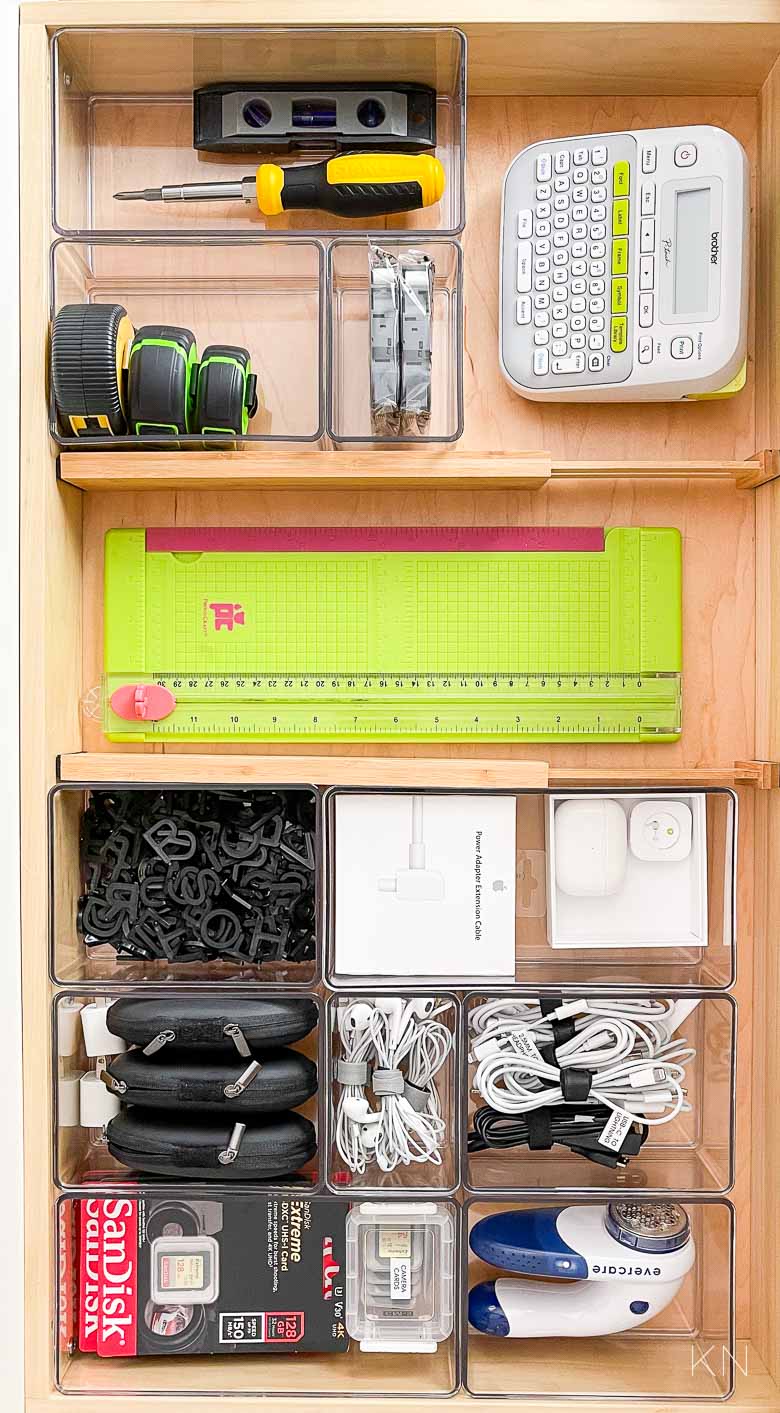 Sources: Plastic Modular Storage | Label Maker | Label Tape  | Velcro Cable Wrap Ties | Camera Card Storage Box | iPhone Charger (set of two)
An easy way to combine drawer solutions or lock small compartments in place is by using drawer dividers — you can see how I used THESE in the photo above. This was the first time I used this style and I love them for a few reasons — 1. they are a fraction of the cost of my typical drawer dividers, 2. they come as a set of four, and 3. they are spring loaded to auto-fit the width of the drawer — my usual drawer dividers have more of a locking mechanism so these are really easy! You can find the set HERE.
One thing to note, also. I am all for organizing with what you have and not having to invest in organizers/solutions where/if you don't have to. I previously had hard recycled box halves in here — from jewelry, notecards, etc. — along with a few random organizational bins from different collections. Again, while that's totally fine to corral small items together, if nothing else, it definitely doesn't help to visually declutter, which ultimately, in my case, contributes to more… actual clutter. Keeping the bins all from the same collection helps maintain uniformity and helps me immediately recognize where things go. Like the supply drawer, I used compartments from THIS modular set.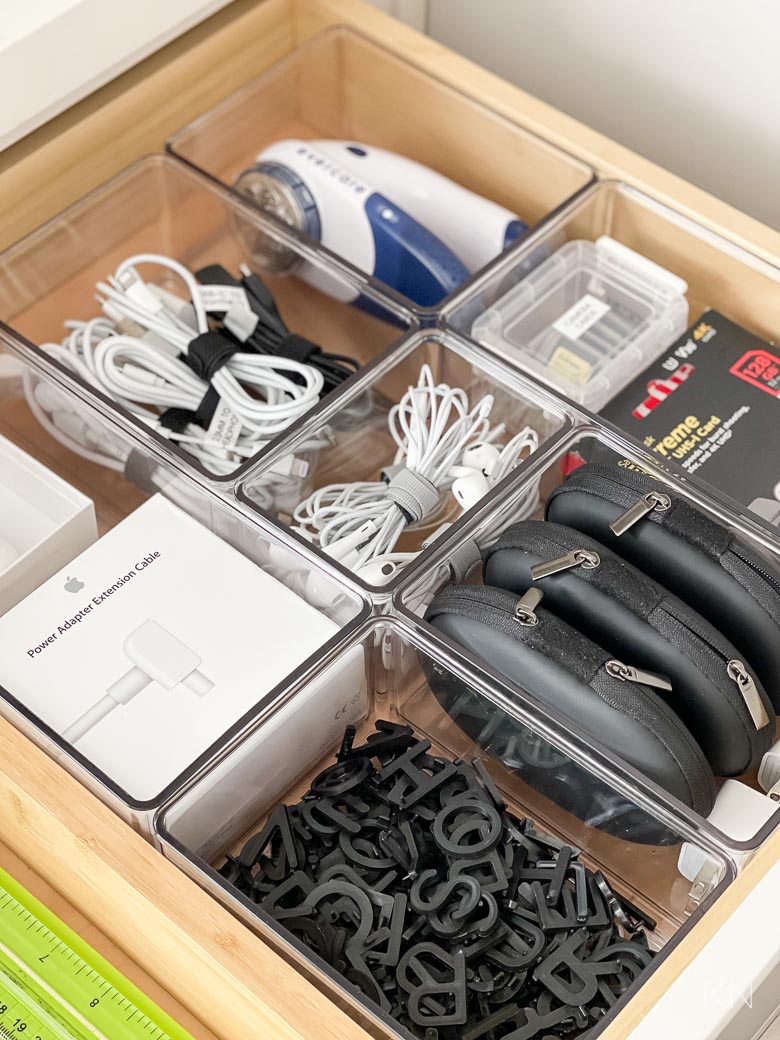 I had Dave sit down with me and go through cables and chargers to make sure I could identify the purpose of each. And then, I tied and labeled each of them. When I started using THIS handheld label maker, I went nuts, labeling everything I could. It comes with starter tape but you can get a set of two full sized tape rolls off Amazon HERE.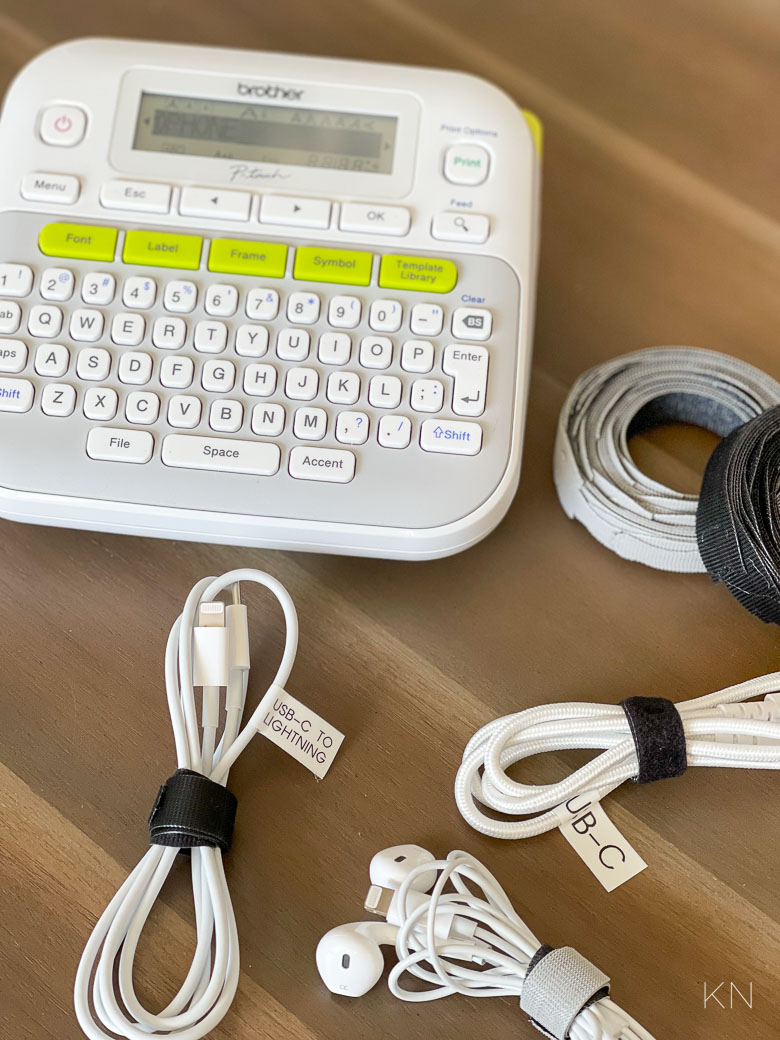 Sources: Label Maker | Velcro Cable Wrap Ties 
For someone who gets overwhelmed with cables and never remembers what goes to what or where I last placed them, it's already been incredibly helpful having a "home" for them and having them each labeled with a tab-style flag.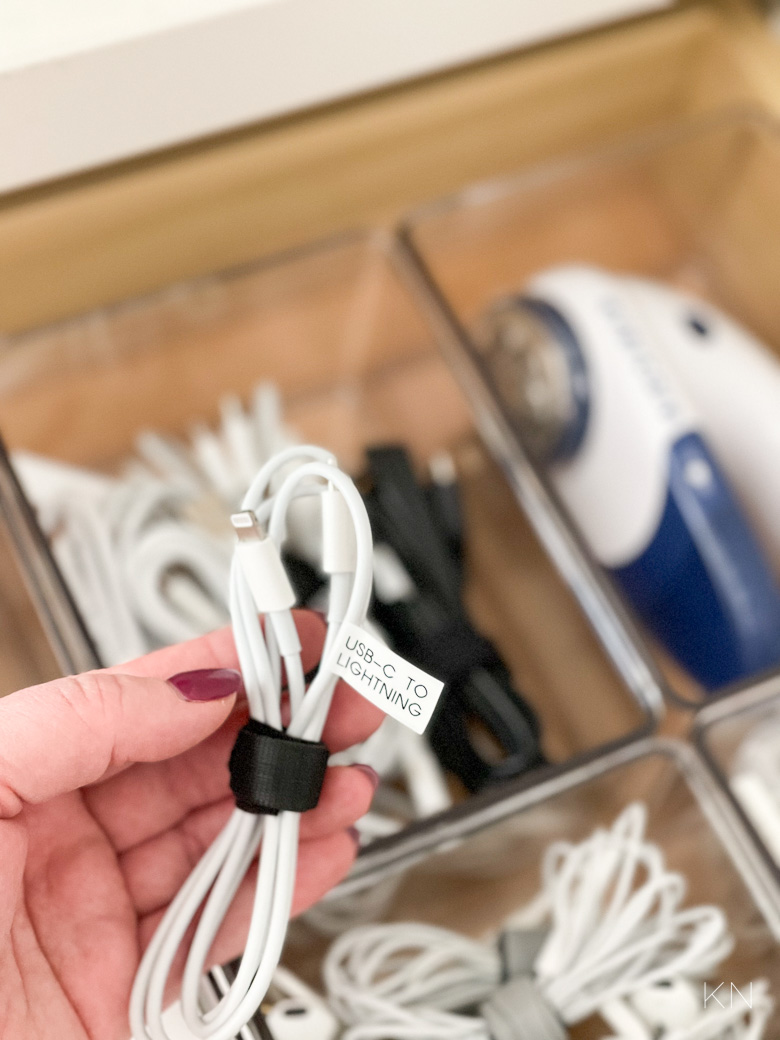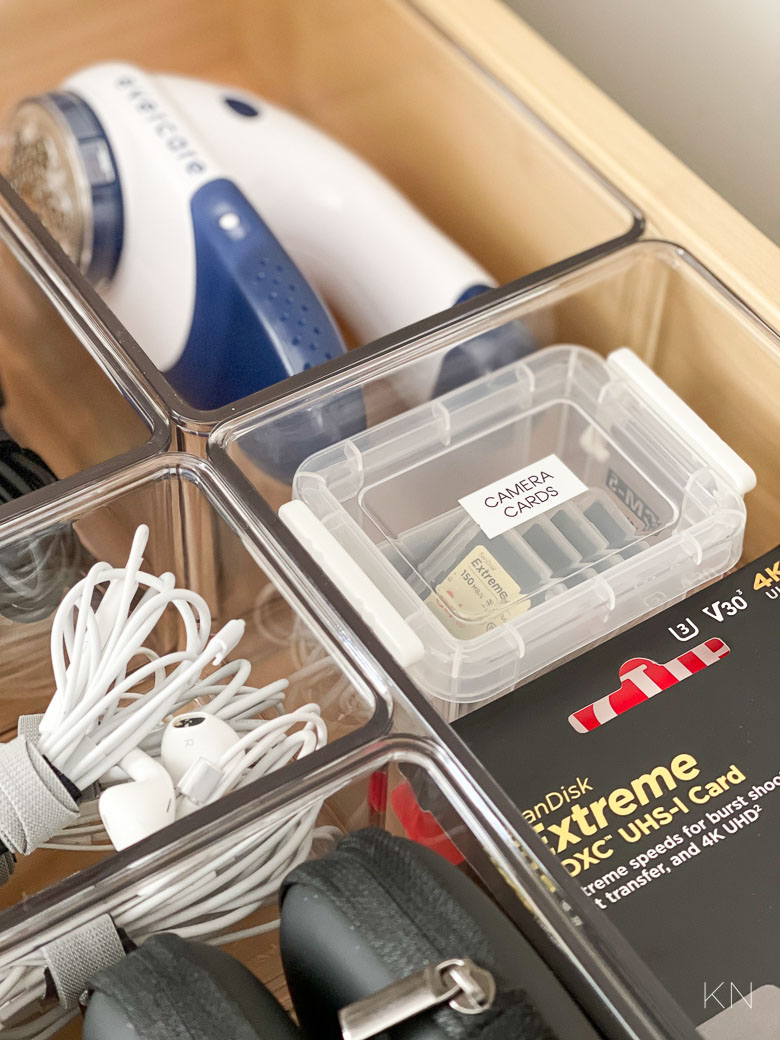 Sources: Camera Card Box | iPhone Charger (set of two/includes cases)
2. Office Organization Ideas: Cabinet Organization
My cabinets had no rhyme or reason before and my shelf baskets on my upper display shelves were overflowing. When I took into account everything going on in my office, I tried to evaluate what I really needed hidden storage for and then how to best achieve that. Here's how the cabinet looked before…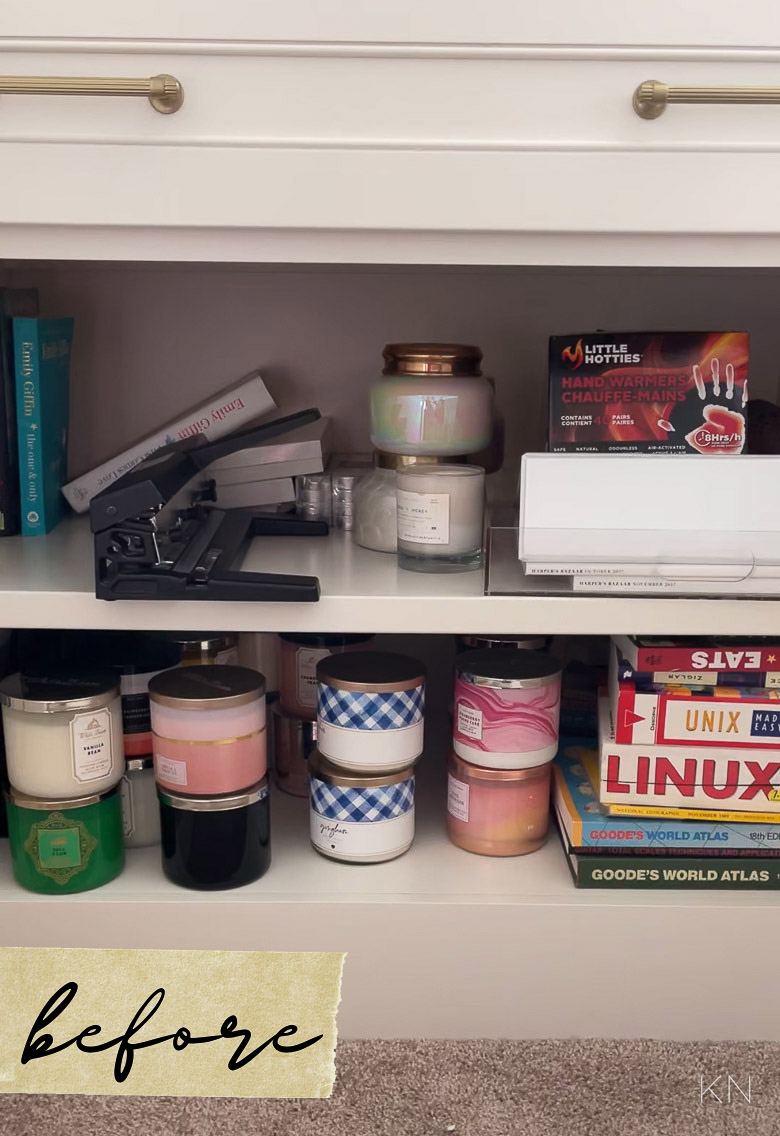 And after only needing to purge/rehome a few items, here is the "after".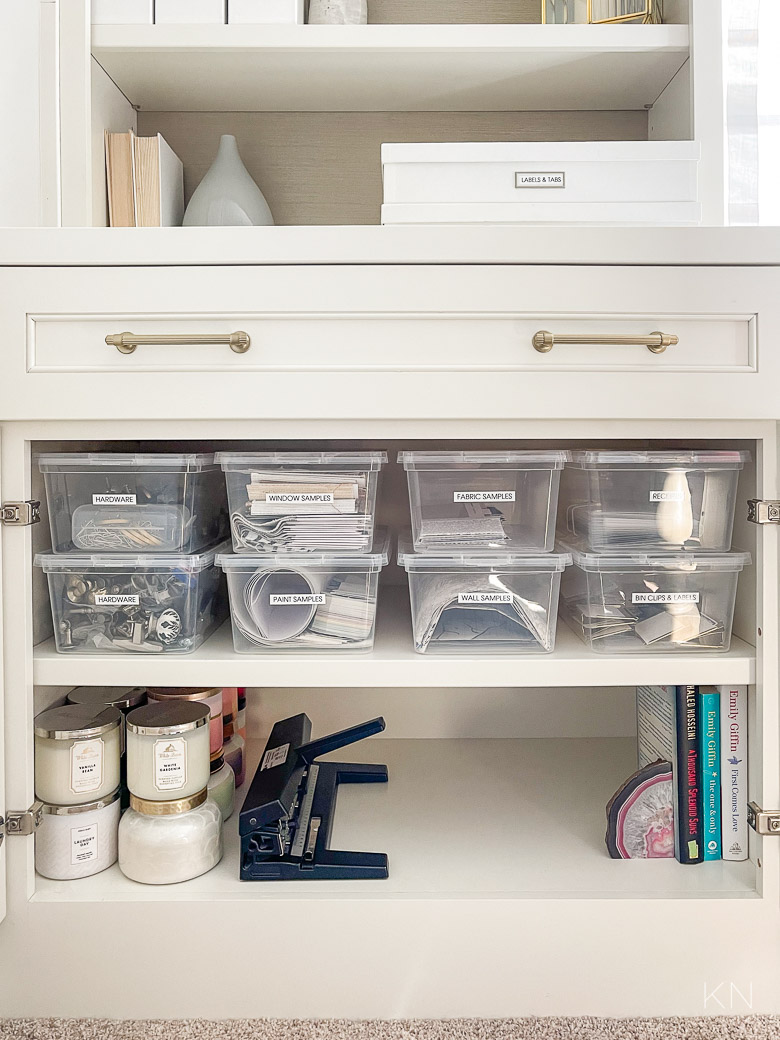 Sources: Storage Bins | Document Storage Box | Teardrop Vase | Cabinet Pulls
My biggest need was a way to organize, separate, and store samples and various like items. THESE inexpensive clear lidded boxes work perfectly. They also work beautifully in a kids/playroom and they easily nest if you have any spares left for future use. Like the other areas I tackled, there is still lots of room for additions as my needs grow and shift.
Another cabinet solution — and one I also swear by in the pantry — is handled baskets that are easy to pull out and easy to return to their spots. If I am having to remove and return a bin often, I want it to be easy; I don't like putting bins on shelves that I have to "work" to get out and back in. Same for the bathroom cabinet. I love THIS one specifically because it actually has dividers within the bin.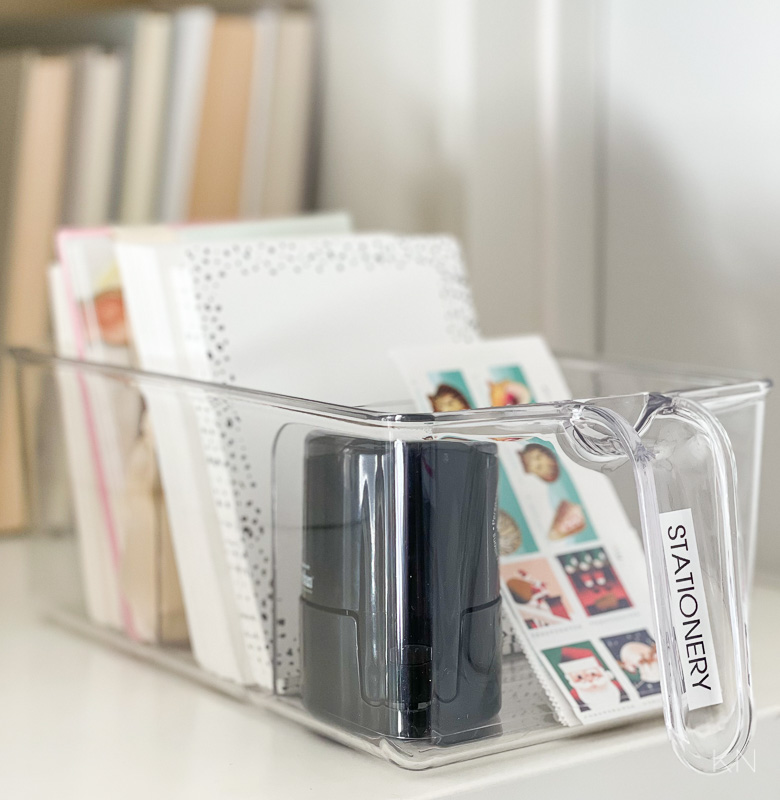 Source: Handle Bins w/Dividers (pack of four)
While I have a full box devoted to cards, I like keeping my most often used stationery — with stamps and address stamp — corralled together for easy access and quick use.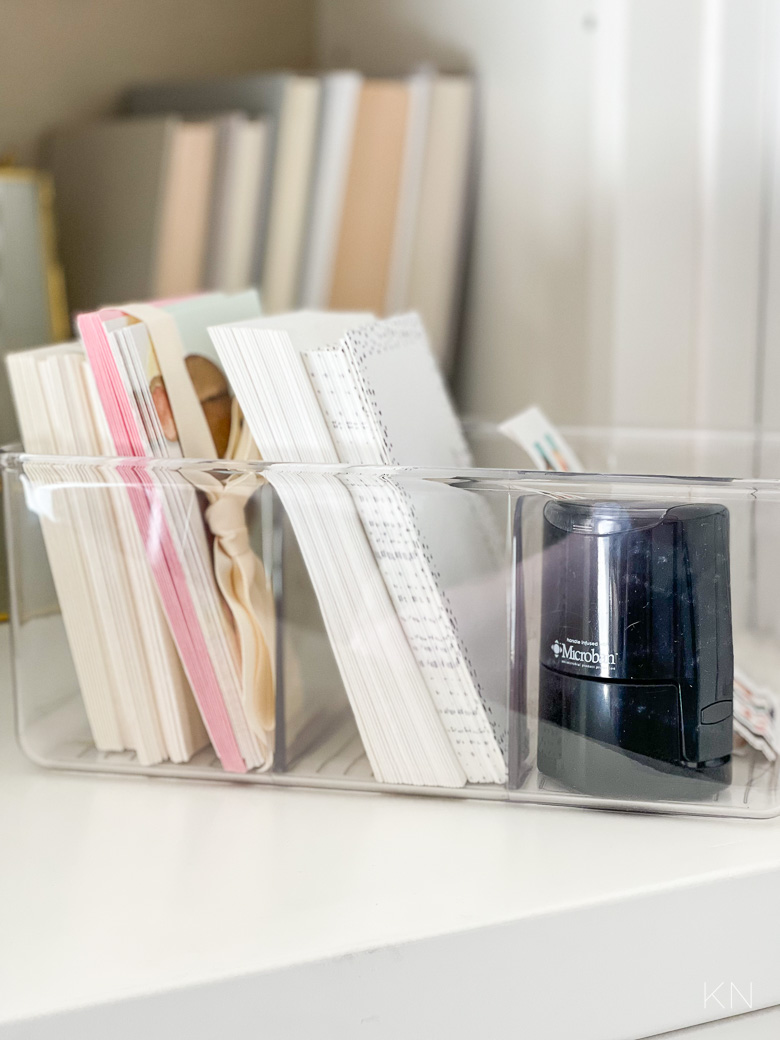 I also have another one used for shipping supplies — I keep this one right beside my printer and digital scale.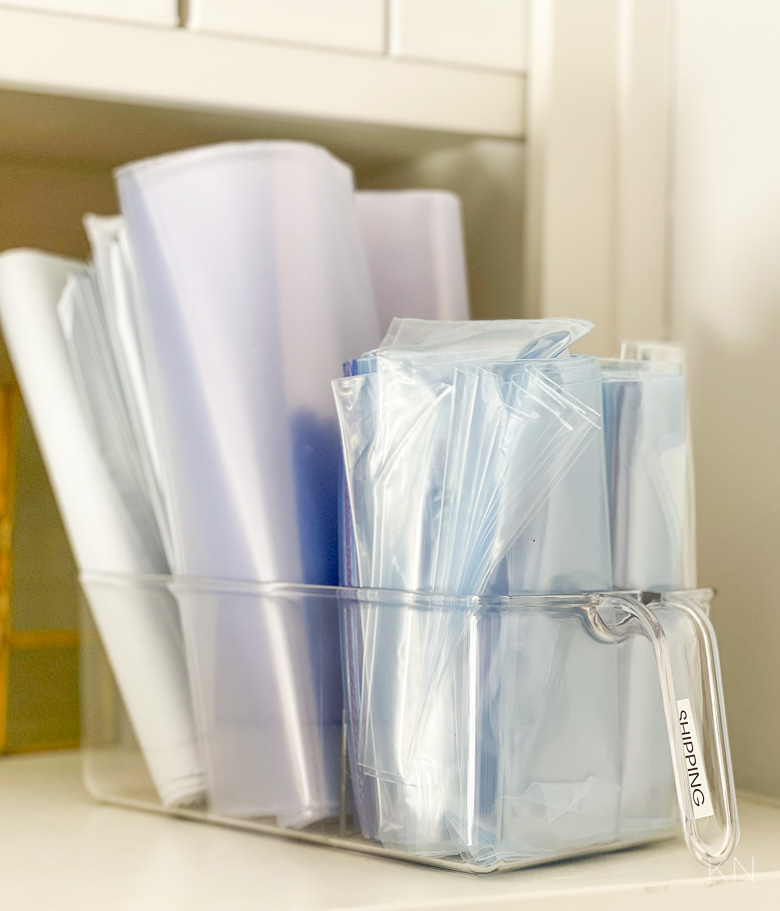 3. Office Organization Ideas: Shelf Organization
Shelves can be pretty and functional — and in the office, they should be. Magazine files, document bins, and file boxes are champions at housing all kinds of supplies, from envelopes, mail, and printer paper to notebooks, cards, labels and more. I stick with the same line and color for a clean aesthetic and couple them with THESE rattan bins — now newly empty and ready as I need them!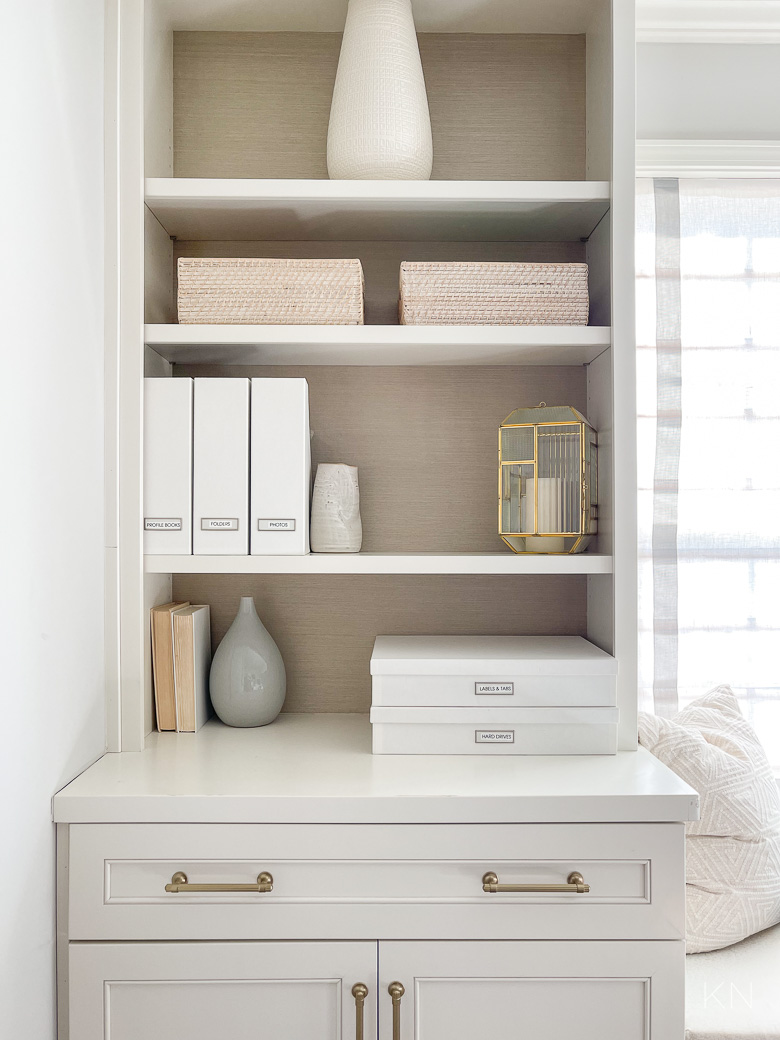 Sources: Rattan Bin | Magazine Storage Box | Document Storage Box | Teardrop Vase | Cabinet Pulls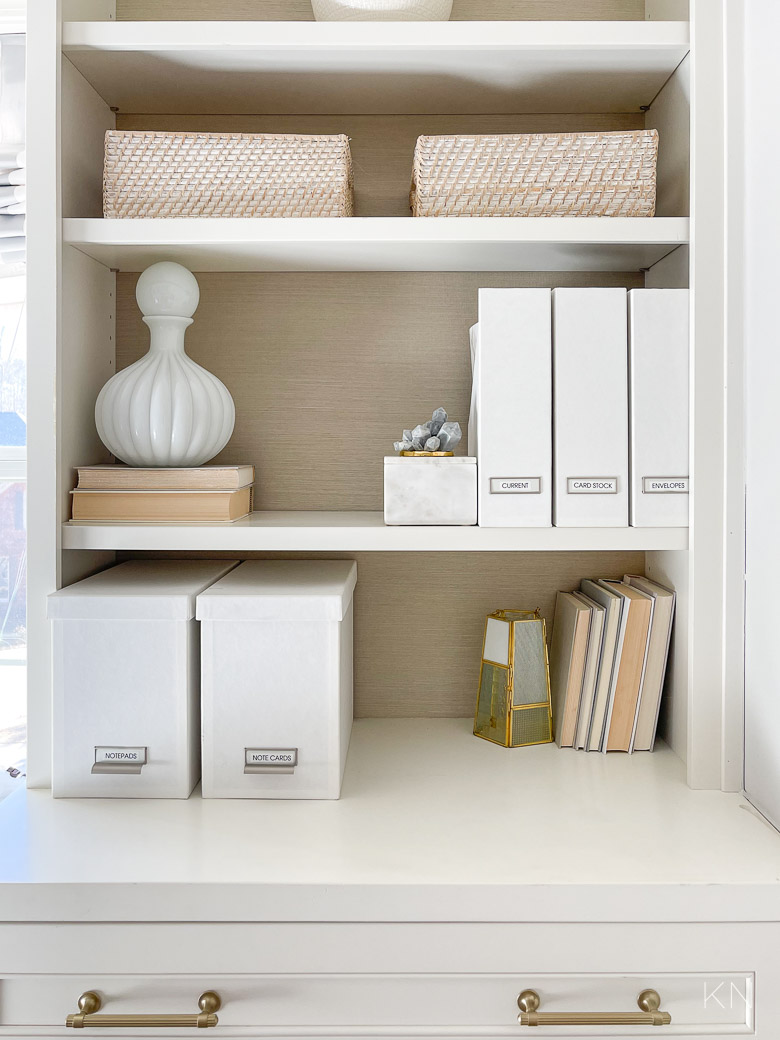 Sources: Rattan Bin | Magazine Storage Box | File Storage Box | Cabinet Pulls
4. Office Organization Ideas: Built In Filing Cabinet
My dream is to one day have a paperless filing system and paperless office. But, I'm not nearly ready. I think I'm probably many years from being ready, actually. In the meantime, one of the key elements my built-in office unit was designed around was having built-in filing drawers that doubled as a window seat. I don't know how I would function without this.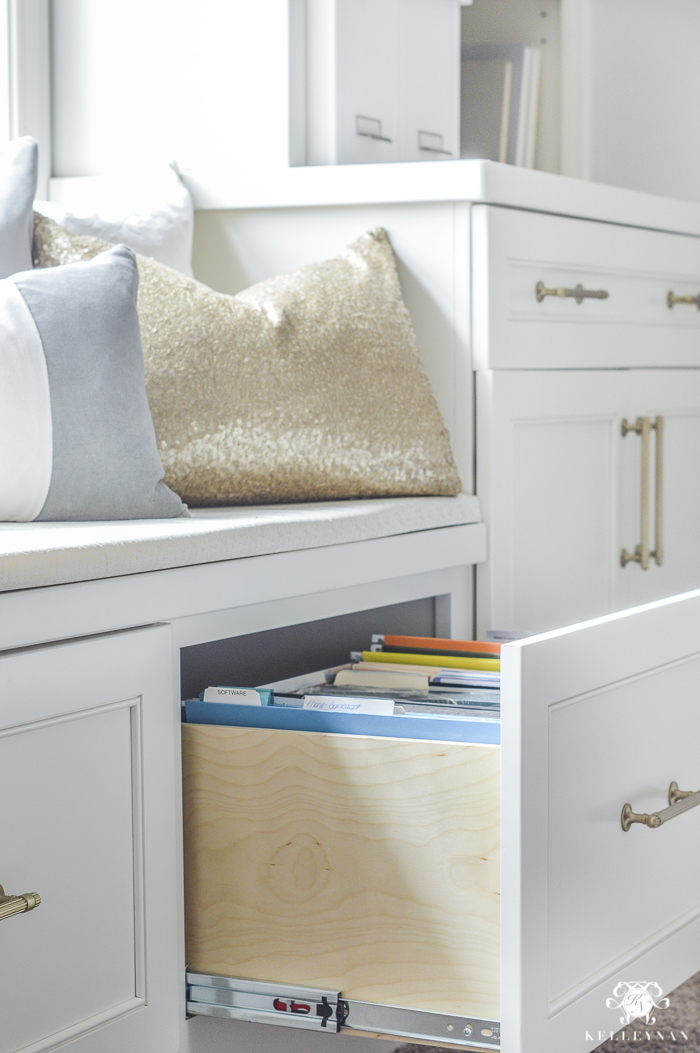 5. Office Organization Ideas: Desk Organization
Since my desk is now technically a desk for two and holds two widescreen monitors, I have eliminated and am continuing to work to eliminate any supplies/extras that aren't 100% necessary. Among the essentials are… THIS marble and gold pencil holder, THIS clear memo note holder, and THIS acrylic divided collator. Along with my everyday files and quick-access items, agenda, and notepad, I love it because it's heavy duty and is strong and sturdy enough to house my laptop. The rubber feet on the bottom also ensure that it doesn't budget. If you aren't familiar with acrylic vs. clear plastic, the acrylic is far superior in quality and durability while simple plastic likely wouldn't work the way I need for this desktop organizer.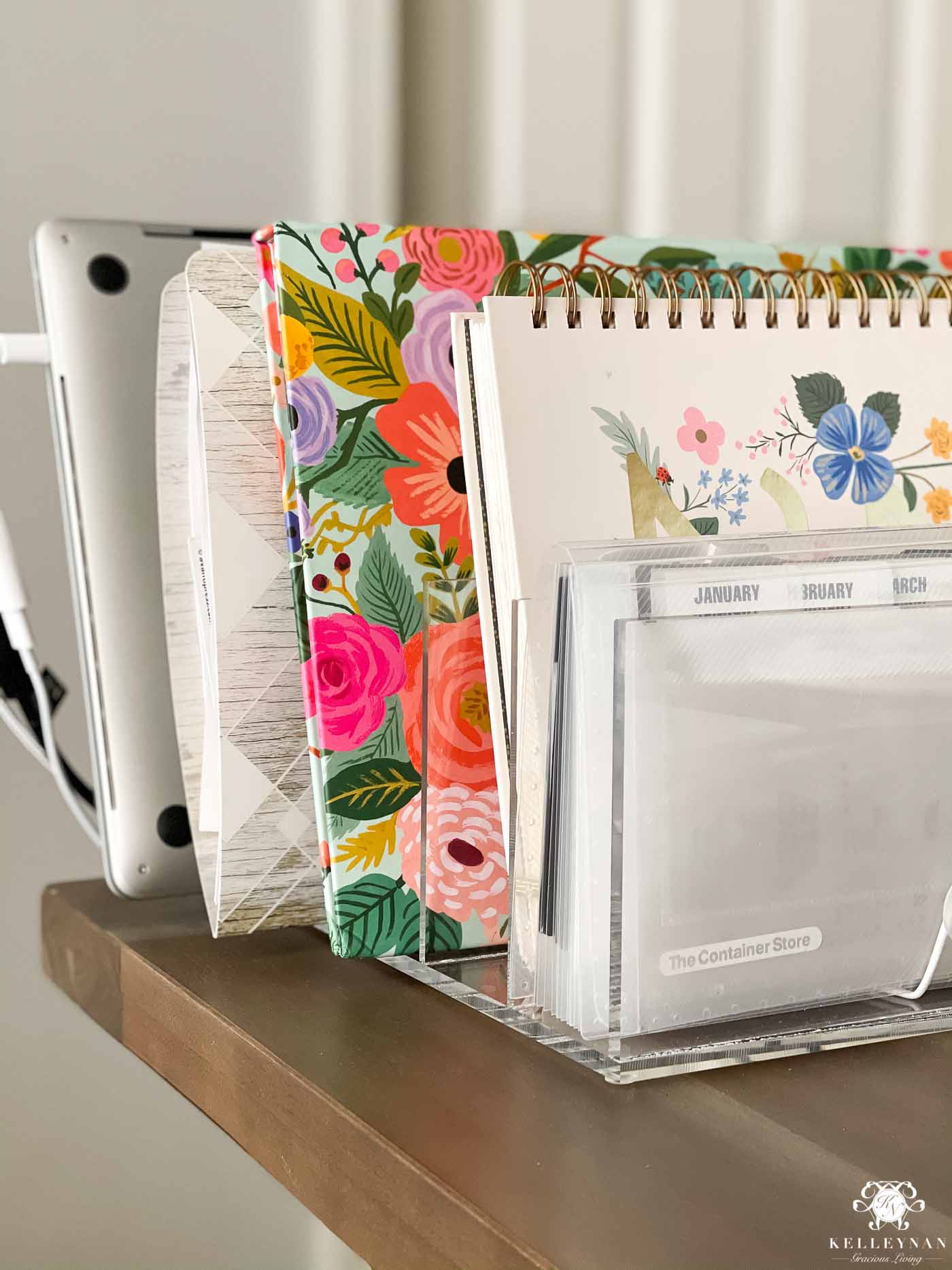 Sources: Acrylic Collator | Accordion Receipt Holder 
If you do have more space to allocate to everyday supplies, here are a few solutions I've used over the years to keep a few items within reach…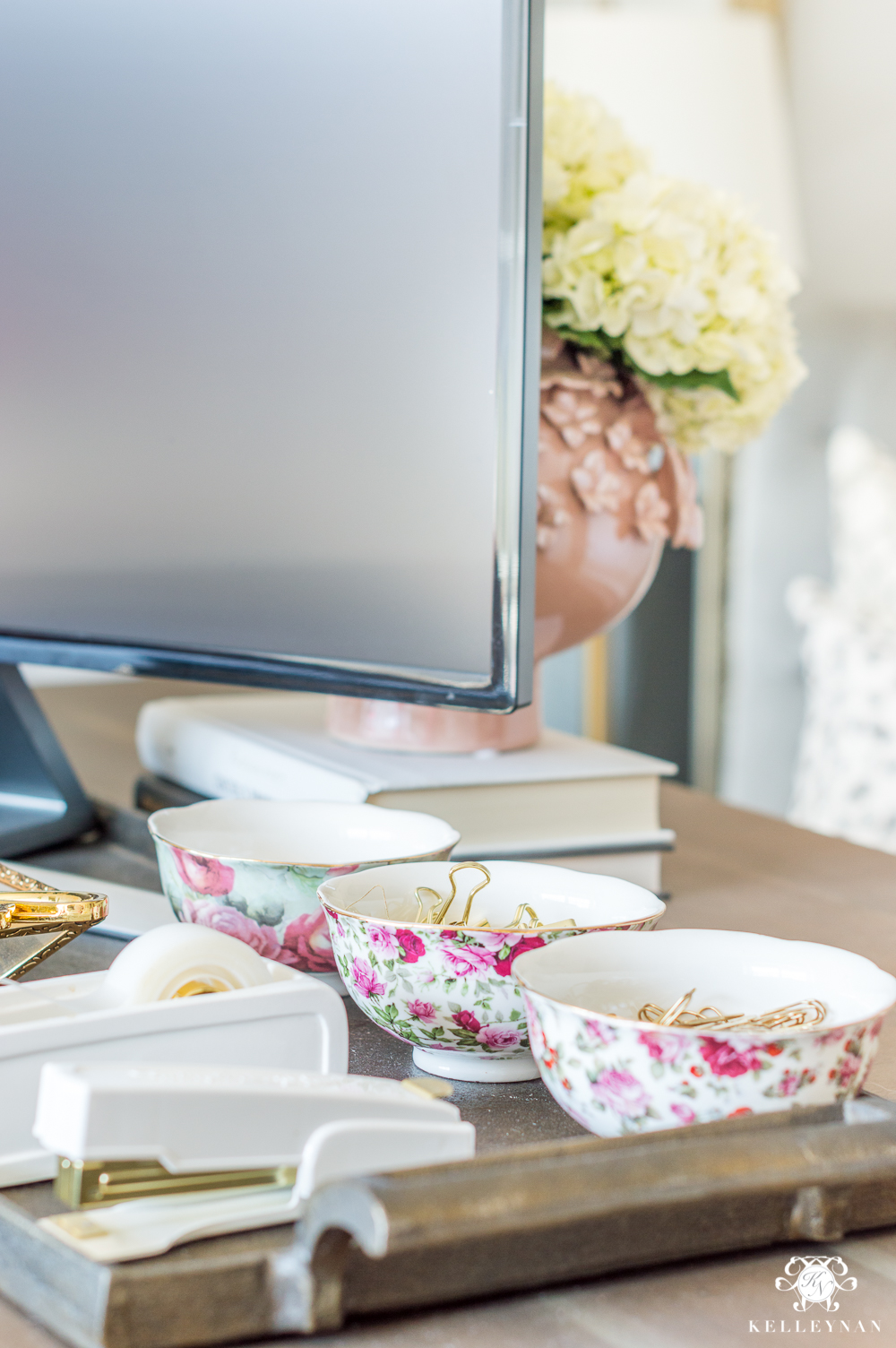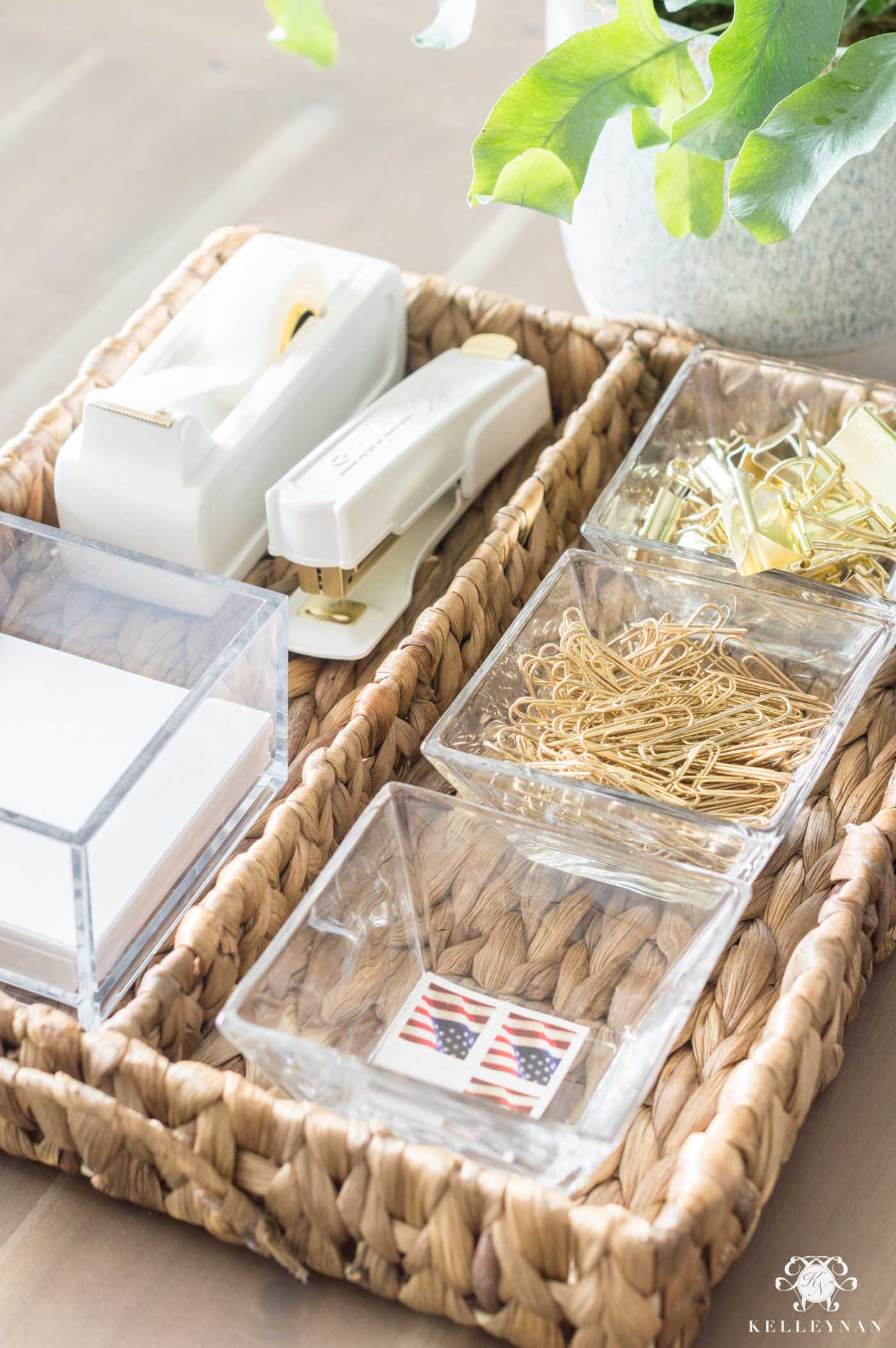 Water Hyacinth Compartment Server Tray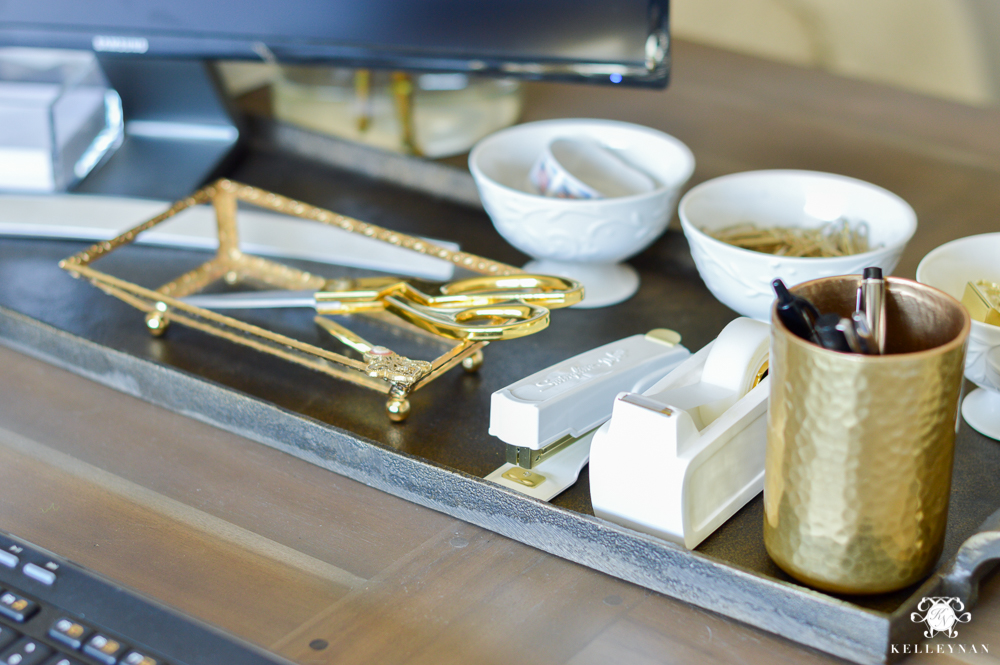 Sources: Tray | Footed Bowls | Scissors | Stapler/Tape Dispenser Set (similar)
6. Office Organization Ideas: Cord Organization
One of the most popular and most visited posts on my website each year is a post I wrote detailing how I position my cords to keep my desk in the center of the room. I'm past due since acquiring a few new components and need to readjust to accommodate the additions but you can find the full post on how I hide my cables HERE.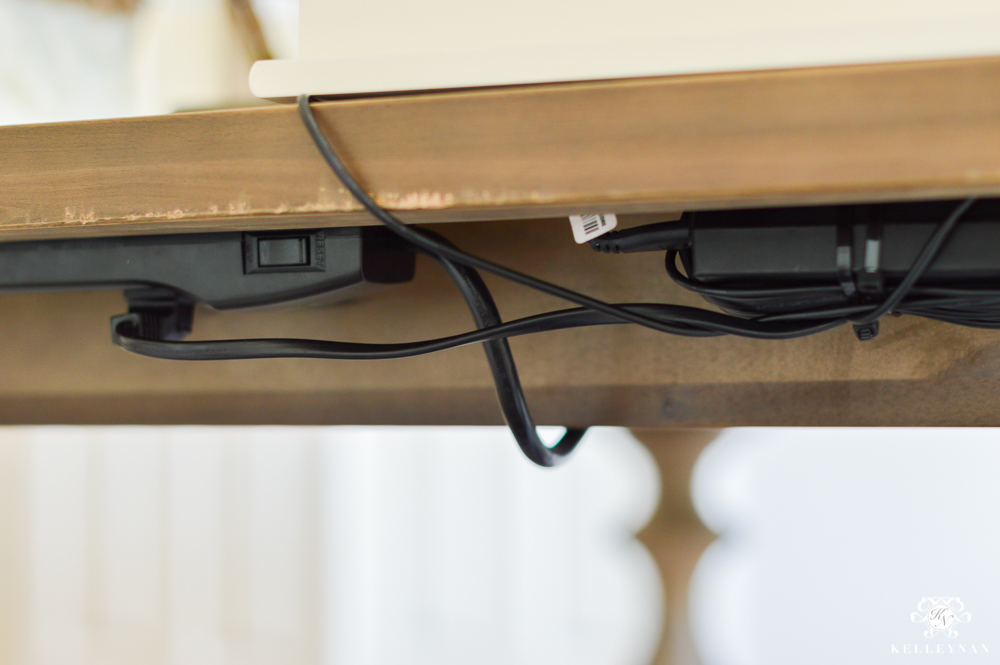 After a delayed start to the year, I'll be tackling several more storage and organization projects soon — especially focusing on bathrooms! Be sure to catch more ideas by subscribing to emails at the bottom of the post.