If I go to a nice steakhouse with an a la carte menu, I'm always scanning the side dish options for creamed spinach. It's not something I typically make at home so it's always a treat to find it on those rare occasions. And then, a couple years ago, my mom made the most delicious spinach casserole — reminiscent of the flavors of a cheesy creamed spinach, it skyrocketed to my number one request from her. Today, I'm sharing that gem of a recipe! The spinach casserole only requires three main ingredients with a few other add-ins that I always have on hand. It's special enough to serve to guests, but is also easy enough to prepare for weeknight dinners. Over the past couple of years, this spinach casserole has even been included as a side at our traditional Thanksgiving turkey dinner and Christmas Day prime rib dinners! Perfect for now, or save it for later, read on for this yummy, versatile vegetable side!.
*Posts on KelleyNan.com may contain affiliate links. Click HERE for full disclosure.
What to Serve with Spinach Casserole
As a versatile side, spinach casserole is great paired with any simple meat like steak or grilled chicken. It's also a great side to serve with a vegetable dinner, having a different consistency as most veggies for a little more diversity on your plate. Surprisingly (or not), it also yummy as a side when you're serving pasta!
Spinach Casserole Ingredients
With only a few ingredients involved, here's what you need to whip up a spinach casserole…
frozen chopped spinach
butter
shredded cheddar cheese
bread crumbs
plain Greek yogurt/sour cream
butter
onion salt
garlic salt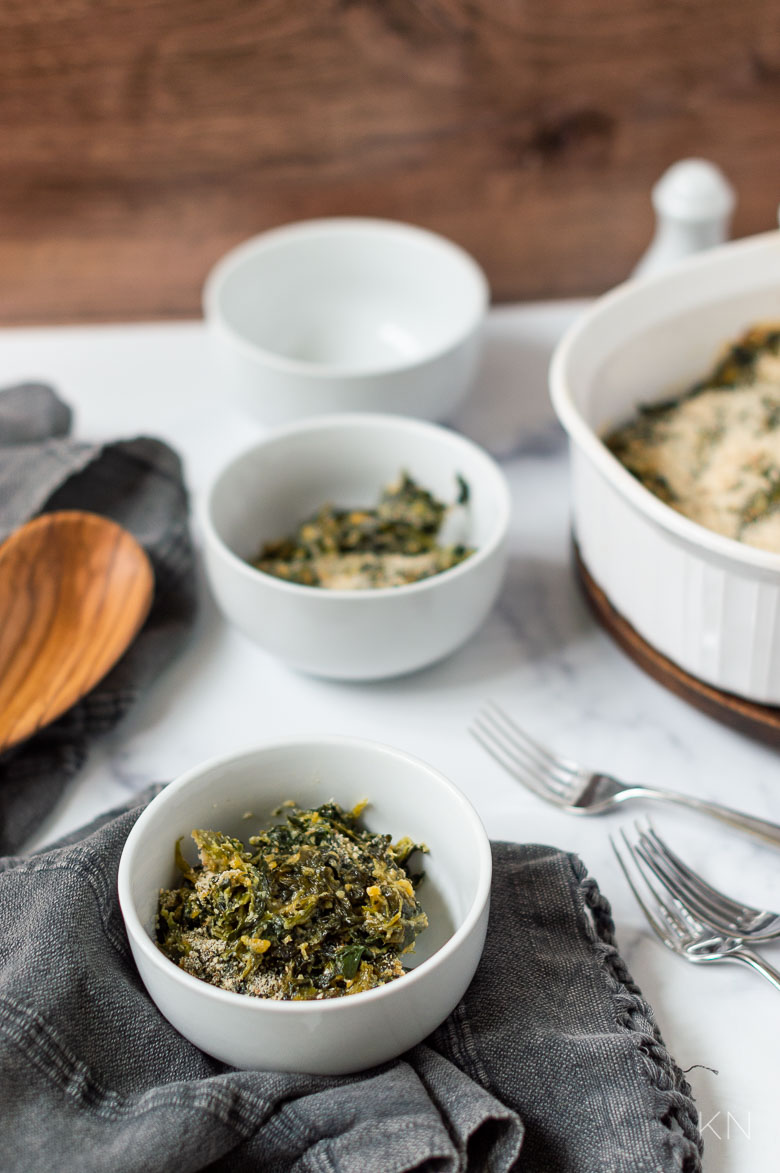 Casserole Dish | Staub Wooden Spoon | Fringed Towel | Small White Bowls | Silver Flatware
Can You Make Spinach Casserole Ahead of Time?
Yes! You can easily prepare this side dish a day in advance. Assemble the casserole as described in the recipe, but hold off on the final step of sprinkling the breadcrumbs until you're ready to bake. Place the casserole in the refrigerator until you're ready to bake.
How to Make Spinach Casserole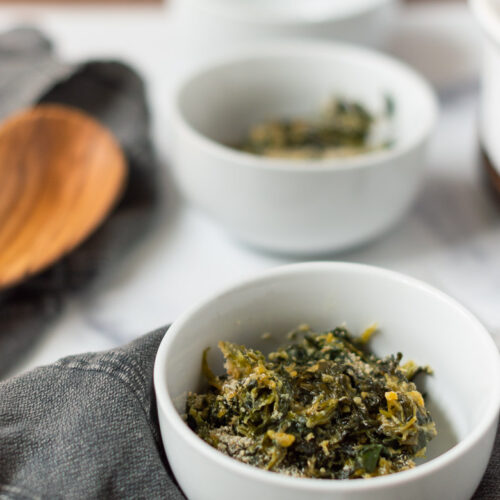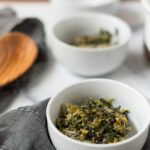 Spinach Casserole
This easy to make Spinach Casserole is a great way to add a green vegetable side to your main course. It's also rich enough that you can even skip a side starch dish. This casserole pairs perfectly with any protein, including beef, chicken, pork or turkey.
Total Time
1
hour
10
minutes
Ingredients
3

pkgs

Frozen chopped spinach

10 oz packages

3

Tbsp

Butter

1/2

tsp

Onion salt

1/2

tsp

Garlic salt

1

cup

Low-fat Greek yogurt

Sour cream may be substituted

1

cup

Shredded cheddar cheese

Plain bread crumbs
Instructions
Thaw spinach. (I typically place the spinach packages in the refrigerator to thaw the day before I prepare the casserole.) Remove spinach from package and press the liquid out. You may use cheese cloth or paper towels for this and perform this step in the sink.

Put drained spinach in a microwave-safe mixing bowl. Cut the butter into three individual pats and add to the top of the spinach.

Microwave the spinach on at "9" power for six minutes.

Once the spinach has been microwaved, add the onion salt, garlic salt and Greek yogurt (or sour cream) and mix well.

Add the shredded cheddar cheese to the mixture and mix well.

Spread the spinach mixture in the baking dish.

Sprinkle bread crumbs on top.

Bake at 350 degrees for approximately 45 minutes.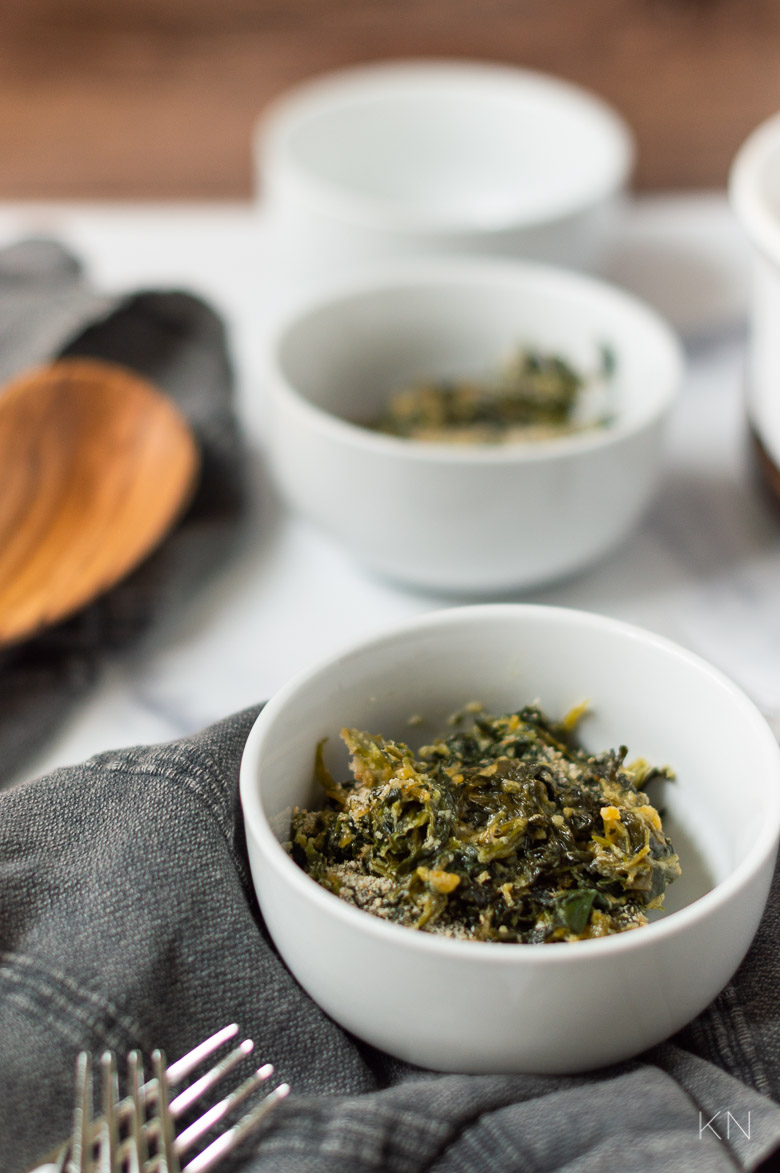 Does Spinach Casserole Keep Well for Leftovers?
YES! It is delicious after reheating in the microwave for days after initially preparing the dish. You can even serve it on the side of bread or tortilla chips and use it as a "dip".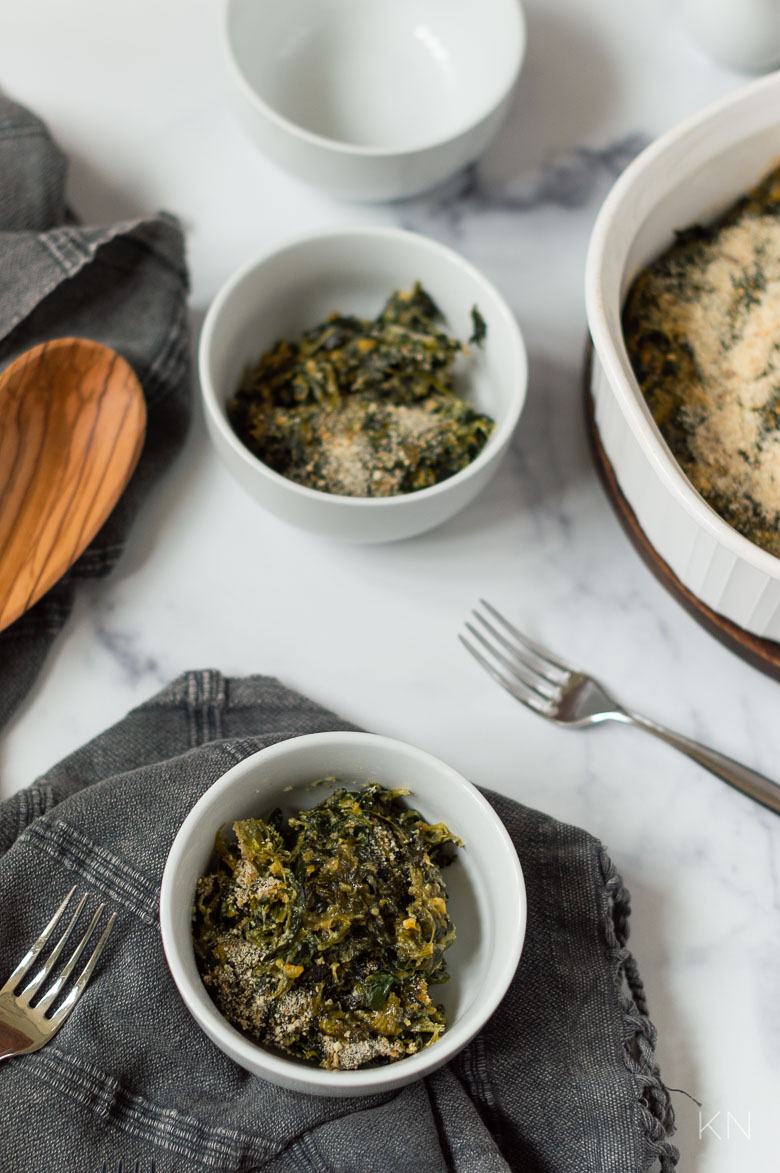 Casserole Dish | Staub Wooden Spoon | Fringed Towel | Small White Bowls | Silver Flatware
If you like spinach dip, you'll love this spinach casserole — as a bonus, it's a yummy way to add some greens into the menu, divert from those standard roasted veggies, and mix things up a little bit 😉 If you try this spinach side, be sure to come back and let me know what you think!
Like This Recipe? Try These!
Pin for Later