If you have been a KN reader for a little while, you probably all know how much I love coming up with creative gifting ideas, more specifically, creative hostess gifts and gifts to have on hand. The holidays are here and I'm kicking off my gifting series today with World Market, with a few adorable, thoughtful, and totally unique gift ideas for your friends, neighbors, and guests this Christmas.
This post is sponsored by World Market. As always, all content and opinions are my own. Posts on KELLEYNAN.com may contain affiliate links. Click HERE for full disclosure.
GUEST FAVORS 
If you're preparing to host a party or dinner this season, a "grab bag" of these unique felt ornaments would be a huge hit. Each year, World Market brings out the most nostalgic, sweet collections; you can find them all HERE. They have a TON and if you've never browsed them, you just have to. For those of you who have a new ornament tradition each year, you're welcome 😉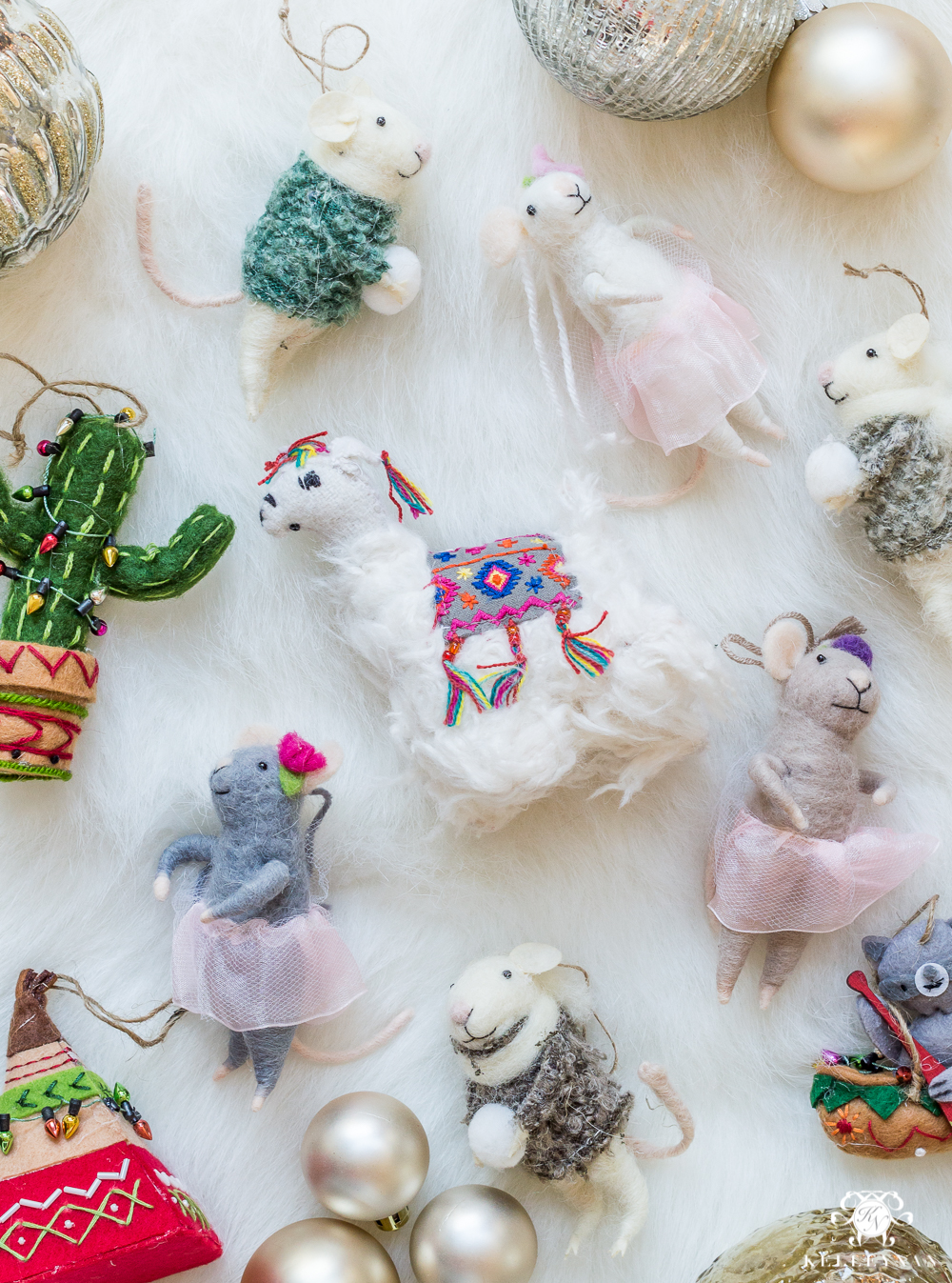 Dave said they reminded him of a basket of muppets (which he loved… and I did too). No bows, no wrapping, no tags… just a simple set up with an invitation for guests to choose a treat for their own home.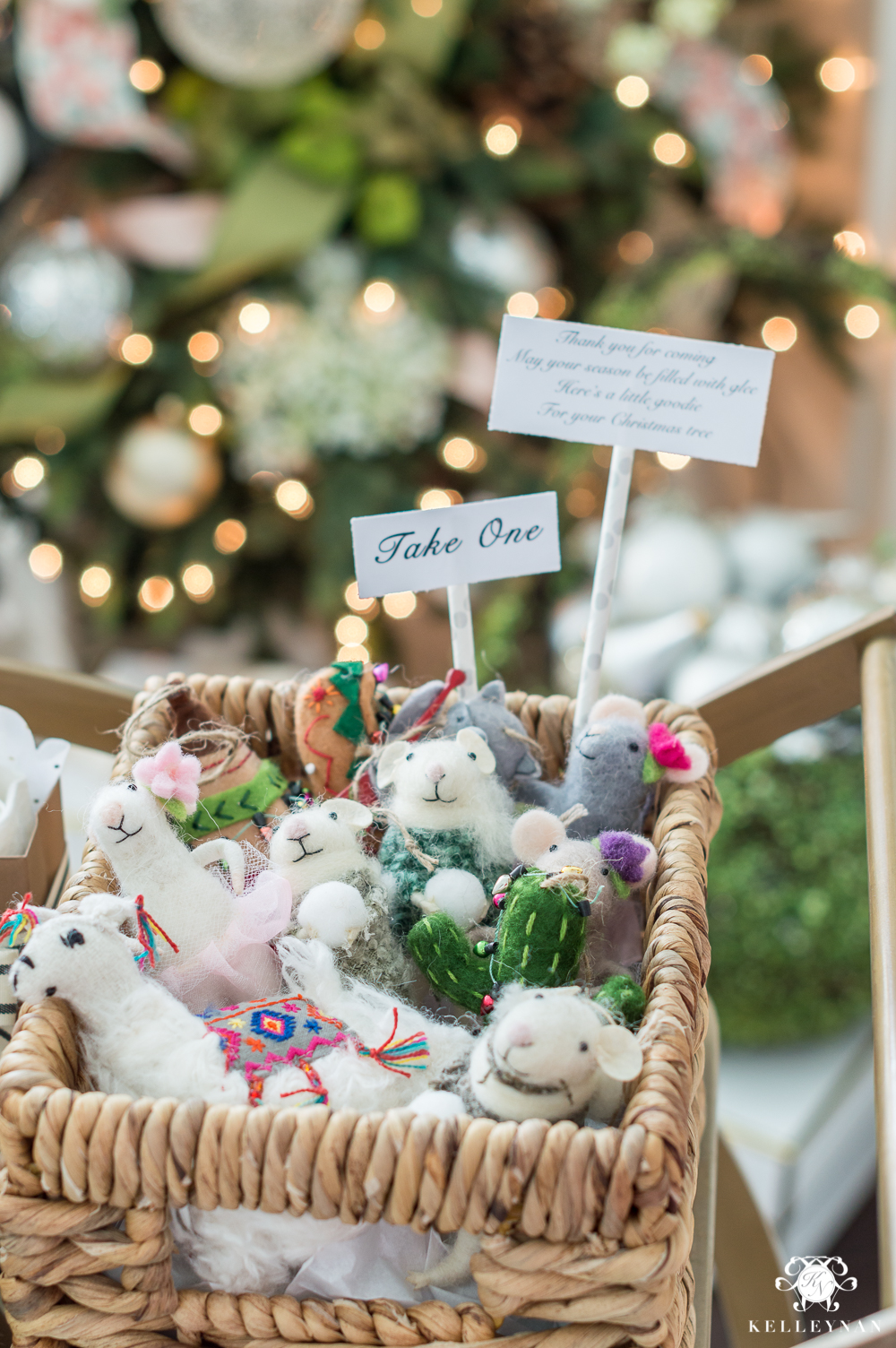 ---
Scroll & Tap to Shop

---
I printed two little signs on a piece of cardstock, cut them, and glued them onto the top of some patterned paper straws.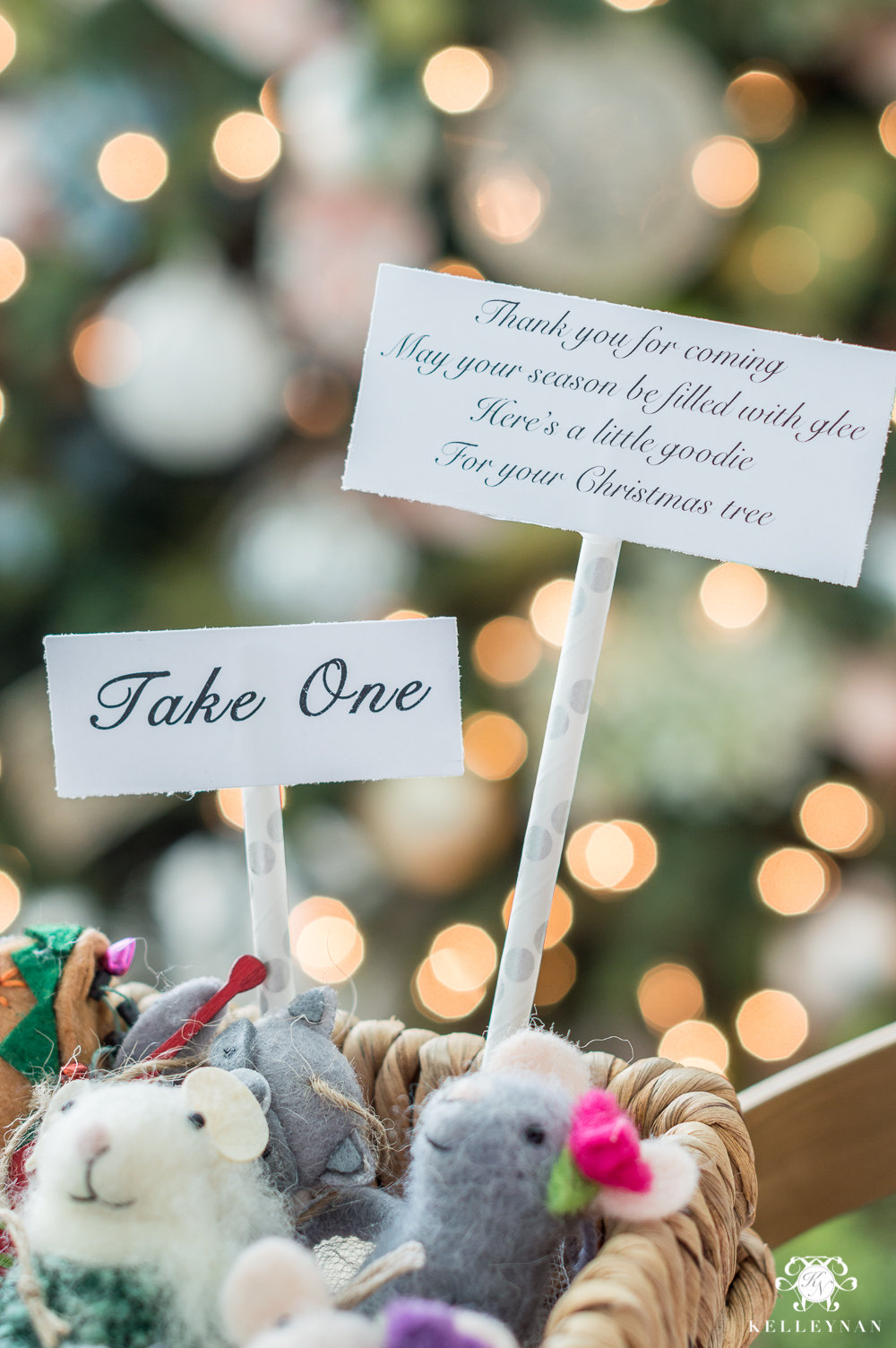 MASS GIFTS (FOR THE OFFICE/NEIGHBORHOOD)
Growing up (who am I kidding- we still do this today), I had a lot of practice brainstorming with Mama Nan on sweet, custom gifts, especially when it comes to having to have multiples prepared. One of my favorite "exercises" is helping her think of affordable gifts for her office staff. There are a lot of people to cover so her price point can't get too crazy. (She's put together so many fantastic goodies, she really should do a round up on her past favs.)
The key to this is 1. finding things in quantities that you can split, and 2. individualizing them. I saw these pretty (again, nostalgic) cookie cutters that come in a set of four (on sale right now for $5.99). Think about it this way- handing someone a box of cookie cutters as a gift- that doesn't seem super special. Splitting the box and handing someone one cookie cutter- that doesn't seem like enough. But, splitting the box and tying on your favorite holiday cookie recipe… well I think that's absolutely perfect. These are perfect for office gifts, mass neighbor gifts, and would even be great guest favors. With a price point of just over $1 a piece, you could barely pass out gum for that cost.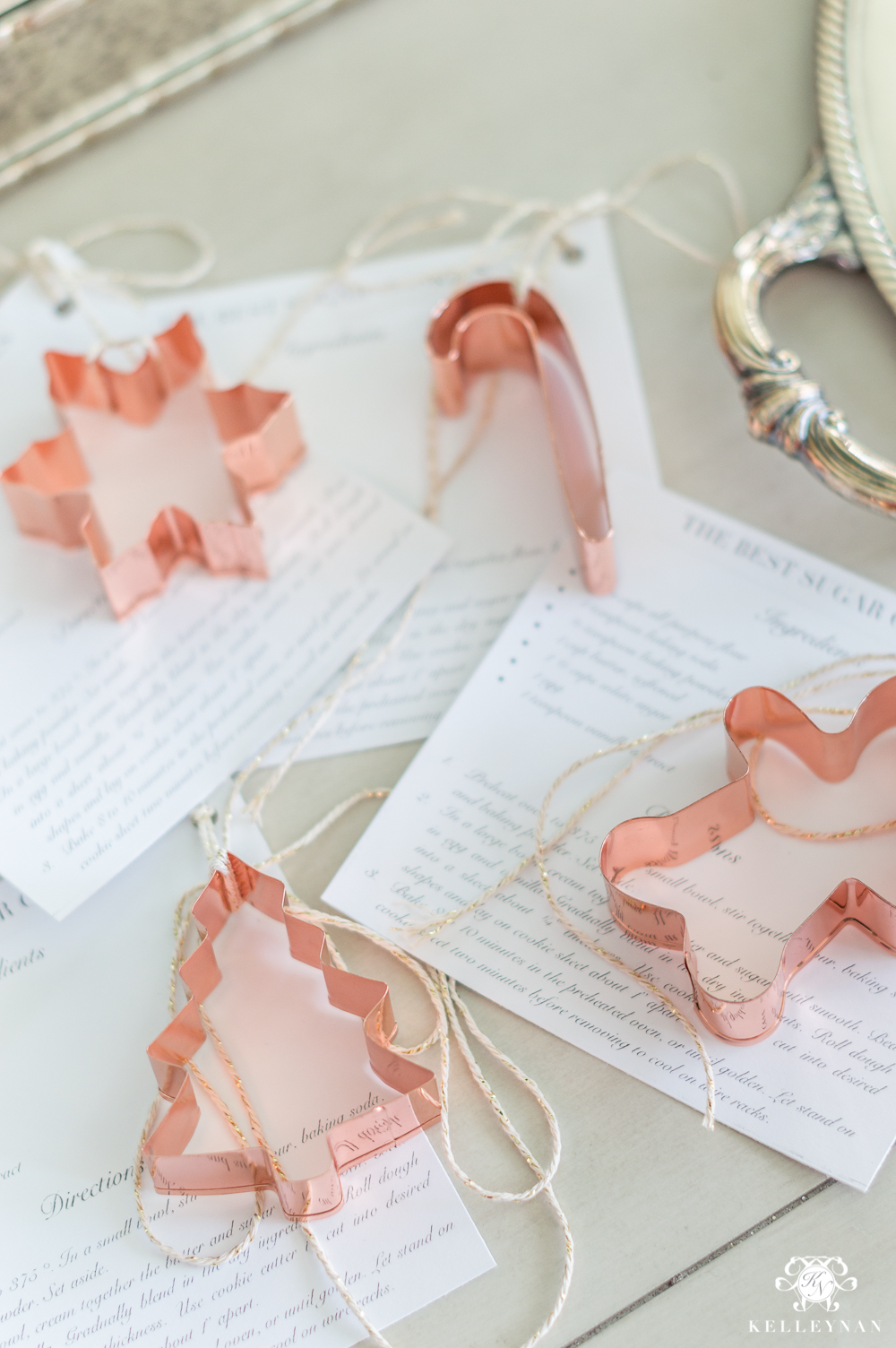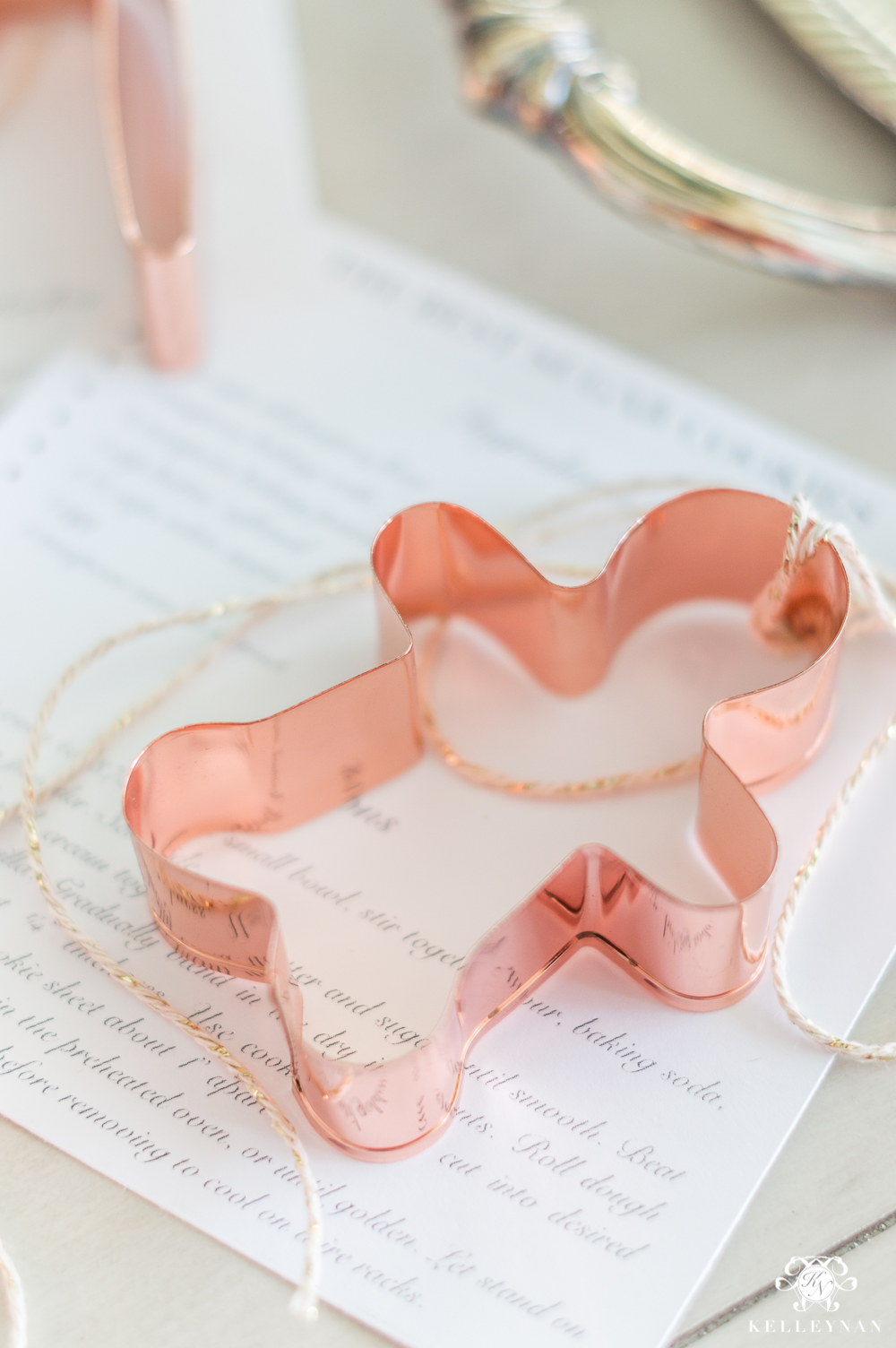 ---
Scroll & Tap to Shop

---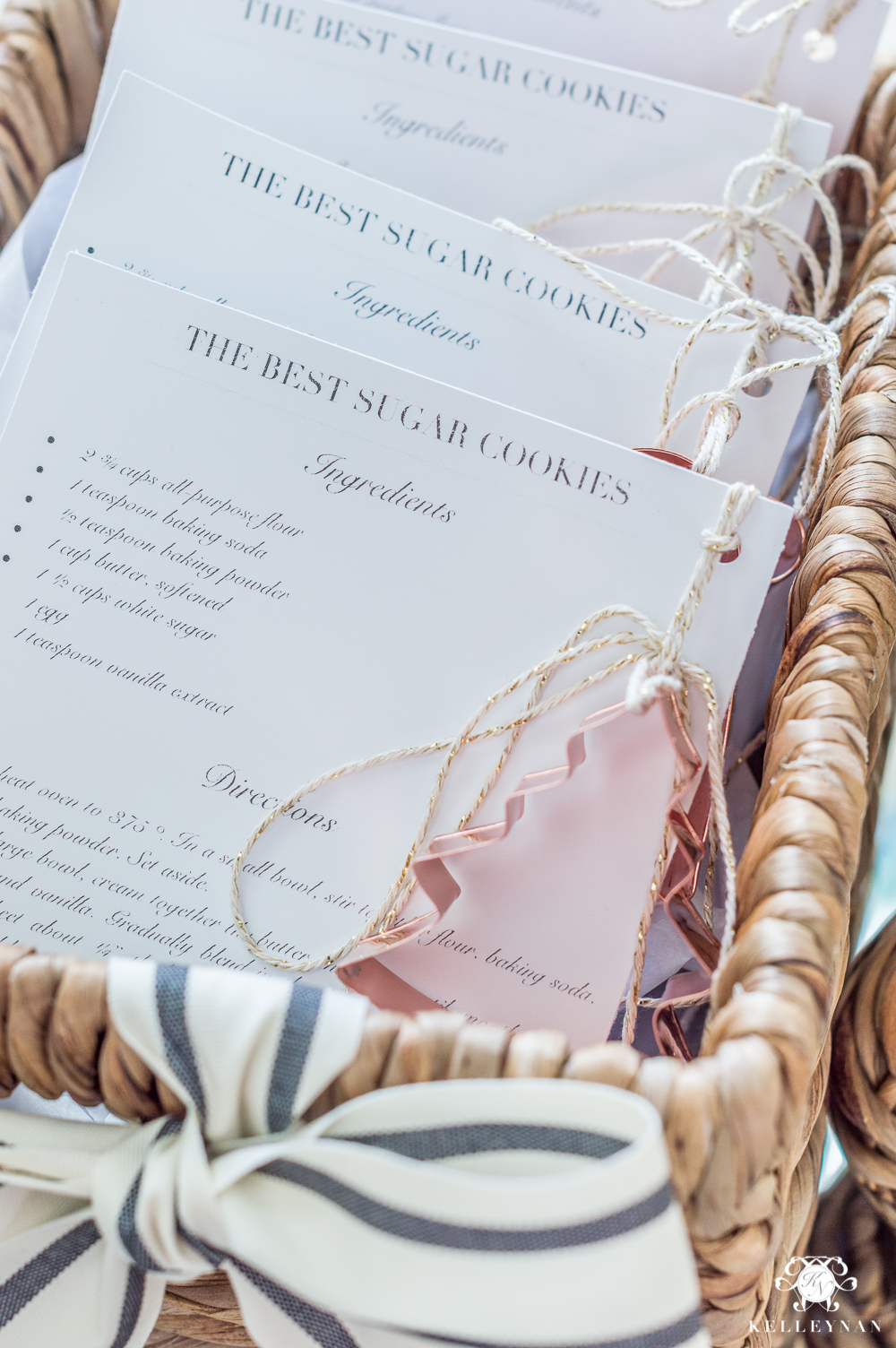 CHILDREN OF THE HOST GIFTS
If you're heading to a party or event and the host has children, consider taking them a little holiday treat, too. Can you tell I'm all about the sentiment and nostalgia? Christmas will do that to ya 😉 These classics were three of my favs and are all under $5. (There are several more to choose from HERE).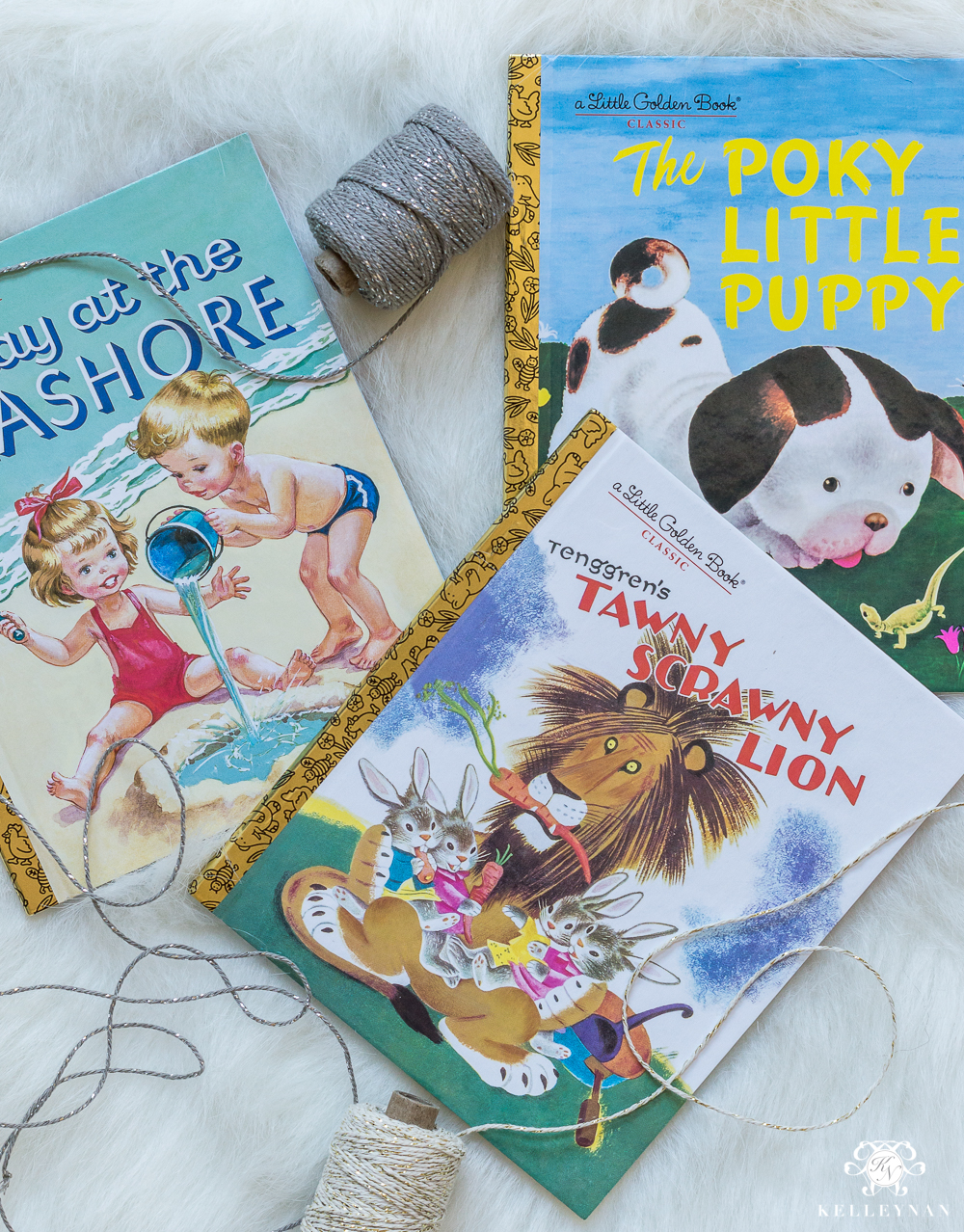 ---
Scroll & Tap to Shop

---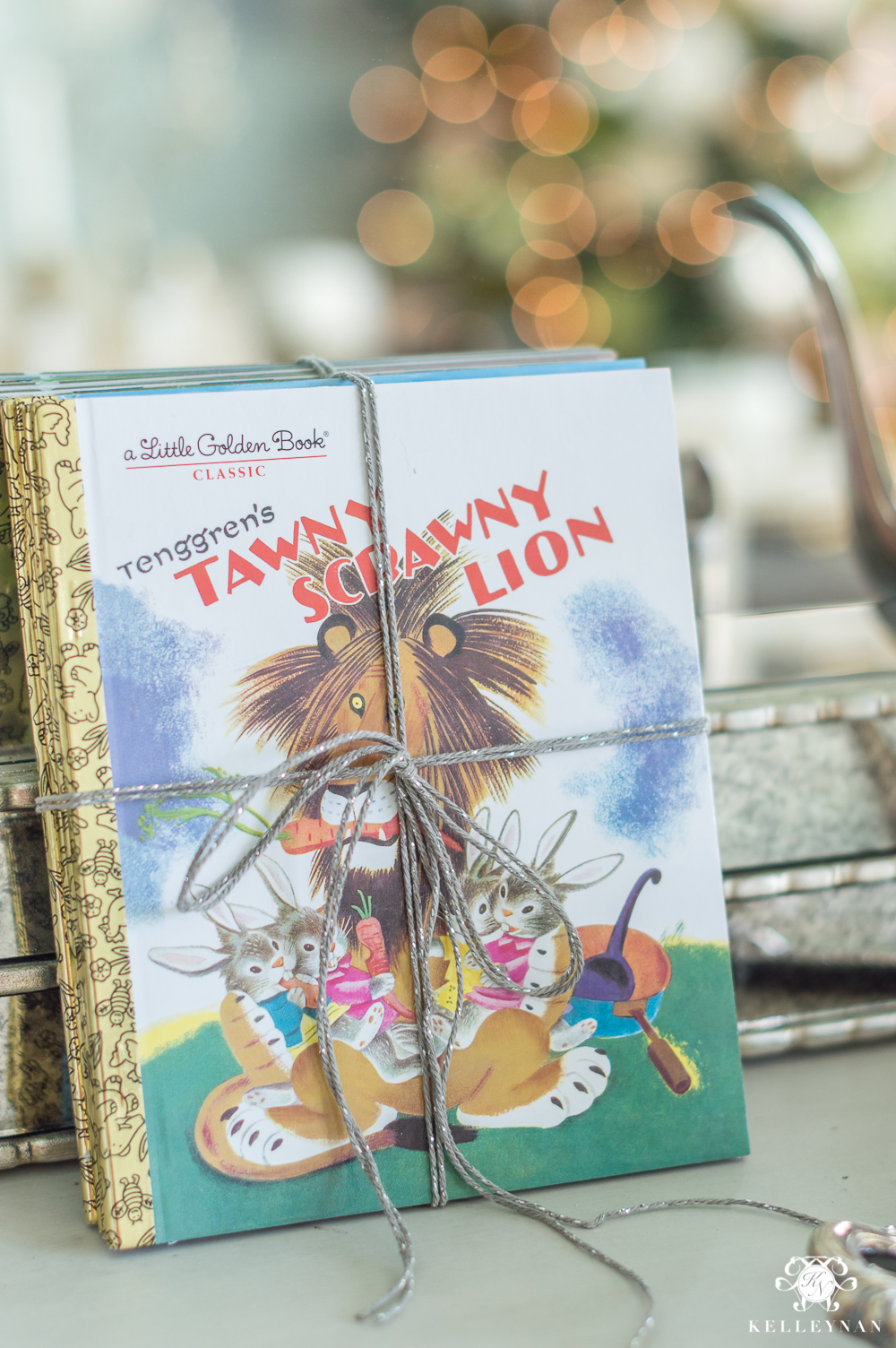 They're also perfect for neighbor children, shower gifts, and are the ideal thing to have on hand in a small stash for occasions that may spring up.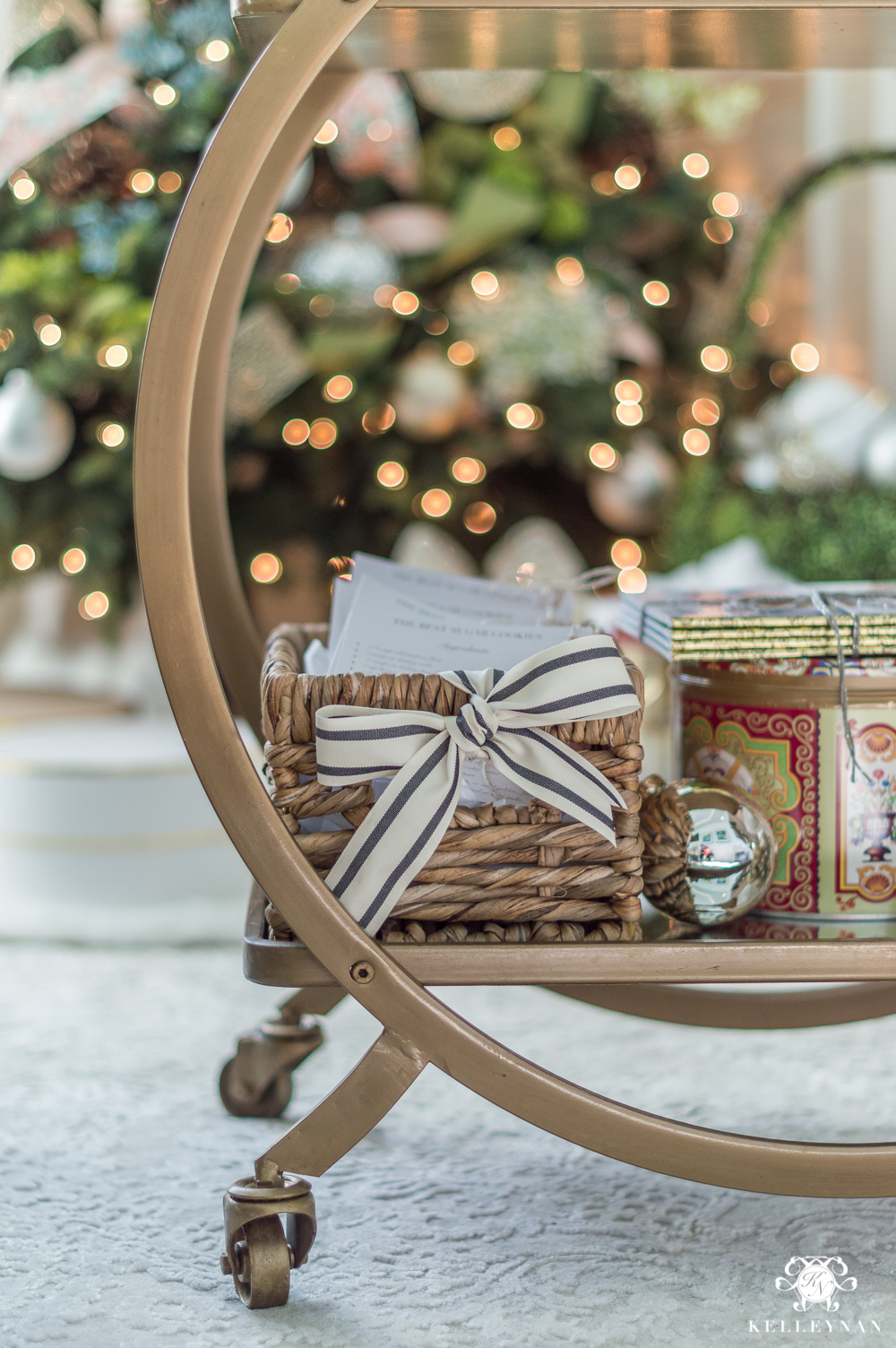 HOSTESS GIFTS
I love gift pairings – I think they remind me of small care packages. So, if I see one thing, I always think "ok, but what can go with it as the cherry on top?" I actually worked backwards on this one because first, I saw these too-cute measuring spoons in copper, gold, and even little white ceramic pineapples with script!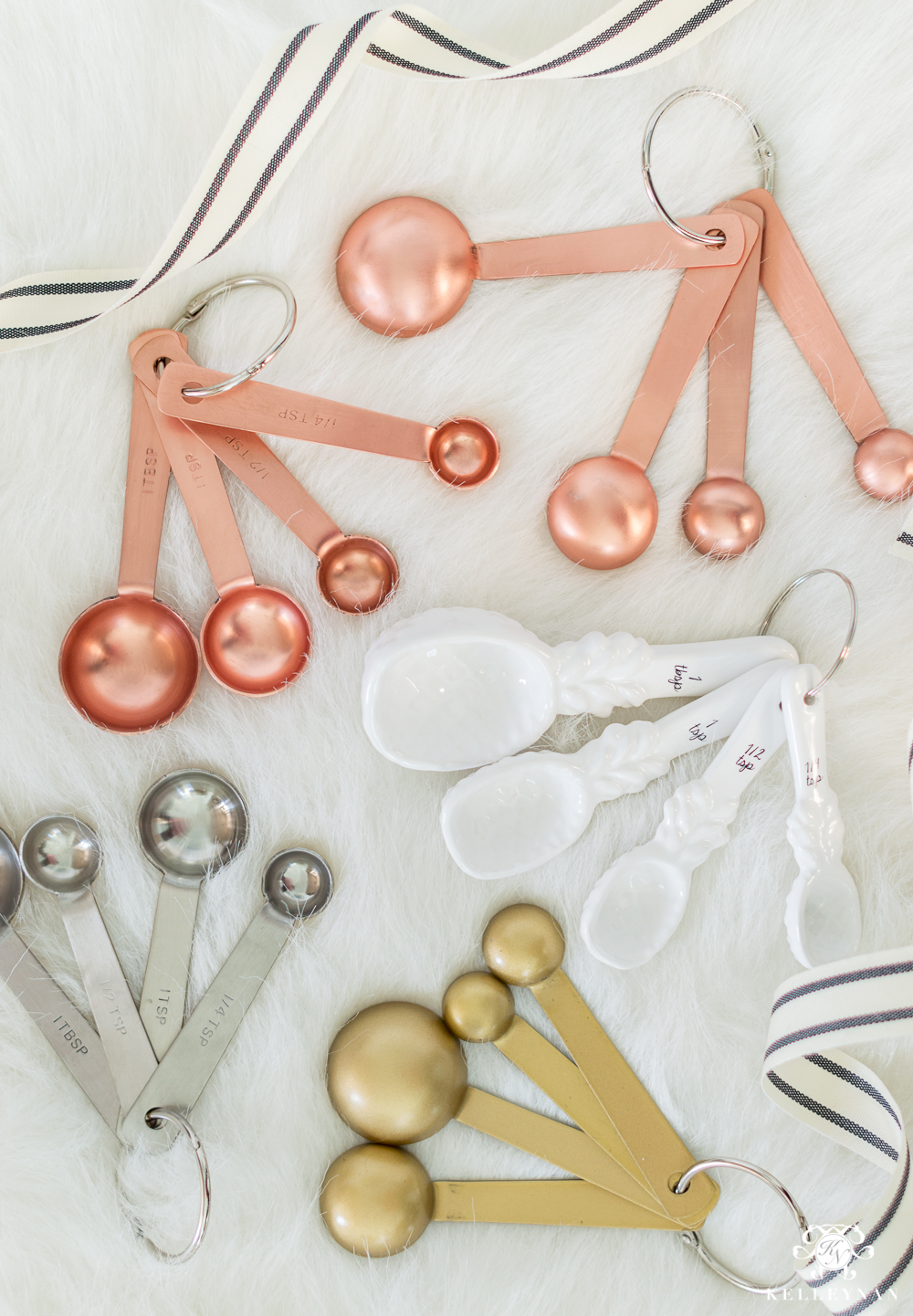 So I decided to find a special baking mix. World Market has a TON of scone mixes (HERE) but I kept it seasonal (I thought of maybe Christmas Eve breakfast) with lemon gingerbread.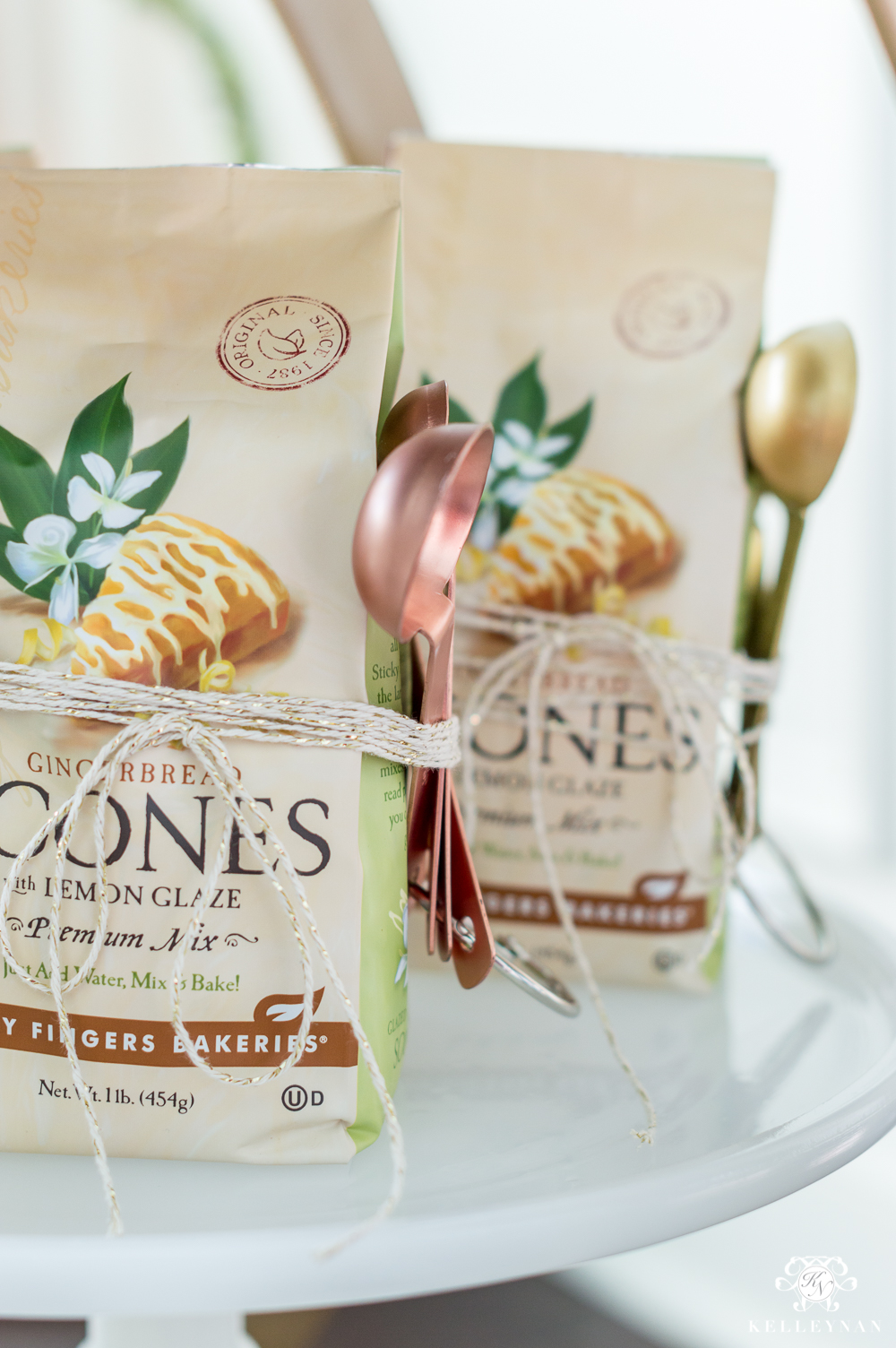 ---
Scroll & Tap to Shop

---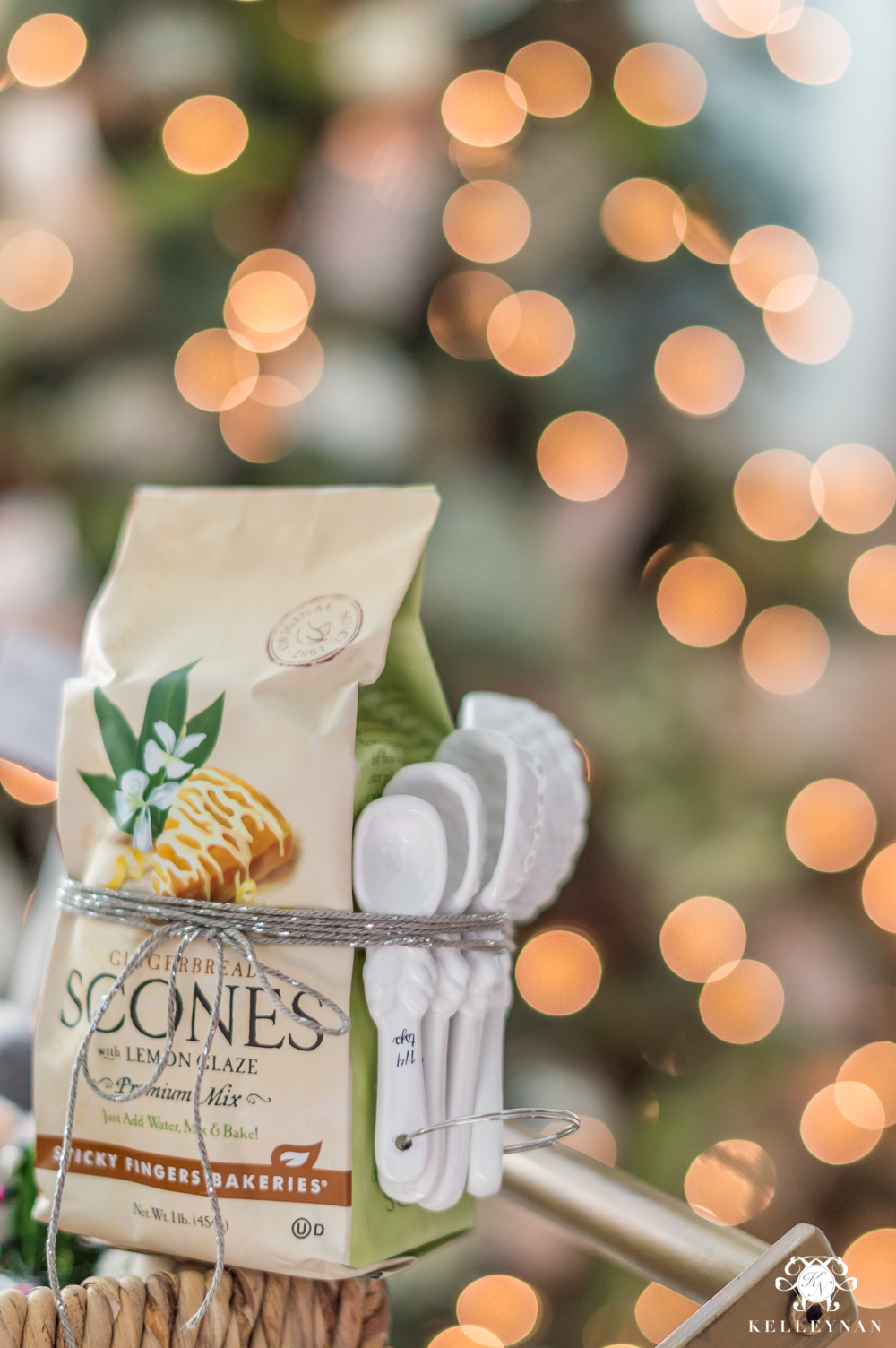 They come in a 6-pack quantity and are perfect for hostess gifts, or, neighbor gifts, family gifts, etc. Sure, you can wrap them but I think they are adorable, just as they are, tied with ribbon.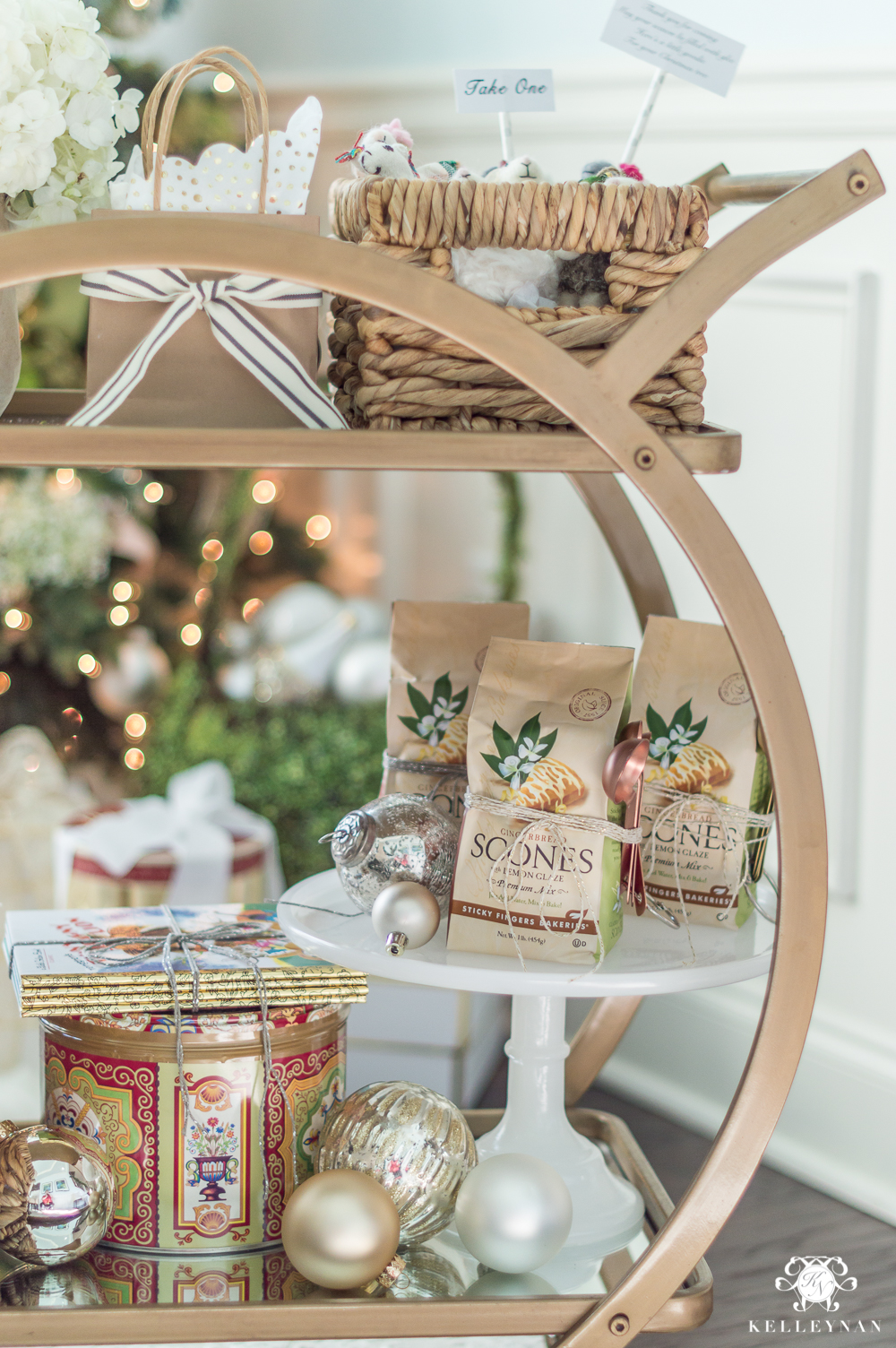 These cute linen hand towels actually come as a set- the Santa and holiday llama – but you can split them and pair them with a soap for a perfect little gift. PS- you've probably seen me use this soap a lot on the blog (and that's because I love it ;)). It smells divine and comes in the prettiest paper wrapping!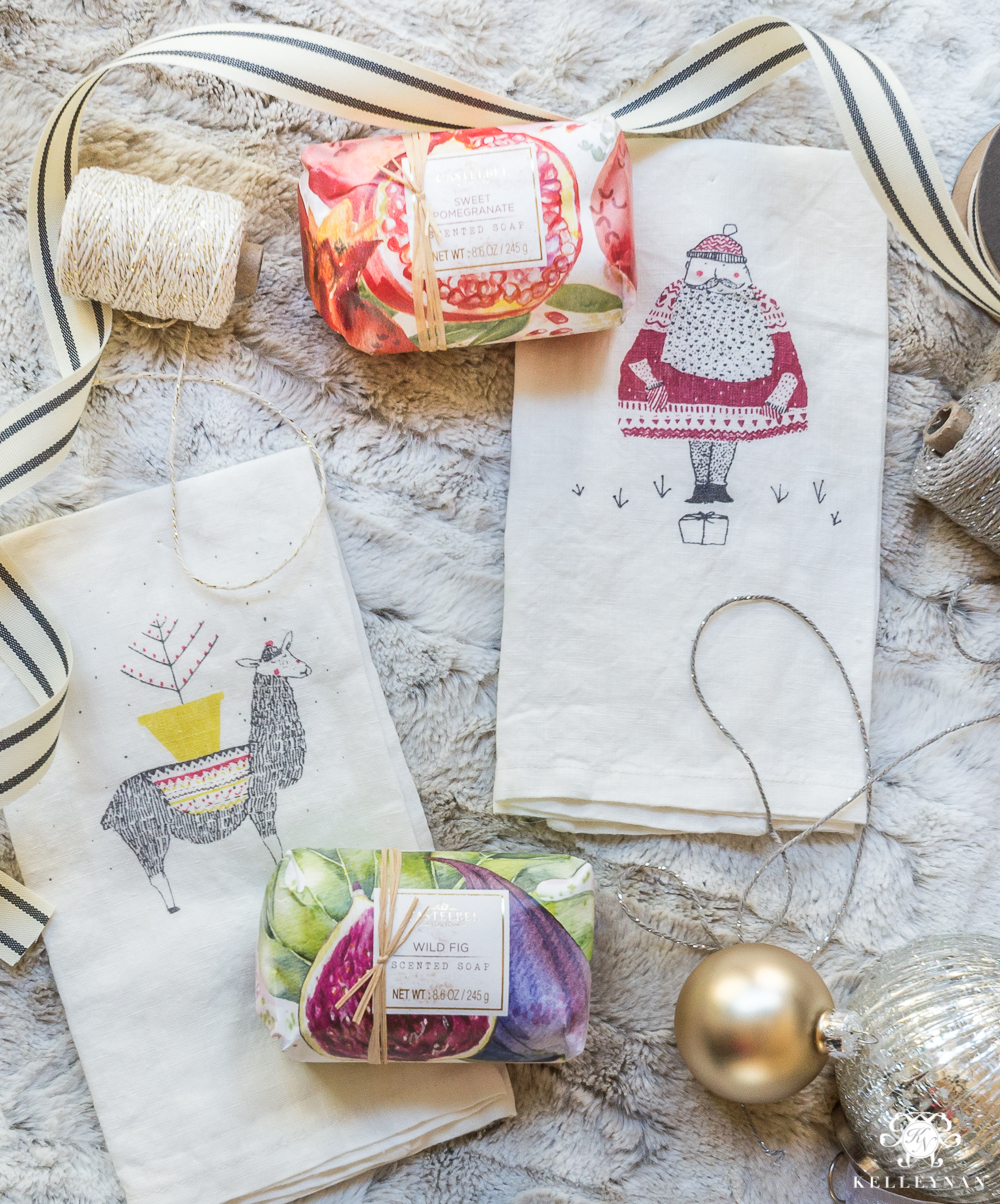 ---
Scroll & Tap to Shop

---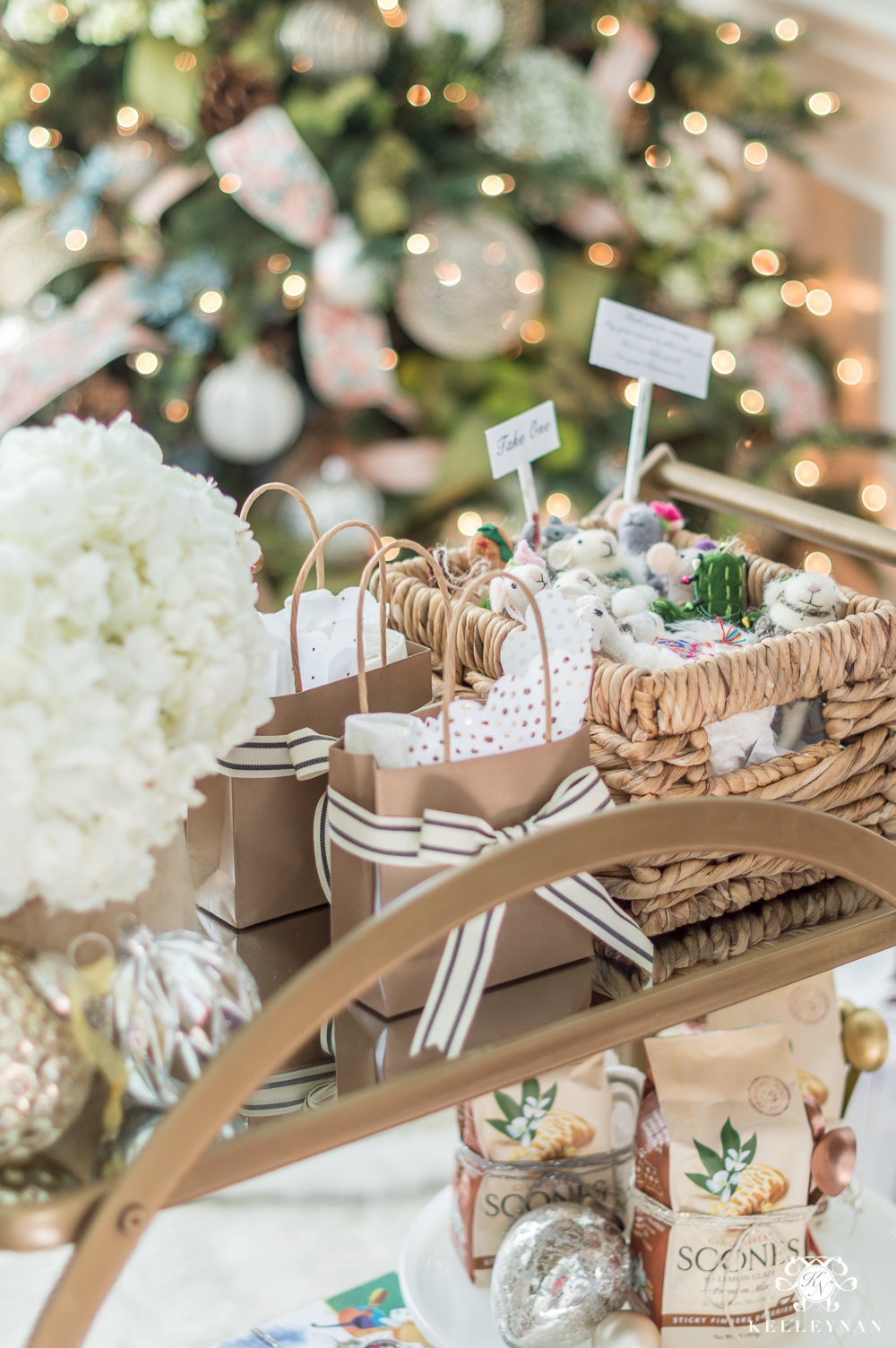 I nestled them inside these teeny tiny bags and tied them with this ribbon.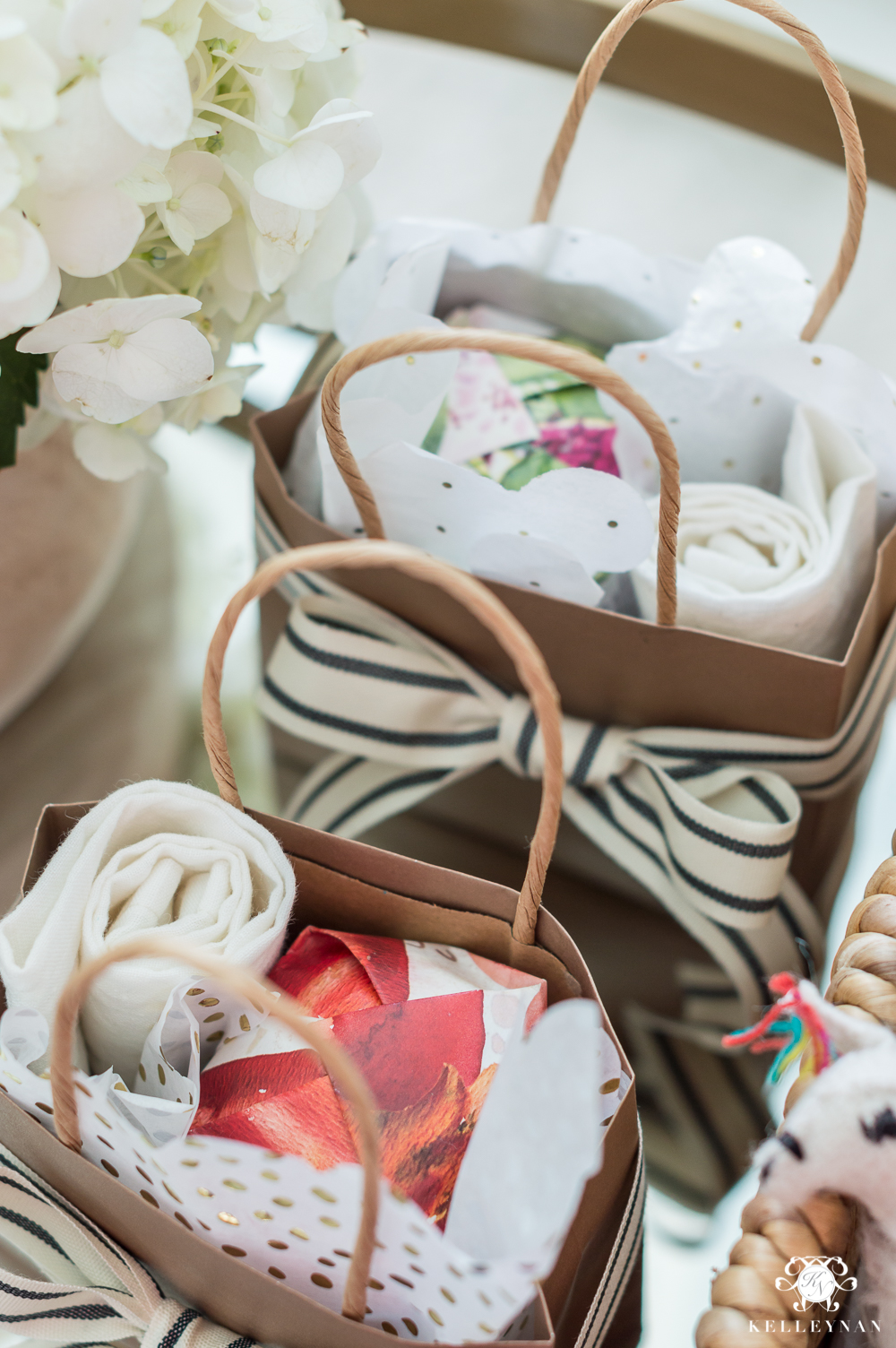 FAMILY HOST GIFTS (& SPECIAL NEIGHBOR FAMILIES)
I don't know if you know this but World Market ginger snaps basically have this huge cult following. We've been getting them each year for years; there's a reason they have more ratings than anything else on the World Market website 😉 They are perfect to have on hand and give as a simple host/neighbor gifts (see ya, popcorn!), or, taste test first for your own family tradition.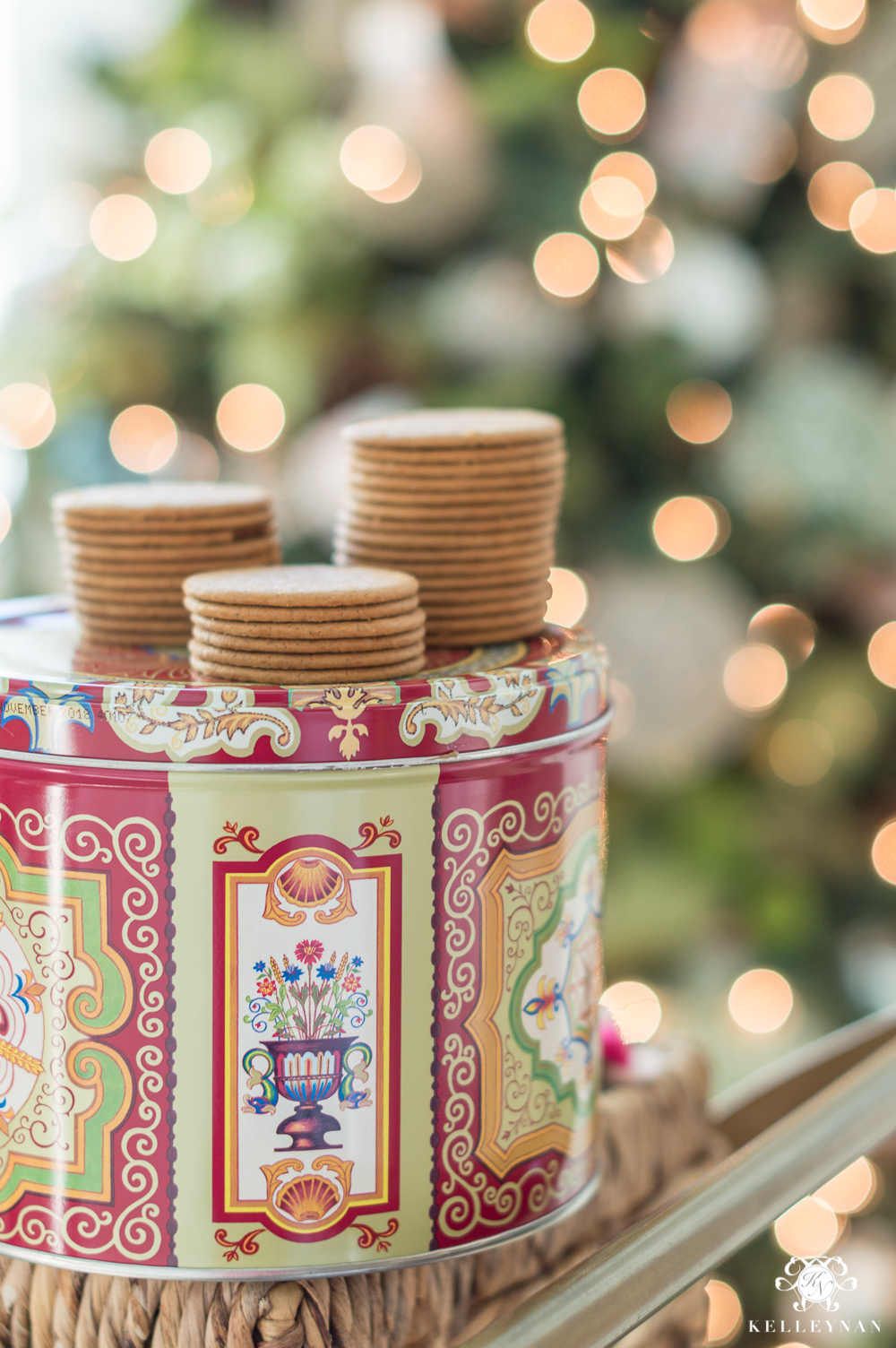 A favorite find this year is actually for the whole family. 12 days of Christmas poppers. You can use them at a party but I thought of something even more fun. Why not use them advent-style with one each day leading up to Christmas? You know how we (kids and adults) look forward to advent calendars? Here's a new clever spin and even the suggestion takes this party favor to a thoughtful gift for the whole family. If you have some special neighbors, deliver this treat early so they can anticipate using them this season.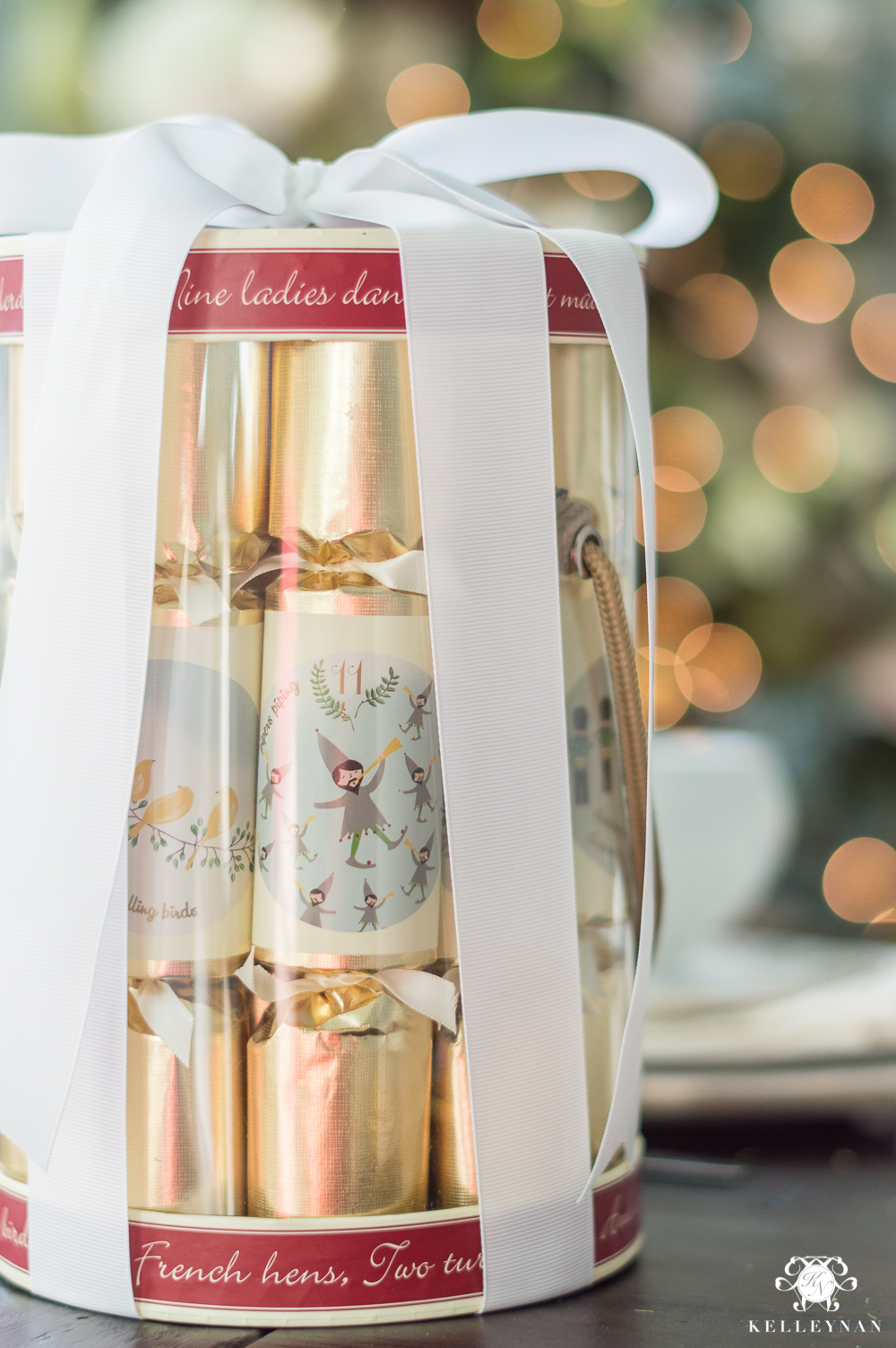 ---
Scroll & Tap to Shop

---

WHITE ELEPHANT/DIRTY SANTA
I had no plans of actually including a Dirty Santa gift but when I saw this, I had to have it.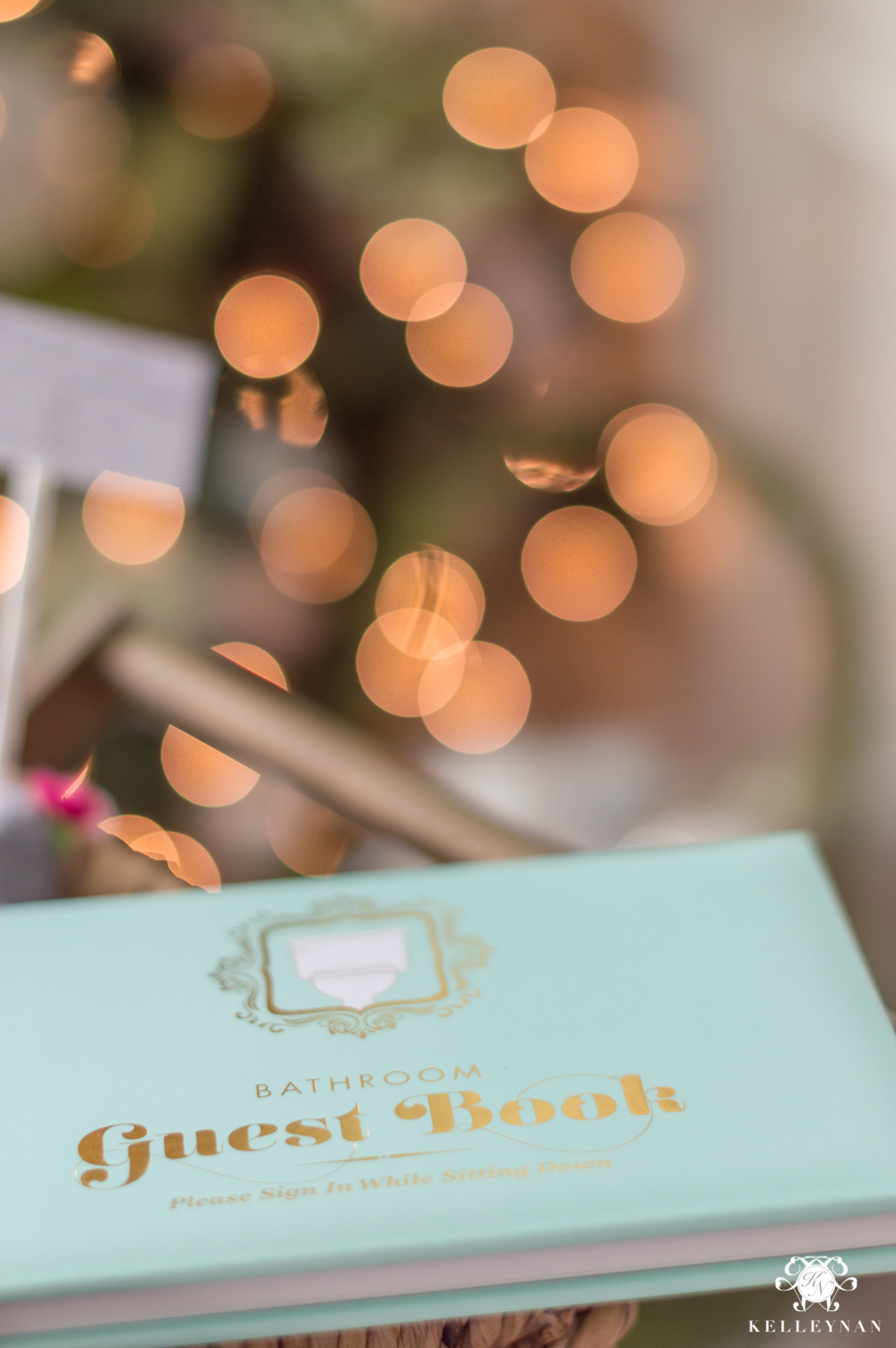 You guys. If there was ever a more perfect gift, I don't know what it is. Here's a peek of the bathroom guest book. I mean, come on. If you assemble stockings for your husband, this is a perfect fun thing to include, too!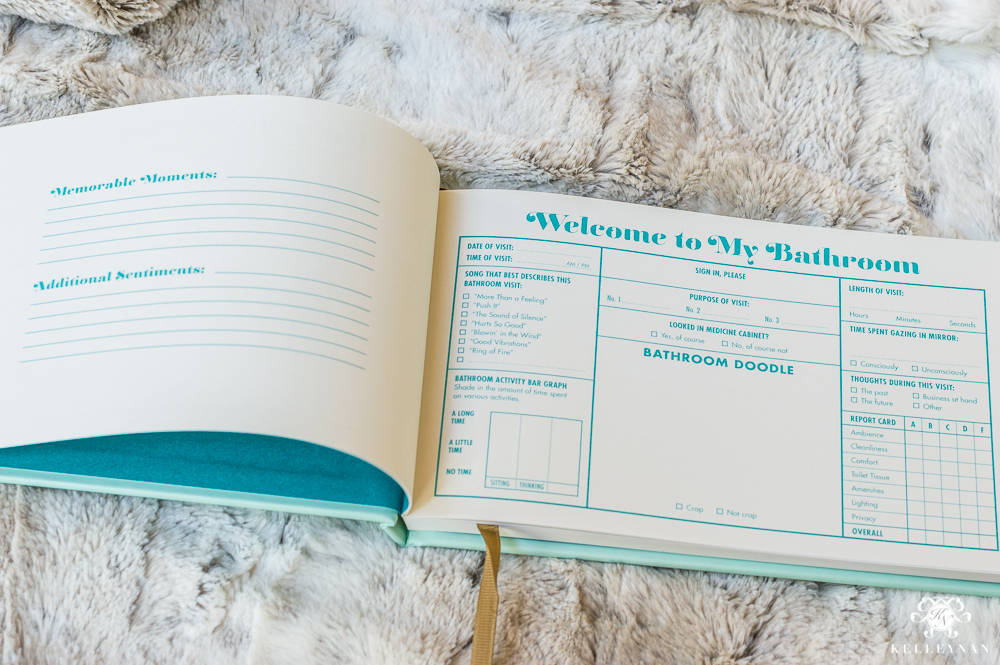 ---
Scroll & Tap to Shop

---
The season is just beginning but I hope this round of gift ideas got your wheels turning. And, if you are neighbors of mine, pretend like you never saw this post 😉
*Until 11/22, you can save 25% off any of these gifts (discount applies to your entire purchase) with code HOLIDAY25.*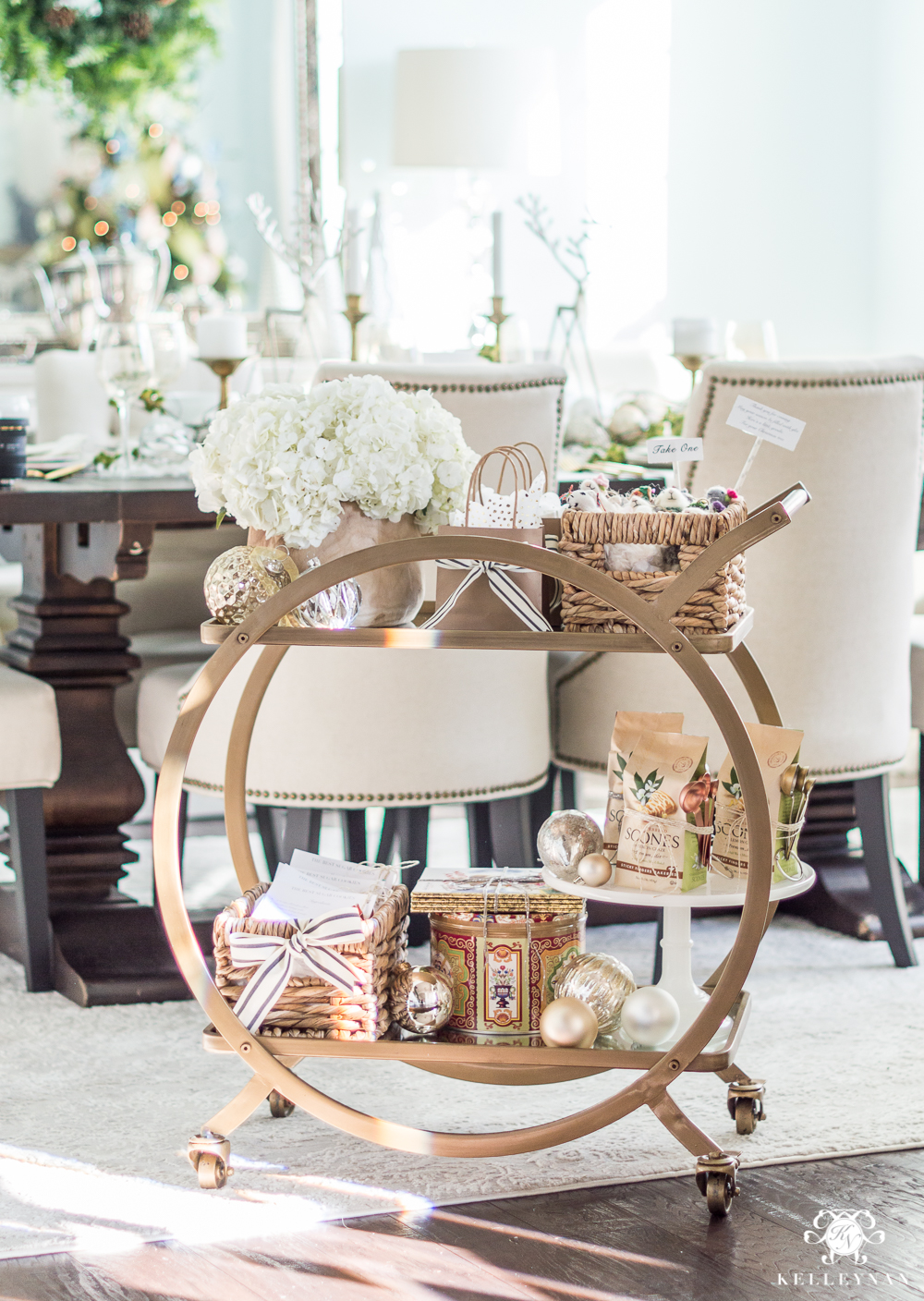 And just a little reminder- all World Market furniture is currently 40% off with code FURNSALE (ends on 11/26). Here are a few of my pieces that are eligible.


---

---

Don't miss the sweet little World Market nostalgic season opener HERE. The holiday llama even makes its debut 😉