We are days away from Thanksgiving but the holiday season is just beginning! In the midst of decorating, finding the perfect gifts, making memories and scheduling as many family and friend get-togethers as you can possibly fit it, those to-do lists can get overwhelming. Am I right? If you feel like you wanna cry at least one time during the holiday season (because "how is it all going to get done?!") this one's for you 😉 Cut yourself a break and find areas you can cut back. I've already had to put myself in check this year; when I started panicking and dreading the month ahead, I decided to forego setting up one of the trees and keeping another bare (who doesn't love a plain, snow covered, "forest" tree? haha). And you know what? It saved me hours of time and made me more excited about the things I was doing. Well friends, the same applies in the kitchen. It's the season of baking and elaborate dinners but if you're looking for a few ways to make those holiday dinners a little less frantic, I've joined five friends today to share some stress free holiday hosting with a few different ways to "fake" some delicious classic dishes. They are guaranteed to save you time in the kitchen, and help you take your meal to the next level. The best part, your guests will never know!
*Posts on KELLEYNAN.com may contain affiliate links. Click HERE for full disclosure.*
Fake It, Don't Bake It: Stress Free Holiday Hosting
If you've arrived from my friend Erin of Sunny Side Up, welcome! (And if you don't know her and can't resist a classic Christmas, she's most definitely your girl this season!) I would venture to say that mashed potatoes will probably make their way onto your dinner table at least once over the next month. They are classic, always a hit, and basically a go-to staple in holiday meals. Unless… you are Dave who may be the only person on the planet who doesn't like them (yes, I know haha. I don't argue about getting all the limp McDonald's fries though!). And you know what? They aren't difficult to make! But, if you are looking to prepare a big 'ol mess of 'em, scrubbing, peeling, and cooking those suckers can take some serious time investment (and patience). So, you know what else is classic and always a hit? KFC! Haha, yep! I've said before, it doesn't have to be homemade – it's all about the presentation. Remember, if you want to serve chips, serve chips! Just pour 'em in a pretty bowl first. So, here I am telling you it is more than ok to cut a few corners and serve up pre-made mashed potatoes. But, I'm going to share how to take them to the next level 😉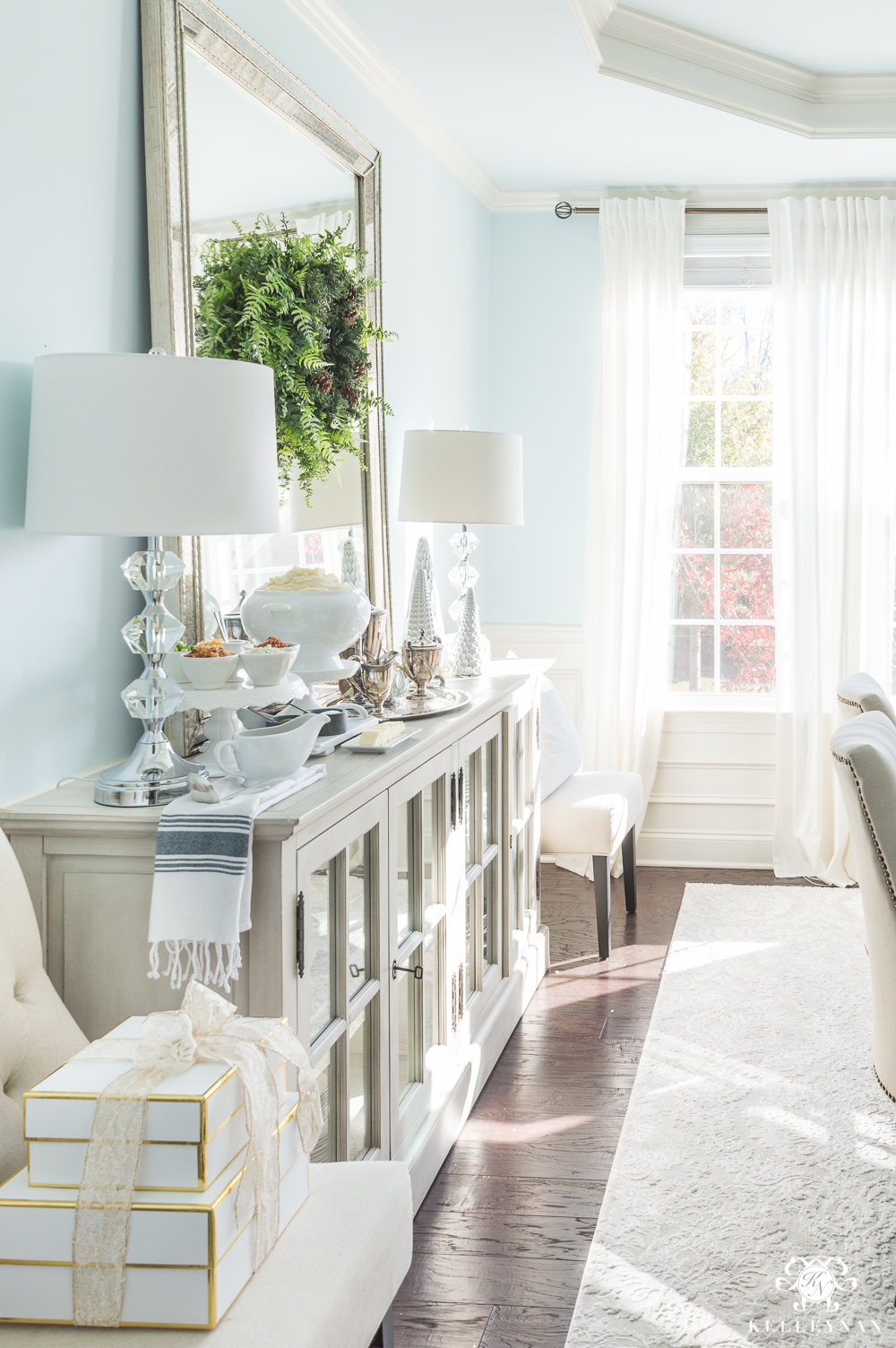 You could create 20 custom mashed potato bars in the amount of time it would take to cook one pot of homemade mashed potatoes. So with just a few minutes, and an arsenal of styrofoam KFC containers (they sell pint-sized portions), I created an entire guest experience. I don't look at it as not being homemade. I look at it as being catered. Secretly. Haha.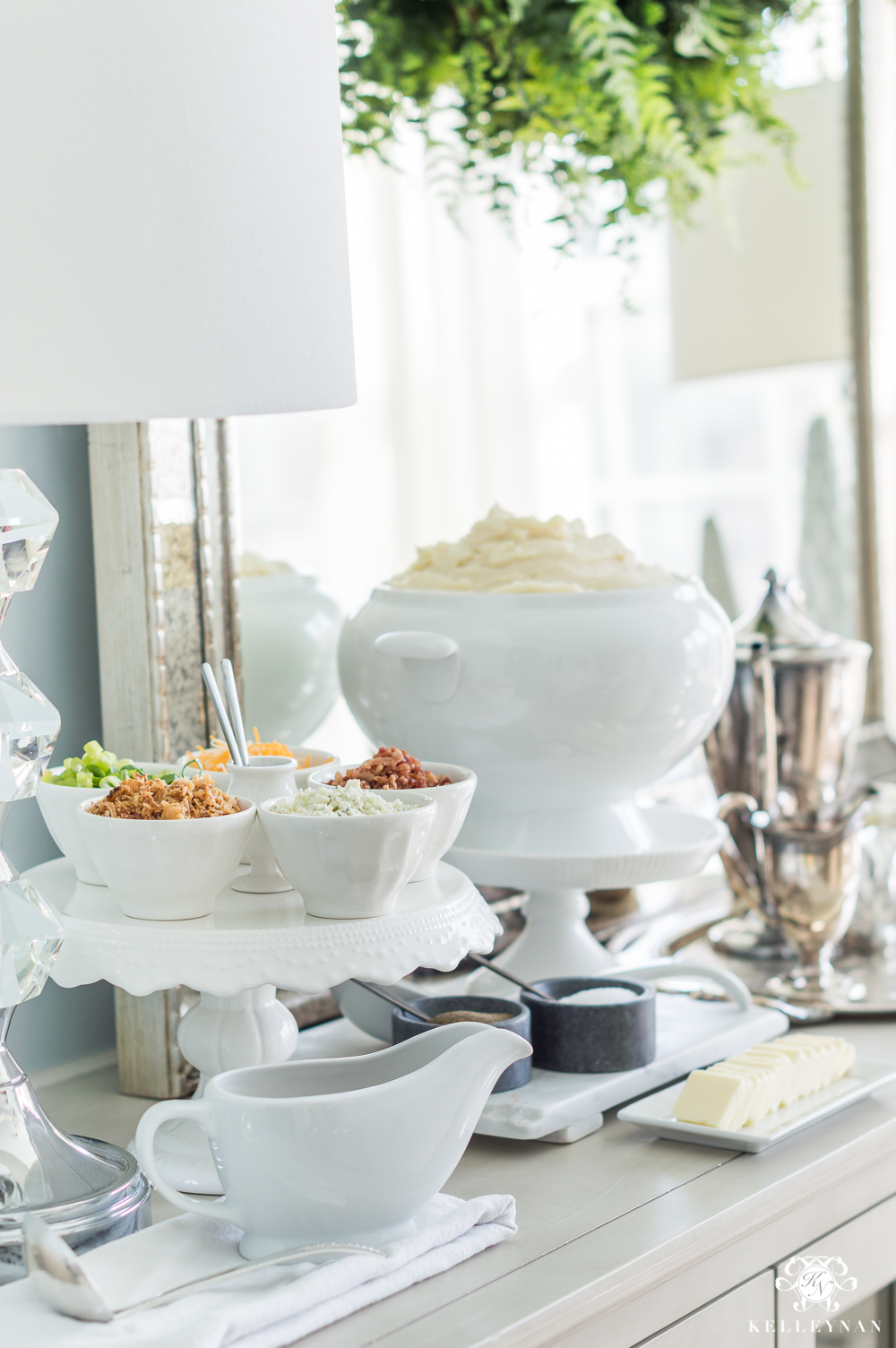 If you've never had KFC mashed potatoes, do yourself a favor and sample some SOON! Once you've established that they are delicious, I think you'll totally be on board for this dinner "cheat".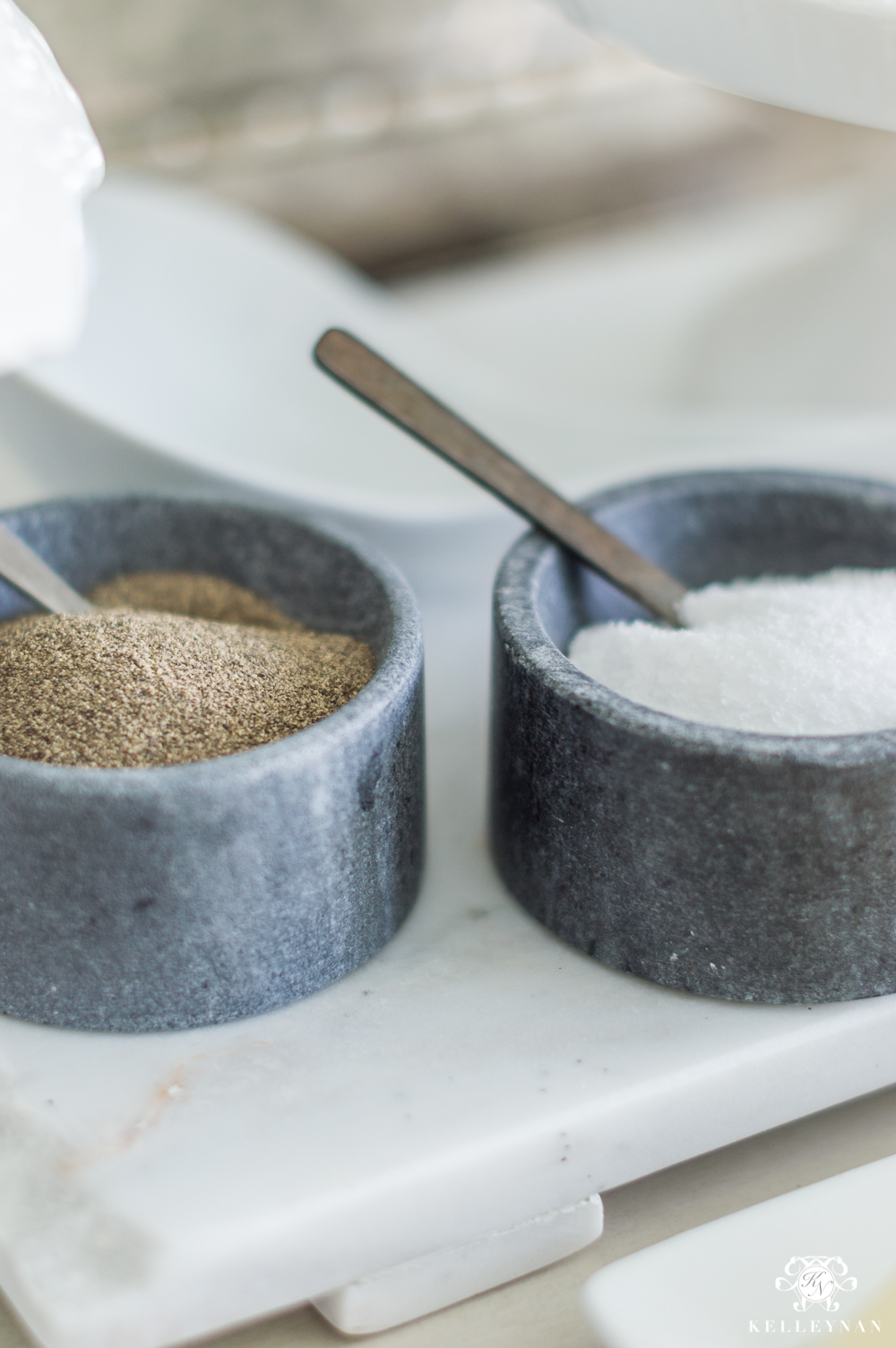 There's something about giving some customizable options that can take your dinner from "boring cafeteria" to "memorable event", just by setting out a few fitting accompaniments. Ok, I'm not saying if your dinner doesn't have a "fun station", it's equivalent to lunchroom status but I always try to find little ways to put that little extra in the ordinary 😉 And, you can absolutely have an extraordinary guest experience with mashed potatoes, even if they aren't homemade.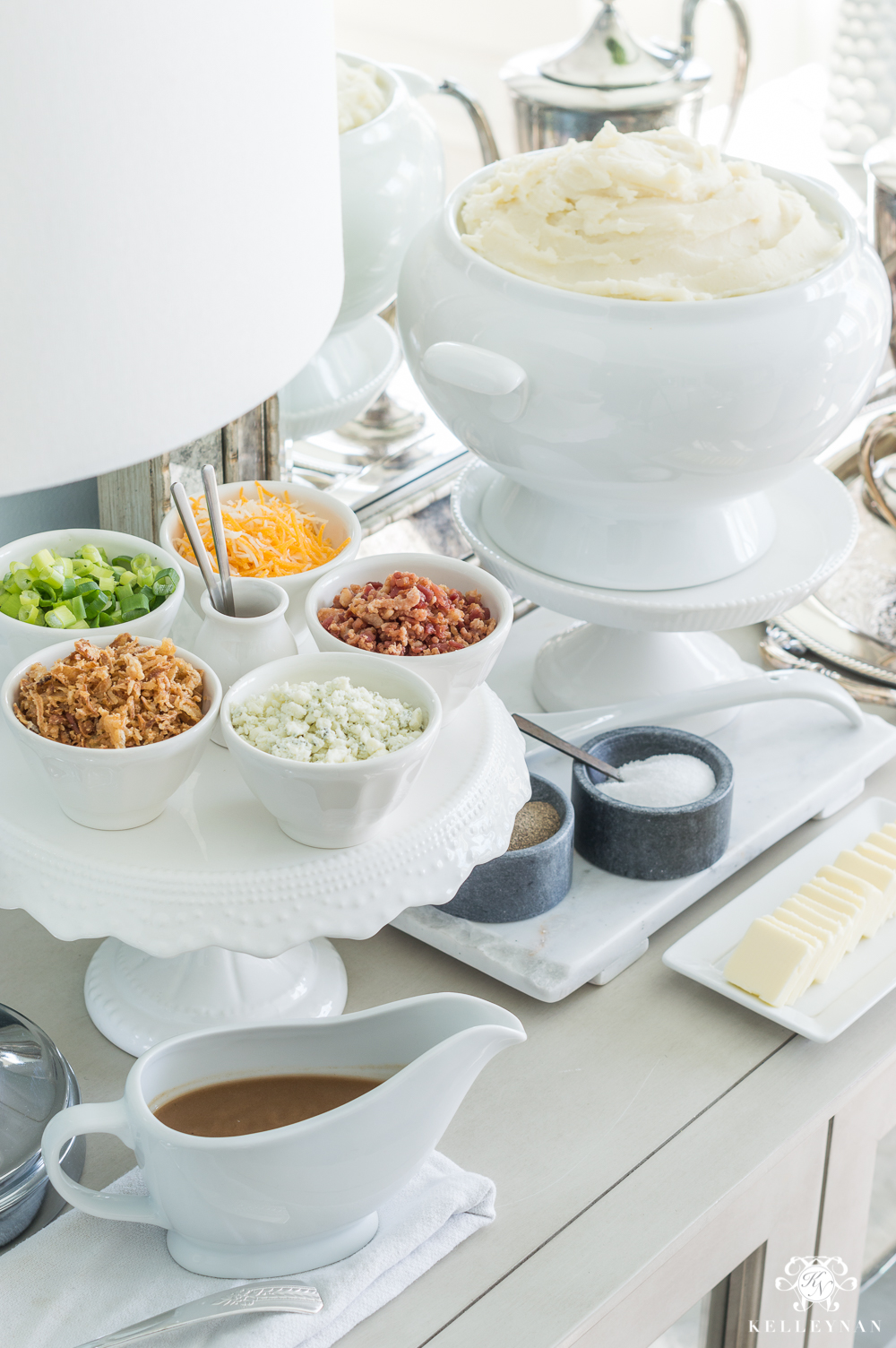 I used my favorite soup tureen (currently on sale!) but you can put them in your own serving bowl or prettiest dish. A few toppings I displayed in these mini Anthro latte bowls include green onion, fried onion, cheddar cheese, blue cheese, bacon crumbles, gravy, butter, and salt and pepper. (The gravy is also a cheat – it comes on the side with the mashed potatoes 😉 ) I'm sure you can think of a whole lot more, just remember, keep them EASY or it will defeat the purpose. Like, pour-and-dump-out-of-a-bag type easy.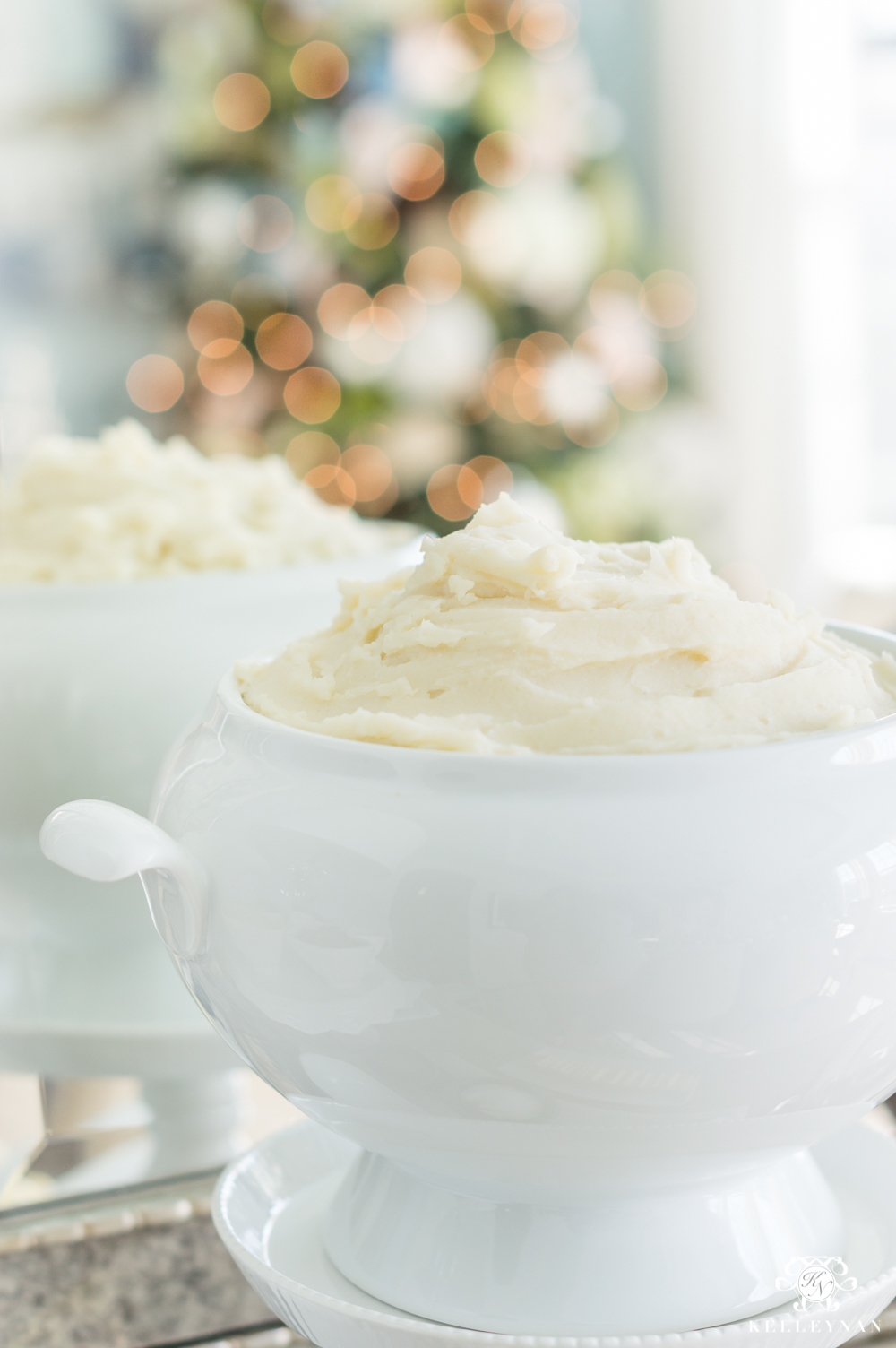 ---
Scroll & Tap to Get the Look

---
You can also keep your table simple easy. (The difference in "simple" and "easy"? You can create a stunning number that is easy to whip together, that is far from "simple".) I've given a few peeks already of my meadow themed dining room (like in this Christmas tree decorating tutorial, where I showed how I applied ribbon on the dining room tree). With natural whimsy already in your holiday decor, you don't have to have flowers to make a statement on your table. To go along with my meadow theme, I mixed and matched place settings I already had, laid an ivory scarf down the center of the table, spread some mossy twigs I had from spring, sprinkled leftover ornaments down the middle, and added brass candle holders and reindeer. Not a single flower/elaborate floral in sight!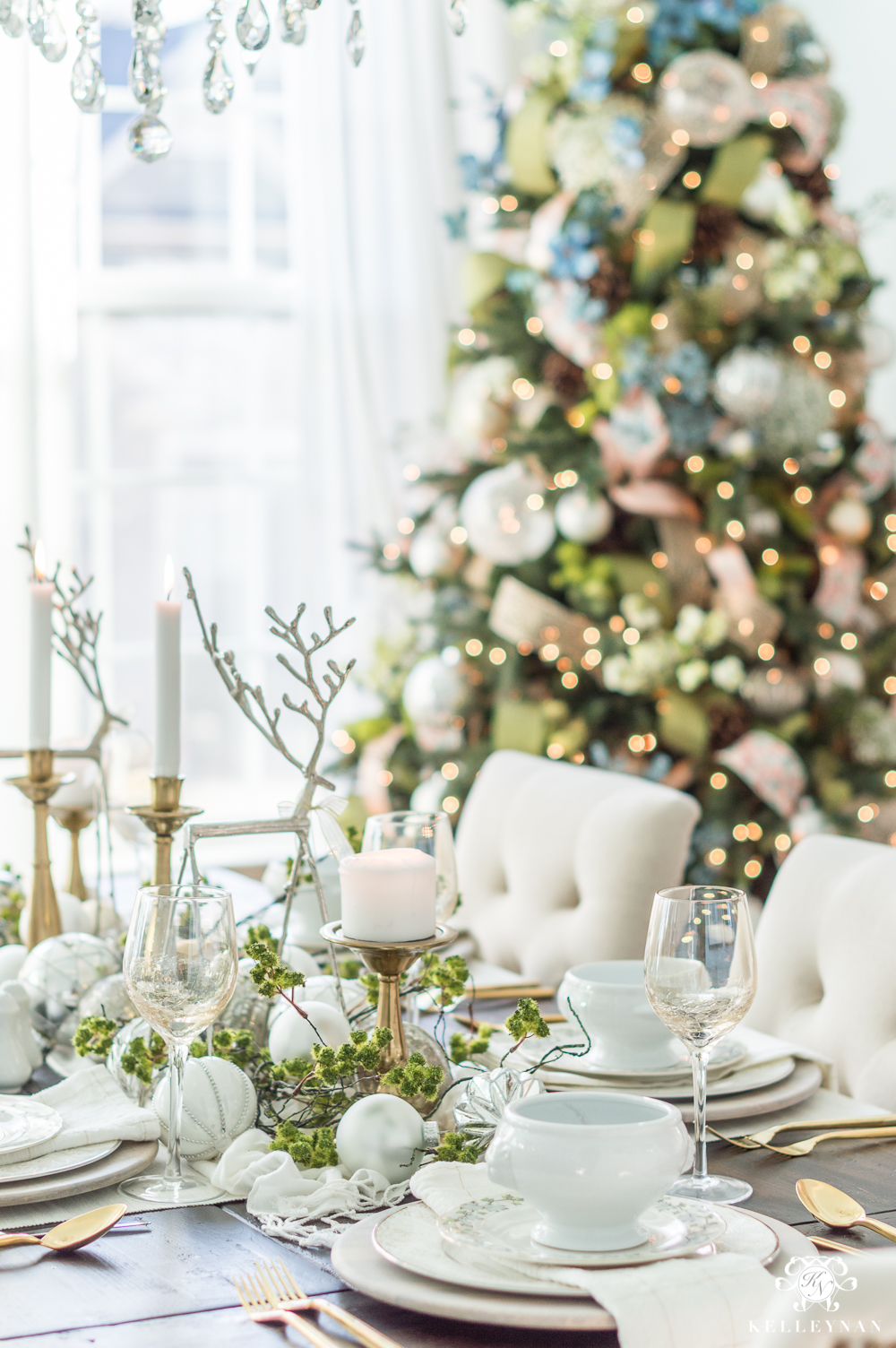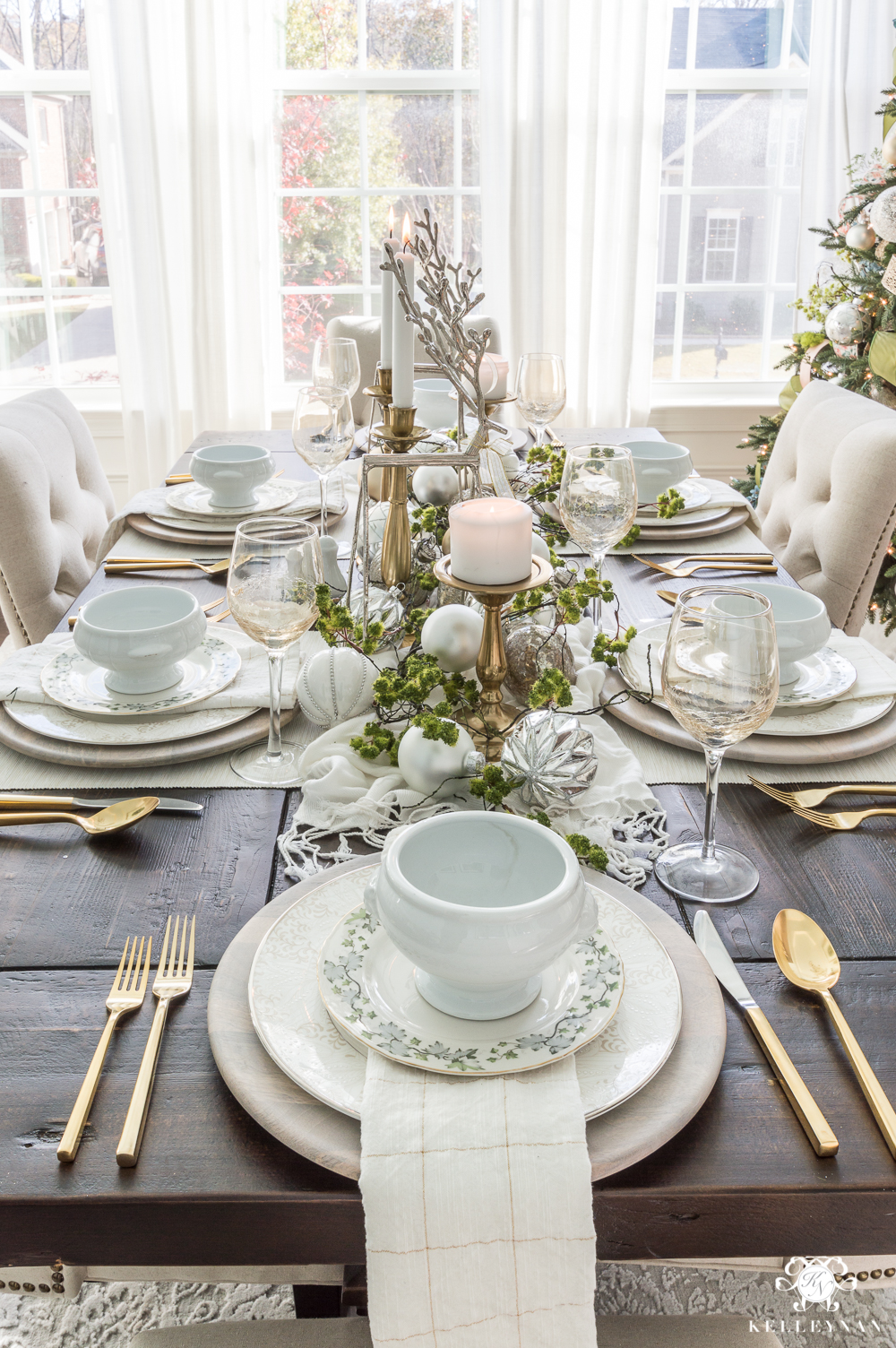 ---
Scroll & Tap to Get the Look

---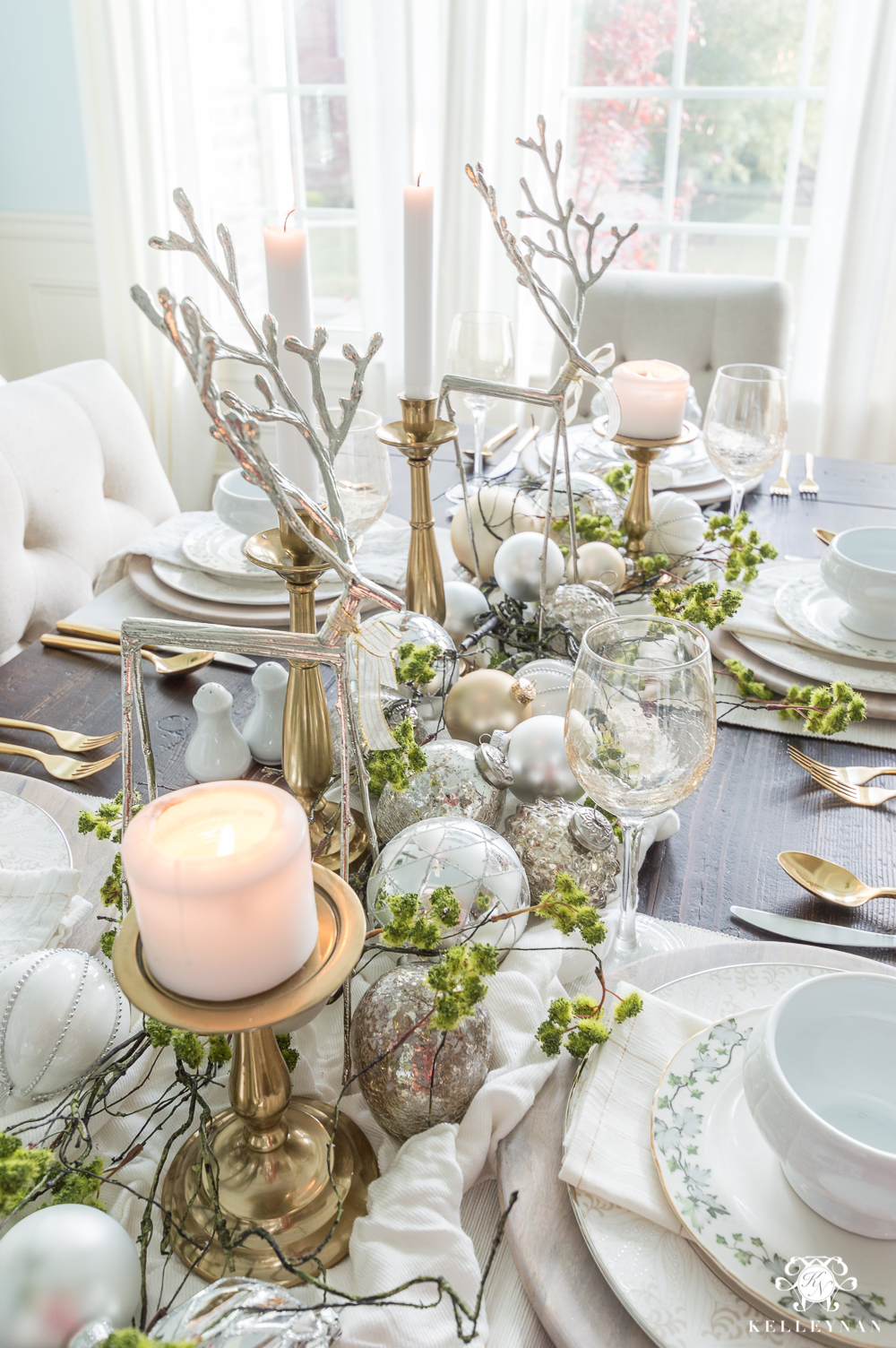 If you're stumped on how to pull a holiday table together and don't want to take the time to mess with flowers, go to your closet and pull out a scarf and use leftover balls or borrow some from the back of your tree and position them down the table.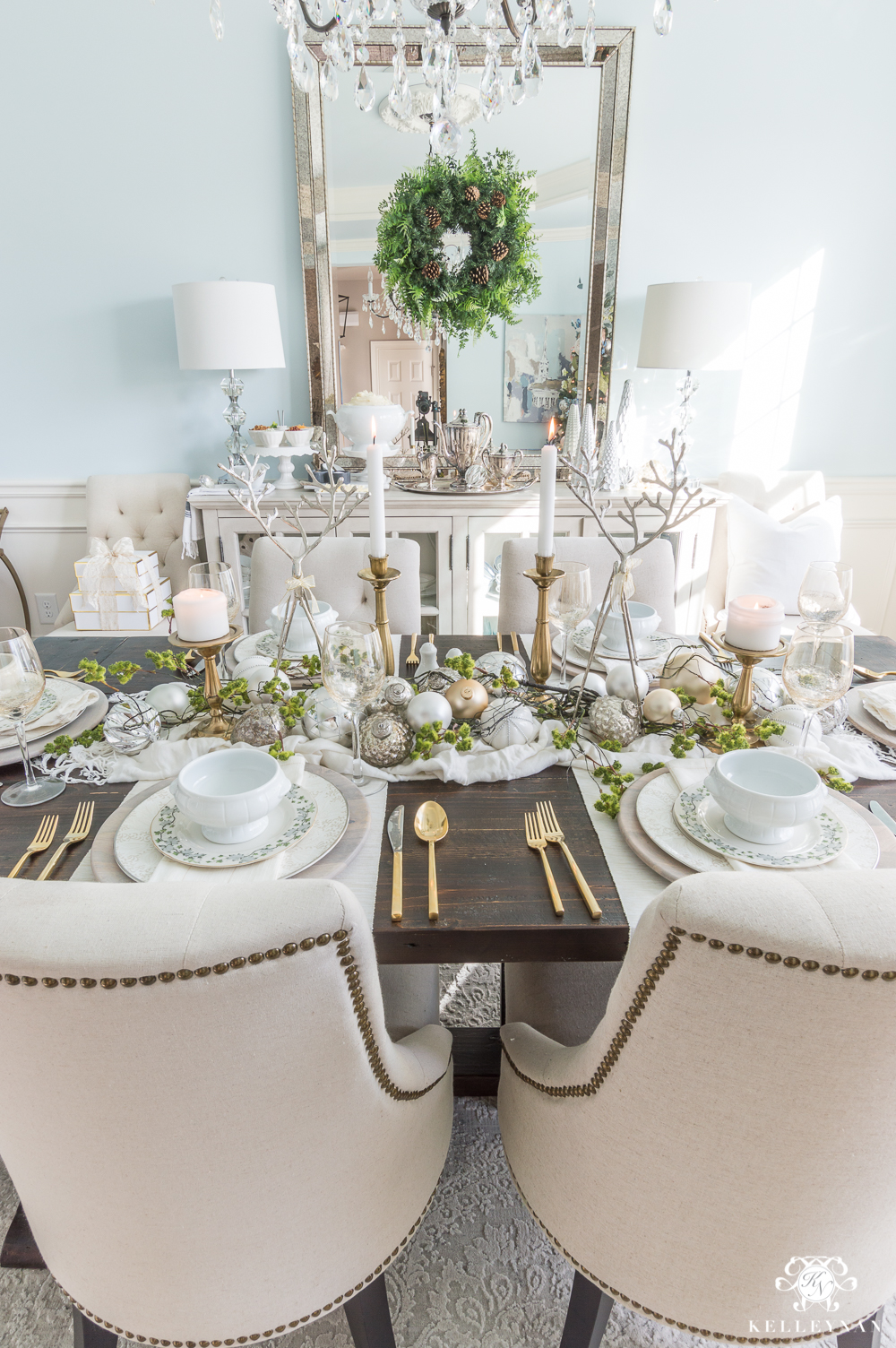 Of course, there's no easier time to mix those metals than during the holidays when everything is bright and shiny. If you've been hesitant before, try it this season with all the pretty metallics.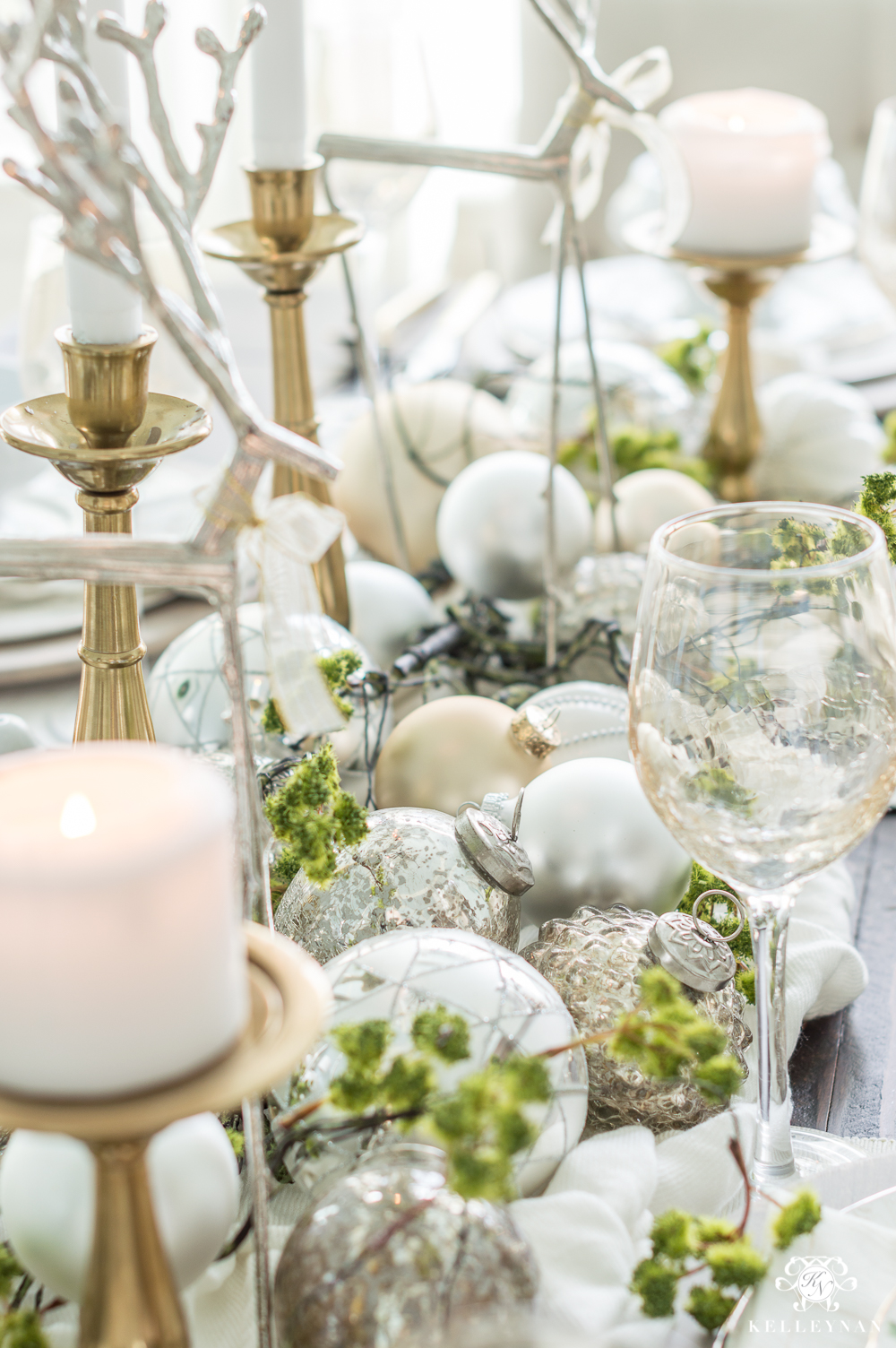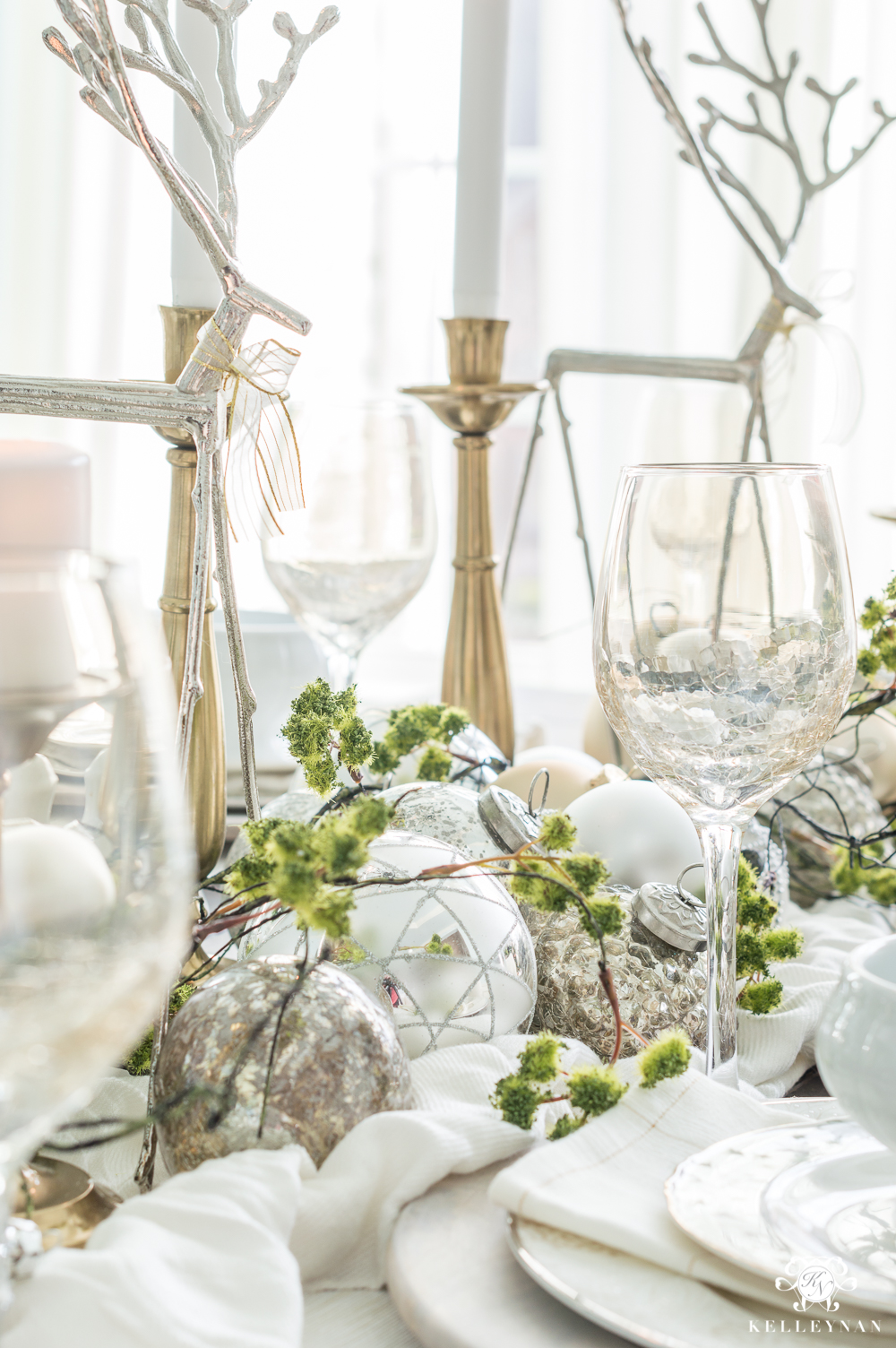 I picked up these footed soup bowls at a shop in south Alabama but found there fraternal brothers HERE.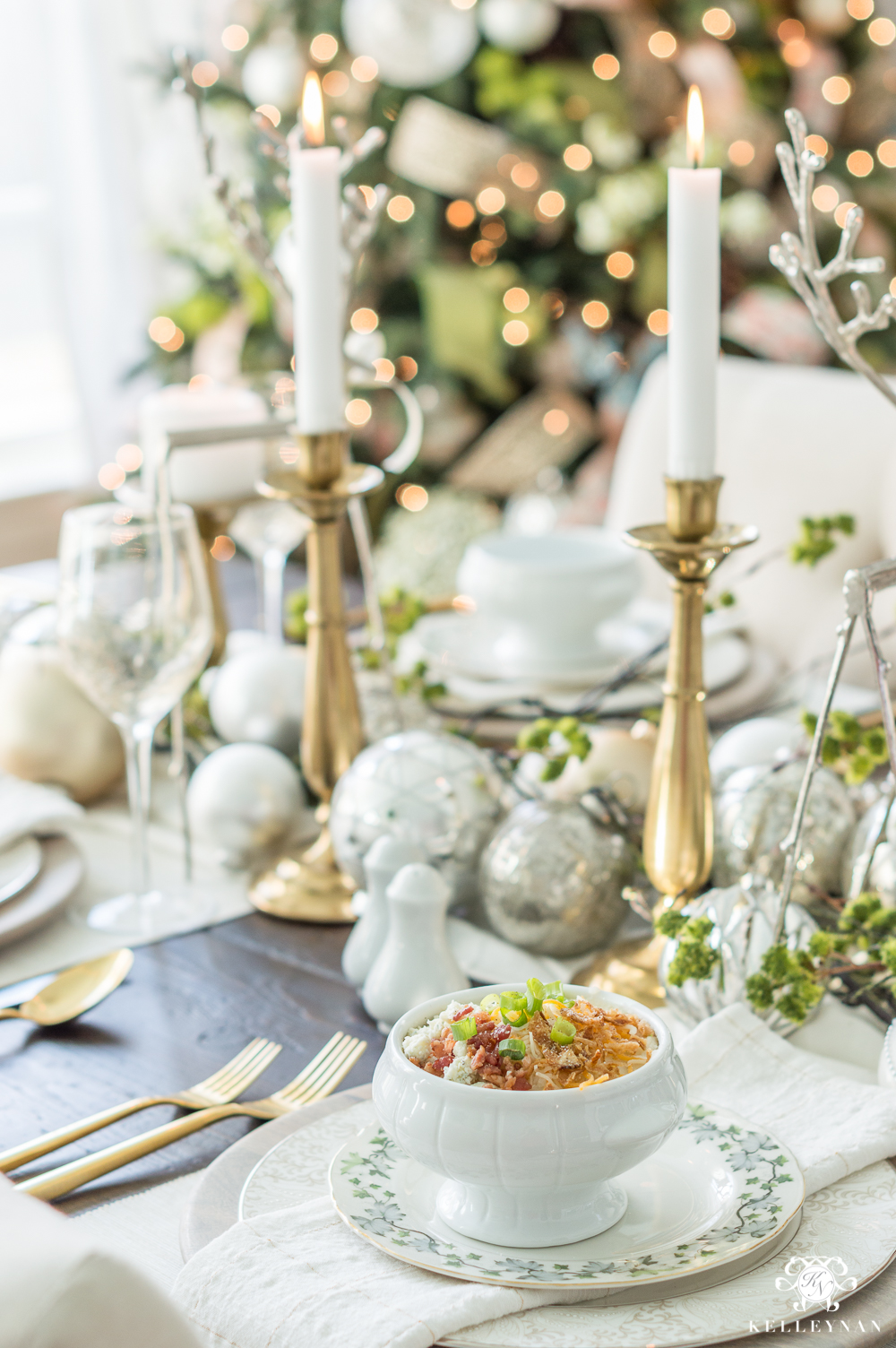 See? KFC mashed potatoes can be the perfect holiday stunner- it's all how you dress them 😉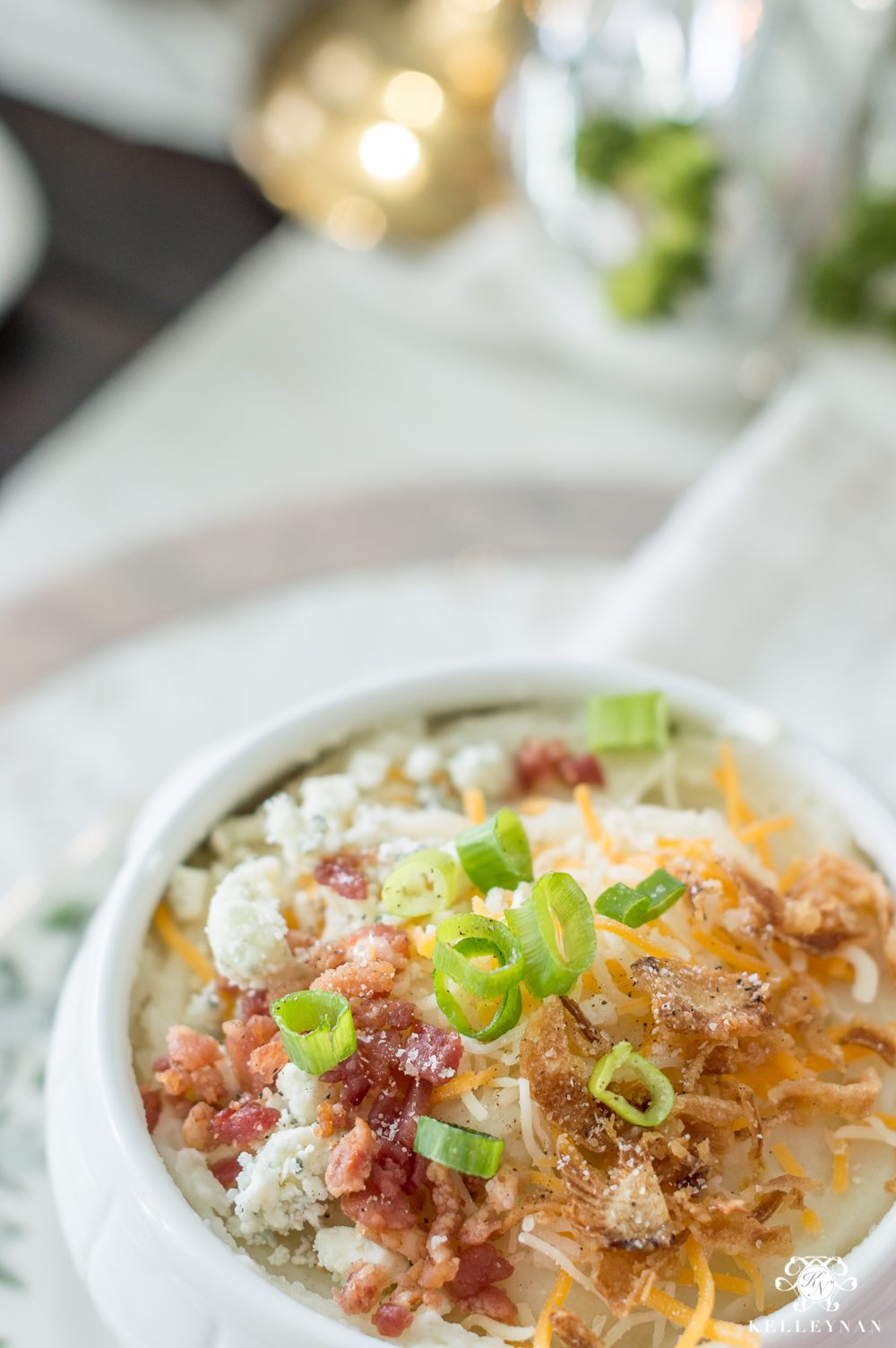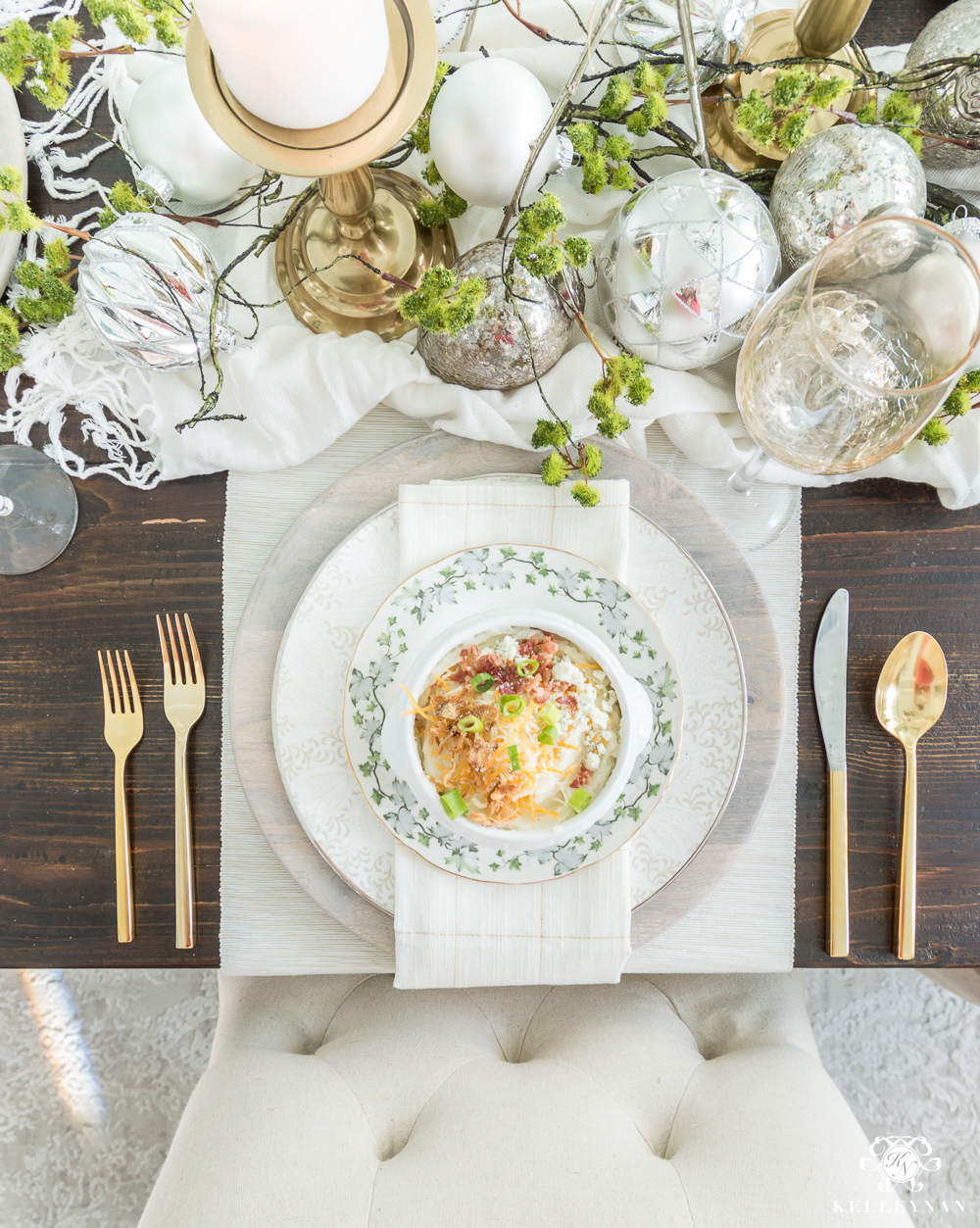 Soup Bowls (similar) | Dinner Plate China | Driftwood Chargers | Crackle Wine Glasses |  Gold Flatware | Neutral Table Runners | Napkins
PSA- those pretty little driftwood chargers? They've become my go-to for almost each place setting. Today only, they are 50% off! I think I got them when they were about $30/pair; I believe the price dropped to $20/pair, and TODAY ONLY, they are listed for $9.98/pair! You can find them HERE.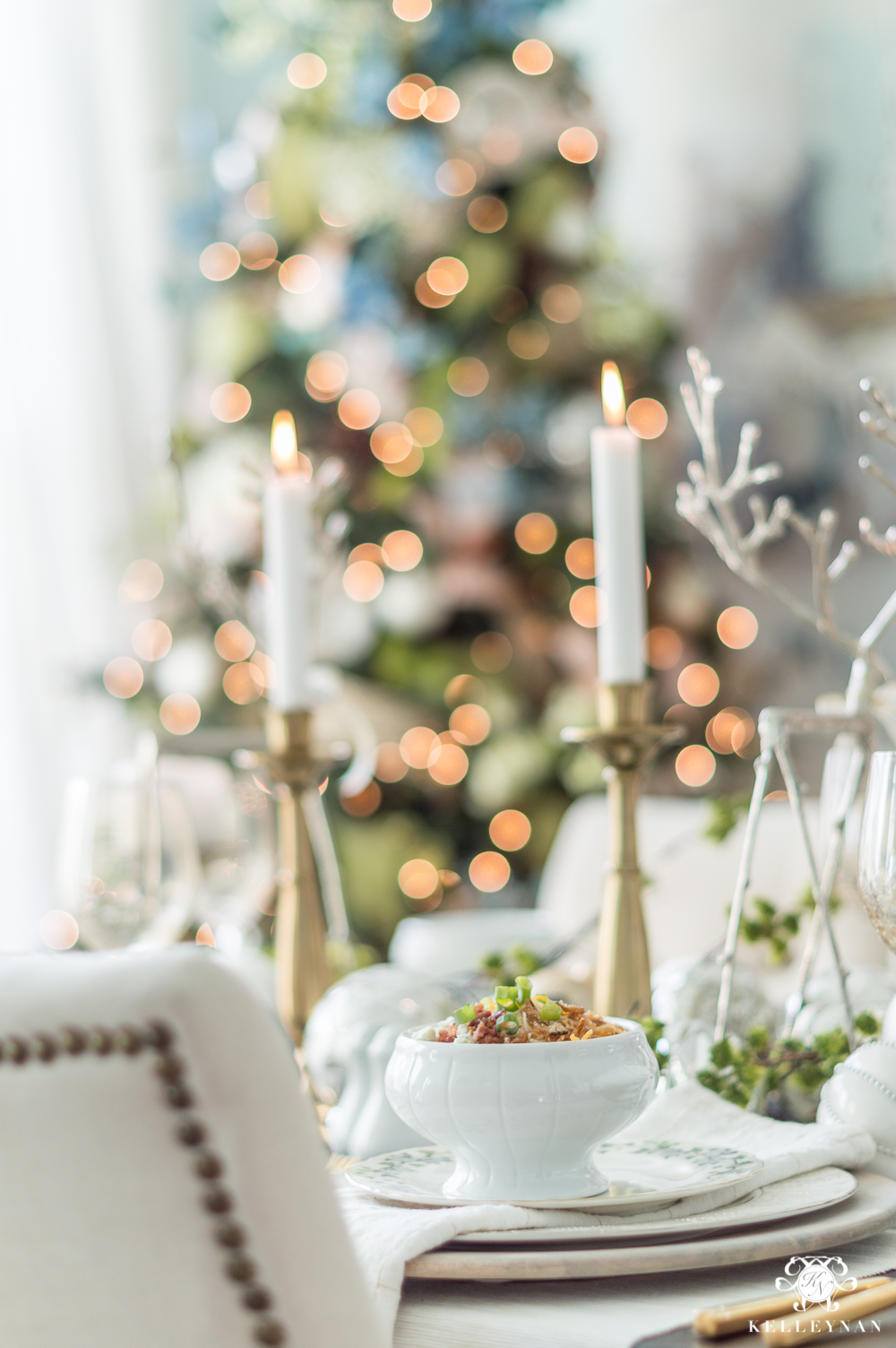 Do you have any easy holiday meal fake-outs or short cuts? Let me know in the comment section. Next, head over to my Layla of The Lettered Cottage; I've been dying to see more of these gorgeous cranberry orange cups, because well, take a peek!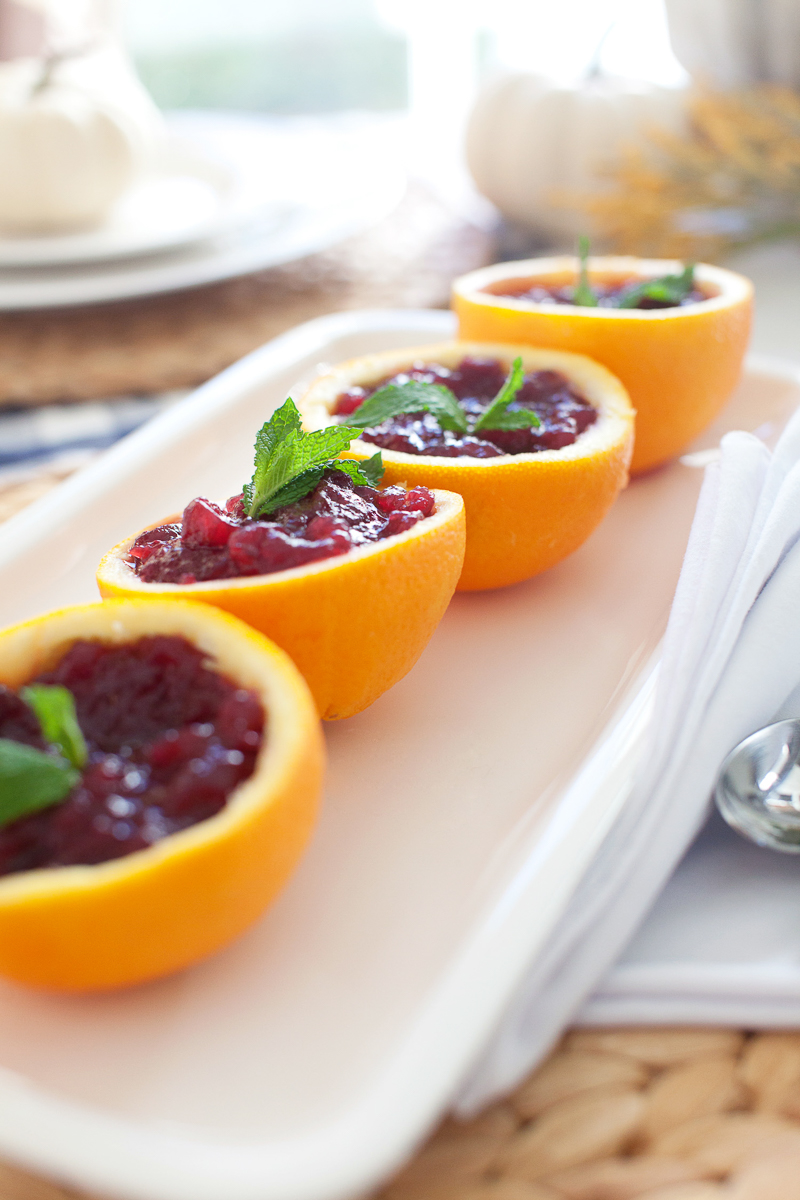 You won't want to miss any of the other inspiration or time saving ideas, either! Make sure to pay each of these talents a visit for lots more, just in time for your holiday dinners.
The Lettered Cottage
Driven by Decor
ZDesign at Home
Thistlewood Farms
Sunny Side Up 
To catch all the holiday goodies launching soon, you can subscribe to receive email updates at the bottom of this post.

Soup Tureen | Mini Latte Bowls | Soup Bowls (similar) | Dinner Plate China | Driftwood Chargers | Crackle Wine Glasses | Tapered Candle Holders | Pillar Candle Holders | Gold Flatware | Neutral Table Runners | Napkins | Ivy Salad Plates- vintage |  Christmas Tree | Silver Reindeer | Dining Chairs – Linen | Napkins  | Bar Cart | 12-Light Chandelier
 | Mirror: Homegoods – (SIMILAR) | Dining Table:  (84″ in Salvaged Brown) | Buffet: (72″ in Distressed White) | Curtain Panels
: (98″ in White) | Rug: HomeGoods- Safavieh | Lamps: HomeGoods – (SIMILAR) | Ivy China – vintage | Silver Tea Service: Family Heirloom –  | Church Painting | Water Lillies Art | Paint: Lauren's Surprise by Sherwin Williams | Flooring: Nottaway Hickory in Weathered Saddle