Welcome to what is the closest I will get to a fall home tour this year! 😉 My goal for 2020, moving into my favorite season of the year, was to achieve something fresh with minimal effort (read: no box hauling or major decor overhaul), while still upping the cozy factor in our home. In the last year or so, I've put more emphasis on making some of my everyday decor more seasonal — some of the pieces I've acquired, I've grown too fond of to house them in storage and I find myself using more and more pieces year-round. The key isn't in going crazy on switching everything in the house, but in making tweaks to my favorite pieces throughout. That being said, I still treat myself to a few new things for the season — many appropriate for year-round display — but if it's something I love that's versatile, it's worth it. Enough rambling! I'll go ahead and get on with how I got our home ready this year, in less than an afternoon.
*Posts on KelleyNan.com may contain affiliate links. Click HERE for full disclosure.
*Sources are mentioned throughout and can be found collectively at the bottom of the post.
Fall Front Porch
About a month ago, I shared a post of some of my favorite fall wreaths for 2020 (HERE), along with a peek of the wreath I had ordered for myself. I usually concept my entire porch and color scheme around my front door wreath for the year; this year's wreath — varying shades of green with orange (HERE) — lent itself perfectly to a classic, orange pumpkin harvest.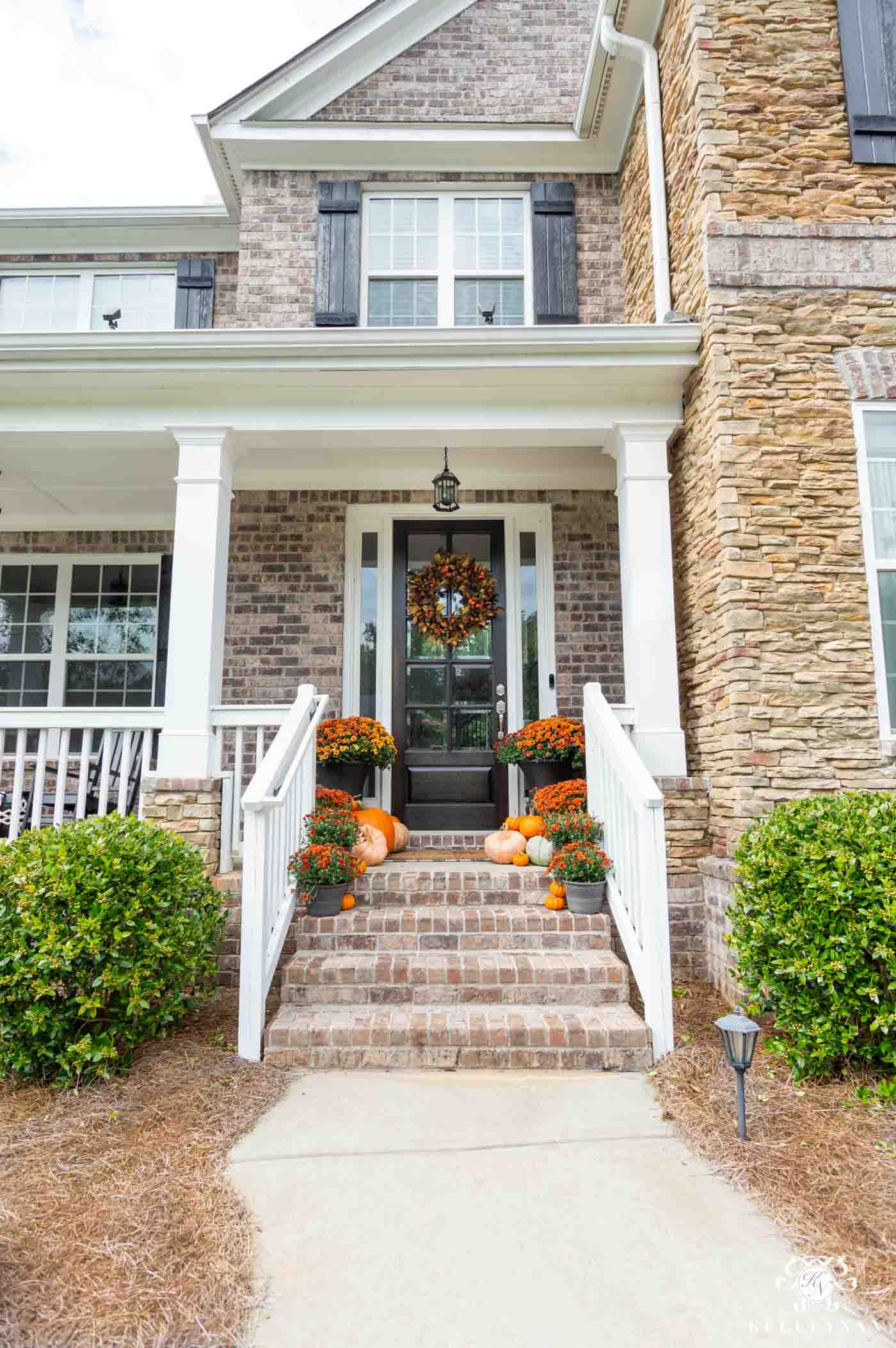 Sources: Fall Wreath (26″) | Doormat | Black & White Layering Rug (under mat) | Urns (similar)
Dave's one request for this year's porch was to go a little easier on the stairs. While the pumpkin/mum setup is similar to past years, I concentrated the bounty more towards the door and top of the steps. I went with one single shade of orange for the mums — in a couple different sizes — and stuck to all orange pumpkins (some classic, some Cinderella style) with a couple green mixed in.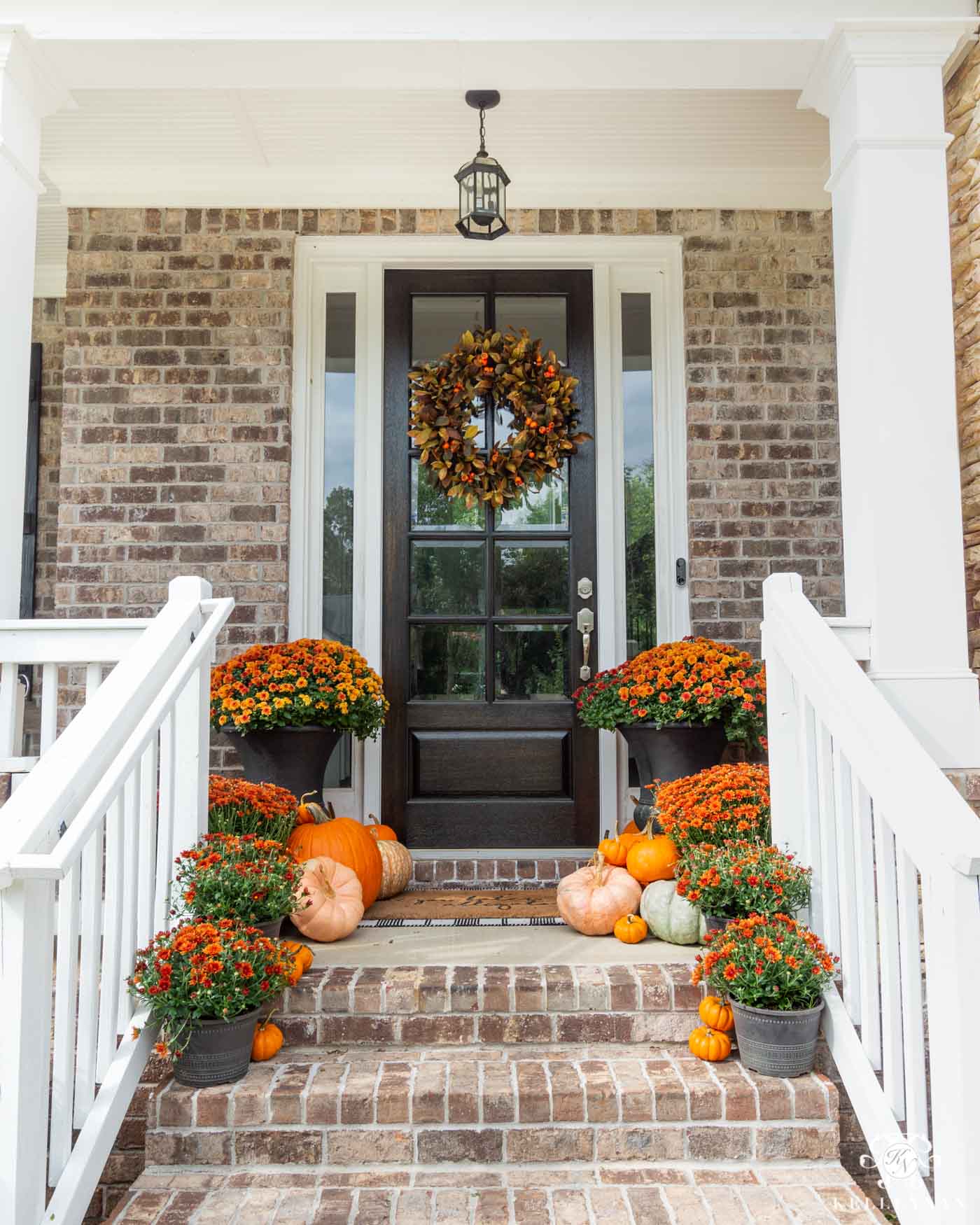 Here's a close-up of that wreath. It is such incredible quality and is full and stunning in person. It's available in several size options but mine is the 26″. I often get questions about how I secure my wreath since it has so many glass panes — while my door has a dark brown stain, I use a simple metal wreath hanger. It goes down the center pane divider totally discreetly.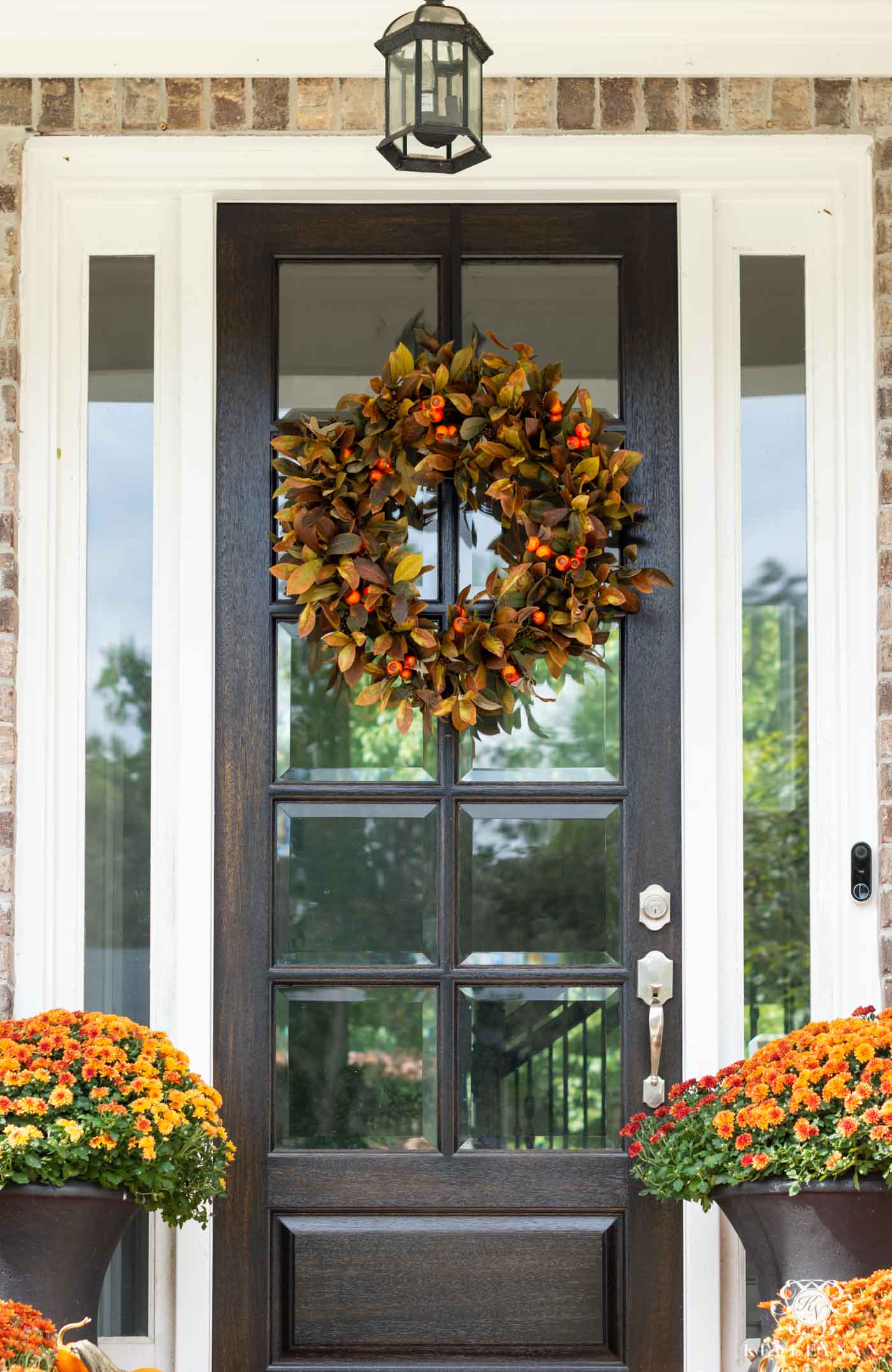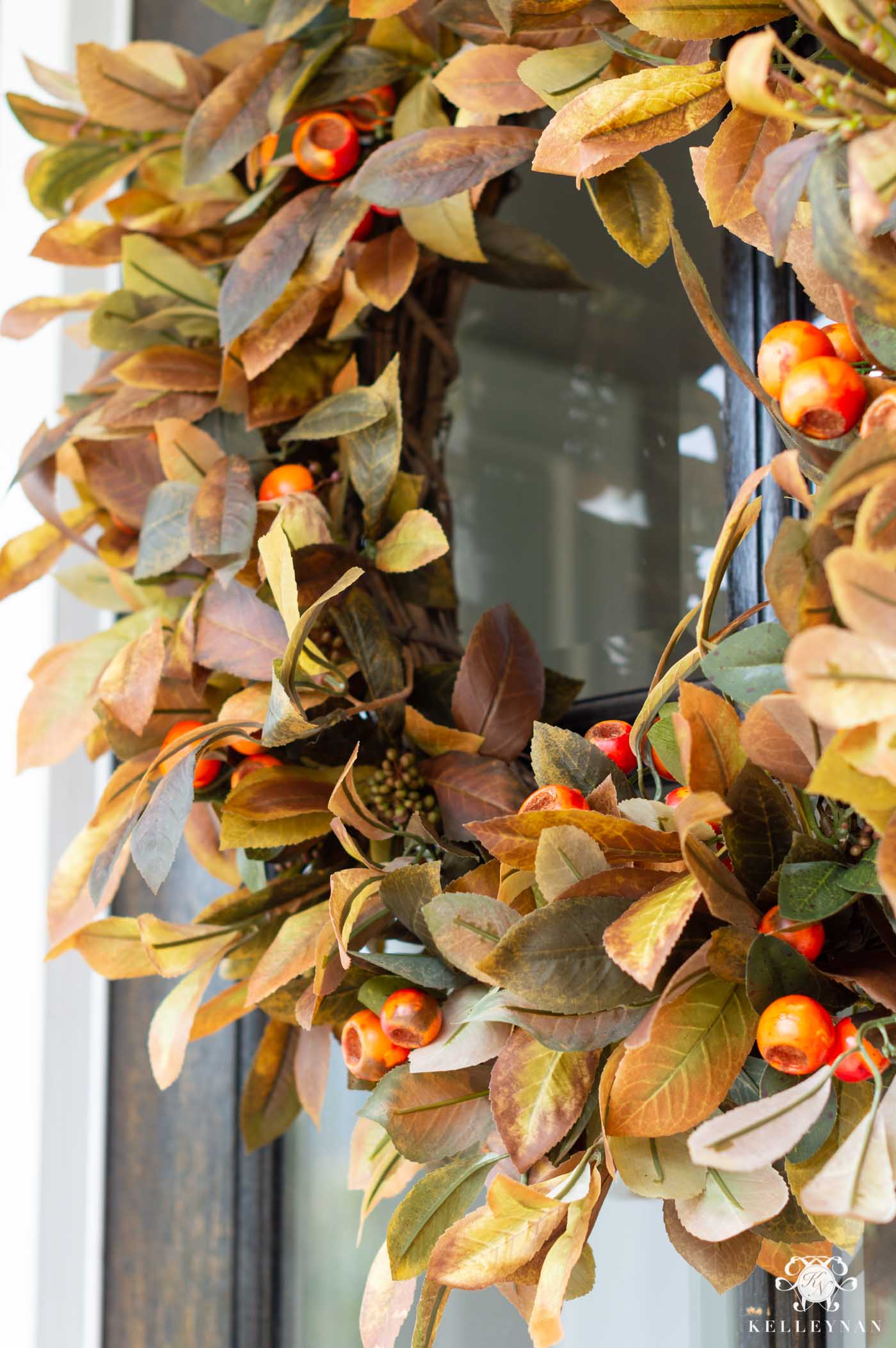 Source: Wreath
My formula for pumpkins is… well, I don't have one. When we go to the pumpkin farm, I have somewhat of an idea of colors; I try to go for two large classics, several mediums in different colors and shapes, and then go for the babies to fill in and stack. I get more than I think I need of the smaller sizes and put my emphasis on those.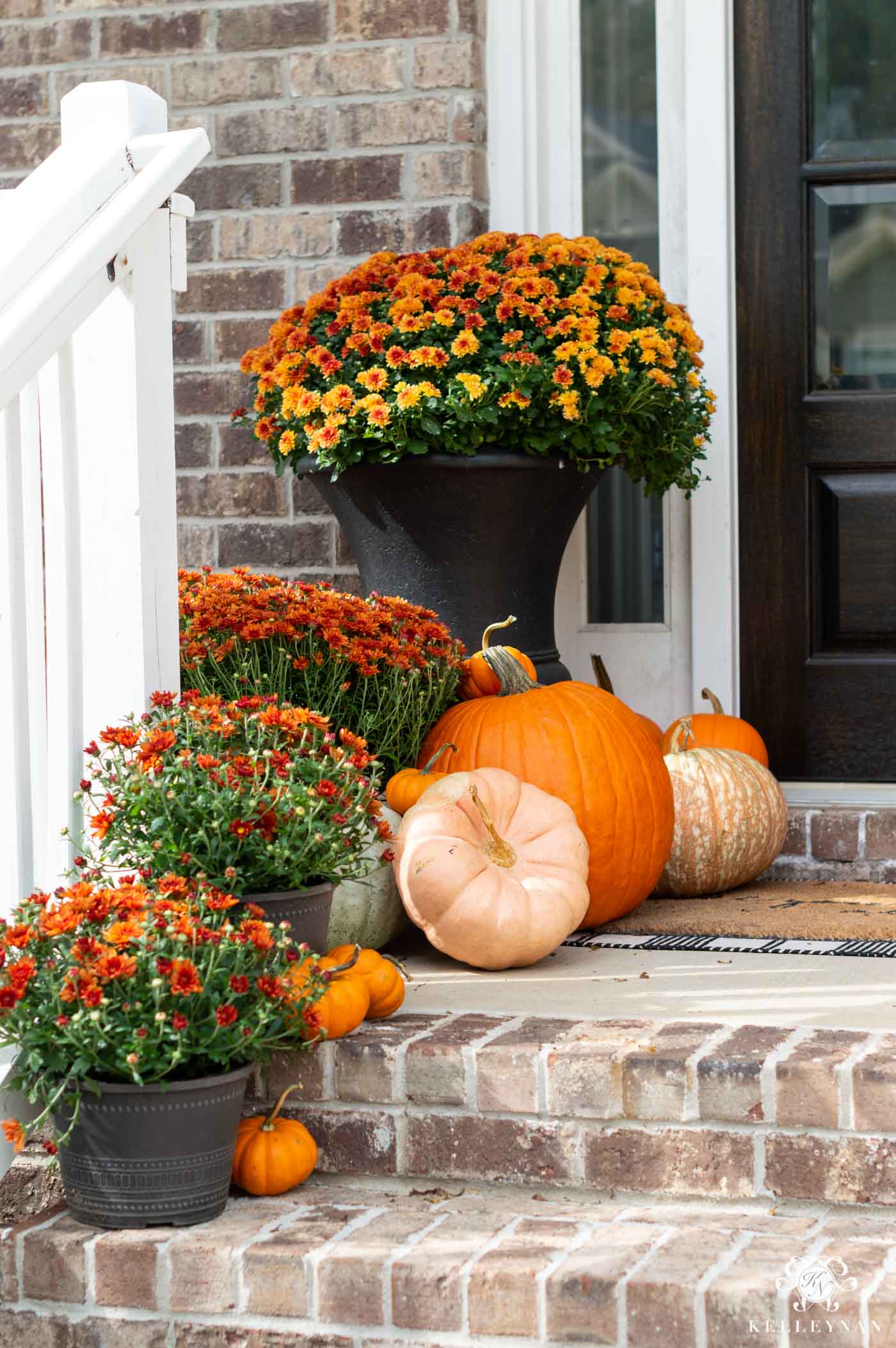 Last year, I carried the orange inside the house (you can see that HERE), but this year, I went a little more muted. And by "muted", I don't mean "white" ;).
Fall Kitchen Decor 
I am all about organic-looking materials with matte, rustic finishes and branches from foraging during fall. Early in the season, I shared a few early autumn arrangements that could be made without leaving the house (HERE), and I'm still using all the same methods now that the season is in full swing. The kitchen sees only a minimal transition with magnolia stems as a centerpiece on the island but the candles have been burning for weeks and we can't stop making all the bread! We can't get enough of the latest — zucchini bread, compliments of Gran Nan ;).
Along with all the fall B&BW fall scents, THIS is the spiced cider Capri Blue candle I shared this past month in my favorite kitchen accessories and gadgets post (HERE); it smells divine and adds just a little bit of sparkle in an otherwise matte vignette!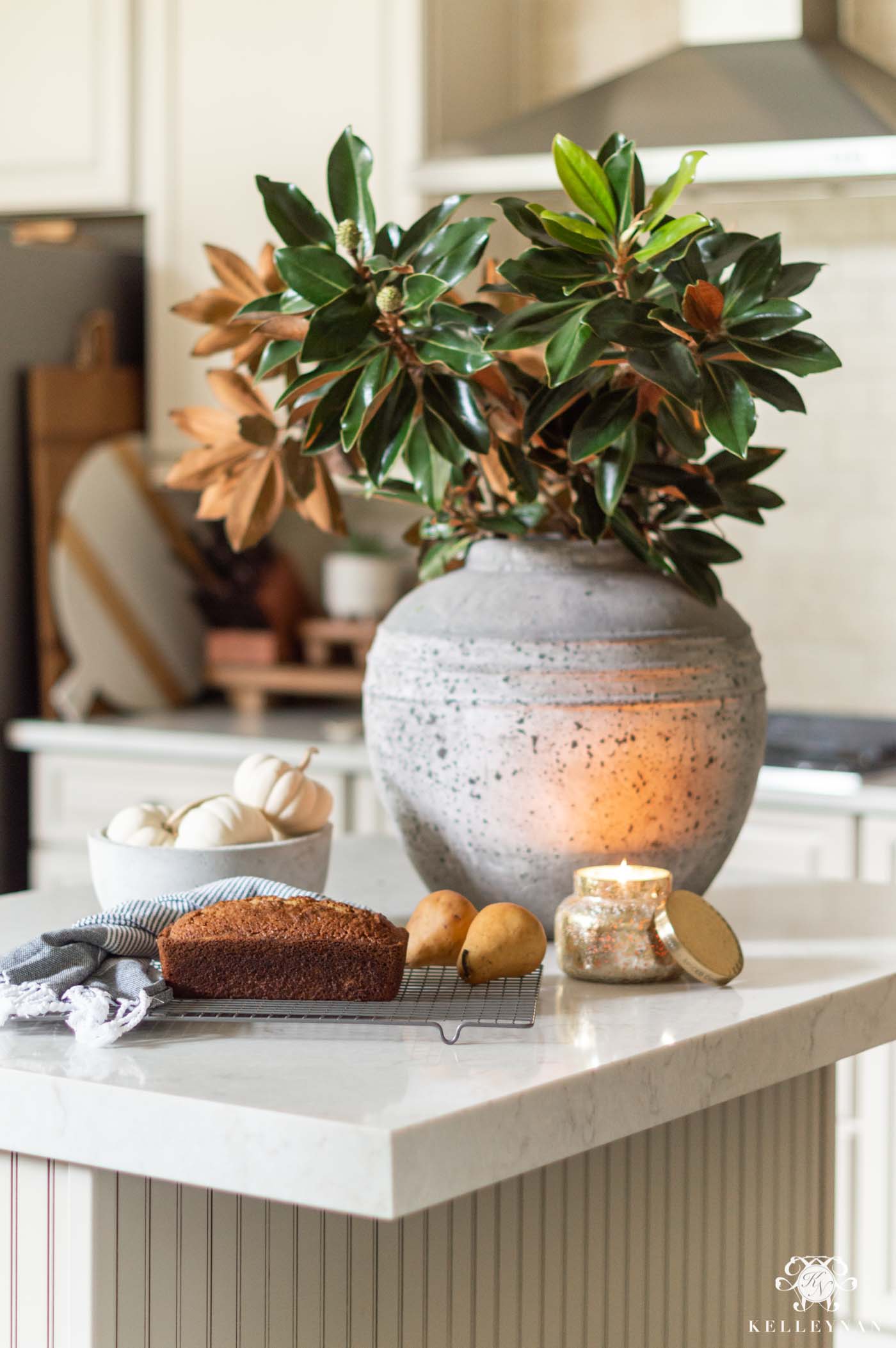 Sources: Vase | Cement Bowl (10″)| Spiced Cider Capri Blue Candle | Tasseled Turkish Hand Towel (only $4.50!)
I found this pretty cement bowl recently from a small shop on Etsy — it comes in several sizes and makes for a great centerpiece bowl for those fall fruits and veggies, from artichokes and pumpkins to apples and pears. I don't love putting things in my kitchen that aren't functional so pretty bowls that are decor statements are a must.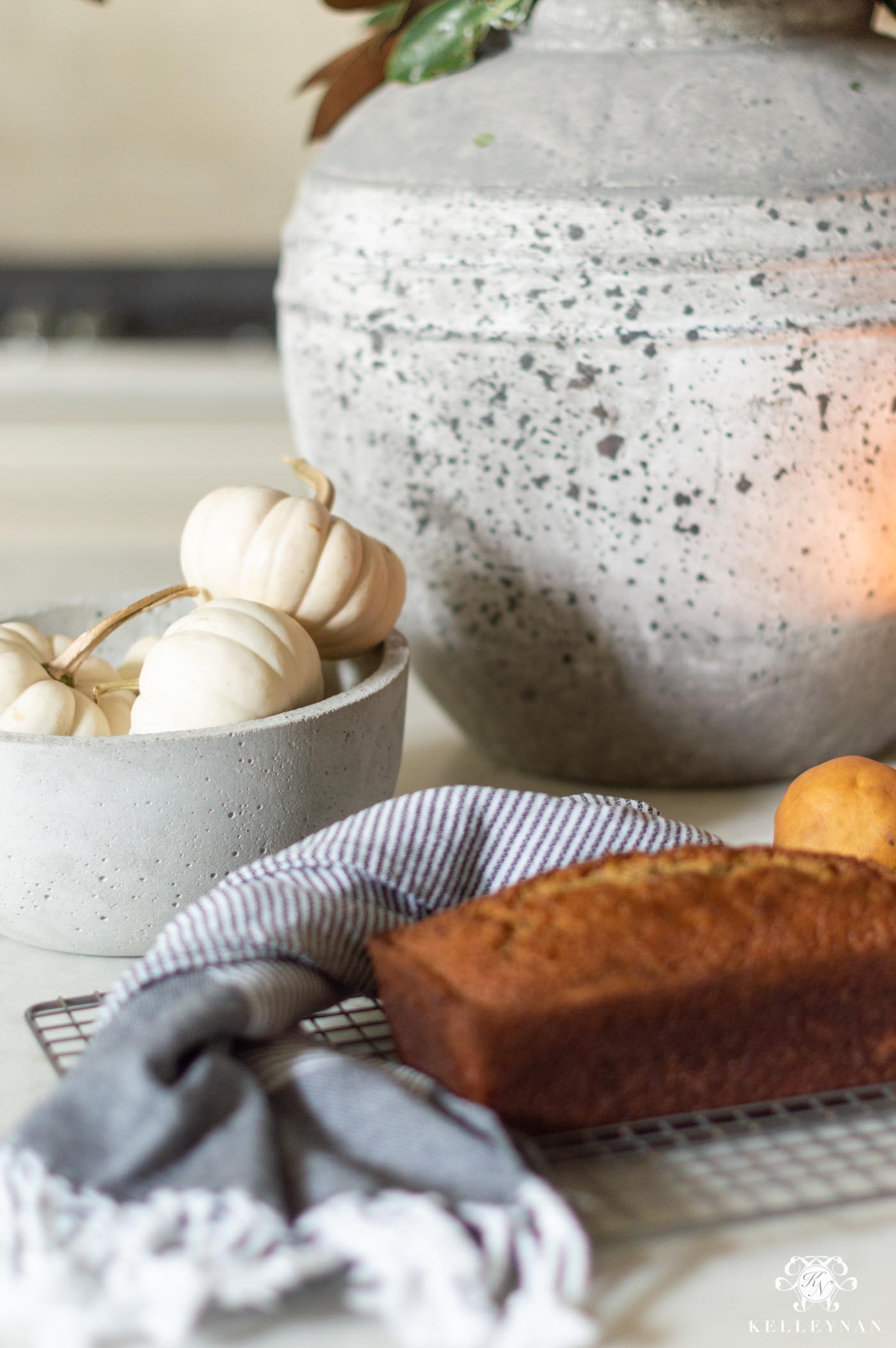 Fall Breakfast Nook Decor
Over in the breakfast nook, the additions were also minor. I switched my seasonal fruit in the pedestal bowl to these faux artichokes I found on Prime HERE, added a couple pumpkins from the farm, and refreshed the tall pitcher with some live branches.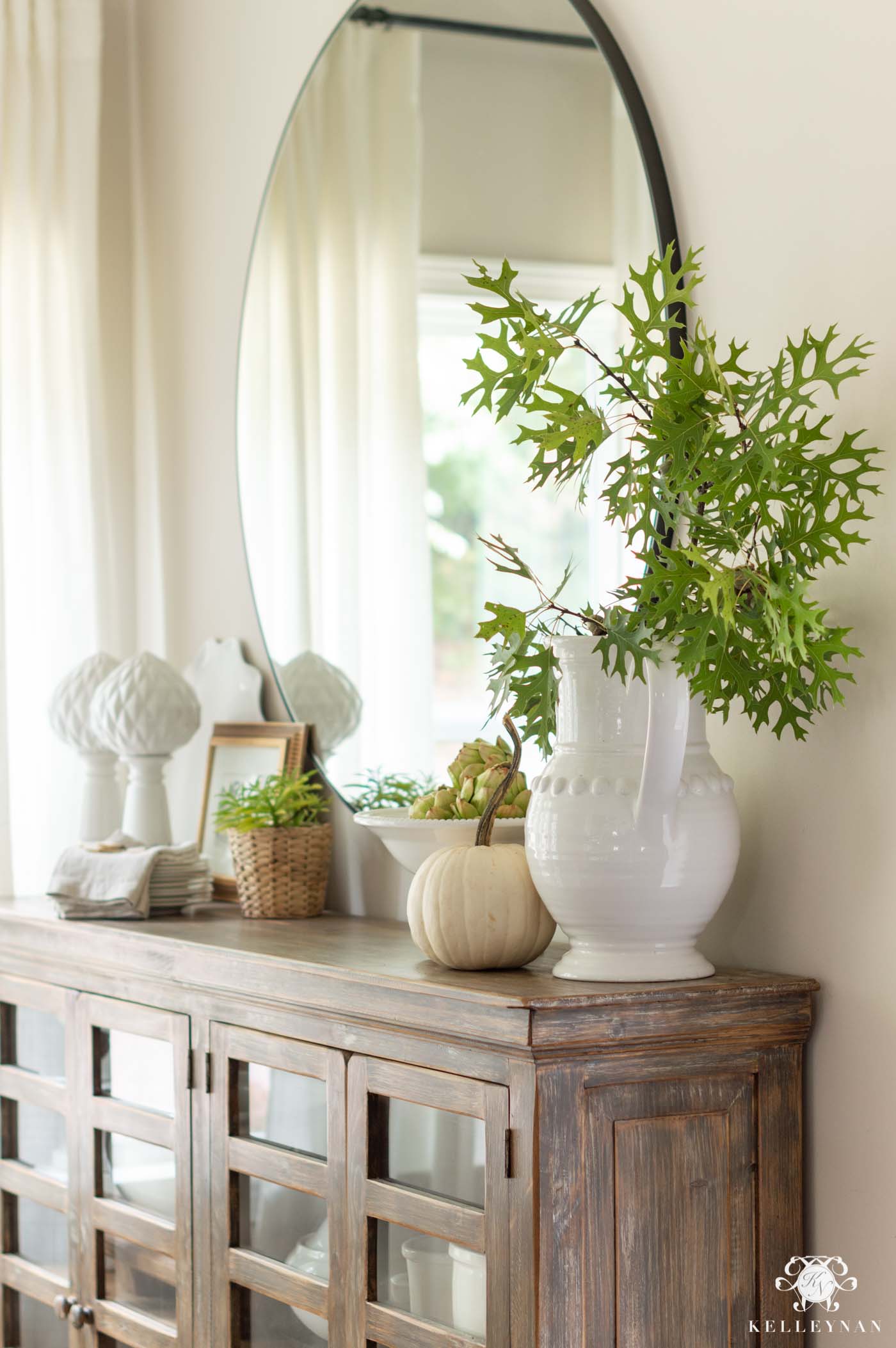 Sources: Artichokes (6-count in large) | Mirror (black 48″) | Linen Napkins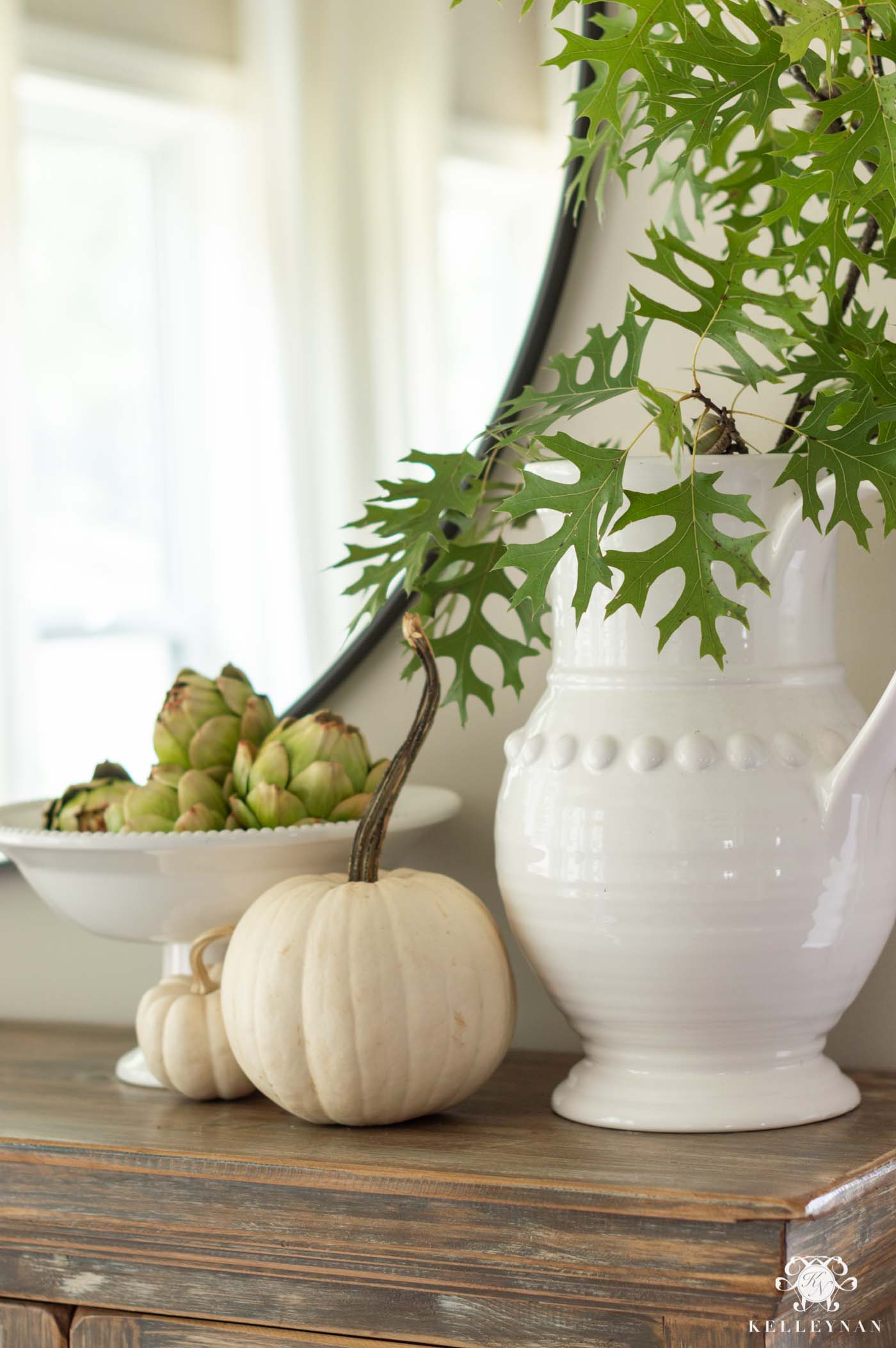 Fall Living Room Decor
Most of my effort — while minimal and subtle — was put into the center of our home. I've had navy pillows of some sort as the primary basis for our color scheme in the living room for going on (maybe?) two years. This season, I decided to make a few transitions to take it a little softer in sage green and cognac brown. Can you spy Eliza's little chair? 😉 It's been a permanent fixture in this room since Santa brought it this past Christmas.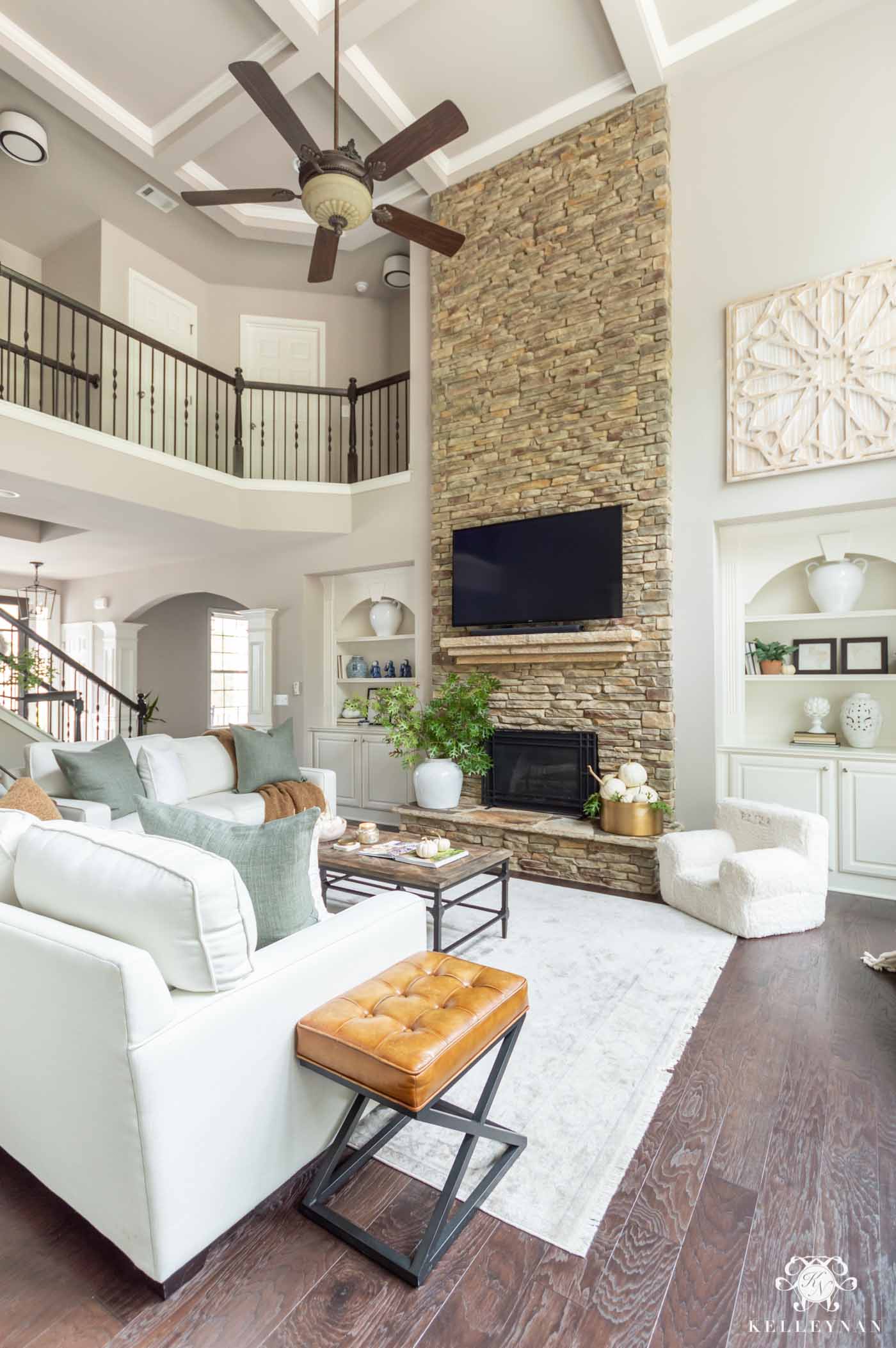 Sources: Sofa & Loveseat (Everyday Performance Linen Fabric in Ivory; square arm; upholstered) | Coffee Table | Rug | Sage Green Linen Pillows (24″) | Teddy Bear Throw Pillows (20″) | Teddy Bear Throw Blanket (largest size) | Leather Ottoman Stool | White Oversized Fireplace Vase | Brass Beverage Tub (holding pumpkins on hearth) | Child Sherpa Anywhere Chair | Fireplace Screen | White Ceramic Urn Vases on Bookshelves | Lidded Blue & White Ginger Jar | Large Wood Art
The big, 24″ sage green linen throw pillows are actually my second of this type — I first got them in blue a few years ago and have used them ever since. They look so nice, I didn't hesitate to purchase a new set in a new color. The brown teddy bear pillows were purchased after I purchased (and loved) the teddy bear throw blanket this past year.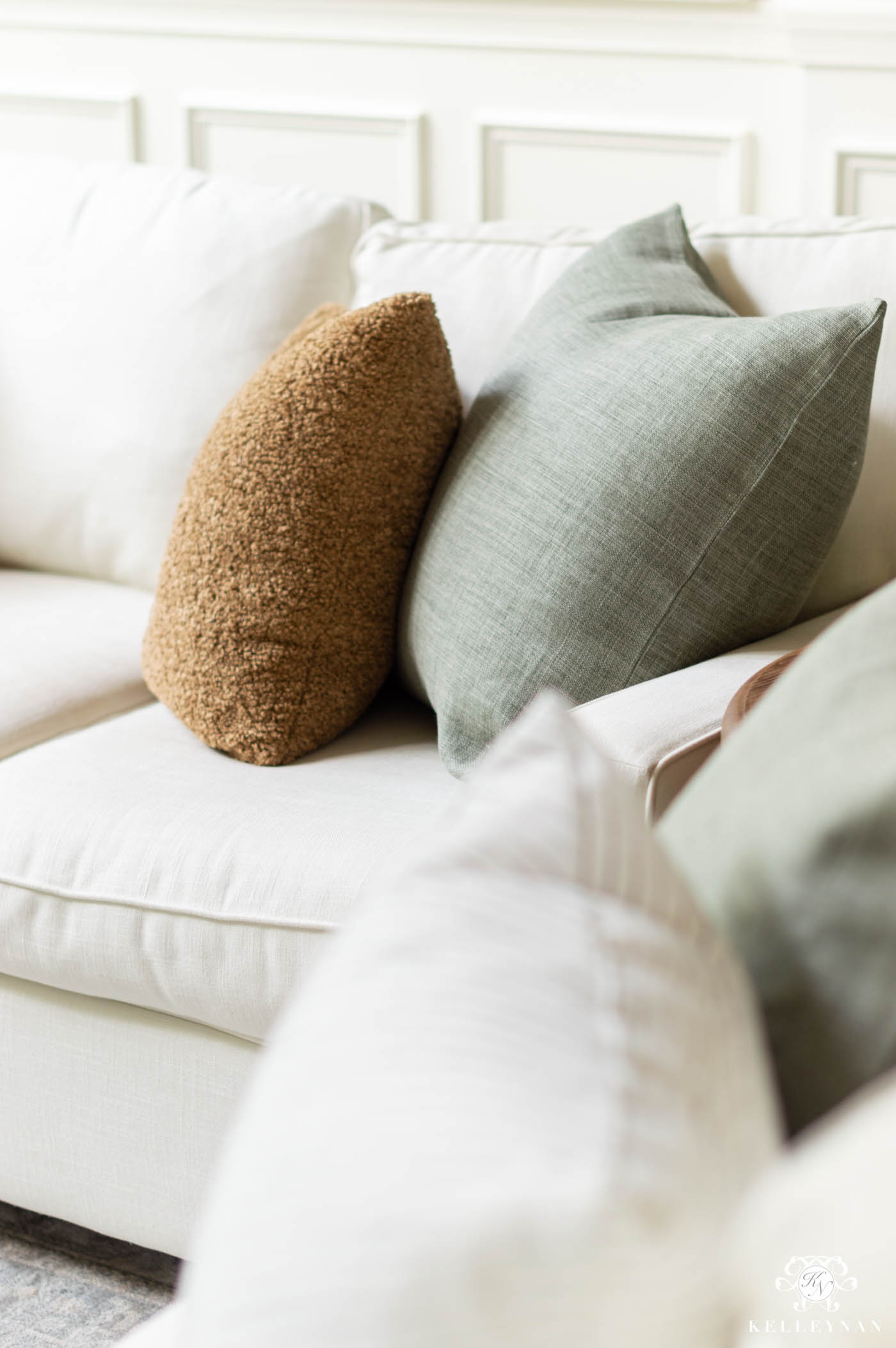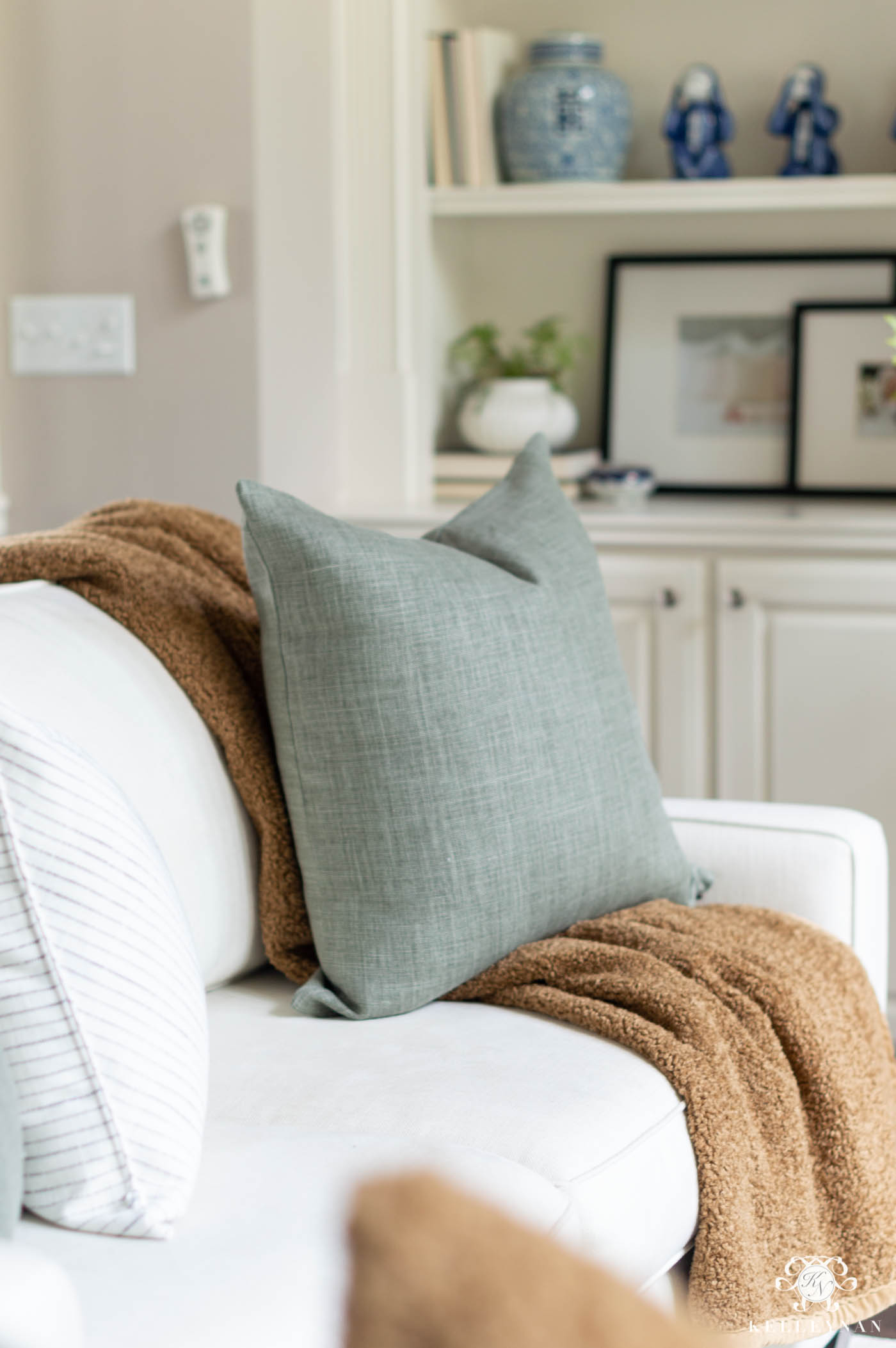 Sources: Sage Green Linen Pillows (24″) | Teddy Bear Throw Pillows (20″) | Teddy Bear Throw Blanket (largest size) | Black & White Pillows (20″)
Because I have virtually no mantel space, I typically try to do my fireplace decorating on the hearth. A few large "moments" tend to look more intentional and less cluttered than a whole array of odds and ends. On one side, I used my big white vase with big 'ol live limbs; on the other, I used my brass beverage tub to hold some white pumpkins from the farm. While our leaves are still in the early stages of turning, I used the still-green leaf colors to my benefit. With the sage green and cognac touches throughout the room, I'll be able to easily transition my limbs to more fall-ified branches later in the season, if I want.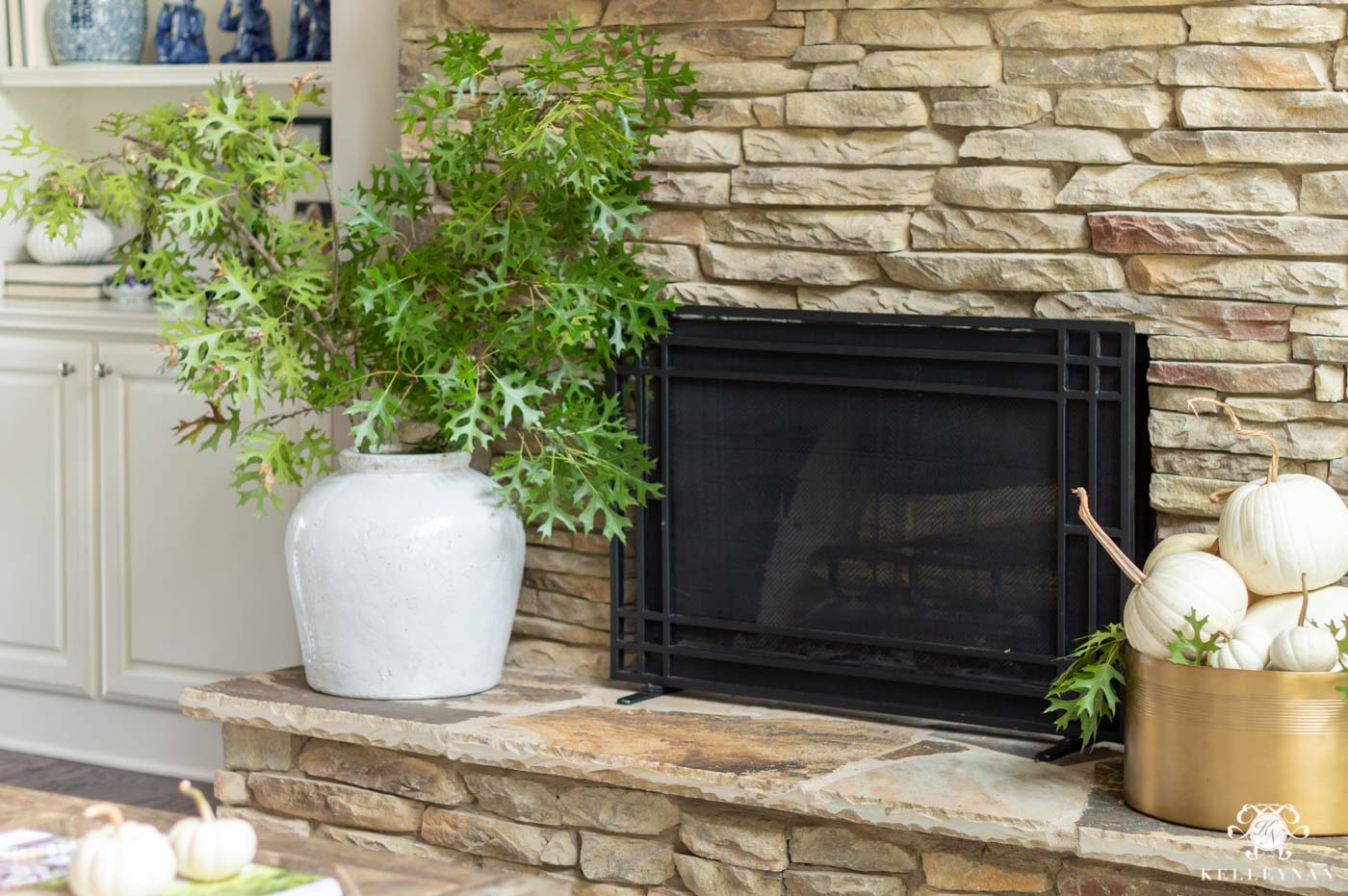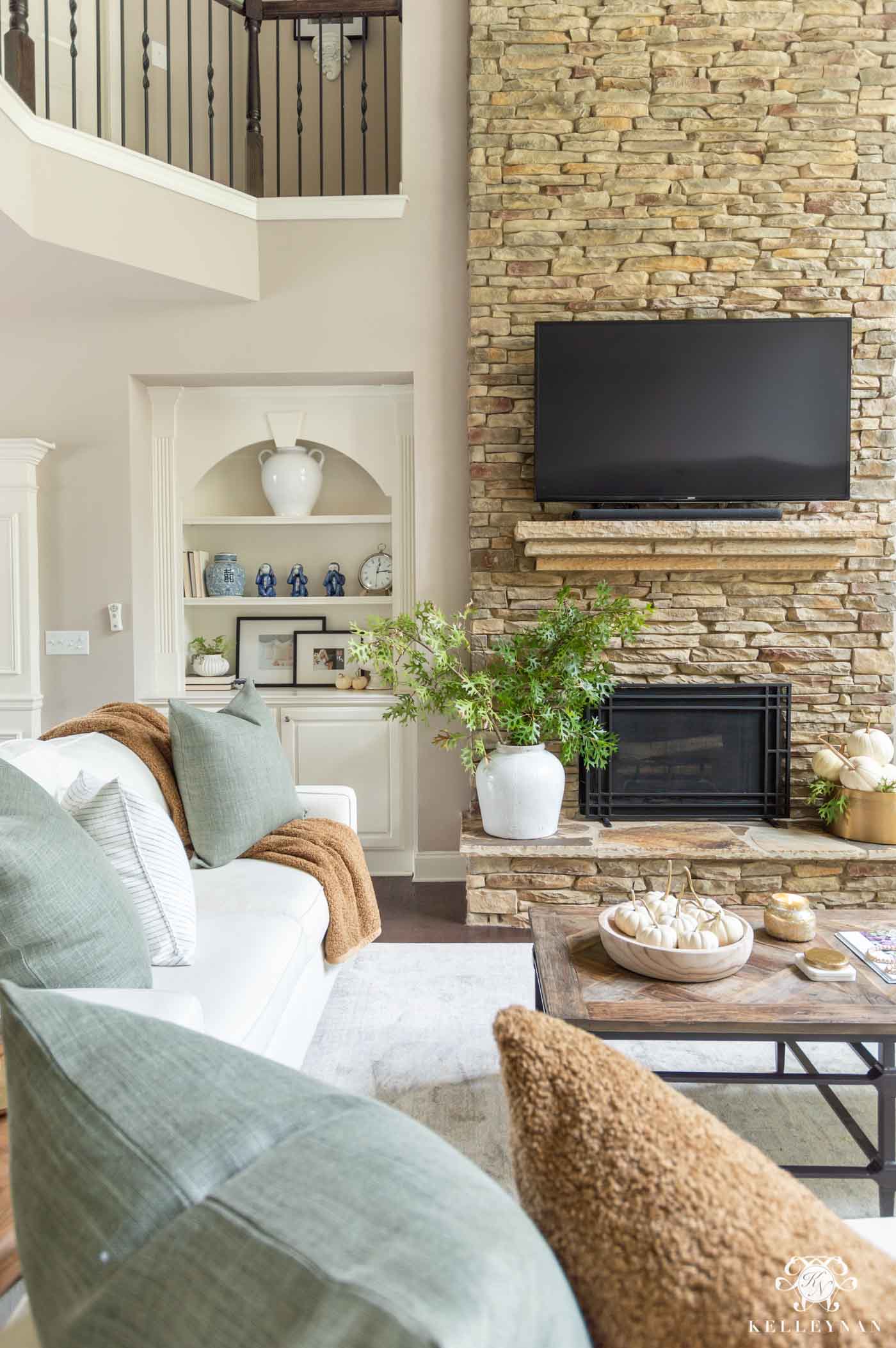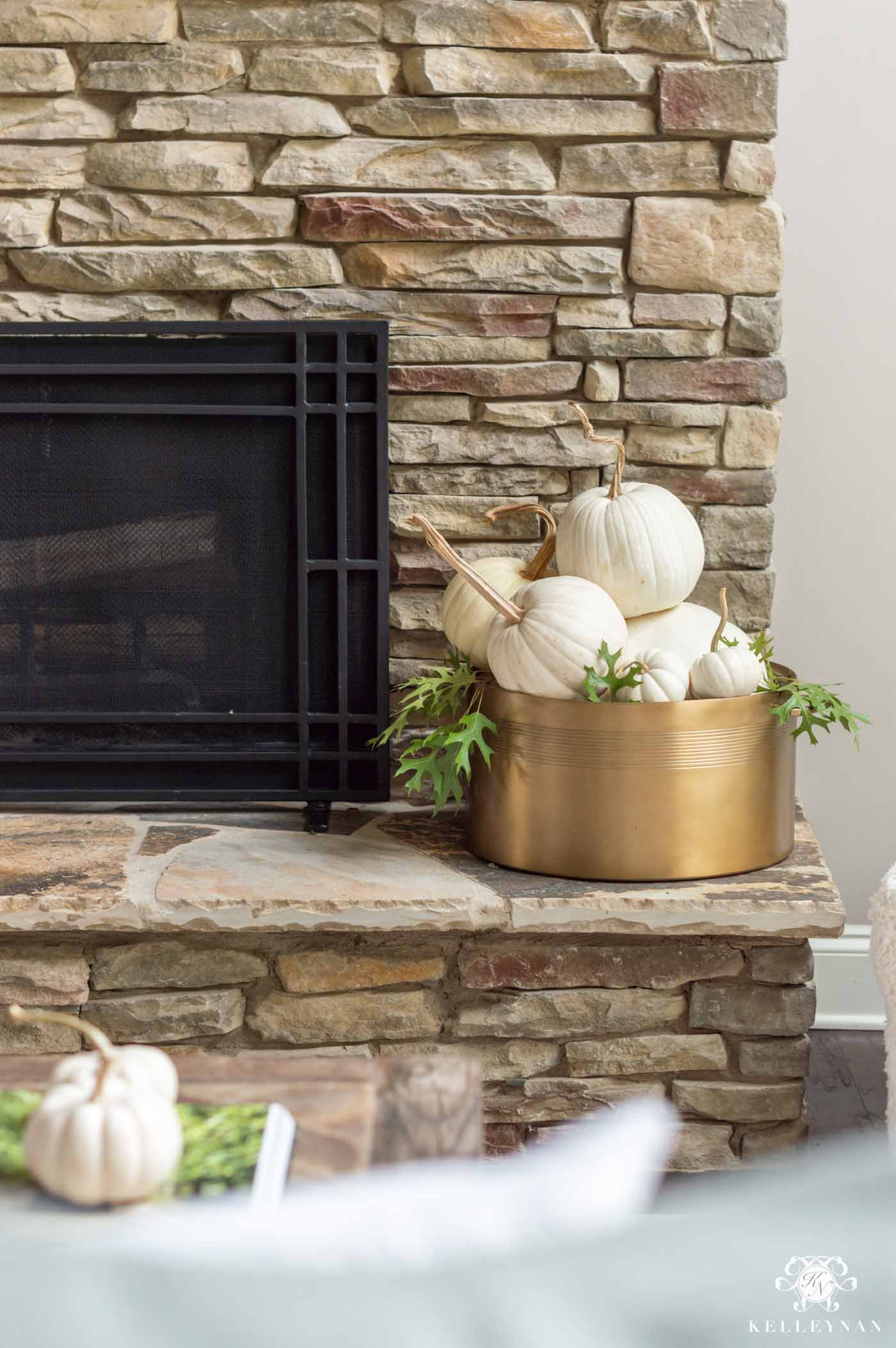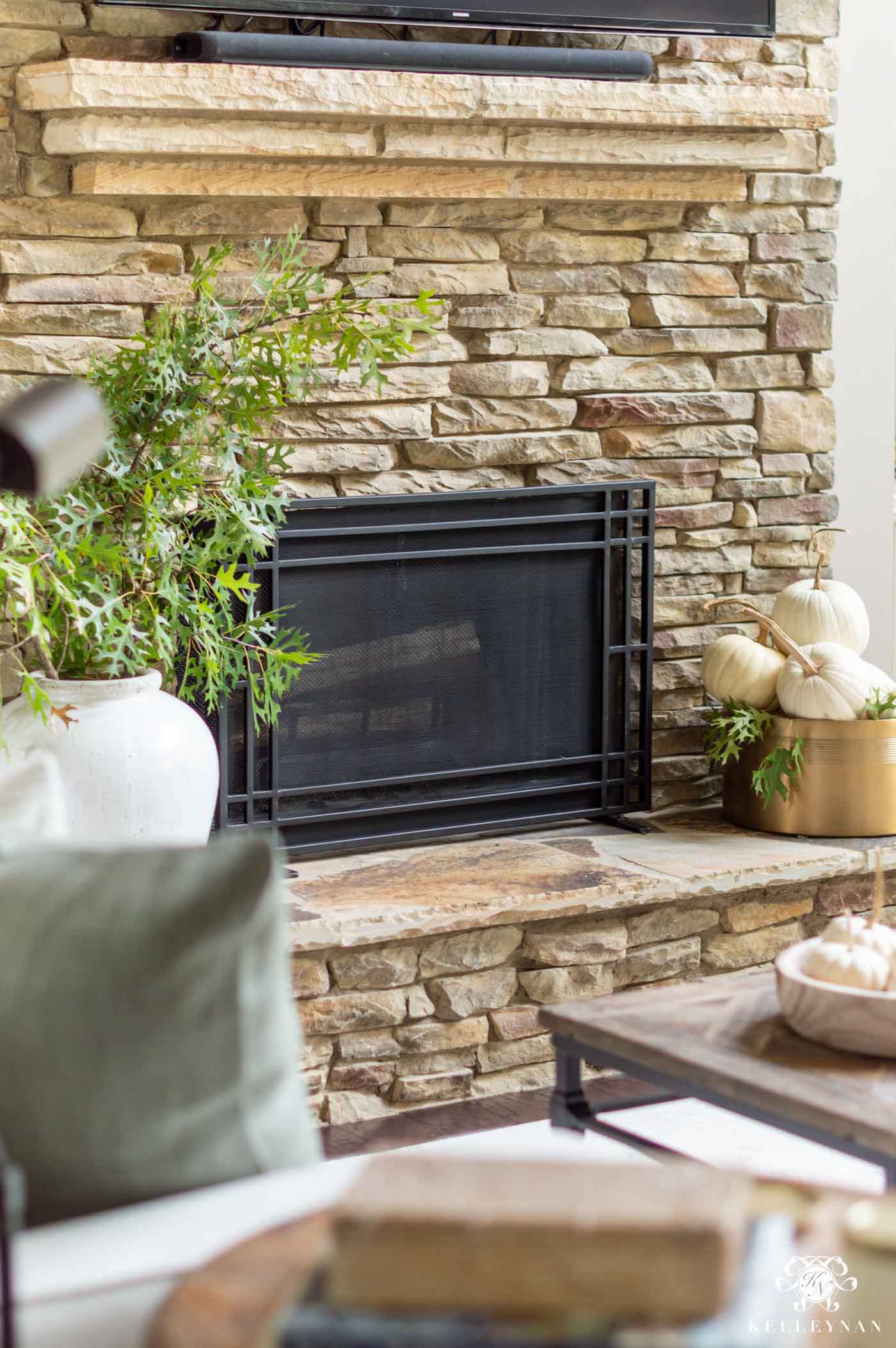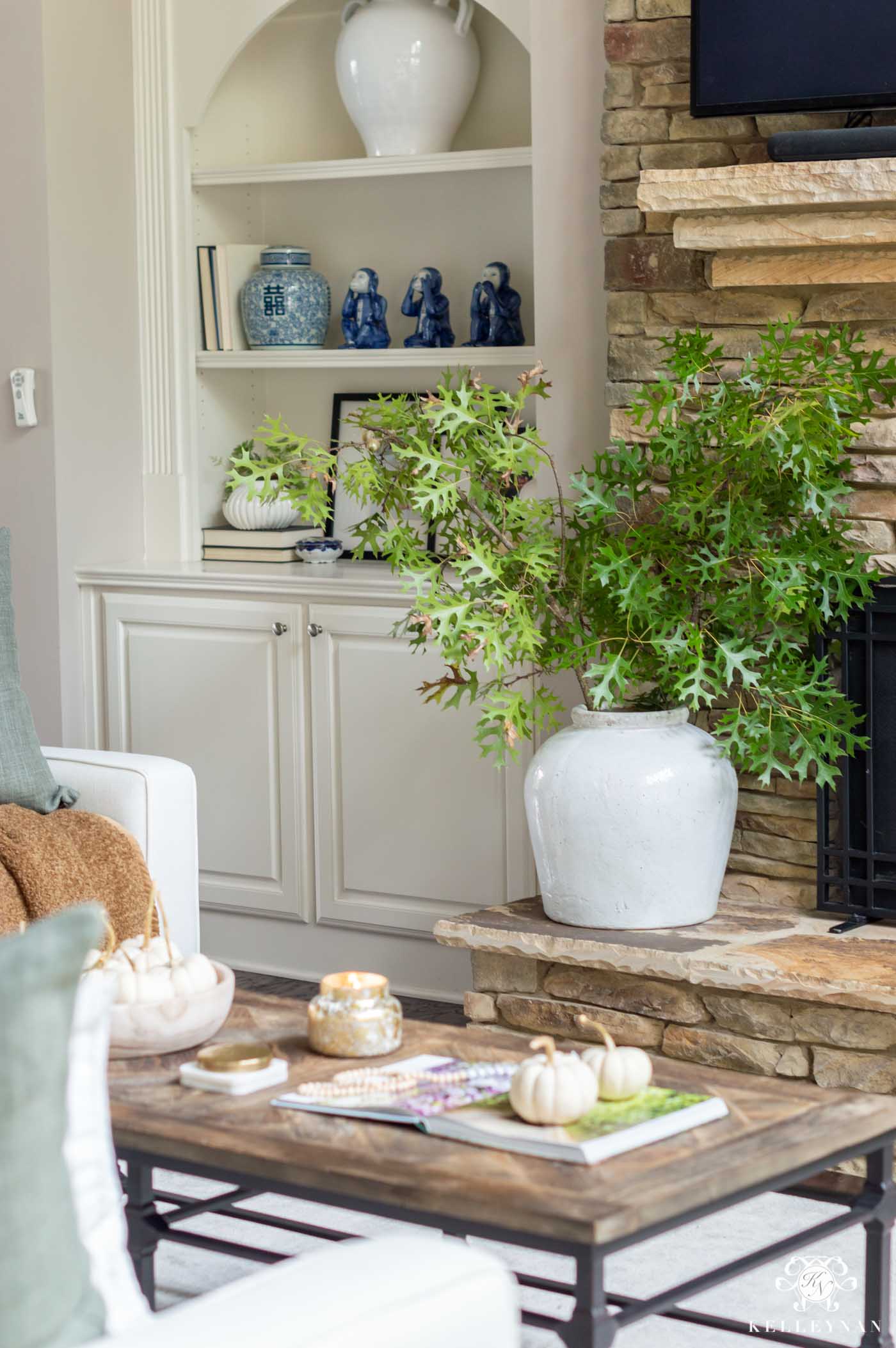 That big wooden bowl with white pumpkins on the coffee table was a steal of a find from a recent trip to At Home 😉 And, per the usual, I took one of my favorite coffee table books and flipped the pages until I found a pretty spread to leave on display.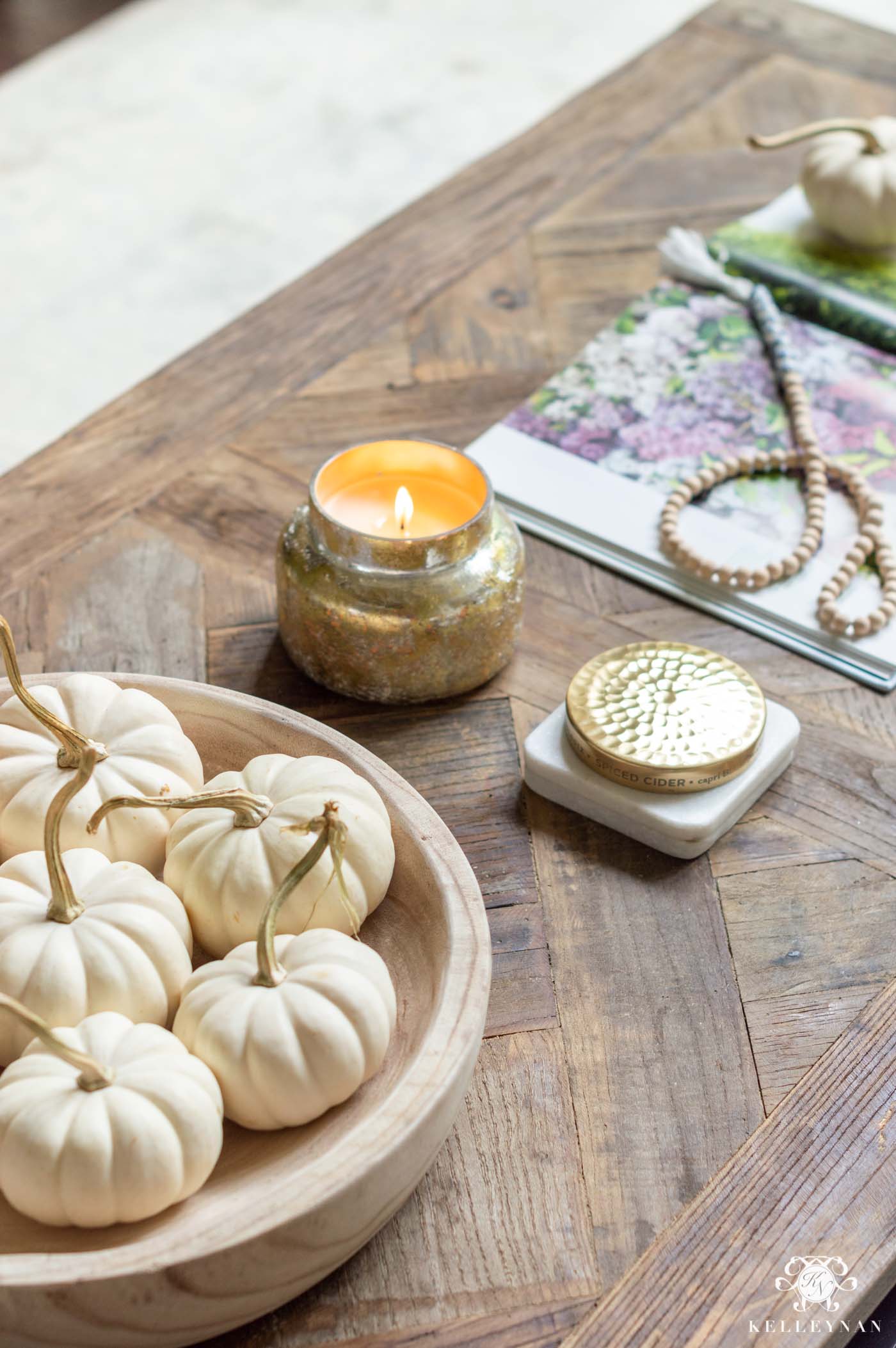 Even the smallest remnants of branches that remained on the counter as I was creating arrangements found a place in bud vases, sprinkled throughout the main living areas.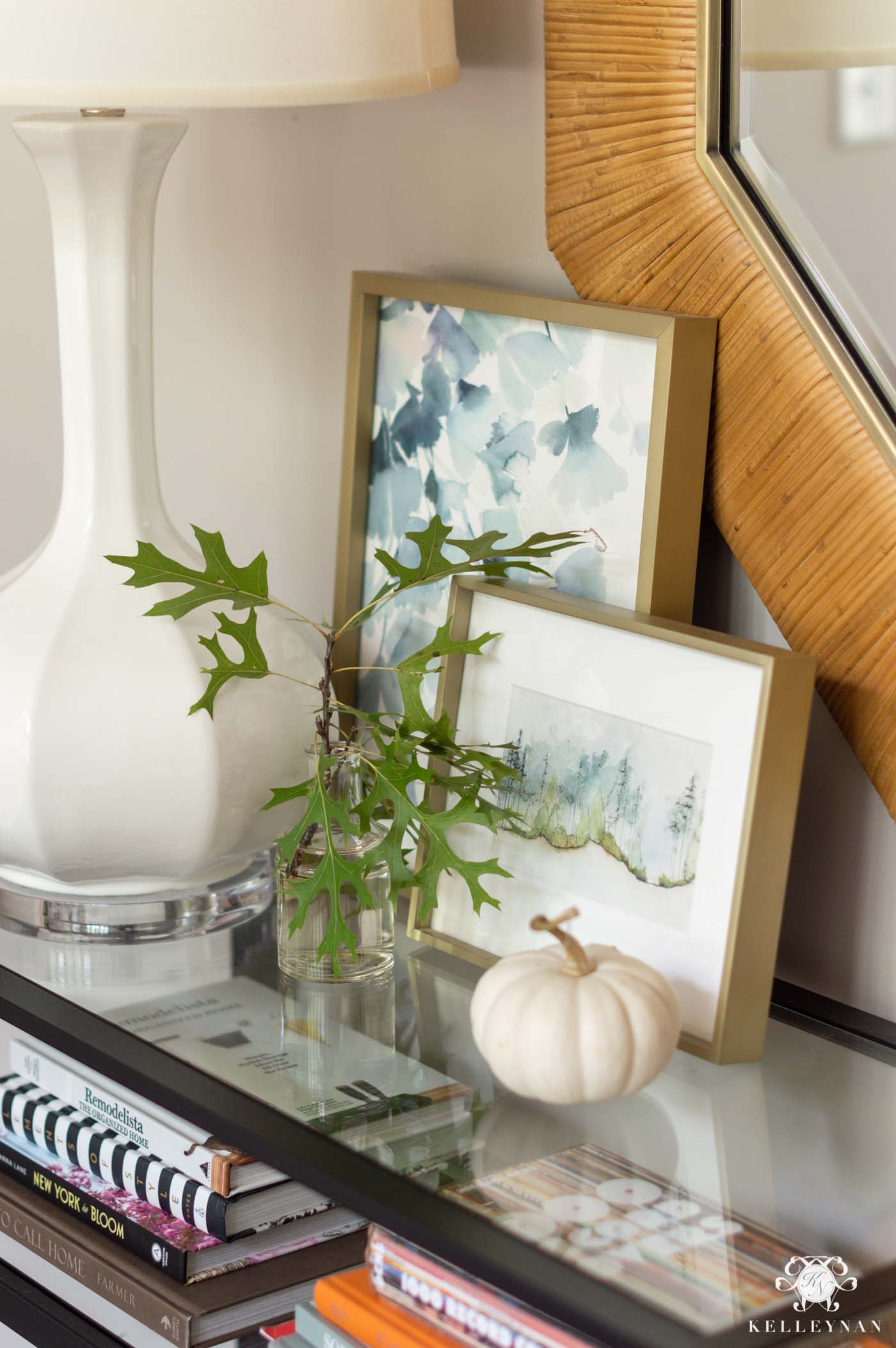 Sources: Console Table | Lamp | Blue Floral Art | Forest Art | Rattan Mirror | Tall Vase | Short Vase
I'm due for a conversation room update soon, but here's a little blurry peek of some of the progress, just beyond the stairs. For reference, you can see the original room plan HERE.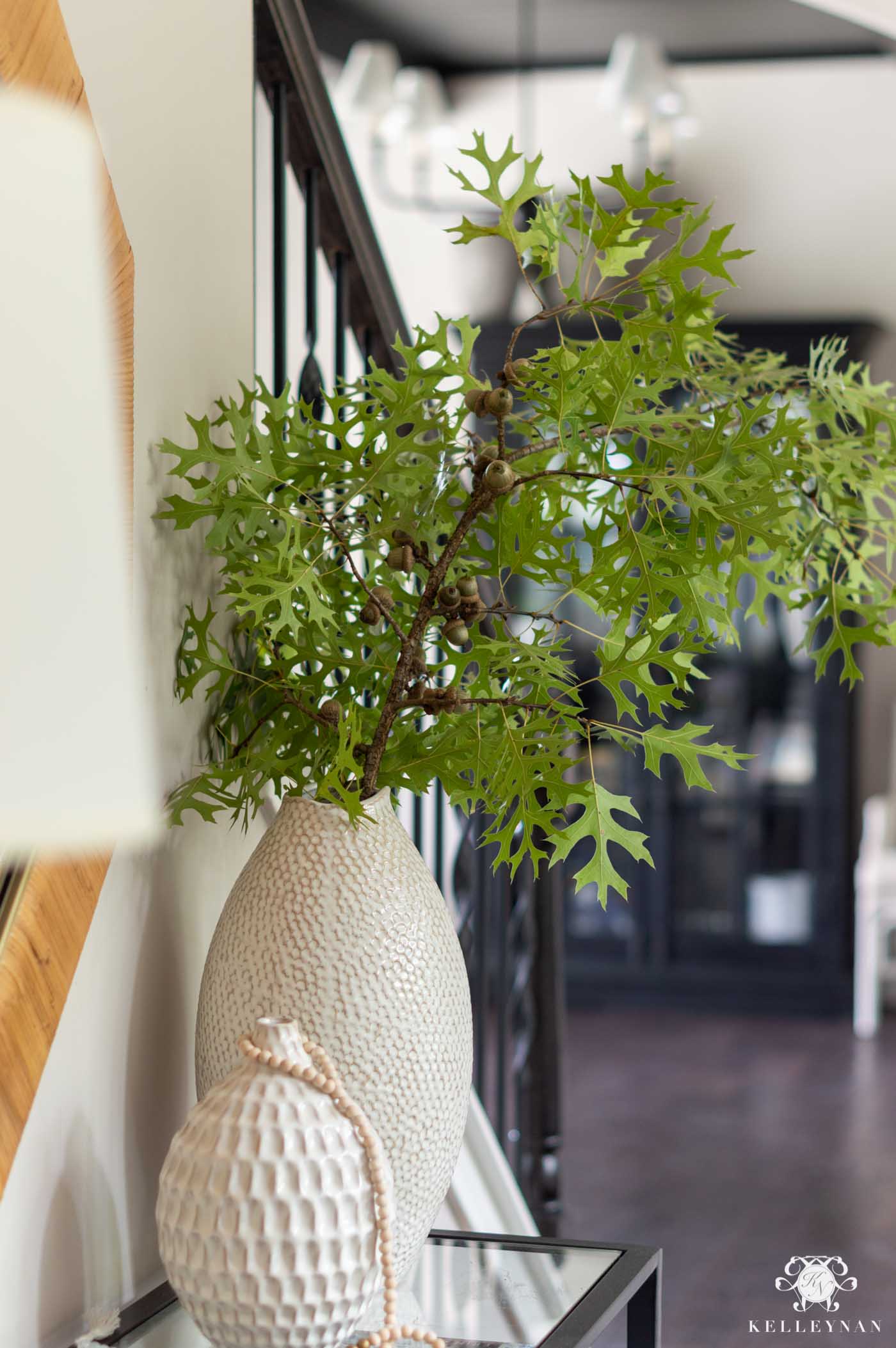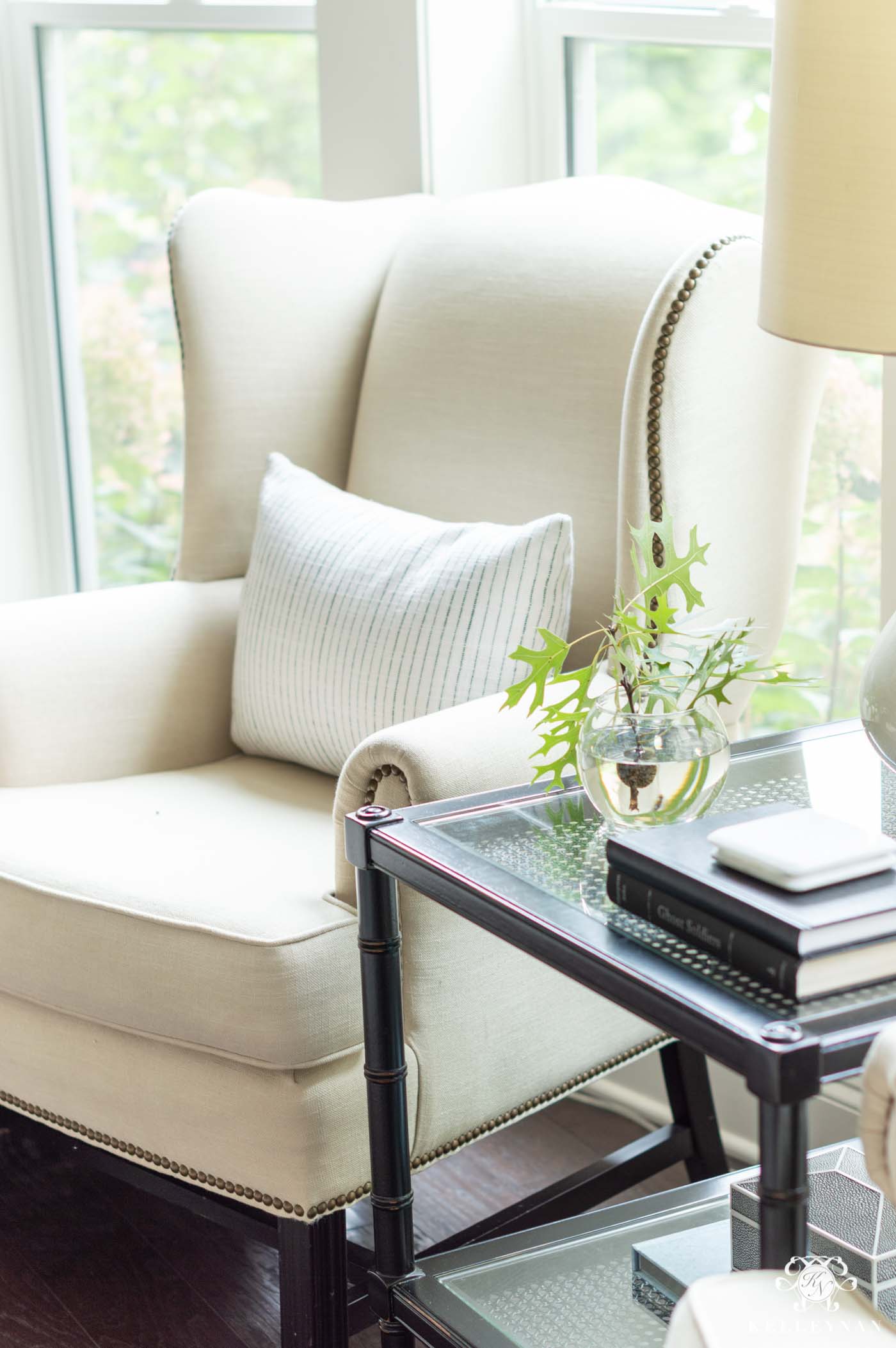 A Few Other Fall Moments
Before the full transition, I had actually brought in a temporary fall fix before we could set up the porch. While this purple and white look didn't last longer than a week or so as the purple mums have migrated to the back porch, it definitely gives me ideas for future seasons.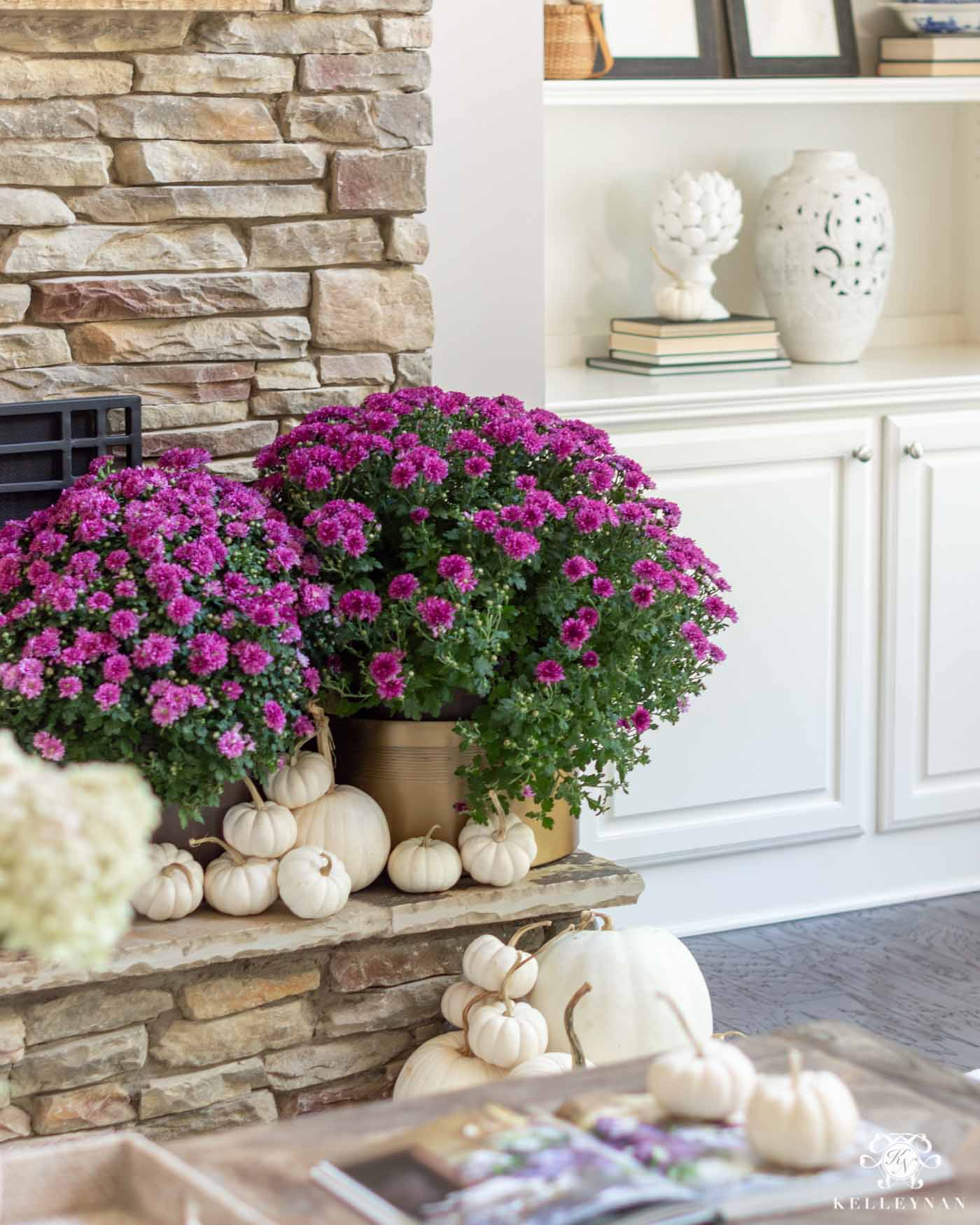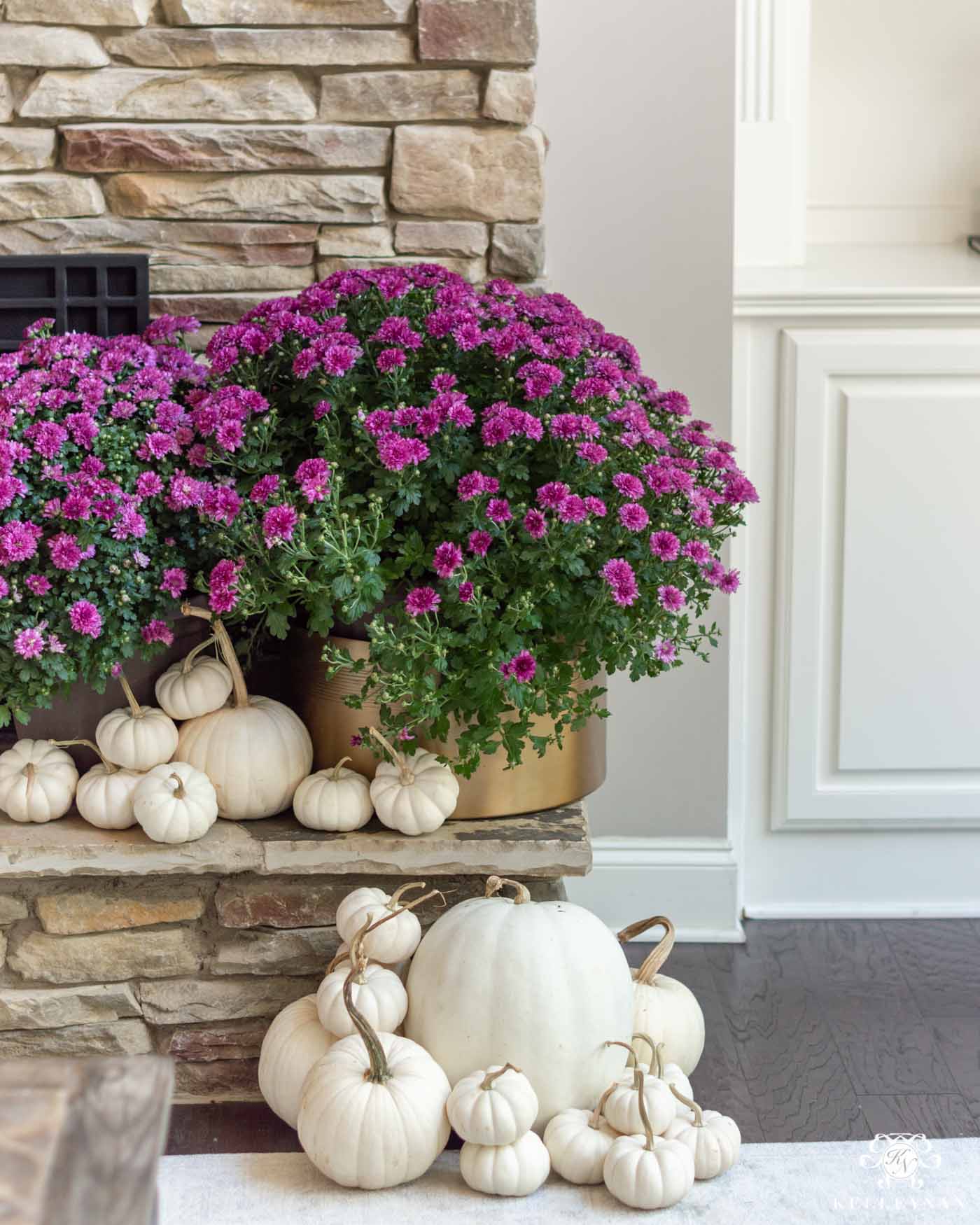 And, Eliza had no problem jumping right in and doing a little of her own rearranging 😉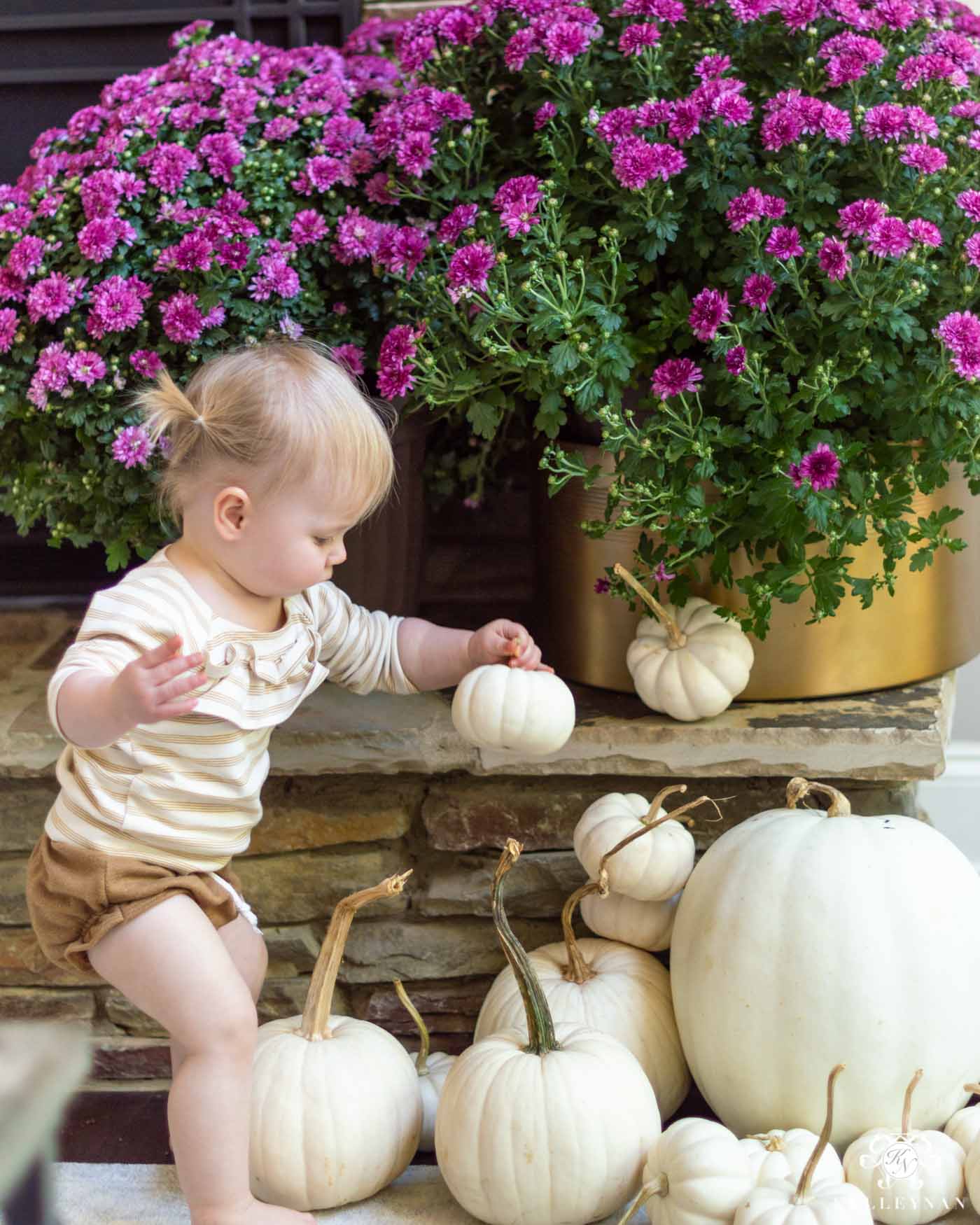 When it comes to our home and Eliza, we stay pretty chill. We watch her like a hawk right now and she hears "no" and has her behavior corrected often. But, with repetition and consistency, she learns. She knows what she isn't supposed to touch. If it's something dangerous, we keep it out of reach. If it won't hurt her and isn't precious, we're more relaxed about letting her explore (like the pumpkins!). She has done fantastic learning about "mommy's things" and "Eliza's things".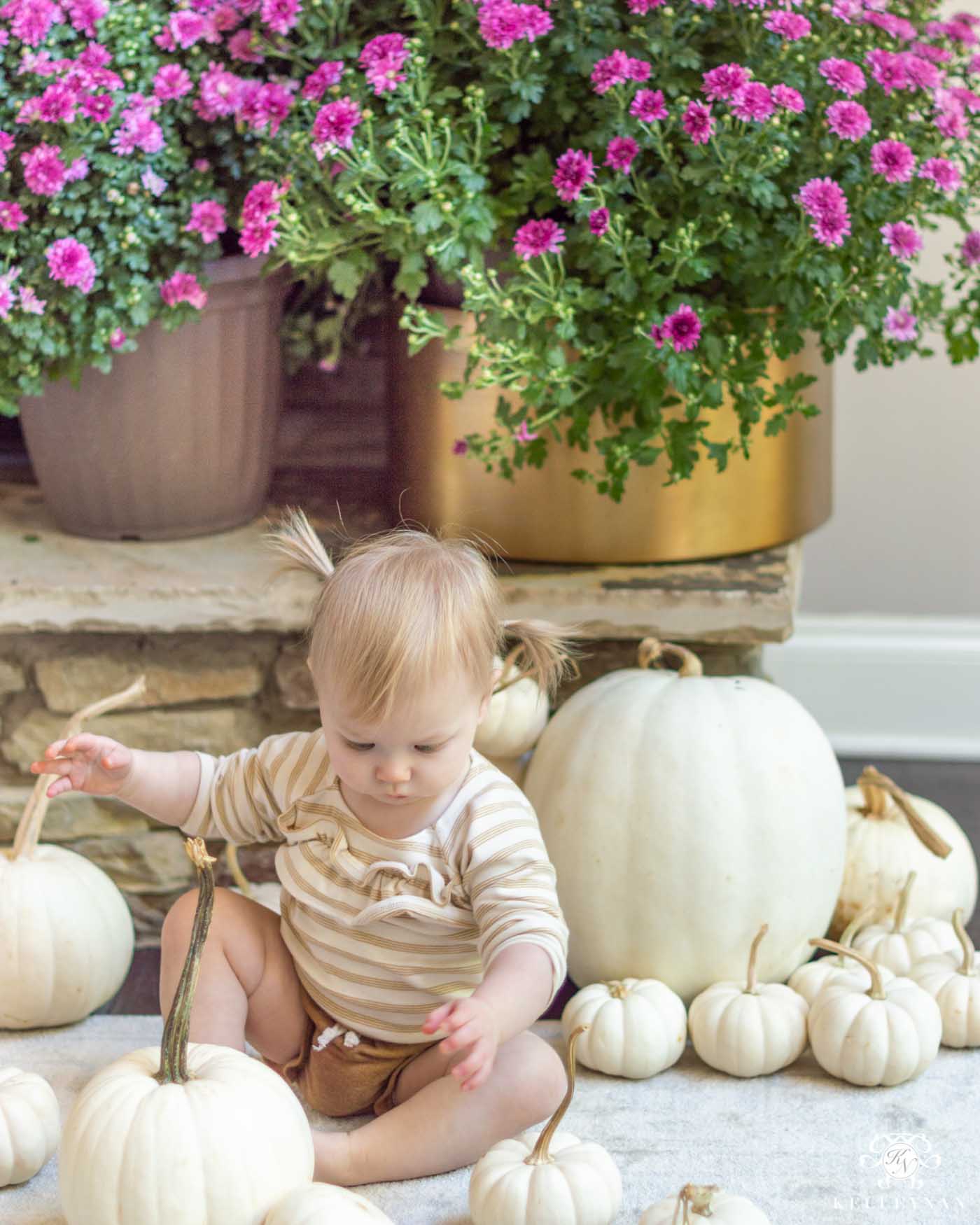 She picked her own pumpkins for her room from the pumpkin farm and her simple little fall wardrobe, well… I just can't!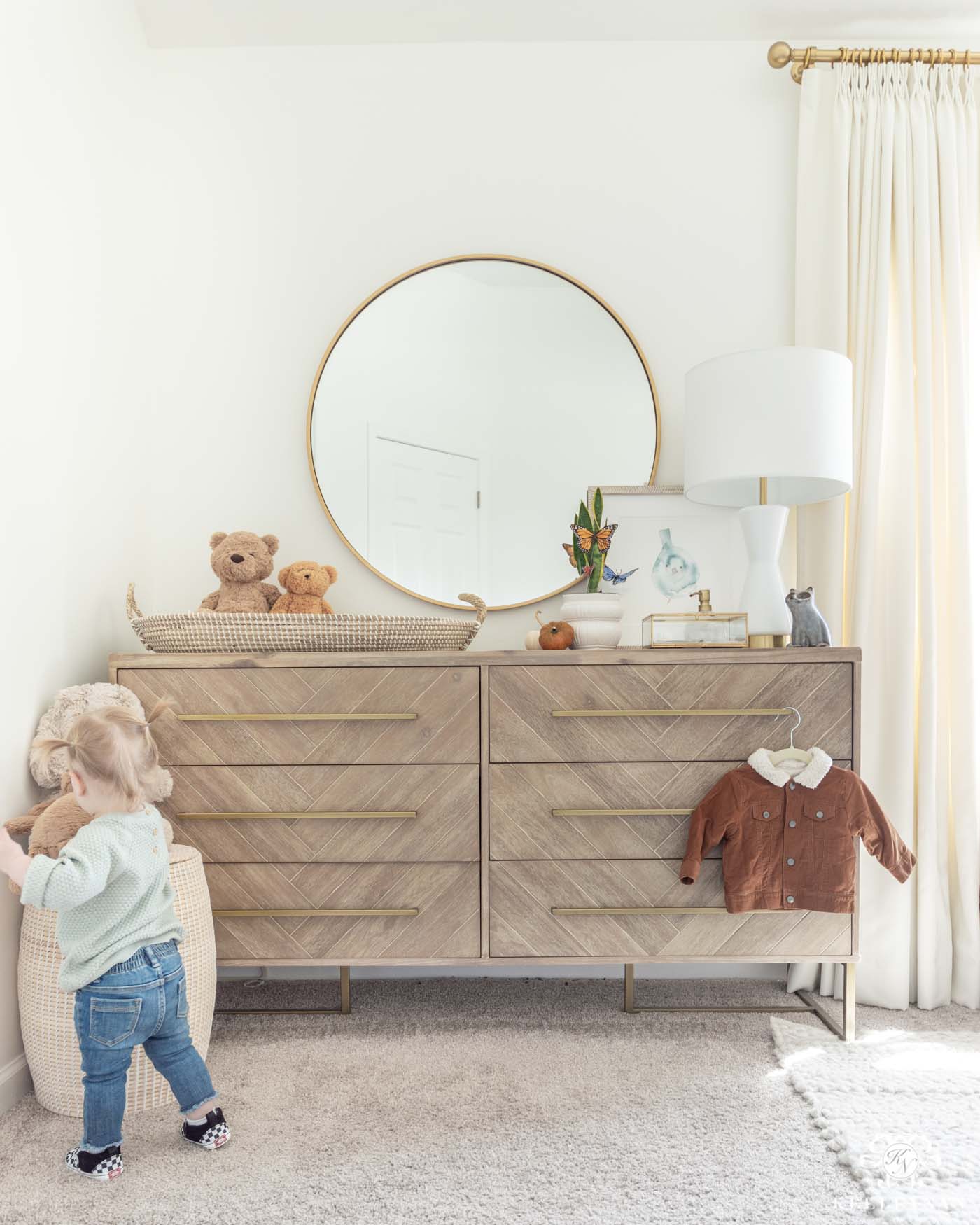 Sources: Dresser | Mirror (36″) | Changing Basket | Hamper | Sherpa Lined Corduroy Jacket | Lamp | Glass Shadow Box | Bird Art Print | Curtain Rod | Curtain Rings | Stuffed Bear
A little revisit to the powder room because a baby boo and a mini magnolia arrangement totally count…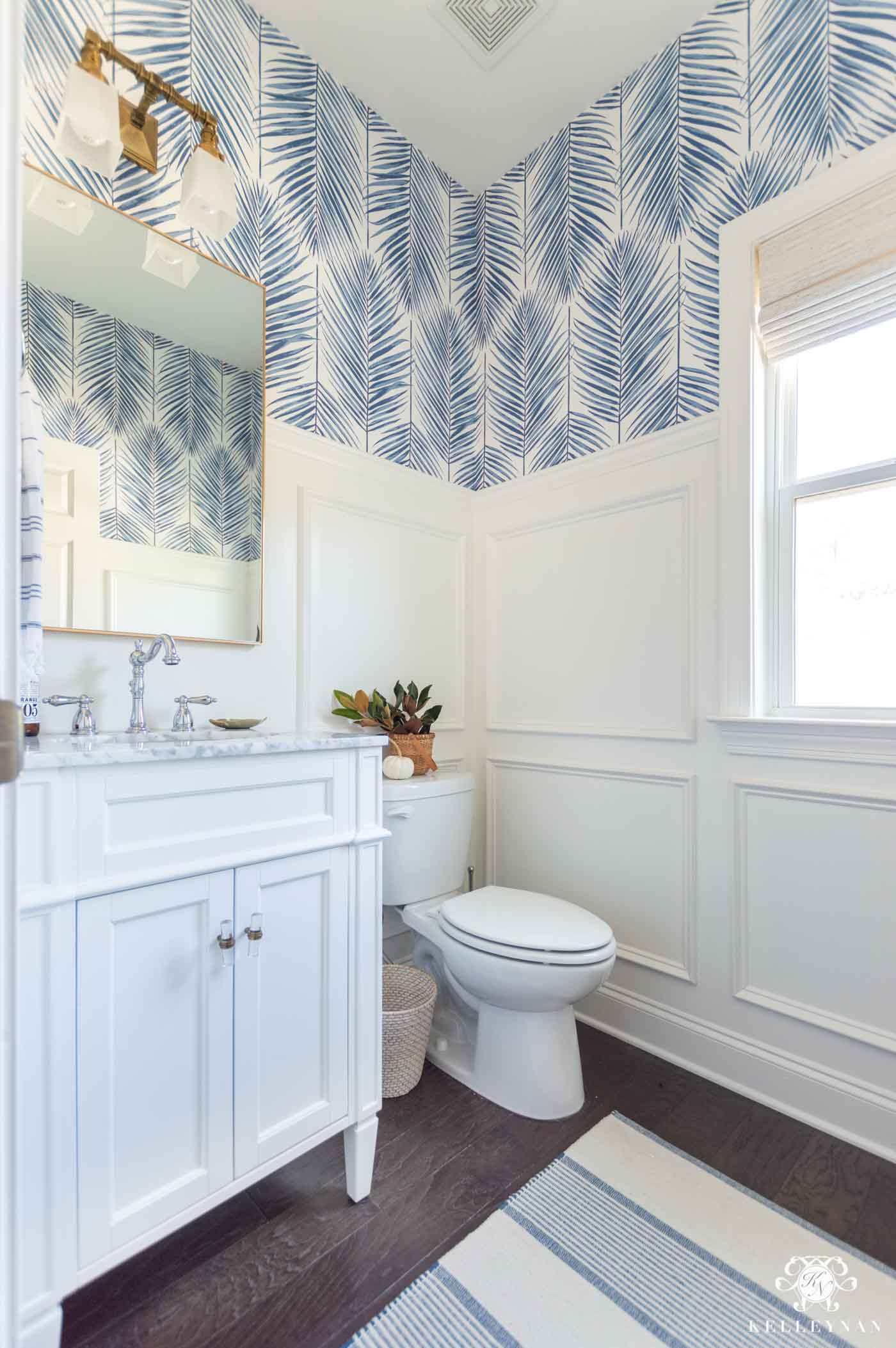 Sources: Vanity | Mirror (24″x36″) | Wallpaper | Rug | Faucet | Waste Basket | Lighting Sconce | Vanity Knobs
We are celebrating the new season in a major way, this year. I think we're all craving the comfort and cuddles that fall brings and the cooler temps we've experienced recently in North Georgia have been nothing short of a much needed blessing. My mom's house is nearing completion and while our celebratory circles may look smaller this year, we're enjoying making memories with our family. Instead of focusing on what we can't do, we're trying to focus on all we get to do — so many firsts with Eliza and marking the next few months with new traditions and old. I hope you each find joy and comfort in making your homes your fall sanctuaries and can enjoy the time you are spending with loved ones.
And before we know it, it will be time for Christmas! Im targeting a mid-November launch of my 2020 Christmas home tour — I launched earlier in the season last year (HERE) and it seemed to work out well for timing and planning. To catch that and all the seasonal and holiday posts to come, subscribe to my emails at the bottom of the post!