Wayfair's biggest sale of the year is here! Today, I'm sharing some of the most asked about Wayfair pieces in my home, categories to keep an eye on, and some of my favorite discounts of the sale. Way Day 2020 — even bigger than Wayfair's holiday sales — runs from 9/23 – 9/24; while it's a short sale (2 days only), there are a lot of crazy-good deals for the home. The larger pieces are an especially good value because everything ships free — from dressers to vanities to oversized items that typically would have freight fees with other retailers. Free shipping applies to everything with no minimums. If you're in the market for any additions or changes — lighting, furniture, decor or otherwise — today is definitely worth a browse!
*This post is published in partnership with Wayfair, one of my favorite home retailers. As always, all opinions, concept, and creation are my own. Posts on KelleyNan.com may contain affiliate links. Click HERE for full disclosure*
Way Day 2020
You can browse the full Way Day Sale HERE — as a caveat, while there is a "Way Day Sale" toggle in the top left of the screen to filter Way Day sales within each category, there are tons of other discounts that happened overnight, that aren't Way Day specific. Below, I'm sharing a rundown of some of my favorites — both things I have and love and others that caught my eye for the sale specifically. You can scroll and tap the images below, broken down by category. These also appear at the bottom of the post with descriptions.
Lighting


Mirrors

Dining Chairs, Accent Chairs & Stools

Sideboards & Dressers

Bedroom — Beds & Nightstands

Benches & Ottomans

Other Notable Furniture

Rugs

Other Accents & Accessories

Kids

My Notable Wayfair Home Furnishings
I took inventory of all my most asked about pieces available on Wayfair to determine what was part of the sale/discounted for the next two days. During my search, I did find a few surprises of items that have been out of stock, that have officially been made available again! The Wayfair source links are listed at the bottom of each image.
In Eliza's nursery, her big round brass mirror (hers is 36″ but it's available in several finishes and sizes) is part of the Way Day sale! This mirror has been fabulous and I wish I had known about it prior to spending as much as I did on our near-identical mirror in the breakfast nook. Her dresser that goes in and out of stock is also available in the paler gray wash (and dark wash) right now and was discounted overnight! This piece is hefty and solid; I have no regrets securing this piece for her nursery that can grow with her for years to come! A big bonus on these (and other oversized items I'll share throughout) — again — regardless of size and weight, they all ship free!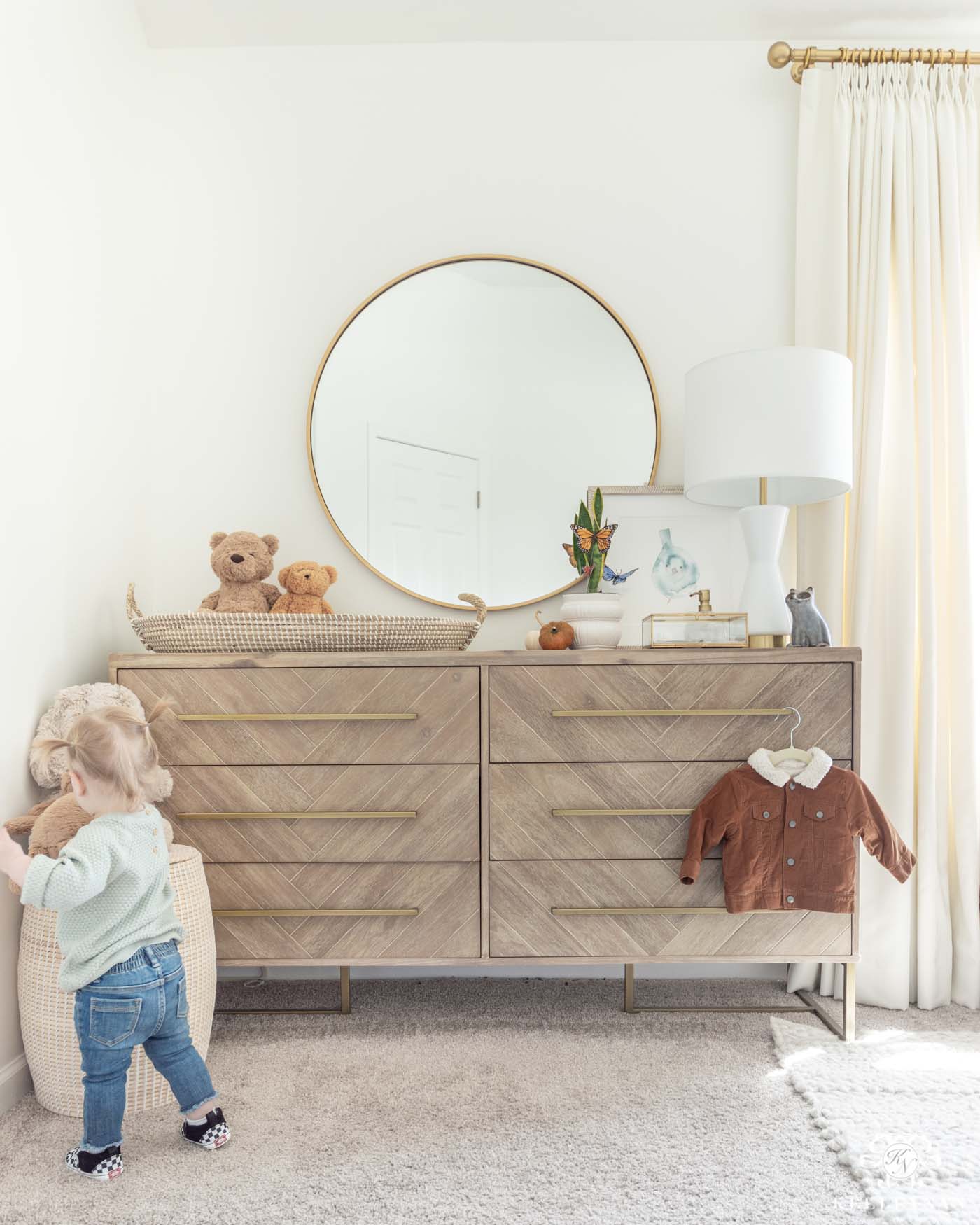 Dresser (Gray Wash Version) | Dresser (Dark Brown Version) | Round Mirror (brass, 36″) | Neutral Rug | Brass & Clear Trinket Memory Box
My little wooden side table in the living room has so much character; I love the spindle legs and how original it appears. It's a great medium-tone to go with so many different finishes; it's on sale right now for $70 less than what I paid a couple years ago HERE.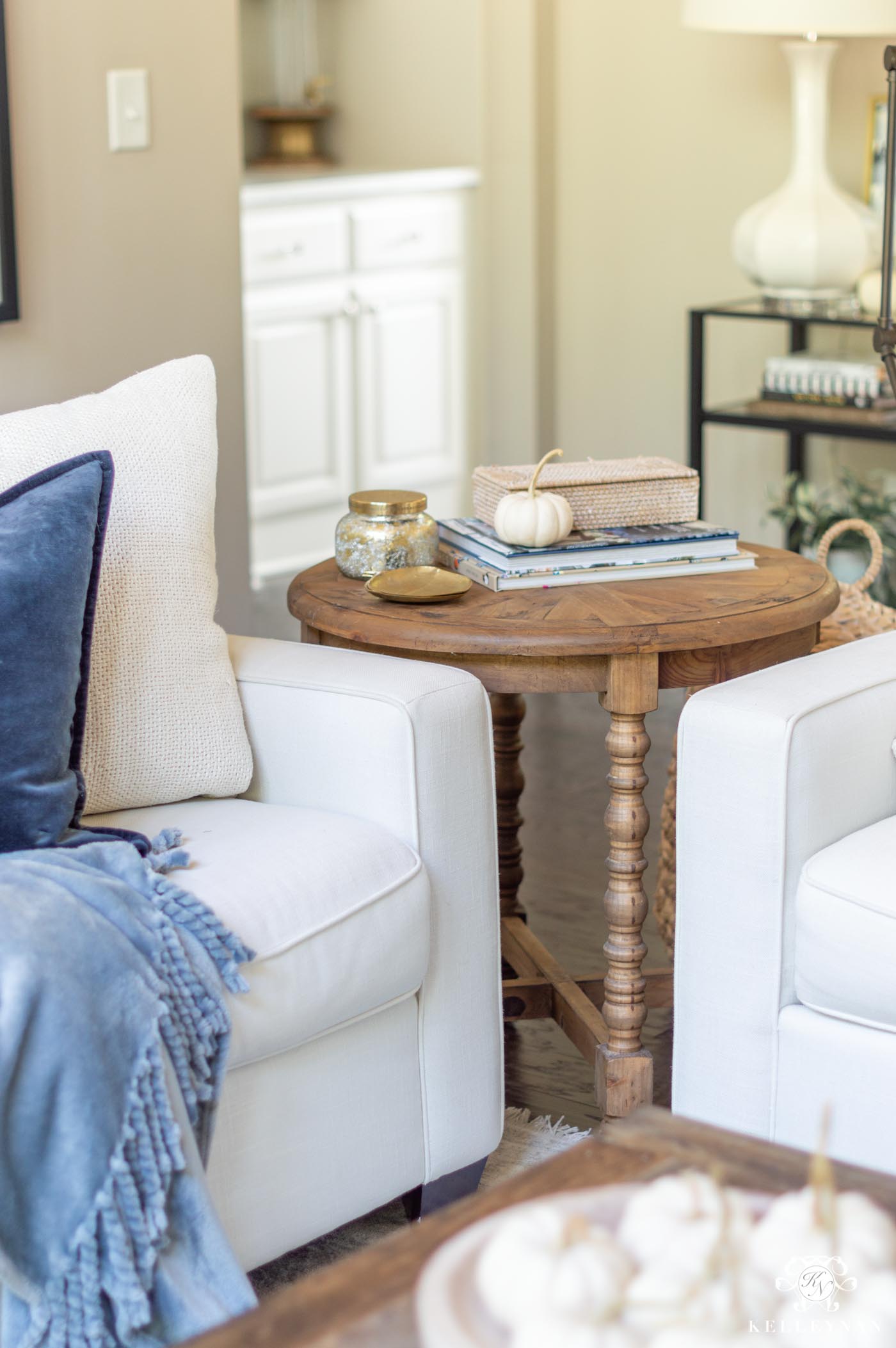 I scored my 24″ vanity for the powder room during last year's Way Day and this year, it's back! It is such a beautiful piece in person and I love the carrara marble top too; again, this thing is on sale for $489 and still ships free! The inexpensive faucet I paired with it comes in several finishes (mine is the chrome) and is also part of the sale 😉 Something else worth noting is that my wallpaper is still one of my most wall treatments to date, but it now comes in a peel and stick version! If you're looking to try a project on your own and don't have wallpapering experience or don't want the commitment, this is a great option. You can find the regular wallpaper HERE and the peel and stick version HERE.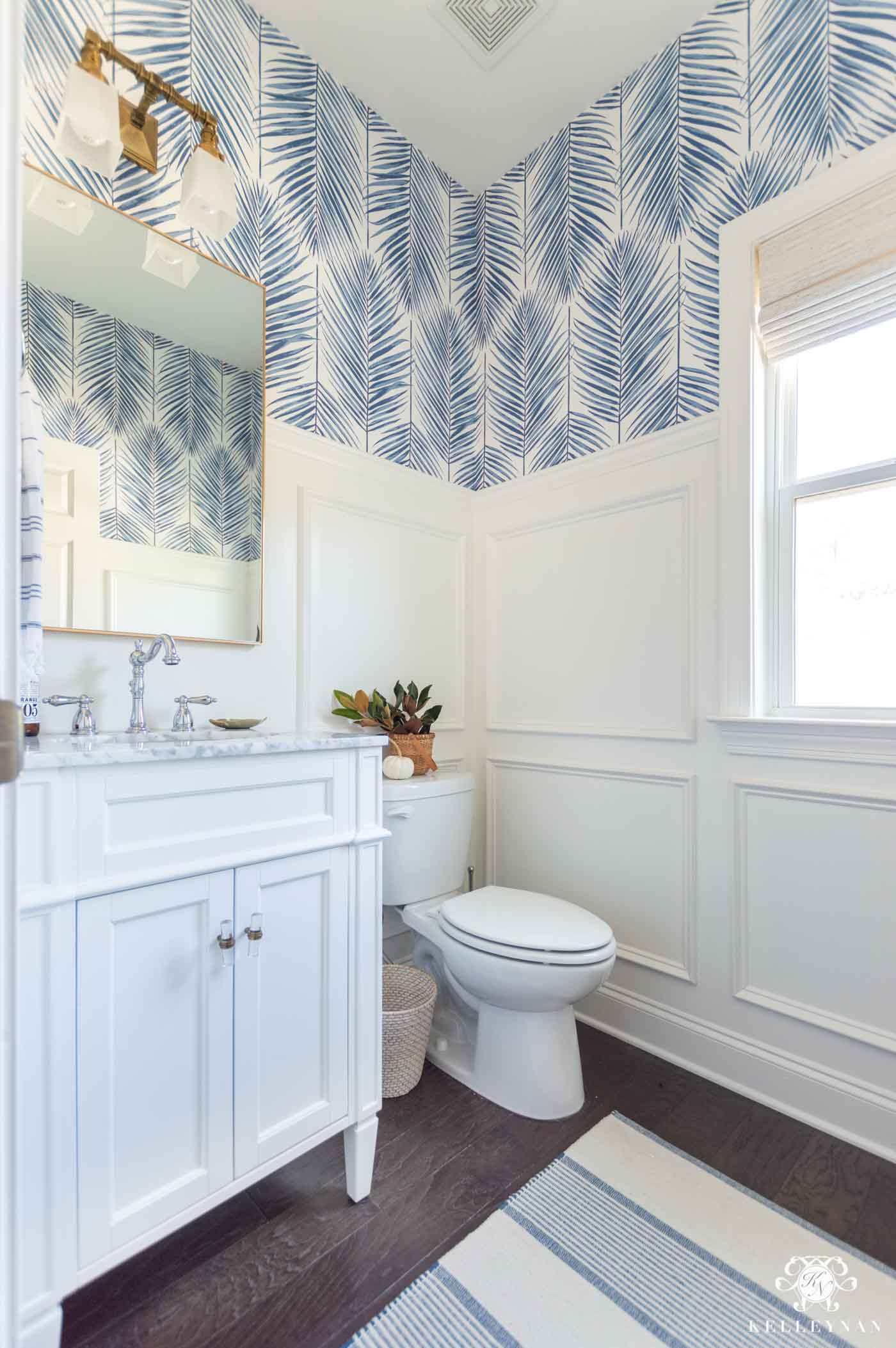 24″ Vanity | Wallpaper | Peel & Stick Wallpaper (new option) | Faucet (polished chrome) | Rug (2'x3′)
There are a lot of pieces in our downstairs guest bedroom that are on sale today. The mirror comes in several sizes and finishes HERE and the light fixture is on FLASH SALE for $87.99 HERE. It also comes in a few different finishes 😉 My iron and rope upholstered benches below the window are currently listed for $112.99/each; perfect as individuals or in pairs, below a bed!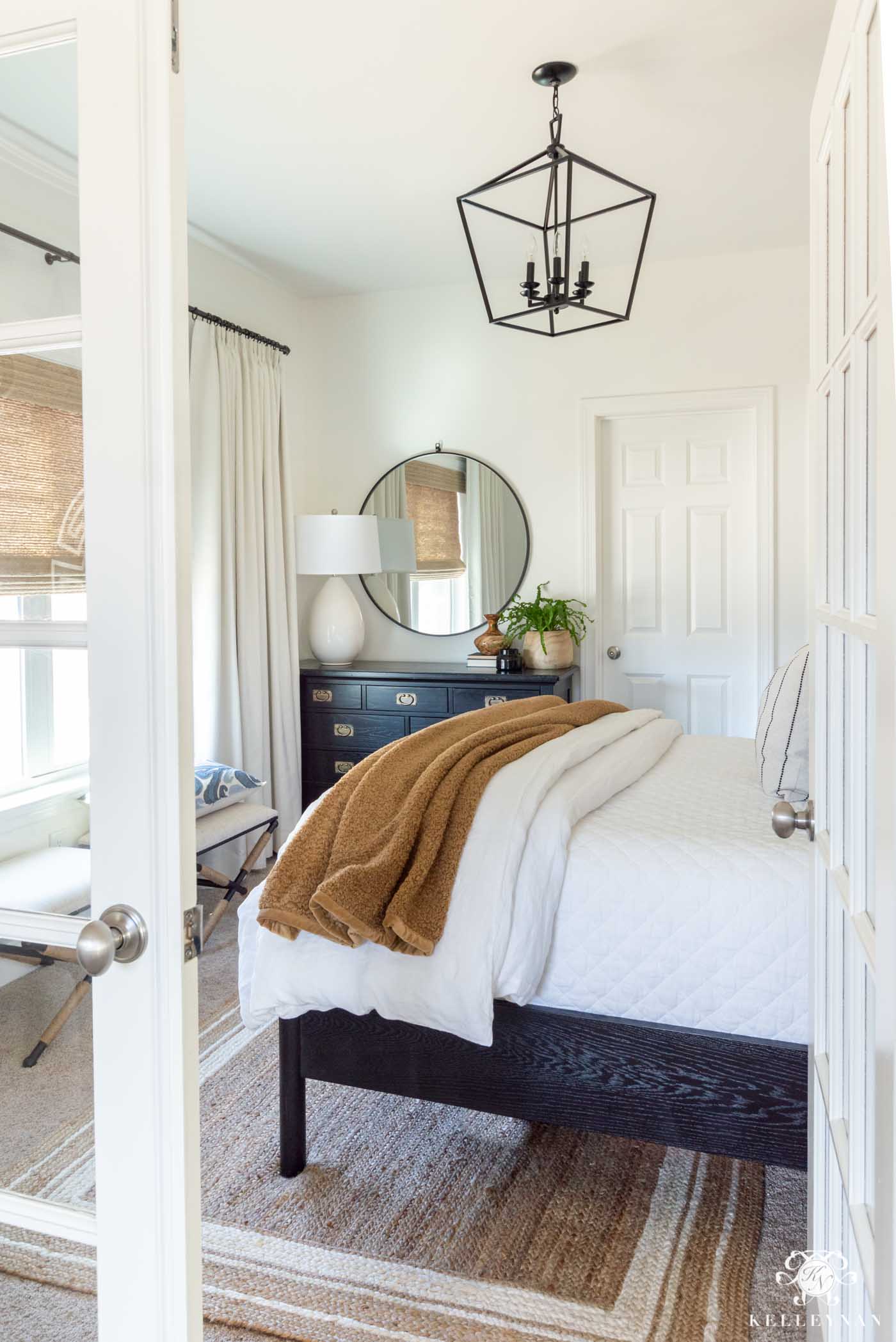 Lantern Light Fixture |  Round Mirror (black frame) | X Benches | Jute Rug | Egg Table Lamp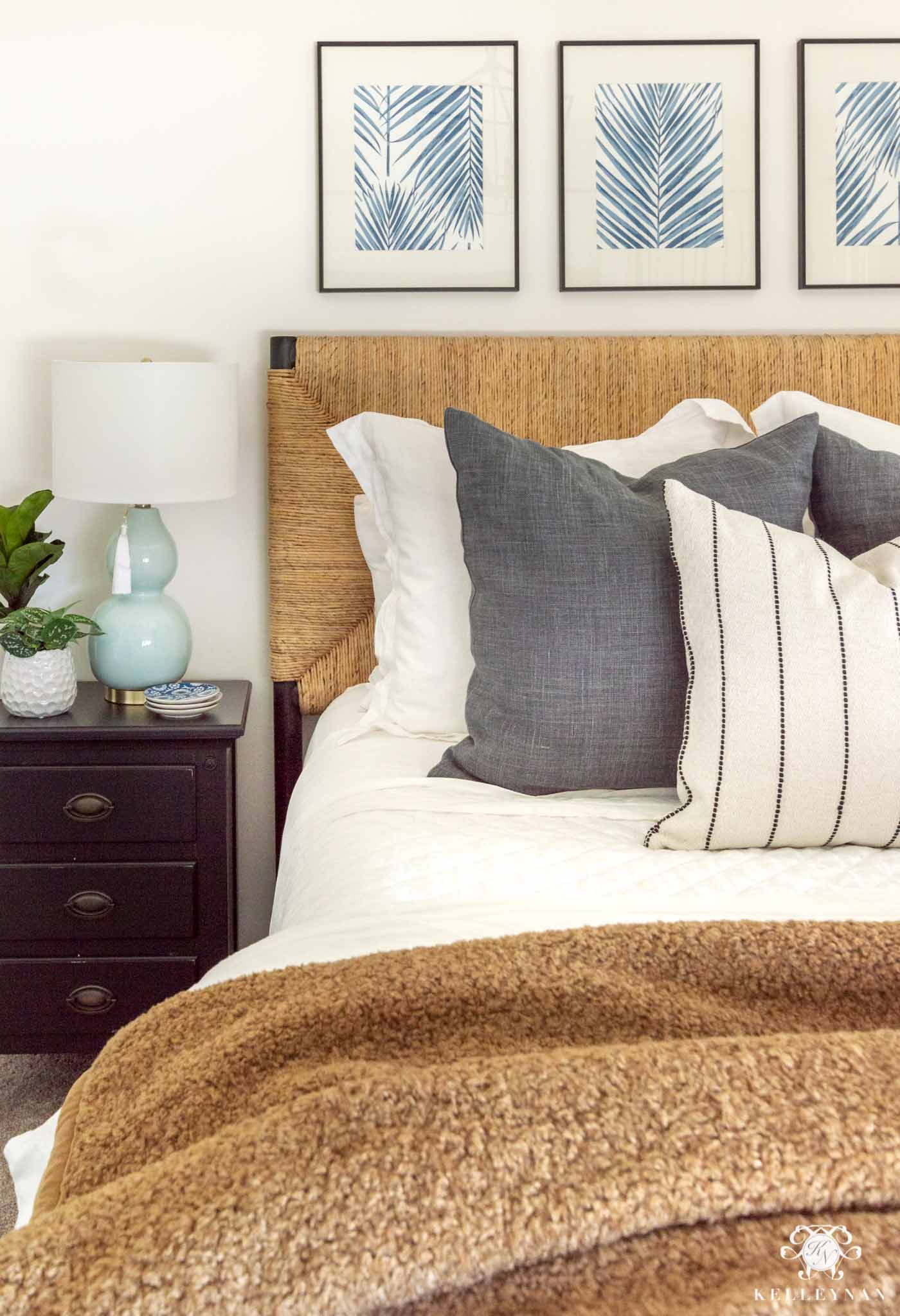 Frames (16″x20″) | Nightstands
One of the surprises I discovered — after repeatedly searching and waiting the past few months — was that my bedroom sitting area accent chair (that sold out before I even shared the reveal) is BACK IN STOCK!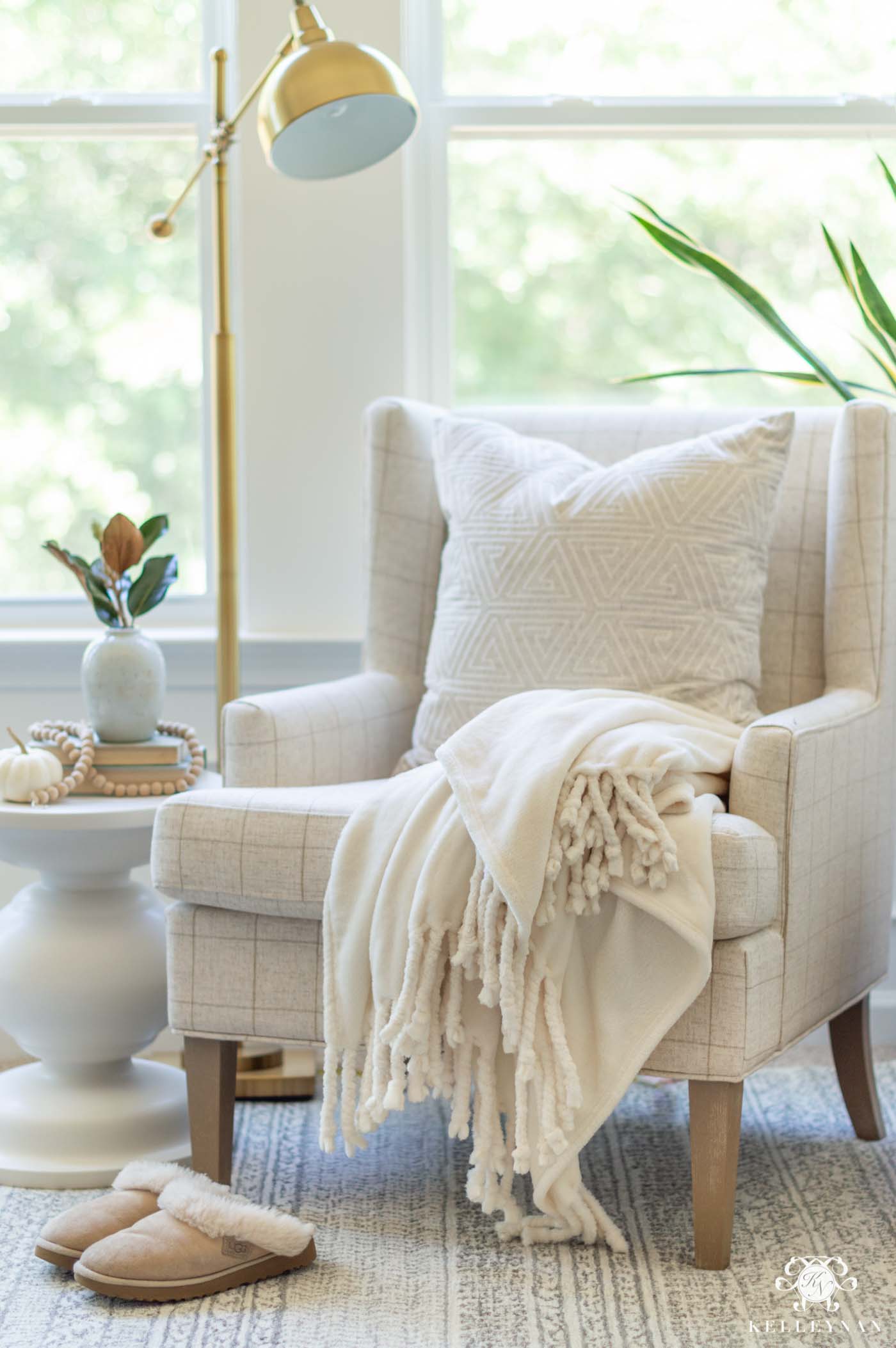 Accent Chair | Rug | Floor Lamp | Vase
Another surprise to note was that my bed — while definitely still on the more splurge-y side — is back in stock and on sale for less than I've seen it in a few years. It is almost out of stock (again) but you can still find it HERE!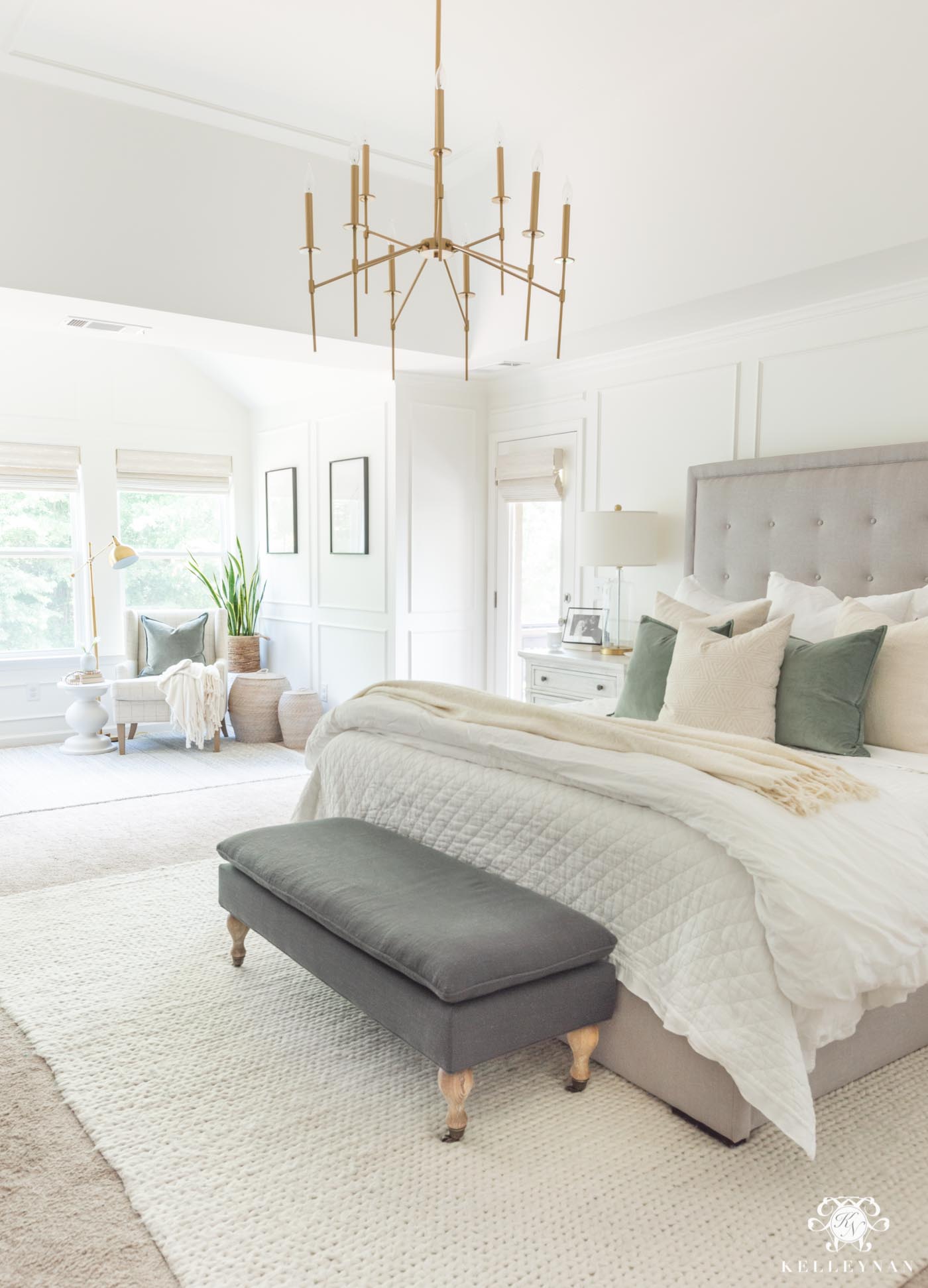 Bed | Rug | Chandelier | Nightstands | Sea Foam Pillows | Baskets | Accent Chair | Floor Lamp | Sitting Area Rug
My affordable entry mirror is part of today's sale, coming in at $96.99…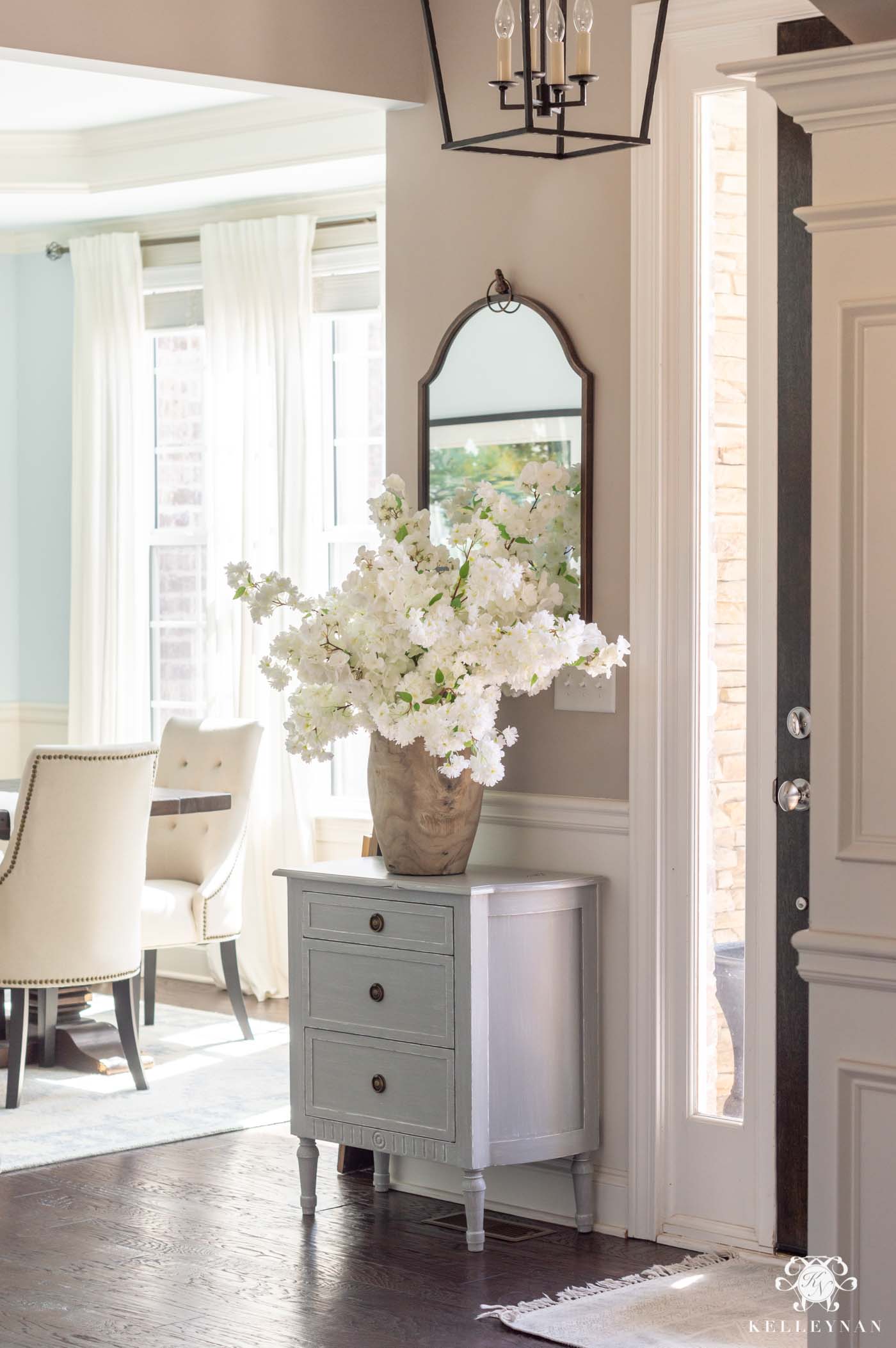 And the mirrors in our upstairs guest bedroom are officially on clearance! The chandelier in this room is huge and between the metals and whitewashed wooden beads, it is so easy to coordinate with decor and furniture finishes. It's part of Way Day right now for $309 HERE. Definitely measure to make sure you have the space for this oversized lighting 😉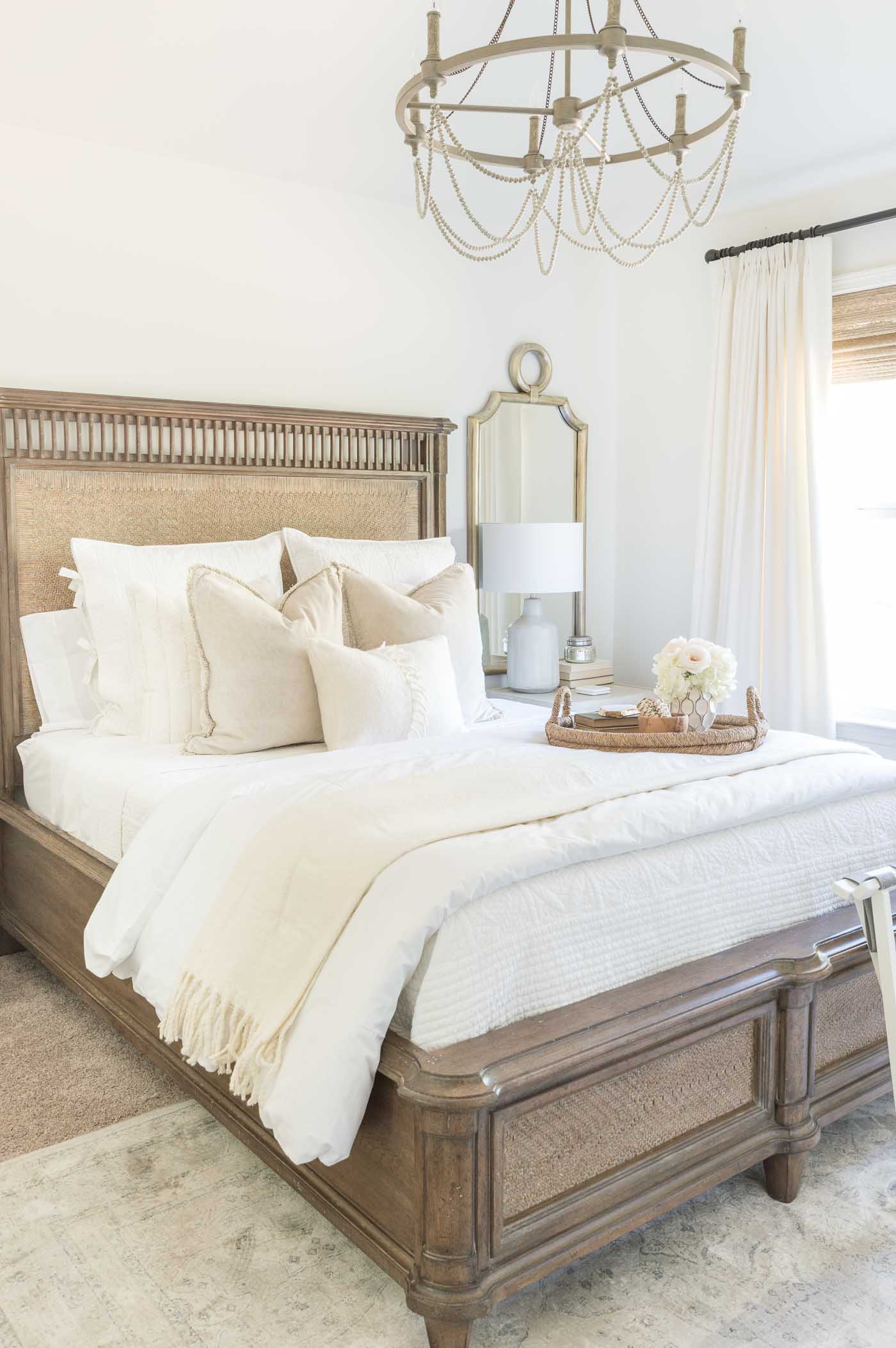 Beaded Chandelier | Mirrors | Table Lamps | Luggage Rack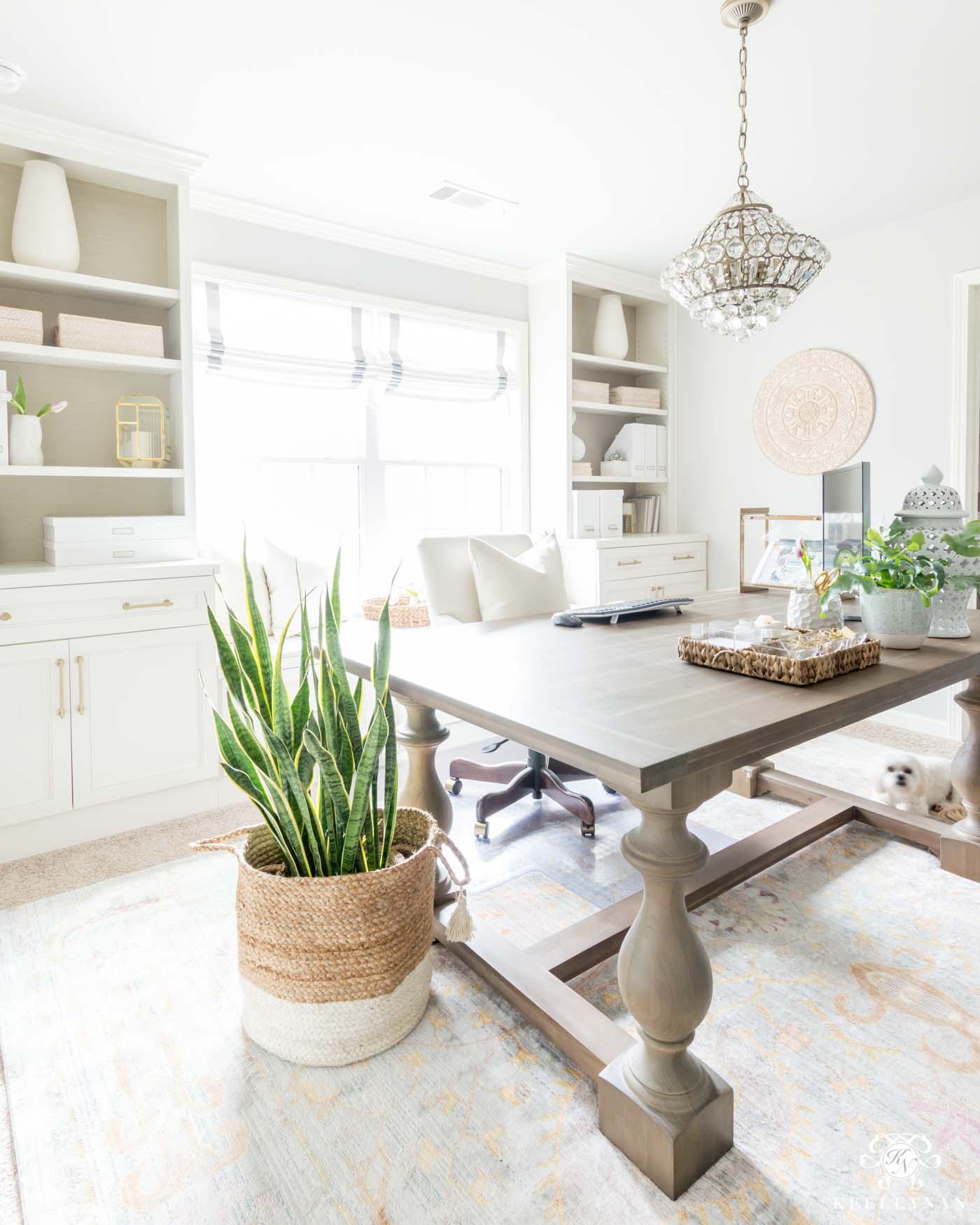 Rug (several sizes available) | Jute Basket | Gold Seagrass Pulls (comes in several finishes and sizes)
While I covered as much as a few days worth of research and inventory-ing would allow, there are so many great finds and deals right now. I'll be sitting down with my mom as we go over her new house needs to see what we can safely order (since she won't be moving in for another month, haha) and will be sure to share any scores 😉 You can find my favorite deals across the site below; to follow along with upcoming projects — the conversation room, holidays, etc. — be sure to subscribe to emails at the bottom of this post!
Favorite & Notable Way Day & Wayfair Sale Deals
In addition to these fav finds, be sure to check out the Flash Deals that are even more time sensitive, that expire before the sale is over! You can find those HERE.