Raise your hand if your house has officially left summer behind to welcome fall. Mine has not. I made a few interim transitions about a month ago (HERE) but since then, I've fallen way behind. Because of my laziness tardiness, I'll likely be keeping changes on the lighter side. But, while I don't know exactly when just yet, my front porch is top priority for the season! I typically do something similar, year to year, with pumpkins and mums cascading down the steps — and this year will probably be another version of that — but, my color scheme and plan is typically derived from the fall front door wreath centerpiece. I've gone neutral, traditional, and even a little more unexpected with purple… and this year's wreath — varying greens with an orangish red — has already determined my mum and pumpkin arsenal (each waiting on the back porch and in the garage, respectively.) Today, along with a preview of the wreath I ordered for our outdoor space, I'm sharing some of the prettiest fall wreaths I've found for 2020.
*Posts on KelleyNan.com may contain affiliate links. Click HERE for full disclosure.
Last Year's Fall Porch Look
Last year's fall wreath was comprised of yellow and orange oak leaves. To play off the wreath, here is what I came up with for the steps and surrounding decor.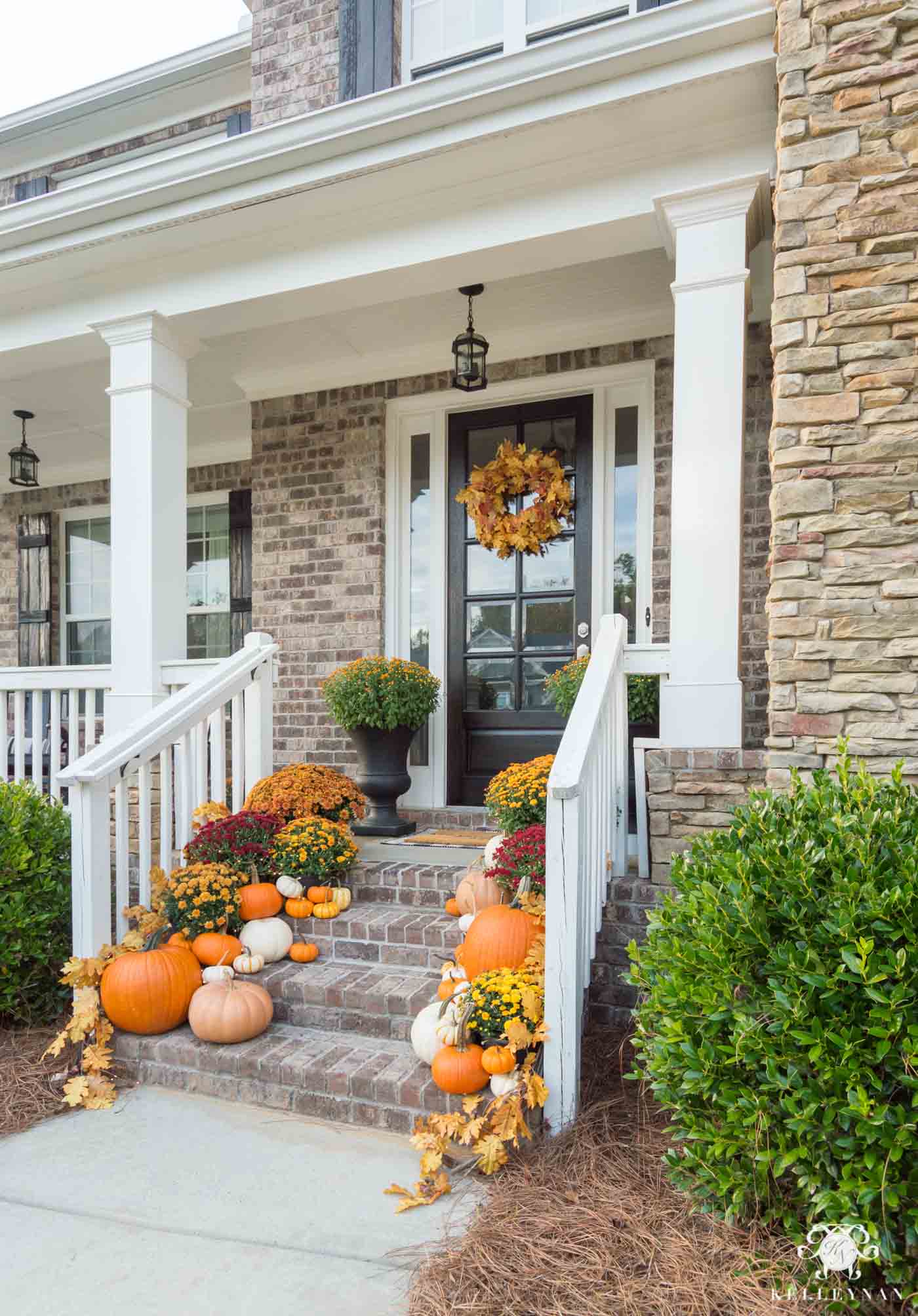 I even incorporated some wire twinkle lights (HERE) for the night time — I think this may have been my favorite fall look of all the years we've been here.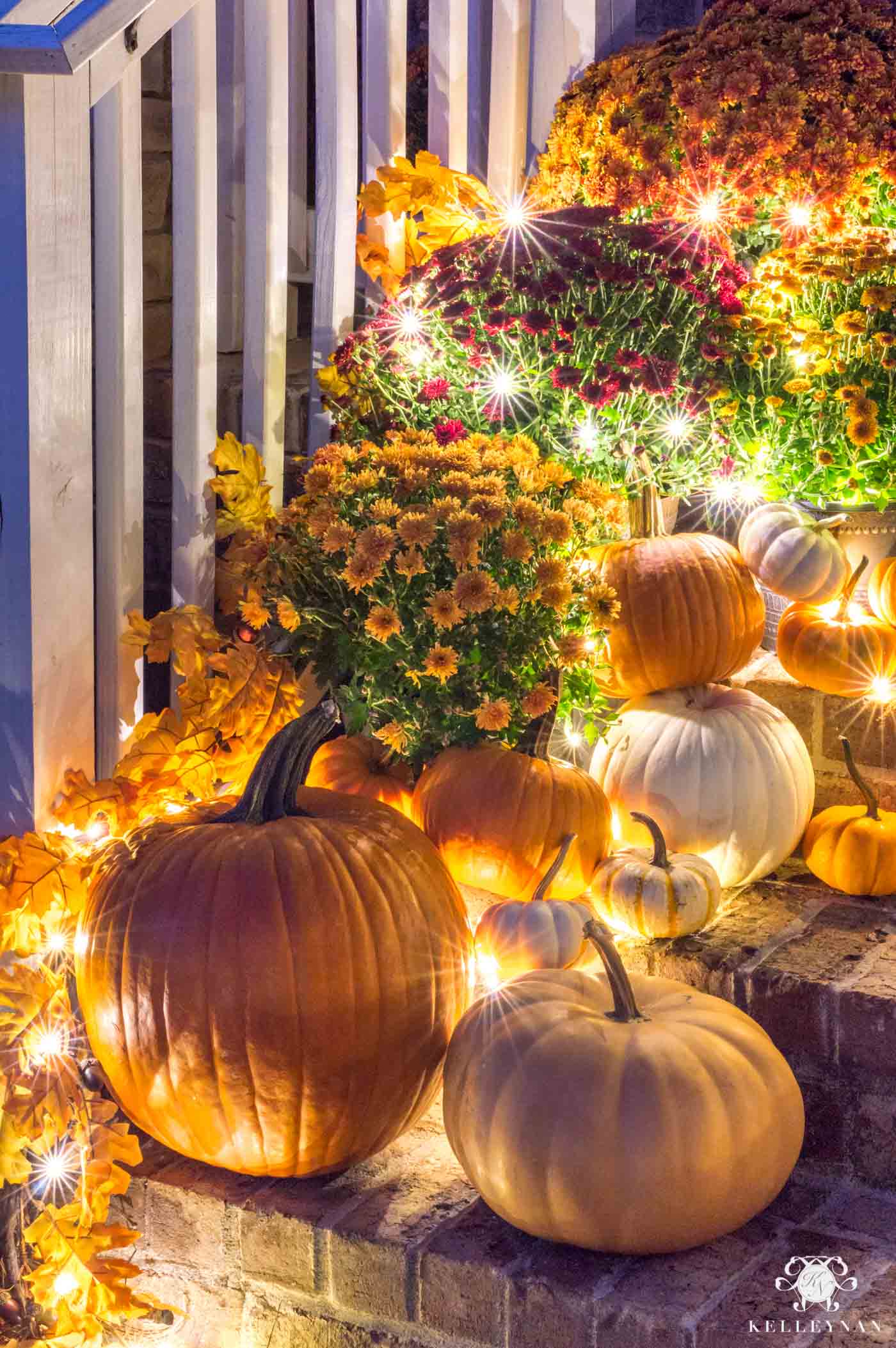 While I don't physically have my wreath just yet — hoping for it to arrive next week — we did make our annual trek to our local pumpkin farm last Friday and secured our pumpkin haul for the year. There were a few broken stems while loading the car but I'm hoping they will stay semi healthy and intact until I'm ready to transition the porch.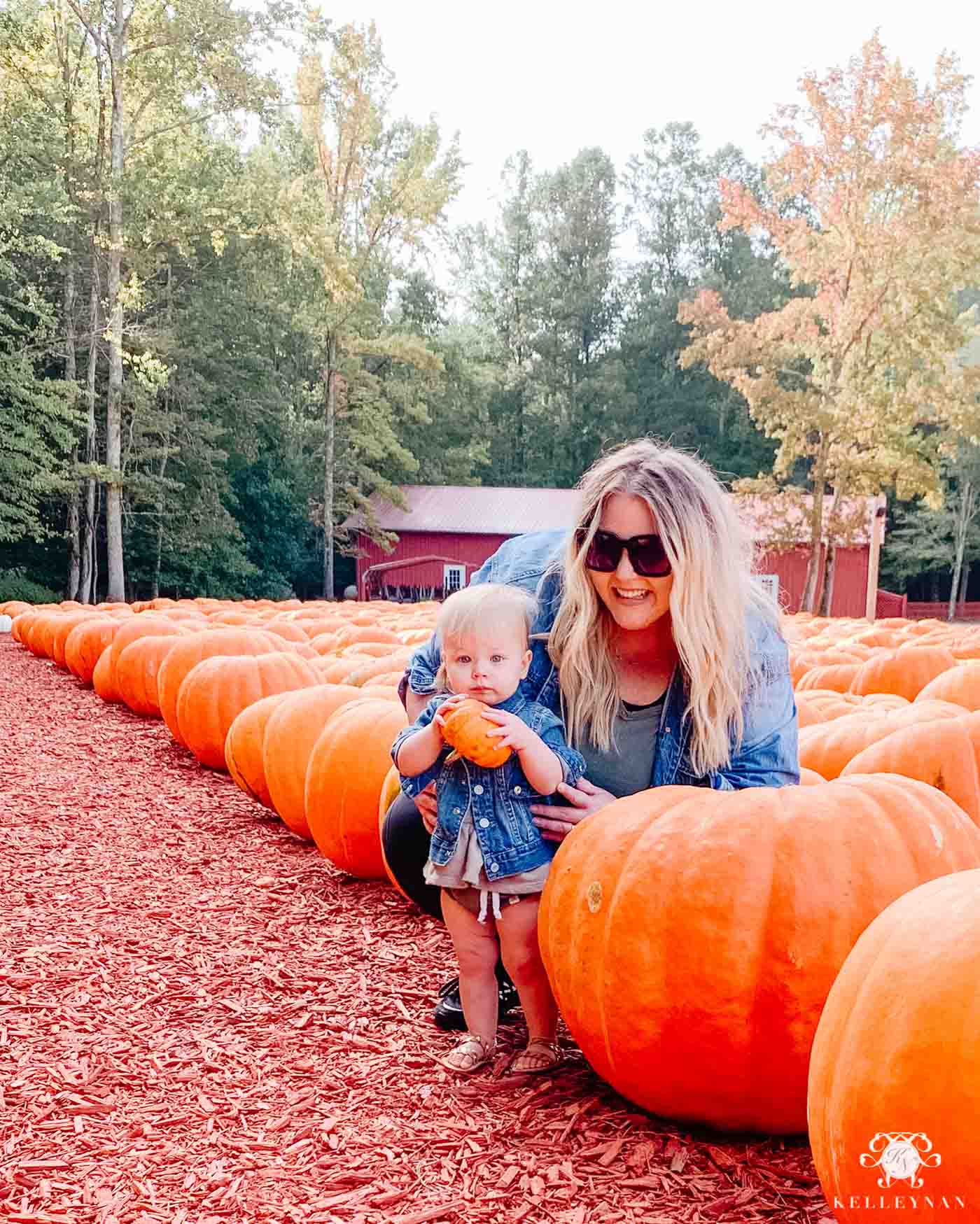 Favorite Fall Wreaths for 2020
I know the craziness this year has affected the ability of many small shops and makers to secure their regular materials and in the timeframe they were hoping. In my searches, overall, wreath options were much more limited than in former years. You may also expect a little more of a delay in shipping than in years' past so if you plan to go with something new this year, now is the time to get that fall front door wreath ordered! Below, I'm sharing 16 favorites from my lengthy searches. Each wreath is linked below the graphic.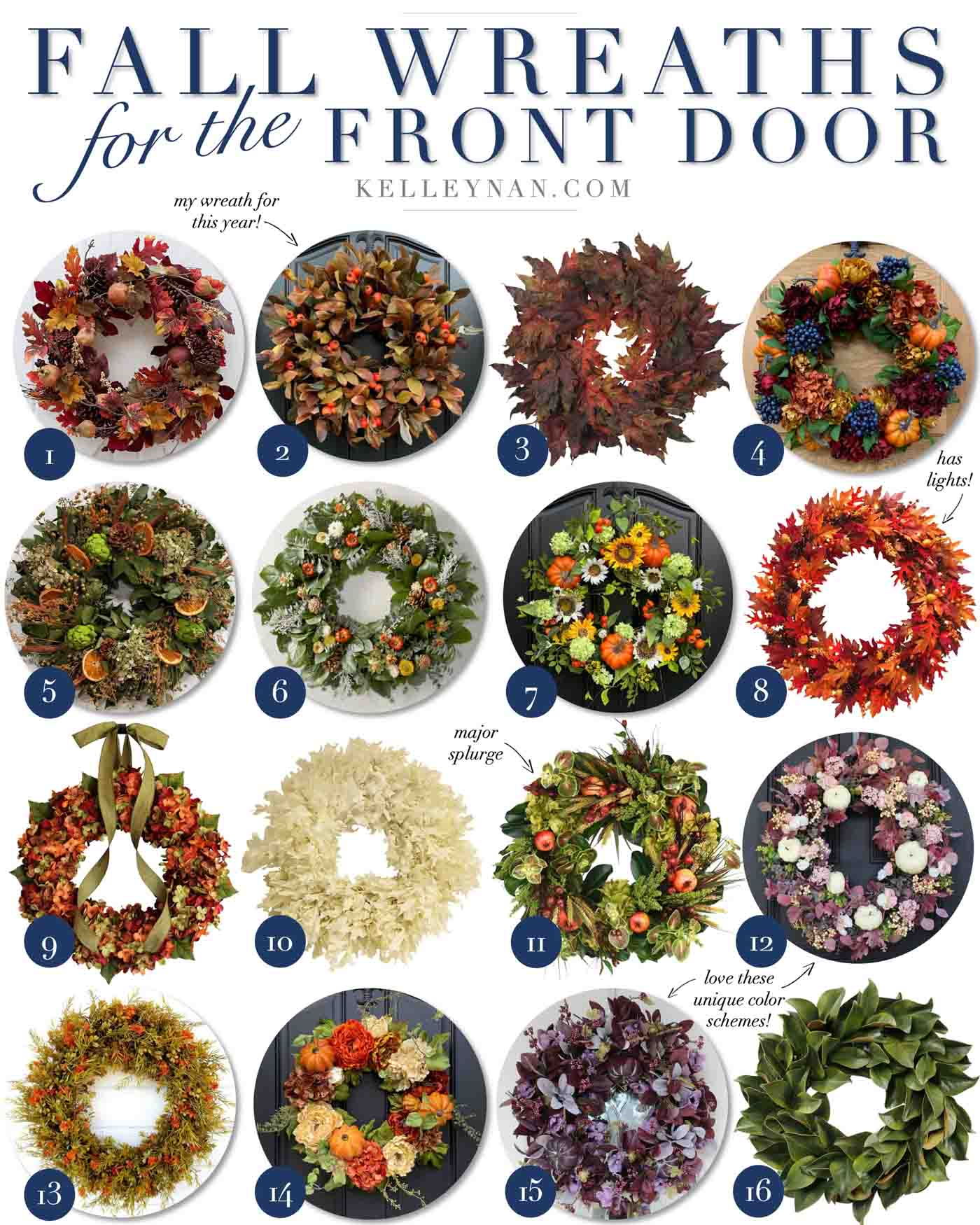 1 | 2 | 3 | 4 | 5 | 6 | 7 | 8 | 9 | 10 | 11 | 12 | 13 | 14 | 15 | 16
Make sure to read the notes; while most are totally faux, some of the wreaths are made from fresh-dried materials (like number 5 and number 11 — a splurge but gorgeous!). These require a space that is a little more protected — on a covered porch or inside. Also, many of these wreaths come in multiple size options — be sure to measure your door so you don't go too small.
Here's a closer look of the wreath that's on it's way to me this year…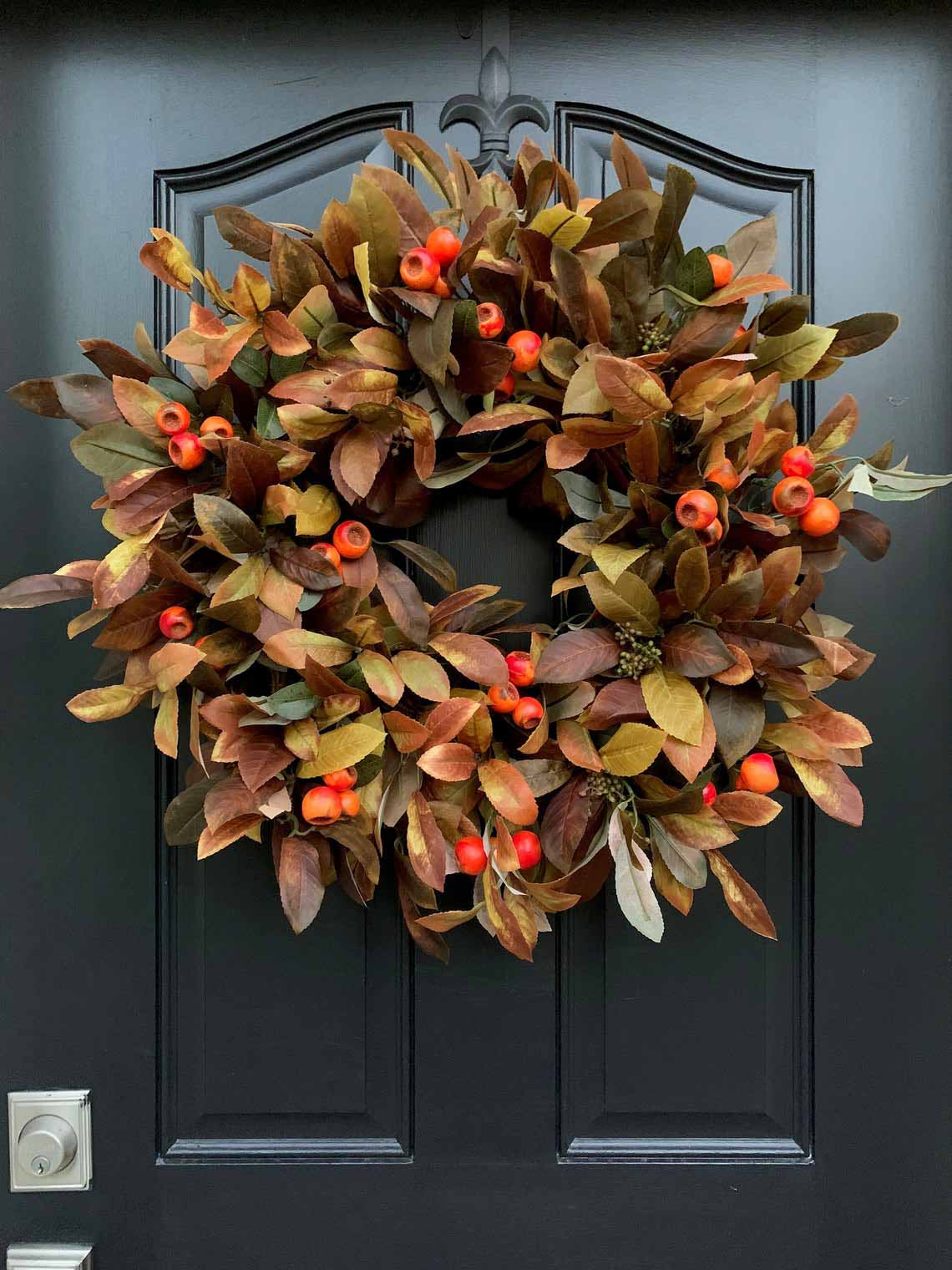 After seeing the quality in the wreath I ordered from the same shop in early spring, I didn't hesitate to order this wreath. You can choose between several dimensions but mine is coming in 26″.
To see how my front porch (and any inside updates) unfold this season, be sure to subscribe to my emails at the bottom of this post!
Scroll & Tap to Shop the Wreaths


Other Fall Posts You May Be Interested In