The outside temperatures may say differently but fall is on its way! I was reading through polls about when people start decorating for fall and the number one answer was September 1; the second most common answer was NOW, and was lastly followed by the day after Labor Day. No matter which way you cut it, all of that is happening in the next two to three weeks! In anticipation of welcoming the best season of the year, today I'm sharing 16 beautiful fall wreaths for the front door. I'm also wondering — last year, it seemed like more people than ever started decorating way earlier for the holidays than in years past. Do you think that trend will continue? I'd love for you to share your seasonal decorating timeline in the comment section at the bottom of the post to see where we all land on this. For now, let's get to the fall front door wreaths.
*Posts on KelleyNan.com may contain affiliate links. Click HERE for full disclosure.
Former Fall Front Porch Decor
One of my all time favorite fall front porch looks was from a couple years ago — in addition to my typical mum/pumpkin combo, piled up and pouring down our front steps, I also incorporated strands of wire twinkle lights.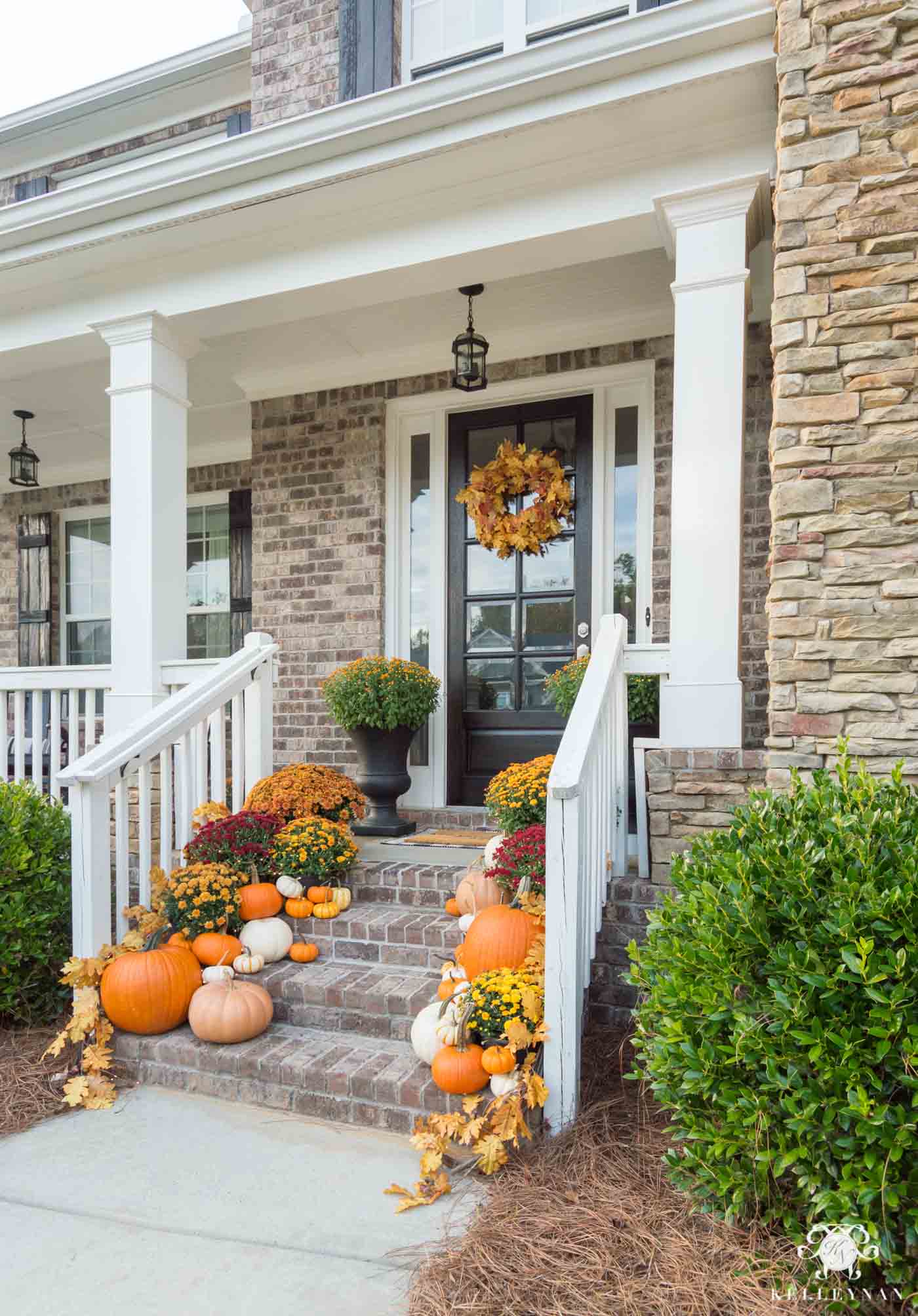 It made the evenings so festive and it was so easy to just nestle the wires in once the scene on the steps was set. The lights come with battery packs and remote controls with several different settings — THIS pack comes with two sets with each strand in 20′ length with 60 lights.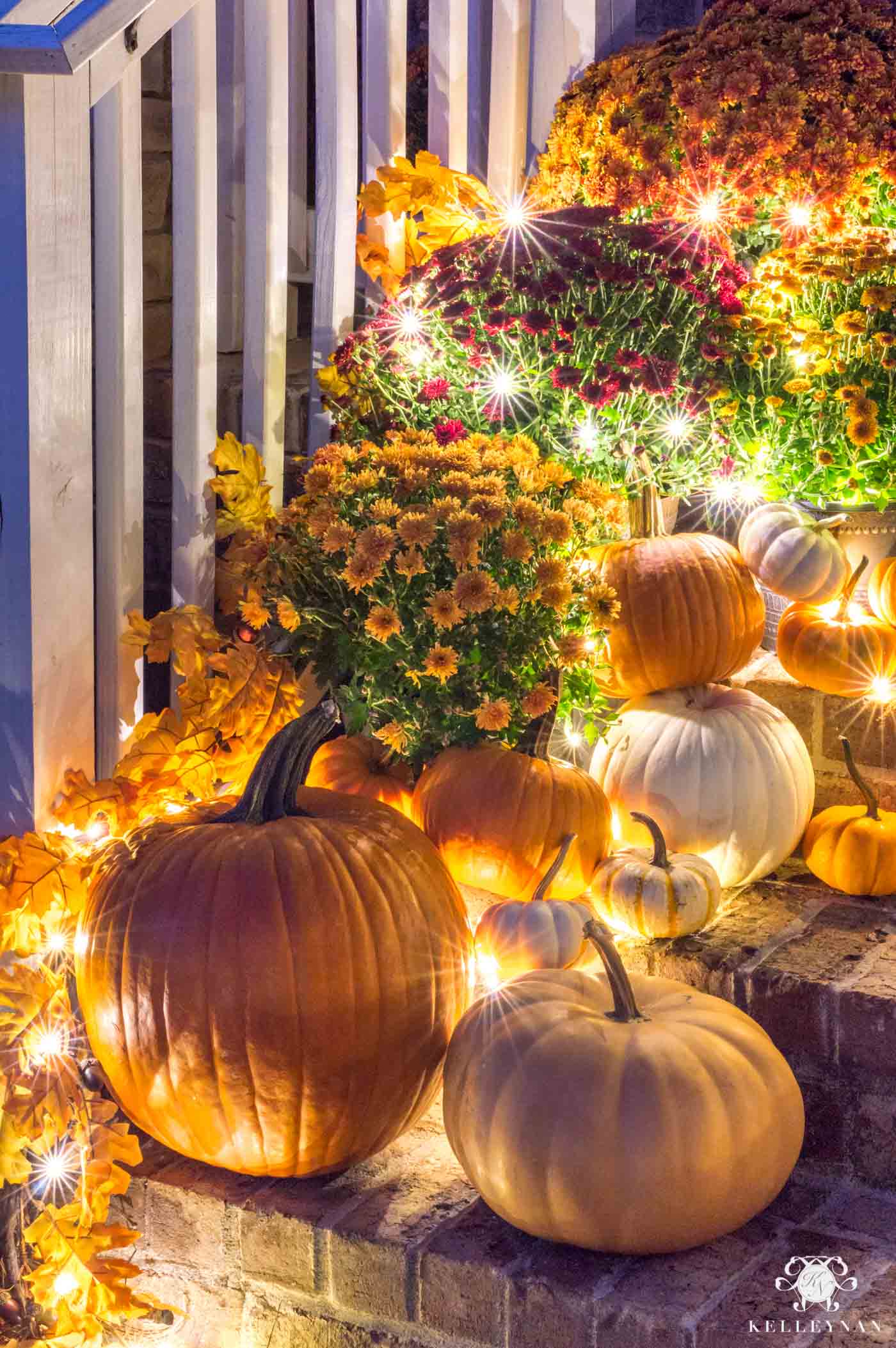 And then last year, I went way simpler and and kept to an orange-exclusive mum theme to tie in to the berries on my fall wreath for the front door.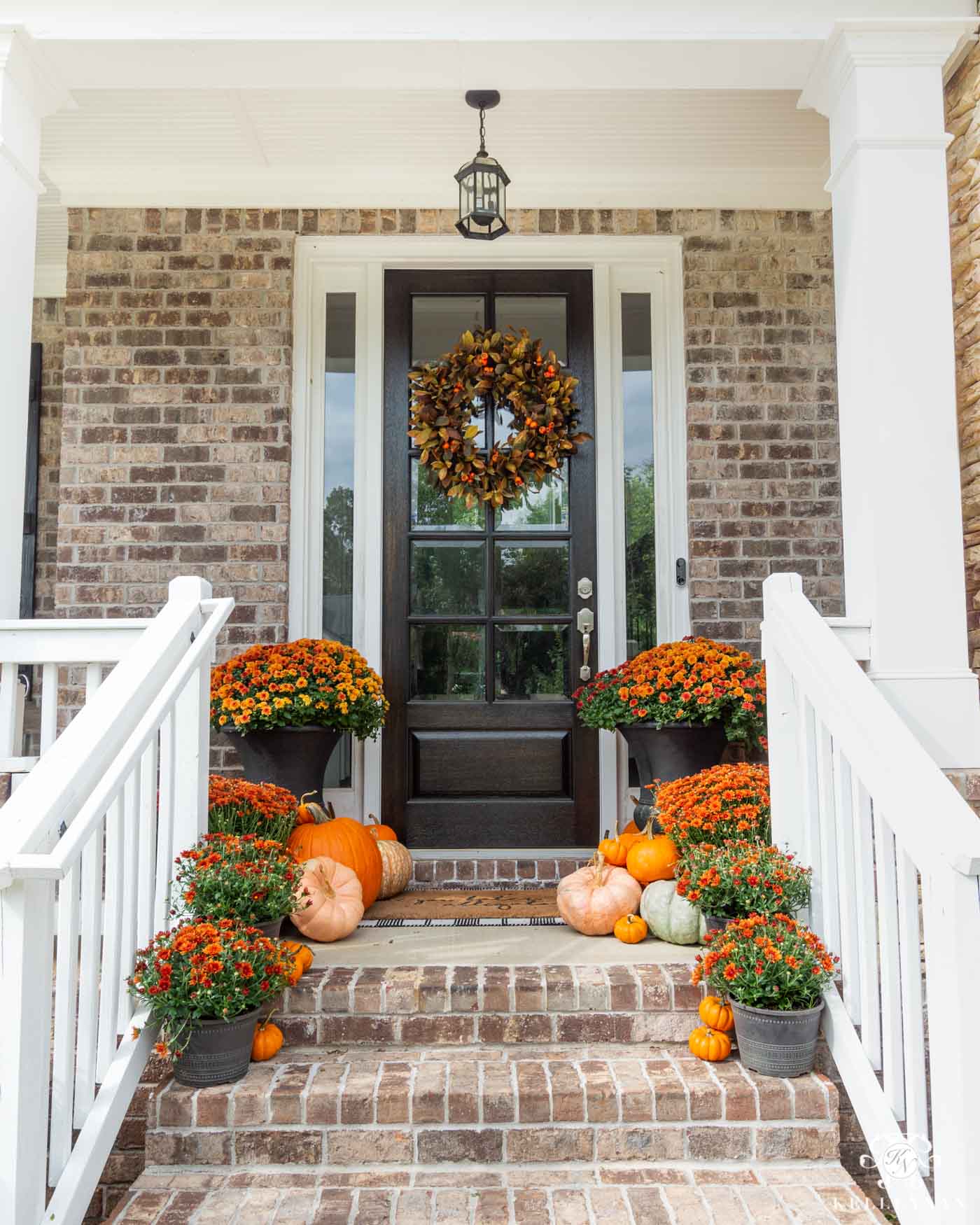 Sources: Wreath | 'See You Later Alligator' Front Door Mat | Black Striped Layering Rug
The wreath is available again this year (HERE) and is so pretty in person. I have purchased several seasonal wreaths from THIS shop and I love that I can choose the size I want — the quality is also unmatched from any other front door wreaths I've ordered. By the way, THIS (striped layering mat) is currently on sale for under $24.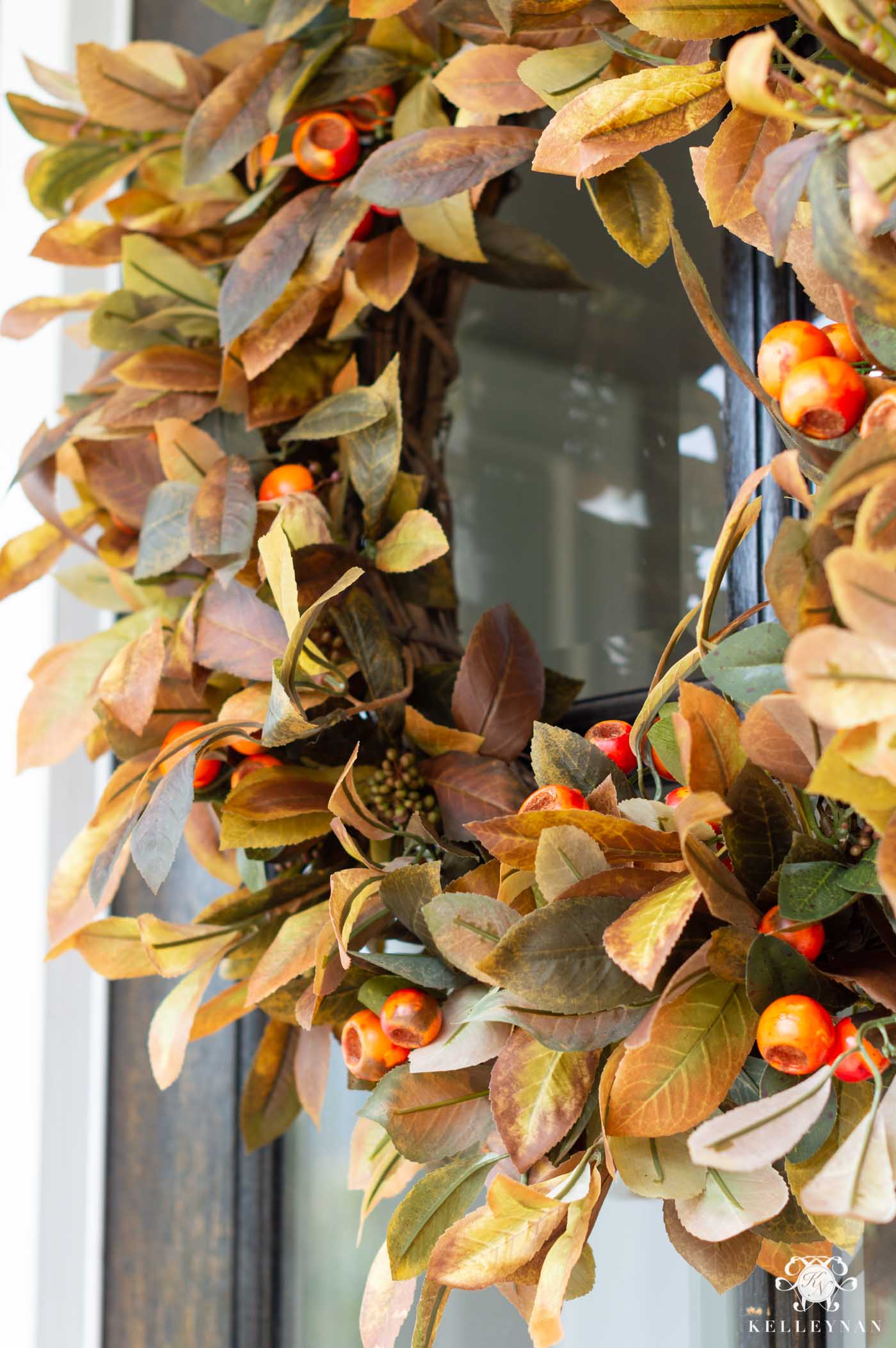 The berries are a rich, beautiful orange and the varied colors in the leaves are awesome. I was such a fan, it's actually going to be the wreath that goes right back up on my front door this year.
You can see a little clip of me setting the fall front porch last year in my Instagram reel below.
View this post on Instagram
Favorite Fall Wreaths for the Front Door for 2021
Last year started a new norm for us and adjusting our expectations when it comes to product and material availability, and longer lead and logistical times. Because of this (and obviously because we're already almost IN fall), it definitely isn't too early to do what you need to do to get your fall decor prepped and ready. With mums and pumpkins not being a possibility until cooler temps set in — at least in my part of the country — a pretty autumn wreath is the first ode to fall we can display on the outside of our homes.
In my search for the prettiest fall wreaths for the front door, several small shop wreaths are already in low supply. As of today's publishing, each of the below wreaths are still available, so let's get to it!  Each wreath is linked below the graphic.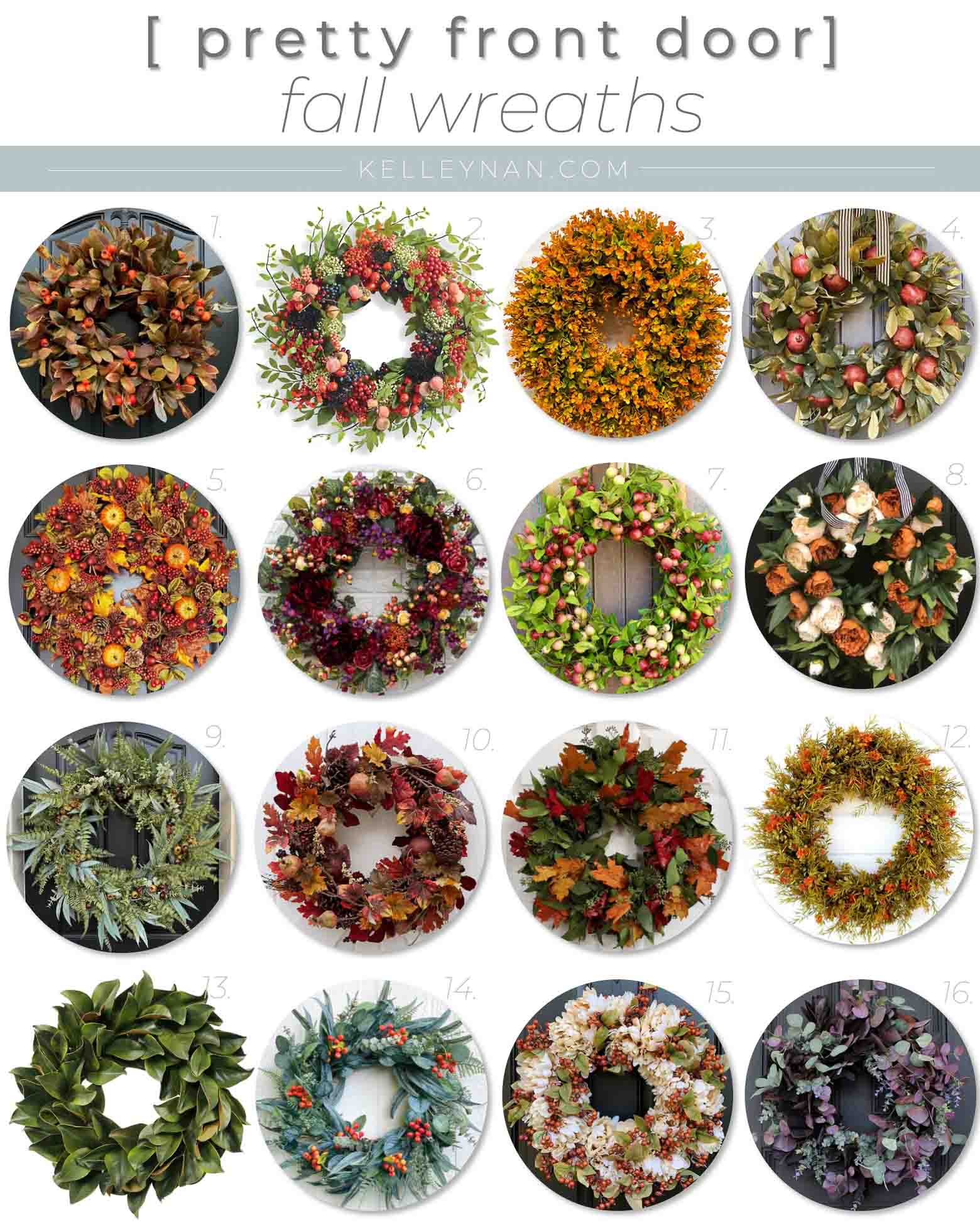 Sources: 1 (currently out but a super similar one (just with apples) — from the same shop — HERE)| 2 | 3 | 4 | 5 | 6 | 7 | 8 | 9 | 10 | 11 | 12 | 13 | 14 | 15 | 16
Make sure to read the notes; while most are totally faux, some of the wreaths are made from fresh-dried materials and may not be appropriate for the outdoors, depending on the weather where you live, if your front door is covered, etc. These require a space that is a little more protected — on a covered porch or inside. Also, many of these wreaths come in multiple size options — be sure to measure your door so you don't go too small. My optimum size (and the size I chose for THIS wreath) is 26″.
Number 7 reminds me of my wreath (Number 1) (currently out but a super similar one (just with apples) — from the same shop — HERE), just with lighter leaves and paler red berries.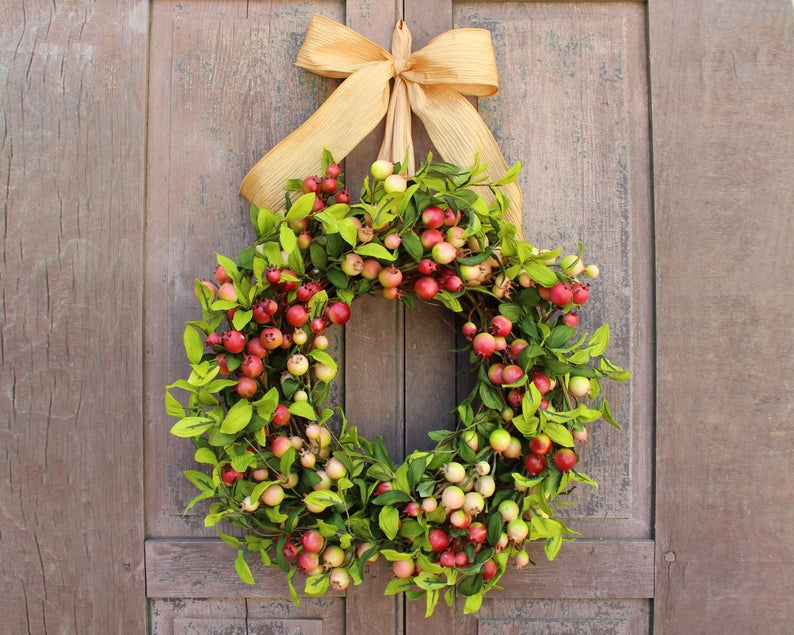 Wreath (image via product listing via Ever Blooming Original)
I continue to love the simplicity of the green magnolia wreath (Number 13) and as a bonus (and an extra smart investment), it transitions beautifully from fall to Christmas to winter… it's just an awesome "anytime" front door wreath!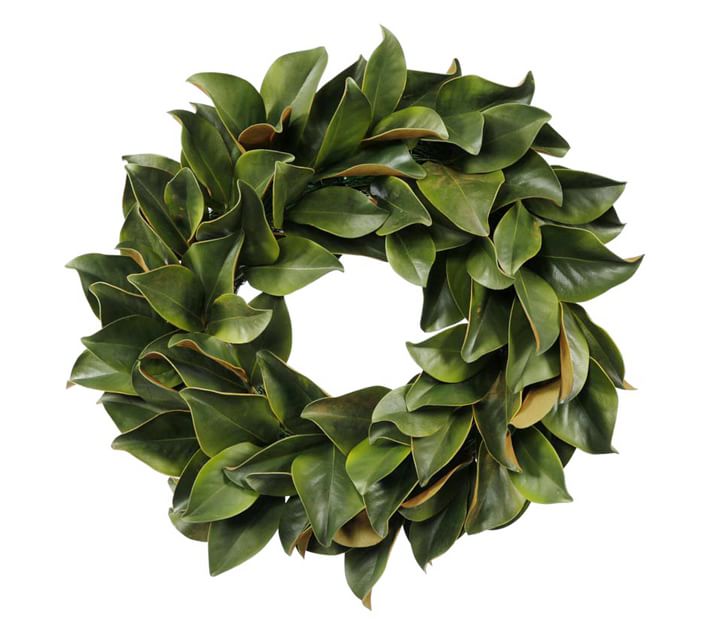 Wreath (image via product listing)
Number 9 is a splurge — and also from my favorite wreath shop — but decked out in olives, it's perfect for just about any time of year!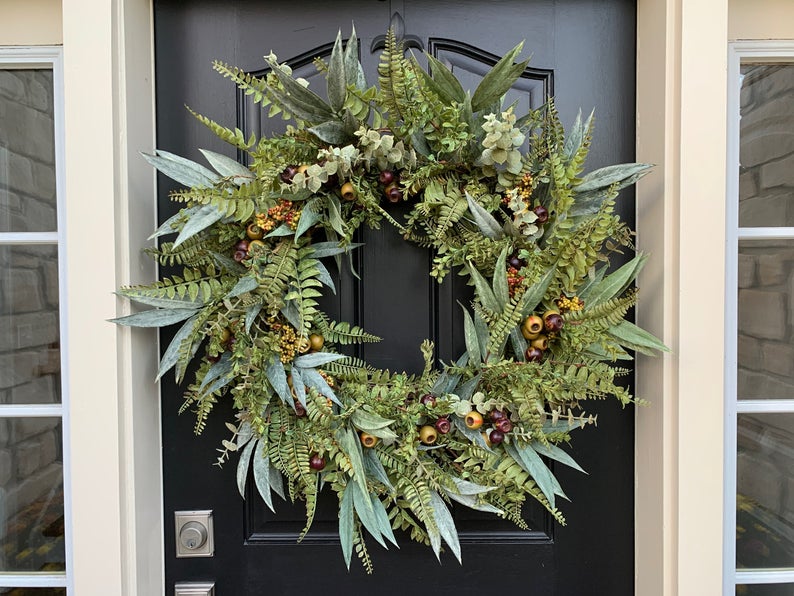 Wreath (image via product listing via Two Inspire You)
I am so in love with the rich jewel tones and scattered berries of Number 6 — how gorgeous would that be with purple and burgundy mums?! If I was purchasing a new wreath for the season, that one would be it!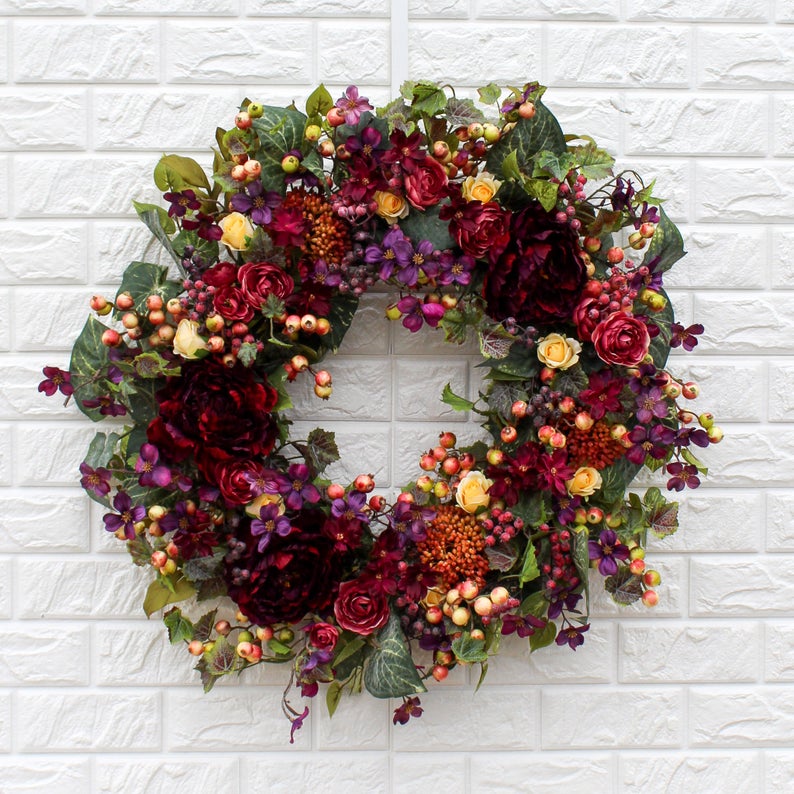 Wreath (listing image via Darby Creek Trading)
Speaking of "berries", Number 2 is gorgeous and full of unexpected colors. It would be awesome for that summer to fall transition.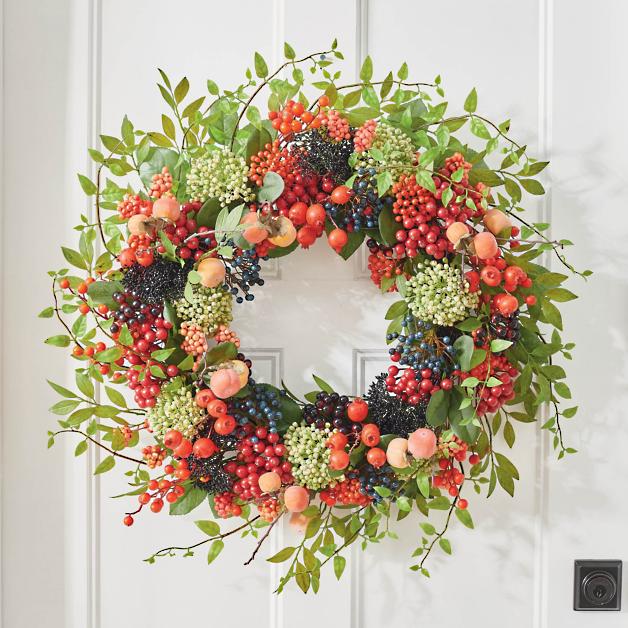 Wreath (image via product listing)
And if you aren't into florals but want something a little more "exciting" than leaves, Number 4 is a gorgeous option, loaded with pomegranates!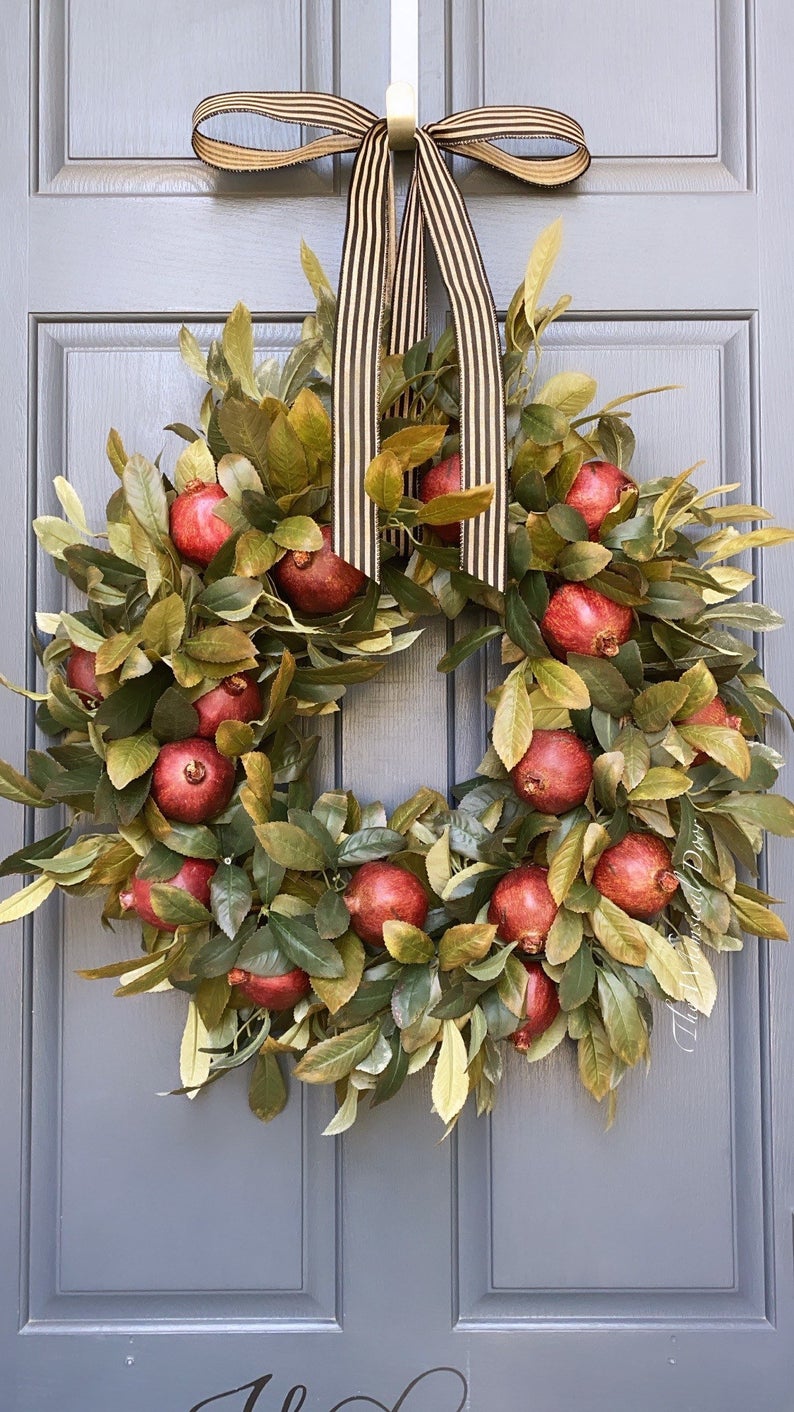 Wreath (image via product listing via The Whimsical Door)
Other Places to Hang Fall Wreaths
What if you have multiple wreaths you love? What if you don't have the best place to hang a wreath on your front door? There are plenty of alternative places to hang these pretty seasonal statements.
Over your mantel
Back door
Interior door
On a large mirror (i.e. dining room, leaning mirror, etc.)
On a kitchen hood
Propped/layered on a shelf/console table
Hung in a picture window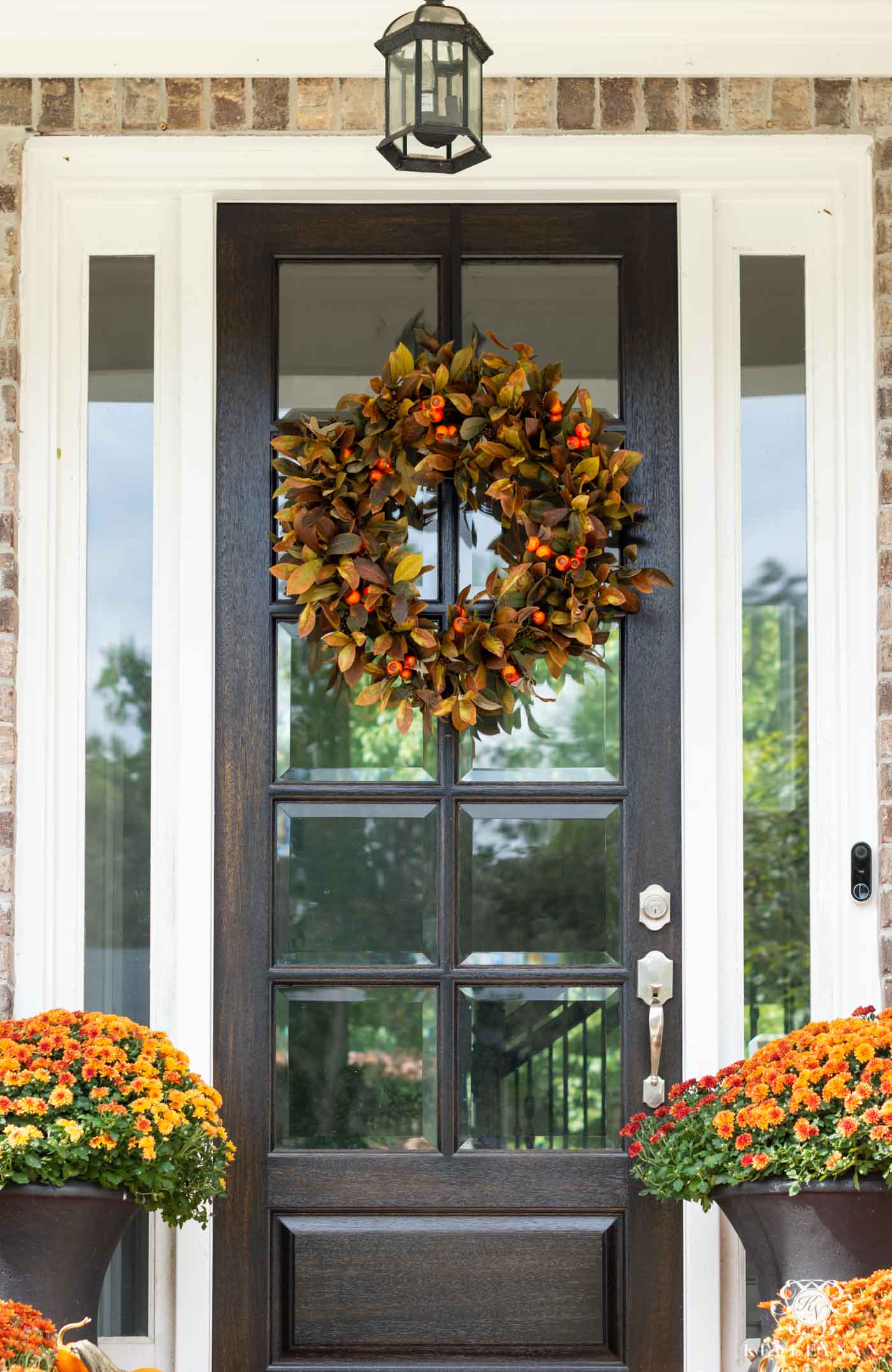 To see other seasonal updates for the rest of the year, plus how my makeover projects will ultimately turn out, be sure to subscribe to my emails at the bottom of this post!
Other Fall Posts You May Be Interested In