There's still some time to accomplish all we wanted this summer, but our sights are already set on fall. When it comes to summer, I tend to tiptoe in but by the time August hits, I'm sprinting toward autumn and all it has to offer (my favorite things). I've already made a few updates inside and switched our entry stems for the upcoming season and undressed our dining room from its vibrant green, but I think I'll be sneaking in some outdoor changes soon, too. Our patriotic doormat and rocking chair pillows are still in place so those will likely be the first updates. Then, before the change in plants and addition of pumpkins, I'll move on to a fall front door wreath. After using the same fall wreath for the past three to four years — that I still have, love and will continue to use — I decided to sub in something new this year. So today, I'm sharing my annual round up of favorite fall wreaths for the front door, along with the wreath I already ordered for the upcoming season!
*Posts on KelleyNan.com may contain affiliate links. Click HERE for full disclosure.
Former Fall Front Porch Decor
I struggle each year because my front porch ferns that I purchase annually each March are still in great shape by the time I start decorating for fall. They're always large and thriving and prior to last year, I would just relocate them to the back porch (where I'd quickly forget to water them and they'd die). This past year, I used them alongside the mums and pumpkins and really like how it turned out!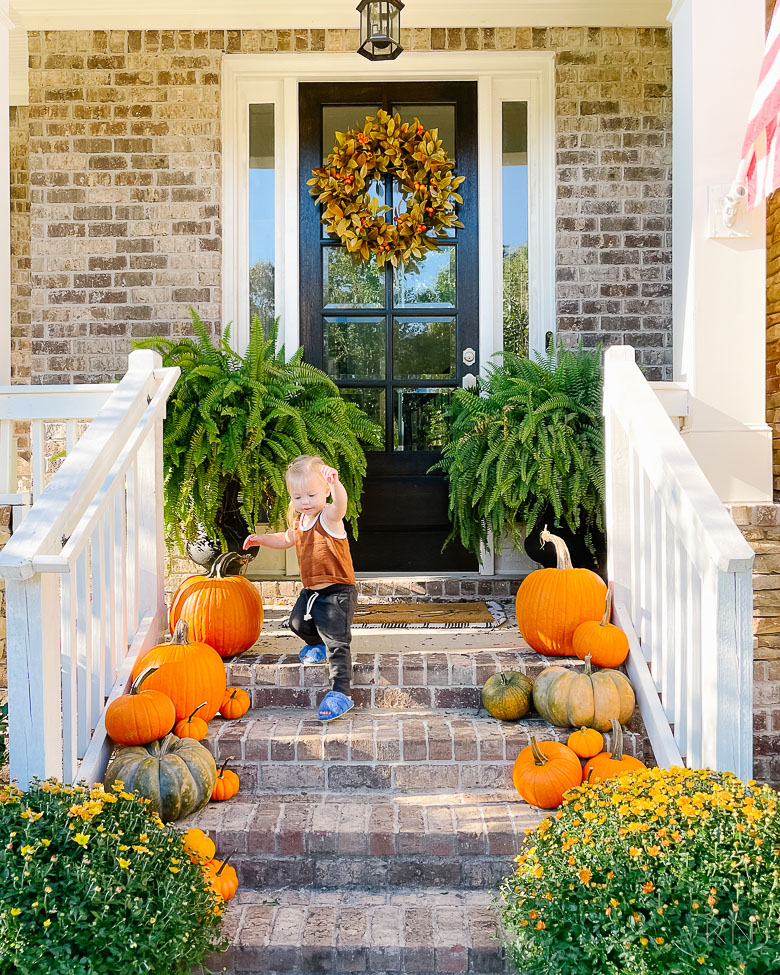 I used the same fall wreath for the front door I'd used in years past and while this exact one it isn't available anymore, the shop still has one with the same greenery with apples (HERE). It's beautiful. As a matter of fact, THIS is the wreath shop I've purchased several wreaths from (I always go with the 26″ option for my door) and they are all fantastic quality and exquisite.
Here are some other fall front porch looks from the past. In 2020, I went for all orange mums…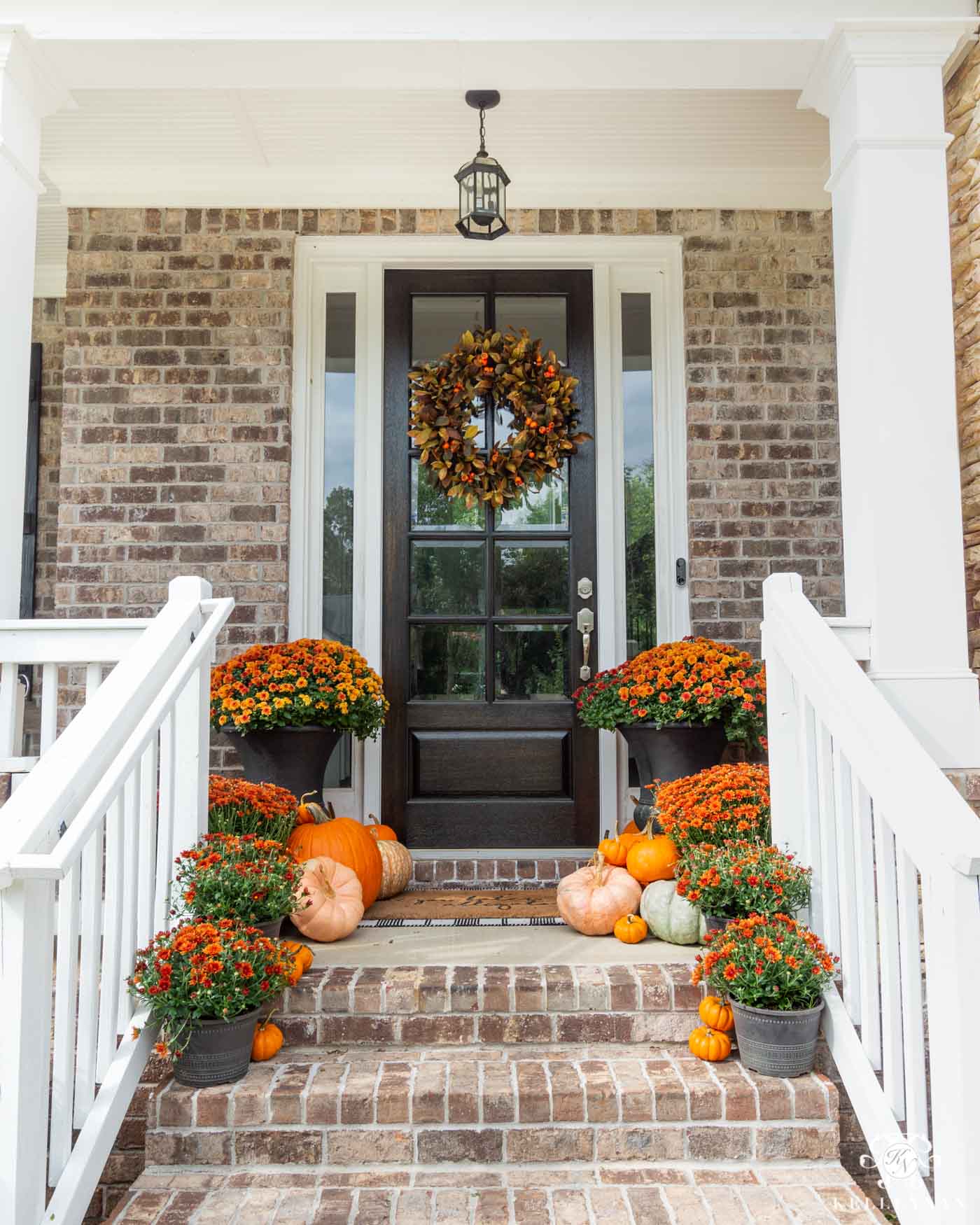 Sources: Wreath (similar) | Black Striped Layering Rug
In the same year, I grabbed another shot closer to Halloween with the blooms had really popped.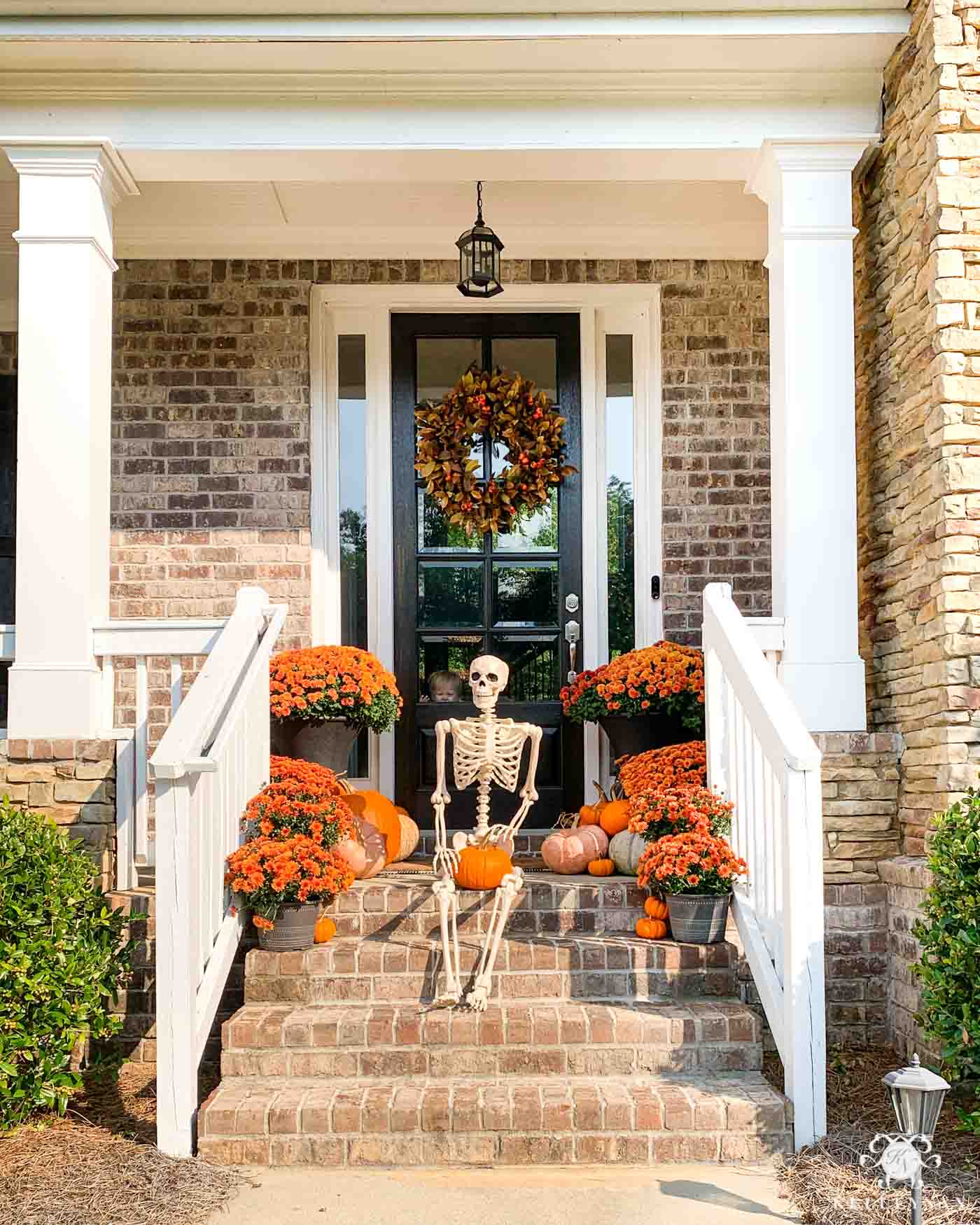 A few years ago, I incorporated a few harvest colors of pumpkins and mums, along with leaf garland that mimicked the front door.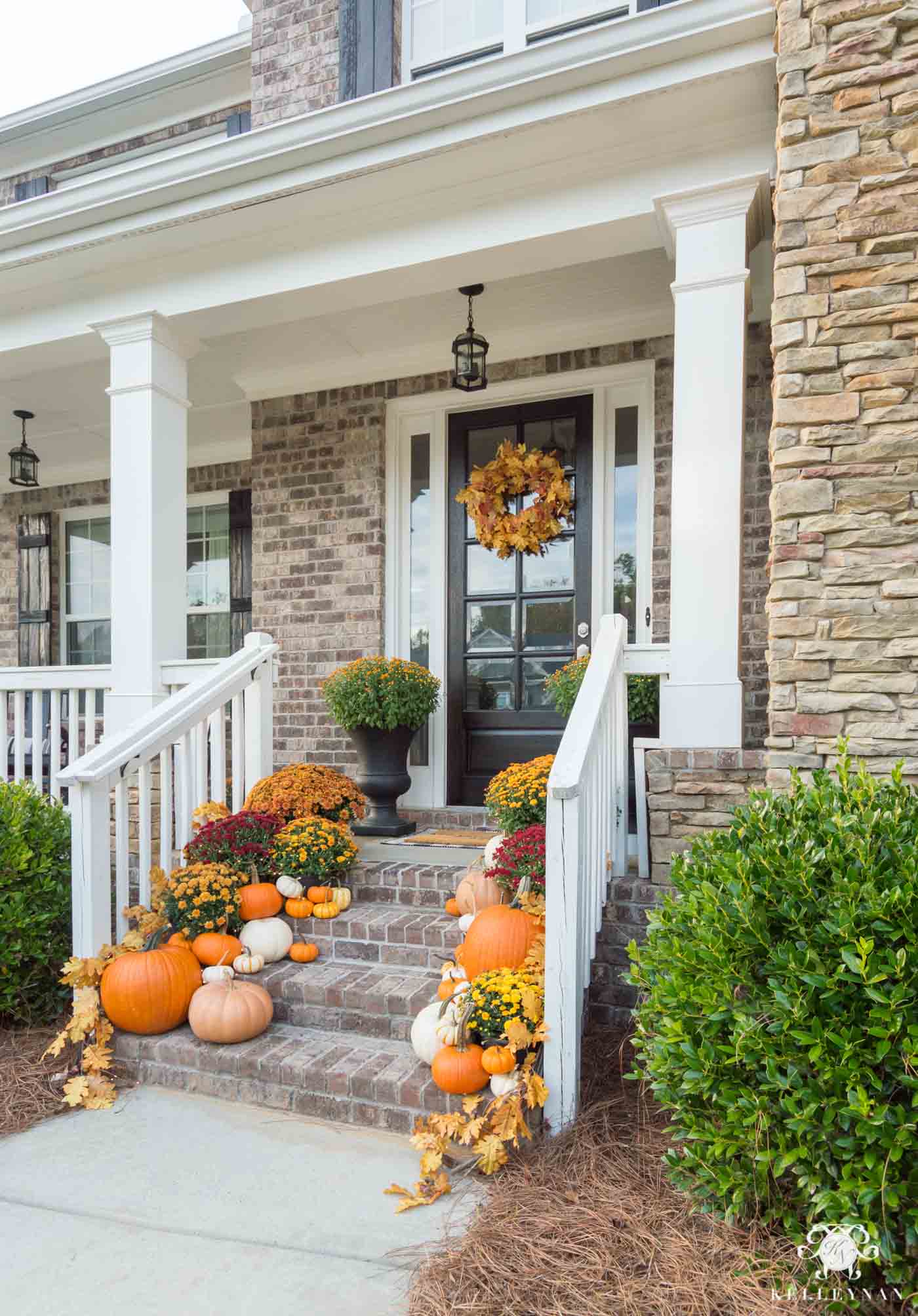 I even wove in some battery operated twinkle lights; here's what it looked like at night.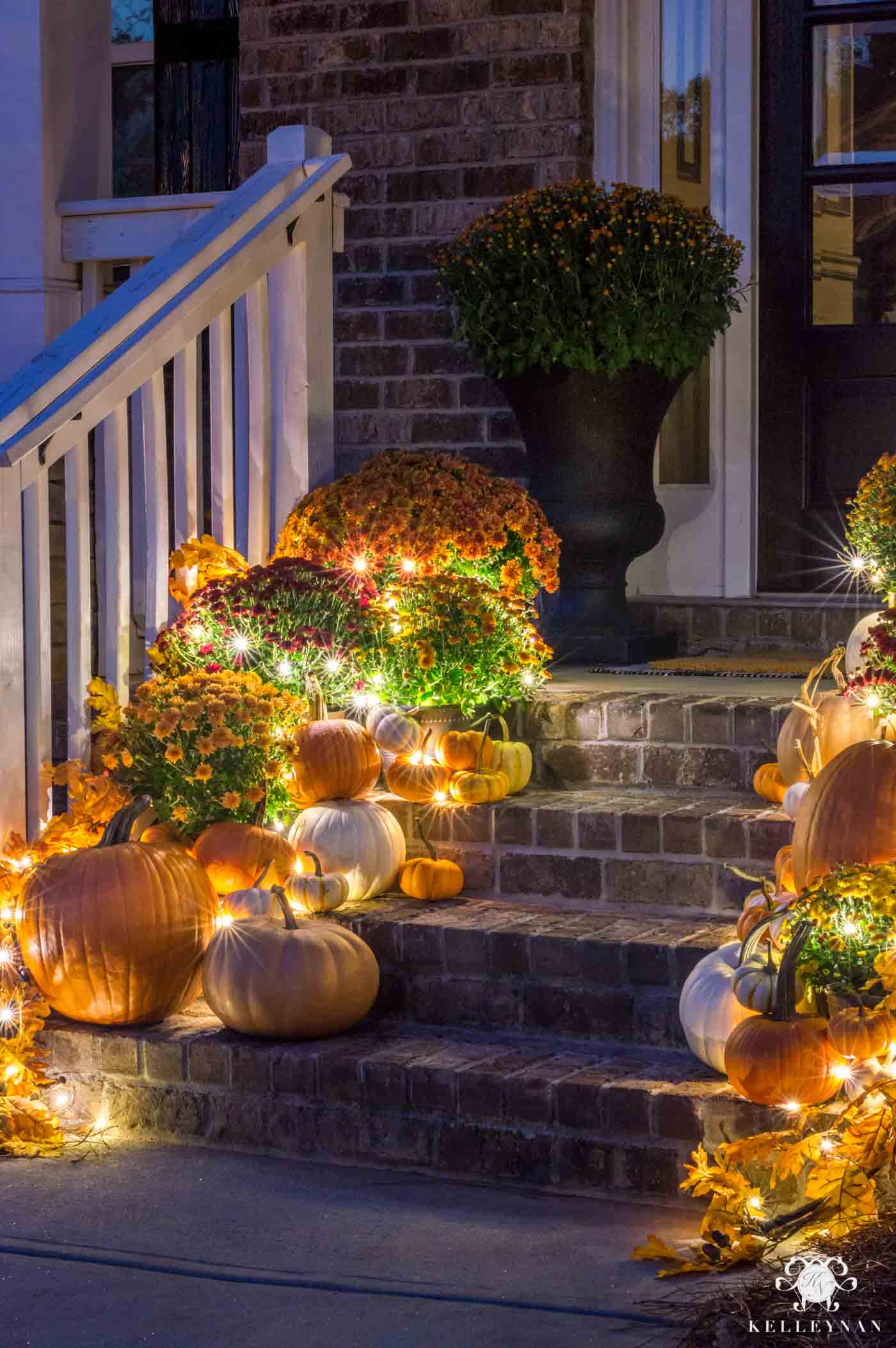 The strands come in sets of two with remote controls with timers, dimmers, and 8 different light options and four color options. Mine are the warm white but there's also multi-color, orange, and white. You can find them all on Amazon with free shipping HERE. I love the twinkle lights because it emphasizes and seems to bring out some of the magic that we start feeling towards the end of the year.
Favorite Fall Wreaths for the Front Door for 2022
With continued long lead times, I'm more and more trying to plan ahead for seasons to ensure availability and that whatever I'm seeking will arrive on time. In my search for the prettiest fall wreaths for the front door, several small shop wreaths are already in low supply. As of today's publishing, each of the below wreaths are still available, so let's get to it! Each wreath is linked below the graphic.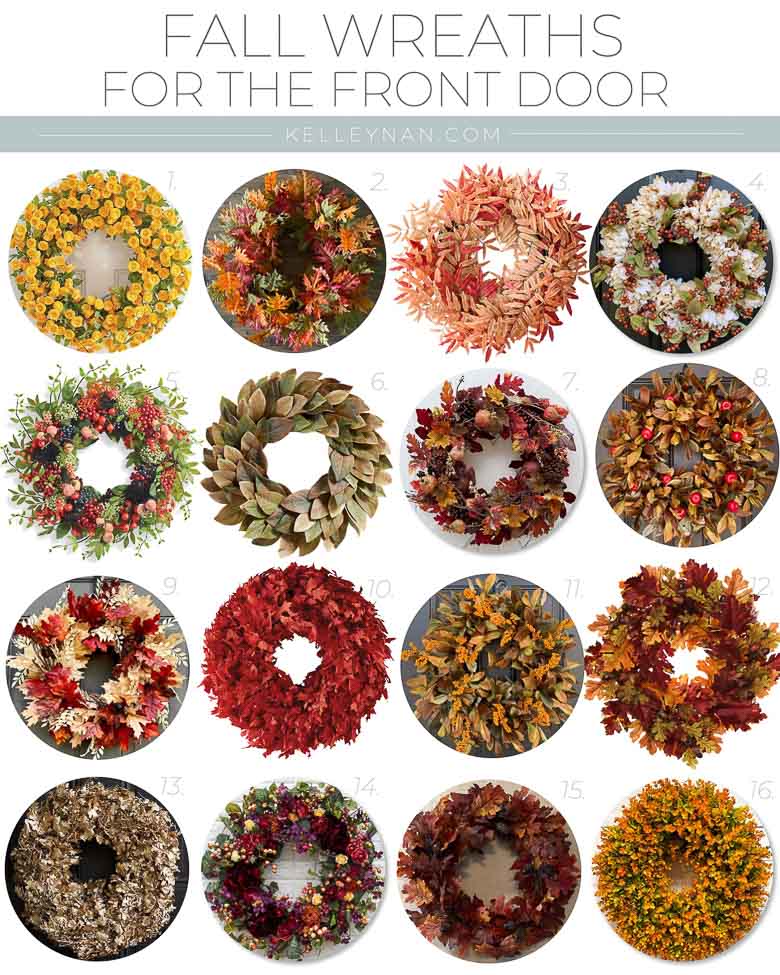 Sources: 1. Yellow Mum Wreath | 2. Oak Leaf Wreath | 3. Sumac Wreath | 4. Peony/Berry Wreath | 5. Autumn Berry Wreath  | 6. Magnolia Wreath | 7. Pomegranate/Pine Cone Wreath | 8. Apple/Foliage Wreath | 9. Fall Leaves Wreath | 10. Oak Leaves Wreath | 11. Fall Foliage/Berry Wreath | 12. Oak Leaf Wreath | 13. Gold Oak Wreath | 14. Sangria Cosmos/Yellow Roses Wreath | 15. Red Autumn Leaf Wreath | 16. Eucalyptus Wreath
Make sure to read the notes; while most are totally faux, some of the wreaths are made from fresh-dried materials and may not be appropriate for the outdoors, depending on the weather where you live, if your front door is covered, etc. These require a space that is a little more protected — on a covered porch or inside. Also, many of these wreaths come in multiple size options — be sure to measure your door so you don't go too small. My optimum size for my front door (and the size I chose for the similar version to THIS wreath — Number 8) is 26″.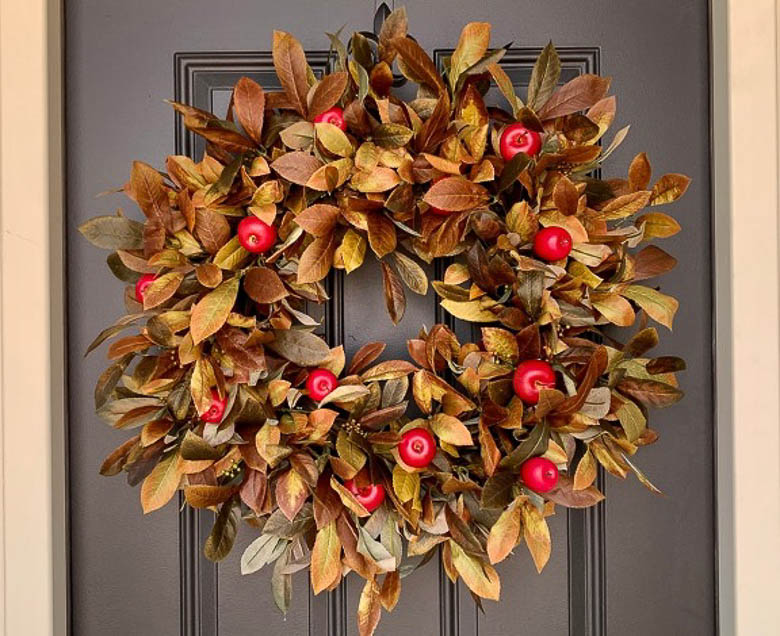 Source: Apple/Foliage Wreath
THIS mum wreath (Number 1) comes in four colors and is 25″ in diameter. If you are routine in adding mums to your porch, I love the idea of coordinating potted mums to THIS wreath! There's a color for just about every style — whether you prefer neutrals and go with white or gravitate toward traditional colors and opt for yellow or orange. It also isn't often you see a wreath filled with mum blooms!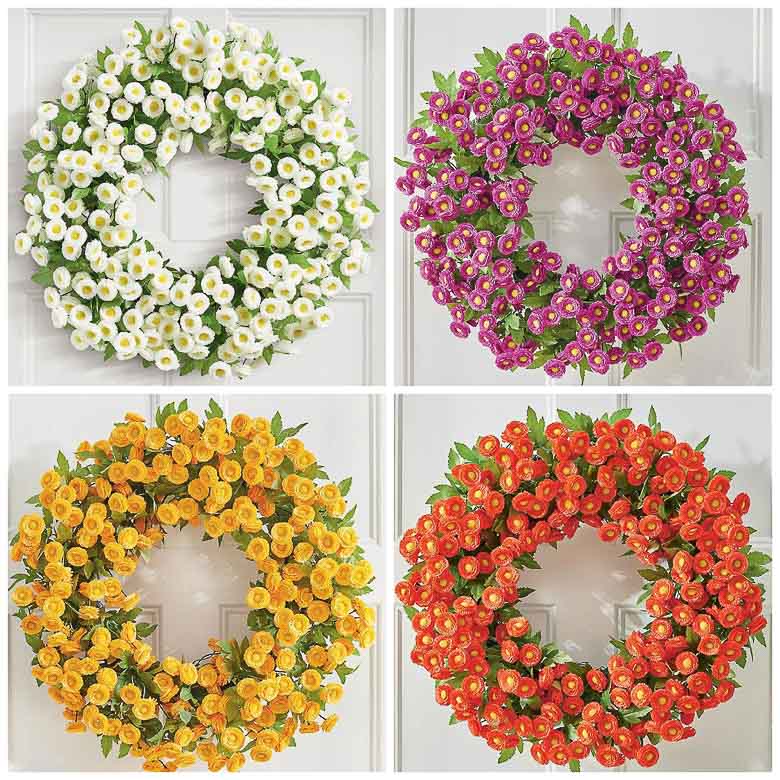 Source: Mum Wreath
The wreath I ordered for myself this year is THIS fiery sumac wreath (Number 3). It's under $100, is 28″ in diameter, and even has a coordinating garland. It says in the description it isn't meant for outdoors but since I have a covered porch (and their images show in outdoors), I'm willing to take the chance. I think I'm going to go all orange with both vibrant and pale shades this year, using this wreath and my inspiration.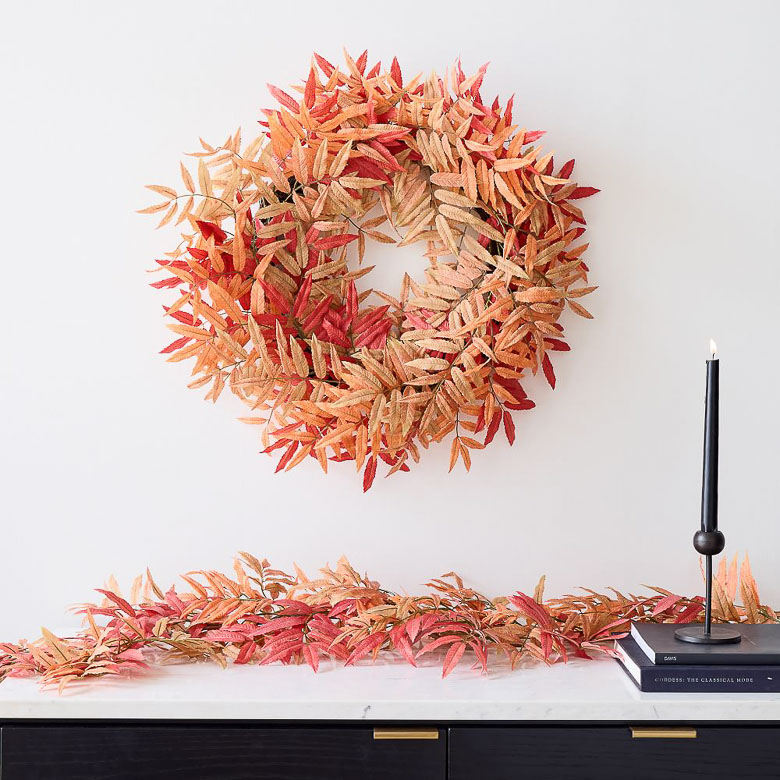 Source: Sumac Wreath
Magnolia wreaths are my favorite because 1. they always look great, 2. they're perfect for any season, 3. they're timeless and fit any style. I've shared more rich, vibrant green magnolia wreaths in the past, but I love THIS one (Number 6) and it's natural, muted varying tones of green and brown. It's an easy one to transition to Christmas too. You can tie a bow on it, add some other greenery to it, or leave it all on its own.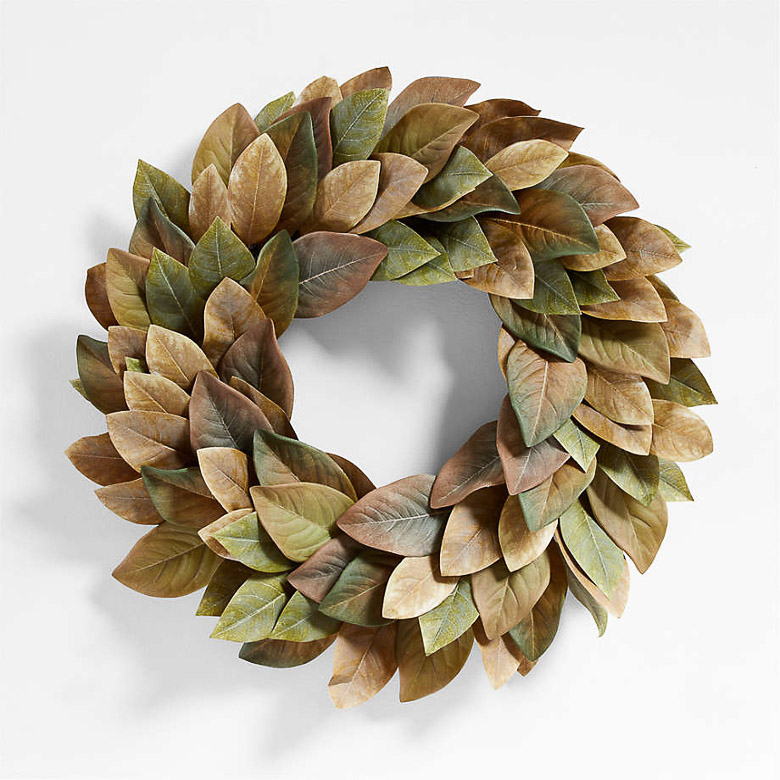 Source: Magnolia Wreath
THIS gold wreath with preserved oak leaves (Number 13) is a stunner and combines a rustic element with a little bit of glam flare. It's on major sale at Anthro right now ($114, marked down from $158). It would be beautiful indoors and reminds me of a wreath I used in my dining room last year.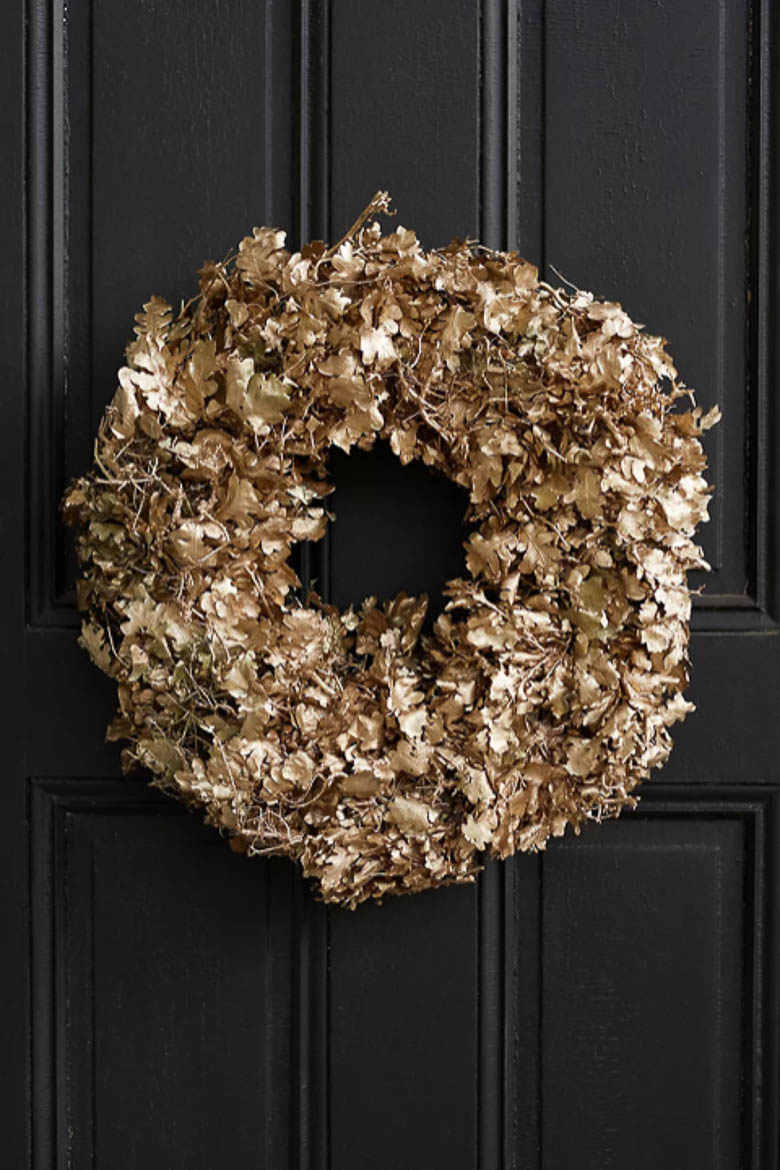 Source: Gold Oak Leaf Wreath
My wreath from last year in the dining room was faux oak leaves and mixed a few gold tones together. It is also pre-lit with twinkle lights; it's still available HERE.
Sources: Pre-Lit Oak & Acorn Wreath | Cement Lamps | Jadeite Platter | Jadeite Cake Stand (Bottom) | Jadeite Loop Cake Stand (Top) | White Leaf Platter | Hob Nail Goblets | Sideboard (similar) | Dining Chair
Another beautiful wreath composed of preserved oak leaves — THIS stunner (Number 10) in vibrant red! It's also on sale right now. Again, as I mentioned earlier in the post, make sure to read all the details on each wreath. This one is described as indoor only so use your own judgement when determining spaces where it would be appropriate.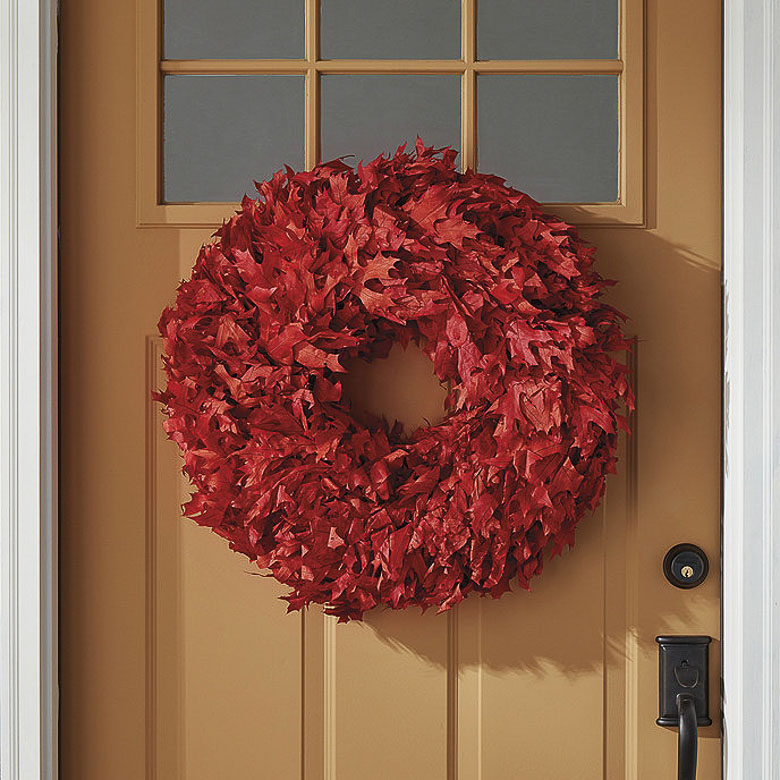 Source: Oak Leaves Wreath
I love that THIS wreath (Number 9) combines statement-making red with a bleached neutral. It comes in three size options and it would be fun to create a front porch-scape based on this color scheme!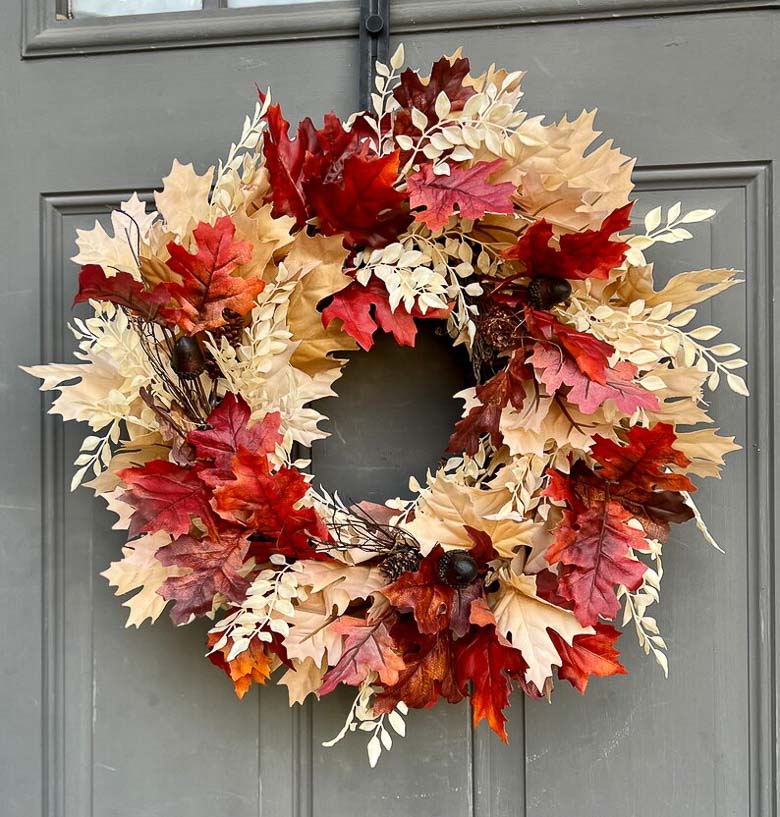 Source: Fall Leaves Wreath
I'm a sucker for leaf wreaths (can you tell?) and THIS one (Number 12) constructed of multi-color faux maple leaves is versatile and striking. It's a great wreath to use fall after fall while still being able to easily change up and coordinate your other porch decor — from plants to pumpkins.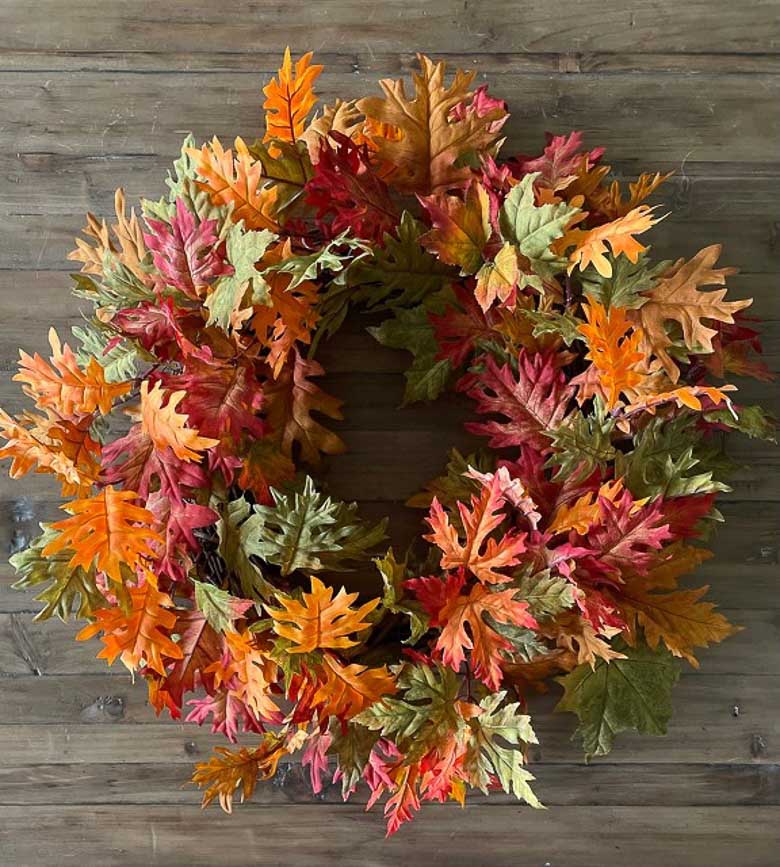 Source: Fall Foliage Wreath
Other Places to Hang Fall Wreaths
What if you have multiple wreaths you love? What if you don't have the best place to hang a wreath on your front door? What do you do with wreaths from seasons past? There are plenty of alternative places to hang these pretty seasonal statements.
Over your mantel
Back door
Inside of front door
Interior door
On a large mirror (i.e. dining room, leaning mirror, etc.)
On a kitchen hood
Propped/layered on a shelf/console table
Hung in a picture window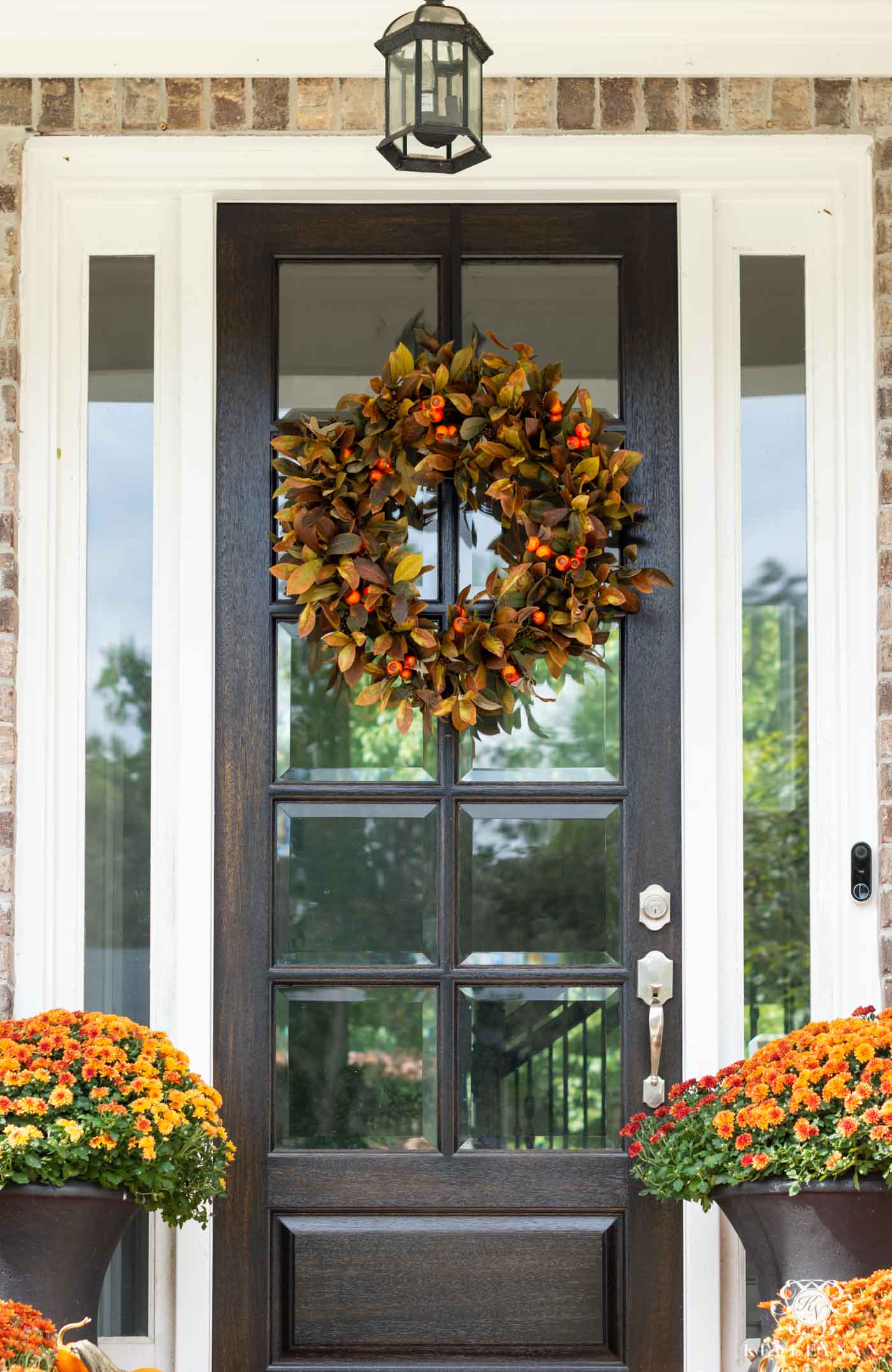 Are you in the market for a new fall wreath for the front door this year? Do you have a standard you use year after year? Do you try to coordinate your fall wreath with your fall plants and pumpkins? Are you starting to think about the next season yet??
To see other upcoming seasonal updates for the rest of the year, how my fall front porch will ultimately look, and if I will finish any major projects in the coming months, be sure to subscribe to my emails at the bottom of this post!
Other Fall Posts You May Be Interested In
Shop the Prettiest Fall Wreaths for the Front Door