Following our trip to the pumpkin patch the Friday before last — and a we-didn't-mean-to-get-this-many mums run — I set up our fall porch for the year earlier this week! Fall has been in the air for about a week now, but I think in the coming days, temps are going to head back to the 90s. Regardless, I was ready to decorate the front porch for fall and have no regrets. 😉
*Posts on KelleyNan.com may contain affiliate links. Click HERE for full disclosure.
Decorating the Front Porch for Fall
Honestly, my original vision of different orange tones (and sticking exclusively to oranges in general) shifted in the moment. Dave called from Costco and said they had no large orange mums, but did have small ones. So, I asked for red large and both red and orange small. Then he said they did have large orange… so I asked him to get those, also. Then he realized the "red" small mums were actually purple so I swung into Walmart and grabbed some small red ones I could see from the street. When Dave got home, I saw that most of the "orange" actually appeared more yellow. The result is a harvest rainbow and a few more mums than I had planned (haha). Here's the result…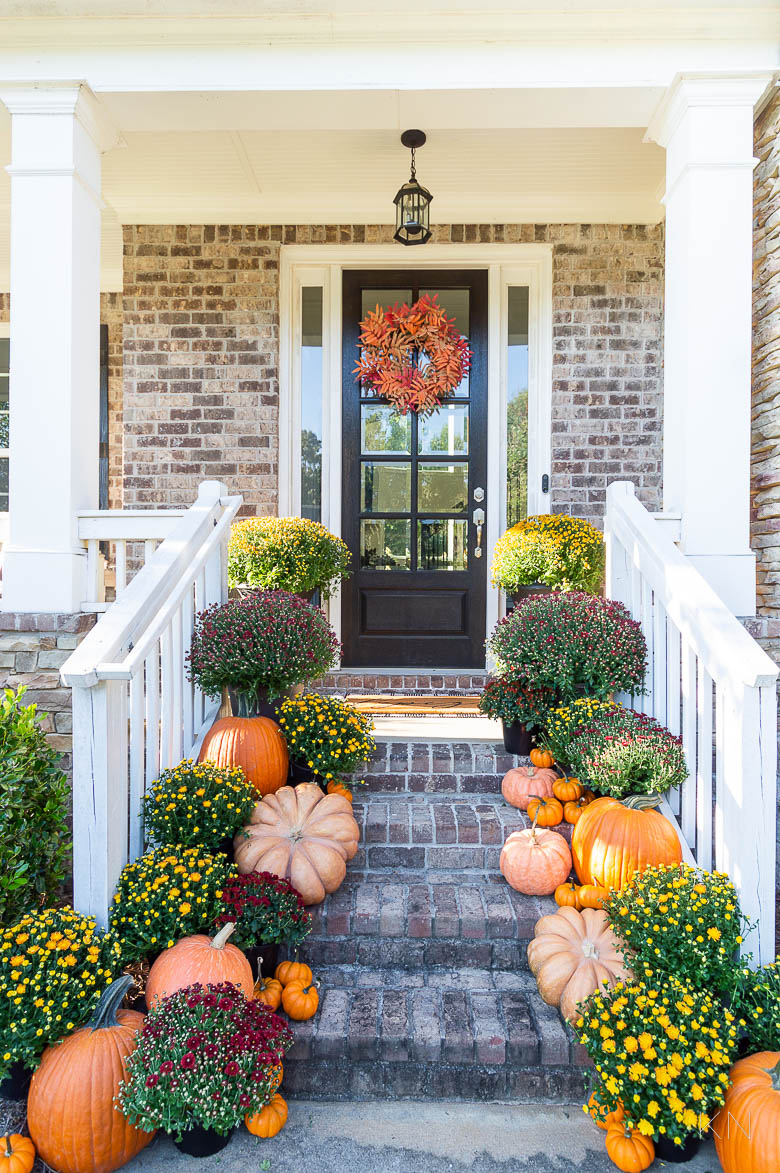 Sources: Sumac Wreath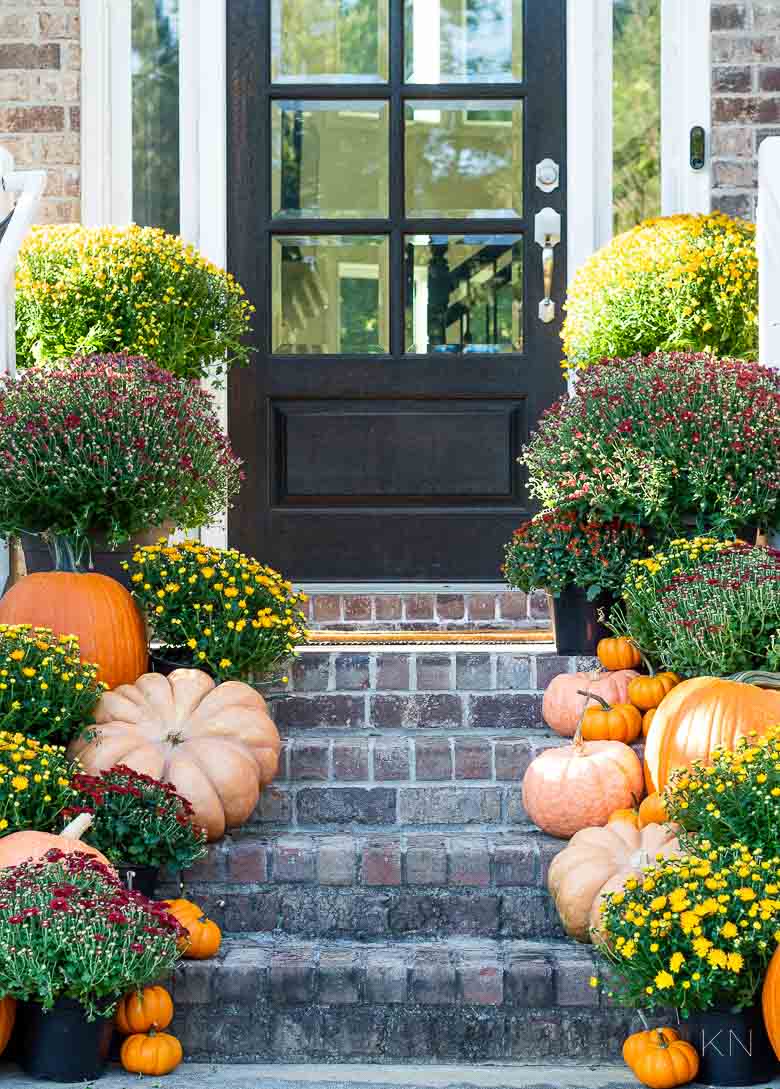 With the sun and several mums not being under shelter, I've been giving the water in the morning daily… six huge pitchers worth! And since I first set them up and grabbed a few shots, they've continued to pop and open up more. If you're an email subscriber, I'll send an email in a few days with they're updated appearance.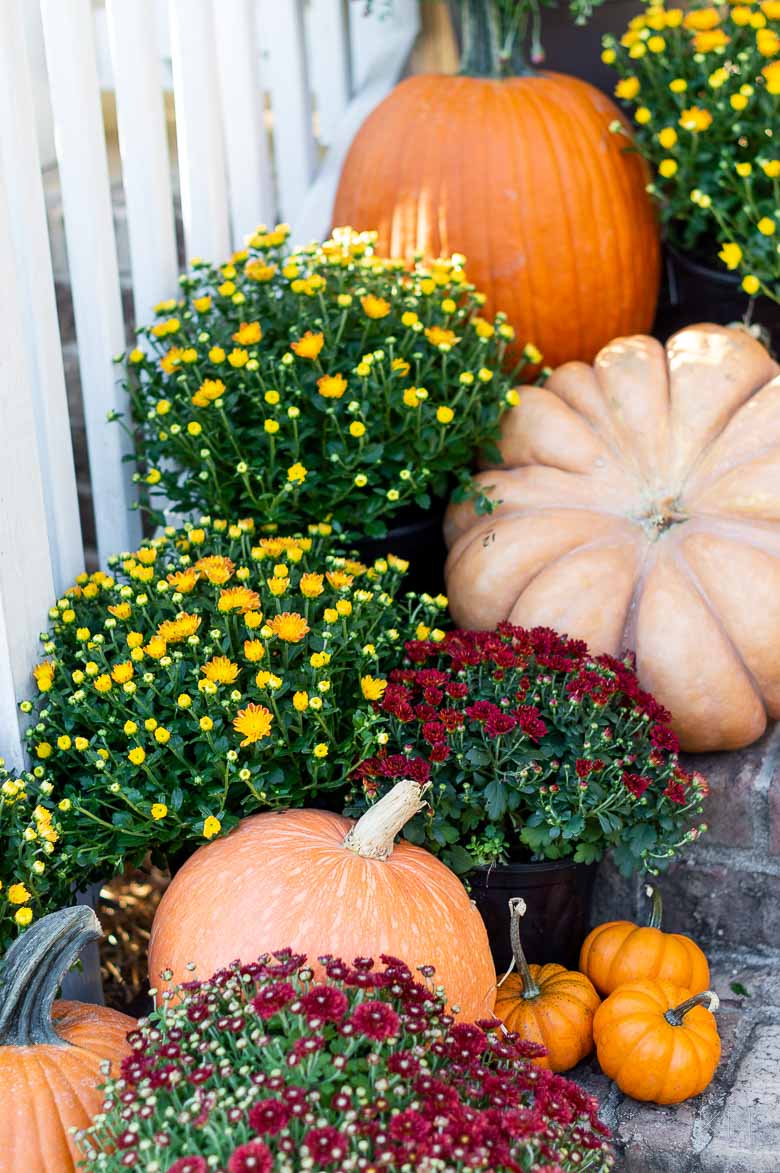 I probably could have benefited from mixing in a couple strands of sumac garland (HERE) — intertwined with the pumpkins and mums — from the same collection as my wreath (HERE). I will probably add some battery twinkle lights, as I have in the past, still. You can find the ones I use on Amazon HERE; they come in a two-pack.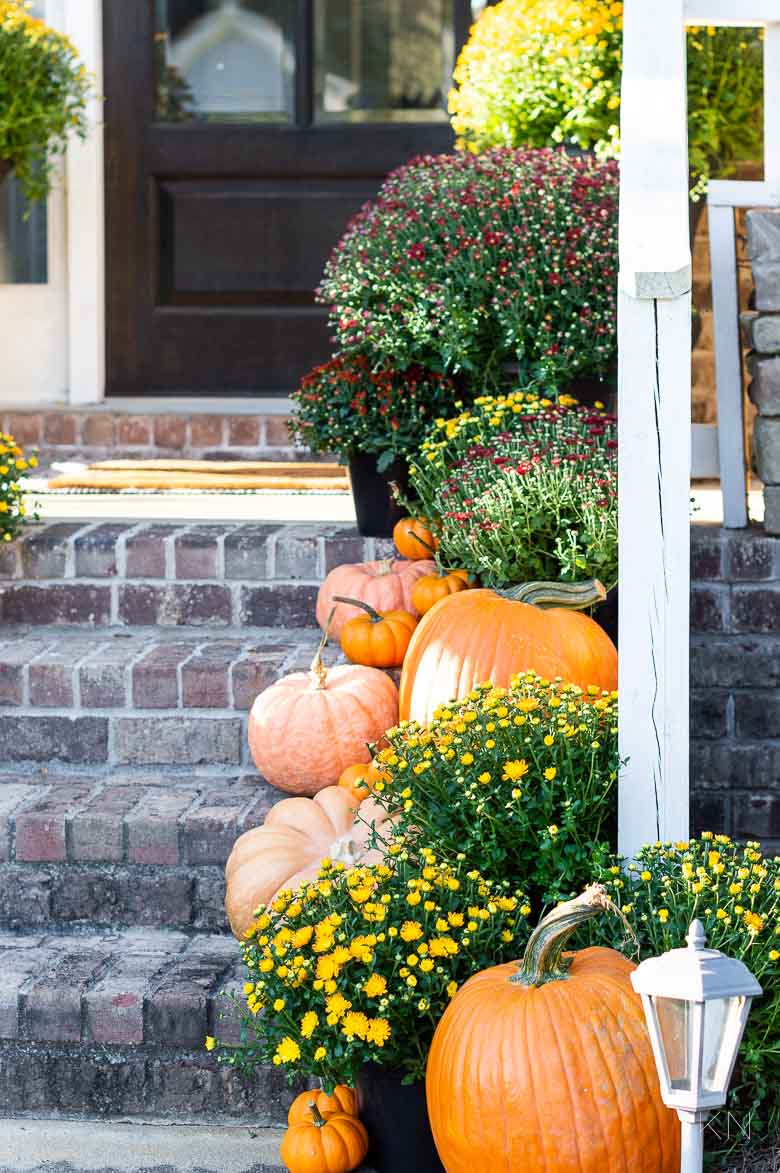 Because I decorated the front porch for fall early, I have zero expectations for the mums and pumpkins to last til Thanksgiving — at least the unsheltered ones, bearing the brunt of the heat. But, as things get crispy/mushy, I'll just adjust and move them upwards and inwards — toward the front door and the railings.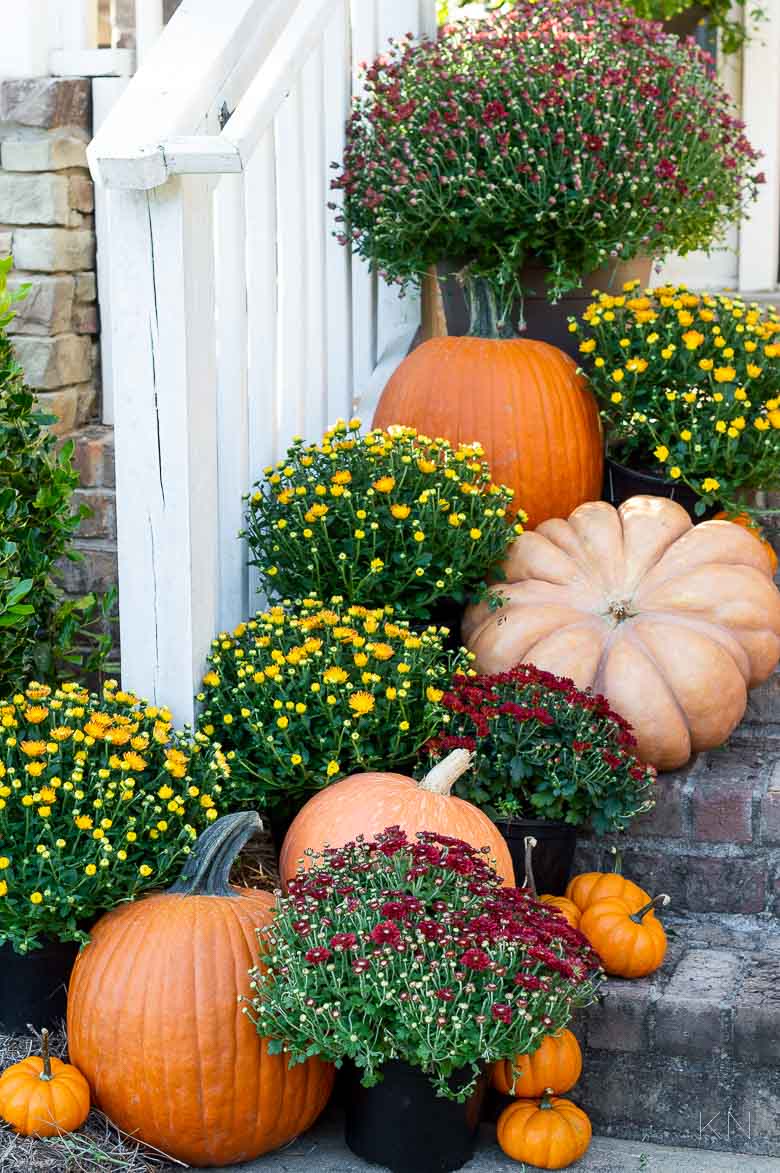 You can see a full summer to fall transition in my Instagram reel here…
View this post on Instagram
After using the same wreath the past few years, I branched out with a new wreath in varying shades of orange (HERE) — here were other favorite wreaths I've seen so far this season…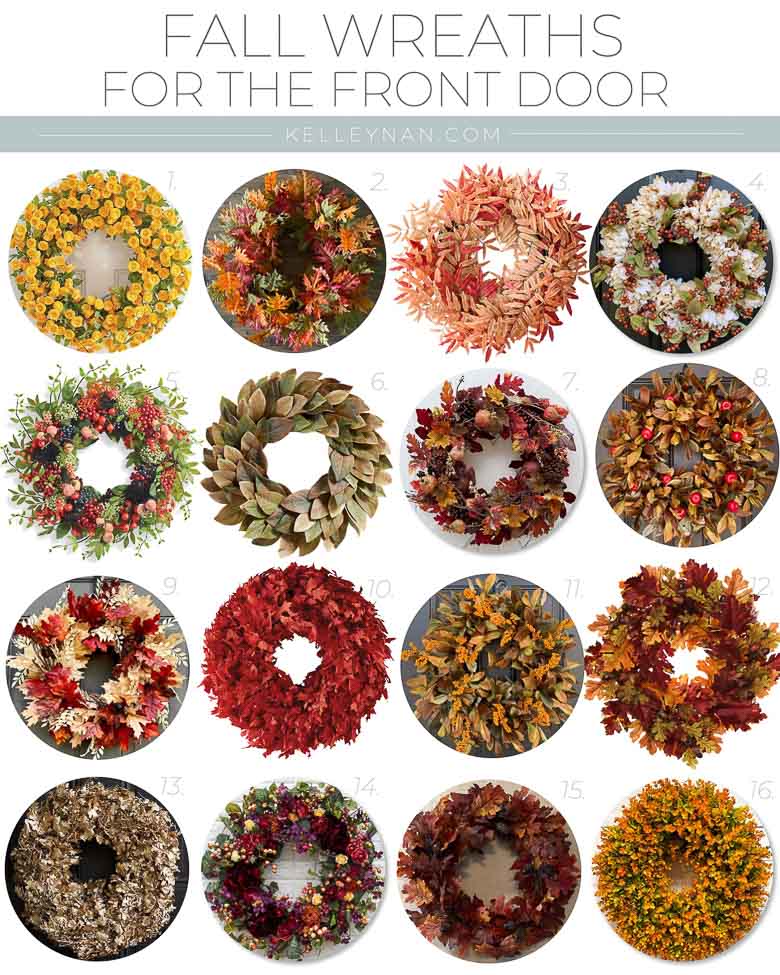 Sources: 1. Yellow Mum Wreath | 2. Oak Leaf Wreath | 3. Sumac Wreath | 4. Peony/Berry Wreath | 5. Autumn Berry Wreath  | 6. Magnolia Wreath | 7. Pomegranate/Pine Cone Wreath | 8. Apple/Foliage Wreath | 9. Fall Leaves Wreath | 10. Oak Leaves Wreath | 11. Fall Foliage/Berry Wreath | 12. Oak Leaf Wreath | 13. Gold Oak Wreath | 14. Sangria Cosmos/Yellow Roses Wreath | 15. Red Autumn Leaf Wreath | 16. Eucalyptus Wreath
I've used variations of the same formula, year after year. Here's a few looks of how I've decorated the front porch for fall from past seasons…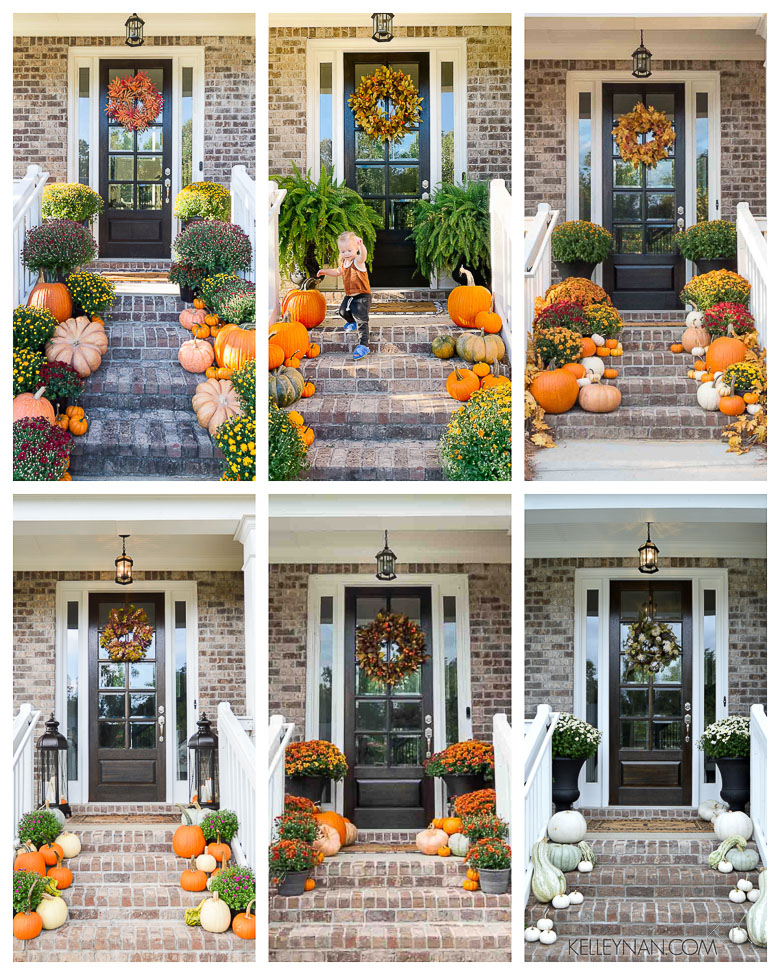 But this year's been the most mum-heavy, for sure.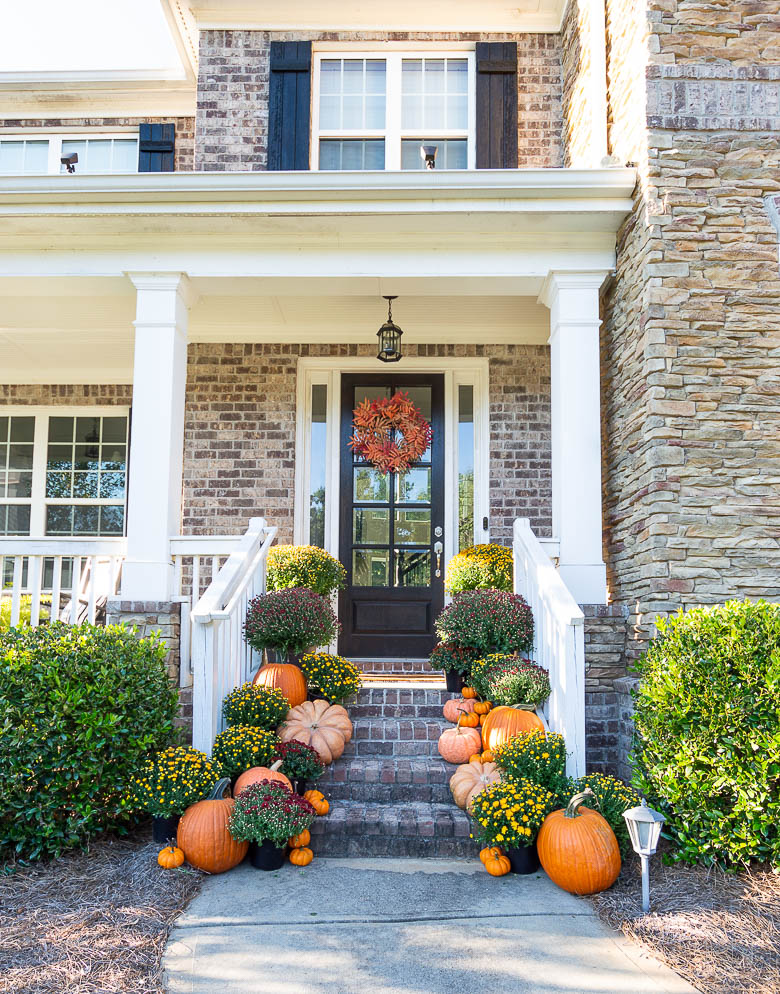 Sources: Sumac Wreath
Stay tuned for more fall projects, holiday decor, and seasonal transitions to come!
Other Fall Posts You May Be Interested In