We've officially made it to fourth quarter boards! I have loved pulling themed grazing boards together throughout 2020 but moving into the holiday season, this is my favorite time to think about all the possibilities. From cheese boards and charcuterie boards, cookout boards and holiday boards, topping boards and "make your own" boards, the versatility and concepts are endless. This month though — for the October "Board of the Month — well, I've been looking forward to this one for a while. Not straight candy, not straight sweets… not even straight food, I'm excited to share the ultimate Halloween "Trick or Treat" board! It's perfect for family grazing, neighbors, or a pre/post trick or treating celebration. It's a Halloween charcuterie board with DIY spooky snacks, party treats, and store-bought nostalgic components that can be customized.
*Posts on KelleyNan.com may contain affiliate links. Click HERE for full disclosure.
We're well into fall and in our house, we've taken a turn to start incorporating a few Halloween moments. (You can check a full post on EASY Halloween decor ideas HERE.) While we've enjoyed bringing Mister Bonejangles out, Eliza isn't too thrilled — see if you can spy her reaction through the window! haha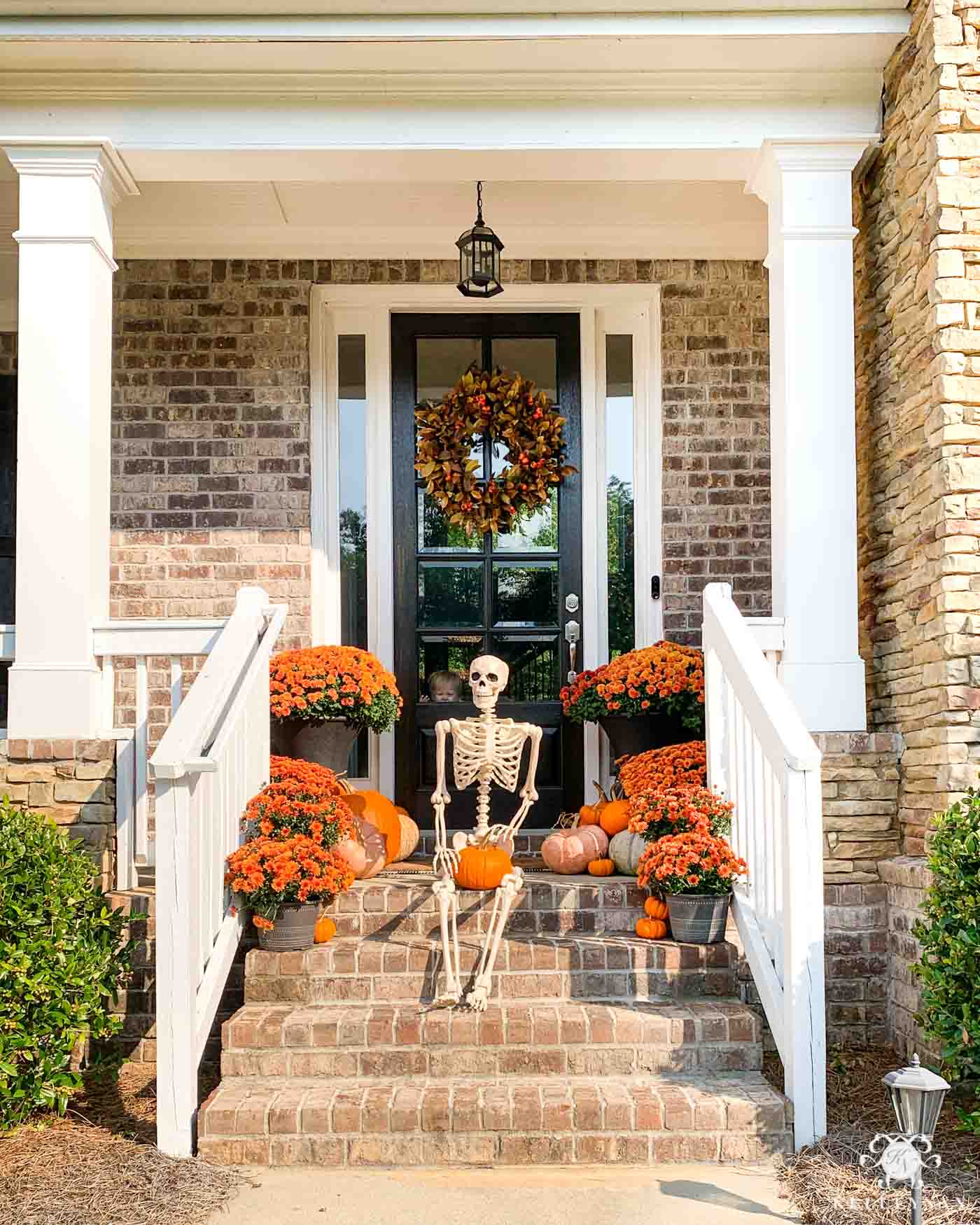 Halloween Charcuterie Board
And along with the Halloween decor, we've started to tiptoe into some of the Halloween treats. Here's the end result of assembling all our favorites for the ultimate Halloween charcuterie board (or "trick or treat snack board" ;).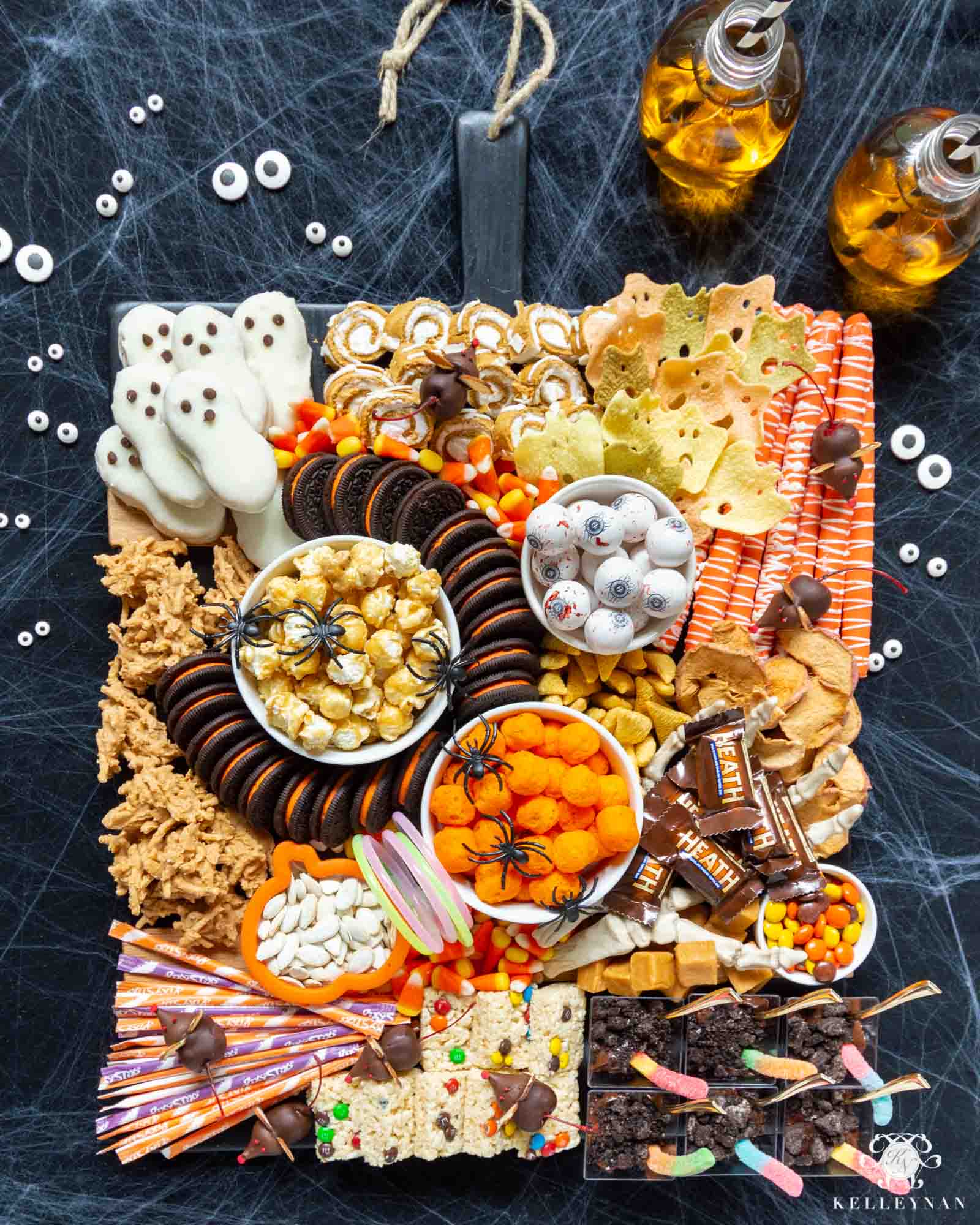 Little eyeball garnishes can be added to so many snacks and spreads this season. You can find some candy eyeballs HERE.
Christmas isn't the only holiday for "baking". There were several easy treats we whipped up that made an appearance on the board and I'll be sharing the process and short recipe for each throughout the post.
My mom is a board addict (like me) and just scored this black board for her kitchen to compliment her collection of natural toned wood boards — of course, we had to use it for Halloween!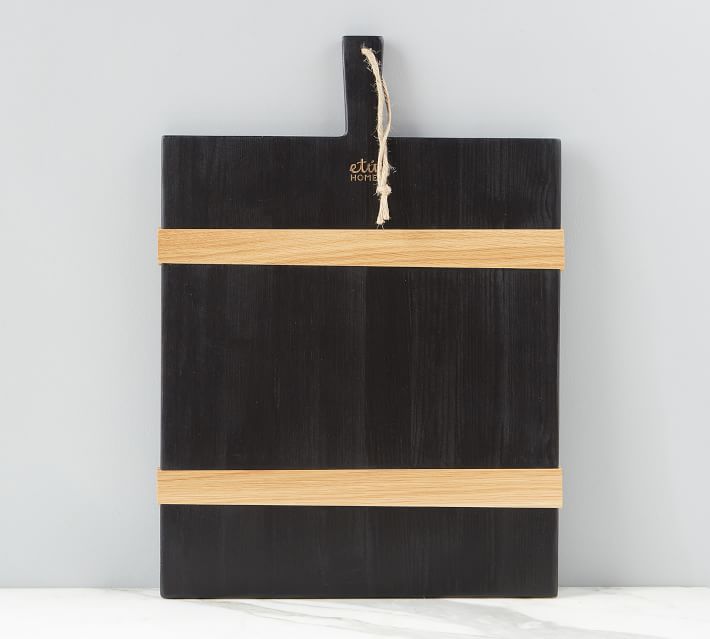 A few guidelines I established when concepting the Halloween charcuterie board were:
General color scheme of orange, black/brown, purple, green
Keep straight candy to a minimum to make room for goodies you wouldn't necessarily receive at a neighbor's house
Minimize repeating "characters" so each could stand on its own (ex: there are only one type of spider, worm, ghost, etc.)
Along with a few seasonal store-bought favorites, we made more treats than we typically do. While these are a little more labor intensive, they aren't difficult and save well in the fridge.
Those cute ghosts are a classic but if you haven't seen them before, here's how to whip them up!
How to Make "Boo" Cookies for Your Halloween Charcuterie Board
Melt one bag of white chocolate baking chips in top of double boiler. Add 2 tablespoons of butter to melted chips and stir to incorporate. Using a spoon, dip a Nutter Butter cookie in melted chocolate mixture and coat all sides with the chocolate. Remove and place on wax paper (on a cookie sheet.) Quickly add mini chocolate chip morsels to "face" for the eyes and the mouth. Refrigerate until firm.
Note: If needed, you may "thin" the white chocolate baking chip mixture with milk, a spoonful at a time. You may also melt the chocolate chips in the microwave. I used the double boiler for this recipe to have a thinner mixture, which is needed to coat the cookies.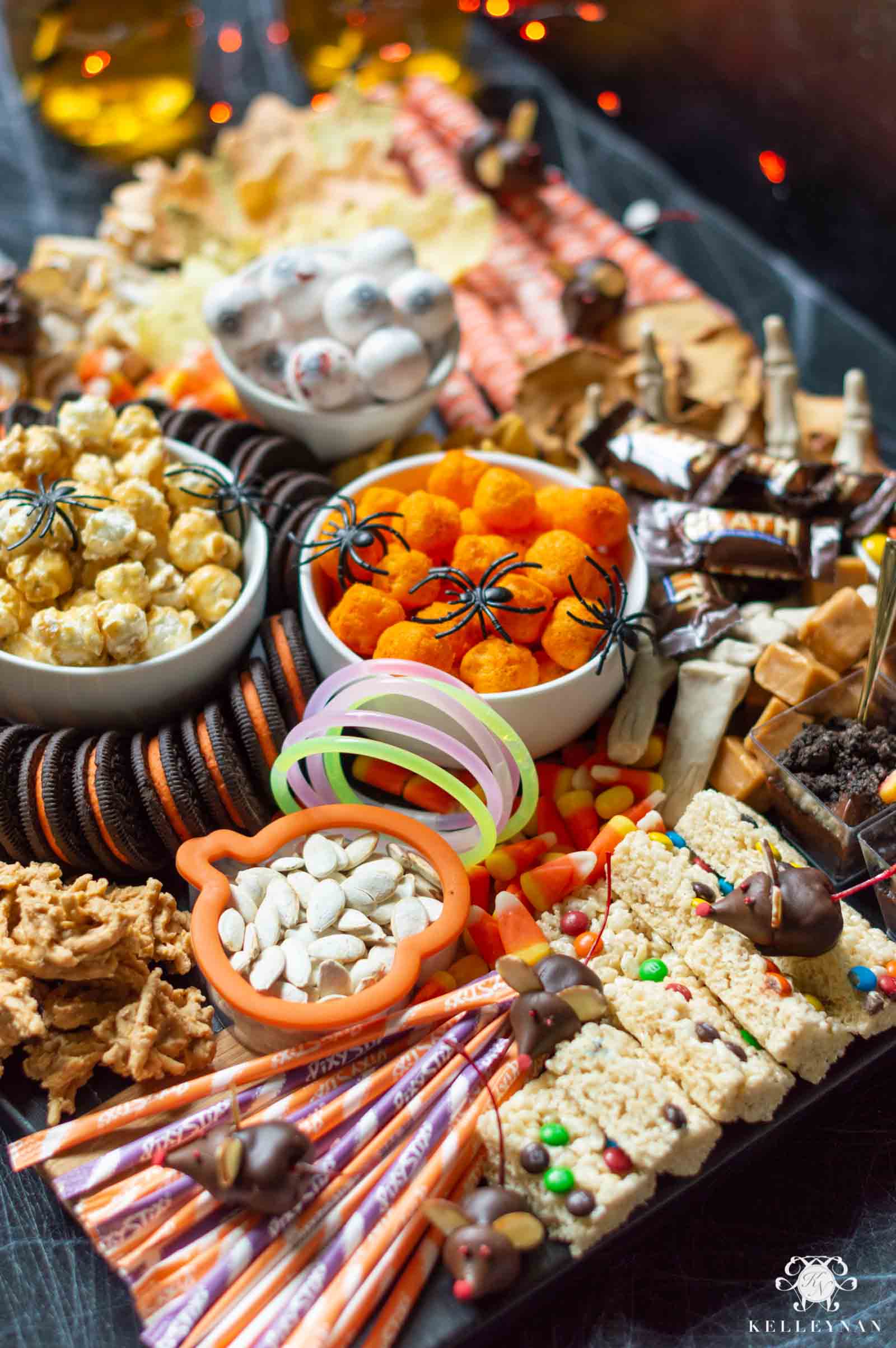 I used a pumpkin cookie cutter as a "bowl" for roasted pumpkin seeds and glow sticks/bracelets/necklaces are always a hit!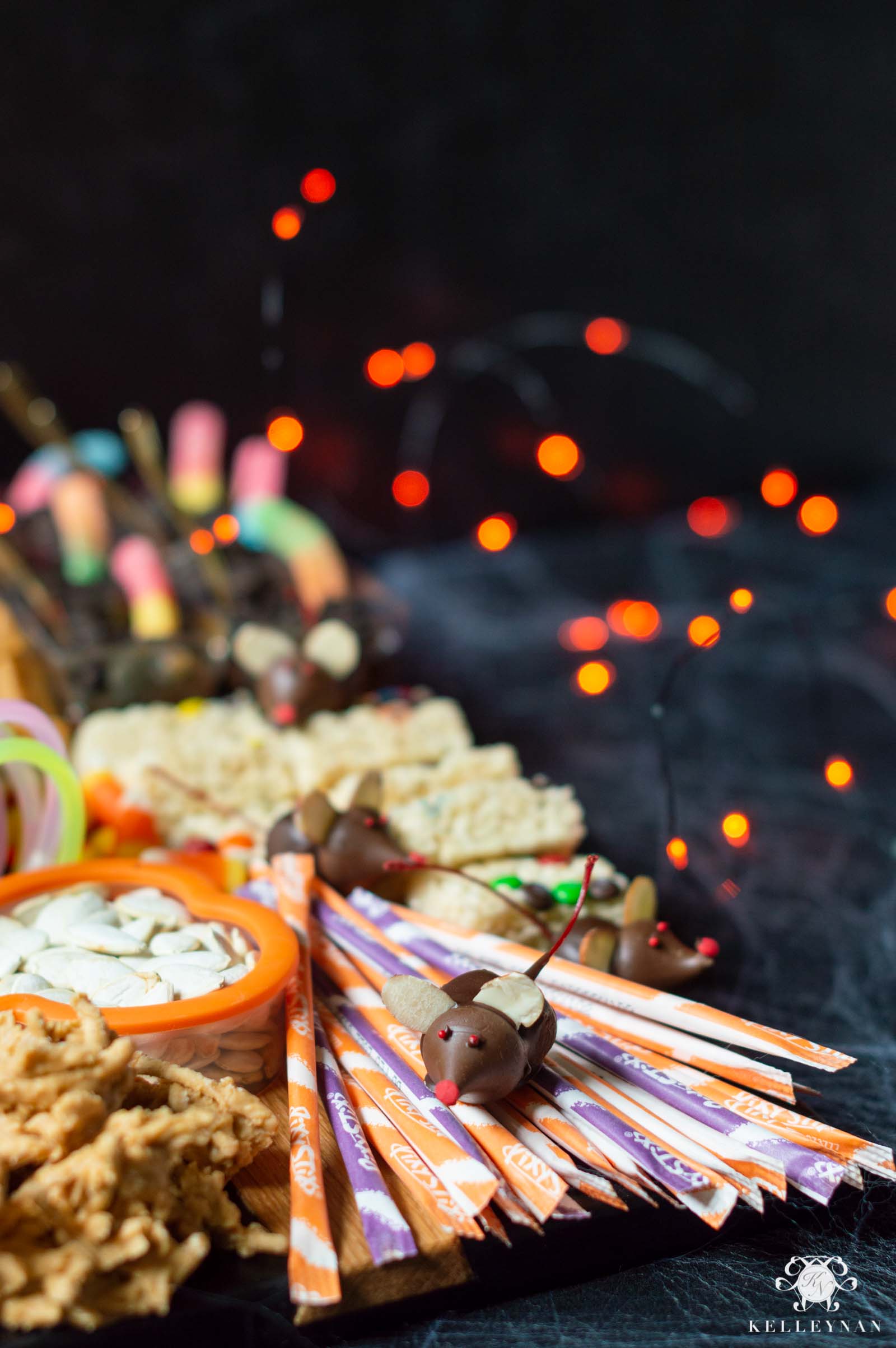 We've traditionally created these little mice (sans red eyes) during Christmas but they were too cute not to take on an evil version for Halloween. These were the most tedious of the goodies and take patience but the result is adorable!
How to Make Halloween Chocolate Cherry Mice
for Your Halloween Charcuterie Board
Melt one bag of semi sweet chocolate chips in microwave. Dip maraschino cherry in chocolate and attach an unwrapped Hershey's kiss to the cherry. Add two sliced almonds for ears. Add large red sprinkle for nose and two smaller sprinkles for eyes. Let set on waxed paper (on a cookie sheet.) Refrigerate until firm.
Note: When applying the sprinkles, I dip the tip of a toothpick in a little bit of the melted chocolate to use as the "glue" a tiny dot of chocolate will do. You can even use the end of your toothpick to "pick up" the sprinkle off the counter to apply it directly to the Hershey kiss.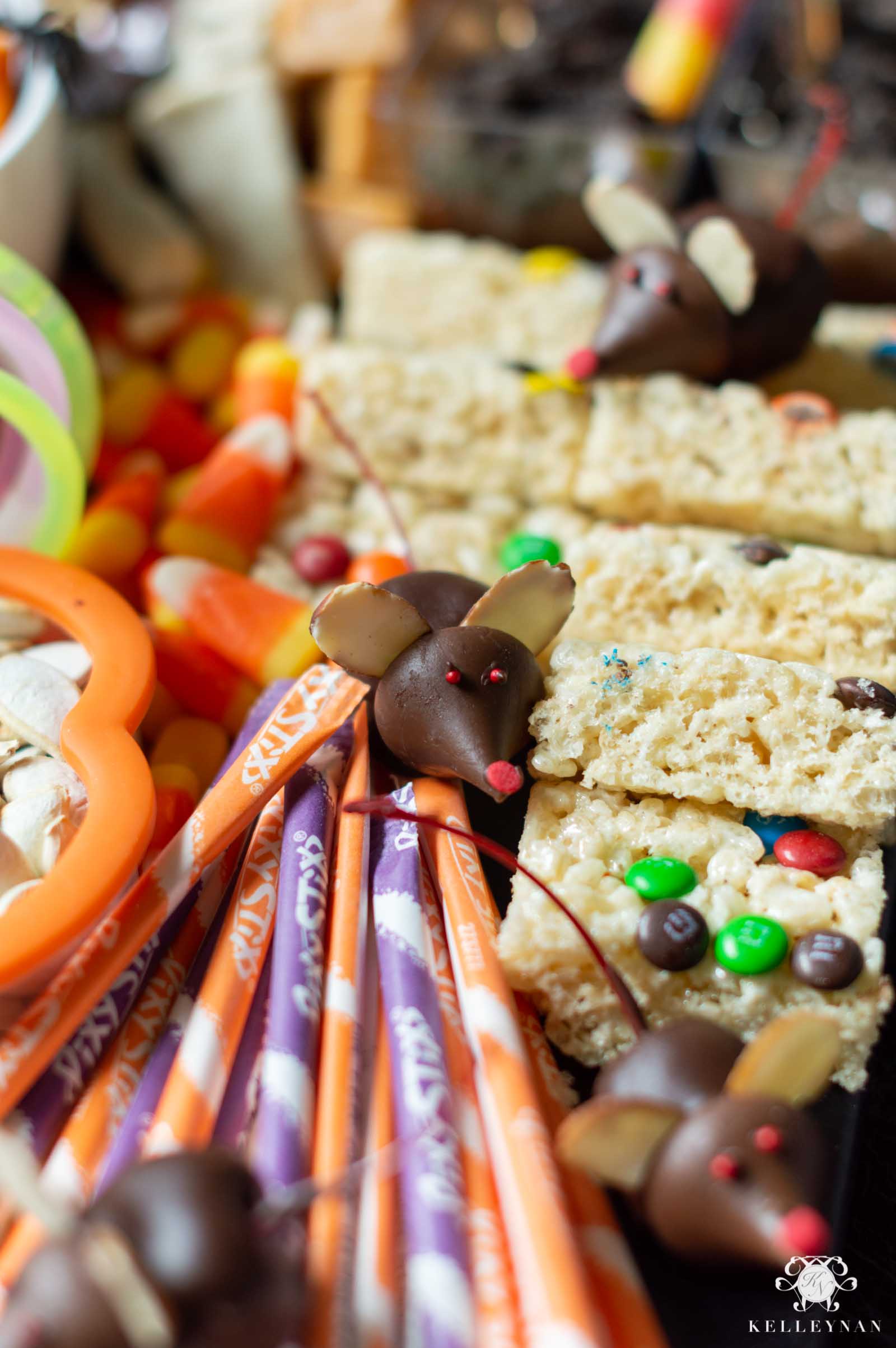 How to Make Haystacks
for Your Halloween Charcuterie Board
This is an oldie, but goodie!
Melt one bag of peanut butter baking chips in microwave. Add 2 tablespoons of butter to melted chips and stir to incorporate. Add approximately ½ bag of crunchy chow mein noodles to melted mixture. Working quickly, drop a tablespoon sized mound on wax paper (on a cookie sheet). Refrigerate until firm.
Note: Semi-sweet chocolate or butterscotch chips may be used in placed of the peanut butter chips.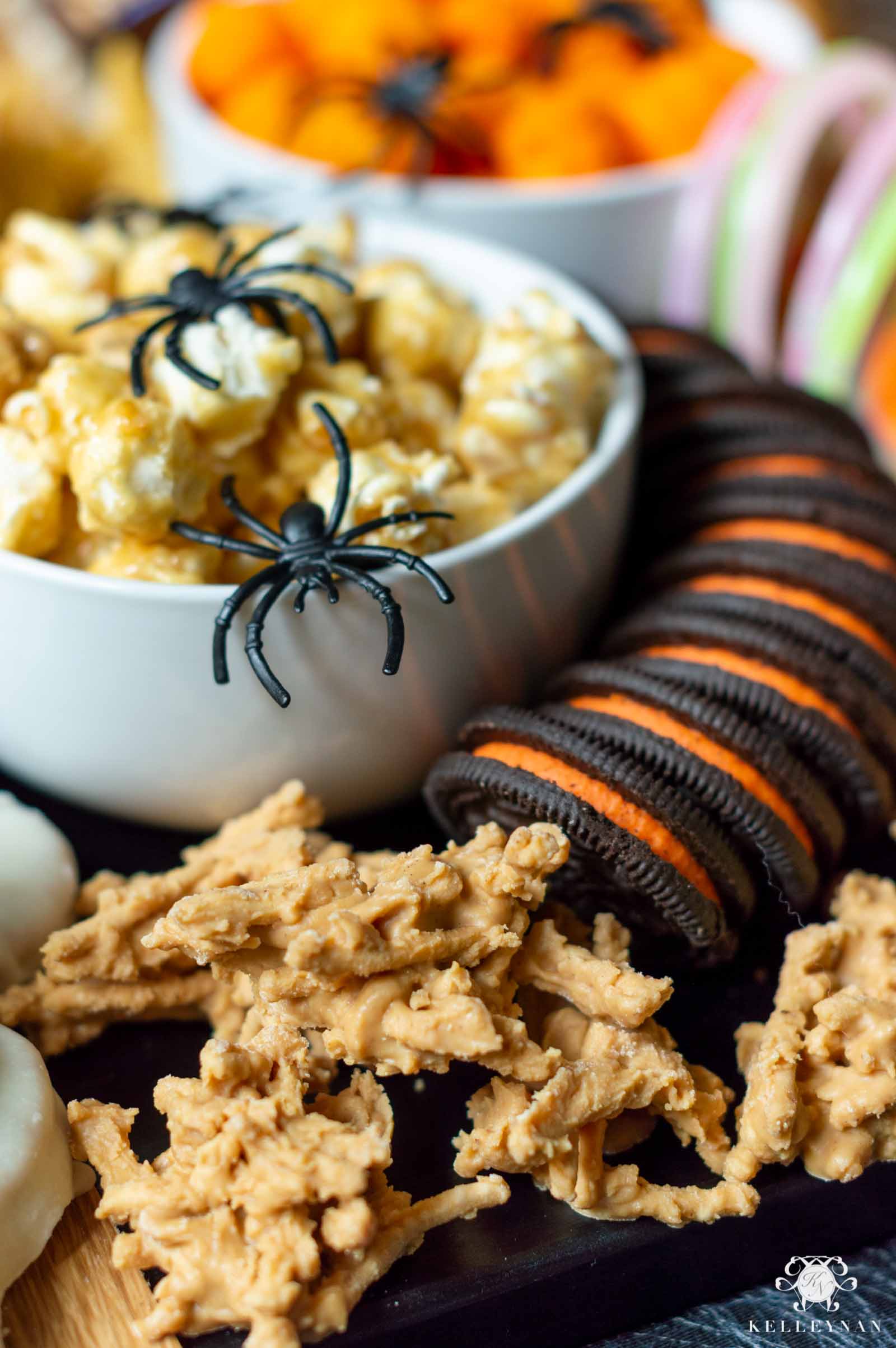 Spider rings are a cheap Halloween necessity! While they make a pretty cute addition, trailing the snack board, they are perfect to incorporate into just about any Halloween-y dish you serve, but are especially great for any Halloween charcuterie board!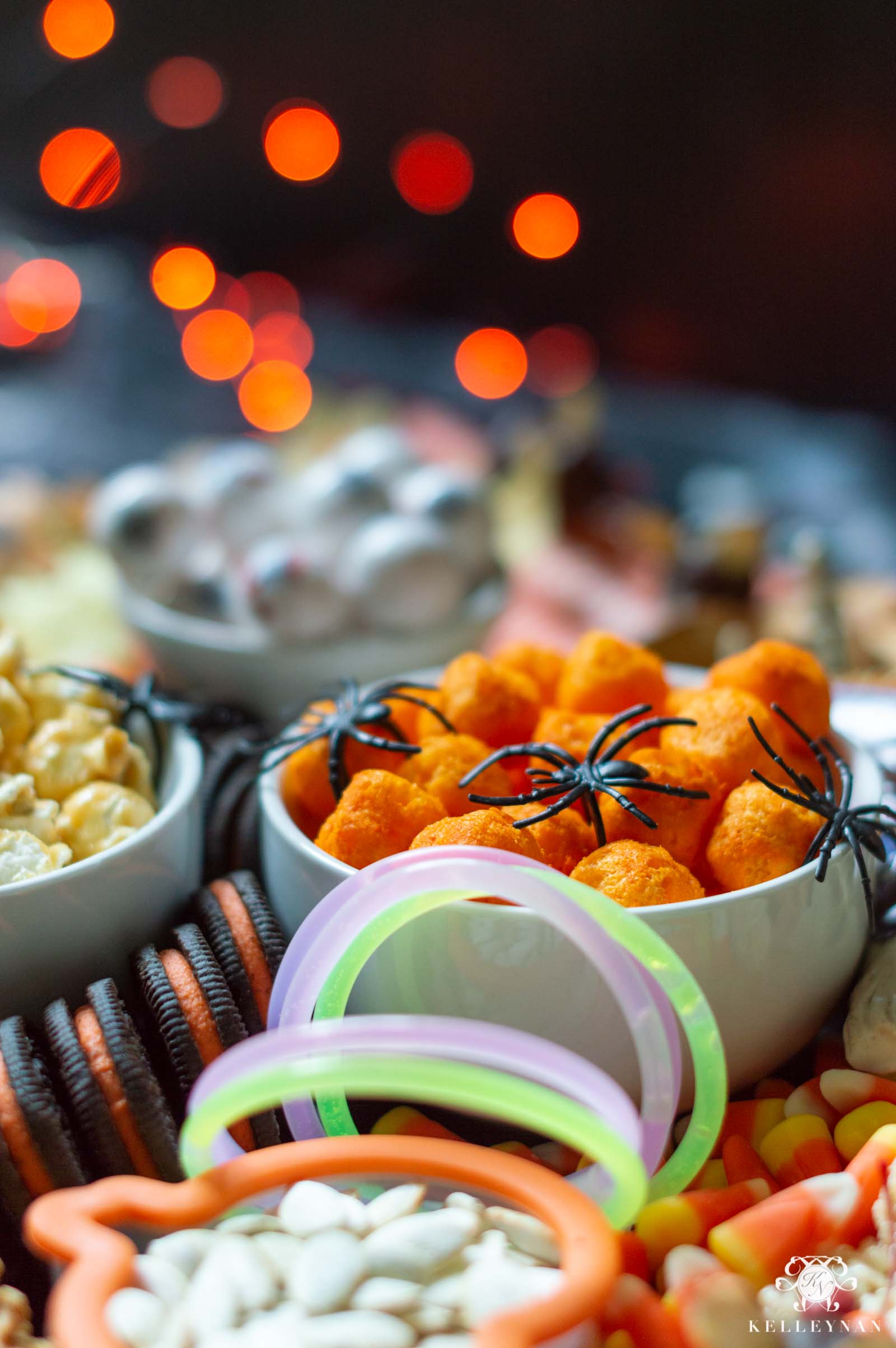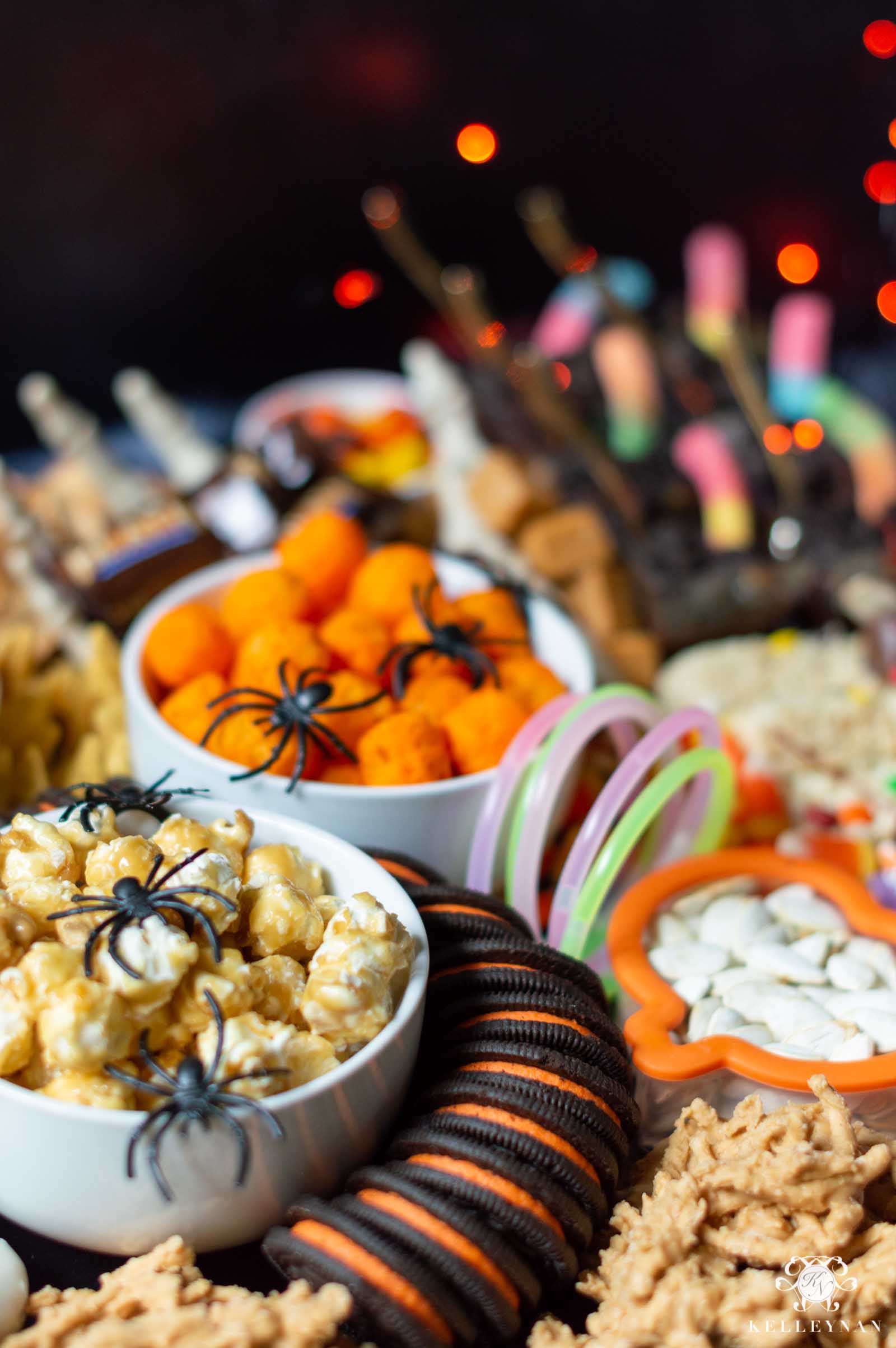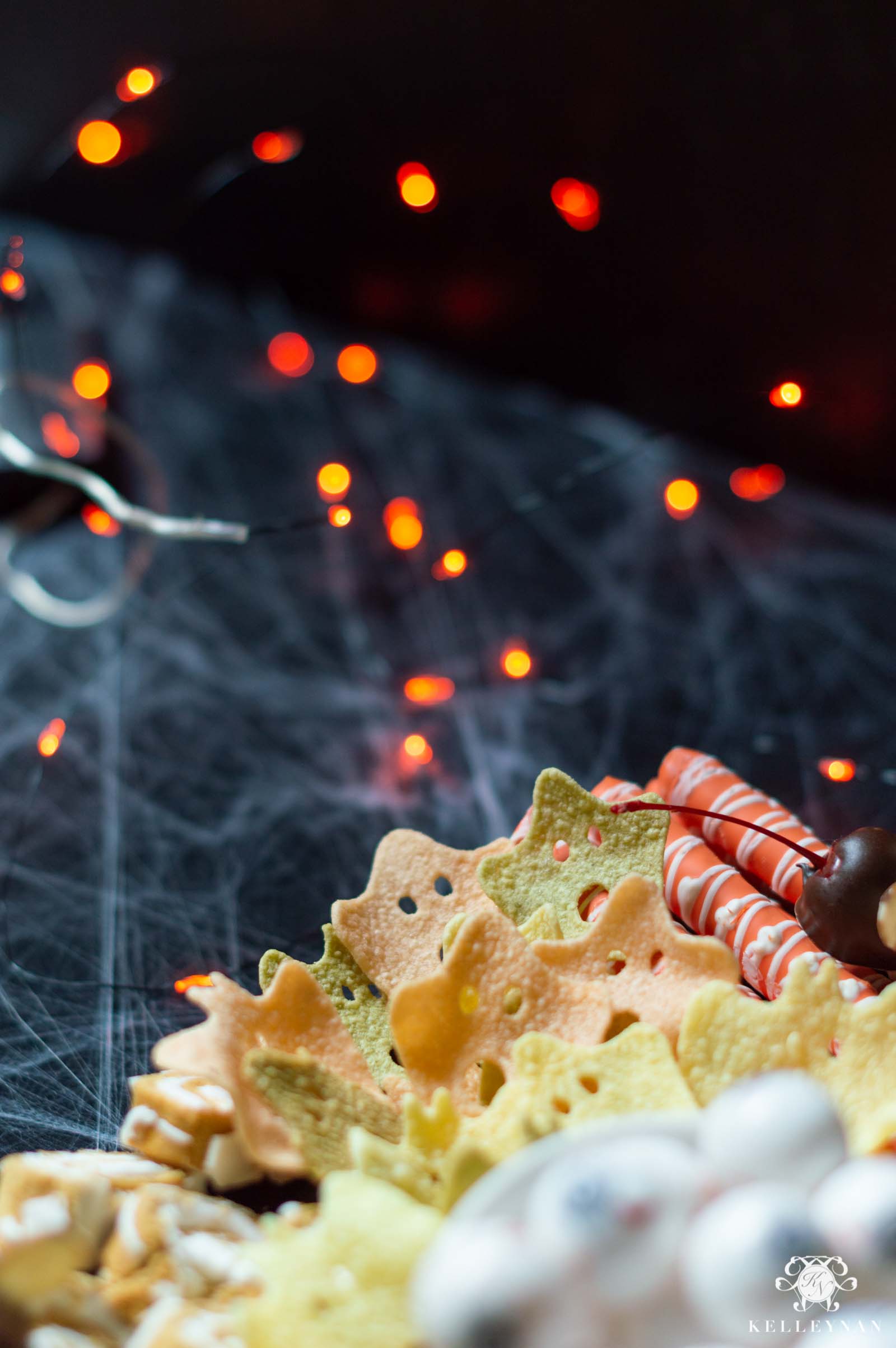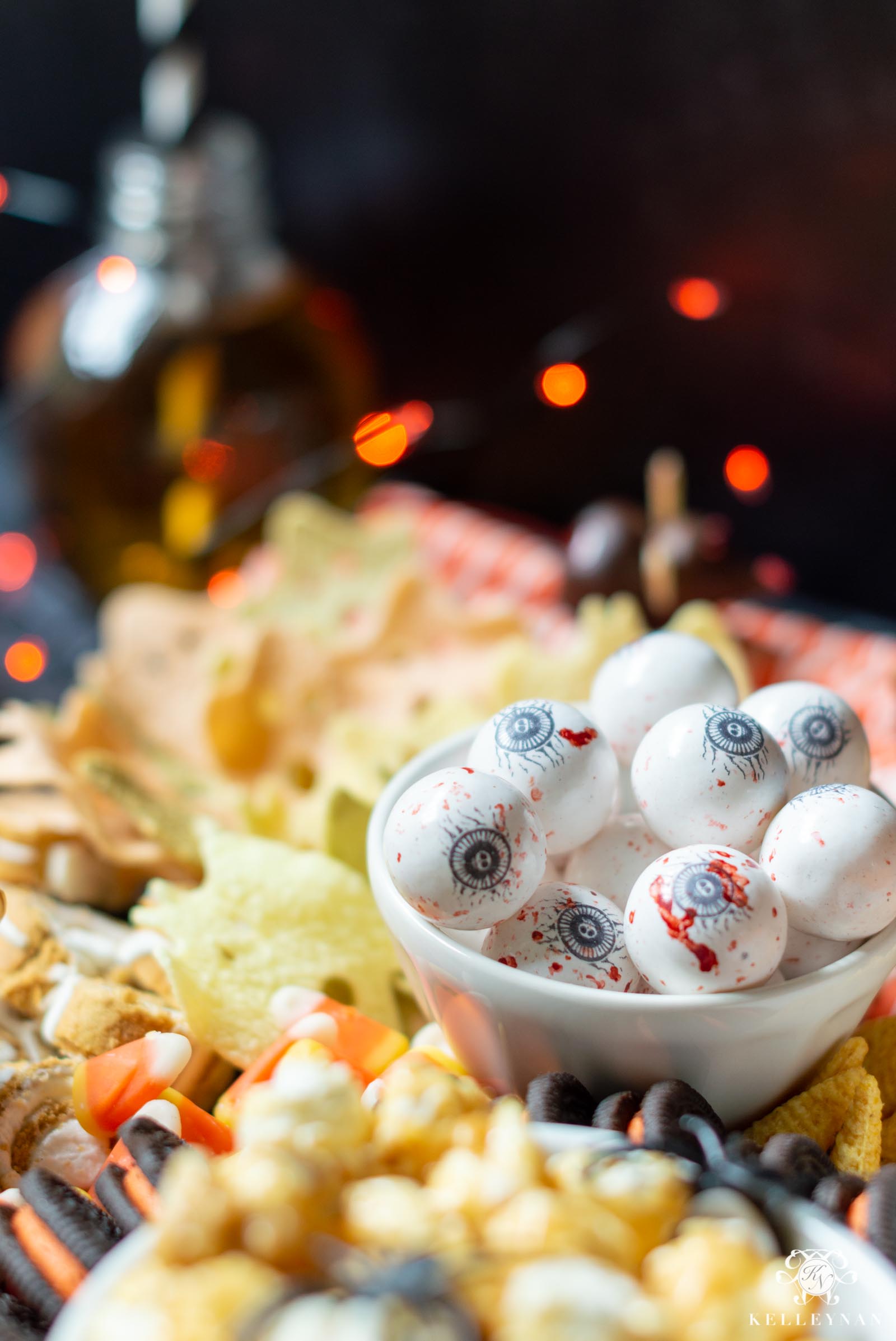 You can get really elaborate with dirt pies and pudding displays but I did a simpler, pared down version for the Halloween charcuterie board in bite-size morsels.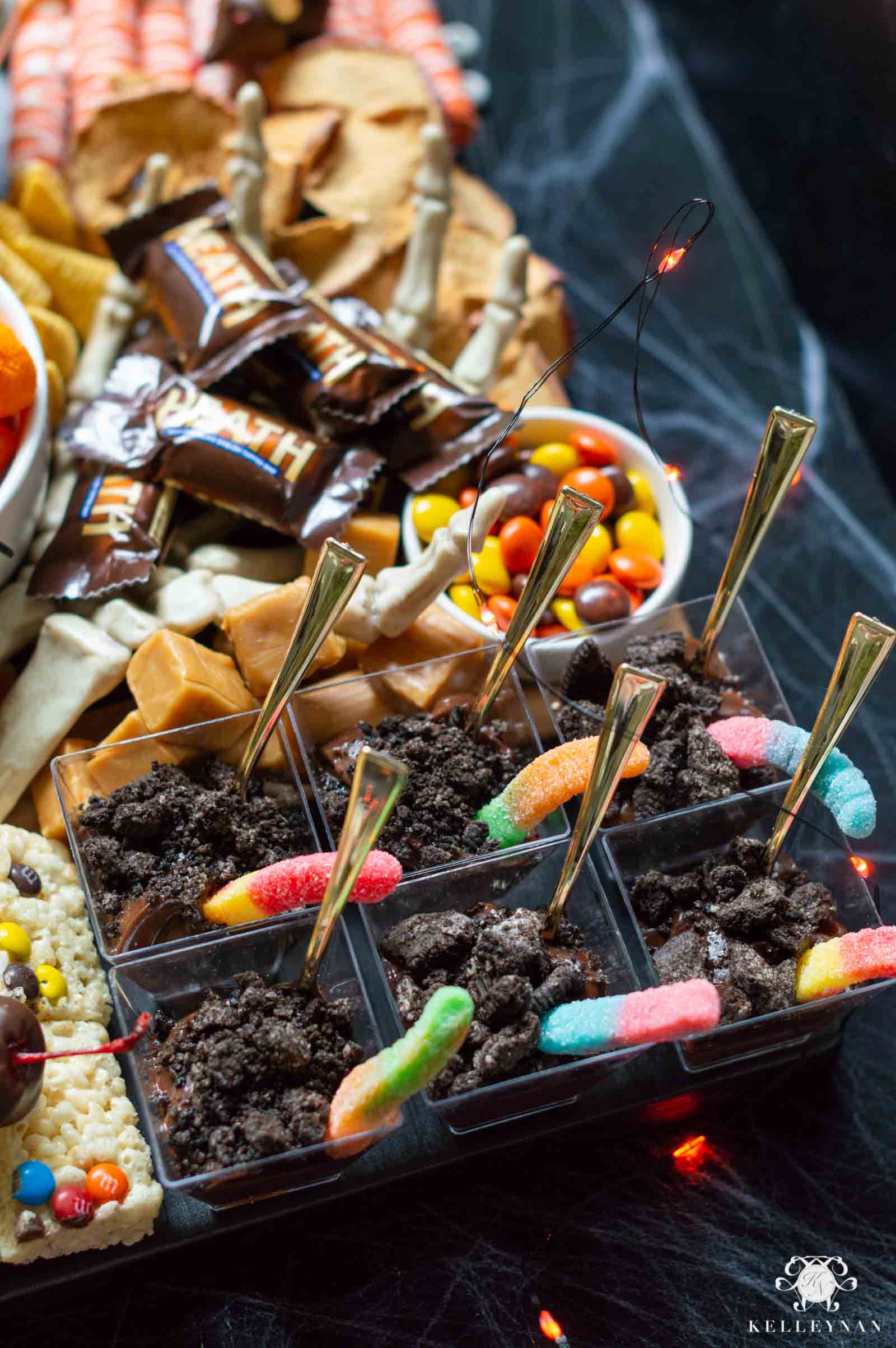 How to Make Dirt Cups
for Your Halloween Charcuterie Board
Mix one small box of instant chocolate pudding with two cups of milk. Pour pudding into quart sized plastic bag. Snip corner and pipe pudding into small cups (or the size of bowl you desire.) Add crushed Oreo cookies on top of the pudding as "dirt." Garnish with a gummy worm.
Note: If you're trying to create mini dirt cups, piping the pudding in is key — spooning will likely get messy around the sides of the cups. If using larger bowls, the boo cookies may also be added as a spooky garnish.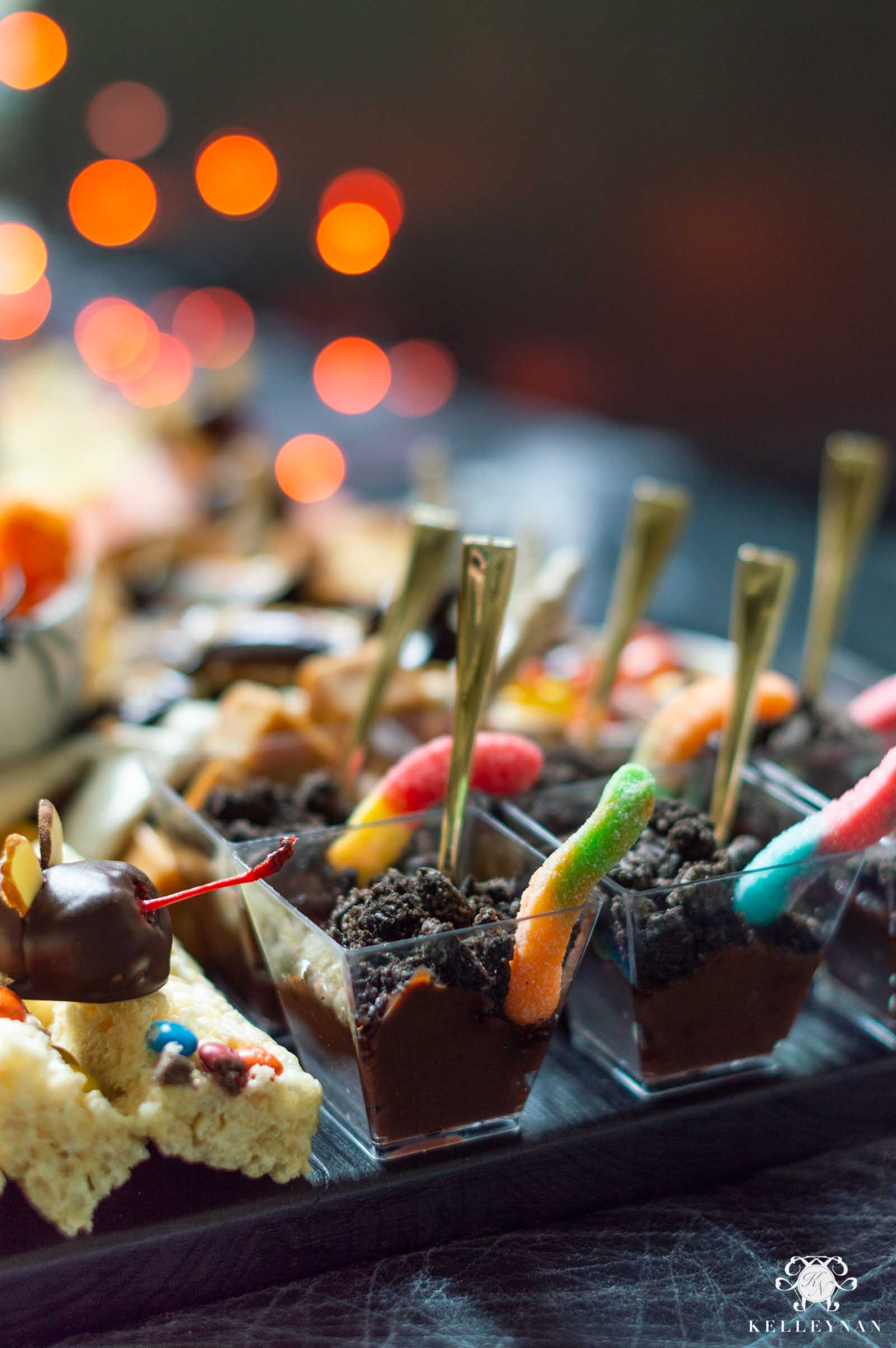 If you have any favorite Halloween props, see what you can incorporate. I used a skeleton hand to hold a fist full of Heath bars…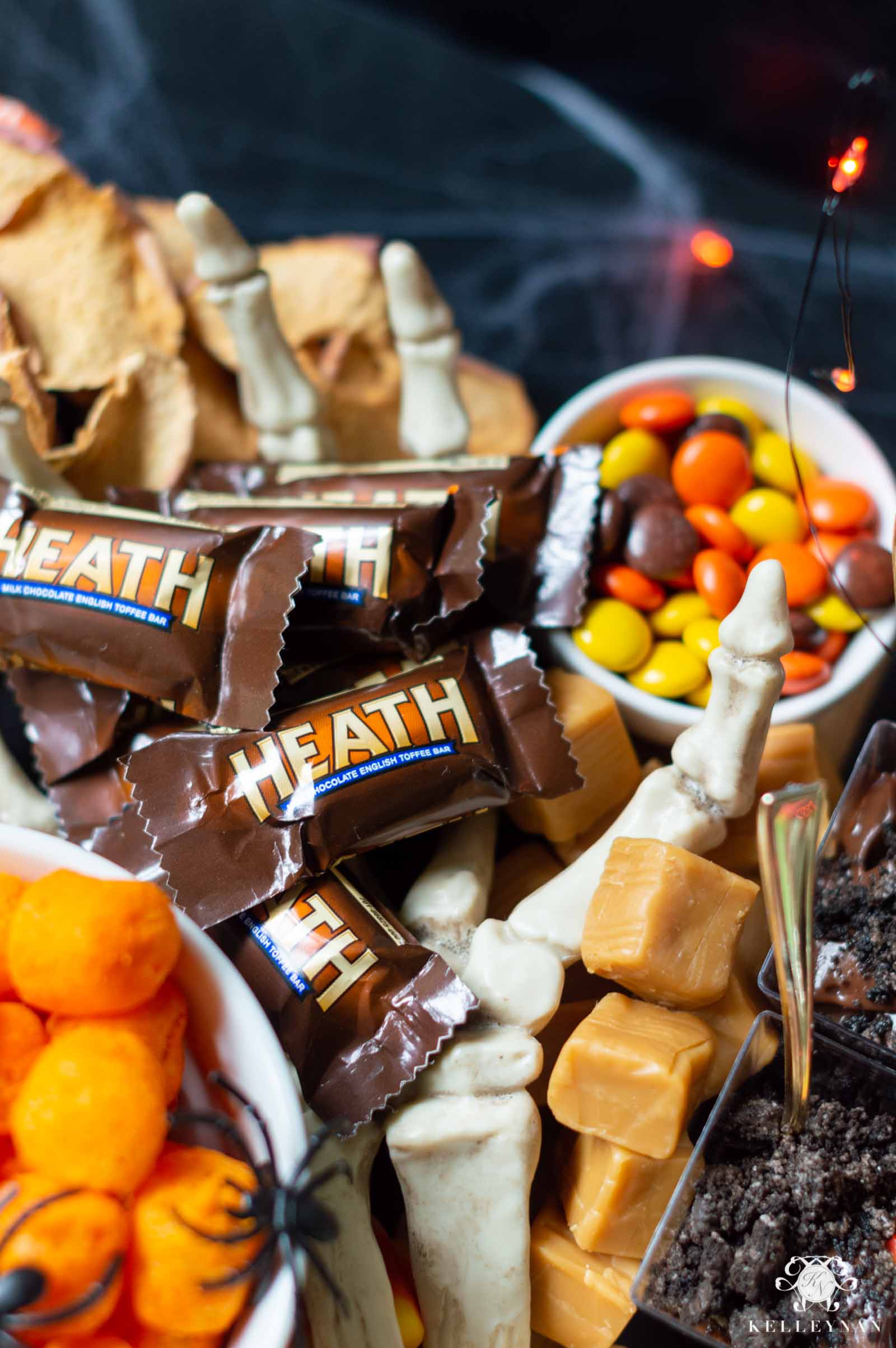 Even the bugles serve a purpose as 1. a needed salty snack, and 2. they kind of look like little witches hats (or, scary claws 😉 ).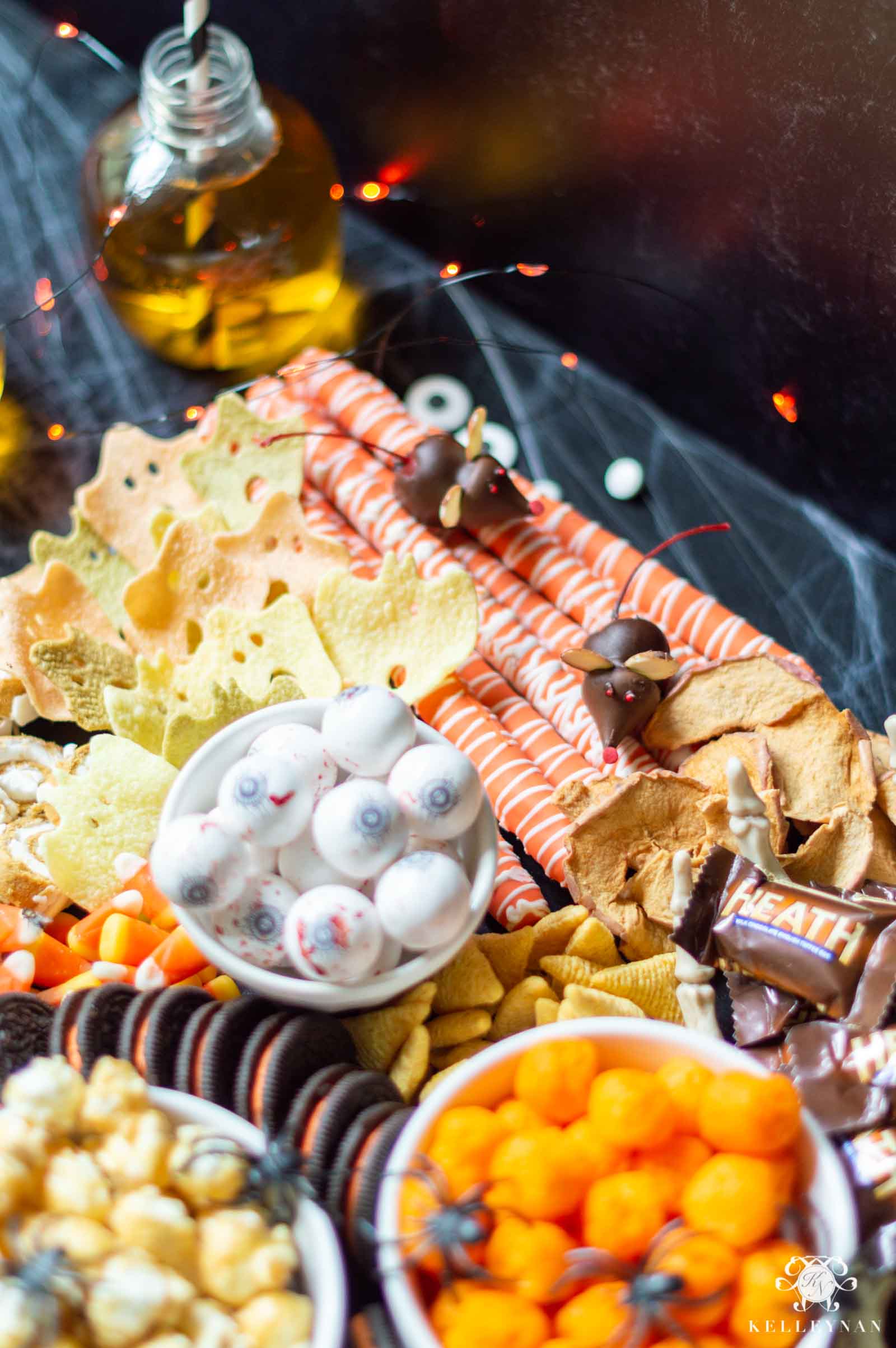 The Martinelli's apple juices are basic, but feel so festive — especially with Halloween straws.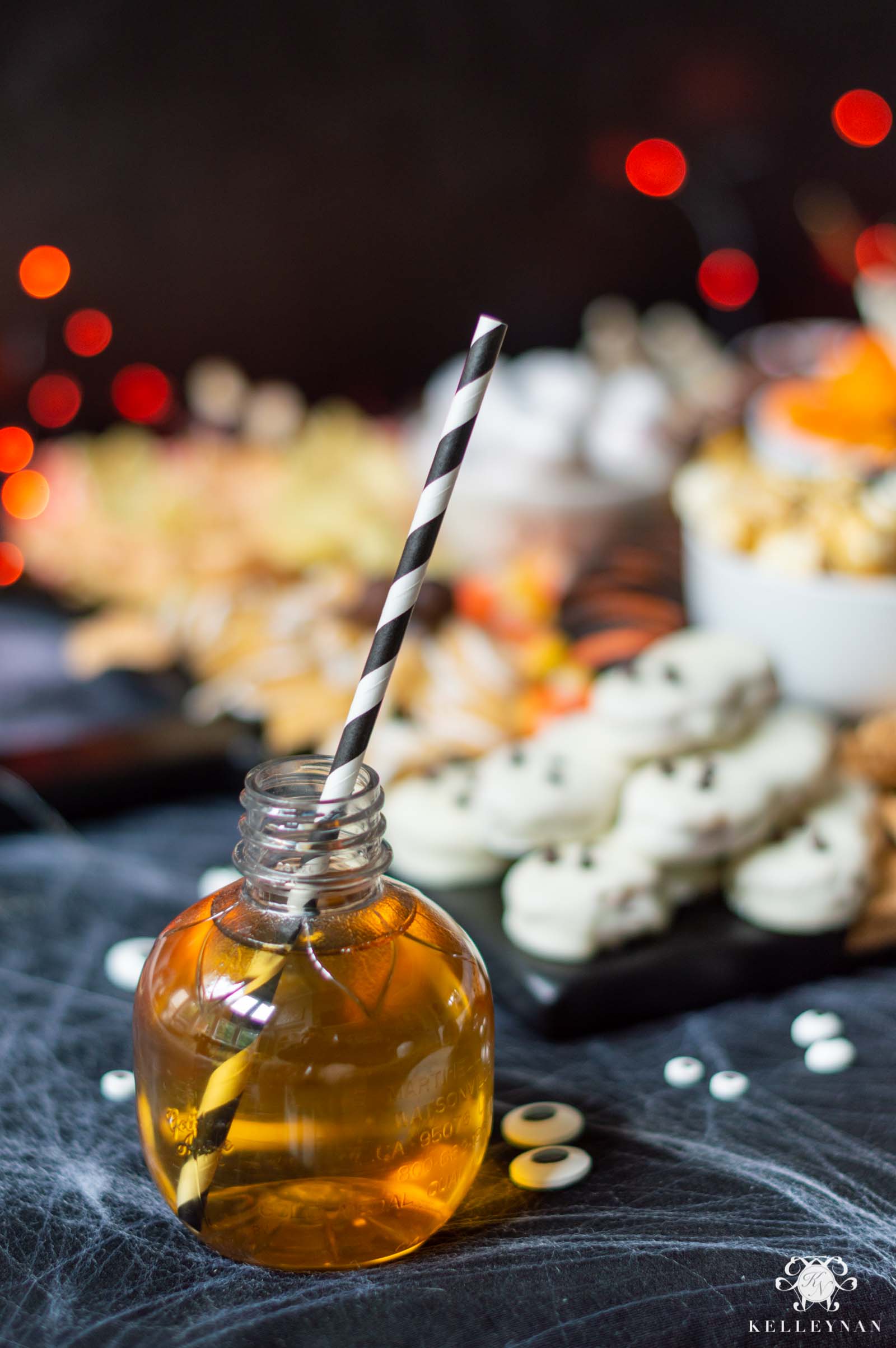 Halloween Charcuterie Board Ingredients
Here's a full list and layout of the board ingredients…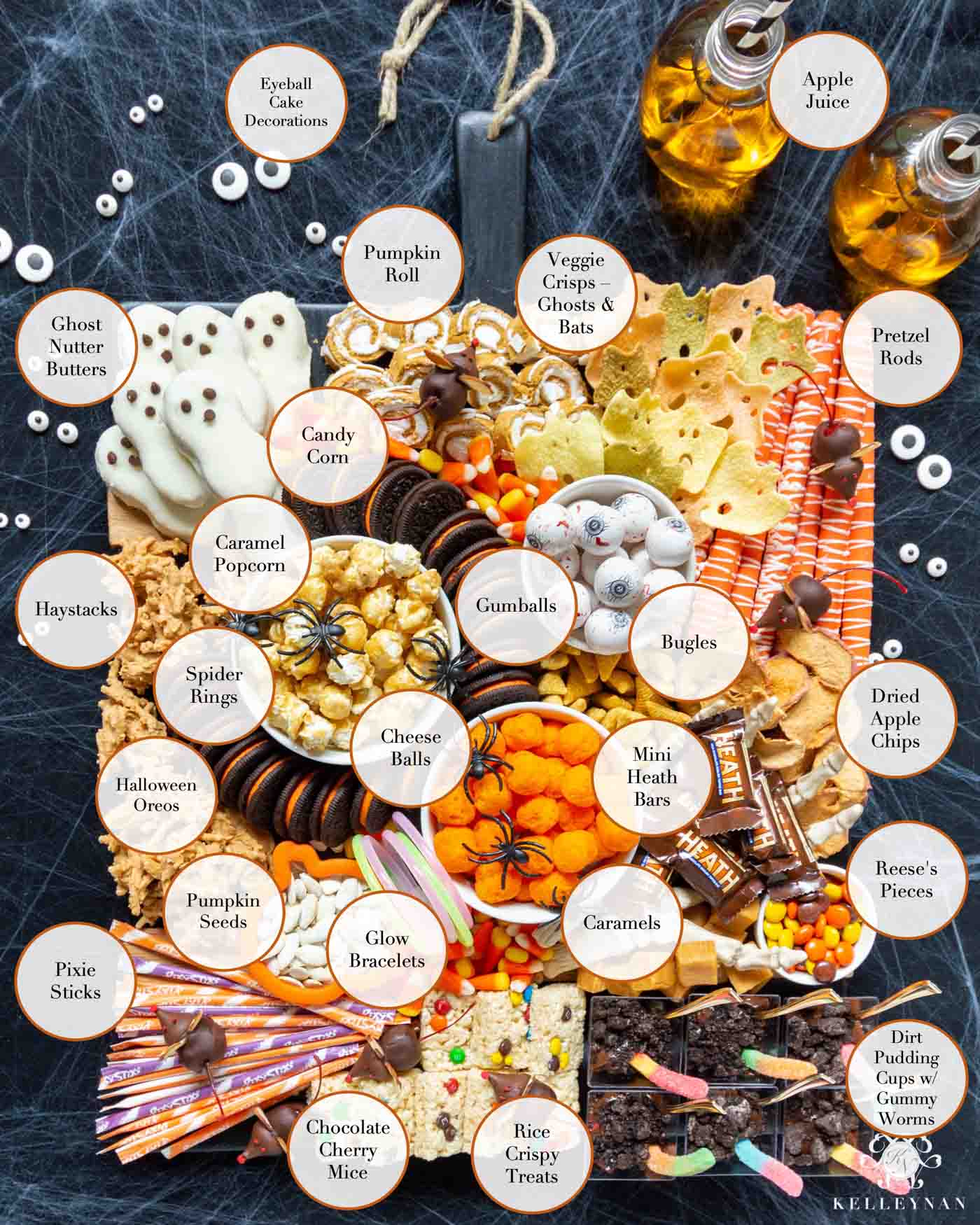 I hope you all find ways to celebrate the Halloween season, even if it may look a little different this year. For future boards (November will have a little bit of a different take!), make sure you're subscribed to emails at the bottom of the post.
Sources & Board Essentials
Halloween Charcuterie Board Sources

Charcuterie Board Favs

A FEW OTHER BOARDS YOU MAY LIKE
Check out the full gallery of charcuterie board ideas HERE.