I'll admit, when I first concepted my sharable monthly boards — back at the end of 2019 — I didn't anticipate that our gathering and grazing would be so limited. But, even in the smallest of settings, these themed boards have been a source of normalcy and break in monotony. So, even if you aren't getting together with the entire neighborhood these days, you can still create an abbreviated board to make it a festive evening/weekend/occasion. And on that note, I'm back today with the latest "Board of the Month for August — probably one of my favorites of the year… a cookout, build your own burger bar (slider style)!
*Posts on KelleyNan.com may contain affiliate links. Click HERE for full disclosure.
Build Your Own Burger Bar — Mini Slider Cookout Board
Even the simplest of menus can leave a big impression. While burgers are probably the most common cookout menu item of summer, there's something special about making our old faithful go-tos just a little "extra". Enter — a sumptuous build your own burger bar.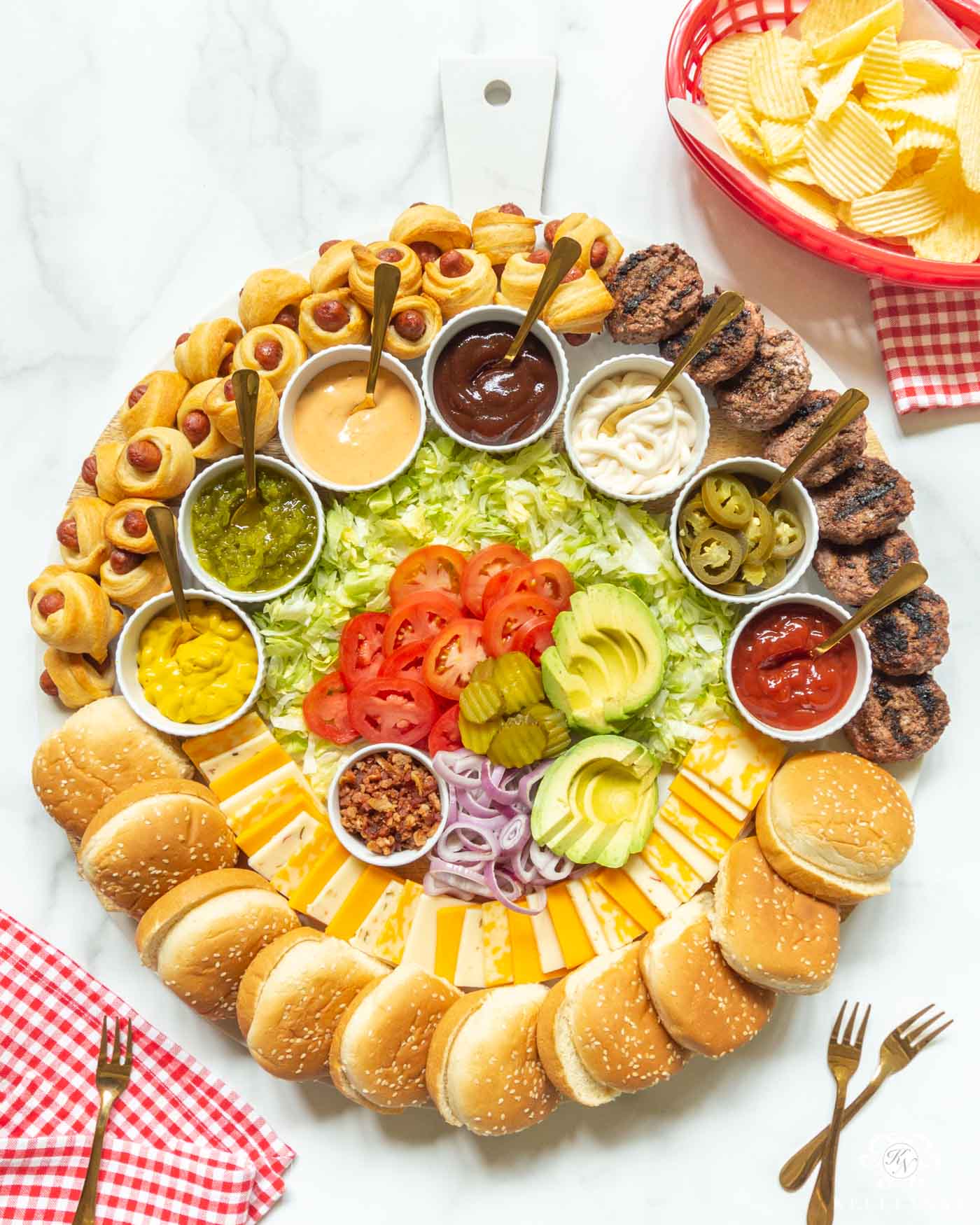 Scroll & Tap to Get the Look

I am all about miniature everything so I prefer sliders where you can vary toppings, over one burger you have to fully commit to. And if you're doing mini burgers, you gotta have mini hot dogs! (or in this case, pigs in the blanket 😉 ).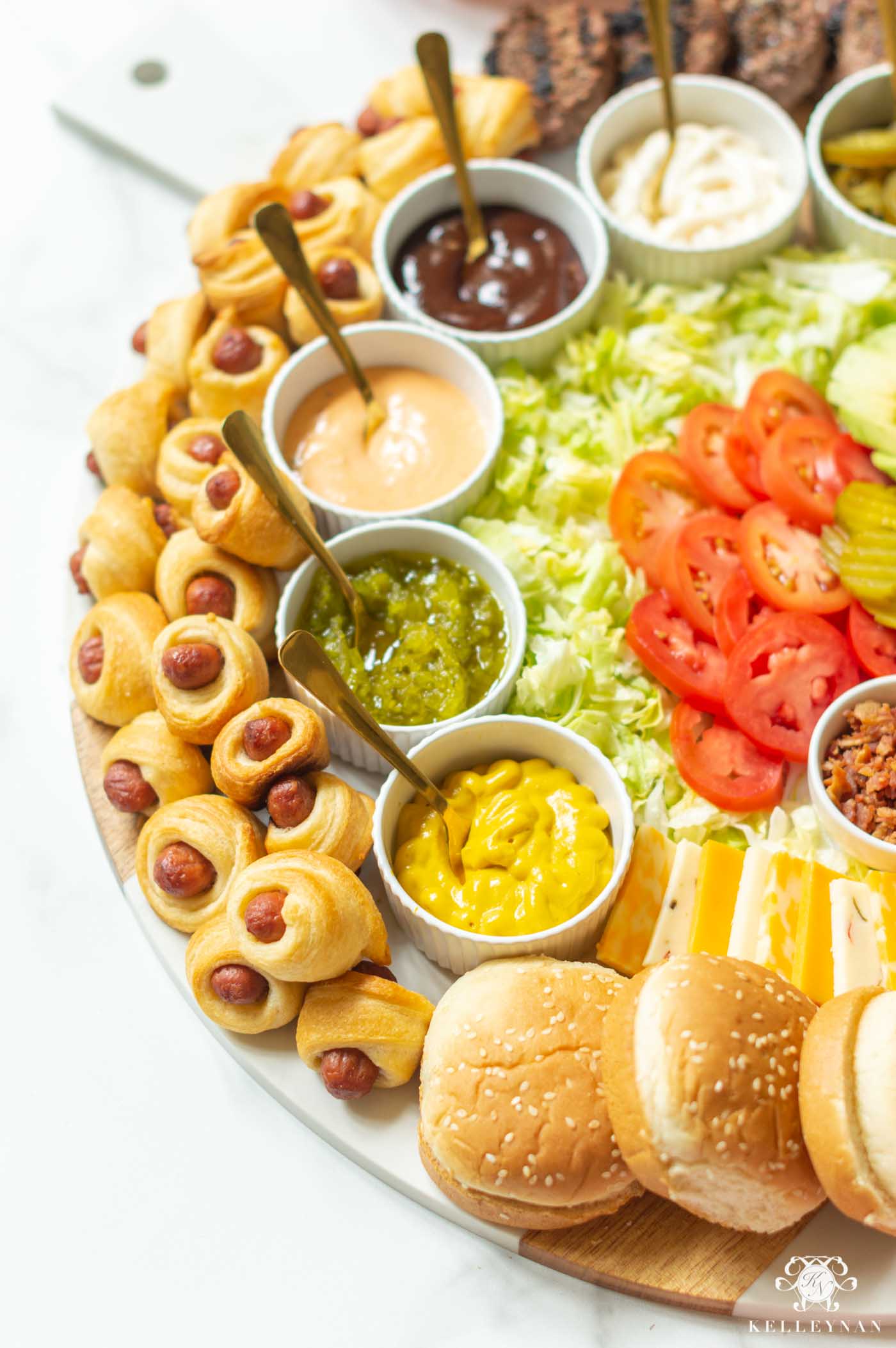 How to Make Pigs in the Blanket
Everyone has a method (I grew up with my mom using canned biscuits) but if you've never tried this simple crowd pleaser, here's a quick note of how I make mine.
I take one package of Lil' Smokies and one package of crescent rolls.
I unroll the dough and cut each triangle into three to four skinnier strip triangles — see below.
I wrap each sausage, place them on a cookie sheet, and bake them for around 12-14 minutes at 375°.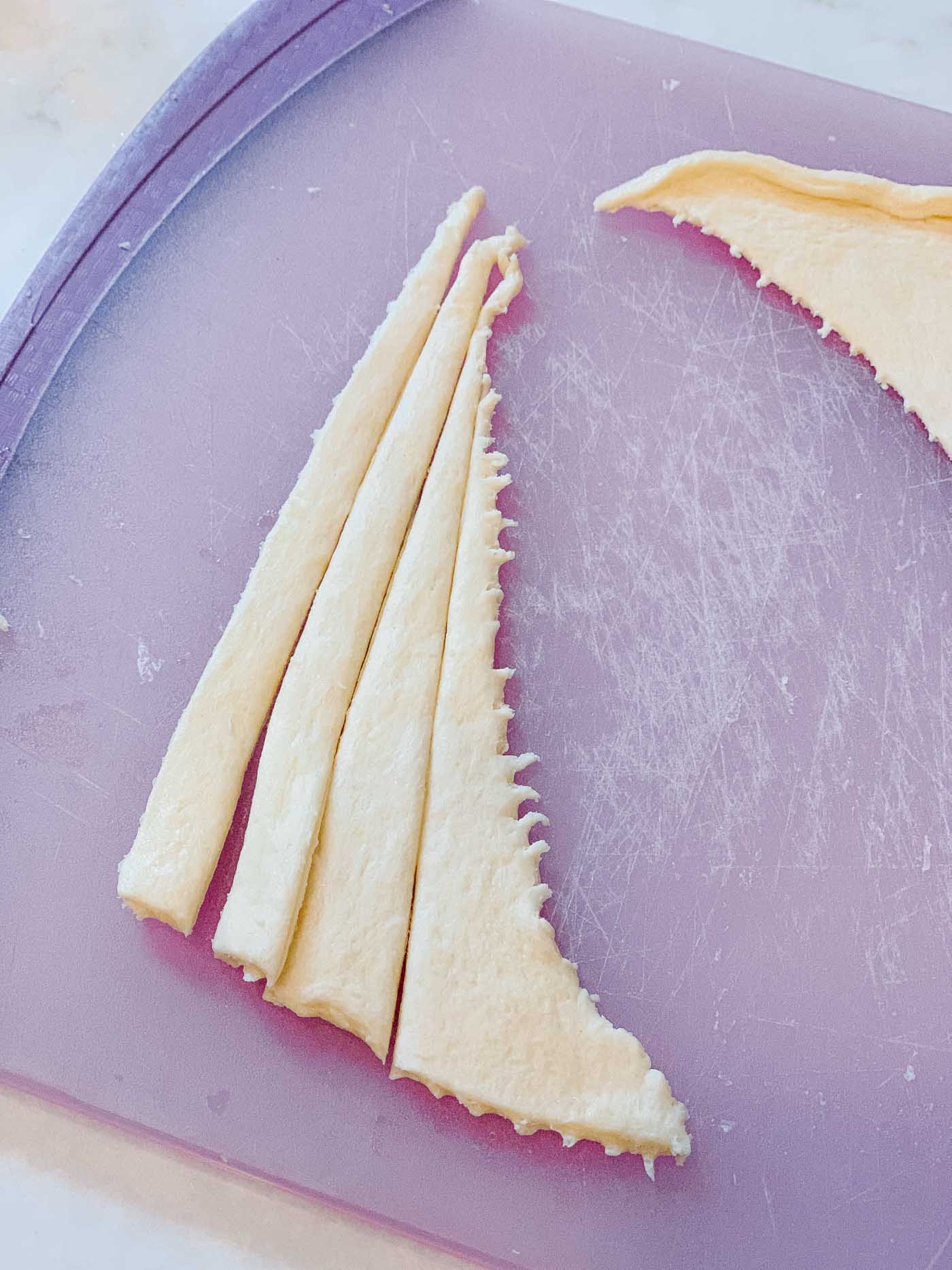 To be honest, I actually don't eat them since I don't do sausage but Dave and Eliza love them.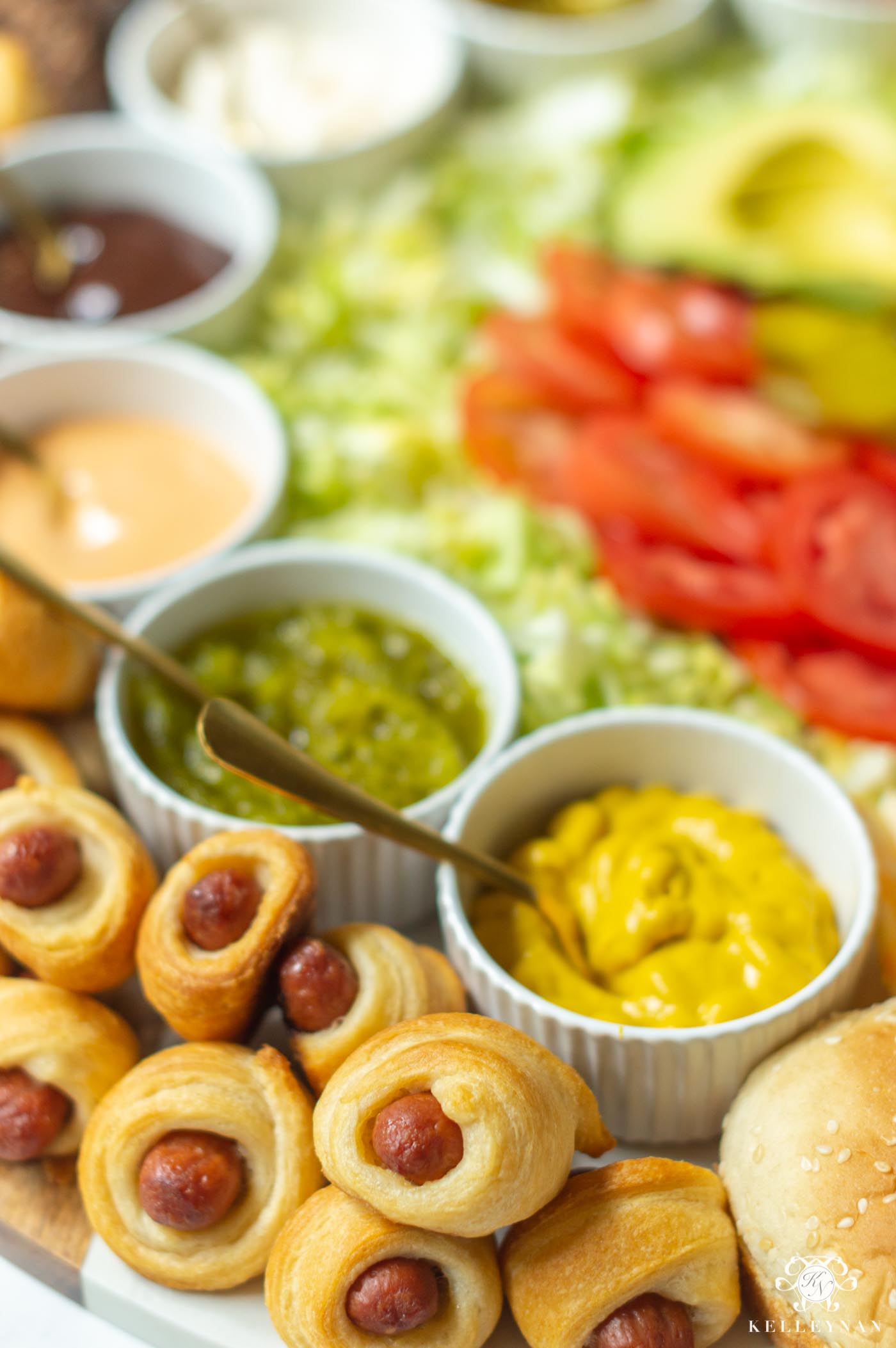 How to Arrange a Burger Board
Whether you opt for a full burger board, or you're sticking to a regular platter of burgers, don't underestimate the power of presentation when it comes to condiments, toppings, and accompaniments. Taking the time and extra effort to remove your condiments from their plastic containers can take your backyard burgers to gourmet status.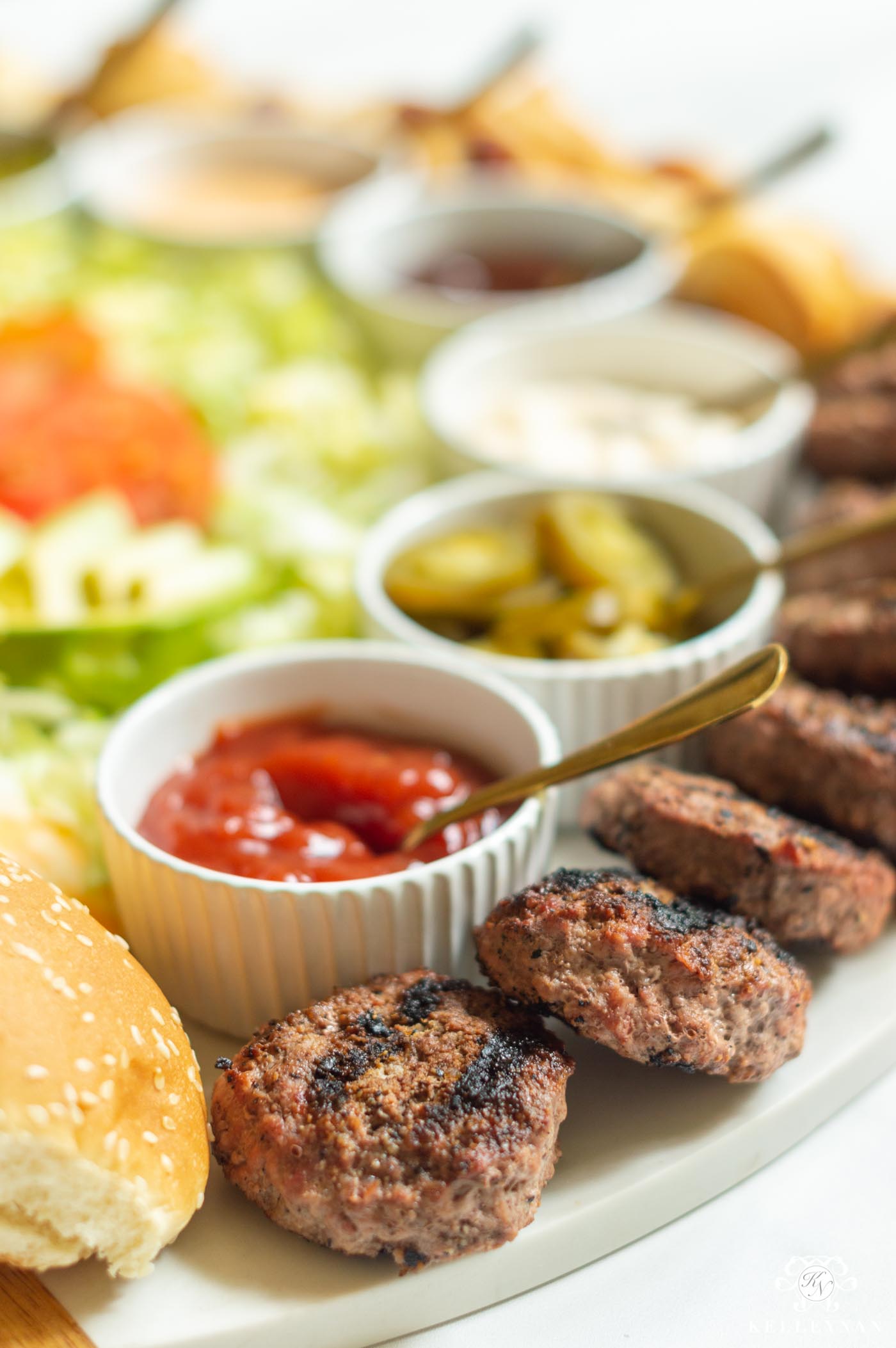 And if you prefer to keep your squeeze condiments in tact, arrange them together on a platter, board or pedestal to make a condiment station.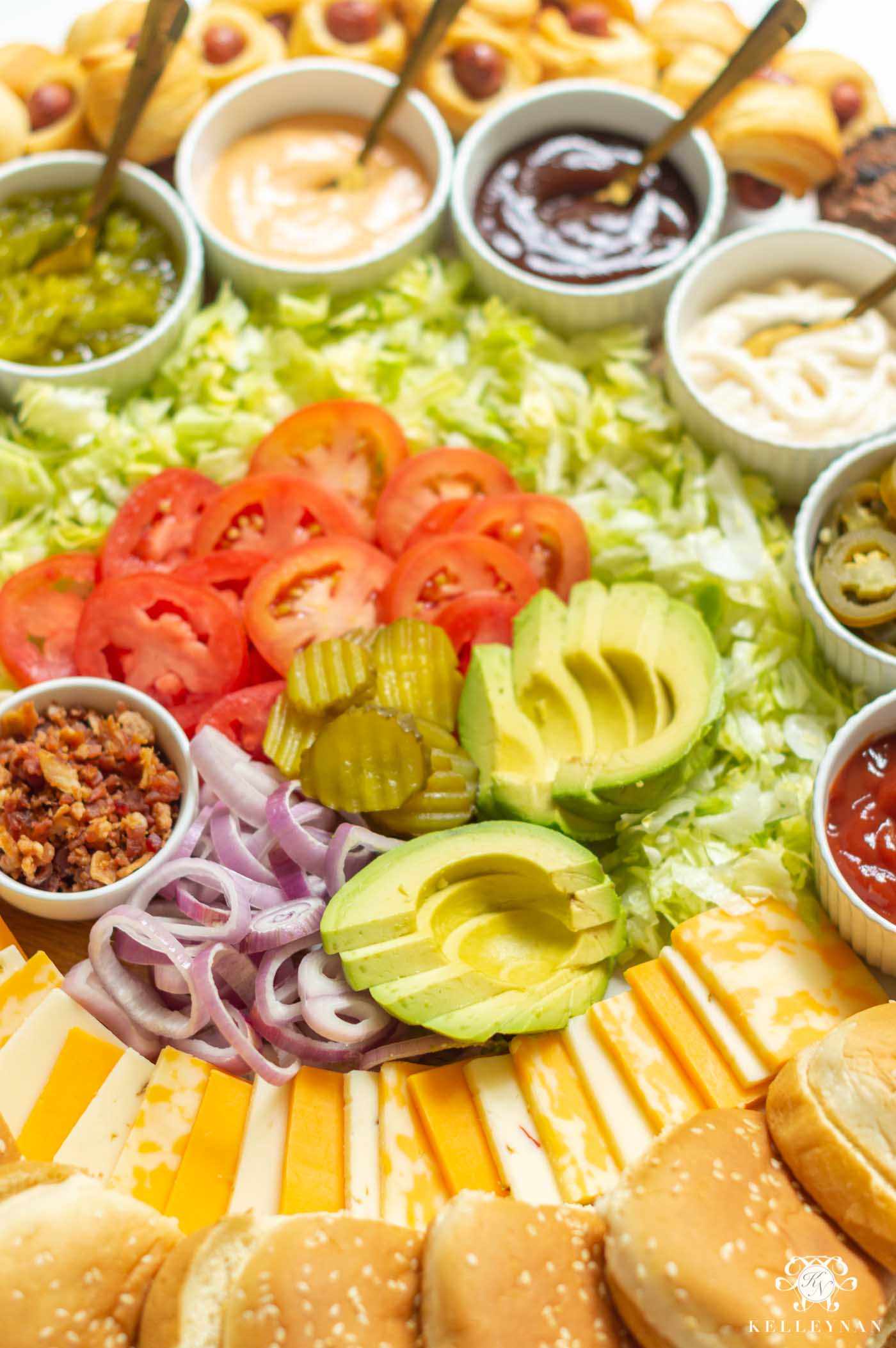 Another way to elevate your standard burgers is to offer all the toppings. Again, all of these are just little things you can do — not just with a casual cookout, but with any board/meal — to elevate your offerings.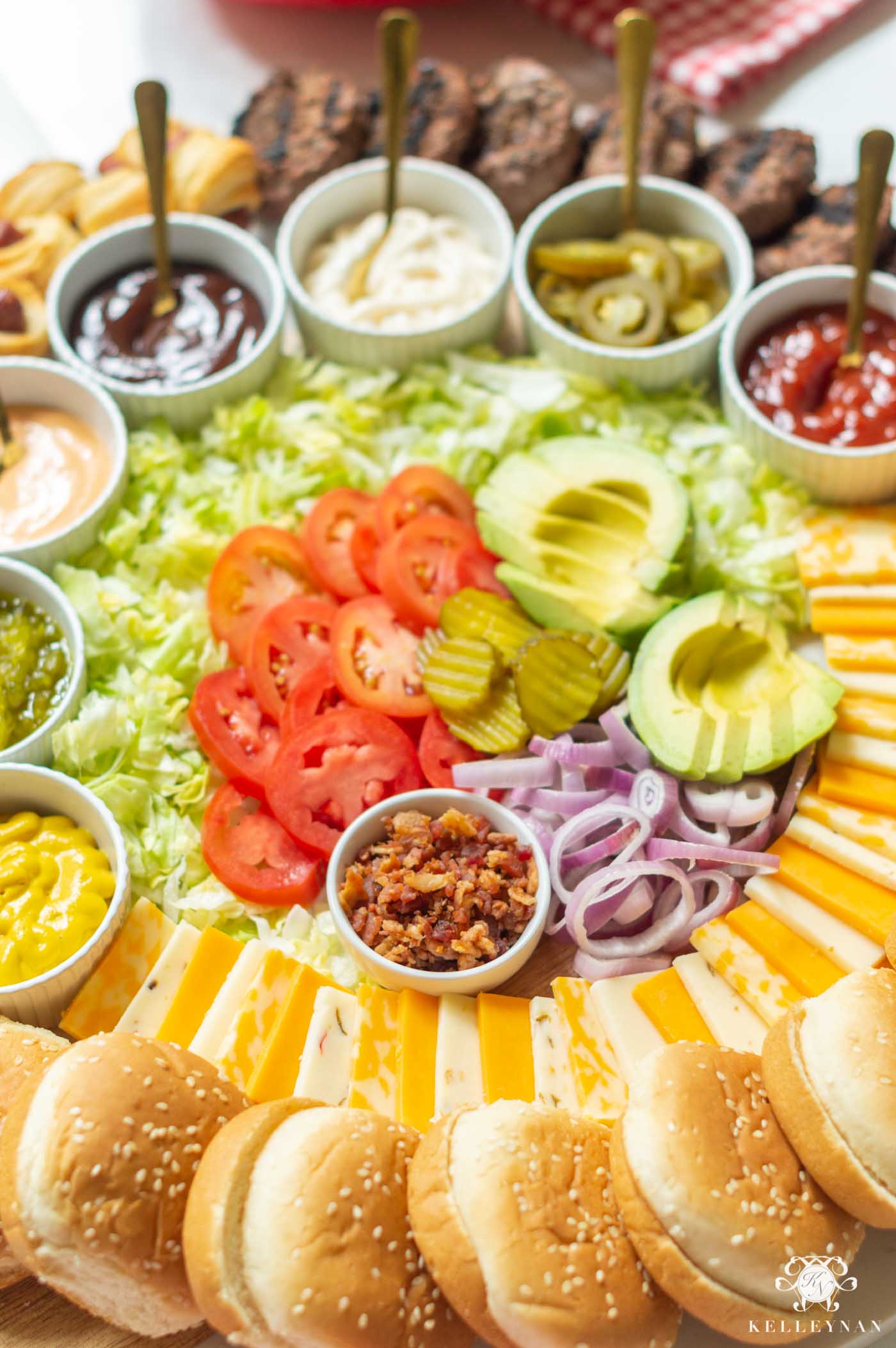 To assemble to full board, I pulled out the appropriate number of bowls for condiments and set them on the board to get an idea of how much space they needed. I positioned them into an arc, leaving enough room for the burgers and pigs. I lined the bottom of the board with buns, and then went back in and filled the top portion with the mini sliders and pigs in the blanket. Next, I added the cheese squares and followed that by nestling the lettuce shreds against the condiment bowls. I added a bowl for bacon bits and then rounded out the center with the final toppings, working in a circular motion. THIS is the board I used — I've used it for several other boards and love it for its size. It's also a really good one to leave on the countertop for display when it isn't in use 😉 You can order online for 30% off and opt for curbside pick-up for an additional 10% off and score this kitchen pretty for $36 right now! Shop it HERE.
Build Your Own Burger Bar Toppings
Because we went  mini on the burgers, we went mini on everything else, too. Here's the full board lineup.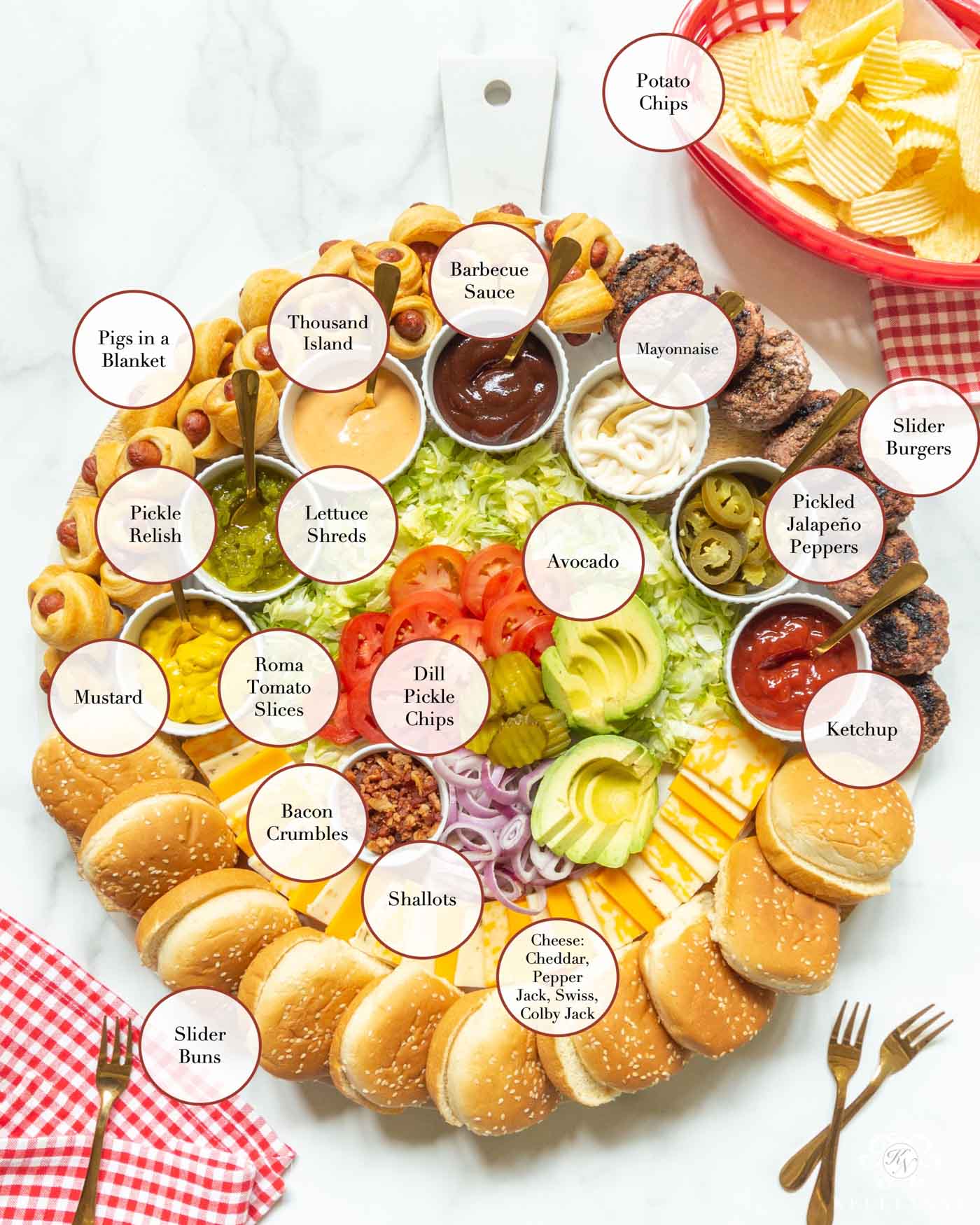 Board Components, Toppings & Condiments:
Sliders
Slider Buns
Pigs in the Blanket
Chips
Mustard
Ketchup
Pickle Relish
BBQ Sauce
Thousand Island Dressing (hello, special sauce!)
Mayonnaise
Dill Pickle Chips
Pickled Jalapeno Slices
Shredded Lettuce
Roma Tomato Slices (great for mini tomato dishes)
Bacon Crumbles
Shallots (instead of full sized onions)
Avocado
Mini Sliced Cheese Squares (Cheddar, Swiss, Colby Jack, Pepper Jack)
Pimento cheese is another great addition but our grocery store was out of my favorite brand (Pawleys Island Palmetto Cheese).
How cute are these classic red plastic baskets? You can find a similar set of 12 for under $10 HERE.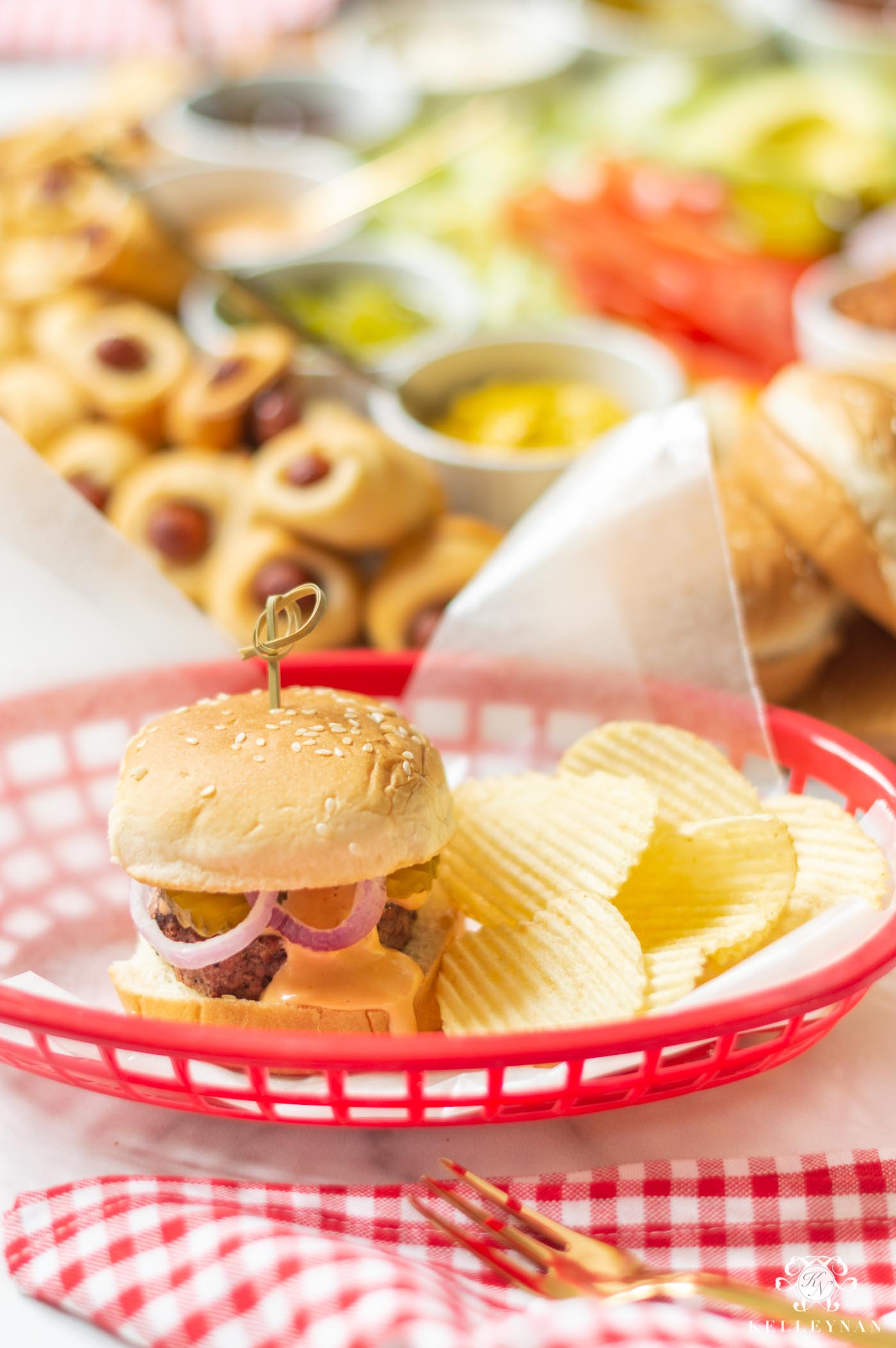 I'm just back from saying "goodbye" to my mom's house in Lower Alabama and helping her get packed so I'm a little behind, but I have several posts coming over the next several days and weeks! You can subscribe to my emails HERE to get alerted of new boards, every month, along with all updates and upcoming projects.
Scroll & Tap to Get the Look


A FEW OTHER BOARDS YOU MAY LIKE