I'll be totally honest — this post totally morphed from what it was intended to be to something totally different, haha. I wanted to give an update on our conversation room makeover progress (which I'll still do), and share a few accent chair findings as back-ups since the cane-back chair I'm eyeing is currently out of stock. What this ultimately turned into was a post on rattan accent chair favorites, that don't exactly fit into the conversation room, but I'm now convinced I need to figure out a place to incorporate one of the woven beauties I found. When I sat down to search, I ended up finding a pretty rattan chair (again, that didn't necessarily go with the conversation room design plan), and then ended up deviating and going down a black hole from there. Unlike a lot of accent chairs — especially those with lots of custom upholstery — rattan accent chairs are available for lots of different budgets. I mean, there are some really good looking chairs from high end retailers at shockingly low prices, in comparison. So, today, I will still share a little behind the scenes on our makeover progress, but I'll be devoting most of the post to talking rattan accent chair favs.
*Posts on KelleyNan.com may contain affiliate links. Click HERE for full disclosure.
Conversation Room Paint Project
I have no less than 30 samples of varying greige paint samples, left over from former test projects. Before I even sampled, I thought for sure I would go with Pale Oak by Benjamin Moore. Well, it's a good thing I tested the sample in the room two days before the painter came because as soon as I swiped it on the walls, I hated it. As a reminder, we have "Creamy" trim by Sherwin Williams that I'm not changing. This is a south-facing room and I wanted something in the warm, pale greige family. Instead of then resorting to analysis paralysis (totally been there more than once!) by subsequently applying all the samples, I went for my trusty Edgecomb Gray by Benjamin Moore (which I also have in the kitchen), and added the same color at 50% for good measure. Here's an unedited iPhone glimpse of how they compare.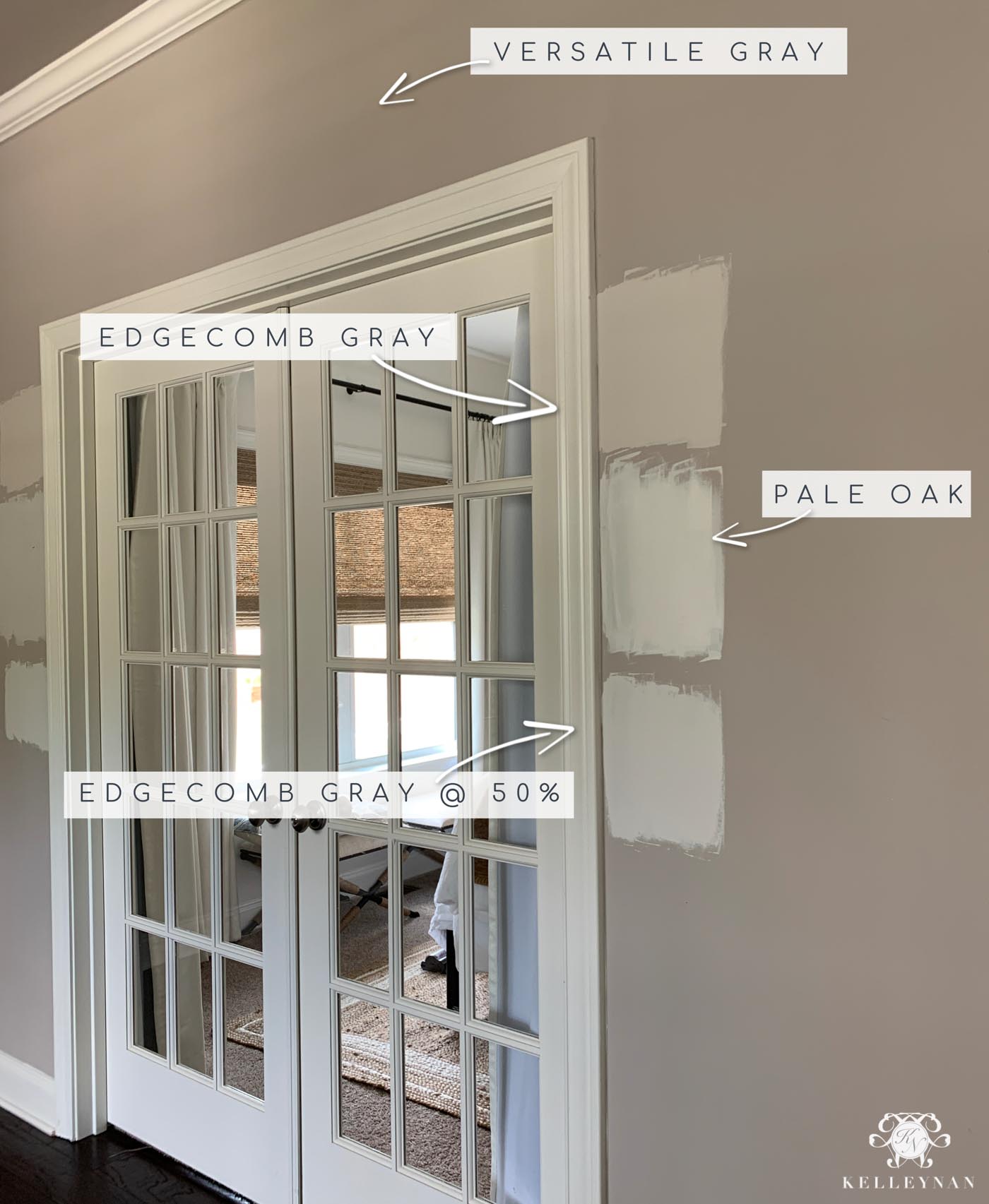 Edgecomb Gray at 50% looks totally different than full strength and ultimately, I went with pure Edgecomb Gray.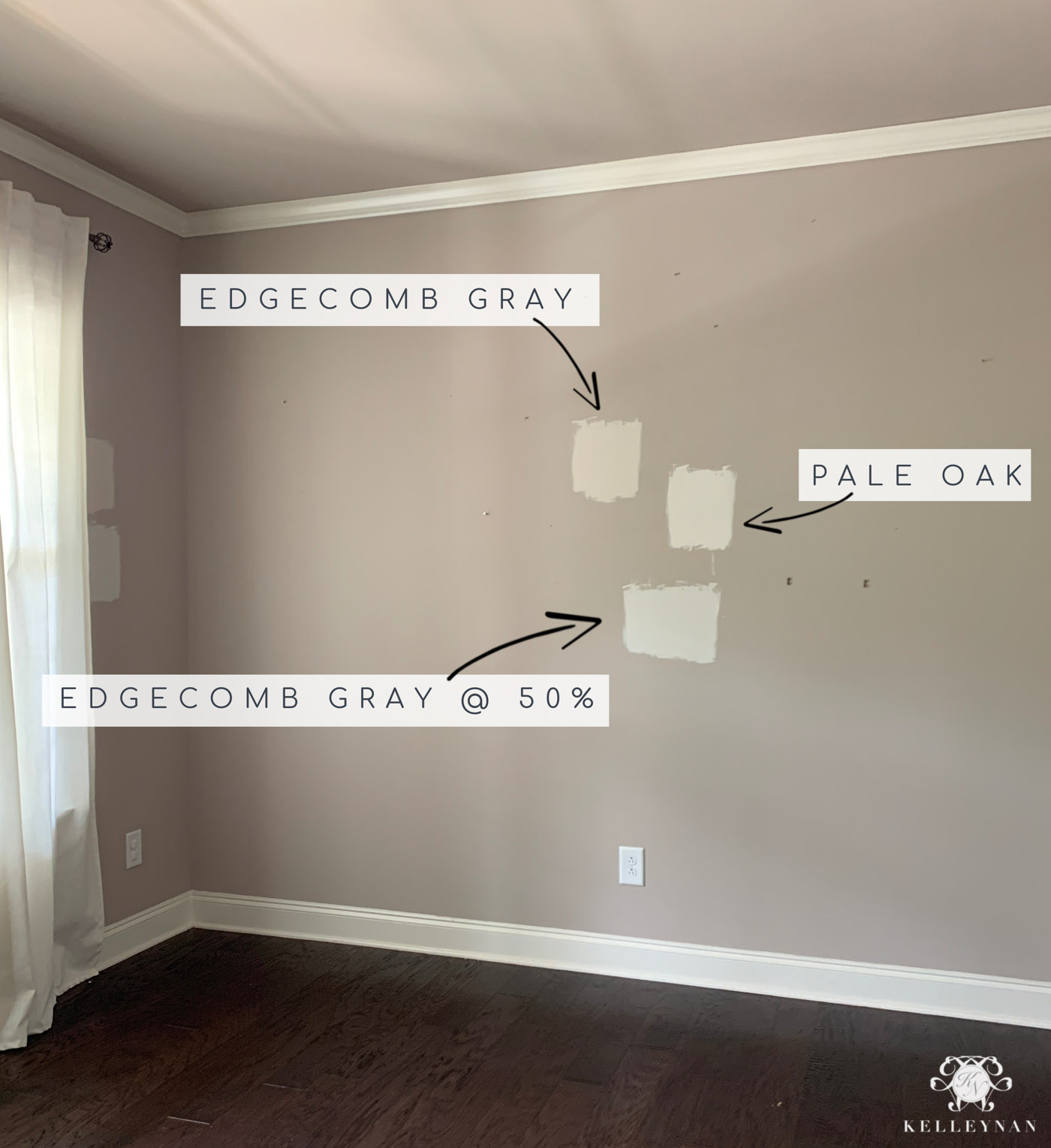 It doesn't yellow my trim and is just a nice, warm, pale greige that goes well with any neutrals I've thrown at it. I haven't had the ceiling details applied just yet but I quickly did a paint-style mock-up on my phone to get an idea of white vs. black shiplap. Here's an (awful) paint sketch but it will give you an idea of what the two look like…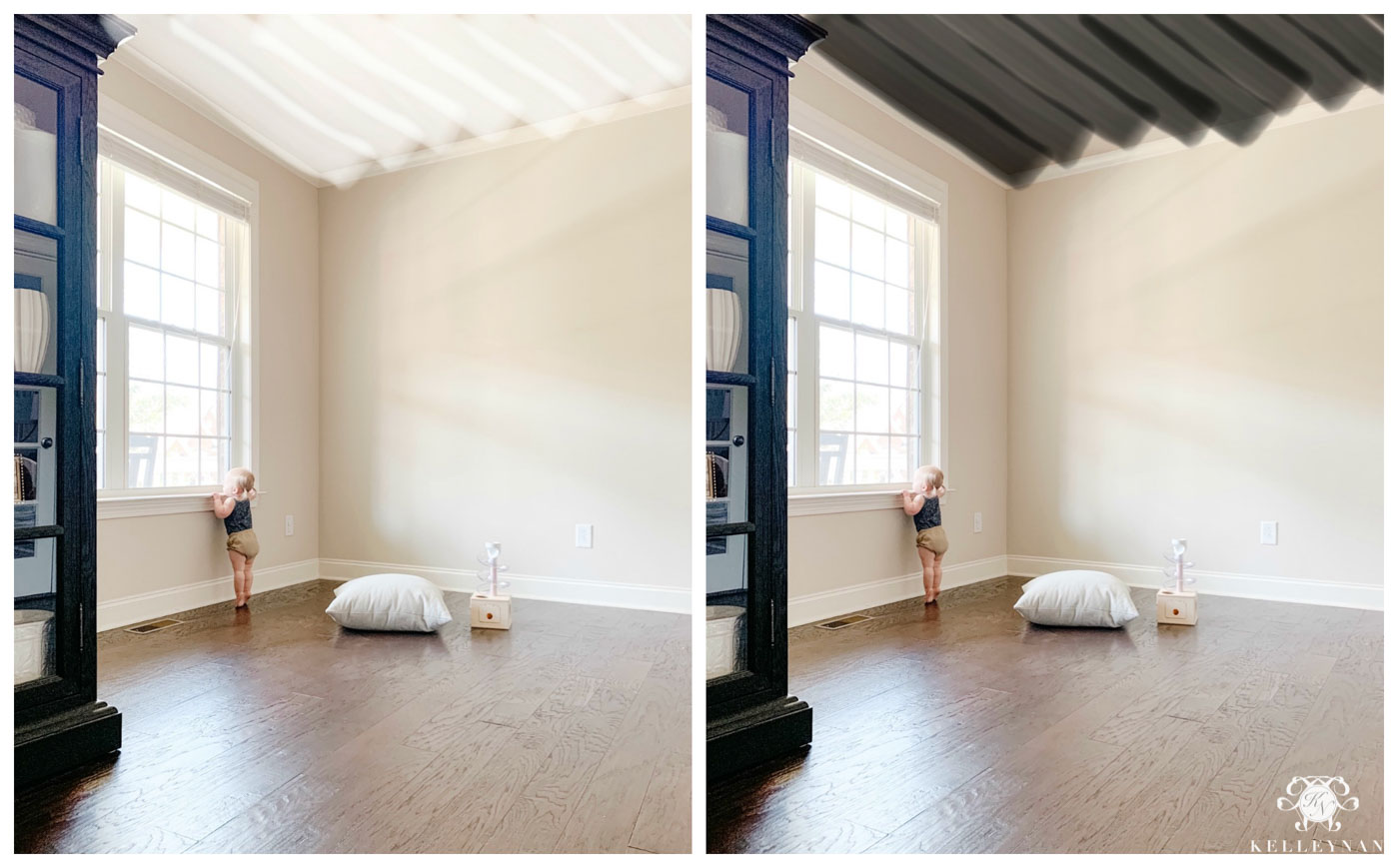 I'm not going to share which direction I'm going just yet 😉 So, in terms of an update, in the past week, I've 1. cleared the room, 2. selected paint, 3. had the room painted. You can revisit the design plan HERE to see what's coming next and what I'm going for with the finished space.
16 Rattan Accent Chair Favorites
Ok, like I said, because the chairs I'm eyeing aren't in stock right now (they are supposed to be restocked in October), I'm trying to find other options and alternatives. Here's the cane-back chair at the top of my list…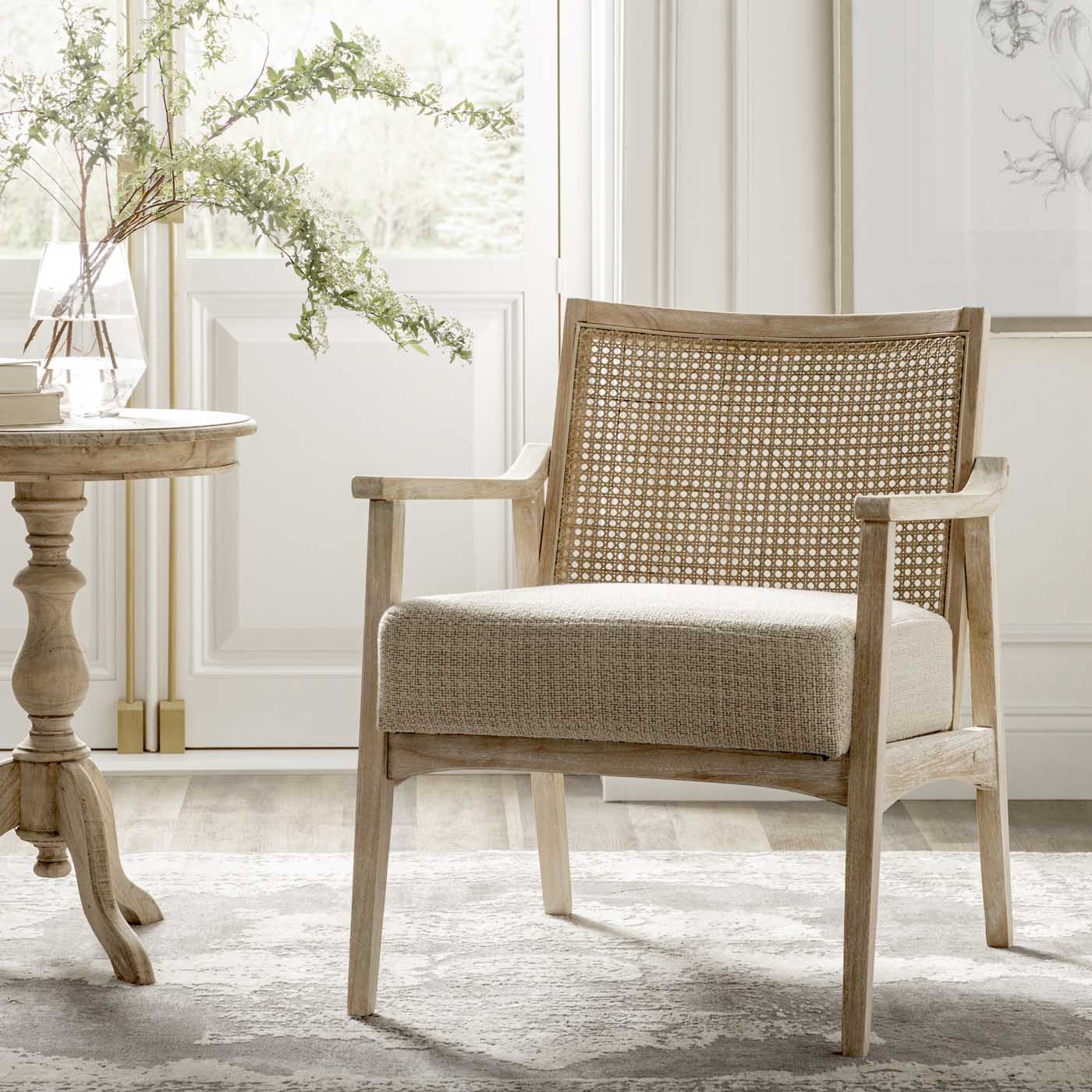 But, when I started searching for alternatives, I ended up going a totally different direction and while they are still natural wood and woven inspired (and some actually would work), I see these in a different space than what I'm planning. Here are the 16 woven, cane and rattan accent chairs I loved and saved. (The links can be found at the bottom of the graphic).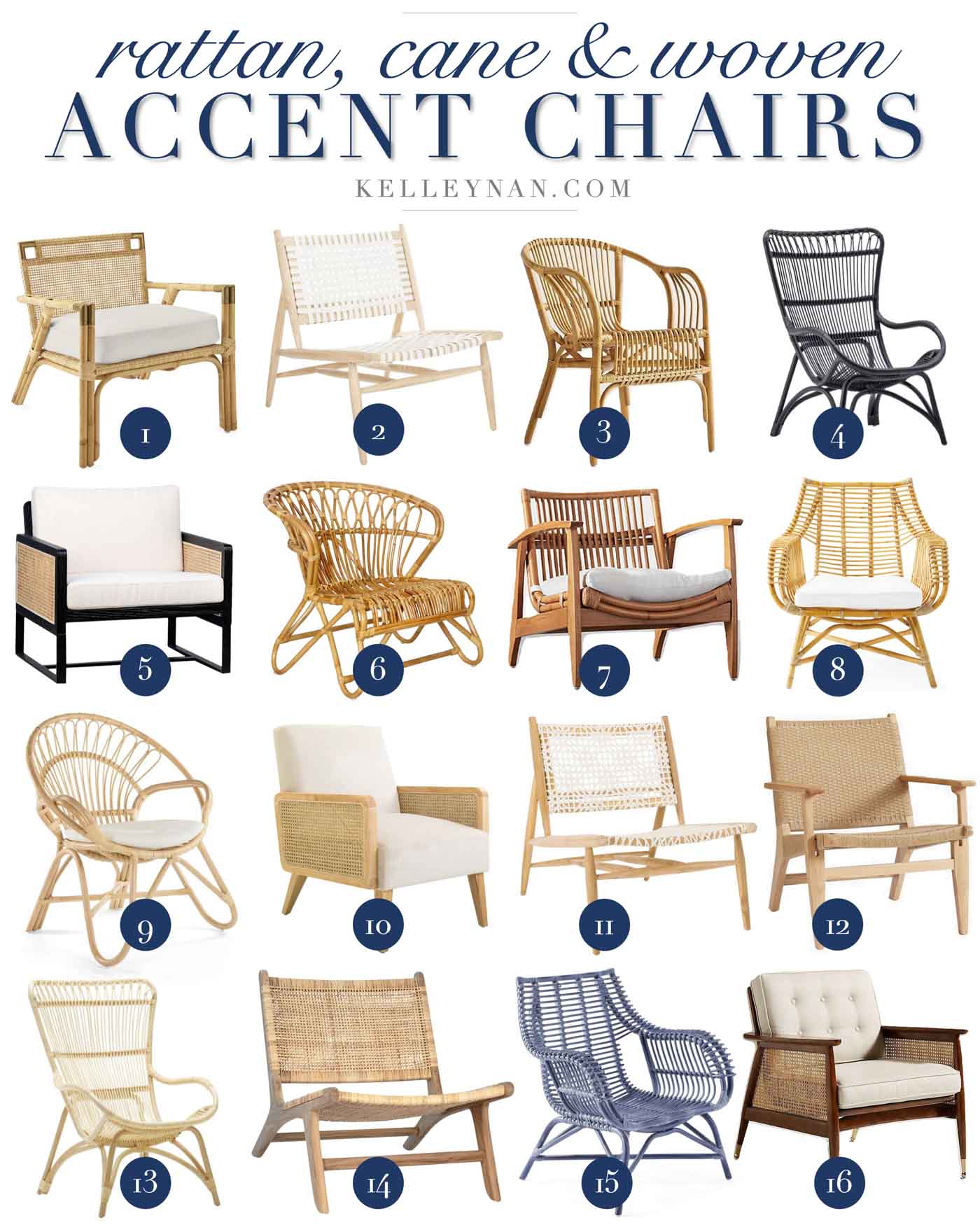 1 | 2 | 3 | 4 | 5 | 6 | 7 | 8 | 9 | 10 | 11 | 12 | 13 | 14 | 15 | 16
I really think Number 5 and Number 16 could still work in the conversation room but the room is going to have so much wood, most of those without upholstery would probably work better in other spaces. Number 3 is currently on sale for $102.40 and is perfect for a smaller space! Number 5 is gorgeous but a total splurge for me and out of my budget. If you're into mid century modern vibes, Number 10 is under $250 and ships free! Number 6 is also a really affordable option and goes on sale frequently. Any of these would be great as a pair in a conversation area or solo in a corner moment on its own.
Hopefully, I will have more to report soon on some more progress — Labor Day weekend is quickly approaching so I'll be working to finalize my larger furniture decisions so I can score as much as possible at a discounted price. Subscribe to emails below to catch all the updates on the conversation room, and ultimately, the final reveal!