Snack Around the Plates are always random but today's SAP is especially random. And FULL! It's actually extending past its regular format since several random new favorites have other related favorites that are currently on sale. 2020 has affected us all but I have enjoyed directing my energy into new things, working on positive habits, and discovering new loves. Read on for the hodge podge of favorites and discoveries I'm excited to share today!
*Posts on KelleyNan.com may contain affiliate links. Click HERE for full disclosure.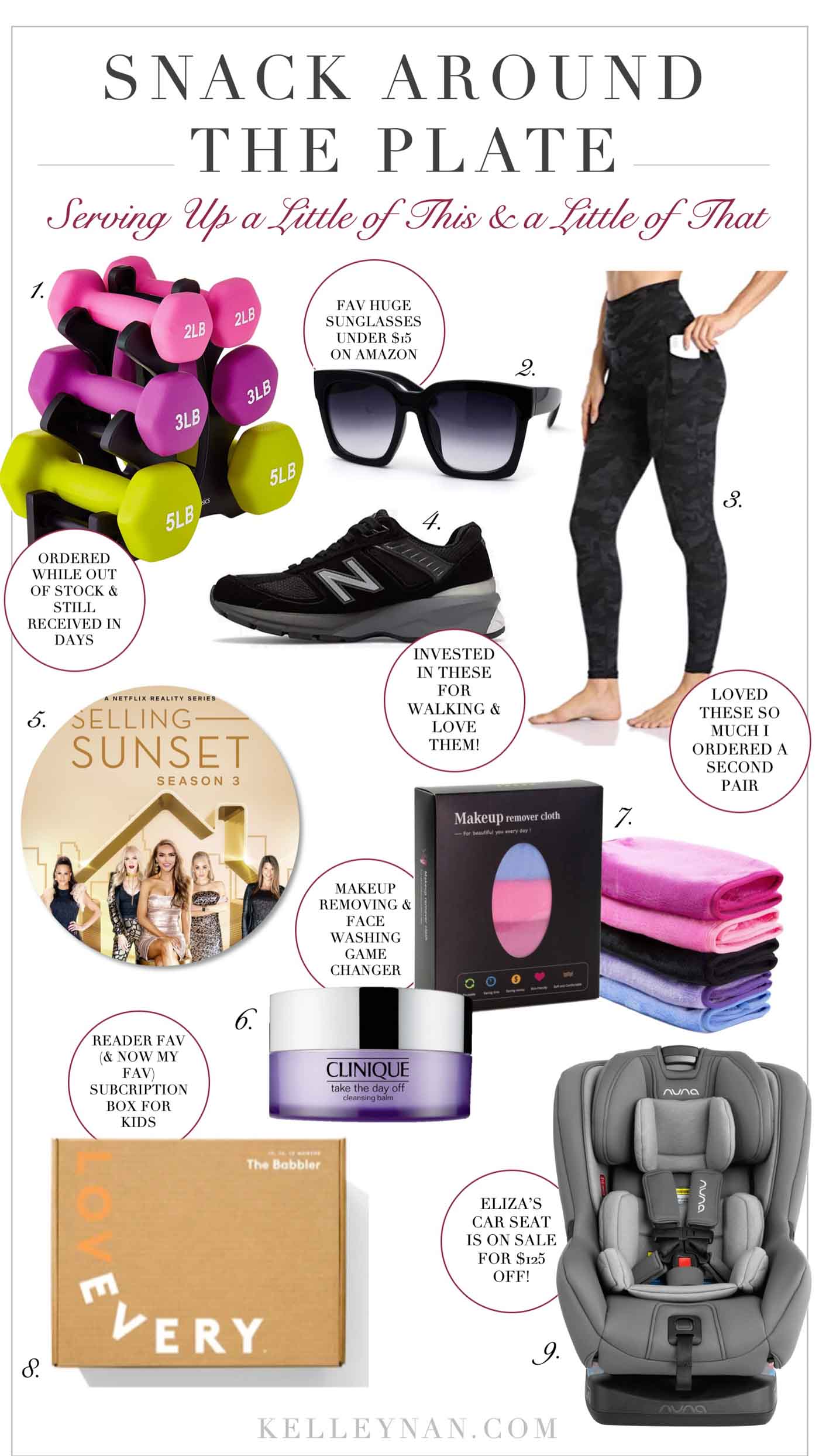 1. | 2. | 3. | 4. | 5. | 6. | 7. | 8. | 9.
*NOTE: Any items listed as part of the Nordstrom Anniversary Sale will be live by 9:30 a.m. (EST) today (8/13) for the remainder of cardholders and 8/19 for the general public. Items in the sale have sold out quickly and continue to sell out; if there is something you're interested in that is showing as "no longer available", and while they don't typically do full restocks, visit back regularly as they do often list items back to their site. 
1. Dumbbell Set: A couple months ago, I decided to prioritize making time for some fitness in my daily routine. My treadmill has been getting a workout and I wanted a light weight set to go along with some of my workouts. The bad news — it seems that everyone else had the same thing in mind. When I was searching online, everything that I was looking for was sold out — TP and Lysol style. I decided to go ahead and place an order for this cute little set of 2 lb., 3 lb., and 5 lb. dumbbells; while Amazon indicated that they were out of stock, it still allowed me to order. Surprisingly, they actually still showed up within a few days! I can't make the same promise for any subsequent orders as I don't know their inventory, but for me, it worked and they still came quickly. I've been using the 5 lb. set on their own and the 2 lb. set for some of my treadmill HIIT workouts.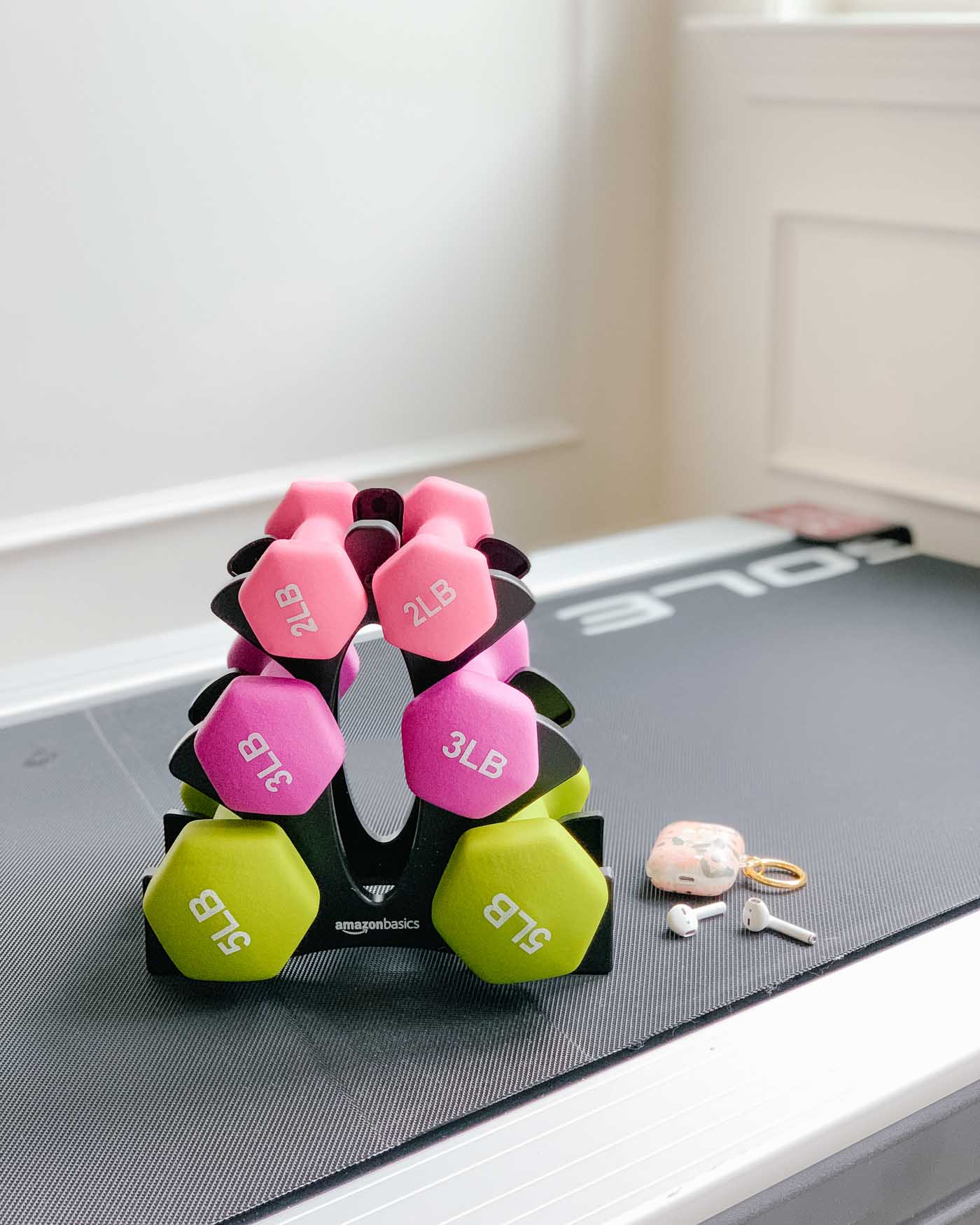 2. Sunglasses: There are several recent Amazon finds in this SAP and these $14.95 sunglasses are one of them. I ordered a batch of cheap sunglasses a couple months ago and these are my favorite of the pack. Give me a pair of expensive sunglasses and I'll break/scratch them in to time; give me a pair of cheap sunglasses and I'll have them forever, haha. I especially love these with my shape face — they are oversized and come down lower but since I got them, they are the only pair I reach for. LOVE them.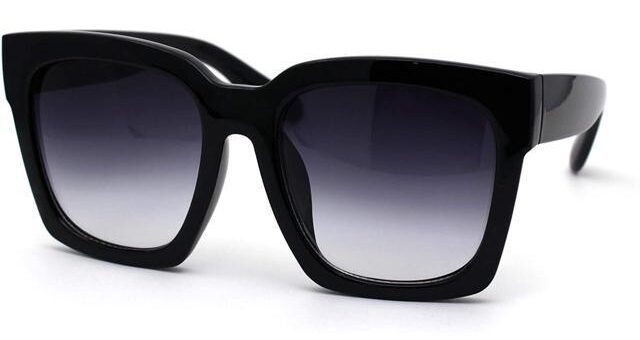 3. Leggings:
I've been pretty brand loyal when it comes to leggings — the
Zella Live In High Waist Leggings
have been my go-to for years (they're also currently $20 off as part of the
Nordstrom Anniversary Sale
, right now). However, as much as I love them, for me — in the heat of a Georgia summer — they are too thick to wear while it's as hot as it is. I wanted to find a lighter weight leggings that still smoothed and held me in, but had more breathable fabric. After seeing almost 7K positive reviews, I took a chance on
THESE
— that come in TONS of colors and have pockets — and loved them so much, I ordered a second pair. They are silky smooth and breathable and thinner and still smooth me and hold me in. And, I can wear them in the heat without dying. If you are an avid wearer of leggings, order
THESE
on Prime, stat!
4. New Balance Tennis Shoes: I mentioned I started prioritizing health and fitness a few months ago and when I started logging miles on treadmill, the old Zumba shoes weren't cutting it.My feet ache after being on them and are short but wide. Finding supportive tennis shoes that don't squeeze my feet too much is a task and after researching, I decided to order THESE New Balance shoes — they come in four widths (narrow, regular, wide, and extra-wide) and have several hundred positive reviews. While I've also never spent as much on a pair of tennis shoes, they do ship for free and accept returns for free so it seemed pretty risk-free. I ordered the black colorway in a wide in my regular size. Not only are they perfect for my treadmill, but I can wear them all day without my feet killing me. They were 100% worth the investment and again — have free shipping and free returns.
Another athletic (or for me, every day) necessity I've been a loyalist to for several years is the Zella Body Fusion Sports Bra. With a large chest, I can still easily breathe in it (it isn't one of those super tight for extra high intensity deals), but it's still full coverage and supportive for the level of activity I do and everyday. And, it's what I wear just about every. single. day. It's part of the Nordstrom Anniversary Sale and as of this post, several colors in certain sizes are already sold out. During the sale, these are only $22.90 so I try to stock up each year.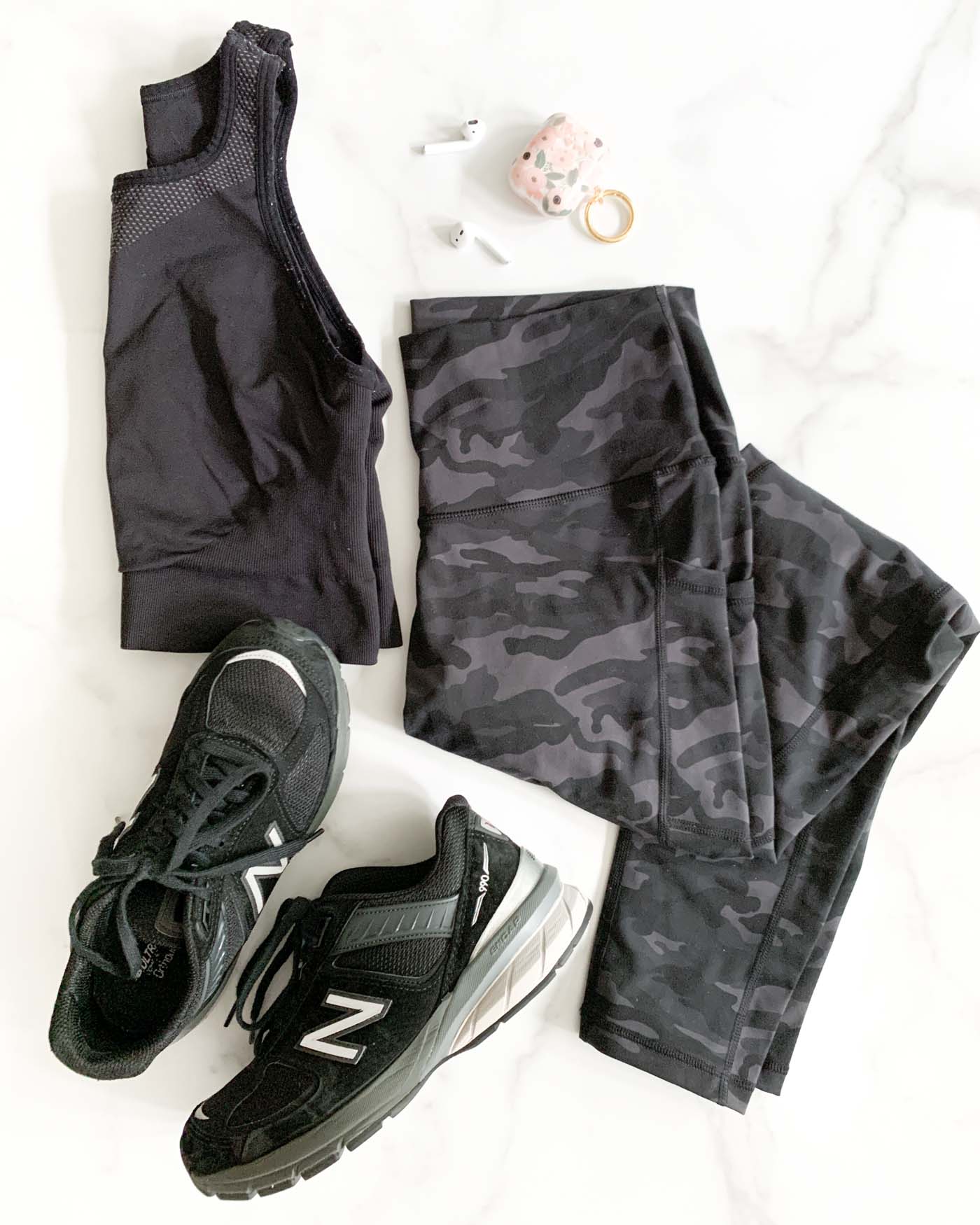 Sports Bra | New Balance Tennis Shoes | Black Camo Leggings | Airpod Case
5. Selling Sunset: Fun, easy series! Season 3 of this Netflix reality show was released this past week and if you're a fan of any reality-ish shows with all the drama, this is a good one. And, I love the premise — a team of luxury real estate agents and their crazy lives meets high end homes in the Hollywood Hills. The seasons are quick and easy to binge in a day!
6. Clinique Take the Day Off: For longer than I can remember, I've used disposable makeup removing towelettes but after hearing that they can cause breakouts and cystic acne (something I face from time to time), I decided to try something new. I've been using this balm for the better part of a year (it's kind of waxy and a little goes a LONG way!) and it works amazingly well. I put a little on my fingers and then rub it over my eyes and face, loosening all my makeup. It literally melts off. Many months in and I'm still working off my same jar.
7. Microfiber Makeup Remover Towels: While you can use a washcloth to wipe off the makeup remover, it takes a little more effort and of course, there's potential washcloth staining. After hearing raves about these plush microfiber makeup remover towels — I ordered a pack (five for $12) off Amazon — and was shocked by 1. how soft they are (like a plush blanket for your face), 2. how effective they are (they literally pull everything away from your face with just water), and 3. the insane value (each towel can be washed 300+ times!) Am I the last to join the microfiber makeup remover towel fan club?! You can use these with your regular face wash, or, with just water. It takes little to no effort and saves so much time in my bedtime routine. *Judgement free zone* but I did include a quick snap below to show first, what the Take the Day Off makeup removing balm looks like after applied and rubbed around, and second, what my face looks like after that crazy mess, with a simple few easy swipes using the microfiber makeup remover towels.

Along with the makeup removing microfiber towels and Take the Day Off balm, here are a few other skincare and face favorites.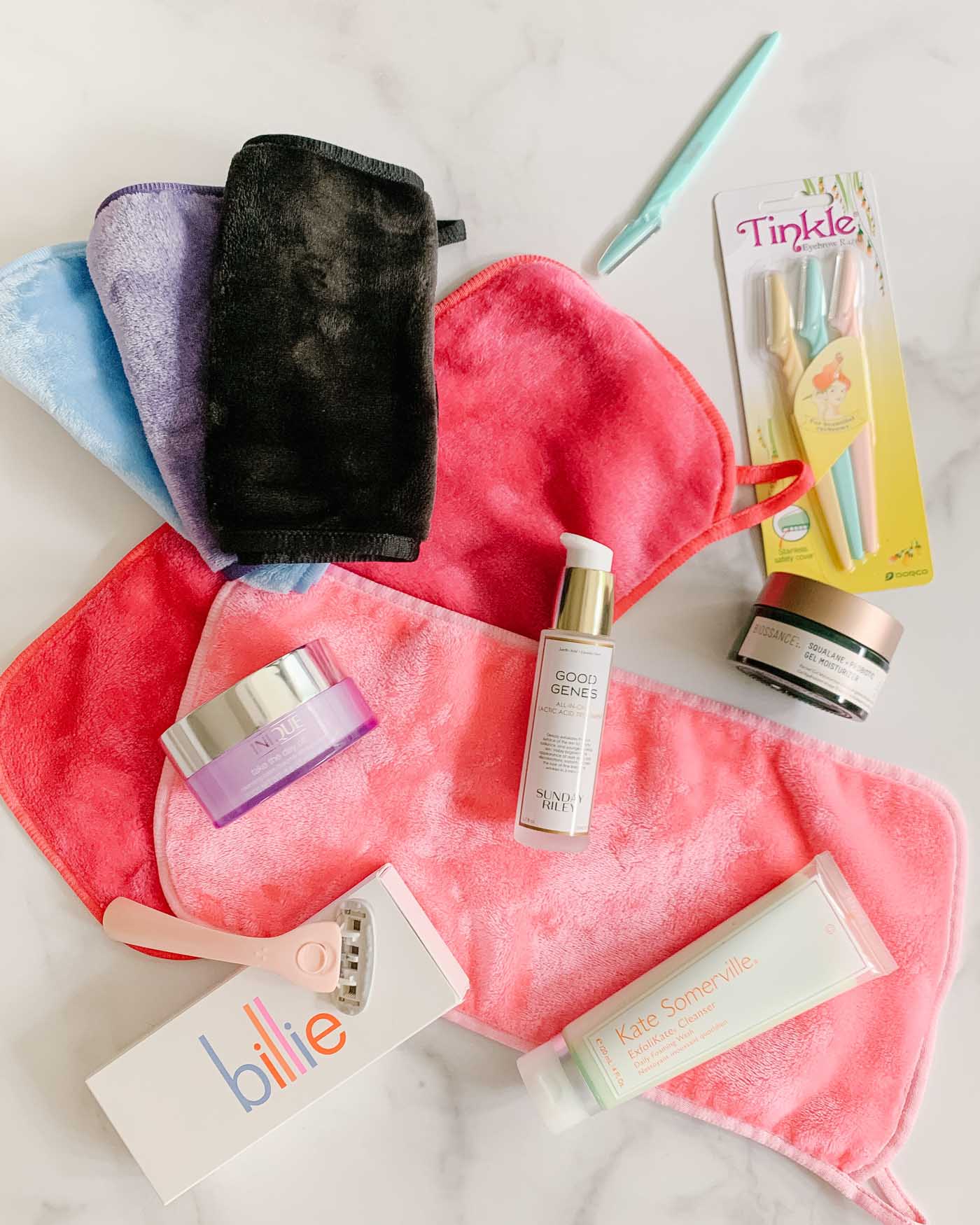 Makeup Remover Cloths | Clinique Take the Day Off Balm | Kate Somerville Cleanser | Billie Razor | Sunday Riley Good Genes Lactic Acid Treatment | Biossance Moisturizer | Tinkle Face Razors
8. Lovevery Subscription Box: I conducted a poll on Instagram stories a few months ago, asking my audience to weigh in on their favorite subscription boxes. I think the only answer to outweigh Fab Fit Fun was the Lovevery box for babies and kids. I'd heard rave reviews from moms in some of my groups and wanted to give it a try. It's not necessarily a monthly subscription box, but a subscription box by development stage that helps children explore and practice/hone new skills. Ironically, they reached out and gifted a box to Eliza last month (the "Babbler" playkit for months 13, 14, 15) and since we opened it, she's played with the montessori-based toys from her box, almost exclusively for weeks. (Click HERE to check out the contents of each box). We don't buy Eliza many toys — we try to stick to holidays and occasions and certain toys at new stages of learning and development. I hate we didn't try the box for her sooner but since she has loved and is loving all her goodies from her current box, we'll be subscribing so she can get the next development stage, too. The box comes full of entertainment with books, balls, puzzles, and things they have to engineer but some of her favs from her current box are the wooden slotted coin bank and coins (awesome for hand-eye coordination), the ball ramp with balls that make noise and a box that has four different access points and methods, and a set of nesting felt baskets. It also comes with a booklet with ideas on how to play with each item. You can peruse the boxes HERE.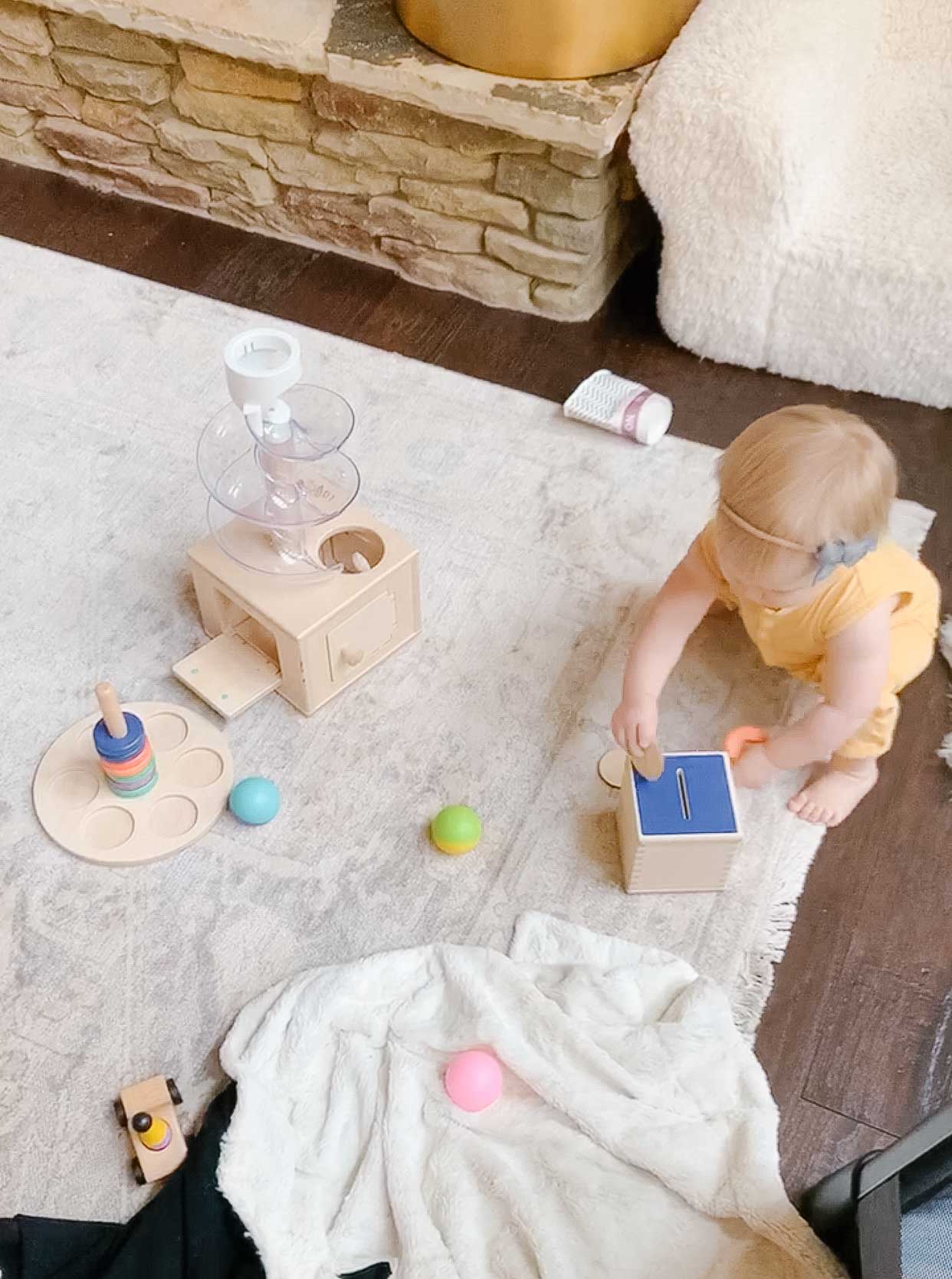 9. Nuna Rava Convertible Car Seat: I was really excited to see Eliza's stroller set and convertible car seat as part of the Anniversary Sale; unfortunately, the UppaBaby Vista set sold out incredibly early for higher level cardholders. But, as of the time of this post, the Nuna Rava car seat is still available! We actually bought the 5-50 lb, front and rear facing convertible seat around Black Friday last year, from Nordstrom, in the exact same Nordstrom-exclusive color. While we got a good deal (Nuna doesn't typically go on sale), we didn't get THIS good of a deal — it is currently $125 off for the sale HERE. Transitioning from Eliza's infant seat to the convertible seat was so gratifying — it's so much easier to get her in and out of and the seat itself is fantastic. The Nordstrom-exclusive colorway is great because it's the perfect medium-neutral shade — not too light, not too dark. We purchased our carseat literally eight months before we ever used it — just so we could score it on sale — so if you have been eyeing the Nuna Rava and you're planning for a little one, NOW is an incredible time to purchase. It also ships for free and returns for free if you change your mind 😉
Along with the Nuna Rava, the Nordstrom Anniversary Sale does have some great deals on some sweet pieces. Again, several items have started selling out so you may want to check back occasionally.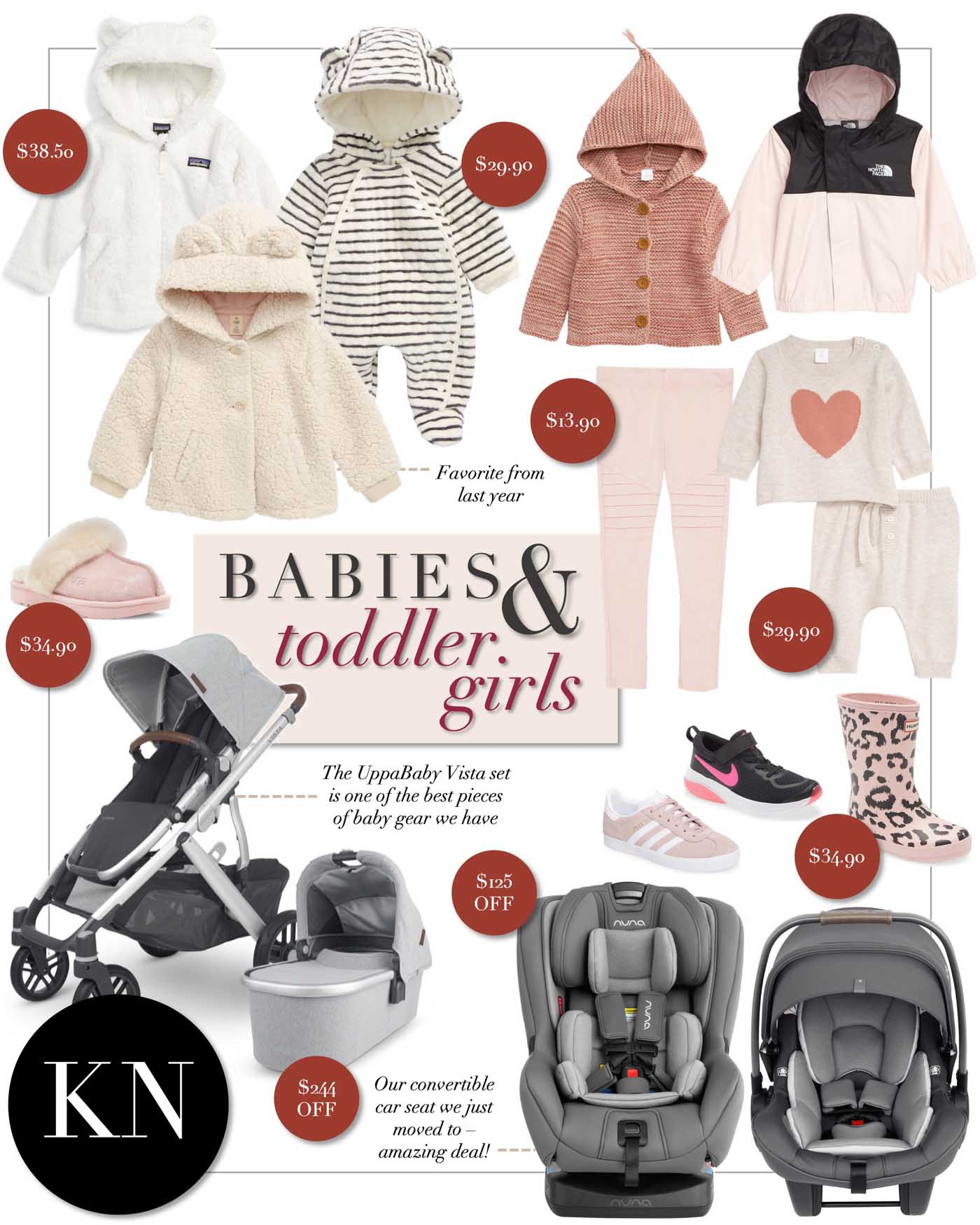 Patagonia Pullover (Baby) (Little Kid) | Striped Hooded Bunting | Fleece Jacket with Ears | Hooded Cardigan | North Face Jacket | Stretch Cotton Moto Leggings | Heart Sweater & Pants Set | Pink Ugg Slippers | Adidas Sneakers | Nike Sneakers | Hunter Rain Boots | UppaBaby Vista Stroller Set | Nuna Rava Convertible Car Seat | Nuna Pipa Lite Infant Carrier Car Seat
I purchased this sweet little Tucker + Tate fleece coat for Eliza (last year or the year before during the Anniversary Sale) and while we live in Georgia and I wasn't getting her out in the cold too much this past year, it was our go-to when we did venture out (to the park, Halloween, errands, etc.)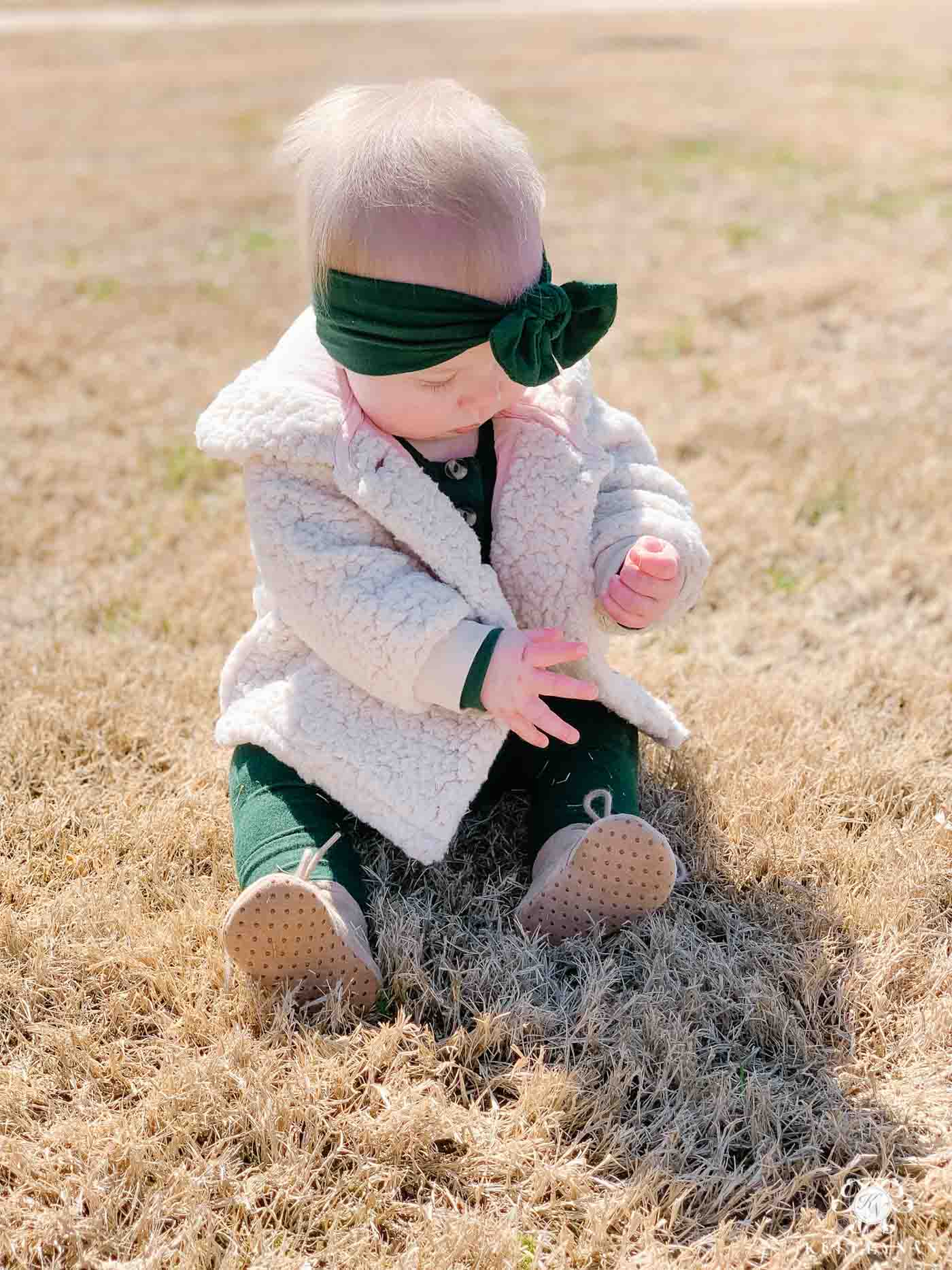 THESE cute little moto leggings come not just in pink, but also a washed black shade; they're on sale for $11.90 right now.
OTHER NOTABLE FAVORITES & NORDSTROM ANNIVERSARY SALE DEALS
An item I purchase every year is this plush tassel throw — it is so soft, comes in a ton of colors, makes a great gift, is under $25 and we have them all over our house from the bedrooms to the living room. It's our go-to for movies on the sofa, while I'm sitting at my desk, and when I read with Eliza and I'll be grabbing a couple more this year. Some of the colors are already out of stock but with 1.7K positive reviews, if you haven't tried it, this is a budget-friendly winner. It is also really easy to clean — I toss it in the washer and dryer and it comes out perfectly!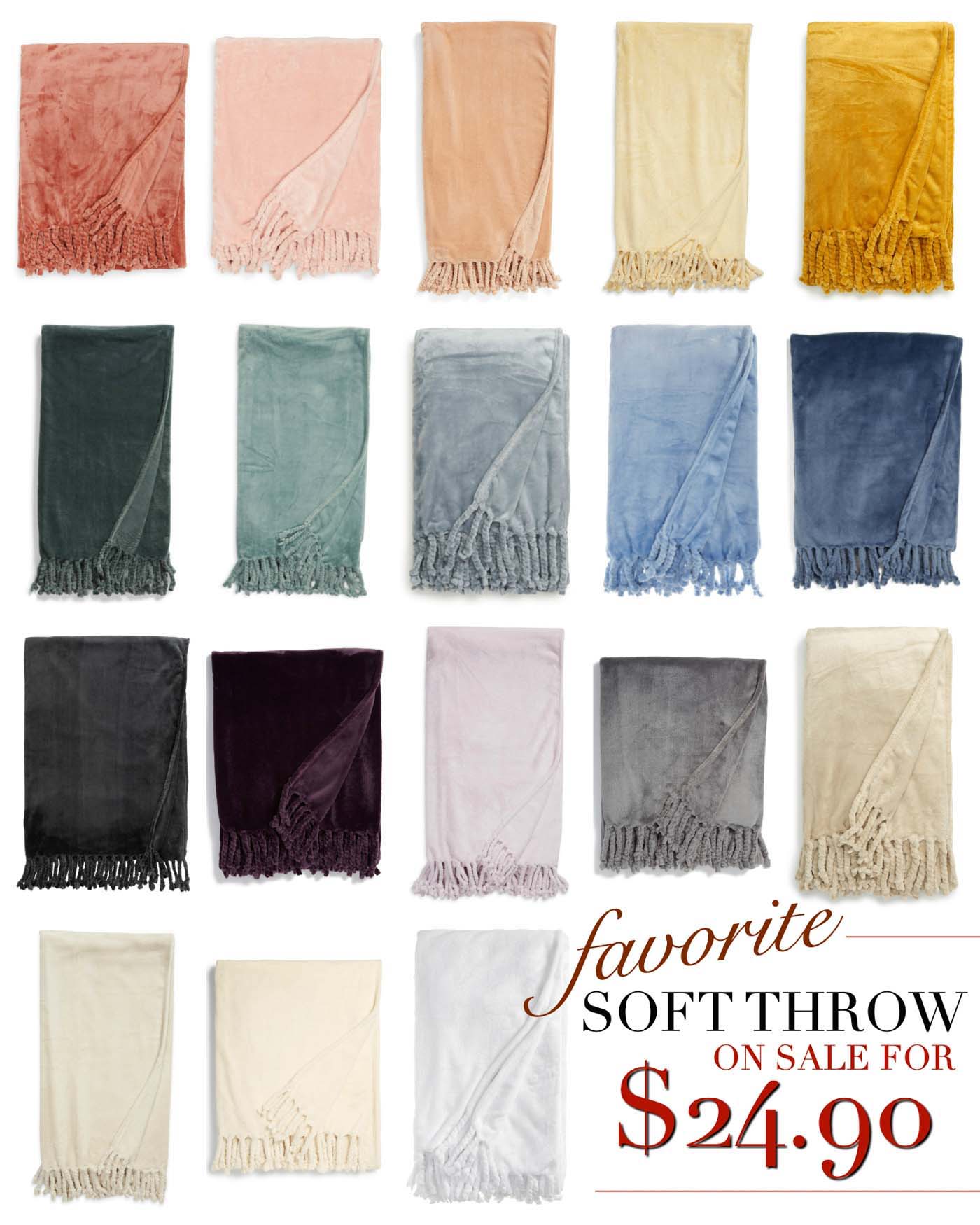 You've probably spotted them all over the house, but here is most recently in the Vanilla, draped over the chair in our bedroom sitting area.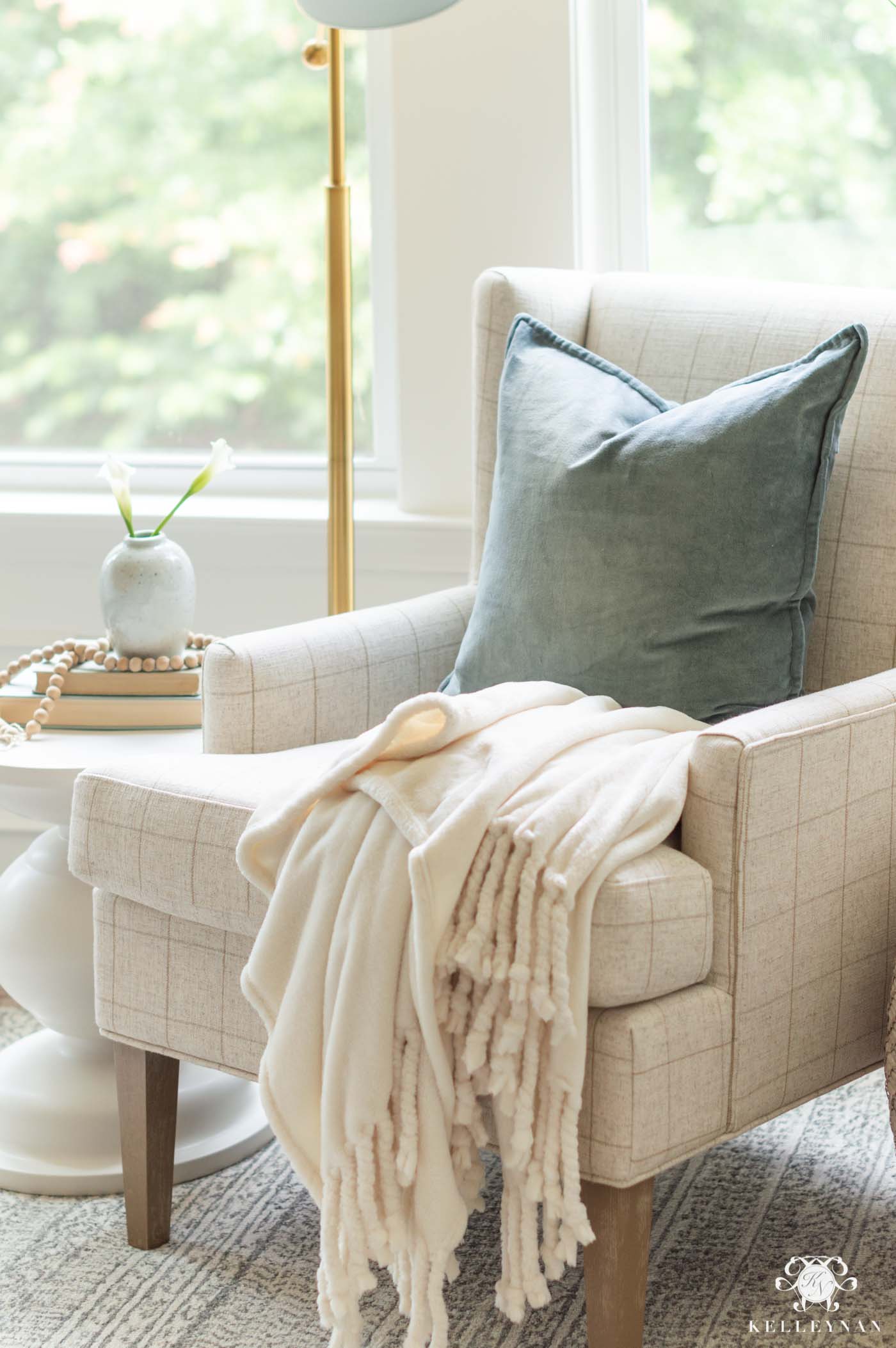 Pillow (Sea Foam) | Chair | Throw Blanket | Rug | Vase
I shared last year (or maybe the year before?) what a difference THIS blow dryer made (while using the most narrow concentrator attachment and brush) to my hair — for the first time since before I was a teen, I didn't have to use a straightener. My mind was blown. I use it in conjunction with the Olaplex No. 6 Bond Smoother, and the Bumble & Bumble Blow Dry Repair (heat protectant). Because I was such a fan of the T3 hair dryer, I decided to give the T3 Singlepass 1.25″ Curling Iron a try — my former curling wands are pushing a decade old and while they've served me well, I wanted to try something new. Now, having used curling wands for a while, I had to re-learn how to use a curling iron (starting at the root and working my way down). This thing makes my curls/waves 1. more polished and 2. last so much longer than what I was using before. Before, I had a tendency to go a little frizzy if I played and worked with my hair too much but this curling iron has made my styled result so much more polished and lasting. It heats up quickly but be careful — it's hot! When I finish, I use THIS teasing comb and THIS texture spray at my roots for volume.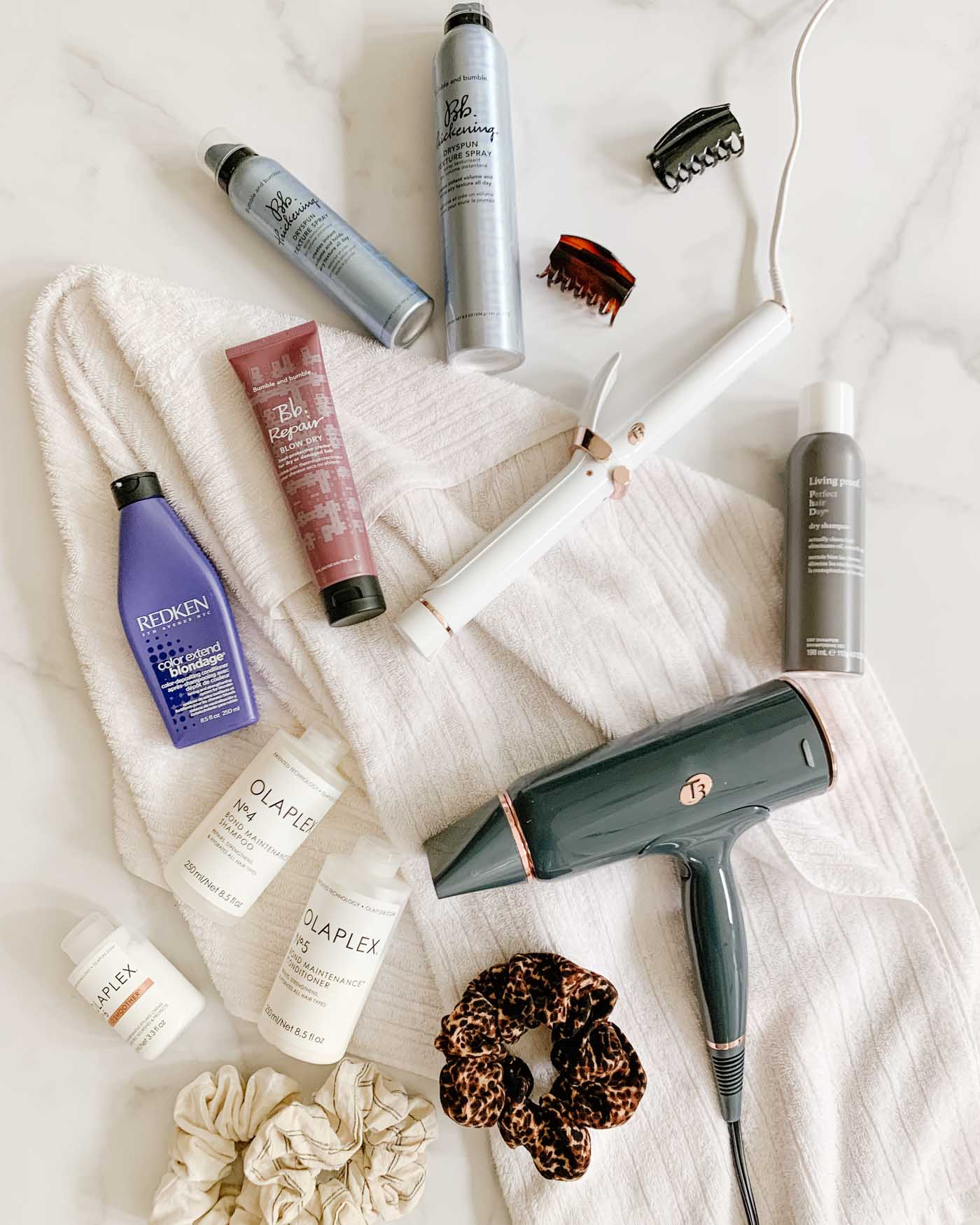 Olaplex No. 4 Shampoo | Olaplex No. 5 Conditioner | Olaplex No. 6 Bond Smoother | Redken Color Extend Purple Shampoo | Bumble & Bumble Blow Dry Repair | Bumble & Bumble Dryspun Texture Spray | Living Proof Dry Shampoo | T3 Singlepass Curling Iron (1.25″) | T3 Blow Dryer | Scrunchies — Chelsea King 
This is a fresh hair day, after having used my blow dryer, my curling iron, and then finishing with the teasing comb and texture spray at the roots — after having been in the Georgia heat and humidity for a while! I have fine hair but a lot of it and this result and longevity is a big win for me.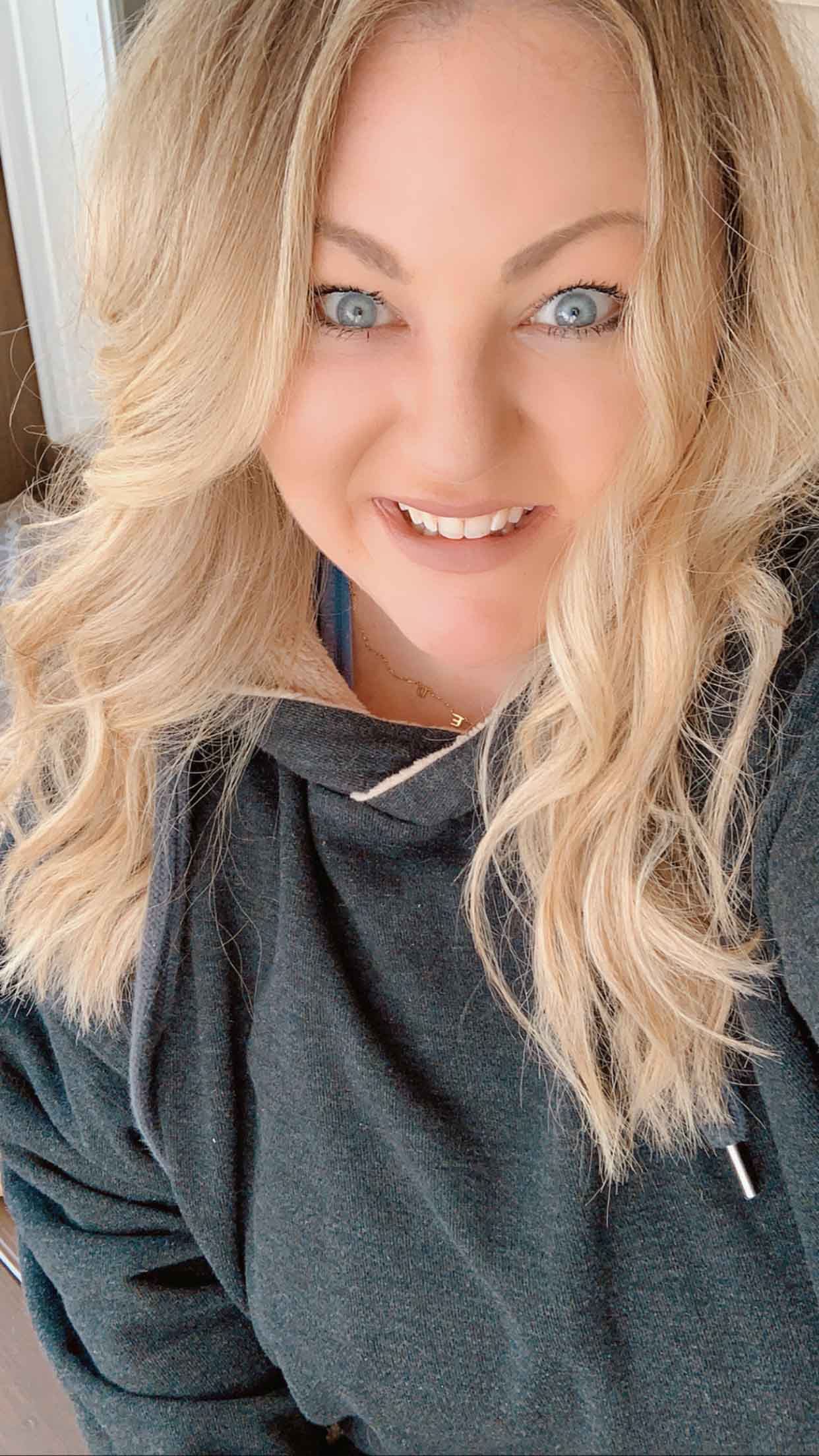 If it wasn't comfortable or casual, I honestly didn't even pay any attention to anything in the Nordstrom Anniversary Sale that I couldn't lounge in. These cute comfies are included in the Anniversary Sale this year. Something that was on my list (it came in a ton of colors) was THIS $11 sleep tee. As of this morning, it was sold out but I'll continue checking back in hopes that more are added back.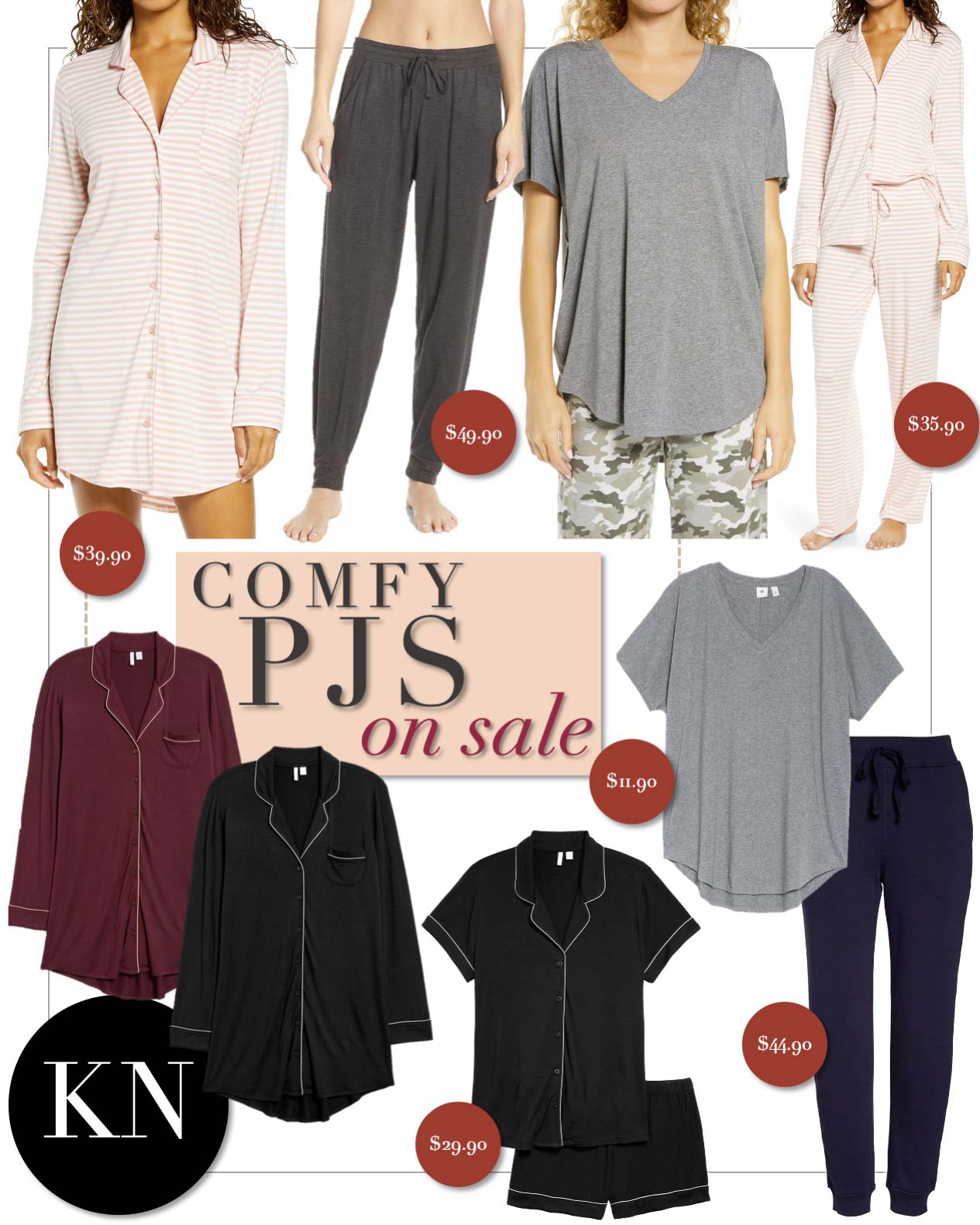 Pajama Sleep Shirts | Pajama Short Set | Gray Jogger Pants | Sleep Tee | Pajama Pant Set | Ugg Pajama Pants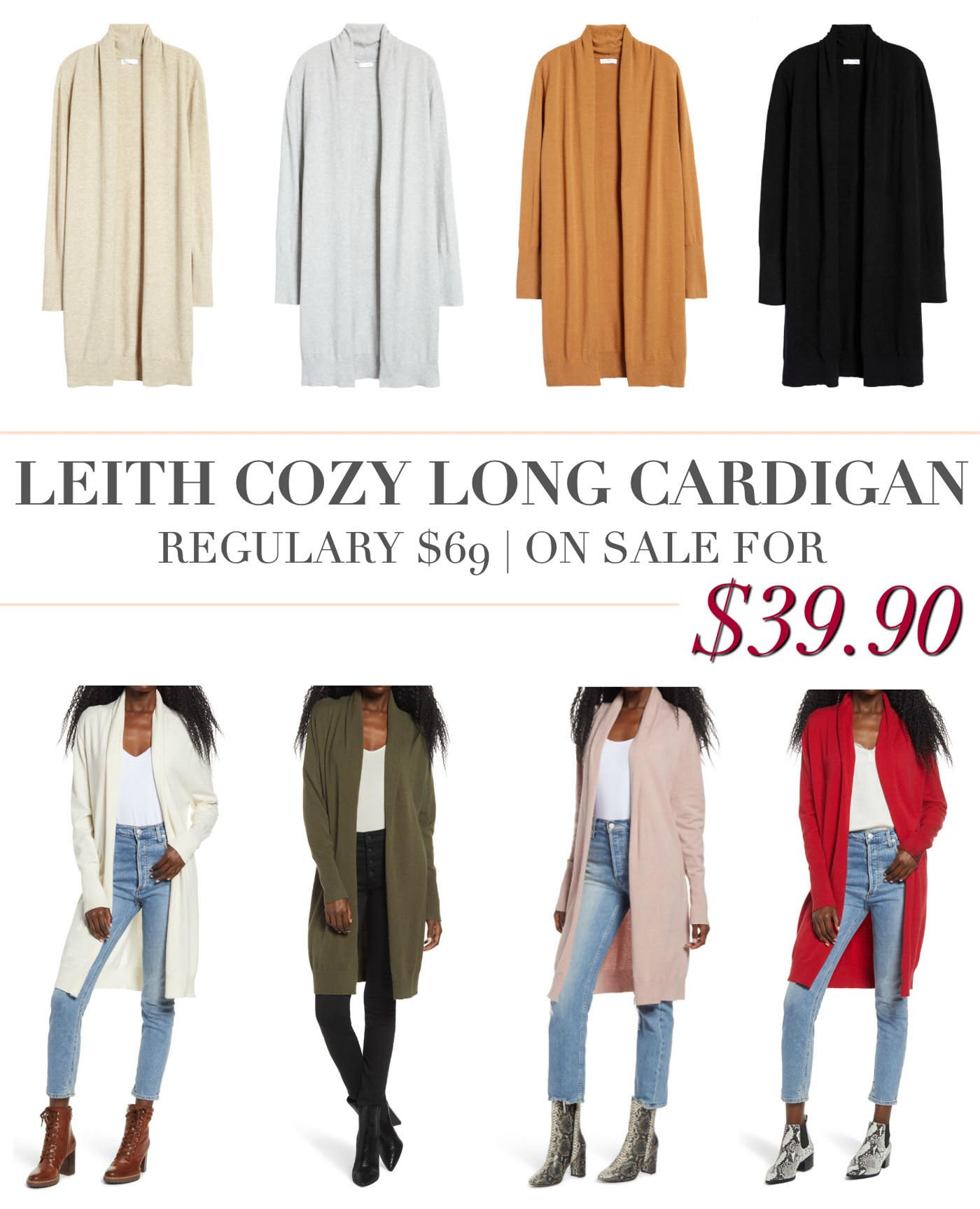 Again, if you aren't a Nordstrom cardholder for some of the items shared, you can check back in next week on 8/19 to shop; as a reminder, everything ships free and is eligible for free returns. I'm shopping for a few things this morning — just to stock up on a few of my favorites — but am not sweating the things that sold out in the weeks leading up to today.
I'll be sharing progress on Gran Nan's house REALLY soon — from the construction, decisions made and color schemes, future potential projects and more! You can subscribe to my emails at the bottom of the post to stay updated!
Shop the Post
SAP

Workout

Face

N Sale Favs

Baby/Little Girl

Hair

Sleep