Back in January, I shared that my mom was packing her bags to move from Lower Alabama to North Georgia. Since then, I haven't shared much but today, I'm finally ready to give an update and share where she's at — things are happening quickly now! She is officially set to make her move NEXT WEEK; she'll actually be staying with us for a bit as her new home has a couple more months of construction. By mid-October, she should be closing on her new home and not only am I thrilled to have her within a few miles of our house, but I can't wait for all the projects to come. For today, I'm finally sharing a bit about her sweet, single story ranch home, set on a wooded (large-for-a-neighborhood) lot in the foothills of the Appalachians.
*Posts on KelleyNan.com may contain affiliate links. Click HERE for full disclosure.*
It was last November when we scouted out a few neighborhoods and homes to tour in neighboring counties. As fate would have it, we took a left instead of a right out of our neighborhood and after winding down a few back roads, by total chance, we found ourselves in a new — but spacious — wooded development. The homes were modest but adorable and we pulled up to a spec home, listed for sale. There (again, by total chance) was a real estate agent waiting outside a sweet, farmhouse style ranch home for her clients, and after a little small talk, she reluctantly let us inside to take a quick look around. We never made it inside any other houses that day; the floor plan of this accidentally-toured ranch home (the perfect layout for my mom) was all she needed to see. After confirming the house plan she wanted, selecting a lot that would accommodate the plan, and signing all the papers, she was officially under contract. Immediately following, she had to select finishes and start prepping her home in Alabama to be listed (and good grief — I'm sure most of you know everything that's involved with that!) So, here we are, a few months into the construction process with a couple to go, and with her finally making the move next week, I thought it was time to share the progress!
*Note: due to privacy, I will not be sharing the builder — exclusive to metro-Atlanta, or any (possible) invasive details 😉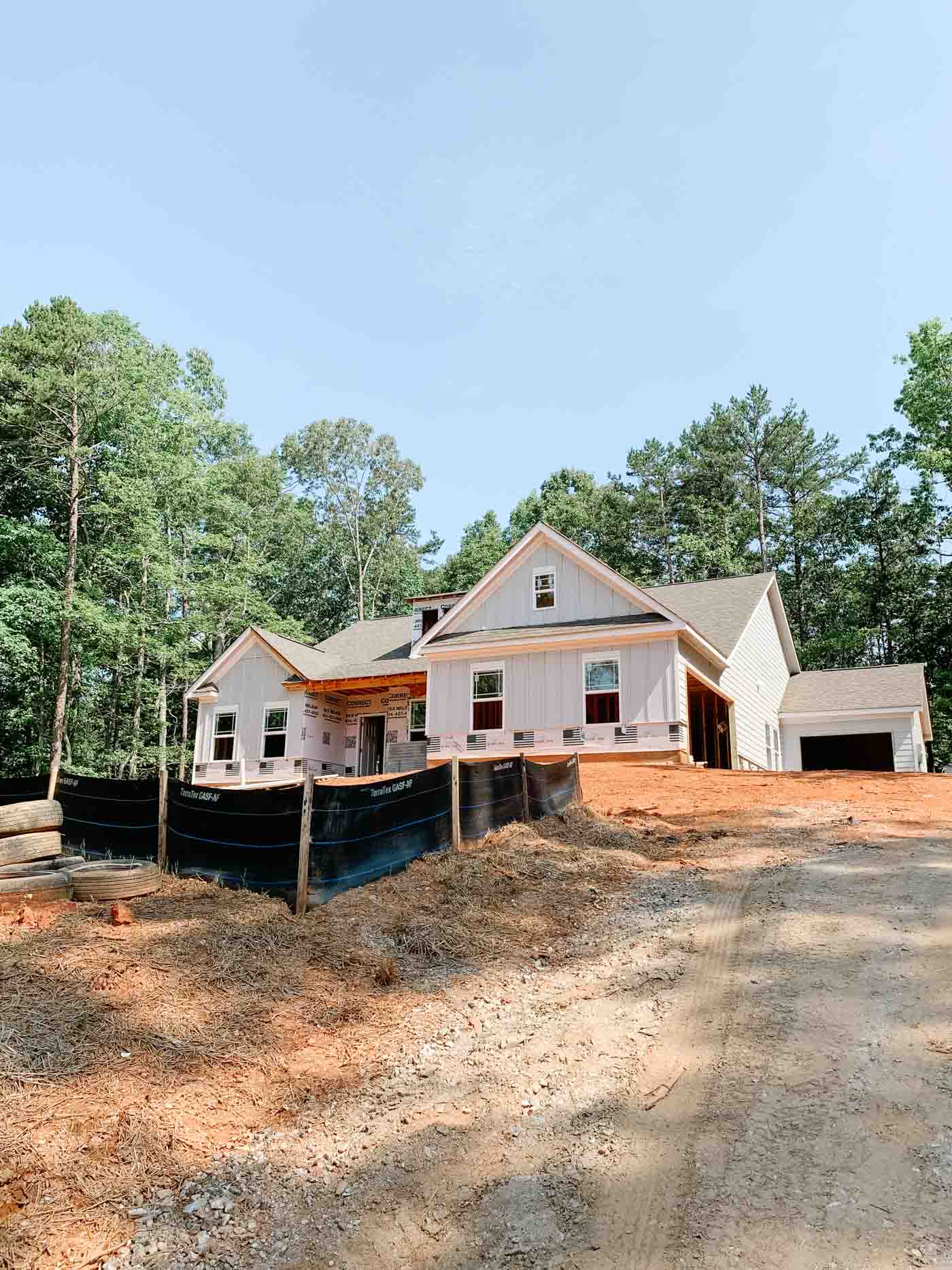 This photo was snapped a couple weeks ago and since then, while it still isn't painted, it does have the stone bordering the foundation and the inside has basic drywall. I can't describe just how in love I am with her future home. Before our home, we wanted a ranch on a basement and while we settled for something else for now, ultimately, we do want to build a ranch on a basement. I'm planning a whole different post for this topic but there are many different ways to build. And I think this may be one of the most common that some of you have had experience with, also. The builder owns this neighborhood so the homes are exclusively his. There are several home plans with a few elevations and options, each. For finishes and customizations, you go to a "design center" to select from materials and colors approved by that builder. While our home was a similar situation, we did have way more leniency and options than my mom's house. I'll compare the two in a later post and also share things that may be best to wait to customize, after move-in 😉
I love the colors my mom chose for her exterior — and I can't wait to see it come together! Along with the stone at the bottom, she is going for a deep gray for the main paint color, with white trim and a black door. I'm going to have to get all the specifics of the colors because the only ones I made not of are "Pure White" for the trim and "Tricorn Black" for the door.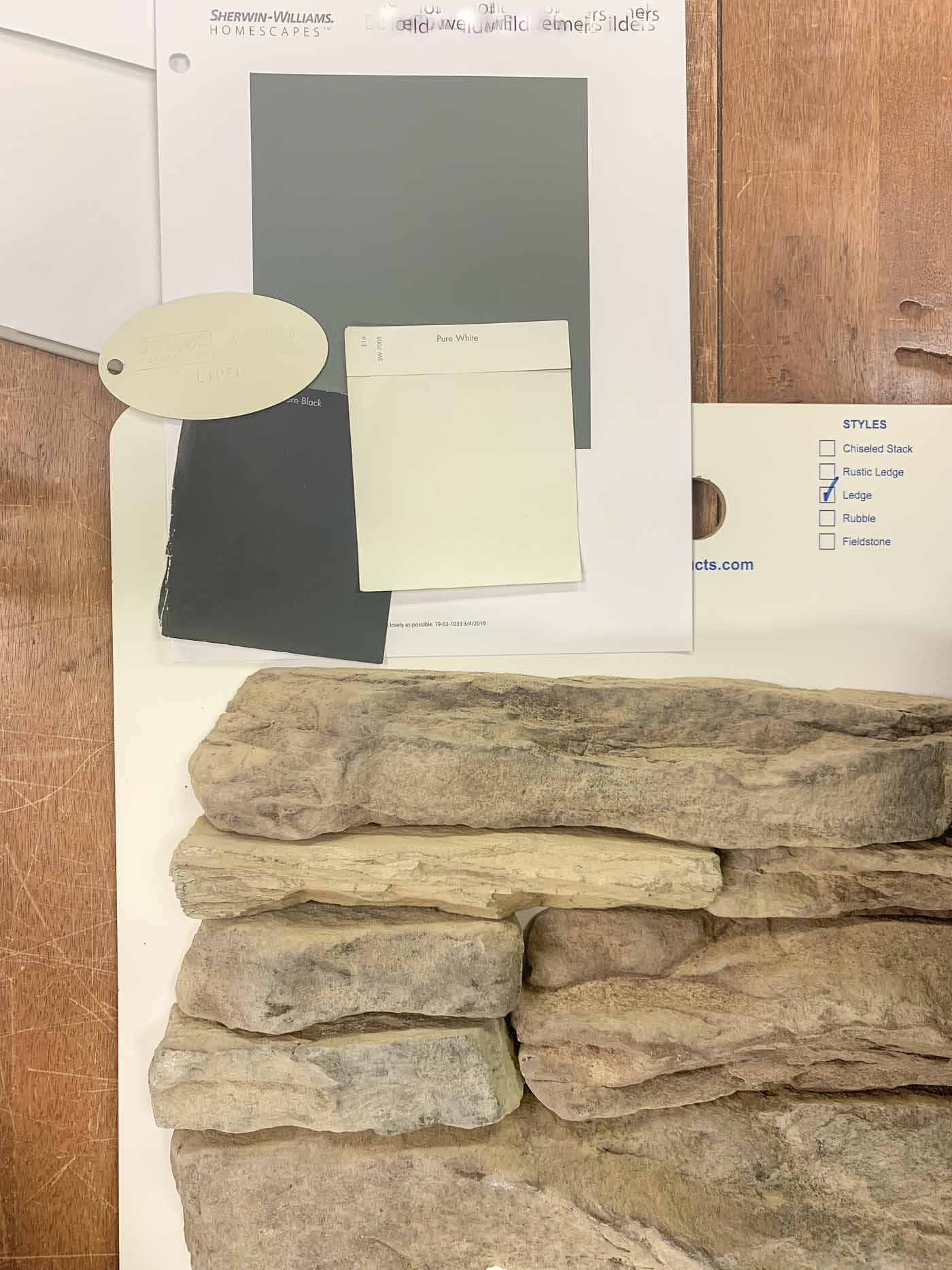 Along with the black door, I gifted her the same black polywood rocking chairs for her front porch, that I have on my front porch. They are an investment in terms of rocking chairs but 6 years in, ours are in perfect condition, require no paint or maintenance, and don't splinter, crack or chip like regular wood. While our weather and heat isn't quite as volatile as south Alabama, it does get really hot and humid.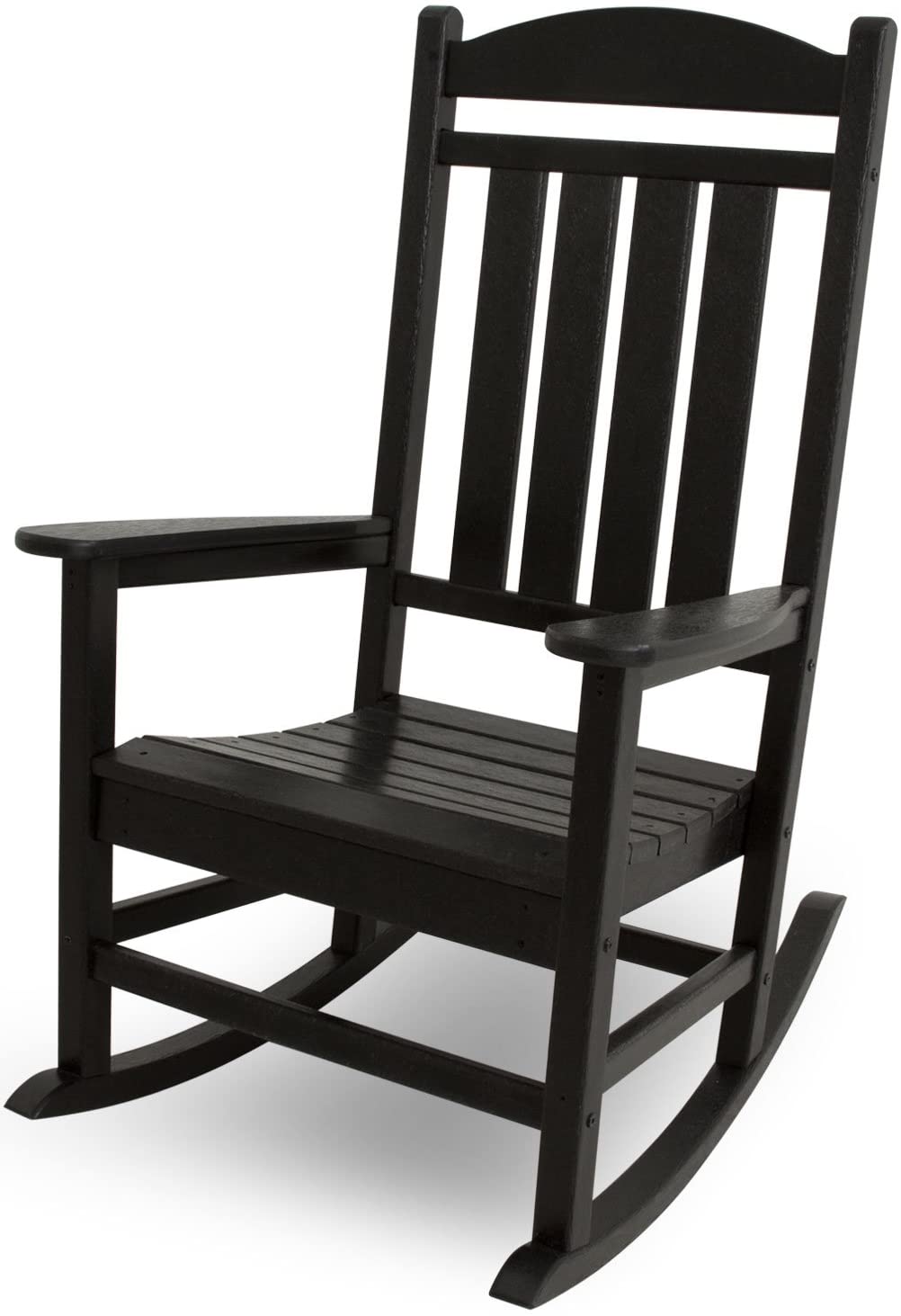 Because she is building a single-story home and didn't want a basement (or even bonus room), she opted for an attached carriage garage — the perfect storage solution. She'll be able to keep all her boxes, bins, and seasonal items in here and put as many racks as she wants; it's incredibly spacious! The carriage garage door will match her side-entrance main garage doors.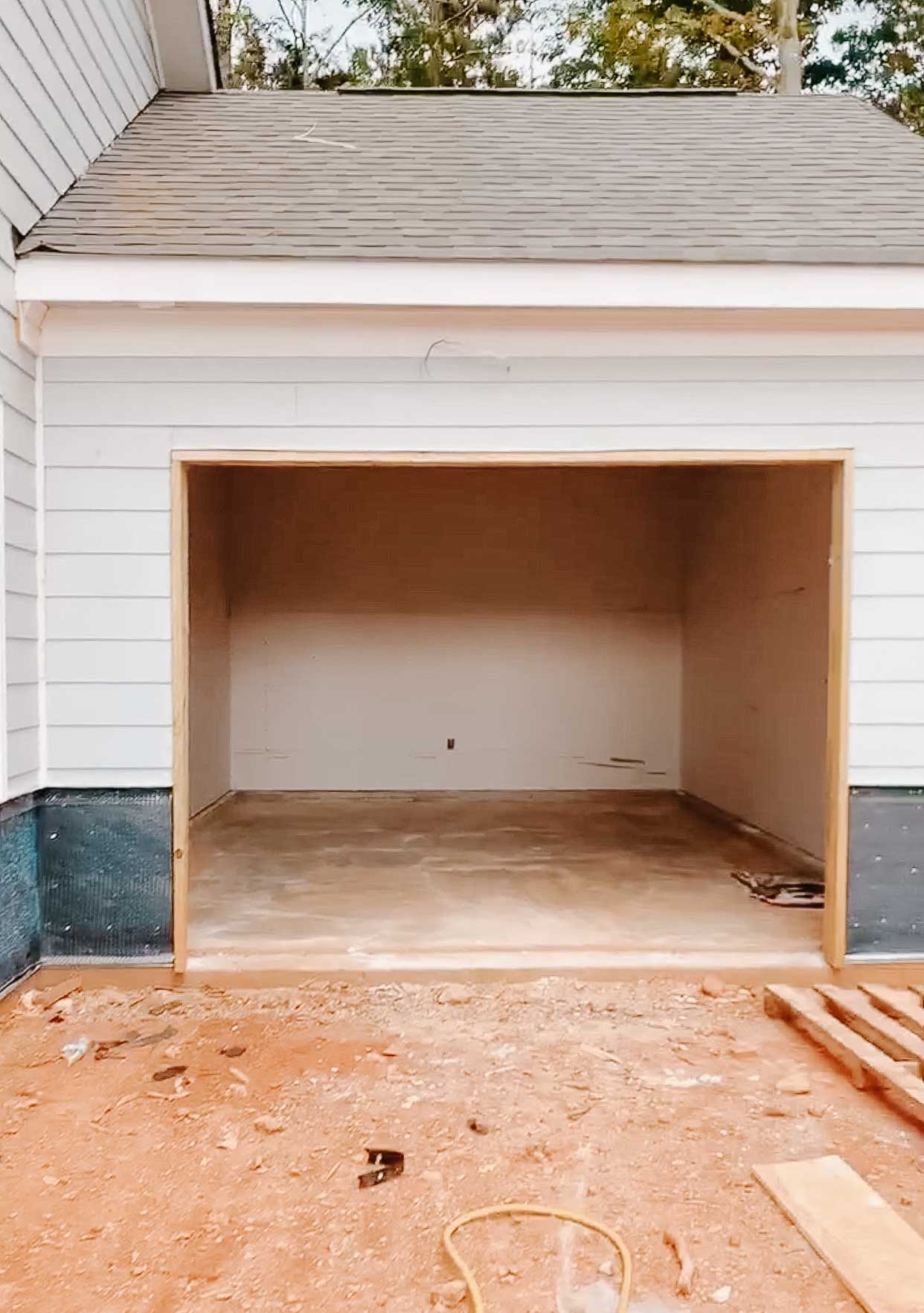 Now, let's chat some of the rooms on the inside. All of the community areas are open to each other, for the most part. There is a back hallway that wraps around — away from the common areas — for bedrooms, bathroom, garage entry, etc. This specific part of the layout was one of the selling points. Just inside the front door, there's a small office space to the right and a living/sitting area and dining room to the right. By the way, all interior walls will be painted "Alabaster" — a white by Sherwin Williams — we actually have one of our guest bedrooms painted in that same shade.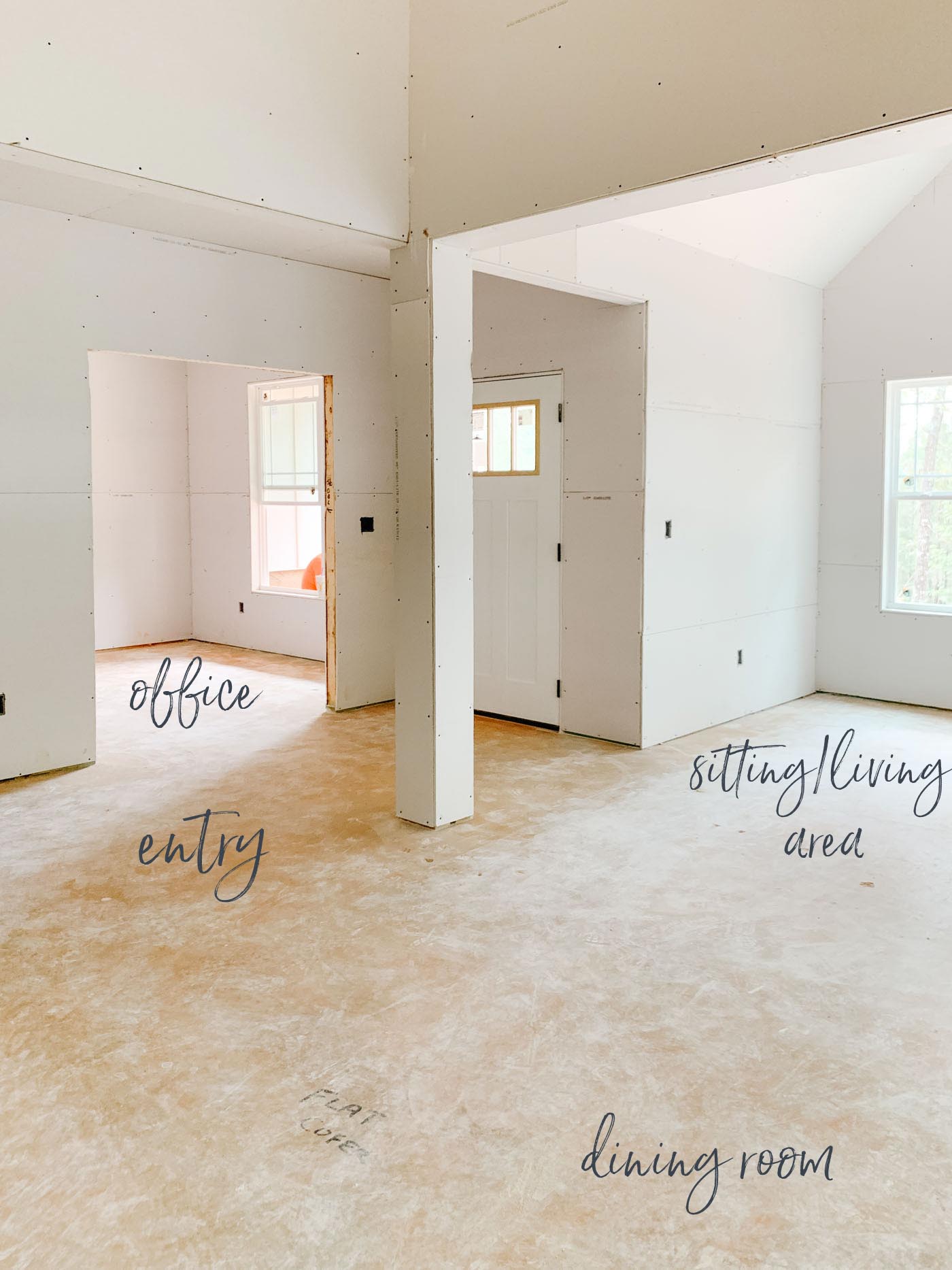 She has been doing and will be doing more for KN so a dedicated office — for her — is a must.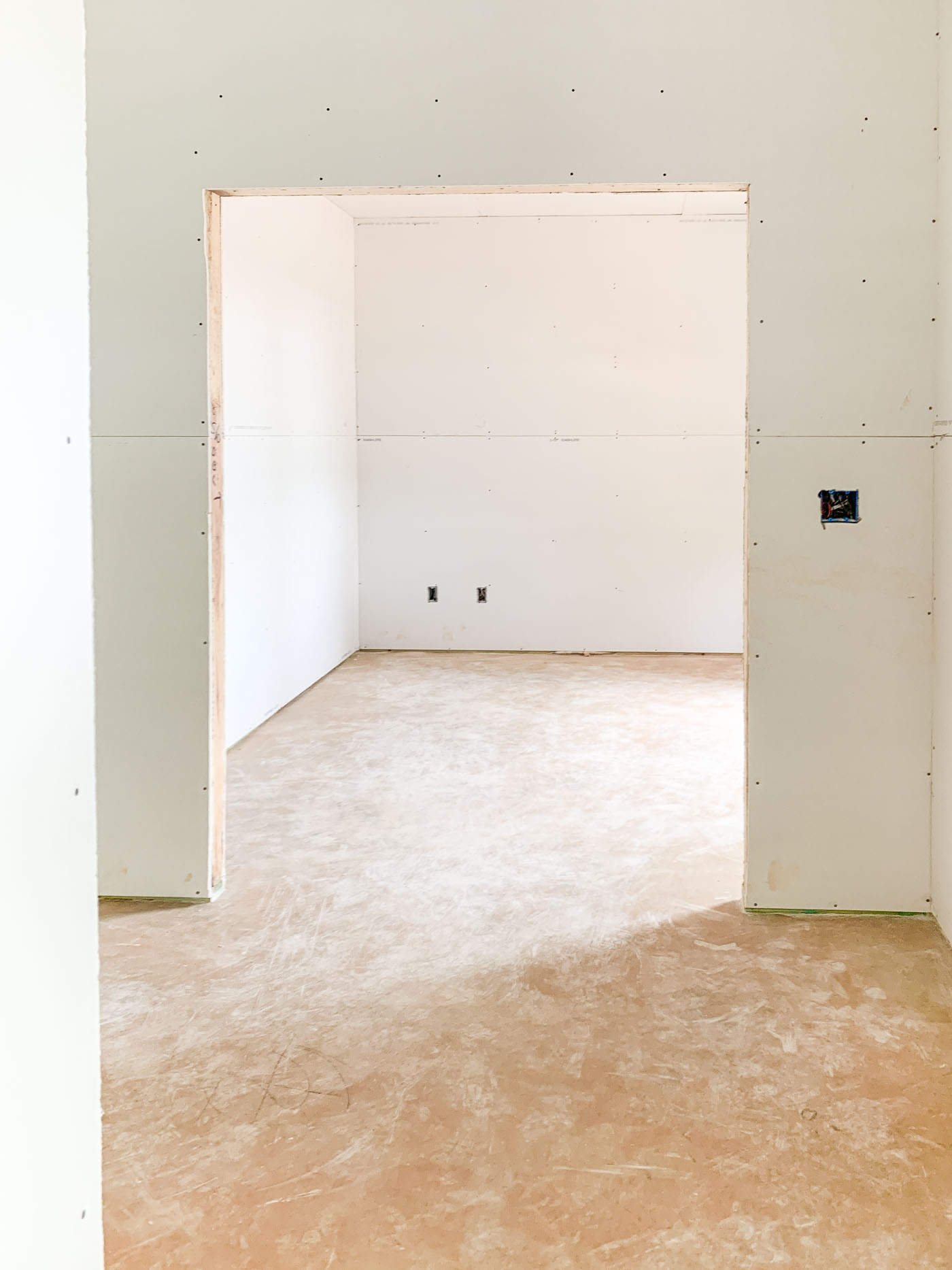 The desk she loves — while on the pricier side — is a showstopper. She will be moving with some furniture and purchasing other pieces new, but a desk is at the top of the list. You'll also see more of her style when the house is finished — traditional and eclectic — and she love loves all things rattan and cane (which is where my influence came from 😉 ). Check out this beauty…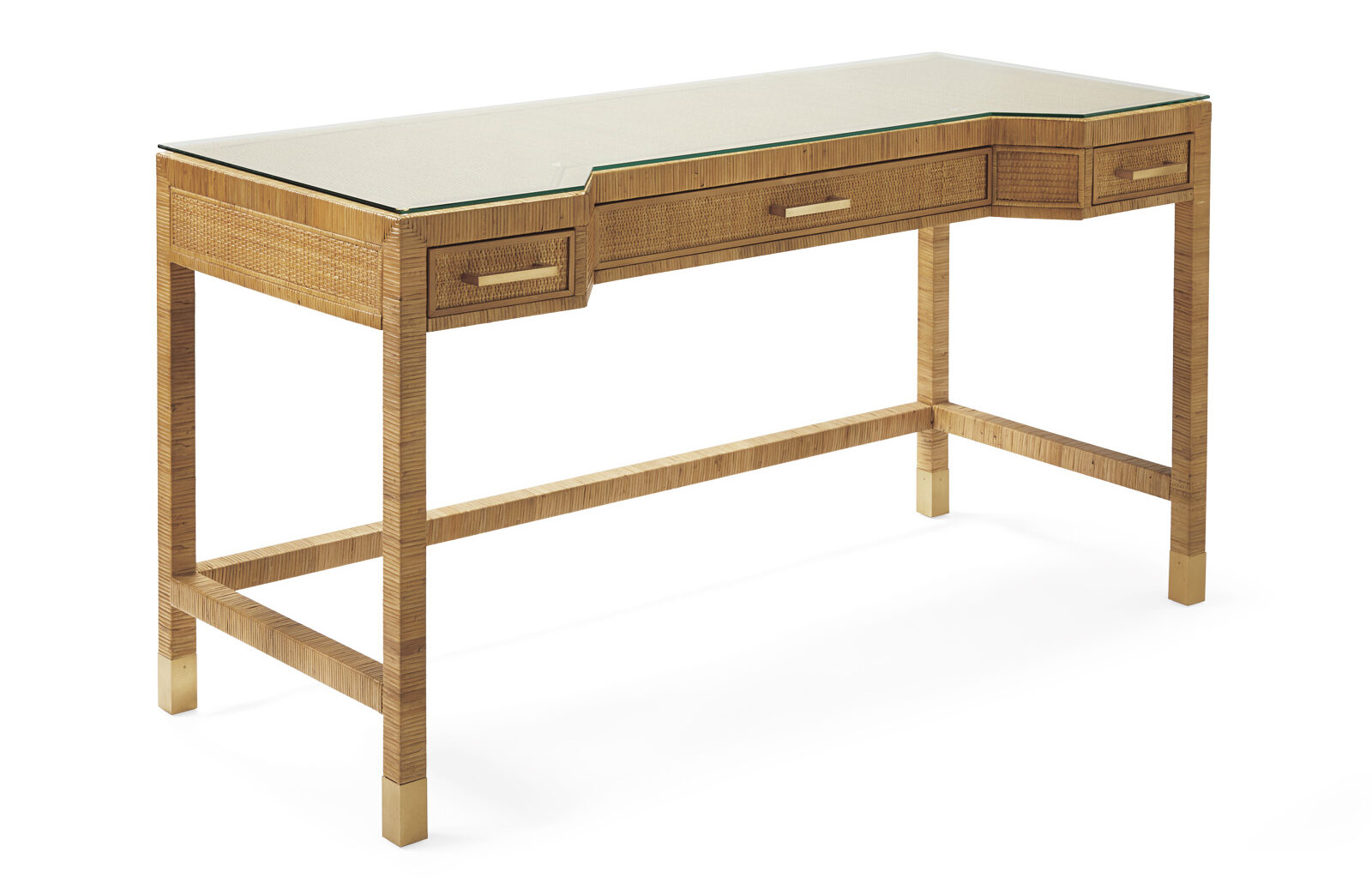 Here's a view of the small living/sitting area — she's not quite sure what she's going to do in here just yet…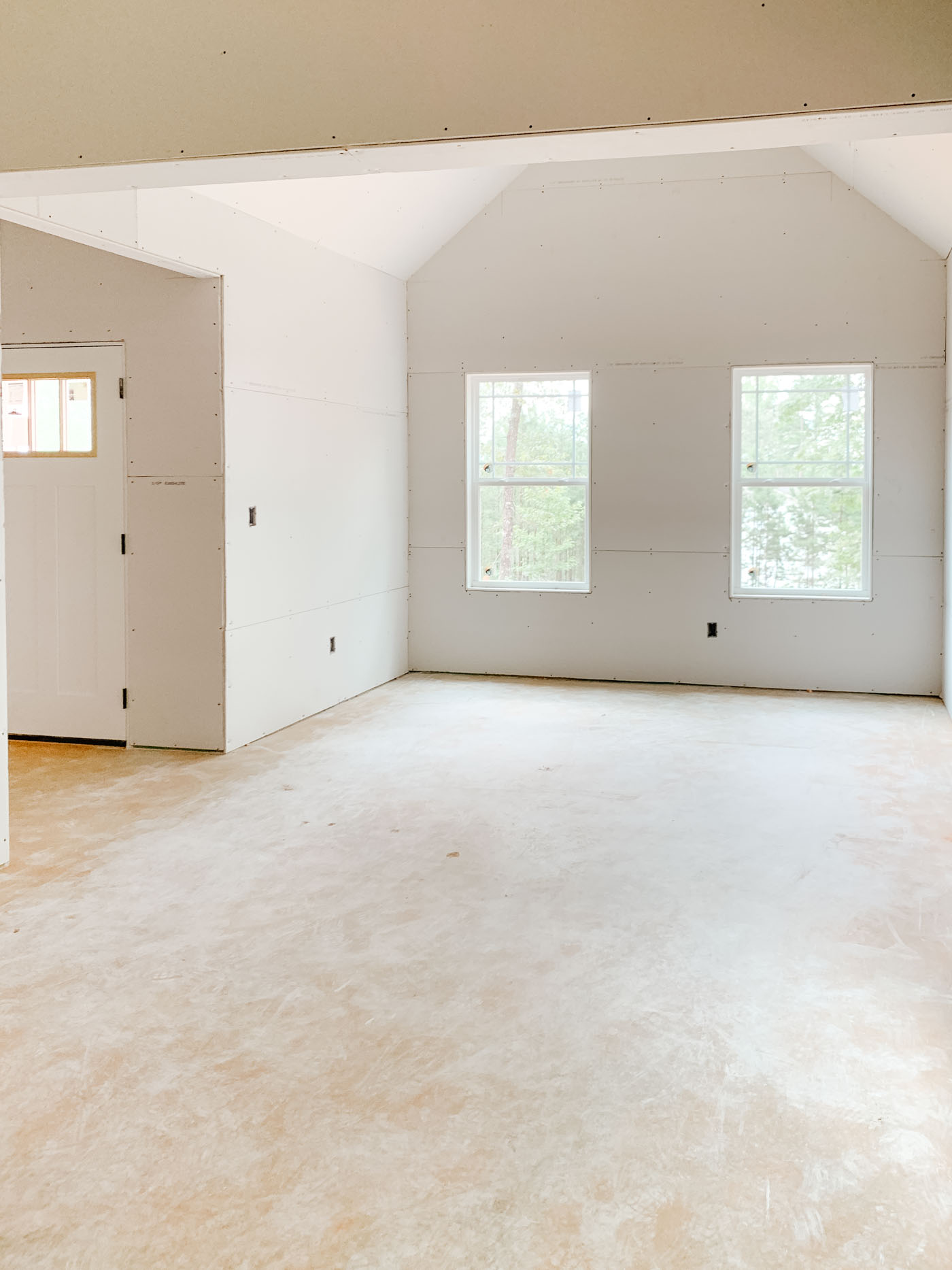 And on the other side of the dining room — positioned adjacent to the kitchen and next to the main living area is the breakfast area. I love the windows on this side (this area is now drywalled in but I didn't have any recent photos showing what it currently looks like). With her being situated in the woods a bit, the windows are going to be working hard to give her natural light. It's such a pretty setting!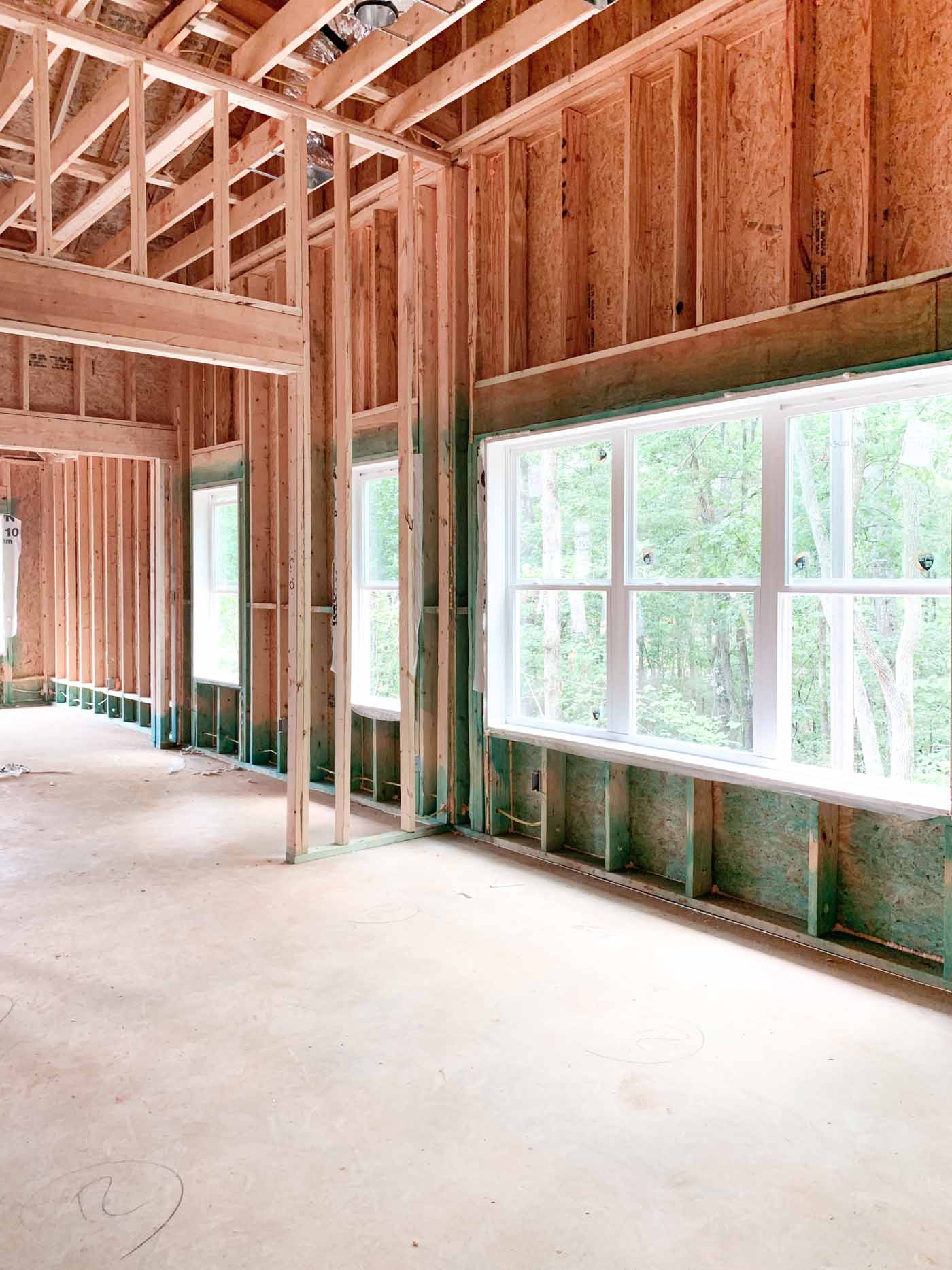 She will be bringing her current, classic dining room furniture with her but I'm excited to see how we can freshen things up a bit.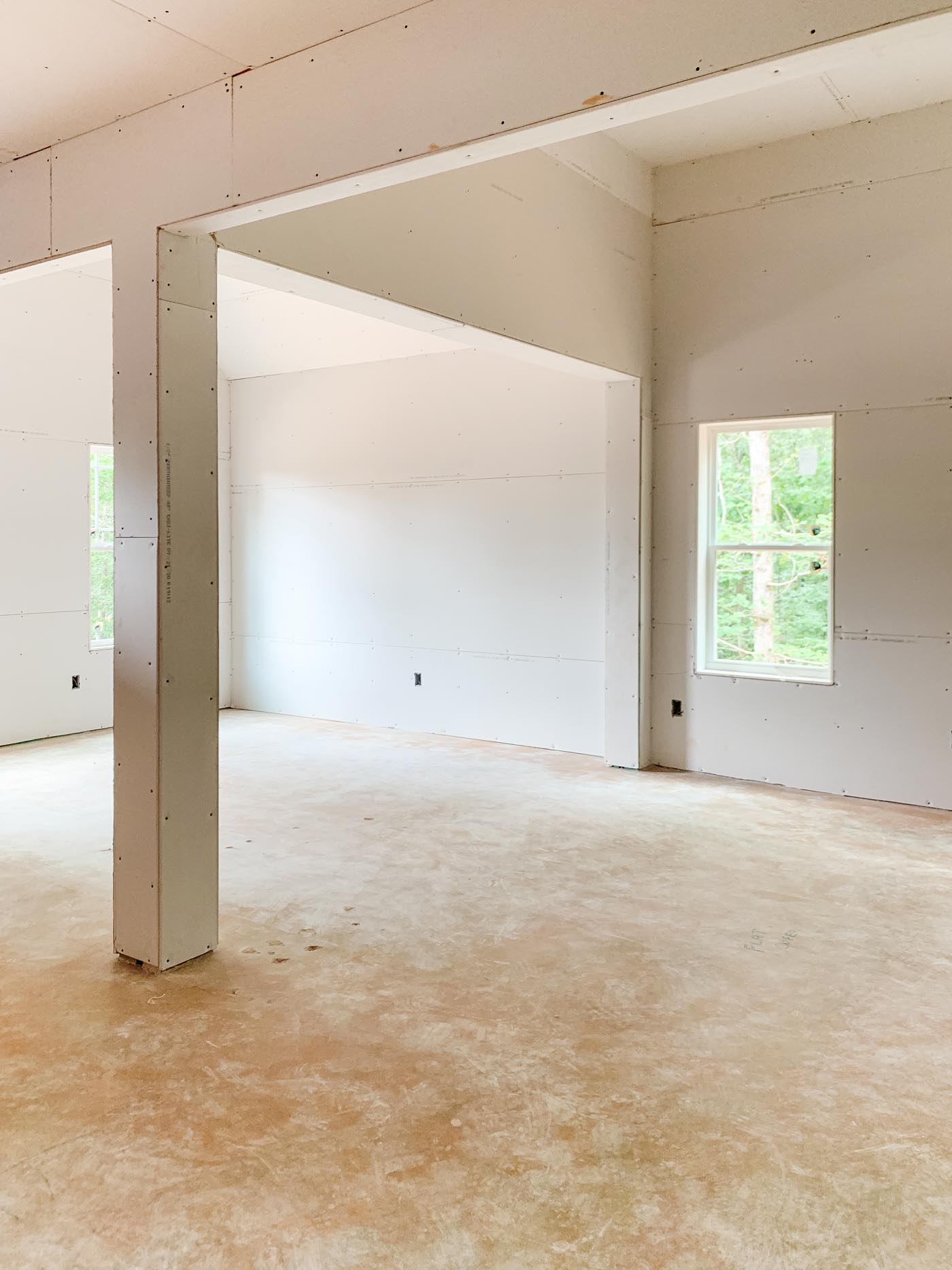 She and I both LOVE this statement crystal chandelier; I am really rallying hard for this one 😉 The dining room will have a flat cofer to it so with the double chains, we'll have to make sure it can situate against the ceiling nicely…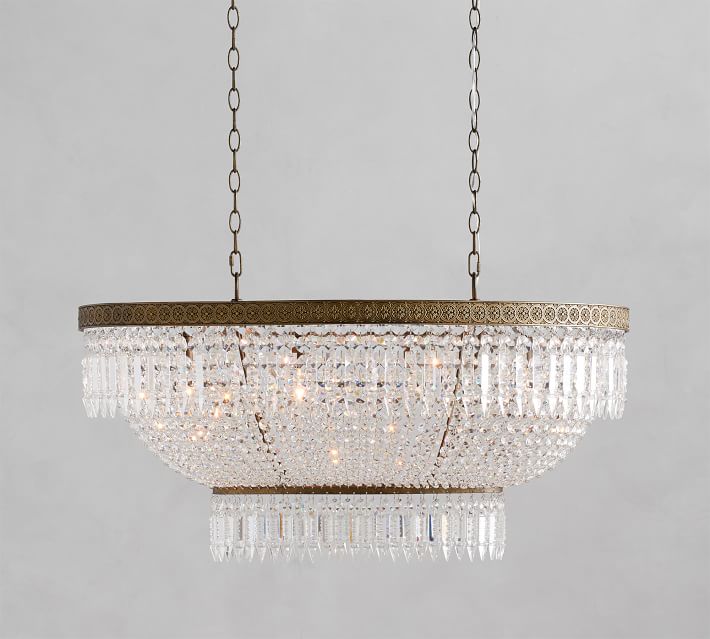 The kitchen looks towards the living room and beyond the back of the house…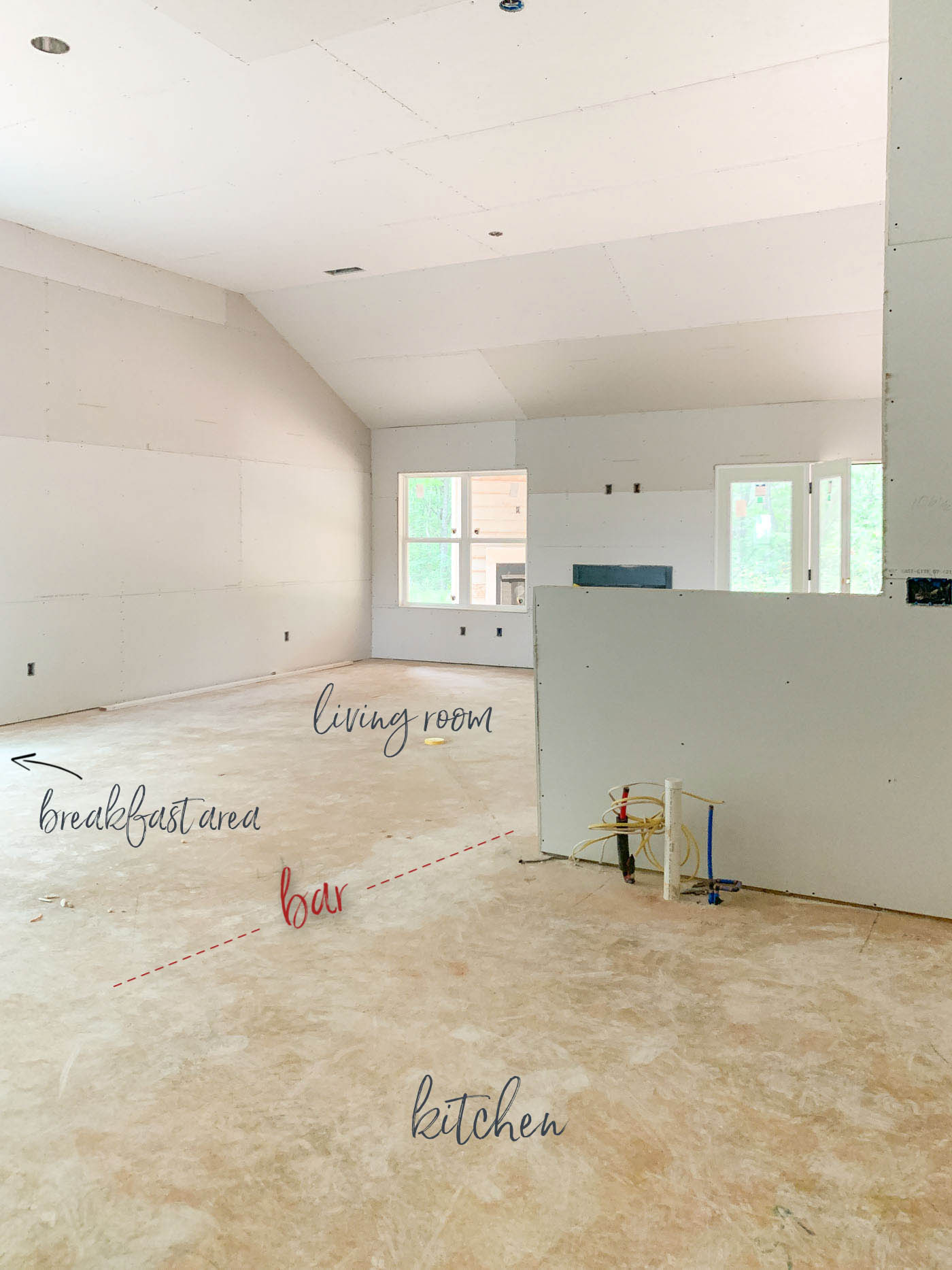 I can totally imagine a Christmas tree in the left hand corner, this Christmas… gets me so excited to be able to finally be together for the holidays! Just beyond the window and through the double doors, you can spot an outdoor fireplace on her patio — another favorite little feature and a place I know we'll be spending lots of time.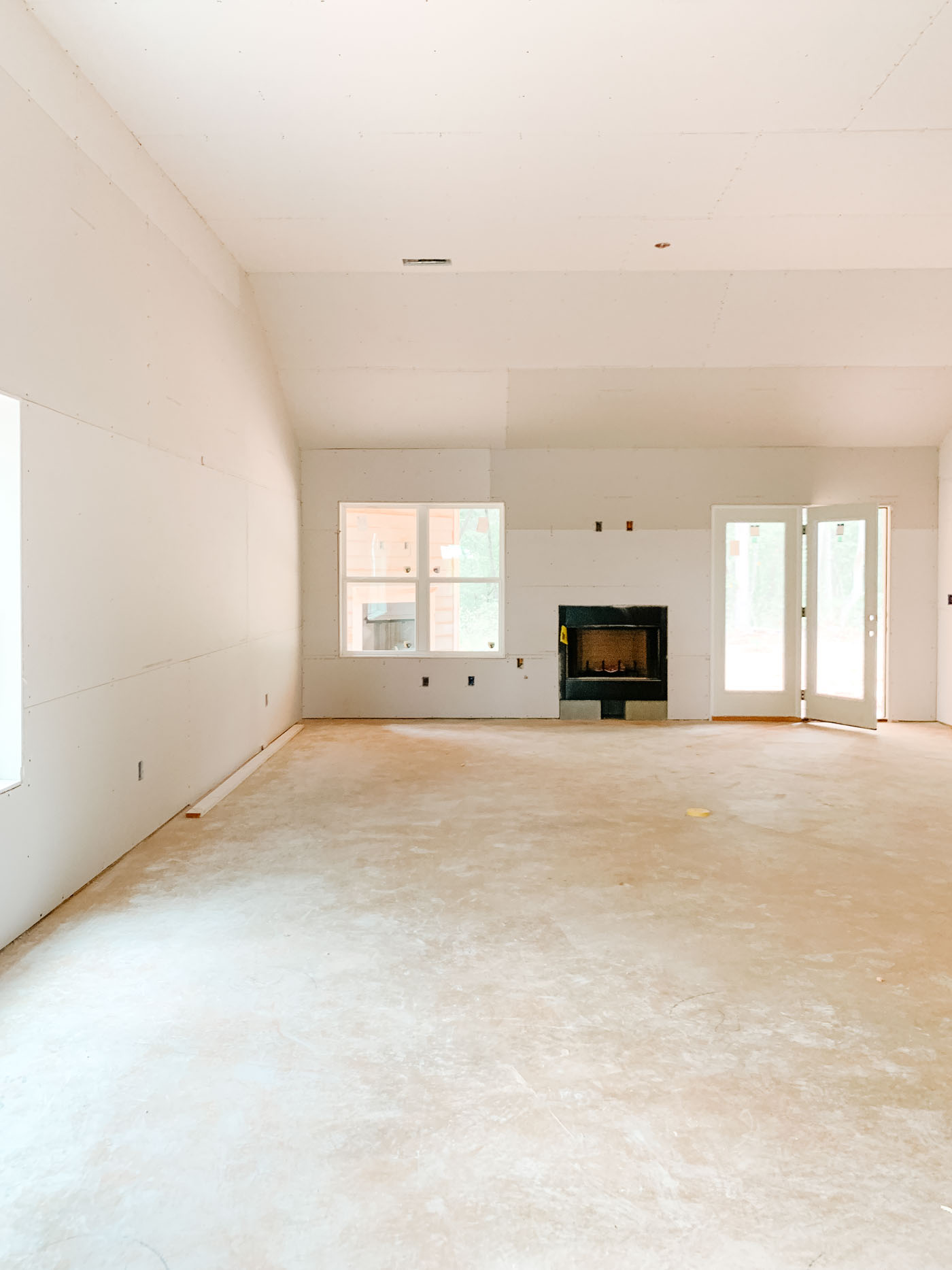 There is lots of closet space and the kitchen actually has two pantries — A larger one, just behind the pantry and then a smaller one within the kitchen. We have plans for the smaller pantry and that may be one of the first projects we tackle!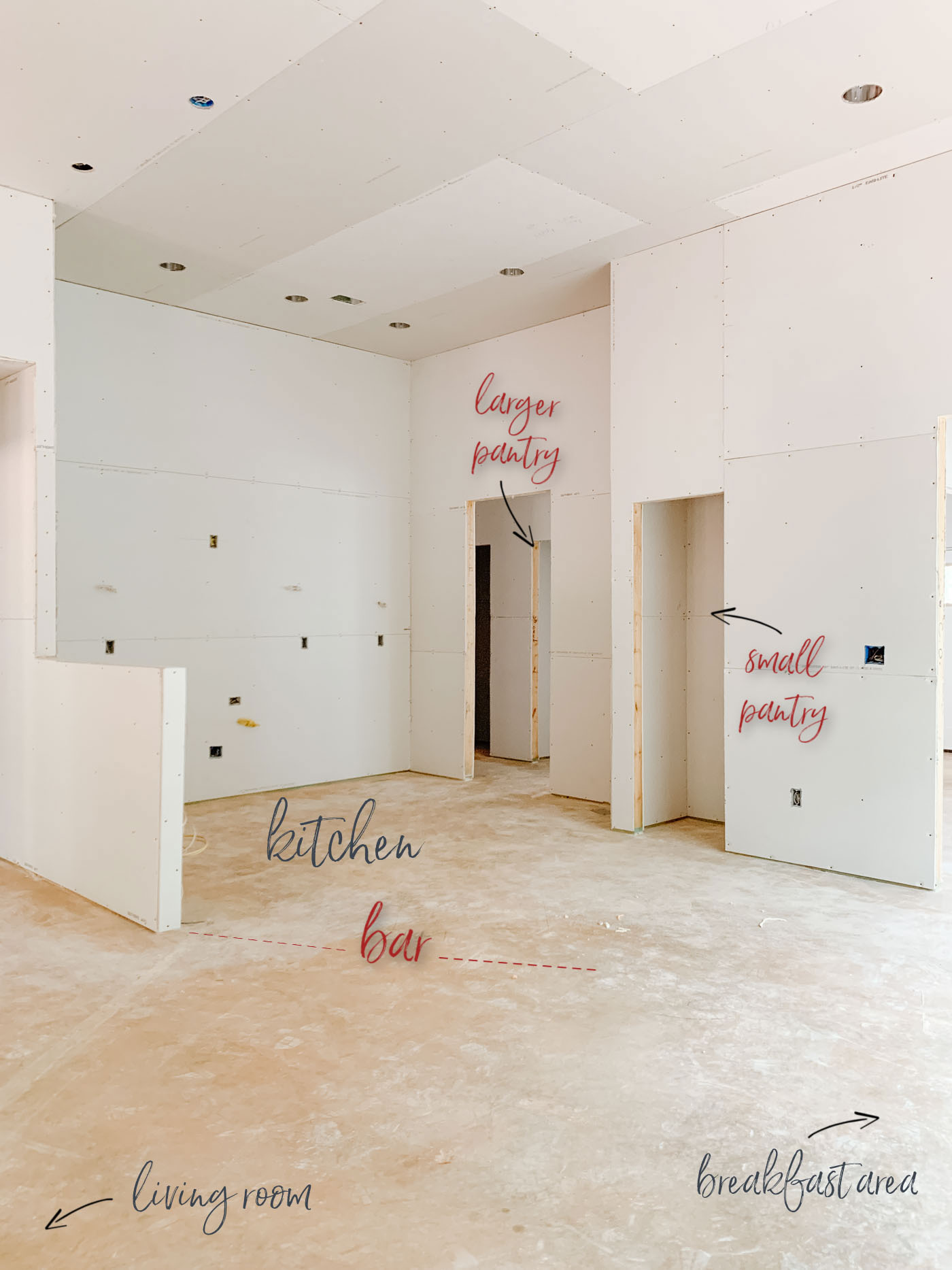 While her kitchen selections were limited — only a few cabinet color options (all the same style), granite-only selections, and limited tile, I think the scheme will be pretty. She is using a basic white subway tile in a herringbone pattern for the backsplash. With shadows from the outside trees, I think this will definitely help brighten the kitchen — which is positioned in the center of the house. Again, the paint color on the walls will be SW "Alabaster".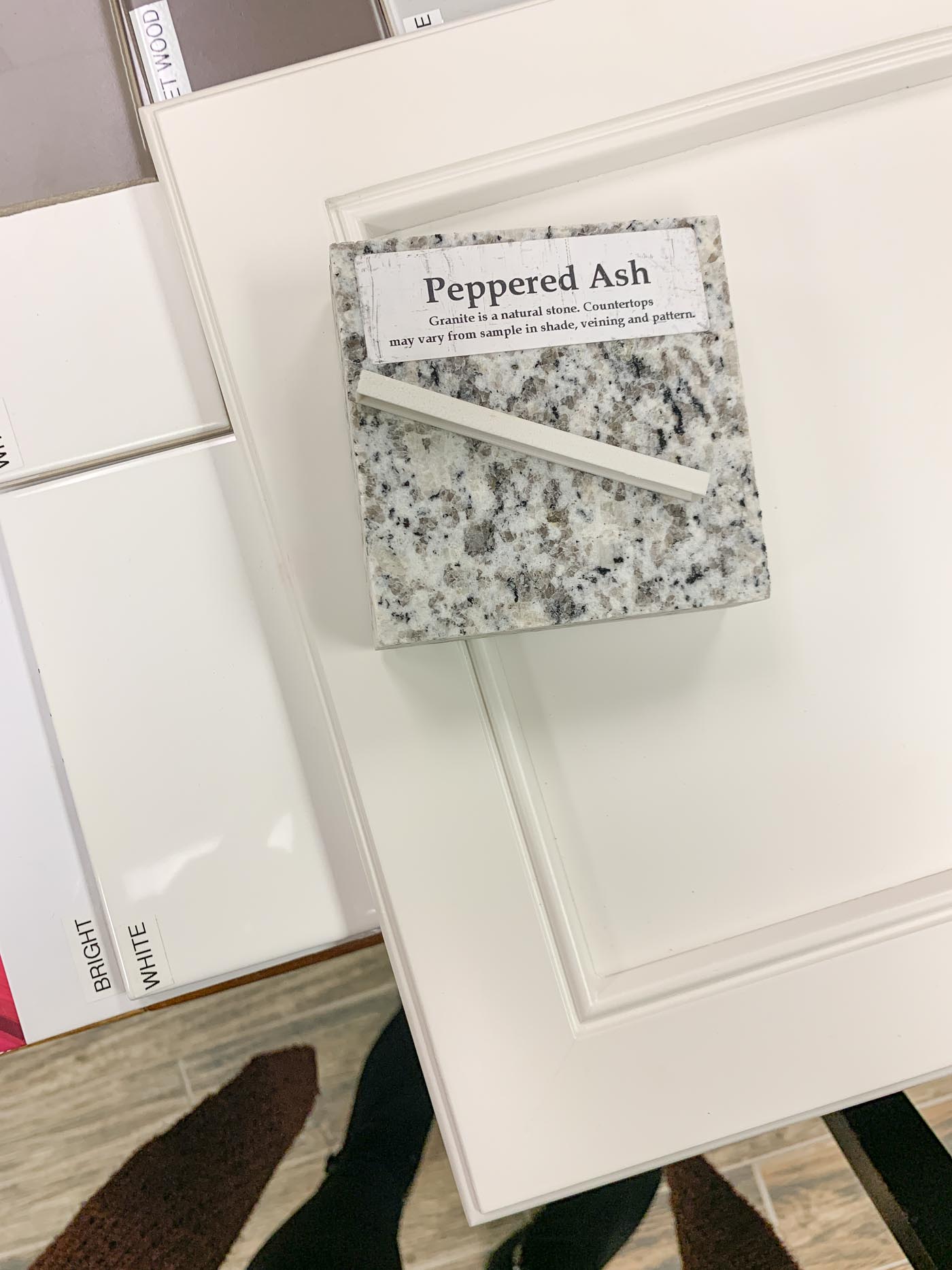 Hardware options were beyond limited so instead of choosing from their finite selections, she asked them to not install anything — we'll add something she really likes after she moves in, without having to worry about the spread of pre-drilled holes for hardware she doesn't care for.
Her bedroom is spacious and has a pretty tray ceiling (and a big bathroom with double closets).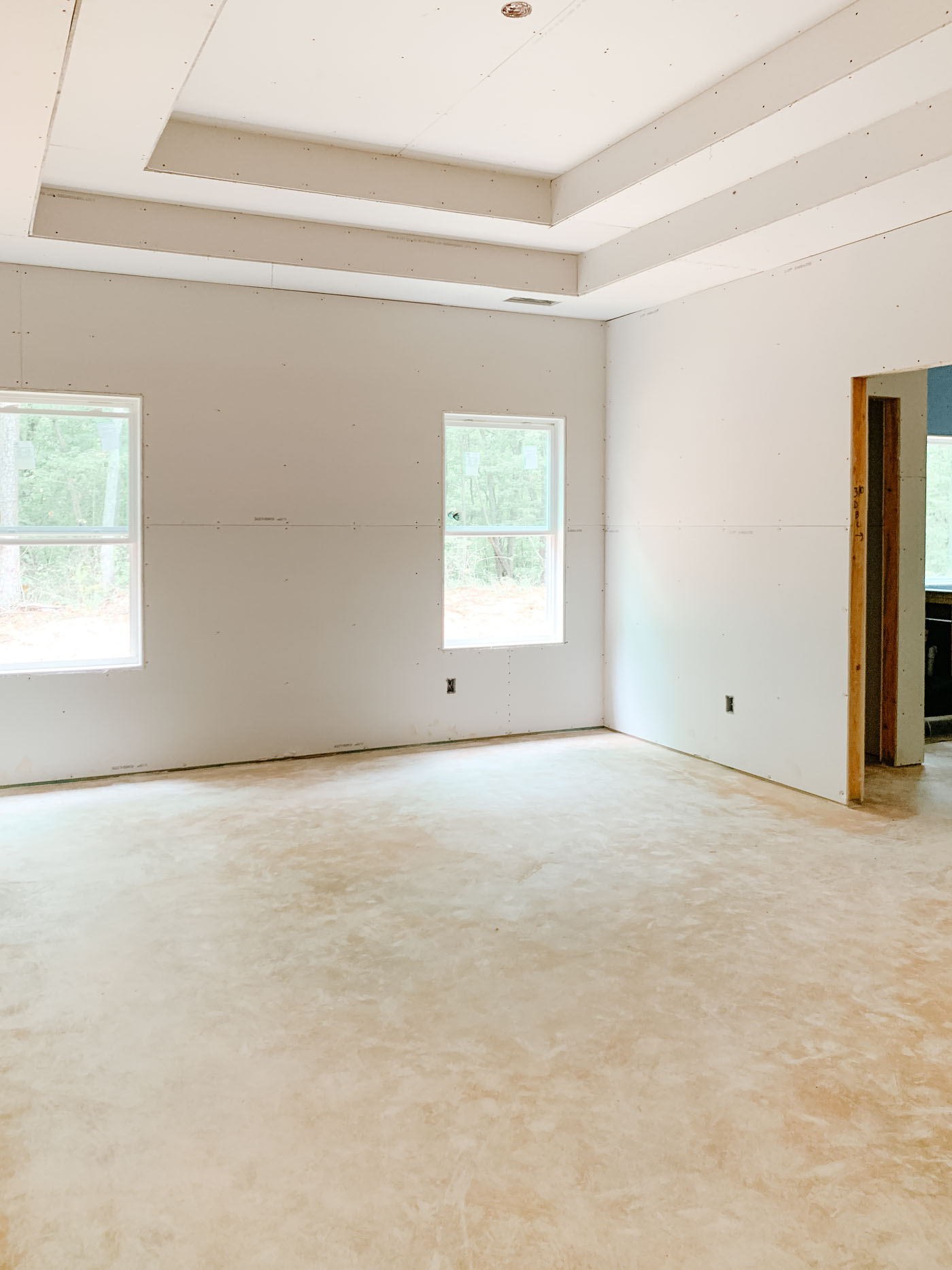 I really really liked her bathroom selections — especially since she was limited in her choices — but after they made her select everything at the beginning of January, they just came back THIS WEEK and said that some of the tile is no longer available. We will be going late next week — after she gets here — to re-select but I'm hoping the tile she planned to use for her floors is still available. It's the pretty, white-oak looking tile that looks like wide wood planks in the image below.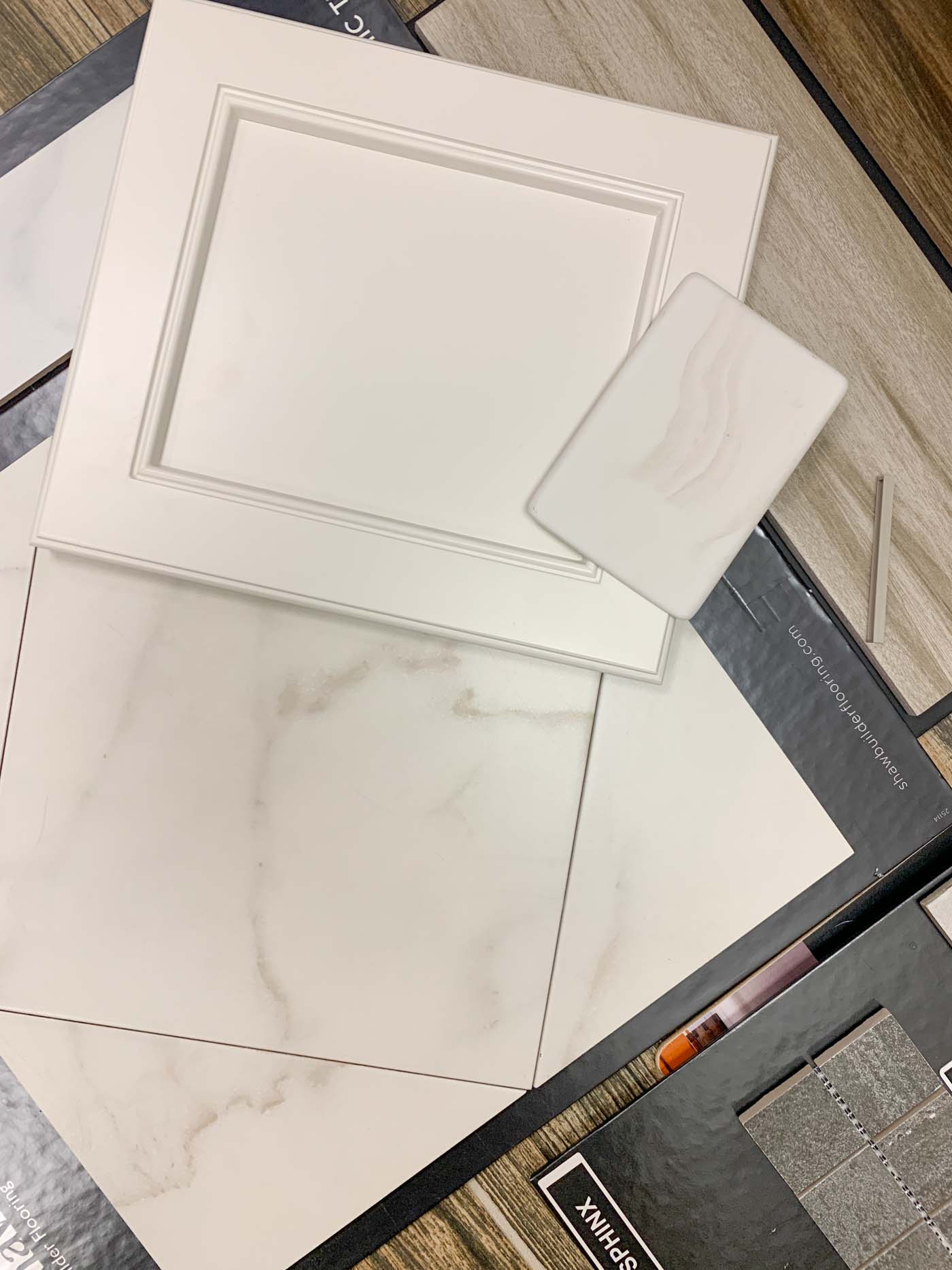 Along the back hallway is a small hallway with a bathroom and two bedrooms — one for guests and one for… Eliza. Just thinking about it makes me want to cry. It means so much that Eliza will have Gran Nan down the road, and that they'll be able to grow their own special relationship. My mom and I speak our daydreams into future plans all the time — making fairy houses in the root systems of the trees out back, fixing snacks around the plate, sleepovers… all of it.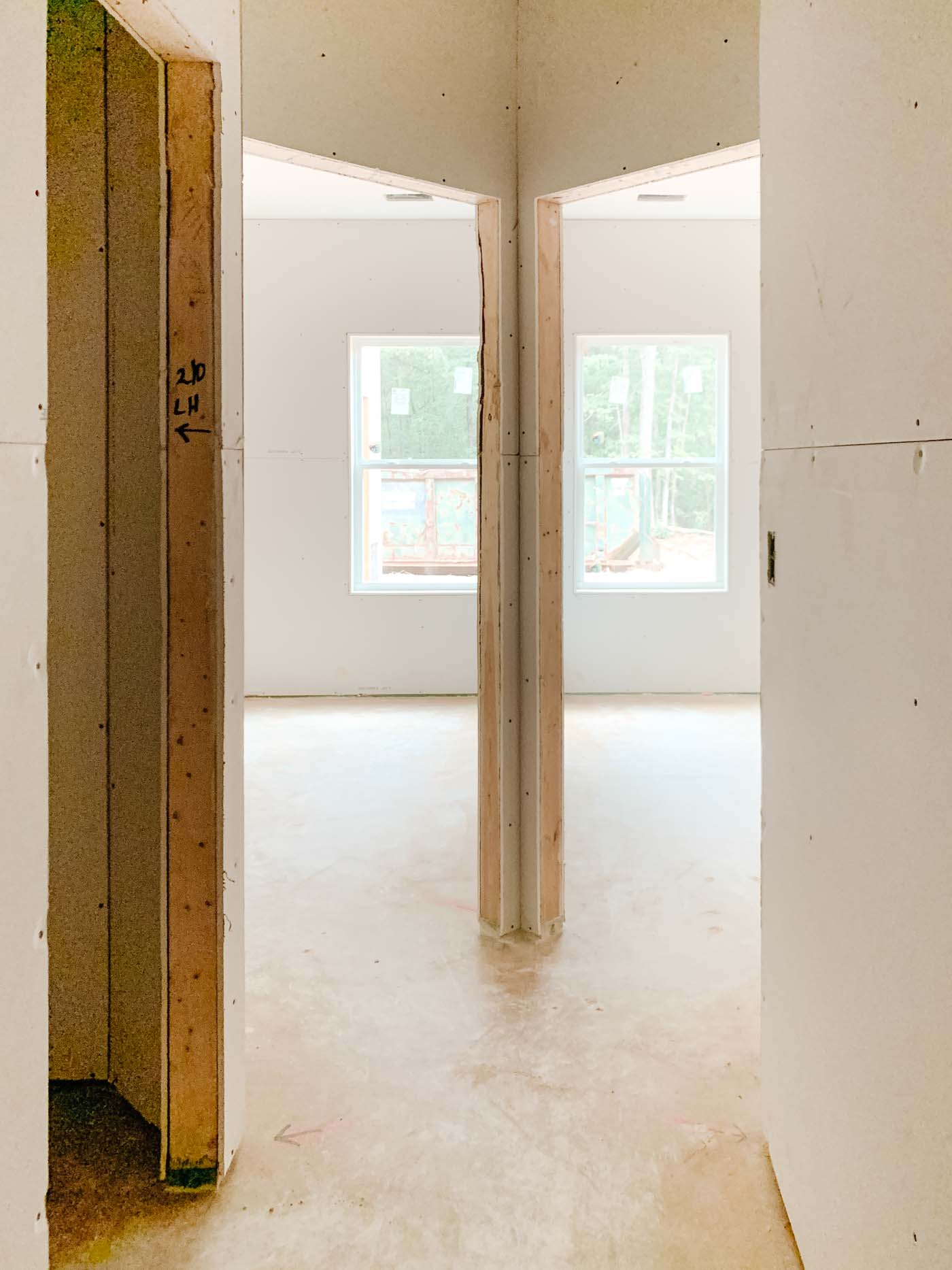 Down the hallway, where you enter from the garage on the backside of the kitchen, is a small entry area with a laundry room…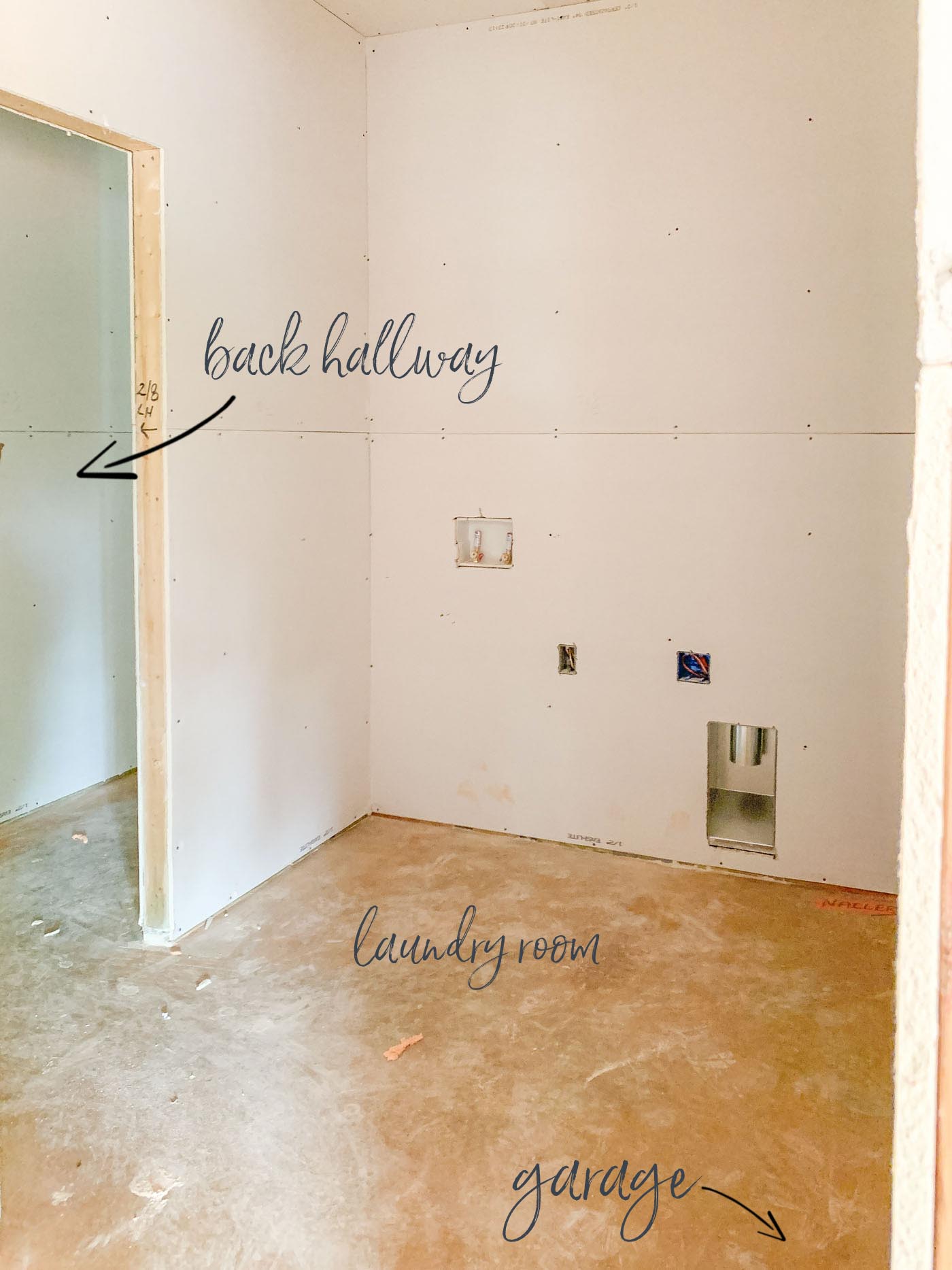 And a space just deep enough inside the garage door that I think could be fashioned into a little mudroom landing. We don't have a mudroom in our house, so I'm especially excited for this project. I originally thought a custom built-in unit would be nice but there are so many entry hall trees available — in tons of styles and dimensions — that would be a fraction of the price.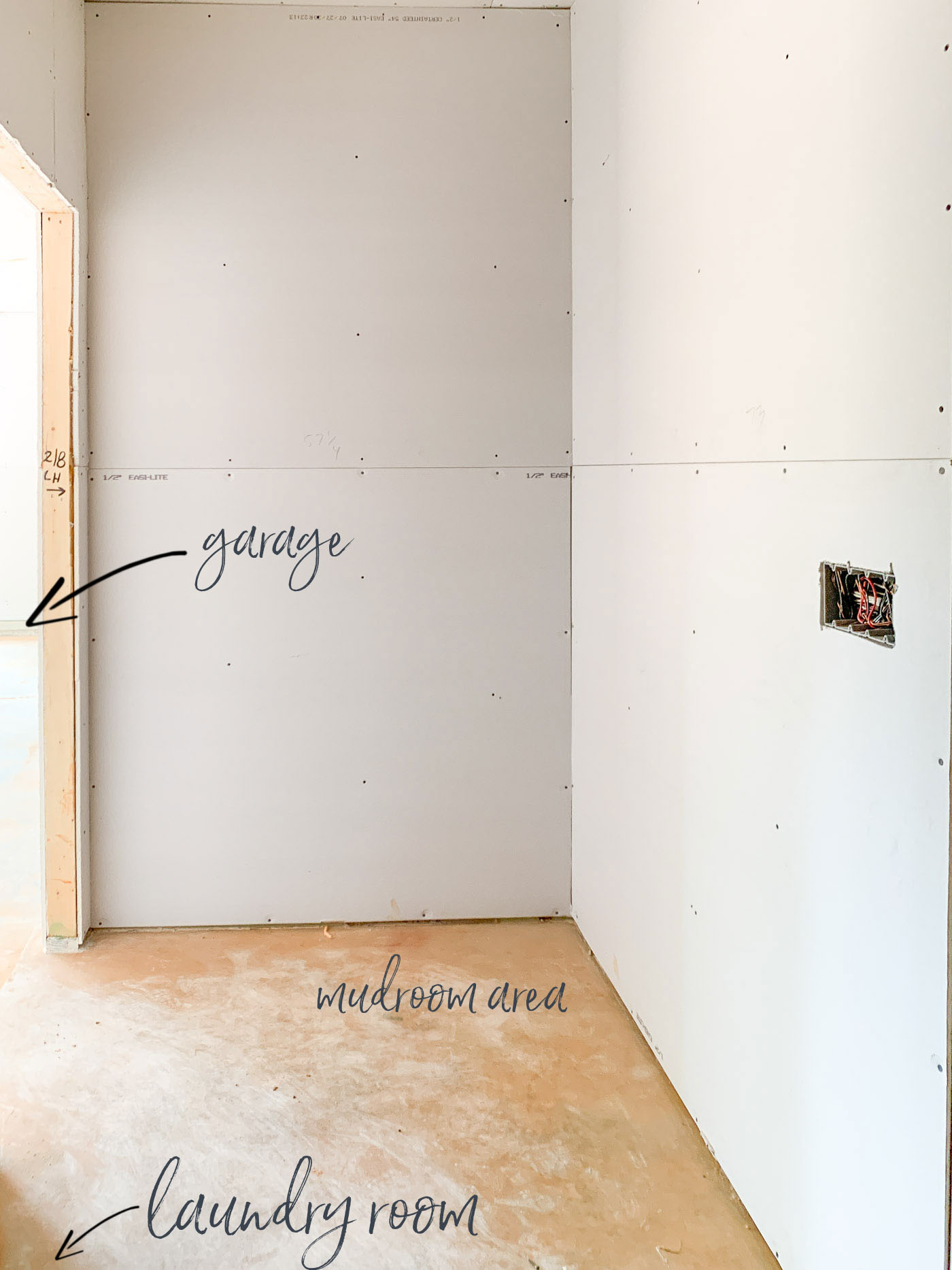 Here are a few favorites, without  measuring or knowing what she would really need, just yet. Everything from hooks and basket cubbies to drawers and benches that lift up.
Scroll & Tap to View Entry Hall Trees


Around back, here's a closer look at the outdoor fireplace. She will be waiting until after she moves in to extend the patio a bit with pavers, and furniture likely won't be added until early next year…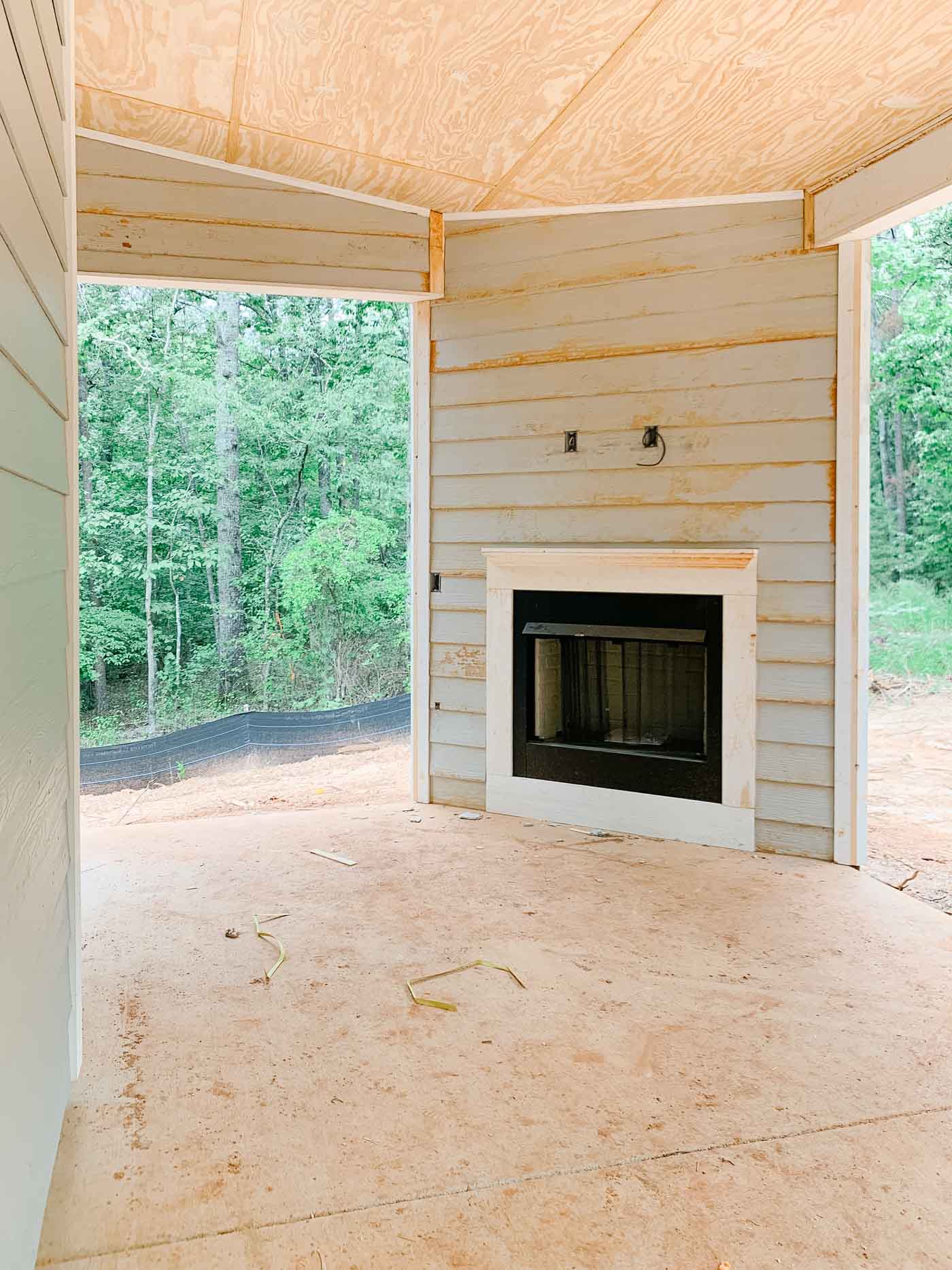 Consider that a full (but abbreviated) overview of Gran Nan's soon-to-be-home! Having her mover here — if I haven't expressed it already, haha — is literally a years-in-the-making (begging) dream come true. And along with our family benefit, it will be the site and canvas for a lot of NEW home ideas in the future — from decor and organization to projects, recipes, and everything in between. To see more as this house comes along — from the finished construction to furnishing, tips and lessons — be sure to subscribe to emails at the bottom of this post!