Fall is my time. Every year, I look forward to the dog days of summer ending to move on to the cooler, cozier, crisper days of pumpkins, plaid, and big 'ol bowls of soup — can't forget the soups! 😉 This year though, I feel like the approaching season is even more anticipated… and longed for — and not just by me. Even the typical naysayers of early-fall celebrations seem to be breaking out their spiced candles before August has ended. I think as we head into the final part of the year (oh, what a year), we all could use a little more comfort and all the family feels that the season brings. While I haven't broken into the pumpkins just yet, I've been filling our home with all the smells on a daily basis, and today, I'm bringing one of my favorite, easy ways to start incorporating the feelings of fall into our homes — without even leaving it! In partnership with The Home Depot, I'm sharing seven statement early fall foliage arrangements you can create with 1. a really good, organic vase, and 2. branches from your yard — no changing colors necessary!
*While this post is published in partnership with The Home Depot, as always, all opinions, concept, and content are my own. Affiliate links may be used in this post. Click HERE for full disclosure.*
Early Fall Foliage Arrangements
Especially after the unveiling of my upcoming "conversation room" plans (HERE), I've been craving a bit more use of organic, textured, and natural ways to accessorize our home. I have a lot of vases but my offering of BIG, statement vessels — especially those that are a little more aged in appearance — was severely lacking. While I want them for year-round use, fall is the perfect time to introduce them — especially with woody, semi-crazy, leafy branches. When I started my hunt on The Home Depot website, I started loading my cart and admittedly, got a little carried away — ultimately, I ended up with a few more than I planned but there were so many good ones, and I convinced myself that they were an investment, not just for fall but for long-term, year-round use. But, with free shipping over $45 and their return policy (100% satisfaction guarantee and free in-store returns), I felt comfortable with going for it, knowing I could exchange/return any that didn't work out. Again, I wanted BIG and while I noted the dimensions on each and subsequently used a tape measure to get an idea of virtual size, I was still pleasantly surprised when they arrived with just how big they were. I thought for sure there would be at least one of the five I could live without, but… nope, haha. Here are the five I ordered…

Again, with the exception of the medium-sized vase, these are HUGE. And glorious. I have nothing like them and as I'll share throughout the post, they can be purposed just about anywhere — from tabletops to the floor.
Fall Foliage Arrangement 1
We have zero changing leaves where I live, currently, and that's totally ok. You don't have to have vibrant oranges and yellows to make an arrangement evoke a fall feeling — which I'll share throughout the post. But, my first arrangement actually does showcase some gorgeous reds from our Japanese Maple out front. Paired with THIS 15″x15″ stone-like (it weighs almost 30 lbs!) vase, it turned our entry fall-ready, no pumpkins necessary. Most of the vases I used — this one being no exception — I inserted a smaller vessel (small glass vase) inside to prevent 1. having to fill the entire thing with water, 2. to keep it cleaner, and 3. to not have to worry about any potentially porous material.
I loved this beauty so much, I actually tested her out in a few more spots throughout the house 😉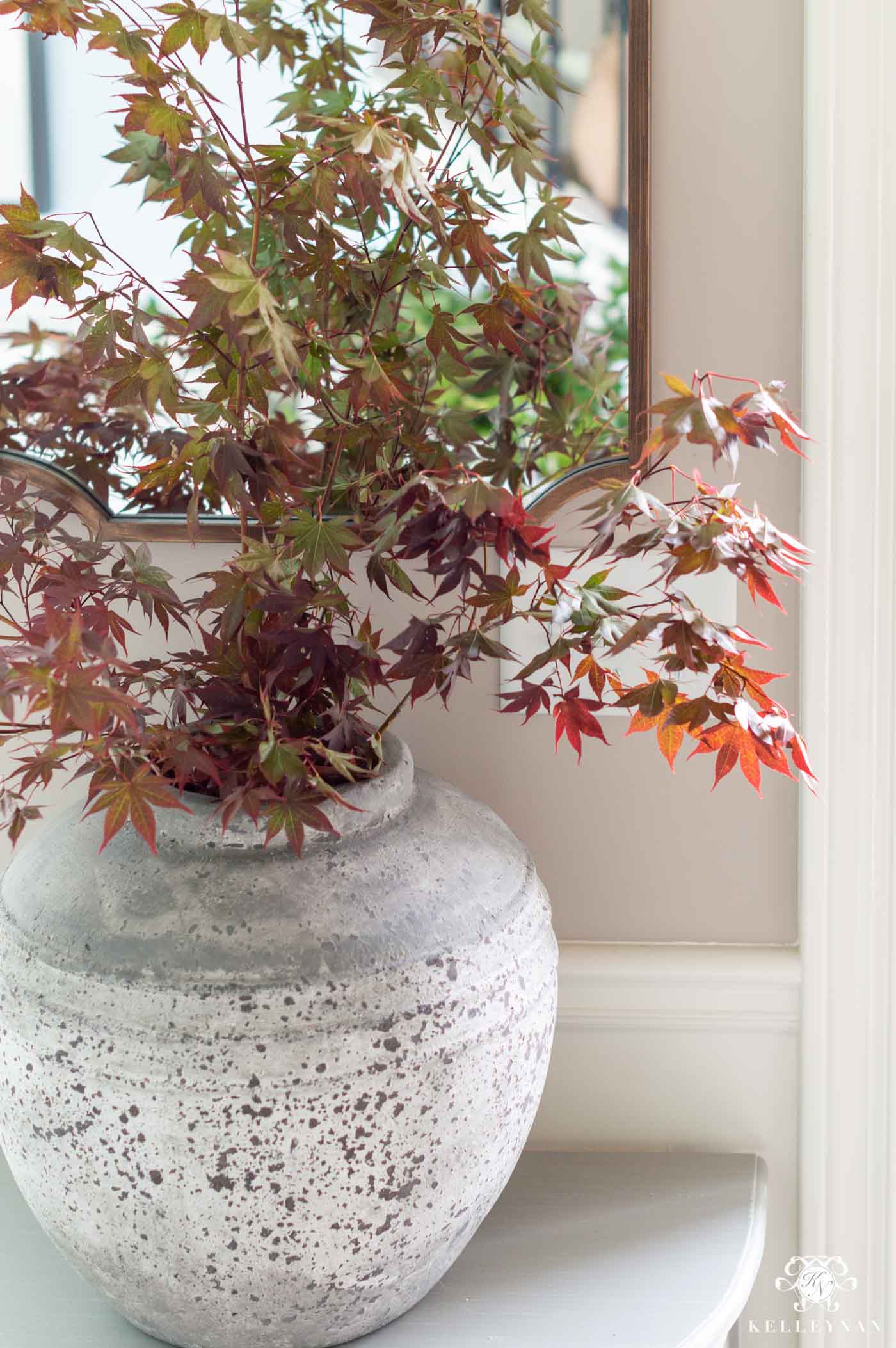 The Home Depot Pro Shopping Tip: If you find at item you love and want to see if the vendor brand has any other products in their collection (similar, in a different size, etc.), you can tap on "by (brand name)", just below the product name on the product page. The brand name is a hyperlink and will take you to all that The Home Depot has for that single brand. That's exactly how I sourced most of my statement vases, after stumbling across one I loved.
Early Fall Foliage Arrangement 2
I mentioned that I have zero leaves transitioning just yet, but it's a-ok (at least, in my book!) to use leaves while they're green. I try to stay away from thinner/floppier leaves that scream more "spring" but plenty of green foliage can go with fall — especially early fall. I paired these twiggy, variegated stems in THIS huge (32 lb.) glazed terracotta vase on the hearth to finally replace the faux arrangement I've had there for years.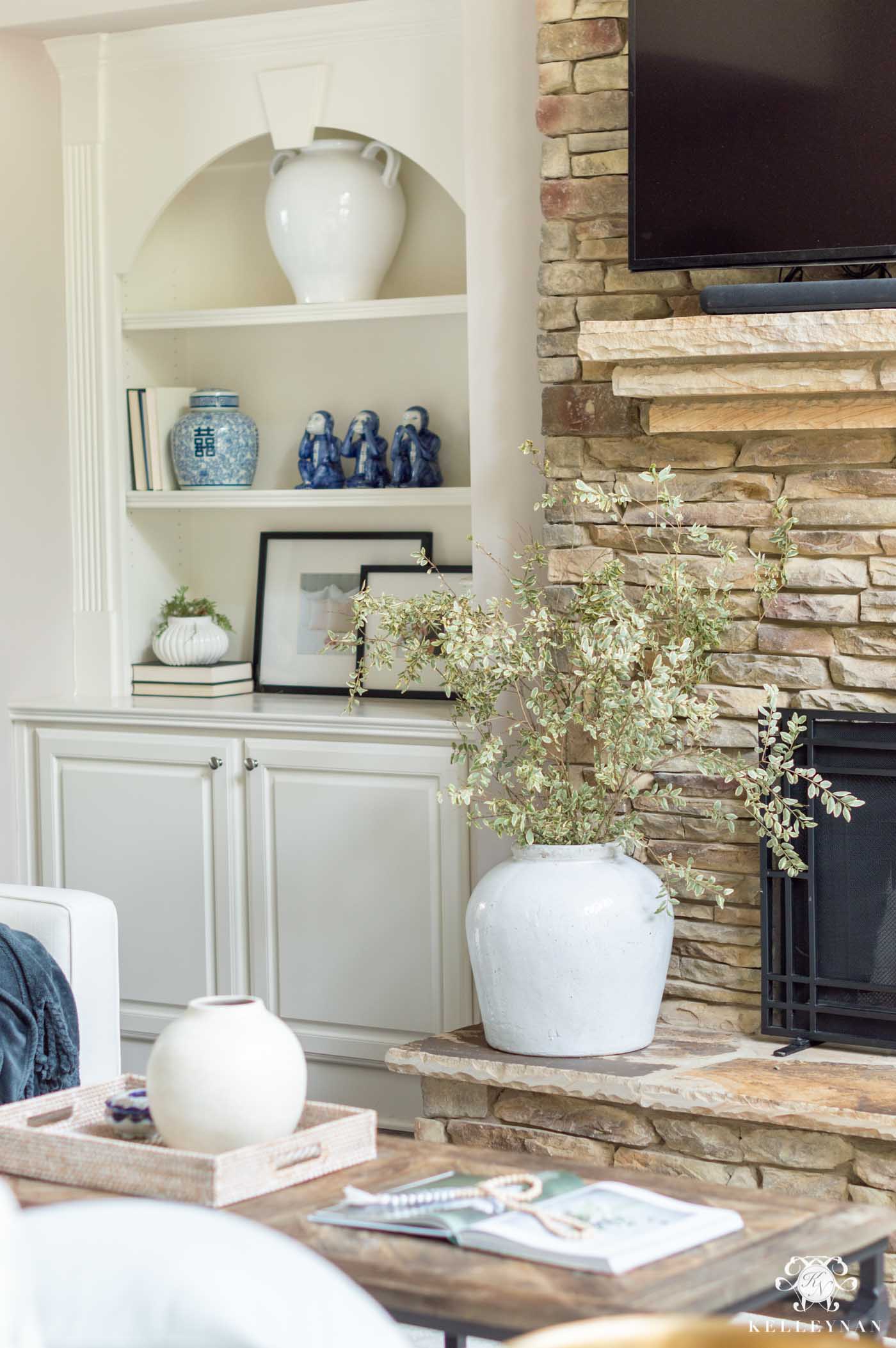 One note — we won't be burning any fires in here for a long time. Obviously, if you do burn fires early in the season where you live, be sure to remove any fire hazards from the hearth before doing so 😉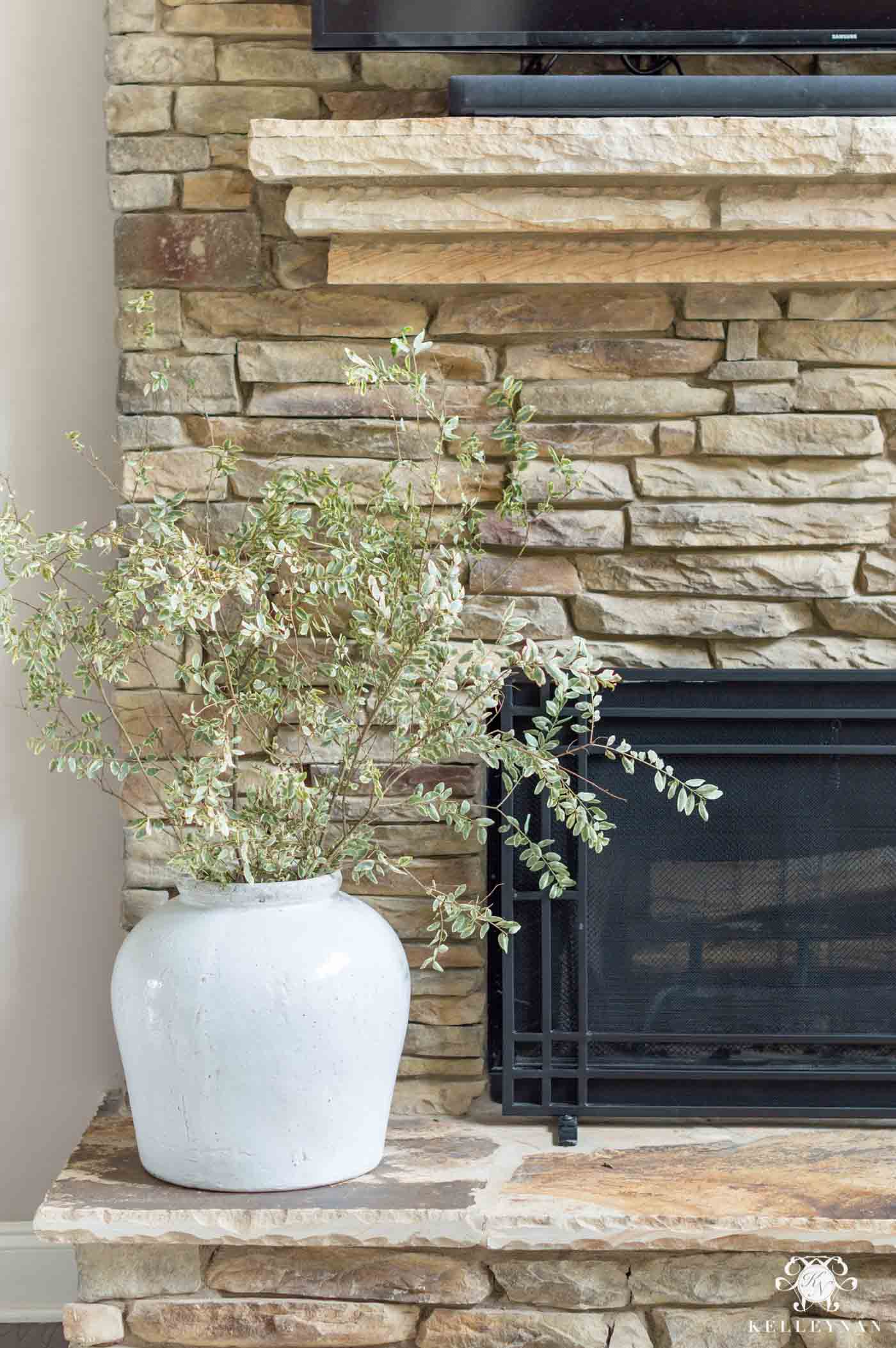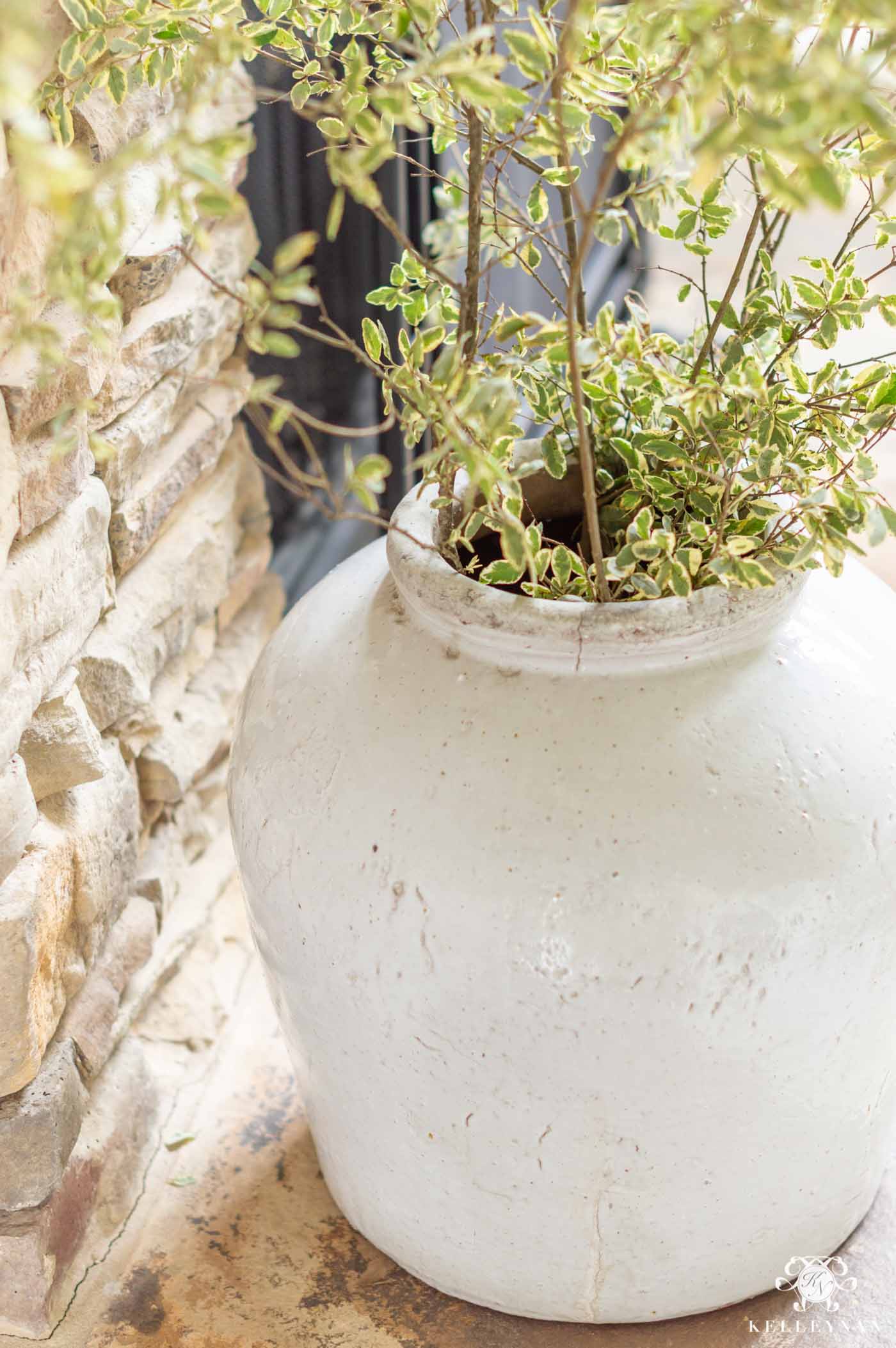 Early Fall Foliage Arrangement 3 & 4
Of all the vases, the vase I used on the breakfast nook sideboard and the vase as the simple table centerpiece are the smallest of the five. But, they are both still large (standing at 16″ and 13″), come in multiple sizes, and the slightly tapered openings make for perfect vessels for large stems and limbs. The still-green oak leaves are more "crunchy" and rough, making for a suitable early fall display.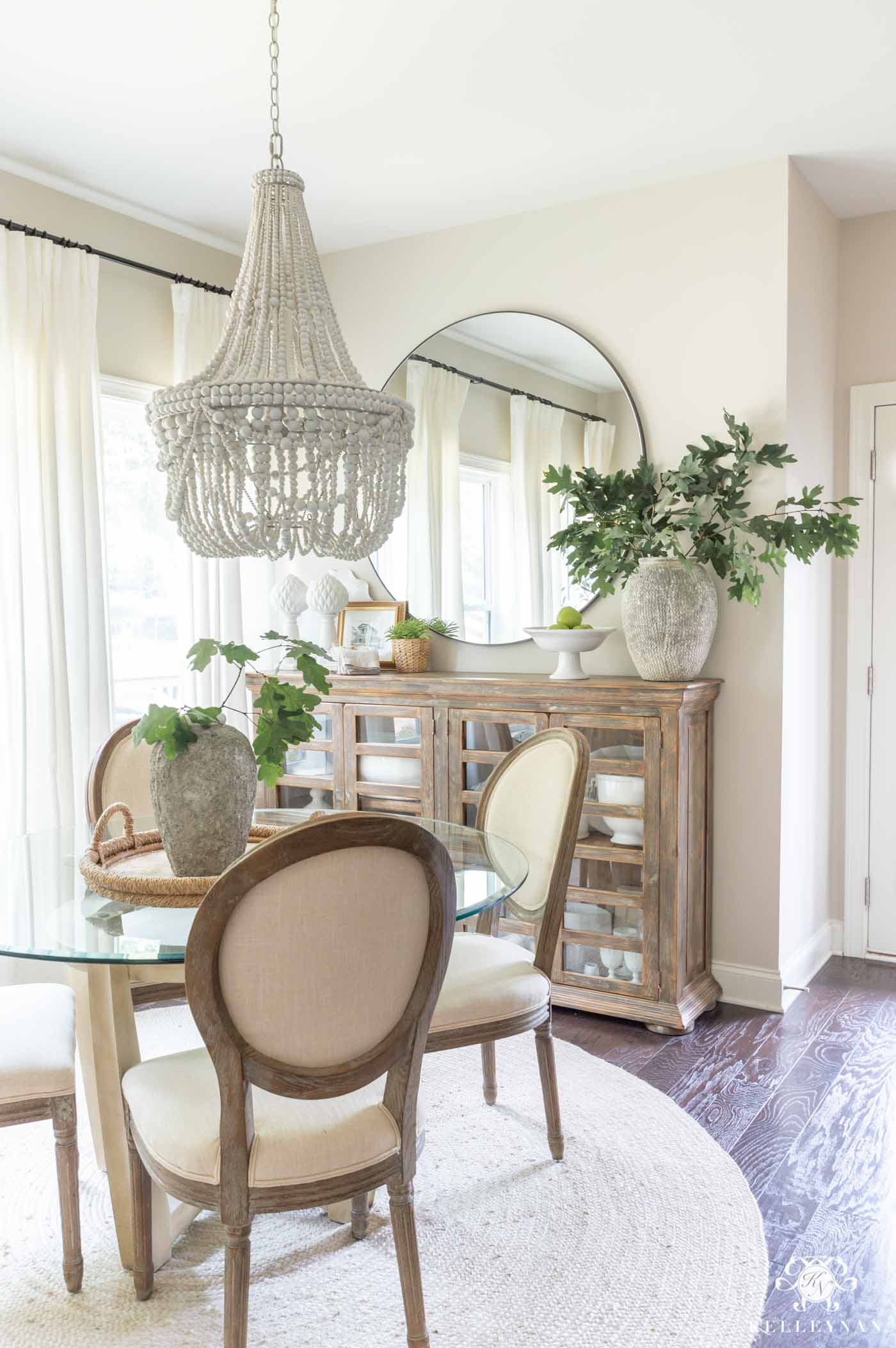 Large Vase (on sideboard) | Medium Vase (on table)
When I trim the branches, I cut off more than I think I need and then take smaller branches from the large branch to individually arrange them within the vase. This vase, in particular, has three…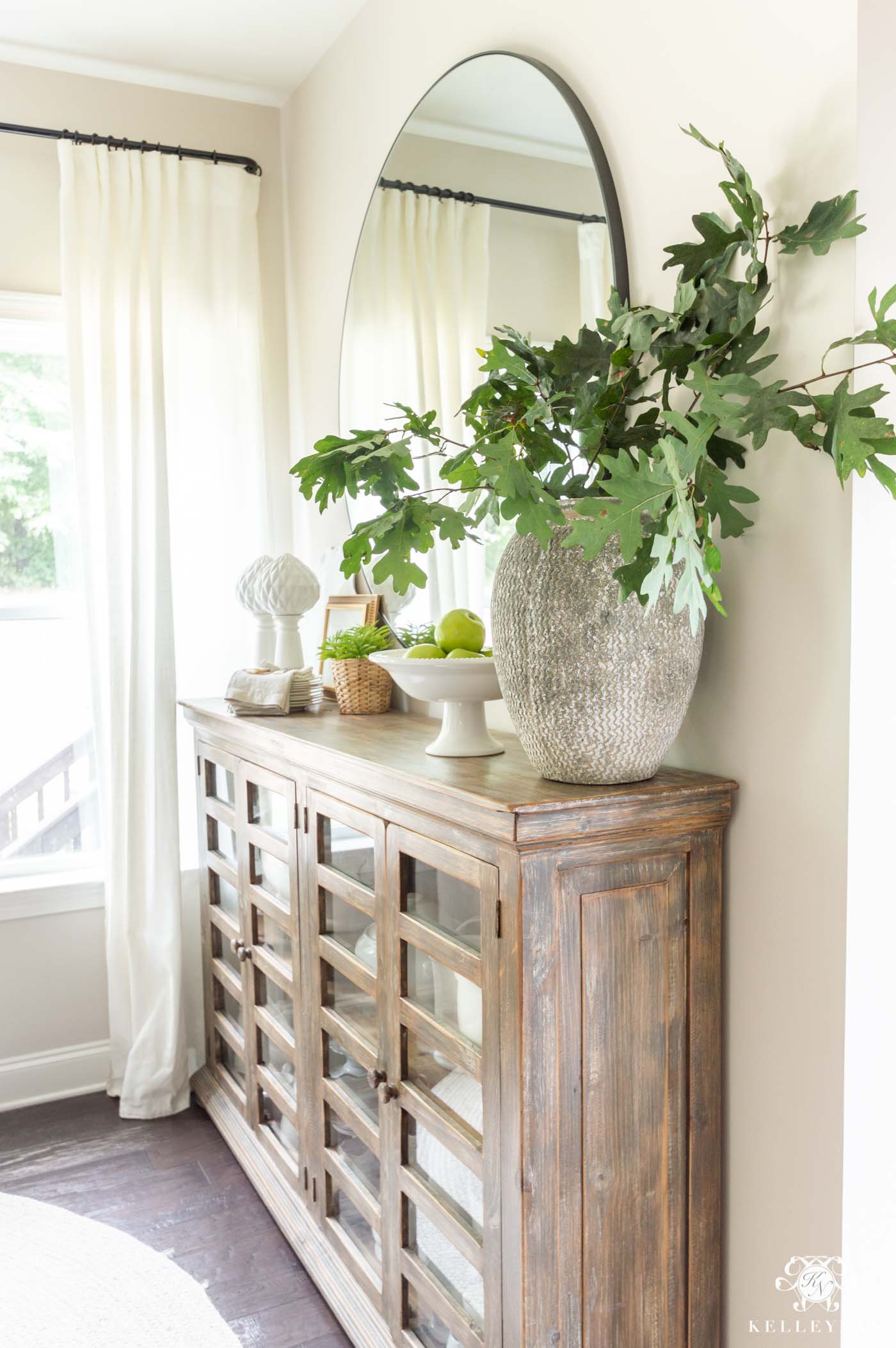 while this little guy only has a single, smaller limb — which, I kind of like so it doesn't compete with the bigger display on the sideboard.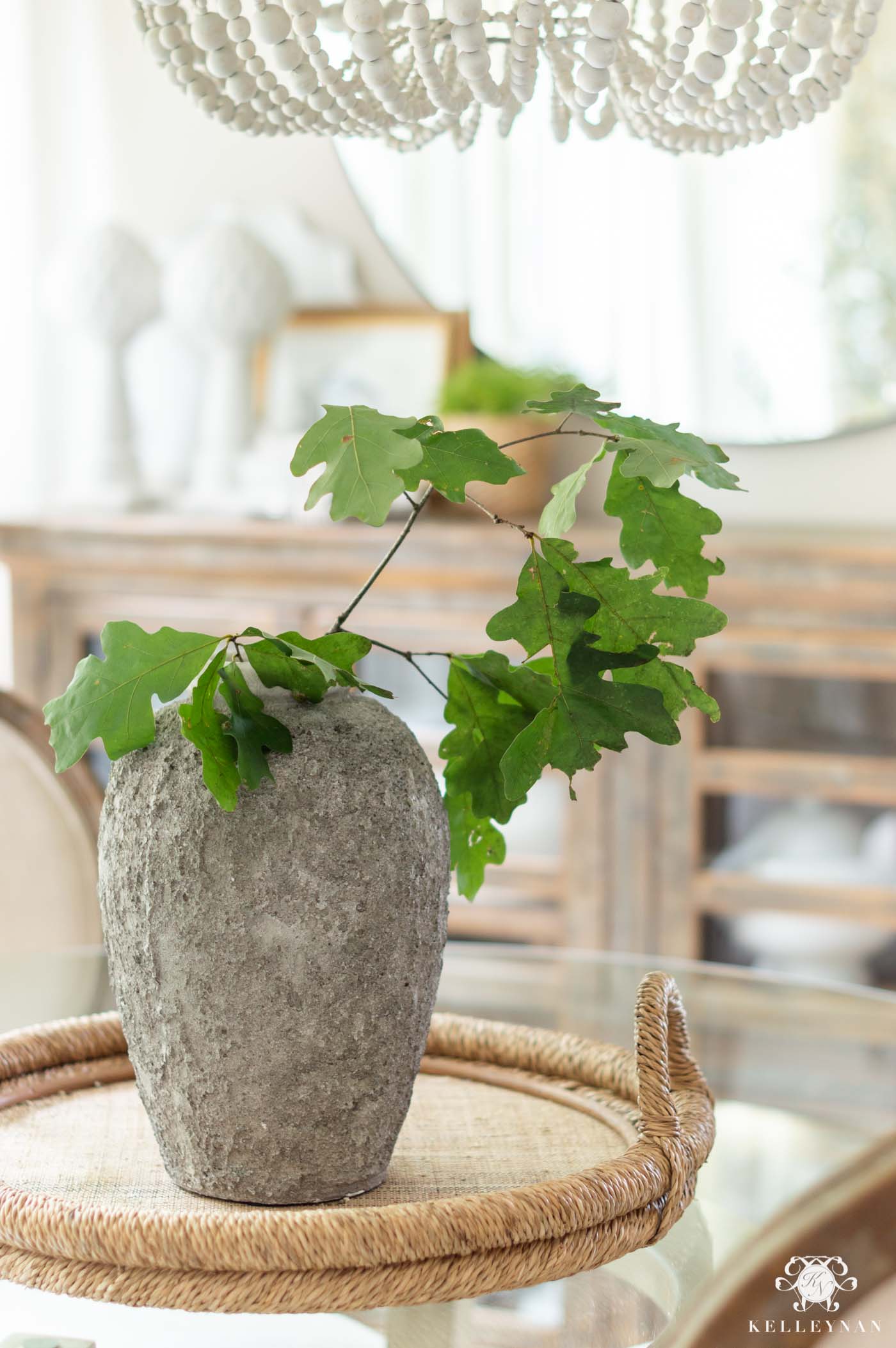 Early Fall Foliage Arrangement 5
The big vase from the entry? Well, to give it some scale, yes, it's big enough to even situate on the floor. Paire with a few wild branches from another (different variety) oak, this arrangement makes a statement without taking over the entire living room.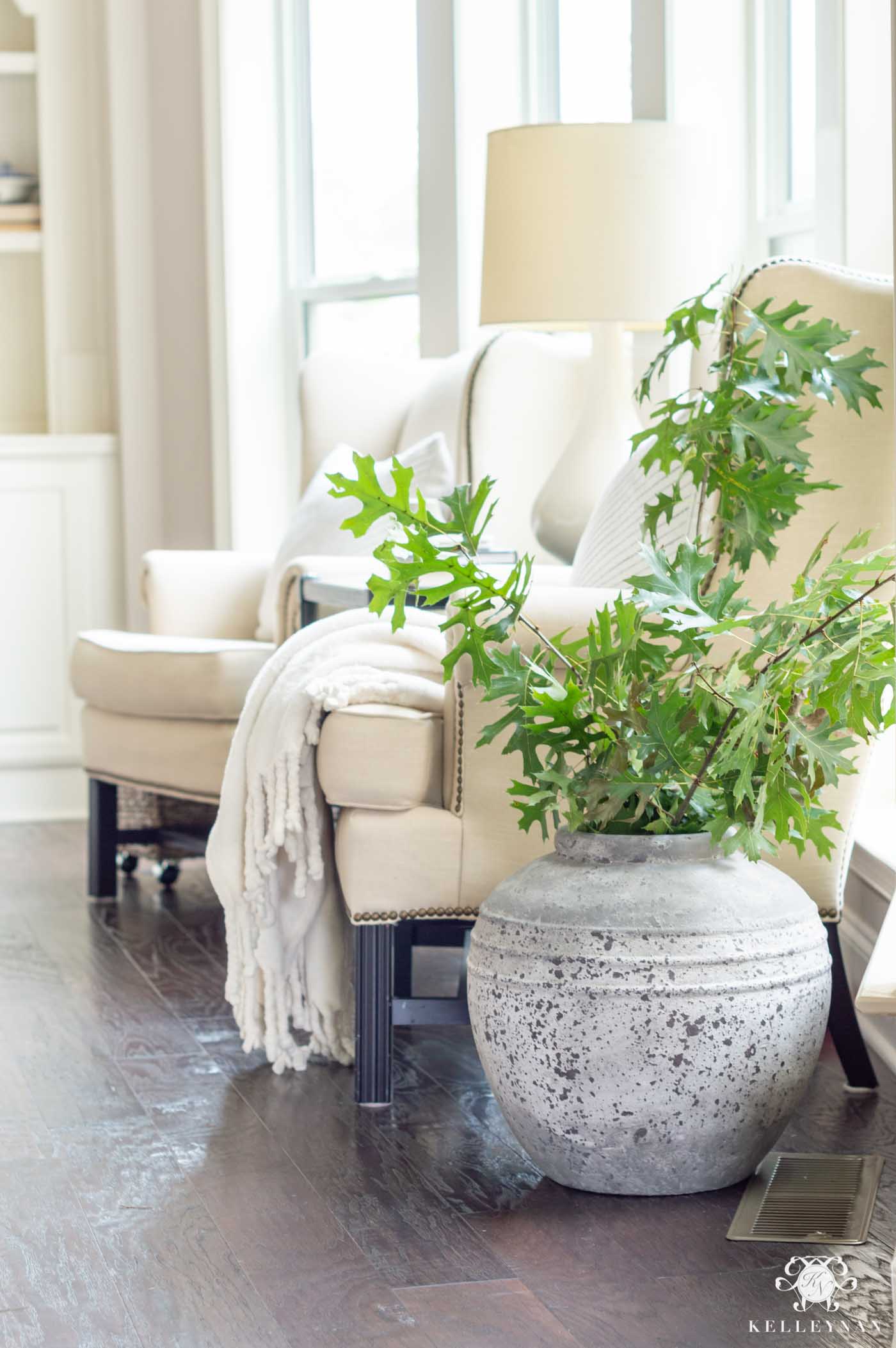 None of my limbs are pristine — most have holes, tears, imperfections and spots; but, I think that adds to the organic, natural beauty of them all.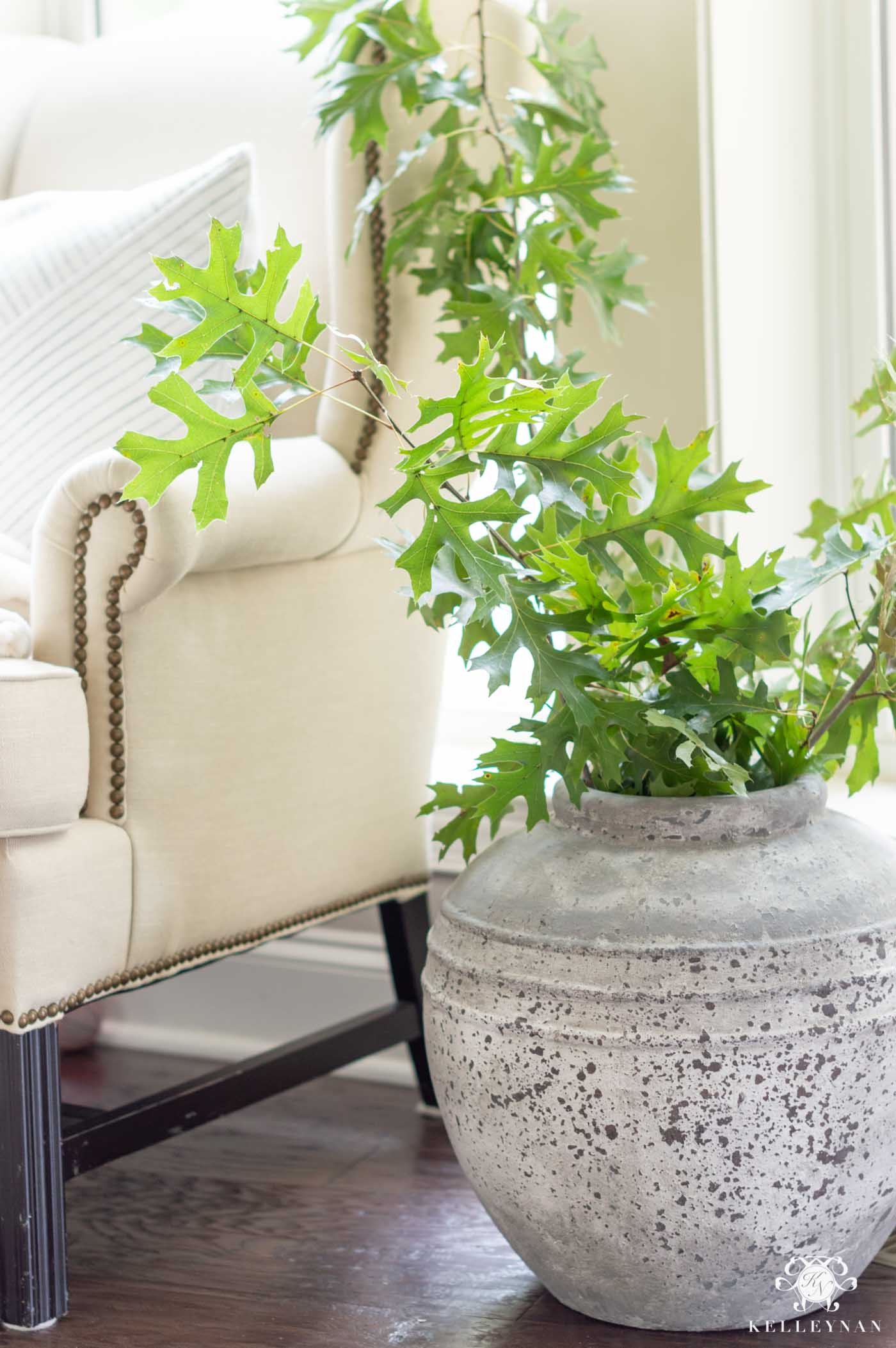 Check out that vase detail! Each is handcrafted and distressed so no two are identical.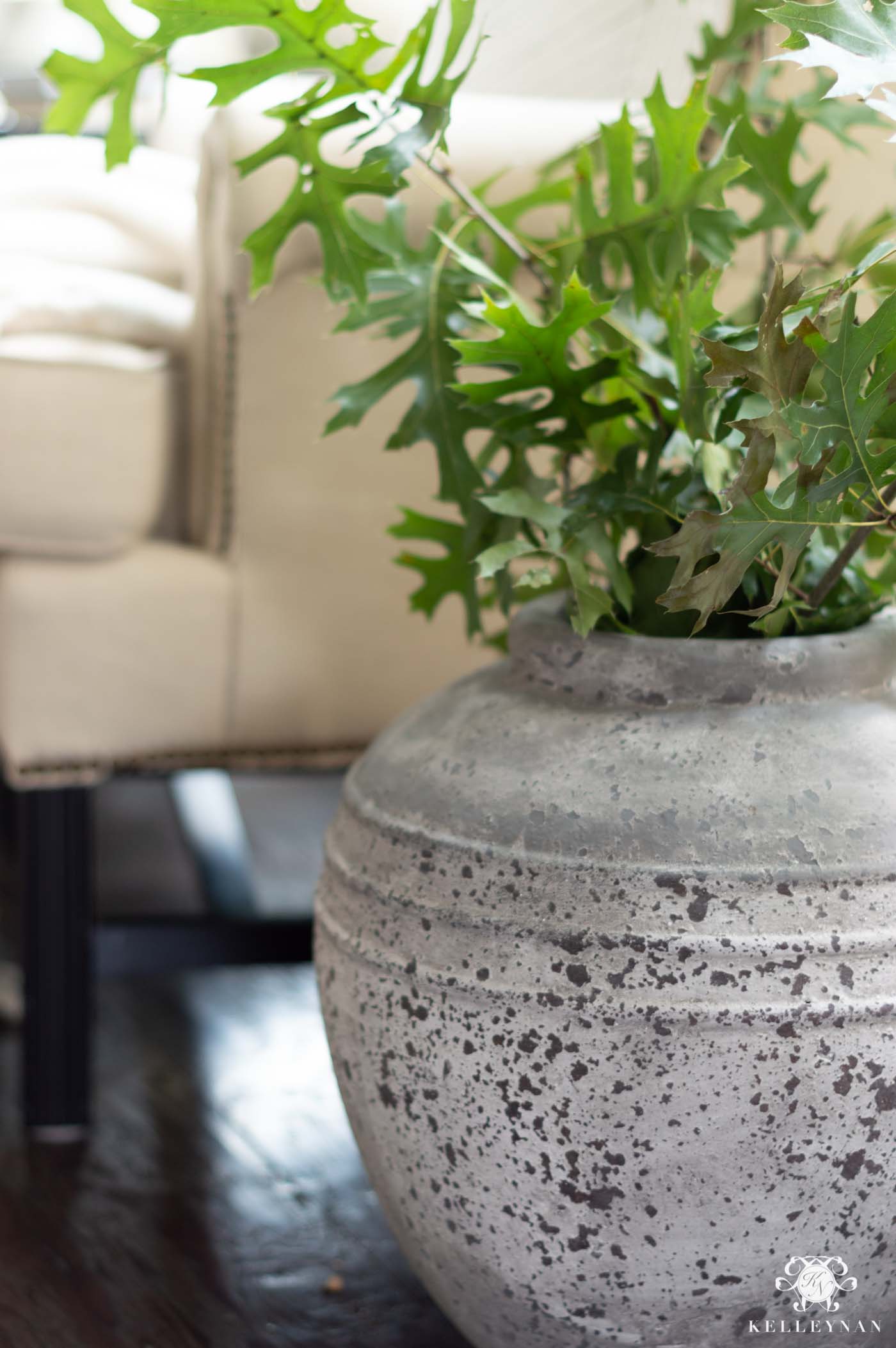 Early Fall Foliage Arrangement 6
I keep my kitchen decor devoted exclusively to things that are actually used in the kitchen… well, with the single exception of a seasonal statement centerpiece on the kitchen island. Check out the Japanese Maple stems against the warm-toned terracotta vase (coming in at a whopping 43 lbs!) This piece is so pretty in person — the stock image reads a little more brown but in person, it has more of a white-washed terracotta look.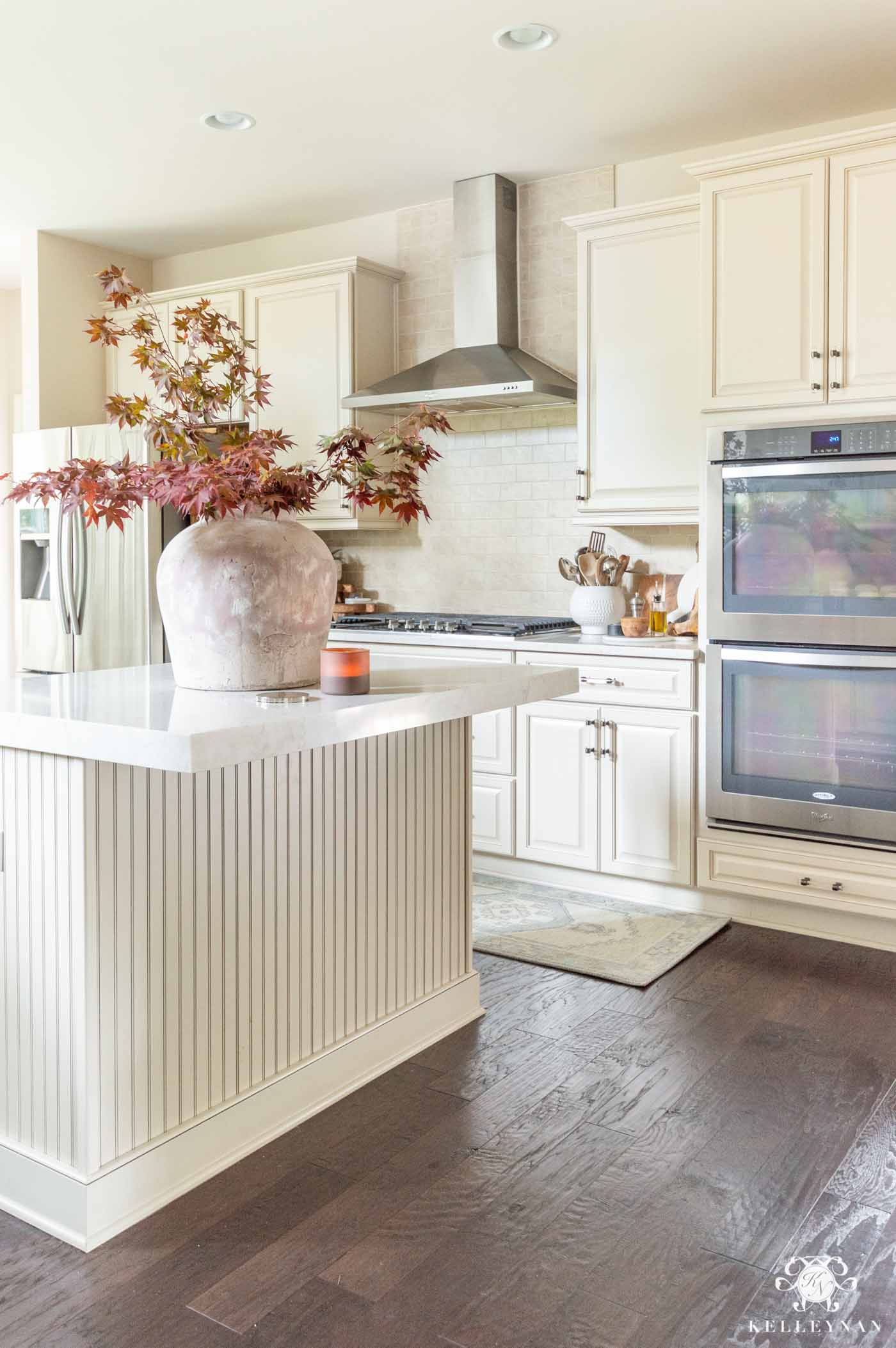 No need for extra autumn tchotchkes — this single piece (paired with your fav fall scented candle) will take your entire space to "fall". By the way, while it's huge on the countertop (which I am all about), this piece is also large enough to stand alone on the floor.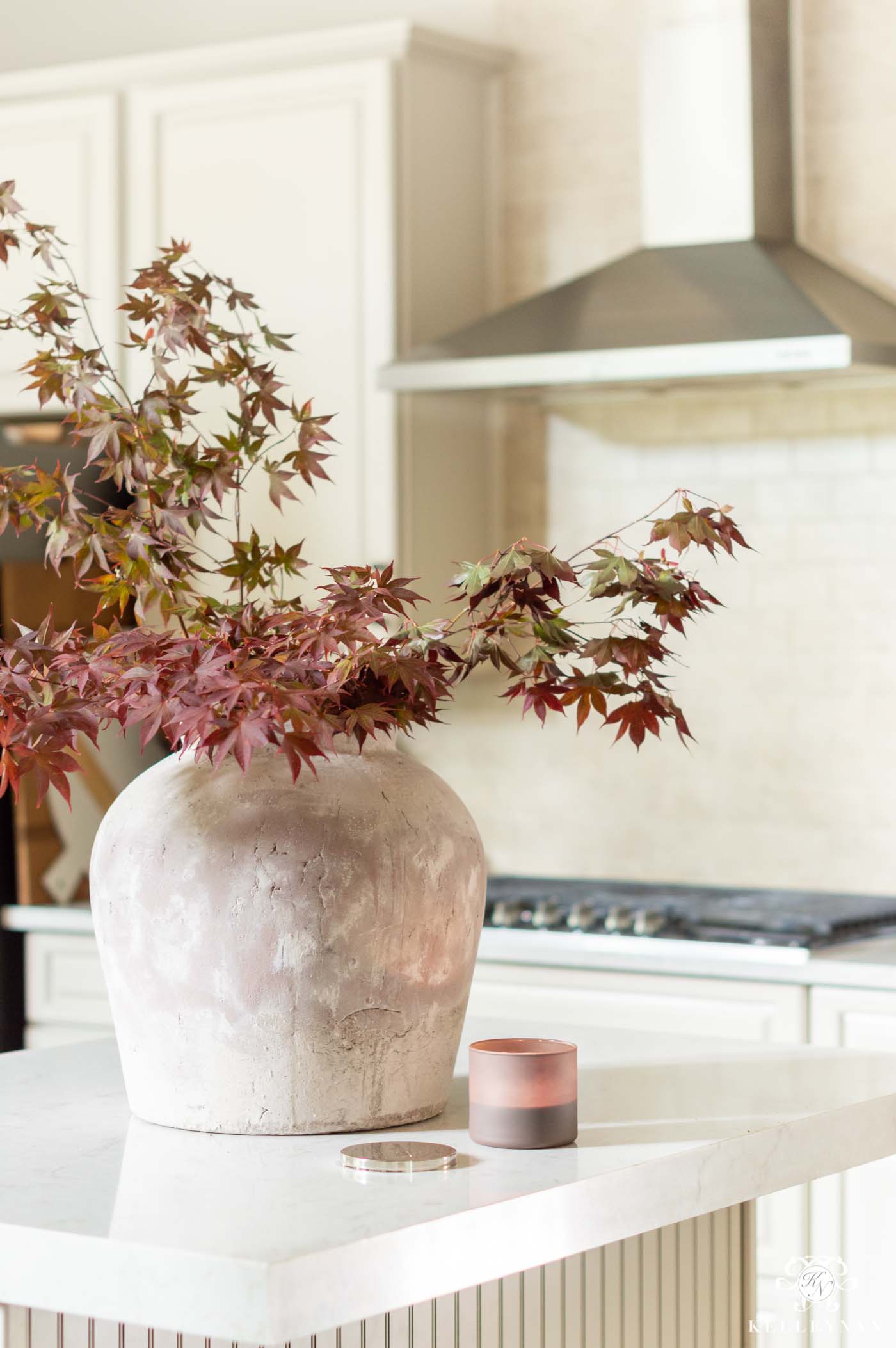 Early Fall Foliage Arrangement 7
Ok, so this is actually the THIRD place I positioned the big weathered cement-like vase (maybe that makes it my favorite?), but it's so versatile, it works just about anywhere. This time, I paired it with one of my favorite go-tos for the cool weather months — big, green magnolia branches.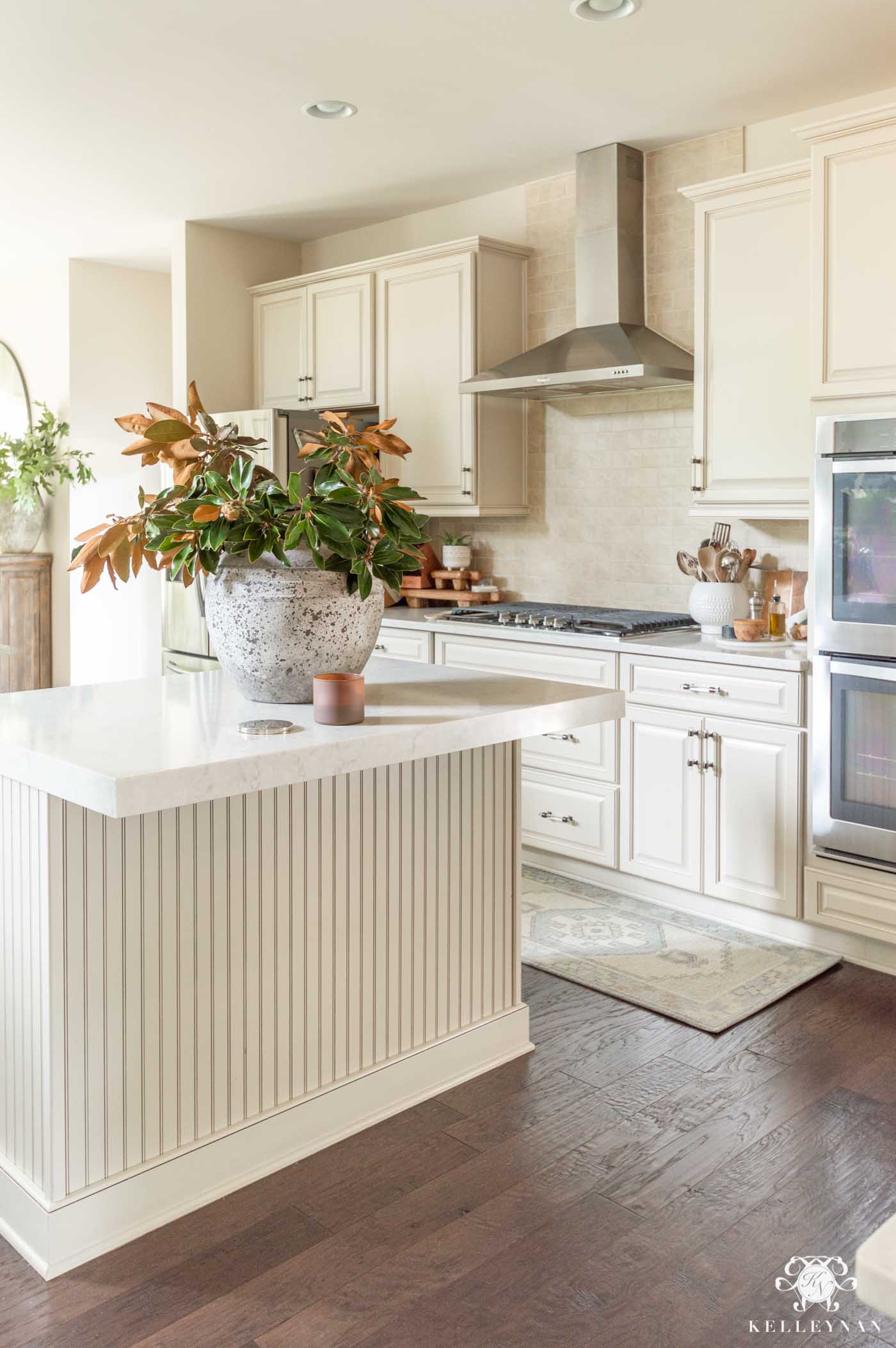 While the blooms die within a day if cut, the stems actually last longer than most any other tree branch — I've had them for a month + in the past! These will give you a ton of longevity without any hassle of replacing them for a while. Another advantage of magnolia branches is that they leaves are so full, it doesn't take much to fill an entire vase — and depending on the look you want, they look great as a single stem, or, as a full blown, gigantic arrangement. The leaves are also thick and hearty and preserve well so they don't have as many imperfections as most other leaves. This is a great arrangement for the fireplace hearth, too.
A note about my latest kitchen runner rug — The Home Depot is currently sold out of the runner style, but there are a couple rug sizes still available. It's incredibly affordable and the colors are beautiful in person — not too muted, but not too vibrant. While the rug itself is more durable than a Turkish rug, the pattern is spot on! You can find it in the available sizes HERE.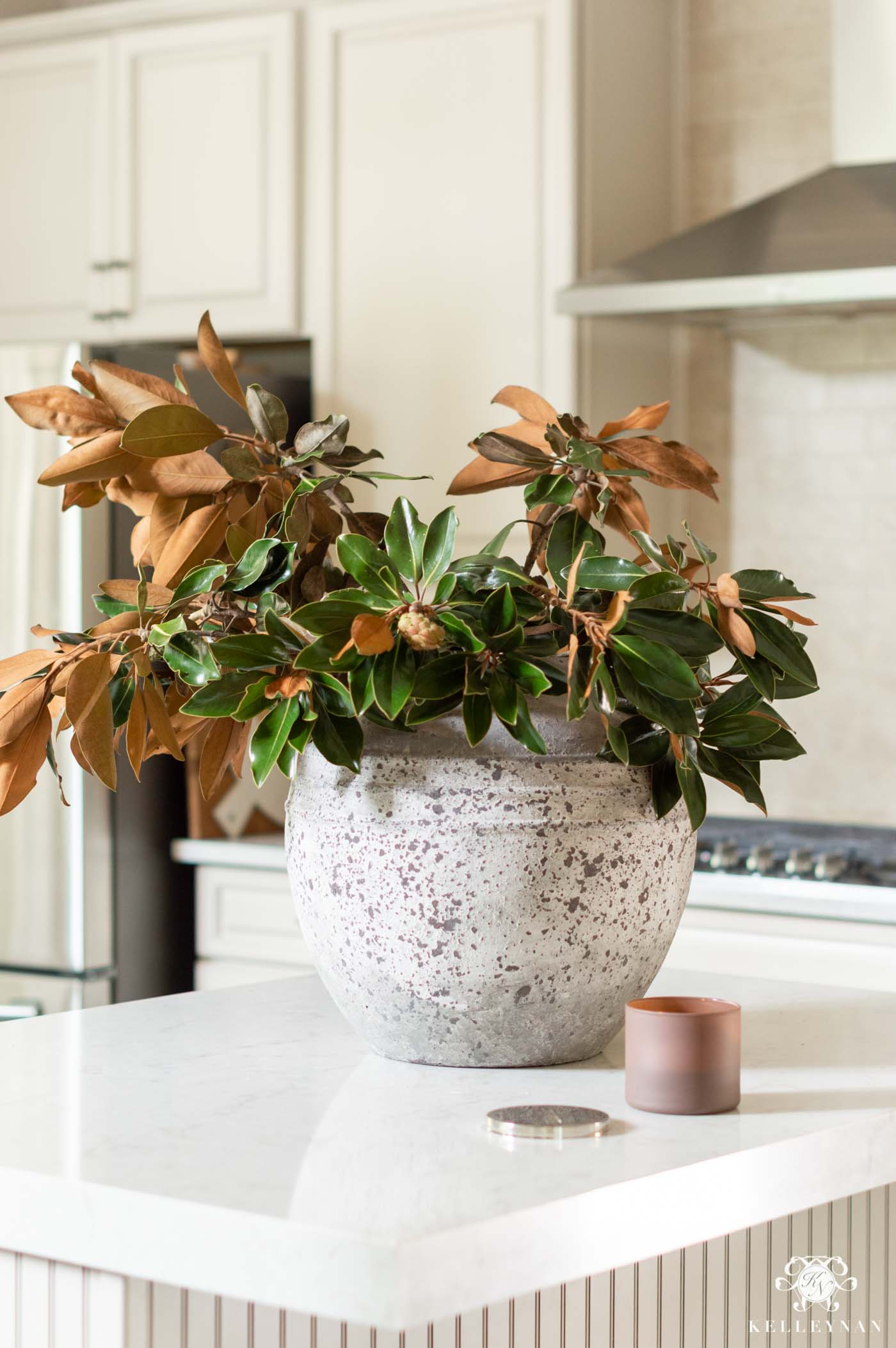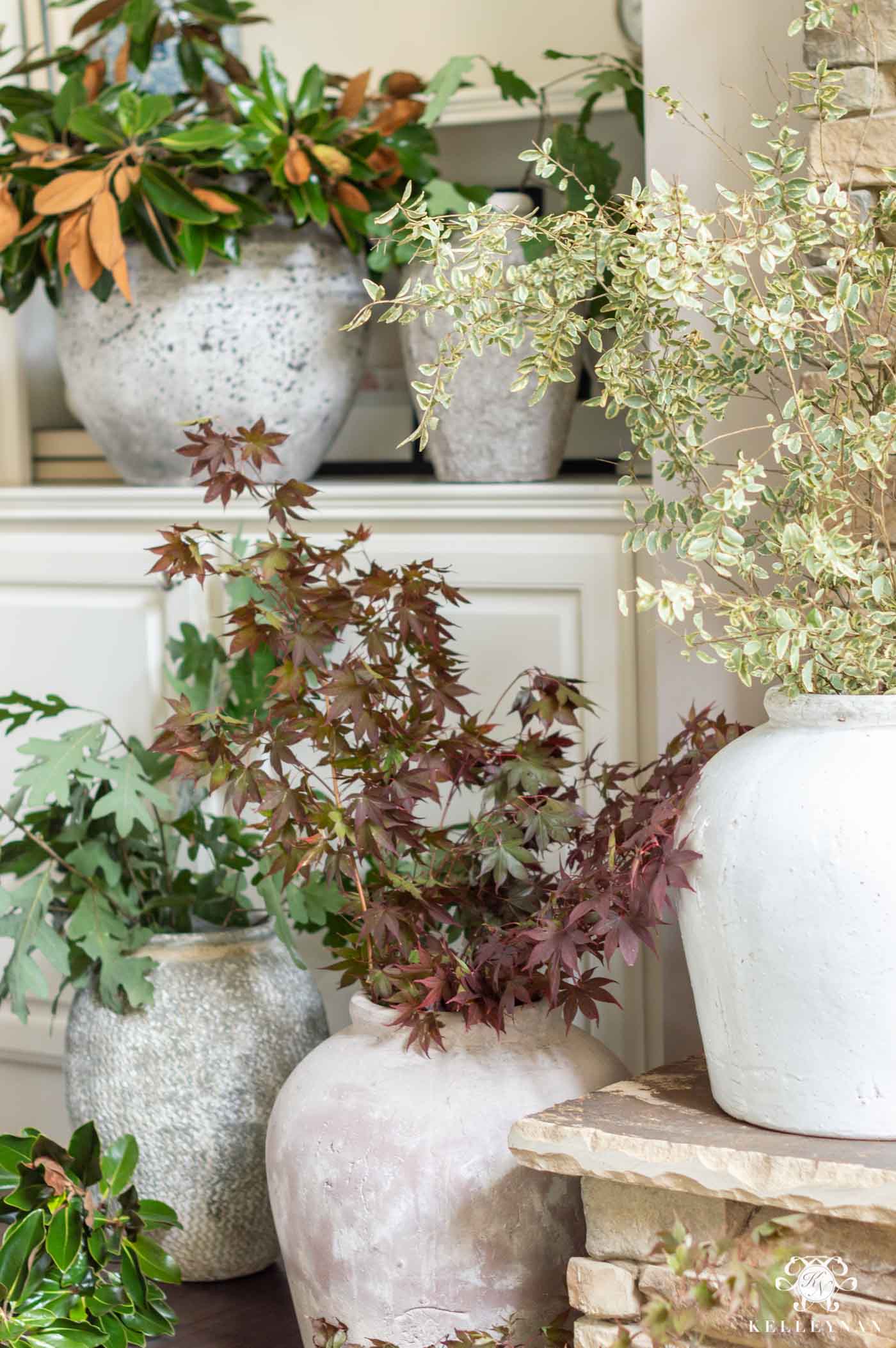 A Few Fall Foliage Statement Arrangement Tips
The beautiful thing about fall decor is so much of the beauty comes from the imperfections. Here are some general tips in putting together an early fall foliage (or any foliage) arrangement.
Don't underestimate the power of a BIG vessel. If you're accustomed to gathering several small items instead of one statement item, it may be overwhelming to see the difference in scale. To pull off an arrangement with actual branches though, something large is necessary.
Pairing clay/cement/stone/terracotta rough finishes with more streamlined accessories (if that's what you have more prevalently displayed throughout your home) is beautiful. No need to feel like you need to match it all or that you can't pull off an organic look.
Vases that have a somewhat tapered opening will help corral large stems, vs. wide-mouth/vases with straight openings.
Don't be nervous to forage your yard (or the side of the road). Short of being bug infested, stinky, or poisonous, there isn't much I won't bring inside the house. Over time, you'll learn what your favorites are, what lasts the longest, and what is easiest to arrange.
The arrangements don't have to be perfect or symmetrical. Just like a tree has branches reaching in every direction, gathered limbs can be wild and crazy.
If you have the time/patience/ability, you can help de-bug the limbs by placing them in water first, before arranging them. At minimum, give them a good shake outside and once over.
Cut the branches longer than you think you need — you can trim them up and split them once you're ready to arrange them.
For early-fall arrangements in particular, I gravitate toward the leaves that are some combination of rougher in appearance, thicker, crunchier, colorful, have a prominent stick-like branch, or are on their way to looking dried.
Look for vessels that are textured and organic — just as the leafy limbs you are looking to arrange inside them.
So tell me… have you started decorating for fall? Or making any transitions toward the season? I'll be working on a few textile changes and easy, gradual updates over the next month or so 😉 For more fall decor and upcoming projects, be sure to subscribe to my emails at the bottom of the post!
Shop the Post & Other Home Favs
Scroll & Tap to Shop My Vases

Scroll & Tap to Shop Other Statement Vases

Scroll & Tap to Shop Decor Favorites


Scroll & Tap to Shop Furniture Favorites