When we decided to take on our small powder room (revealed at the beginning on the year HERE), I went back and forth on a pedestal sink vs. a small bathroom vanity. While I do like the look of a lot of pedestal sinks, ours was far too tiny and had almost no room for even a small soap bottle. Ultimately — for both aesthetics and the necessity of added storage — I decided to go for a small vanity for the powder room. Before beginning my search, the idea of the switch was a little overwhelming; I assumed they would be expensive, and the fact that most come unaccompanied by a faucet with set holes for spreads was foreign and new. Another challenge was that with my small little closet of a room, I was limited to a small bathroom vanity with a width of 24 inches or less. Now, almost a year after the initial install, I am so so happy we made the switch from our pedestal sink to a small vanity cabinet — we finally have a place to store hand towels, extra soap, toilet paper, and all the essentials that even the smallest bathrooms need. And, since then, there are already a lot more pretty and affordable 24 inch vanities (and under!) that have become available. Today, I'm sharing 16 favorites in a small bathroom vanity round-up, along with some of the questions I asked myself, challenges I faced, and considerations I kept in mind when planning our little bathroom.
*Posts on KelleyNan.com may contain affiliate links. Click HERE for full disclosure.
First Decisions to Narrow Your Small Bathroom Vanity Search
First of all, if you have a trusted contractor you're working with, they will be able to prompt you and guide you on some of the space requirements and share what is feasible. That being said, they are probably more indifferent about design aspects. Do your own homework and gather inspirational photos to piece together some of the details you do/don't like. Here are some of the initial questions to ask yourself, and then confirm with whoever is installing your small bathroom vanity.
What is the maximum size vanity — both width and depth — that the space can accommodate? If you have it between two short walls (opposite the toilet), your estimate will probably be easier. But, if you're like me with a toilet next to the vanity, there's no shame in sitting on the toilet, accounting for a toilet paper holder and determining a comfortable size from that, too 😉 Before I ever started the actual powder room makeover process, I shared this vanity — which I still love way too much. Unfortunately, I had to abandon it in the early stages since the smallest size it comes in is 36″…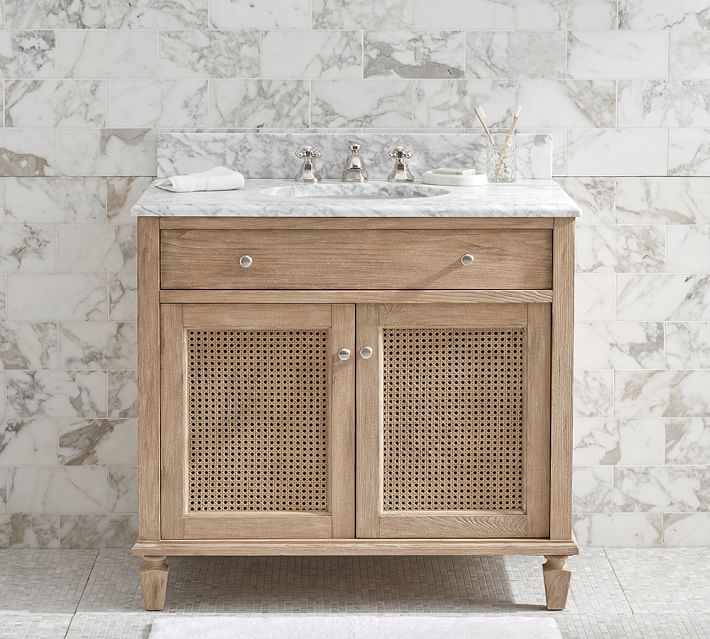 Do you have a preference on faucet style? If you want a widespread faucet, you will need to look for vanities and read the descriptions to make sure the top is configured to your preference of faucet style. Typically, even a small bathroom vanity can hold a widespread faucet layout.
Does the sink and top come with the vanity? Again, while most vanities do, read the description, so there aren't any surprises. Most vanity stock images are styled with faucets that don't come with the vanity and you don't want to rely on an image and assume that it comes with the top that's pictured.
Do you want the small backsplash or no backsplash? I wanted no backsplash and because my wall moulding was painted with a durable (non-matte) paint, I don't have to worry about water marks. It all works together.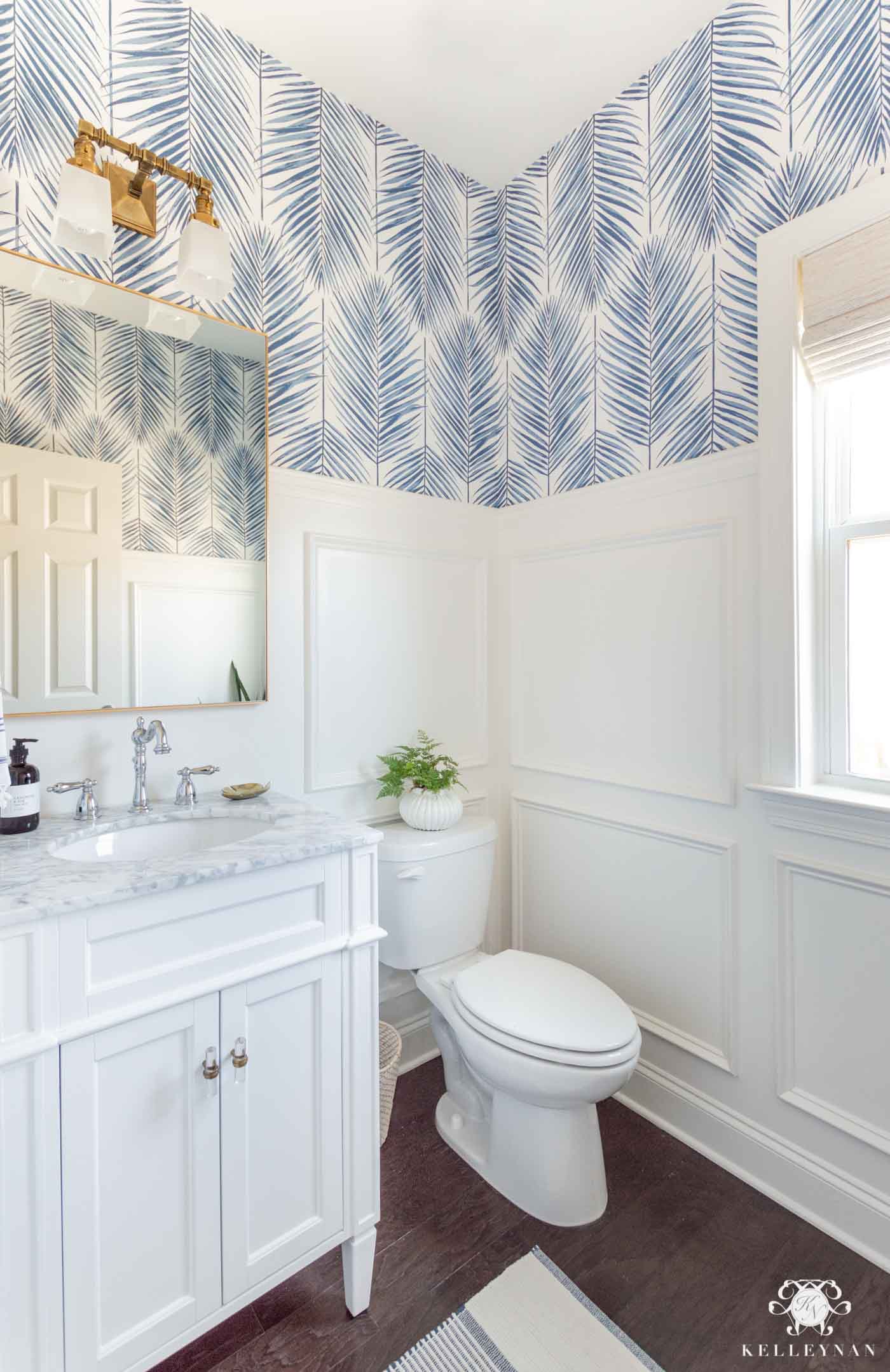 Sources: Vanity | Faucet | Wallpaper | Sconce | Mirror | Cabinet Pulls | Rug | Trash Can | Turkish Hand Towel | Towel Holder | Toilet Paper Holder | Soap Dispenser (similar) | Leaf Dish
How will the unit be "built in"? I wanted my small bathroom vanity to be "free standing" on both sides — even though there's only a small space next to the wall. My contractor notched out the baseboards and the bottom where the legs are, so that it could set flush against the wall, and caulked the vanity top back to the wall.
Do you want/need doors or drawers? One of the reasons I wanted a vanity — even a small vanity — in the first place was for ample toilet paper storage — cabinets with an inside shelf was an easy route to go. Check the photos of inside the vanity — don't assume dummy drawers are actual drawers and there are actually some cabinets that have a single deep drawer that are pretty cool. Whichever way you go, make sure there is enough space to store those little things highest on your list.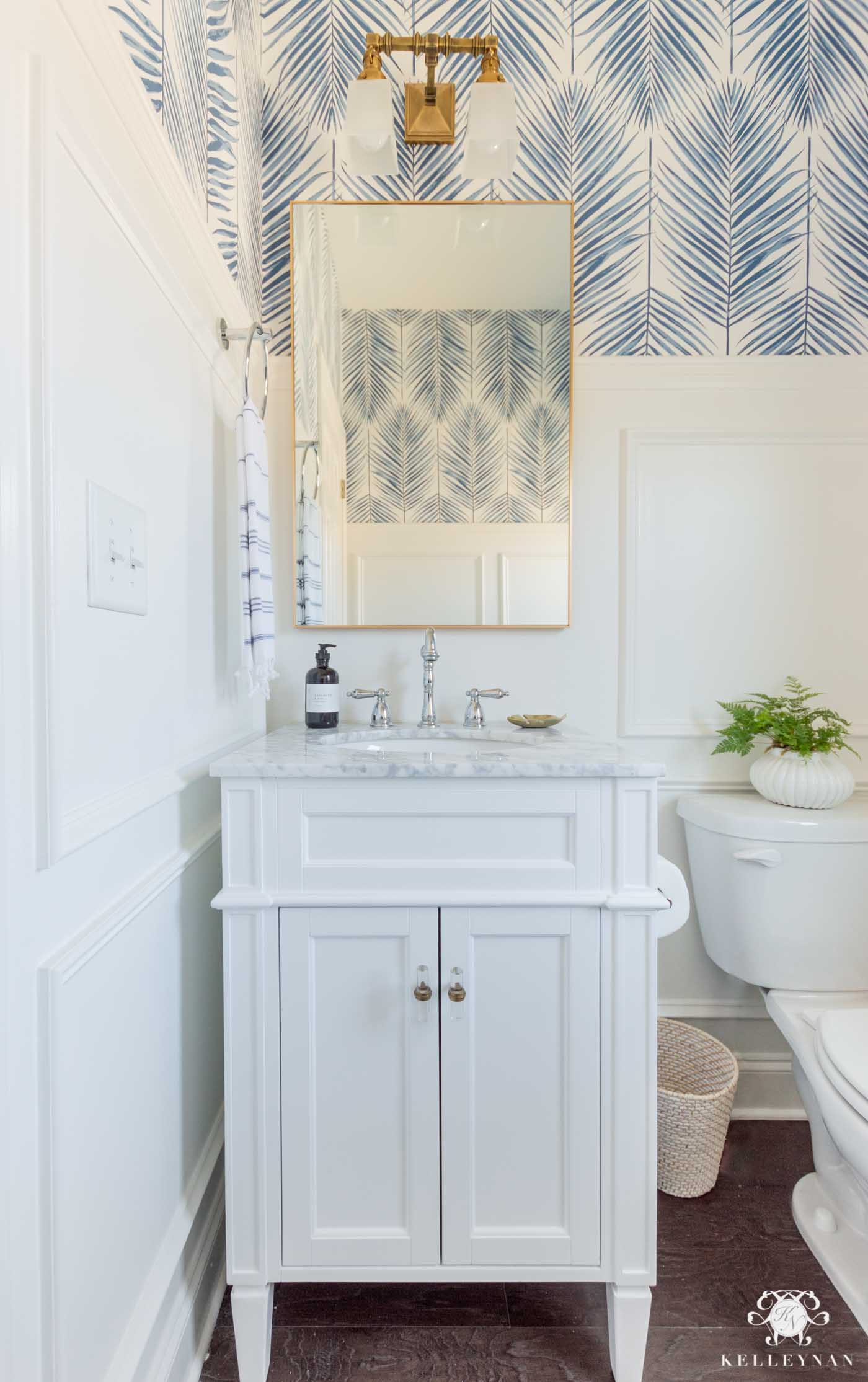 Is a bottom, open shelf practical? A lot of vanities have an upper closed cabinet with a lower shelf that's open. Or, maybe the cabinet is totally comprised of open shelving. Because our small vanity is in our powder room — no towels used in here or anything else I can think that I would want to display — I did not want a vanity with open shelving and specifically only looked at options with closed cabinets.
Will prior damage from a pedestal sink (or whatever was in place before) be covered? If your flooring is damaged/cut/has imperfections when you remove your former unit, the closer to the ground your vanity cabinet goes, the less you will have to worry about fixing/disguising the floor underneath the unit. We did not have to do any repairs and all imperfections were covered well, underneath our vanity. That said, if you're nervous about your own situation, maybe opt for a small vanity that isn't super open on the lower half.
Don't Let THIS Detail Deter You, When Selecting Your Small Bathroom Vanity…
Of course, whenever you order something, you want it to be perfect as-is. That said, the hardware that comes on the vanity is such an easy switch, don't let the manufacturer knobs/pulls make or break your decision. Even if they are "fine", it's such a simple component to personalize to make your vanity totally unique. And more good news — when you're working with a small bathroom vanity, you probably aren't dealing with many pulls or knobs that will have to be switched. My pulls that I switched to have been out of stock for most of the year but as of this morning, they're back! They're especially great for cabinet doors like mine that would be a tight fit for two round knobs…
Set of Knobs (comes in 4 colors!)
When I make hardware switches, I typically stick to the spread (distance between the two screw holes) with the updated pulls so no extra work has to be done. Knobs, of course, are even easier. Here are a few stunning, unique knobs and pulls to make your small bathroom vanity totally original (most of these comes in several colors, finishes, and sizes/spreads)!
Scroll & Tap to Shop Knobs & Pulls




The Perfect Small Bathroom Vanity — 24 Inches & Under!
After you've taken everything into consideration and you're officially ready to start your hunt, below are 16 beautiful vanities — all coming in at 24 inches or less! There's even at 18 incher below, if you have an incredible tight squeeze in your bathroom. Most every cabinet below comes in multiple paint colors/finishes and several come in multiple sizes, too. You can find the links for each small bathroom vanity at the bottom of the graphic. And, also importantly, a lot of the small vanities included are under $400; several ship for free, too!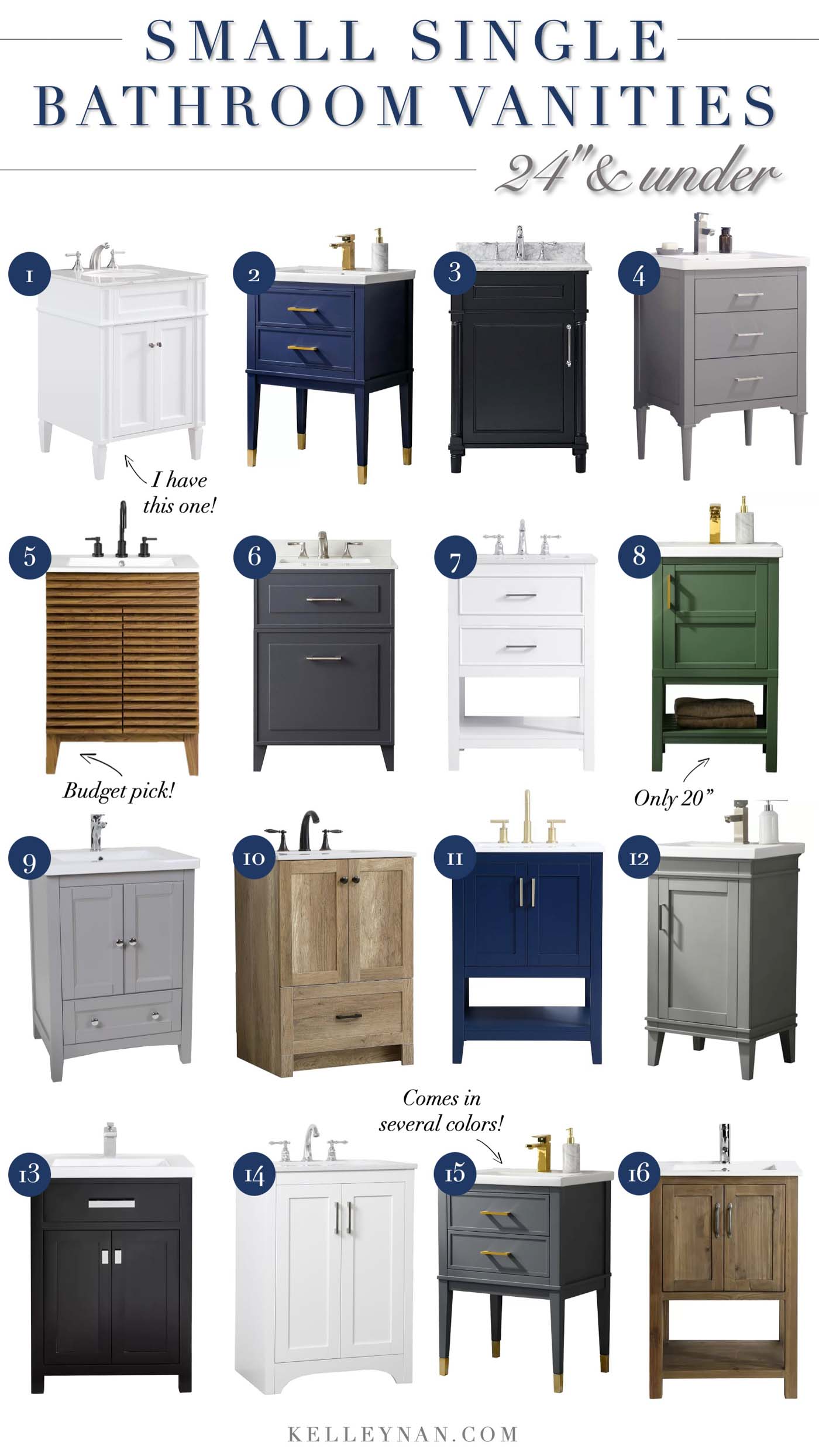 1 | 2 | 3 | 4 | 5 | 6 | 7 | 8 | 9 | 10 | 11 | 12 | 13 | 14 | 15 | 16
The faucet I went with for my vanity is polished and traditional and I love the contrast it has with some of the more sleek lines in the room. It comes in six finishes from brass to bronze and nickel but mine is the polished chrome and is currently listed for under $150 HERE.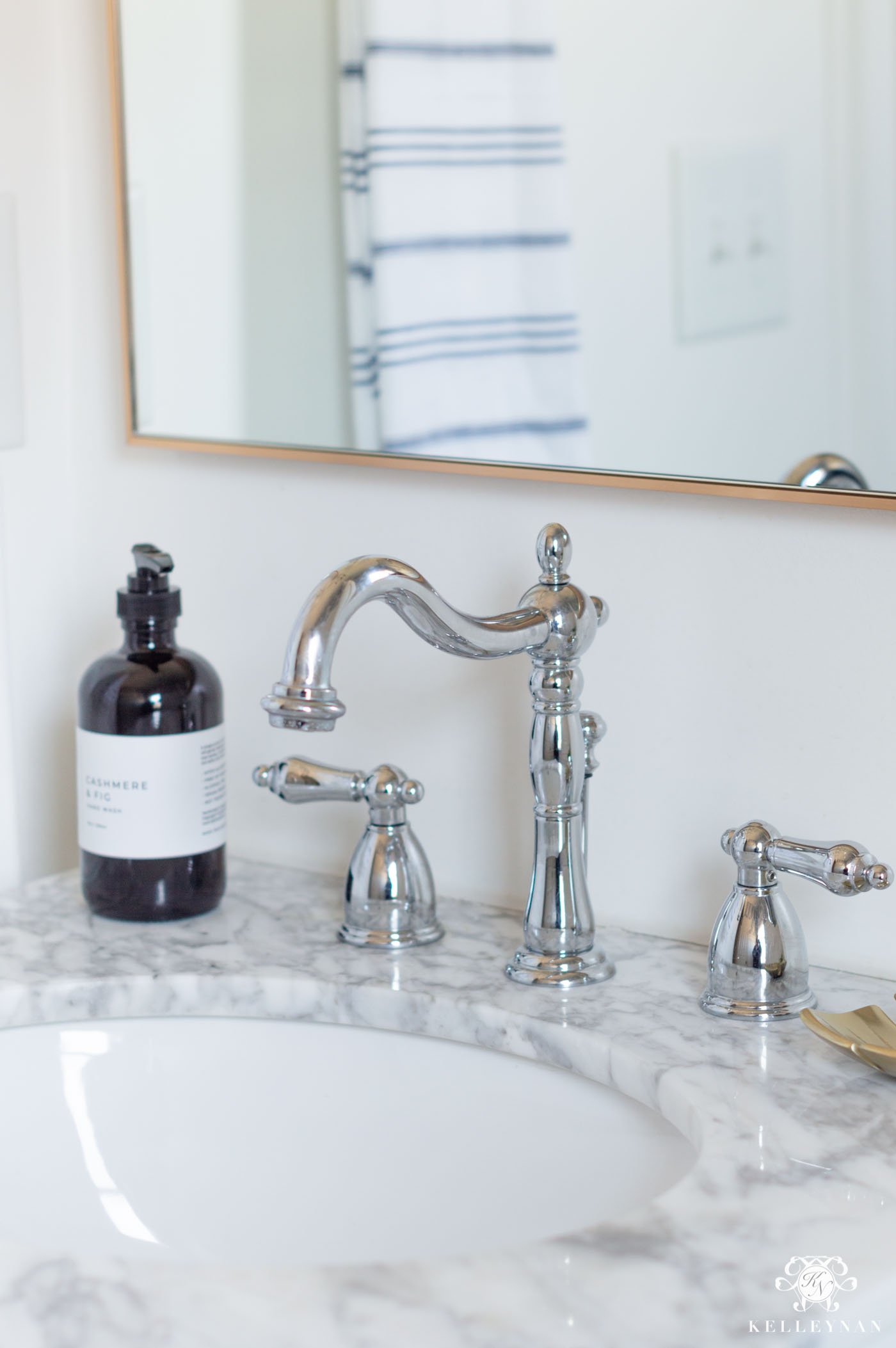 Have you transitioned from a pedestal sink to a small bathroom vanity? Or ripped out an old built-in cabinet, in search of a manufactured, updated piece? Drug your heels because bathroom changes seem scary? Any lessons learned along the way? Share them in the comment section below! As always, you can follow along with my upcoming projects, tips, and latest room makeovers by subscribing to my emails at the bottom of the post!
Shop Small Bathroom Vanities
Along with the above small vanities, there were too many other good ones that I couldn't narrow down. You can grab the details for each of these by tapping on the image!