It's Cyber Monday and I *think* I may just be able to finish my Christmas shopping today! Anyone else? Today's gift ideas — for babies, specifically infants — was my easiest and most fun holiday gift post thus far because it's basically what I've been living and researching and testing for the past year. Whether you're expecting, a new mom, or have an infant to shop for, I'm talking all about our favorites in today's post. FYI- a TON of these are on sale today for Cyber Monday 😉
*Posts on KelleyNan.com may contain affiliate links. Click HERE for full disclosure.*
An important note before we jump in — Janie and Jack has 35% off their entire site for Cyber Monday (polus free shipping, plus up to 70% off clearance) HERE. Along with her most special holiday outfits– like this red plaid set we'll be visiting Santa in this week — I've been stocking up for next year in the clearance section on crazy deals (like this tropical print jumpsuit for next summer, on sale for $16). Today, I'll be shopping the entire site because I've never seen such a great deal offered by J&J!
Scroll & Tap to Shop Some Favorites


TOY GIFT IDEAS FOR BABIES
Below, I've included only items that we already have and use, along with a couple that have arrived and will be under the tree this year. Eliza's first toy that she was able to grasp and actually enjoy playing with was THIS Winkel Rattle sensory toy. I can lay her on the floor with it or throw it in her car seat — it's been a huge hit. I bought THIS play mat/gym last winter and we use it daily — both with the animals hanging and without for tummy time. It's on sale today for 25% off. The stacking cups, key teether, and the links are under $4; I absolutely swear by these links. She plays with them on their own but they also can hang toys on activity gym bars lower — probably the best $3.50 I've ever spent. The reviews on THIS sit-to-stand walker convinced me to go ahead and order and THIS jumperoo keeps us occupied and active every single day. We have a ton of books but have been working to add more interactive soft books and board books to Eliza's collection. Each toy can be found at the bottom of the collage.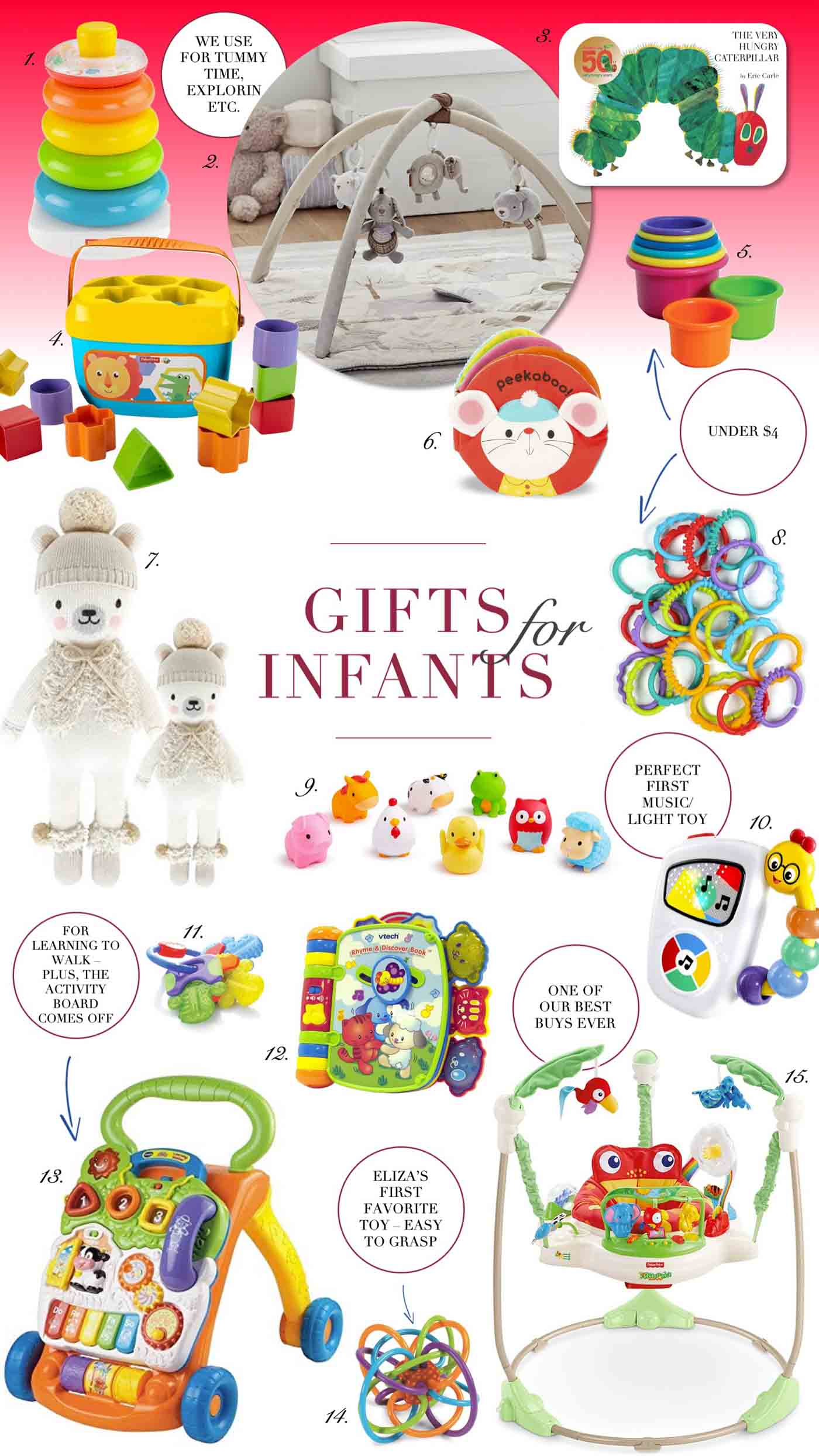 1. // 2. // 3. // 4. // 5. // 6. // 7. // 8. // 9. // 10. // 11. // 12. // 13. // 14. // 15.

PRACTICAL GIFT IDEAS FOR BABIES
Let's be honest — Eliza isn't going to remember this Christmas and will have no idea what's going on but I've been waiting 30 something years for this and Santa is absolutely coming! Instead of loading her up on a ton of toys, I'm doing a few things for milestones she'll have coming up, but am also taking it as an opportunity to get some of those necessities we would want/need anyway 😉 One of my favorite finds that I ordered was the Nuna Rava convertible car seat for $100 off! It's an investment but will last up to 50 lbs and from my research, the reviews are outstanding. It actually accommodates down to 5lbs if you skip the infant seat. I got suckered into all the animal towels  but none of them are used a fraction as much as our gingham hooded towels — which are large enough to keep Baby cozy after bathtime. We  use the washcloths from the same collection and they actually have a deal to get them as a set HERE. Both are on sale today. I love this little winter hat/mitten set (available in several colors from H&M) that's on sale for $10! Kind of different but I wanted to have a little sleek glass box for Eliza's dresser for her most special things — comb set, necklace, sonogram photo, etc. I ordered THIS ONE and it's on sale for 40% off right now. It also ships free with code SHOPFAST. These adorable booties come in several different animal options (even unicorns!) and are 30% off today. I talked about this on my Baby Must-Haves from a few months ago but that miracle cream – -the Tubby Todd All Over Ointment (it has cleared up any sign of breakout for Eliza and is supposed to perfectly work on eczema, too) — is on sale today! If you haven't experienced it, you need to try it! We also use their other products for bath and body and you can grab an essentials bundle HERE. A little unconventional but if you've been wanting to outfit/upgrade your baby's crib, our crib bedding (our favorite oxford stripe sheets and that macrame crib skirt) are on sale today for 25% off. I just received ours in the mail but this suction plate (comes in a lot of colors) had rave reviews from mom friends. I started with one to see how we do because all babies are different.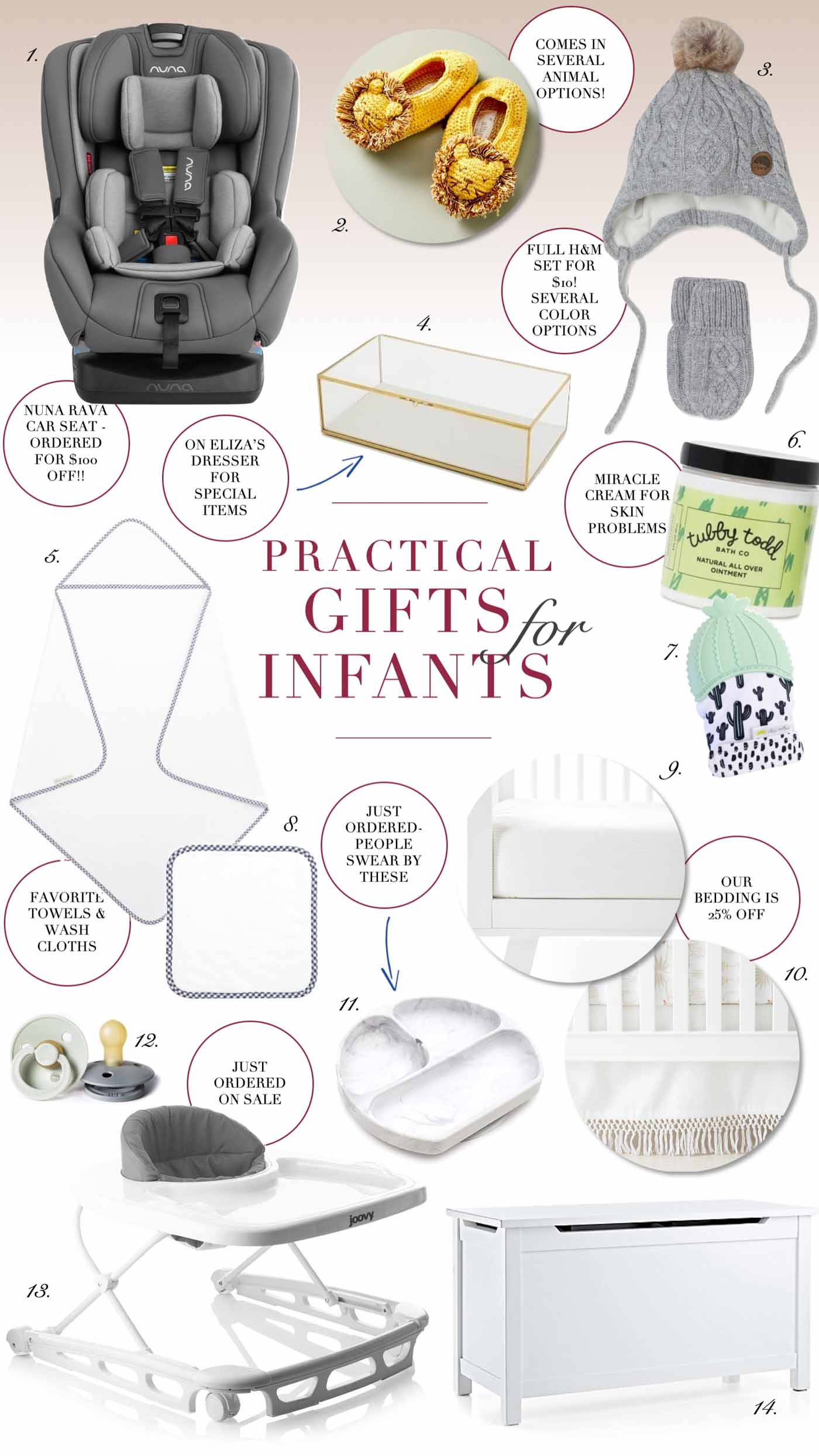 1. // 2. // 3. // 4. // 5. // 6. // 7. // 8. // 9. // 10. // 11. // 12. // 13. // 14.

Be sure to check out the "GIFT IDEAS" tab in the menu at the top of the page for inspiration for everyone on your list!
CYBER MONDAY SALES
Check out my favorite notable promotions below as you start browsing/shopping this weekend!
Nordstrom  — Up to 50% off, plus, up to $100 back in Nordstrom Notes
Anthropologie — 30% off, plus extra 50% off sale
Serena & Lily — 25% off everything with code THANKFUL
American Eagle — 40% off entire site (plus free shipping); 50% off sweaters & sweatshirts
Pottery Barn — 25% off and up to 70% off everything, plus free shipping with code CYBER
Mark & Graham — 25% off everything, plus monogramming and free shipping on everything with code FRIENDS
West Elm — 20% off — plus free shipping with code SHOPFAST
Williams-Sonoma Home — up to 50% off and lots of one-day deals
World Market — Buy More, Save More up to 40% off with code CYBER2019
LOFT — 50% off,  plus free shipping with code CYBER
Old Navy — 50% off entire order
PB Kids — 5% off and up to 70% off everything, plus free shipping with code UNWRAP
PB Teen — 25-50% off everything, plus free shipping with code FREESHIP
Target — TONS of Cyber Monday deals, as noted on site, up to 50% off
Macy's — TONS of individual sales, plus 20% off with code CYBER
Bloomingdales — 25% off all regular and sale; extra 50% off all clearance!
Minted — 25% off everything, plus free PRIORITY shipping
Crate & Barrel — 20-30% off everything, plus free shipping
Kendra Scott — 25% off everything or 30% off on $300+
Janie & Jack — 35% off everything
Wayfair — Black Friday Blowout (up to 80% off)
CB2 — Buy More, Save More (up to 25% off), plus free shipping on $29+