During the sale madness, I was able to conquer and finish my Christmas gift list last week (woo!) Anyone else?? In the midst of scoping out all the deals, and with all the pressure of buying for others behind me, I couldn't help but score a few key cozies of my own. I'm a creature of habit and know what I like, especially during the cold weather months. Whether I'm at home or out running errands, being comfortable and bundled in oversized sweaters and hoodies is my definition of living my best life 😉 I ordered way too many, tried them on as they arrived, and only kept my very favorites. I even ended up placing a second order for a couple items in different colors and today, I'm sharing my coziest winter finds that made the cut (plus a few that I've sent to Santa 😉 ).
*Posts on KelleyNan.com may contain affiliate links. Click HERE for full disclosure.*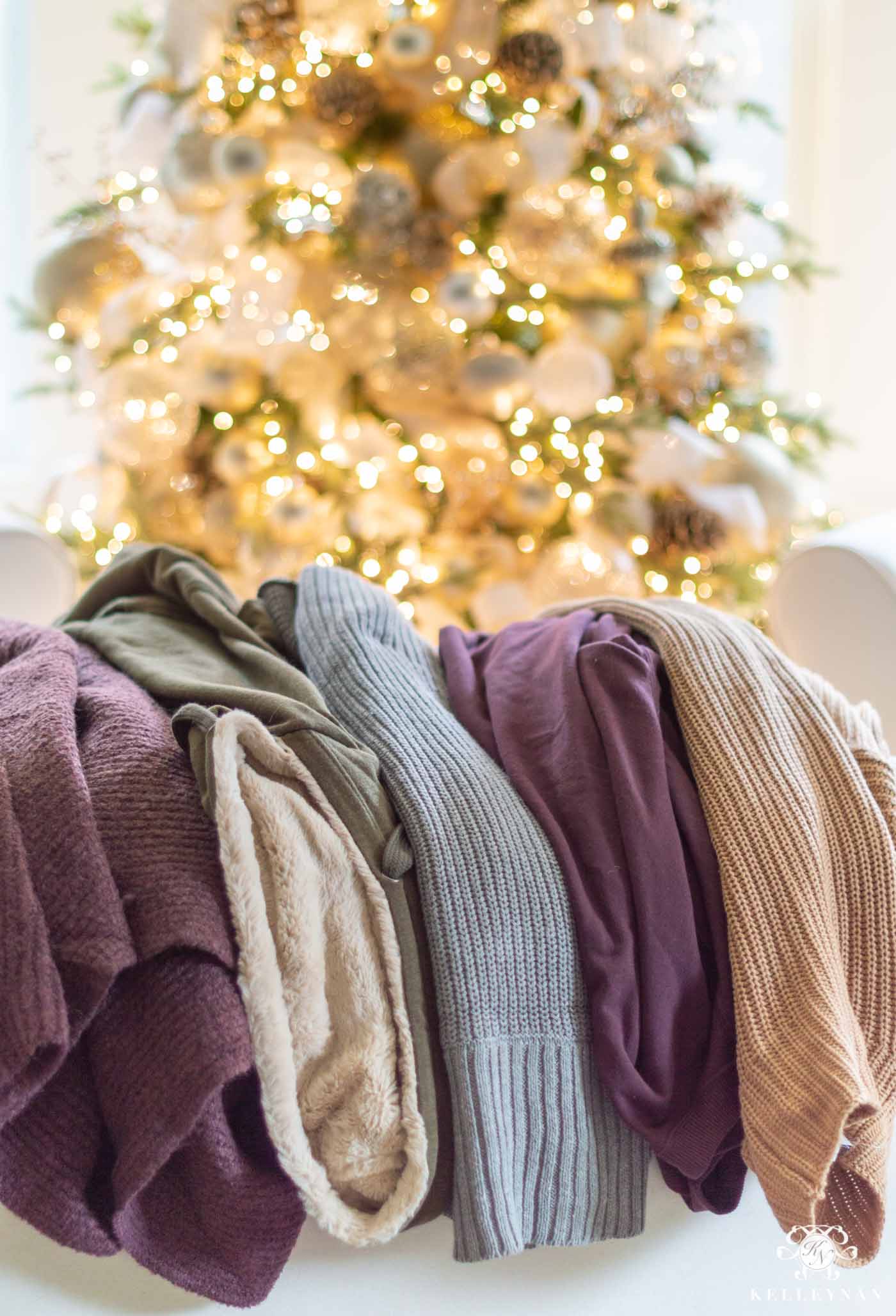 The Coziest Comfies for Winter
I have been living in THIS oversized hoodie since this past weekend; it's on sale for 40% off, comes in four colors and is long enough to wear over leggings. Any hoodies that don't come with center pockets don't cut it for me. I thought I could do without last year, but nope. Now, I don't even consider it if it doesn't come with that middle pouch. I loved THIS hoodie so much, I ordered it in a second color, plus had one sent down to my mom. The hood and pocket are fur-lined but it's actually a little thinner than the first hoodie (but still really similar) — it's also 40% off and hits on the thigh. THIS sweater was a bit of a splurge for me, but after trying it on, I can confirm I don't know of a sweater I've ever loved more. Free People is having a $50 back for a future purchase (when you spend $150) right now, which helps justify paying a little more for a piece that will be worn for years. I was at Anthropologie this past weekend and loved THIS scarf; but, after checking and seeing it wasn't on sale, I decided to wait. Well, as of today, it is officially on sale! I love the light blue and dark green colors and have shared with Santa 😉 See the latest I've added to my winter closet, along with a couple wishlist items below; you can tap the image for more info and to shop.

Have you conquered your list yet? Treated yourself at all? Are you still working through all your to-dos or are you coasting through and in holiday vacay mode? There will be some fun new project reveals just after the first of the year so if you haven't already, subscribe to my emails at the bottom of the post to be the first to know.
Scroll & Tap to Shop the Post