We've hosted our annual pajama dinner with friends, road-tripped to Chattanooga for a mini Christmas getaway, and visited with Santa, and while it feels like we've been *doing all the things*, we still have a chunk of activities to mark off our bucket list over the next week. We're gearing up to host family this weekend, I have several dozen goodies to bake for a cookie exchange, and we have yet to make time for our annual special evenings of riding around to look at lights (caramel apple cider in hand, of course) and unwrapping our Christmas pjs and ornaments for the year. If you've found yourself — like me — determined to enjoy the last days of 2019, for my final holiday post of the year, I'm sharing some easy holiday entertaining ideas with a simple Christmas to New Year's transition. Make sure to catch the second half of the post with New Year's Eve party ideas!
*While this post is published in partnership with The Home Depot, as always, all opinions, concept, and content are my own. Affiliate links may be used in this post. Click HERE for full disclosure.*
I'm always looking to purchase entertaining pieces that are versatile — pieces that can be used for multiple seasons and occasions. Pieces that can be repurposed. Pieces that can take on a whole new look and mix and match with other items in my everyday arsenal. In today's post, you'll notice that while my Christmas vibe and New Year's look are totally different, several key pieces are repeated in both displays. Whether you're entertaining friends or just your immediate family, it isn't too late to incorporate a few of these simple ideas over the next few weeks. And, if you're already set for the holidays, with a couple creative tweaks, you can apply several of these ideas to any event/dinner/celebration throughout the year!
Easy Christmas Entertaining Ideas
Never underestimate the power of presentation and a creative garnish. When you're going for "easy", the details are where it's at; you can make store-bought treats look like a million bucks and you don't have to have a specialty cocktail on the menu to make a drink memorable.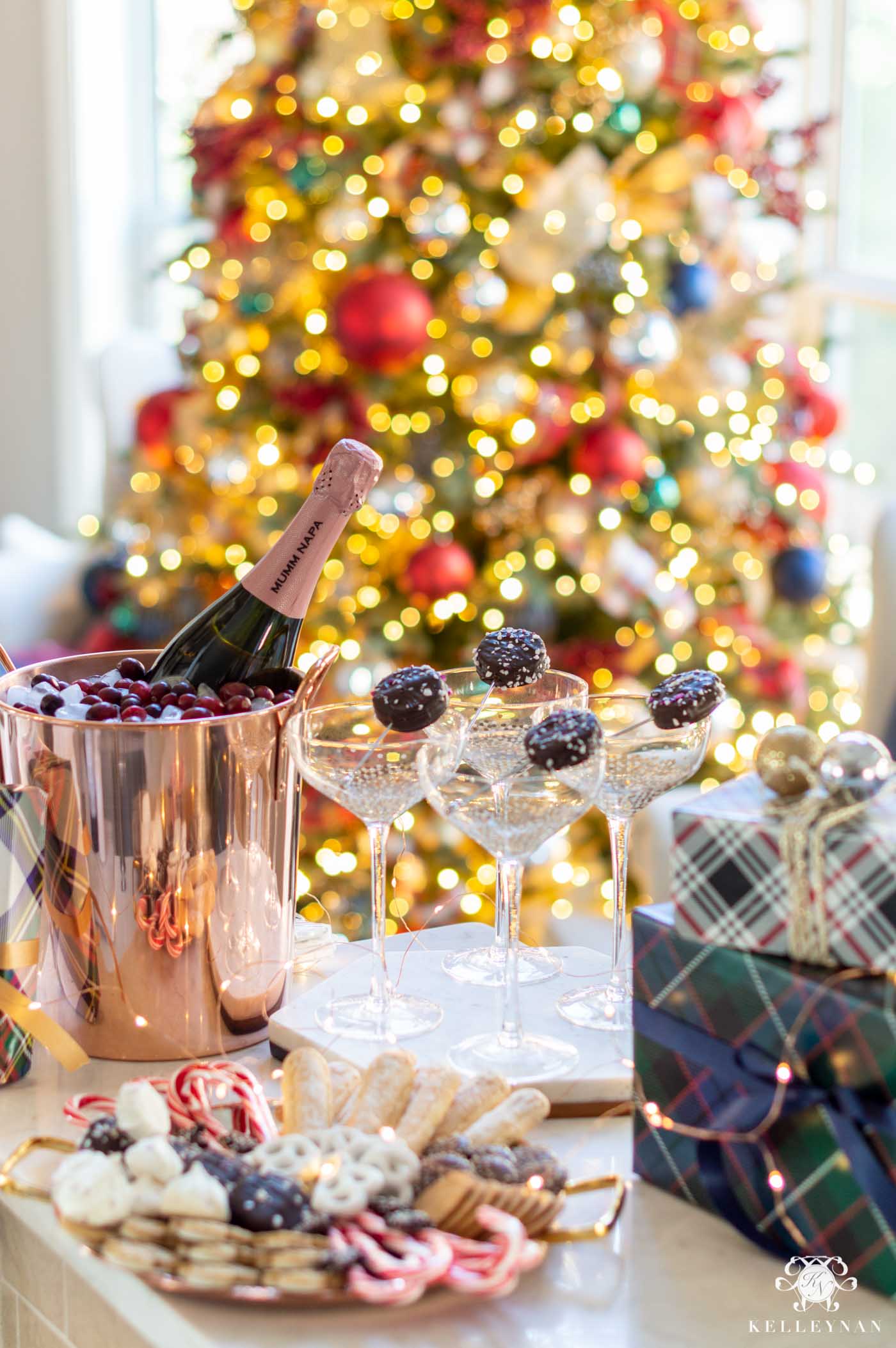 If you already have the home-baked goods, 1. you're further along than I am ;), and 2. even better! If you don't, no worries — you can still have a pretty (and yummy!) tray of treats. My tips for cheating are 1. variety (in size, shape, color, and flavor); 2. complimentary — there are several mint, chocolate, and gingerbread treats on this tray; and 3. throw in some fun shapes (like the dark chocolate stars and frosted gingerbread men). This tray I used is actually the perfect size tray for sweets — it isn't too big/overwhelming when you're hosting. While I love a big, sumptuous tray/board, it can sometimes make for a lot of extra effort to fill it and can be wasteful if you don't have a ton of guests. The tray also goes with pretty much anything since the base is copper, the bottom is silver, and the handles are gold.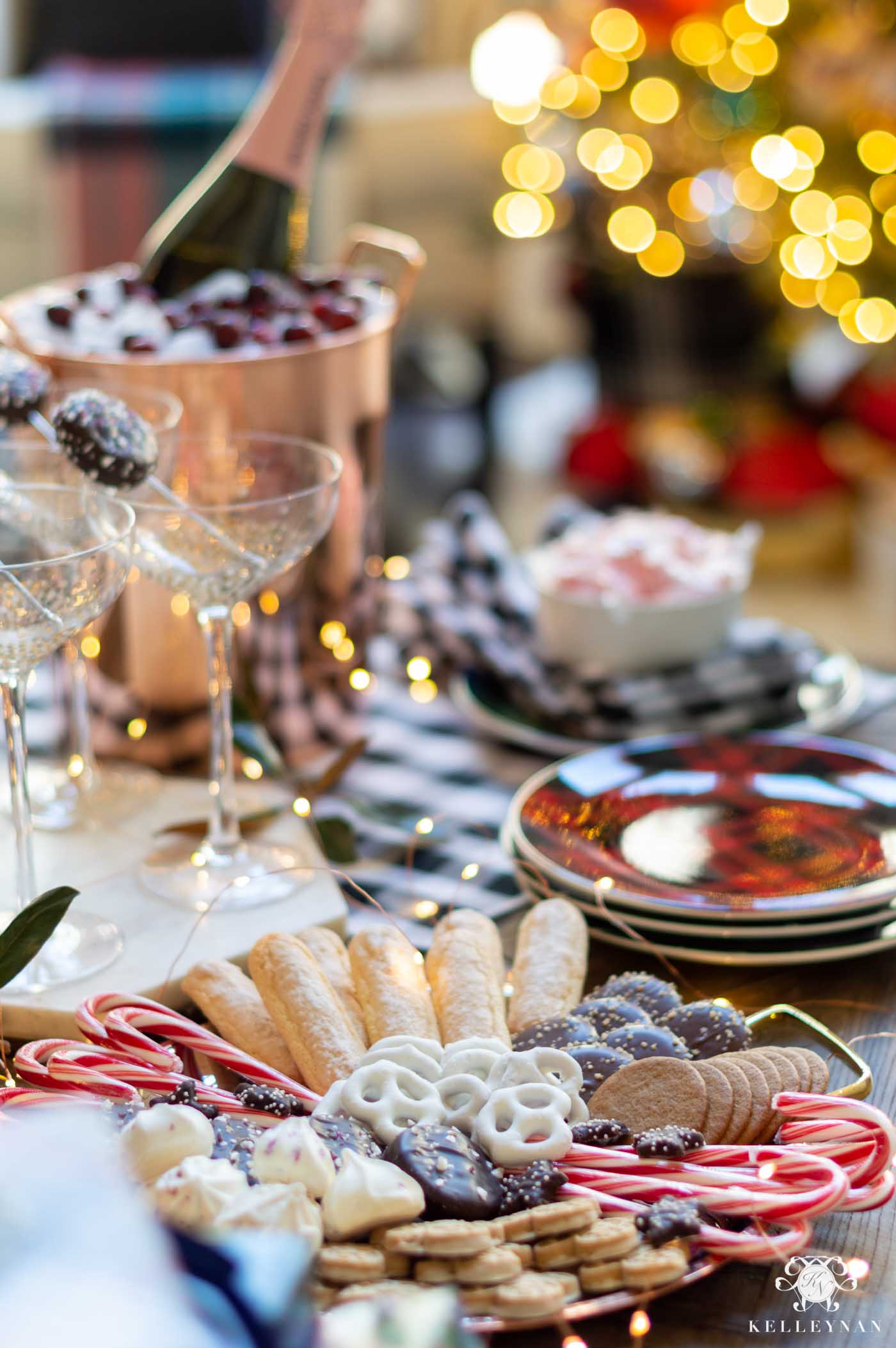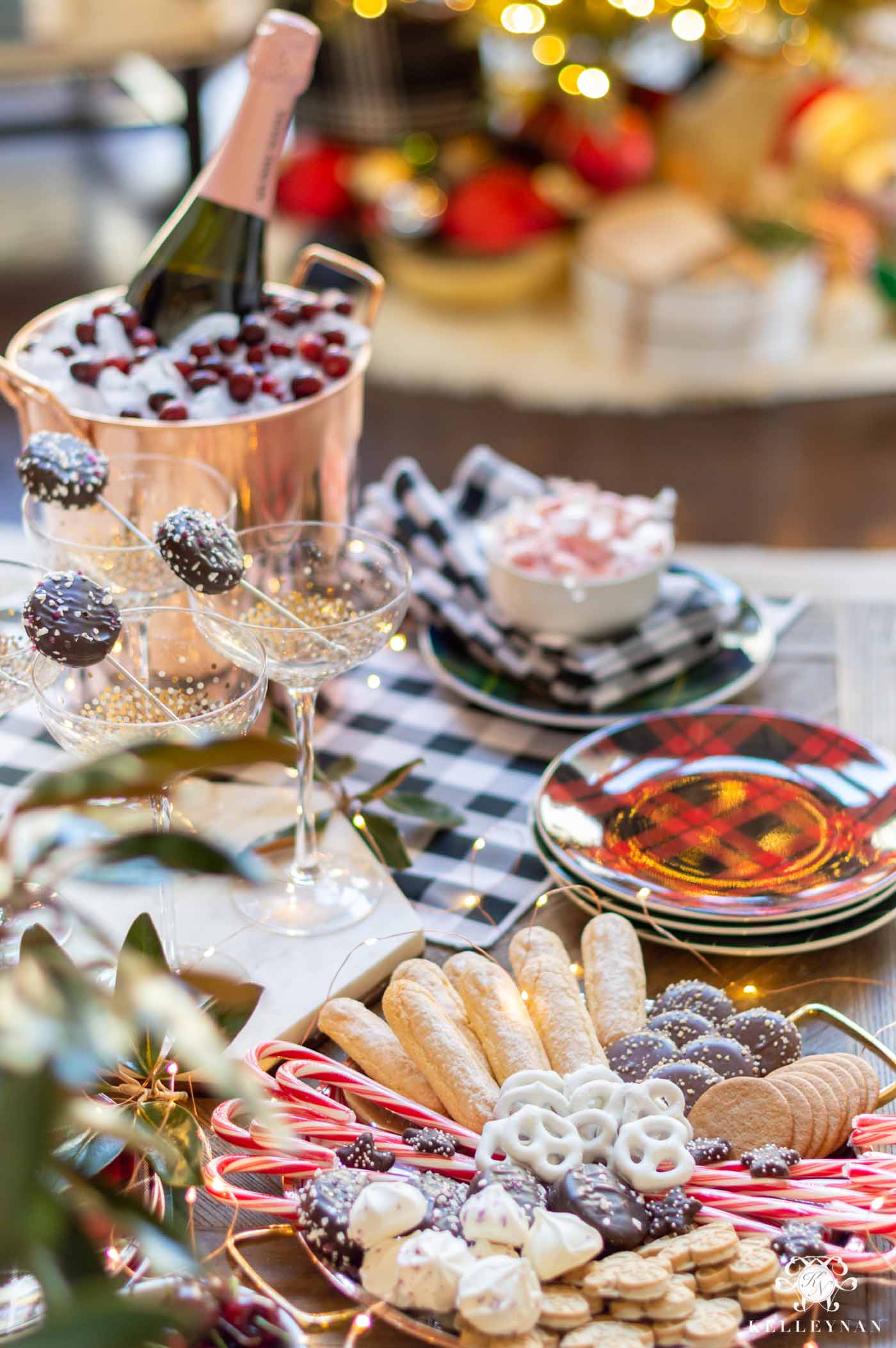 This copper Sinkology ice bucket is stunning (and substantial) in person. For a zero-extra-effort statement, I added some cranberries to the ice; this would also work if you're using a large beverage tub.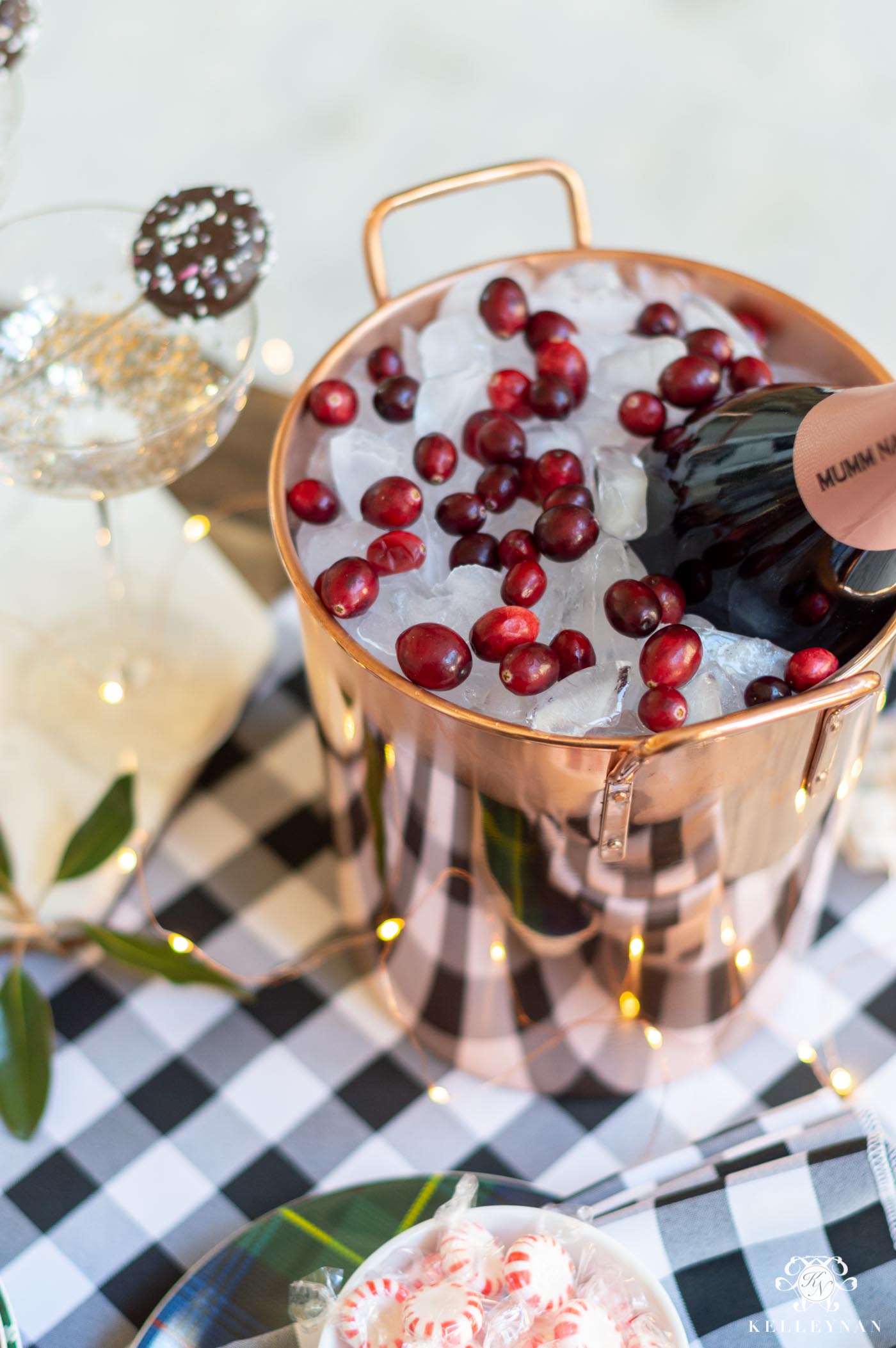 To make these already festive confetti champagne glasses even more special, I added some sweet treets to the end of olive picks as a garnish. Fruit is great but these are unexpected and take a fraction of the time and effort 😉 These would work with other holiday beverages too, especially hot chocolate.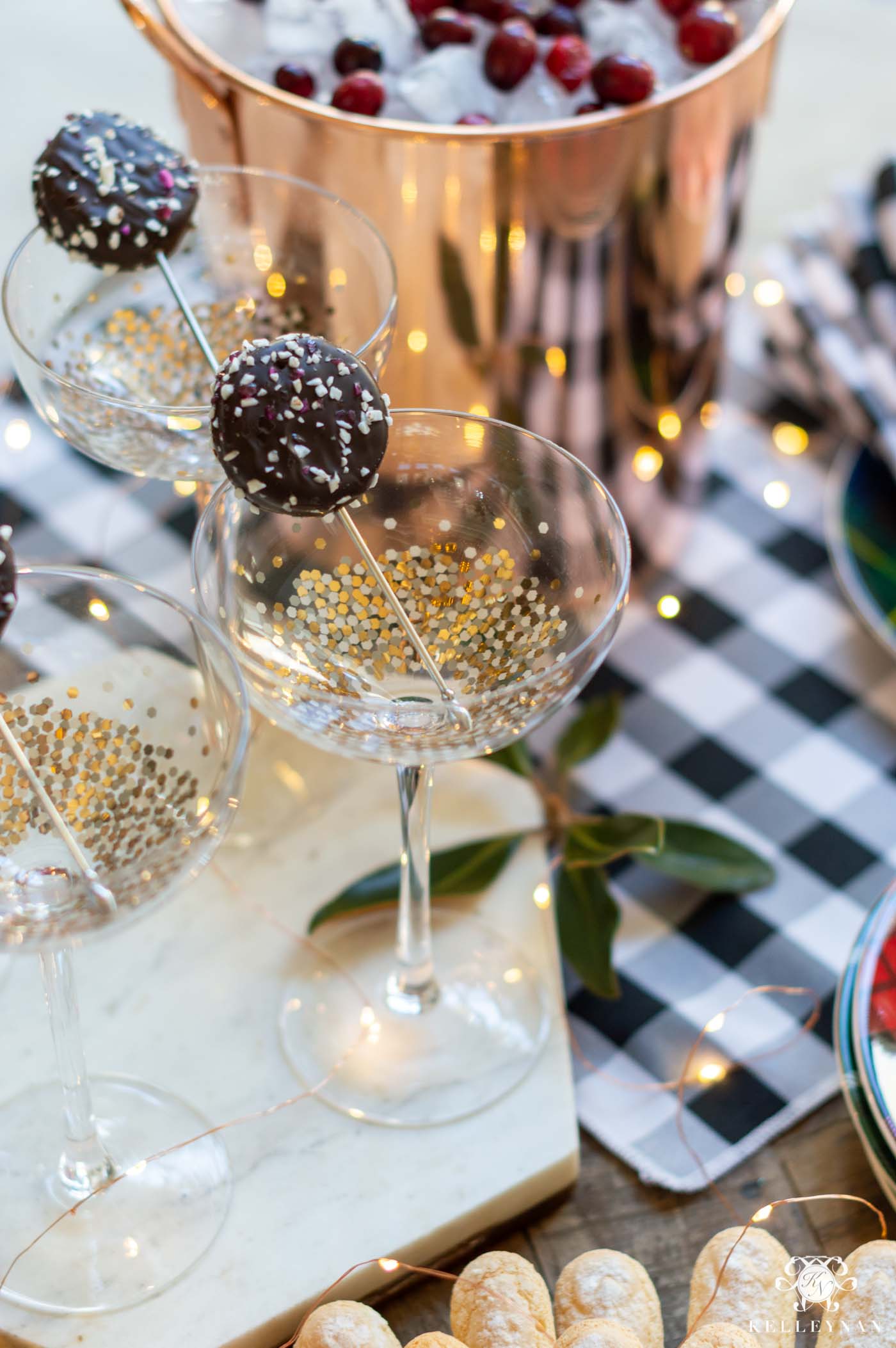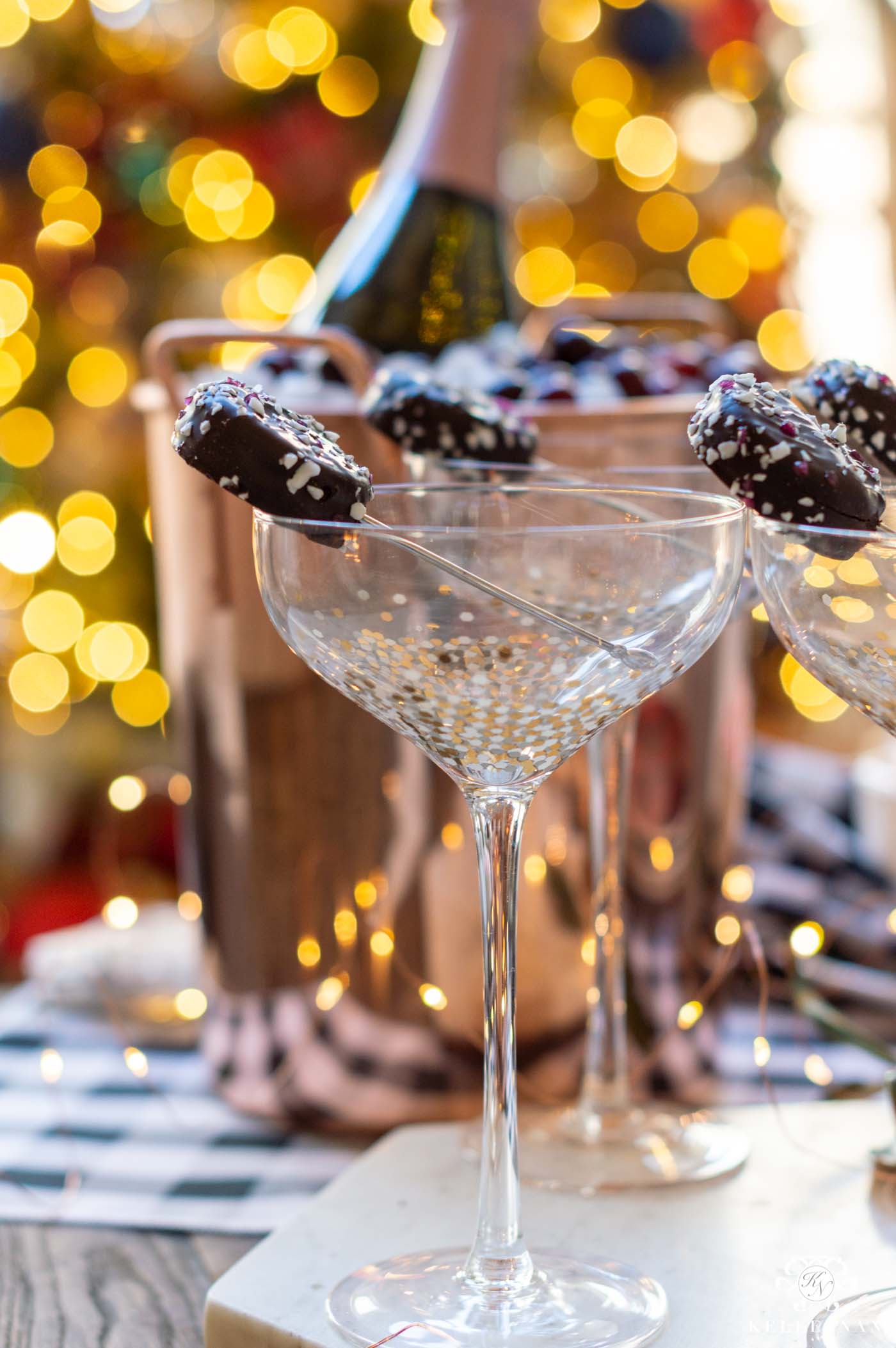 Plaid was the basis of my entire Christmas home theme this year (no regrets — we've loved it!); when I saw this set of mixed tartan plates, I had to have them. I ordered the set of six dessert plates, but they also have full sized dinner plates available HERE. I love these for Santa plates and they're great to have on hand always for little impromptu holiday visits.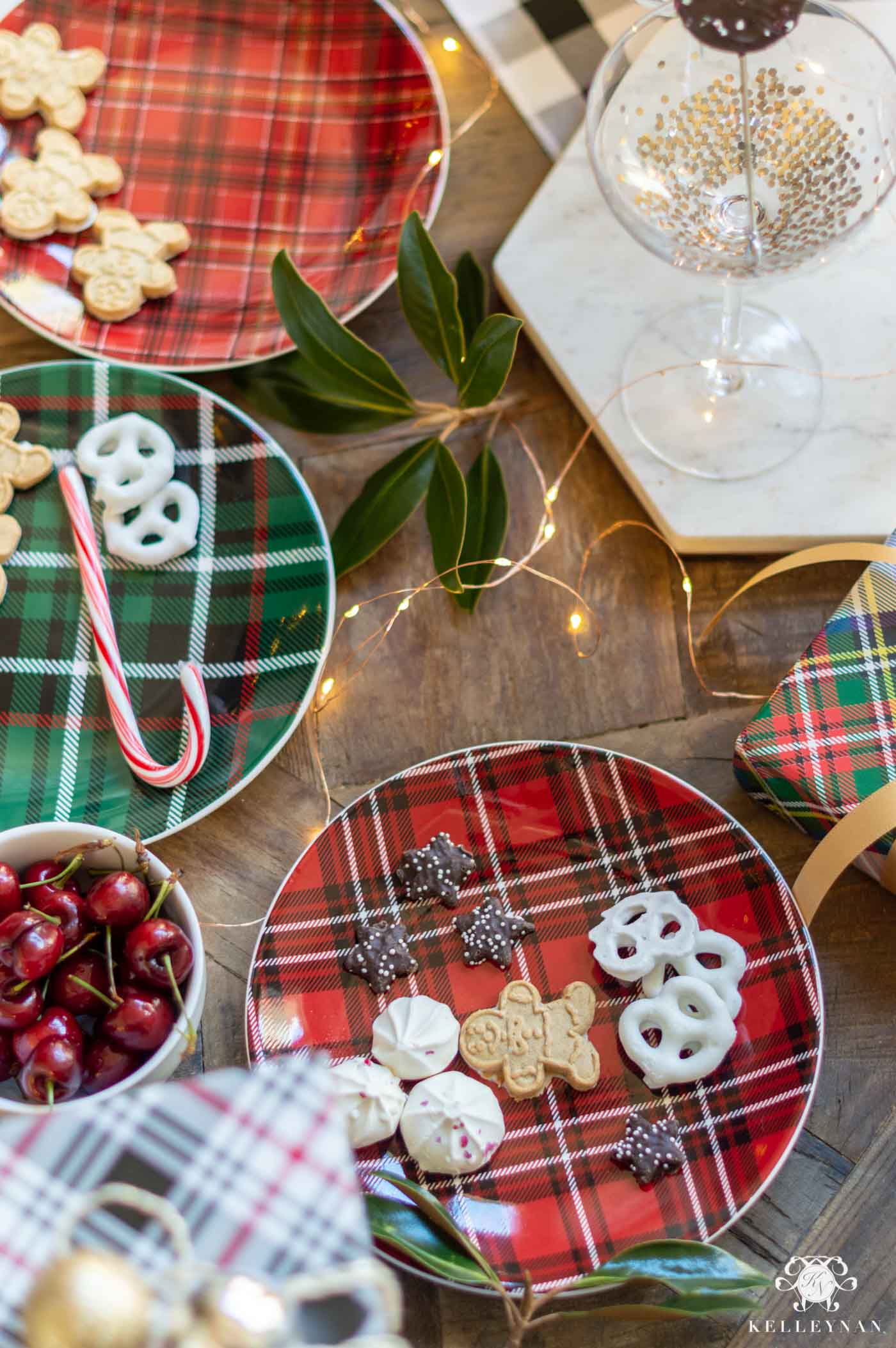 While most of the dishes and entertaining pieces are only available online on The Home Depot website, everything ships free over $45 and they do accept returns in-store. I had a reader ask before about the best way to shop the site (since The Home Depot has such a huge inventory) — their menu at the top of the website is really intuitive so I browse and sort from that almost exclusively. Once you select a primary category, you select a secondary category. Then, at the top of the page, the sub-category will be further broken down. It continues to offer finite suggested categories with each category you select. As an example, say I'm looking for an ice bucket. I would select: Home Decor & Furniture –> Kitchen & Dining –> Drinkware & Barware –> Bar Accessories –> Ice Buckets. I could even keep going as it continues to make suggestions at the top of the screen like "gold ice buckets" and "stainless steel ice buckets".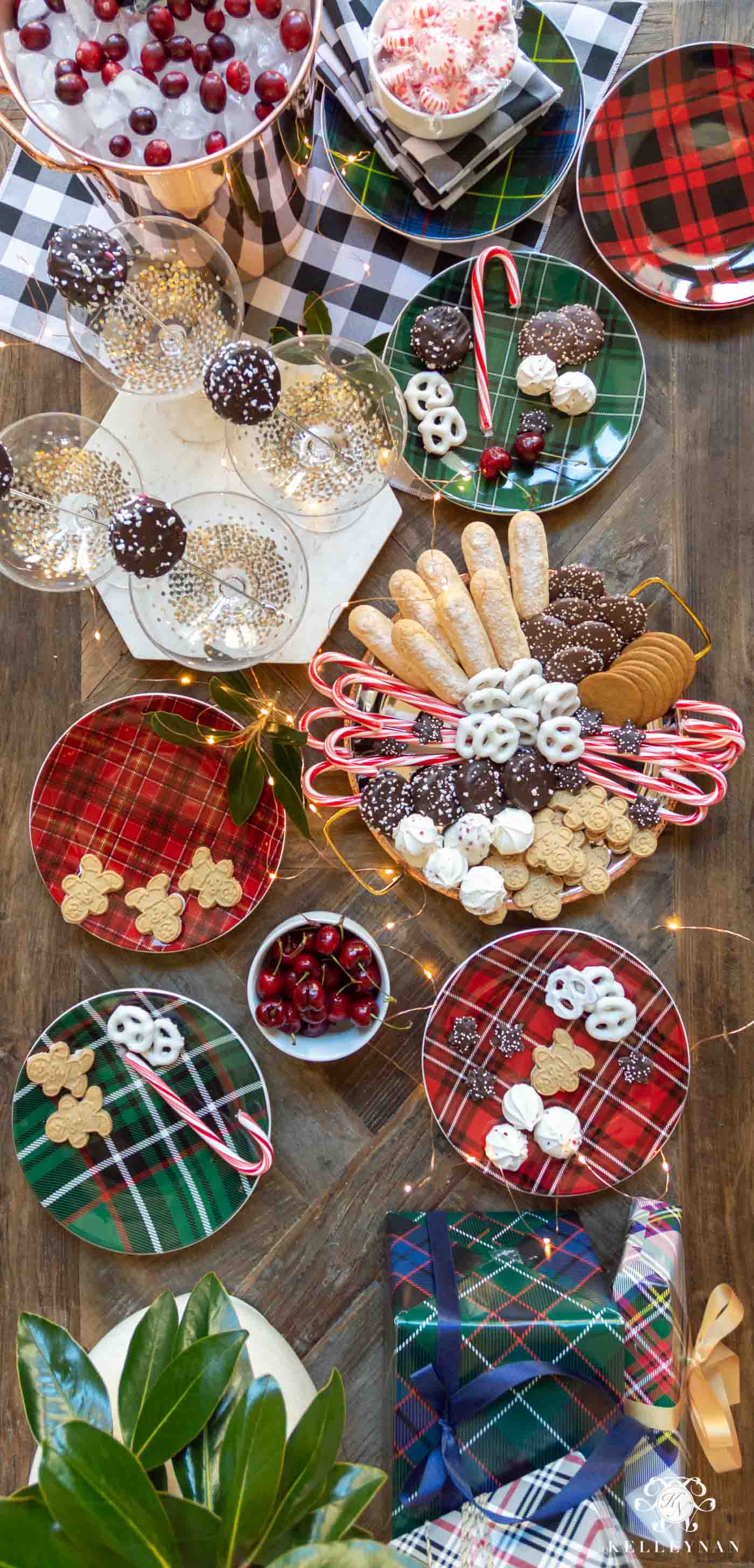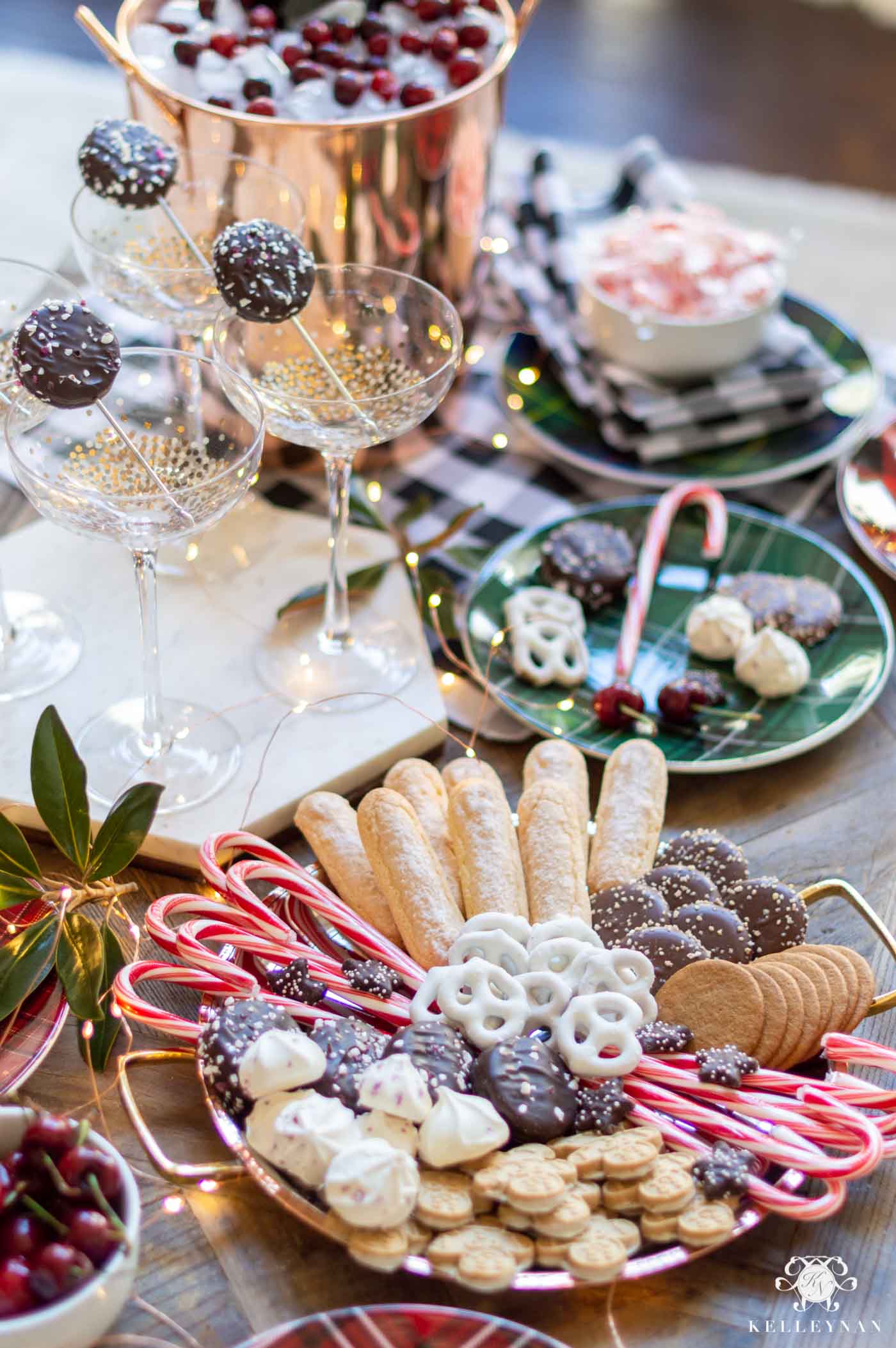 One of the most versatile pieces I used that will be a year-round staple is this marble and wooden flip tray. Here, I've used it — marble side up — as a drink tray, but in my New Year's Eve setup a little further down, I flipped it and gave it a totally different purpose 😉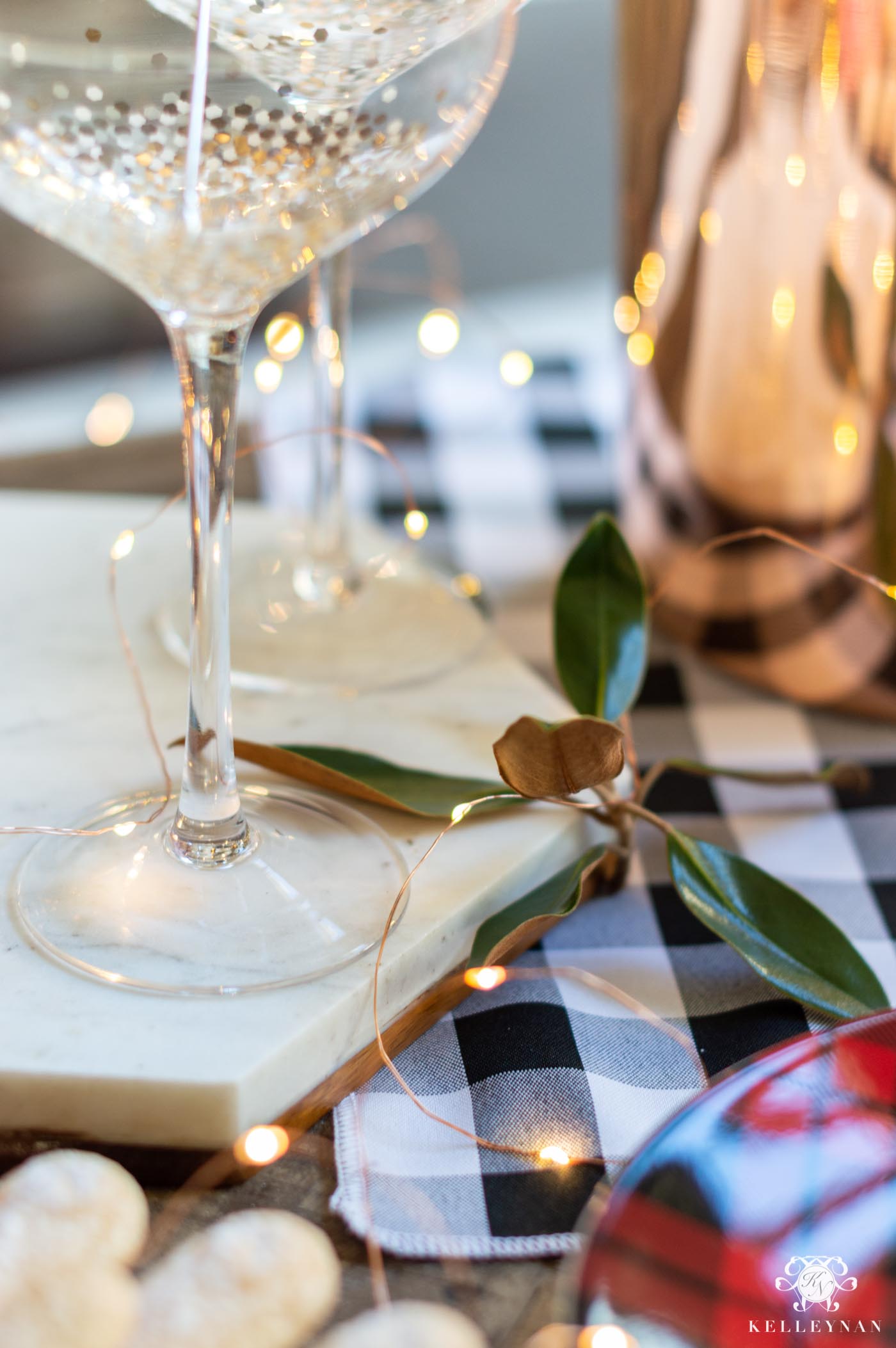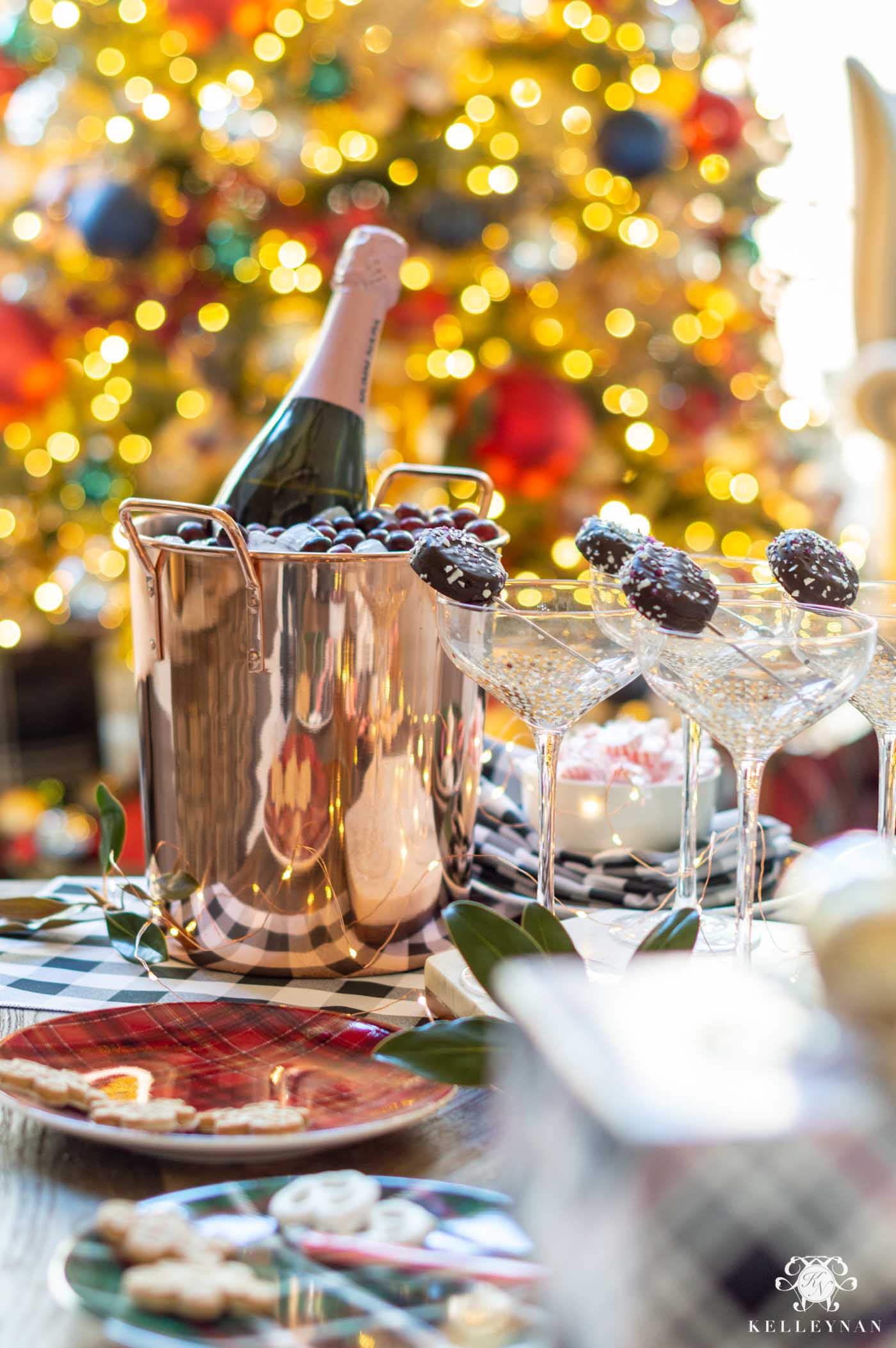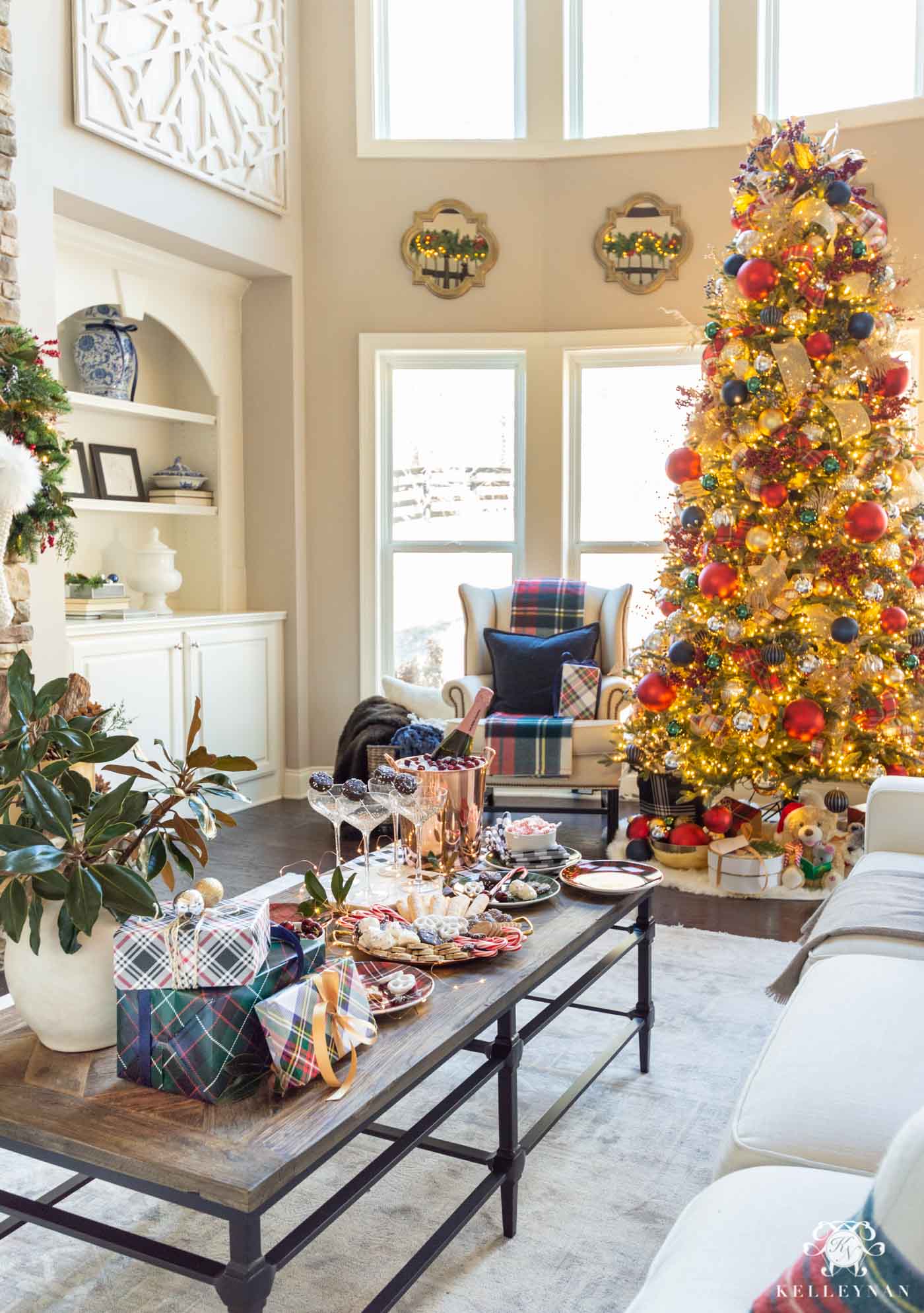 Scroll & Tap to Shop the Christmas Setup

Copper Ice Bucket // Copper/Stainless Serving Tray // Wooden & Marble Flip Board // Confetti Champagne Glasses // Plaid Dessert Plates (set of 6) // Black & White Buffalo Check Napkins (set of 10)
Easy New Year's Eve Entertaining
+ 3 New Year's Eve Party Ideas
By the time New Year's Eve hits, I'm usually spent on my biggest efforts but using some of the same pieces, along with a few new additions — fit for year-round entertaining like classic blue and white — makes it a lot easier. Plus, staying away from NYE specific dinnerware will save you from having one more thing to pack and store. There are still plenty of easy ways to get creative and I've come up with three New Year's Eve party ideas that even the most exhausted can pull off quickly. My favorite? Probably this cheese board I created on the kitchen island.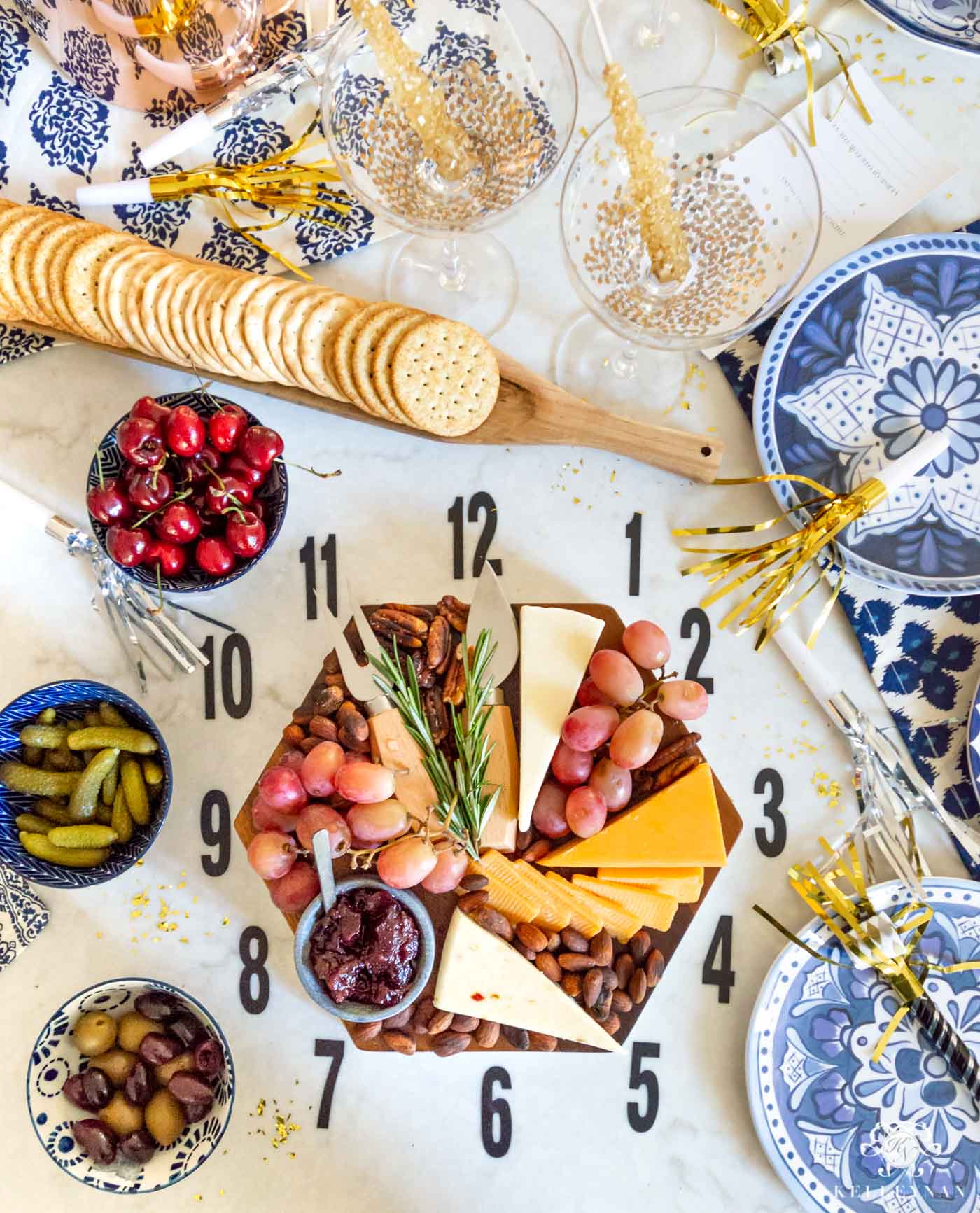 I used vinyl adhesive numbers (THESE) and applied them directly to my quartz countertop; they peeled up without issue. The flip tray/board that was used for drinks in the Christmas setup is now turned wooden-side-up with cheese knives and rosemary sprigs as the clock hands. Speaking of these knives, this Lenox set of four (with wooden, marble, and black handles) puts my other cheese knives to shame. They are sharp and substantial, unlike some of the other dull-edged marble handled knives I've always used. With the varied handle finishes, these are great for any cheese/charcuterie board.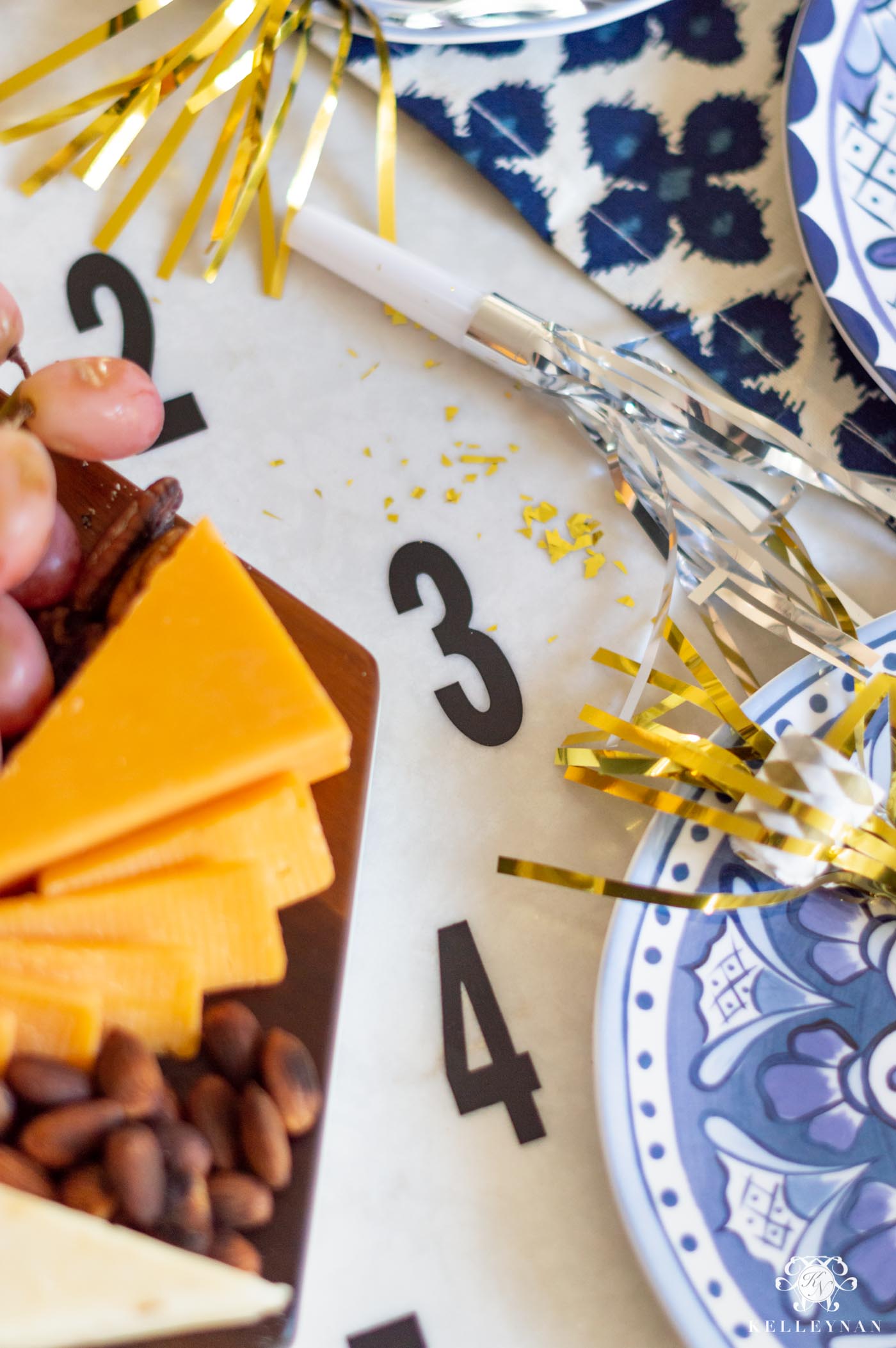 I didn't realize I was getting the deal of the century when I first ordered these mixed blue and white napkins — while the stock image shows four in different patterns, it's actually a 24 count. And, coming it at around $1/piece, this is a hard deal to beat. It's is a great go-to casual set if you host large groups! Also speaking of mixed blue and white, this set of mixed blue and white plates is actually made of melamine and perfect for outdoor entertaining later in the year, too.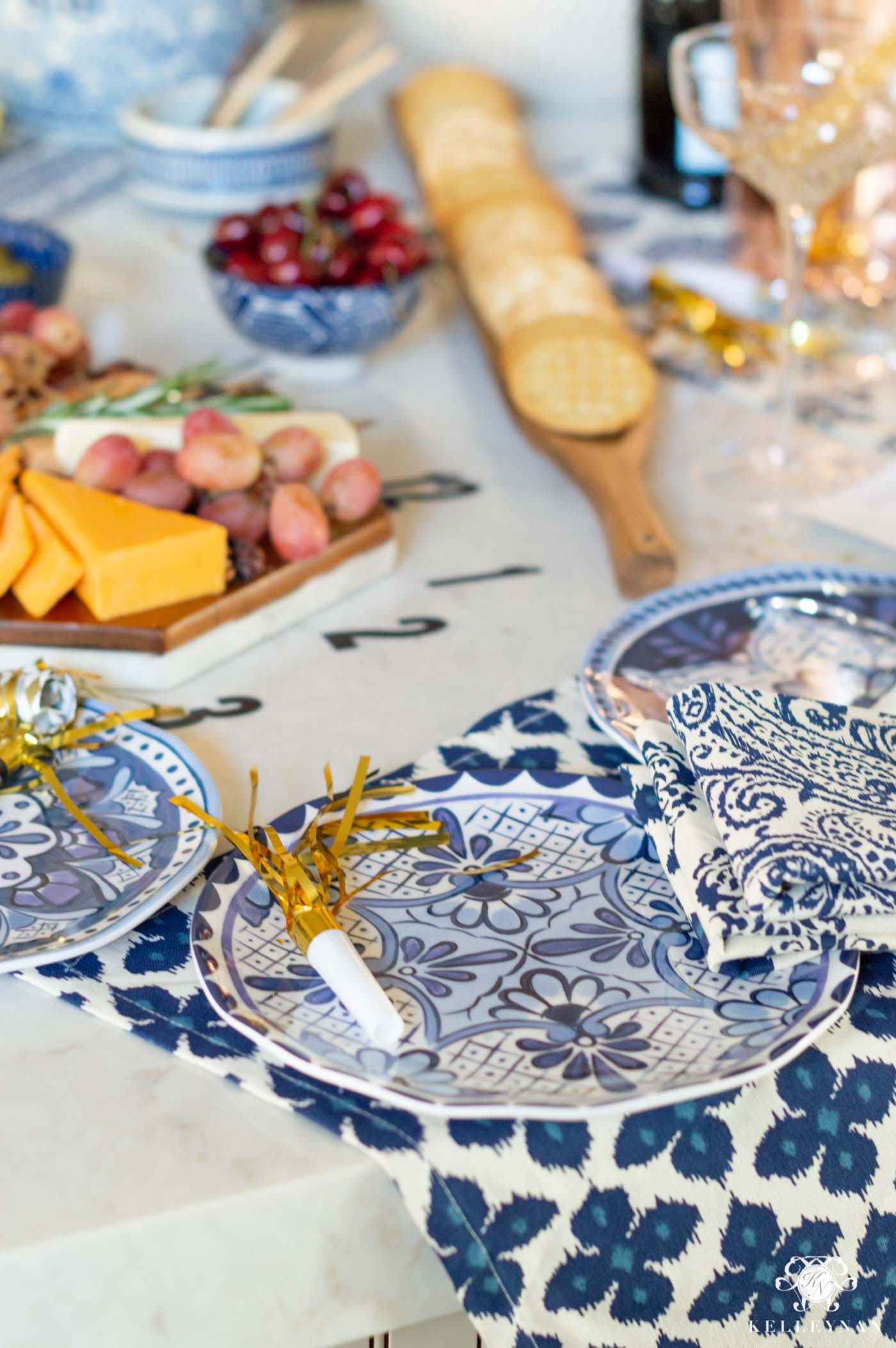 I love using ginger jars in my entertaining and in the setup specifically, both the jar and lid have a purpose. By the way — this is probably my favorite blue and white jar that I have; it's the perfect size for flowers or a centerpiece without being too big and overwhelming. But, it's still large enough to make a statement. It also doesn't look cheesy and mass produced like some that I have.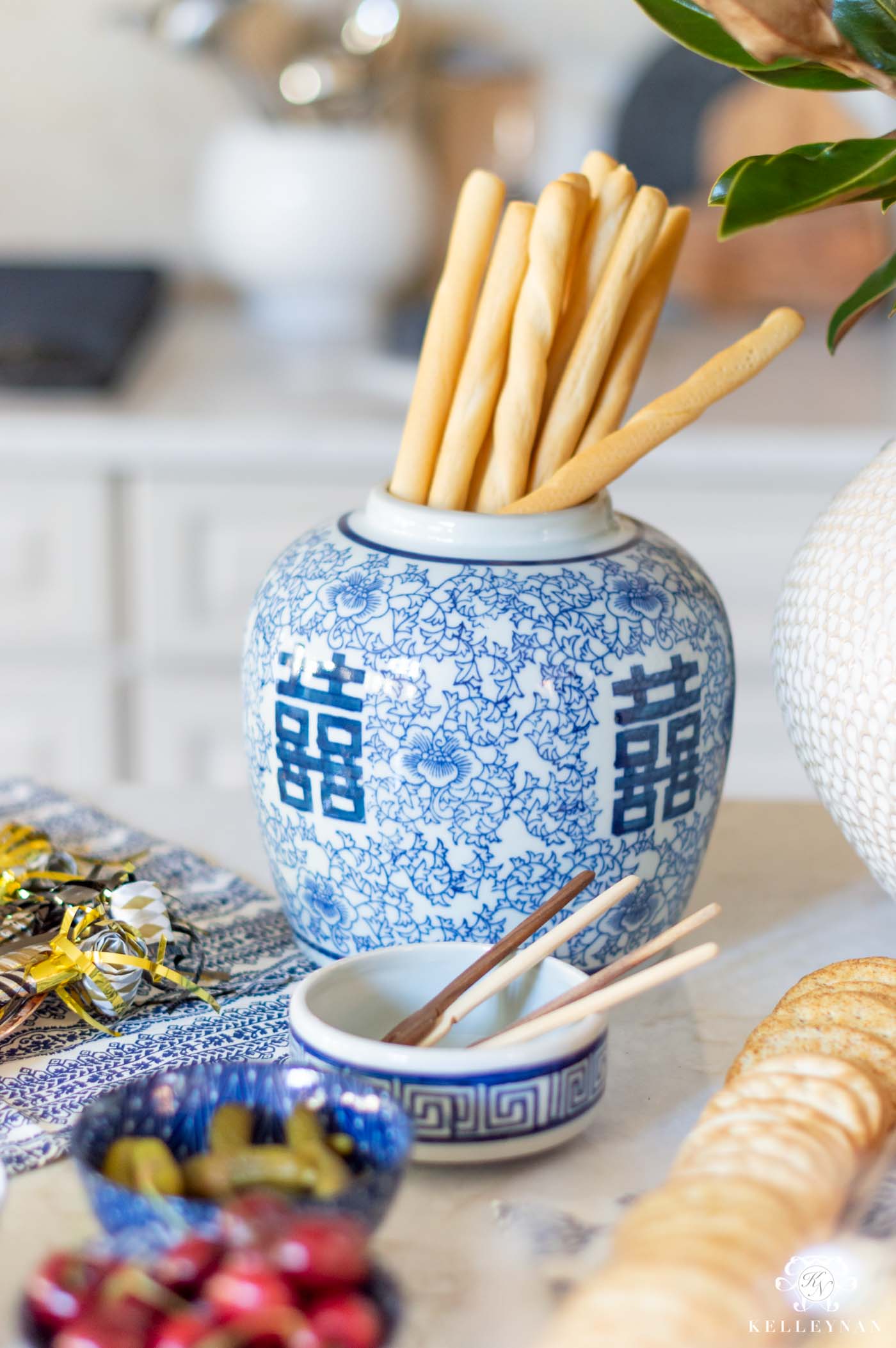 I've seen flowers frozen in ice but I've never seen glitter/confetti ice. Just like I dressed up the ice in the Christmas setup, I wanted a festive way to dress the ice for NYE and make it sparkle. Guys, it was so simple. I took a plastic ice cube tray, added glitter and foil confetti to each compartment, and filled each space about 1/3 full of water. I popped it in the freezer. After it had set (you can check after about an hour), I repeated the process, adding glitter and then 1/3 more to the compartments. Here's the thing- glitter and foil confetti tend to float (which is why I worked in layers). But, when you are adding layers, I would suggest using ice water because tap/room temp water will immediately melt the small chips already formed in your tray when you pour on top.
DISCLAIMER: Glitter confetti ice is not for consumption; it is for external beverage chilling only. As always, use your best judgement when adding confetti, glitter, or any other inedible items into your food/drink displays.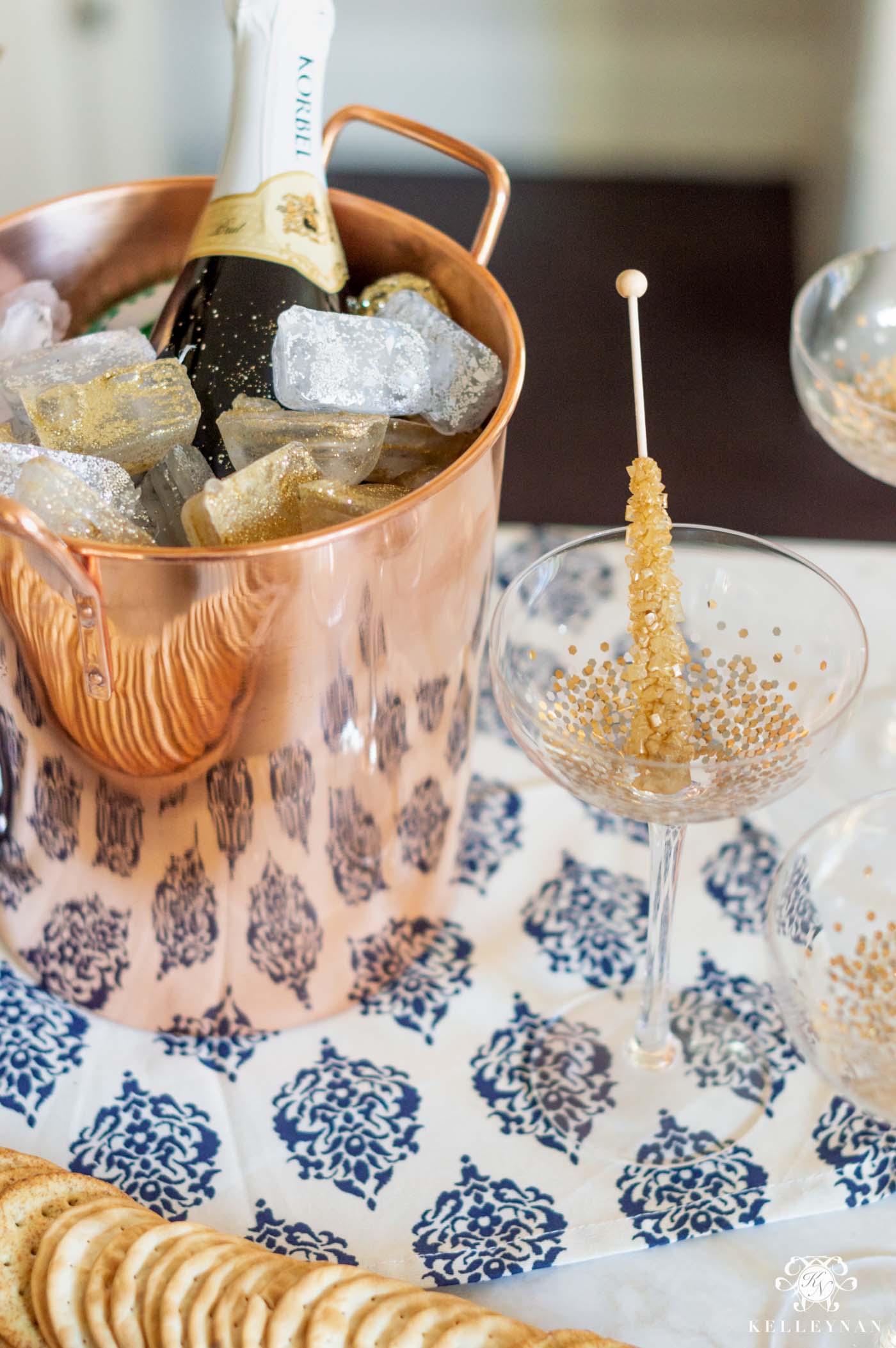 If you don't like glitter, stay away from this 😉 When it melts, it does leave glitter remnants which wash away easily but some people have a thing about the sparkles 😉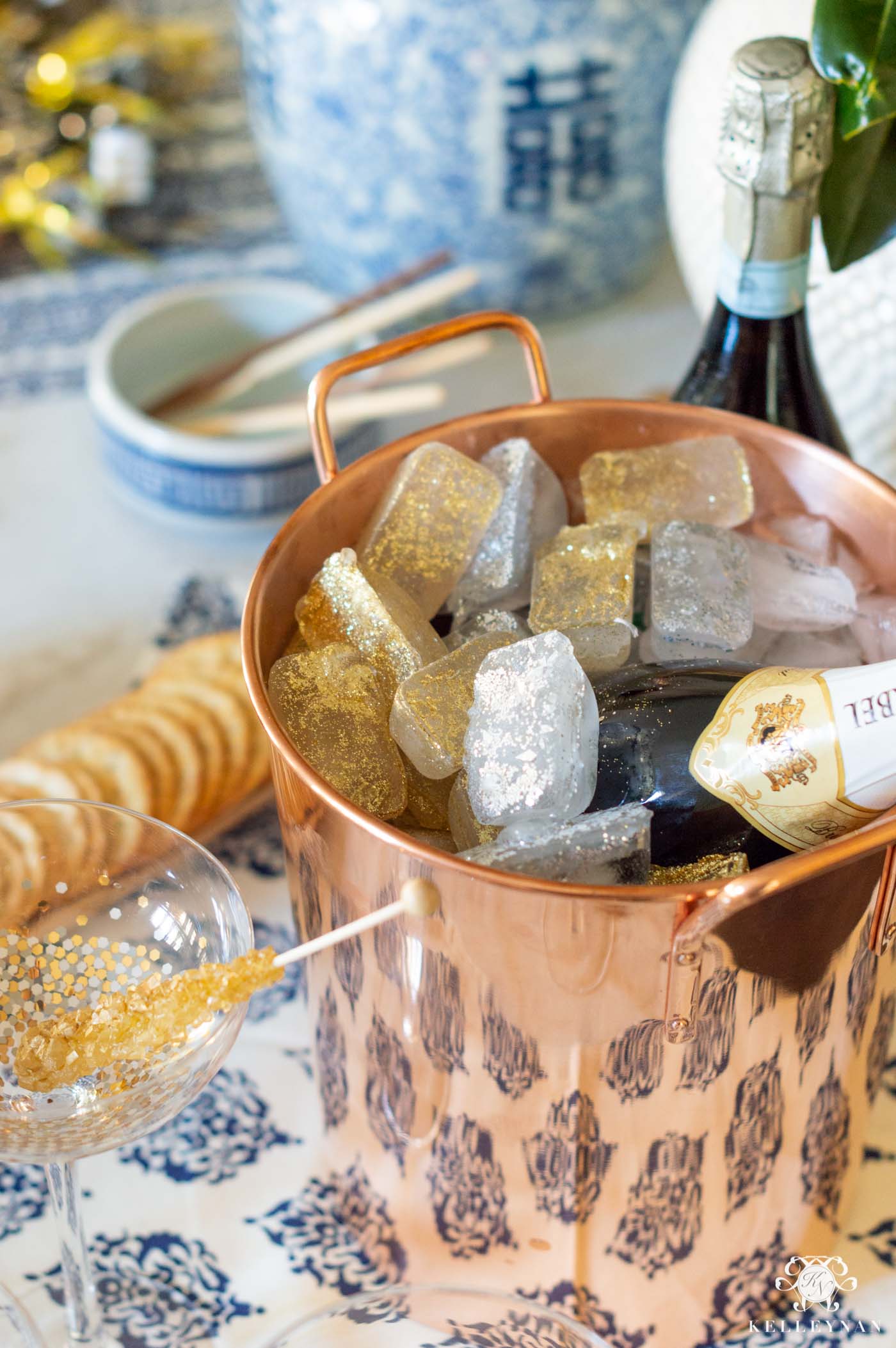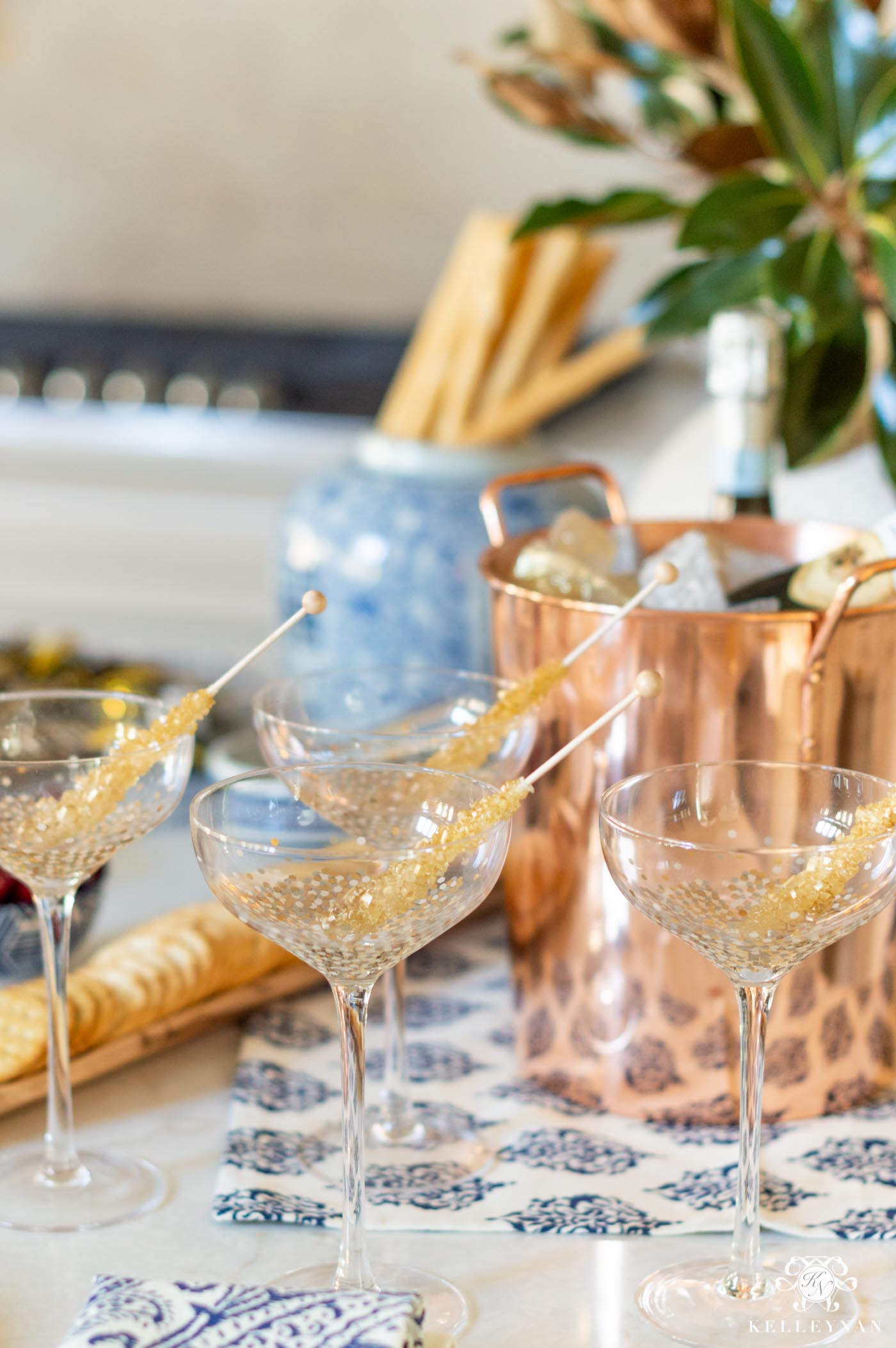 While I stuck to silver and gold in the NYE ice bucket, you can get creative with colors. You can experiment with mixing layers, add different color glitter and confetti together, or stick to the same color like I did here. This teal/turquoise reminds me of Frozen. Again — not edible so I wouldn't put it where little hands could grab them if kids are around. But, you could do blue and pink for a gender reveal party, use your theme colors for baby/bridal showers… and, you can use regular ice in the bottom and just do a tray or two of confetti glitter ice mixed in on top. Just like the cranberries, this works for a wine chiller, all the way up to a big beverage tub.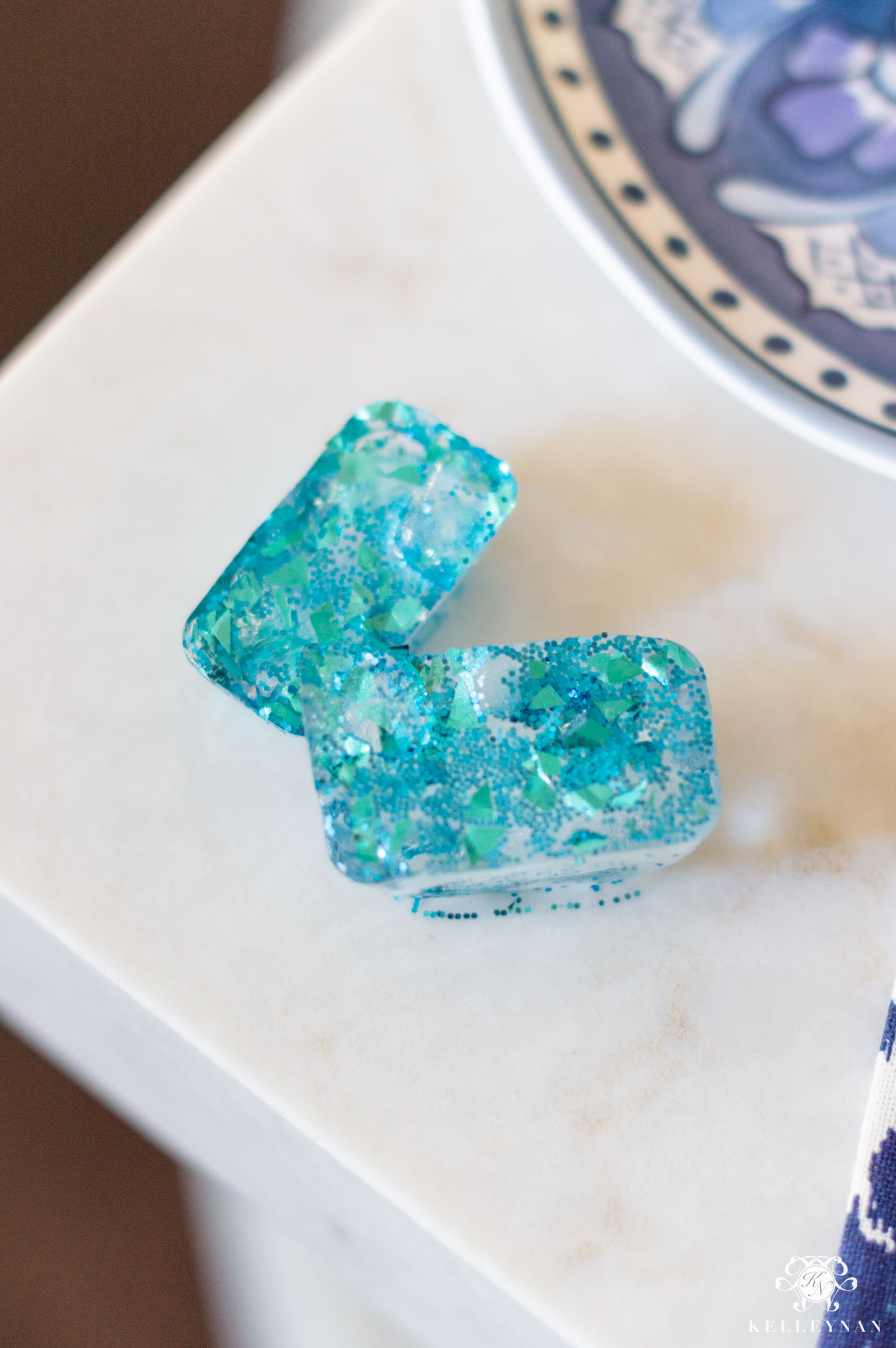 TBH I'm kind of awful at resolutions. Instead of setting and breaking resolutions, I like to set goals. They don't have to be crazy-ambitious goals, either. They can be small initiatives to set positive habits in the new year. I created these "2020 intentions" cards which would be awesome to add to your holiday setups but regardless if you're entertaining for NYE, you can fill one of these out for yourself. Or, your family can fill them out. Your team at work can fill them out. Your group of friends can fill them out.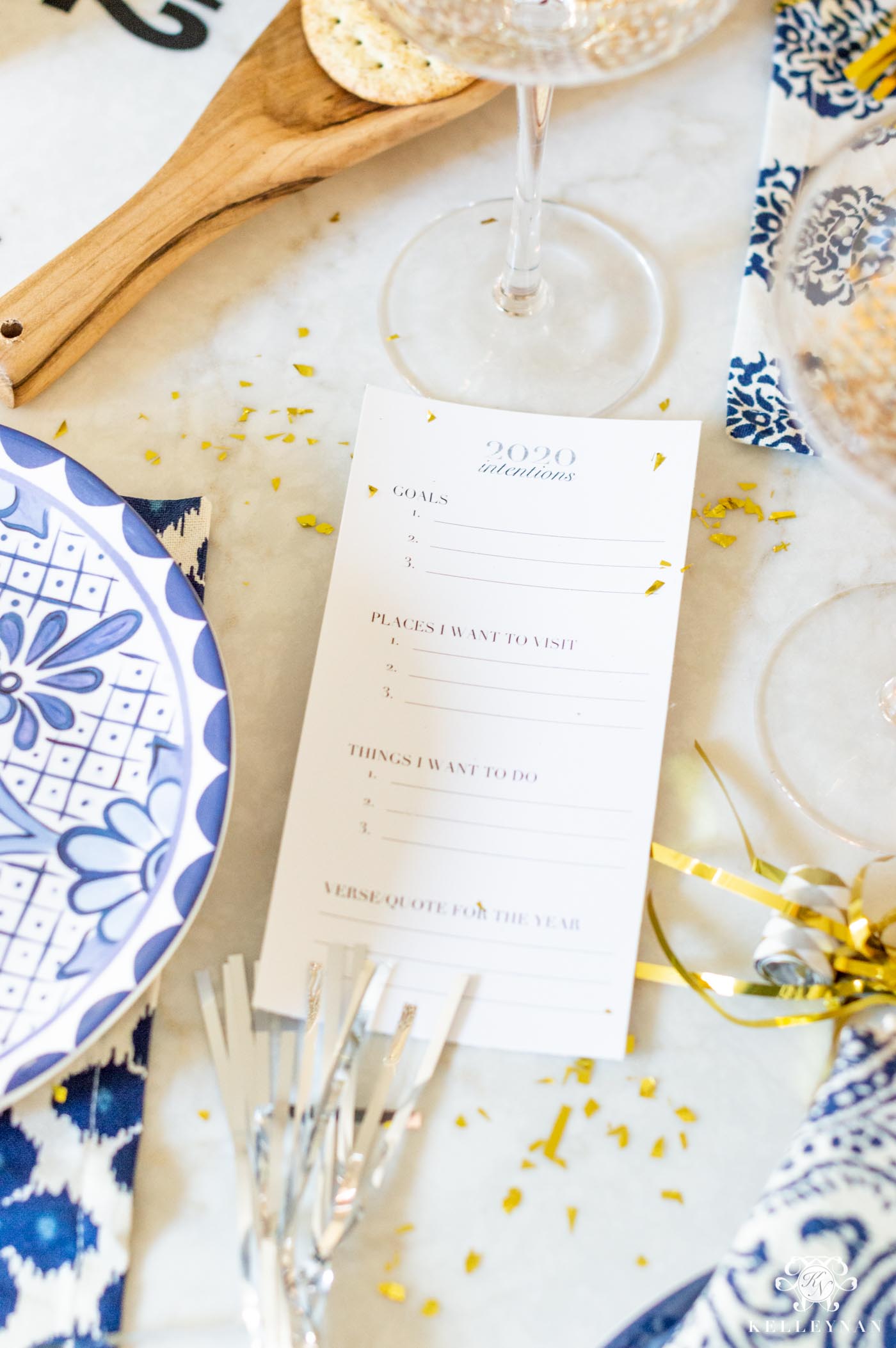 You can download the standard-sized paper pdf by clicking the link below (I used cardstock but regular paper is fine, too).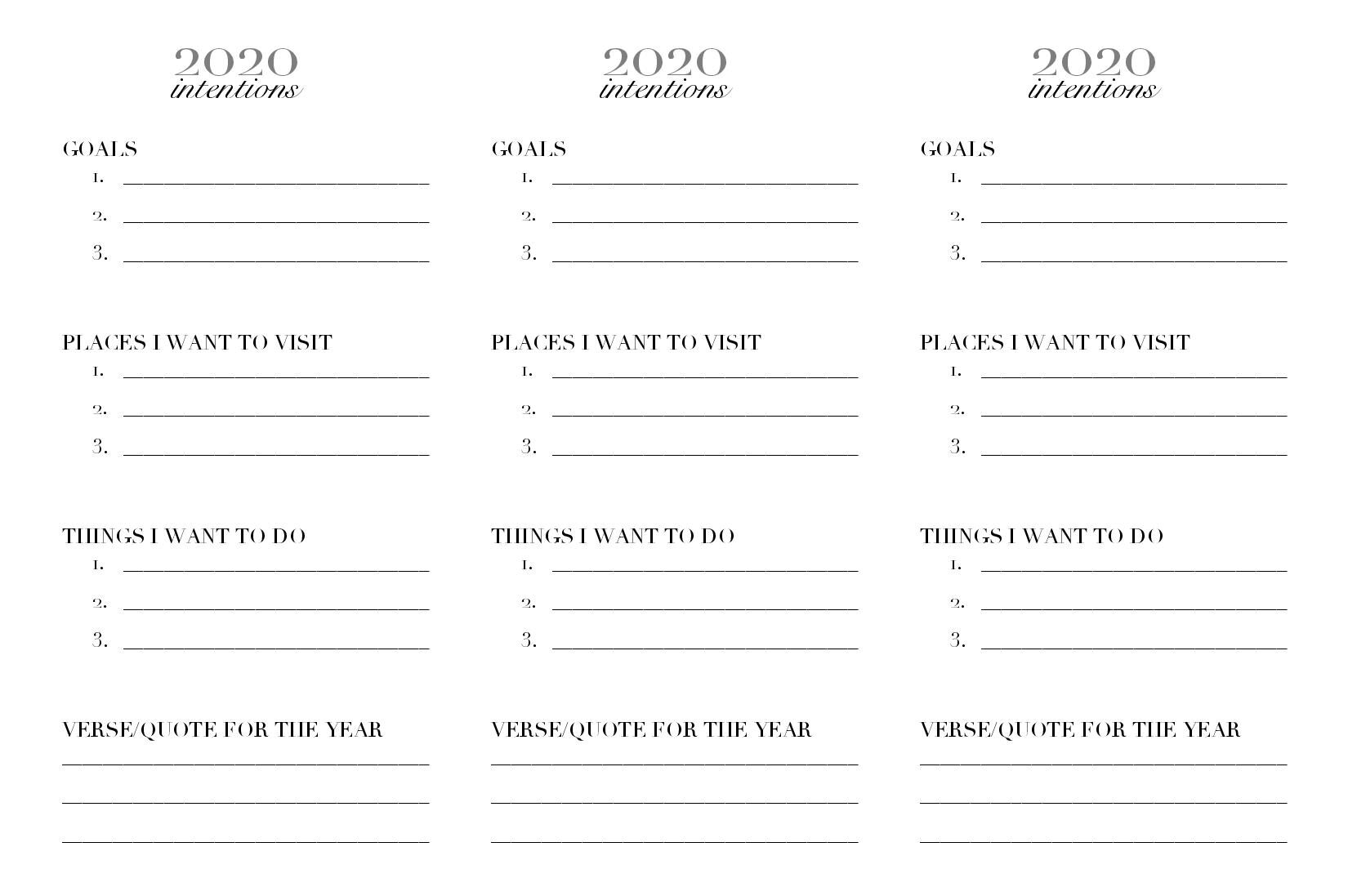 CLICK HERE TO DOWNLOAD & PRINT 2020 INTENTIONS PRINTABLE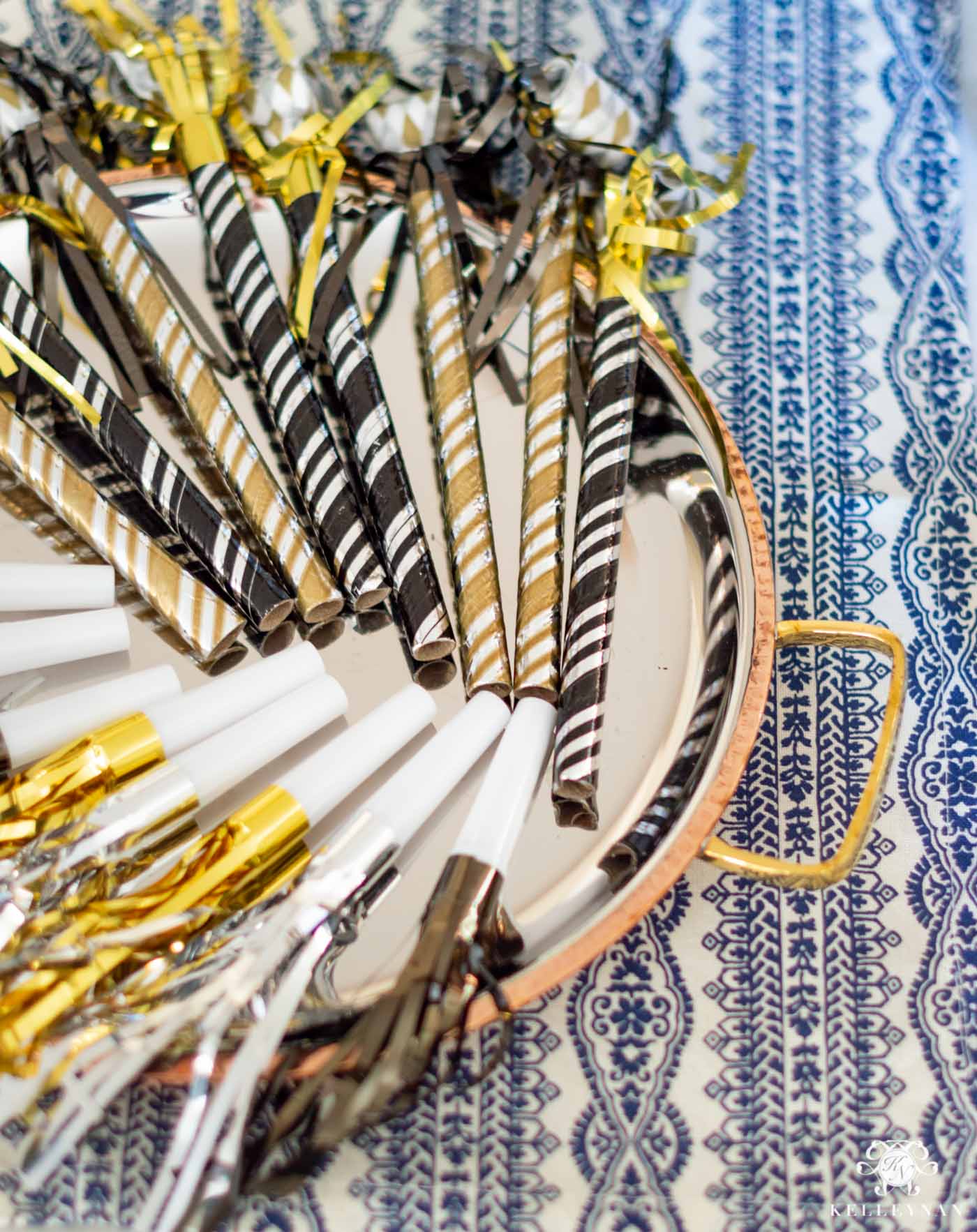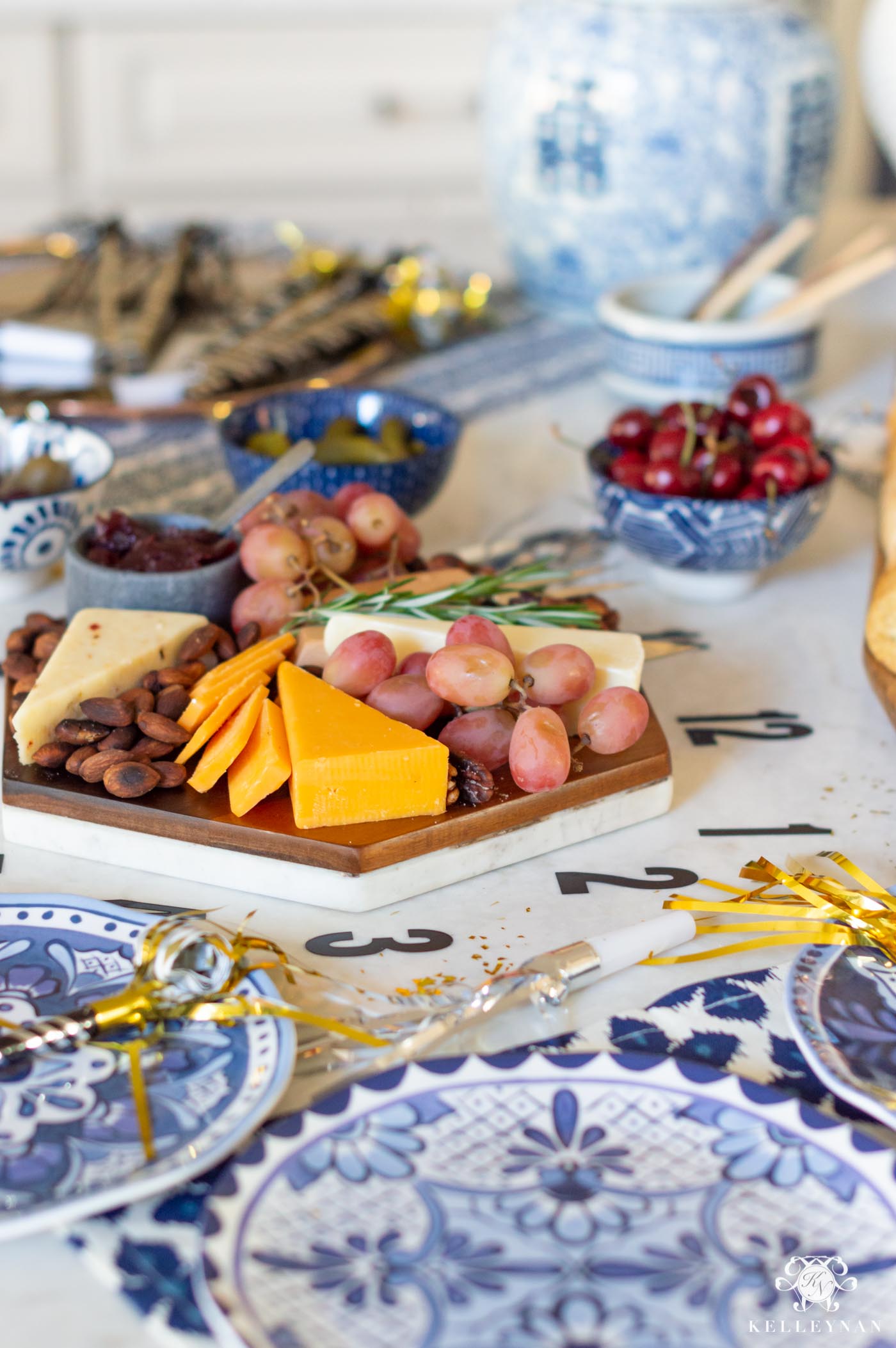 Scroll & Tap to Shop the NYE Setup

Copper Ice Bucket // Copper/Stainless Serving Tray // Wooden & Marble Flip Board // Confetti Champagne Glasses // Blue & White Plates (set of 4) // Blue & White Napkins (set of 24) // Lenox Cheese Knives (set of 4) // Blue & White Lidded Jar // Black Vinyl Number/Letter Set
As always, if you use any of these ideas for your upcoming celebrations, snap a picture; I'd love to see! Enjoy this next week and remember all that which is most important. Our reason for the season and those we celebrate with. I have some long overdue projects (and reveals!) coming in early 2020 so if you aren't already, be sure to subscribe to emails at the bottom of this post. Merry Christmas and Happy Holidays to you all!
SHOP THE POST